Looking for the best tacos in Brooklyn? We've got you covered! It's no secret that NYC has an incredible foodie scene with enough restaurants to eat at that even if you spent your entire lifetime trying to eat your way through the city, you wouldn't be able to!
Brooklyn is no different, and better yet we not only have some of the best pizza and best bagels the city has to offer, but Brooklyn also has some of the best taquerias and tacos in the city as well! So, we will spare you the lengthy intro about our love of tacos and get straight to it, check out these Brooklyn tacos and taquerias you've got to try!
Amazing Brooklyn Taco Spots
Taqueria Ramirez
View this post on Instagram
94 Franklin Street, Greenpoint
There are not enough words in the English language to describe how incredible the tacos are at Taqueria Ramirez. This Greenpoint restaurant brings the flavors of CDMX here to the city and are some of the best tacos in Brooklyn.
You come here for the tacos and you keep coming back for the tacos. It is modeled after the taco shops in Mexico City complete with colorful plastic plates and authenticity. All the tacos are incredible so please just try them all. For your first time? Definitely try the tripa, suadero, al pastor, and the nopales.
Taqueria Ramirez does not take reservations and while the line gets long, they are definitely worth the wait. The tacos are cheap(ish) at $4 a piece and you should make it a priority to try them all. The best ones sell out quick so try to get there before 8 PM for the best selection. They have about 10 seats inside, which also fills up quickly, so plan on standing outside to eat. Trust me, it's also worth it, this is without a doubt one of the best restaurants in Greenpoint, a neighborhood that's no stranger to good food.
San Pedro Inn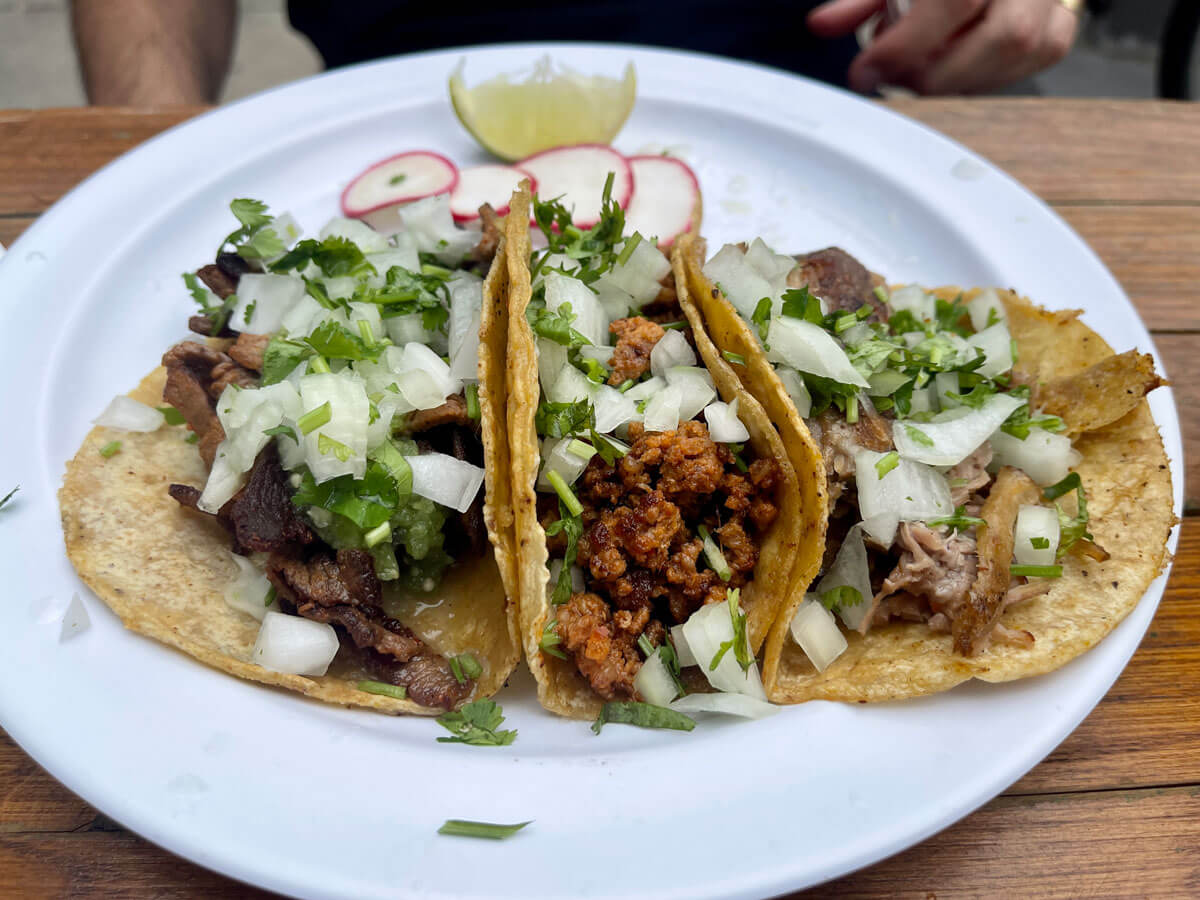 320 Van Brunt St, Red Hook
Looking for Brooklyn tacos that are both satisfying and delicious? The freshness of San Pedro Inn's food is something you can literally taste! Located in Red Hook, this restaurant delivers in both food and atmosphere with a great location on Van Brunt.
The carnitas tacos are especially juicy with the right amount of char. And the carne asada is also pretty darn good and all tacos are served on a good corn tortilla that doesn't crumble when you take a bite.
Just a warning, if you order an extra side of salsa it's the size of a thimble for an extra $2, ouch. But on the bright side, you don't even need that extra side of salsa.
And depending on the night, you can enjoy these dishes while also being treated to some live music and comedy performances. All events and performances are posted on their Instagram page. If you're in the mood some of the best tacos in Brooklyn as well as some live entertainment, San Pedro Inn is the spot for you!
Birria-Landia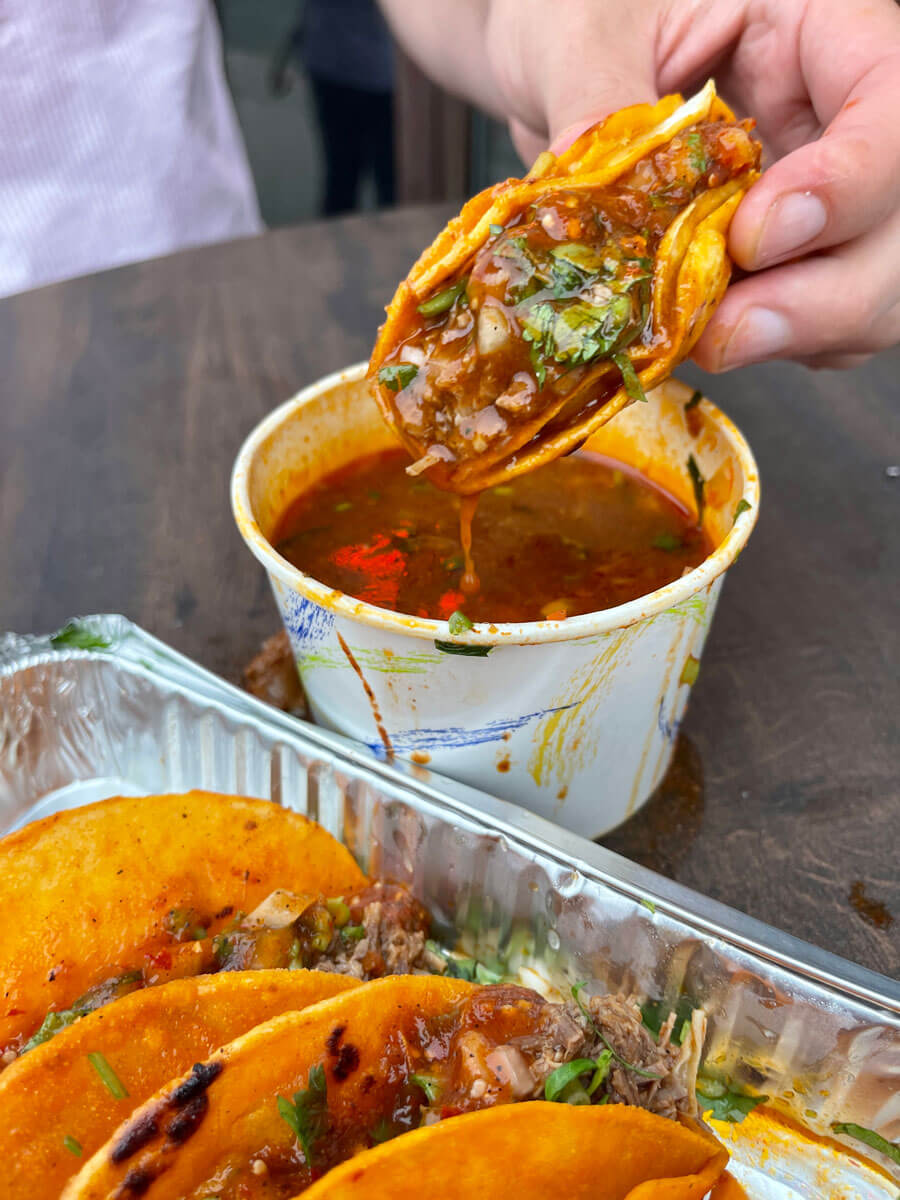 491 Metropolitan, Williamsburg
This Williamsburg taco truck consistently has a line and it's easy to understand why! The wildly popular Birria-Landia features some of the best tacos in Brooklyn (possibly in New York period) and we agree.
You can try anything here, but don't leave without trying their oh, so juicy birria tacos with the perfectly soft and crispy in all the right places tortilla, the reason why there is always a line at this foodie spot. These tacos are on the smaller side, so be generous to yourself and order a few extra and don't forget to order the consome for dipping – if you don't get the consome, you're doing it wrong!
The Mulitas is also a fan favorite for this Brooklyn taco truck.
Although the line may look intimidating, it goes by fairly quickly plus you can always head to Rocka Rolla, one of the best bars in Williamsburg, next door and grab a drink waiting at one of their outdoor tables for your tacos – some of the best food in Williamsburg.
Gordo's Cantina
View this post on Instagram
140 St Nicholas Ave, Bushwick
This Bushwick restaurant has developed a pretty good reputation and has even won over the approval of Michelin. How did they do it?
For starters, Gordo's Cantina chef, Reyna Morales hails from one of the best foodie and taco cities in the world, Mexico City. Morales delivers some very memorable and addictive entrees, such as their shrimp tacos and roasted poblano with corn quesadillas. But you can find so much more from birria tacos to a range of specialty tacos, so come and try a few. It would also be a mistake to overlook their delicious margaritas as well.
Not only does Gordo's feature some of the best tacos in Brooklyn, but also their portion sizes are more than satisfying. If you come to Gordo's Cantina, bring an empty stomach!
Oaxaca Taqueria
View this post on Instagram
Multiple Locations
This very convenient Mexican restaurant has nine different locations throughout New York City making this one of the easiest to scout out on your taco hunt. Oaxaca Taqueria offers taco enthusiasts plenty to munch on. And beyond their tasty tacos, their burritos are cooked to perfection!
The barbacoa and carnitas are also particularly good, but don't miss their juicy, savory birria tacos with consome either! They also offer great vegan options such as the Jack Fruit BBQ taco!
Their tacos are street taco size, so once again, be generous with yourself when ordering and get an extra taco or two, or three or grab a side. Similar to Birria-Landia expect speedy service when ordering at Oaxaca Taqueria!
Alta Calidad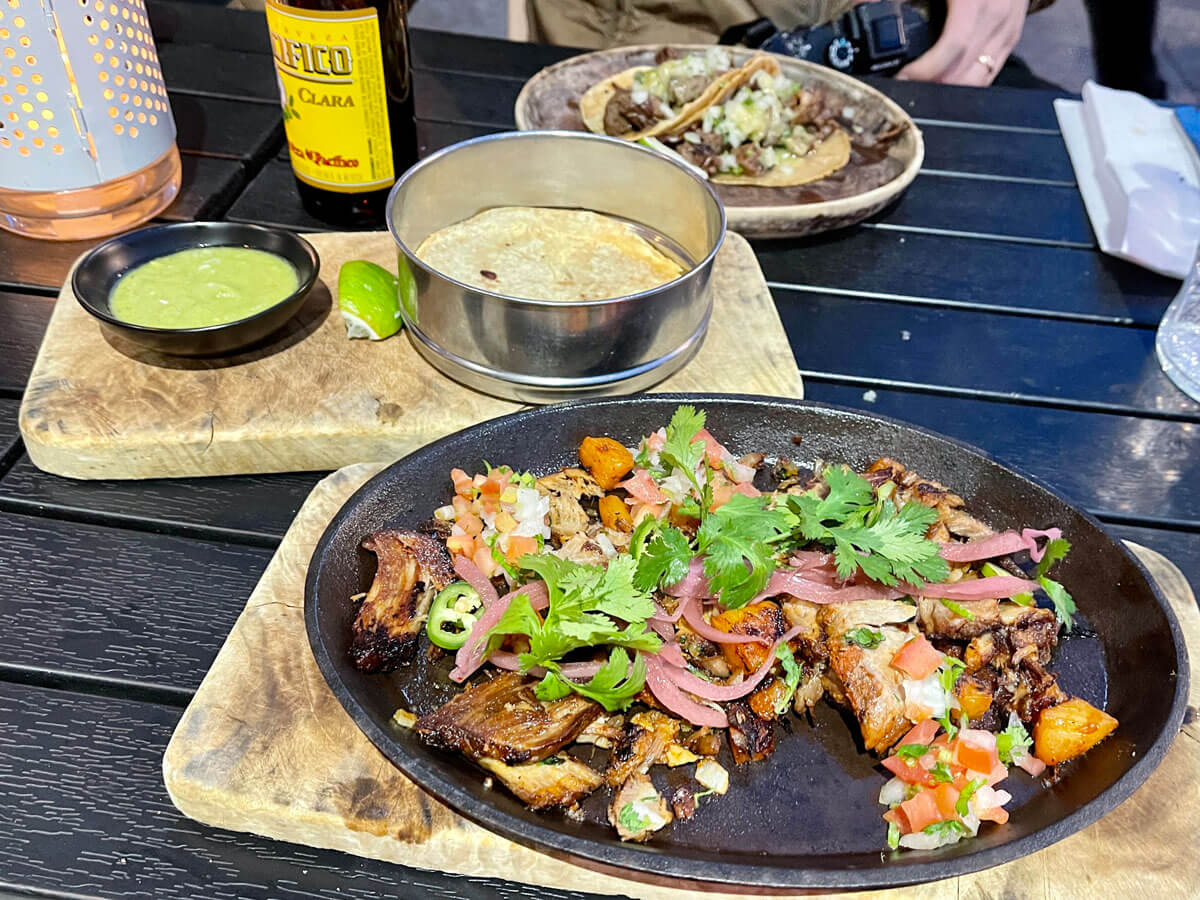 552 Vanderbilt Ave, Prospect Heights
Located in Prospect Heights, this next Mexican restaurant has some of the most delicious tacos and high-quality Mexican cuisine fare the city has to offer. Everything on Alta Calidad's menu is great, but since this post is about tacos we will focus on those, which are divine!
The shrimp tempura and the beef brisket adobo are highly recommended. Technically a plate, but basically build your own tacos, is one of the best dishes on the menu, the Berkshire pork al pastor plate which is insanely delicious and difficult not to order each visit coming out on a sizzling skillet and served with a side of warm tortillas and salsa.
The innovative Mexican cuisine here is due largely in part by Chef Akhtar Nawab, winner of the Michelin Bib Award in 2018.
Not only does the food taste great, but it looks great too—featuring some of the best looking dishes in Brooklyn. Be sure to make a reservation here as Alta Calidad fills up pretty fast.
Chavela's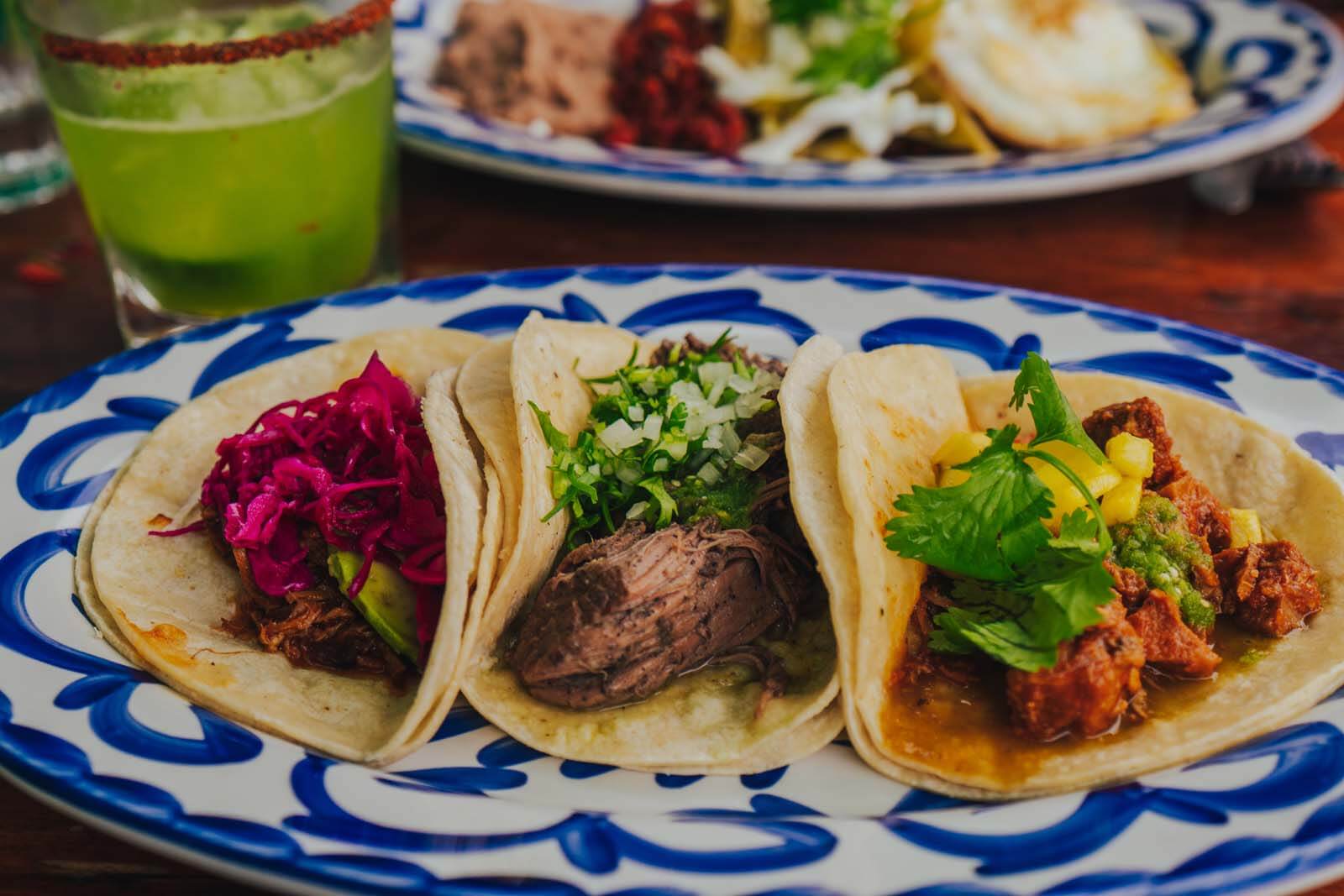 736 Franklin Ave, Crown Heights
Similar to Alta Calidad, this Crown Heights restaurant is another contender for most presentable tacos in Brooklyn at this insanely delicious sit down Mexican eatery.
Everything served at Chavela's is looks and tastes great, especially the cochinita and pollo de tinga (pairing this with a Mezcal cocktail is highly recommended). And while this post is supposed to be tacos, I can't help but mention that their chilaquiles are also pretty darn good.
This place is also pretty great at accommodating for dietary restrictions—such as vegan and vegetarian diets. The service, for a nice sitdown spot, is fast and the taste is satisfying!
Next time you're in the area (or even if you're not), be sure to stop by Chavela's and prepare to experience what is debatably the most beautiful taqueria in Brooklyn!
El Nopal
631 5th Ave, South Slope
El Nopal, located in South Slope, is yet another great place that features some of the best tacos in Brooklyn. The food here is top of the line.
Their pernil, al pastor, and carnitas are all amazing – but they have much more than that that are also tasty from octopus to chicken! Grab a side of guac and chips or elote while you're at it. Authenticity to Mexican cuisine is El Nopal's greatest asset. If you're on the hunt for some great Brooklyn tacos, Nopal is the place to be!
Chela
View this post on Instagram
408 5th Ave, Park Slope
Located on the bustlin' 5th Avenue of Park Slope, Chela is another great place for Brooklyn tacos and modern Mexican cuisine in general. Tacos. Queso Fundido. Margaritas. They have it all which makes it one of our favorite spots for food in Park Slope too.
Their barbacoa tacos are especially good, but you really can't go wrong with what you order here. You're left in good hands when it comes to this restaurant as the co-owner Ronny Jaramillo is not only an owner, but an award winning mixologist as well.
The atmosphere at Chela makes for a fun place to socialize as well—so, make sure to bring friends, family and significant other with you!! Chela is also known for launching new brunch entrees on a semi-regular basis, so be sure to check out their Instagram for new arrivals!
Miti Miti
View this post on Instagram
138 5th Ave, Park Slope
Another Park Slope gem and modern Mexican eatery, Miti Miti wears its pride in Latin American and Mexican culture on its sleeve. Everything from the décor to the way the food looks, demonstrates their authenticity.
Of course the most important thing about any restaurant is its food, which Miti Miti doesn't fall short on. Their Lobster taco is particularly good not to mention they have everything from vegetarian and vegan tacos to grilled or crispy fish tacos to pork belly and jerk chicken tacos. Let's not forget the coconut shrimp tacos either!
Not only are the food and tacos great, but their margarita bar is also a must! Definitely try drinks like the Tamarindo and Passion Fruit, if you get the chance. This place gets pretty busy around dinner time, so arrive early!
Tacombi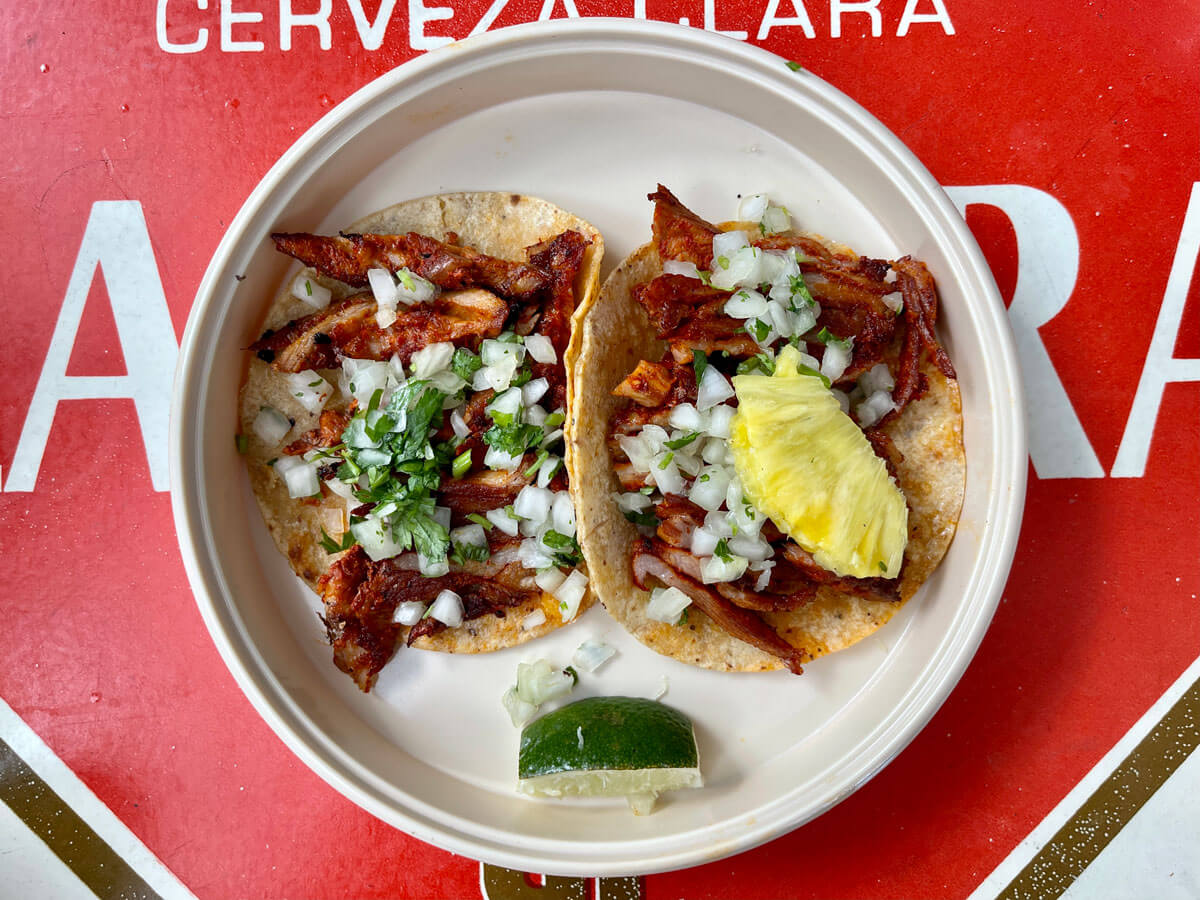 25 Lafayette Ave, Fort Greene
Tacombi is located all throughout the city, but they have a Fort Greene location and their tacos are too good to not be included on this guide.
There are a lot of great options here. Quesadillas, corn esquites, avocado tostada, and burritos—they're all packed with pure flavor. But back to the tacos, the al pastor tacos are heaven complete with a thin slice of pineapple also the carne asada, baja crispy fish, carnitas, and that avocado tostada (whoops already mentioned that, but it's that good) are all insanely delicious.
Tortilleria Mexicana Los Hermanos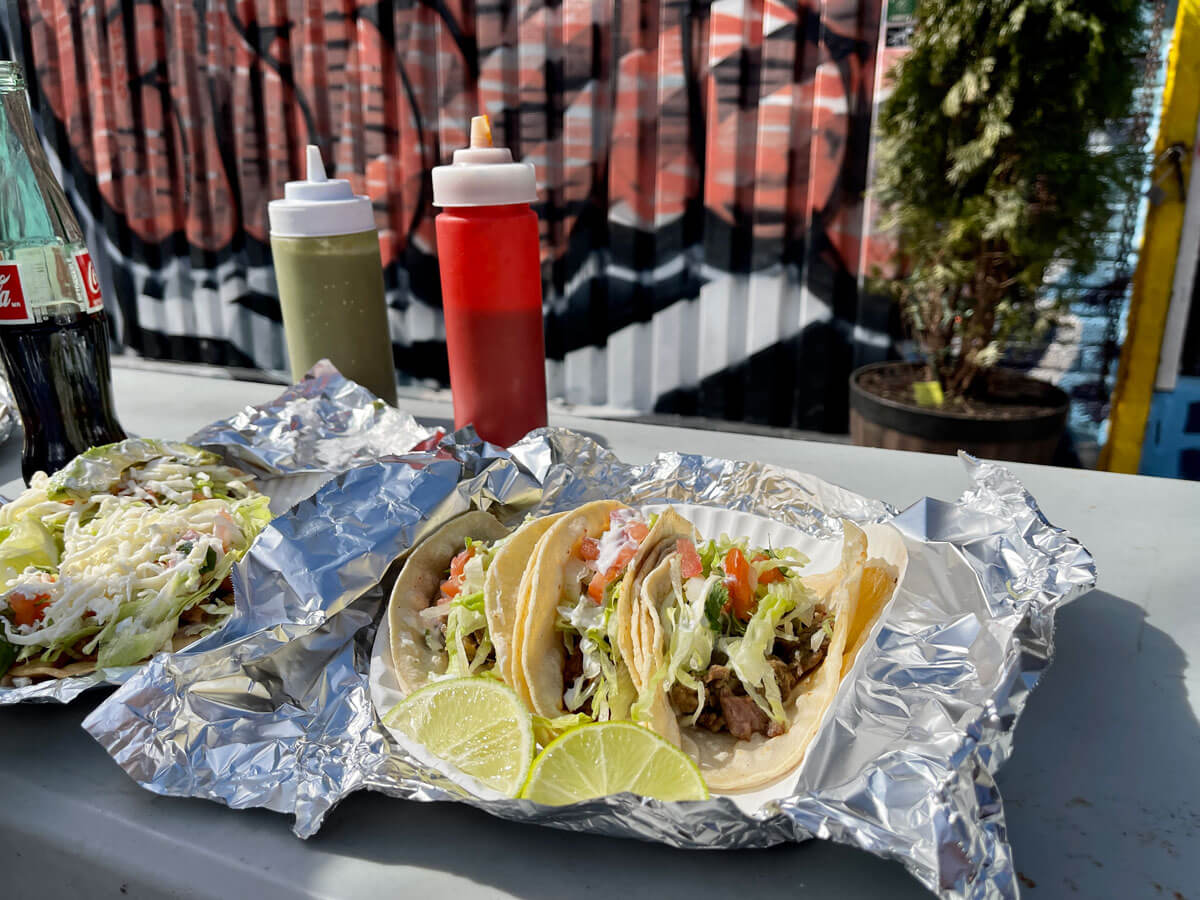 271 Starr St., Bushwick
Tortilleria Mexicana Los Hermanos tacos are made with fresh tortillas (on site!) and are some of the best tacos in Brooklyn, hands down. You can't miss this garage-style cantina covered with bright blue murals located on Starr Street, which is fitting, because this is a standout and star of a place!
There are a lot of different choices, but they really set a nice tone with their garage style cantina and colorful murals. And not only does this Bushwick restaurant have some of the freshest tacos in the city, but some of the most affordable as well.
For the price of $2.50, you'll have your pick of taco (chorizo, chicken, pork, steak etc.) With their both handmade tortillas and beautiful aesthetic—Tortilleria Mexicana Los Hermanos really sets itself apart from other places to order Brooklyn tacos from! This spot has both indoor seating and outdoor seating available.
Jauja Mexican Kitchen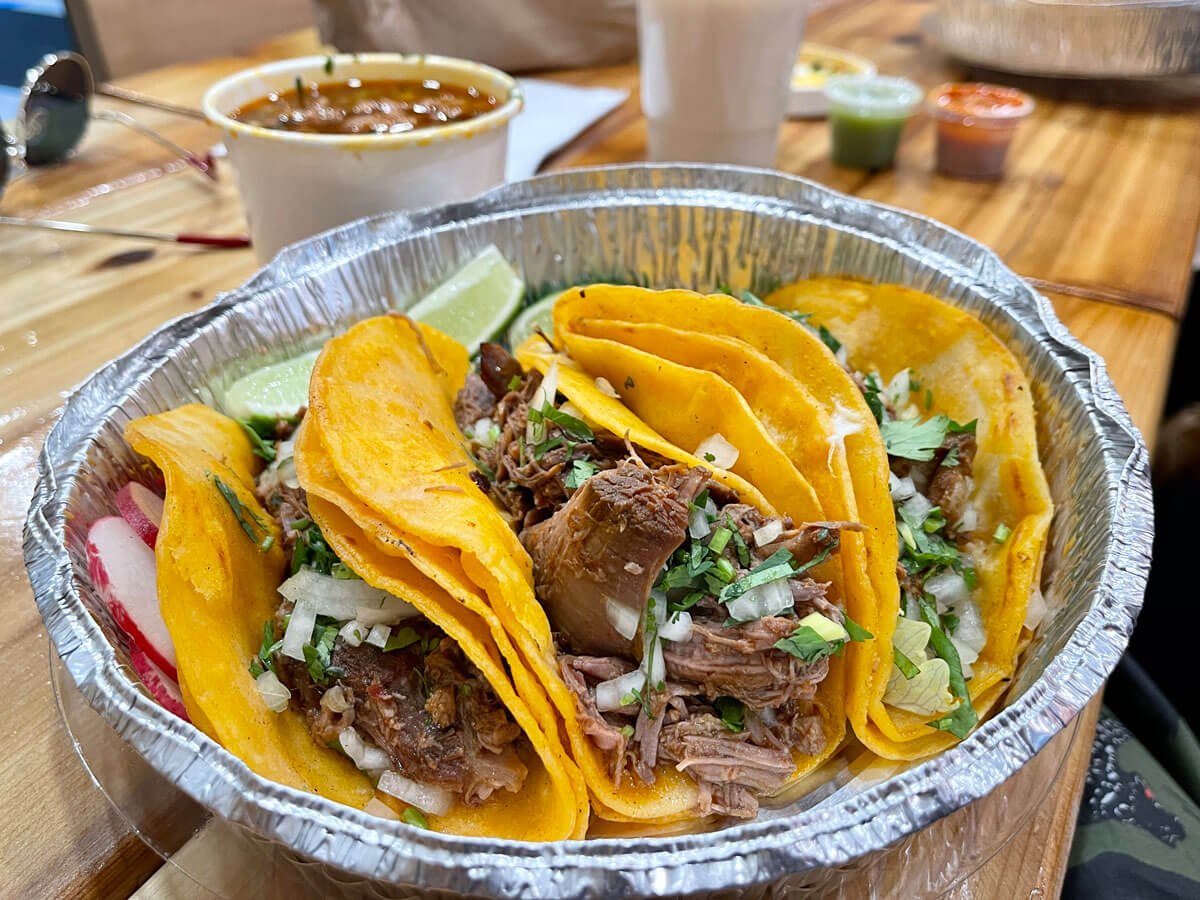 695 Flatbush Ave, Prospect Lefferts Gardens
This family-owned restaurant is located in Prospect Lefferts Gardens and is quickly becoming a popular spot for locals of the neighborhood and it's no wonder why with their juicy birria tacos and the rest of their menu!
Juaja Mexican Kitchen is great for anyone looking for mouthwatering Mexican food. The enchiladas verdes and the birria tacos are highly recommended! And of course, don't forget to order the consome on the side.
An ideal spot for Mexican food enthusiasts and lovers of Brooklyn tacos—Juaja Mexican Kitchen is the place to be! And if you have the room, order a horchata while you're at it.
Tacos El Bronco
4324 4th Ave, Sunset Park
In the mood for a great home-style taqueria in Brooklyn? Tacos El Bronco should be next on your radar. There are many options for taco spots, but this Sunset Park restaurant is particularly dependable.
The tacos are great! The portion sizes are satisfying! But one popular aspect of their tacos is the special guacamole sauce they use, which will definitely have you coming back for more. The tacos here are some of the best tacos in Brooklyn! Tacos El Bronco is also great in terms of outdoor seating, so be sure to stop by on a nice day and enjoy!
Taqueria Al Pastor
View this post on Instagram
128 Wyckoff Ave, Bushwick
This Bushwick restaurant has consistently maintained pretty high ratings on Google reviews and Yelp—and it's pretty understandable why.
Not only does Taqueria Al Pastor deliver on the flavor and portion sizes, but the overall spiciness as well. Dishes like the Volcan will surely be satisfying for those looking for an extra kick in their tacos!
You can taste the quality of their meat, try one of everything. If you haven't already, give Taqueria Al Pastor a look see!
Amaranto
View this post on Instagram
887 Hart St., Bushwick
If you're looking for a casual spot to enjoy some of Brooklyn's best tacos—look no further than Amaranto. This Bushwick spot offers some great options for tacos (pork, seafood, chicken, chorizo, veggie options, etc), but their fish tacos are easily some of the best in the city!
Other standouts include their Shrimp ceviche, steak burrito, and the corn on the cob. The service here is pretty quick and the food has a very homemade feel to it—a rare quality to be sure. If you're looking for a nice taqueria in Brooklyn (Bushwick area specifically), make sure to give Amaranto a try!
BK Taco Factory
View this post on Instagram
195 Stanhope St., Bushwick
Another one of Bushwick's finest, (PS Bushwick is obviously home to many of the best tacos in Brooklyn if you haven't noticed) we have BK Taco Factory.
This modern taco spot and shop is well known for having some of the best vegetarian and vegan options in the city along with meaty tacos like chorizo, tinga de pollo, carintas, pastor, and a variety of seafood tacos.
Of course everything on the menu is pretty delicious (tortas, burritos, fries, pozole), but the fried cauliflower taco in particular is a quintessential experience!
This spot also has plenty of outdoor seating, in case you prefer enjoying your Mexican cuisine outside. Serving up some of the best tacos in Brooklyn, BK Taco Factory is must visit for any taco enthusiast!
Gueros
View this post on Instagram
605 Prospect Pl, Crown Heights
Gueros has been recommended by other large publications like both the New York Times and Thrillist! Not only is this Crown Heights restaurant great for lunch and dinner, but they also serve some of the best breakfast tacos in the city as well.
The fried avocado tacos in particular are top of the list! Other great menu items would include the shrimp nachos and chicken tinga. Affordable and quick service makes Gueros a must try taco spot!
King David Tacos
View this post on Instagram
611 Bergen St, Prospect Heights
Speaking of breakfast tacos, King David Tacos in Prospect Heights makes breakfast more interesting by serving up authentic Austin-style breakfast tacos here in Brooklyn from their breakfast taco carts at Prospect Park and Madison Square Park in Manhattan, a few coffee shops around the city, to their now brick and mortar location on Bergen.
They've got a few different flavors, so make your mornings more interesting by eating tacos for breakfast!
Ojalá
View this post on Instagram
852 Fulton St, Clinton Hill
This Clinton Hill restaurant is arguable the coziest taqueria in Brooklyn. Ojalá offers a very beautiful backyard patio for customers to sit down, relax and enjoy their meals.
Speaking of meals—the food does not disappoint either! Items like the birria tacos, fish tacos, pastor, carnitas, carne asada, and more are among some of the restaurant's most popular entrees. If that doesn't seal the deal, the staff are extremely friendly and their service is among the best in the city. Ojalá is authentic Mexican food at its best, and well worth the visit!
Los Tacos Al Pastor
View this post on Instagram
141 Front Street, DUMBO
Some of the best tacos are pastor tacos focuses solely on the pastor meat slow cooking to perfection on the spit grill topped off with a slice of fresh pineapple for one of the most satisfying medly of flavors for your teastebuds.
They offer the classic pork pastor, a chicken version, and nopales (grilled cactus) for veggie tacos along with sides like chips and guacamole and the option to turn your meal into a bowl.
This is one of the best cheap eats in DUMBO and worth checking out if you're looking for a quick and tasty bite!
Homemade Taqueria Park Slope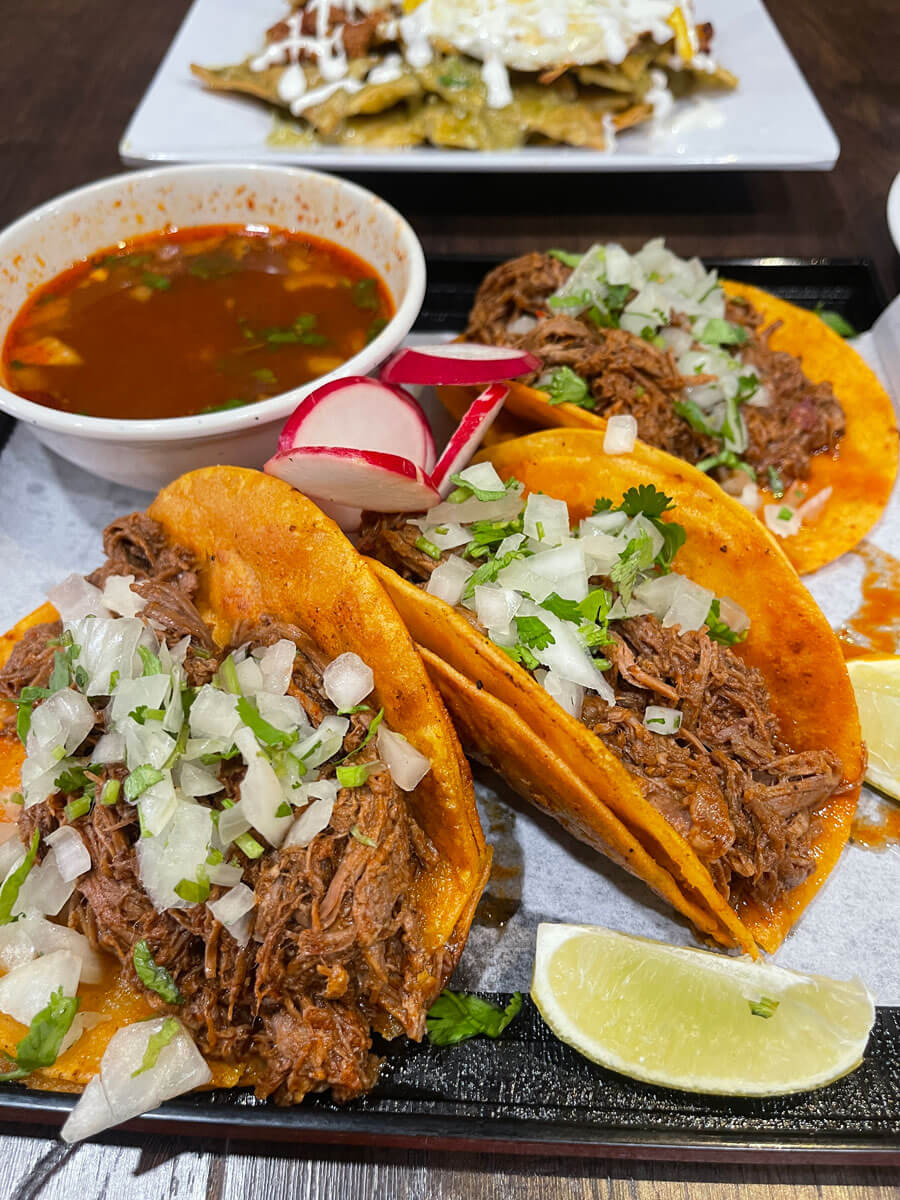 117 5th Ave, Park Slope & several locations
This family-run and operated Mexican chain started in Long Island and now has over a dozen locations around the city including serving up some of the best tacos in Brooklyn in Park Slope right on 5th Avenue along with more locations around the borough.
With over a dozen different tacos to choose from like mouthwatering birria tacos served with a side of consome to various veggie tacos, fish tacos, chicken tacos, pork tacos, pastor tacos, and steak to name a few.
All of their tacos are served on freshly made, soft corn tortillas topped with white onions, cilantro, and served with a lime slice for that fresh citrus zest at the end. They also give you sides of their different homemade salsas and a side of sliced radish.
Their tacos were meaty and a little more generous than some other places on this list – so come hungry! And if you're in the mood for brunch also give their chilaquiles a try!
---
About the Author
Eric Garner is a Brooklyn-based writer who was raised down south who loves talking about film, TV, hip-hop, and fashion.
---
Did we miss your favorite tacos in Brooklyn? Let us know in the comments below, we are always looking for more excuses to eat more tacos!