Looking for some of the best hidden gems in Brooklyn? We've got you covered, if you've already been to and discovered all the other best things to do in Brooklyn that are already popular, this guide will help you discover some of my personal favorite hidden gems in the city and the stories behind them.
And if we missed one of your favorite hidden gems, let me know, I am always looking to discover some of the more interesting and fascinating spots and stories in Brooklyn!
And if you need help planning your visit, check out our itinerary and guide to a perfect Brooklyn weekend. Be sure to also check out our favorite hidden gems in NYC while you're exploring some of these secret or lesser-known spots in the city!
1951 Trolley in Red Hook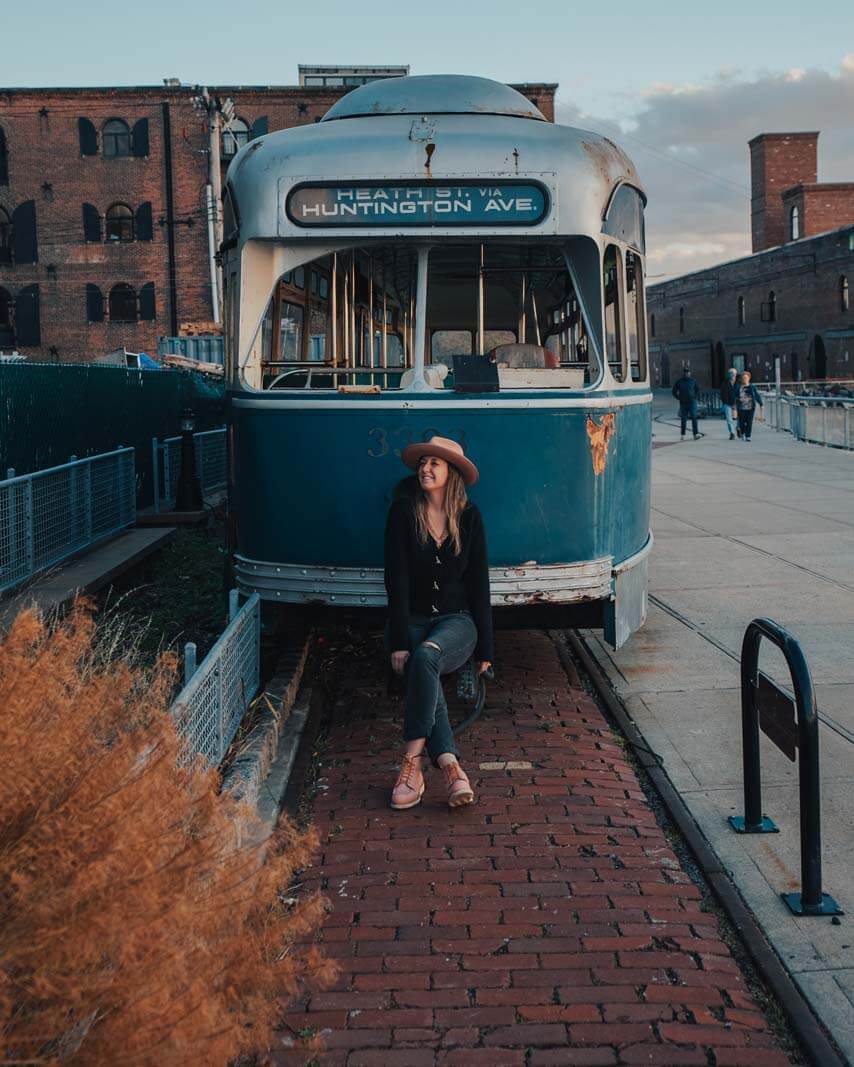 One of the many hidden gems in Brooklyn is this old abandoned street trolley from 1951 nestled between the waterfront and an old industrial warehouse in Red Hook.
This is the last remaining trolley from the ambitious project to bring trolley car transportation to Red Hook and attempt to popularize the 'trolley lines' in Brooklyn as a mode of public transport that would run from Red Hook to Downtown Brooklyn.
There was a brief moment in time in the 1990s and early 2000s where there was a collection of old trolleys from around the country and an operating 1-mile trolley loop in Red Hook that ended up being decommissioned and repaved over in 2004.
There were a total of four trolleys like this on the Red Hook waterfront until Hurricane Sandy damaged this area severely and now there is only one which you can visit for free!
I can't help but wonder how awesome it would be if we had a few trolley lines in Brooklyn, it reminds me of the cute trolleys you can ride in New Orleans from the Garden District to the French Quarter.
This is also a great spot to be at towards sundown as the waterfront is one of the best Brooklyn sunset spots! Also, see more hidden gems in Red Hook while you're here!
Small Doors of Dennett Place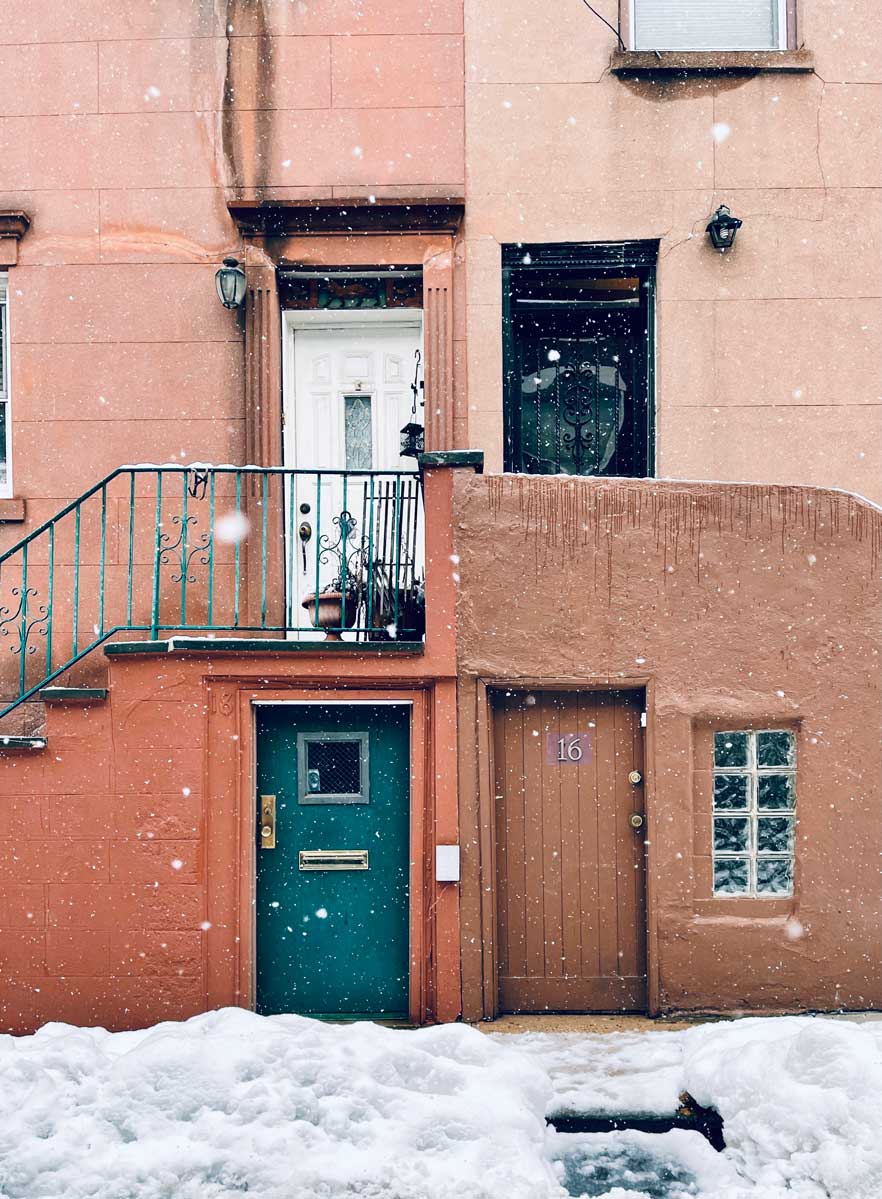 One of my personal favorite hidden gems of Brooklyn are the tiny and mysterious doors of Dennett Place in Gowanus. This hidden lane is full of pretty homes, some of which are colorful, that all have mini doors unlike anywhere else in the city.
This street has historically been an enclave for Italian-Americans for at least a century and is nicknamed the Cat's Alley. The homes on Dennett Place are said to be where the workers lived who built the church up the street.
The mysterious small doors have other theories, one saying they were meant for easy coal storage, some say they were just less expensive, and some rumors were that people were just shorter.
Regardless of the reason, this little hidden gem in Brooklyn and street has a lot of character and charm!
Monk Parakeets of Brooklyn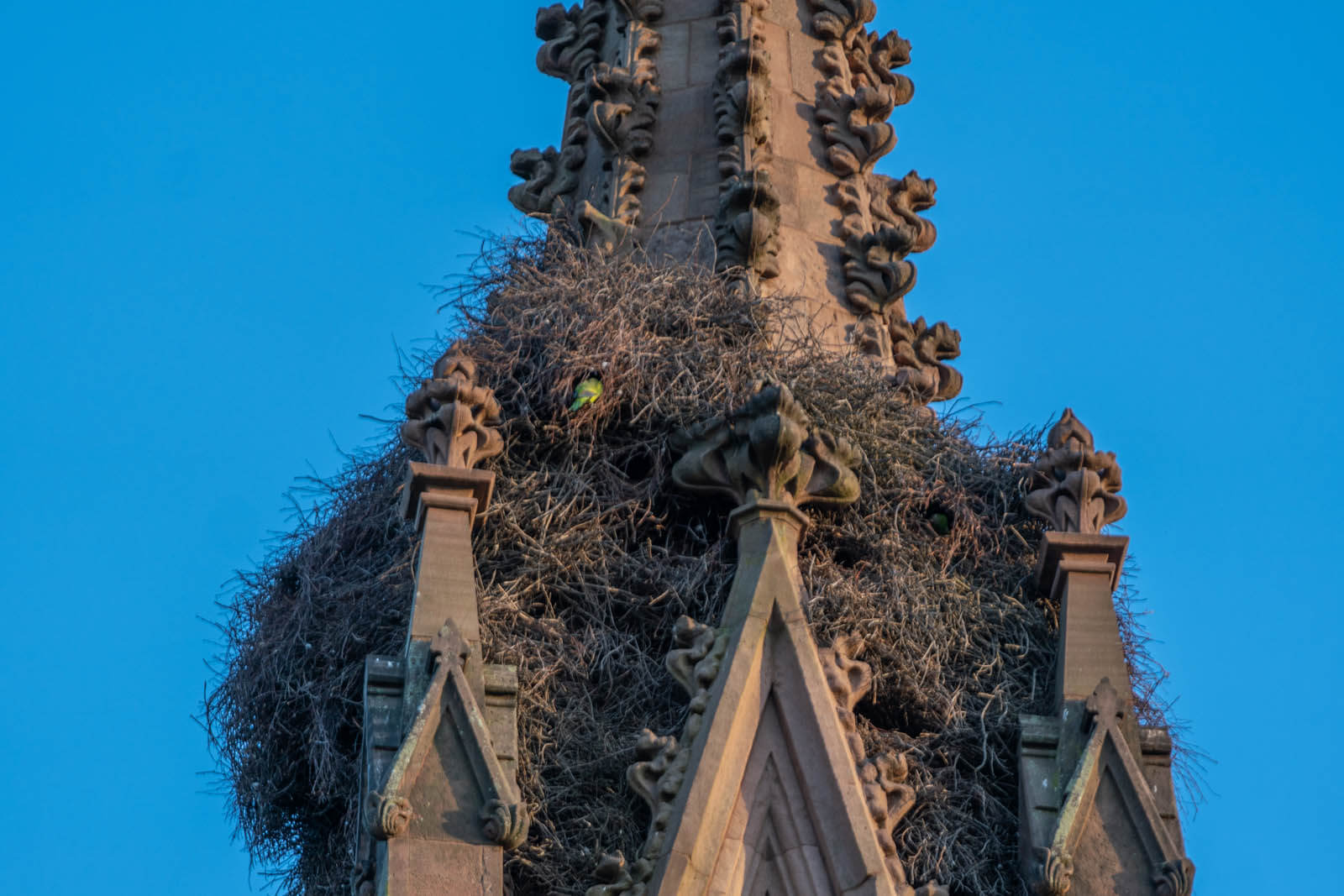 One of the most surprising hidden gems in Brooklyn are the bright green monk parakeets that can be found in the city. However, we are going to focus on the nests you can find at Green-Wood Cemetery's main entrance.
This hidden gem of Brooklyn is great for anyone, but any bird watchers may really appreciate this one! These parakeets are said to have been originally from Argentina and are not a native species to this part of the United States. These little flying friends also are not new, they have been around for at least 40 years.
The origins of these little green guys are still a mystery but there are a few theories, one being that they escaped from JFK Airport in a cargo container, which has its own sub-theories as to why these birds would be there in the first place, and the other main theory being bad pet owners who let their pets loose into the wild, which is what happens in cities all over the world introducing non-native invasive species to local environments disrupting the local biodiversity over time.
While it's not guaranteed you'll see these bright green parrots, one of the best places for spotting them is at Green-Wood Cemetery. At the main entrance, the parakeets have built nests in the dramatic Gothic architecture and can be seen leaving and returning to them here. Other areas in the city popular for spotting these little green guys are in Flatbush.
Camille Walala Mural at Industry City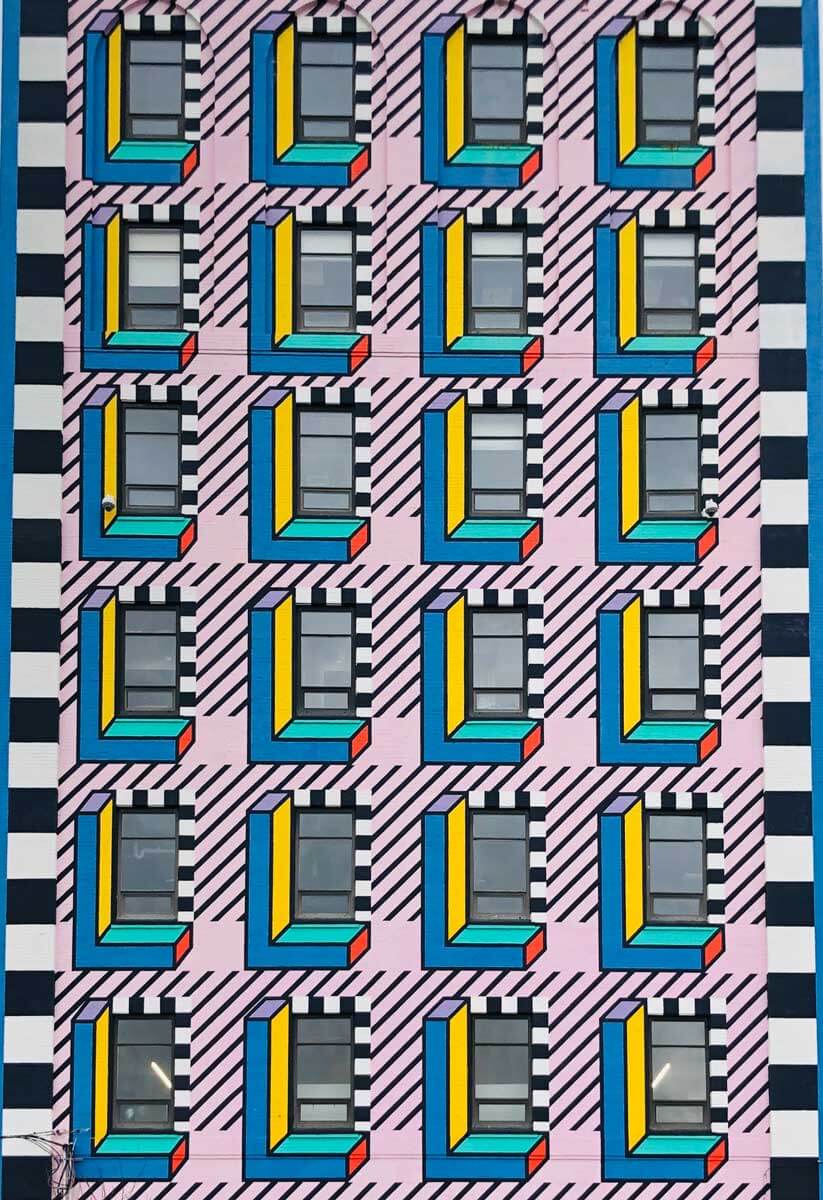 Easily one of my favorite murals EVER is this one by the London-based designer and artist famous for her use of bright and bold colors and patterns located on a hidden and tucked away corner of Industry City in Sunset Park.
Walala has transformed this 7 story building into a real-life cartoon with a 3-D effect in her largest mural to date, you can learn all about the behind the scenes of this mural in this short documentary that follows Walala through the process of making this mural come to life.
This is easily one of the best Instagram spots in Brooklyn and while you're here be sure to stick around and enjoy a bite to eat, drink, or shop at Industry City – they also have a ton of other art installations and murals to enjoy around this former warehouse and industrial complex turned into a lifestyle and art-centric shopping and dining hang out.
40 Acres and a Mule Filmworks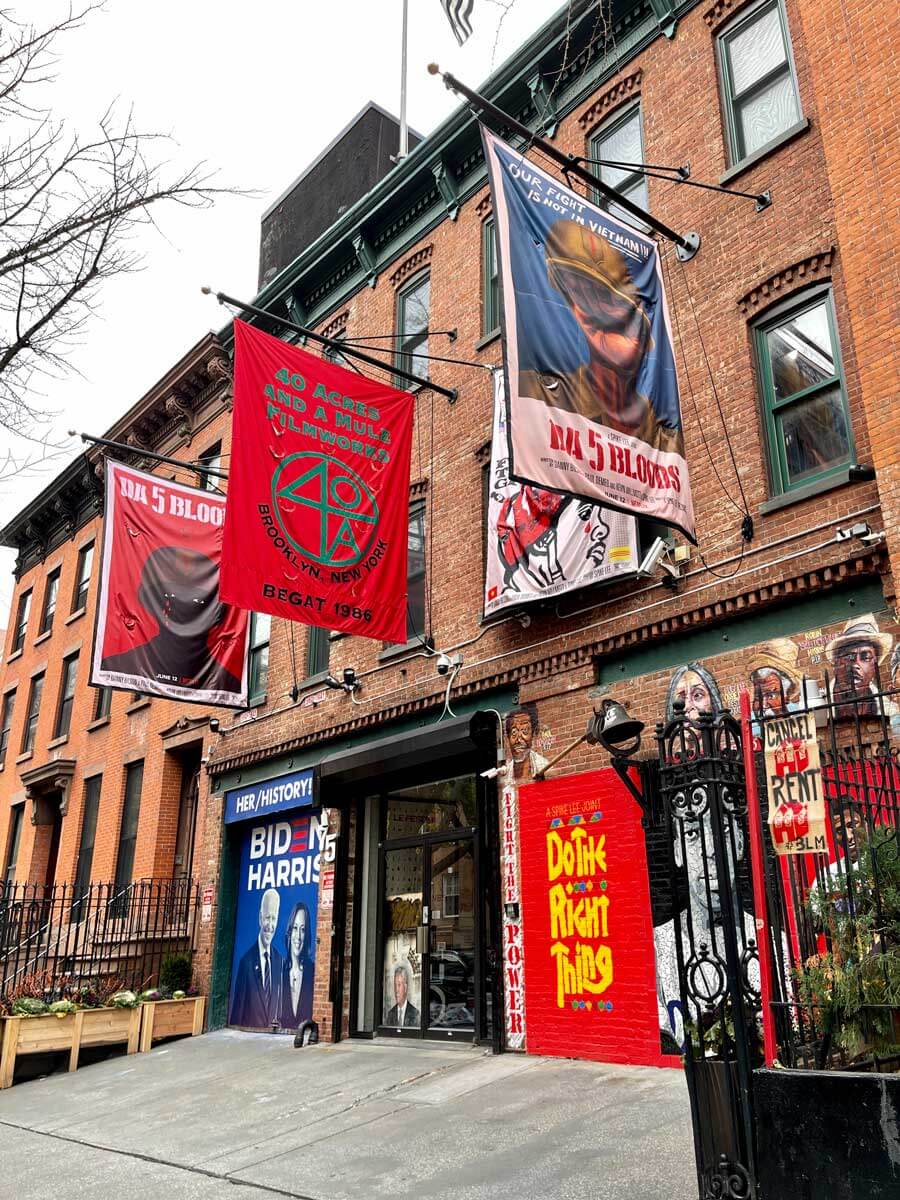 A cinephile's best hidden gem in Brooklyn, located in Fort Greene, is Spike Lee's film studio, 40 Acres and a Mule tucked away on a residential street and hidden in plain sight.
While you can't really do anything here other than walk by and check it out, this film and production studio is worth checking out for a peep as it's in the heart of Fort Greene on Elliot Place at it's newer location, the former being at an old firehouse at 124 Dekalb from 1985-2008.
Spike Lee, a celebrated film director who is known for his work sharing and chronicling the Black experience in America as well as cinematic works that showcase proactive socio-political critiques that challenge cultural assumptions about Race, Class, and Gender Identity.
He debuted his directorial debut in 1983, a 45-min film called "Joe's Bed-Stuy Barbershop: We Cut Heads," which went on to win an Academy Award and was just a launching point to a successful career intertwining stories from Brooklyn into much of his work.
He started his own production company here in Fort Greene, where he creates and directs independent films and projects as well as amplify creators and aspiring filmmakers through internships and community outreach and support.
Besides his work being heavily intertwined with the fabric of history in Brooklyn, especially to the Black community, the name behind the studios also has a meaning.
During the Reconstruction period in the US following the Civil War, Union leaders gathered a group of Black ministers in Savannah, Georgia with the goal to help the thousands of newly freed slaves. In 1865, General Sherman issued "Special Field Order 15," which distributed 40 acres of land and surplus Army mules to some of the newly freed Black families on the Georgia coast.
This plan became known as, "40 Acres and a Mule."
Unfortunately, after President Lincoln was assassinated, Andrew Johnson revoked this plan and took the land away from freed slaves and returned it to white people.
Lee grew up in Brooklyn neighborhoods of Cobble Hill, Fort Greene, and Crown Heights. While you're here, check out the best things to do in Fort Greene too.
Be sure to check out our favorite movies about Brooklyn too, including Spike Lee's Do the Right Thing.
Old Glory Lookout in Bay Ridge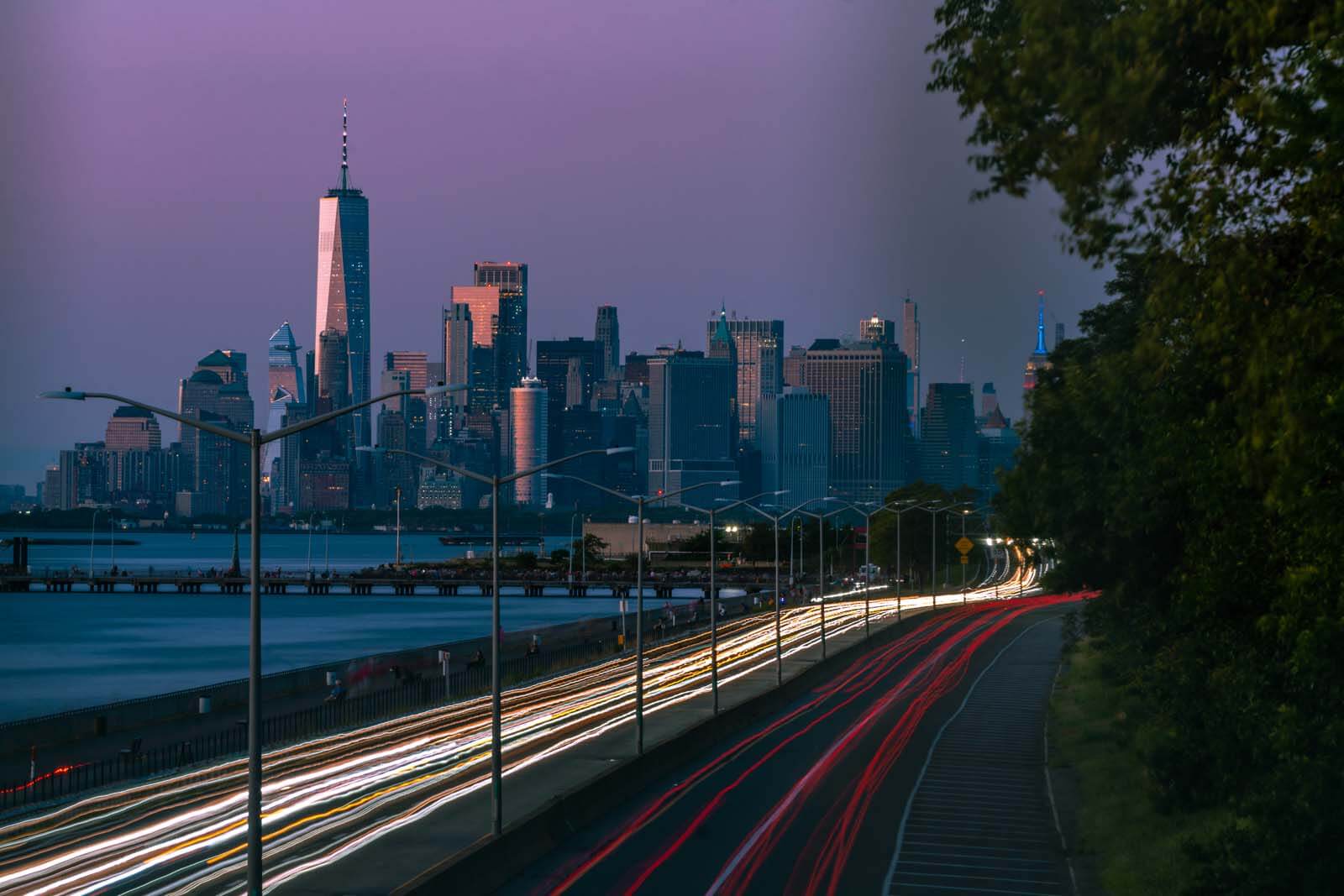 If you're looking for a little off the beaten path hidden gem in Brooklyn, you'll want to head to Bay Ridge in the southwestern edge of the borough where you can find huge mansions, the Verrazano Narrows Bridge, and great views of the Verrazano in one direction and amazing views of Lower Manhattan in the other.
The Old Glory Lookout is a viewing platform along the highway and waterfront with a flag pole and inscribed war memorials. There are 4 memorials here, the most famous being the memorial to Admiral Goerge Dewey U.S.N. after his victory in Manila Bay in May 1898.
The large homes neighboring this area were used as summer residences and a 'getaway' for wealthy New Yorkers until the development of what is now the R train here in 1916 which led it to be more residential than a getaway.
If you have time, after your view at the Old Glory Lookout of course, stroll a few of the streets lined with giant mansions, we recommend hunting down the famous Gingerbread House of Bay Ridge, a rare example of the Arts & Crafts style architecture.
Warren Place Mews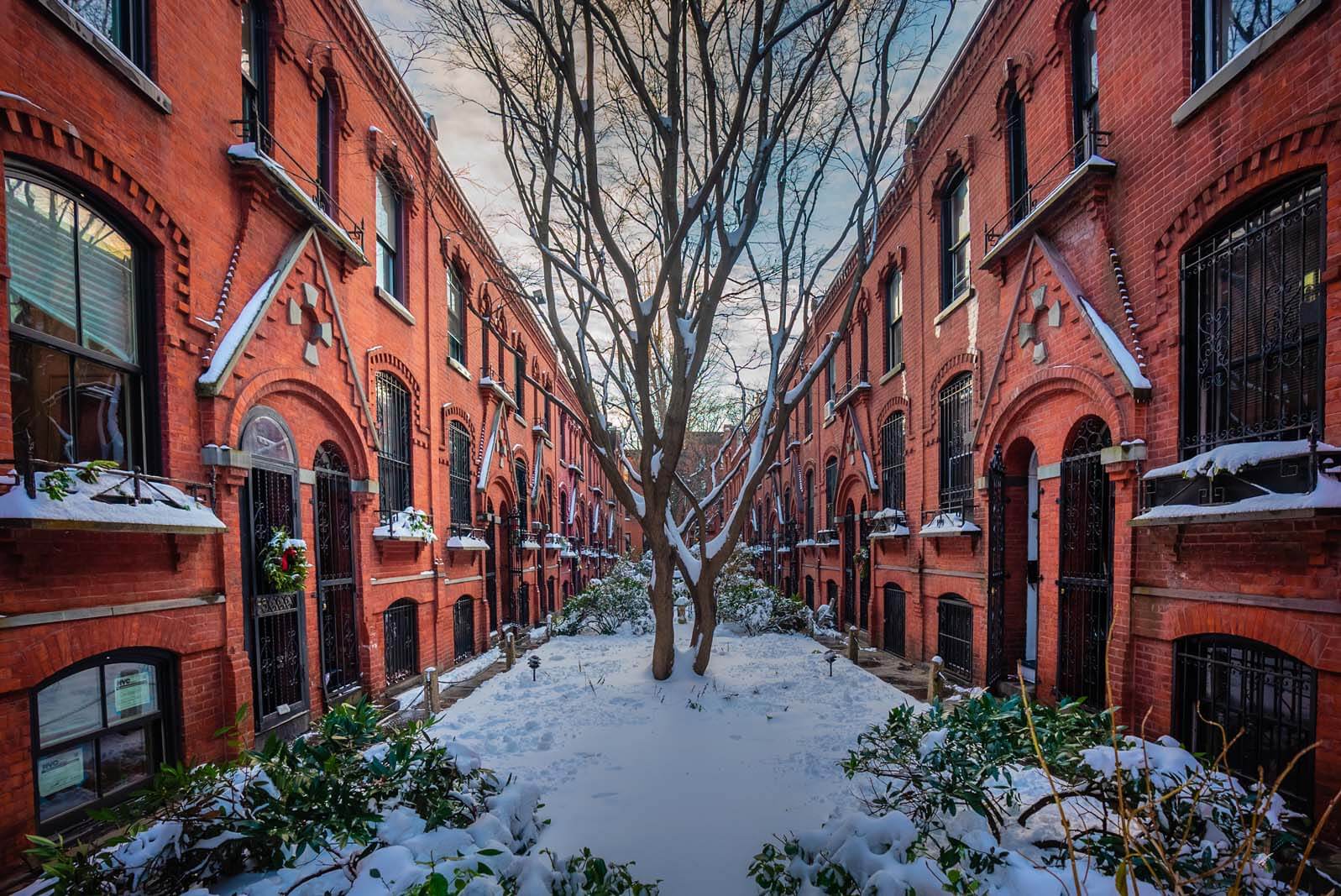 Tucked away in Cobble Hill is one of my favorite architectural hidden gems in Brooklyn. It's hard to believe that these townhouses that are now a hot commodity in the local real estate market (that are rarely ever for sale) were once low-income houses for the working class.
These 19th-century Gothic, brick row houses with a charming little courtyard are probably one of the most picturesque 'neighborhoods' or 'enclaves' in the city.
Built in 1879 by developer Alfred Tredd White, a famous Brooklyn citizen buried in Green-Wood Cemetery, you can peep down here and see if a gate is open to peek in the courtyard. Chances are the gates may be closed but you'll still get the view from the photograph above.
If you do visit this hidden gem in Brooklyn, please be respectful of the community and residents who live here. Do not make alot of noise and do not intrude or pose on their stairs. We are all about discovering and admiring hidden gems, but not at the expense of upsetting or being invasive of local residents.
Check out the rest of the amazing things to do in Carroll Gardens and BoCoCa in our guide.
Carriage Houses of Brooklyn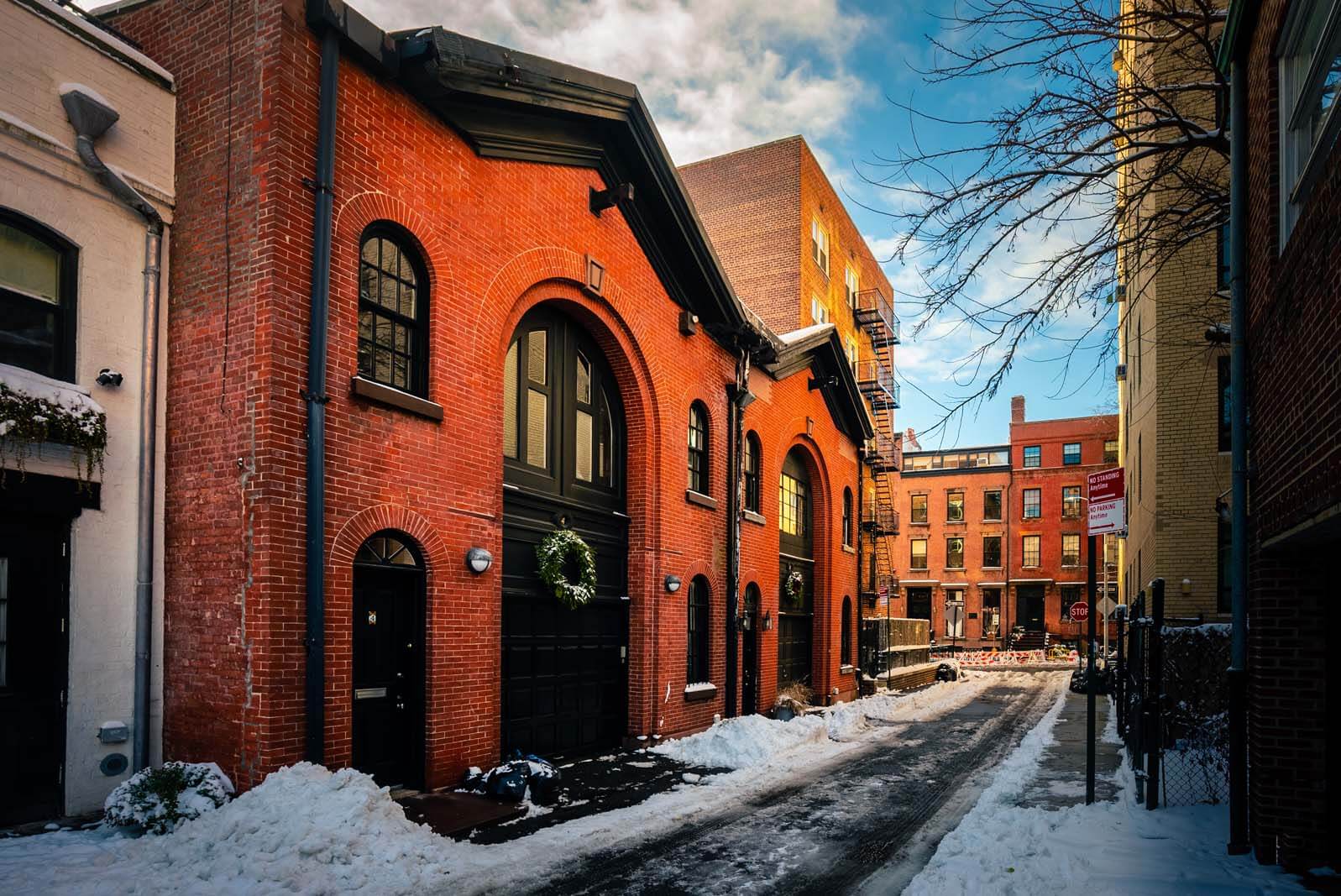 One of my absolute favorite walks in Brooklyn is through the neighborhood of Brooklyn Heights where you can find another one of my favorite hidden gems, the carriage houses or 'mews' of Brooklyn!
The neighborhood itself is teeming with gorgeous architecture and interesting history as Brooklyn Heights was America's first suburb. While there's no shortage of really cool homes and historic highlights, one of my favorite examples of architecture to explore are the hidden alleyways where old carriage houses have been converted into some of the most coveted real estate in the city and some of the oldest homes you can live in Brooklyn (& the US).
The former carriage houses are distinct because of their 'tall' door that would be able to fit a full carriage buggy and house the horses before automobiles and most of the carriage houses in NYC were built in the late 18th century.
Walk around Brooklyn Heights looking for hidden alleys, or head down Grace Court Alley off Hicks St, Hunts Lane off of Henry Street, and College Place off of Love Lane. See more hidden gems in Brooklyn Heights!
Vinegar Hill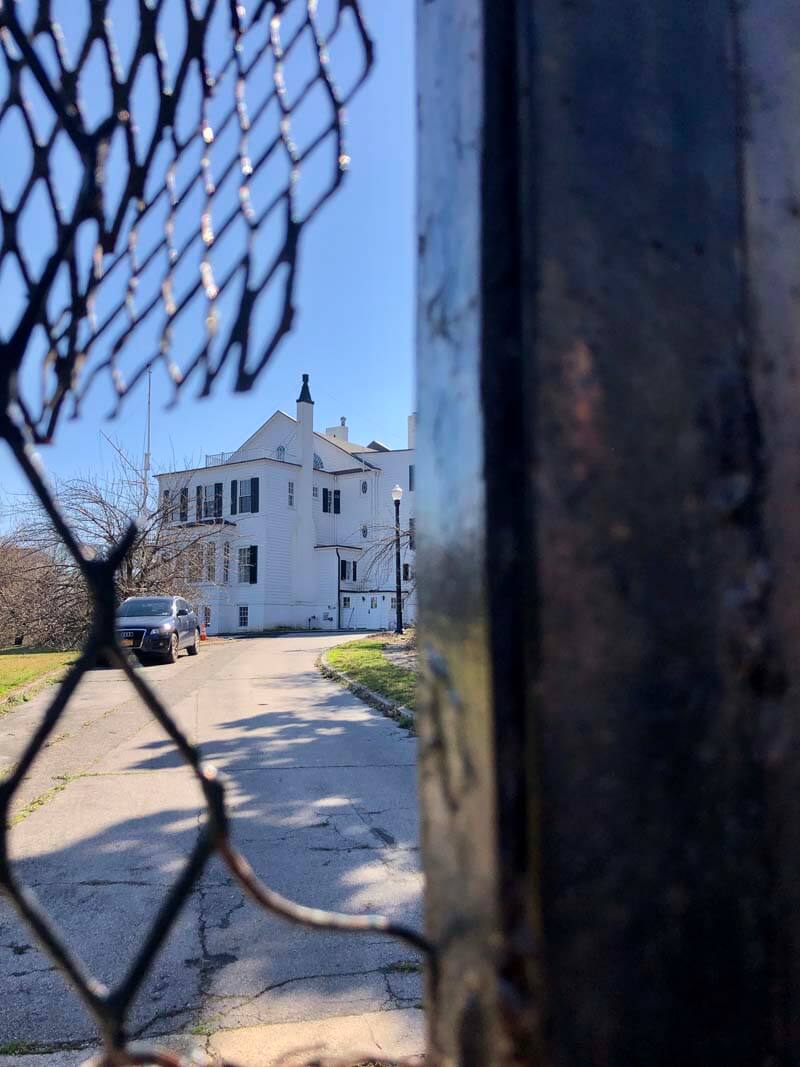 Our first entire neighborhood designated as a hidden gem in Brooklyn tucked away between the popular and picturesque neighborhood of DUMBO and on the other side, Navy Yard. Vinegar Hill is one of the smallest neighborhoods in the city and a large portion of it occupies a ConEdison power plant and a giant storage warehouse, which feels like such a waste of such prime real estate.
What makes this neighborhood so special is that without historic preservation status until the 1990s that locals fought hard for, this neighborhood is still very much like it was in the 19th century, you know, besides the power plant and giant storage space. It took a few very passionate long-time residents to win that Historic District designation and the final straw was when developers demolished the historic St. Ann's church that was built in 1860.
The neighborhood, what's left of it, was built in the 18th century and was named after a fight in the Irish Rebellion, the 1798 Battle of Vinegar Hill, as a way to attract Irish immigrants to this area of the city making it an Irish working-class enclave for those who worked at the neighboring Brooklyn Navy Yard, the historic shipyard and industrial complex on the East River.
Walk up and down the Belgian block cobblestone lanes to see the historic Greek Revival homes still intact and used as residences today in a neighborhood once known as one of the many "Irishtowns" of NYC.
The best route to walk is to start at Front Street at the Hudson Avenue intersection towards Plymouth Street towards the Federalist style Commandant's House (aka Quarters A) which served as the home for a high ranking commander of Navy Yard through the iron gates. You won't be able to go into the Commandant's House, but its fun to peer through there as this was where the head of what was once America's largest warship production was located as well as the most notable resident being Commodore Matthew C. Perry.
After this, make your way to Front Street.
PS, check out our other hidden gems in DUMBO for some other fun and interesting places to check out!
Carroll Street Bridge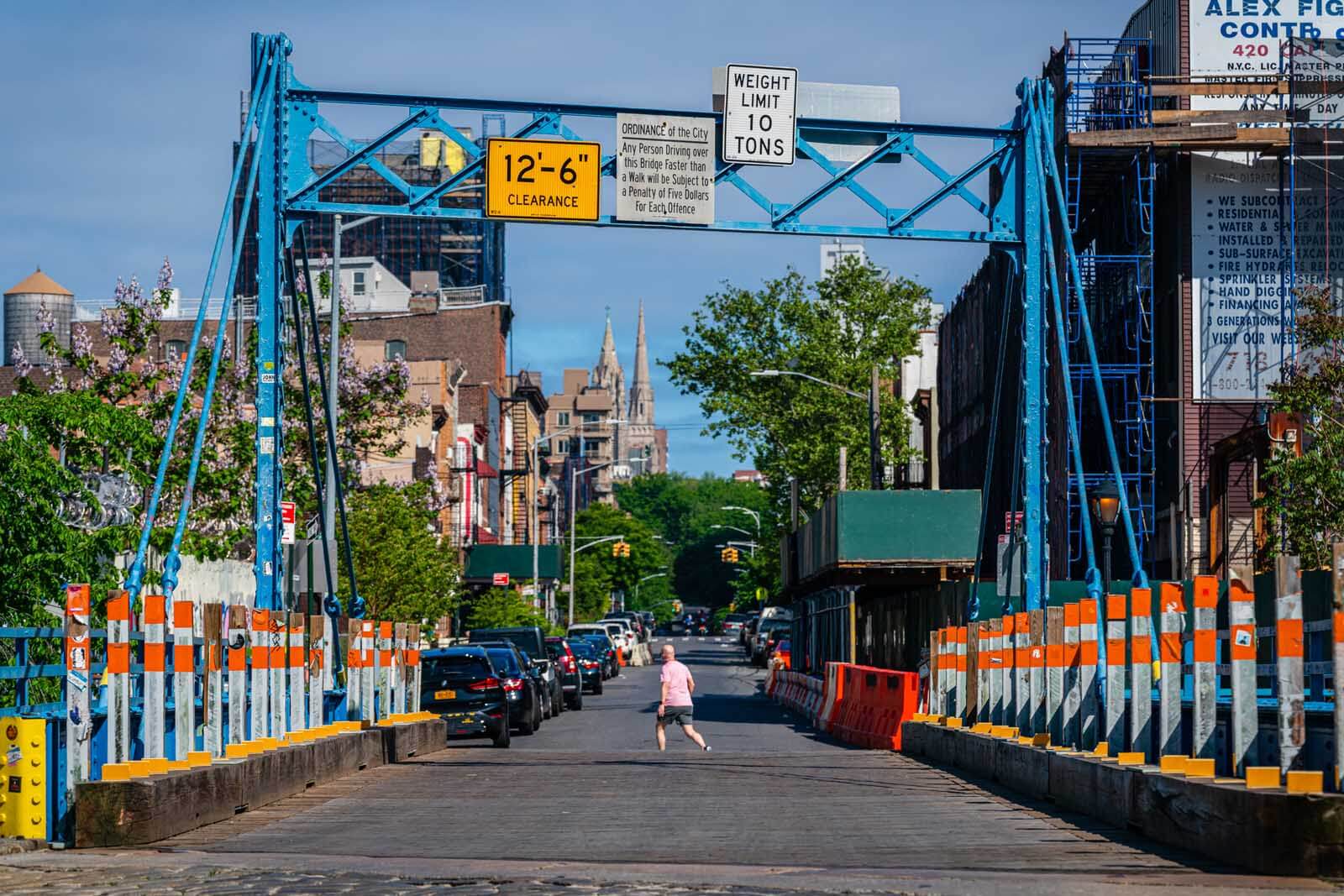 Located in Gowanus is one of the least used bridges in NYC (out of just under 800 bridges and tunnels in the city) with an average of only 1000 crossings per weekday as well as one of four remaining retractable bridges left in the country! (two of the four can be found in NYC!)
This little blue, one-lane bridge from 1889 can be found over the toxic Gowanus Canal and is a city landmark. We enjoy walking this area anyway as if you continue walking towards Smith Street, you've made it to Carroll Gardens which is another one of our favorite neighborhoods to walk around aimlessly.
When you cross this hidden gem in Brooklyn be sure to spot the operator's house. Now that the bridge and canal aren't regularly used, there's usually no one in there. However, if you do see someone in there, that means the bridge is about to open which is a not so common occurrence!
A fun fact about the operator is that whoever is the attendant has to be able to travel to the bridge within 2 hours in case the bridge needs to retract! For more fun finds in this area, check out our favorite hidden gems in Gowanus!
Barack Obama's Former Park Slope Townhouse
Situated in Park Slope near Prospect Park in one of the most coveted areas to live in the city is the former townhouse where President Barack Obama lived in the mid-1980s with his then time girlfriend on the top floor (3rd floor) during his post-Columbia days.
This historic brownstone dates to 1903 and since the time of Obama's time living here the house has been turned from a multi-family rental unit to a single-family home in 1994 that sold in 2017 for $4.3 million.
This home can be found at 640 2nd St.
Cool Homes in Victorian Flatbush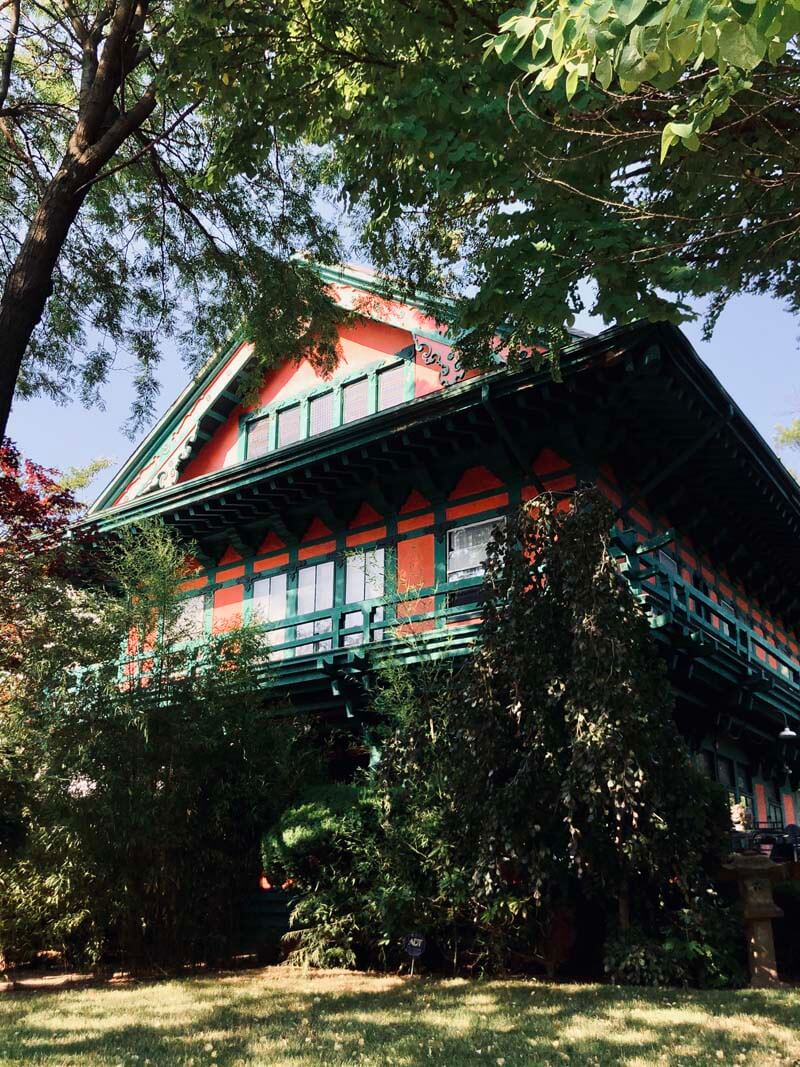 Our next hidden gem in Brooklyn is one of my favorite neighborhoods to take a walk in. The neighborhood of Victorian Flatbush aka Ditmas Park is where you can find the world's highest concentration of Victorian homes in 100 square blocks!
Styles of architecture include Japanese Cottage, Colonial Revival, English Tudor, Greek Revival, Swiss Chalet style, and more.
Walking up and down the historically landmarked (and non landmarked) streets feels like you're no longer in NYC. To get the full experience, be sure to visit our explorer's guide to Victorian Flatbush!
Smith & 9th Street Station
One of our favorite more under the radar photo spots and hidden gem in Brooklyn is from the subway platform of Smith & 9th Street Subway. This stop in Gowanus is where the F & G lines run, and also below here happens to be a Goodfellas filming location in Brooklyn too.
The subway platform is outdoor and elevated so you get a really unique view of the city skyline and trains and train tracks. The combo makes for the perfect leading lines to the city.
We would dare to say that this is an up and coming Instagram spot in Brooklyn even since the skyline really just looks amazing from this platform and it screams New York City with the train in the foreground, it's already a popular spot among local photographers.
Skyline Drive-In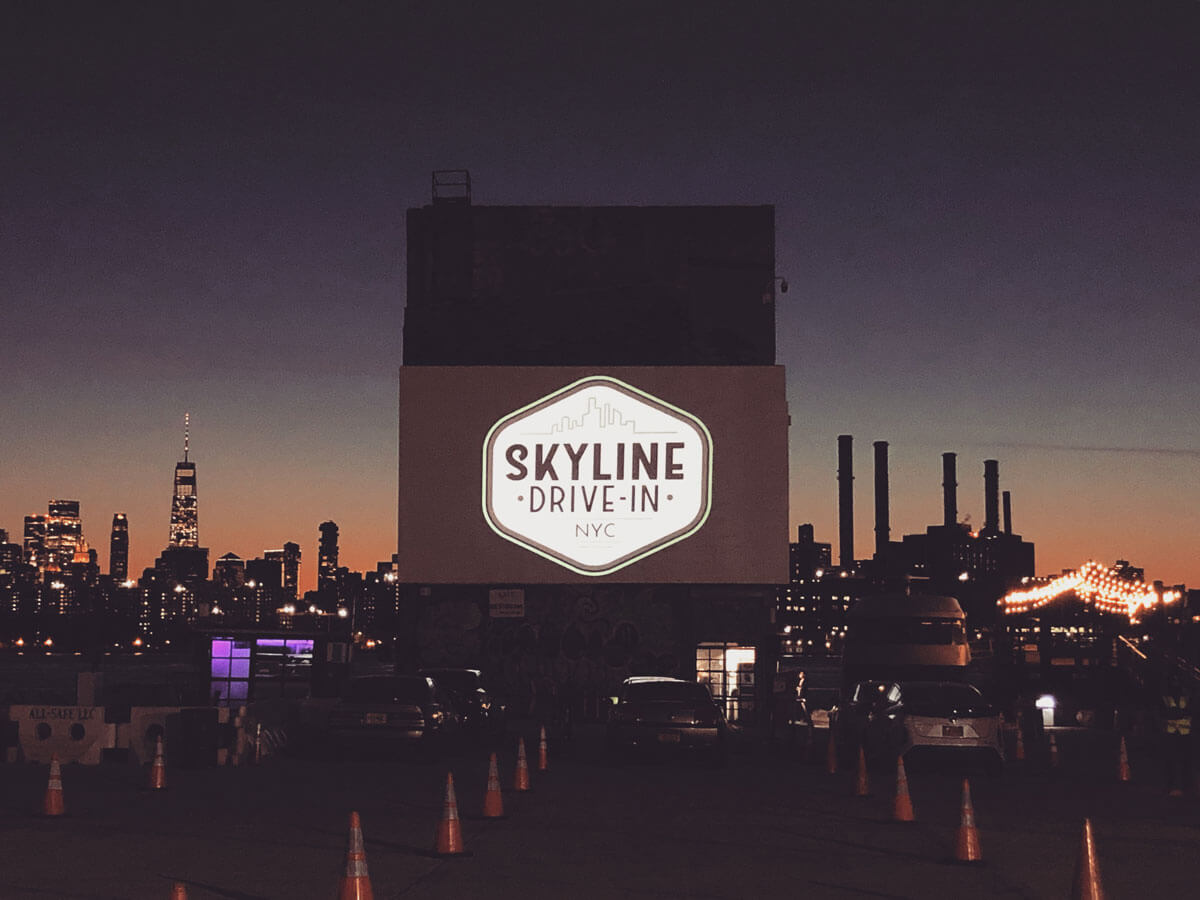 Some may already know about this, but it's just too good to leave out because if you don't this is surely one of the best-hidden gems in Brooklyn. I have always said that the best views of NYC are along the East River waterfront from Brooklyn and this drive-in movie theater has a front-row location to the skyline plus a movie!
Located in Greenpoint, the Skyline Drive-In NYC on Oak Street has to be one of the best drive-in movie theaters in the US thanks to the views! Don't have a car? Don't worry, they do sell tickets for walk up folks, just bring your own chair or blanket to sit on!
Check out more of the best movie theaters in Brooklyn!
The Ravine
One of the most peaceful and secluded spots in the city can be found hidden away in the heart of Prospect Park. The Ravine is a hiking trail deep in the center of the park between Long Meadow and Nethermead, two large meadows in this urban greenspace.
Designers Olmsted and Vaux, the same duo who designed Central Park, included the Ravine trail and waterfalls to mimic the landscape and how you feel in the Adirondacks from Upstate New York right here in the city, one of the best weekend getaways from NYC.
When you're walking down here you can easily feel like you're not actually in one of the largest cities in the world. Everything is so quiet and peaceful down here and each season is a different experience. Don't miss the tranquil flowing waterfalls either, which many people are surprised to learn there are actually quite a few waterfalls in NYC!
Masstransiscope
View this post on Instagram
One of the coolest hidden gems in Brooklyn on your commute from Brooklyn to Manhattan can be found on the B, D, N, and Q trains departing Dekalb Avenue Station towards Manhattan.
In 1970, artist Bill Brand installed his animated movie in the underground of the NYC subway system for commuters who happen to look up to see his version of a zoetrope, a 19th century optical illusion that animates images that revolve inside a cylinder so they appear to have movement like a cartoon when viewed through narrow openings or slits.
This installation called Masstransiscope was built in the abandoned and vacant subway station at Myrtle Avenue.
Back then, Brand wasn't competing with smartphones and other technological devices that are available at our fingertips and surprised passengers with his moving art installation.
If you want to see this be sure to head on the B, D, N, or Q that is Manhattan-bound from Dekalb Avenue Station and hang out on the right-hand side windows and watch! You're in for a treat!
Coney Island Circus Sideshow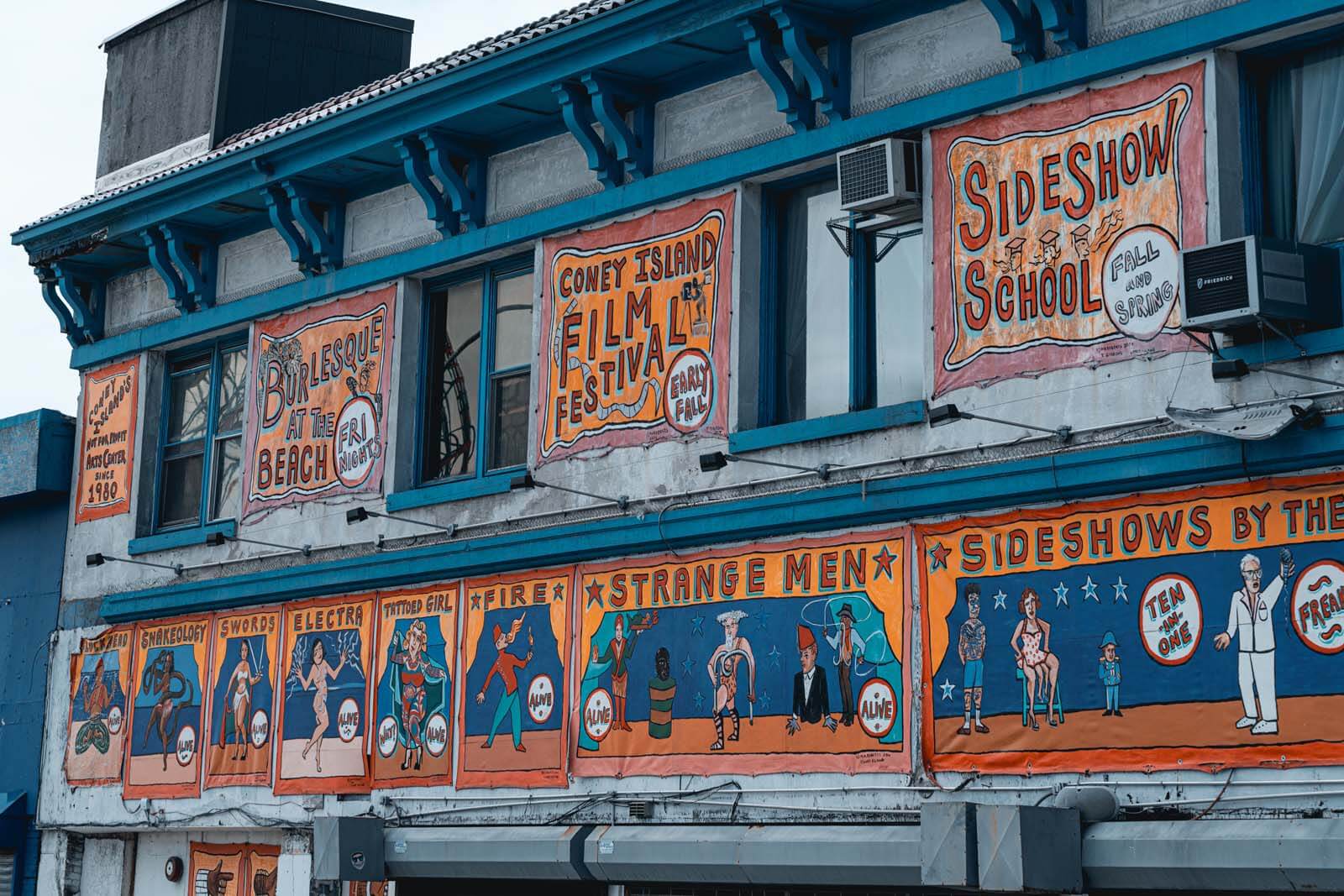 One of the most unique things to do at Coney Island and best hidden gems in Brooklyn is the Coney Island Circus Sideshow! Known as Sideshows by the Seashore, this is the last permanently housed non-profit venue in the United States where you can witness a 10 in 1 circus sideshow featuring a talented cast performing tricks, curiosities, sideshows, and wonders!
This is one of those places where you can actually witness the sideshow performances that have been depicted in Hollywood your entire lives.
The tradition of sideshows and performances like this date back to the 1800s in NYC well into the 20th century with ties to P.T Barnum. It wasn't uncommon to find these types of shows at amusement parks and traveling circuses that were made wildly popular from World Fair expos.
In the 1960s, these types of performances saw a sharp decline due to outcry from those accusing these carnivals and showrunners of exploitation of disabled performers as well as the socio-economic climate of the time.
The shows typically are around 45 minutes long and have 10 acts with various performances in a traditional 10 in 1 circus sideshow. The show runs continuously so if you walk in 10 minutes late you can hang around for the first 10 minutes of the next performance.
Shows run from 1 pm to 7 pm and admission is $12. See the latest cast and showtimes here.
They also have a sideshow school if you want to learn some of the best circus tricks and sideshows from stunts like glass walking and sword swallowing to fire breathing! Be sure to check out the rest of our favorite Coney Island hidden gems while you're at it!
---
Check out more free things to do in Brooklyn on our Brooklyn on a budget guide! Liked this post on the best hidden gems in Brooklyn? Bookmark for later or reshare on Pinterest below!