Looking for the best things to do in Bay Ridge? This guide has you covered. I've lived in a few different parts of Brooklyn, and none of them are quite like Bay Ridge. It's changed a lot in the last few years, but there's always a reason to visit. There are so many things to do in Bay Ridge no matter your interest, and it's just a beautiful place to spend a day.
If you're visiting Brooklyn for the first time and looking for a local experience, come to Bay Ridge. Transportation is easy to figure out, and there's a great combination of residential areas and restaurant and shopping areas. Locals come here for the great bars and family-friendly events, as well as the parks. Or if you're already an NYC local, this is your excuse to venture out into a different neighborhood.
When I first moved to NYC from the South over a decade ago, my best friend lived in Bay Ridge. We would meet up at The Green Spa or go running in Owls Head Park. I still come to the neighborhood today for the awesome food options and to enjoy the outdoor spaces with my family. I have a pretty good feel for the area and I'm excited to share Bay Ridge, Brooklyn with you.
What is Bay Ridge, Brooklyn Known For?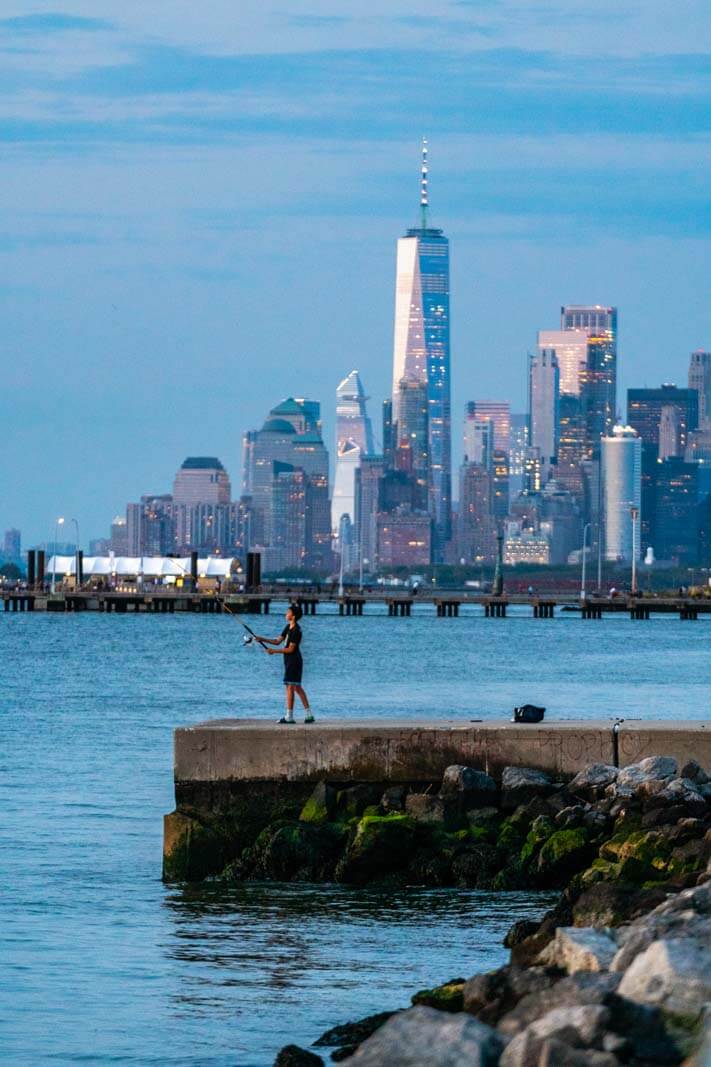 These days, locals know Bay Ridge for being restaurant central and for the great bayside parks. A lot of people come here if they have doctor's appointments or to go shopping on 86th Street. Bay Ridge has the largest Muslim community in Brooklyn with a significant number of Arab and Middle Eastern residents. But that's a pretty recent change. It's interesting to see the mix of new and old in the storefronts on the Avenues.
All the way back in the early 1800s, the only buildings here were country homes and the military base. But in 1916 the subway line was put in and the population exploded with working people. Then, the population was largely Dutch and Norwegian, and it stayed that way well into the 20th century. When the Verrazano-Narrows Bridge finished in 1967, many Irish, Italian, Polish, and Greek people moved into the area.
By the early 2000s, it became a popular area for Arab, Middle Eastern, Russian, and Chinese residents. I'm telling you all of this because as you explore Bay Ridge, you'll start to see history built into everything!
There's the Leif Ericson Park where the Prince of Norway gifted a statue in 1939. And you can attend the 17th of May Parade in Bay Ridge which recognizes the Norwegian Independence Day.
All along Shore Road are the remaining few old country homes built on the Ridge overlooking Verrazano Bay. On 4th Avenue are all the old apartment buildings that were built to house everyone moving from Manhattan in the early 20th century. And the parks are largely made up of land that once held family estates and country homes. But even among the old houses, you see the wealth of newer transplants with more recent million-dollar mansions next to generational homes.
On 3rd, 4th, and 5th Avenues you'll find Irish, Greek, and Italian restaurants and other signs of a thriving, tight-knit community for each group. And across Bay Ridge (but especially along 5th Avenue in the 60s streets), there are businesses geared towards this community. It's fascinating to see the differences here and much further south in the 90s where the neighborhood still feels largely Italian and Greek.
Where is Bay Ridge?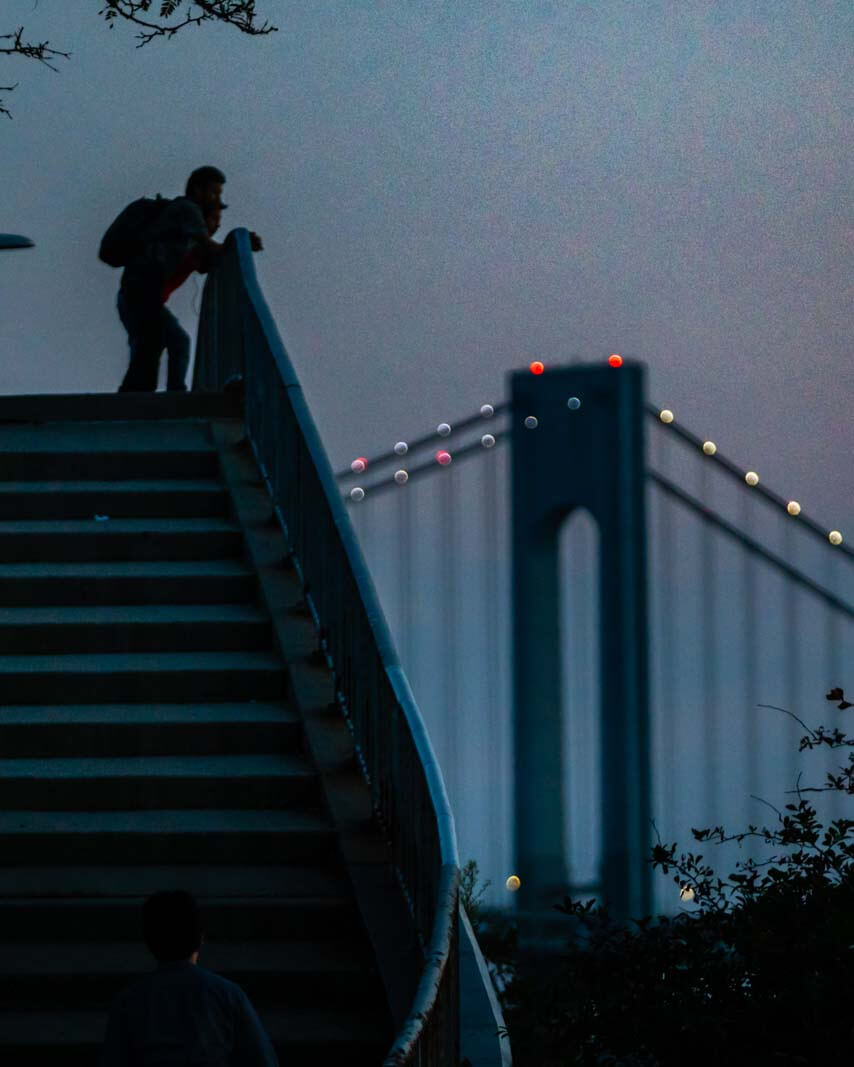 The neighborhood of Bay Ridge is on the southwest side of Brooklyn in New York City. It sits with the New York Bay and the Narrows Strait to the west. Seventh Avenue is to the east, and its northernmost boundary is 65th Street. Bay Ridge, Brooklyn goes south all the way past 101st Street to the shoreline and the Belt Parkway.
For those coming by car, the Belt Parkway and Shore Road hug the west side of the neighborhood. Other main throughways are 4th Avenue, Bay Ridge Parkway, and 86th Street.
You'll find the neighborhood of Sunset Park to the north of Bay Ridge and Dyker Heights to the east. To the south, some people also recognize the smaller neighborhood of Fort Hamilton, while others just consider it part of Bay Ridge.
Bay Rige Subway Stops
Bay Ridge Avenue (R Train)
77th Street (R Train)
86th Street (R Train)
Bay Ridge – 95th Street (R Train)
Amazing Things Do in Bay Ridge
Check Out the Food Scene
View this post on Instagram
One of my favorite things to do in Bay Ridge is trying out all the different eateries. Over the years, I've come here for dessert with friends and been to several birthdays, wedding receptions, and baby showers at Bay Ridge restaurants. While you'll find places to eat all across the neighborhood, the highest concentration of restaurants is on 3rd Avenue, especially between Ridge Boulevard and 80th Street.
The next place to look is all along 5th Avenue. For great Middle Eastern spots, head to 5th avenue in the 60s. Hazar Kebab has all kinds of Turkish food. Everything on the menu is outstanding, and I crave their Turkish coffee.
On 4th Avenue, there are lots of Greek food places, like King Souvlaki on 84th Street. And Plaka on 86th street next to the train station has been there for as long as I can remember. I love their tzatziki sauce.
For great brick oven pizza, try Peppino's on 3rd Avenue between 77th and 78th Avenue. I also love their salads and bruschetta appetizer. But if you come on the weekend, consider reserving a table in advance, because they'll be busy!
And for a gorgeous setting and classic American food, try Cebu. They're like an elevated diner with a full bar, and sometimes we just stop in for the amazing cocktails!
One of Brooklyn's hidden gems is The Hom Store on 33rd Avenue between 88th and 89th Street. They're a home goods store with a café tucked away in the back. They're the perfect spot for a brunch with friends and make the best Sangria around!
Or if you are looking for a great dessert spot after dinner, check out the Little Cupcake Bakeshop on the corner of 3rd Avenue and 91st Street. Their coffee is super strong and the banana pudding is out of this world, they also have great cupcakes and cakes with a few locations in the city including one in Prospect Heights.
Head to a Bay Ridge Coffee Shop
View this post on Instagram
There are so many different types of coffee shops and cafes in Bay Ridge that the hard part is just choosing which one to go to! For a sugary jolt, I suggest going to 79th Street near the corner of 3rd Avenue. There, the family-owned Brooklyn Brew serves up locally roasted coffee and pastries. But what I love at Brooklyn Brew are the dessert drinks.
And there's Hemo Café on 5th Avenue Between Bay Ridge Avenue and Ovington Avenue. Come here for a great cup of Yemeni coffee, smoothies, cold-pressed juices, and fun breakfast items like bubble waffles! While you're there, check out their other items for sale, like Yemen honey, nuts, and raisins. And they sell a wide range of whole bean Turkish or Yemeni roast coffees.
I also suggest Boca del Cielo if you're a sucker for good packaging! They used to be a place called the Cocoa Grinder. While they've changed hands, the beautiful 3rd Avenue and 85th Street storefront has always caught my eye. Enjoy a wide range of classic coffee drinks while you sit in a beautiful sun-filled setting with floor-to-ceiling windows.
Hang out at a Local Bar
View this post on Instagram
Another thing Bay Ridge has a surplus of are great spots to grab a drink. There are all kinds of taverns, bars, and hookah lounges representing every culture and era of Bay Ridge, Brooklyn. This is especially where the sociology-loving nerd in me comes out. I find it fascinating to see the way the old-school Brooklyn still holds on strong in the gritty bars. But next often right next door, the newer bars do an amazing job catering to the younger adults.
Kitty Kiernans on 3rd Avenue between 97th Street and Marine Avenue is a great example of an old-school Irish dive bar. The clientele is older but they're super welcoming to all. It's a friendly spot for a drink and live music. Just bring cash!
Or for a bigger menu and a unique experience, there's also the Wicked Monk on 3rd Avenue between 95th and 96th Street. This Irish pub has a cool vibe and is filled with tons of religious paraphernalia! The Irish food is amazing, as is the beer.
If you're looking for a fun place to hang out and play games, check out The Hideout on 5th Avenue and 84th Street. They have a welcoming, laid-back atmosphere and entertain a noticeably younger crowd than the pubs. The Hideout hosts a lot of live local bands and has fun stuff like a vintage jukebox, beer pong, and pub games!
But my favorite spot is the Salty Dog on 3rd Avenue and 75th Street. It's a sports bar inside an old, renovated firehouse! They have such a great vibe with cool stuff on the walls. And while I've never been on the weekends, that's when they turn into a dance club! My husband and I go for the top-notch menu and the long list of beer options. Our favorites are the short rib sliders and buffalo wings.
Go Shopping or to the Spa
Some of the best things to do in Bay Ridge are enjoying all the shops or the dozens of salons and spas in the neighborhood. My favorite massage parlor sadly closed during the tumultuous past few years, but my second favorite is Brooklyn Women's Beauty on 5th Avenue between 83rd and 84th Street. I go regularly for foot massages!
Most people go to the big-name retail stores on 86th street between 4th and 5th Street. There are different jewelry stores and all the phone service providers here. I actually got my wedding ring on 86th Street. It's kind of like a big outdoor mall with everything from The GAP and Sephora to Bath & Body Works and smaller boutique clothing stores.
If you get hungry this is where you can find your commercial fast food chains like McDonald's and Chipotle, as well as a Starbucks. And if you're having a tricky time finding street parking, you can use the public parking garage on the corner of 5th Avenue.
Walk Around the Neighborhood
Bay Ridge, Brooklyn is known for its beautiful historic homes. Some of them date back to the 1850s or earlier! Around this time, 3rd Avenue was widened and all the way to Shore Road, Manhattan business owners had country homes built.
Sadly, there are just a few of these homes left today, because most of them were torn down to build apartment buildings in the 1920s. What's left are beautiful examples of the Greek Revival and Gothic Revival styles, as well as Victorian Italianate.
One of the most famous homes was a later addition. You can find the infamous "Gingerbread House" at 8200 Narrows Avenue. The homeowners hired architect James Kennedy in 1917. Kennedy had built other beautiful homes in Brooklyn's Flatbush neighborhood but nothing ever matched this Bay Ridge home!
When you come up on it, it looks like a fairy tale cottage, with uncut stone and a shingled roof that mimics a more organic thatched cottage roof. It's in the Arts and Crafts style that was popular at the time, featuring rustic architecture and lots of natural materials. You can still see the original, gorgeous handwrought ironwork details. Just keep in mind when you visit that it's a private residence.
Another private home that's also a historic landmark today is 119 95th Street near Shore Road. The Bennet-Farrell-Feldman House was an early addition to Bay Ridge, built in 1847. It's a beautiful example of the Greek Revival Style. The Bennet house used to be one of many structures on the family's estate overlooking New York Bay. Over the years, the home was residence to many prominent New York High Society members.
You may not know that there are historic brownstones in Bay Ridge! But you can only find them on two streets. The first is the Senator Street Historic District between 3rd and 4th Avenue. It's the only block in Bay Ridge like it, with brownstones on both sides of the block, reminiscent of brownstone-heavy neighborhoods like Park Slope. And while they all look the same, look closer. The architect put unique details into each of the 38 townhomes!
Then there are The Houses at Ovington Avenue. You'll find this small avenue between Ridge Boulevard and 3rd Avenue. Built in 1910, the street is made up of 15 townhomes and 5 larger rowhouses.
Head to a Bay Ridge Park
One of the most popular things to do in Bay Ridge is to head to one of the neighborhood's many outdoor spaces. And a lot of them have been redone in the last few years, so they're beautiful! On 65th Street there's Leif Ericson Park which covers 5 blocks and has tons of amenities for families and outdoor activities.
The Fort Hamilton Athletic Field is next to Fort Hamilton High School in south Bay Ridge. This is a track and field that's used by the school and the public. There are also tennis and basketball courts, as well as a playground.
And one of my favorite parks in Brooklyn is Owl's Head Park. You'll hear old-school Brooklyners call it Bliss Park. That's because the land used to be owned by the Bliss Family and was donated as parkland. You'll see how it would be the perfect spot for a majestic mansion overlooking the bay!
Owls Head Park has wonderful, hilly walking paths and benches under huge old trees. There's also a skate park and a playground. You can also use the tennis courts or the huge dog run. And from Owl's Head Park, you can walk across Shore Road to the American Veterans Memorial Pier.
It's commonly known as the 69th Street Pier. People come here to sit and enjoy a great panoramic view of the Verrazano Bridge, the Statue of Liberty, and the Manhattan skyline. You might see kids eating treats from the ice cream truck that parks nearby when it's warm, and it's a common spot for fishing as well.
From the 69th Street Pier, the Shore Road Promenade is a seawall pathway that runs south 4.5-miles to Bensonhurst Park in Bath Beach. There are paths for pedestrians and cyclists. I love to come here for walks at sunset. They're constantly improving the promenade, but just be aware that there aren't any street lamps and it can get pretty dark at night.
The Shore Road Promenade connects to the massive Shore Road Park across the highway. It has tons of lawns, ball fields, and other amenities across the length of it. The further south you go, the better the views of the Verrazano Bridge. Along the way, there's the serene Narrows Botanical Garden that's definitely worth a visit! It's a peaceful volunteer garden that welcomes visitors.
Then there's the historic Old Glory Lookout. It's a memorial plaza with a flagpole and a dedication plaque from 1899! And it's a nice quiet high point with benches overlooking the bay. Plus, nearby at the 79th Street entrance, the Mayor's Office hosts a free outdoor summer concert series in the park. Check it out every Tuesday night during the summer.
If you keep following the promenade all the way to the Verrazano Bridge, there's John Paul Jones Park and John J. Carty Park right below the bridge. They're really just open green spaces with a cool view of the bridge. Carty Park also has tennis courts.
Go to a Street Fair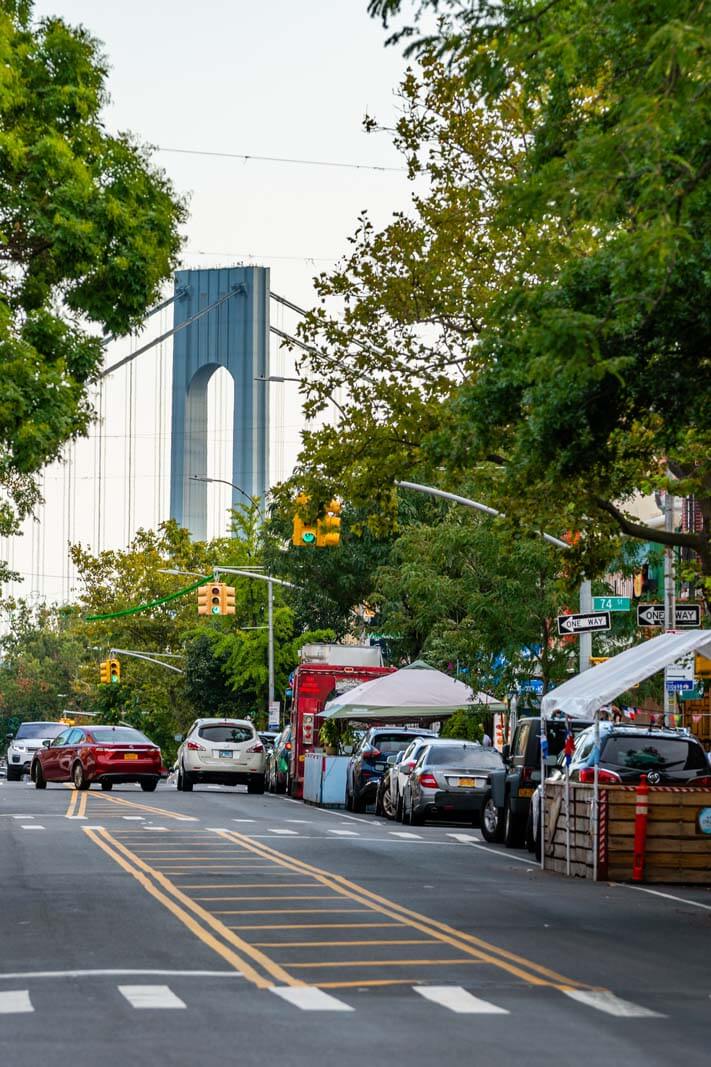 One thing Bay Ridge, Brooklyn does best is street fairs, and they really showcase the importance they put on the community! Starting off the summer, there's the Gay Ridge Pride held in Owls Head Park in June. It's fun for all ages with different events throughout the day.
In July and August, you can check out the 3rd Avenue Summer Strolls. They're held over 2 different Fridays each month. One Friday they block off a section of 3rd Avenue in the 70s and the other they block off a section in the 80s. You'll find food trucks and arcade games, as well as live music and other fun events. It's family-friendly, but anyone can go and have fun. The Summer Strolls go from 5 PM to midnight.
Similarly, there's also the Fun on Fifth Festival. But this is held the last Friday from June through October. They block off 5th Avenue from 72nd Street to 85th Street and you can find all kinds of live music performances and local businesses on the sidewalk. There are also children's games, food vendors, and craft vendors selling cool stuff. In the summer Fun on Fifth is held from 10 AM to 6 PM, and starting in August it's from 5 PM to 10 PM.
But one of my favorite events is the Holy Cross Greek Cultural Festival. It's super popular and a lot of fun. The Holy Cross Greek Orthodox Church puts it one weekend in September. They block off Ridge Boulevard from 84th-86th Street. There's a flea market, Greek music, dancing, different live performances, games, and more. And there's always amazing Greek food. Come by from noon to 10 PM, just be prepared for traffic.
Find Some Bay Ridge Film Locations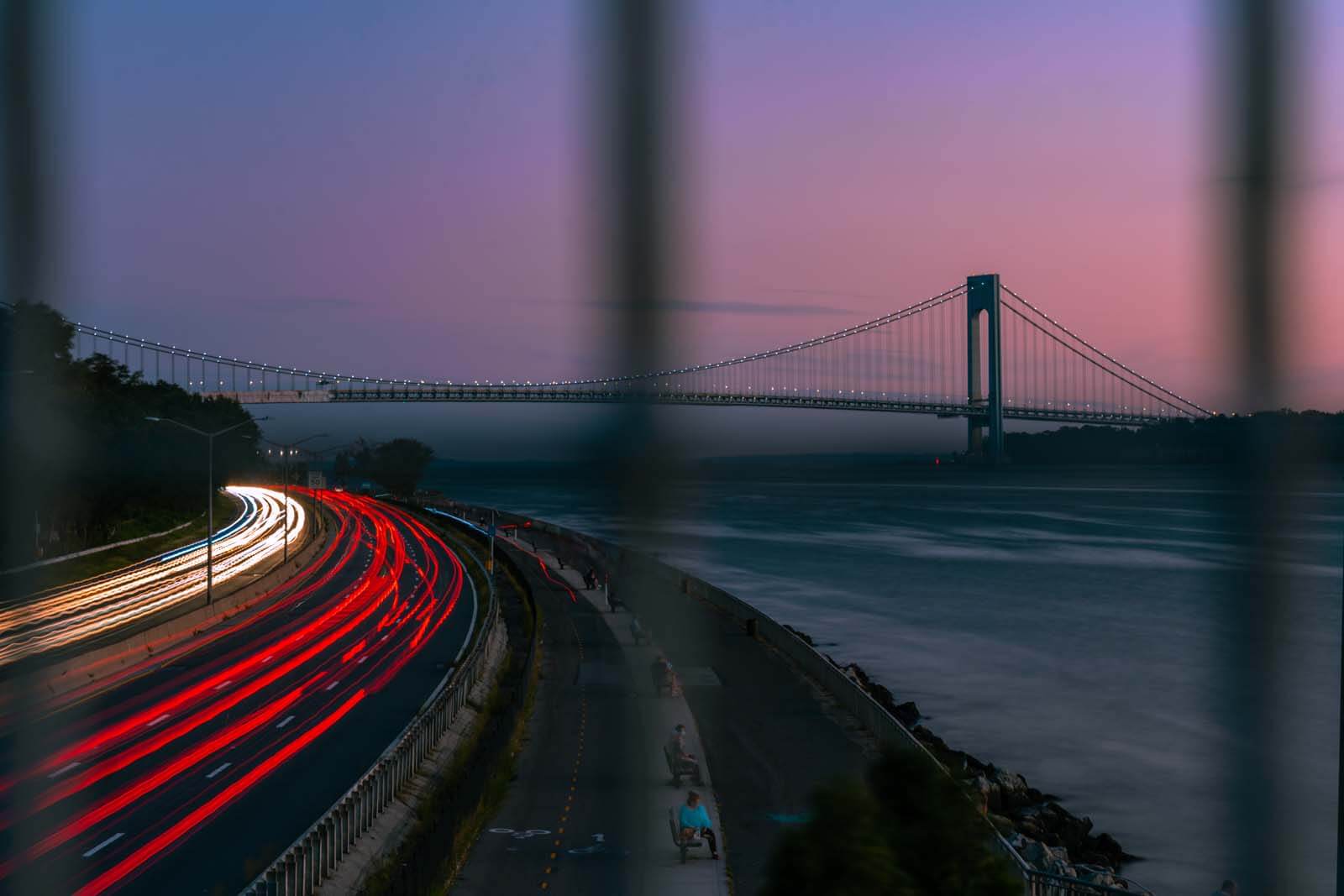 For film lovers looking for things to do in Bay Ridge, you'll be happy to know that the neighborhood has tons of film locations! It's actually been immortalized in books and film. Most recently, Bay Ridge has been referenced in Spiderman 2, Blue Bloods, and Mad Men. But it's possibly most famous for being prominently featured in Saturday Night Fever. So, why not go on a filming locations tour?
The most iconic Bay Ridge film location in the movie is the Verrazano-Narrows Bridge! It's almost like a secondary character in the film, with Tony going into a whole diatribe about the bridge at the beginning of the movie.
While I can't confirm this, I'm sure I've driven there and this location looks like the Bay Ridge Promenade. It's cool to see people walking along the Promenade with the Belt Parkway in the background.
However, without spoilers, the scene ON the Verrazano Bridge (probably not surprisingly) wasn't actually filmed on the bridge. The daredevil scene was filmed on a set at night in Bay Ridge's John J. Carty Park nearby!
The house where Tony and his parents live is at 221 79th Street. The house looks a little different, but it's the same house! And there's also the hardware store where Tony worked. That's at 7305 5th Avenue, and you might be surprised to hear that it's still a hardware store, though it's under a different name now.
A few locations are gone, like the White Castle on 92nd Street between 3rd and 4th Avenue. Now it's a building with an Unos in the basement. And the coffee shop where Tony took Stephanie is a Mazda car dealership on 94th Street and 5th Avenue now. But you can also see Kelly's Tavern (9259 4th Avenue) in the movie as they walk by it on the street!
Probably the most iconic image of Saturday Night Fever is the one of Tony in a white suit dancing disco. That scene was also filmed in Bay Ridge. There used to be a dance club at 802 64th Street where that scene was filmed but it's also been torn down in recent years.
Things to Do Near Bay Ridge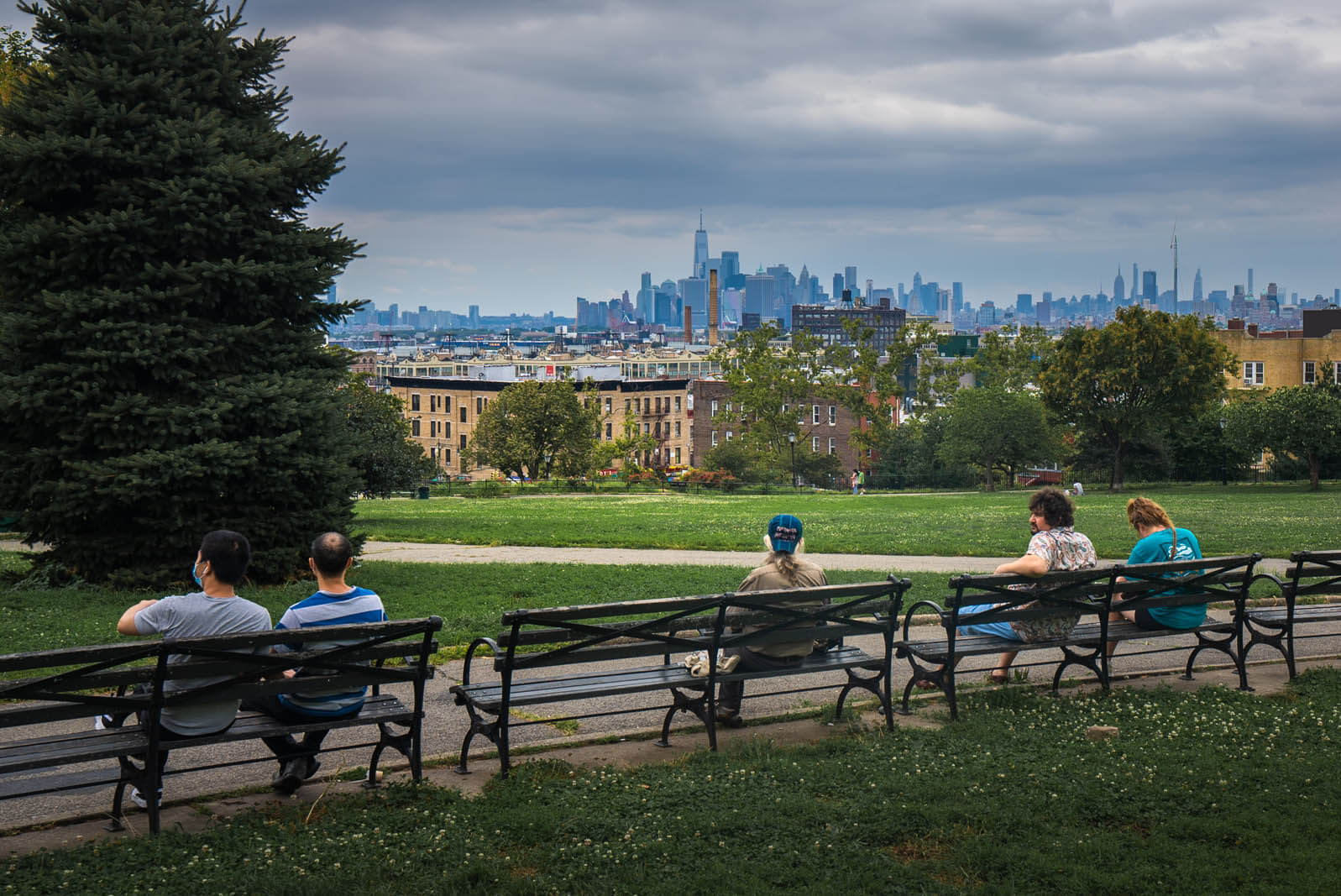 Bay Ridge, Brooklyn is bordered by Sunset Park to the north, Fort Hamilton Army Base to the south, and Dyker Heights to the east. South of 86th Street, some recognize a neighborhood called Fort Hamilton, as well. And like most Brooklyn neighborhoods, the borders are a little fuzzy. You don't have to just stay in Bay Ridge!
Sunset Park
The neighborhood of Sunset Park holds a special place in my heart, as it was the first place I lived when I moved to Brooklyn! It's changed a lot since those early days. But I still go back to eat at George's on the corner of 5th Avenue and 57th Street. It's a great old-school American diner (and they make the best whiskey sours!).
I also suggest heading to 3rd Avenue in the 30s. There, under the highway is the new Industry City. This is a series of old industrial buildings redesigned into the coolest event spaces, restaurants, shops, and exclusive boutiques. They often have free music events, flea markets, and art installations you can check out.
Also, be sure to check out the historic Green-Wood Cemetery here in Sunset Park. Besides being the forever home to famous people throughout New York City's history the cemetery offers beautiful views of the skyline, Statue of Liberty, flowers, trees, and pathways. They also have several tours you can join which is another awesome way to learn about the history of New York City through the stories of those interred here, battles that have taken place here, and more.
Dyker Heights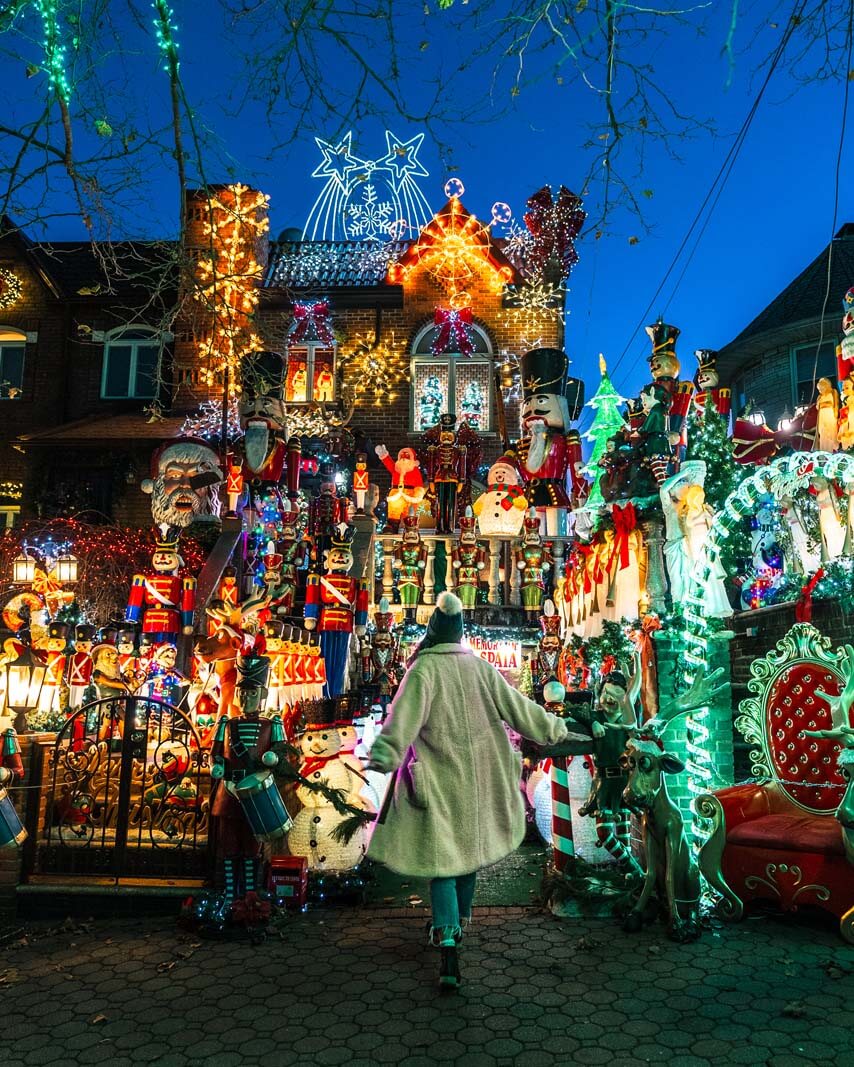 Head to Dyker Heights for more historic mansions and townhomes. You'll find most of them in the 80s along 11th Avenue, as well as Bay Ridge Parkway. And this is where the world-famous Dyker Heights Christmas Lights event is held every year.
While you're checking out houses along Bay Ridge Parkway, make sure to stop by McKinley Park at 7th Avenue. This is another great old park set on a side of a hill. There are great walking paths, a playground, basketball courts, and tennis courts. It feels like a retreat from the city when you're surrounded by century-old trees in this green space!
Fort Hamilton
The neighborhood of Fort Hamilton is largely a residential area, while also being home to the Fort Hamilton Military Base. The massive Verrazano-Narrows Bridge towers over the area, with John Paul Jones Park at the base. Locals call it Cannonball Park for the monuments you'll find there. It's mostly a nice shady park with great views of the water and the bridge.
You might want to ride your bike to John Paul Jones Park in the summer. Bike South Brooklyn hosts Wednesday Evening Summer Bike Rides to different neighborhoods in Brooklyn You could enjoy a nice ride along the Shore Road Promenade to get pizza at L&B Spumoni Gardens in Gravesend with new friends!
Where to Stay In Bay Ridge, Brooklyn
While you're planning things to do in Bay Ridge, you might need a place to stay if you find yourself on this end of Brooklyn. There aren't many places in the area as its very residential but the Gregory Hotel is a great choice and even where I suggest my family stay when they are in town.
It's owned by Best Western today, but the Gregory Hotel is almost 100 years old and used to be one of the premier hotels in Brooklyn. It's still absolutely beautiful and I had a great time staying there. You'll find it on the corner of 4th Avenue and 84th Street. It's great because it's conveniently close to the shops on 86th Street, as well as the train station.
---
About the Guest Author
Elizabeth Ramos – I moved to Brooklyn from my hometown in Texas in 2010 when I was dating my husband. It was a major transition going from the South to NYC, but I quickly learned to love it! There's really no other place like it. I've spent a decade in the Bensonhurst and South Brooklyn area during my career as a writer, artist, and preschool teacher. Today, I work from home as a content writer in the areas of beauty, lifestyle, education, parenting, and travel so I can stay home with my 1-year-old daughter. When I'm not writing, you'll probably find my little family exploring fun things to do around Brooklyn!
---
Enjoyed this guide for the best things to do in Bay Ridge, Brooklyn? Bookmark for later or let us know your favorite thing you did in Bay Ridge in the comments below!