Looking for the best things to do in Bed Stuy, Brooklyn? We got you. Bed Stuy or Bedford Stuyvesant, is one of the best historic neighborhoods to explore. From tree-lined streets filled with beautiful brownstones and the country's largest concentration of Victorian architecture to being one of the anchors for the Black community of Brooklyn and NYC.
Bed Stuy has a rich history from being the center of Civil Rights activism in the 1960s, raising a generation of legendary artists in the hip hop music scene from Jay-Z to Biggie Smalls, Lil Kim, and artists like ODB as well as where one of the greatest film directors of all time grew up and based his early films (if you guessed Spike Lee, you're correct) along with other notable celebrities like Bobby Fischer, Mike Tyson, Jackie Gleason, and Jackie Robinson. Not to mention the first Black woman to be elected to Congress, Shirley Chisholm.
In addition to being a culturally rich neighborhood filled with leafy brownstone streets, Bed Stuy is home to many incredible small businesses as well as an insanely great food scene. So let's dive into the best things to do in Bed Stuy, Brooklyn.
We also love this guide by Rondel for NYCgo on some of the great Black-owned businesses to check out in Bed Stuy, give it a read and spread some love love to these local businesses.
But first, where is Bed Stuy?
Before we dive into the best things to do in Bedford Stuyvesant, Brooklyn, aka Bed Stuy, we are going to give a rough estimate of the neighborhood's boundaries. Located in northern Brooklyn, the neighborhood is bordered by the neighborhoods of Clinton Hill, Crown Heights, Williamsburg, and Bushwick.
For the purposes of this guide, the streets you can look at for the boundaries of Bed Stuy are Flushing Avenue (to the north connecting to Williamsburg), Classon Avenue (to the west bordering Clinton Hill), Broadway (to the east bordering East New York and Bushwick), and Atlantic Avenue (to the south bordering Brownsville nad Crown Heights).
Bed Stuy also technically contains the smaller neighborhoods of Weeksville, Ocean Hill, Bedford, and Stuyvesant Heights. Also, historically there are parts of the Clinton Hill neighborhood that were once considered a part of Bed Stuy.
Bedford Stuyvesant subway stops:
What to Do & See in Bed Stuy
The Food Scene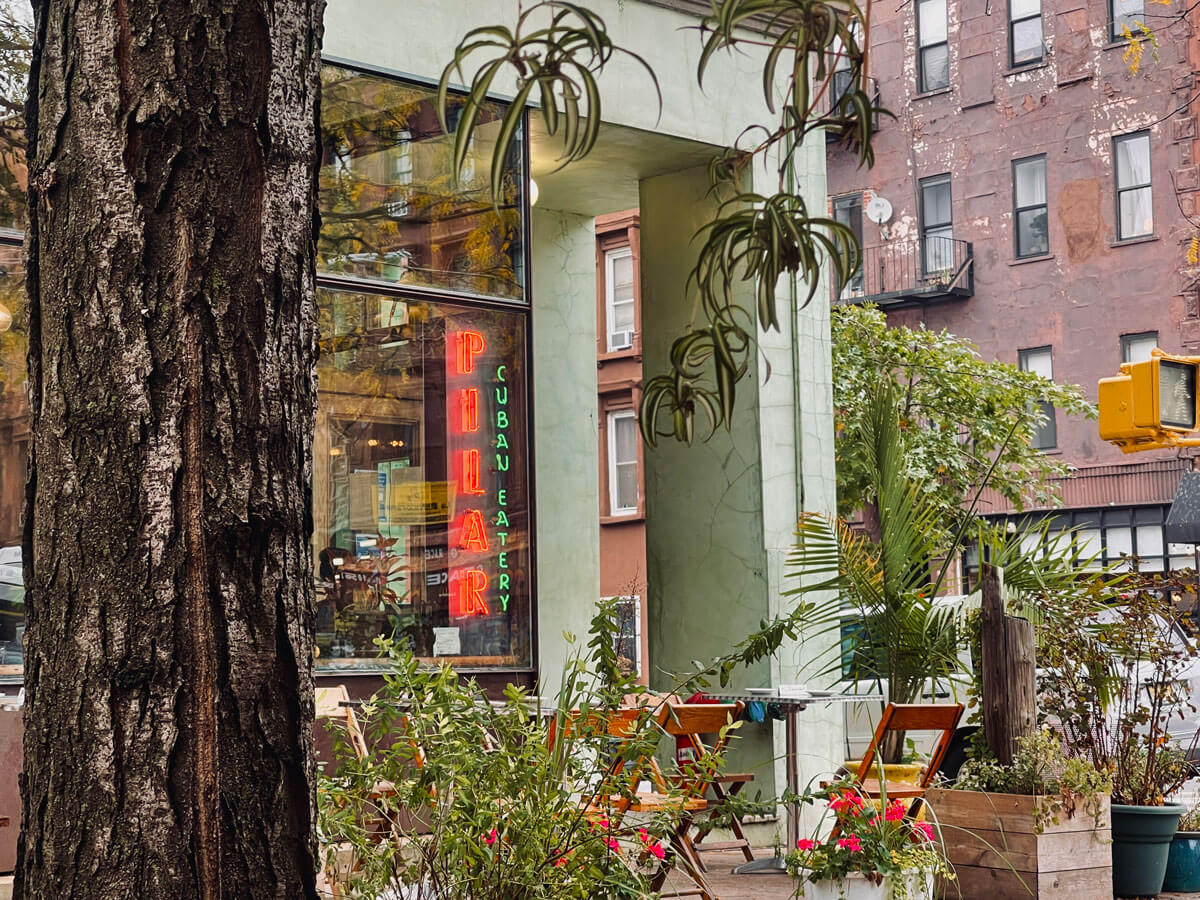 Without a doubt, the Bed Stuy neighborhood is a food destination all in itself. There are so many great restaurants in Bed Stuy that even though I live here and eat out frequently, I am still finding more and more incredible places to dine. You can find just about any cuisine in the neighborhood including some of the best pizza in Brooklyn.
Naming every single great place to eat in the neighborhood would require a novel, so I am going to recommend a few favorites.
For pizza, you don't want to miss Speedy Romeo (376 Classon Ave – technically on the edge of Clinton Hill) for their wood-fired pizzas or Saraghina Pizzeria (350 Lewis Ave) for their wood-fired Neapolitan-style pizzas. Both of these Italian restaurants are better evening spots and sit-down restaurants, expect to order a pizza per person or split a few dishes among friends.
If you're looking for something quick and more casual, don't miss Valentine's Pizza (1063 Bedford Ave) who sells large sharable size pizzas that also sell by the slice.
One of the most popular spots to dine in Bed Stuy is Pilar Cuban Eatery (397 Greene Ave) where you'll want to try their Cuban sandwiches and sides. Highly recommend going with a friend so you can split a few things.
A neighborhood institution that's been around for over seven decades and serving up some of the best sandwiches in Brooklyn, specifically brisket, corned beef, and pastramis is David's Brisket House (533 Nostrand Ave). Grab one to go or sit down in their casual seating and enjoy one of the best, filling sandwiches in the city.
For unforgettable fried chicken don't miss Peaches HotHouse (415 Tompkins Ave) or Brown Butter Craft Bar + Kitchen (413 Tompkins Ave). Whether you're looking for some great brunch in Bed Stuy or a taste of the South here in Brooklyn, these kitchens got you for some of the best fried chicken in the city all day long.
Another warm little spot to check out serving up traditional Senegalese dishes is Joloff (1168 Bedford Ave). A local institution for a quarter-century, this family-owned shop is a neighborhood mainstay and you can taste the love that's put into every dish here.
For our plant-based diet friends, you'll want to make a visit to Toad Style (93 Ralph Ave), which is one of the best vegan restaurants in Brooklyn or check out For All Things Good (343 Franklin Ave) which offers more vegetarian forward Mexican dishes.
For those with a sweet tooth, we got something special for you! Bed Stuy, Brooklyn has not one but, two of the best donut shops in Brooklyn! Be sure to check out the insanely delicious artisanal donuts at Fan Fan Doughnuts (448 Lafayette Ave) and/or make a stop to Fat Doughnut (50 Malcolm X Blvd) for amazing handmade donuts and other baked sweet treats.
Hit Up a Cafe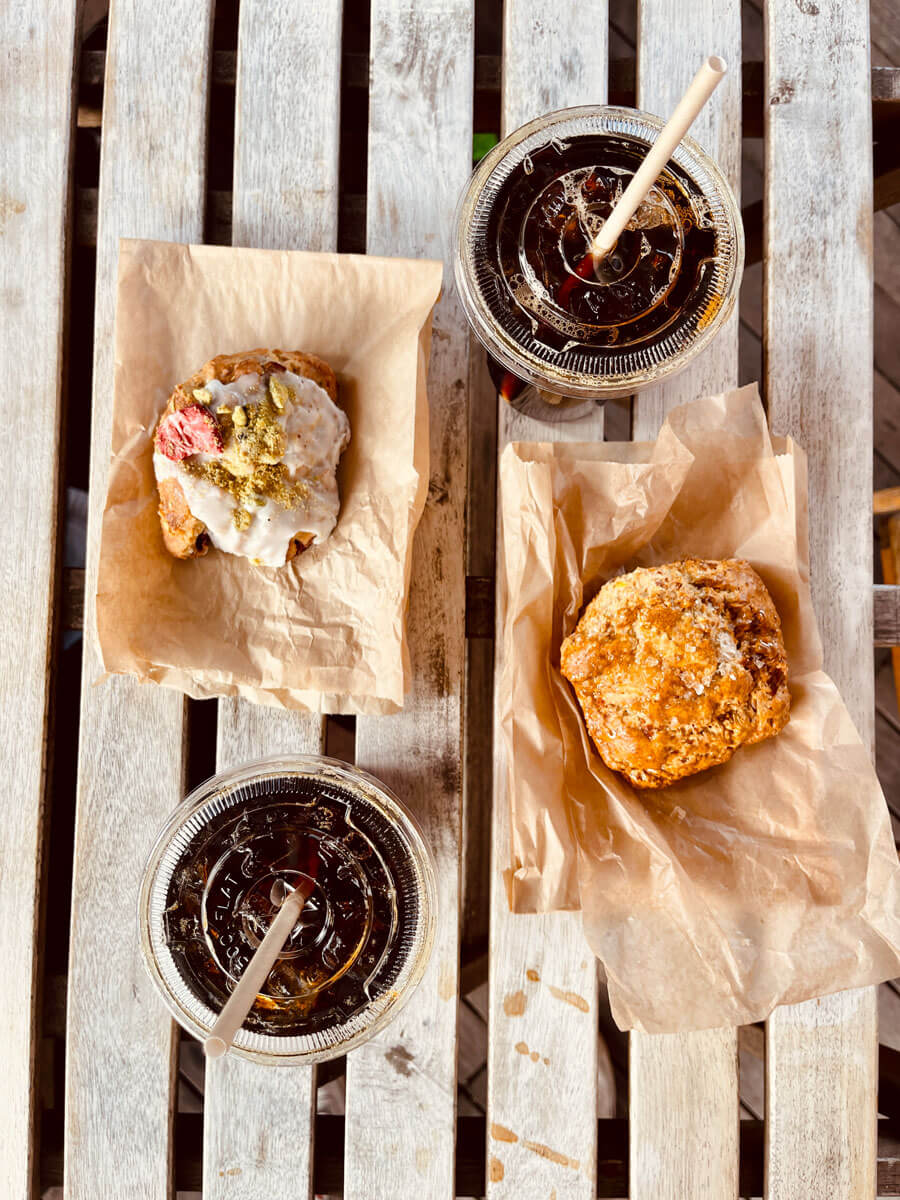 One of the best things to do in Bed Stuy is check out some of the great cafes this neighborhood has to offer. This neighborhood has very limited chain coffee shops, which we like as Bed Stuy has some cool, independent cafes and coffee houses – many of which are collaborative spaces that are worth making the trip here for alone.
One of my absolute favorites is Brooklyn Kettle (395 Tompkins Ave) is where to go if you want to drink, eat, and shop sustainably. This collaborative space with The Narativ House focuses on not only caffeinating its patrons but also being a space that sells socially conscious and ethical products from artisan brands from all over the globe curated by Farai Simoyi, a local independent fashion designer featured on the Netflix series Next in Fashion.
If you're looking for the perfect coffee date spot with some seriously good food check out Golda (504 Franklin Ave) or Stonefruit Espresso + Kitchen (1058 Bedford Ave). Both of these spots are more than a cafe offering a menu of great food and aesthetically pleasing space.
Be sure to make a stop at Brooklyn Kolache (520 DeKalb Ave) to try a Texas-style kolache – one of the few places in the city you can find such a thing!
Stop at Playground Coffee & Annex (1114 Bedford Ave) for one of the best community-based businesses and cafes in the borough. Playground is an organization dedicated to improving food equity and spreading awareness about fresh and healthy produce to those who need it. In addition to their cafe space, they have Playground Annex, one of our favorite independent bookshops in Brooklyn with a carefully curated selection of works from Black, Brown Indigenous, Latinx, AAPI, Trans+, Queer, and POC authors and artists.
Check out a Bar
Another one of my favorite things to do in Bed Stuy is hit up the incredible bars in this neighborhood. Whether you're looking for a cocktail lounge or date spot or you're looking for a place to party all night – there's something for everyone and several options.
For a great date spot or pre-dinner drink check out Bed-Vyne Brew (370 Tompkins Ave) a small, dimly lit space offering a great wine and craft beer selection or head to Dynaco (1112 Bedford Ave) specializing in classic cocktails in their dimly lit, romantic bar that is especially cozy in the winter months as they have a fireplace in the back you can cozy up to.
For something a little more on the fun side of things, check out Zig Zag (382 Marcus Garvey Blvd) a swanky, themed tropical lounge that transports you to a tropical paradise with fun fruity cocktails served in shark, kitty, or tiki cups. Or head to Wonderville (1186 Broadway) a fun hang-out space and bar with an old-school arcade that's free to play, not to mention they often have live music and even gaming competitions here.
Want to know where all the cool cats are hanging out? Head to Doris (1088 Fulton St), one of Bed Stuy's best-kept secrets and a cool southwestern-themed bar with great cocktails and an awesome back patio on a nice day.
Head to All Night Skate (54 Rockaway Ave) for a fun retro-themed bar that makes you feel like you rolled into a classic roller rink, except there is no roller rink it's just an aesthetic here. No need to worry about crashing and falling on skates here.
Be sure to read our full guide to all the best bars in Bed Stuy for more of the incredible spots here, I wasn't kidding when I said there are several options for anyone and everyone when it comes to bars in this neighborhood.
Shop Bed Stuy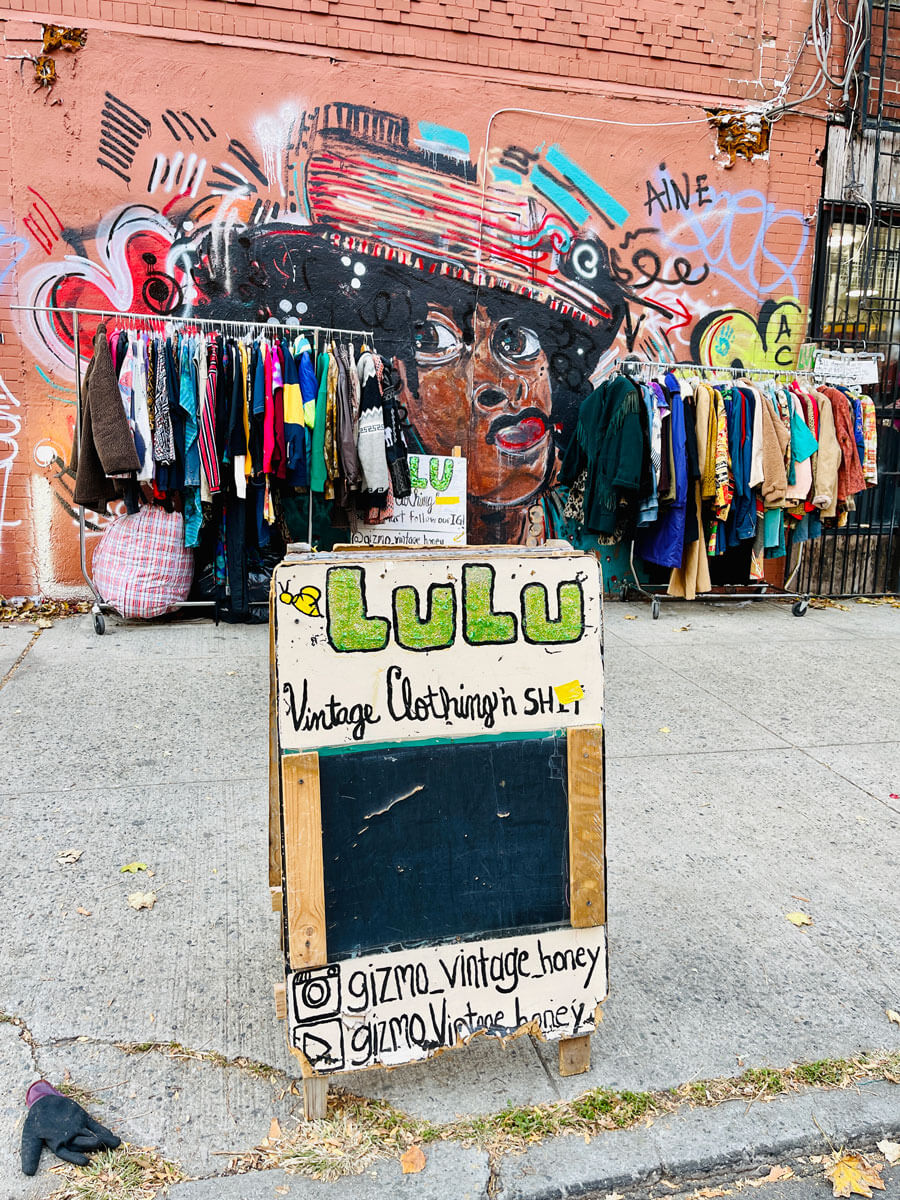 Bed Stuy is home to some of the best independent shops in Brooklyn as well as some really great vintage shops.
Head to Peace & RIOT (401-403 Tompkins Ave) is the perfect shop if you're looking for a gift or home goods to spruce up your interior space. Find everything from throw pillows, intriguing scented candles, inclusive and representative baby dolls, handmade soaps, and any cool gift you can think of all under one roof at this Bed Stuy boutique.
Make Manifest BK (382 Tompkins Ave) is another great shop, community space, and gift store in Bed Stuy. They have ethically sourced gifts by Black artisans and makers from all over the world including a great collection of carefully curated gifts and textiles.
If minimalism is your style you'll want to check out Sincerely, Tommy (343 Tompkins Ave). This lifestyle store and cafe carries cool womenswear and other accessories in shop.
If you love vintage shopping, you're in luck. Not only does Brooklyn have an incredible vintage shopping scene but Bed Stuy has a few of the best spots! Harold and Maude Vintage (592 Lafayette Ave) carries everything from 'cradle to grave' as they say it with a range of carefully curated one-of-a-kind items for babies to adults with a focus on US and Japanese-sourced items.
If you're not following Gizmo_Vintage_Honey on IG already, stop what you're doing and give her a follow. You'll find daily drops of the latest and greatest finds on her frequent IG live streams or you could just head over to her shop Lulu Vintage Clothing (438 Marcus Garvey Blvd) to see all the pieces in person and also have a chance to meet Poopie Butt the dog in person who will even help you check out. You'll fall in love, she is EVERYTHING and stopping and shopping here is absolutely one of my personal favorite things to do in Bed Stuy.
Walk The Blocks of These Legendary Hip Hop Artists
As mentioned earlier, there are TONS of famous folks from Bed Stuy, from athletes to directors. But one thing is for certain, Bed Stuy has had a central role to play in hip hop music. Some of the most famous hip hop artists from Brooklyn come from Bed Stuy and you're reminded when you walk the neighborhood as there are murals all throughout Bed Stuy of the legends in music who lived here in the beginning of their careers and childhood.
Artists like the King of New York himself, Biggie Smalls (while technically from Clinton Hill it's close enough), Jay-Z, Big Daddy Kane, Lil' Kim, Ol' Dirty Bastard aka ODB, and Yasiin Bey (previously known as Mos Def) to name a few and give you a glimpse into the talent that came from here.
One of my favorite things to do in Bed Stuy is to walk and spot different murals paying tribute to the legends from here. One of the most iconic murals in Bed Stuy is the King of New York mural by artists Scoot "Zimer" Zimmerman and Maoufal "Rocko" Alaoui at the corner of Bedford and Quincy Avenues. Here you can find a whopping 38′ tall mural of Biggie Smalls. If you're a fan, you can easily walk to all the other Biggie Smalls landmarks like his childhood home nearby in Clinton Hill too.
Or check out the popular mural of ODB by Ibrahim Baaith & Brew2 at the corner of Franklin and Putnam Avenues on the side of Franklin Cellars Wine & Spirits. The mural depicts the founding WuTang Clan's member welfare card that was the cover for his debut solo album Return to the 36 Chambers: The Dirty Version which was nominated for the Best Rap Album at the 1996 Grammys.
And another landmark that pays testament to Brooklyn's role in hip hop music would be the Marcy Housing Projects, where Jay-Z, or Shawn Carter, grew up. And rumor has it, him and Jack Dorsey are combining forces for a Bitcoin Academy for the residents of where he grew up, although the reception of the project has mixed feelings.
The Billie Holiday Theatre
1368 Fulton St
One of the most iconic Bed Stuy landmarks is the Billie Holiday Theatre at Restoration Plaza, which opened in 1972 as an artistic center for the Black community and who better to be the name of the theatre than Billie Holiday, a revolutionary artist of her time that pushed conversations around equality and race through her music and storytelling.
Also known as, The Billie, is and has been a center for theatrical performances and supporting the talent of one of the largest Black communities in the United States. To this day, the theatre is one of the last remaining of its kind in the country tied to the Civil Rights and Black Arts Movement.
And to this day, to quote directly from The Billy Holiday Theatre's website their mission statement:
"The goal of the Billie Holiday Theatre is to provide audiences with complete and authentic portrayals of the experiences of people of African descent across the world. To provide artists of African descent pure and unapologetic artistic freedom. We do this by producing and presenting all forms of art, and by challenging unjust systems that would prevent artists, institutions, and communities full access to world-class arts, creative spaces, and resources."
You can check out their upcoming calendar of events to see what upcoming performances or events are taking place at this historic Bed Stuy landmark.
Spike Lee's Brooklyn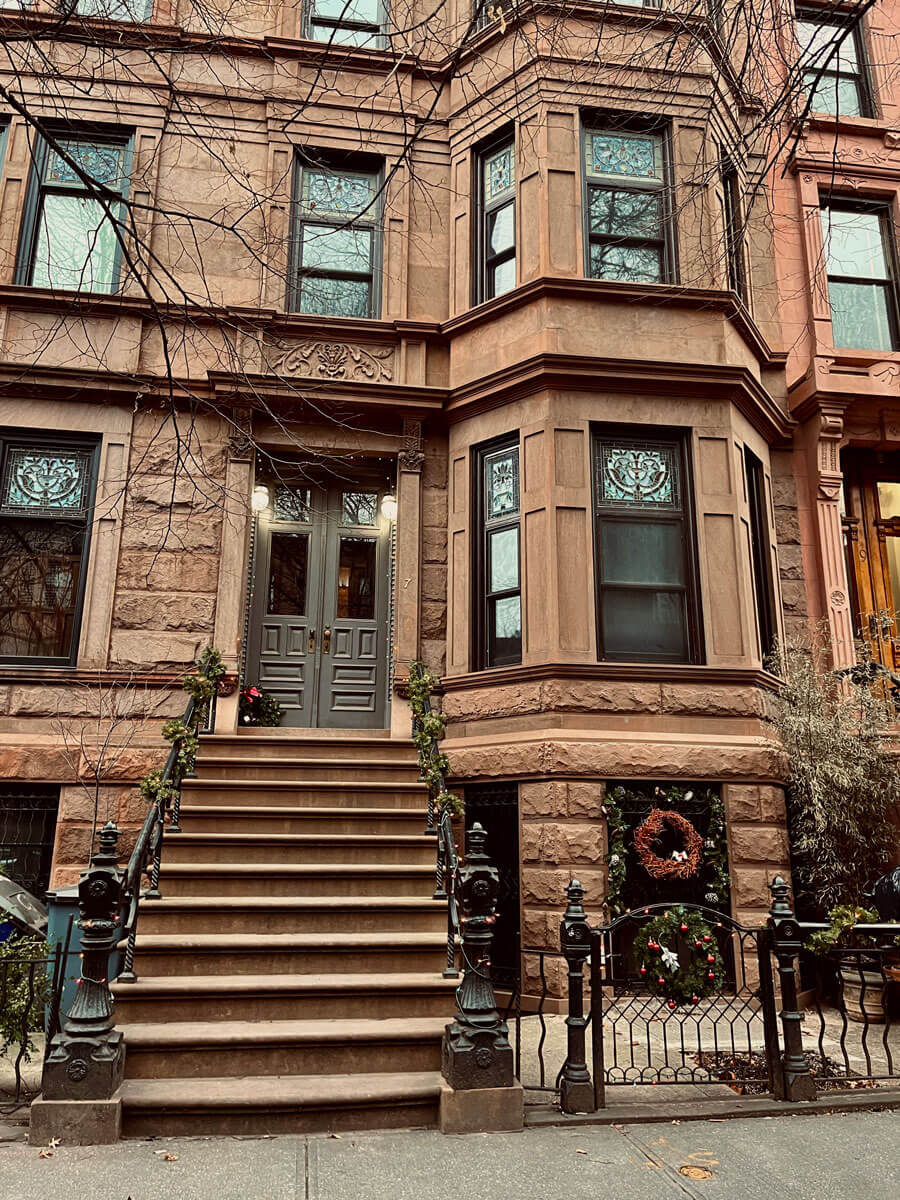 One of the most prolific directors, producers, and screenwriters of our time grew up in Bedford Stuyvesant, Brooklyn and still has his film studio here in Brooklyn. For decades, Spike Lee's work explores and confronts race relations and politics with unflinching honesty through the lens of the African American experience in America.
Much of his work has connections or ties to Brooklyn, including Bed Stuy. His 1989 film Do The Right Thing was filmed entirely on one block in Bed Stuy on Stuyvesant Avenue between Lexington Avenue and Quincy Street. This comedy drama is about rising racial tension among one Brooklyn neighborhood's residents on a hot summer's day.
In the film, Mookie's home was 173 Stuyvesant Avenue and on the corner of Lexington and Stuyvesant was the location of Sal's Pizzeria (although that was torn down after filming).
For the film's 25th anniversary in 2015, this street was renamed "Do The Right Thing Way" as a tribute to the film's success as well as its cultural significance.
Another work by Lee that was filmed and took place in Bed Stuy was his 1994 semi-autobiographical film Crooklyn which was co-written with his siblings. The story follows the Carmichael family who live in a brownstone in Bed-Stuy in 1973. You can find the Carmichael home at 7 Arlington Place in Bed Stuy.
You can check out more films about Brooklyn and filming locations in Brooklyn as well as visit the location of Spike Lee's current production studio location (the exterior), 40 Acres and a Mule Filmworks in Fort Greene at 75 S Elliot Place.
Architecture Peeping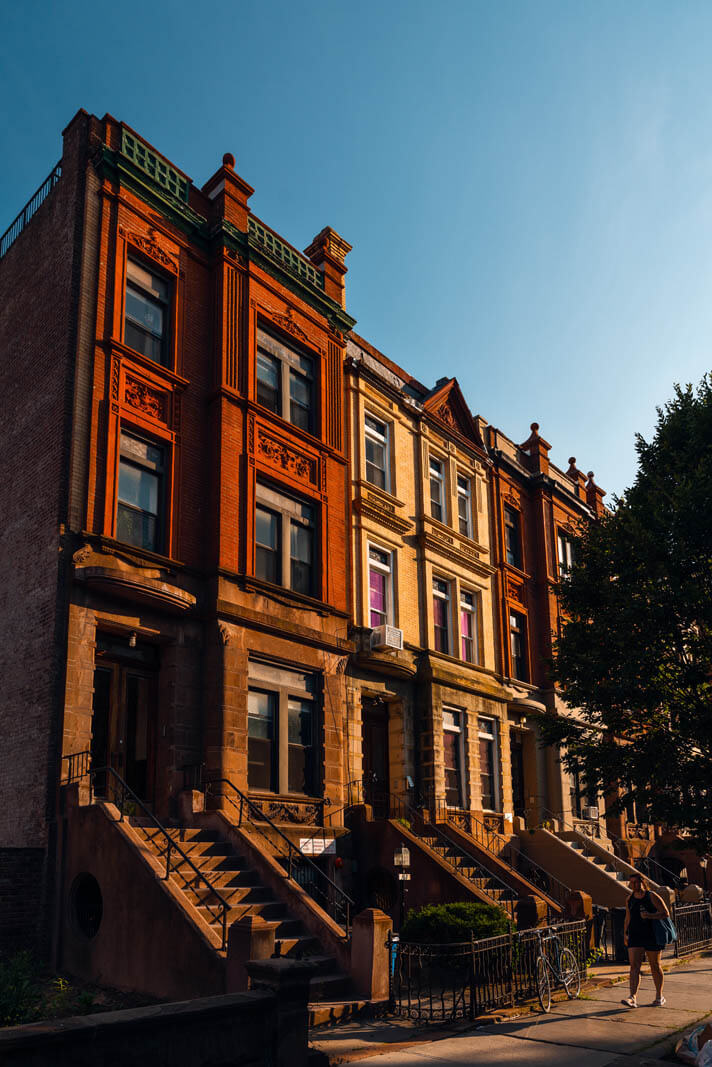 Without a doubt, one of the best things to do in Bed Stuy, Brooklyn is to take a scenic walk through the leafy brownstone-lined streets. Bed Stuy is home to the largest collection of intact Victorian homes that predate 1900. The collection here is made up of around 8,800 homes that were build and developed for the upper-middle class and feature row houses and brownstones in a range of architectural styles from Queen Anne, Italianate, and Renaissance Revival to name a few.
Even if you're not an architecture buff, this is one of the most beautiful neighborhoods to walk through and just admire the pretty streets. You can follow the designated historic district by looking out for the brown street signs – that's actually how all the official historic districts are identifiable throughout the city. Even the homes that aren't in the designated historic streets are great for walking down.
Some of my personal favorite streets to mosey down include Halsey Street, Macon Street, and MacDonough Streets – but really all the streets have beautiful buildings worthy of admiration.
Last but not least, more impressive buildings and structures you can find in Bed Stuy are the armories. Armories were built in New York City through the 18th and 20th centuries for the state's volunteer militia of the time. There are a few of these giant, castle-like structures here in Bed Stuy that really stand out as you're exploring the neighborhood.
I like to call these the castles of Bed Stuy. You can find the Romanesque Revival castle-like 23rd Regiment Armory that was built in the 1890s at 1322 Bedford Avenue. Today, the armory serves as a male homeless shelter.
The 13th Regiment Armory at 357 Marcus Garvey Blvd is another castle-like structure that serves as a men's homeless shelter today. All of the armories around the city are impressive including the few in Bed Stuy, this article by Untapped Cities explores some of the most impressive structures in the city.
Brownstone Jazz
View this post on Instagram
107 Macon St
One of the best hidden gems and things to do in Bed Stuy, Brooklyn is enjoy a live jazz show in one of the historic 19th-century brownstones. Hidden in plain sight on a residential street is Brownstone JAZZ, a jazz venue on the weekends where guests dress to impress and enjoy a live jazz concert along with a home-cooked fish fry.
This is one of the most intimate live music experiences you can enjoy in the city. The small venue has great acoustics and you're in a living room setting for dinner and a show. You'll get a classic late-night fish fry served with cornbread and slaw all while listening to musicians. Be sure to visit their website to see their upcoming events and secure tickets, which usually take place on Fridays or Saturdays.
Herbert Von King Park
If you're looking for the neighborhood's green space, check out Herbert Von King Park in the heart of Bed Stuy. This green space was designed by none other than Frederick Law Olmstead and Calvert Vaux, the designers of Brooklyn's Prospect Park and the infamous Central Park.
This was actually one of the first parks in Brooklyn too. Originally, the park was called Tompkins Park named after Daniel D. Tompkins who was the governor of New York from 1807-1817 and was a well-known abolitionist who also served as Vice President of the United States under James Monroe for two terms from 1817-1825.
The name was later changed to Herbert Von King, who was an active community leader in Brooklyn and nicknamed the "Mayor of Bedford Stuyvesant."
Bedford Stuyvesant Museum of African Art
View this post on Instagram
1157 Bedford Ave
The Bedford Stuyvesant Museum of African Art is a non-profit museum in Bed Stuy that features a collection of artwork from 40 different African countries to display the diverse art and cultures of the continent of Africa here in Central Brooklyn.
Visitors can appreciate the artworks and learn about the different customs and traditions from the diverse collections on display here ranging from works that are traditional to contemporary African art.​
There is a permanent collection here, but they also frequently have temporary exhibits at the museum and also host special events. Check their website for their current offerings and to plan your visit.
Richard Beavers Gallery
View this post on Instagram
408 Marcus Garvey Blvd
For art lovers, this is one of the best things to do in Bed Stuy. Pay a visit to Richard Beavers Gallery, a Black-owned contemporary art gallery committed to showcasing artist of the African diaspora whether they are emerging in the art scene or established. The underlying theme of the entire gallery is to create a dialogue around social and political issues and topics of the Black community and experience.
Beyond the exhibitions and artwork in display in the gallery, they also host regular events for the community. The gallery is typically open on the weekends and is available to see during the weekdays by appointment only.
Things to do Nearby Bed Stuy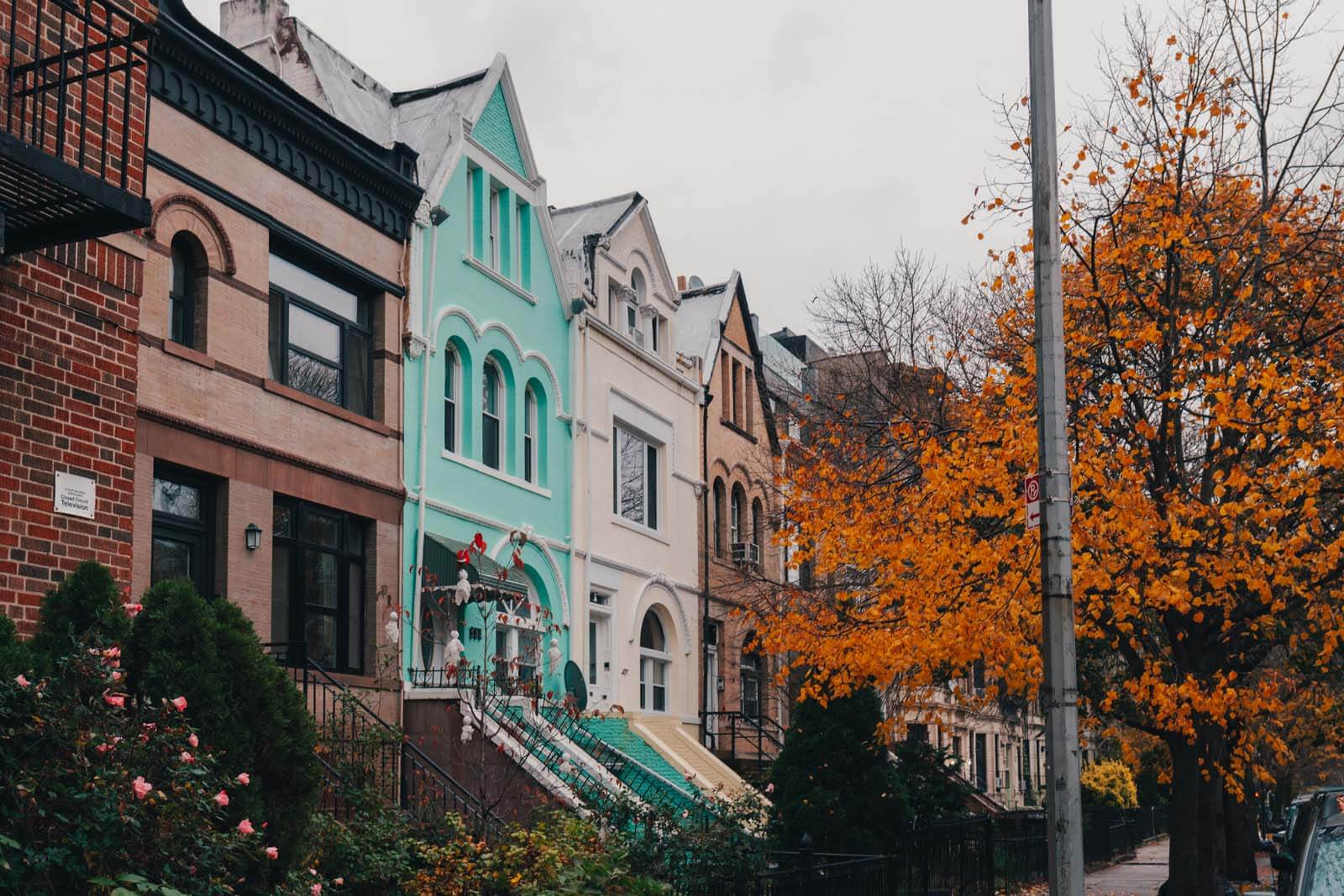 Crown Heights
Another one of my absolute favorite neighborhoods to check out that borders Bed Stuy is Crown Heights. Crown Heights has its own collection of beautiful homes and brownstones in its designated historic district, the Crown Heights North Historic District, which includes over 1,000 buildings in all types of architecture including Italianate, Queen Anne, Romanesque Revival, and Colonial Revival to name a few.
Walk along Franklin Avenue to find cool shops, great places to eat, drink, and have a coffee. Crown Heights is also a great place to walk through if you're wanting to visit Brooklyn Botanic Garden and the Brooklyn Museum too.
You can also find the Brooklyn Children's Museum and the Jewish Children's Museum in Crown Heights as well and the Weeksville Heritage Center, which is dedicated to one of the first free Black communities in the 19th century.
Be sure to check out all of our tips for exploring Crown Heights, one of the best parts of Brooklyn if you're looking to have a more local experience.
Clinton Hill
Another beautiful neighborhood to explore neighboring Bed Stuy is Clinton Hill. Filled with great restaurants, cafes, and pretty brownstone-lined streets, not to mention the home of Pratt Institute.
If you're into hip hop, this is where Notorious B.I.G. grew up and you can visit the exterior of his childhood home as well as see countless murals of the King of New York along Fulton.
Check out our guides to Clinton Hill to help you plan your visit to this area of Brooklyn:
Bushwick
One of the best places to check out near Bed Stuy is the neighboring neighborhood of Bushwick, famous for its nightlife, street art, and great food. The neighborhood is known for being covered with colorful mural as a part of the Bushwick Collective. Not to mention there are several galleries and an overall artsy vibe to this entire neighborhood.
Bushwick has historically been an enclave of Hispanic communities, so you can expect to find some great places to eat influencing the communities that have generationally been tied to this neighborhood – my personal favorite are some of the best tacos in Brooklyn found at Tortilleria Mexicanas Los Hermanos.
Be sure to check out all of our Bushwick Brooklyn neighborhood guides:
Where to Stay in Bed Stuy
Akwaaba Mansion
One of the coolest places to stay in Brooklyn (no, the city) is this Bed Stuy Bed & Breakfast. Akwaaba Mansion is located in a landmark mansion built in the 1860s in the heart of the Bed Stuy Historic District. Rooms are equipped with private jacuzzi bath tubs and guests can enjoy onsite areas and common spaces like the sun porch. In the mornings you can enjoy a savory, home-cooked Southern breakfast.
This elegant B&B has four guest rooms, so while the mansion is spacious, it's still an intimate experience. Not to mention first-class hospitality.
If the mansion seems familiar it's probably because it was featured on HGTV's Restore America series. And now, Akwaaba Mansion also offers luxury glamping in their backyard. You can check availability and learn more at Akwaaba Mansion's website.
The Brooklyn Hotel
Located on Atlantic Avenue on the edge of Bed Stuy and Crown Heights, The Brooklyn is a great location for exploring the best things to do in Bed Stuy plus Crown Heights. This is also one of the best affordable hotels in Brooklyn.
At The Brooklyn, you'll get internet, a flat screen TV, and access to a fitness center and business center. The hotel is also great for accommodating for small groups, offering spacious rooms at affordable group rates. Their rooms are very spacious and modern plus they even have cool NYC touches in the decor to the room.
The Brooklyn is a cool boutique hotel that puts you right in the middle of Brooklyn action while also being a short commute to Manhattan! Book The Brooklyn here.
---
Did we miss one of your favorite things to do in Bed Stuy? Let us know in the comments below.