If you're looking for things to do in Bensonhurst, you've come to the right place. This quiet residential neighborhood in South Brooklyn is known for its classic Italian eateries, but that's just the tip of the iceberg!
In this Brooklyn guide, I'll share with you everything you need to know for a great day trip out to Bensonhurst, Brooklyn.
I've lived in Bensonhurst for almost a decade and I've come to love it here. As a New York transplant, I had fresh eyes and was completely unfamiliar with the area. I was just looking for a quiet neighborhood to call home, and I found it here! But my Brooklynite husband knew what we were in for…
The grandson of Italian and Puerto Rican immigrants to New York, my husband, grew up in old-school Park Slope. When we came to Bensonhurst, he figured out where the best Italian food was. And he helped me learn how to connect with our old Italian landlord. And he taught me to never turn down food from the neighborhood nonnas!
But I started to realize pretty fast that there was something else going on here. The landscape was changing. The entire neighborhood is a mishmash of old and new, of resisting the change and accepting it. If you really look, it's more than just a sleepy residential area for professionals and families. There's tons of history and culture here.
What is Bensonhurst, Brooklyn Known For?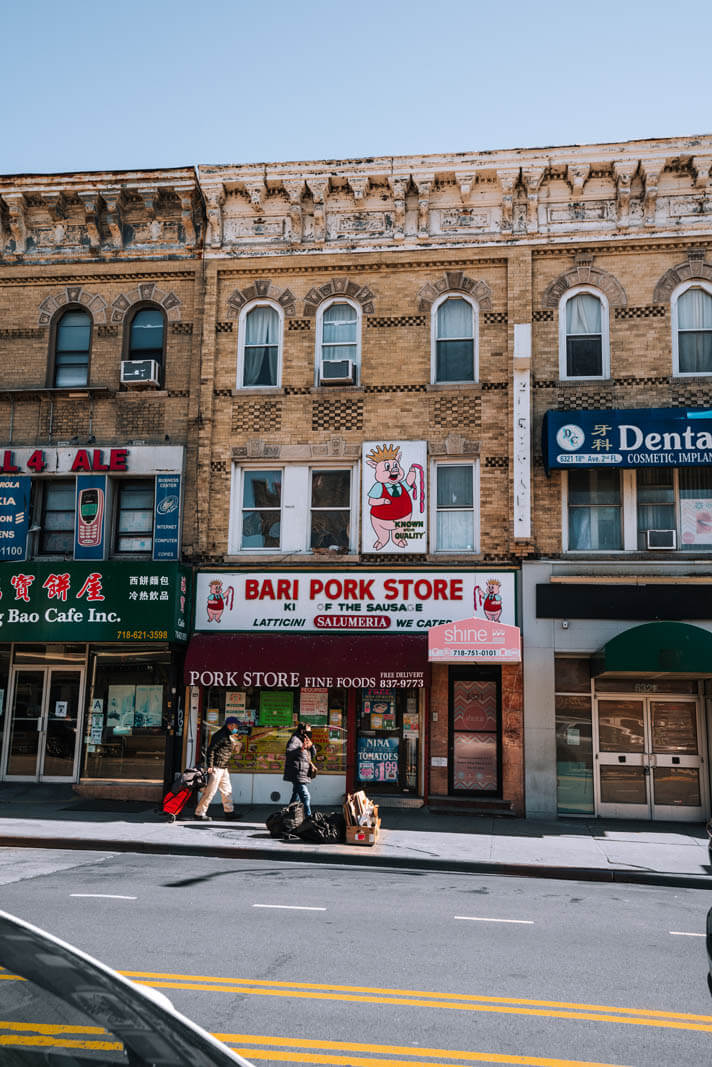 Today, Bensonhurst is most known for having the largest immigrant population after Washington Heights. We'll get more into the history of the neighborhood later, but at one time, the Bensonhurst Italian and Jewish population reigned. That's been changing with an influx of new residents from China, Russia, the Middle East, Eastern Europe, and Mexico.
Bensonhurst Brooklyn is known as Brooklyn's Little Italy. You can see this especially if you walk down 18th Avenue. You'll find some of the best restaurants and pizzerias in Brooklyn here, but maybe I'm biased. You'll also find some of the classic red-sauce Italian restaurants in Brooklyn here.
However, Bensonhurst has also become known as Little Hong Kong for its major Chinese population. It's set to outpace Sunset Park's Chinatown and even the main Chinatown in Manhattan!
Long story short, it's become a diverse community where you can find all kinds of great food. But Bensonhurst is also known for its rich history. Before it was part of Brooklyn, the area had been part of a collection of Dutch villages. You can still find old buildings from the 1700s!
By the 1800s, the land was owned by the Benson family. They agreed to a buyout if the new owners named it after them. Bensonhurst, once called Bensonhurst-by-the-sea, became a busy residential area. The whole place boomed when they built the train out there in the 1880s.
From there, the neighborhood grew and changed many times. It's an old place and you'd be surprised how much it comes up in popular culture, but I'll get more into that later! For now, I would say that while the neighborhood seems quiet and sleepy, it's like a scavenger hunt. When you find the gems, it's really cool to experience!
Where is Bensonhurst?
Bensonhurst is in South Brooklyn. The neighborhood covers about 3 square miles, southeast from 14th Avenue to Bay Parkway and Avenue P, and northeast from 86th Street under the elevated train to 60th Street.
If you're driving, the major roads running through the neighborhood are Bay Ridge Parkway, Bay Parkway, and Kings Highway (depending on who you ask). The boundary lines get a little fuzzy and lots of places in the adjacent neighborhoods are often considered parts of Bensonhurst. These neighborhoods are Bath Beach, Dyker Heights, and Borough Park. Further out are Midwood and Sheepshead Bay.
Subway stops:
62nd Street (D train)
71st Street (D train)
79th Street (D train)
18th Avenue (D and N trains)
20th Avenue (D and N trains)
Bay Parkway (D and N trains)
25th Avenue (D train)
New Utrecht Avenue (D train)
Avenue N (F train)
Avenue P (F train)
What to Do in Bensonhurst
Explore the Food Scene
View this post on Instagram
One of the best things to do in Bensonhurst is to check out all the great foodie places! You could come here for nothing else and have a full day because there are some seriously good restaurants in Bensonhurst. It's a great way to experience the different cultures of the neighborhood, but you'll also find your classic New York diners and bagel shops here.
I just don't have the time to go over all the great places here, so I'll just touch on a few of my favorite spots. If you want to try Italian food, I'd start with Mama Rao's. Enjoy a classic pasta dinner and then check out their bakery and pastry shop next door!
For Bensonhurst Italian on the go, head to Lioni Italian Heroes. It's fun and a little overwhelming to read all the sandwich options, but I always order a Frank Sinatra and a Manhattan Special. Plus, they make amazing their own mozzarella on site, it's no wonder why this is one of the best sandwich shops in Brooklyn.
Pizza is a whole conversation in itself, but we've been loving Krispy Pizza lately. Their super friendly, and they threw in some treats when they saw us leave a great Google review!
One thing I really missed when I moved from south Texas was authentic Mexican food and Tex-Mex! One of the first places I found when we moved here was Tortillas King. You can't go wrong with their classic fajita tacos. You can find them at 2 locations, one at 7103 18th Ave, and another at 2238 86th St.
For a nice atmosphere and a great twist on Chinese food, try New HK Tea & Sushi on 86th Street. I've never had Hong Kong-style Chinese before, and I'm sold! We love trying the baked spaghetti with different add-ins which always goes great with an iced milk tea. And everyone has their favorite Chinese food take-out place, and in Bensonhurst, you have over a dozen to choose from that I'm aware of. Ours is Taste Of China, where the veggies are always super fresh!
If you want to grab a bagel and coffee when you get off the train, go to Bagels Plus on New Utrecht and Bay Ridge Parkway. They're your classic corner bagel shop, but I'm convinced no one else puts the right amount of cream cheese like they do!
For a traditional New York diner experience, there aren't a lot of options, but Mike's Diner on 86th is a great choice and popular with locals and one of the best old-school diners in Brooklyn. Or if you prefer healthier options and vegan-friendly breakfast and lunch items, walk around the corner from Mike's to Baby Olive. Check out their menu that's full of customizable smoothies, acai bowls, wraps, sandwiches, and more. When I'm craving super fresh salads and smoothies, this is where I go.
I'll go out of my way to the Eastern European burek shop, Djerdan Burek on 65th Street for their crispy, buttery meat pies and desserts! The place is very low-key and no-frills, and the staff is always really welcoming and helpful. And you can buy premade, frozen burek to take home!
For a date night, girls' night, or brunch, Prince Tea House is a hidden gem! You'll love their decadent, beautifully presented sweet treats that are always topped with piles of fresh fruit. They have a lovely tea presentation and try to sit in the gorgeous back sunroom. I love the ambiance here, day or night! Not to mention this is one of the best cafes in Bensonhurst!
Also, don't miss the sweet treats at Vilabate Alba, one of the best bakeries in Brooklyn that is so popular there can be a line around the block to get in.
Peruse Specialty Grocery Stores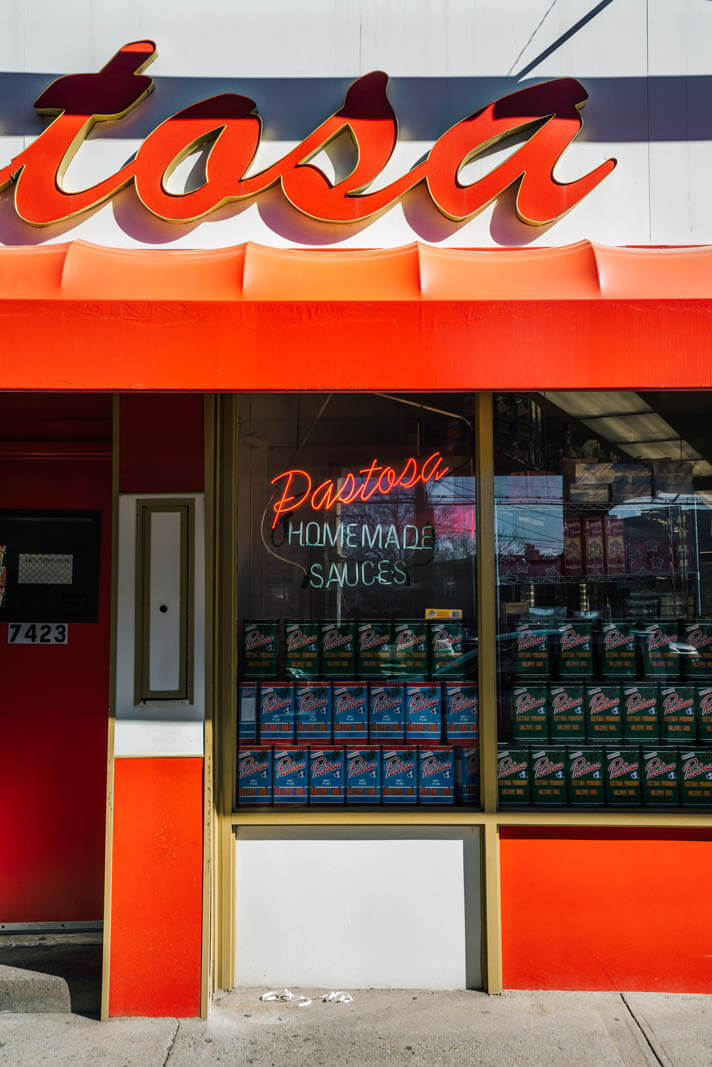 The great thing about living in such a diverse neighborhood as Bensonhurst, Brooklyn is that you can find amazing grocery stores for each community. Whether you're making Italian food or need something you can only find at a Chinese market, it's here, and it's not touristy at all.
A Bensonhurst Italian mainstay is Pastosa Ravioli. Their original store opened here over 50 years ago at the corner of Bay Ridge Parkway and New Utrecht Avenue. You can't miss them with their iconic red, white, and green storefront! Yes, their homemade fresh ravioli is made on-premises and it's amazing. They even have great gluten-free ravioli! But you can come here for anything and everything you need for a classic Italian dish.
If you need a butcher, there are several quality choices, but I recommend Romeo Meats. It's right next to Lioni's and they'll catch your eye with huge cuts of meat hanging in the front window. They specialize in aged beef, but they also have all kinds of options from ground beef to stuffed chicken and deli sides.
Head to Jmart on New Utrecht Avenue for amazing seafood and produce, and all your Asian staples. I love to check out the skincare aisle and check out the produce you can't find anywhere else. This is their second location which opened a few years ago. They took over an old Waulbaum's, and it really showed the changing demographic of the neighborhood! And if you drive, they have a huge parking lot.
There are 2 Netcost Markets in Bensonhurst— 1 on 18th Avenue closer to Bath Beach and another on 65th Street. Both are beautiful grocers with all the classics, but you'll notice that the majority of the brands are Eastern European. They also have a mind-blowing amount of smoked fish, and it's my favorite place to come for different kinds of cheese and butter.
Behind Jmart, is Milestone Park, where the Bensonhurst Greenmarket takes place. This farmers market happens from June through November every Sunday from 9 AM to 3 PM. It's a great stop with tons of shade trees and tons of room for the crowds. You'll find all the Hudson Valley, New Jersey, and Long Island vendors you'd expect to find at an NYC farmers market.
Grab a Coffee or Bubble Tea
I love that Bubble Tea is a big deal around the neighborhood! While you're finding things to do in Bensonhurst, check out a coffee shop or pick up your favorite bubble tea order.
One of my favorite spots is Tbaar. They're a chain that has a spot on 86th Street and 20th Avenue. You can get milk tea with tons of options, and it's a lot of fun to see inclusions like pudding and jelly!
Another popular spot is Tiger Sugar further down on 86th Street. They're much sweeter and have flavors like espresso and brown sugar.
For coffee, go to Sorrento Espresso Bar on 18th Avenue between 77th Street and 78th Street. They make their own gelato on-site, and it's just a great place to grab an espresso or enjoy a real cappuccino!
Head to a Local Bar
One thing Bensonhurst definitely lacks is bars. It would be great to have a place where you can meet a friend and listens to live music or enjoy a summer night. But there are a handful of unassuming stops where you can grab a good drink.
My first suggestion is also one of my favorite restaurants, Viva Mexico Restaurant and Bar on 86th Street between 15th Avenue and Bay 8th Street. It's only open till 10 PM, but it's the best place for authentic Mexican food, a crisp Cerveza, and amazing margaritas.
Besides that, it's really down to unassuming bars like 1 Quetzal Bar under the train on New Utrecht between 73rd and 72nd.Street. This place is hopping from 10 AM to 4 PM. It's a popular Mexican bar with pounding Spanish hits and lots of mood lighting.
Bukanitas Bar is another Mexican bar that's probably the best hang-out spot on my list! It's right under the 62nd Street stop on the D train on New Utrecht between 60th and 61st Street. The drinks are excellent and there's just a great atmosphere. You can also smoke hookah here, and there's a dance floor.
Do Some Shopping
Shopping is not one of the most extensive things to do in Bensonhurst, but there are a few key places to go for goods. Start heading down 86th for most of the shops. At 18th Avenue, you'll find a Marshall's.
After that, there are a few beauty supply stores and dollar stores before you get down to 21st Avenue. This is where everyone goes shopping under the train. There's The Gap, Carter's, Footlocker, a Starbucks, and other small home goods and clothing stores.
You'll find much of the same along 18th Avenue, or Cristoforo Colombo Boulevard, in Bensonhurst, Brooklyn. Besides old remnants of the days when the neighborhood was mostly Italian, there are also tons of different Chinese shops that opened in the last several years. Besides that, there's a newish Target inside a cool old theater there, and some discount shops like Telco.
But I was excited to find Daisy's Closet in Bensonhurst. The shop is on the corner of 20th Avenue and 74th Street. It's a tiny boutique that sells men's, women's, and children's clothing. The owner stocks unique pieces that she curates herself, focusing on affordable quality pieces. And I love it because she offers clothing for all sizes, including plus size!
Go to a Street Fair
Now, if you really want to get to know Bensonhurst, come the last two weeks of August for the Feast of Santa Rosalia. Most people know it as the 18th Avenue Feast, where they block off the thoroughfare from 68th through Bay Ridge Parkway. The party goes on every night for 10 days, from 6 to 10 PM during the week, and from 2 to 10 PM on the weekends.
This Italian feast has been held forever, honoring St. Rosalia, the patron saint of Palermo. Stroll down the avenue that's packed with carnival games, rides, food trucks, vendors, and more. There's live music, dancing, and a lot of the Italian stores, like Villabate Alba, will stay open so you can buy treats.
Another great Bensonhurst gathering is the 86th Street Festival and Fair. It's held the second Sunday after Memorial Day. They shut down 86th Street under the train from Bay Parkway all the way to 19th Avenue, and it goes all day.
The festival is a fundraiser, with all proceeds from the event going to task forces that help keep up the neighborhood. It just feels like a giant flea market. A lot of the people who sell things under the train throughout the rest of the year are also there. There's music and you can shop all kinds of craft vendors and food trucks.
Bensonhurst in Pop Culture
View this post on Instagram
One of the coolest things to do in Bensonhurst, Brooklyn is to find out how many famous people and character backstories involve Bensonhurst! Or you can go searching for some fun filming locations in Brooklyn.
I mentioned before how much Bensonhurst comes up in popular culture. Bensonhurst, Brooklyn is the hometown of many famous people over the years. The list is long and includes Curly, Moe, and Shemp from The Three Stooges, the Gambino Brothers, Larry King, Leah Remini, and Joey Fatone from NSync.!
It's where the Honeymooners was set, as well as Welcome Back, Kotter. You can actually see the 79th Street subway station in the opening credits of the show! And Harley Quinn, a villain in Batman from the DC Universe, is said to be from Bensonhurst.
Lenny's Pizza on 86th Street, which is some of the best pizza in Brooklyn, was in Saturday Night Fever! It's where John Travolta orders two slices of pizza and eats them stacked on top of each other in the movie.
And the Brooklyn cult classic, The Warriors, has at least one scene in Bensonhurst. In the movie, the Warriors ride the D train all the way to Coney Island, and along the way, you can find a scene they filmed in the New Utrecht Avenue subway station.
If you're a fan of Steven Segal movies, the opening scene from Out for Justice was filmed around 18th Avenue and 86th Street. And in John Wick: Chapter 3, he rides on a horse along 86th Street!
Visit the Statue House
A fun bit of pop culture in the neighborhood is the Statue House on 84th Street between 20th and 21st Avenue. Owned by Steve Campanella, you can't miss the white house and adjacent garage located about halfway down the block. Campanella, a retired marine, has a passion and hobby for collecting mid-century fiberglass figurines.
I first noticed the house because of the Superman figure flying out of his second story! You can walk up to the property and take a peek at a collection that Campanella has been building for decades. There are all kinds of popular characters from culture, including The Blues Brothers, Betty Boop, Marilyn Monroe, and a gold Statue of Liberty.
The Statue House also features all kinds of unique and quirky signs with funny quotes and references to pop culture and NYC. There's a phone booth, an old-fashioned traffic light, and more. The home is private property, so you shouldn't go onto his driveway, but you're welcome to spend some time taking it all in!
Find Some Local History
View this post on Instagram
If you're looking for things to do in Bensonhurst surrounding local history, this is where the treasure hunt really begins. You see, there's this big hodgepodge of different histories from different eras and it's not very well archived. But it's really neat when you find it.
There's a cool old firehouse next to McDonald's on 86th Street and 25th Avenue. It was actually built in 1896 for the fire department before much else was in the area. It's a Dutch Renaissance Style building to honor the history of New Utrecht. You can't really miss it, towering in red-orange brick with tiers on every side!
While there's not much to do there, I also suggest walking over to Milestone Park on 18th Avenue. Today it's the site of the Sunday Greenmarket, and you'll often find people playing dominos there or doing Tai Chi in the morning! But its namesake is the landmark milestone in the middle of the park. At one time it held the oldest milestone in New York City.
The original milestone was placed there in 1741 but was removed and put on display in the Brooklyn Historical Society. But still, the replica is 100 years old! The milestone directed people in the area and read "8-1/4 Miles to New York and 2-1/2 Miles to Denyse's Ferry." Also, the park was once the site of the Van Pelt Manor which was built in the 1600s and used as a military hospital during the Revolutionary War!
Bensonhurst is also where Yusuf Hawkins, a 16-year-old Black boy, was shot and murdered in 1989 by white teens. It led to riots and tension between the Italian and Black communities of Bensonhurst, Brooklyn that still lasts to this day. My husband still talks about it, remembering as a very young child seeing marches down Ocean Parkway led by Reverend Al Sharpton.
Some of the most important buildings in Bensonhurst are the Jewish Community House (JCH) and the Magen David Synagogue. The synagogue was built in 1920 on 76th Street and 20th Avenue to meet the needs of incoming Sephardic Jewish people from Syria. It's a lovely example of the Romanesque Revival style with dramatic brick detail and arched windows.
The JCH on Bay Parkways was also built in the 1920s to support the massive number of immigrants coming into Brooklyn. It's huge, and the architecture is gorgeous. The JCH still plays an important role in the community to this day. They offer all kinds of programs, from marriage counseling to LGBTQ+ immigrant refugee assistance.
If you want to see one of the oldest buildings in Brooklyn, visit the New Utrecht Reformed Church on the corner of 84th Street and 18th Avenue. New Utrecht used to be a Dutch village, and they built the church there in 1677! A lot of the building was replaced over the years but there are parts of it that are over 300 years old. The church cemetery is even older. It was established in 1654 and over 1,000 people were laid to rest there.
During the Revolutionary War, the church functioned as a military hospital. Part of 84th Street in front of the church is actually named Liberty Pole Boulevard. This was to recognize a liberty pole that was placed there to celebrate the Americans winning the war! If you visit today, you can still see this liberty pole, the only one left standing in the original 13 colonies.
Things to do Near Bensonhurst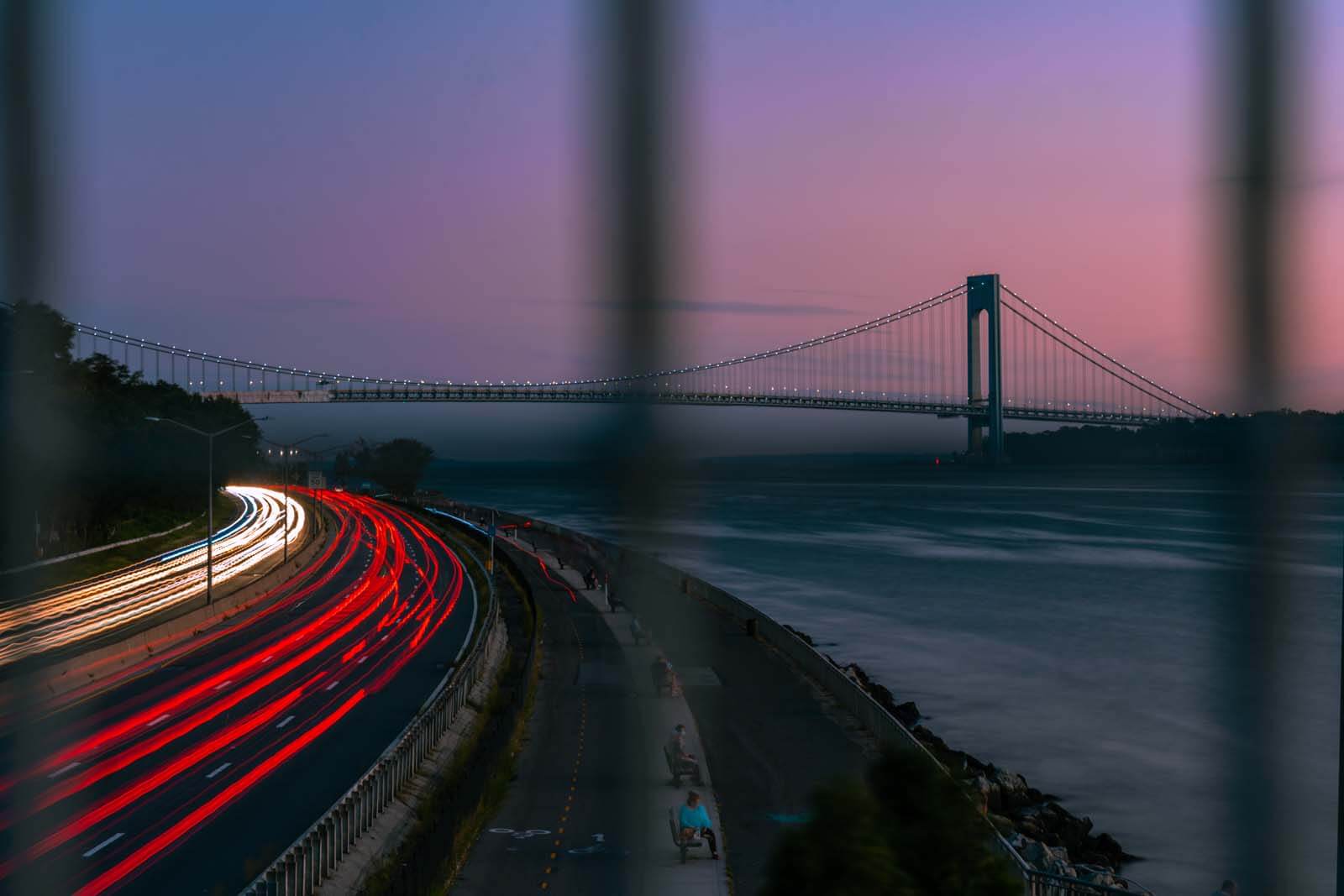 While you're looking for things to do in Bensonhurst, don't hesitate to branch out a little into Bath Beach, Dyker Heights, and Borough Park. Midwood and Sheepshead Bay are a bit further out, but still worth the trip!
Bath Beach
A lot of Bath Beach is considered part of Bensonhurst. We spend a lot of time here, especially once we discovered Bensonhurst Park! There are playgrounds, walking paths, and a beautiful green lawn with trees. You can sit on benches in the park or throw a ball around in the cages.
The park also connects to the walking paths along Shore Parkway and Gravesend Bay. A walk along there gives you a great view of the Verrazano-Narrows Bridge. Wheel Fun Rentals has a spot near the water where you can rent bikes and surreys and ride along the water!
Dyker Heights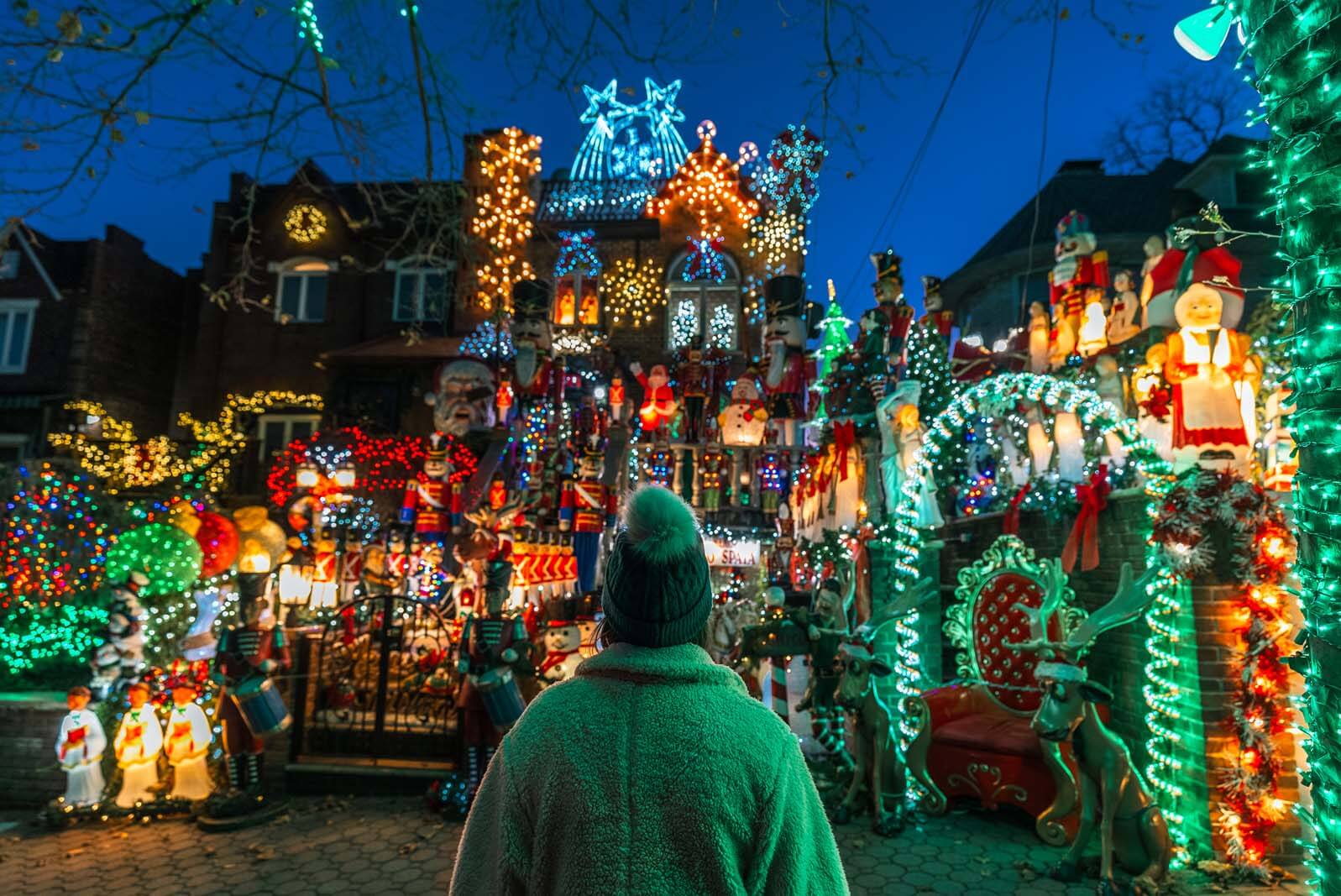 Every year at Christmas we head to the Dyker Heights Christmas Lights! You can see beautiful houses in this hilly neighborhood covered in stupendous displays of Christmas lights and decorations. Each house tries to outdo the rest! It's been going on since the 40s and people come from all over the world to see the houses covered in lights. You can even book a bus tour on their website but we prefer to walk. It happens every year from Thanksgiving to New Year and is one of the best things to do in New York at Christmas.
Gravesend
View this post on Instagram
Gravesend is another great neighborhood for food and shopping. A hidden gem is Fox's of Brooklyn. It's a women's clothing boutique that always has beautiful clothes, shoes, and jewelry. You'll find high-end pieces, furs, and more affordable staple pieces as well.
If you get hungry while you're in Gravesend, go to L&B Spumoni Gardens! It's the best spot for a Sicilian pie, but they also have great salads and pasta dishes and is home to one of the best slices of pizza in NYC. And don't forget the spumoni. Or for a drink, I highly recommend Living Room Lounge. It's a fun hookah lounge with amazing desserts and fun, creative drinks. It's just a great place to relax, plus there are belly dancers!
Sheepshead Bay
View this post on Instagram
A must when you're in Sheepshead Bay is heading down Emmons Avenue. My friends get nostalgic about childhoods going to Roll-N-Roaster. It's a delicious old-school spot for a dipped roast beef sandwich, lemonade, and cheese product-covered fries, it's one of the most iconic places to eat in Brooklyn.
After you eat, take a walk along the water and check out Holocaust Memorial Park, NYC's oldest Holocaust memorial!
Midwood
View this post on Instagram
You will not regret taking the time to get a square slice from the famous Di Fara Pizza. It's an experience, to visit this old family-run Italian pizzeria in the middle of a Jewish neighborhood. Domenico De Marco opened it in 1965 and still cooks at 82 years old!
It's sweet to visit and see members of the family working alongside Dom. There's always a line out the door, but it's worth it. Everyone swears by the square slice, but you also have to try the pepperoni, too. I think Di Fara makes the best pizza in NYC.
Places to Stay in Bensonhurst, Brooklyn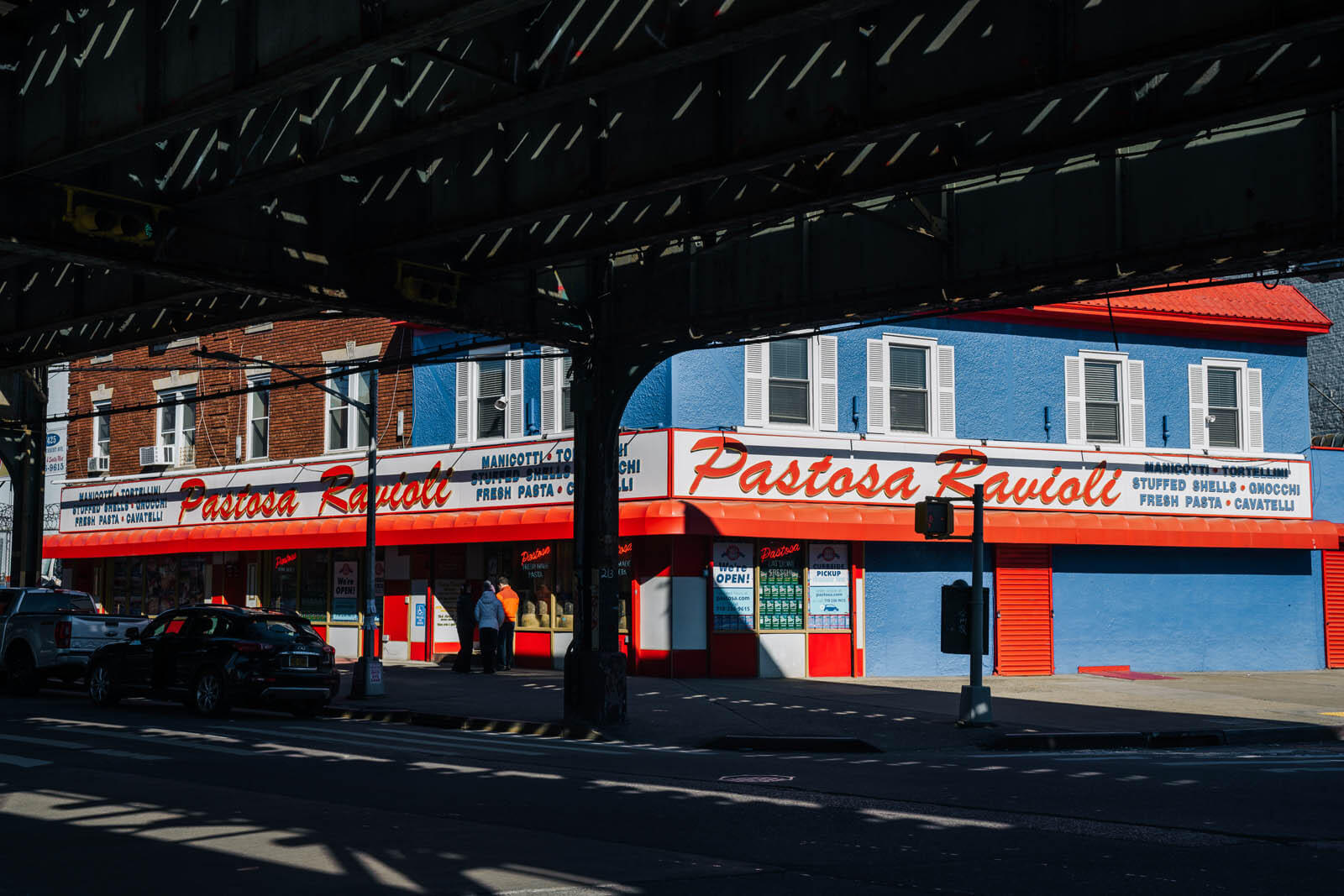 If you're looking for places to stay while you're finding things to do in Bensonhurst, there aren't any in the neighborhood. However, nearby on 48th Street is a fun old hotel called Park House Hotel. You'll be surprised how large the rooms are, and the whole place has an elegant, dramatic style to it!
And for train access to Bensonhurst, I suggest the Insignia Hotel in Brooklyn's Chinatown on 61st Street. It's a bright, modern hotel. The rooms are compact and the place is always clean and friendly. Plus, there's some fun nightlife on the same block!
---
About the Guest Author
Elizabeth Ramos – I moved to Brooklyn from my hometown in Texas in 2010 when I was dating my husband. It was a major transition going from the South to NYC, but I quickly learned to love it! There's really no other place like it. I've spent a decade in the Bensonhurst and South Brooklyn area during my career as a writer, artist, and preschool teacher. Today, I work from home as a content writer in the areas of beauty, lifestyle, education, parenting, and travel so I can stay home with my 1-year-old daughter. When I'm not writing, you'll probably find my little family exploring fun things to do around Brooklyn!
---
Enjoyed this guide to the best things to do in Bensonhurst? Bookmark for later or let us know your favorite spot in Bensonhurst, Brooklyn in the comments below.