Are you looking for the best things to do in Brooklyn with kids? I got you! I'm not originally from NYC, and when I moved here to be a nanny over a decade ago, it was so fun to explore the city for the first time with the children in my care. Today, I'm a true New Yorker, as well as a mom. And I can tell you that Brooklyn is a very kid-friendly place with a variety of things to do!
Below you'll find a variety of kid activities in Brooklyn, from exploring Brooklyn neighborhoods to visiting some of the best libraries. Some of them are classic Brooklyn things that everyone should do at least once. Others are things I came up with when I wanted something more than the regular outings.
So, whether you're a visitor or a local, trust that you'll find something fun to do on my list of things to do in Brooklyn with kids! Also, check out my picks for best things to do with kids in NYC too as well as a great NYC with kids itinerary!
And for more ideas, check out all the best things to do in Brooklyn, many are still kid-friendly or older kid friendly!
Top Kid-Friendly Things to Do in Brooklyn
Brooklyn Children's Museum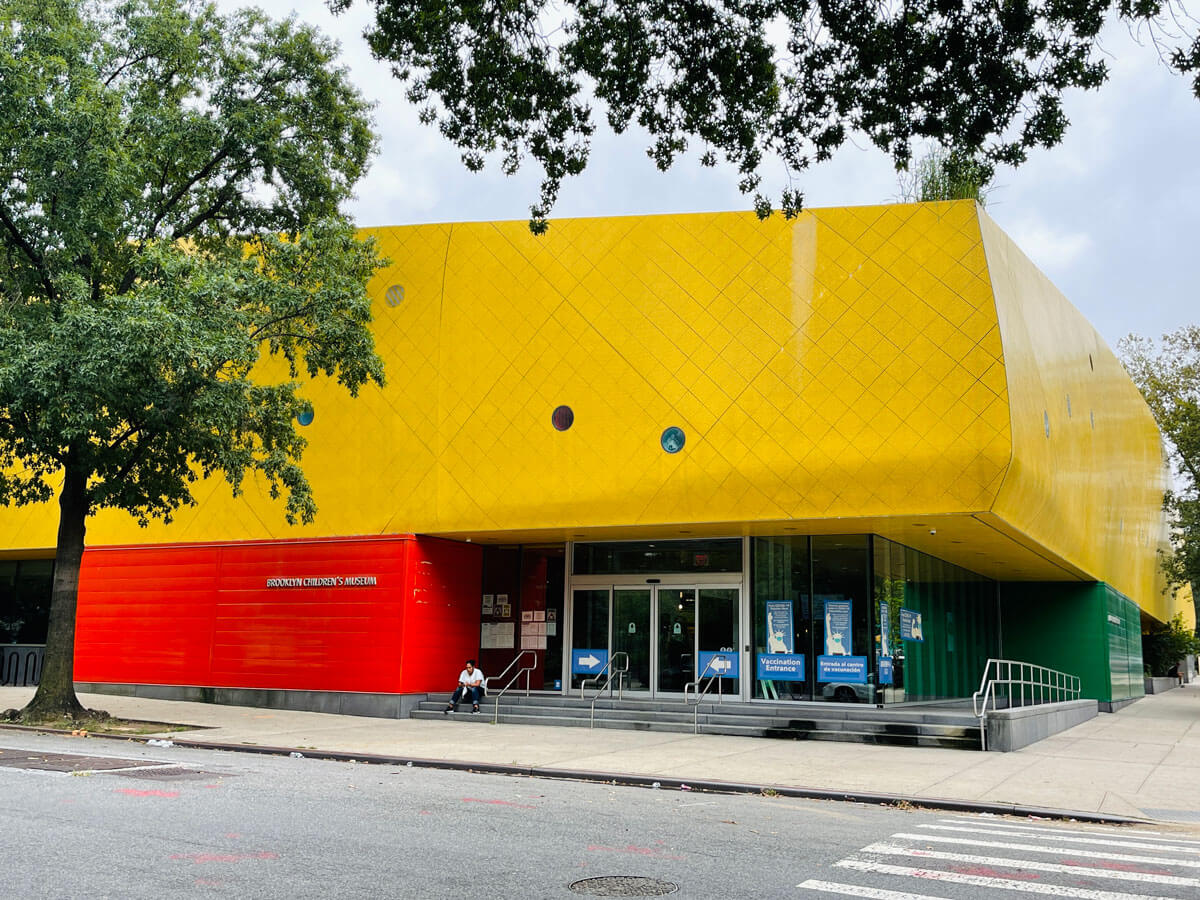 I've been going to the Brooklyn Children's Museum with kids since 2010 and it's one of my favorite kid activities in Brooklyn. It's geared towards ages 6 months to 10 years old, with three floors of hands-on exhibits and both indoor and outdoor play spaces.
For the littlest visitors, there's the Totally Tots area (you'll have to remove your shoes, so wear socks). Or explore World Brooklyn, a large pretend play village that highlights the cultures of Brooklyn! You can shop at an international market, eat at a pizzeria, and more.
There's a beautiful nature exhibit that features local flora and fauna that's tons of fun to explore. The second floor has a café and rotating exhibits for older children. And new to the museum is the rooftop outdoor space, The Nest. It has awesome climbing structures made of reclaimed wood from NYC water towers.
You can also find out about children's programs and an art lab during the week. On the weekend there are movies at the museum. Also, in the winter, you can go ice skating at ArtRink. Both movies and ice skating are additional fees after admission.
Located on St. Marks Avenue in Crown Heights, it's easily accessible by train, bus, and car. The museum's open Wednesday through Sunday with free admission on Thursday afternoons.
New York Transit Museum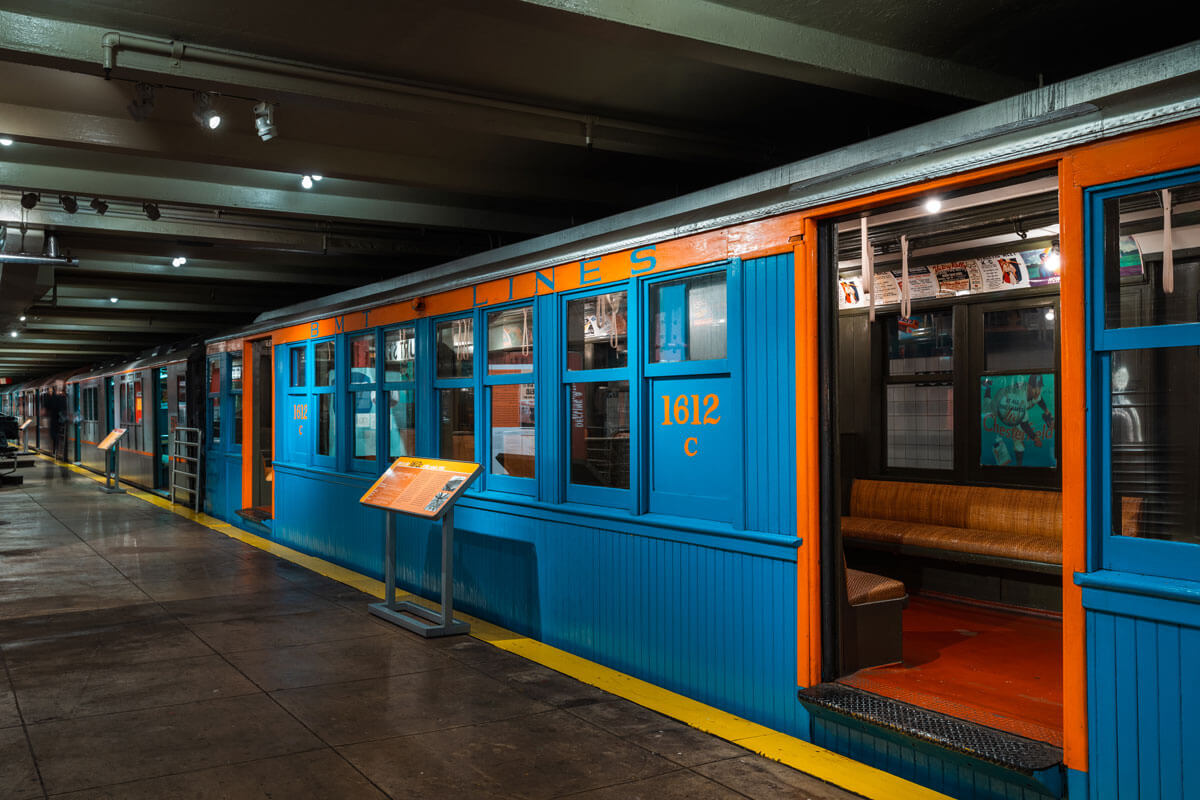 The New York Transit Museum is a must-do for children and adults alike, not to mention it's one of the coolest museums in NYC. It's actually located in an old subway station! In fact, it can be easy to miss, located off Boerum Place in the heart of downtown Brooklyn.
This is a fun place to bring kids who love trains and buses. You can check out an entire room full of model trains. Walk through exhibits and learn about the history of the MTA. It's fun to see old subway tokens and how the subway signs have changed over the years. And there are several vintage subway cars and transit buses from different time periods.
Visit the New York Transit Museum between 10 AM to 4 PM, Thursday through Sunday. It's best to purchase your tickets in advance on their website. Also, keep in mind that you'll have to be able to walk down into the station.
Don't bring a heavy stroller, either. If you need an accessible entrance, you can still visit. Just contact the museum at least 24 hours in advance and they'll arrange things for you from a nearby station.
Brooklyn Museum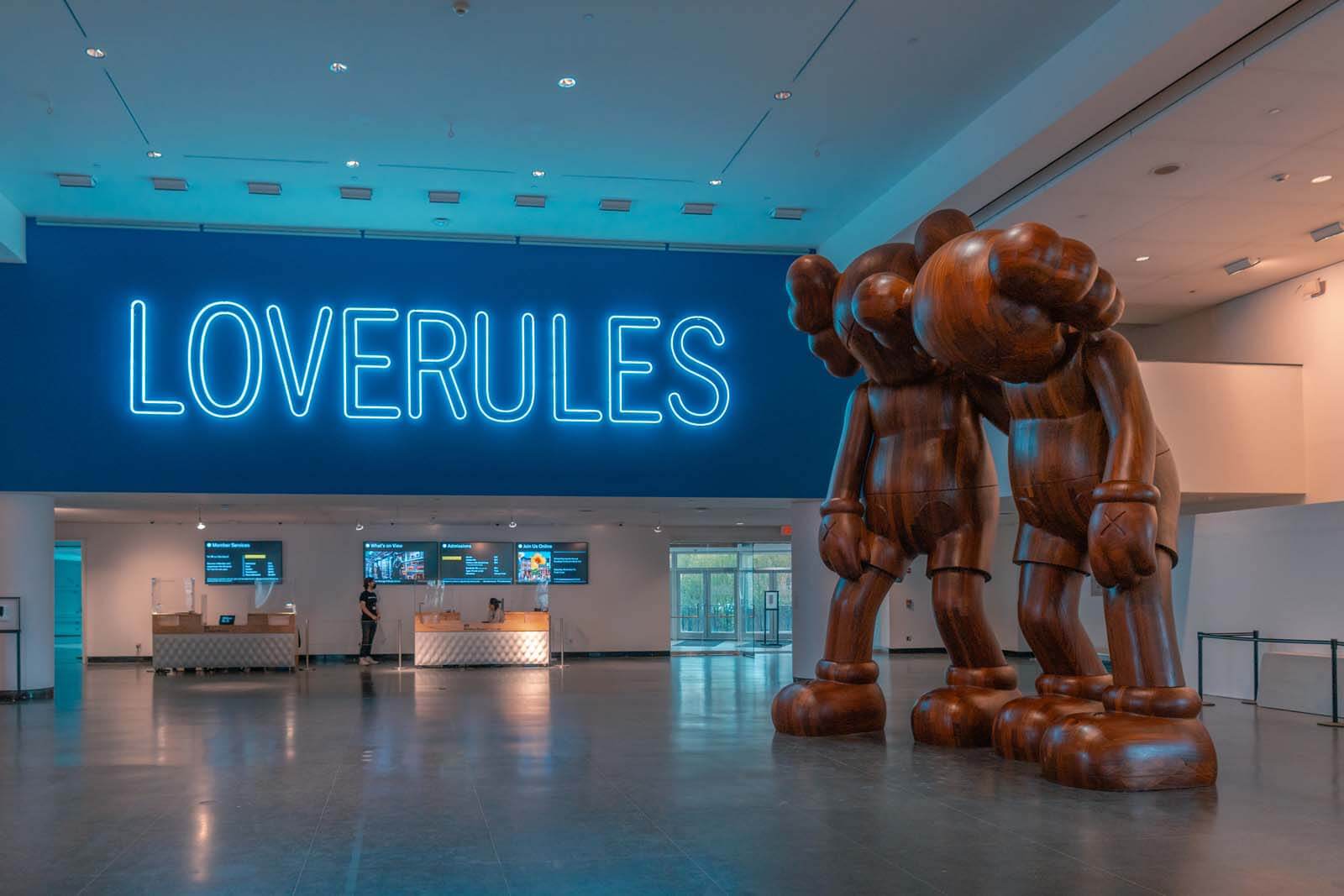 I suggest taking kids ages 10 and up to the Brooklyn Museum. This is Brooklyn's premier art museum, covering ancient to modern art from across the world. They're also known for hosting some really impressive rotating exhibits by some of the biggest names in the art world.
Give yourself at least a few hours here. Wander 5 floors with different galleries, including ancient Egyptian art and entire reconstructed rooms full of period furniture. There's American art, art from Asia and the Middle East, religious galleries, and abstract modern exhibits.
One place I visit every time I go to the Brooklyn Museum is the Visible Storage/Study Center. Not really an exhibit, there's something about getting up close and personal with artifacts and seeing them in the casual, intimate storage space. I also love the Elizabeth A. Sackler Center for Feminist Art, but parents will have to decide if it's the right choice for your kids!
You can book special tours of the museum that include arts and crafts for kids as young as 12 months. They include exhibits that the kids and touch and interact with! General admission is suggested, with those 19 years and younger being free. And certain exhibits cost extra, as do tours.
Shows at BAM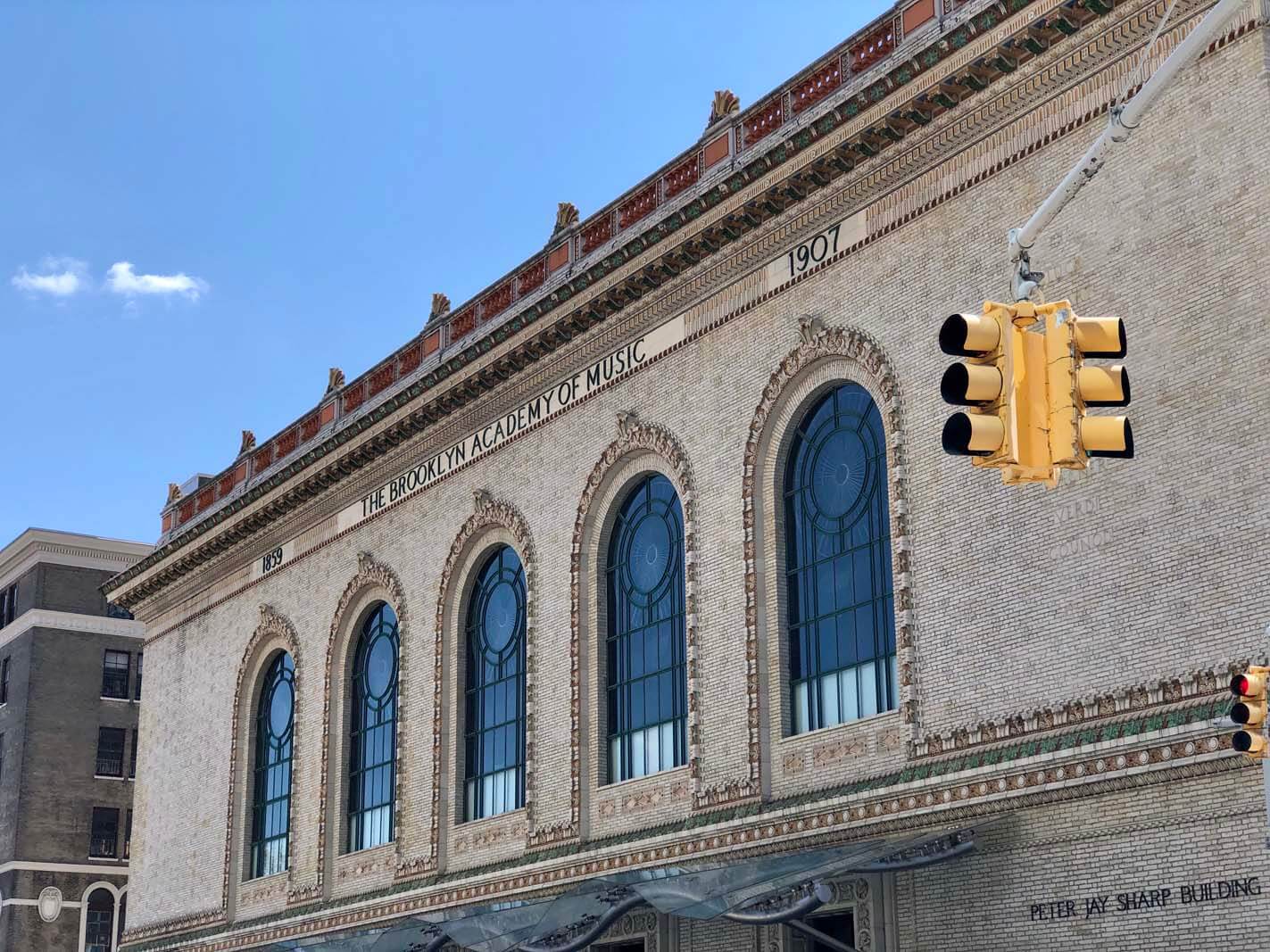 For over 150 years, BAM (the Brooklyn Academy of Arts) has been a groundbreaking performance art venue and arts education program in Downtown Brooklyn. You can see movies and classic stage plays, see a ballet, or attend the opera at BAM. They also offer a variety of art and education programs for both K-12 and young adults.
BAM hosts the annual DanceAfrica Festival Bazaar and other cultural and community events. Past listings include talks by activists, filmmakers, and authors, and live radio broadcasts by NPR And London's National Theater. Really, it's the place to be for young people with a passion for the arts or entertainment in any form.
I also think their children's program is one of the best things to do in Brooklyn with kids. The academy works closely with a board of local parents to structure seasonal programs throughout the year. They include a lineup of concerts, block parties, and a film festival with entries by actual kids as young as 3! There are also workshops and talks with filmmakers, so it's perfect for kids interested in movie-making.
The academy hosts all their events at 3 of its own venues in Downtown Brooklyn and across the borough. You can find a list of upcoming events on their website, where you can also buy tickets.
Puppetworks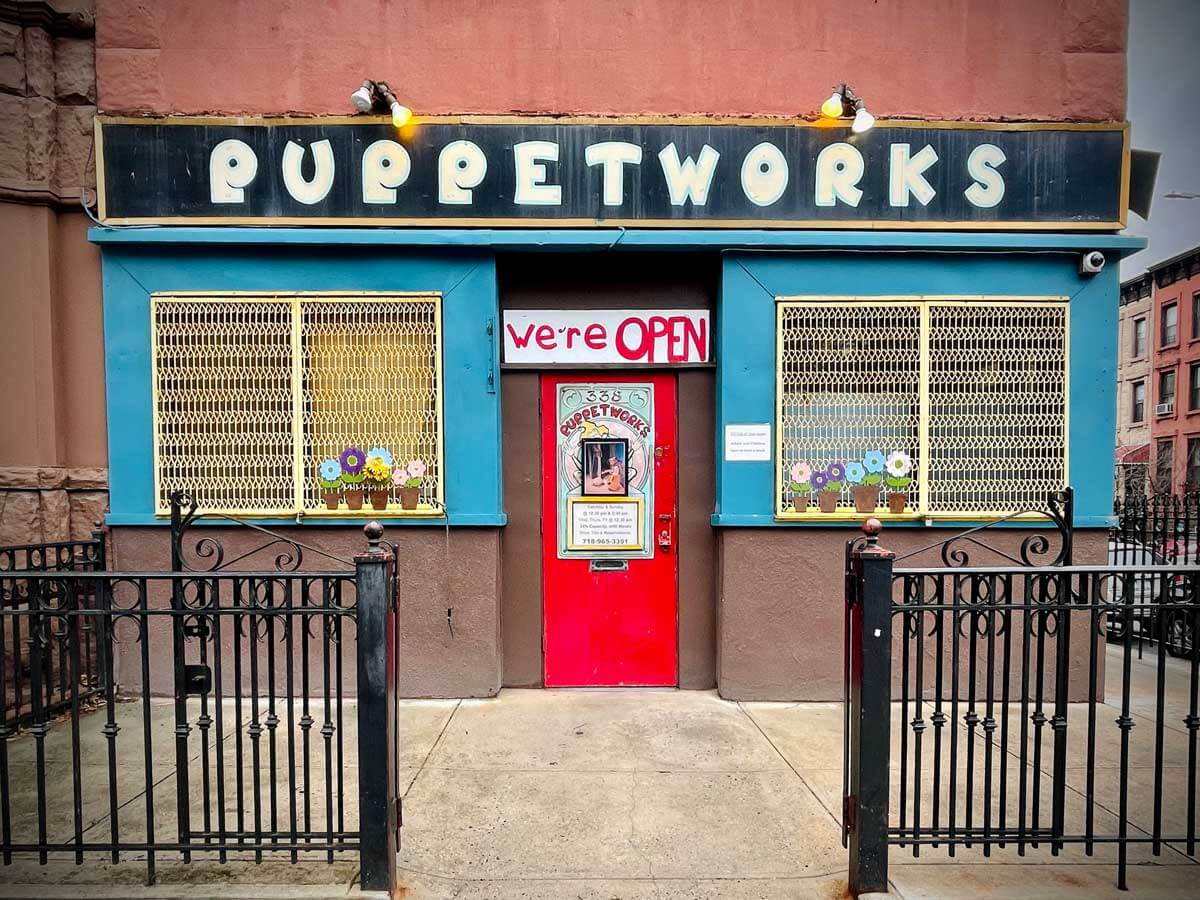 My husband grew up going to Puppetworks in Park Slope and anyone local has a special story about seeing shows there. I have a great memory from when I was a teacher, taking my class of preschoolers to see Pinocchio! With shows that run about 45 minutes to an hour long, it's a great way to expose kids under 10 to puppetry.
Nicolas Coppola established Puppetworks as a non-profit in 1980 after an impressive career in classic marionette theater. Coppola is an award-winning puppeteer who became an important figure in NYC after coming to Park Slope. He even had a puppet stage inside Macy's on Fifth Avenue every Christmas until 1983!
The neighborhood storefront has a hand-painted sign that never changes over the years. Inside, a dark room features wooden seating and a handcrafted puppet stage. On the wall are marionettes that aren't in use, and staff will bring out some of them for the kids to check out up close! In fact, all the staff is super friendly and takes time to answer kids' questions.
You can see a variety of classic performances at Puppetworks, like Cinderella, The Magic Flute, and Rumpelstilskin. Tickets are affordable and the theater is open to the public for 2 show times on the weekends. They also recommend that you call to make reservations because tickets tend to sell out, and while it's one of the best hidden gems in Park Slope, IYKYK and they are in demand!
Visit a Brooklyn Playground
When you're looking for fun places for kids in NYC, a playground never fails. There are over 2000 parks across the city, and Brooklyn is home to some of my favorite playgrounds of all time. I've learned that the best ones have lots of shade trees, boundary gates, and regular visitors. And a separate splash pad is a plus because I'm not always looking to chase a wet kid!
JJ Byrne Playground at Washington Park in South Slope has multiple jungle gyms for different ages, two splash pads, and teaching gardens. And there's always something going on at the historic Old Stone House.
Owl's Head Park Playground in Bay Ridge is one of my favorites. The park itself is massive with tons of hilly paths overlooking the bay. I go for a jog and then let my daughter loose on the wooden playground in the shade.
If you have toddlers, Toy Park in Cobble Hill is a must with tons of shade trees and the most adorable toddler-sized equipment. The playground gets its name from the donated toys you'll find all around. There's also Sunset Park Playground that's set on a hill with amazing views of the city. The playground is always hopping and there are public pools in the park.
Industry City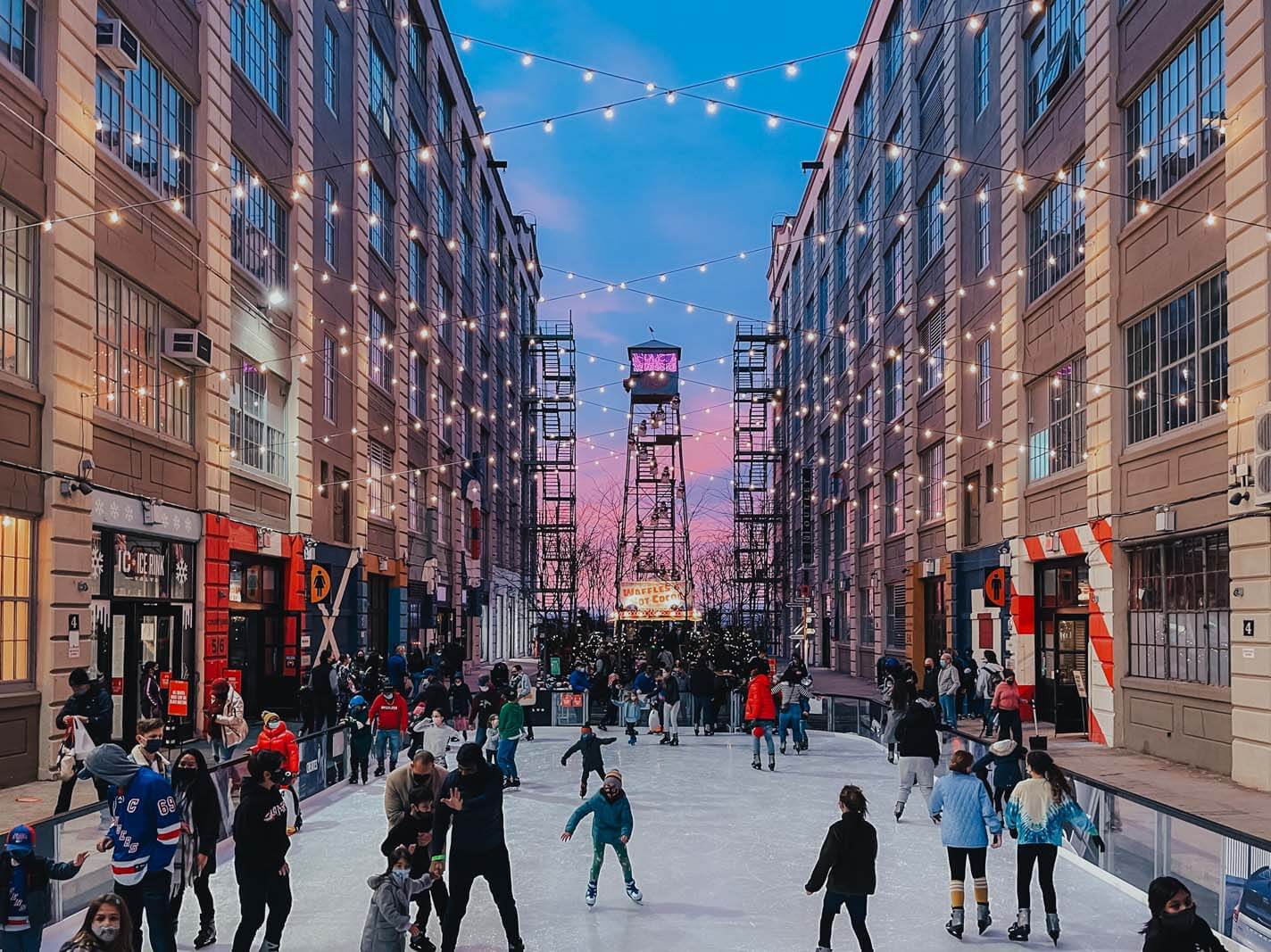 Going to Industry City is always an event for us, with something for the whole family. The old industrial buildings in Sunset Park have become a community hub and continues to evolve and expand. Today, you can go shopping, eat at the food court with all types of cuisine from all over the world, eat at Japan Village, or any of the other restaurants here.
They also have tons of events that take place and multiple courtyards, that even have outdoor firepits and some heated areas in the colder months with the walls splashed with color and murals from famous artists from all over the world.
One of the coolest things to do in Brooklyn with kids is taking pictures in the painted industrial elevators. It's located at the Industry City Food Hall, where there are quite a few of the dining options, I highly recommend getting dessert at One Girl Cookies.
We love exploring the Japan Village market and getting ramen and Takoyaki. And it's also fun to explore the artisan shops on the second floor.
The separate courtyards at Industry City are perfect for running around! They have beautiful murals, Zen gardens, art sculptures, and eateries with outdoor seating along each courtyard. If you go on the weekend, you might even find a special event like a flea market or a children's art workshop.
In the winter, Courtyard 5-6 turns into a magical outdoor skating rink!
Oh, and did I mention that they have really fun seasonal decor that changes every few months too? There are so many places to get fun photos and to feel a bit creative!
Smorgasburg
Originally part of The Brooklyn Flea, Smorgasburg took off in the late 2010s and today has multiple locations across the US and Canada. Enjoy a weekend in NYC with kids at the Prospect Park location or the Williamsburg location at Bushwick Inlet Park. April through October, it's a fun place to try all kinds of different foods.
You'll have plenty of company at Smorgasburg. This place is always busy and for good reason! For the Instagram foodie, this is the place to find the famous spaghetti donuts and fluffy pancakes! And I recommend the bao buns from Mao's Bao or donuts from Dough.
You can also check out the newer Prospect Park Smorgasburg location on Breeze Hill near Lincoln Road. Both locations are open during the season from 11 AM to 6 PM on Saturdays and Sundays. And while most vendors take cards these days, you might want to carry some cash anyways. Come hungry, wear sunscreen, and bring good walking shoes!
Explore Brooklyn Heights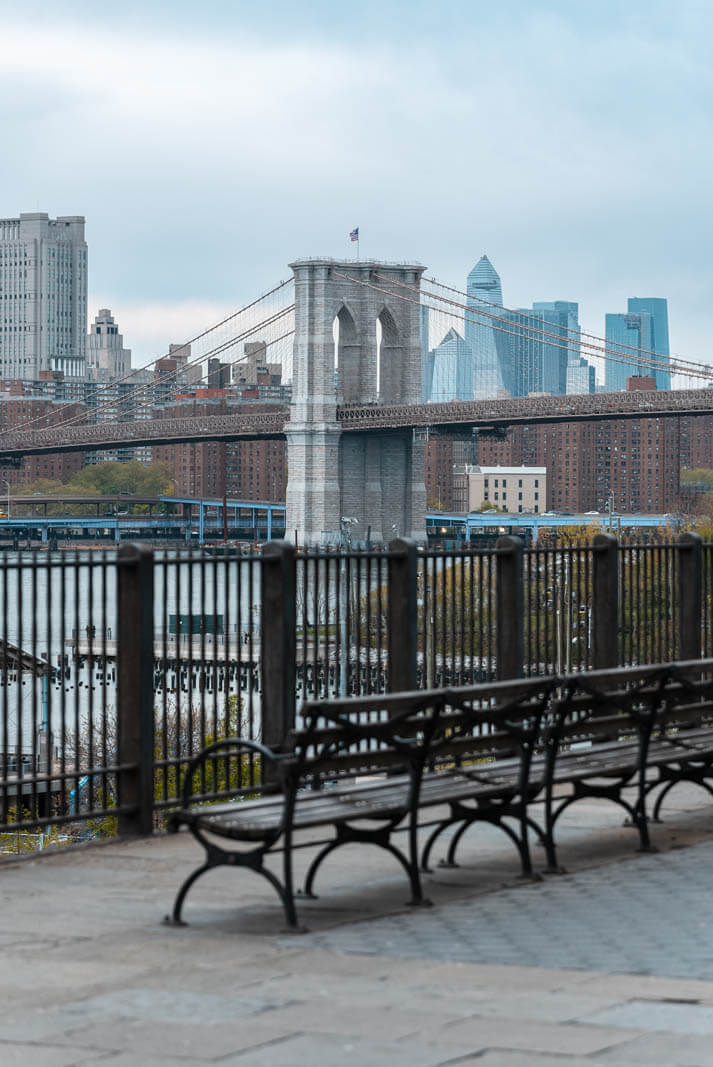 The historic neighborhood of Brooklyn Heights has been a residential area for over 200 years and offers a variety of family things to do in NYC. Just start at Brooklyn Bridge Park and walk east to Court Street. Montague Street and Atlantic Avenue are a patchwork of brownstones, old storefronts, and larger glass buildings.
On Atlantic Avenue, you can shop at all the different stores or take your toddler for their first haircut at Pinkyz Place. Shop at Housing Works Thrift Shops or the new Books are Magic location on Montague Street.
You can also find some of the best pizza in Brooklyn in Brooklyn Heights. Go on a pizza tour with the kids and stop at Table 87, My Little Pizzeria, and Dellarocco's!
For an intern-famous activity, head to the Brooklyn Cat Café and snuggle with all of the kittens. Just make sure to book your 30-minute or hour session online in advance. Then head a block west to the Brooklyn Heights Promenade. You can enjoy amazing views of lower Manhattan and the kids can play at Pierrepont Playground.
Brooklyn Bridge Park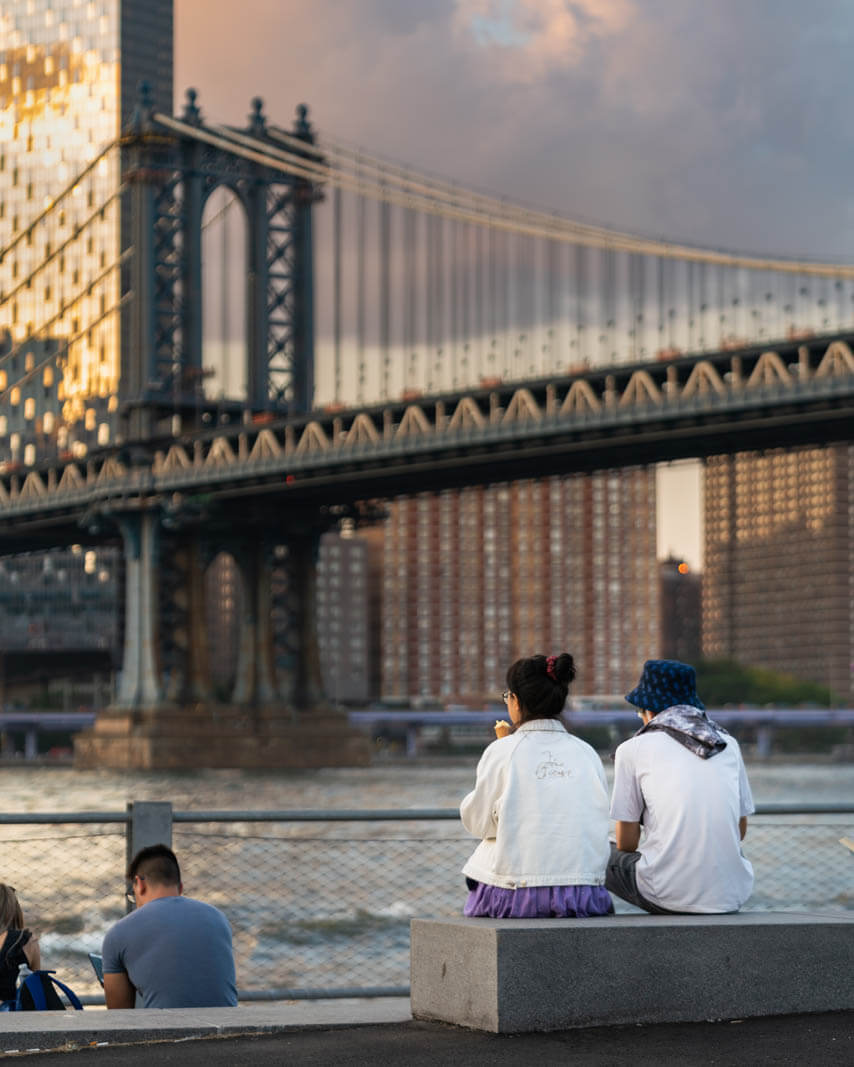 Just south of the Brooklyn Heights Promenade and Brooklyn Heights is Brooklyn Bridge Park. With 85 acres of waterfront recreational areas, the park offers some of the best things to do in Brooklyn with kids and best things to do outdoors in New York City. There are outdoor spaces, community events, watersports, and more.
The entirety of the park extends from north of the Manhattan Bridge, and south from the Brooklyn Bridge all the way to Atlantic Avenue. It was completed over several years in the early 2000s and was considered mostly complete in 2018. When you visit, it's still a good idea to check Brooklyn Bridge Park's website for closures. Things are constantly being improved upon, but not in a way that has never disrupted our visits!
The park is split up into 7 different sections, including the 6 piers at the southern end. There's Jane's Carousel, Pebble Beach, the Empire Shops, and the Fulton Ferry on the northern side. That side also has Main Street Playground and Dog Run. And Pier 1 under the Brooklyn Bridge has a variety of great places to eat like The River Café, Shake Shack, and Ample Hills Creamery.
Pier 2 through 6 offer all sorts of different experiences, including, amazing views of NYC, sports parks, sprawling green lawns, and outdoor dining. There are event spaces, picnicking areas, a beach with free canoe rentals, and a summer movie series. We tend to stick to Pier 6 because it has amazing kid areas. We can spend hours at Swing Valley, Sandbox Village, and the Water Lab. It's best if you have kids that are at least 2 years old.
But I think one of the very best parts of Brooklyn Bridge Park is the Greenway. It's a length of paved pedestrian paths that run from Pier 6 to Pier 1. If you plan it correctly, you can run a full 5K on the Greenway. In fact, there's a free running club that meets on Tuesday nights and strollers and dogs are welcome.
Jane's Carousel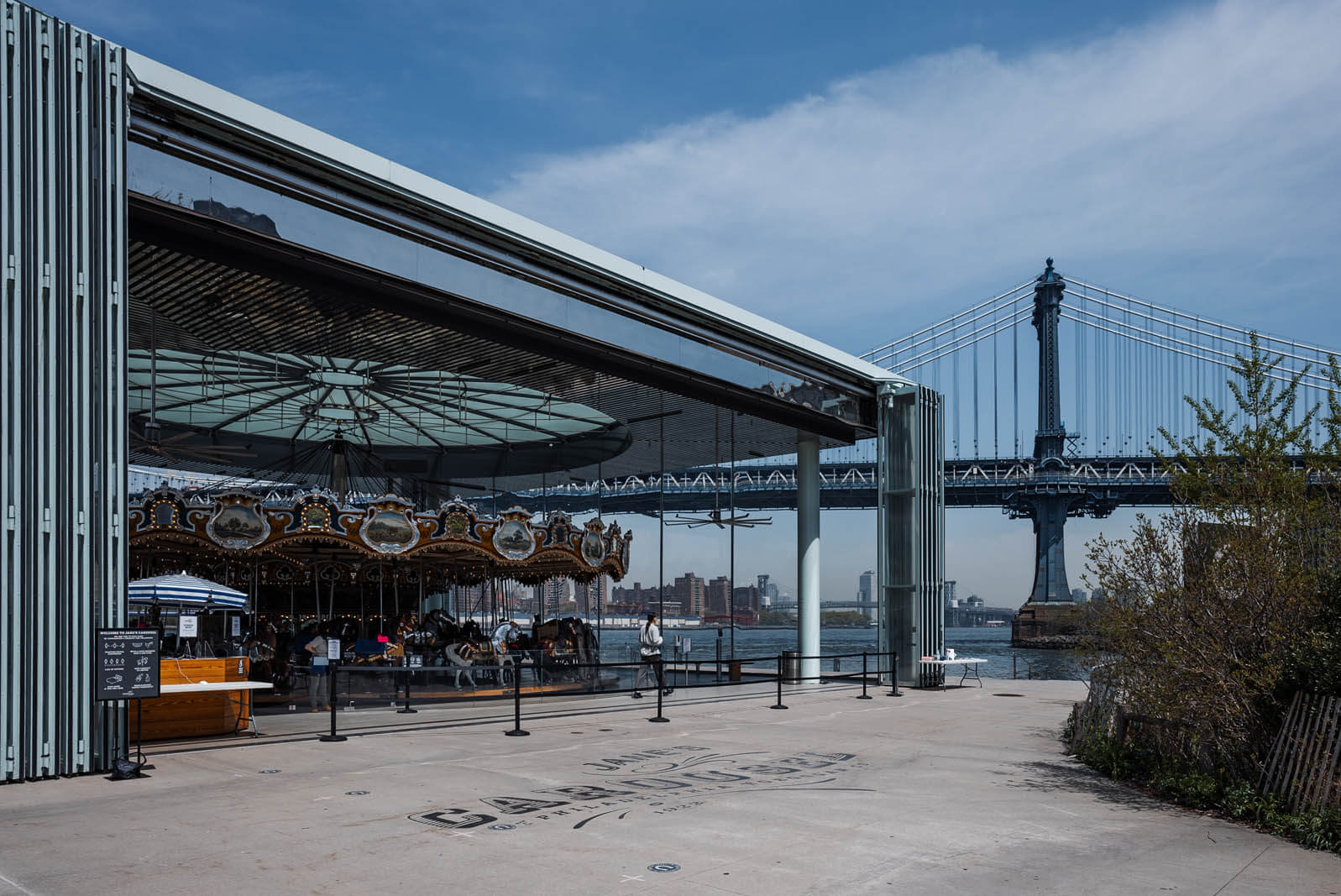 Jane's Carousel is at Empire Fulton Ferry in Brooklyn Bridge Park, and it's worth its own highlight! You can actually find quite a few classic carousels by exploring NYC with kids. Jane's Carousel is a must when you're in Brooklyn. There's something breathtaking about the vintage 1922 carousel. You'll love the contrast of it, housed inside a glass pavilion on the wooden pier with perfect views from every angle.
Jane and David Walentas spent 30 years restoring the carousel before donating it to the developing Brooklyn Bridge Park in 2011. Because it's inside the glass pavilion, it stays open year-round, though there are different summer and winter hours. And kids under 42 inches or 3 years are free with everyone else paying a small fee.
It's a lot of fun for everyone to pick which horse they want to ride! There are mobile and stationary horses, as well as classic chariot seats. When the carousel starts, you can sit back and enjoy the classic music and views of the Brooklyn and Manhattan Bridges, lower Manhattan, and the 19th-century factories behind the park.
Walk the Brooklyn Bridge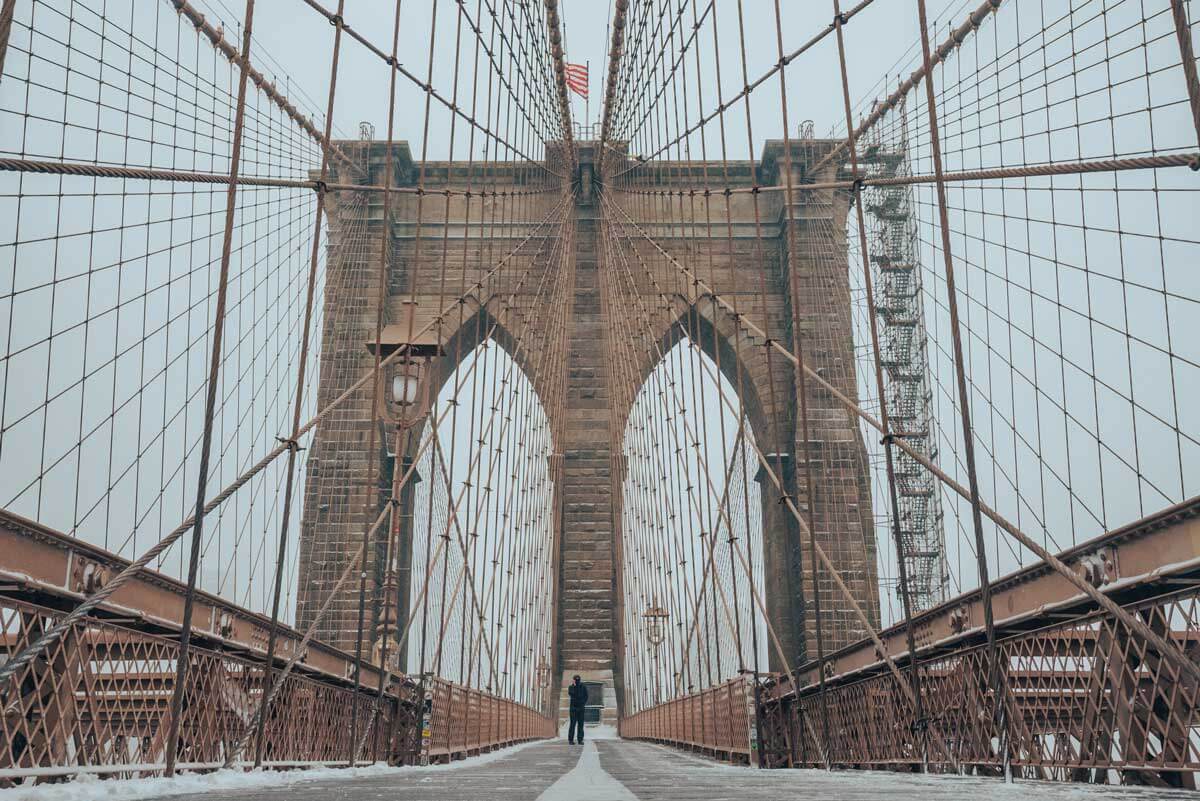 For more fun places for kids in NYC, don't underestimate the Brooklyn Bridge! Everyone should walk the Brooklyn Bridge, an iconic landmark at least once. It's larger than life with a great viewpoint of the city and great spots photography spots. Plus, it's just over a mile long and makes for a great walk.
The bridge features the original archways and suspension system from when it was built in 1883. It has vehicle lanes with an elevated pedestrian path in between the lanes. Overall, the one-mile walkway should take you about 45 minutes out and back if you stop for views and pictures.
The wooden path has designated lanes for pedestrians, cyclists now use the lower level with cars, which can get crowded on holidays and weekends. If you have a stroller with you it can take a bit longer during these times.
On the Brooklyn side of the bridge, you can begin your walk at the official entrance on Tillary Street and Boerum Place. Here, you'll see signs for the Brooklyn Bridge Pedestrian Walkway. If you're in DUMBO, you can also find a second entrance where northern Camden Plaza and Washington Street meet.
Once you're on the bridge, there are a few spots to check out. At the archway on either end, there's a viewpoint with educational plaques. This is a great place to stop, take pictures, and get a closer look at the old bridge. Once you reach the Manhattan side, you can shop for souvenirs near City Hall.
Prospect Park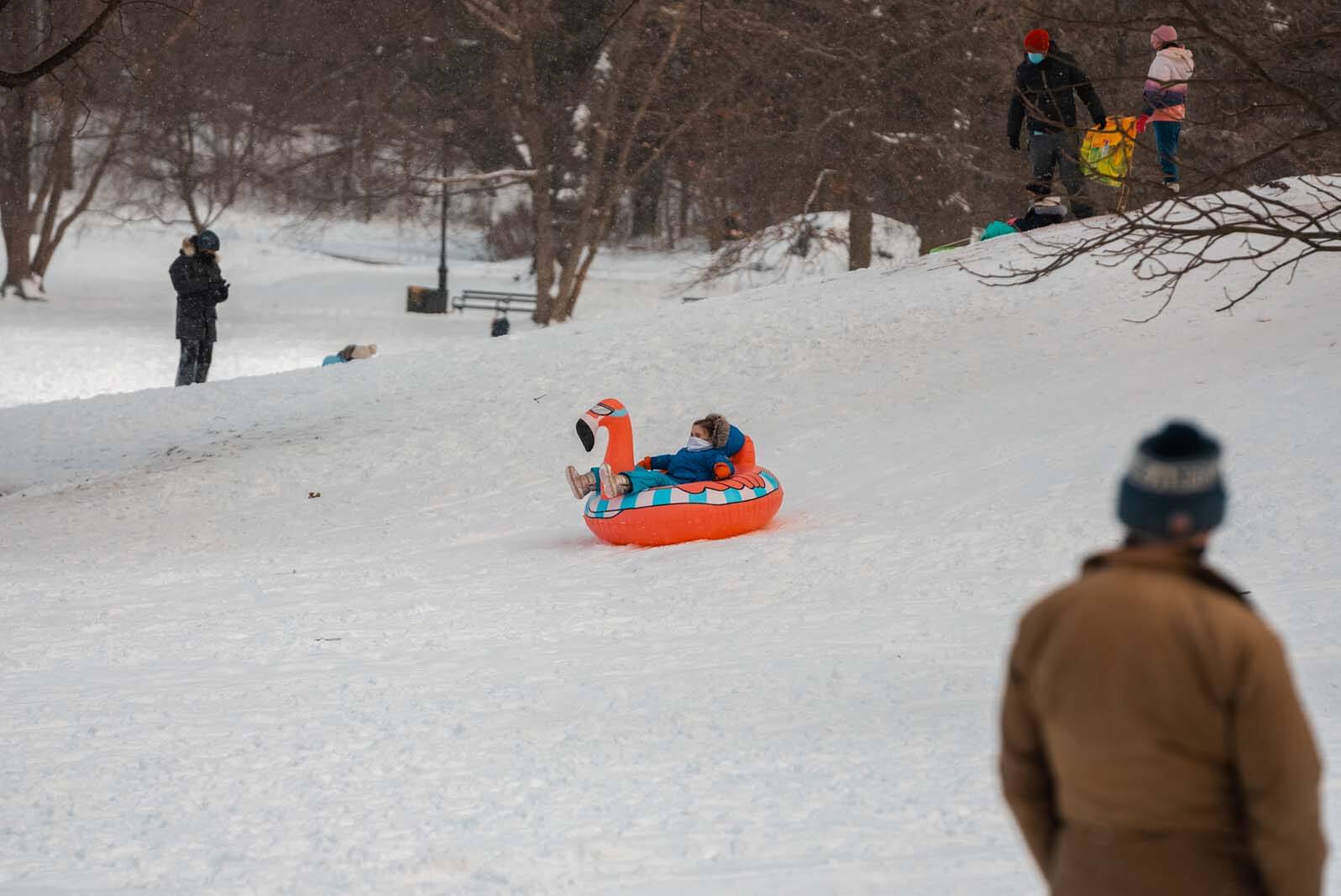 The area around Prospect Park is known for being especially family-friendly. Visit the park on any given day and you'll see children's birthday parties, families jogging, full playgrounds, kid-friendly events, and even sledding in the winter when there's snow. Not only is it a common gathering place for people with kids across the borough, but this beautiful park has a variety of amenities you'll love.
Park Drive circles the park at just under 4 miles long and is a popular place for runners, walkers, and cyclists. Harmony Playground and Vanderbilt Playground are just two of the wonderful playgrounds found across the park that are great for multiple ages. On the weekend, we also like to go fishing at Prospect Park Lake or watch kids playing baseball at the ballfields.
On Prospect Park West there's the Bandshell that hosts free summer concerts, some of which are made for kids. And on the Flatbush Avenue side of the park is the Prospect Park Zoo and the carousel close by. This side of the park is also home to the new Smorgasburg site that I mentioned previously.
When you're looking for things to do in Brooklyn with kids, I also recommend checking out the Grand Army Plaza Greenmarket. This farmer's market is held on Saturday mornings throughout the year. It's fun to peruse vendors selling produce, fresh bread, and other goods with kids. We love to grab stuff for breakfast and have a picnic on the green lawn in the park!
Ice Skating at LeFrak Center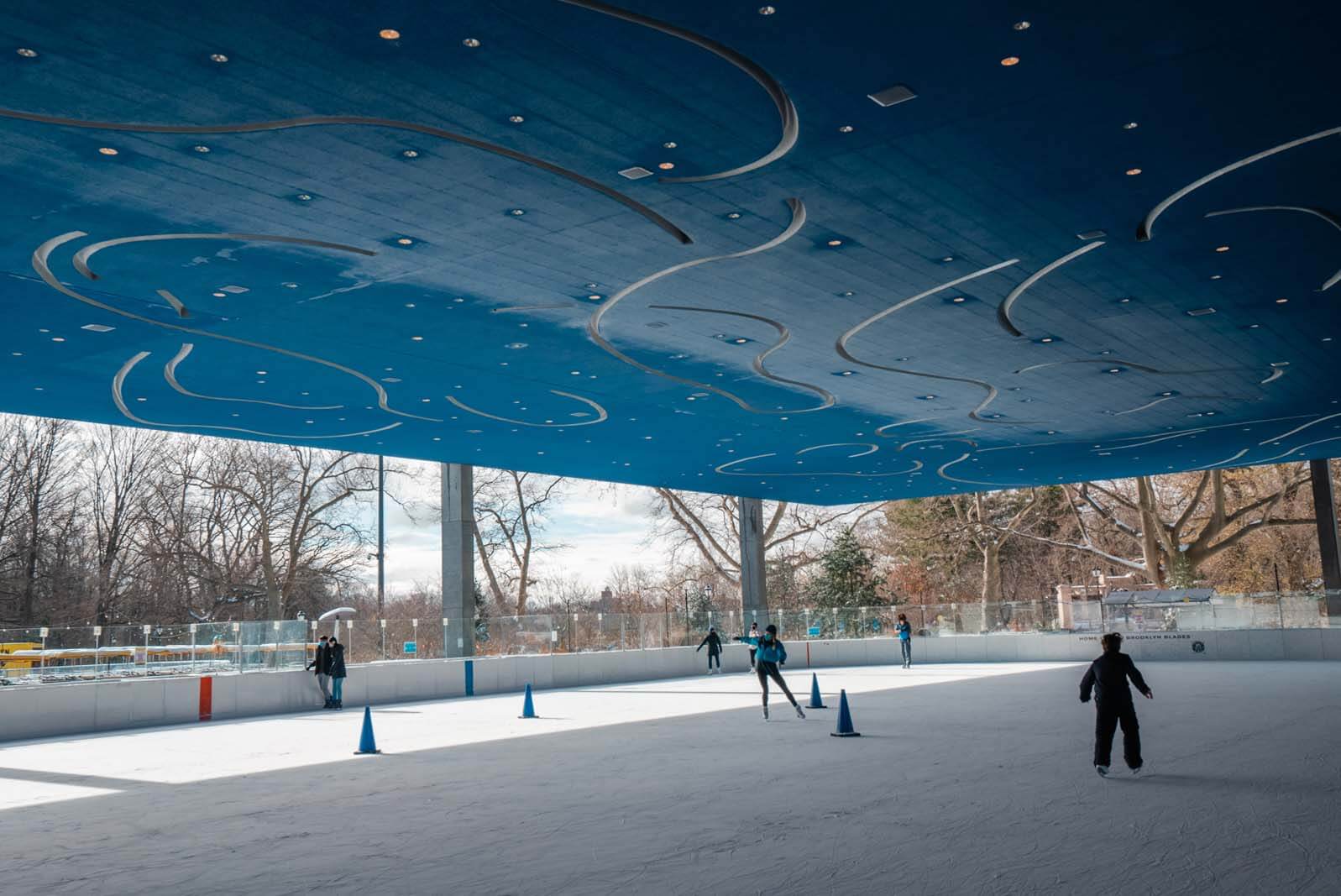 Another one of the best things to do with kids in Brooklyn is ice skating in Prospect Park! It's located near Ocean Avenue, overlooking the eastern shore of Prospect Park Lake. There is a covered rink and an uncovered rink, both connected to each other. During the summer they function as a roller rink and event space, but in the winter, they create a winter wonderland!
Next to the rinks is the Bluestone Café where you can warm up with a bite to eat or a coffee or hot chocolate. It's also that place to rent skates or skate gear and have your skates sharpened. For kids under 4 feet, you can rent the most adorable penguin-shaped skate aids, as well.
The rinks are open 7 days a week from later November through March. If you're going on the weekends, I recommend booking your tickets in advance, because they sell out quickly. Admission is separate from rental fees, and kids 3 years and up are welcome to skate.
Brooklyn Botanic Garden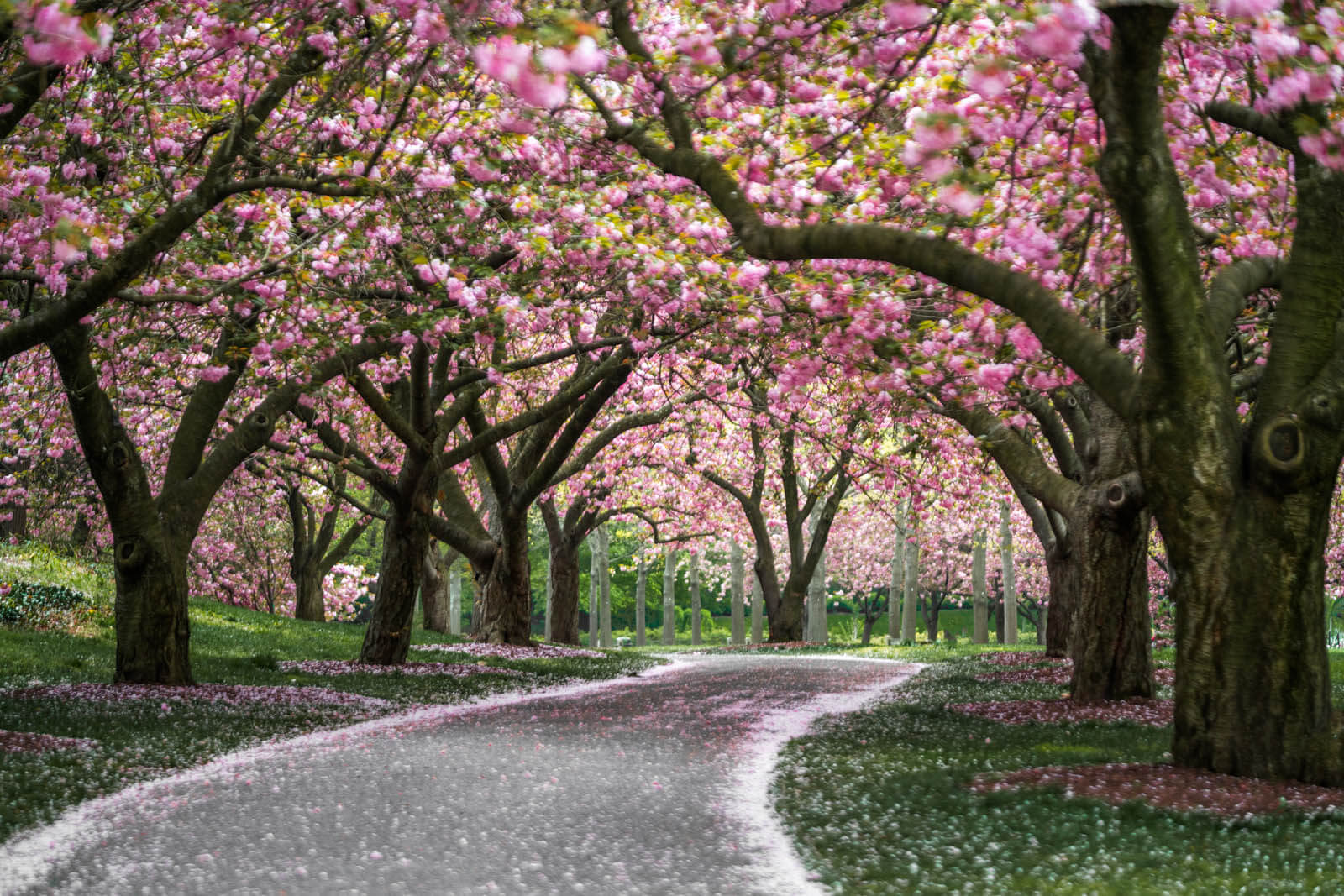 Nestled between the Brooklyn Museum and the northeastern corner of Prospect Park is the beautiful Brooklyn Botanic Garden. This is one of the most popular things to do in Brooklyn with kids, with different themed gardens and regular events every season.
The most popular time to visit the park is in May when the cherry blossom trees bloom! You can come to the festival and enjoy a picnic under the pink blossoming trees. In the summer, there are movies on the lawn, and in the winter there's a light installation show called Lightscape that's really fun for all ages!
The Botanic Gardens are open every day but Monday, and hours change with the season. Admission is $12-18 and kids under 12 are always free.
We love going in the early summer when the flowers are all in bloom. Just make sure to bring water because you're exposed to a lot of sun and there's tons of walking! And if you get hungry, there's a full-service restaurant.
There are beautiful archways and lanes to check out and take pictures of. Make sure to visit the beautiful patina greenhouses with orchids and other delicate blooms inside. The Japanese garden is a must. And kids can get hands-on in both the Discovery Garden and the Children's Botanical Garden.
Hike at Shirley Chisholm State Park
A hidden gem of Brooklyn is Shirley Chisholm State Park in East New York. I'm always looking for opportunities to get outdoors with my daughter. While we love going hiking outside of the city limits, sometimes I need a place to go that's more local. Did you even know that there was a state park inside New York City?
The park has a fascinating story that began back in the 1940s when it was a city dump. The surrounding neighborhood celebrated in 2019 when it opened as a state park there with over 400 acres of reclaimed land and 10 miles of gravel paths for pedestrians and cyclists.
Today, you can visit the park and enjoy some of the highest points inside the city limits at 130 feet. All the grassland around the park has been planted with native plants. There's also a creek and marshland that have attracted native birds and insects back to the area. You can go fishing at the pier and enjoy the peaceful water. With the hills blocking out the city noises, it feels like a retreat from the city!
I love to take my kid here for hikes with amazing views of NYC. There's also a Bike Library program from April through October where you rent bikes for free to ride in the park. It's only from Thursday through Sunday at the park entrance and it's super popular, so now you can reserve a bike online in advance.
Visit an Indoor Play Place
View this post on Instagram
As a transplant to the East Coast, one thing I noticed as I worked with kids was that there were indoor play places everywhere! And when my first winter here rolled in, I quickly learned how valuable these places were. When you need somewhere to run around, I recommend one of the wonderful drop-in play places across Brooklyn.
My favorite right now is Fairytale Island in Bay Ridge. There are jungle gyms, sand pits, and defined toddler areas. This location is for kids through 7 years but I wouldn't bring a child older than 4.
There's also Good Day Play Café in South Slope and it's absolutely beautiful. It's perfect for kids who are easily overwhelmed. The play area is a quiet space, and very minimalist, with white and natural wood everywhere. There's also a café so you can sit back and watch the little ones play. Come here with kids up to 6 years.
On the other hand, Twinkle Play Space is a magical wonderland full of over-the-top pretend place paces in Williamsburg! All of them a beautiful, but I especially love the Brooklyn General Store. They also host weekly story times and craft hours. This space is perfect for kids through 6 years.
If you need a place for older kids and younger kids alike, check out Kids N Action in Borough Park. It's the largest play place I've seen with bumper cars, arcades, and climbing nets for older kids. They accommodate ages 1 to 14.
Always make sure to bring socks in case shoes aren't allowed inside. And check each play place's rules (usually on their website) before you go. Some have rules like no eating. And most locations keep socks, food, and other necessities for sale at the front desk for your convenience.
Brooklyn Public Library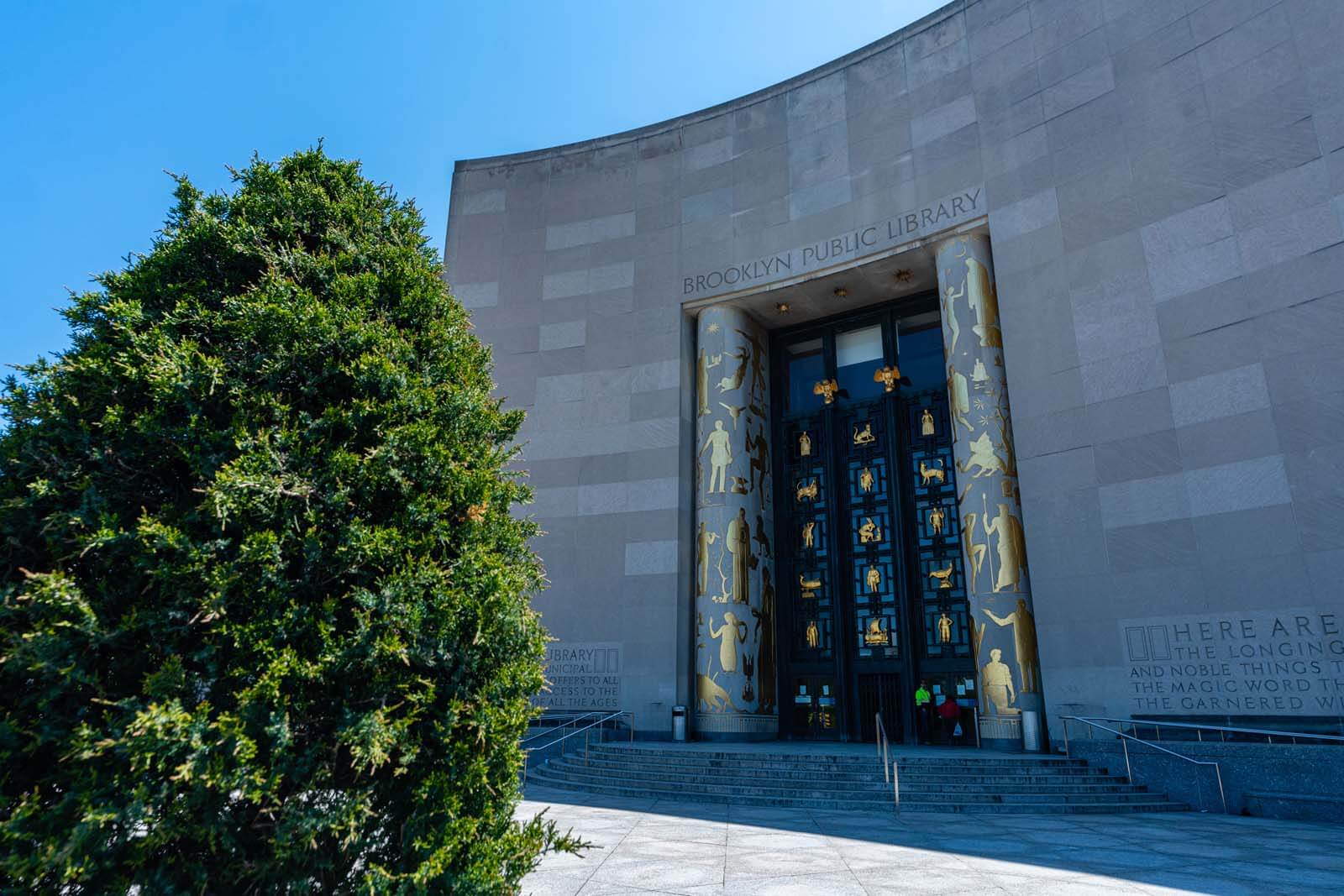 When thinking about what to do in NYC with kids, consider heading to a Brooklyn Public Library branch. Each with a different personality and fun children's activities throughout the week. These are just 2 of my favorites, but there are many more.
The Brooklyn Public Library Central Branch at Grand Army Plaza is in a beautiful old building. The children's room is very simple and cozy with a great selection and tons of space. But I especially love this location for the garden out back. And if you've read the children's book, Knuffle Bunny by Mo Willems that's set in Park Slope, you'll recognize the bronze statue among the benches!
The Brooklyn Heights Branch on Camden Plaza has a warm and inviting children's floor. There are toys for little ones, child-sized chairs, and children's art everywhere. This branch is also super popular for its children's program. There are different story times for kids 0 to 6 years, as well as art classes for older kids and workshops for teens.
Coney Island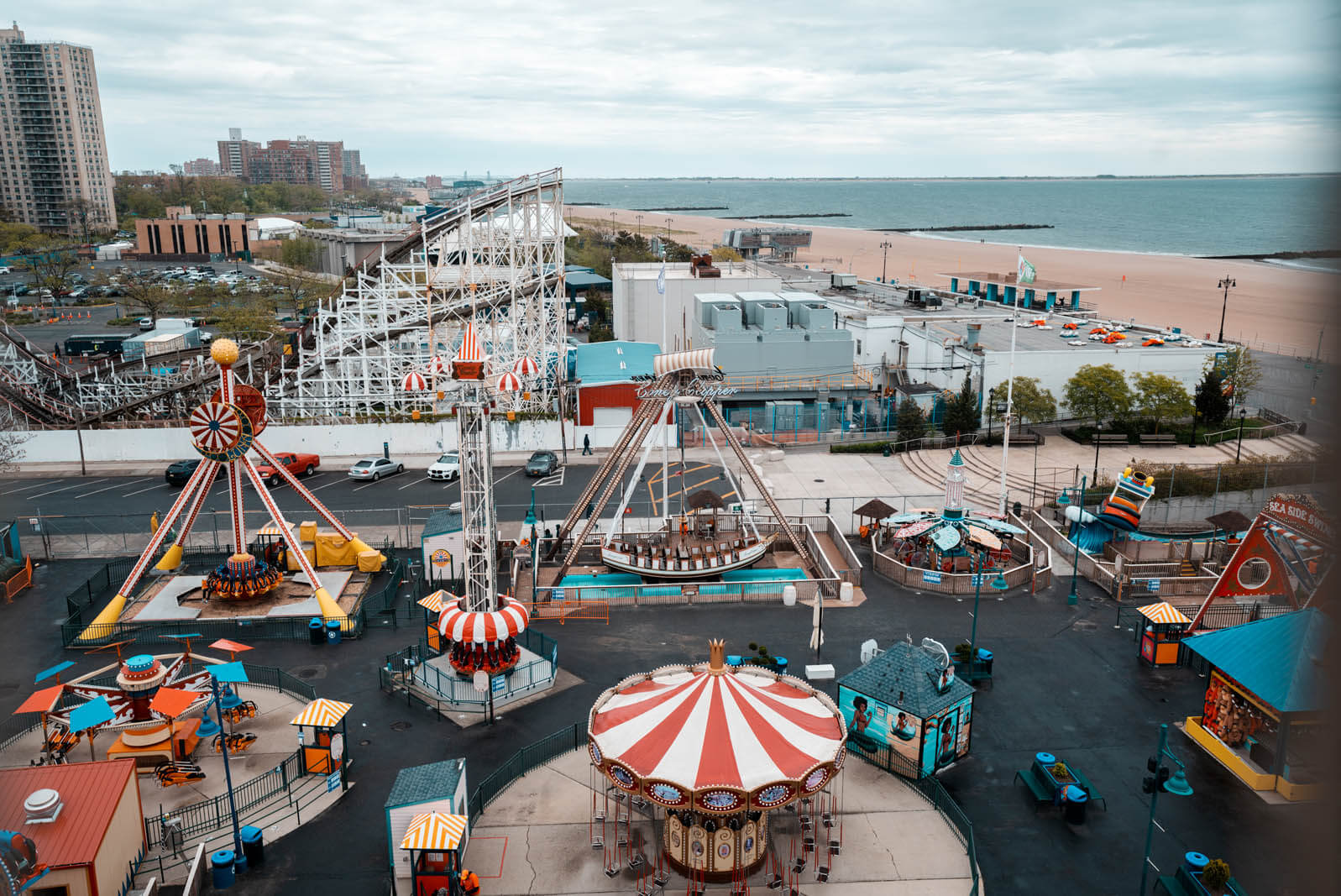 You can't visit Brooklyn without visiting and checking out all the awesome things to do at Coney Island! There are many reasons it's been a popular summer destination for over 100 years. There's the historic Luna Park carnival with its iconic Wonder Wheel and the wooden Cyclone Coaster! You can walk the 2-mile-long wooden boardwalk or stroll down the recently reconstructed pier.
For things to do in Brooklyn with kids, consider taking them to the Mermaid Parade in June or the hot dog eating contest at Famous Nathan's on the 4th of July. Close by there's the Brooklyn Aquarium or you can watch a Brooklyn Cyclone baseball game. And all along Surf Avenue, you'll find pizzerias, funhouse museums, gift shops, and more.
Go to the Beach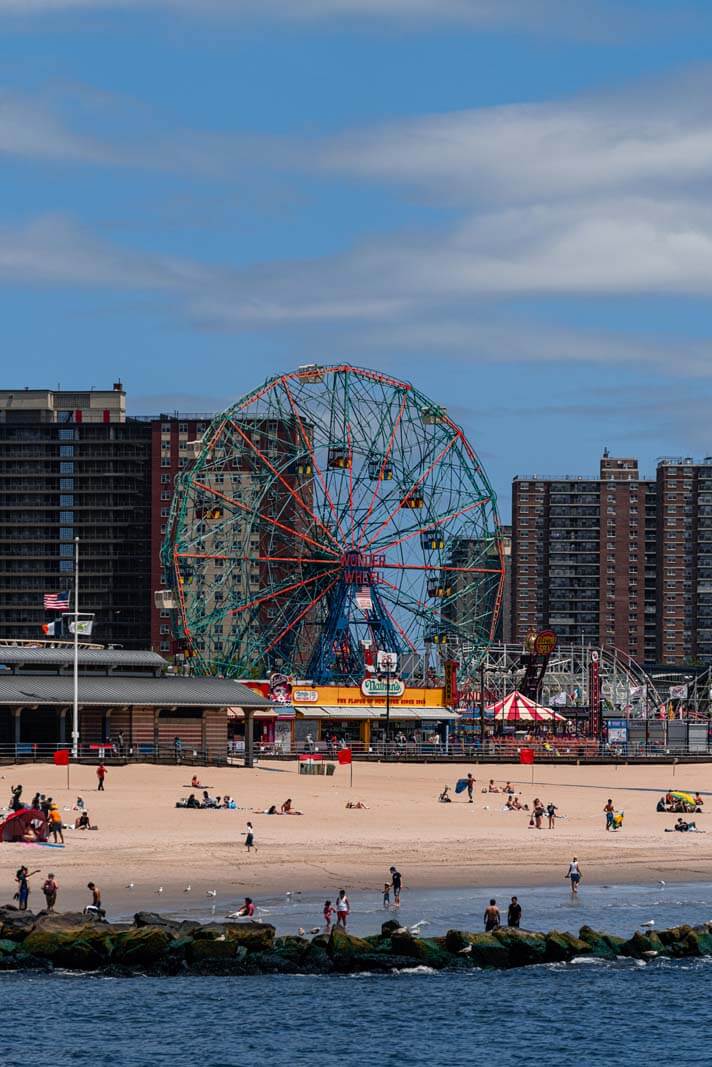 When you think of going to the beach in NYC, of course, you think of Coney Island. But there are even more wonderful beaches in Brooklyn. If carnivals and crowds aren't to your taste, check out one of the nearby beaches.
Keep walking east from Coney Island and you'll come to Brighton Beach. It's a much quieter beach with the same great location near the boardwalk and Ocean Parkway. Or drive down Oriental Boulevard towards Kingsborough Community College. To your right will be Manhattan Beach. This is a smaller, kid-friendly beach with grills, picnic tables, and a playground, too.
For little kids, I love Plum Beach at the beginning of the Gateway National Recreation Area. It's almost just off the side of the road among the reeds. Walk down the dunes to the calm pebble beach in a cove. The water is super shallow and calm from being protected by the bay. Or drive further out to the massive Rockaway Beach. It's open to the Atlantic Ocean, so the waves can be much choppier, but it's a great beach with a wide boardwalk along the entire length.
---
About the Guest Author
Elizabeth Ramos – I moved to Brooklyn from my hometown in Texas in 2010 when I was dating my husband. It was a major transition going from the South to NYC, but I quickly learned to love it! There's really no other place like it. I've spent a decade in the Bensonhurst and South Brooklyn area during my career as a writer, artist, and preschool teacher. Today, I work from home as a content writer in the areas of beauty, lifestyle, education, parenting, and travel so I can stay home with my 1-year-old daughter. When I'm not writing, you'll probably find my little family exploring fun things to do around Brooklyn!
---
Enjoyed this guide for the best things to do in Brooklyn with kid activities in Brooklyn guide? Bookmark for later or let us know your favorite fun places for kids in Brooklyn are!