Check out all the best things to do in Bushwick, Brooklyn. This always-evolving neighborhood on many levels, from the gentrification over the years to the ever-changing murals that make up the Bushwick Collective make this a fun neighborhood to check out and explore.
Bushwick has become one of the places known for 'where the cool kids hang out' because of the artists and eclectic community that have invaded this historically Hispanic neighborhood for more affordable industrial artist spaces and with the popularity and sky rocketing prices of neighboring Williamsburg.
For those visiting the city, Bushwick has become known or famous for its streets covered in colorful murals and famed nightlife scene.
Check out all our picks for what to do in Bushwick before your visit!
But first, where is Bushwick, Brooklyn?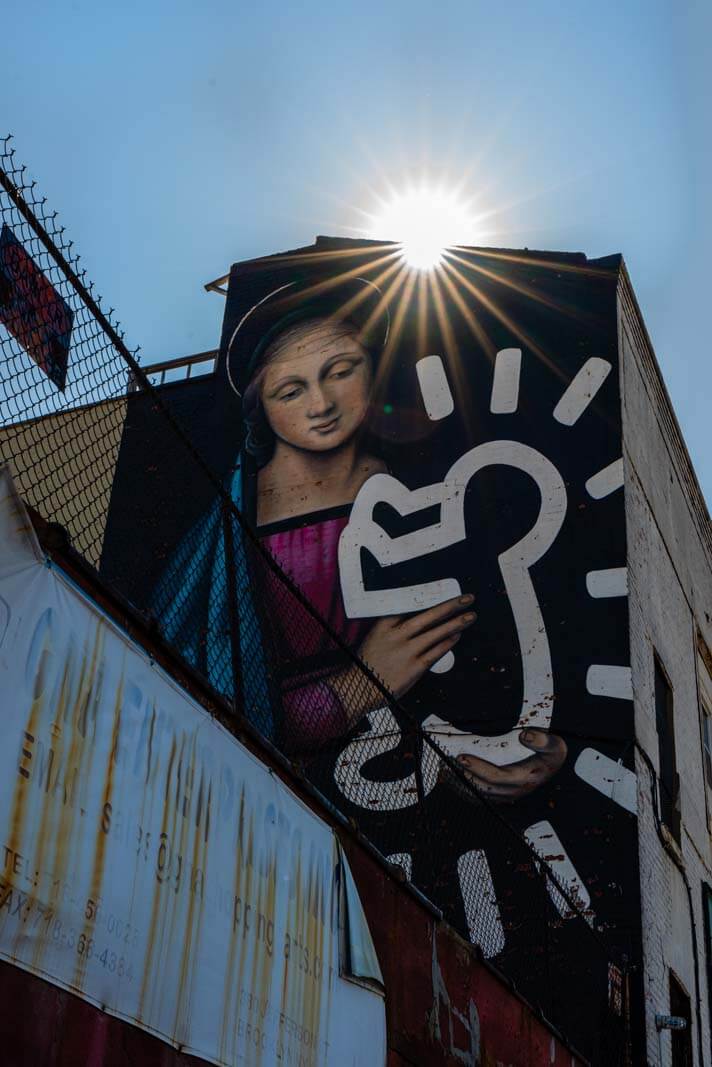 For the purposes of this guide to the best things to do in Bushwick, we are going to give the neighborhood boundaries as it can get sort of tricky if you're not familiar with the area.
Bushwick is in northern Brooklyn and the boundaries include Evergreen Cemetery, Flushing Avenue, Broadway, and Ridgewood, Queens roughly.
Bushwick is surrounded by the Brooklyn neighborhoods of Bedford-Stuyvesant (Bed Stuy), Williamsburg, East New York, Ridgewood, Queens, and Brownsville.
There are many subway stations that border along the boundaries of Bushwick, including stations technically located in neighboring neighborhoods but are a short walk. The main lines that service the area are the L, M, J & Z subway lines including multiple stops.
Note that many of the trains have different schedules on the weekends and weekdays.
These are the nearest subway stations to Bushwick, Brooklyn:
Myrtle – Wyckoff Avenue Station (L & M subway lines)
Chauncey Street Station (J & Z subway lines)
Bushwick Avenue–Aberdeen Street Station (L subway line)
Kosciuszko Street Station (J subway line)
Knickerbocker Avenue Station (M subway line)
Halsey Street Station (J & L subway lines)
Flushing Avenue Station (M & J subway lines)
Jefferson Street Station (L subway line)
Morgan Avenue Station (L subway line)
Gates Avenue Station (J & Z subway lines)
Central Avenue Station (M subway line)
DeKalb Avenue Station *not to be confused with Dekalb Station in Downtown Brooklyn (L subway line)
Wilson Avenue Station (L subway line)
Seneca Avenue Station (M subway line)
Broadway Junction Station (A, C, J, Z, & L subway lines)
Table of Contents
What to do in Bushwick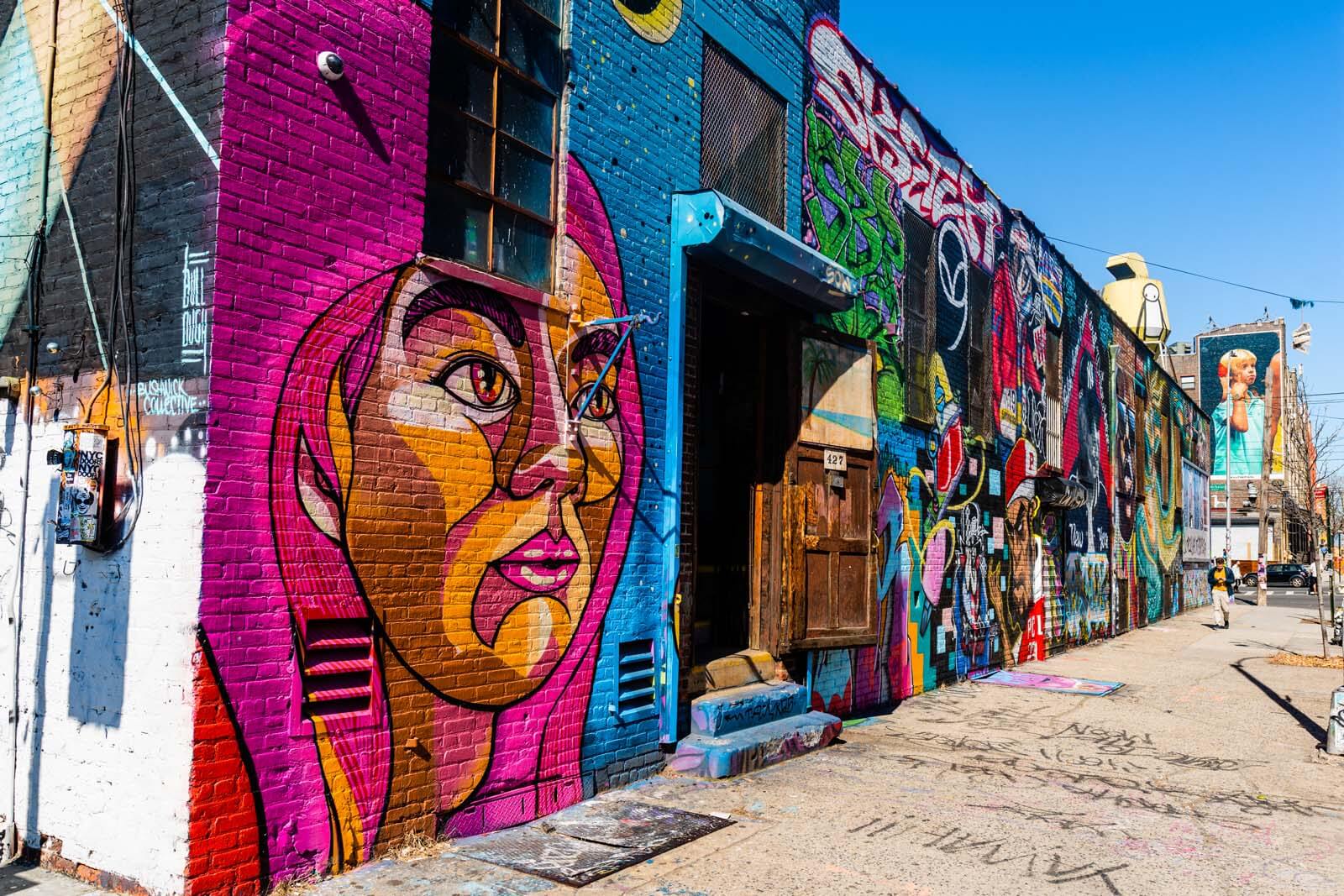 Bushwick Collective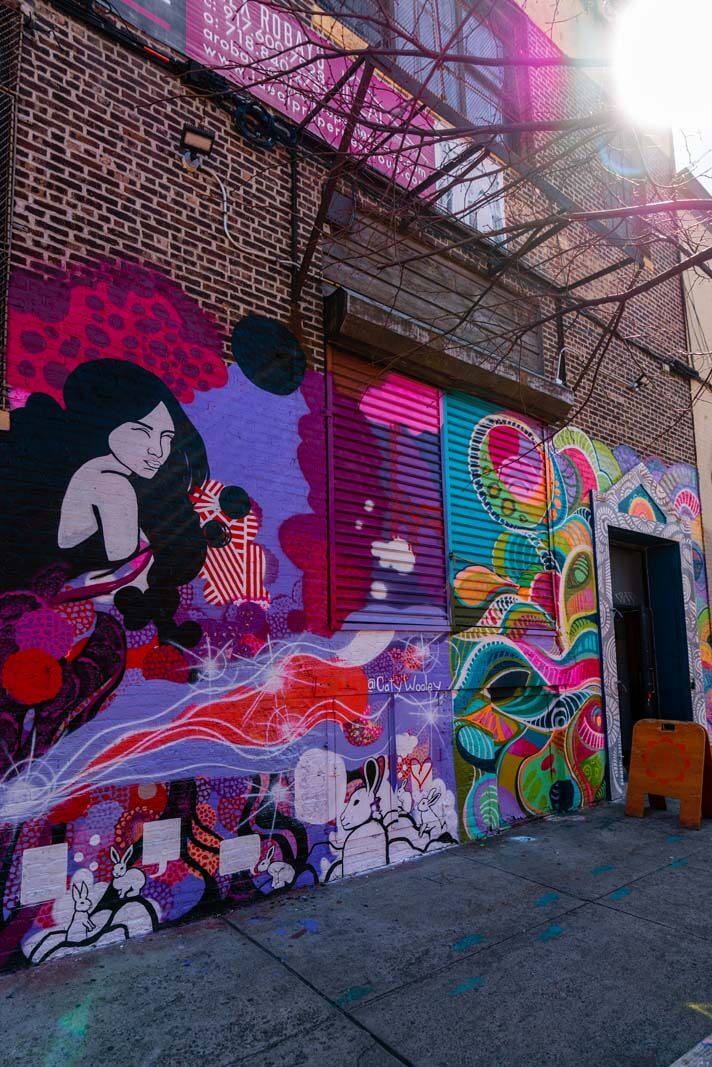 One of the things that makes this neighborhood so famous among visitors now and one of the best things to do in Bushwick is explore the colorful murals on the once empty industrial walls known as the Bushwick Collective.
This giant open air gallery was founded by a local, Joesph Ficalora who wanted to revive himself and his neighborhood after losing his father who was murdered at a nearby subway station and his mother to an illness. Bushwick was known for its high crime rates, which we have seen lower significantly over the decades since then.
Starting the Bushwick Collective was a way for Ficalora to brighten up not only the neighborhood but help him cope with his painful memories, and it took off and helped completely transform the neighborhood.
The Bushwick Collective started in 2012 and in its early years this area did have work done by legendary names in the street art world from Blek le Rat to Banksy, Shepard Fairey, ROA, and other famous local Brooklyn artists like Sara Erenthal whose work you can see all throughout the city.
Ficalora works with the local business and property owners to 'borrow' walls for the collective which is done every year usually around the first of June.
So if you came a few years ago, chances are there are all new murals up since then by different artists from all over the world as well as local artists.
This is what to do in Bushwick if you love street art as much as we do – PS you'd probably love the Williamsburg street art too which is not too far away either, or check out our guide to the best Brooklyn street art.
Where is the Bushwick Collective?
You can find most of the murals along Troutman Street between Irving Avenue and Cypress Avenue. It's best to just walk up and down the streets, make sure you check both sides and peek around as there are some tucked away!
The closest subway station is Jefferson Street Station which operates the L train.
The murals and area are much more crowded on the weekends but still enjoyable. If you're hoping to take alot of photos we recommend going on a weekday. This is easily one of our favorite Brooklyn walks to enjoy!
Vintage Shopping Paradise
This is what to do in Bushwick if you love searching for your next vintage find and thrifting in Brooklyn! From high-end second-hand resellers, buy/sell/trade clothing stores, to awesome thrift shops, Bushwick as them all and is a vintage shoppers paradise.
Here are a few of our favorites and a few other recommendations, but check out our entire guide dedicated to thrift stores in Bushwick if you're hoping to get the most out of your shopping time in the neighborhood.
L Train Vintage
Love finding vintage treasures or thrifting? Check out L Train Vintage, one of the best second-hand, thrift stores in NYC, and vintage stores in all of Brooklyn and best things to do in Bushwick.
There are several locations around the borough actually, this is just one of them. Most of the locations are located off the L train, hence the name!
Their team prides themselves on their buyers who travel the US to find the best vintage finds and sell them in their locations for reasonable prices, I live by the one in Gowanus and you can always find something!
GG's Social Club
This spot to sell your clothes and donation-based thrift store is more than a vintage shop, it also has an event space and is bringing awareness to the waste produced by fast fashion, hence their business pushing people to reuse and repurpose items.
Selling used clothing items to new owners is just one of their causes, the two owners are both activists for many different causes and they also happen to always have killer finds! Always remember those 3 R's! Reduce, Reuse, & Recycle!
Collections BK
One of the most popular consignment and thrift shops in the area and best things to do in Bushwick is check out the fun finds at Collections BK.
The buyer/owner for this shop searches all over the country for pieces to resell in this finely curated shop with pieces dating all the way back to the 1930s to 1990s from womenswear, menswear, and accessories.
This is one of those perfect places if you're looking for a statement piece, photoshoot piece, or are a collector of classic antique clothing and accessories.
---
If you love thrifting be sure to also check out Other People's Trash, Beacon's Closet, FRIENDS NYC, Chess and the Sphinx, Worship, and Feels.
There's also Bushwick Flea at 56 Wyckoff Avenue that's an outdoor flea market selling all types of second hand and antique items from clothing to housewares!
Art Galleries
Easily one of the best things to do in Bushwick is explore the contemporary art scene here through small curated galleries in repurposed industrial warehouse spaces.
Here are a few of our favorites, which also are included on our top picks of best indie art galleries in Brooklyn.
Microscope
One of the popular contemporary art galleries and what to do in Bushwick if you fancy yourself some arts & culture is Microscope. This gallery has a curated selection of installations and performances that revolve around time in some way through sound, film, performance art and other forms of mixed media.
They've famously even had a performance artist give a live birth in the gallery.
Transmitter
Another popular contemporary gallery in Bushwick is Transmitter, which is a "collaborative curatorial initiative," featuring work that is "multidisciplinary, international and experimental," as they say so themselves.
They feature rotating exhibitions featuring artists from all over the United States.
The contemporary art gallery, Tiger Strikes Asteroid is also another great gallery and thing to do in Bushwick that's located in the same building as Transmitter.
House of Yes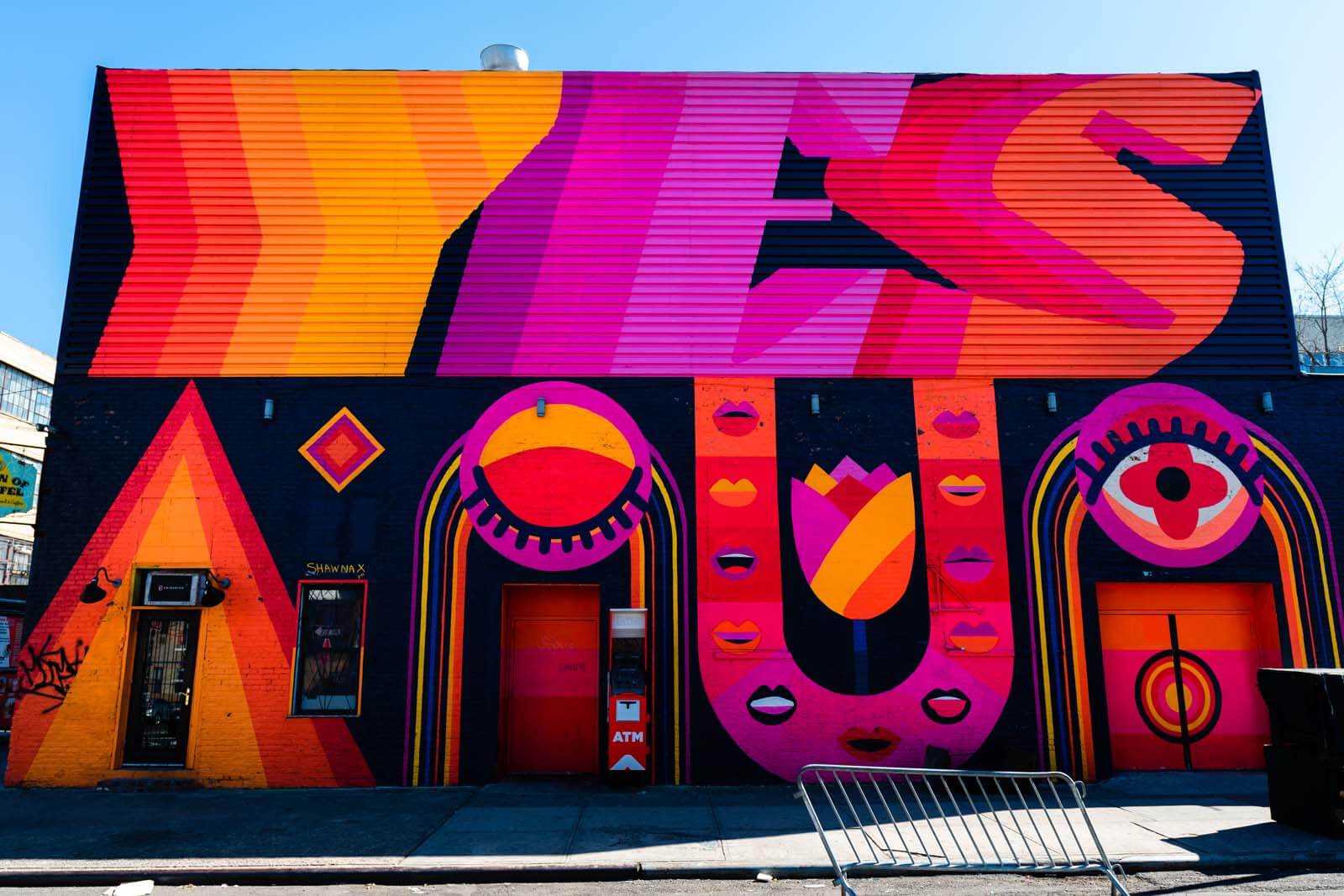 The House of Yes is one of the most famous things to do in Bushwick for partiers and those who love a great nightclub unlike any other! Timeout even named House of Yes as one of the best 50 things to do in the world, not just Brooklyn or the United States – that's how unbelievable this place is!
This wild and weird nightclub is unlike any other with people hanging from the rafters, aerialists, circus performers, dancers, body painters, and more from local artists Kae Burke and Anya Sapozhnikova who created this eclectic party club that is truly one of a kind.
The House of Yes feels like something straight out of Hollywood fiction, but it's very much real and you can feel alive any night or at any of their themed parties.
If you plan on coming to join in on the fun, you might want to see if its one of their themed nights where it's encouraged for everyone to come in their own creative outfit. Their motto is 'dress to express.'
Only on theme nights its encouraged to dress the part, otherwise, they are welcoming even if you put some effort in and any other night you can wear whatever makes you feel funky or expressive!
Drinking Scene & Nightlife
Ok, so now that we've covered the legendary House of Yes, and yes it deserves its own mention, there are plenty of places for a great drink any time of the day or nightlife.
What's even more interesting about Bushwick is that it's home to Brooklyn's original 'Brewer's Row,' which was home to a German immigrant population that brought their brew making skills to the states with them and where 10% of the US beer was brewed in the late 19th and early 20th centuries until the prohibition.
There were 14 breweries on a 14 block area at the time! Most of those didn't survive the prohibition and only two were left until they closed their doors in 1976, but don't worry since then some have returned which we will cover and now there are many breweries in Brooklyn that have made this borough a beer mecca for fine craft brews.
Here are some of our favorite picks for what to do in Bushwick if you're looking for a great drinking spot, and also see our guide to the best Bushwick bars for more.
King County Brewers Collective or KCBC
King County Brewers Collective, also known as KCBC for short, is one of the awesome breweries in the city and is on the historic Brewer's Row here in Bushwick. This is one of the best things to do in Bushwick if you're a beer lover.
Located in the actual building of a brewery on Brewer's Row that survived until 1976, then in 2016 KCBC, three collaborative brewers resurrected the historic building to what it is today.
Each of the three brewers brings their own signature style to the beers they make which means they always have a beer on draft for everyone at any given time.
Pearl's Social & Billy Club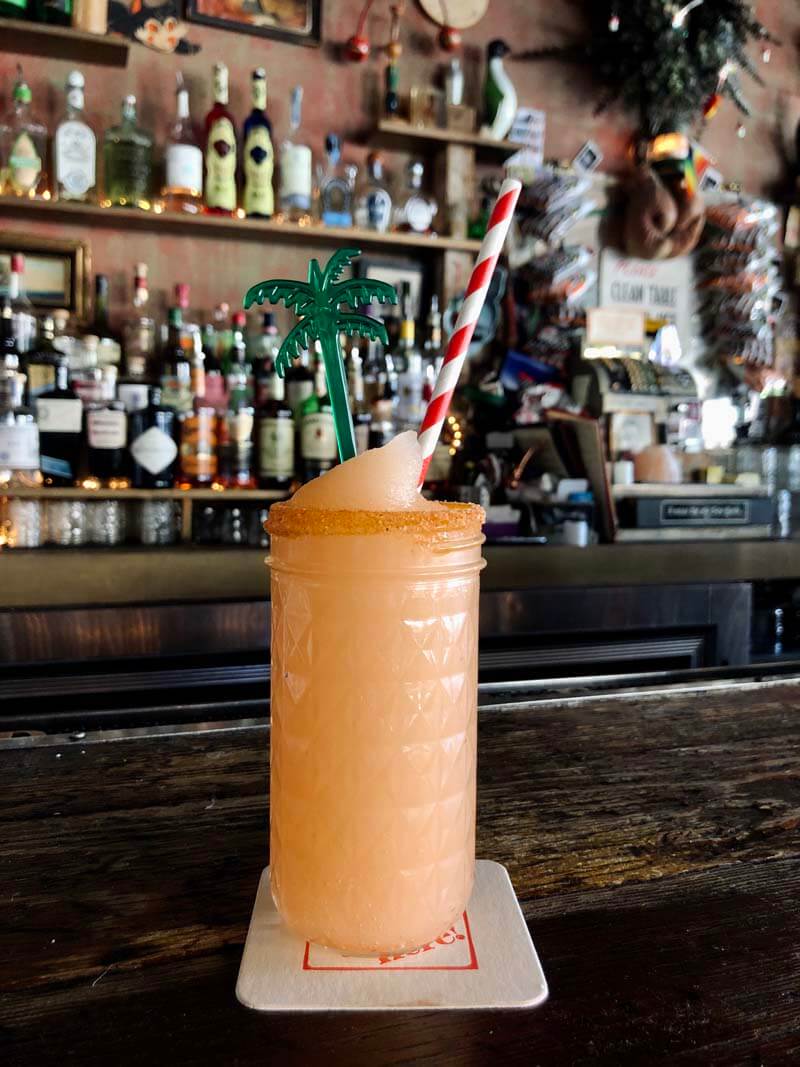 One of our favorite places to stop for a great cocktail and hang out is Pearl's Social & Billy Club. This bar has got a curated dive bar feel and is what to do in Bushwick if you love mezcal.
They have all kinds of cocktails, but between the two of us we tried their different mezcal mixed drinks and they were heaven.
This no-fuss establishment is the perfect hangout paired with a good cocktail.
Brooklyn Beer Garden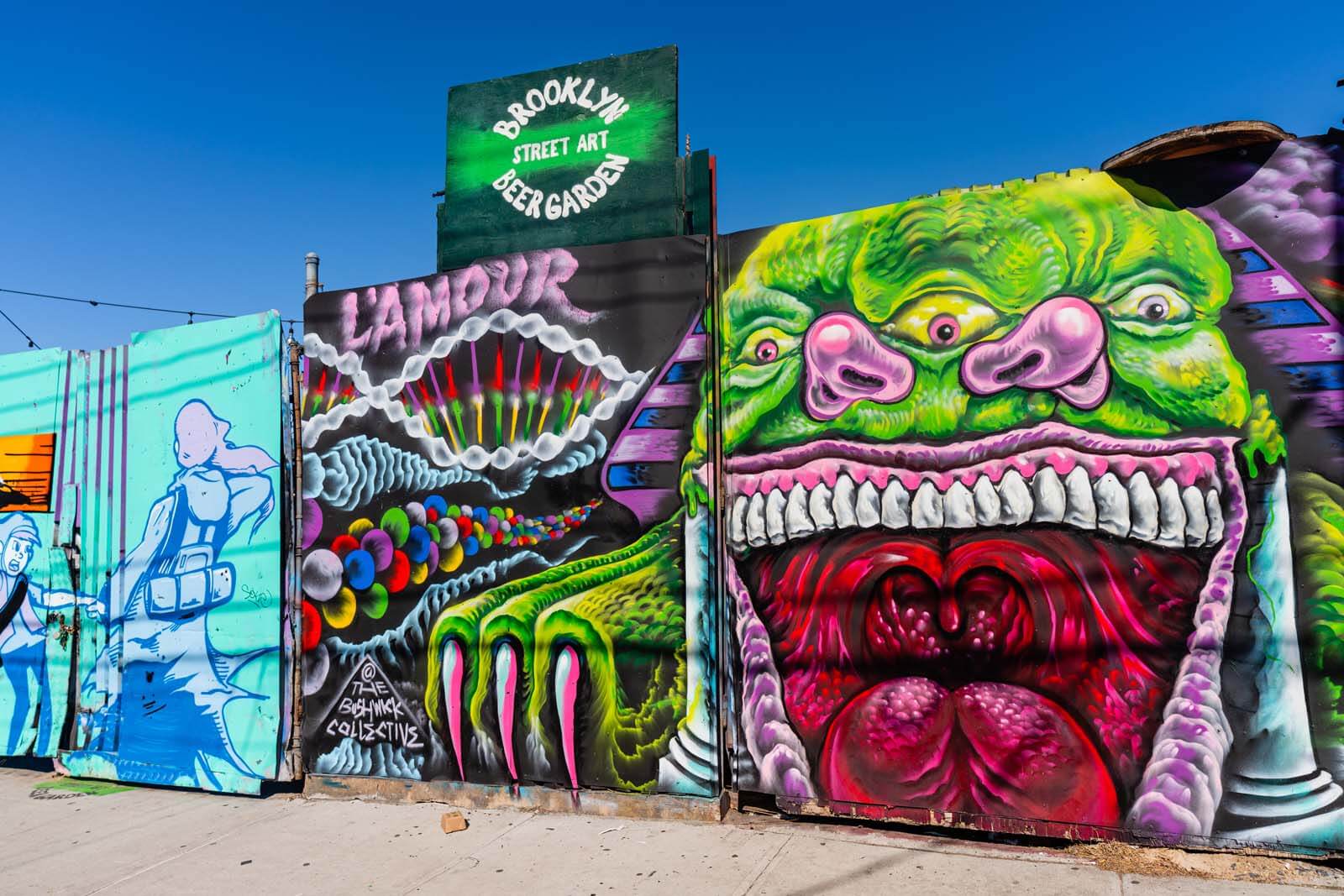 This is what to do in Bushwick on a beautiful day if you're looking for the perfect hang out spot where you can enjoy a few beers.
This beer garden is covered with murals and features draft brews from local breweries. This space perfectly combines the juxtaposition neighborhood's past history with beer, the Brewer's Row, and the present with its thriving street art scene.
---
Other great suggestions for a casual drink in Bushwick include Yours Sincerely; which serves up draft beer and cocktails, Sunrise/Sunset; a great casual wine bar, Boobie Trap; if you're a fan of dive bars, The Johnson's for a rustic, laidback bar, The Rookery Bar for a laid back gastropub vibe, and Pine Box Rock Shop for their unique space that was once a coffin factory converted to a bar and cool hangout.
If you're looking for higher energy bars for a fun night out check out Mood Ring; an astrology themed night club and bar, Lot 45 for dancing, Jupiter Disco; a fun space-inspired bar and a fun space for dancing, and Bossa Nova Civic Club for for live music sets in their tropical-themed nightclub.
Alphaville also is a great laidback spot offering live musical performances. Lovejoy's on Troutman is where to go if you're looking for a swanky cocktail lounge, perfect for a date, or come back late at night for live DJ sets.
Foodie Scene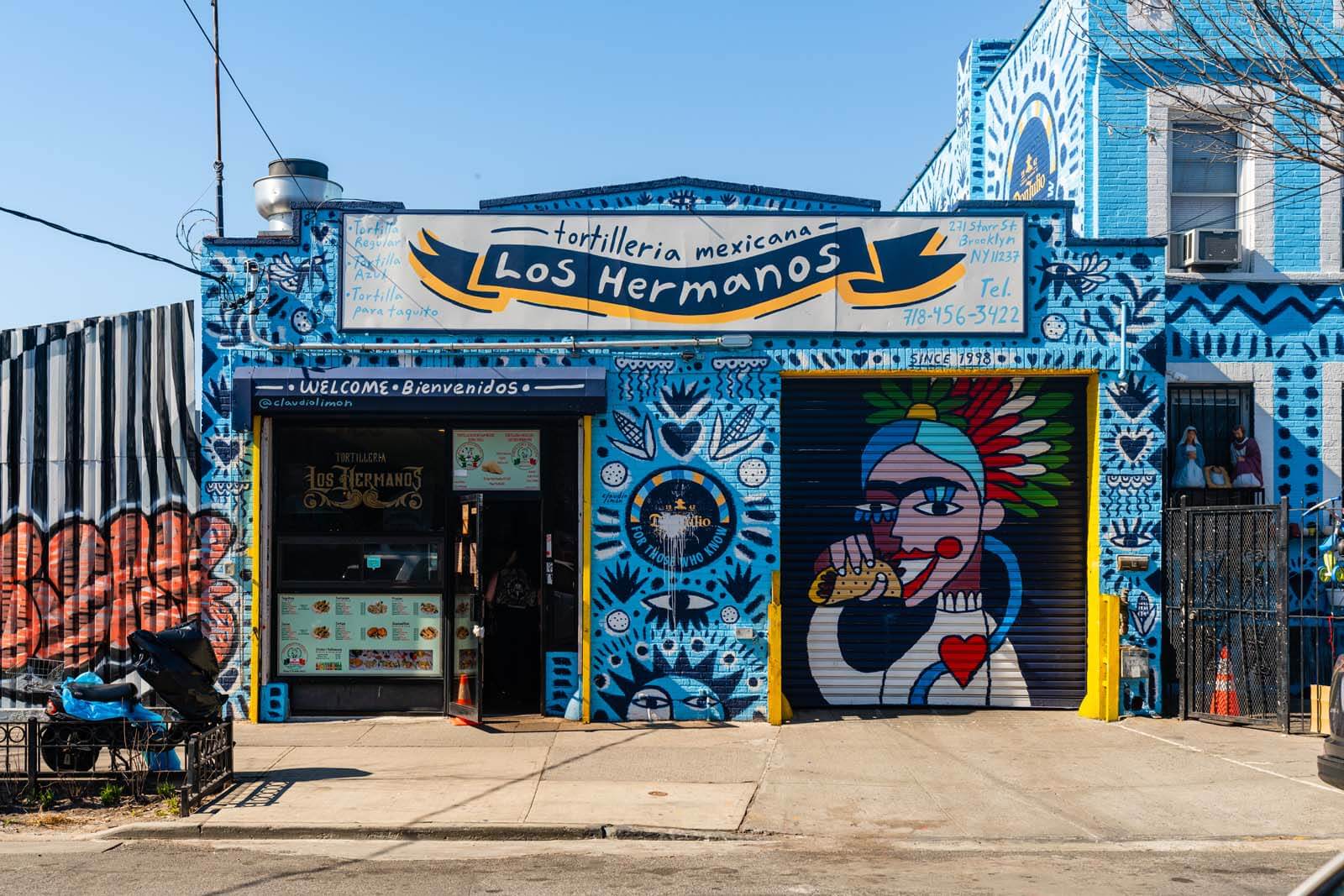 One of the best things to do in Bushwick is enjoy the foodie scene. There are no shortage of new awesome eateries popping up and NYC famous spots like Roberta's but what makes Bushwick's food scene so special are all the influences from the Hispanic and Latin American communities that lived here before the more recent and heavy gentrification of the neighborhood.
Here are some of the top recommendations for what to do in Bushwick for foodies exploring the roots of this neighborhood through your tastebuds, also check out the best restaurants in Bushwick.
Tortilleria Mexicanas Los Hermanos
You can't miss the colorful exterior of this tortilla factory and taco shop. Try their fresh tortillas made to order eating here or take some for home.
Better yet, their food is not only incredible but really affordable, especially if you're familiar with taco prices around the city. I recommend the tostadas!
Gordo's Cantina
Chef Reyna Morales, who hails from CDMX brings the flavors of Mexican cuisine to Bushwick at this Michelin honored cantina in Bushwick! Come for the tacos, any will do, and try other delicious menu items like ceviche, abuela's guacamole, and even churros.
Also, there are vegan options here too for our plant based friends! It's easy to see why this is one of our top picks for the best tacos in Brooklyn.
La Isla Cuchifritos
This awesome spot actually has a few locations throughout the city and is your go to spot to try some great Puerto Rican cuisine including plantains, empanadas, delicious entrees, and all kinds of fried treats called cucharitos.
Taqueria El Fogon
Called the ultimate taco heaven by Bushwick Daily, Taqueria El Fogon is what to do in Bushwick if you're craving some incredible Mexican cuisine featuring antojitos, tacos, picaditas, and more all topped with their incredible homemade salsa.
The owners serve up authentic south Mexican cuisine from their heritage state of Tlaxcala.
Also, don't miss out on their chilaquiles or huevos rancheros for breakfast, those are my personal favorite Mexican dishes!
Rico Pollo
If you're craving some delicious Dominican food then this is what to do in Bushwick for you! Rico Pollo is not only extremely affordable for NYC, but they serve up some great dishes from breakfast to dinner.
Their menu is primarily Dominican but they also feature Puerto Rican dishes as well and offer great options for any meal of the day.
Roberta's
One of the most famous things to do in Bushwick is to eat at the legendary and famous Roberta's pizza. Brace yourself for hours-long wait to get a seat here to dine among the many celebrities who've eaten here like Queen Bey herself, Beyonce.
Roberta's is considered one of the top pizzerias in the city serving up their wood-fired Neapolitan style pies in their garage setting as well as one of the best places to eat in Brooklyn!
If you're hoping to snag a table prepare for 2.5 hour waits and even longer! Make sure you plan accordingly, it is said coming for brunch is an easy way to get seated without as long of waits.
Also, if you follow conspiracy theories, Roberta's reportedly has received harassing phone calls tied to the extreme alt right Pizzagate Conspiracy theory, which is obviously not true and has been debunked.
Also, looking for more pizza? Check out our guide to the best pizza in Brooklyn.
Faro
One restaurant too popular not to mention is Faro, this is one of the most talked about eateries in the neighborhood serving up American/Italian cuisine taking full advantage of their wood-fire oven on their menu using it for their array of courses, not just pizza.
They are well known for the pasta dishes with a seasonal menu that changes frequently.
Sweet Chili
This former food truck serving Southeast Asian cuisine featuring flavors from Thailand and Vietnam by Top Chef Finalist Lisa Fernandes. Not only can you find delicious dishes and happy hour specials, but you can pair your meal with a crafted cocktail.
This restaurant also has given back to the community in many ways during the pandemic. Sweet Chili has been giving meals to people in need and supplying everything from toilet paper to bleach and gloves to anyone who needs it or asks plus offered meals to protesters this year on top of committing to equality and actively supporting the LGBTQ community.
Put your money where your mouth is, literally, and support businesses that are as awesome as this.
Syndicated Theater
One of the most unique things you can do in Bushwick and one of our picks for best things to do in Brooklyn is having a dinner and a show at Syndicated.
Syndicated Bar Theater Kitchen provides a full dinner and drink menu while you watch old cinema and cult classics. Many movie theaters in the city will run you upwards of $20 a ticket, but here at Syndicated, the tickets are always $7. Can't beat that!
What makes this experience even more special is that their restaurant is considered one of the best in the neighborhood. We're not talking about serving up simple dishes, they have a full on, legit menu you can order from as you watch your movie.
If you're not ready to leave after your show, head to the restaurant and bar attached for more fun. Also, be sure to check out their latest events. Besides showing films they sometimes will screen big sporting events in their cinema!
Check out more of the best movie theaters in Brooklyn!
The Bushwick Starr
One of the best entertainment options for things to do in Bushwick is catching a performance at this not for profit theater!
The Bushwick Starr has been a staple of the community since 2001 as a black-box venue and theater that's affordable and accessible for everyone to enjoy.
You'll find everything here from theatrical performances to avant-garde and mixed media types of performances at this venue.
Cafes
Bushwick is home to some great cafes whether you're looking for a great quality cup of roasted coffee and drinks, a place to work for the day, or just a picturesque cafe to hang out in for a bit.
Here are some of the most popular cafes in the area and one of the best things to do in Bushwick for coffee lovers.
Sey Coffee
This bright and airy cafe is just a dream space. Considered one of the most attractive cafes in the city, Sey Coffee is what to do in Bushwick if you need a little pick me up and are looking for a pretty and aesthetically pleasing spot to do so!
The space offers tons of natural light and green plants that make it the perfect airy space to enjoy a quality sourced cup of coffee.
Wyckoff Starr Coffee Shop
This is a great small neighborhood coffee shop for a quick to-go drink or light snack from their baked goods section featuring premade sandwiches, baked goods, and vegan options.
The cafe is small, there's no room for seating, but they do offer a good cup of coffee and is great for take out as you're walking around the Bushwick Collective.
Dweebs
Dweebs is a laid back cafe offering a not so pretentious hang out space as you enjoy your coffee and light snack. This is the perfect working space too if you're looking for a cafe that welcomes laptops and public working space.
Variety Coffee Roasters
Bushwick is home to one of the few locations of this awesome cafe. This spacious cafe serves up the finest quality beans and offers light bites from their baked goods section.
All of their locations have a cool, vintage aesthetic to them that is super appealing. I personally love their retro sign at the Bushwick location.
Lazy Suzy Cafe & Shop
This light and bright spacious and minimalist aesthetic cafe is the perfect working place or spot to grab a quick pick me up as you're exploring all the best things to do in Bushwick.
They also have a great selection of unique drinks on their signature menu including a rose matcha latte! Yum!
Urban Greenspaces
Check out some of the urban green spaces in the neighborhood if you're looking or a place to hang out, exercise, or just get around some fresh oxygen from some trees!
Maria Hernandez Park
This pretty park and urban greenspace is the perfect place to take a rest on the bench, play basketball, or enjoy the fun kids playground with the fun colorful rainbow that turns on as a water sprinkler in the summer months for the kiddos to cool off in.
The park is just under 7 acres and is named after Bushwick local, Maria Hernandez, who lived here and fought against drug dealers in the neighborhood.
Know Waste Lands
If you love community gardens then this is what to do in Bushwick for you. Know Waste Lands is a community compost site turned garden for the neighborhood.
They practice sustainability and create a space where locals can use their green thumb. It was started by BK Rot, a local compost community started led by the youth.
What's awesome is there are volunteer days if you care to garden with the community, or you can just visit this pretty garden with a cool sustainable approach.
Evergreen Cemetery
If you have a bit of morbid curiosity and like visiting the city's scenic cemeteries then you may want to stop by Evergreen Cemetery that separates Bushwick in Brooklyn from Queens.
This is the final resting place for over a half a million people including Civil War soldiers and 6 victims of the famous Triangle Shirtwaist fire which sparked labor reform including laws to protect the safety of workers.
Even though it's a bit creepy, New Yorkers do use these large cemeteries as green spaces they can walk around in.
Molasses Books
Any guide in any Brooklyn neighborhood wouldn't be complete without one of Brooklyn's independent bookstores. Molasses Books is one of the best things to do in Bushwick if you love book shops and have a book you want to swap out for another book, coffee, beer, or even wine!
Buy or trade books and even stay around a bit and hang out while having a drink. We are totally obsessed with this concept and if you're on a budget, this is a great way to get discounts on your next read.
Read Next: The Best Instagram Spots in Brooklyn
While there are alot of amazing things to do in Bushwick, there are also amazing things to do in the nearby neighborhoods we thought were worth mentioning!
Williamsburg
Neighboring Bushwick is the popular neighborhood of Williamsburg where you can find trendy restaurants, shops, cafes, and things to do as well as a gorgeous waterfront on the East River with great views of Manhattan.
This is the epicenter of hipster culture in Brooklyn and since gentrification has become one of the most expensive and highly coveted neighborhoods to live in the city.
Check out our guide on all the best things to do in Williamsburg for more ideas as well as our Williamsburg street art guide if you want to explore more incredible murals or how to walk across the Williamsburg Bridge for those looking to adventure over to Manhattan!
Greenpoint
Much like Williamsburg, Greenpoint is another trendy neighborhood with great bars, restaurants, and shops as well as galleries and live music venues.
Also, don't miss the great waterfront view of Manhattan and the city skyline, plus there are alot of great things to do in Greenpoint.
Onderdonk House
One of the best historical sites near Bushwick is the Onderdonk House or the Vander Ende-Onderdonk House right on the edge of Ridgewood, Queens and Brooklyn.
This is the oldest Dutch Colonial stone house in the entire city dating back to 1661. The house was a marker and used in considering the boundaries between Kings County and Queens County in 1769.
The house is on the National Register of Historic Places and serves as a museum today.
Getting Around Bushwick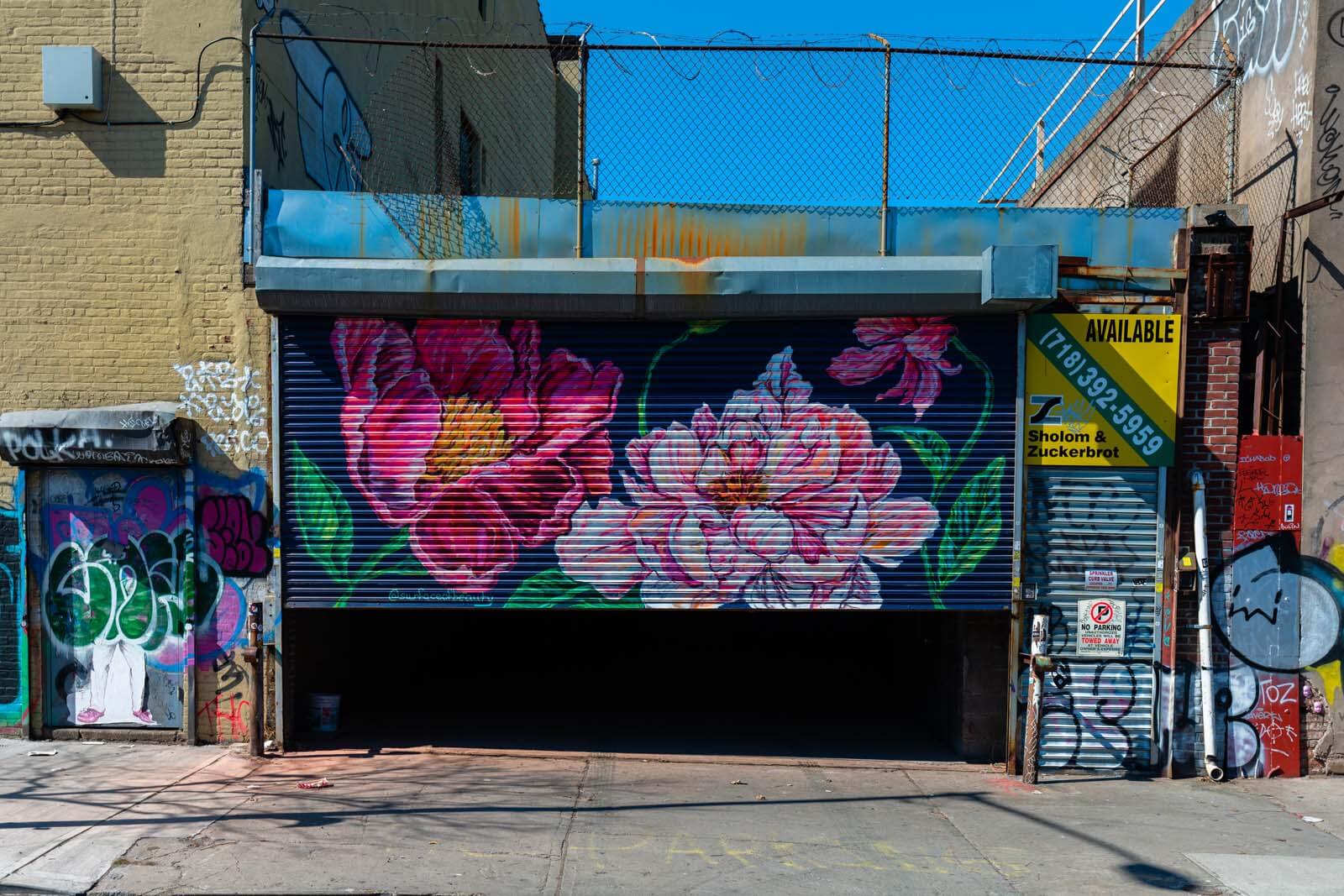 Getting around to all the best things in Bushwick couldn't be easier. Pretty much all there is to do in Bushwick is a walkable distance, but if you want to cover alot of ground we recommend using the Citi Bike app to rent bicycles or to get around, or just walk!
Citi Bike is just as easy, simply download the app and enter your details. Then on the map in the app you can find your nearest docking station.. For single rides you get the bike for 30 minutes, for a day pass or annual pass holders you get the bike for 45 minutes before having to redock.
There are now electric Citibikes too, these are great if you're looking for some extra help when you're pedaling but be aware that you should test the brakes and get comfortable with them before taking off and that these cost a little more than the regular bikes.
When you're done, check the app for the nearest docking station with openings and return your bike.
The subway is another option and there are several stations that service the perimeter of the area.
These are the nearest subway stations to Bushwick, Brooklyn:
Myrtle – Wyckoff Avenue Station (L & M subway lines)
Chauncey Street Station (J & Z subway lines)
Bushwick Avenue–Aberdeen Street Station (L subway line)
Kosciuszko Street Station (J subway line)
Knickerbocker Avenue Station (M subway line)
Halsey Street Station (J & L subway lines)
Flushing Avenue Station (M & J subway lines)
Jefferson Street Station (L subway line)
Morgan Avenue Station (L subway line)
Gates Avenue Station (J & Z subway lines)
Central Avenue Station (M subway line)
DeKalb Avenue Station *not to be confused with Dekalb Station in Downtown Brooklyn (L subway line)
Wilson Avenue Station (L subway line)
Seneca Avenue Station (M subway line)
Broadway Junction Station (A, C, J, Z, & L subway lines)
Where to Stay in Bushwick
If you're not sure where to stay during your visit be sure to check out our guide to all the best places to stay in Brooklyn by neighborhood and budget as well as access to popular city attractions. Or you can simply use the map below to find hotels near Bushwick.
What to Bring to Brooklyn
See our full what to pack for Brooklyn guide for more ideas!
This Pacsafe Shoulder Bag slings over your body and is the perfect size to carry your day essentials while exploring Brooklyn. This lightweight bag has anti-theft features so you can enjoy Brooklyn with ease of mind with Pacsafe's anti-theft patent products whether you're in a crowded area or on the subway.
This Pacsafe Anti-theft Backpack is another essential for Brooklyn or any city trip. This backpack has a patented anti-theft design with lockable zippers and slash-proof material in this sleek and comfortable designed backpack.
Avoid high tech thieves with this 15 pack of RFID blocking sleeves that doesn't require you to buy a special travel wallet, you can carry your favorite purse, wallet, or backpack by simply putting your credit cards and sensitive information in these RFID blocking sleeves.
Upgrade your wallet with this RFID Blocking Wallet by Pacsafe is the perfect pick. Always have your identification, bank cards, and credit cards protected from high tech thieves with this RFID blocking wallet in this sleek and slim design.
One of the best ways to keep valuables safe when you travel is this Portable Safe by Pacsafe. This is ideal when you're hotel has a safe that is too small for your belongings, with it's sleek and compact design so it doesn't take up much space in your luggage offering maximum security with its stainless steel wire mesh covered in a piece of cut-resistant canvas fabric. You simply lock this portable safe to a secure fixture in your hotel room when you leave.
This iPhone crossbody case is perfect for sightseeing as you can easily grab your phone for that perfect photo moment on the fly as well as keep your phone secured to your body and safe from pickpockets!
We recommend Allbirds Women's Wool Runner as well as the Allbirds Men's Wool Runner for an everyday walking shoe that's breathable, comfortable, and feels like you're walking on clouds. Your back and feet will thank us later, plus they are all the rage in the city at the moment.
A good reusable water bottle is one of the best things you can have in your day bag or on you at all times, plus New York City has some of the best drinking water in the country, cut back on single-use plastic and have a good reusable water bottle for your trip.
Don't leave the house without a good power bank. Don't spoil your fun exploring all the fun neighborhoods and things to see in Brooklyn by having your battery die on you. If you're anything like me you'll be using your phone to take photos, navigate, and post to social media while you're exploring.
When it comes to the city, this weather is not forgiving and you don't want to get caught out and about in the rain without an umbrella. That's why we recommend this compact wind resistant travel umbrella for what to pack for Brooklyn.
Are you a sensitive sleeper? A good pair of earplugs are essential for your Brooklyn or city trip, especially if you're not from a big city.
---
Found this guide to the best things to do in Bushwick helpful? Bookmark for later or share the love below on Pinterest!