Looking for the best things to do in Crown Heights, Brooklyn? We got you. Crown Heights is one of the best historic neighborhoods in Brooklyn to explore with its own historic district, tree-lined streets with beautiful townhomes and brownstones, the many museums and cultural institutions in the neighborhood, and mix of great dining and bar options.
The grand architecture you'll find in Crown Heights, Brooklyn is largely due to that this was one of the wealthiest neighborhoods in the borough in the early 20th century. The neighborhood's development was largely due to Manhattan's bourgeois class as they were building their secondary homes here connected by the rapid transit system expanding to this area of the city that was once very rural.
Fast forward to the 1930s when the connection of the A train influenced and welcomed a new wave of residents to Crown Heights from Harlem in northern Manhattan.
While the neighborhood is rapidly gentrifying, Crown Heights is known for its mix of population of the Caribbean and Hasidic Jewish communities. And of course, like all of New York City, Crown Heights is located on indigenous Lenape (Lenapehoking) territory who were violently displaced during colonization.
Crown Heights is very residential with buzzing activity on Eastern Parkway, designed by Frederick Law Olmsted connecting to the Brooklyn Museum, Brooklyn Botanic Garden, and Prospect Park to the avenues filled with businesses, restaurants, and bars like Franklin, Washington, and Nostrand Avenues offering up some of the best things to do in Brooklyn.
So let's dive into the best things to do in Crown Heights, Brooklyn.
But first, where is Crown Heights?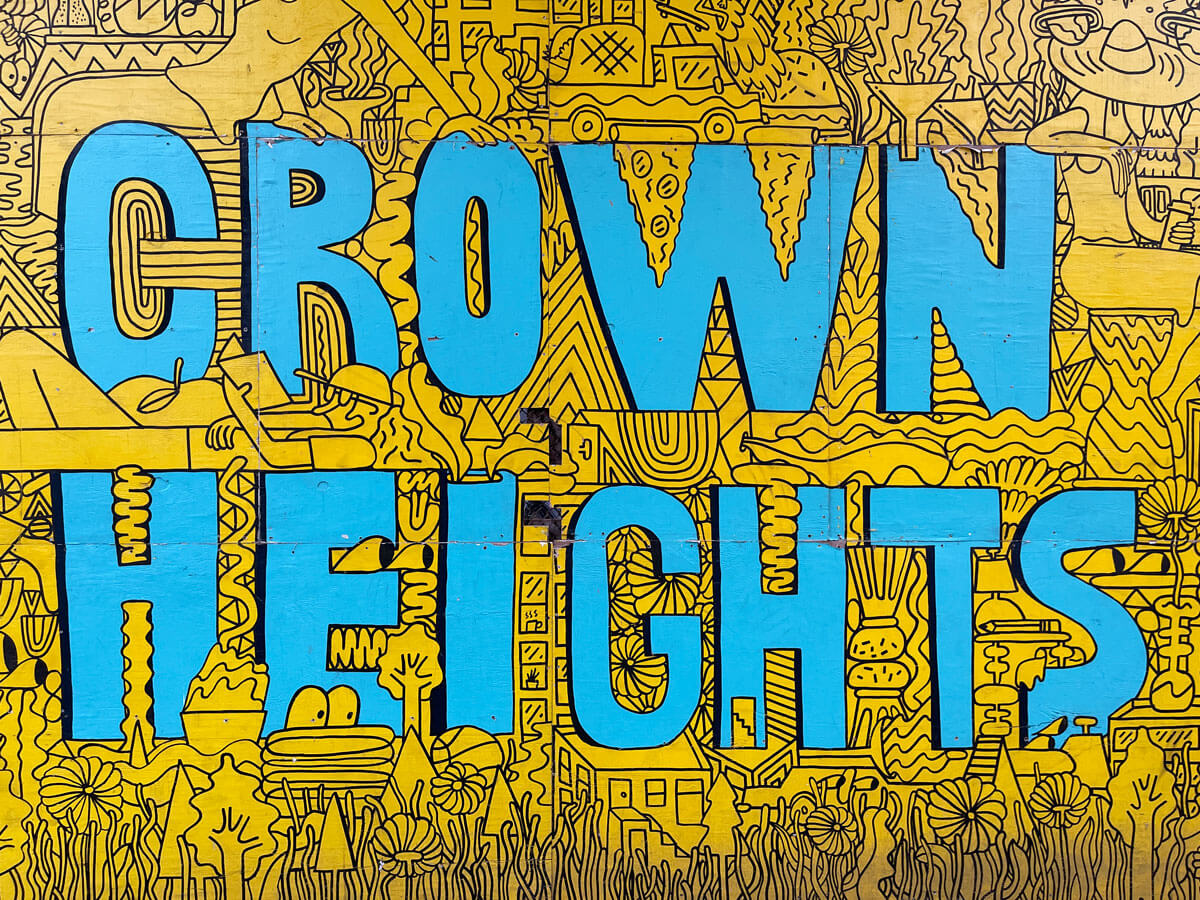 Before we dive into the best things to do in Crown Heights, Brooklyn, we are going to give a rough estimate of the neighborhood's boundaries. Located in northern Brooklyn, Crown Heights is bordered by the neighborhoods of Bedford-Stuyvesant, Prospect Heights, Prospect Lefferts Gardens, East Flatbush, and Stuyvesant Heights.
For the purposes of this guide, the streets you can look at for the boundaries of Crown Heights are roughly Atlantic Avenue to the north, Empire Boulevard and East New York Avenue to the south, Washington Avenue to the west, and Ralph Avenue to the eat.
Crown Heights subway stops:
Utica Avenue (2, 3, 4 trains)
President Street (2, 5 trains)
Nostrand Avenue (2, 3, 4 trains)
Botanic Garden (S train)
Franklin Avenue Medgar-Evers College (2, 3, 4, 5 trains)
Park Place (S train)
What to Do & See in Crown Heights
Brooklyn Children's Museum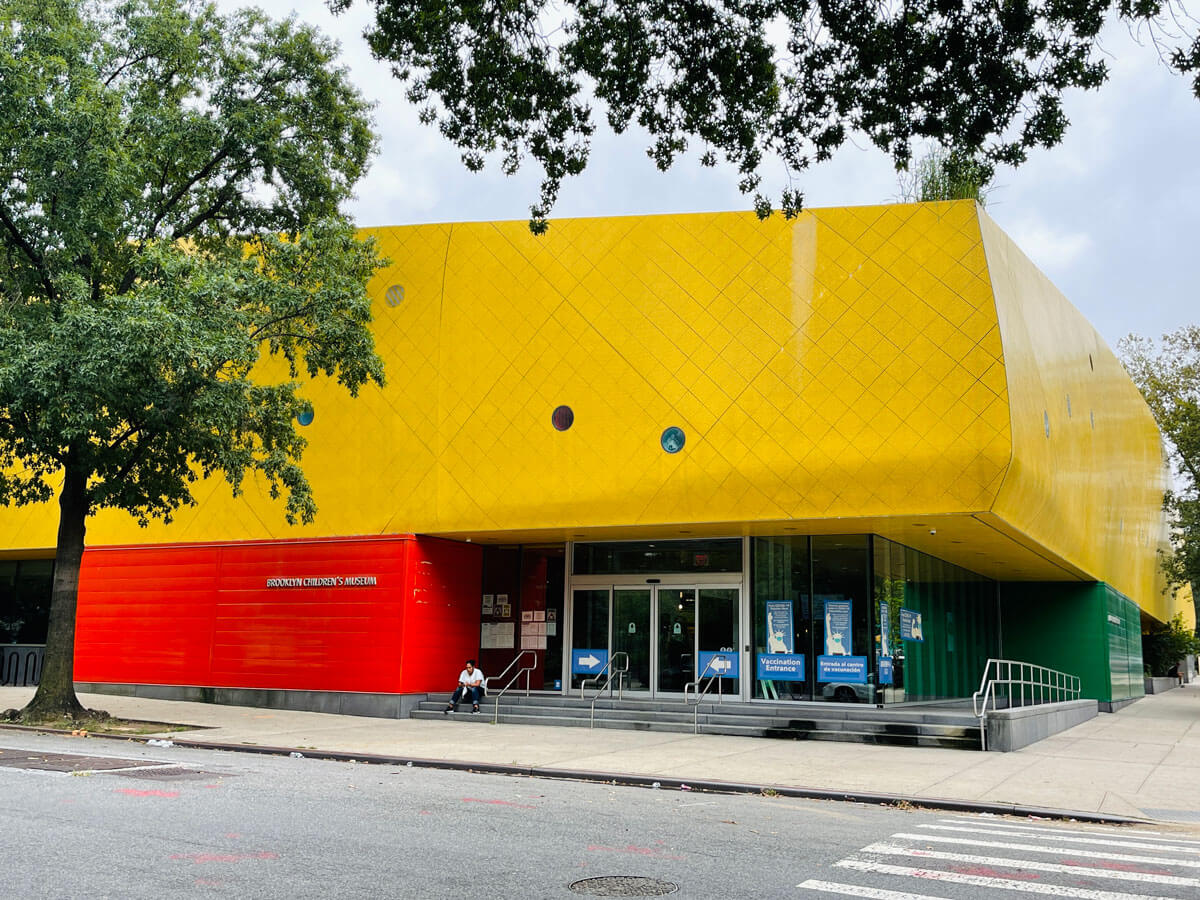 One of the best museums to check out and things to do in Crown Heights is head to the Brooklyn Children's Museum with kids in tow. This is the first children's museum in the United States, and maybe even worldwide, dating back to 1899!
There are interactive, hands-on educational exhibits for children featuring a collection of over 30,000 historical artifacts that are fascinating even for parents. The exhibits feature different cultures from across the globe, science, and nature.
One of the most fun, hands-on exhibits here is the In World Brooklyn section where children can play in a kid-sized replica of Brooklyn. This is where kids can play and pretend to live and work in small-scale businesses here from the corner bodega to bakery! This exhibit is designed to foster a greater understanding and appreciation of the world cultures found in Brooklyn while getting to act out roles in these adorable storefronts!
On a nice day, make your way to the rooftop terrace to also play on The Nest, an outdoor installation that also serves as a jungle gym.
In addition to being a fun spot to bring the kids for a day, this was also the first green museum in NYC! For more kid-friendly activities, check out our guide to all the best things to do in Brooklyn with kids!
Brooklyn Museum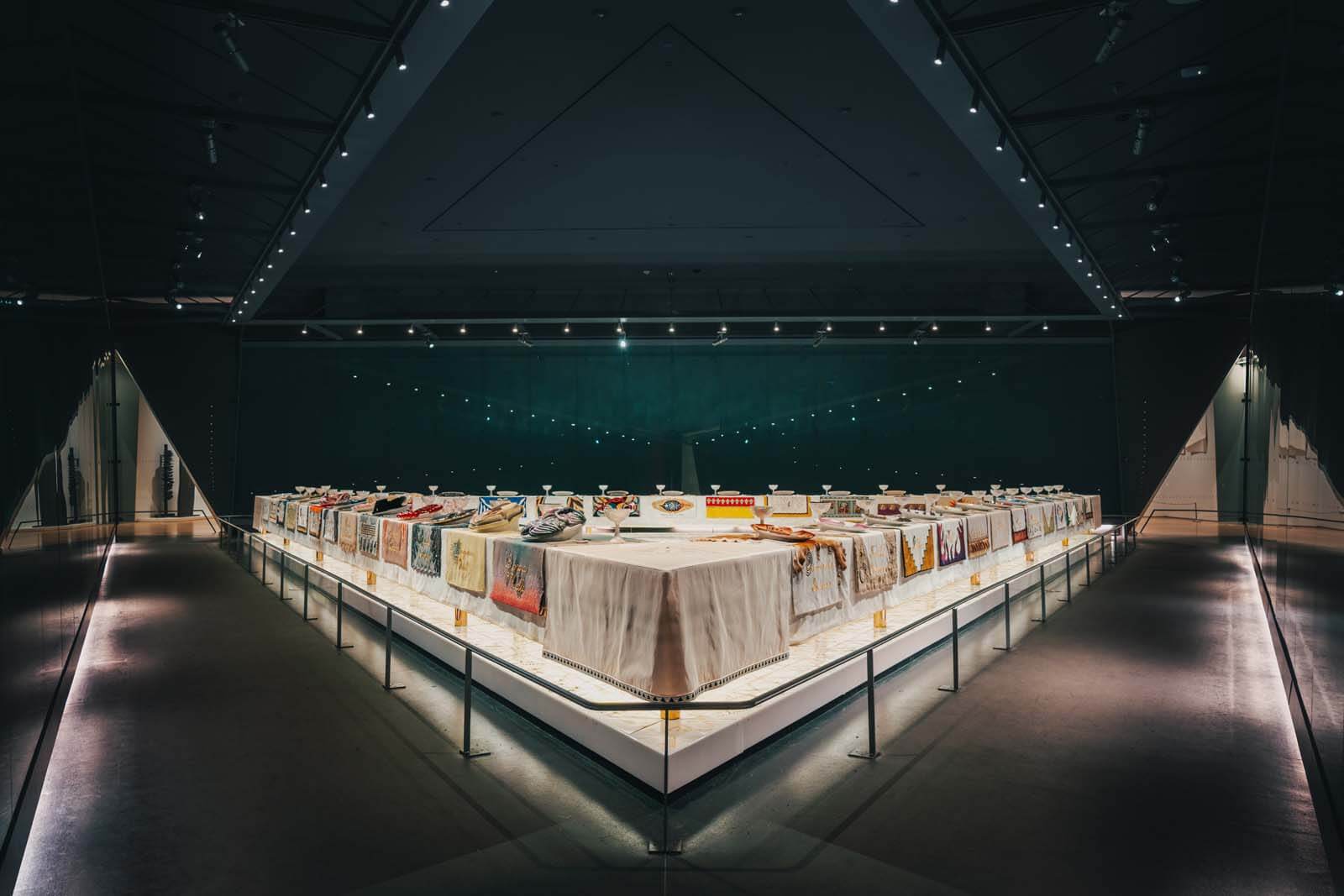 One of the best museums in NYC can be found here in Crown Heights, Brooklyn! The city's third largest museum houses 1.5 million pieces of work inside a gorgeous 1897 Beaux-Art Building.
Some of the most notable permanent collections inside the Brooklyn Museum include the Arts of the Pacific Islands, Egyptian, Arts of the Islamic World, Arts of Africa, American Art, and European art collections.
There's also a great feminist wing to the museum that houses The Dinner Party by Judy Chicago that's worth checking out as well.
There are many famous artists on display some of which include Georgia O'Keeffe, Edward Hopper, Edgar Degas, Mark Rothko, and Norman Rockwell in addition to contemporary artists like the giant KAWS sculpture you're greeted by when you enter the museum.
There are also rotating exhibits, all of which I have been to have been awesome, and what's better yet is that because of the rotating exhibits, no two visits are the same.
Also, there's a great restaurant inside the museum. The Norm offers upscale casual dining using sourced ingredients from a farm here in New York. Better yet, the chef Saul Bolton is a Michelin-starred chef, so you know you're eating well here.
Jewish Children's Museum
Another museum and one of the best things to do in Crown Heights is visiting the Jewish Children's Museum on Eastern Parkway. This is the largest of its kind in the United States aimed at educating children of all faiths and backgrounds on Jewish heritage.
While reading the famous biblical stories and exploring the many traditions of Jewish history, visitors can expect to see an increased interest in the culture and create a better understanding of the Jewish community.
This is geared towards families and children with fun interactive play zones where children can pretend to shop for groceries, jump into the Noah's Ark ball pit, and climb onto a giant challah loaf.
Weeksville Heritage Center
Crown Heights, Brooklyn is without a doubt a culturally and historically rich neighborhood. The Weeksville Heritage Center is a historic site and educational center dedicated to Weeksville, one of the first communities in the United States for free Black people in the 19th century.
Within Weeksville, the residents established their own schools, houses of worship, and associations that were active in ending slavery in the United States. Being that this was one of the very few historic sites in its original location (pre-Civil War) in African-American history.
The heritage center celebrates and preserves the events that are tied the history of the communities who lived in Weeksville through the stories of residents who lived here including the first Black female doctor, the first Black principal, and the Hunterfly Road Houses. One of the best ways to experience and learn about Weeksville is to join one of their guided tours
Brooklyn Botanic Garden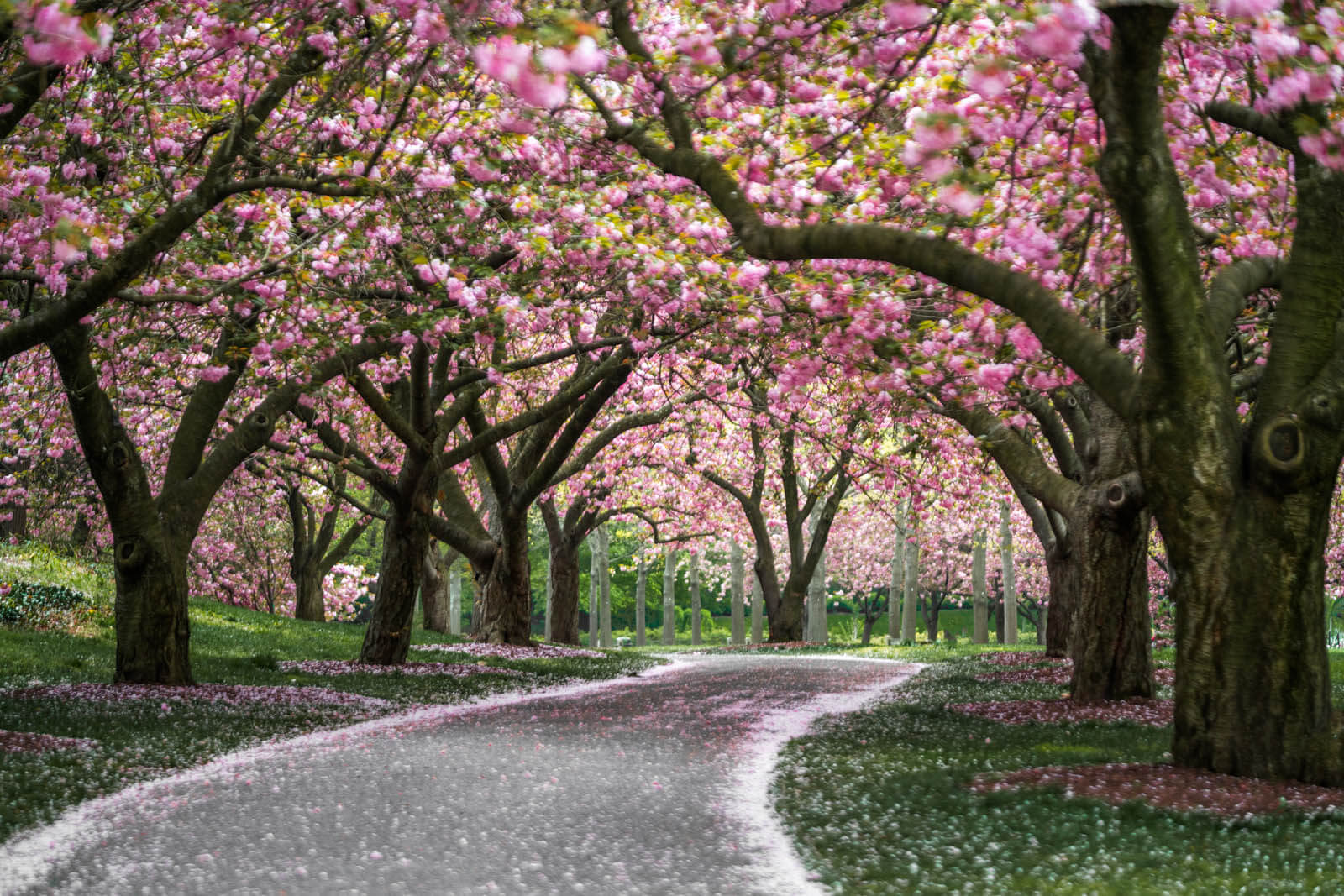 One of my favorite things to do in NYC hands down is visiting the Brooklyn Botanic Garden throughout the different seasons. There are 52 stunning acres to check out here with over 14,000 species of plants and living collections from all over the world through their various gardens and conservatories.
Not to mention, if you have the opportunity to visit in the spring, this is one of the best places to see cherry blossoms in NYC along the Cherry Walk or Japanese Hill-and-Pond Garden areas of the gardens.
Speaking of the Japanese Hill-and-Pond Garden, this is one of the most impressive Japanese gardens outside of Japan. With a beautiful torii gate, Shinto shrine, winding paths, stone lanterns, wooden bridges, and a viewing pavilion overlooking the pond full of koi fish. This has to be one of the most tranquil places in the city.
You can find a large collection of tropical and subtropical aquatic plants from around the world that thrive in wetter environments inside the conservatories along with an impressive bonsai collection.
And another one of the highlights of the Botanic Gardens are the Rose Garden and The Shakespeare Garden which has more than 80 kinds of plants mentioned in the works of Shakespeare.
During the different seasons there are special events, one not to be missed is during the holidays in NYC, from November through early January you can witness Lightscape at Brooklyn Botanic Gardens where the entire space is illuminated with lights and sound in the evenings.
Prospect Park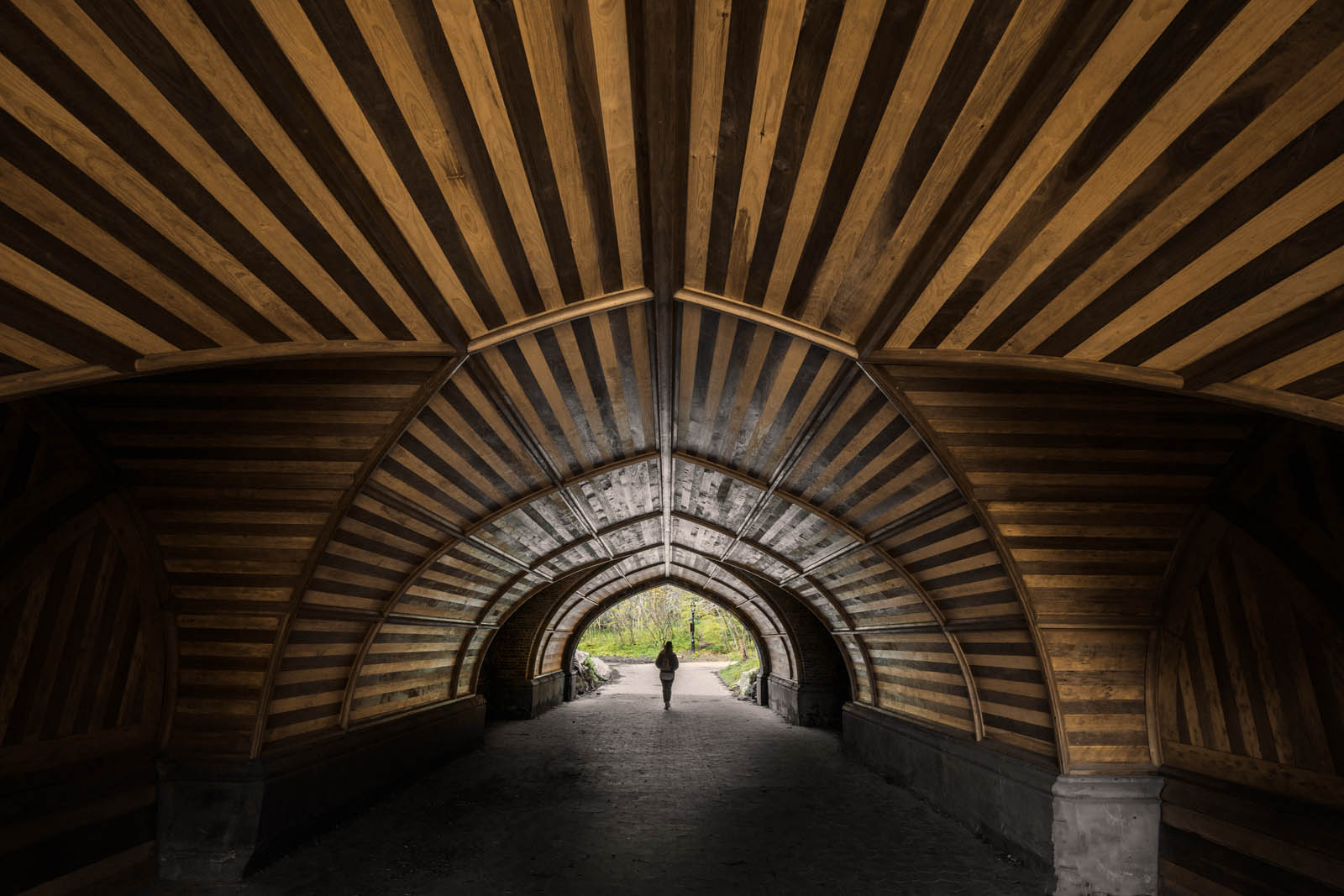 One of the things that make Crown Heights, Brooklyn a very desirable neighborhood to live in, besides its gorgeous historic buildings, is its proximity to Prospect Park and Eastern Parkway. Spanning 585-acres full of large grassy lawns, beautiful architecture, hiking trails, waterfalls (yes there are actually quite a few waterfalls in NYC that can be found!), lakes, horseback riding, ice skating, the Prospect Park Zoo, and so much more.
There are enough activities and things to do in Prospect Park to spend an entire day, especially if you're looking for a great picnic spot in Brooklyn!
Prospect Park Zoo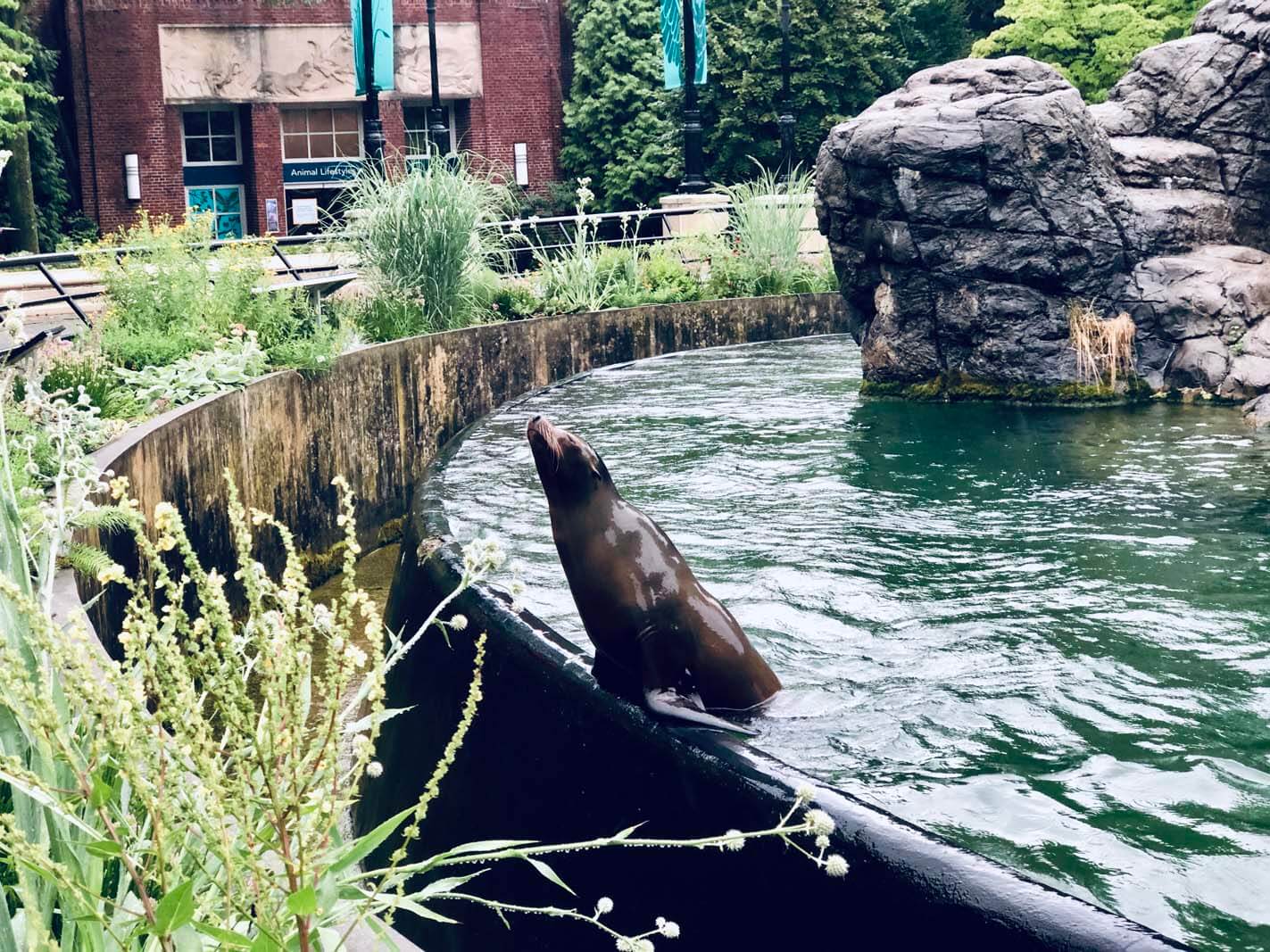 One of the best things to do in Crown Heights is make your way to the small but mighty Prospect Park Zoo. Located off of Flatbush Avenue on the eastern side of Prospect Park, this zoo is home to nearly 200 different species of animals with a mix of indoor and outdoor exhibits.
You can find red pandas along Discovery Trail, watch the sea lions play and be fed at the Sea Lion Court, pet the barnyard animals in the Barn and Garden area, check out the wild animals from South America in the Animal Lifestyles Exhibit, and witness some of the smallest critters here in the Hall of Animals. There are also free-roaming peacocks wandering the grounds during your visit too.
The Prospect Park Zoo is also operated by the Wildlife Conservation Society and has a primary mission of protecting endangered species through their various conservation efforts.
Their hours are typically between 10 AM and 4-5:30 PM depending on the season.
On your way to or from the Prospect Park Zoo be sure to check out the Prospect Park Carousel dating back to 1912 with hand-carved wooden horses and animals (open March-November) which is one of the only wheelchair-accessible carousels in the country.
Near the entrance to the zoo is also the Lefferts Historic House which gives you a glimpse of 18th-century Flatbush through this rural farmhouse including what life was like for the enslaved people who lived here, the relationships with the Lenape people, and Dutch settlers.
Crown Heights Historic District
One of the best things to do in Crown Heights is to just take a scenic stroll through the neighborhood and ooh and ahh at the beautiful architecture that fills this neighborhood. Crown Heights also is home to three of the 33 historic districts in Brooklyn, all of which are in the same area but rolled out in three phases known as Crown Heights North Historic District.
This well-preserved area has over 1,000 contributing buildings that highlight some of the best architectural examples of work that played a huge role in Brooklyn's development built between 1853 and 1942 when the wave of Manhattan's bourgeois class were building their second homes in this rural area of Brooklyn.
Many of the buildings that are a part of the designated historic district were great examples of Gothic Revival, Italianate, Greek Revival, Queen Anne, Romanesque Revival, Beaux-Arts, Colonial Revival, and Renaissance Revival styles of architecture to name a few you can find here prominently on display in the residential rowhouses and townhouses although there are a few churches and commercial buildings included in the historic district as well.
This great article by Brownstoner has a map of all the historic districts in Brooklyn. To walk around the historic district in Crown Heights your best bet is to walk along Dean Street (between Rogers Avenue & Kingston Avenue), down New York Avenue (between Pacific Street & Eastern Parkway), along with the blocks from Atlantic Avenue to Eastern Parkway between Albany Ave & Kingston Ave.
I would recommend getting to the general area and walking around the streets looking for the brown-colored street signs that designate you're walking on a street/block of a historic district. If you look closely on the street sign it will read that it is a designated historic district.
Crown Heights Food Scene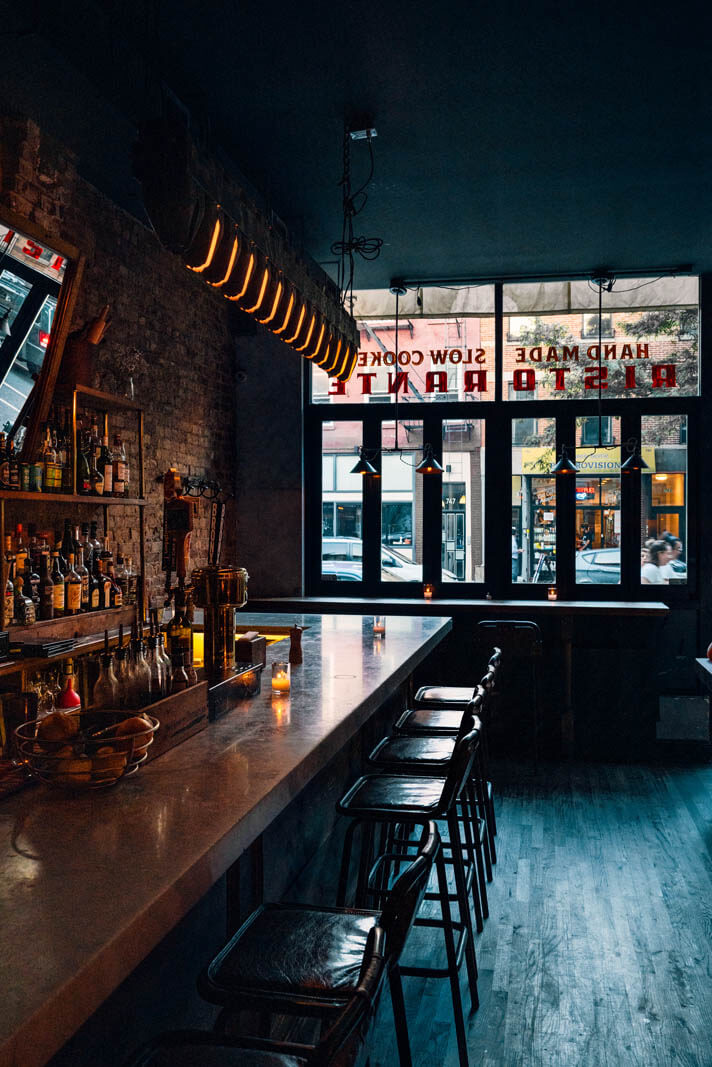 One of the best things to do in Crown Heights, Brooklyn is eat. Thanks to being a culturally diverse neighborhood you can expect incredible flavors and influences on the culinary scene here. Whether you're looking for a great weekend brunch in Crown Heights or some of the best restaurants in Crown Heights, the neighborhood is packed full of great places to dine.
For breakfast, be sure to check out Ursula (724 Sterling Pl) for their New Mexico-style breakfast burritos. But be warned, on the weekends there's usually a line/wait. It's well worth it though. Or head to Colina Cuervo (759 Nostrand Ave) for their incredible Latin-American-inspired cuisine and breakfast items, which also happens to be one of the best cafes in Crown Heights too.
For lunch or dinner check out Chavela's (736 Franklin Ave) for their insanely delicious Mexican fare and house margaritas, Barboncino (781 Franklin Ave) for some of the best pizza in Brooklyn specializing in Neapolitan brick oven pizzas – don't forget to drizzle Mike's Hot Honey on top, Rangoon (500 Prospect Pl) for Burmese cuisine, or Cent'Anni (742 Franklin Ave) if you're craving great Italian food or homemade pasta.
For more grab-and-go meals (you are so close to Prospect Park it's worth grabbing take out and taking a picnic over to the park) don't miss out on Brooklyn Suya (717 Franklin Ave) who specializes in Nigerian bowls or Peppa's Jerk Chicken (791 Prospect Pl) where you don't want to miss out on the jerk chicken and other insanely delicious flavors of Jamaica.
For our plant-based diet friends, there are great spots for vegans in Crown Heights too, as a matter of fact there are several of the best vegan restaurants in Brooklyn in the neighborhood. Screamer's Pizza (685 Franklin Ave) sells vegan pizza by the slice, I'm not even vegan and these slices fooled me! Or check out Ras Plant Based (739 Franklin Ave) for vegan Ethiopian fare.
Crown Heights Nightlife & Bars
Crown Heights has some seriously cool bars to check out. Whether you're looking for a great date night spot, nightcap after dinner, or great places for weekend cocktails or beer/wine. A few stand out places include:
Altar (645 Sterling Pl) is a seriously stunning cocktail lounge with an expertly curated cocktail list. The vibe and ambiance here is warm and chill, this is a great place to bring a date or spot for post-work cocktails.
Super Power (722 Nostrand Ave) is the spot to go if you want a fun, tropical drink served with an umbrella in it. This tiki bar has a great outdoor patio, perfect for warm weather weekends, and the interior bar is pretty cool too.
ST ENDS (667 Franklin Ave) is an extremely cool neighborhood bar that feels like an apartment bar complete with mismatched furniture and apartment furnishings with plenty of couches and cool places to hang out. Plus they have an outdoor patio on those comfortable weather nights.
Bearded Lady (686 Washington Ave) located on the edge of Prospect Heights and Crown Heights is one of my favorite bars in Brooklyn for cocktails. The interior has a 1950s vibe to it with really good cocktails. During warmer weather they open up the windows and it has a indoor/outdoor feeling to the whole place.
Franklin Park (766 Franklin Ave) is not only a cool bar with great beer and drinks, but this Crown Heights hang-out also serves up a juicy burger. They also have a nice backyard too!
Two Saints (753 Nostrand Ave) is a cool cocktail lounge and bar with fruity cocktails that gets lively on the weekends and is no stranger to having live music and a DJ. The aesthetics here are cool too with a retro feel to it.
Friends and Lovers (641 Classon Ave) is the spot to go to if you're looking to party and dance all night. This bar doubles as a performance venue and often has live music, DJ sets, and other fun events that typically have a cover.
Shopping in Crown Heights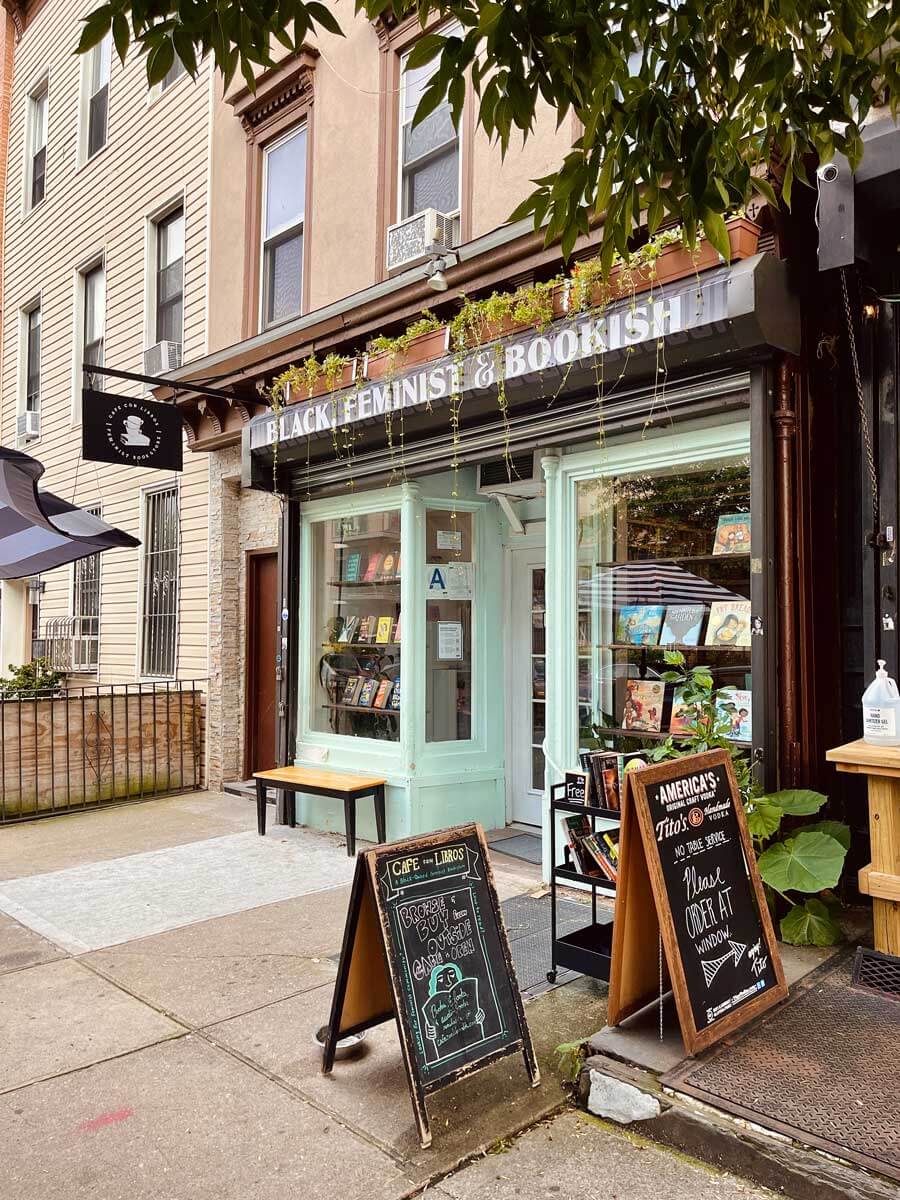 Just like any cool neighborhood in the city, Crown Heights has some really cool independent shops and boutiques. My absolute favorite is Marche Rue Dix (1453 Bedford Ave), a Black-owned concept store and nail salon that carries everything from cool vintage finds, uniquely designed clothing by independent designers, home goods, and their own collection of home fragrances, toiletries, and goods. They also own Cafe Rue Dix next door, a Sengalese/French cafe.
Park Delicatessen (722 Classon Ave) is a cool hybrid shop combing a florist and a skate shop in one location. Sounds like a bizarre combo but they make it work. They've got some cool items, albeit a bit pricey, but definitely worth checking out.
Franklin's Makers (708 Franklin Ave) is a cool gift shop and a boutique selling home goods like candles and decor to fashion accessories, skincare, and jewelry all created by independent makers, creatives, and artisans.
Amani Market (727 Franklin Ave) is a really cool boutique featuring products from over 80 Black-owned brands selling anything and everything from fashionable accessories, to clothing, and fun gifts. Every time I go in here the people behind the counter are some of the friendliest I've ever experienced in retail. Love them so much, stop by and show them some love.
Cafe con Libros (724 Prospect Pl) is one of the best independent bookshops in Brooklyn along with being an awesome cafe with a focus on creating a community space for womxn-identified folx.
West Indian Day Parade
One of the best things to do in Crown Heights if you're in or visiting NYC in September is the annual West Indian Day Parade. This annual celebration has anywhere from 2-3 million people in attendance and is a day-long march and Carnival that is filled with must-see costumes, nonstop music, and let's not forget Caribbean food!
The parade starts at Schenectady Avenue and marches to Grand Army Plaza typically starting around 11 AM. However, the celebrations start much earlier as it's a full blown Carnival celebration with anything and everything from calypso bands and street parties celebrating Caribbean culture.
Things to do Near Crown Heights
Prospect Heights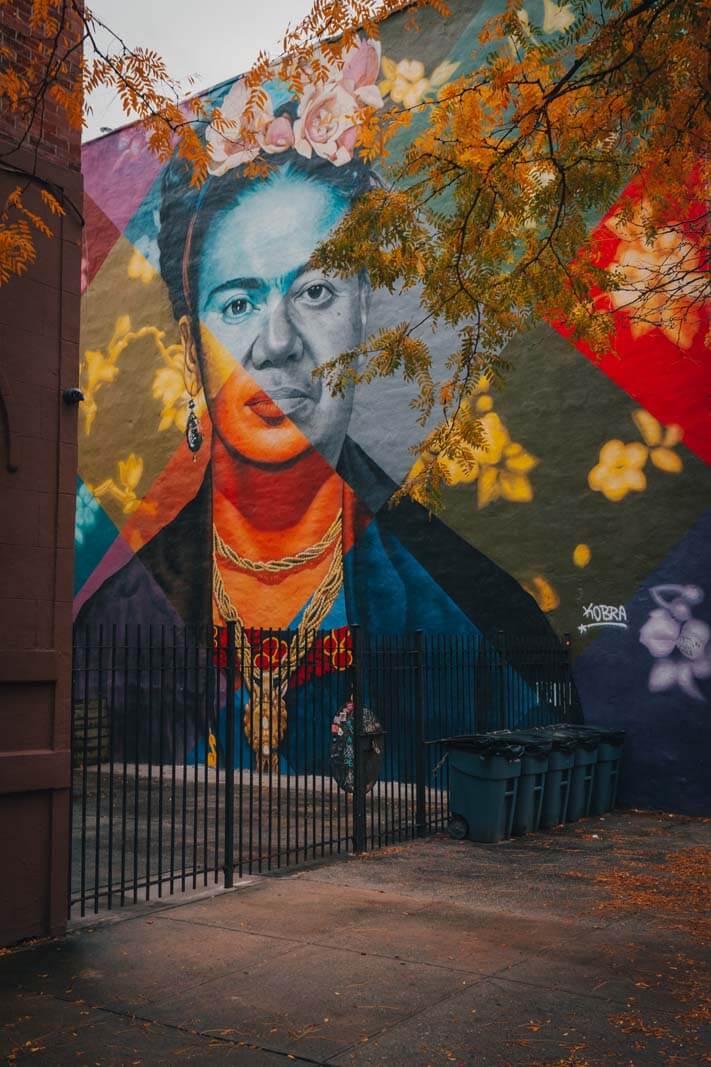 Next to Crown Heights is the other 'heights'. Small, but mighty, there are some cool things to do in Prospect Heights including a great dining scene up and down Vanderbilt Avenue along with sweet treats like Ample Hills ice cream and Little Cupcake Bakeshop. Hit up shops like 1 of a Kind Vintage or A.Mano Brooklyn.
Don't miss the cool Frida & Diego mural by famous Brazillian artist Kobra hidden on a residential street at 360 Prospect Place and don't miss checking out the fountain and pretty benches over at Grand Army Plaza or swing by the Brooklyn Public Library main branch too.
Bed-Stuy
Another great neighborhood for gorgeous architecture and brownstone-lined streets in Bedford Stuyvesant, aka Bed Stuy. There are quite a few cool things to do in Bed Stuy too, being a pretty large size neighborhood full of great food options, bars, cafes, and murals to check out including one of the most famous Biggie Smalls murals, King of New York mural by artists Scoot "Zimer" Zimmerman and Maoufal "Rocko" Alaoui at the corner of Bedford and Quincy Avenues.
Also, if you're a fan of Spike Lee, you can track down a few filming locations for films like Do The Right Thing and Crooklyn as this was the neighborhood he grew up in.
Art lovers can check out Richard Bevers Gallery, a Black-owned contemporary gallery committed to showcasing artist of the African diaspora whether they are emerging in the art scene or established or browse the Bedford Stuyvesant Museum of African Art.
Prospect Lefferts Gardens
Located in Flatbush, one of the most culturally vibrant neighborhoods to stroll through is Prospect Lefferts Gardens which is home to diverse storefronts of African and Caribbean extraction, restaurants, lounges, cafes, and bars in converted historic architecture style buildings.
Swing by the gorgeous, pink Hibiscus Brew for a glass of sorrel before browsing cool shops like Awesome Brooklyn or GranRU Market. Stick around for Caribbean cuisine or make your way to Prospect Park. You can also continue exploring Flatbush by making your way through the mansion-filled neighborhood of Victorian Flatbush too.
---
Enjoyed this guide to the best things to do in Crown Heights? Let us know if we missed any of your favorite Crown Heights spots below and be sure to bookmark this page for later.