Check out all the amazing things to do in Downtown Brooklyn, the bustling heart of our borough full of entertainment venues, eateries, bars, and all kinds of incredible things to check out.
This neighborhood is starting muto look like Manhattan more and more every day. Over the last few years, the gentrification of this area has skyrocketed. A large portion of this gentrification is credited to the opening of the Barclays Center in 2012, which was highly controversial for longtime residents of the borough and has introduced alot more new development in the area.
Downtown Brooklyn is now known as a great spot to stay if you're coming to travel around Brooklyn because of its central location, proximity to popular venues like Barclay's, Atlantic Terminal, BAM, and universities. Nearby you have Long Island University and New York University flooding the area with students, and all the can't miss things to do in Downtown Brooklyn!
In this guide we will cover all the awesome things to do Downtown Brooklyn. This includes all the places for entertainment, amazing eats, shopping needs, parks to visit, where to stay in Downtown Brooklyn and more!
But first where is Downtown Brooklyn?
Just like most neighborhoods in Brooklyn, it's not always clear where the boundaries are. Although technically the delineation of Downtown Brooklyn, New York includes DUMBO and parts of Vinegar Hill, for the purposes of this guide we are going to zero in on Downtown Brooklyn that doesn't include these waterfront sections of the neighborhood since they are also considered their own.
This area is in the northwestern section of the borough.
When you cross the Brooklyn or Manhattan Bridge, you'll end up right here in Downtown Brooklyn. This area has easy access to and from Manhattan and in recent years Downtown Brooklyn reminds visitors more of Manhattan than the rest of Brooklyn with large skyscrapers, endless food, and shopping options, and variety of public transportation, one could hardly tell the difference between this neighborhood and Manhattan.
This area is served by many subway stations.
Dekalb Avenue B, D, N, Q, R, and W lines)
Atlantic Avenue (2, 3, 4, 5, B, D, N, Q, and R lines)
Jay Street—MetroTech A, C, F, N, R, and W lines)
Nevins Street (2, 3, 4, and 5 lines)
Needless to say, you will not struggle to find a train that will get you where you want to go.
Things to do in Downtown Brooklyn, New York
BAM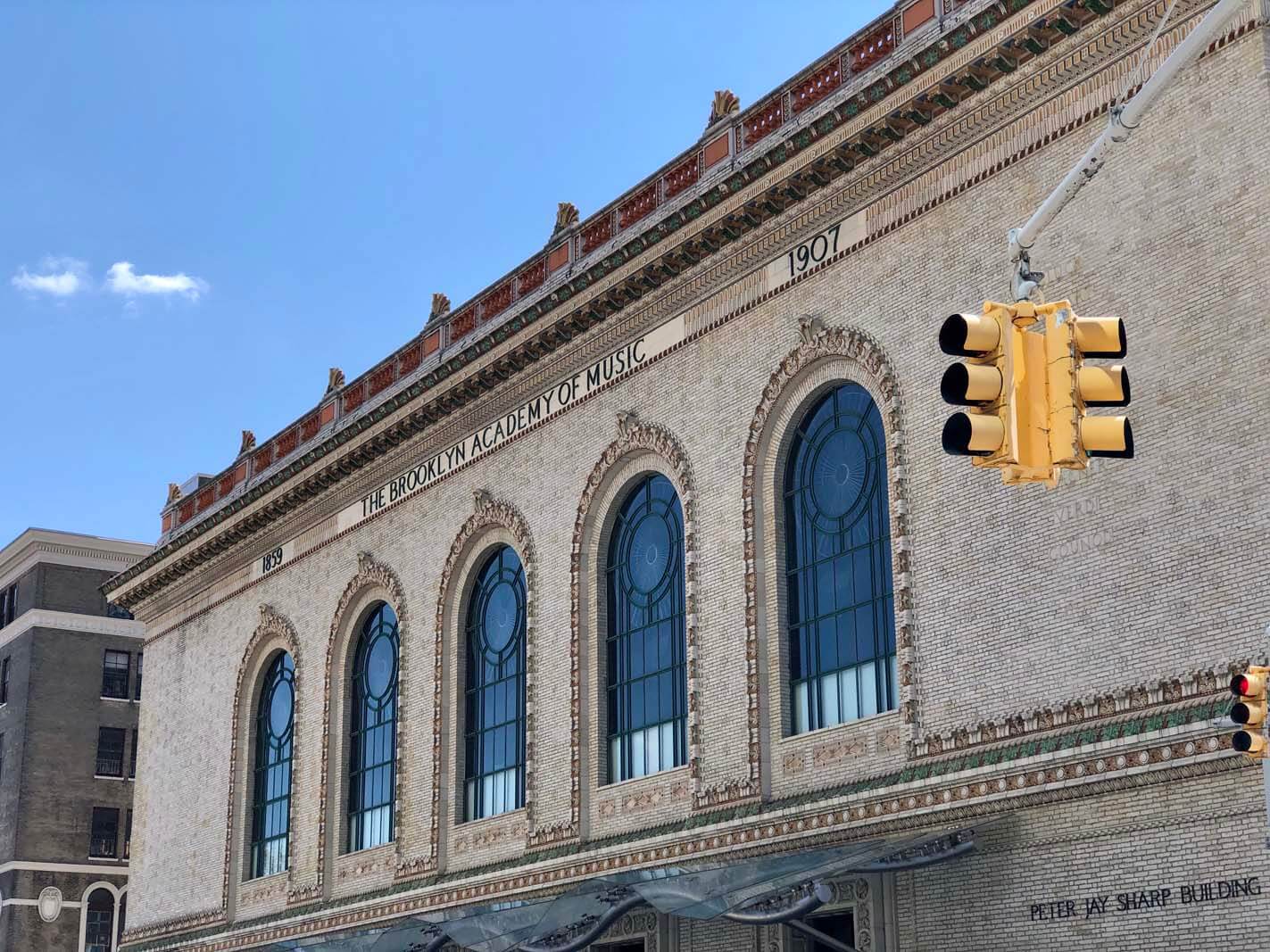 The Brooklyn Academy of Music, known as BAM, kind of falls between Downtown Brooklyn and Fort Greene. For the purpose of this guide, we are listing it as one of the many things to do in Downtown Brooklyn.
Brooklyn is widely known for its history of artists and musicians. In 1906 BAM opened its doors right here in Downtown Brooklyn, New York and it's actually known to be one of America's oldest performing arts centers. They are famous for their cutting edge performances.
BAM is an amazing place for those who appreciate culture and art. They present a variety of art forms, such as music, dance, opera, film, and more.
If you purchase a BAM membership, you will be able to view special screenings or even sit in on rehearsals.
While you're in the area, check out our guide for things to do in Fort Greene!
Brooklyn Tabernacle Choir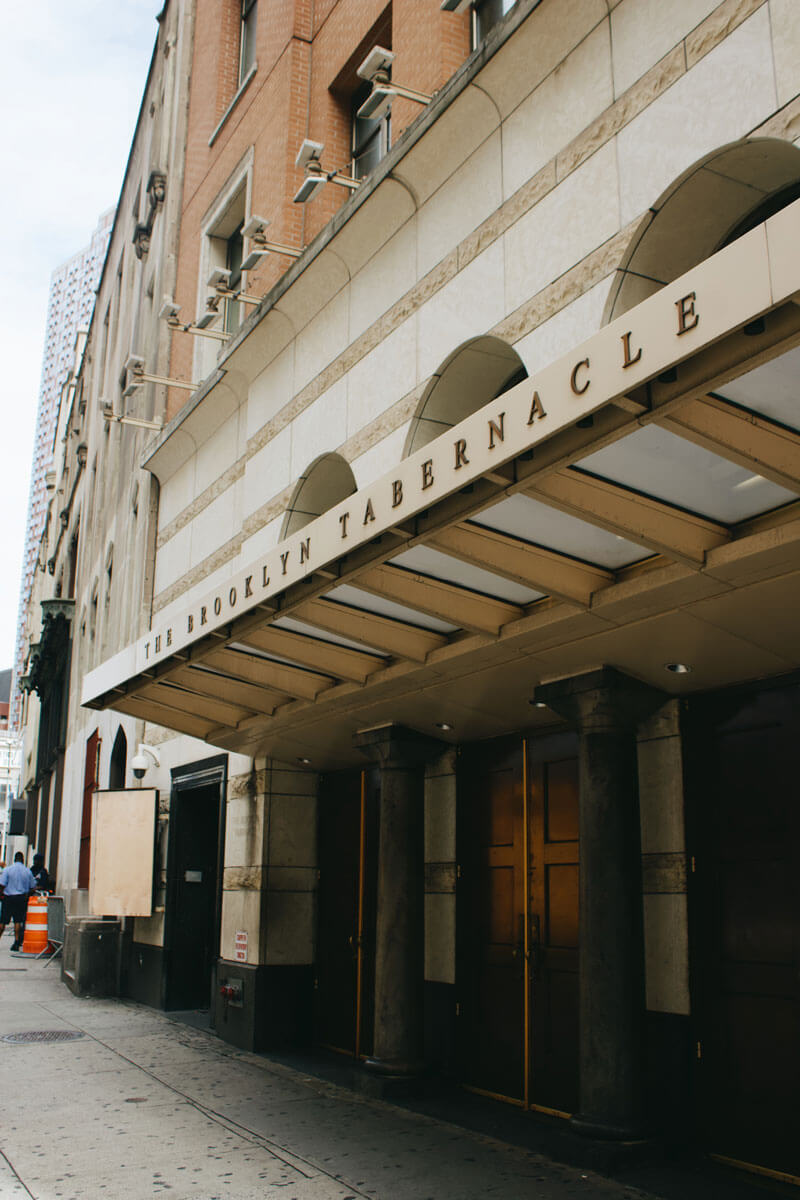 Hearing this famous choir is something you'll want to cross off your bucket list while visiting Downtown Brooklyn, New York.
Based on their outstanding accolades, one would've never guessed that the Brooklyn Tabernacle Choir actually began with only nine singers in the mid-1970s.
Since then, this choir now consists of 270 angelic voices and has performed at a variety of famous venues, other than their beautiful church of course.
Throughout their time, the Brooklyn Tabernacle Choir has been to Carnegie Hall, Radio City Music Hall, Madison Square Garden, and more. Most notable was when they performed at the 2012 presidential inauguration, which had over 1 billion viewers.
The Choir's incredible commitment to their church has led them to five Dove Awards and six Grammy awards.
The Brooklyn Tabernacle is an evangelical non-denominational Christian church and was founded back in 1847. It wasn't until 2002 that the church settled into a beautiful theatre in Downtown Brooklyn, New York.
This theatre seats 3,300 churchgoers and they have three two-hour services each week. It's definitely a must on the list of things to do in Downtown Brooklyn.
Alamo Drafthouse Cinema
When thinking of things to do in Downtown Brooklyn, seeing a movie might be the last thing on your mind, but not anymore! Alamo Drafthouse opened up on the forth and fifth floors of City Point in Downtown Brooklyn, New York back in 2016.
Alamo is a luxurious movie theater with 7 auditoriums, which can serve nearly 800 people. This movie theater has incredible reclining seats as well as full food & drink menus (they even have an all-vegan menu), which you can order from throughout your film. It's just like a restaurant, a two-for-one kind of deal.
General admission tickets are just $17.50 (excluding food & drinks) and there are ways to get tickets with discounts if you use their app! If you see a matinee film, tickets are just $13.50. For students, seniors, children, military, Austin Film Society/Festival members, and visitors with disabilities tickets are $12.50.
Alamo is a great spot for date night or an evening with your friends. Dinner and a movie has never been this luxurious and affordable.
Keep in mind seats are chosen and reserved by visitors prior to entering the auditorium. There is also a zero-tolerance policy for talking and texting during any film.
So just sit back, relax, and order some grub! Keep in mind that only the seats in the front row recline! Check out more of the best movie theaters in Brooklyn!
Dekalb Market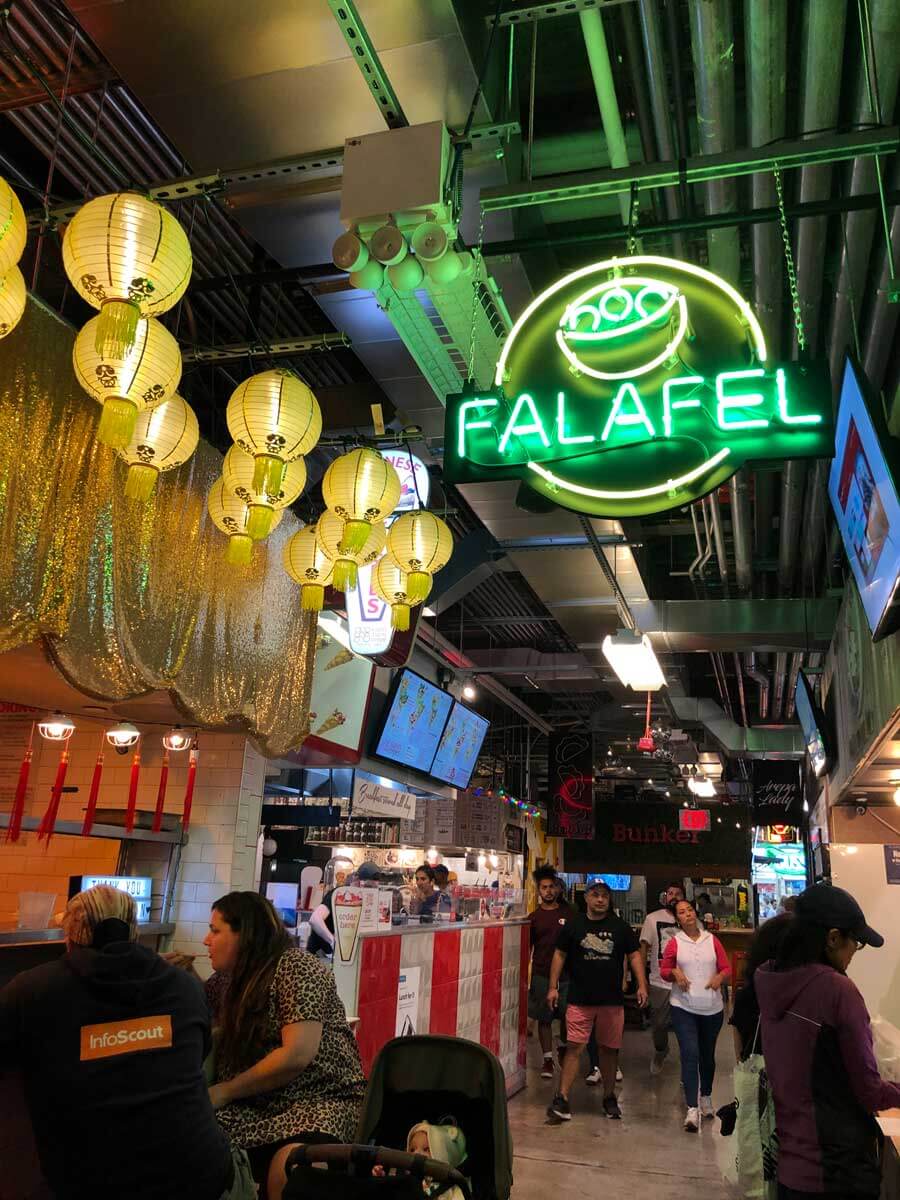 Visiting the Dekalb Market is easily one of the best things to do in Downtown Brooklyn for foodies. Since it opened in 2017, it has taken Brooklyn by storm.
As a downtowner, Dekalb Market holds a special place in my heart.
This iconic food hall has over 40 vendors from local and regional eateries, which provides a multitude of different cultures. Whenever you're unsure what to eat when visiting Downtown Brooklyn, this is the best place to go because of the variety!
Dekalb Market is most famous for their Taste of Katz's, which is the only satellite location of the original Katz's Delicatessen on Houston (pronounced House-ton) Street on the Lower East Side. Visit Katz's in Dekalb to get a taste of some of the world's most famous pastrami.
They also have some of the best places to eat in Downtown Brooklyn including Han's Dynasty along with a handful of other vendors with all types of cuisine from around the globe represented in this food hall.
In addition to the amazing food, Dekalb Market has awesome bars and live music! Perfect for a night out with a group of friends since everyone can choose from different vendors and head to the beautiful Sixpoint Brewery bar here for drinks.
Check out Dekalb Market on our guide to the most Iconic Places to Eat in Brooklyn.
The House of Wax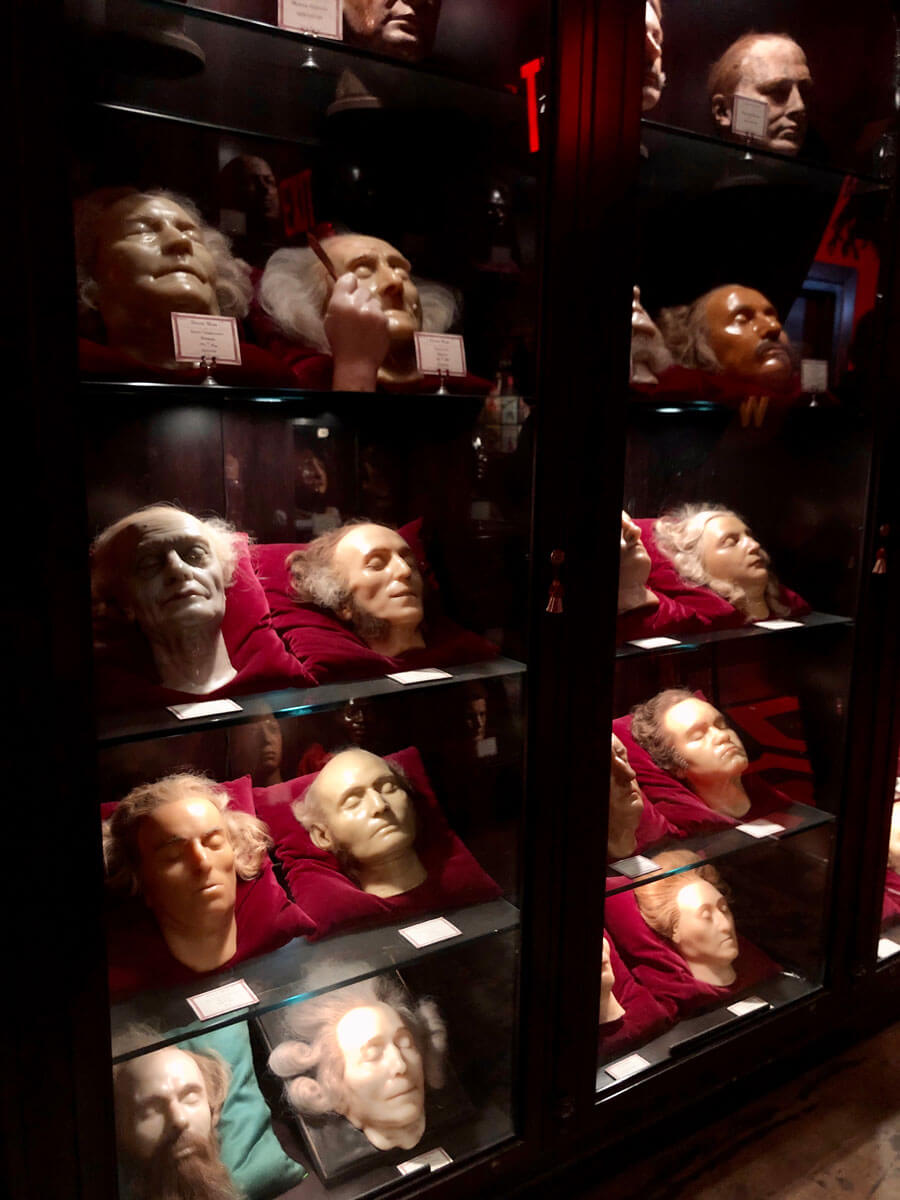 While you're visiting the Alamo Drafthouse, check out The House of Wax. This spot definitely considered one of the hidden gems of Downtown Brooklyn, New York.
The House of Wax is what is sounds like, a place where you can see a rare wax collection that was called Castan's Panopticum from Berlin. Now, this interesting was a collection that features the anatomy of the body resides right here in Brooklyn!
But wait, there's more.
The House of Wax is also a cocktail bar! They also have an extensive draft menu. It has a dark and intimate ambiance. It's the perfect spot to grab a drink with your date.
This bar is located on the first floor of the Alamo Drafthouse, so you can easily plan a movie with an aftershow drink at this unique bar!
Barclay's Center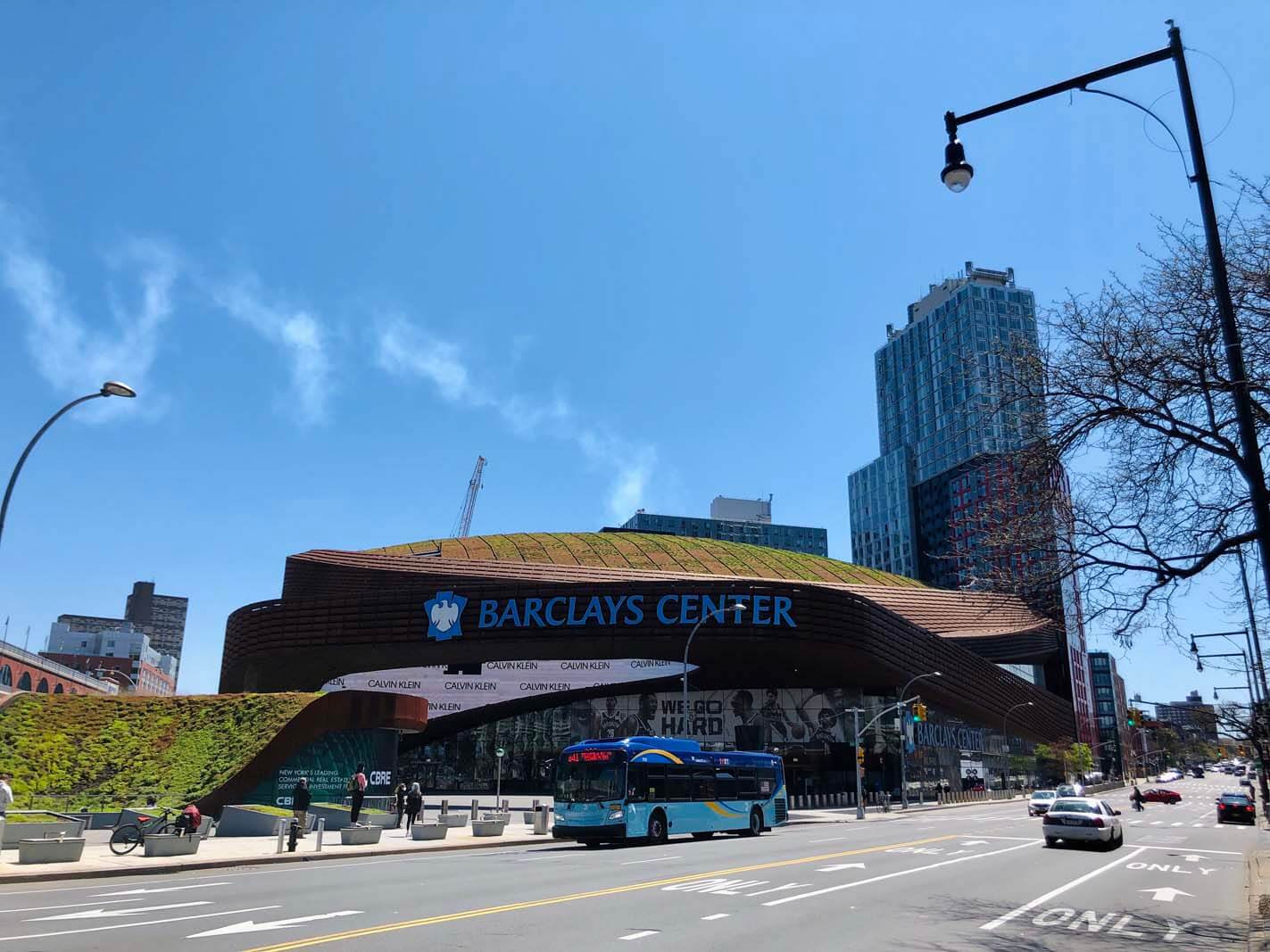 One of the greatest attractions and things to do in Downtown Brooklyn is visit the Barclay's Center.
It is currently home to the NBA's Brooklyn Nets and the WNBA's New York Liberty. NHL's New York Islanders also used the Barclay's Center as their home stadium from 2016-2020.
Many sports fans and concert-goers can find some really great deals on tickets here!
I've personally been to many sporting events here and even saw Keith Urban in concert. It's an awesome venue for an affordable price!
Getting to the Barclay's Center is the easiest part. The Atlantic Avenue subway station right in front of the Barclay's connects the 2, 3, 4, 5, B, D, N, Q, R, & W lines as well as the Long Island Railroad (LIRR). This makes it much more quick and efficient when leaving a crowded event.
And plan your pre or post-event by checking out the best places to eat near Barclays Center just a short walk away! There are so many incredible food options, so take a local's recommendation from our guide.
Fulton Mall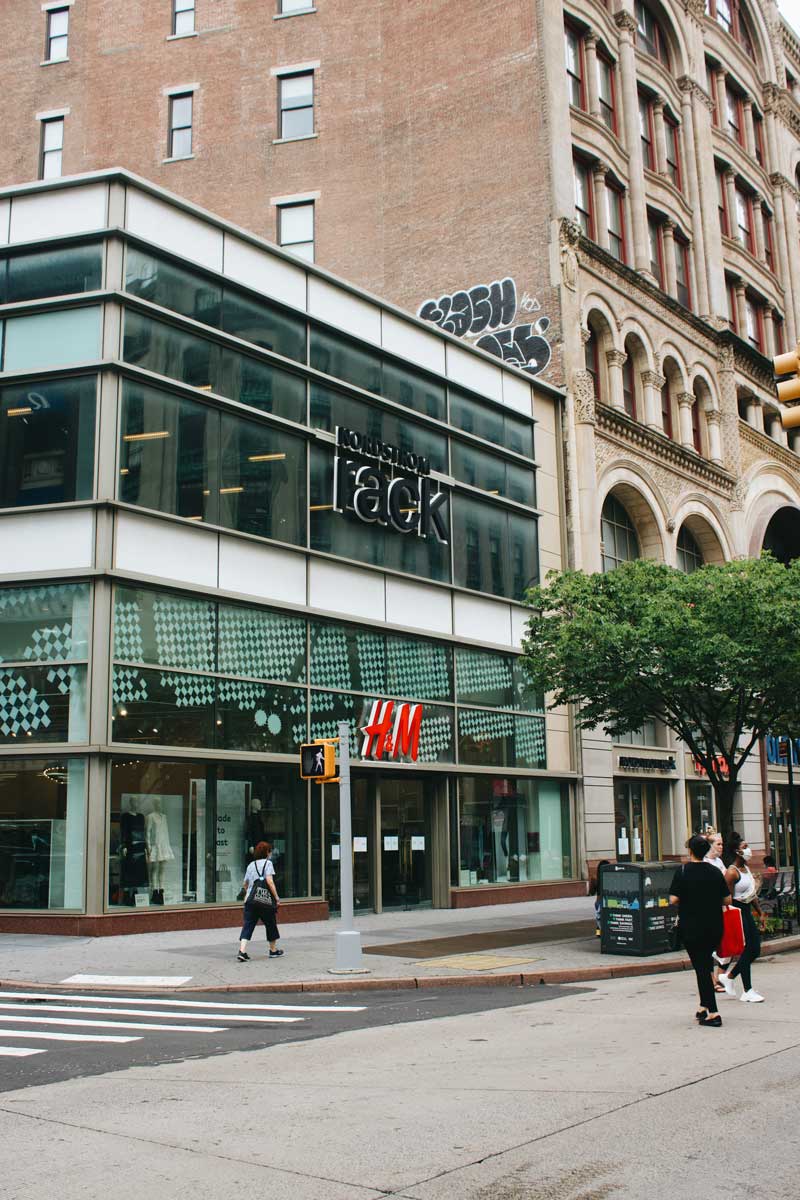 One of my personal favorite things to do in Downtown Brooklyn, New York is stroll and shop around the Fulton Mall.
This is an outdoor shopping center that is a huge attraction for Brooklynites. There are hundreds of small businesses and almost every clothing outlet you could possibly need. Who says you need to go to SoHo for shopping?
A couple of the most popular stores are Nordstrom Rack, TJ Maxx, Macy's, American Eagle, H&M, Aldo, Steve Madden, Adidas, Old Navy, and more. It's a great way to get outdoors even if you're not looking to buy anything, I often find myself roaming the Fulton Mall just for window shopping.
If you've worked up an appetite while shopping, visit Junior's or the Dekalb Market just feet away.
There's usually a large outdoor seating area, which is perfect for a meet up with friends or just as a place to rest the legs after exploring all of Downtown Brooklyn, New York.
Read Next: Amazing Brooklyn Boutiques & Gift Stores in Brooklyn
Masstransiscope
Hop on any Manhattan-bound train from the Dekalb Avenue station to see Masstransiscope, a hidden art installation.
To prove that you really have to look out for this zoetrope, my roommate who has lived here in Downtown Brooklyn, New York for five years didn't even know it existed.
Wondering what a zoetrope is? After a quick search, we discovered that a zoetrope is a sequence of drawings and/or photographs to show motion used in pre-film animations.
Masstransiscope has been here since 1980 and it was created by the artist Bill Brand. The zoetrope is 300 feet long and has actually been restored twice!
This underground art piece is definitely one of the unique things to do in Downtown Brooklyn and it'll give you a reason to check out Manhattan.
Make sure you board a Manhattan-bound train and look out the right side window!
New York Transit Museum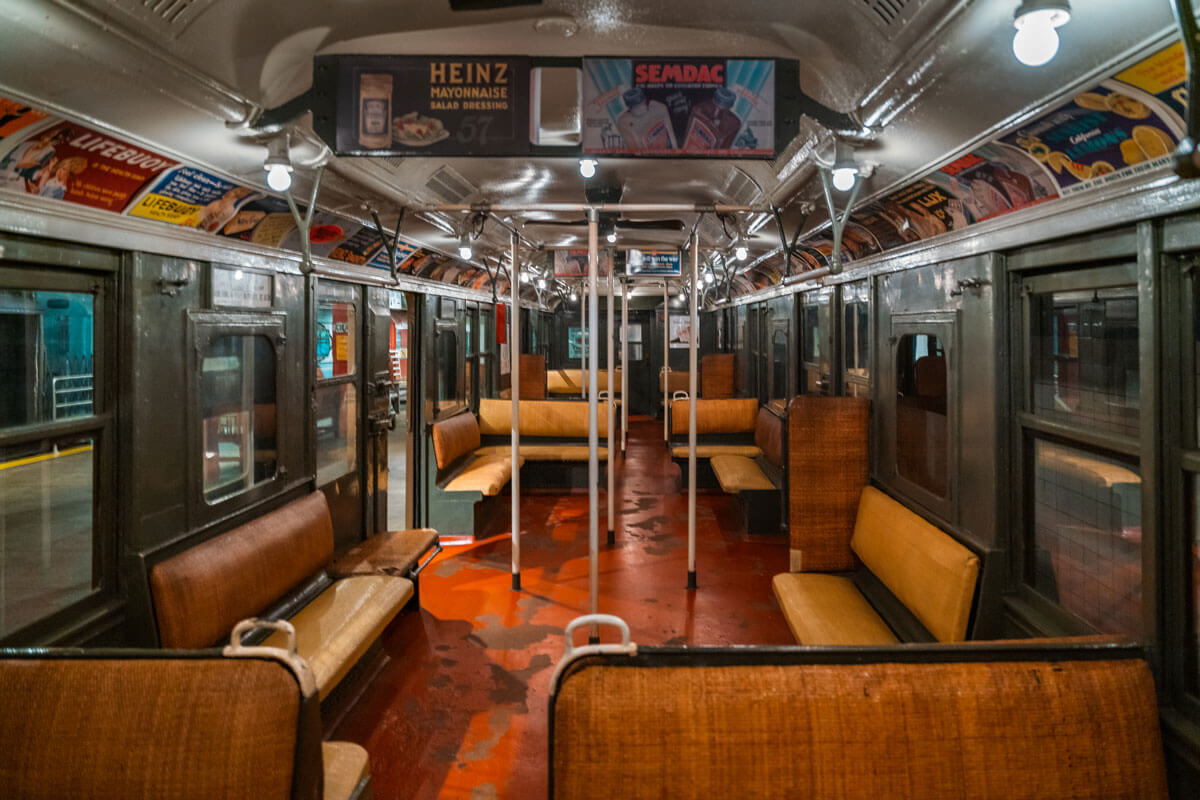 Next on our list of things to do in Downtown Brooklyn is the New York Transit Museum, which is actually in the decommissioned 1936 Court Street subway station.
This underground museum was founded in 1976 and visitors can view and even board vintage subway cars that date back as early as 1907!
In addition to the awesome trains, visitors can learn about incredible stories and the history stemmed from New York's amazing mass transit system.
Adult tickets are $10 and tickets for children and seniors are $5. Donating to the museum is tax-deductible and helps them provide education programs and innovative exhibits. Check out more of the amazing museums in Brooklyn too!
The New York Transit Museum is wheelchair accessible at the corner of Schermerhorn and Court Streets.
Walt Whitman Park
A visit to Walt Whitman Park is one of the best things to do in Downtown Brooklyn when you just need a breath of fresh air or some inspiration.
This park is named after a famous Brooklyn resident, Walt Whitman, who is known for his work as a writer, poet, and essayist. He is actually known to be one of the country's most influential when it comes to literary work.
Whitman lived and worked in Brooklyn and a lot of his famous work was published here, one of his most famous being, Leaves of Grass.
Although most people don't visit this park to get active, like some of our other Brooklyn parks, it's a great space to unwind and escape all your worries.
While you're walking around the park, keep an eye out for some Whitman excerpts from his poems and be sure to check out the rest of the Walt Whitman Brooklyn sites nearby.
Cadman Plaza Park
This Brooklyn park is right on the border of Downtown Brooklyn and Brooklyn Heights. Every time I pass this park on my way to DUMBO, there are plenty of people soaking in the gorgeous day, some walking their dogs, and some using the park for their fitness activities.
This park has a large central lawn that allows for endless fun.
Cadman Plaza Park was named after a minister in the Brooklyn Congregational Church, Reverend Doctor Samuel Parkes Cadman. That's quite a name, isn't it?
Something that makes this park special is the Brooklyn War Memorial, it's dedicated to the 300,000 Brooklynites that served during World War II.
Once you've checked this Brooklyn park off your things to do in Downtown Brooklyn bucket list, check out our guide for things to do in DUMBO! I mean, since you'll be in the area.
Brooklyn Borough Hall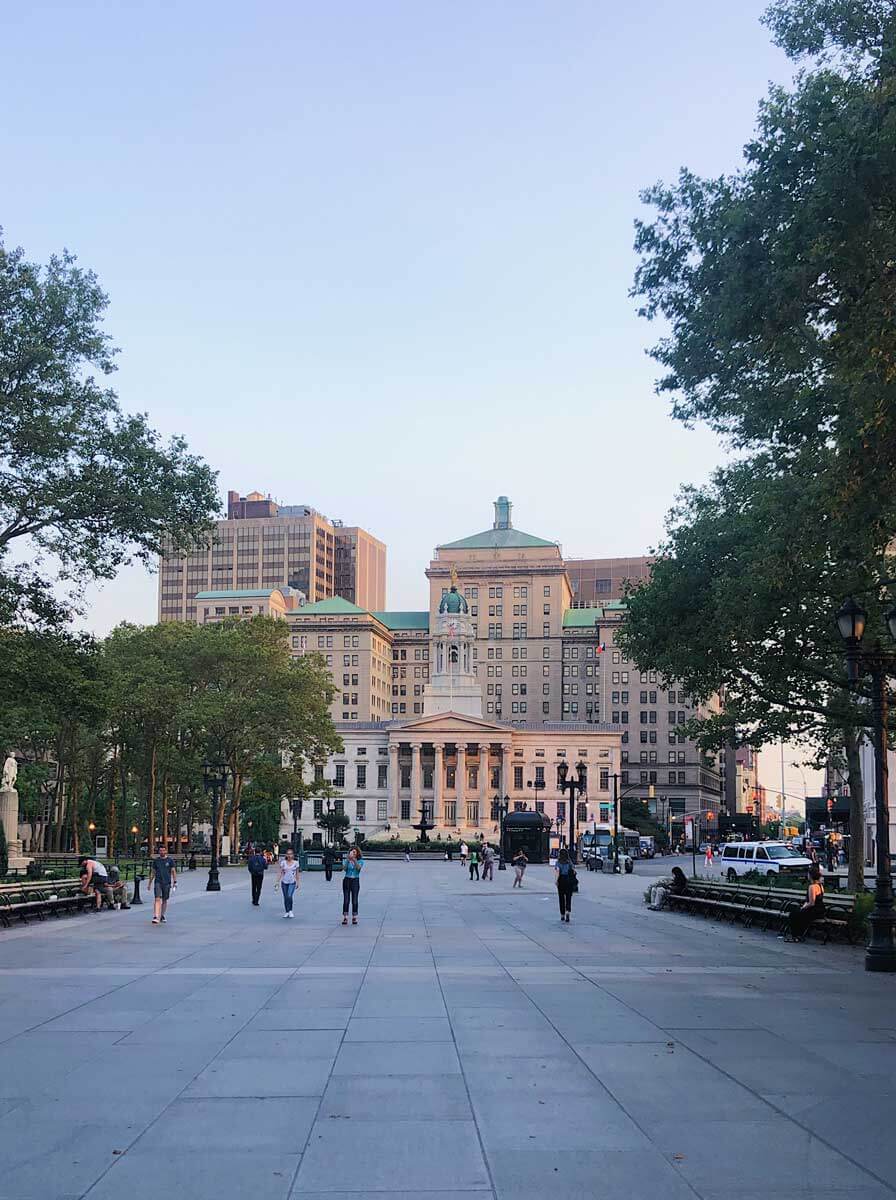 If you're a sucker for some New York history, this building is a good place to start. Next on our list of things to do in Downtown Brooklyn is the Brooklyn Borough Hall.
This building served the original City Hall for nearly 50 years! It's also a National Registered Historic Place, which means the government has deemed the building worthy of preservation because of its historical significance in Downtown Brooklyn, New York.
Brooklyn was once its own city, until 1898 when Brooklyn became included in the New York City Hall. Thus Brooklyn's City Hall changed its name to Brooklyn Borough Hall.
This building is recognized as one of the city's best Greek Revival buildings. Other notable features include the gorgeous rotunda atop of the building, the checkered marble floors, and the elegant Courtroom.
This area is also usually flooded with some pretty talented skateboarders. If you're lucky you might just catch a show.
Junior's Cheesecake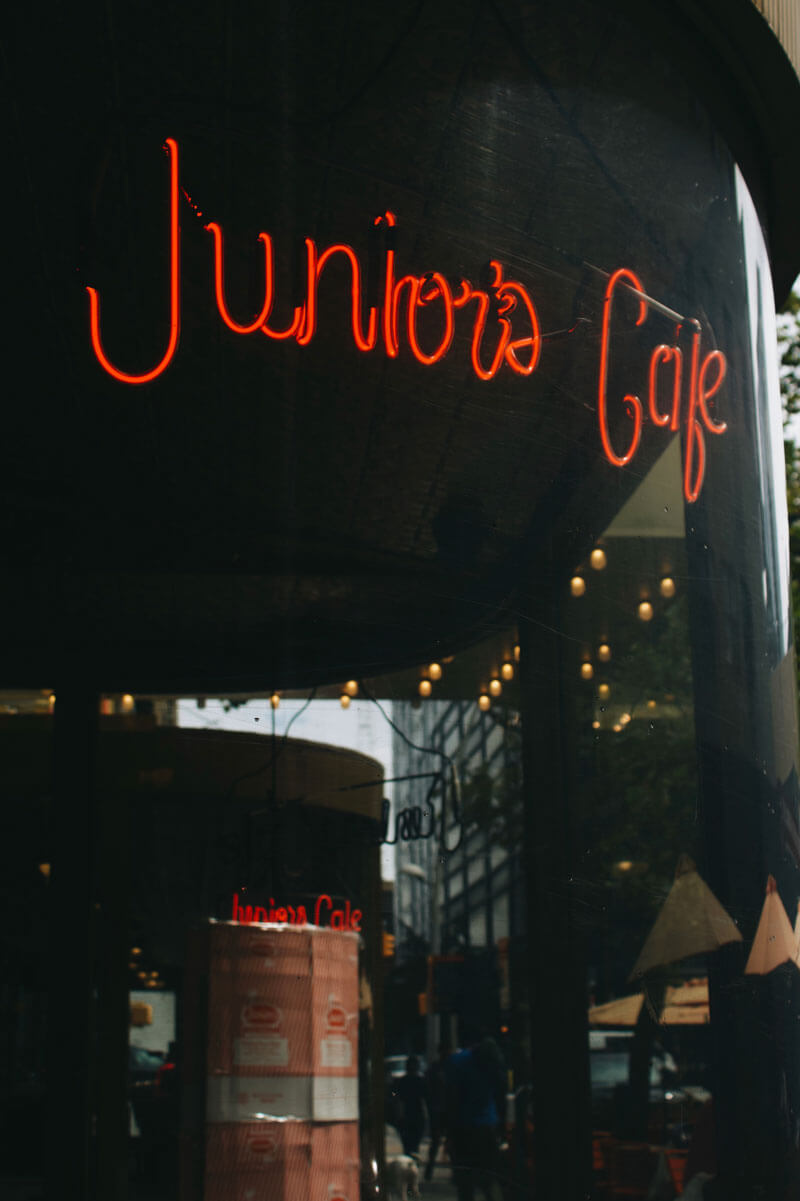 If you know anything about Brooklyn, it's probably that it's home to the World's Most Fabulous Cheesecake.
Since 1950, Junior's has been dedicated to making the best cheesecake New York has to offer and getting a slice of their Plain Cheesecake is a must when visiting NYC. It's basically a no-brainer on the list of things to do in Downtown Brooklyn.
Although many people visit the Times Square location, the original Junior's is right here in Downtown Brooklyn, New York.
If you aren't a big cheesecake person (like me), I can definitely vouch for their Chocolate Fudge Layer Cake, which pairs perfectly with a hot cup of coffee.
If you aren't able to dine-in, Junior's will ship the cheesecake to you via Gold Belly!
Sunken Harbor Club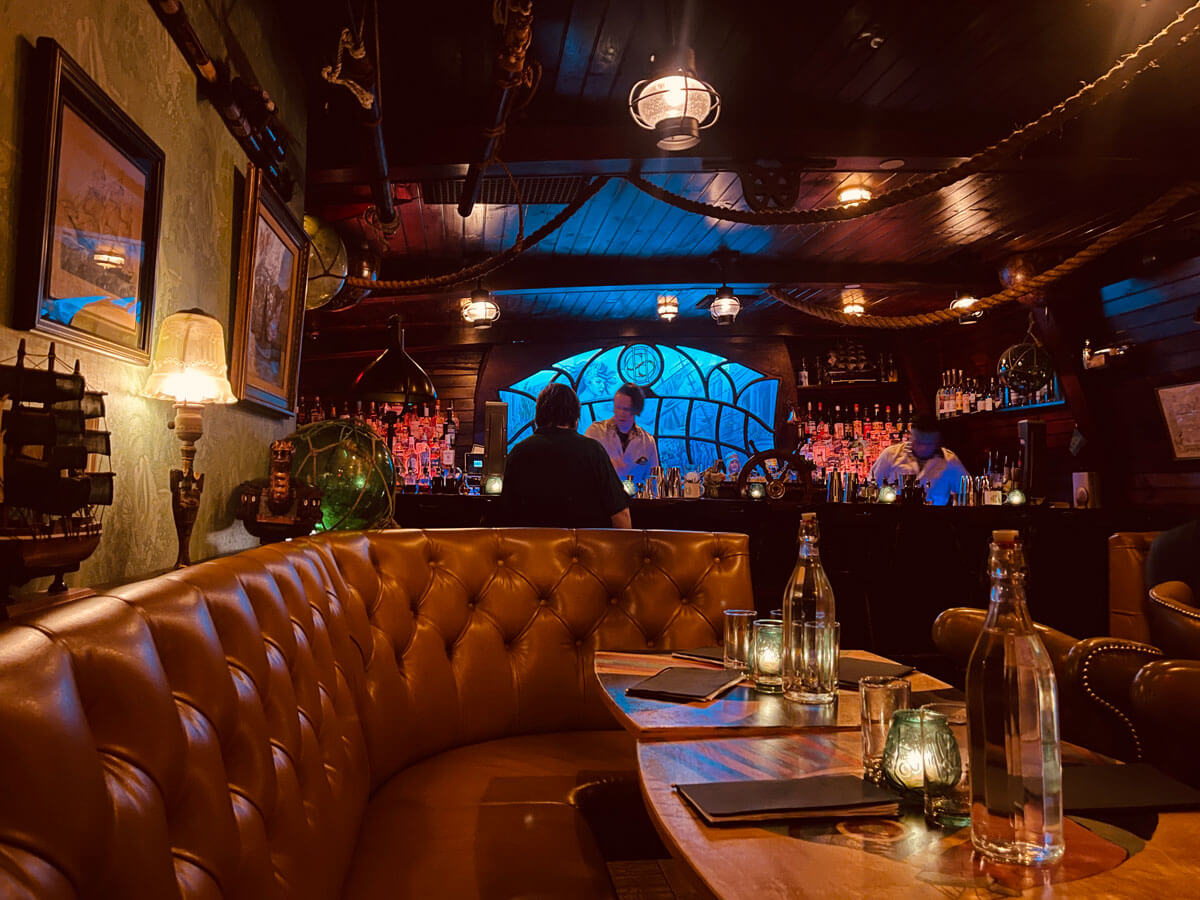 One of the coolest themed bars in the city can be found in Downtown Brooklyn. Located above the gorgeous, fine dining establishment Gage & Tollner, this hidden intimate nautical bar is an experience. The setting is intimate and dimly lit and makes you feel like you're in the bowels of an old pirate ship with ambient sounds of waves crashing.
On the pricier side, but well worth it as you feel like you're in an elevated Pirates of the Caribbean Disney-esque club. It might take a minute to page through their extensive list of elevated cocktails and libations along with a few shareable bites, if you're looking for a full meal you'll want to go back downstairs.
Open Wednesdays – Sundays 5 PM – 12 AM, no reservations and on a first come first serve basis.
Brooklyn Cat Café
Calling all cat lovers! The Brooklyn Cat Café is an incredible non-profit that sounds like a cute and quirky place to grab brunch, but it's actually a great place to visit with cats and kittens.
This cat café is an adoption center that has partnered with animal rescue groups to find these whiskered cuties a fur-ever home.
Walk-ins and reservations are available and you do not have to adopt any of the cats (unless you want to!) while visiting Brooklyn Cat Café.
For walk-ins it's $7 for 30 minutes of playtime and for reservations it's $6 for 30 minutes. Visitors help keep the facility up and running, which ultimately helps more kittens find a loving home.
Although this café is considered apart of Brooklyn Heights, it's only a short walk from Downtown Brooklyn, New York.
If you aren't able to make it in, check out their Instagram page for all their furry friends currently at the café. Mentally this is where I am.
Closed Tuesdays
Caffeine Fix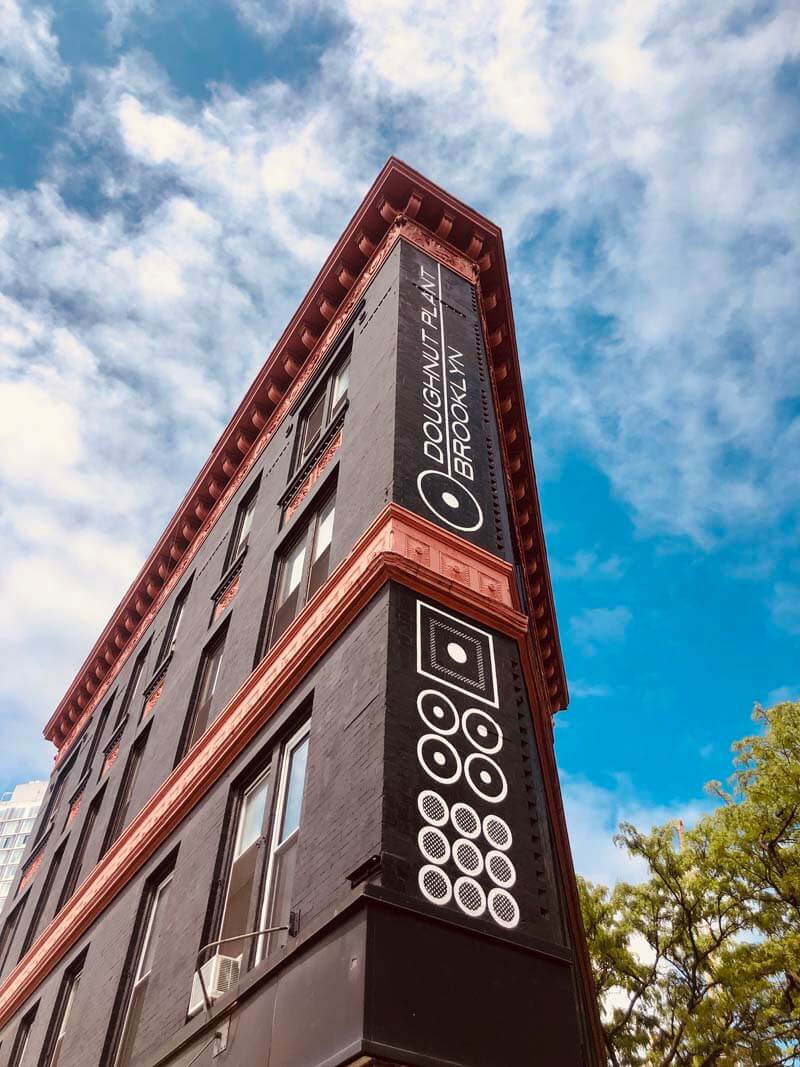 Obviously spending hours on your feet while exploring Downtown Brooklyn, New York without caffeine is nearly impossible.
Luckily one thing Downtown Brooklyn is really good at is having cute cafes perfect for your Instagram aesthetic and a mid-day pick me up.
Although this area has a surplus of Starbucks and Dunkin', which are always good options, we love to support smaller businesses when we can, plus you're going to get a better quality cup of coffee.
Here's a quick rundown of some options in Downtown Brooklyn!
White Noise Coffee Co.— Check out this coffee shop located on Smith Street. They have all the coffee drinks you need and an awesome food menu guaranteed to hold you over while you explore Downtown Brooklyn.
Devoción— This coffee shop located on Livingston Street has an amazing aesthetic. It made for a great Instagram story and a nice place to hang out.
Hungry Ghost— With a few locations in Downtown Brooklyn, Hungry Ghost is a great option if you're looking for coffee on the go. In addition to coffee and lattes, they serves teas and kombucha here!
Doughnut Plant— Located on Flatbush Ave right by the Barclays Center, Doughnut Plant is a step up from Dunkin' Donuts. They have a variety of specialty donuts and coffee drinks. A must have!
Sweet Little Cafe— An adorable little cafe located on Hoyt Street, serves all your favorite specialty espresso drinks, lattes, teas and more. They also have smoothies, crepes, sandwiches and other options for breakfast and lunch!
Thrift Shopping
If you're the kind of person looking for the best deals everywhere you go, Downtown Brooklyn, New York is your spot!
One thing I love about thrifting in New York, is that you can come across some really fashionable and on trend pieces for ridiculously cheap.
It's also a great idea to go thrifting while visiting New York so that the money you save can go toward all the delicious eats!
A few of my favorite thrifting spots in Downtown Brooklyn are Goodwill, Salvation Army, and Buffalo Exchange.
Buffalo Exchange is awesome because they are a resale store! So Brooklynites come here to sell their on trend clothing, shoes, bags, etc. and customers come in to snag some awesome pieces for a great price.
So if you're a thrifter or want to get into thrifting, add this to your list of things to do in Downtown Brooklyn!
Shopping on Smith Street
Since I live in Downtown Brooklyn, I could say almost all of these things are my favorite, but really shopping on Smith Street is one of my all time favorite things to do in Downtown Brooklyn, even if a large part of Smith Street technically isn't in Downtown Brooklyn, also see our guide to the best things to do in Carroll Gardens for more options on Smith Street!
If you're a shopper, or even a window shopper, this will be a must on your list. Like I mentioned before, no one really thinks Brooklyn has the best shopping, but it has everything you need and more!
For those of you who just can't stop stuffing your closet with more clothing, Smith Street has Free People, Lululemon, DNA Footwear, and more.
Two of my favorite stores on this street are actually some awesome small businesses.
One is called Something Else, it's a gift shop/clothing store that has a lot of unique and antique pieces. They have a lot of New York/Brooklyn themed tee shirts here if you're looking for an awesome souvenir. I actually buy a majority of my Christmas gifts here too.
The other is called Exit 9 Gift Emporium. This shop has all kinds of awesome trinkets, postcards, jewelry, bags, NY gear, and more. The best part is they sell a lot of products made my locals!
Another spot you can go to for gifts and stationery is Paper Source. I love this store because they always have the cutest New York-themed gifts as well as awesome planners, journals, mugs, and more.
I mean it, you can easily spend hours shopping here!
Explore the Foodie Scene
You can't visit Downtown Brooklyn, New York and not indulge in all the delicious food options we have here. One of the obvious things to do in Downtown Brooklyn is eat!
We have something for every occasion and every craving, trust me you will not be disappointed.
Sticky's Finger Joint— If you're looking for something quick, this is one of the best spots. Located on Willoughby Street, Sticky's serves some of the best chicken and fries I've ever had. This is a New York City based chain and they are known for their long list of delicious dipping sauces. You get a large portion for a great price.
Patsy's— I have raved about Patsy's for years! If you want authentic Italian, unbelievable service, and an awesome environment, it doesn't get any better than Patsy's located on Dean Street. Check out this spot on our guide to the most iconic places to eat in Brooklyn.
Broccolino— Located right next door to Patsy's, Broccolino is also another Italian spot. They serve a variety of pies and even pizza by the slice. Dine in for an array of delicious Italian apps, pastas, salads, sides, and more.
The New Apollo Diner— This is my favorite spot in Downtown Brooklyn to get breakfast/brunch. It's a classic diner with amazing service and wide variety of options. They also have their own bakery in the basement of their building to make all the delicious treats on display.
Bareburger— This gem on Court Street has something for every dietary need. Bareburger has many locations in the northeast. They use local, fresh, and organic products and even offer vegetarian and gluten free options. They serve burgers, fries, salads, shakes, and more!
And don't forget our beloved selection at Dekalb Market or Juniors, one of the best old-school Brooklyn diners!
Getting Around Downtown Brooklyn, New York
Getting around this area couldn't be easier. Most of the things you'll want to see in Downtown Brooklyn are within walking distance.
But if you get tired of walking everywhere or you're looking to cover more ground at a faster pace, we would recommend downloading the Citi Bike app for bike rentals!
All you have to do is enter your info into the app and find the nearest docking station. You can get the bike for 30 minutes unless you get a day pass or you're an annual pass holder, then you'll have to redock after 45 minutes of biking!
My friends and I recently took our first Citi Bike to Brooklyn Bridge Park from Downtown Brooklyn and it only took a couple of minutes and before we knew it we were at the skyline just in time for the sunset.
And don't forget about the plenty of subway stations we have right here in Downtown Brooklyn!
Dekalb Avenue (B, D, N, Q, R, and W lines)
Atlantic Avenue (2, 3, 4, 5, B, D, N, Q, and R lines)
Jay Street—MetroTech (A, C, F, N, R, and W lines)
Nevins Street (2, 3, 4, and 5 lines)
Where to Stay in Downtown Brooklyn, New York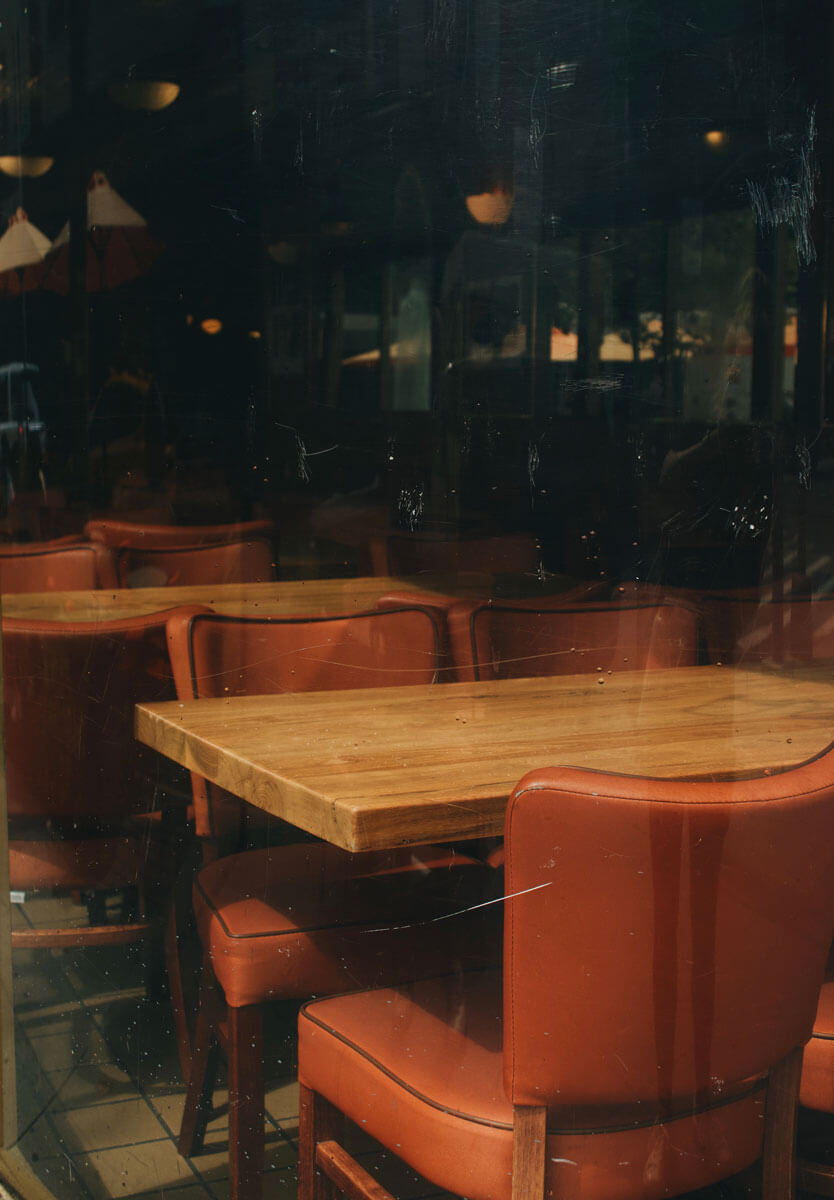 Aloft New York Brooklyn
You can find this affordable 4-star hotel in Downtown Brooklyn on Duffield Street. This hotel is centrally located for all the amazing things to do in Downtown Brooklyn.
The rooms are beautifully decorated and the hotel offers a fitness center, an indoor pool, a bar and lounge, coffee shops, and more.
If you're traveling with your furry friend, this hotel is pet friendly!
Book Now on Booking.com | Compare Prices for Later on Hotels.com | See Rates on Expedia.com
Sheraton Brooklyn New York Hotel
Another great spot to stay when visiting Downtown Brooklyn is the Sheraton. This hotel is also located on Duffield Street, which means you'll have easy access to subways, fantastic dining, shopping, and more.
This 4-star hotel has everything you'll need and more for a magical stay in Brooklyn. This hotel is equipped with spa services, fitness centers, an indoor pool, and this is also where Kimoto Rooftop is!
The beautiful rooftop bar and lounge sits on top of this very hotel, making it easy to cross that off your list of things to do in Downtown Brooklyn.
The rooms are perfect for business travelers with plenty of work space. During your stay, customers can upgrade to a suite that has a separate living room and it also comes with special perks like access to the lounge, complimentary breakfast, snacks, and appetizers in the evening!
Book Now on Booking.com | Compare Prices for Later on Hotels.com | See Rates on Expedia.com
The Tillary Hotel
The Tillary is a great place to stay in Downtown Brooklyn if you think you'll be spending some of your visit in DUMBO. This hotel also has amazing views of the Manhattan Bridge, just steps away from the hotel.
The Tillary has a café, a bar, and a beautiful outdoor terrace. This hotel also offers soundproof windows, which can be a game changer when staying in NYC.
The rooms are also beautifully designed with designer toiletries and Italian linens.
If you're looking to step out of the room, enjoy the incredible views, the lobby lounge and beer garden and so much more when you stay at the Tillary.
There is parking on the property for an added fee.
Book Now on Booking.com | Compare Prices for Later on Hotels.com | See Rates on Expedia.com
Things to do Nearby Downtown Brooklyn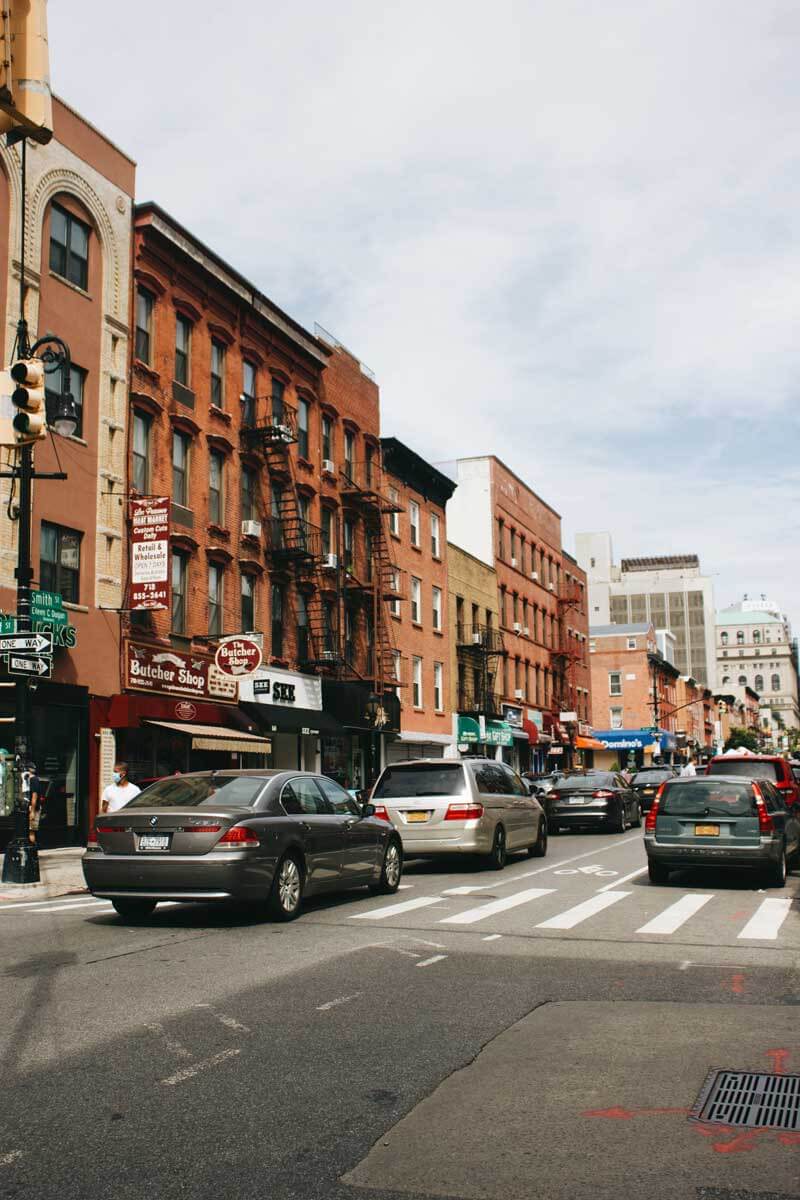 There are a number of gorgeous neighborhoods to check out during your stay in Downtown Brooklyn.
DUMBO— This neighborhood is one of my personal favorites. This is the best spot in Brooklyn for amazing cityscape views as well as accessing boat rides along the East River! There's also some amazing food options down there. Be sure to check out all the best things to do in DUMBO for more inspiration!
Fort Greene— This little neighborhood is practically apart of Downtown Brooklyn and absolutely worth checking out during your visit. Relax in the beautiful Fort Greene Park or visit the Gotham Market for some cocktails and delicious eats! Refer to our full guide to Fort Greene for more!
Prospect Heights – While this neighborhood is on the smallish side, there are plenty of great things to do in Prospect Heights which neighbors Downtown Brooklyn including a great dining, drinking, and dessert scene!
Park Slope— If you plan on visiting the Barclays Center, take a few more steps past the center and you'll end up in Park Slope. This area is lined with beautiful brownstones, plenty of awesome places to shop and eat, and is known for the amazing Prospect Park. Check out our full guide for best things to do in Park Slope!
Cobble Hill— This Brooklyn neighborhood is definitely known for being more on the stylish side and being a great place for young New Yorkers to reside. It has plenty of trendy places to shop, and awesome places to grab a bite or a drink. Check out Cobble Hill Park or Cobble Hill Cinemas!
Boerum Hill— Similar to Cobble Hill, Boerum Hill is a great place for young professionals. This little neighborhood is very close to Downtown Brooklyn so you may wander into Boerum Hill without realizing you're in a different area. They also have plenty of trendy bars and restaurants, which make for great Instagram posts.
Brooklyn Heights – This historic neighborhood is the oldest suburb in America and filled with gorgeous architecture, see our guide for the best things to do in Brooklyn Heights to build your own historic walking tour as well as some of the best views in the city!
Fun fact that three neighborhoods near Downtown Brooklyn are Boerum Hill, Cobble Hill, and Carroll Gardens, which are now forming what's affectionately known as BoCoCa. See all there is to do in BoCoCa.
---
Liked this post on the best things to do in Downtown Brooklyn or found it helpful? Bookmark for later or share the love below on Pinterest.