Check out all the incredible things to do in Fort Greene, Brooklyn. While this borough is always evolving, one thing that doesn't change is that Fort Greene in Brooklyn has always been about the arts, and it still is.
Fort Greene is the home of a number of cultural institutions like the Brooklyn Academy of Music (BAM) and Pratt Institute (technically in neighboring Clinton Hill but literally steps away), a prestigious fine arts university.
Fort Greene in Brooklyn also has a history with famed artists and talents. This is where the famous filmmaker Spike Lee grew up. This area in Brooklyn was ideal for Lee because Fort Greene was at the center of great Black artists, musicians, and more.
Lee's first feature-length film, She's Gotta Have It, takes place right here in Fort Greene. This film was known to launch Lee's career and has now been turned into a Netflix series.
American poet, essayist, and journalist Walt Whitman, known for Leaves of Grass was an advocate for Fort Greene Park and the park hosts Walt Whitman Walking Tours! Be sure to check out more of the Walt Whitman Brooklyn sites that influenced his career and work.
And it doesn't stop there, some of our country's greatest history lies right here at Fort Greene in Brooklyn. The neighborhood is named after General Nathanael Greene from the American Revolutionary War era, and we will dive a little deeper into that history when we mention Fort Greene Park!
Check out our full guide to all the best things to do in Fort Greene in Brooklyn.
Where is Fort Greene in Brooklyn?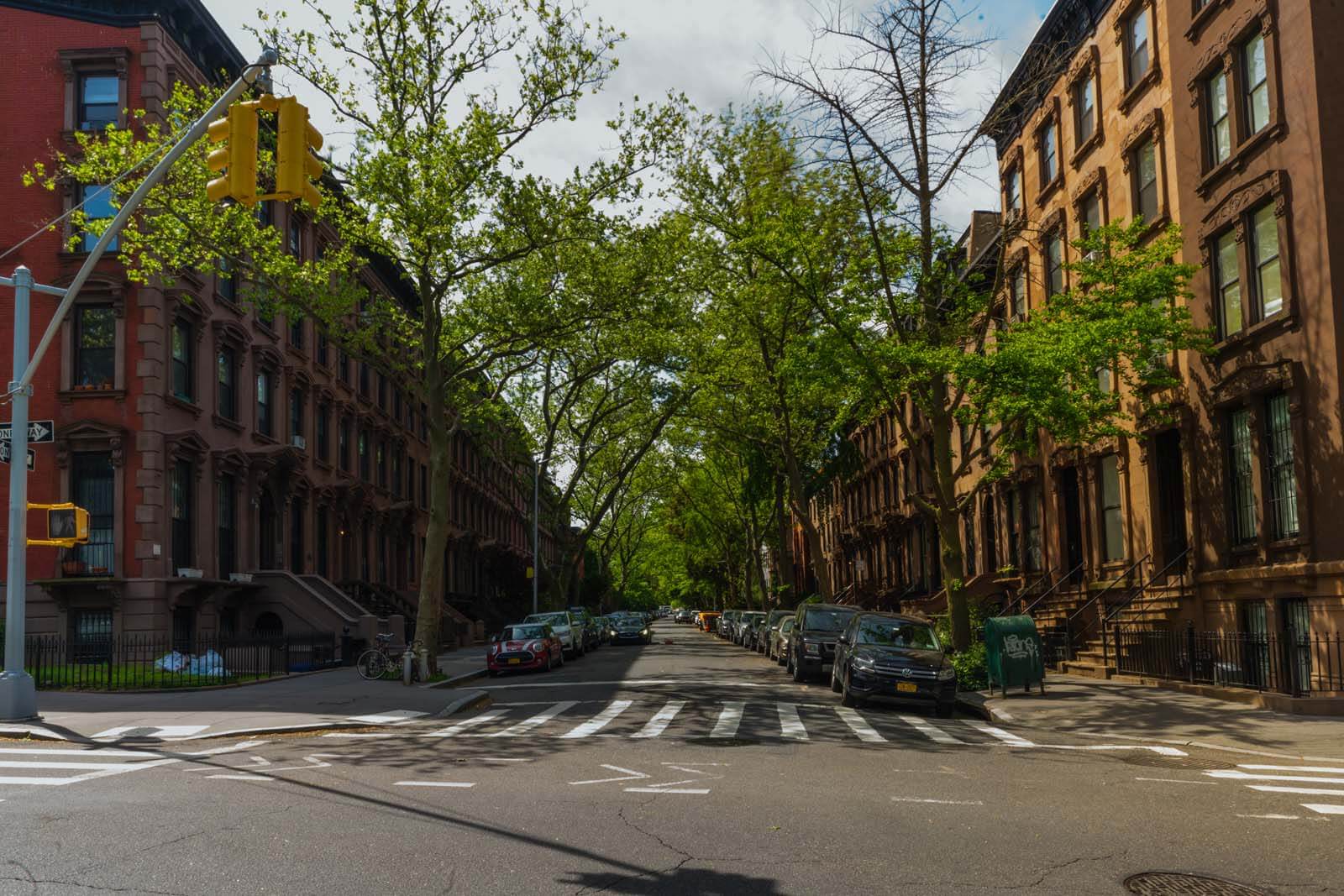 Fort Greene in Brooklyn couldn't be located in a more central spot with easy access to not only Manhattan but surrounded by some of the most popular areas in Brooklyn to visit.
Fort Greene is in the northwestern region in Brooklyn and covers 351 acres of the borough.
It has Downtown Brooklyn to the west, Clinton Hill to the east, Flushing Ave and the Brooklyn Navy Yard to the north, and Prospect Heights to the south.
What to do in Fort Greene
Fort Greene Park
One of the best things to do in Fort Greene is visiting Fort Greene Park, one of our favorite parks in Brooklyn.
Fort Greene Park is home to the Prison Ship Martyr's Monument and crypt located on the staircase of the park. The memorial was built in honor of the 11,500 American prisoners that died while aboard the British prison ships during the Revolutionary War.
In addition to the park's incredible history, it is overflowing with beautiful trees, walking trails, and so much more.
I especially love this park for the fitness aspect. Many tourists and locals use the staircase for exercise, and let me tell ya, it burns!
I've also seen many Brooklynites practicing Tai Chi and yoga on the top of the staircase near the monument. Similar to Brooklyn Bridge Park, there is a lot of open space for most workouts of your choice!
The park also has playgrounds and sports courts, which makes it a great stop for the kiddos while visiting Fort Greene in Brooklyn! But the best is just walking around the park to people watch or grab a quiet spot to sit down and take a break.
40 Acres and A Mule Filmworks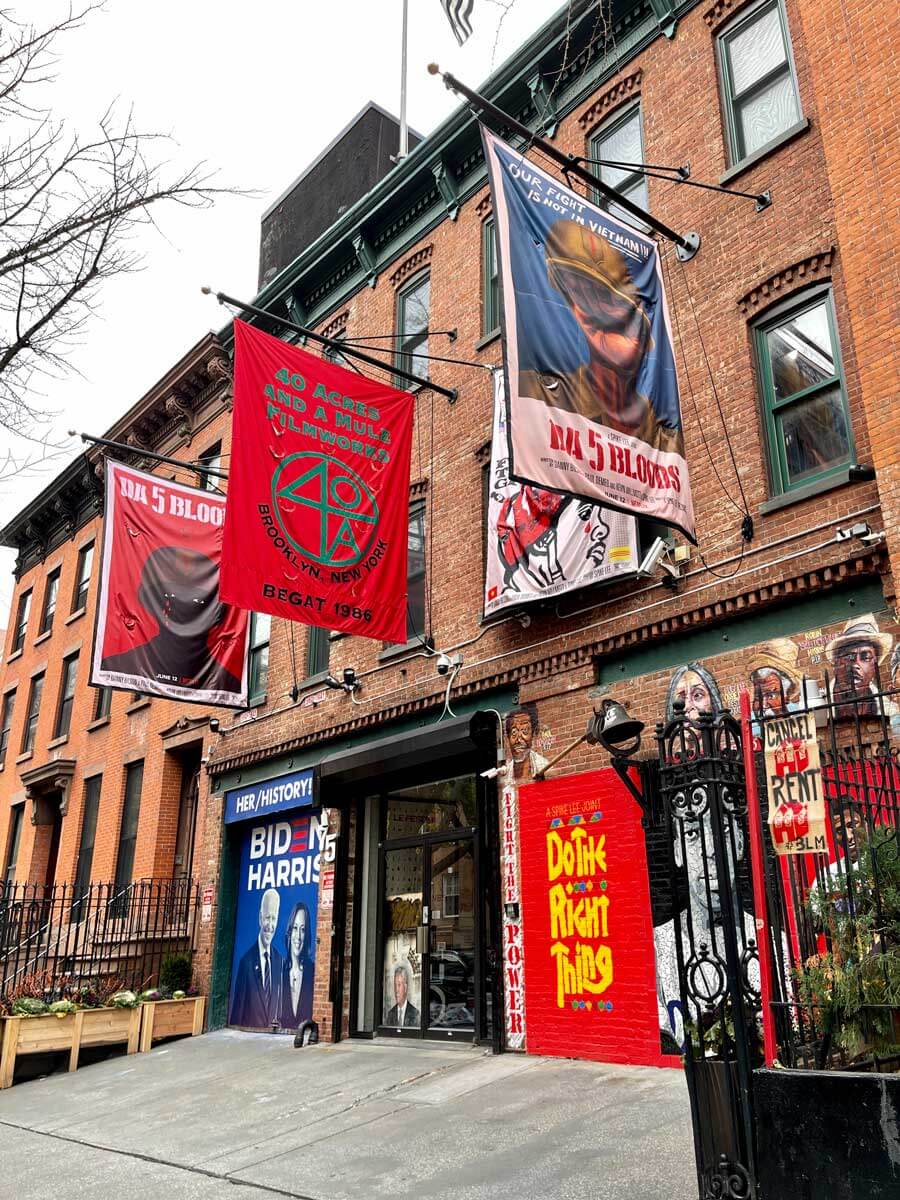 One of the best points of interest in Fort Greene is Spike Lee's film studio located on what appears to be a residential street tucked away and hidden in plain sight.
While you can't really do anything here other than walk by and check it out, this film and production studio is worth checking out for a peep as it's in the heart of Fort Greene.
Spike Lee, a celebrated film director who is known for his work sharing and chronicling the Black experience in America as well as cinematic works that showcase proactive socio-political critiques that challenge cultural assumptions about Race, Class, and Gender Identity.
He debuted his directorial debut in 1983, a 45-min film called "Joe's Bed-Stuy Barbershop: We Cut Heads," which went on to win an Academy Award and was just a launching point to a successful career intertwining stories from Brooklyn into much of his work.
He started his own production company here in Fort Greene, where he creates and directs independent films and projects as well as amplify creators and aspiring filmmakers through internships and community outreach and support.
Besides his work being heavily intertwined with the fabric of history in Brooklyn, especially to the Black community, the name behind the studios also has a meaning.
During the Reconstruction period in the US following the Civil War, Union leaders gathered a group of Black ministers in Savannah, Georgia with the goal to help the thousands of newly freed slaves. In 1865, General Sherman issued "Special Field Order 15," which distributed 40 acres of land and surplus Army mules to some of the newly freed Black families on the Georgia coast.
This plan became known as, "40 Acres and a Mule."
Unfortunately, after President Lincoln was assassinated, Andrew Johnson revoked this plan and took the land away from freed slaves and returned it to white people.
Lee grew up in Brooklyn neighborhoods of Cobble Hill, Fort Greene, and Crown Heights.
BAM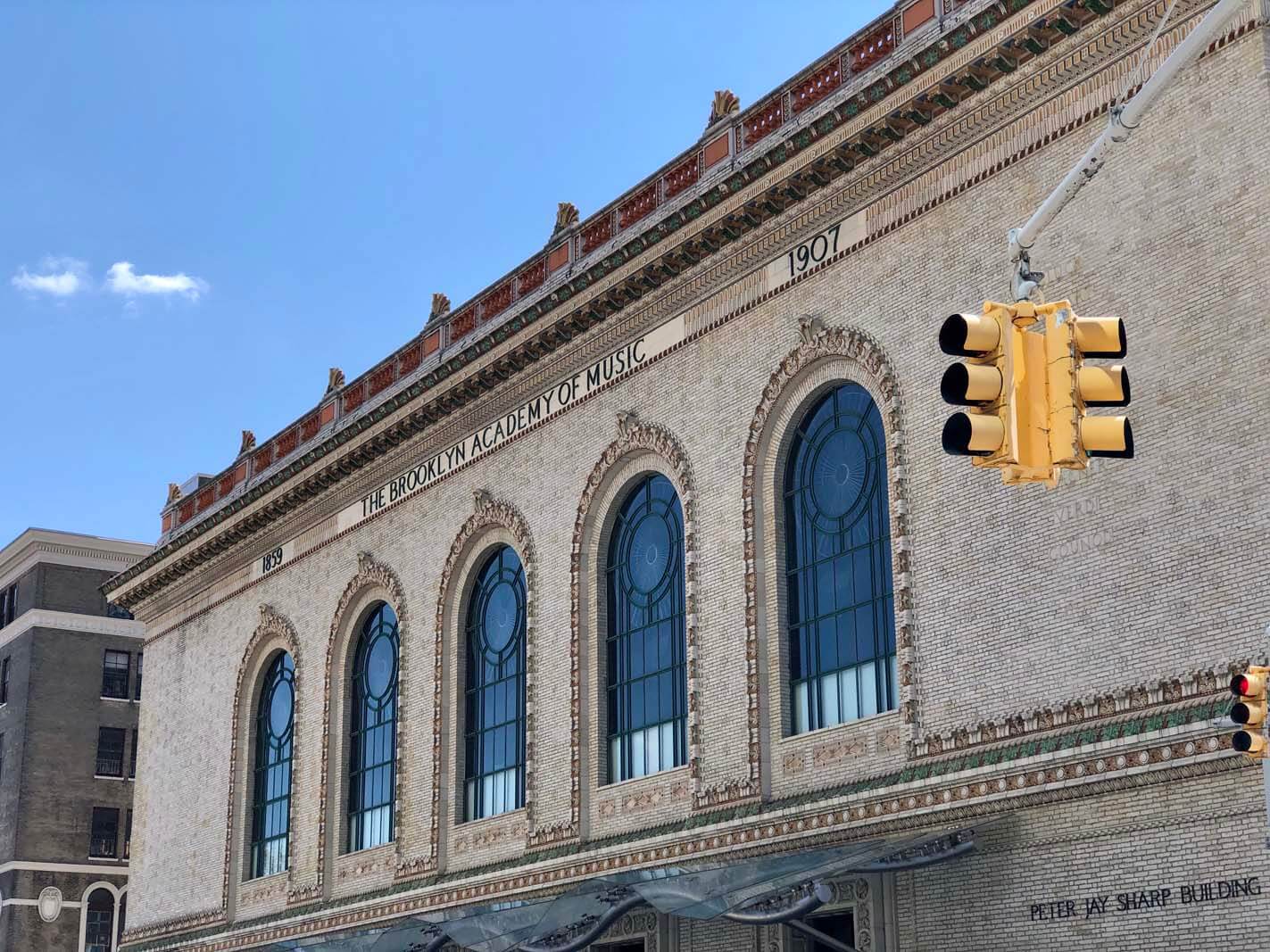 As we mentioned briefly, Fort Greene in Brooklyn has a history of artists and musicians. BAM, The Brooklyn Academy of Music, is a multi-arts center famous for its' cutting edge and avant-garde performances.
BAM might be one of the best things to do in Fort Greene for those who love art and culture because it showcases arts in many forms, such as dance, music, opera, film, and more.
The original structure was built in 1861 for the Philharmonic Society of Brooklyn in Brooklyn Heights but burnt to the ground in 1903. The current building was built in Fort Greene in 1906 to replace it where theater and opera would use as a performance venue.
BAM is considered as one of America's oldest performance arts centers.
If you plan of visiting Fort Greene in Brooklyn often, BAM offers memberships, which include getting to do things like attend special screenings or sit in on rehearsals. In addition to their memberships, BAM has community programs that provide discounted tickets for special needs groups!
This is also one of our picks for best things to do in Brooklyn if you're a fan of performing arts.
MoCADA
MoCADA or the Museum of Contemporary African Diasporan Arts is the first museum of it's kind to open up in NYC and it's right here at Fort Greene in Brooklyn!
The goal of this museum is to introduce people to the African cultural traditions that may have been lost during the Trans Atlantic Slave Trade through visual and performing arts in a completely immersive and cultural education center.
This museum exhibits both visual and performing arts. MoCADA is also known for discussion based on social and political issues relating to the African Diaspora and the continuous evolution of culture according to the museum's mission page.
We are fans about deep diving in cultural and historical experiences which is why this is one of our favorite picks for best things to do in Fort Greene. Join a guided or private tour or visit on your own, admission is only $8 for adults and their programming and exhibits are always changing.
Be sure to check out all the best museums in Brooklyn too!
BRIC Arts Media House
Looking for something totally awesome and FREE around Fort Greene in Brooklyn? The BRIC Arts Media House is the spot! This is a multi-purpose space full of opportunities for fun!
It includes a ballroom, an art studio, galleries for emerging artists, a public hang out area called, "The Stoop," a café, and a classroom space.
Can you believe admission to this place is free?! We can't either.
The goal of BRIC Arts is to create a space for emerging artists of all kinds and unite Brooklyn through these art forms.
Be sure to add this stop on your list of things to do in Fort Greene to support the artist community in Brooklyn!
Greenlight Bookstore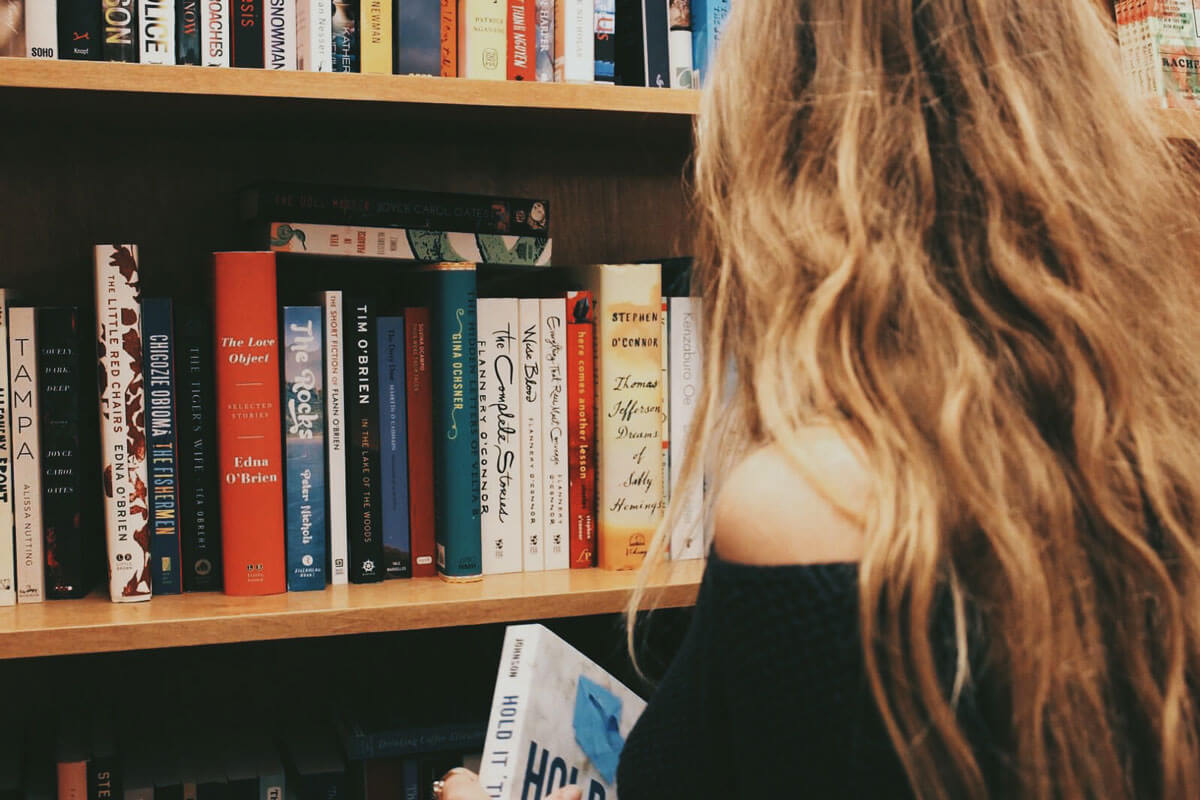 If you're a bookworm, Greenlight Bookstore serves Fort Greene in Brooklyn and is the perfect spot for you. We all know those people who can't go anywhere without a book, so pick up a new one here and support a really awesome independent bookstore while you're at it!
One of the many things to do in Fort Greene is to attend the numerous community events they have going on at Greenlight!
This amazing independent bookstore in Brooklyn offers an experience beyond the books. They host Author Events, Bookseller Meetings, Kids Events, and much more! And if you find yourself in Fort Greene often, they offer book groups and kids programs!
Make sure to stop in Greenlight while you're visiting Fort Greene in Brooklyn, we love supporting independent bookshops.
Also, next door be sure to stop at Yours Truly, a small, indie stationary store!
Pratt Institute Sculpture Park
If you haven't noticed, Fort Greene in Brooklyn is kind of obsessed with art. And so are we. Next on our list of things to do in Fort Greene, is the Pratt Institute, Sculpture Park!
This park can be found on the Pratt Institute campus in Brooklyn, it takes up about 25 acres and includes more than 70 sculptures!
These pieces belong to many emerging artists as well as staff and students of Pratt! The pieces are often complex but can be related to things such as history, society, politics, education, and much more.
Although we can't break down all the sculptures for you here, there is a brochure you can follow while you're on your tour. The brochure will tell you who the artist is and what year the piece is from!
This is a can't miss spot when visiting Fort Greene in Brooklyn!
Fort Greene Park Greenmarket
Right outside Fort Greene Park, the Greenmarket is one of the best things to do in Fort Greene during the weekend. Every Saturday, this farmers market helps Brooklynites get farm-fresh goods each week while enjoying live music and even some cooking demonstrations.
This Greenmarket event is every Saturday on Dekalb Avenue from 8 AM-4 PM all year round!
Food on Dekalb Avenue
I spend more time on Dekalb Avenue than the average New Yorker and I can tell you that one of the best things to do in Fort Greene is checking out this awesome foodie scene. Here are some of my favorites on Dekalb Ave!
Miss Ada – This popular foodie spot and one of the best restaurants in Fort Greene that has had several Michelin nods and serves up delicious Middle Eastern cuisine.
Café Paulette— If wine is your thing, then this is your place. You'll love how homey this classic French restaurant is. This will be the perfect spot for a romantic dinner after a day around Fort Greene in Brooklyn.
Dino – This neighborhood Italian joint is especially wonderful on a gorgeous day so you can enjoy their back patio, great for weekend brunch or dinner.
Walter's— Walter's is a swanky dine in spot serving a wide variety of great American eats and awesome drinks.
Bittersweet— You'll definitely need a pick-me-up after a day exploring Fort Greene in Brooklyn. Bittersweet is an awesome coffee shop to grab a cup of joe and a sandwich or pastry during your trip!
Sushi D— We love the diversity of food options around Fort Greene in Brooklyn and we know a lot of people love sushi, so check out Sushi D! Grab some bubble tea and your favorite roll at this awesome Japanese restaurant!
Evelina— Evelina is a Mediterranean-Italian spot serving great appetizers, entrees, pastas, sandwiches & more! Make sure to check out their long list of beers, wines, and cocktails!
Imani Caribbean Kitchen & Bar— Get a taste of The Caribbean Island right here in Fort Greene! If you're looking to spice up your trip, Imani is the perfect place. Not to mention, one of the best spots for brunch in Fort Greene.
The Great Georgiana – This bistro and cool hang out is the perfect spot to grab one of their signature cocktails and light bites.
Habana Outpost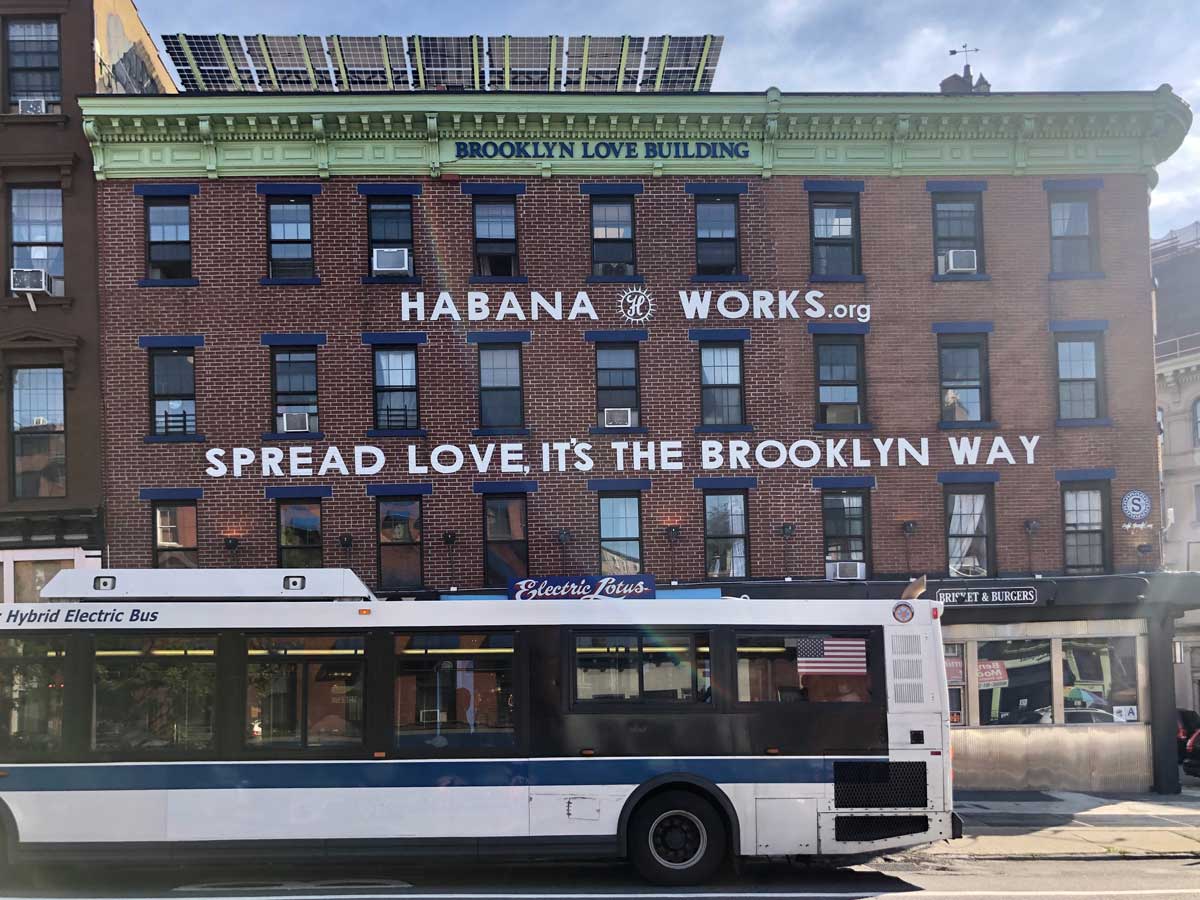 Habana Outpost is a popular spot on a beautiful day in Brooklyn considering the awesome outdoor seating area, it's also one of my personal favorite picks for best places to eat in Brooklyn.
But even on the gloomy days, the crowds still roll in because of the excellent food.
Habana Outpost prides itself on their delicious traditional Mexican and Cuban cuisine as well as providing a family-friendly environment.
This is also one of the greatest things to do in Fort Greene because Habana Outpost is open as late as 12 AM, which makes for a perfect late night snack after spending your day around Fort Greene in Brooklyn.
German Beer Gardens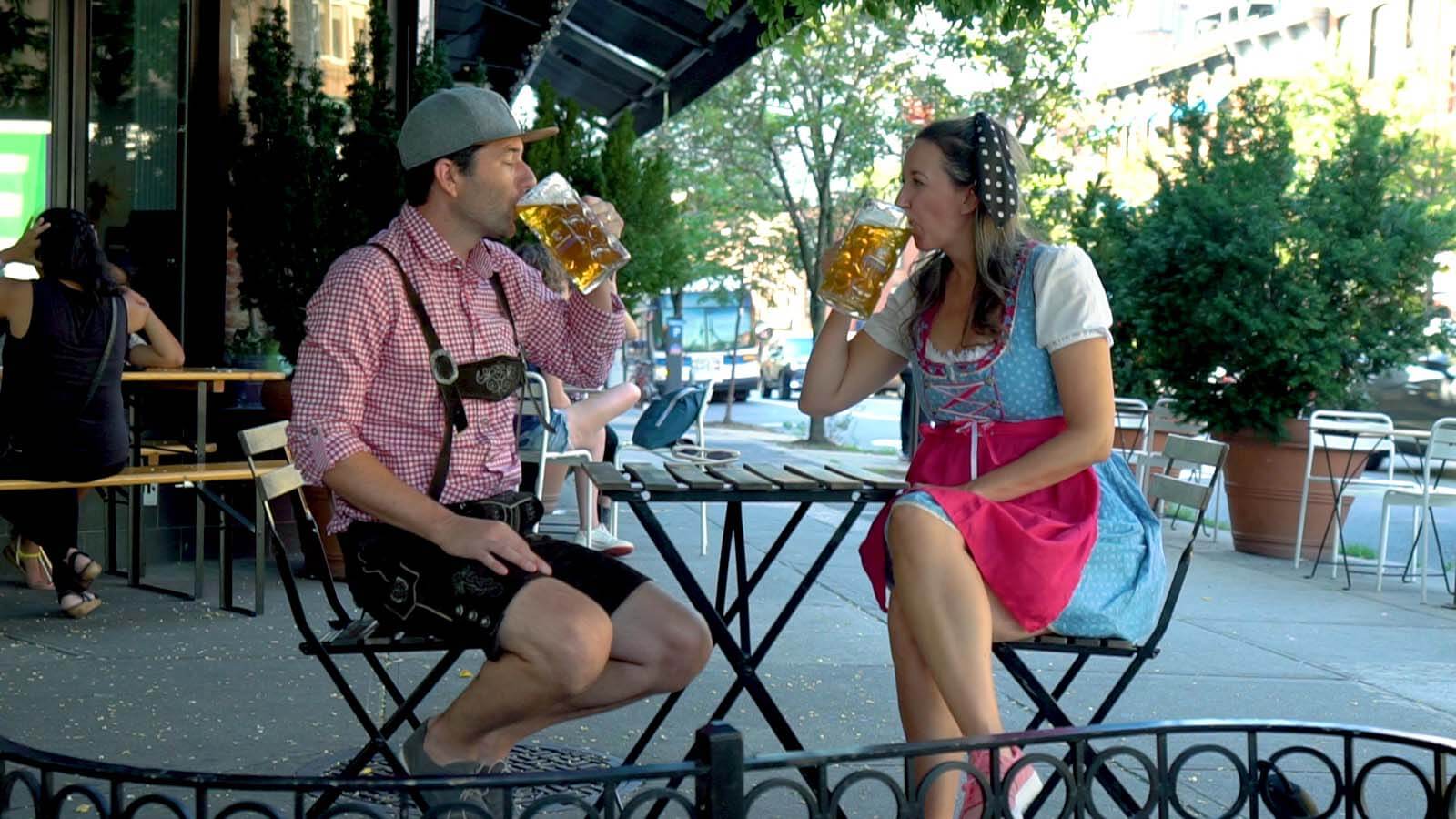 Believe it or not, Fort Greene has not one but two German beer gardens and establishments to check out just steps away from one another! The first is DSK Brooklyn – Die Stammkneipe which feels like one of the most authentic German spots in the city.
We highly recommend ordering a bratwurst on their pretzel bun with sauerkraut as its heavenly paired with one of their German brews! If you're extra thirsty get the liter and you'll feel like you're at Oktoberfest!
The other spot is Black Forest Brooklyn which is a very popular and fun spot to drink and dine at! This is the bigger and more well known location, their other location on Smith Street in Boerum Hill/Carroll Garden.
Enjoy their German beer hall vibe in this cool hang out spot! We especially love the portrait paintings they have hanging on the walls!
We recommend getting the sausage plate for an authentic German experience paired with a beer, if you're thirsty opt for the 2 liter Das Boot!
Be sure to check out our entire German beer garden in Brooklyn crawl if you want to explore all the best German spots!
Gotham Market at The Ashland
If you're into food halls where you have a few options all under one roof, check out Gotham Market located at The Ashland, a new(er) development located in Fort Greene, Brooklyn.
The Gotham Market is a great place to grab a casual drink or hang out with your friends. It has a really relaxed vibe, which allows customers to play a game of pool, watch a game, or enjoy a weekend brunch. Food and drink-wise, this is one of the best things to do in Fort Greene, especially if you didn't get into one of your first picks of restaurants in the neighborhood or don't want to plan in advance where to eat (many of the hottest spots require a reservation unless you're feeling lucky!).
Head Sounds Records
Another awesome thing to do in Fort Greene if you're into vinyl collecting is stopping at Head Sounds Records on Portland Ave. This half old school barbershop and half record store in Brooklyn has a carefully curated selection of used vinyl records organized by genre including jazz, funk, soul, disco, Latin, Caribbean, tropical, African, Brazilian, psych, blues, and more.
Don't be fooled by the small space, their selection is quite impressive. And if you need a haircut, you can kill two birds with one stone!
What to do Nearby Fort Greene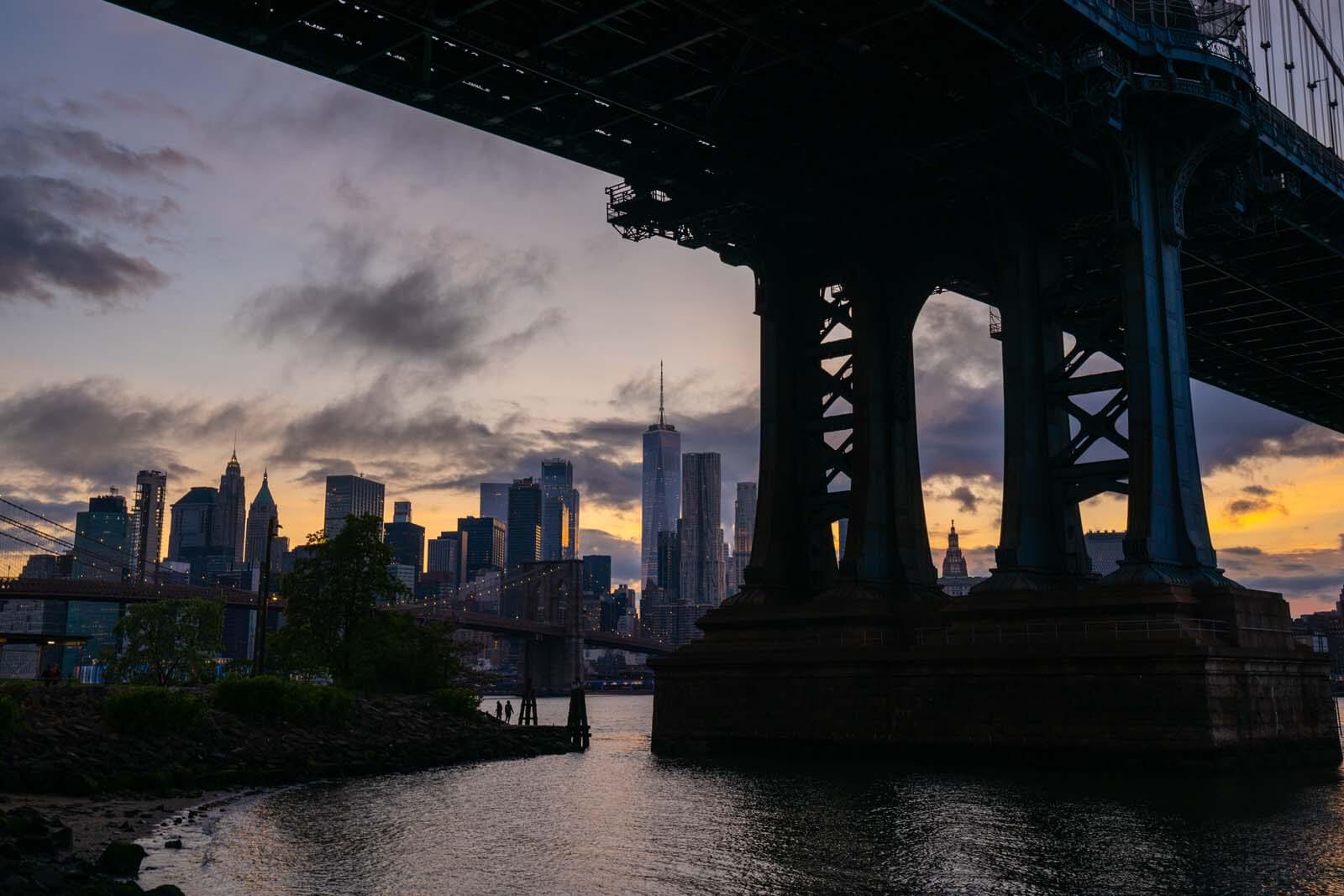 Dekalb Market— Home to the largest market hall in NYC, you won't want to miss the Dekalb Market. This food hall has 40 vendors covering a wide variety of tastes and cultures.
DUMBO— The possibilities in DUMBO are endless! From the amazing food scene to shopping, to hanging out in the park, DUMBO has it all. For more on what to do in this popular Brooklyn neighborhood, check out our complete guide to the best things to do in DUMBO!
New York Transit Museum— Located in Downtown Brooklyn, this Transit Museum occupies a decommissioned subway station and tickets are only $10! Check out all the history that went into making New York's mass transportation system!
Barclays Center— Just a short walk from Fort Greene in Brooklyn, the Barclays Center is home to the Brooklyn Nets and the New York Islanders. Catch a game or one of the many other events they have going on here all year long!
Junior's Restaurant— A trip to New York isn't complete until you've had a slice of Junior's cheesecake. Junior's has been serving Brooklyn for breakfast, lunch, and dinner since 1950.
Prospect Heights – If you're looking for more great options for where to eat, there are some great options for things to do in Prospect Heights when it comes to dining and drinking options as well as dessert shops!
Getting Around Fort Greene
We love the accessibility of Fort Greene in Brooklyn.
While planning things to do in Fort Greene, no need to worry about how to get there. This area is served by all the main subway lines needed to survive a day in NYC.
Here are all the stations and trains you could use when getting to Fort Greene in Brooklyn:
Dekalb Avenue— B, D, N, Q, & R trains
Lafayette Avenue— A & C trains
Fulton Street— G train
Atlantic Avenue— 2, 3, 4, 5, B, D, N, Q, & R trains
While this neighborhood is completely walkable, you can also opt to rent a Citibike to explore the neighborhood or get to/from Fort Greene! You can download the app to see where all the docking stations are.
Where to Stay in Fort Greene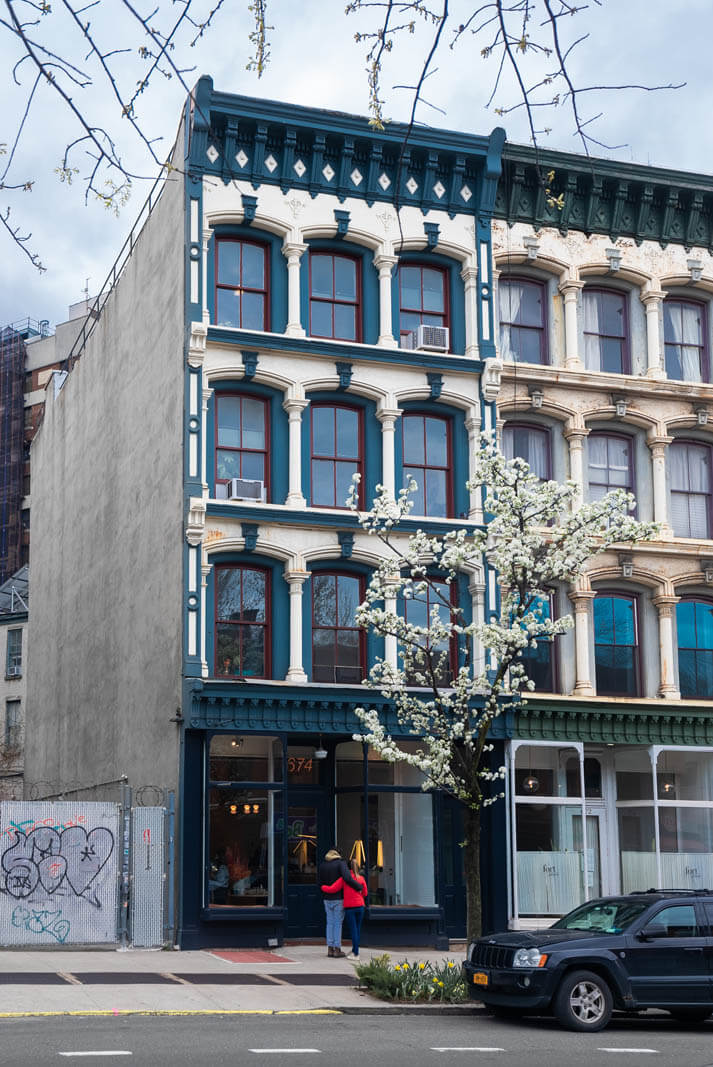 If you're looking for where to stay in Brooklyn during your visit, read our full guide or enjoy one of these amazing options below.
Aloft— This three-star hotel is located in Downtown Brooklyn on Duffield St but is less than a one mile walk away from Fort Greene in Brooklyn, and less than a 2-minute walk to Hoyt Street Subway Station.
Stay comfortable in their chic, standard hotel rooms equipped with work stations with ergonomic chairs for business travelers or anyone who needs to work on their trip. This hotel also offers a fitness center, an indoor pool, a bar and lounge, coffee shops, and is pet friendly!
Book Now on Booking.com | Compare Prices for Later on Hotels.com | See Rates on Expedia.com
Sheraton Hotel Brooklyn— Also located on Duffield St, this Sheraton property is a 4-star hotel and includes spa services, a Mexican American restaurant, rooftop bar and lounge with views of downtown, indoor pool, a coffee shop, fitness centers, a pool, to name a few of the amenities on site.
The hotel is conveniently located less than a 2-minute walk from Hoyt Street Subway Station making it easy to get around the city as well as around a 15-minute walk to Barclay's Center.
The rooms are modern and offer work areas with ergonomic chairs for our business travelers. You can upgrade to a suite with a separate living room area and club room upgrades provide access to the lounge and complimentary breakfast, day snacks, and evening appetizers.
Book Now on Booking.com | Compare Prices for Later on Hotels.com | See Rates on Expedia.com
You can also find some awesome Airbnb spots around Fort Greene in Brooklyn! Be sure to also check our guide to the coolest Airbnbs in Brooklyn for more great locations.
Cozy Fort Greene Apartment with Garden- If you're looking for a more homey vibe, check out this studio garden apartment in Fort Greene, just a short walk to Downtown Brooklyn.
This listing is located in a Victorian townhouse and is hidden away in Fort Greene. It's great for a couple or even if you're traveling alone and looking for a nice space with a garden. Visitors are welcome to enjoy the backyard garden as well. Book on Airbnb.
Gorgeous Brownstone 2 Bedroom Apartment- This beautiful private 2 bedroom apartment in a historic brownstone on a quiet tree-lined street is the perfect place to stay in Brooklyn in Fort Greene right next to Downtown Brooklyn.
This apartment can sleep up to 5 people in the top floor of this 4 story building. Please be aware that you will have to walk up 3 flights of stairs to stay at this apartment in this historic, pre-war building. Book on Airbnb.
---
Liked this post on all the best things to do in Fort Greene in Brooklyn? Bookmark for later or share the love below on Pinterest.