Check out all the best things to do in Greenpoint, Brooklyn, the borough's northernmost neighborhood along the East River offering great options for nightlife, shopping, dining, and waterfront views of that famous NYC city skyline.
This once industrial and heavily farmed land neighborhood is known for its large Polish community and has a reputation of being a working-class and immigrant neighborhood historically and attracted families and workers because of the number of industrial jobs available.
While the rent prices in this neighborhood are steadily rising and getting harder and harder for the working class to live in with gentrification, you can still see alot of influences from the Polish immigrant and Polish-American communities who have historically lived here.
As you're exploring the best things to do in Greenpoint, Brooklyn, also known as "Little Poland," you will notice there are many options for Polish eateries and restaurants as well as businesses.
But first, where is Greenpoint, Brooklyn?
For the purposes of this guide to the best things to do in Greenpoint, we are going to give the neighborhood boundaries as it can get sort of tricky if you're not familiar with the area.
As mentioned before, Greenpoint is Brooklyn's northernmost neighborhood along the East River looking at Manhattan.
The neighborhood of Greenpoint is bordered on the southwest by the popular neighborhood of Williamsburg at Bushwick Inlet Park and McCarren Park, two of the best parks in Brooklyn.
The southeast border of Greenpoint runs by the BQE (Brooklyn Queens Expressway) and East Williamsburg.
The northern border of Greenpoint is Newtown Creek and Long Island City in Queens, the neighboring borough.
The west boundary is the East River facing Manhattan.
There are two main subway stations in Greenpoint that service the G train. Note that many of the trains in the city have different schedules on the weekends and weekdays.
These are the nearest subway stations to Greenpoint, Brooklyn:
Nassau Avenue Station (G line)
Greenpoint Avenue Station (G line)
There is also the Greenpoint Ferry Terminal, you can find the schedule here.
Table of Contents
What to do in Greenpoint
Vintage Shopping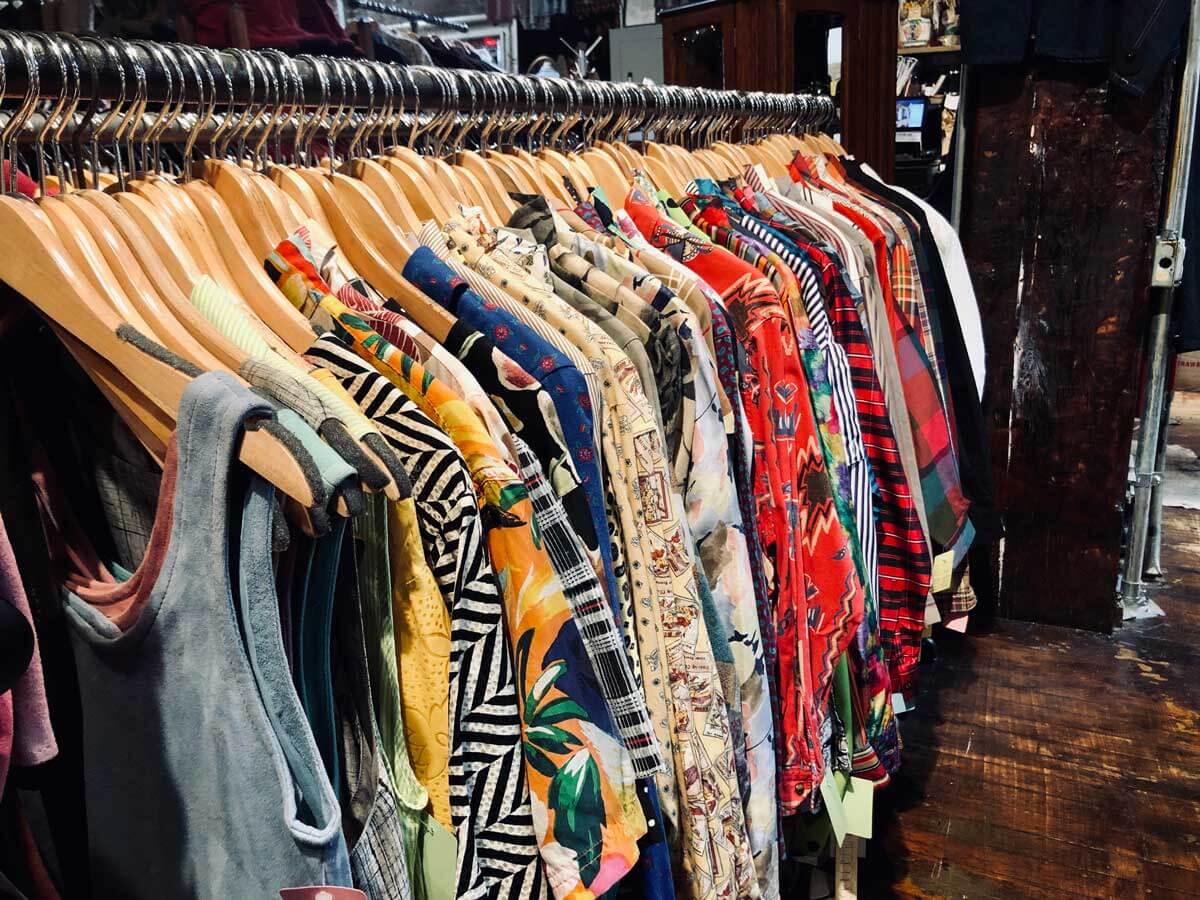 This is what to do in Greenpoint if you love searching for your next vintage find and thrifting! From high-end second-hand resellers, buy/sell/trade clothing stores, to awesome thrift shops, Greenpoint has them all and is a vintage shoppers paradise and where you can find some of the best Brooklyn vintage shops.
Some of the most popular spots to grab some awesome second-hand or vintage items include Dusty Rose Vintage on Manhattan Avenue, Mirth Vintage on Manhattan Avenue, the flagship location of popular sell/buy/trade clothing store Beacon's Closet on Guernsey Street, and Feng Sway on Dobbin Street.
There are also two Awoke Vintage locations in Greenpoint, pretty close to one another too that are worth checking out!
Be sure to check out our full guide to Greenpoint vintage shopping if this is your jam!
Shopping
Besides vintage shopping, there are tons of other great Brooklyn boutiques to check out here in the neighborhood. One of my favorite things to do in Greenpoint is browse all of the cool independent shops whether I'm looking for a one-of-a-kind gift to bring home for myself or shop for a friend.
A few of my favorites include Line & Label on Manhattan Ave which offers women's clothing, jewelry, and accessories as well as home furnishings and gifts.
Burson and Reynold's on Manhattan Ave have all kinds of fun gifts during the holidays to artsy greeting cards, home furnishings, and other fun gifts making it an easy one-stop shop if you're looking for the perfect gift for someone.
Tend Greenpoint offers cool gifts and items for those with a green thumb. Browse and shop at this locally owned garden, supplies, and plant store on Franklin St.
Art Galleries
Easily one of the best things to do in Greenpoint is explore the art scene here through small curated galleries throughout the neighborhood, some of the best indie art galleries in Brooklyn can be found here.
Here are a few of our favorites and worth mentioning!
Limitless AI is an immersive 360 experience that brings stunning visuals that allow viewers to travel through space, time, and the minds of geniuses! This 60 minute experience is not to be missed. Get your Limitless AI tickets in advance.
Greenpoint Terminal Gallery is a cool space located in the former and historic American Manufacturing Corp. rope factory building on the East River waterfront. The gallery is run by artists and featuring the works of different contemporary artists across all mediums.
Calico Brooklyn is small gallery featuring a curated lineup of local artists as well as other artists from the US with a focus on artist-made goods and small works.
The Greenpoint Gallery is another great art gallery and one of the best things to do in Greenpoint if you're a lover of arts & culture. This gallery has been around since 2004 and offers emerging artists programs and educational classes as well as exhibition space. This is a space where you can learn, get hands-on with their lectures and classes, or just come and view the gallery of artists whose work is on display.
Drinking Scene & Nightlife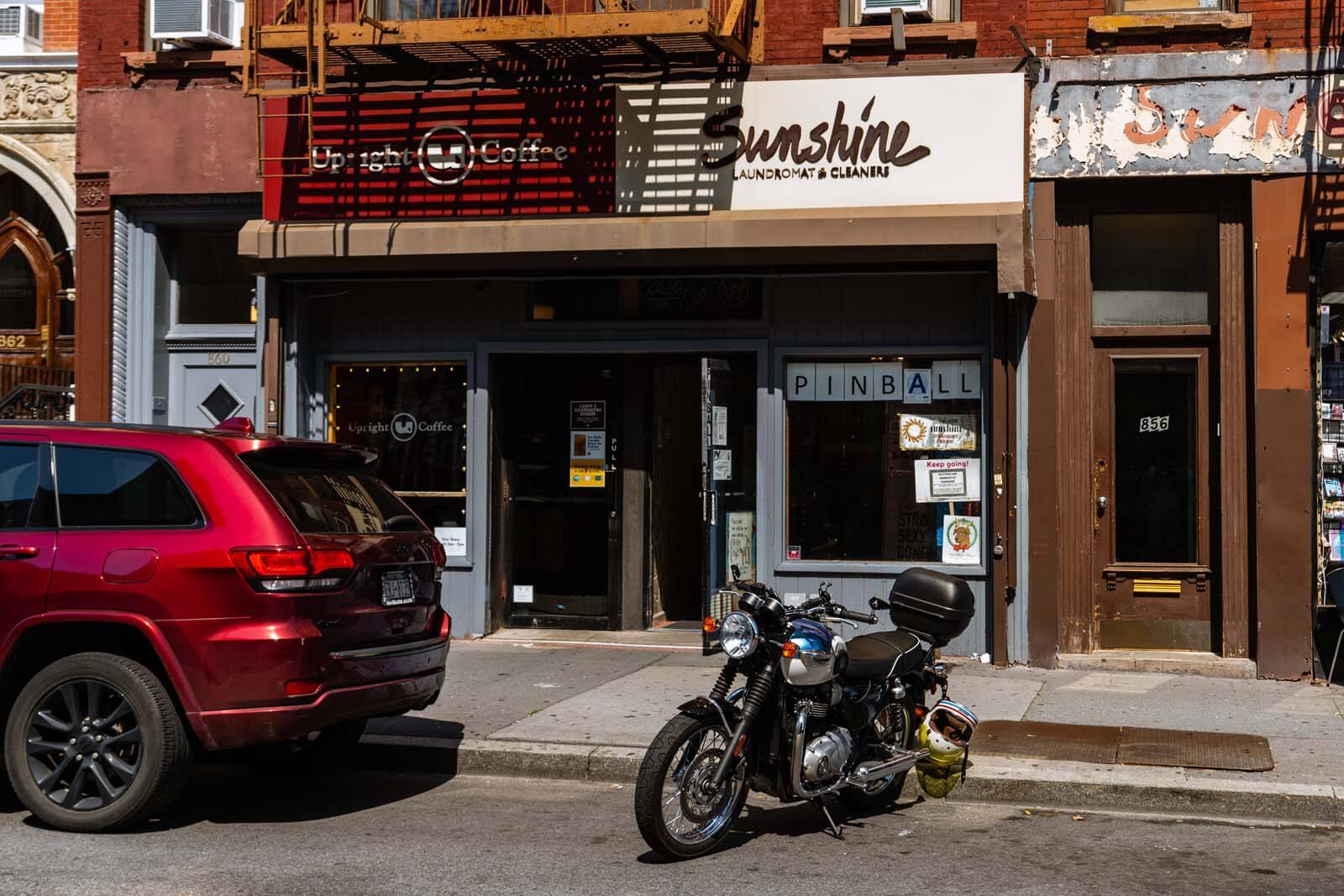 Easily one of the best things this neighborhood is getting known for is its great drinking and nightlife scene. Whether you're going out for an afternoon casual beer or a full night out on the town, visiting one of these bars, breweries, and fun hang out spots for a drink is one of the best things to do in Greenpoint, Brooklyn.
Here are some of our favorite picks for places to get a drink.
Sunshine Laundromat
Want to impress your friends with one of the coolest and unique things to do in Greenpoint and one of our picks for best things to do in Brooklyn? This under the radar pinball arcade/museum and bar is hidden in plain sight in a laundromat! You could easily walk past this unassuming laundromat and never know that there's a treasure inside!
With different beers on draft, you can drink and play in the back at this cool hangout spot and bar. Heck, you can even do laundry while you play and drink!
To find the bar and pinball arcade just go to the back of the laundromat! Your friends will think you've gone crazy until you reveal the most fun hidden fun zone in the back. Plus if you have laundry to do, this is the perfect opportunity to get some chores done and have fun!
See more of our favorite secret bars in NYC including some great speakeasies and more great bars in Greenpoint!
Threes Brewing
One of the best things to do in Greenpoint for beer lovers is check out the different Brooklyn breweries located right here in this neighborhood. This is the second location in Brooklyn, their other being in Gowanus.
Threes Brewing also offers a full bar in case you're trying to find a place that might also be suitable for non-beer drinkers or someone looking for a cocktail.
This brewery is known for its quality lagers and pilsners, those perfect day drinking beers as well as having a great, well-rounded offering of IPAs.
Keg & Lantern
One of our favorite stops for some good brews and bar food is at Keg & Lantern, a bar and microbrewery serving up their own impressive list of draft beer.
If you're looking for a more traditional sports bar setting paired along with some delicious Brooklyn craft brews, Keg & Lantern is the perfect place for you!
This is the perfect place for beer and sports fans to mingle and hang out while pairing your craft brew with bar grub like chicken wings while watching your favorite sporting event on the tv. We love their Sunday special, which is a pitcher of any of their house beers with a big plate of shareable nachos for a bargain of a price.
They also have special happy hour deals making their craft brews a steal of a deal on weeknights.
Greenpoint Beer & Ale Co.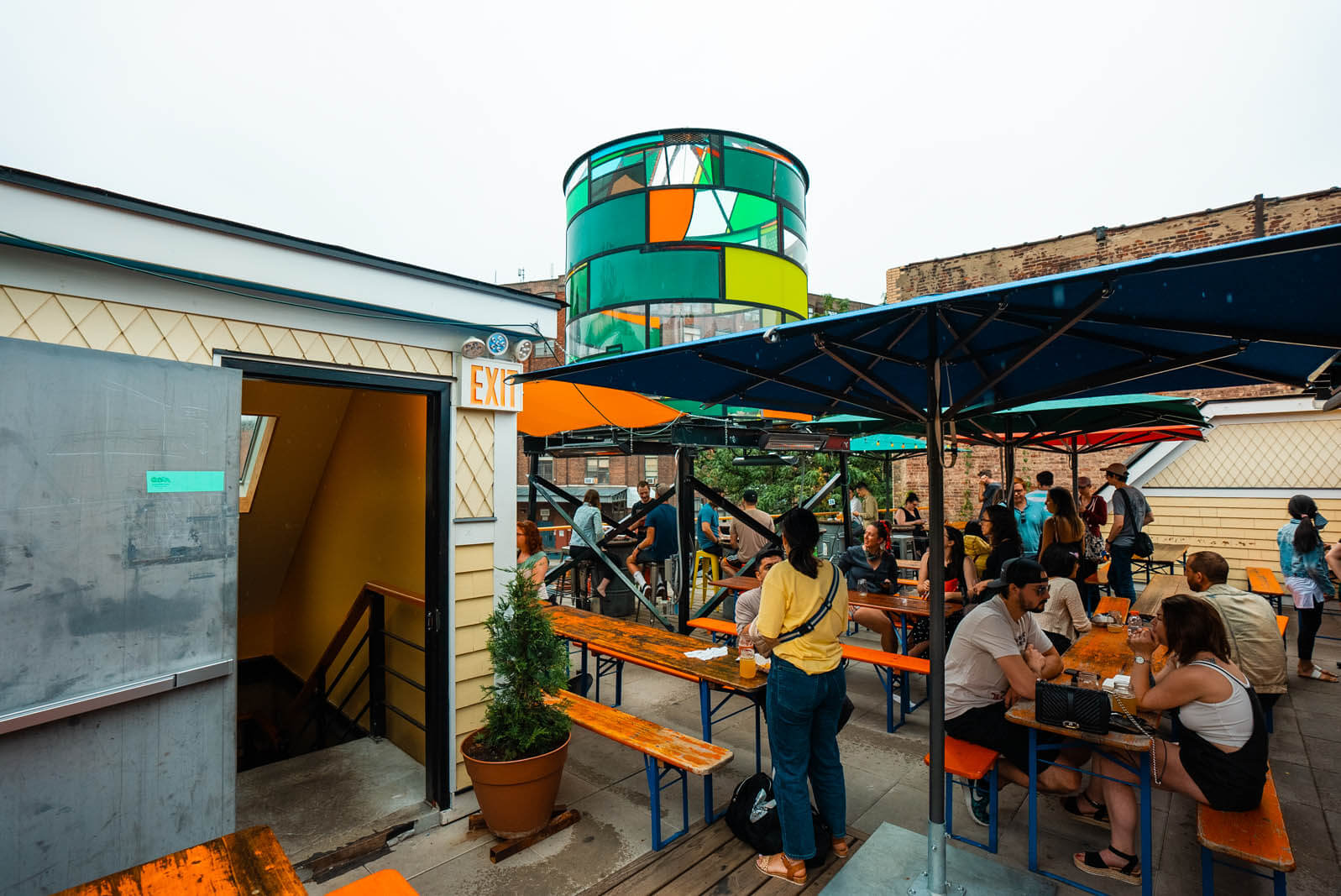 Another one of the best places for a drink and things to do in Greenpoint if you love beer is Greenpoint Beer & Ale Co. located close to Queens but still on the Brooklyn side!
This is a German-style brewpub that serves up pub grub like soft pretzels, sausages, and burgers paired with their brews on draft from pilsners to ales. Because of the German-inspired fare and bar, you can get some great German-style beers and Central European style brews to drink here.
Tørst
One of our favorite places to grab a drink and best thing to do in Greenpoint is enjoying the hip and trendy scene at Tørst. Attracting beer connoisseurs, Danish-inspired taproom with 21 rotating taps and a daily food menu.
If you're not with the biggest beer drinker, no worries there are also craft cocktails and a selection of wines here as well.
This has become the 'it' spot to hang out in Greenpoint as the Nordic feeling interior feels like you're across the pond.
Brooklyn Barge
One of the best seasonal things to do in Greenpoint, Brooklyn, and an awesome place to grab a drink is at the Brooklyn Barge. This floating cocktail bar and grill on the East River is in the outdoors, so its seasonal and best enjoyed on a comfortable weather day!
They have a drink selection from their bar as well as food and snacks you can order while enjoying the fun atmosphere and view of the NYC city skyline.
Since this isn't open all year long, be sure to check before your visit to make sure they are open as they do close during wet weather as well even in the summer as the bar is completely exposed and outside.
21 Greenpoint
Another awesome spot to grab a drink and worth mentioning as a great thing to do in Greenpoint is 21 Greenpoint. While they have a full American-fare menu, we find this to be a fun drinking spot too. Order something to share or check out their burgers, pizza, and other American staples they feature on their menu.
This spot famously had a cameo and appearance by the man and legend himself Bill Murray who jumped behind the bar and helped bartend. Of course, that was a crowd pleaser! We are just sad we missed this ourselves, although there's a chance it could happen again at any moment since Murray's son is the owner of this fun spot.
Spritzenhaus 33
If you're a fan of German Biergartens in Brooklyn then Spritzenhaus 33 is the spot for you! Spritzenhaus 33 is known for its German Pilsners on draft, they usually have a few to choose from of their 25 taps and have even more of a selection in bottles and cans.
Pair one of your brews with one of their build-your-own sausages served on a pretzel bun.
Coast and Valley Wine Bar
There are no shortage of beer spots in the neighborhood, but if you're more of a wine drinker than this is one of the best things to do in Greenpoint for you!
This California-inspired wine bar on Manhattan Ave offers a cozy setting and California wines by the glass or bottle along with small bites.
Foodie Scene
Polish Dining
Coming to this historically Polish neighborhood wouldn't be complete without checking out some of the Polish and Polish-American eateries. One of the best things to do in Greenpoint, Brooklyn is try some of the flavors that have influenced this neighborhood over the years, which also happen to be some of the best places to eat in Greenpoint too! Don't miss the best brunch in Greenpoint either!
Karczma is one of the most famous and popular Polish restaurants in Greenpoint, Brooklyn. The word translates to the tavern and you can find their full Polish menu including kielbasa and what some say are the best pierogies in town in their traditional feeling Polish countryside atmosphere! They also have a hearty winter menu you'll want to check out on a cold day!
Polka Dot is more of a trendier and modern feeling spot that serves up traditional Polish food like house-made pierogies, different flavored Polish pancakes, dumplings, and various meat dishes.
Krolewskie Jadlo is one of the most fun Polish eateries in Greenpoint. Loaded with a full Polish menu, you can enjoy your Old World eats in this medieval feeling setting and explore the flavors of Poland.
Pierozek is another not to be missed Polish dining experience you can have in Greenpoint serving up traditional dishes including incredible pierogies.
Peter Pan Donut and Pastry Shop
One of the best places to visit for a sweet tooth and best things to do in Greenpoint is stop at Peter Pan Donut and Pastry Shop, who serves up some of the best old-fashioned style donuts in Brooklyn and in the city! This magical little spot is a classic and has been around since the 1950s.
Besides getting a classic donut, you can get other bakery staples here from coffee, egg sandwiches, and even egg cream! This is also one of the best Brooklyn bakeries and old-school spots, don't miss their croissant style donuts either!
Also, if you're a fan of hitting up filming locations like we are, Peter Pan Donut Shop is where Zendaya's character MJ works at in the Spiderman: No Way Home film.
Paulie Gee's
One of the most famous restaurants and things to do in Greenpoint is eat at Paulie Gee's pizzeria. Like many of the other most famous pizza spots in Brooklyn, expect there to be long waits for a table here. This is considered one of the best spots in the entire city for Neapolitan style wood-fired pizza.
We love the setting in here, it really has a 60s and 70s theme to it. Luckily, to get a tatse of this famous pizza, you no don't have to wait for a table, you can always grab a slice to go.
Fornino
Speaking of pizza, another great local pizza spot in the neighborhood is Fornino on Manhattan Ave. This popular wood-fired pizza parlor has been cranking out delicious pizza since 2013 in this location.
They also offer gluten-free options and have additional locations at Brooklyn Bridge Park and Time Out Market in DUMBO in case you are exploring around Brooklyn!
Brooklyn Ice Cream Factory
There's something about quality ice cream and this city and New Yorkers aren't messing around with their scoops. Believe it or not, even non-ice cream super fans like myself don't want to miss a scoop of the homemade Brooklyn Ice Cream Factory ice cream.
This classic ice creamery was originally located where an Ample Hills Creamery at Fulton Ferry Landing Pier in DUMBO in an old fireboat house from the 1920s, which that ice cream shop is also one of our picks for best things to do in DUMBO, so check that out too!
The Brooklyn Ice Cream Factory is enjoying its new location here and is one of the best things to do in Greenpoint, especially on a hot day! Taste and sample their homemade hot fudge and old-fashioned ice cream that's freshly made. They keep it simple, there are 8 flavors to try and be warned, their servings are generous.
Davey's Ice Cream
Check out Davey's Ice Cream to fix your sweet tooth cravings! Greenpoint really does have an awesome array of ice cream options and this is one locals rave about. You can find them mentioned in NYC's Best Ice Cream Shops and Best Ice Cream in NYC.
The coolest thing about Davey's is that their ice cream is made entirely on-site! It takes about four days to produce. Talk about homemade!
Not only does Davey's sell ice cream, but they also make ice cream cakes and cater to very special events. Check out more on our best ice cream in Brooklyn guide!
Van Leeuwen
Ok, another awesome thing to do in Greenpoint, Brooklyn if you're a sweet tooth lover and ice cream aficionado! Discover the world of artisan ice cream through Van Leeuwen.
Started in a yellow ice cream truck that used to drive around NYC, this New York creamery makes all their ice cream from scratch here in Greenpoint, Brooklyn which has gained so much popularity that they now sell wholesale, sell on Goldbelly to ship directly to your home, and have opened up shops on the West Coast.
Van Leeuwen serves up original ice cream as well as vegan ice cream for our plant-based friends. Less is more with Van Leeuwen, they use the most basic ingredients to create their perfect ice cream which is chewy and soft.
Taste their signature flavors like honeycomb, brown sugar chunk, salted caramel, earl grey tea, and more as well as their current specials.
El Born
Another popular spot to eat in Greenpoint is the Spanish tapas parlor, El Born. This popular spot is known for their Barcelona-style tapas paired with its selection of wines and cocktails.
Read Next: Most Iconic Brooklyn Food to Try
Cafes
Cafe Grumpy
Easily one of the best things to do in Greenpoint, Brooklyn if you are not only a fan of seriously good coffee but also of the HBO series Girls is head into Cafe Grumpy on Meserole Avenue. This was the spot Ray in the hit TV show worked and ran his cafe and was used many times throughout filming the series.
Honestly, spotting a celebrity here isn't that uncommon either because they are located next to Broadway Stages, a production studio where "Royal Pains," "Blue Bloods" and "The Good Wife" are filmed.
Besides all that fun, Cafe Grumpy serves up great coffee, which is why it's also one of our picks for best coffee shops in Brooklyn, and we love and visit their other locations throughout the city.
Sweetleaf Coffee Roasters
This rustic feeling cafe and micro-roaster is another great spot to stop for a pick me up and an excellent cup of coffee prepared by baristas who know how to handle beans.
The aesthetics alone in here are worth the visit, we recommend trying their Rocket Fuel cold brew that has a little sweetness added from maple syrup! We are huge cold brew fans so this is our go-to!
Homecoming
This is more than just a cafe and one of the best things to do in Greenpoint, Brooklyn if you love flowers and coffee! This coffee shop is also a flower shop and home goods shop! So if you need the perfect gift, flowers, or a little pick me up this is your go-to spot! Plus, it's incredibly charming! Check out our guide for more great Greenpoint cafes to check out!
Urban Greenspaces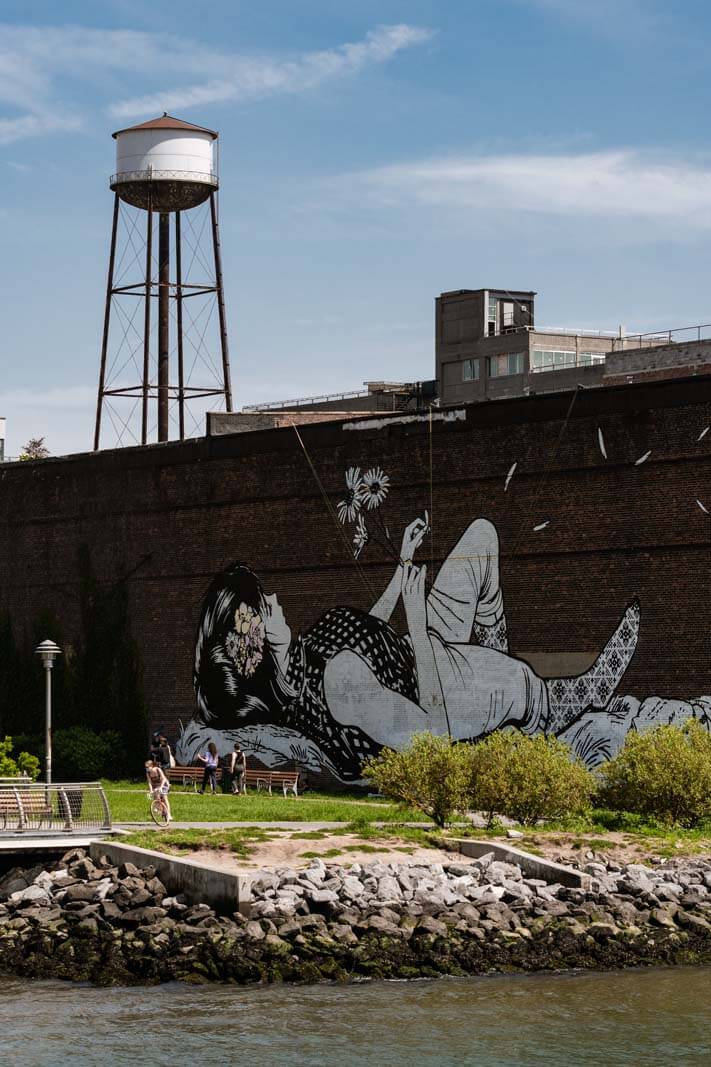 Check out some of the urban green spaces in the neighborhood if you're looking or a place to hang out, exercise, or just get around some fresh oxygen from some trees!
McCarren Park
One of the best things to do in Greenpoint, right on the border with Williamsburg is enjoy the urban greenspace of McCarren Park.
For those who like to play outdoor sports as there's a running track, bocce ball court, handball courts, soccer fields, softball area, volleyball courts, and other areas to play games and sports.
There are also other special events that take place here from kickball leagues to The Renegade Craft Fair where artists and local crafters sell their designs, collections, and other handmade goodies.
McCarren Park also has a really unique historic pool that is open in the summer season. The massive pool went under a hefty restoration after being closed after operating between the years of 1936 – 1984 and reopened in 2012, however, there are mixed reviews of those who enjoy it and those who do not! So do your research before trying this one out to make sure it's something you'll enjoy!
WNYC Transmitter Park
Another great park and thing to do in Greenpoint is visit the WNYC Transmitter Park right on the waterfront of the East River overlooking Manhattan and the city skyline. This is a smaller waterfront park, but still pretty awesome and even on a hot summer day you can usually find a little slice of this paradise for yourself if you're looking for a nice place to picnic, sunbathe, or enjoy the view.
This park was named after the WNYC public radio station that used this section of land for broadcasting, this location became unnecessary because of antennas being placed elsewhere in New Jersey and the World Trade Center.
One of our favorite parts about visiting Transmitter Park is the giant mural along the brick building lining the park. There's also a nice pier to walk out on to get a nice photo of Manhattan and the city skyline too.
Bushwick Inlet Park & Marsha P Johnson Park
While these neighboring parks are technically in Williamsburg, it's so close to the border we wanted to include it as one of our top picks for things to do in Greenpoint if you're looking for a nice green space with another great view of the city.
Bushwick Inlet Park and Marsha P Johnson Park are located on the East River on the Bushwick Inlet, hence the name of the park and offers sweeping views of Manhattan and the city skyline. This offers some prime real estate for a picnic spot in Brooklyn.
This location was used for manufacturing in the mid 19th century and by a few decades later was used for sewage outflow which is surprising as you'd never know that is what this lovely green space was used for in the past.
There are football fields, soccer fields, viewing platforms, lacrosse fields, and a green community center that is powered by solar panels and geothermal heating.
While the park's development isn't completely done, it's exciting to know that it's just going to get better and better with the years of work to come.
Kingsland Wildflower
One of the more unique things to do in Greenpoint, Brooklyn is the unlikely nature conservation center at Kingsland Wildflower. This rooftop garden and green oasis has projects and space to provide natural habitats for wildlife populations.
Overlooking the Newtown Creek Wastewater Treatment Plant's massive digester eggs, this roof on the Broadway Stages film studios is home to a green space that is home to native plants, birds, insects, and other species.
To visit, you can see what upcoming events they have as they typically have hours that are open to the public for enjoying as well as art installations and special programs and even a festival that takes place in the autumn.
Read Next: The Best Instagram Spots in Brooklyn
Word Bookstore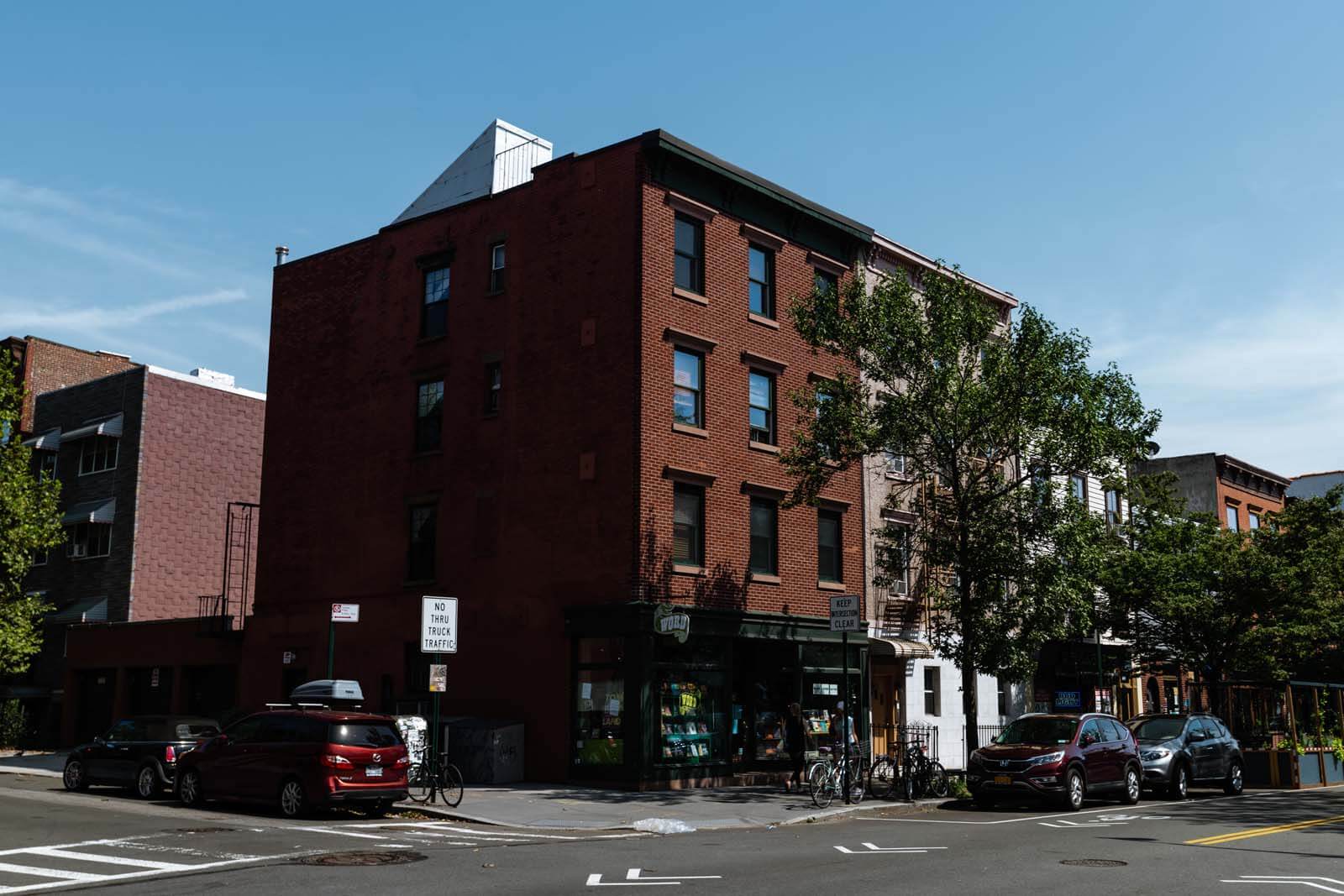 Are you a bookworm? If so, this next thing to do in Greenpoint is for you! Greenpoint is home to one of two locations of Word, the other being in Jersey City. This is one of our favorite independent bookstores in Brooklyn.
Besides being a great bookstore with a great selection of titles, they also host fun events like Drag Queen story hour and other events that often include authors of books or discussions around books.
So if you love cool independent bookshops that have a bit of a unique community offering and staff who are ready to give you personalized recommendations, add this to your Greenpoint itinerary!
FEROX Athletics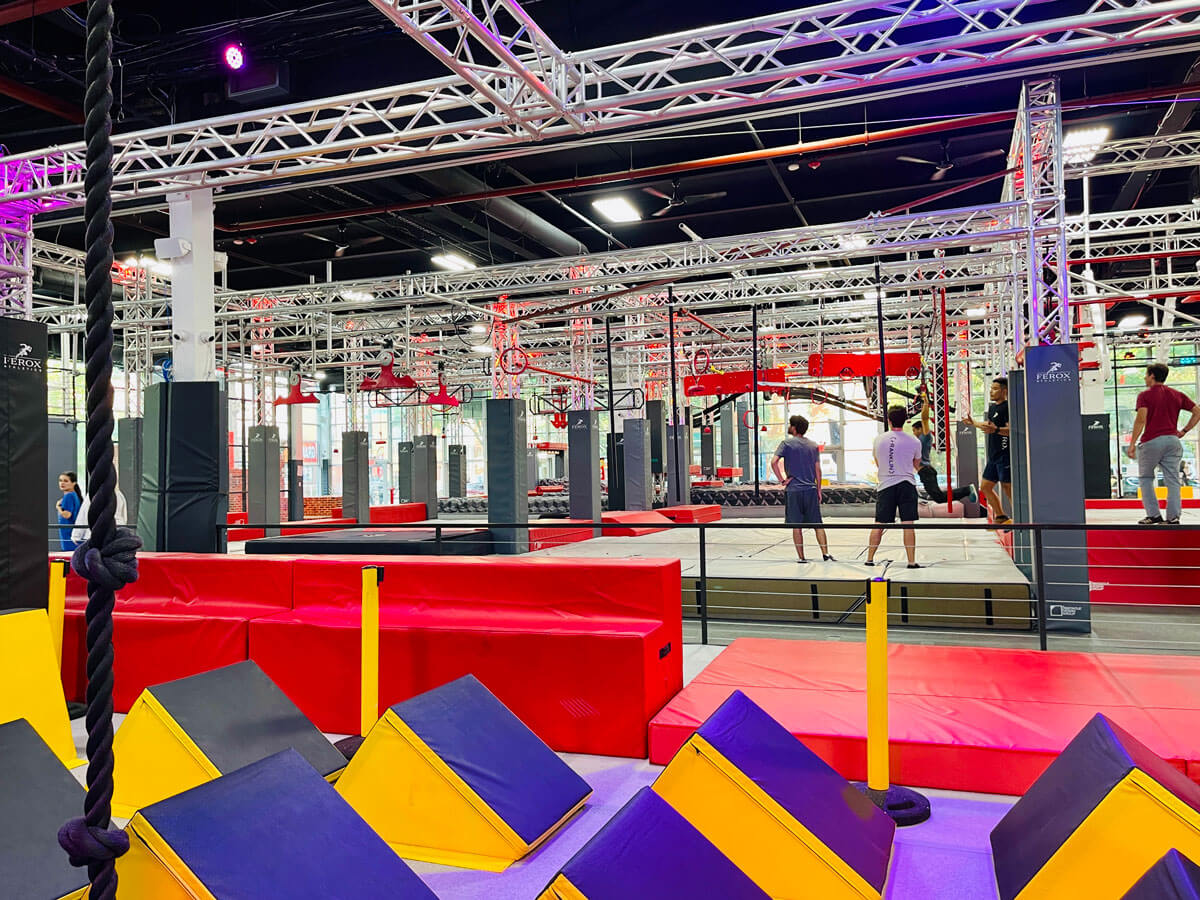 If you're looking to get active and have fun, check out FEROX Athletics, the largest ninja warrior gym on the East Coast! Jump on trampolines, try parkour, lift weights, or try your hand at any of the ninja warrior courses.
They offer classes for both adults and kids if you want to learn how to do tricks properly. You can also just try things out as you're there with a day pass or if you find yourself loving it here you can get one of their memberships.
They also have snacks for sale and and outdoor area too!
Film Noir Cinema
We absolutely love independent cinemas and lucky for us Brooklyn has a few including this awesome pick for one of the best things to do in Greenpoint.
Film Noir Cinema is a video store that rents out films and movies and also does regular showings of rare movies. The owner, a Polish-American has extensive knowledge of foreign films and is famous for his curated collection of arthouse films that are often out-of-print or rare that make hs offering very unique for cinephiles.
You get two experiences here, not only is the first part of the store a video rental store of uncommon finds that you can't even find online, but the back of the store has a small cinema for intimate viewings that can hold a few dozen people.
Be sure to check out their events/screenings during your visit!
Greenpoint Terminal Market
One of the best things to do in Greenpoint in the summer months is enjoy the outdoor market on the weekends inviting small vendors from antiques and vintage clothing to homemade goods, an outdoor rollerskating rink, food trucks and more at Greenpoint Terminal Market!
Located on Greenpoint's waterfront, you can eat, shop, and play all with the gorgeous Manhattan city skyline as your backdrop.
You can find the market and its 100 vendors and food trucks on Saturdays and Sundays from 10 am to 5 pm.
Skyline Drive-In NYC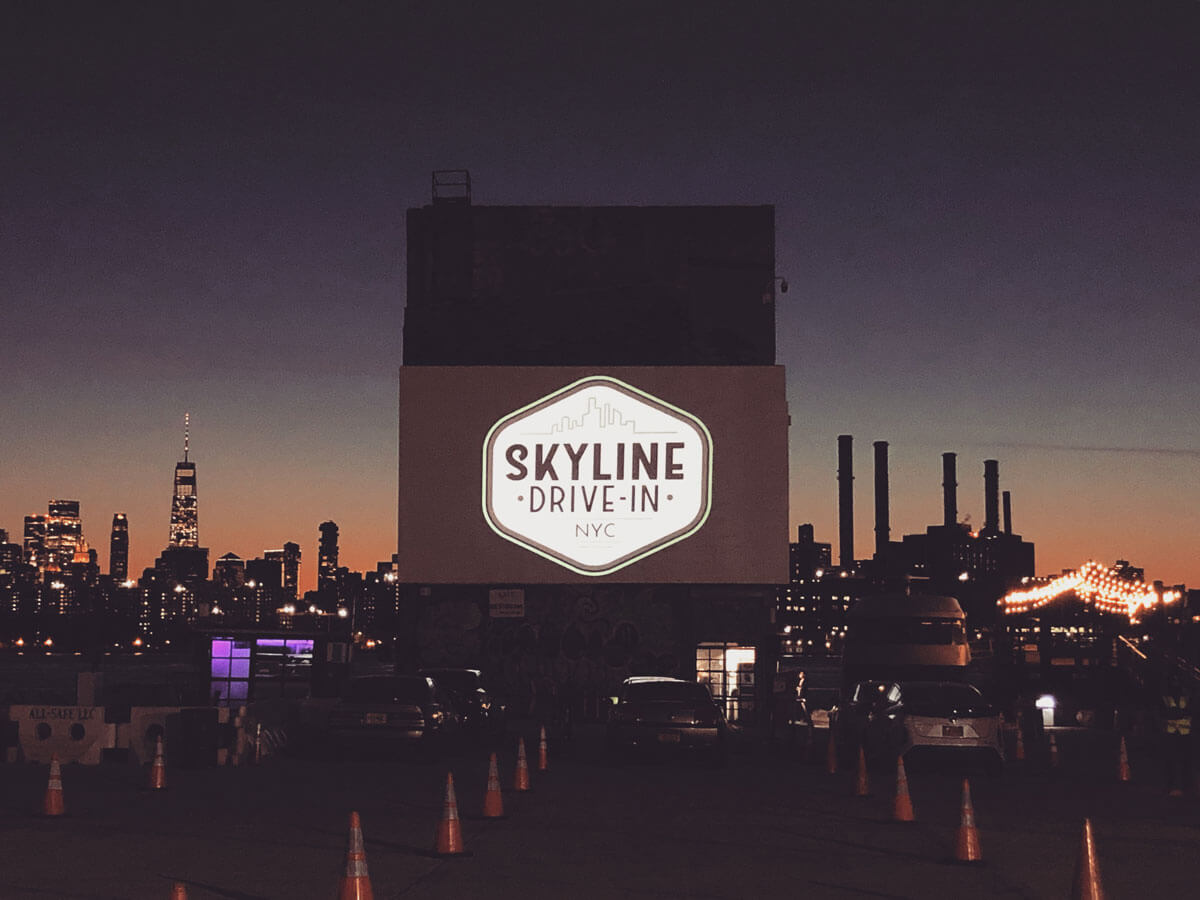 Easily one of the best things to do in Greenpoint if you have a car is head to Skyline Drive-In NYC at 1 Oak Street right on the East River waterfront with Manhattan skyline views!
This has to be one of the most unique movie experiences in the city and is the only drive-in theater with views of the famous NYC skyline as you watch your movie! There are concessions and everything available too.
Don't have a car? Don't worry, they do offer outdoor seating area for walk up customers too! To see their current screenings and to buy their tickets visit their website.
Rock Climbing
Looking for something adventurous to do in Greenpoint? There are not one but two different rock climbing spots in the neighborhood to check out!
GP81 is a rock climbing gym with over 7,000 sq feet of rock climbing walls! Visitors can buy guest passes, day passes, or save money if you want to visit frequently by getting a membership.
If you're looking for another cool rock climbing spot with VIEWS, that's right there are views, check out Vital Climbing Gym on the edge of Greenpoint and Williamsburg. This spot has the most colorful and cool rock climbing space I've ever seen.
Besides offering memberships and day passes, you can rock climb or check out any of their classes from yoga to aerial classes, to how to rock climb if you're a beginner.
They have indoor and outdoor facilities, I highly recommend checking out the outdoor section in nice weather as you have a backdrop of the NYC skyline while you climb.
Neighboring Greenpoint is the popular neighborhood of Williamsburg where you can find trendy restaurants, shops, cafes, and things to do as well as a gorgeous waterfront on the East River with great views of Manhattan.
This is the epicenter of hipster culture in Brooklyn and since gentrification has become one of the most expensive and highly coveted neighborhoods to live in the city as well as a popular place to visit because there is alot going on here.
Check out our guide on all the best things to do in Williamsburg for more ideas as well as our Williamsburg street art guide if you want to explore more incredible murals or how to walk across the Williamsburg Bridge for those looking to adventure over to Manhattan!
Plus, you will want to check out the best Williamsburg rooftop bars and restaurants, they offer stunning views!
Getting Around Greenpoint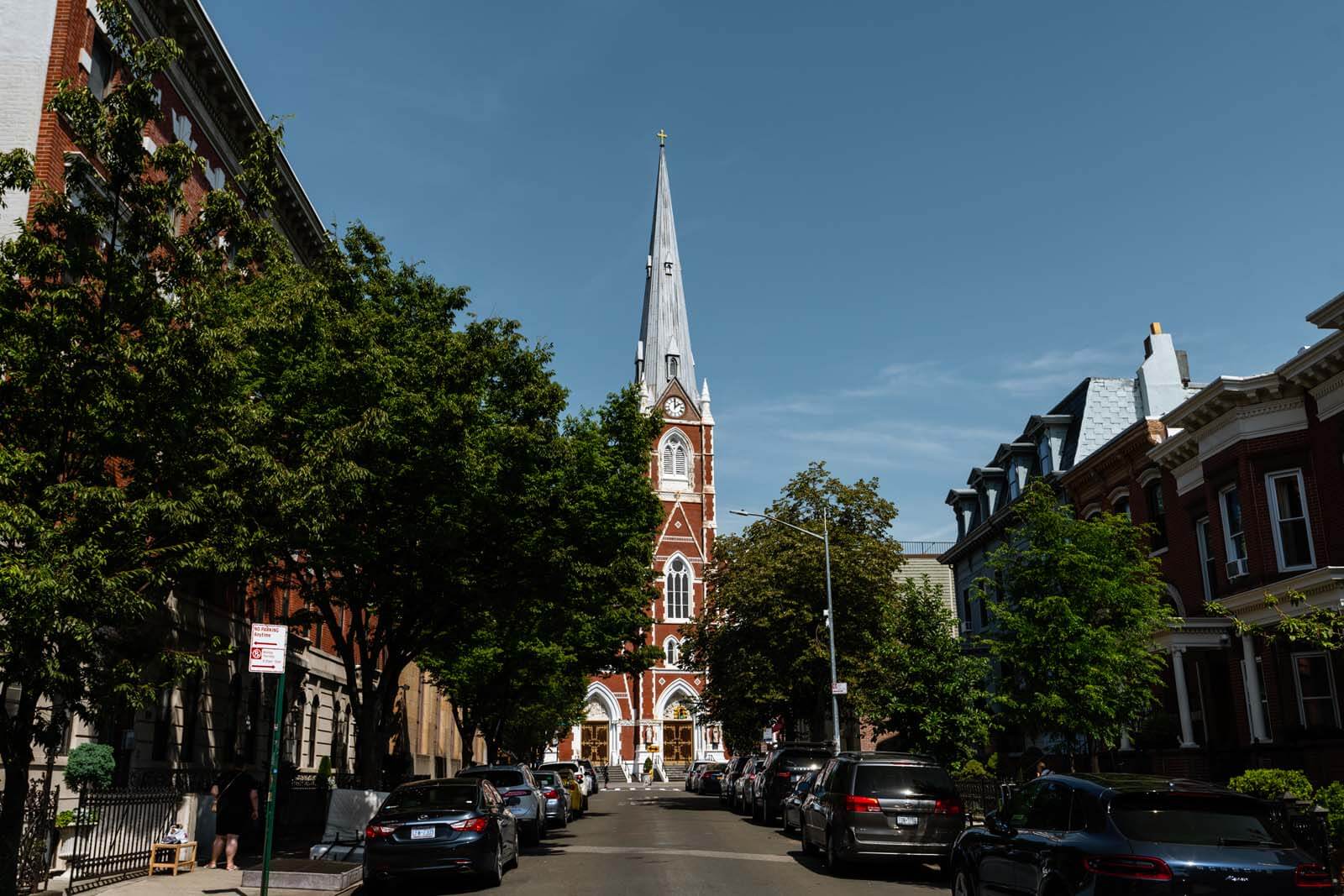 Getting around to all the best things in Greenpoint couldn't be easier. Pretty much all there is to do in Greenpoint is a walkable distance, but if you want to cover a lot of ground we recommend using the Citi Bike app to rent bicycles or to get around, or just walk!
Citi Bike is just as easy, simply download the app and enter your details. Then on the map in the app you can find your nearest docking station. For single rides, you get the bike for 30 minutes, for a day pass or annual pass holders you get the bike for 45 minutes before having to redock.
There are now electric Citibikes too, these are great if you're looking for some extra help when you're pedaling but be aware that you should test the brakes and get comfortable with them before taking off and that these cost a little more than the regular bikes.
When you're done, check the app for the nearest docking station with openings and return your bike.
The subway is another option and there are two stations that service the perimeter of the area.
Nassau Avenue Station (G line)
Greenpoint Avenue Station (G line)
Where to Stay in Greenpoint
Be sure to read our entire guide on where to stay in Brooklyn by neighborhood and budget to help you plan your trip or select one of these amazing options in Greenpoint below.
HENRY NORMAN HOTEL
This cool hotel is a great choice for where to stay while exploring all the best things to do in Greenpoint, Brooklyn. This unique hotel is located in a former warehouse from the 19th century and has a really fun interior.
Each of the rooms is designed with eclectic decor and unique furnishings all with that modern industrial look. Upgraded rooms offer sitting areas, kitchens, extra bedrooms, and even roof decks for an amazing view and place to relax outdoors.
The hotel also offers a fitness center and sauna. You're just a 15-minute walk to McCarren Park and a 10-minute walk to the nearest subway station.
One of the best parts about staying here is that its a very quiet area, so getting rest in the big city is pretty easy.
Book Now on Booking.com| Compare Prices for Later on Hotels.com | See Rates on Expedia.com
THE BOX HOUSE HOTEL
Another cool boutique hotel and option for where to stay while exploring the best things to do in Greenpoint is The Box House Hotel located in a quiet area of the neighborhood in a converted former factory building conveniently located next to the Pulaski Bridge that connects Greenpoint, Brooklyn to Long Island City, Queens.
Each of the rooms are uniquely decorated with works by local artists in each of the rooms. We love that each room is different and has its own flair and characteristics about each one. Better yet, you can get a room with a balcony offering great views.
There are also larger room options that are 1 to 2 bedroom apartments fully equipped with their own kitchens, living rooms, and sitting areas, as well as pull out couches for groups or families.
The property also has a restaurant and bar if you're wanting to dine close to your room as well as a gym, sauna, and steam room for guests.
What's great is that you're less than a 10-minute walk to Greenpoint Avenue subway station too.
Book Now on Booking.com | Compare Prices for Later on Hotels.com | See Rates on Expedia.com
WILLIAM VALE HOTEL
Technically in Williamsburg, but so close and walking distance to all the different things to do in Greenpoint, The William Vale Hotel is one of the best options for where to stay.
Referred to as "Williamsburg's Only True Luxury Hotel," The William Vale Hotel strives to provide a memorable experience for all guests. An award-winning chef, monumental pieces of art and custom metalwork details in the rooms are key to having an exceptional stay at this hotel.
The William Vale Hotel is respectfully rated 5-stars. With amazing views of the Manhattan skyline and the location being only blocks away from many venues and restaurants, this hotel has everything you could hope for.
The rooftop bar, Westlight, which is mentioned earlier in this article of things to do in Williamsburg is located right at the top of the William Vale Hotel. There is also a high-end Italian restaurant and a 60-foot long pool that is deemed the "longest pool in Brooklyn and the greater New York City."
Book Now on Booking.com | Compare Prices for Later on Hotels.com | See Rates on Expedia.com
What to Bring to Brooklyn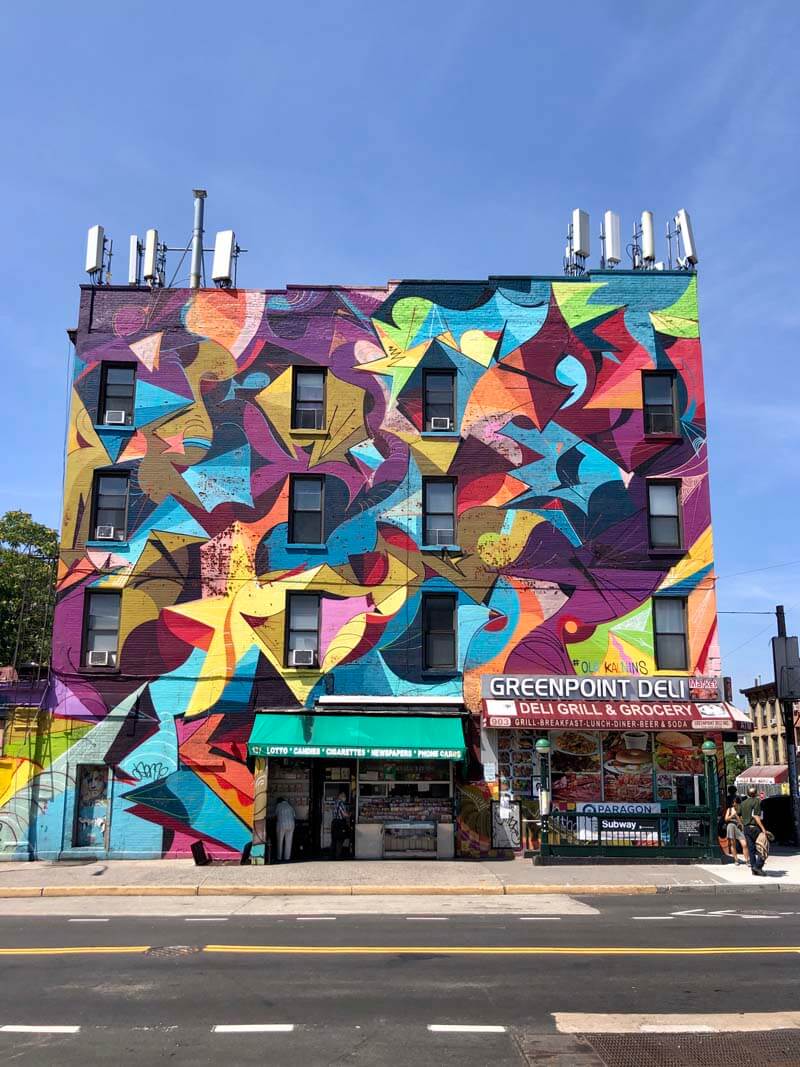 See our full what to pack for Brooklyn guide for more ideas!
This Pacsafe Shoulder Bag slings over your body and is the perfect size to carry your day essentials while exploring Brooklyn. This lightweight bag has anti-theft features so you can enjoy Brooklyn with ease of mind with Pacsafe's anti-theft patent products whether you're in a crowded area or on the subway.
This Pacsafe Anti-theft Backpack is another essential for Brooklyn or any city trip. This backpack has a patented anti-theft design with lockable zippers and slash-proof material in this sleek and comfortable designed backpack.
Avoid high tech thieves with this 15 pack of RFID blocking sleeves that doesn't require you to buy a special travel wallet, you can carry your favorite purse, wallet, or backpack by simply putting your credit cards and sensitive information in these RFID blocking sleeves.
Upgrade your wallet with this RFID Blocking Wallet by Pacsafe is the perfect pick. Always have your identification, bank cards, and credit cards protected from high tech thieves with this RFID blocking wallet in this sleek and slim design.
One of the best ways to keep valuables safe when you travel is this Portable Safe by Pacsafe. This is ideal when you're hotel has a safe that is too small for your belongings, with it's sleek and compact design so it doesn't take up much space in your luggage offering maximum security with its stainless steel wire mesh covered in a piece of cut-resistant canvas fabric. You simply lock this portable safe to a secure fixture in your hotel room when you leave.
This iPhone crossbody case is perfect for sightseeing as you can easily grab your phone for that perfect photo moment on the fly as well as keep your phone secured to your body and safe from pickpockets!
We recommend Allbirds Women's Wool Runner as well as the Allbirds Men's Wool Runner for an everyday walking shoe that's breathable, comfortable, and feels like you're walking on clouds. Your back and feet will thank us later, plus they are all the rage in the city at the moment.
A good reusable water bottle is one of the best things you can have in your day bag or on you at all times, plus New York City has some of the best drinking water in the country, cut back on single-use plastic and have a good reusable water bottle for your trip.
Don't leave the house without a good power bank. Don't spoil your fun exploring all the fun neighborhoods and things to see in Brooklyn by having your battery die on you. If you're anything like me you'll be using your phone to take photos, navigate, and post to social media while you're exploring.
When it comes to the city, this weather is not forgiving and you don't want to get caught out and about in the rain without an umbrella. That's why we recommend this compact wind resistant travel umbrella for what to pack for Brooklyn.
Are you a sensitive sleeper? A good pair of earplugs are essential for your Brooklyn or city trip, especially if you're not from a big city.
---
Found this guide to the best things to do in Greenpoint, Brooklyn helpful? Bookmark for later or share the love below on Pinterest!