Looking for the best things to do in Greenwich Village? We got you. Greenwich Village, or The Village, is one of New York City's most iconic and historic neighborhoods. It's known for its bohemian vibe, rich artistic history, and lush tree-lined streets. Whether you're a history buff, an art lover, or simply looking for a unique New York experience, you'll find plenty of things to do in Greenwich Village!
This Manhattan neighborhood has always been a haven for artists, writers, and musicians. Once a hub for the Beat Generation and the birthplace of the 1960s counterculture movement, Greenwich Village is still home to some of the city's most vibrant arts and culture scenes.
Today, the neighborhood is a thriving community that blends history with modern life, offering visitors an unforgettable experience. It's known for infamous landmarks like Washington Square Park, the Stonewall Inn, and the Village Vanguard jazz club. You can check out charming cafes and boutiques on Bleecker Street or enjoy the bustling nightlife on MacDougal Street.
The Village is in Lower Manhattan, reaching from the Hudson River all the way to Broadway. To the north is 14th Street and Chelsea, another hopping neighborhood in Manhattan. And the southern boundary of Greenwich Village is Houston Street and SoHo.
Also, the West Village is actually a smaller neighborhood within Greenwich Village. It covers the area west of 7th Avenue all the way to the Hudson. The West Village is known for its gorgeous brownstones and a small-town European feel. There are cobblestone streets, restaurants with outdoor dining, and colorful carriage houses.
With so much charm, you'll find both tourists and locals enjoying all the things to do in the Village on any given day. Greenwich Village is definitely a must-visit destination that should be on every traveler's list!
Check Out the 20 Best Things to Do in the Village
Want to explore the most beautiful streets in Manhattan? Or enjoy some of the most iconic landmarks in New York City? Perhaps you want to stand in the birthplace of the gay rights movement. You'll find all that and more on our list of things to do in West Village and the greater Greenwich Village neighborhood.
Washington Square Park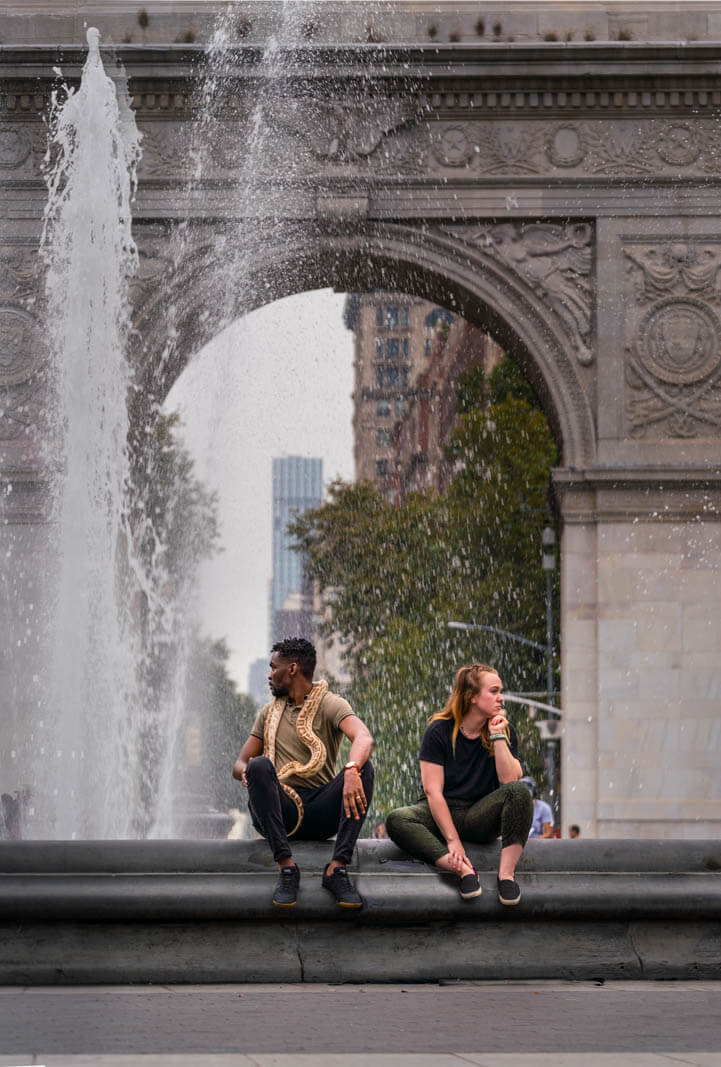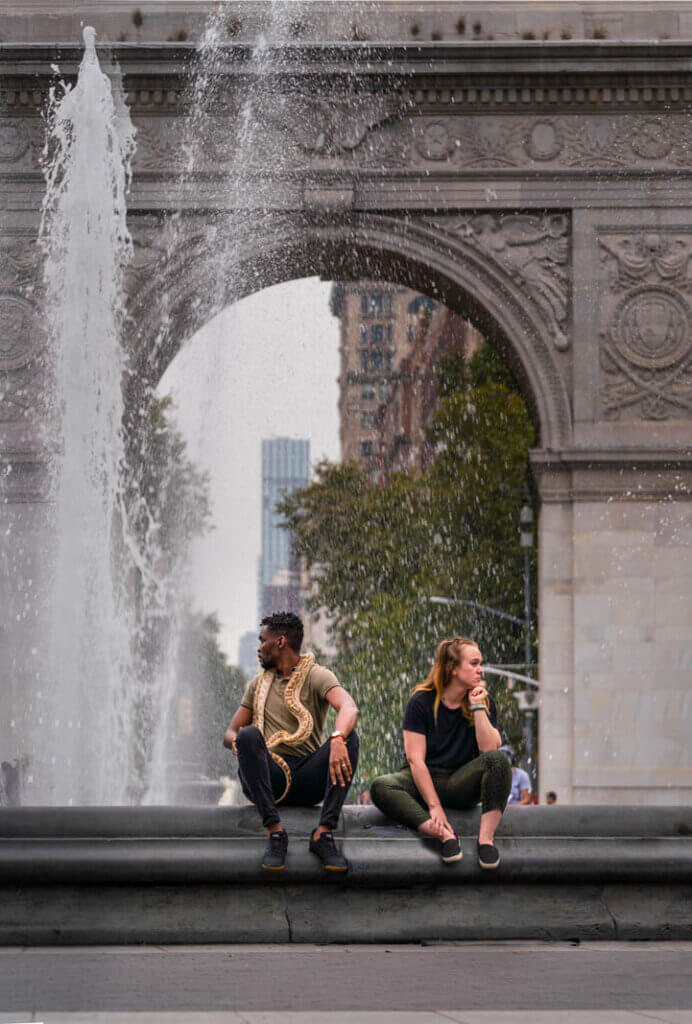 Perhaps one of the most famous parks in NYC is Washington Square Park. It sits at the heart of the bohemian neighborhood and offers some of the most popular things to do in Greenwich Village throughout the year.
With the NYU campus surrounding the park, you can expect to see alot of college students as well as tons of great people watching including random performers and all sorts of activity always happening here.
Come during the summer and enjoy free movies, live concerts, and street fairs. This is where the annual Dog Run Halloween Parade and Costume Contest is located, one of our favorite events! And if you come in the winter, you can see one of the best holiday trees in NYC, under the Washington Square Arch.
Washington Square Park's centerpiece is a large fountain, which serves as a gathering place for all kinds of people. You're bound to see street performers and musicians, as well as artists selling their work. And you'll find that Washington Square Park is surrounded by beautiful historic buildings, many of which are part of New York University's main campus.
There are also benches around the fountain and seating areas throughout the park, providing plenty of places to sit and take in the lively atmosphere. There are several statues and monuments, as well as a grassy lawn and a dog park for small dogs.
Stonewall National Monument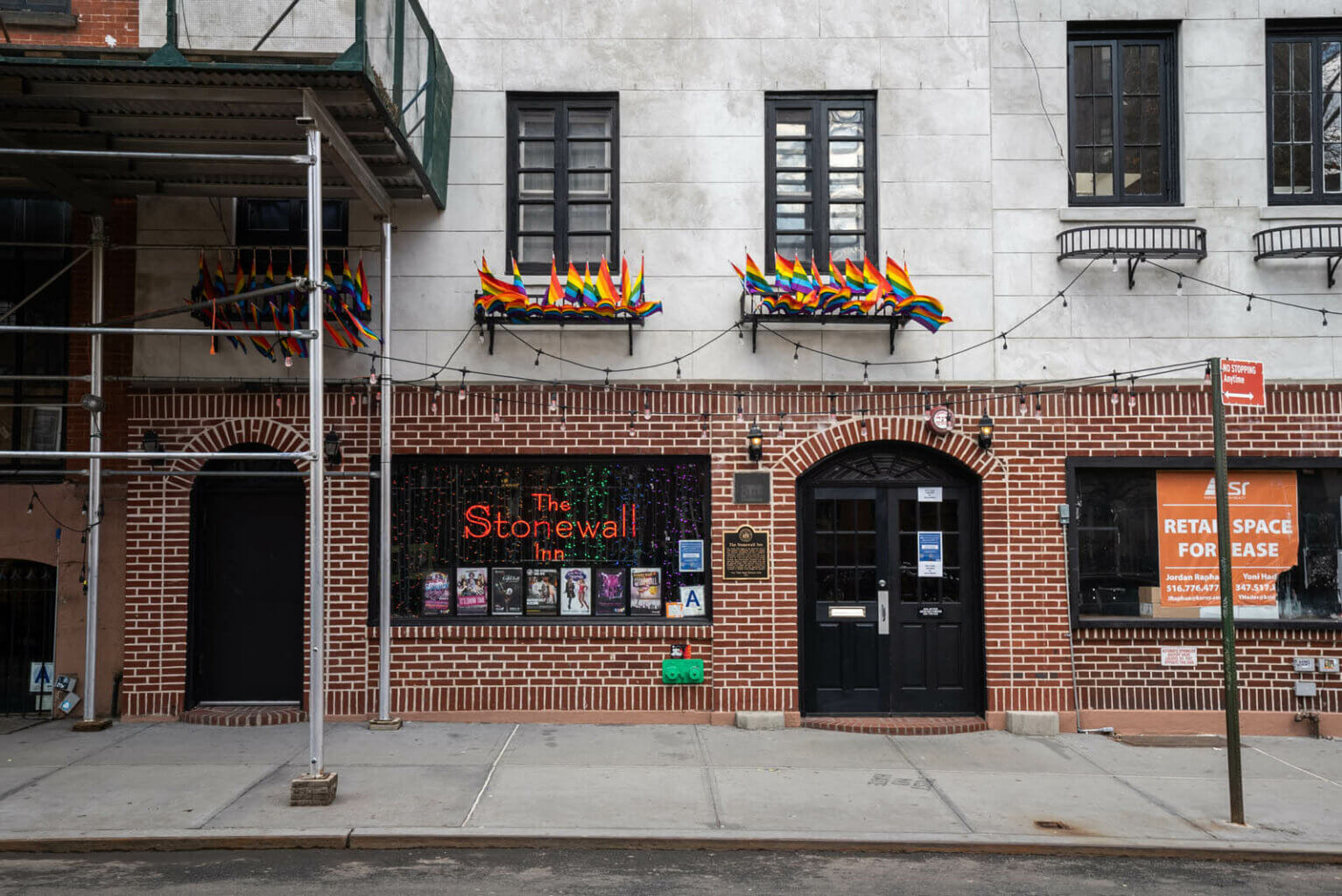 Address: 38-64 Christopher Street
The Stonewall Inn in the West Village is a historic site for the LGBTQ+ community. In June 1969, police raided the Stonewall Inn, a popular gay bar. This led to a series of riots and protests that became known as the Stonewall Uprising. The raid was a turning point in the fight for LGBTQ+ rights. It's now seen as the beginning of the modern gay rights movement in the United States.
In 2016, the area was recognized by President Obama as the Stonewall National Monument. It includes the Stonewall Inn, Christopher Park, and the surrounding streets where the uprising took place. This recognition made Stonewall the first national monument to LGBTQ+ rights and history in the US!
Visiting the monument is one of the most unique things to do in West Village and can be a moving experience for many. Have a drink at the inn (which is still a gay bar) or attend a show there. In the park, there's a bust of Marsha Johnson, the Gay Liberation Monument, and historic plaques to read.
Carrie Bradshaw's Brownstone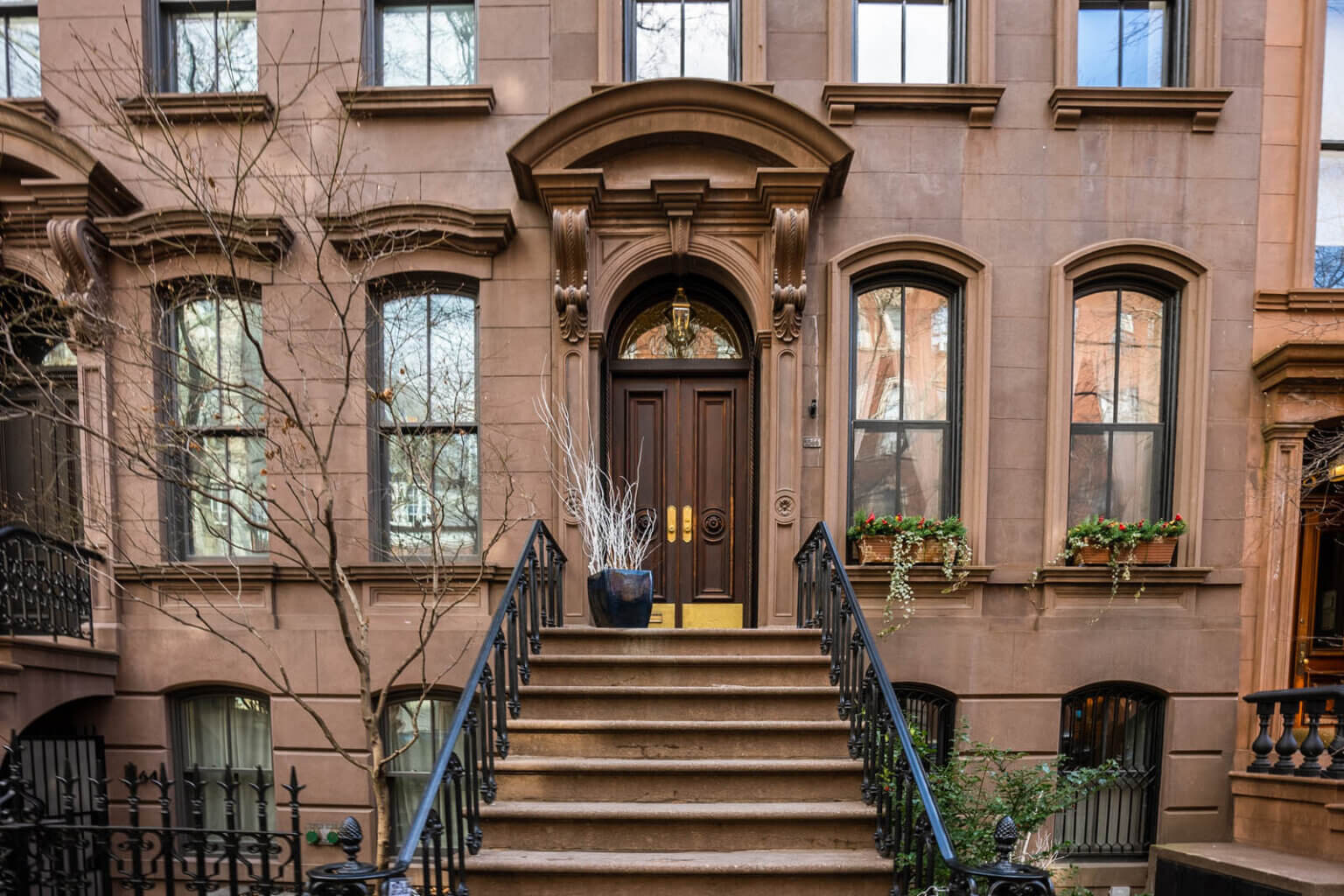 Address: 66 Perry Street
In the popular tv series, Sex, and the City, the lead character Carrie Bradshaw lived on the Upper West Side. Exterior shots of her apartment were often featured in the show, and you can tell it was an actual, real-life NYC brownstone. In the show, Carrie's address is 245 E 73rd Street, but if you look it up, the address doesn't exist! However, you can visit the actual film site in the West Village.
If you're a fan of Sex and the City film sites in NYC, you'll be interested to know that the exterior of Carrie's apartment was filmed at a few locations over the first few seasons. But from season 3 till the end of the series, the film site was at 66 Perry Street, between W 4th Street and Bleecker Street.
Today, the brownstone is privately owned, and it's important to respect the owner's request for privacy. When you visit, you'll probably see a sign chained across the stairs. It's fine to take a picture on the public sidewalk and enjoy beautiful Perry Street, but don't go up the steps of the house! They also have a donation box for a charitable cause, which is a nice use of the popularity of their stoop!
And if you're a fan of the spin-off series, you may also recognize it as an And Just Like That filming location too!
Friends Apartment Building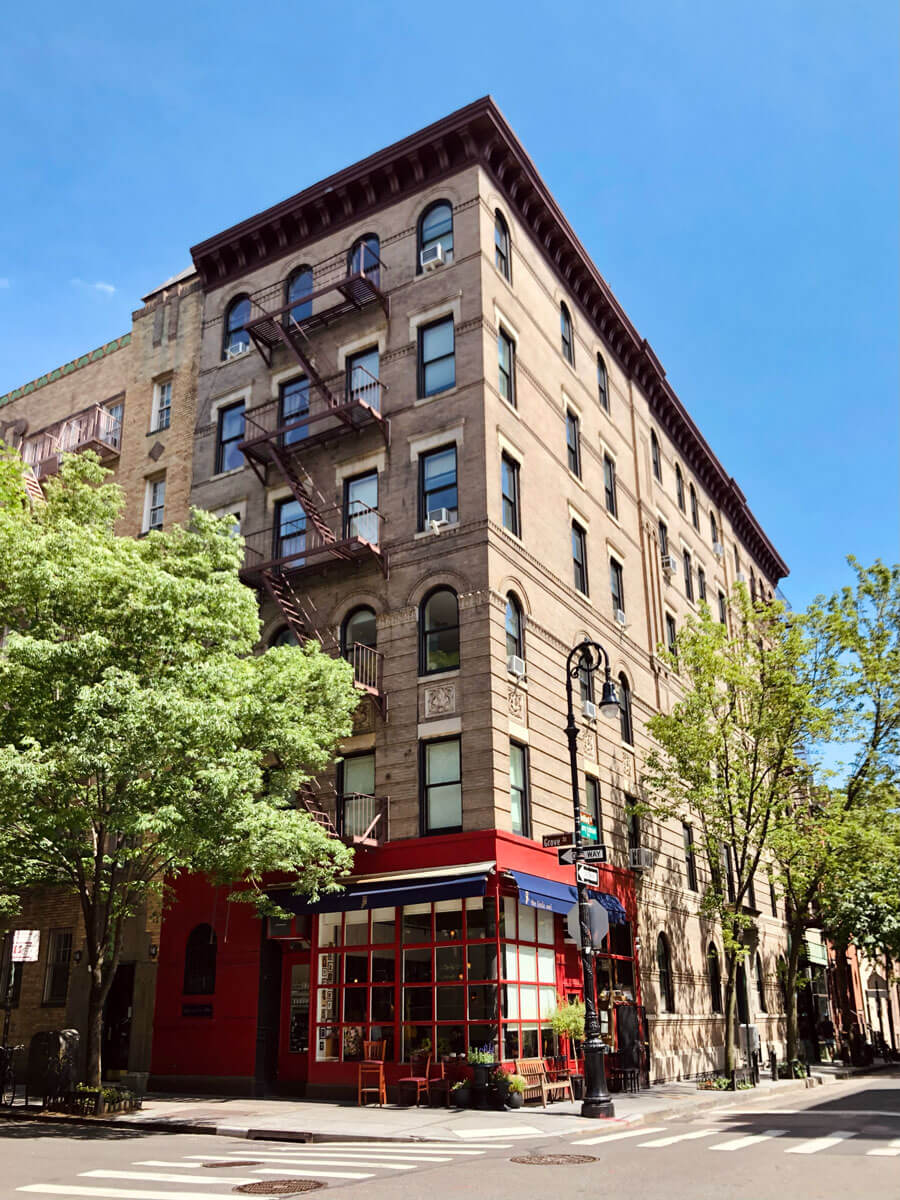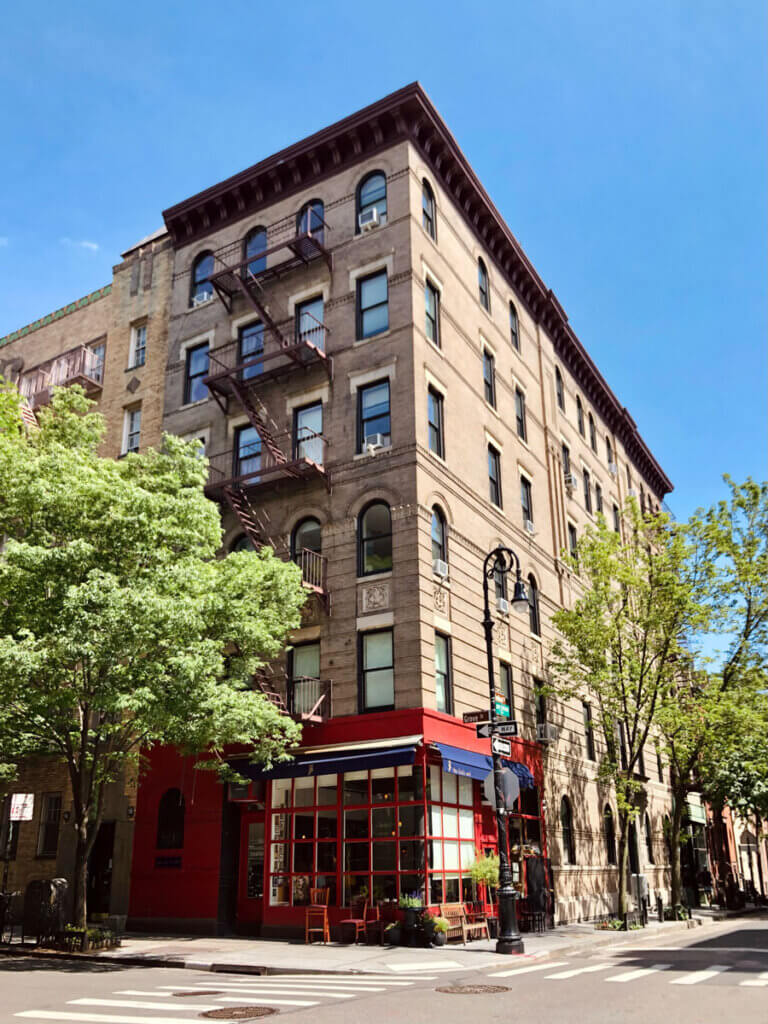 Address: 90 Bedford Street
TV fans looking for more things to do in the West Village will not be disappointed! A few blocks south of Perry Street, you'll find another iconic NYC filming location. It's the Friends apartment building!
That is, the actual apartment was a Warner Brothers set filmed in Burbank, California. But the apartment building you see in establishing shots from Friends can be seen on the corner of Grove and Bedford Streets in the Village.
Take a minute to check out this quintessential New York City apartment building. It has brick arches, AC units here and there, and classic NYC fire escapes trellising the sides.
And of course, there's a restaurant on the bottom level. While it's not Central Perk, Little Owl is still a great restaurant where you can enjoy a meal while you're on Grove Street.
Shopping Down Bleecker Street
Bleecker Street is a major artery running through the center of Greenwich Village. It boasts many charming boutiques, trendy shops, and luxury brands running from W 7th up to Hudson Street. One of the most popular things to do in the West Village is enjoy all the quality shopping you'll find there!
Some of the biggest names in fashion have stores along Bleecker, including Burberry and Cynthia Rowley. There are also a dozen high-end boutiques selling everything from men's suits and handmade jewelry to children's apparel and custom shoes.
For quality denim in every wash and style, visit 7 For All Mankind. And if you're a bookworm and also an accessory lover, you'll want to visit Bookmarc. This is an independent bookstore launched by Marc Jacobs that specializes in hard-to-find books. Plus, you can pick up Marc Jacobs accessories while you're there!
Other notable shops on Bleecker Street include the curated gift shop, Boyar Gifts. And Zuri is a woman-owned, Black-owned boutique where you can buy bold pieces in a variety of custom prints! Whether you're looking for designer fashion, wardrobe staples, or one-of-a-kind gifts, Bleecker Street has something for everyone.
Comedy Cellar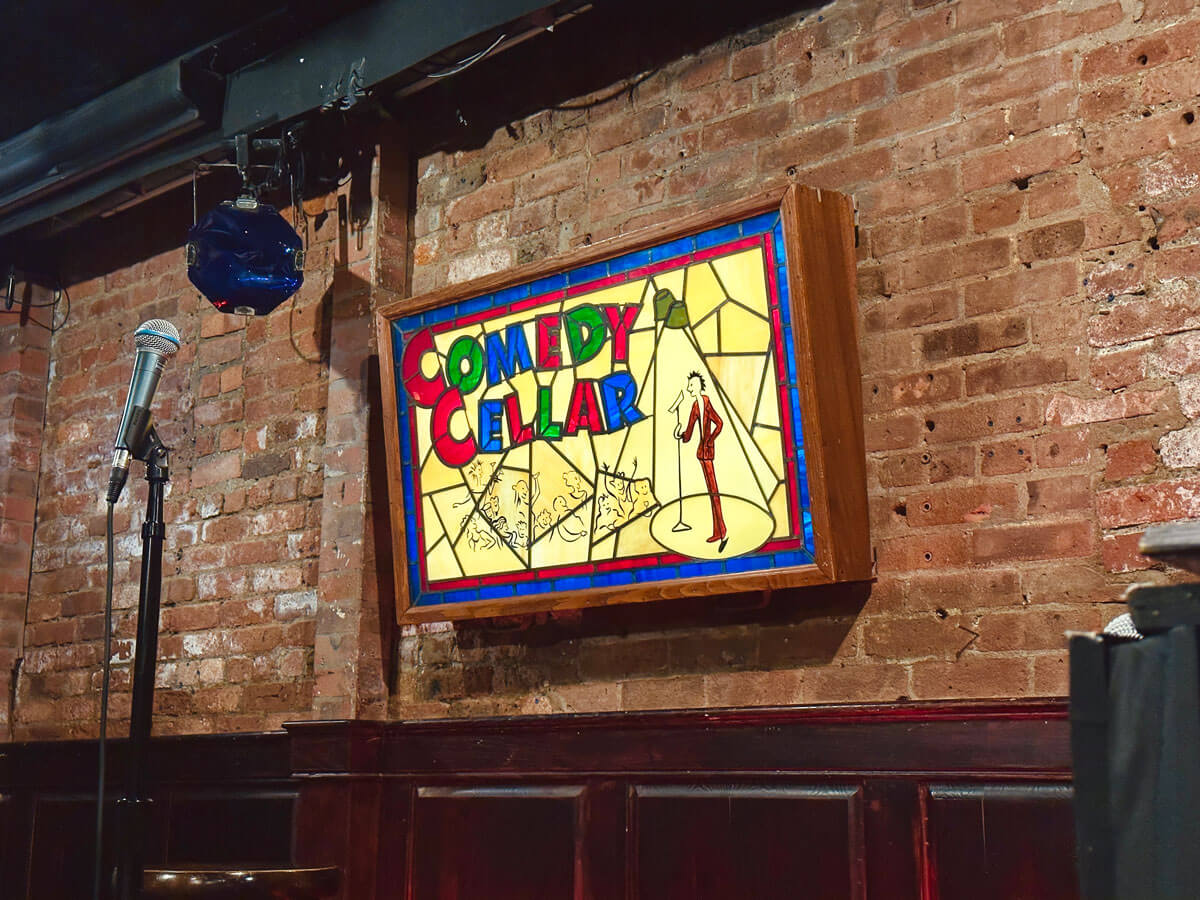 Address: Original Location 117 MacDougal Street, Village Underground & Black Fat Pussycat 130 W 3rd Street
Have you always wanted to see a comedy show in NYC? You're in the right place! The Village is home to three Comedy Cellar locations. There's the Black Fat Pussycat and the Village Underground, both at 130 W 3rd Street. And then there's the infamous Comedy Cellar around the corner at 117 MacDougal Street.
With shows being one of the most popular things to do in Greenwich Village, all 3 locations host comedy line-ups 7 nights a week! The original Comedy Cellar is best known for being where the likes of Jerry Seinfeld and Chris Rock got their start and still show up from time to time.
The Village Underground is the largest venue, being a historic music venue that dates back to the 1960s. Probably everyone has played here, from Bob Dylan and Patti Smith to John Mayer. Today, it includes The Comedy Cellar at the Village Underground, another venue where you can see comedians every night of the week!
And the Fat Black Pussycat is a sultry addition to the Comedy Cellar family. It features the same iconic brick wall where comedians tell their jokes, but the rest of the vibe is decadent. For any of the three locations, you can grab reservations on the Comedy Central website.
Check Out a Jazz Club
The Village has always been a refuge for musicians, and you can visit landmark jazz clubs right here! Make your first stop the Village Vanguard on 7th Avenue and Waverly Place. This is the oldest jazz club in NYC, hosting some of the biggest jazz musicians since 1957.
Blue Note Jazz Cub has locations across the world, but the Greenwich Village location on W 3rd Street was the first. It opened in the 80s with a desire to be a safe place for jazz musicians of every race and creed. Come early if you want a table and see if you notice any famous faces in the audience or onstage!
And don't miss out on a chance to stop by Smalls Jazz Club. You'll find this cool, no-frills spot on W 10th Street near 7th Avenue. The intimate venue is considered one of the best places in the world to enjoy an impromptu jam session over a drink.
Enjoy an Off-Broadway Show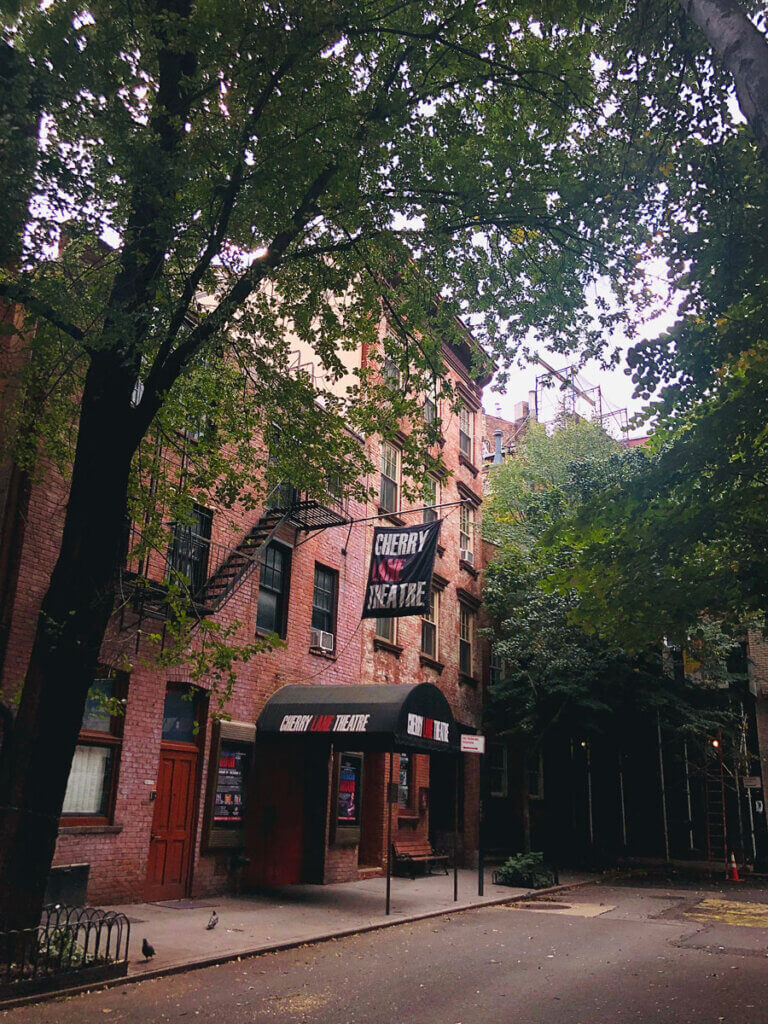 All creative types have called Greenwich Village home, so it's no surprise that the neighborhood has become synonymous with off-Broadway shows. You can enjoy some of the best plays in NYC, including developing work, at some of the longest-running venues in the city.
Hosting shows since the 1920s Cherry Lane Theater is one of the smallest and oldest off-Broadway playhouses in the city! You can see a variety of big-name shows as well as works by unknown playwrights.
Greenwich House Theater on Barrow Street only opened in 2012 and has made quite a name for itself. This is where to come to see fresh shows and up-and-coming actors. In fact, this theatre has earned awards for its creativity in play production.
Or get tickets to whatever's showing at Minetta Lane Theatre. With just under 400 seats, as well as a live orchestra, this is the largest intimate stage on our list. Minetta has a big reputation and is the perfect place to see an off-Broadway show with a Broadway-sized feel.
Intimate Live Music Venues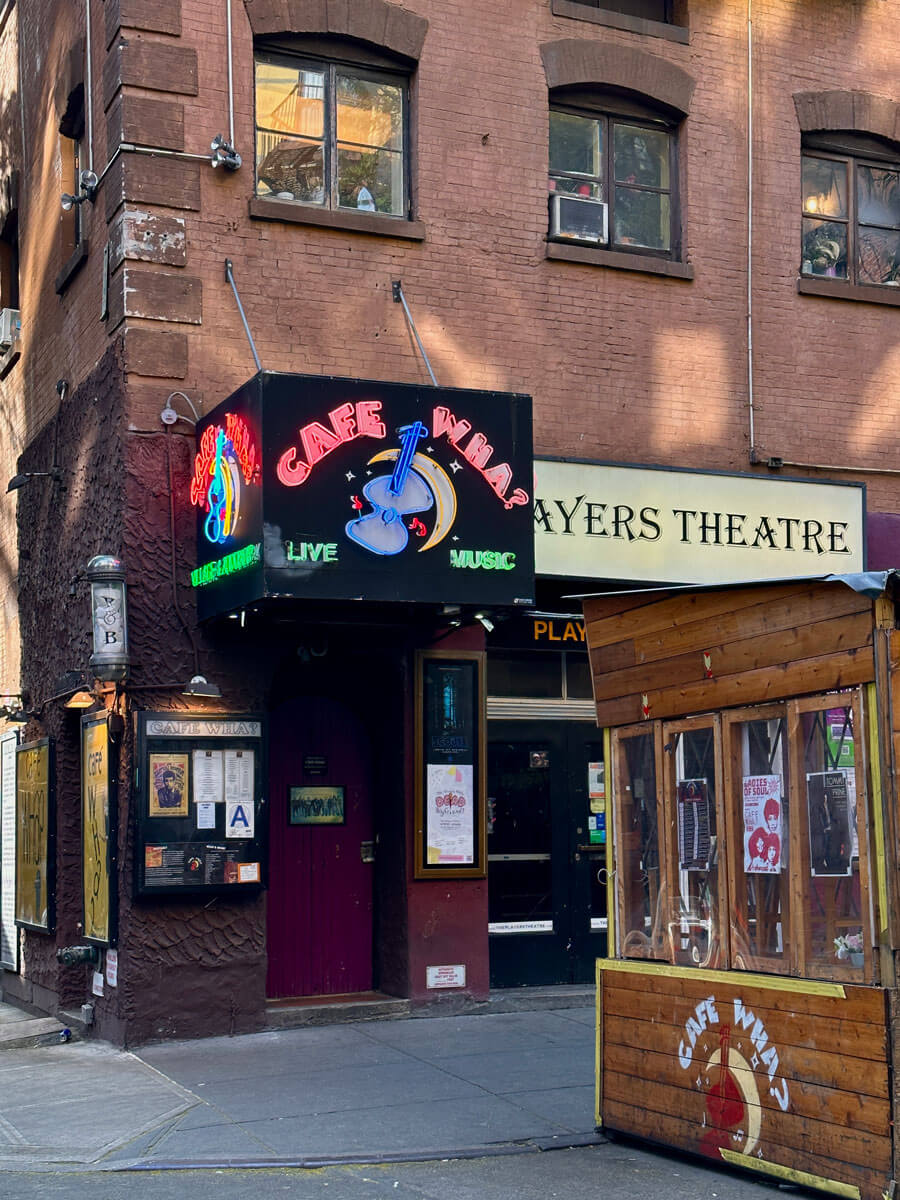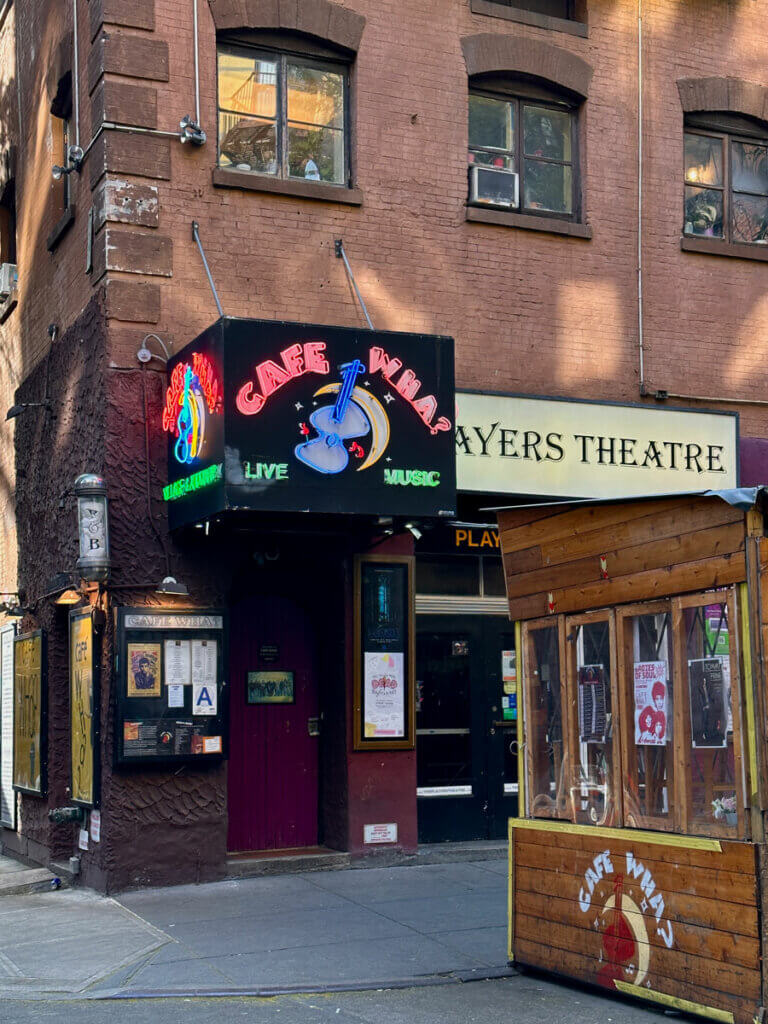 For cool things to do in Greenwich Village, hang out at Bob Dylan's old haunts! The folk-rock artist wrote and performed all over the neighborhood, including at both Café Wha? And the Bitter End.
Today, Cafe Wha? Maintains its roots that go back to the 60s. On any given night, you can enjoy raw and real jazz, rock, soul, or another style of music while you sip on coffee or cocktails. And if you visit the Bitter End, you just might enjoy an intimate show by a world-renown musician in a club that feels frozen in time 50 years ago!
Magnolia Bakery
Address: 401 Bleecker Street
If you've never heard of Magnolia Bakery, you're in for a treat. And if you're a fan of Sex and the City, this one's probably on your to-do list! While Magnolia Bakery has several locations in NYC today, the location on Bleecker and W 11th Street is the original!
The famous bakery made history when it was featured in season 3 of SATC. Carrie and Miranda ate pink frosted cupcakes outside the original location on Bleecker. After that, Magnolia Bakery blew up!
Plus, their banana pudding is out of this world and is known to cause lines out the door (seriously). And their red velvet cupcakes are some of the best. Check them out in the West Village while you're scoping out Carrie's apartment around the corner!
Enjoy Some NYC Pizza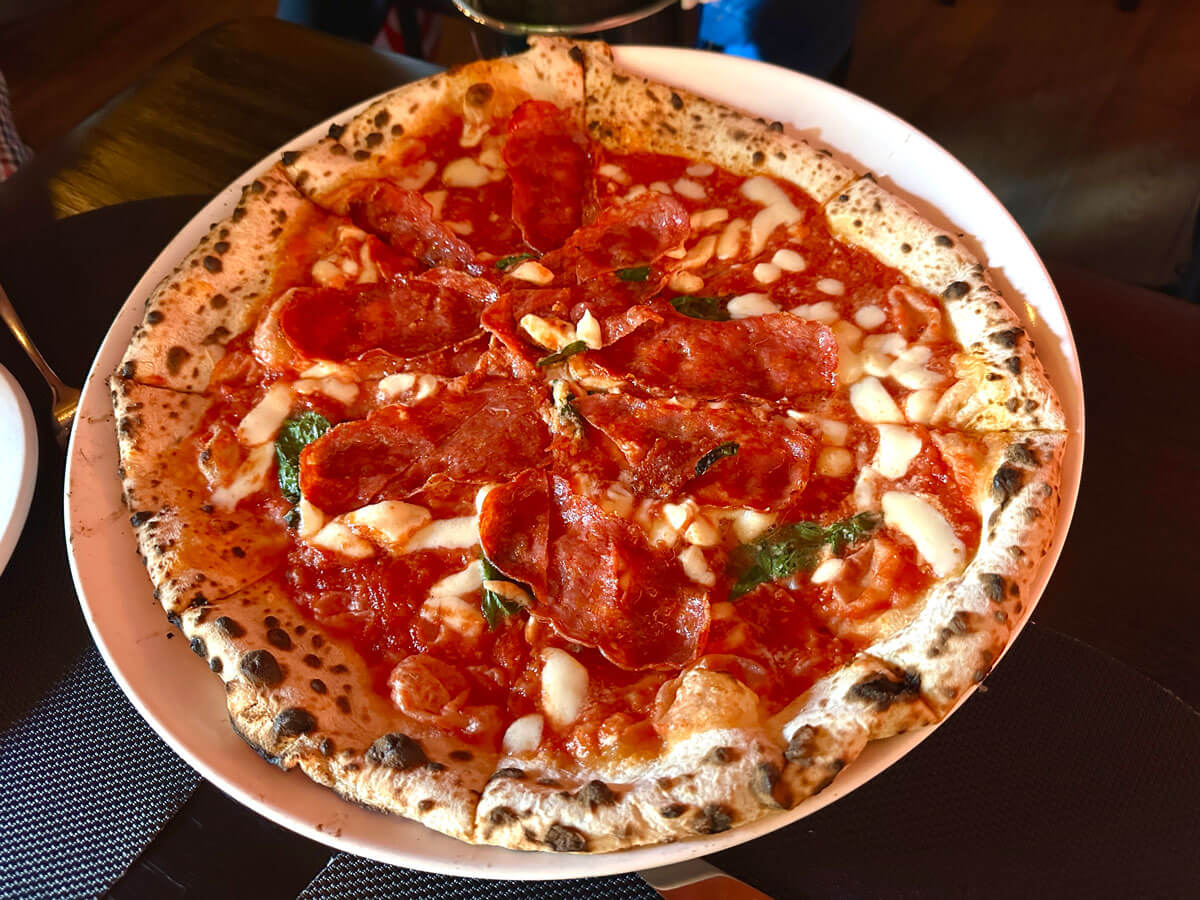 While you're walking the eclectic streets of Greenwich Village, stop for a classic slice of NYC pizza! In fact, some of the best pizza in NYC can be found in the neighborhood. There are so many great spots in this neighborhood, each with its own personality! Here are just a few of our favorites.
Located near the corner of Carmine Street and 6th Avenue, Joe's Pizza has been serving up cheese and single-topping slices since 1975. They're a simple joint where you pay with cash and choose from what's under the glass. It's the perfect place to grab a whole pie or a single slice and head to the park across the street.
Artichoke Basille's Pizza is another popular spot in the NYC pizza scene. The family pizzeria opened in 2008 and has taken the city by storm with multiple locations. In the Village, check them out on MacDougal Street close to Minetta Lane. Their creative pies are a must with delicious flavors like creamy artichoke and vodka Sicilian!
While you're looking for things to do in Greenwich Village, don't pass up a visit to Bleecker Street Pizza. If you're looking for top-notch traditional New York pizza with tons of variety, come here. Order by the slice or the pie, and make sure to try their signature Nonna Marie pie!
And of course, we had to include L'Antica Pizzeria Da Michele in the West Village. This is a refined NYC pizza experience on Bank Street between Greenwich Avenue and Waverly Place. Enjoy the beautiful atmosphere while you dine on classic Italian coal-fired pizza and other Italian delicacies.
Other Iconic Neighborhood Eats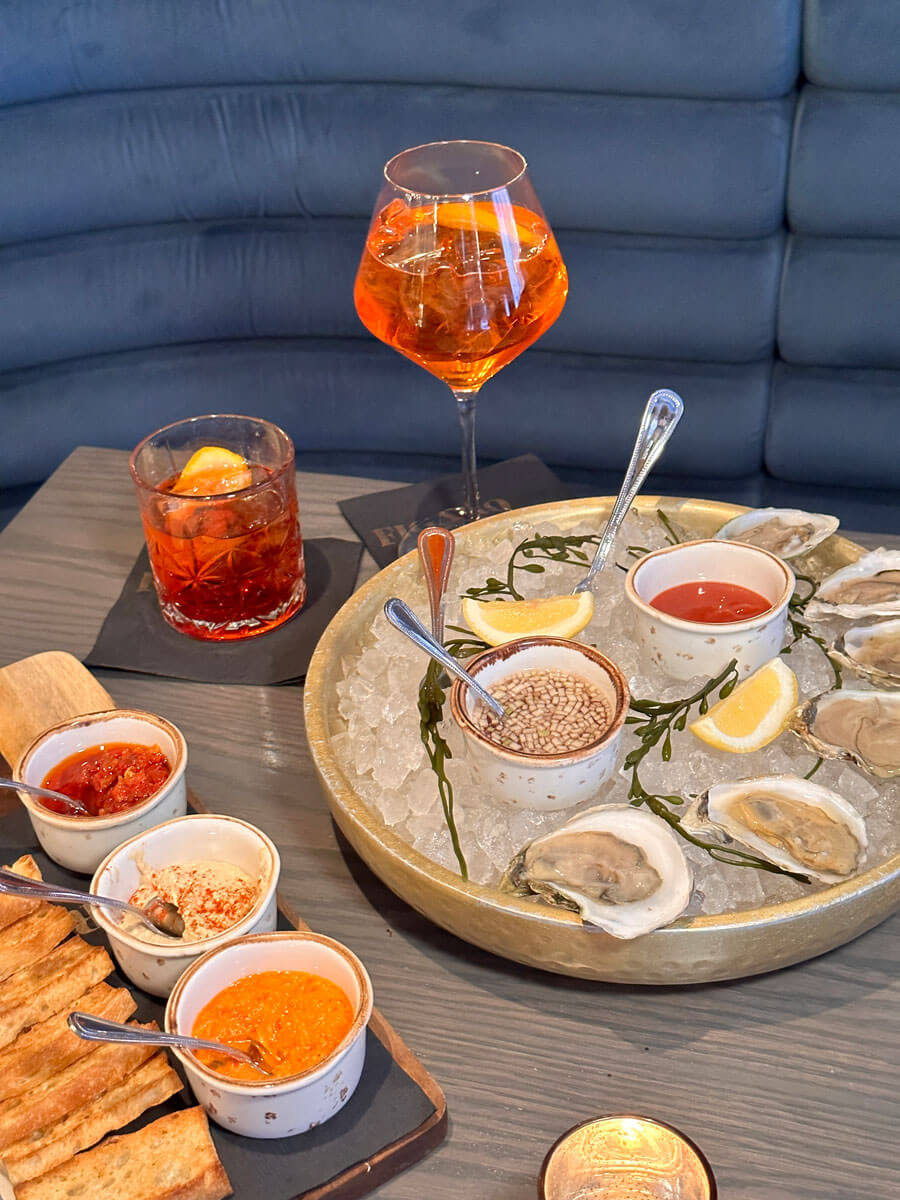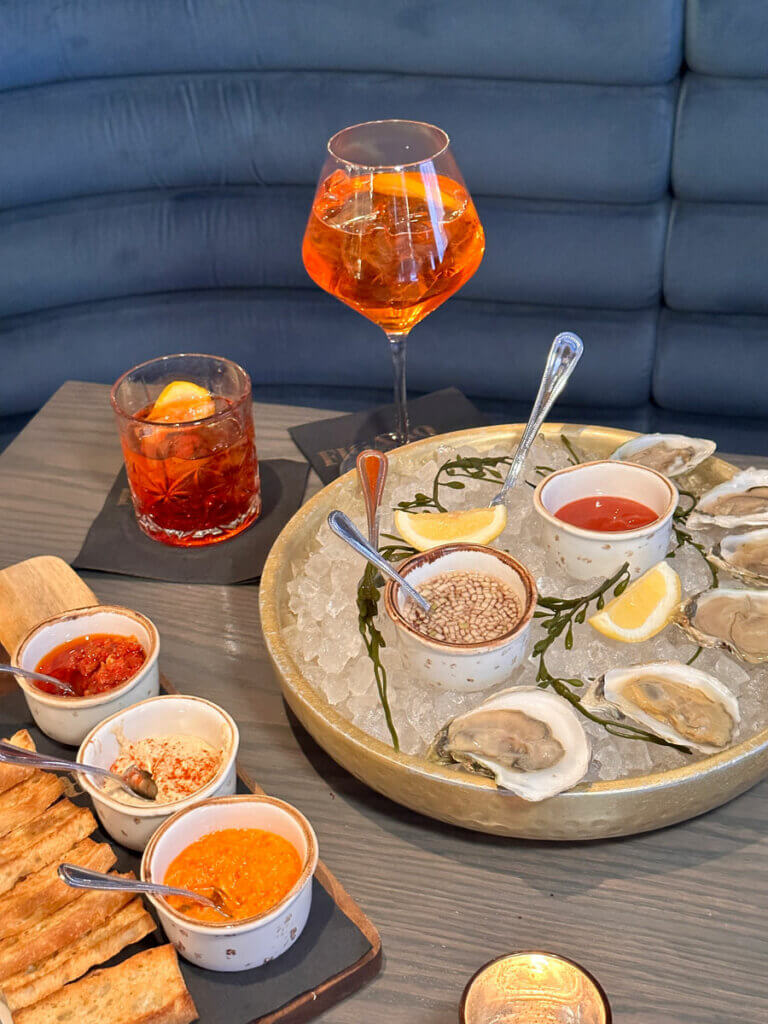 Just like the landscape of the neighborhood, the eateries of Greenwich Village are a patchwork of old and new. There's something for every taste and some of the best restaurants in New York City can be found here. Whether you're looking for a historic, iconic destination, or just a great place to grab a bit, we've got you covered.
Since it opened in 1937, Minetta Tavern has drawn creatives and celebrities alike. Come enjoy a timeless setting at this French bistro and tavern and see if you spot a few faces you recognize! And their burger is excellent!
You haven't truly experienced New York City until you've been to Dante. The original location near 6th Avenue is the best place for their iconic cocktails, or grab a table at the larger Dante West Village.
Buvette feels like a bit of France in the middle of the West Village and is one of the most popular brunch spots in the city. This bistro hits it out of the ballpark with its quality offerings like cortados and croque monsieurs.
Corner Bistro is the place to come for chill vibes and a good burger and a beer! One of the last classic dive bars, Corner Bistro is a must-visit for a true Village experience.
Murray's Cheese is an iconic cheese monger and specialty store has been a pillar of Bleecker Street for over 70 years. After you peruse the cheese shop, head next door to Murray's Mac & Cheese for a fun meal!
The nightly crowds should tell you just how amazing the seafood is at Mermaid Oyster Bar. And you'll want to take advantage of their ridiculously good happy hour specials.
Across the street is Figaro Cafe, another excellent spot for happy hour as well as a historic landmark, it's been reopened and reimagined from the original Le Figaro Café, which was a hot spot among beatniks. Now it features a modern American menu.
Around since 1900, Faico's is an Italian market and delicatessen that's not going anywhere anytime soon. Come in for a cold-cut sandwich and pick up some hard-to-find pantry items while you're here.
Via Carota is a true gem that opened in 2014 on Grove Street. With classics like cacio e pepe, this Italian restaurant has been proving ever since that it belongs in hard-to-please NYC!
Skip the frill elsewhere in Greenwich Village and head to this gritty diner that feels like it's been frozen time at La Bonbonniere! Picture the most classic American diner fare and you've got a good idea of what this cash-only spot is serving up. This was also a Marvelous Mrs. Maisel filming location too!
Don Angie is known for their warm ambiance and elevated Italian food served by a French-trained chef. Their signature lasagna is a must, as is the chrysanthemum salad. Be sure to snag a reservation in advance.
Carbone is a white-linen Italian restaurant has a retro feel and is famous for hosting some of the biggest names in NYC. What Carbone does best is a homestyle Italian meal with a first-class tableside experience.
Marie's Crisis Café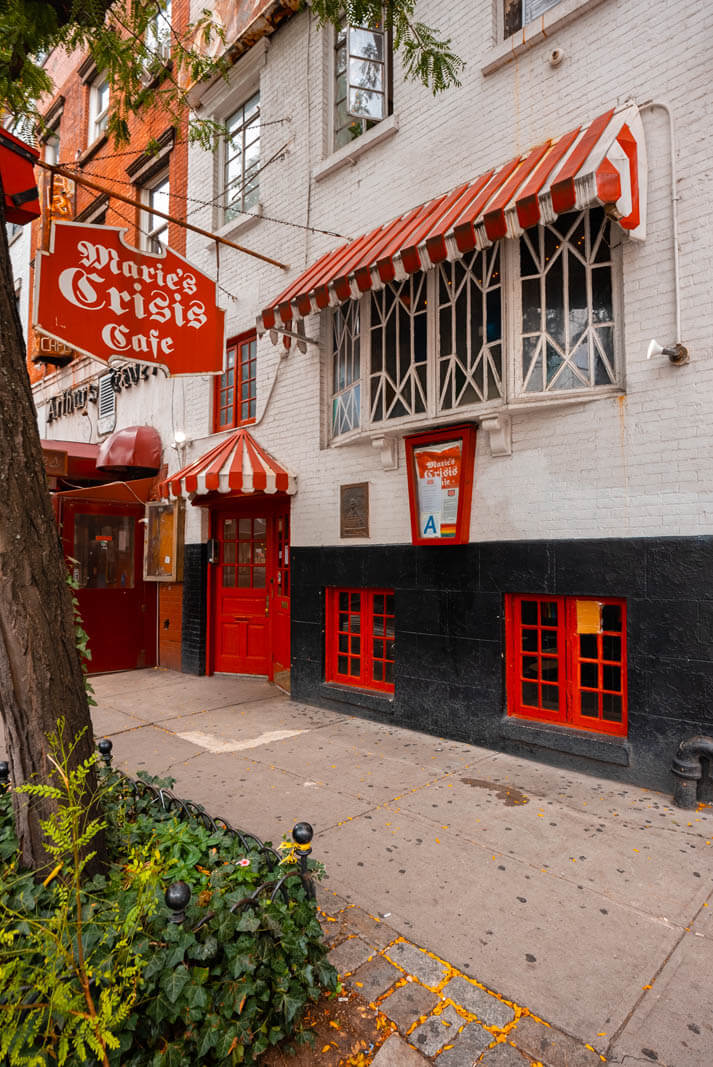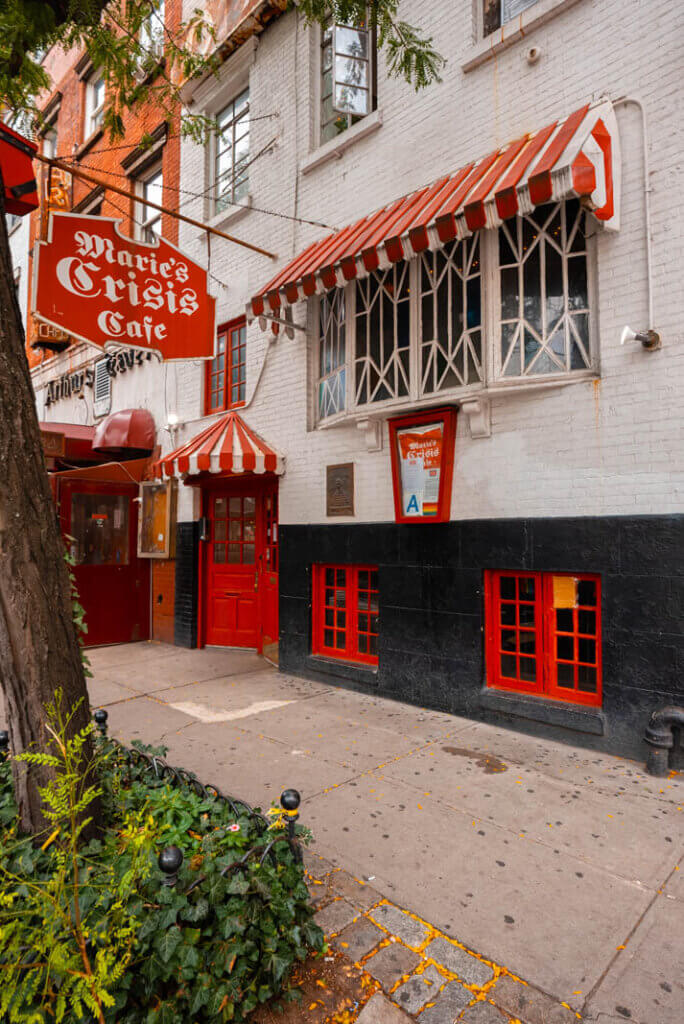 Address: 59 Grove Street
If you're looking for unique things to do in Greenwich Village, we recommend an evening at Marie's Crisis Café. This popular piano bar located in the West Village is known for its lively and friendly atmosphere. Come join the crowds and sing along to show tunes and classic Broadway hits played live on the piano!
The bar has a unique history to go with its unique name. In the 1830s it opened as a brothel and a speakeasy, and then Marie Dumont opened her piano café in the 1920s. From the earliest days, the location had been known as a safe place for LGBTQ+ members, as well as creatives of all types. And it still carries that spirit today!
The bar staff and regulars are welcoming and enthusiastic to all. It's common for strangers to join in and sing together around the piano that's situated at the center of the bar. And the pianists are talented and can play nearly any Broadway show tune requested by the crowd.
Just be prepared for plenty of company, as Marie's Crisis Bar is an intimate space that draws a crowd! But it adds to the charm and energy of the venue. The walls are covered with theater memorabilia. You'll see posters, playbills, and framed photos of Broadway stars. The bar doesn't serve food, but you can bring your own or order delivery from nearby restaurants.
Watch Basketball
One of the most traditional experiences in New York City and Greenwich Village happens at The Cage. This is an outdoor basketball court located at the busy intersection of West 3rd Street and 6th Avenue, right outside the W 4th Street subway.
For classic Greenwich Village things to do, why not grab a slice at Joe's and watch some seriously good street basketball? Sometimes, you'll catch famous basketball players like Kobe Bryant joining a game! The court itself is small and surrounded by tall chain-link fences and leafy trees. Its corner location makes it perfect for spectating.
The Cage has become an iconic spot for pick-up ball but also hosts local tournaments during the summer. The Cage is open year-round, and you'll find games happening from early in the morning until late at night.
Catch a Movie at IFC Center
Address: 323 6th Avenue
Across from The Cage on 6th Avenue is the IFC Center, where you can see a curated line-up of independent, cult, and foreign films any day of the week. IFC took over the historic Waverly Theatre and renovated the 5 screens in the early 2000s.
Today, the many events and film festivals held at the theater are some of the most popular things to do in the Village with visitors and residents alike. You can attend Weekend Classics on Saturdays and Sundays, as well as midnight shows. The IFC Center is also famous for hosting DOC NYC, an annual documentary film festival, as well as seasonal documentary series.
You can see short film screenings, check out an exhibit with vintage movie posters from around the world, and much more. But one of the best parts about the theater is the IFC Center Peephole! If you're standing outside in front of the theater, look to the right, about 5 feet above the ground. There's a circular metal plate. Lift the eye covers and peak inside to see what's playing! It just might tempt you to come inside and buy a ticket to the next showing.
Whitney Museum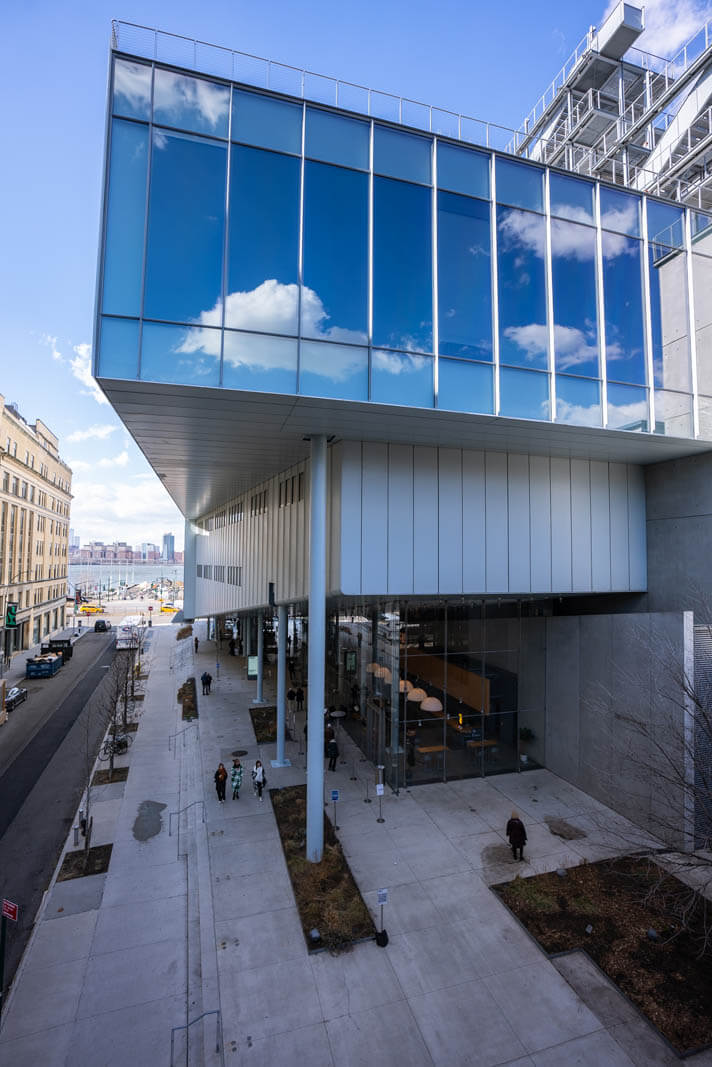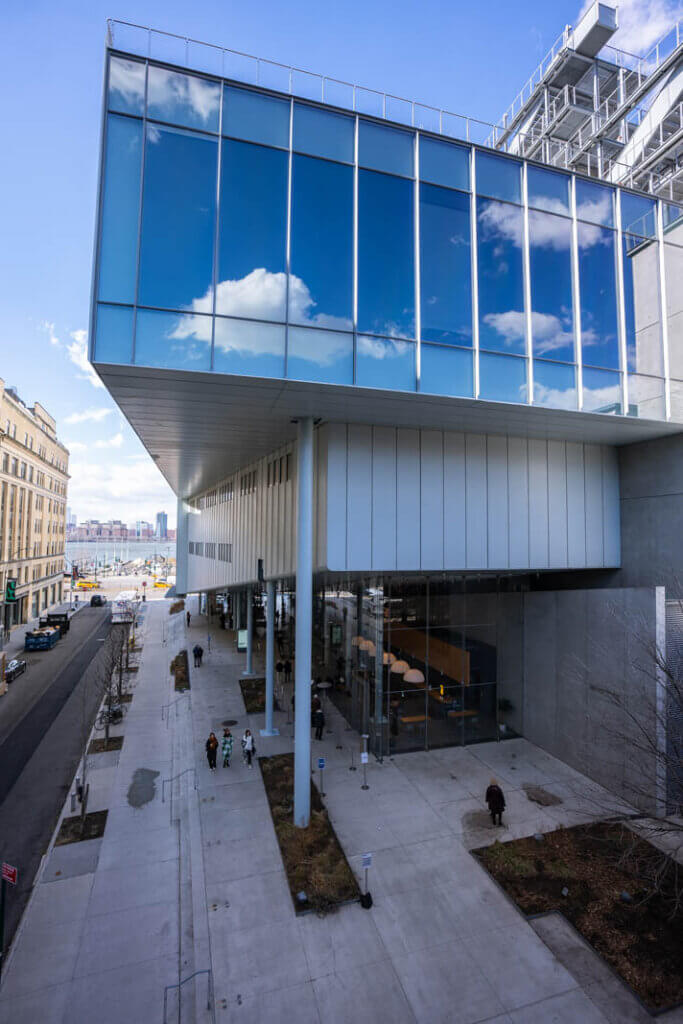 Address: 99 Gansevoort Street
Another subset of Greenwich Village is the Meatpacking District along the Hudson. Located around the northern boundary of the West Village, this neighborhood is where you'll find many of the city's art galleries and studios. It's also home to the Whitney Museum of American Art on Gansevoort Street, located right at the southern end of the High Line.
The Whitney Museum of American Art is housed in a striking contemporary building designed by architect Renzo Piano. It's a world-renowned museum that's dedicated to showcasing works of American art from the 20th and 21st centuries. Founded in 1930 by Gertrude Vanderbilt Whitney, the museum boasts an extensive collection that includes paintings, sculptures, photographs, videos, and installations and is truly one of the best museums in NYC.
You can see works by some of America's most celebrated artists, such as Georgia O'Keeffe, Jackson Pollock, and Andy Warhol. But a big part of the Whitney Museum is the focus on living American artists. Throughout the year, you can see rotating exhibitions that showcase the work of these artists and explore new movements in American art!
If you're interested in museum talks, workshops, or guided tours, the Whitney offers a range of options for art enthusiasts. And the Whitney has both a beautiful café and a cocktail bar. The museum's open every day except Tuesday and you're encouraged to purchase tickets in advance online. Anyone under 18 can enjoy free admission.
C.O. Bigelow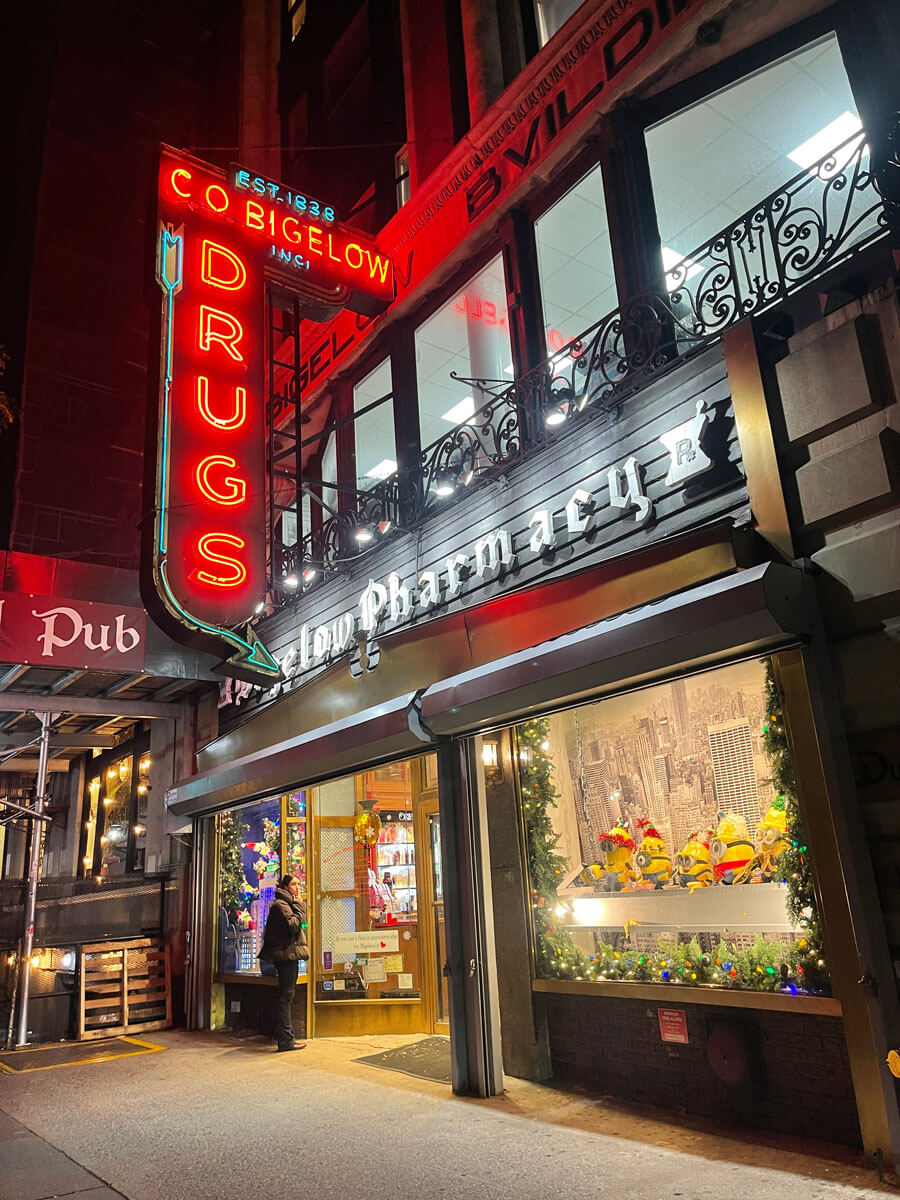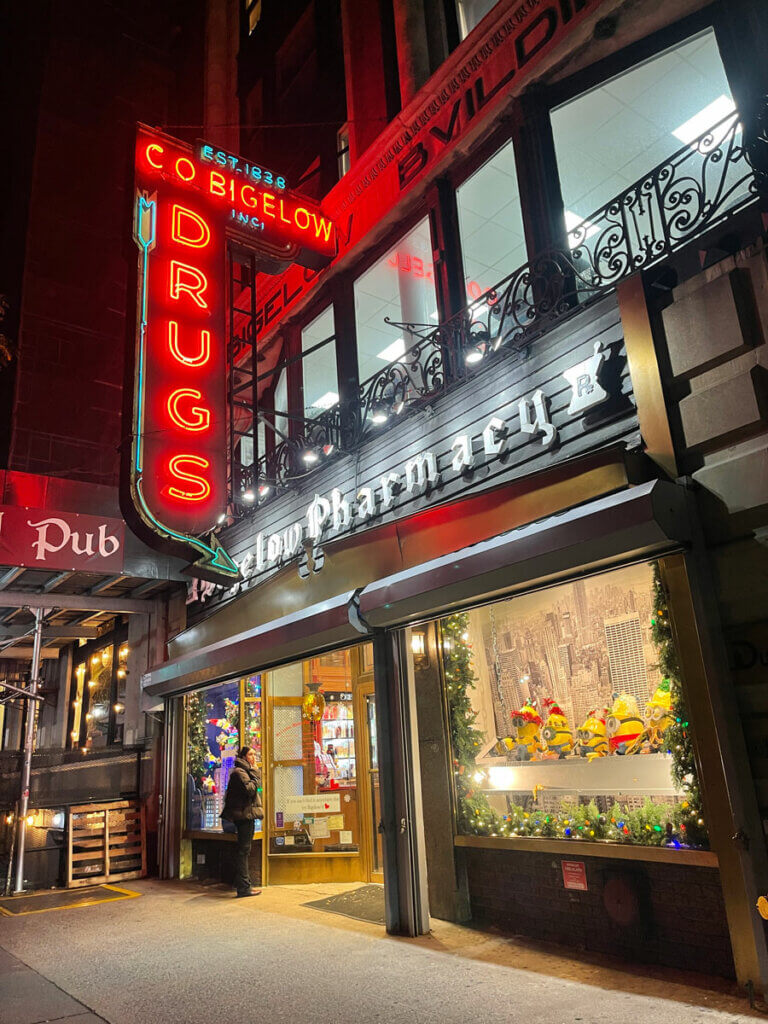 Address: 414 6th Avenue
You might have heard of the C.O. Bigelow brand, but did you know you can visit the original store in NYC? It's the oldest apothecary in the United States, and it's located on 6th Avenue between W 8th and 9th Streets.
It was founded in 1838 by Dr. Galen Hunter, who sold the business to a young pharmacist named Clarence Otis Bigelow in 1880. Since then, the store has been passed down through the Bigelow family and has become a beloved fixture in the Village.
When you visit C.O. Bigelow, you'll be transported back in time. The store is filled with original fixtures, a wooden phone booth, antique display cases, and vintage apothecary bottles. You can shop a vast selection of high-quality skincare, haircare, and fragrance products. The store is also known for its pharmacy services and has a team of pharmacists who can assist you.
Plus, fans of the C.O. Bigelow brand will have a blast perusing the store's entire line, some of which have been on shelves for 150 years! It feels like a museum, with displays featuring original handwritten recipes for the most popular C.O. Bigelow products.
White Horse Tavern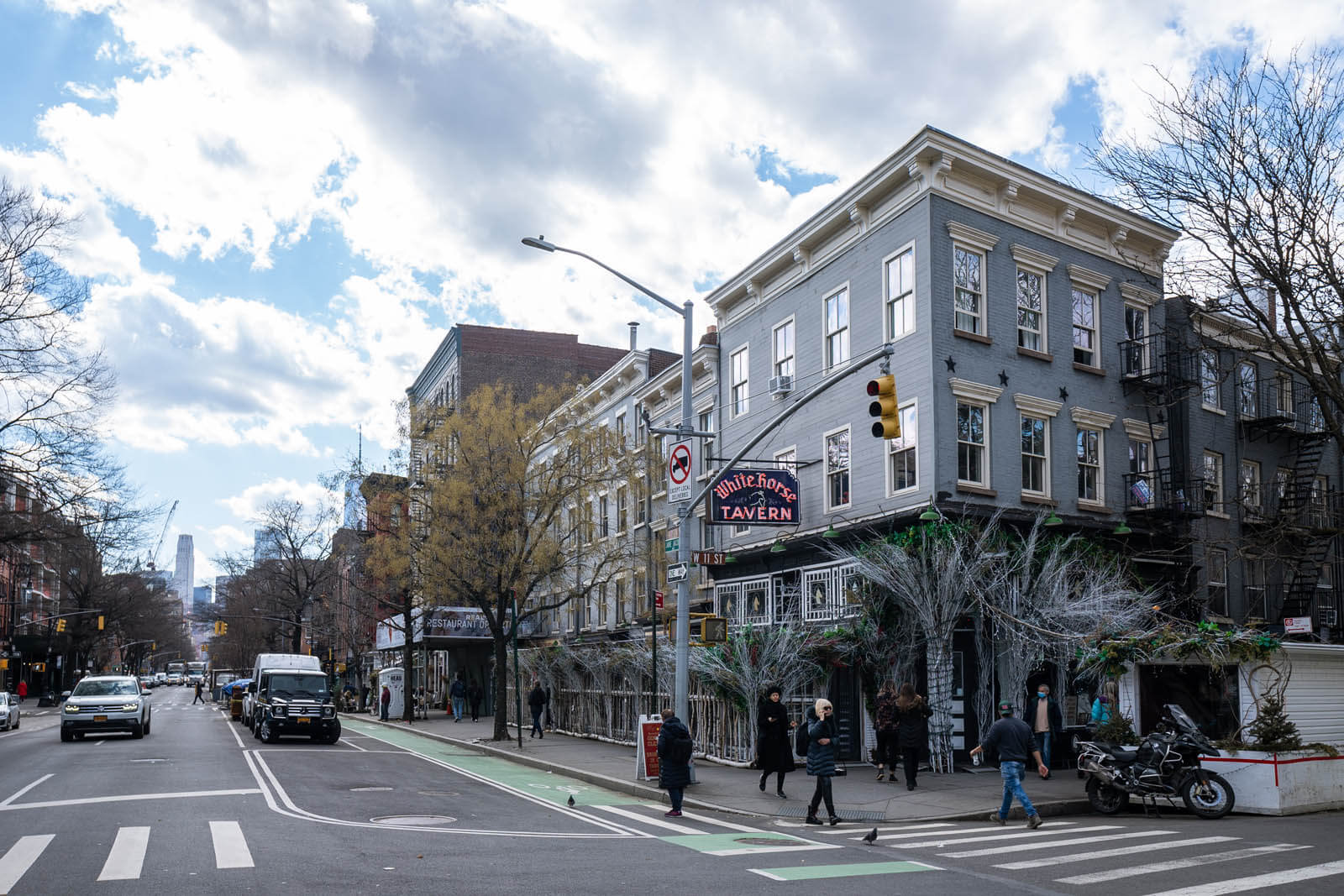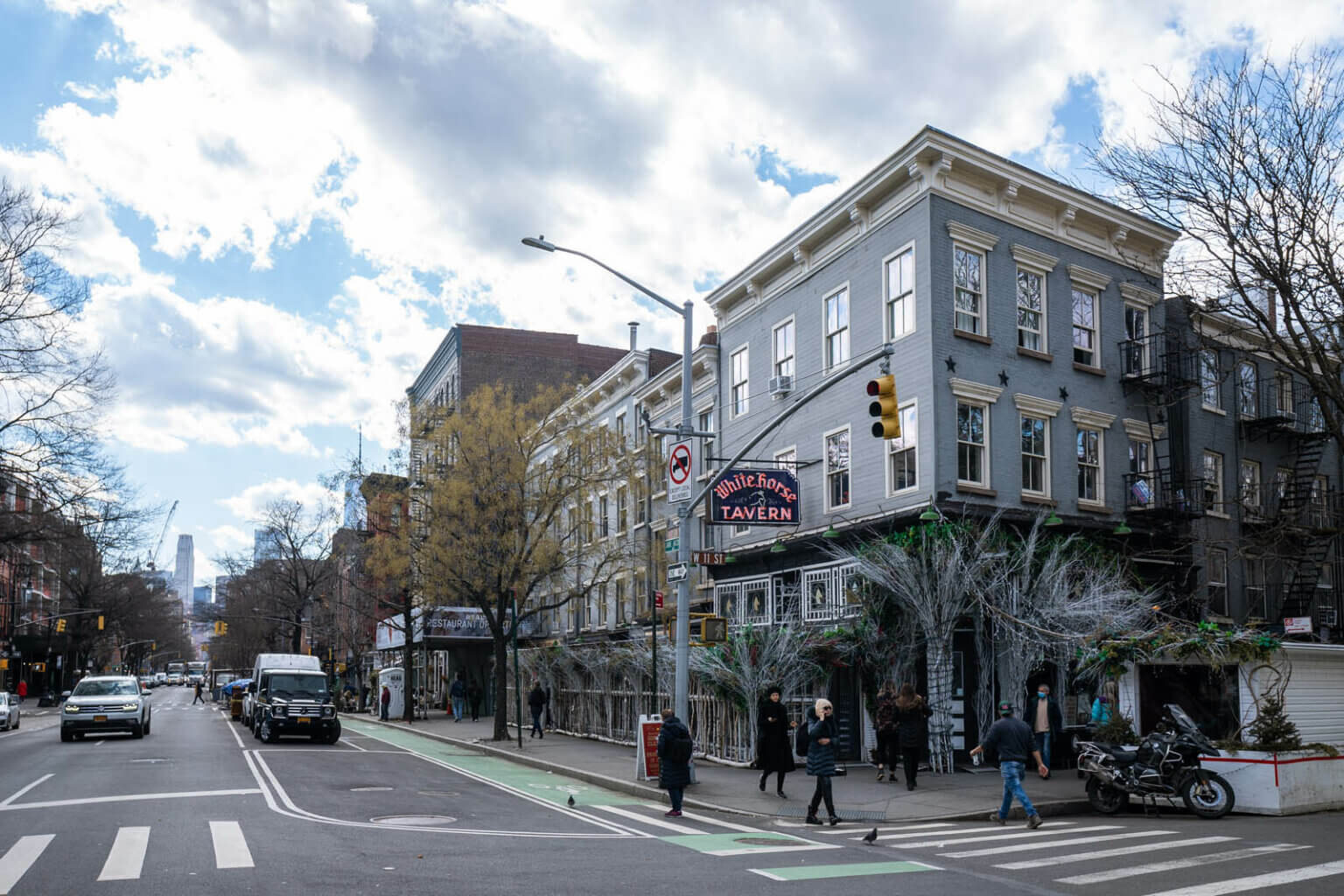 Address: 567 Hudson Street
For history buffs looking for cool things to do in West Village, the White Horse Tavern is a must-visit destination. Whether you're a fan of literature or simply looking for a classic and historic New York City bar experience, you'll want to check this place out! It's also a popular place for weekend brunch.
The White Horse Tavern is a historic bar on the corner of Hudson Street and W 11th Street. It was established in 1880 and originally catered to dock workers from along the Hudson. In the early 1900s, the bar became a popular haunt for future famous writers, including Dylan Thomas and James Baldwin!
The bar serves up a quality range of beers and cocktails, as well as a long menu of pub and American fare. Inside the White Horse Tavern, you can see that they've maintained much of the original décor. The walls are adorned with photos and memorabilia from the bar's storied history. Note the original tile ceilings, wooden fixtures, and odds and ends that just feel like they've always been there.
Explore Some Charming Streets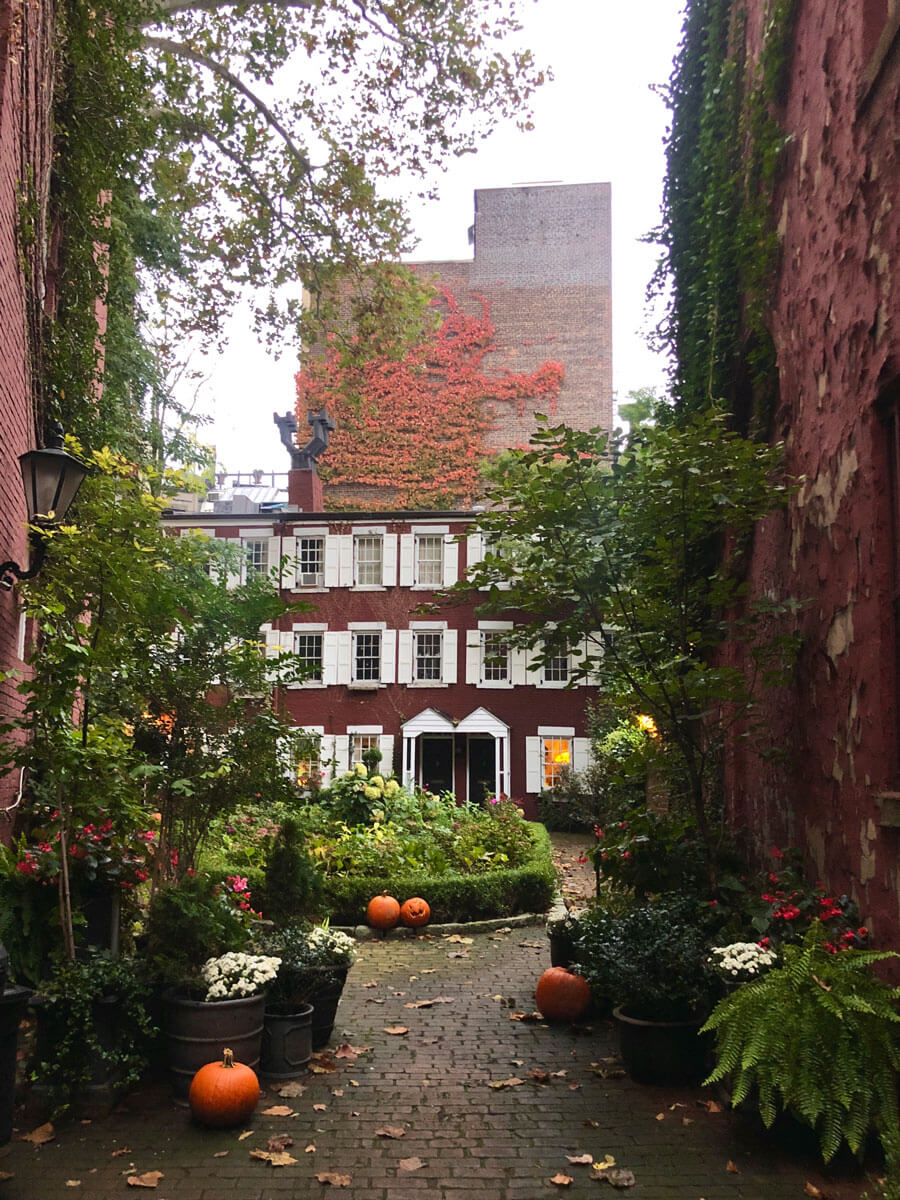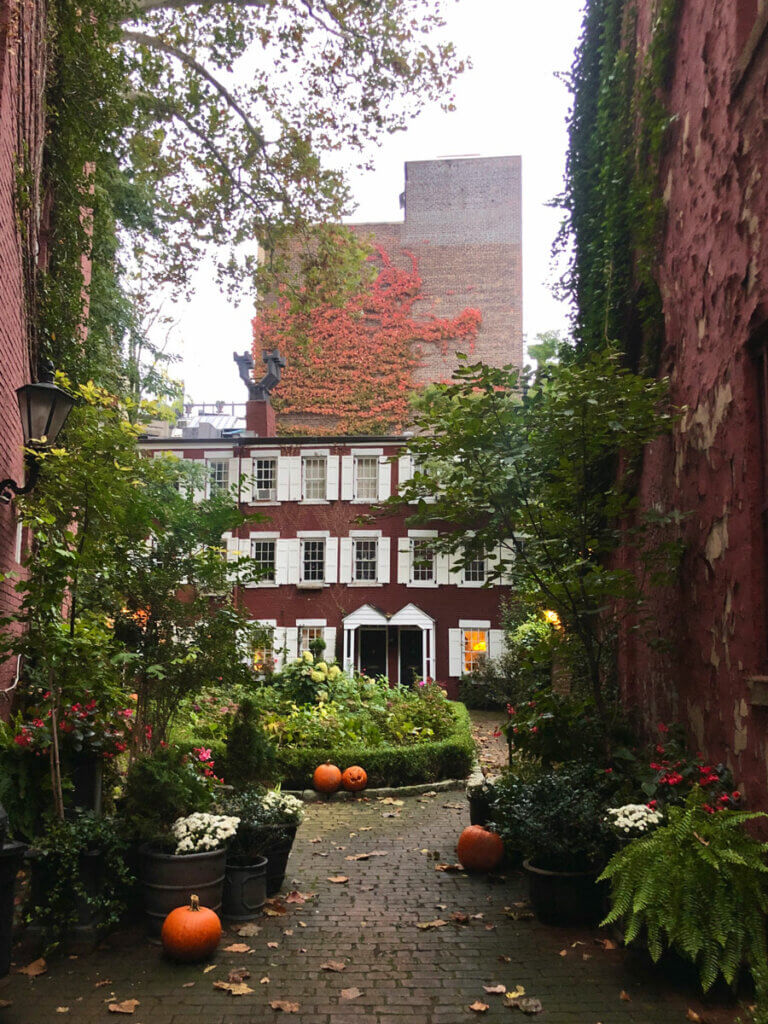 One of the best things to do in the West Village really is just aimlessly wandering! Grove Street is a great place to start. This 5-block street between Hudson Street and Christopher Park seems to hold much of the Village's old-world charm. There are tree-lined streets, colonial-style townhouses, and many of the main attractions on our list!
But one of our favorite spots on Grove Street is the lesser-known Grove Court. On a block between Bedford and Hudson, look for an iron gate between townhouses with a sign that reads "Grove Court." This hidden alley is actually a courtyard for a beautiful pre-war apartment building with a lush garden. You can't go in, but it's nice to peak through the gate.
From Christopher Park, turn onto Waverly Place and look for where it intersects with Gay Street. This 1-block street bends at the northern end to connect with Christopher Street. It's one of those odd places in the middle of Manhattan's grid that feels left over from another time. Gay Street dates back as far as the 1820s when many of the Federal and Greek Revival-style houses on the street were built.
And for a real piece of New York history, walk a few blocks over to Washington Mews. This 1-block private street is just north of Washington Square N. You'll notice gates at both ends of the street. Even though it's a private street, pedestrians are welcome to walk down Washington Mews. You'll see a cobblestone path and the most adorable carriage houses. This mews, or stable courtyard, once serviced the larger townhomes lining the park!
Bleecker is another walk that gives a nice vibe to the area with niche shops, restaurants, and bars. You can also turn up MacDougal for a stroll along the park. This street features many well-preserved mansions and apartment buildings from the 19th century. And while you're heading this way, check out another hidden street, MacDougal Alley! This is another private street where you can see lovely old townhomes.
House of Death
Address: 14 W 10th Street
Literary fans looking for things to do in Greenwich Village might be interested in the haunting story of 14 W 10th Street. If you're walking around the area between 5th and 6th Avenue, you might not think much about the beautiful brownstone. However, you'll want to note the historic plaque stating that Mark Twain lived there.
This is the House of Death and apparently, Twain's ghost has been spotted here! With a nickname as extreme as the House of Death, the brownstone has got to have a dark past, right? Built in 1856, the site was home to several prominent members of NYC society. Dark and mysterious things started happening in the 1890s in connection to the house, and it's a mystery as to why!
Over the years, residents have experience strings of bad luck, seen a variety of ghostly apparitions, and even been brutally murdered in the house. Mark Twain wrote about his experience with seeing objects move in the house during his short 12 months living there! And even though he moved away, the house must have made an impact, because several residents claim to have seen his ghost after his death!
In the last few decades, some residents say they get a weary feeling near the main staircase and have seen flickering lights, but that's about it. You can't go inside, but if you dare get close to the House of Death, it's certainly a unique stop in the neighborhood!
---
Is Greenwich Village Worth a Visit?
Greenwich Village is definitely worth a visit and should be on your radar on an NYC trip as this famous bohemian neighborhood not only has a deep counter-culture and Beat Generation history, but it's also home to some of the best restaurants in New York City as well as best nightlife including jazz clubs, comedy clubs, historic bars, and off-broadway theaters.
What is so special about Greenwich Village?
Greenwich Village is a special neighborhood in New York City as it's historically been home to artists, creatives, and the heart of not only the Beat Generation and counter-culture movement but also where the Gay Liberation movement really took off.
What is the West Village, New York known for?
The West Village is known for its cluster of gorgeous architecture and brownstones, being home to many celebrities, and charming streets full of shops, boutiques, cafes, and restaurants. The West Village also has theaters and home to LGBTQ monuments that highlight the history of the gay liberation movement that took off here after the Stonewall Uprising.
---
Best Things to do in West Village & Greenwich Village Summary:
Washington Square Park
Stonewall National Monument
Carrie Bradshaw's Brownstone
Friends Apartment Building
Shopping on Bleecker Street
Comedy Cellar
Check out a Jazz Club
Enjoy an Off-Broadway Show
Check Out Intimate Live Music Venues
Magnolia Bakery
Get Pizza!
Iconic Neighborhood Restaurants
Marie's Crisis Cafe
Watch Street Basketball
See a Movie at IFC Center
Whitney Museum
C.O. Bigelow
White Horse Tavern
Explore the Charming Streets
House of Death
---
Found this guide to all to cool and unique things to do in the Village helpful? Bookmark for later!