Looking for the best things to do in Midtown, Manhattan? We got you. If you want to be in the middle of all the action, Midtown in NYC is the place to be!
It's one of the best neighborhoods to stay in NYC with so many things to do in Midtown within a short walk. There are some great hotels in Midtown to stay in too, and while sometimes you'll pay more for the view, you can't beat waking up to views of the Empire State Building or Times Square right out your window! Not to mention, the location is the perfect base for exploring New York City.
Midtown is the largest neighborhood in Manhattan and is packed with some of the best things to do in New York City. From east to west, it touches both the Hudson and the East Rivers. From north to south, its boundaries are Central Park at 59th Street and 14th Street, where Union Square sits. The central location makes it a hub for business and tourism.
Do you like exploring old industrial areas? Head to the Highline in Chelsea or go out to eat in Hell's Kitchen. If you've always wanted to see Times Square lit up at night or see a Broadway show, head to the Theater District in the center of Midtown.
That's just the beginning of what the Manhattan neighborhood of Midtown has to offer visitors.
Disclaimer: This post contains commissionable links.
Top Things to Do in Midtown NYC
When you're looking for things to do in Midtown, consider it a positive that the hardest part is narrowing down just which one of the many activities you'll have time for! It helps to remember that Midtown is basically sectioned into smaller neighborhoods, each with a different personality and full of different famous landmarks.
For example, Murray Hill is a brownstone neighborhood with quieter streets and local eateries. The Garment District, Diamond District, and Theater District are a bit self-explanatory.
But Midtown is also where you'll find iconic landmarks Times Square, the Empire State Building, Chrysler Building, Rockefeller Center, and Grand Central Terminal to name a few.
And Chelsea is revamped factories and warehouses with trendy restaurants, bars, hotels, and shops not to mention hundreds of galleries.
Midtown is a little over 2 miles across at its widest, so you can explore one end of the neighborhood to the other! Or stick to one area and explore from there. Here are some of the most iconic Midtown attractions that you won't want to miss.
NYC MONEY SAVING TIP!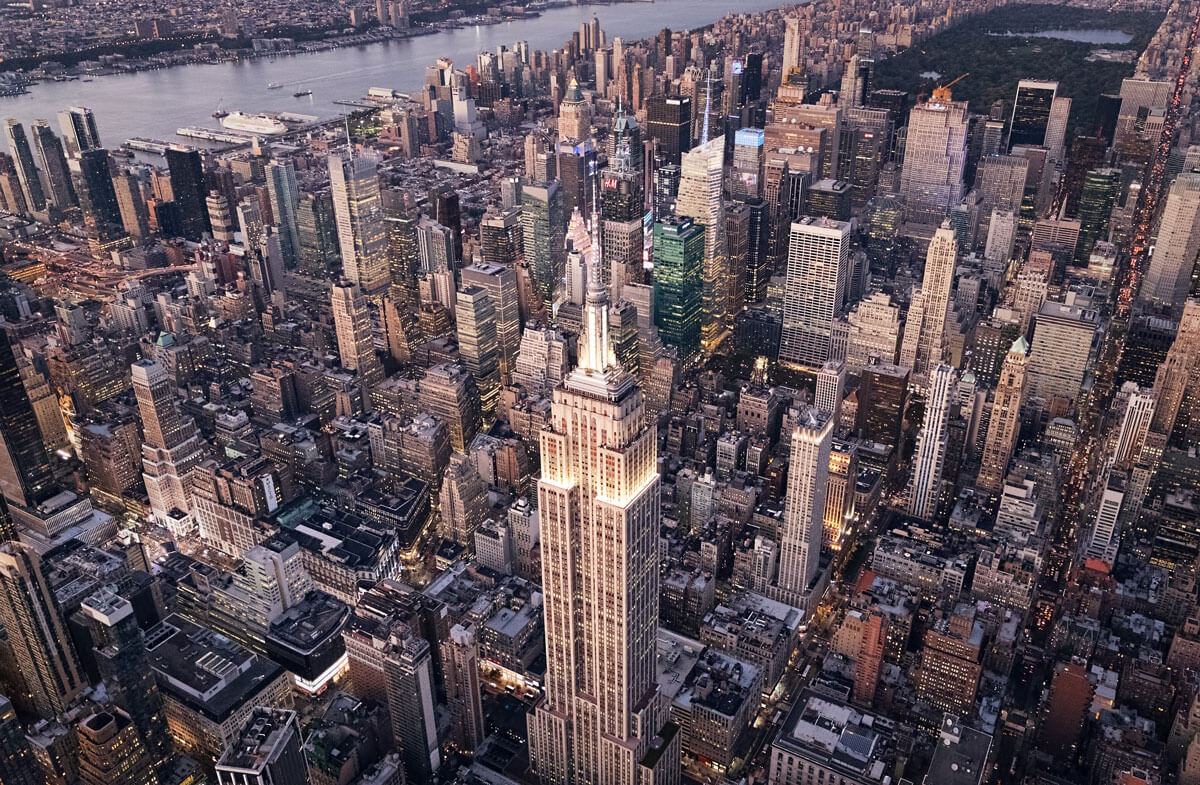 Visiting New York City can really add up, especially if you're seeing some of the best attractions and experiences in NYC that are located in Midtown and beyond.
There's a way you can save some serious money and that's by purchasing an attraction pass where you bundle multiple experiences for your visit and save with steep discounts, which we've mentioned throughout the guide.
There are a few different money-saving attraction passes available in NYC that are WORTH every cent if you plan on seeing multiple famous attractions in the city and are perfect for those who just can't pick and choose and want to hit up a few of the city's top attractions within a few days.
These attraction passes are paid upfront for a one-time fee and on your trip they get you into multiple different attractions for free meaning that you save some serious money overall. By purchasing an attraction pass you can save anywhere from 35-45% on your attraction passes and saving you hundreds of dollars on your visit!
CityPASS offers a 3 attraction pass or a 6 attraction pass with over 12 city attractions to choose from including some of the famous observation decks (which you can visit at night) like the Empire State Building, The Edge, and Top of the Rock.
Another great option is the New York Pass which you can purchase anywhere from a 1 Day Pass to a 10 Day Pass that gets you into over 100 attractions. Once you purchase your New York Pass you download the Go City app and use that to get up to 45% savings on popular attractions as well as a few hidden gem attractions like the Empire State Building, The Edge, and many of the observation decks!
See our full breakdown of the New York Pass and our breakdown of the New York CityPASS to see if it's worth it for your visit to save hundreds of dollars on multiple attractions!
1. Empire State Building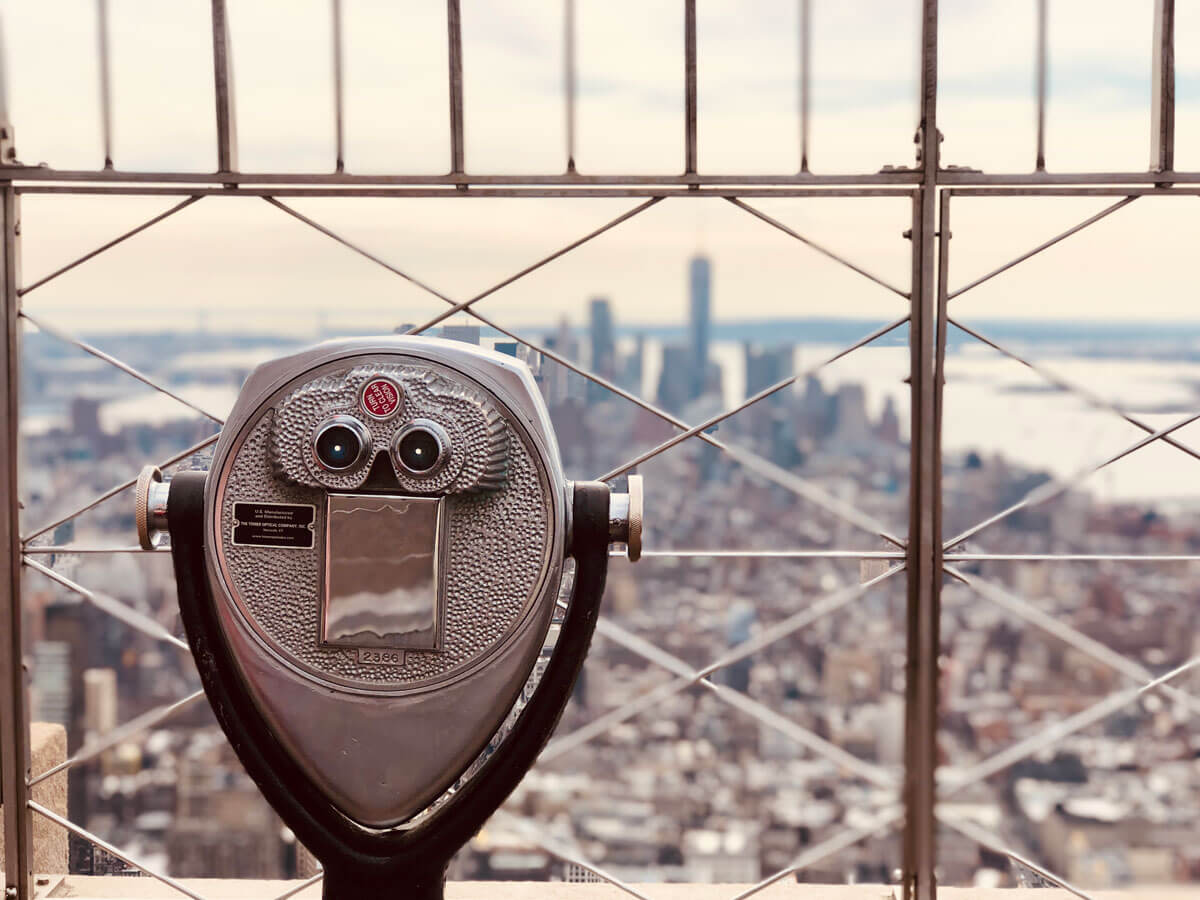 One of the most infamous things to do in Midtown is visiting the Empire State Building. The gargantuan skyscraper takes up half a block on 5th Avenue between W 33 and 34 Streets. It set world records when it opened in 1931 with 102 stories. The Art Deco-style building was built to be the first building taller than 100 stories.
All guests have access to exhibitions on the 2nd and 80th floors and 2 observation decks on the 86th and 102nd floors. When you arrive, you'll stand in a line and go through security before you head to one of the elevators.
The exhibit floors are great for all ages with interactive exhibits on the history, architecture, and lore of the skyscraper. Head to the open-air observation deck, that's on the 86th floor. Or you can take the new all-glass elevator from there to the 102nd-floor observatory with floor-to-ceiling windows.
Keep in mind you'll want to purchase your tickets in advance.
Even if you can't find it in your NYC itinerary to go up into the Empire State Building, you still enjoy the building's beauty! Admire the Art Deco exteriors, but also keep an eye out for the changing tower lights! See the colors and not sure what they represent? Look up what they mean on the ESB Tower Lights Calendar.
2. Times Square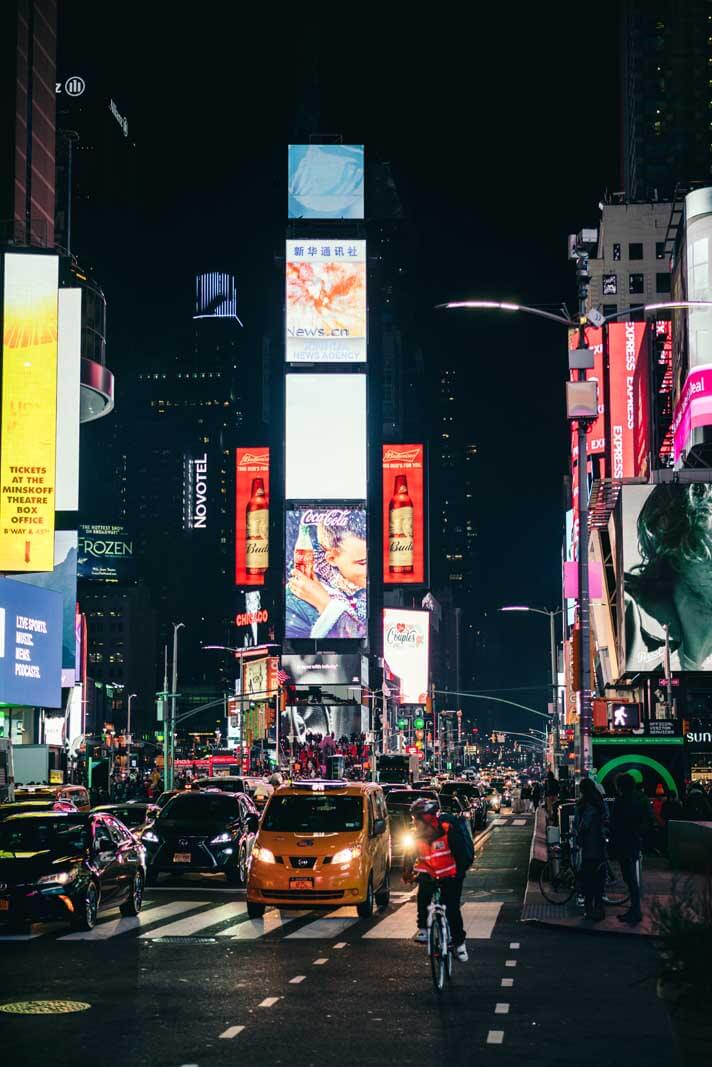 Probably one of the most famous sites in the city and what to do in Midtown if you've never been is visit Times Square at least once! Times Square is at the crossroads of 42nd Street, Broadway, and 7th Avenue. Since the mid-1800s, it's been a hub for pedestrians, vendors, and travel. Today, you'll find some of the most popular things to do in Midtown right here in Times Square, or within a few blocks in any direction!
You could make a day out of exploring this small, condensed area alone as there are tons of things to do in Times Square (yes, even cool hidden things that locals love too), which is the spine of New York City's Theater District. It's also where you'll find restaurants, comedy clubs, rooftop bars, speakeasies, theaters, pop-up shops, flagship stores, whacky street characters (who are definetely infringing on copyrights), and more.
Just walk Broadway and you'll find mega stores like Hershey's Chocolate World, Sephora, U.S. Polo, and Swarovski. And Times Square is also a great place to visit some of the classic New York City souvenir stores lining the busy thoroughfare.
If you're hungry, head over to Ray's Pizza, Max Brenner's, or even Krispy Kreme. The best pizza by the slice in NYC here though is Joe's Pizza. Or head over to Restaurant Row nearby and eat at popular restaurants like Carmine's or Gallagher's Steakhouse, one of the best steakhouses in NYC!
And everyone thinks knows of Times Square at New Year's Eve in NYC as the big event here, but there's always something happening here! If you're in NYC during the summer solstice, show up for Over Madness Yoga, the annual yoga class that's been going on for over 20 years. And TSQ LIVE is a free live summer concert series that's always a big hit.
3. Rockefeller Center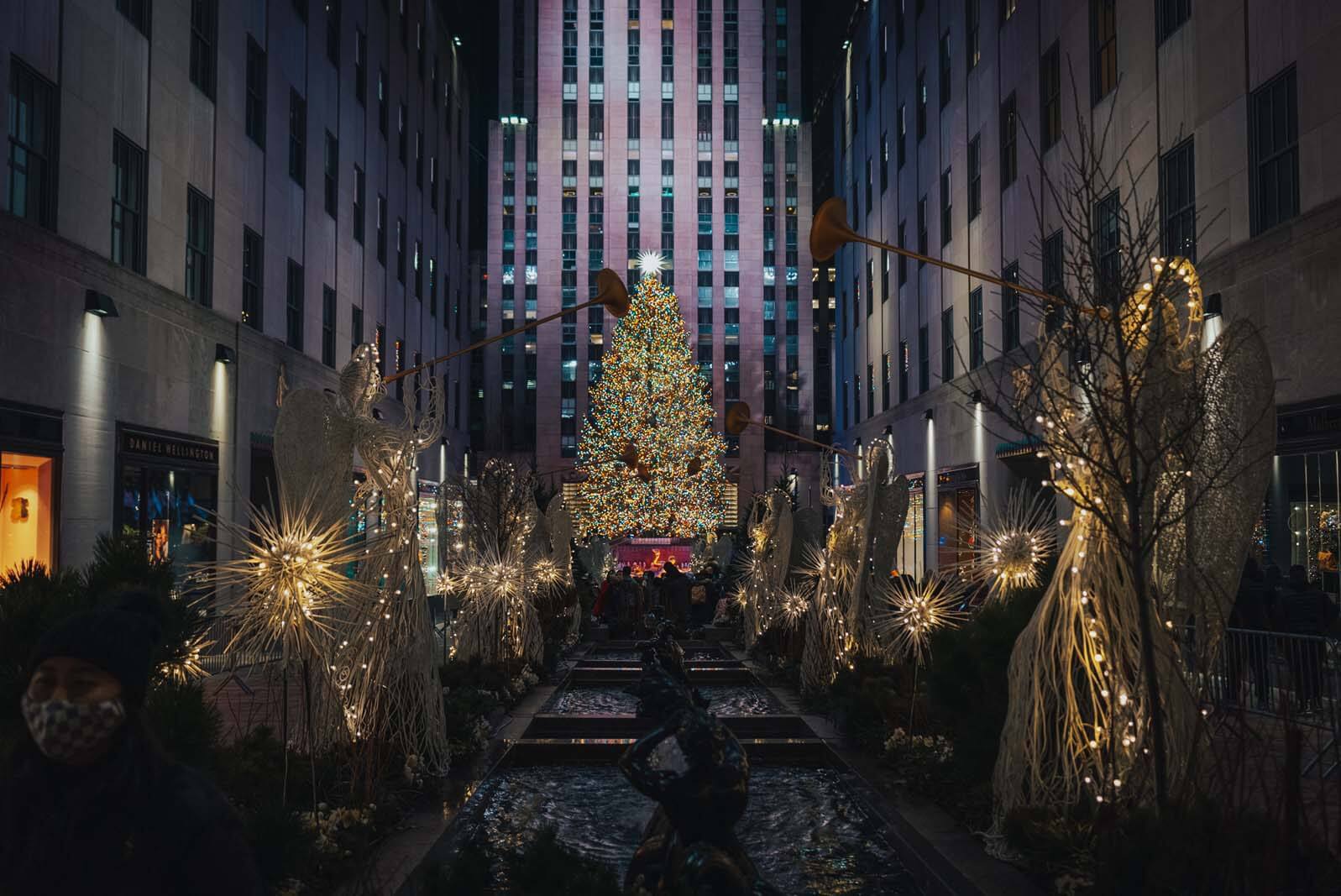 Make sure to add Rockefeller Center to the top of your list of things to do in Midtown. It's a complex of 19 commercial buildings covering 3 blocks between 5th and 6th Avenues, from 48th Street to 51st Street.
Located in the middle of the bustling Diamond District, Rockefeller Center is home to television studios, private businesses, restaurants, and retail stores. This is where shows the likes of Saturday Night Live and the Today Show are filmed.
And if you're in NYC in the winter, Rockefeller Center Plaza where you can visit the iconic ice rink and Rockefeller Christmas Tree during Christmas in NYC.
The shopping at Rockefeller Center is top-notch, with both high-end and mid-range retailers. You'll find Tiffany & Co and FAO Schwartz here. This is where Saks 5th Avenue is located, and you can pick up NBC merchandise at the NBC Experience Store.
The eateries at Rockefeller Center cater to both business types and visitors, so they also run the spectrum from grab-and-go to white linen. There's the famous Magnolia Bakery. Del Frisco's Double Eagle Steak House is known for its award-winning wine collection. And Pebble Bar is a must if you love an intimate setting with superb drinks.
4. Top of the Rock Observatory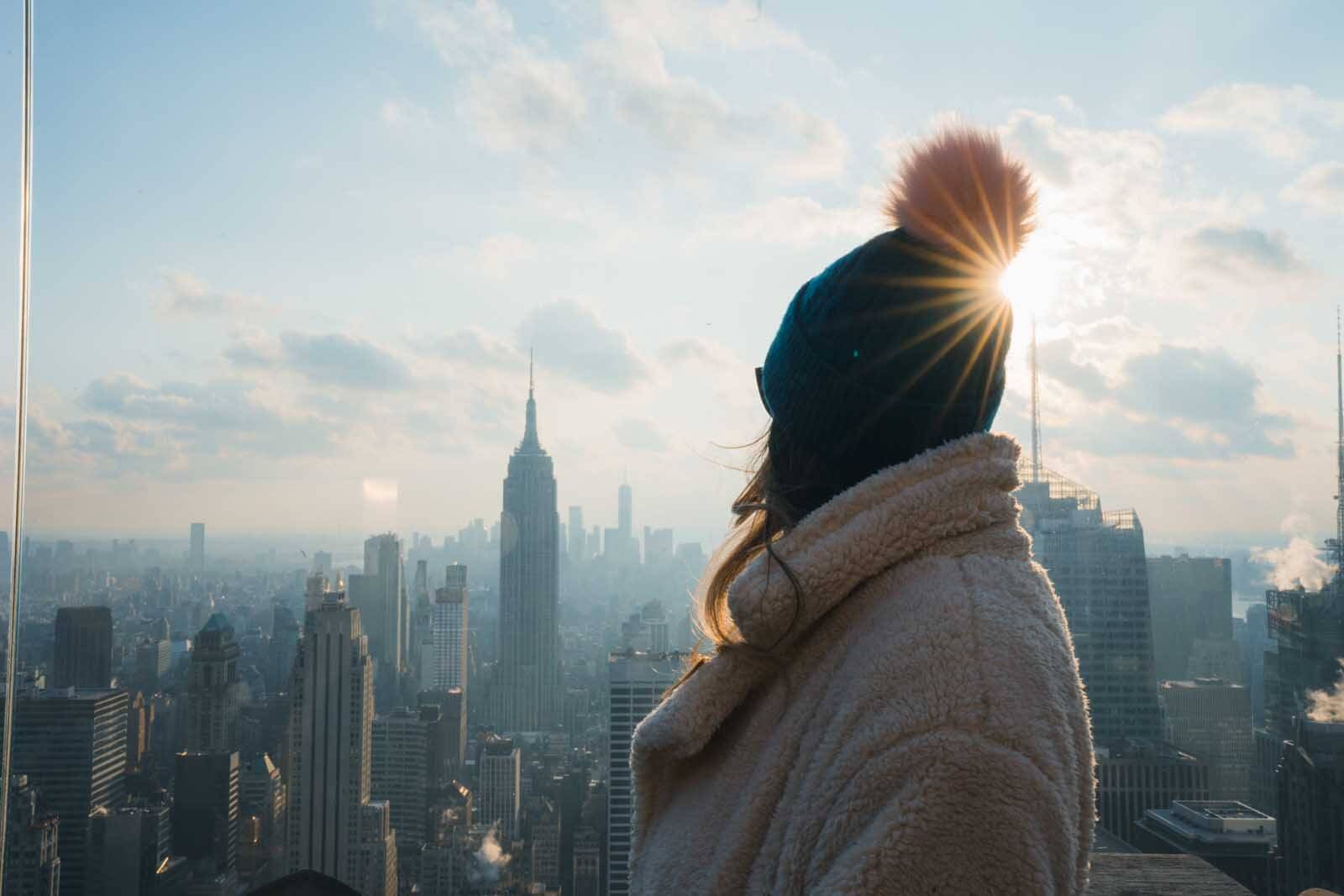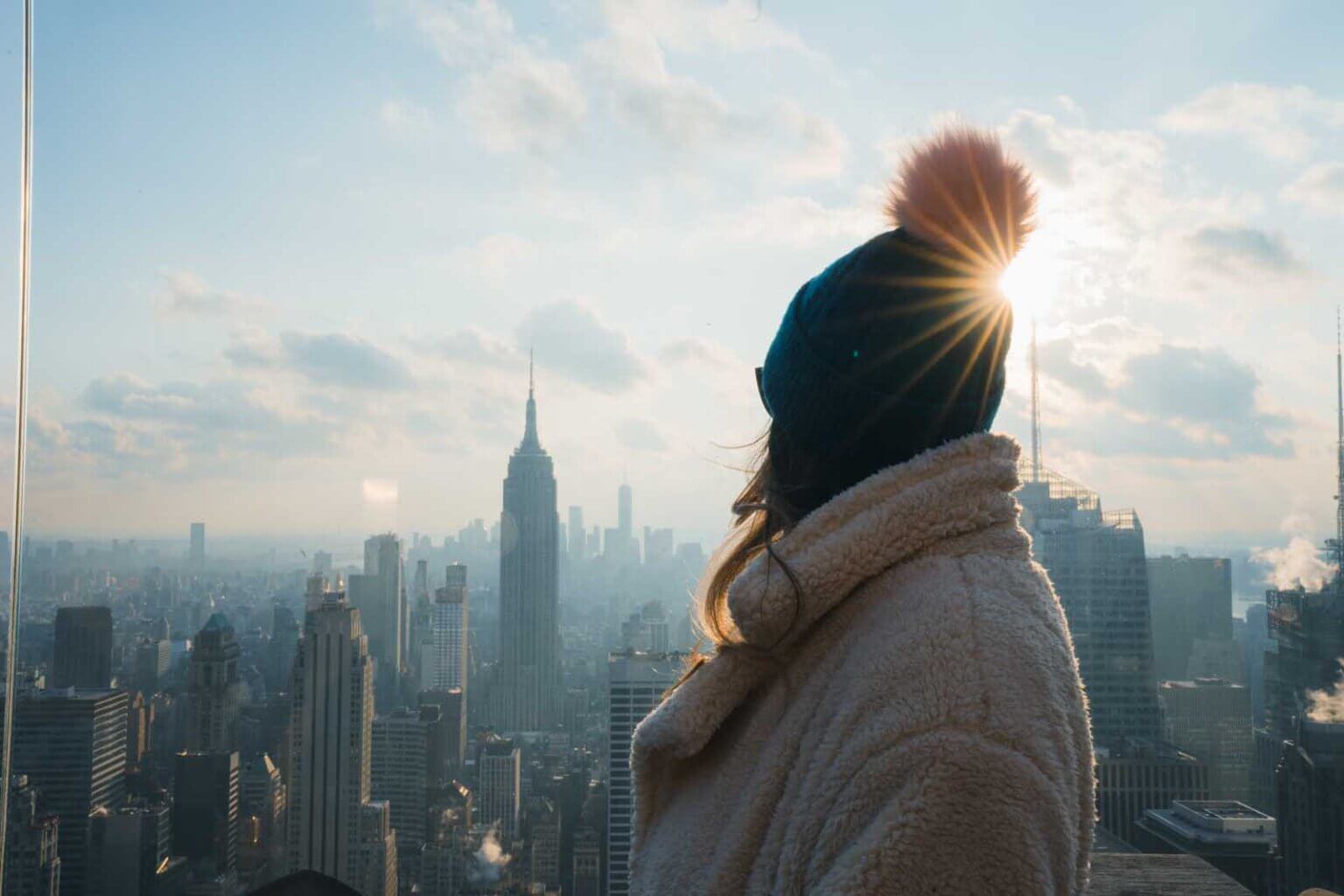 30 Rockefeller Plaza is one of the most well-known spots at Rockefeller Center. If you want to see one of the best observation decks in New York City, this is where the Top of the Rock is located. It's an open-air observation deck with 360 views of the city!
Located on the 70th floor of 30 Rock, it offers some of the best views in NYC of Lower Manhattan and the Empire State Building.
5. Grand Central Terminal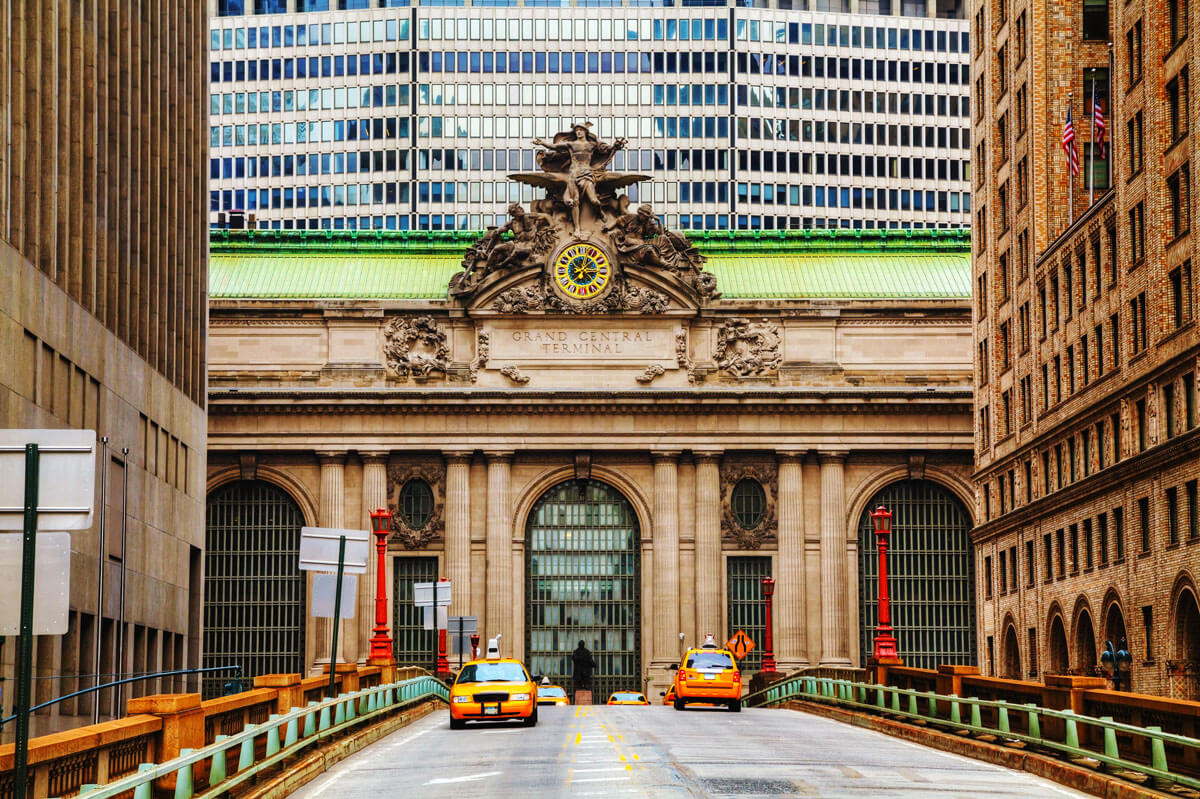 Looking for what to do in Midtown if you're into architecture and historic sites? Opening in 1913, Art Deco-style Grand Central Station Terminal is not only a major transit hub but also a popular tourist destination. It's in Midtown East, and the main entrance is on E 42nd Street, under Park Avenue.
Inside the main concourse is the breathtaking cathedral ceiling painted with a zodiac mural and backlight stars! There's of course the iconic information booth clock that sits at the center of the concourse. And everyone should stop at the Whispering Gallery near the 42nd Street entrance.
You'll find a variety of shops and places to eat at Grand Central Terminal as well. Off the main concourse is the famous Grand Central Oyster Bar & Restaurant, as well as the historic Campbell Bar. The Grand Central Market is lovely to just peruse but it's always a great place to pick up odds and ends for a cold lunch.
And the Dining Concourse on the lower level is a food court with something for every taste. Take your food to the dining hall and enjoy lunch while you watch people rushing to their trains.
Also, one of the best hidden gems in NYC is located here! The Whispering Gallery is a spot where you can whisper a secret message to a friend or even stranger without anyone else hearing! The arched dome structure of the gallery can carry quiet sounds to the opposite end of the passageway.
6. See a Show on Broadway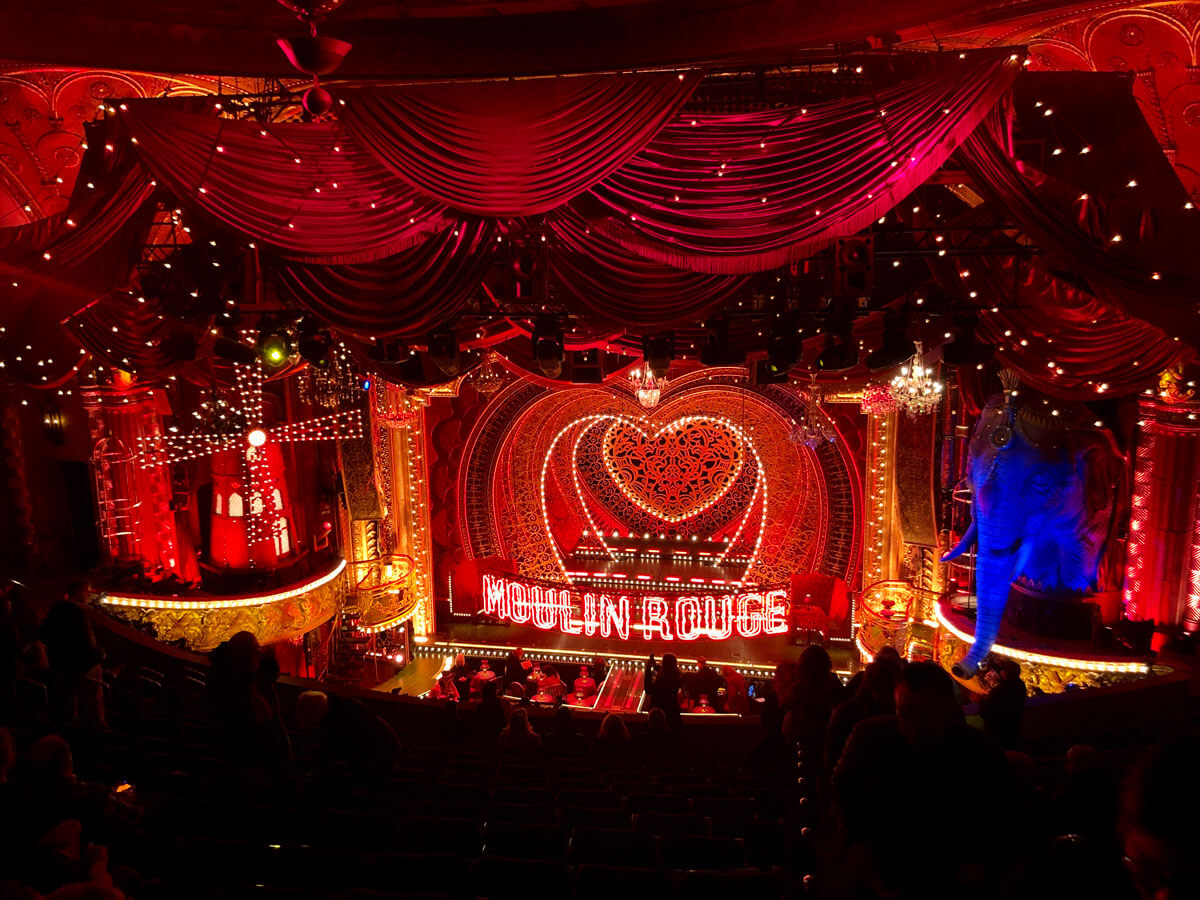 Head to the Theater District along Broadway to see the most hardworking talent in the industry in venues of every size! While there is a Broadway Theater, to "see a show on Broadway" entails seeing a major production in a venue of 500 seats or more.
Broadway productions are some of the most prestigious in the world. They include world-famous titles like The Lion King, The Book of Mormon, and Hamilton. You can see a Broadway show in over 40 venues across NYC any day of the week. There are many great venues located within walking distance of Times Square, including the Barrymore Theater on W 47th Street and the Gershwin Theater on W 51st Street
And if you're not sure where to start, we have an entire guide dedicated for how to see a show on Broadway with tips on how to get tickets, discounted tickets, and even what to wear to a Broadway show.
7. Museum of Modern Art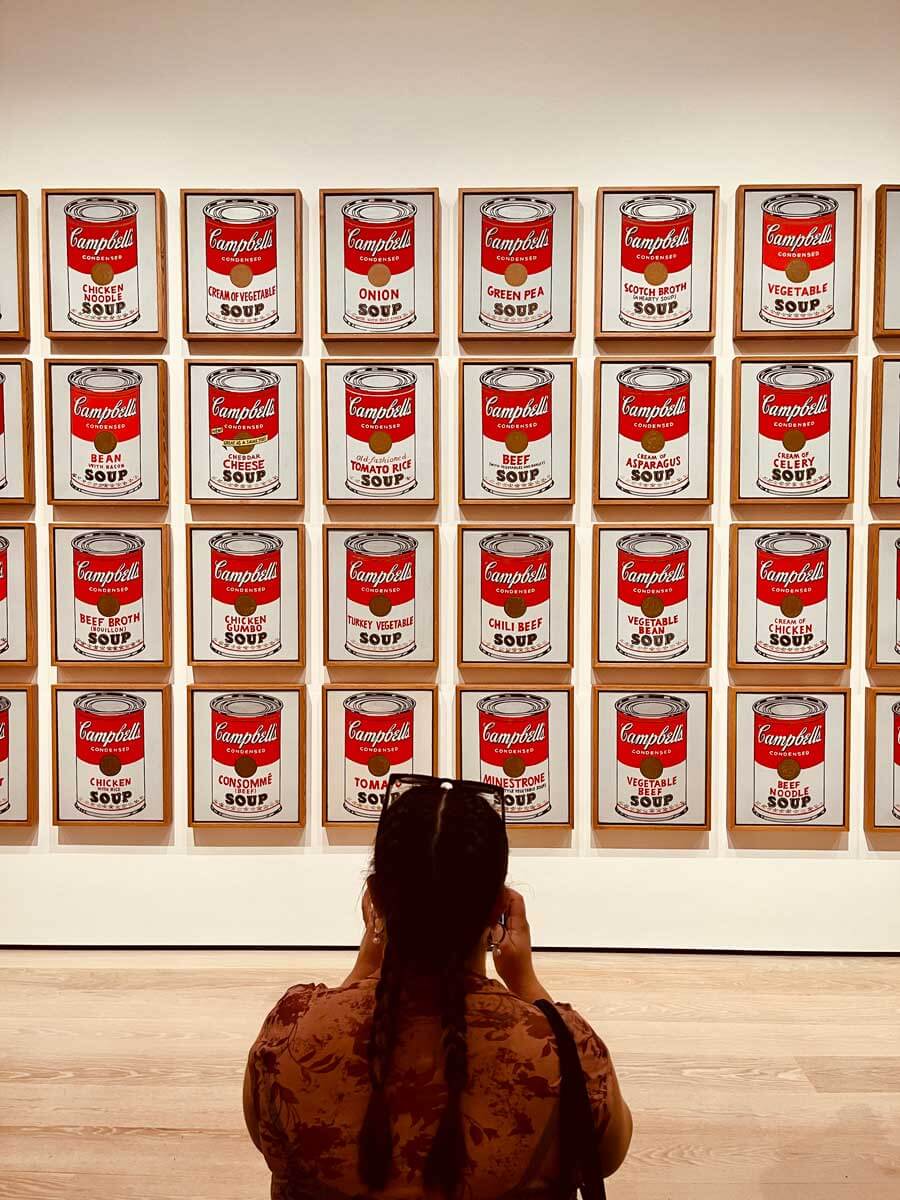 Since its opening in 1929, the Museum of Modern Art has been one of the most well-known and influential modern art museums in the world and one of the best museums in NYC. You can see examples of both modern and contemporary art spanning paintings and sculptures to electronic media, print, and even live performances. The museum's original collection includes pieces by Picasso, Monet, Warhol, and Van Gogh.  
During your visit, you can also walk through a sculpture garden or enjoy 3 different places to eat. The MoMA has 2 different cafes serving local wine and Italian plates, as well as The Modern, an elevated New American restaurant and bar.
8. Bryant Park
When you're looking for things to do in Midtown, Bryant Park is a must! It's a smaller grassy park next to the New York Public Library Main Branch on the corner of 42nd Street and 6th Avenue in Midtown south.
From watching locals play chess under the trees to watching a summer movie on the lawn, there's always something going on in Bryant Park. Plus, this park has some of the best (and fanciest) public bathrooms in the city, I'm not even kidding.
On any given day, it's just nice to stroll under the trees, sit on the lawn, or grab a quick bite at the kiosks in the park. Ther are also plenty of little tables with chairs under the shade of the trees, which is a perfect place to take a walking break after exploring all the fun Midtown attractions you'll be hitting up.
There's a pretty fountain, a brass sculpture near 6th Avenue, and Le Carrousel near W 40th Street. And along the library side is the beautiful, ivy-covered Bryant Park Grill.
During the warmer months, the New York Public hosts the Reading Room at the park. You can borrow books, attend author talks, or come watch Books on Broadway performances. There are also tons of community programs, including bird-watching tours, knitting classes, boot camps, and much more. And a favorite is the summer movie nights happening on Monday nights from June through August.
One of the most popular things to do in Bryant Park is visiting the annual Winter Village! October through March there's an ice rink with skate rentals. Without a doubt, this is one of the best places to go ice skating in NYC and it's free if you bring your own skates!
Or for a unique experience with friends, try your hand at curling at the Curling Café & Bar! And the Winter Village shops are a great place to pick up ornaments, handcrafted items, and delicious food.
9. New York Public Library Main Branch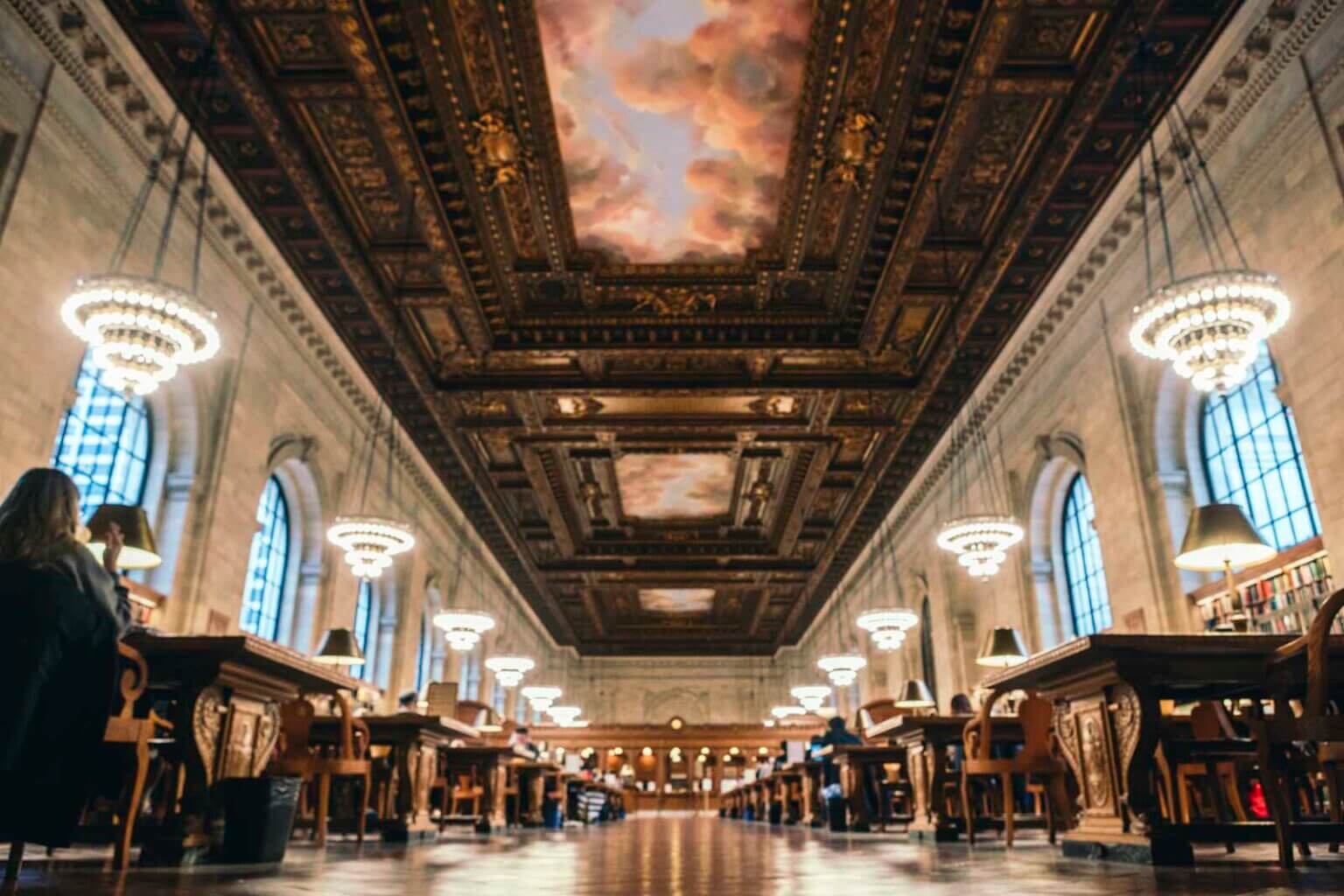 Next to Bryant Park is the main branch of the New York Public Library, officially housed in the Stephen A. Schwarzman Building. The majestic entrance of the beaux arts building is on 5th Avenue, where you can't miss the iconic lion statues named Patience and Fortitude who have been in multiple tv shows and movies filmed in NYC like Ghostbusters!
Admiring the architecture and art alone is a good reason to come to the NYPL Main Branch. There are frescoes, archways, Greek pillars, bronze sculptures, chandeliers, and more. Walking room to room feels like you're in a museum. There are so many good rooms to check out, including the McGraw Rotunda and the Rose Reading Room.
The Rose Reading Room is stunning and you can visit by joining one of the free tours with NYPL staff. Also, don't miss the Treasures Collection on the first level. This is where you can see fascinating literary artifacts of all kinds, including the original Winnie-the-Pooh and friends stuffed animals!
10. Shopping on 5th Avenue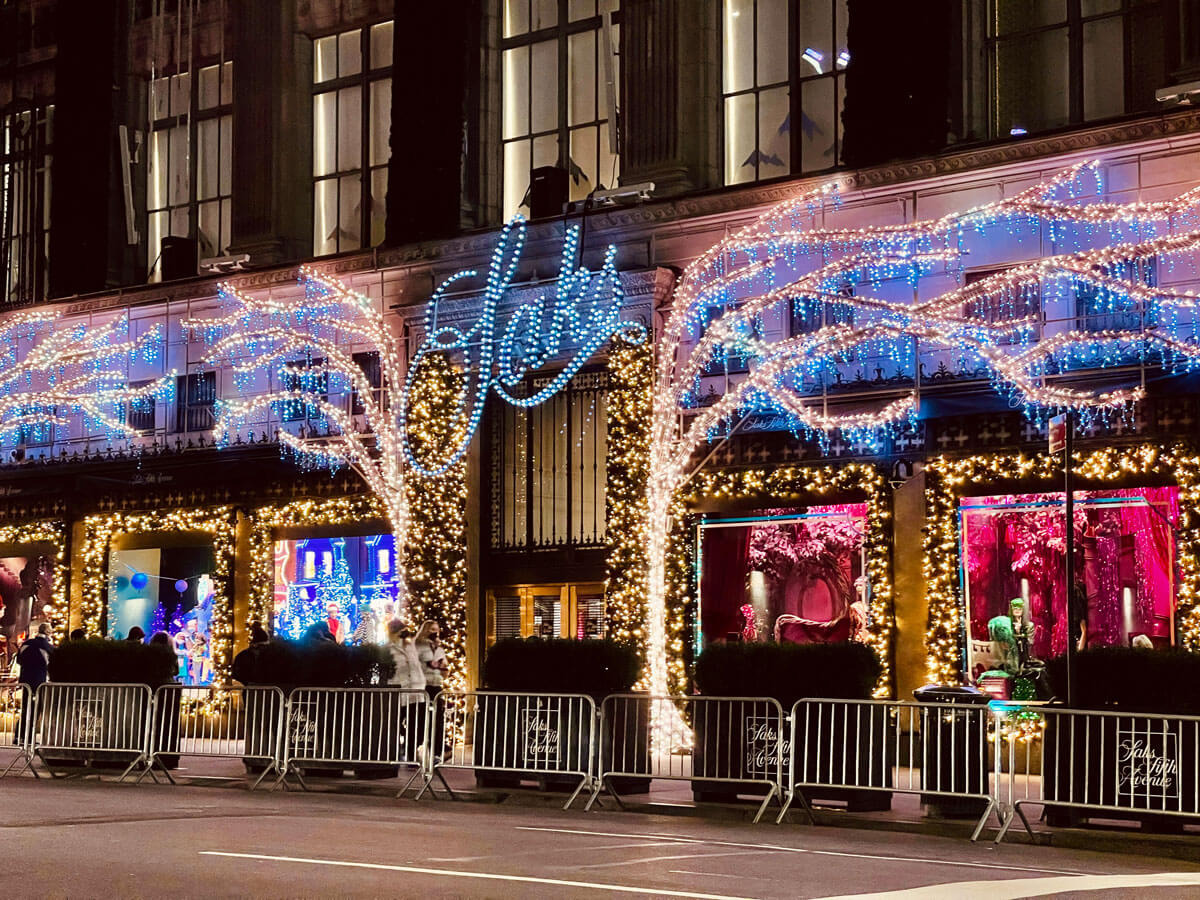 Starting from Bryant Park and E 40th Street, you'll find some of the best shopping in the world along 5th Avenue. Go all the way up to Central Park and along the way you'll see shops at every price point.
Check out MUJI across from Bryant Park or go north to Zara and The North Face between E 42nd and 43rd Streets. You'll even see several I Love NYC Gifts that have all the items your New York City souvenirs on your checklist. Some stores, like Club Monaco near E 48th Street, are in gorgeous old buildings that you have to go inside.
At the corner of E 50th Street are Saks Fifth Avenue and Dolce and Gabbana. After this, you get a lot more high-end brands like Tiffany's, Cartier, and Coach. And then right before Central Park at E 57th Street, you'll see clusters of luxury brands with beautiful storefronts by BVLGARI, Louis Vuitton, and more. These are especially magical around the holidays when you can check out their elaborate holiday window displays!
11. Summit One Vanderbilt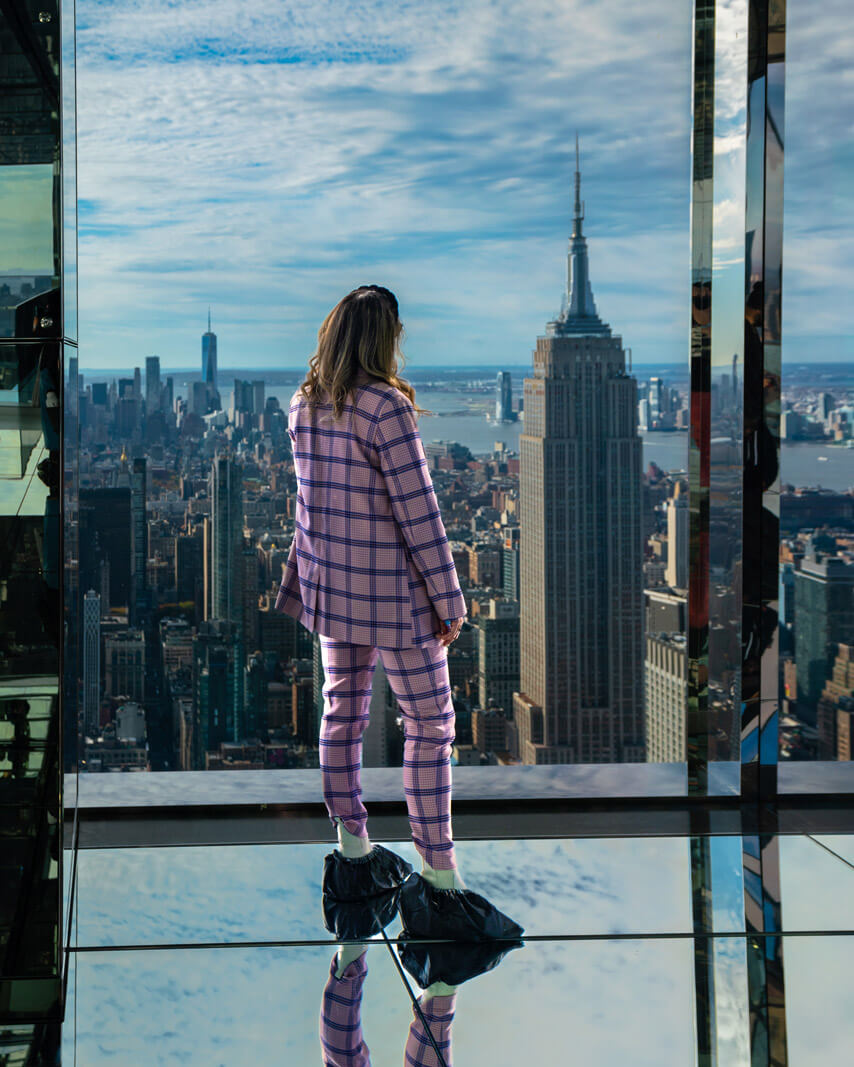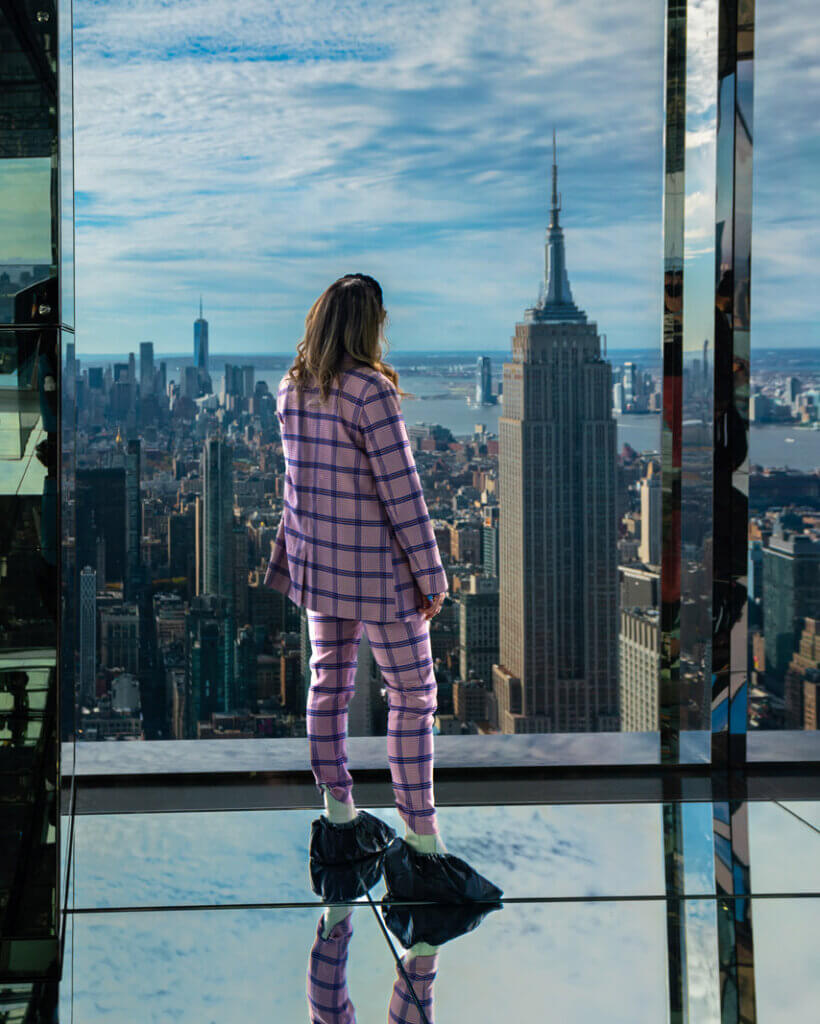 If you're looking for what to do in Midtown that involves the BEST views in the city you're going to want to go here! Summit One Vanderbilt is NYC's newest commercial skyscraper and observation deck, and it's the tallest one in Midtown. It's also part-observation deck/part-art exhibition, using the NYC skyline in the art! And for anyone planning a trip to NYC, you'll want to plan a visit to Summit One Vanderbilt as it's aboslutely stunning and the views are unbeatable.
Starting at One Vanderbilt's 91st floor, you'll walk through 3 stories of immersive art installations and observation decks with unobstructed views of the city. Without a doubt you have the best views of the Empire State Building and Chrysler Building from here!
Each space features concepts and art installations by contemporary artists. They involve digital art, reflective mirrors, floor-to-ceiling windows, sculptures, and more. You can also ride the world's tallest external glass elevators, pier down from glass ledges 1100 feet over Madison Avenue and walk an outdoor observation deck. Your tour is 90 minutes long with allotted times in each space.
You can visit Summit One Vanderbilt every day but Tuesday from 9 AM to midnight (last entry at 11 PM). And if you can go at night, do it! It's without a doubt, one of the best things to do in NYC at night. The lights shift to complement the sunset and the lights of the city. The official entrance to the Summit is through the Grand Central Station Concourse but you can also enter along Vanderbilt Avenue.
12. Eat Your Way through Koreatown
You'll find Koreatown covering W 31st Street to W 33rd, between Greeley Square Park on Broadway and 5th Avenue. This tiny neighborhood is packed with Korean cuisine at it's many restaurants, shops, and more.
Having lived in Seoul for 2.5 years, one of our favorite things to do in Midtown Manhattan is enjoying all the quality places to eat here.
You'll find everything here, like Korean BBQ, karaoke bars, Korean fusion, and authentic hard-to-find dishes like dak galbi at Hong Chun Cheon Dak Galbi. If you're craving Korean fried chicken, Turntable Chicken Jazz W 33rd is exactly what it sounds like. Enjoy the cool atmosphere and live jazz played on vinyl while you eat amazing Korean-style wings.
Jongro BBQ is our favorite BBQ in Midtown! It's not the only Korean BBQ place in Koreatown, by far. But the cuts of meat you get melt in your mouth, and the service is amazing. Most of the Korean BBQ places, including Jongro, line both sides of W 32nd, along with a handful of fun karaoke bars. Miss Korea also has great BBQ.
Itaewon Gastropub is great if you like K-Pop and soju. This place is loud and lively with live DJs and neon lights everywhere. Come here for creative Korean fusion dishes and fun drinks. KOKU RAMEN serves both Korean- and Japanese-style ramen and the décor is a lot of fun with comic book themes.
Just passing through Koreatown? You can still enjoy the amazing food! Woorijip is a hidden gem with classic dishes prepared as grab-and-go meals and a hot Korean buffet.
13. The Morgan Library and Museum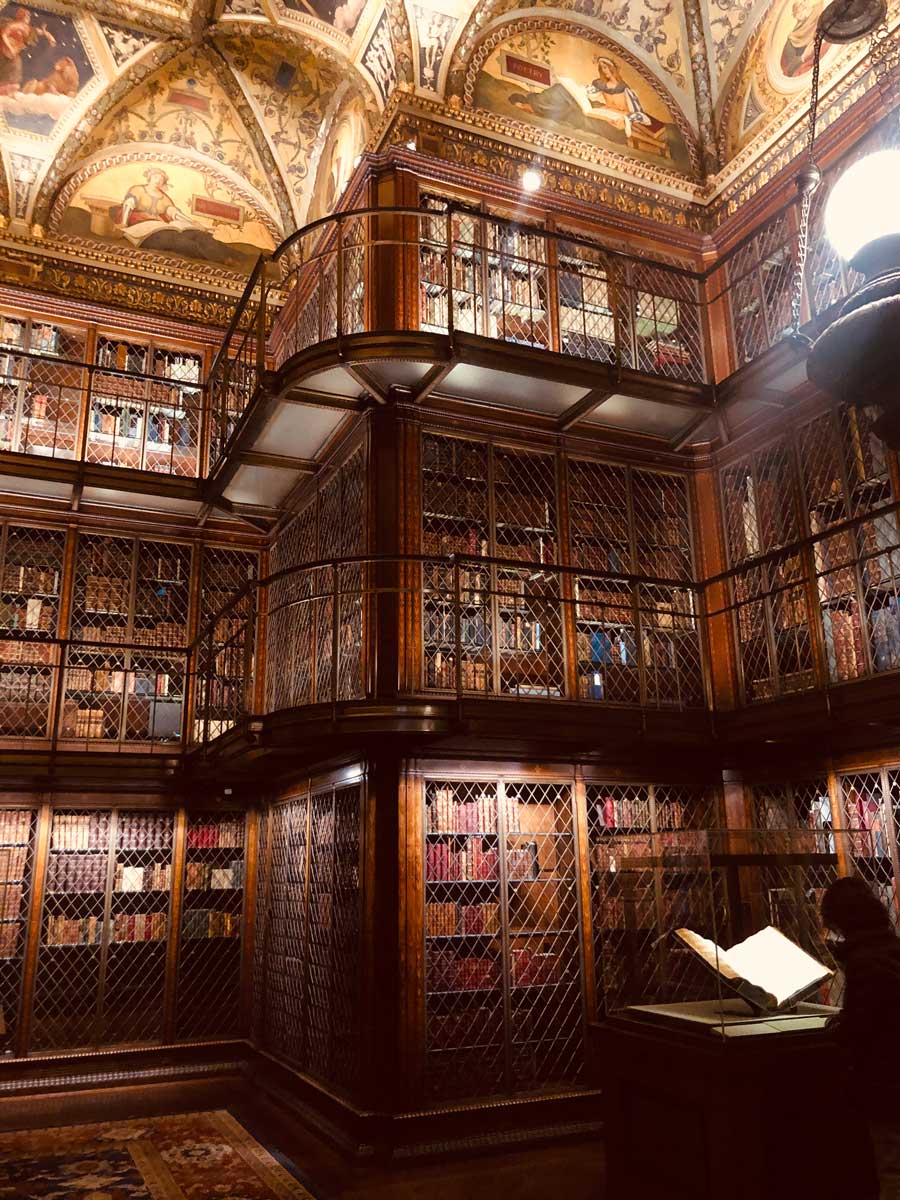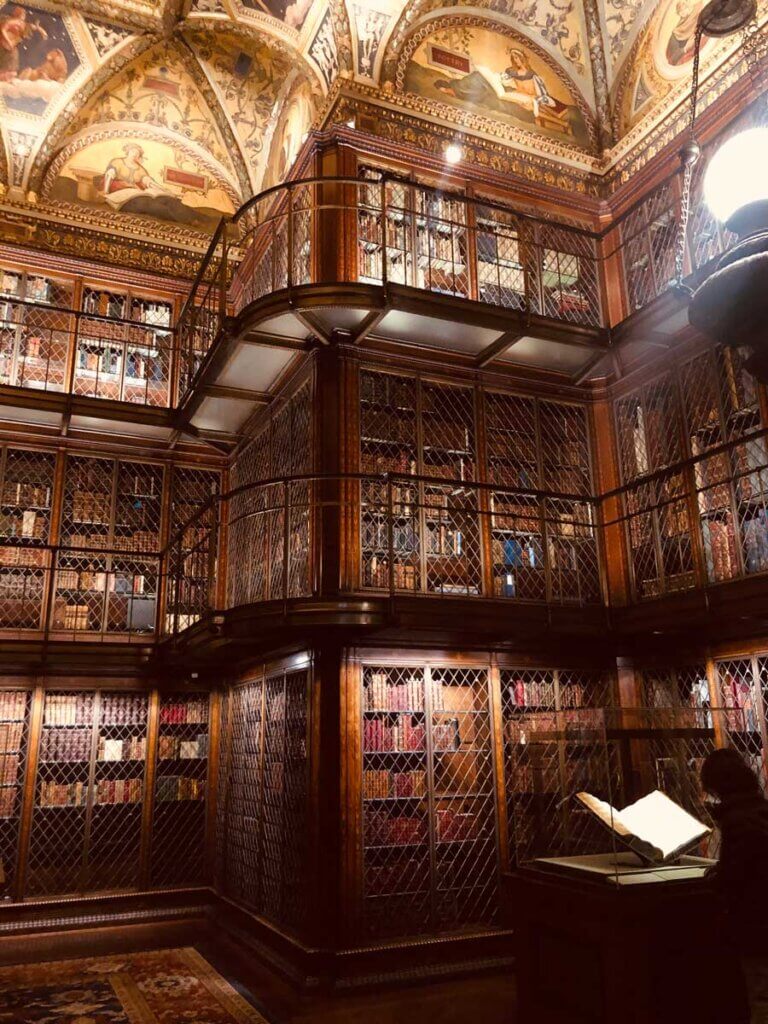 Located on Madison Avenue between E 36th and E 37th Streets is the Morgan Library and Museum, a true treasure in the heart of New York City. This institution started out as the personal library of prominent New Yorker, Pierpont Morgan. Today, it's a private library and museum where you can see some of the most precious materials in the world.
Morgan built the library in 1902 to store his ever-growing collection of rare materials. There are personal notes from George Washington, handwritten drafts by Jane Austen, a first edition of Leaves of Grass by New Yorker Walt Whitman, and more!
The building was fashioned as an Italian Renaissance-style palazzo and is itself a work of art. The campus includes the original library, an annex, Morgan's private residence, and a modern event space.
The Morgan Library and Museum is known across the globe as a research library and restoration center. You can walk through the different rooms, see art exhibits, and attend programs for adults and children. There are regular performances by world-famous musicians. And visitors come just to dine in the Morgan Dining Room, a fine-dining American restaurant.
14. Flatiron District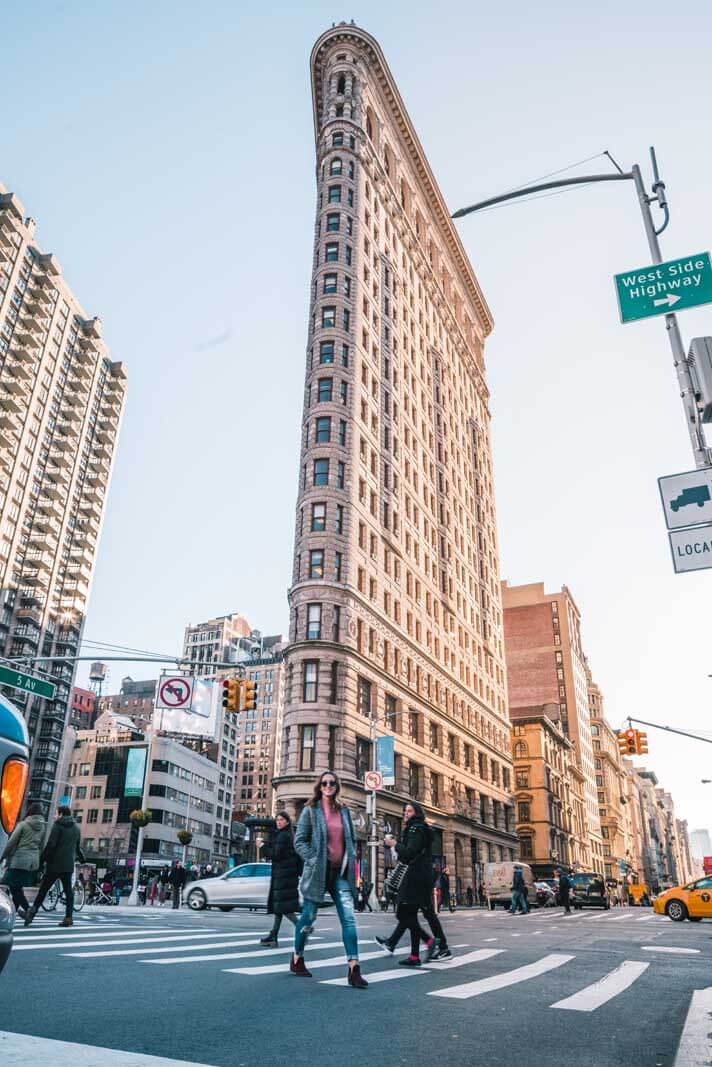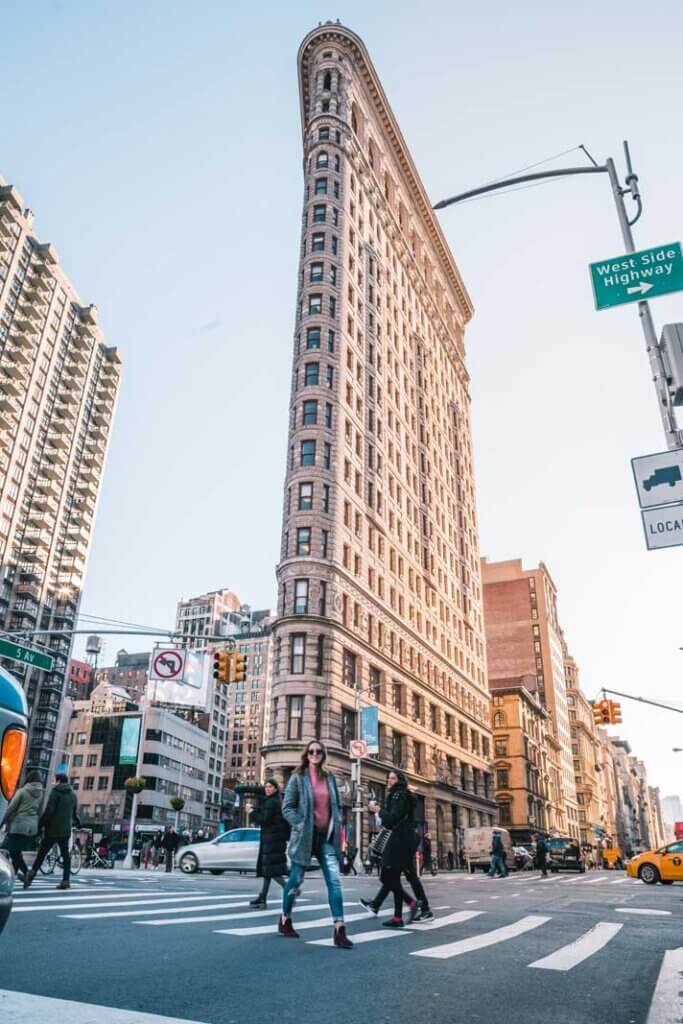 Another important commercial hub in Midtown NYC is the Flatiron District. It's a small neighborhood that centers around the immediately recognizable Flatiron Building at the intersection of Broadway and 5th Avenue. This iconic landmark is a must-see (when it's not under scaffolding) and some of our favorite restaurants are all around.
While you can't go in the 121-year-old building, it's a beautiful site to see in person. Madison Square Park is always great for a stroll around the fountain or a visit to the dog park. Grab some food at Shake Shack in the park and sit at the tables under the trees.
Or for something more substantial, Eataly Flatiron has a ton of options just across Broadway, we also really like La Pecora Bianca for their pasta dishes in the Flatiron District too. Oscar Wilde is a unique Victorian-style bistro bar on W 27th Street that goes all out during the holidays throughout the year and is one of the best Christmas bars in NYC during that special time of year too!
And we love Old Town Bar on E 18th Street for a drink. It's been an NYC mainstay since 1892 and has a lovely old-timey feel, probably because it's also one of the oldest bars in NYC!
15. Macy's Herald Square
An institution and a must-see in Midtown, Manhattan is Macy's Herald Square, their flagship store that has been on W 34th Street between 6th and 7th Avenues and Herald Square for over 120 years!
It quickly earned the title of the World's Largest Department Store and takes up the entire block. The building is also a National Historic Landmark. Inside Macy's, there are 9 floors of retail space! There are elevators, but taking the original wooden escalators is a neat experience.
The famous department store has many things it's known for. At the top of the list is the Macy's Thanksgiving Day Parade that ends in front of the store. It's the world's largest parade and has been an annual event since 1924. Other annual attractions are the holiday windows and the Macy's Flower Show in the spring.
Not to mention, this is what to do in Midtown if you're looking to do some shopping!
16. Union Square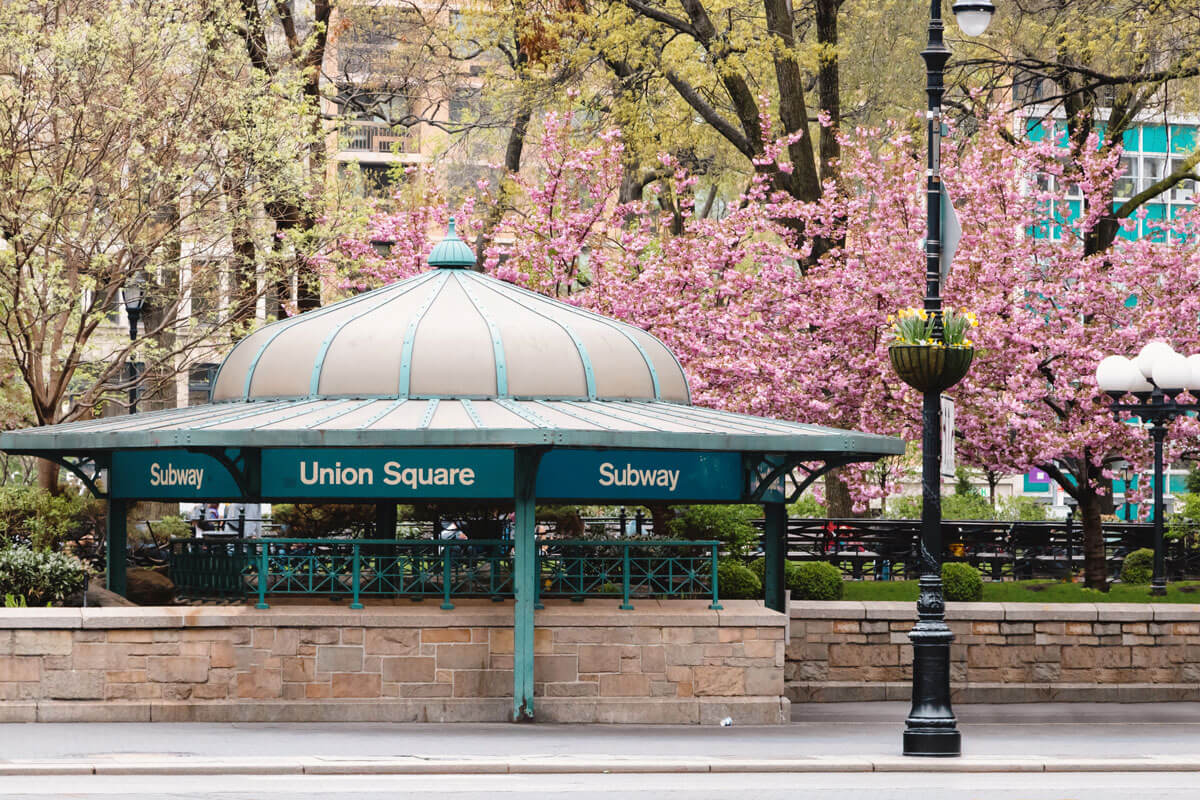 The neighborhood of Union Square is a commercial area surrounding Union Square Park. Union Square Park is quite beautiful and visiting is one of the best things to do in Midtown. There's a year-round Green Market open several days a week, food kiosks scattered about, and points of interest like bronze statues and a garden.
There's a subway station inside the park and there are always interesting characters that gather there. You can also see street performers and art vendors selling their work. And during the holidays, don't miss out on the massive Union Square Park Holiday Market! It's definitely one of the best holiday markets in New York City during the holiday season.
And when FREEHOLD in the Park is open, this is an excellent place to take a walking break and grab a drink.
Moving out from the park a block or 2 in any direction, there are all kinds of retail options. Grab a bite at ABC Kitchen or check out a local New York institution at Fishs Eddy where you can find American-made kitchen ware, some of which date back to the early 1900s.
Along 5th Avenue you can find brick and mortar locations for big retailers like Zara, J. Crew, Madewell, and more.
And the dining options are also superb. Boucherie is nearby, and Pokeworks is perfect for taking to the park.
17. Chelsea Market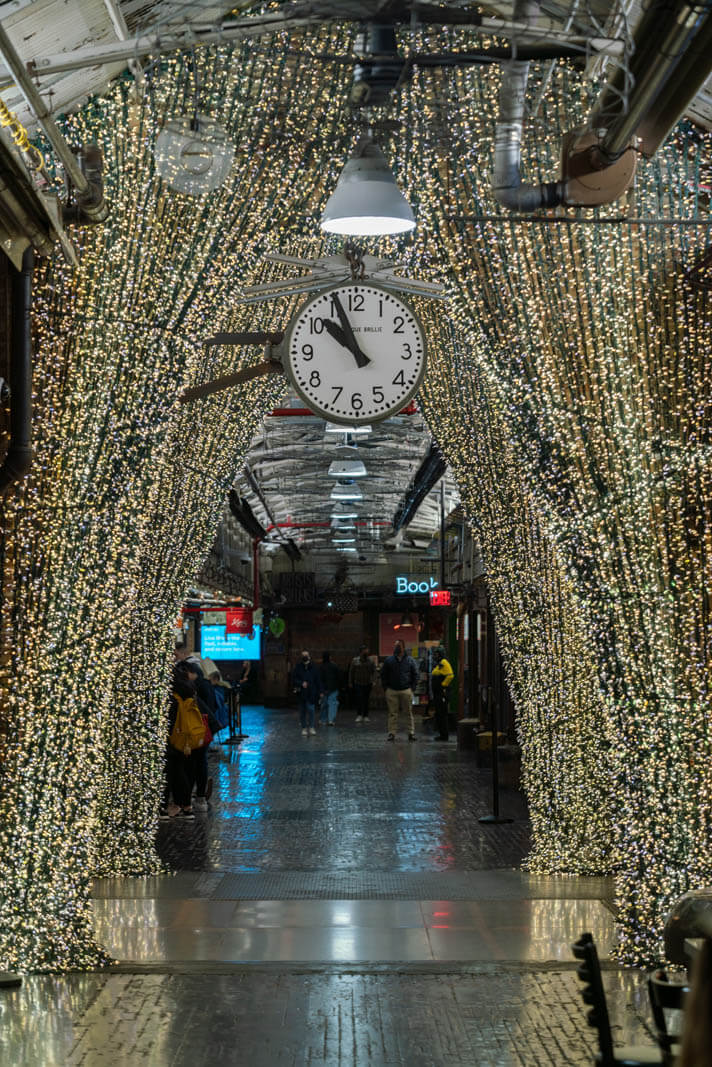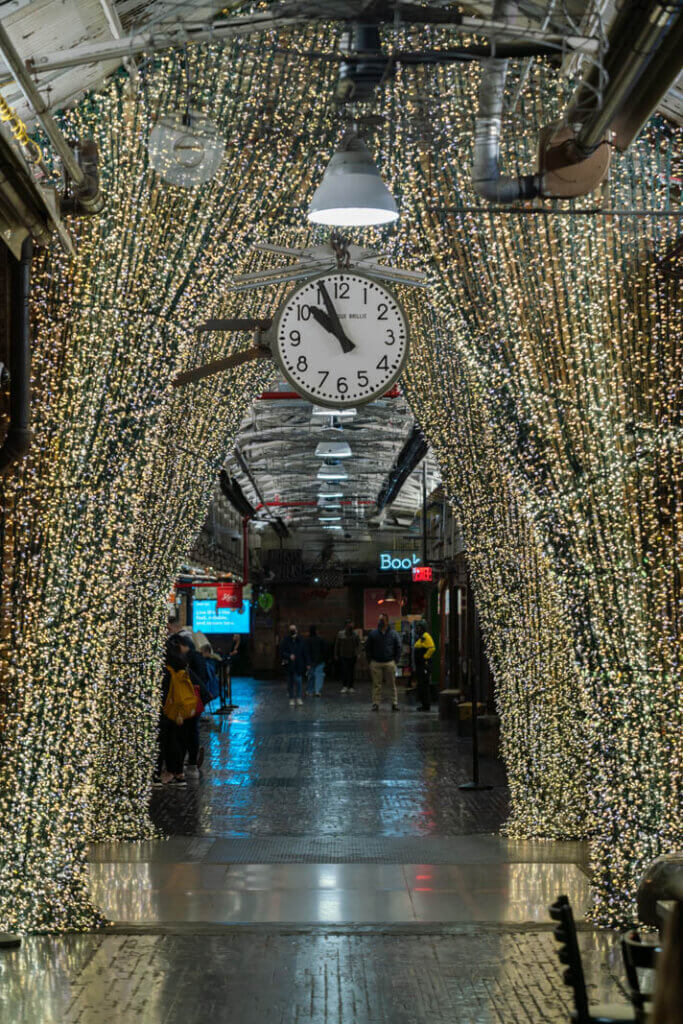 If you're a fooding looking for what to do in Midtown, you'll want to head to Chelsea Market! Chelsea Market is a must-see in Midtown, whether you come for the food, the shopping, or the NYC history! This busy modern marketplace takes up a whole block between 9th and 10th Avenues and W 15th and W 16th Streets. It's the old Nabisco factory that sits in an old industrial area on the boundary line between Chelsea and the Meatpacking District. (Fun fact, this is where the Oreo cookie was invented!)
The building dates by to the 1890s, and it almost feels like a museum in some places with displays of many of the building's original features and factory parts, including Oreos! You walk down a main corridor lined with boutique shops, trendy eateries, art installations, historic plaques, and more.
Enter near the W 10th Street side and you'll see sandwich shops, Fat Witch Bakery, Li-Lac Chocolates, Mokbar, and more. Further down are great markets to peruse like Pearl River Market and its neighbor, Buon'Italia. And at the W 9th entrance is the Artist and Fleas Chelsea which is a destination all on its own!
Come hungry. There are so many different options to eat here whether you're looking to snack or sit down for a full meal. Los Tacos No. 1 are probably some of the best tacos in the city and our absolute must have when visiting here.
18. The High Line
If you're strapped for time and looking for what to do in Midtown, we suggest making a beeline for The High Line. An NYC wonder, it's an elevated park made from an old railway line running 1.45 miles through lower Manhattan. It's a great way to enjoy NYC's beautiful outdoor spaces. You can see the city from above and only takes about 30 minutes to walk.
There are different places to stop and enjoy the views along the way. Sit on the step stairs of the Observation Deck that turns the intersection of 10th Avenue and 17th Avenue into a work of art. Or walk through buildings like the Chelsea Market and the 14th Street Passage which always has fun things going on in the breezeway.
There High Line hosts art installations all along the length of the park. And there are different gardens featuring native grasses, flowers, trees, and insects. During the warmer months, the Sundeck is a popular destination for all ages with loungers for sunning and water features that are fun for all ages.
19. The Galleries of Chelsea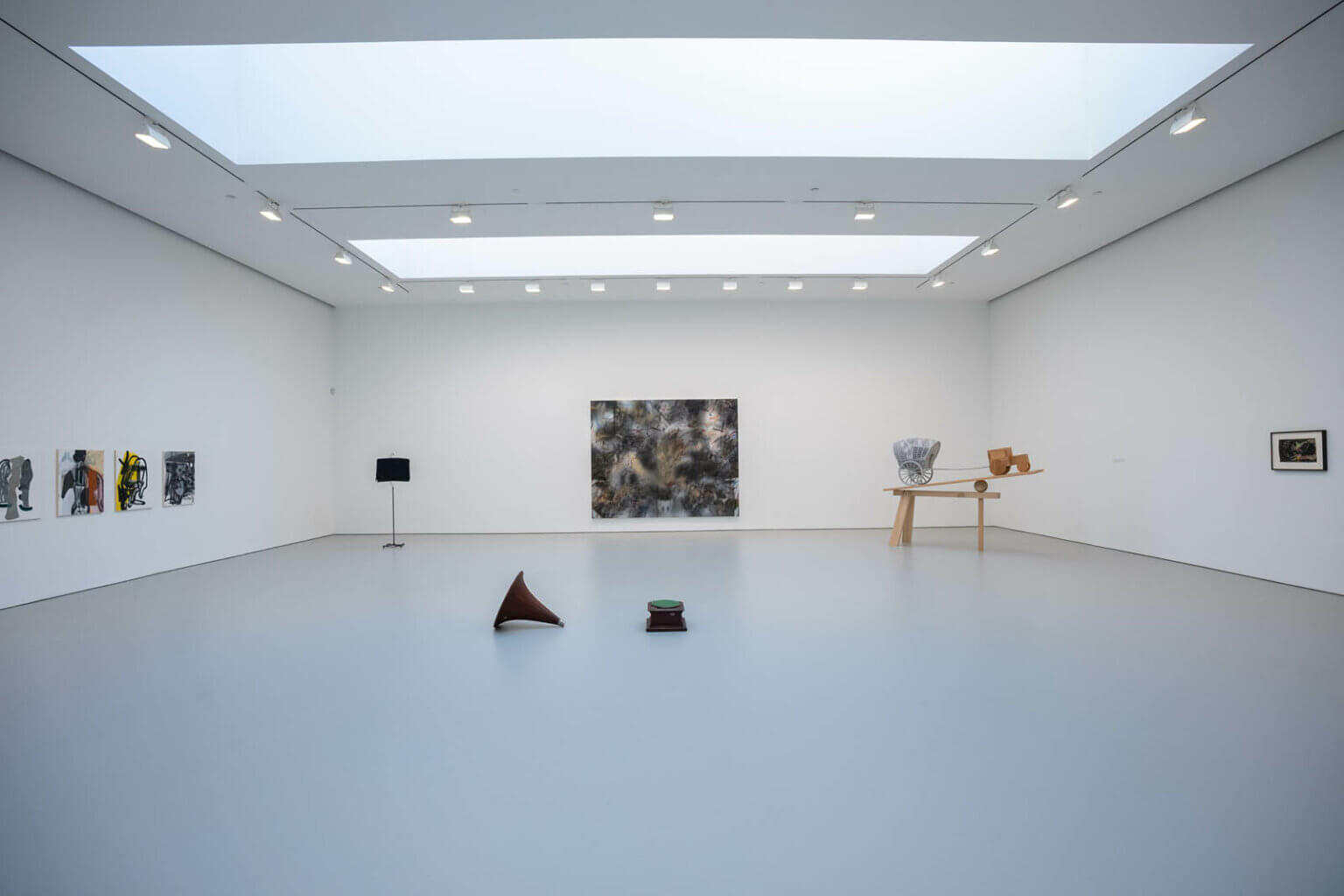 If you're an art lover and looking for what to do in Midtown, look no further than the neighborhood of Chelsea. Art lovers will want to spend a day exploring and moseying around the many galleries that cover 10 blocks in Chelsea, mostly all between 10th and 11th Avenues.
Chelsea is known for its influential art scene and has the most galleries, including big names like David Zwirner and Larry Gagosian.
In fact, David Zwirner is a must with breathtaking immersive installations that will impress even the least interested viewer.
And Microscope Gallery is always exciting because they feature collections that other galleries shy away from!
You can see works by Jeff Koons, Banksy, and other big names in pop art when you visit Taglialatella Galleries. And Guy Hepner has curated an impressive collection of post-war and contemporary art. It's a great place to see current and older artists, as well as pick up prints.
20. Visit a Rooftop Bar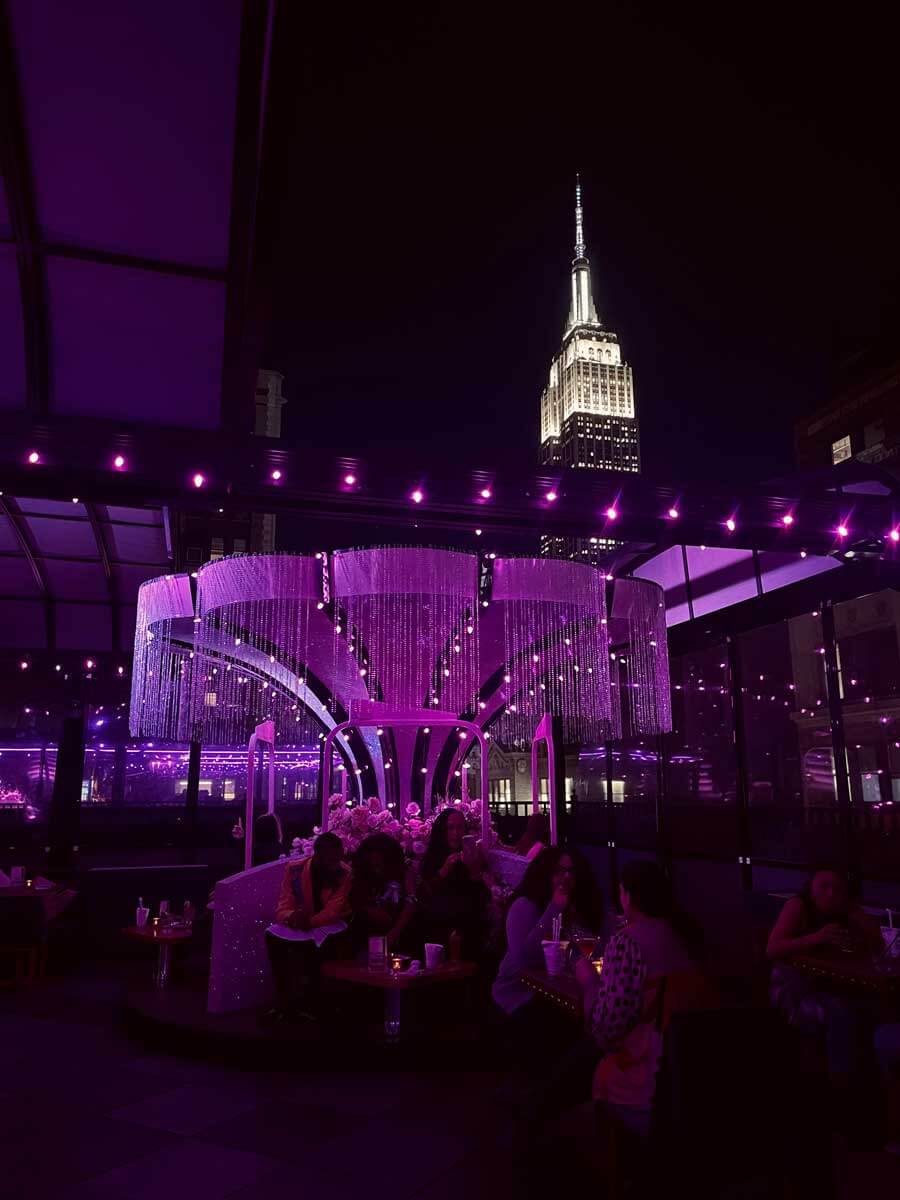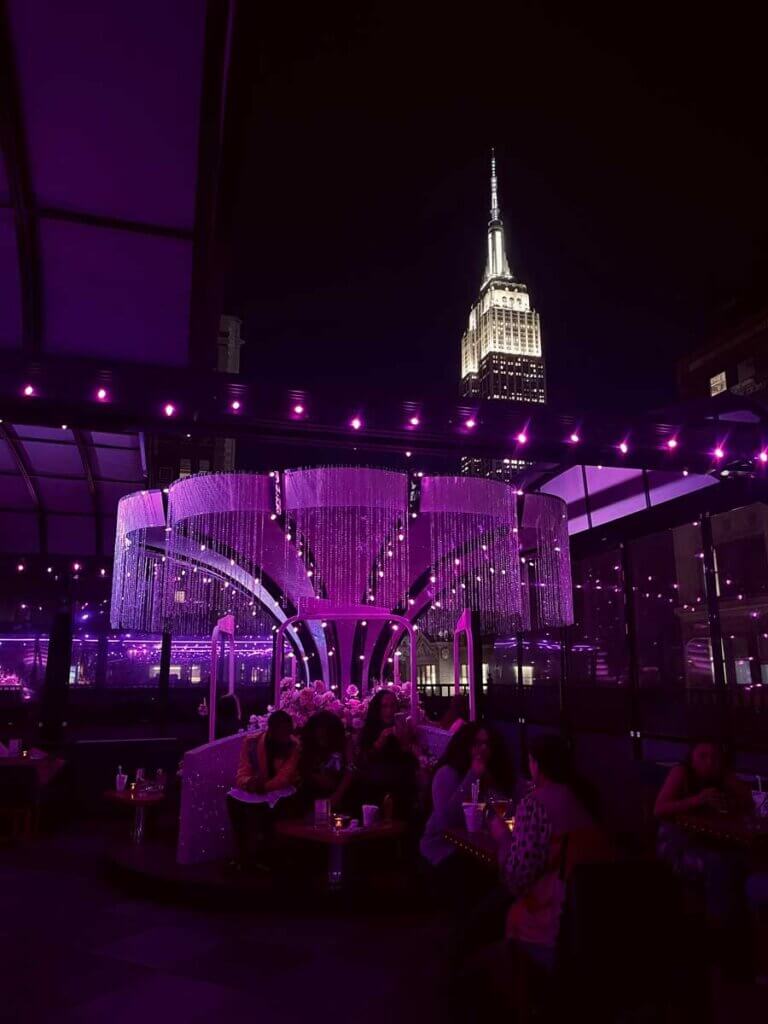 One of our favorite things to do in Midtown on a clear day is checking out all the amazing rooftop bars! Enjoy the patchwork skyline with a mix of glass, brick, and concrete buildings from every era.
Enjoy the enchanting views from some of the best rooftop bars in New York City located in Midtown. There's something for every vibe, whether you want to lounge and sip on a cocktail or enjoy some good music.
These are just a few of the best rooftop bars in Midtown for great views of the skyline!
Magic Hour is a whimsical cocktail bar at the Moxy Hotel on W 7th. It's got a fun carnival theme, lawn games, and great spots to take a photo.
For a friendly NYC feel, head to 230 Fifth near Union Square. Enjoy cocktails and all kinds of small plates NYC water towers, string lights, and rooftop plants.
Spyglass Rooftop on W 38th is a chic rooftop bar with some of the best views of the Empire State Building.
And Cloud Social is the perfect place to spend the evening with cozy booths while you stare up at the skyscrapers all around you.
21. Radio City Music Hall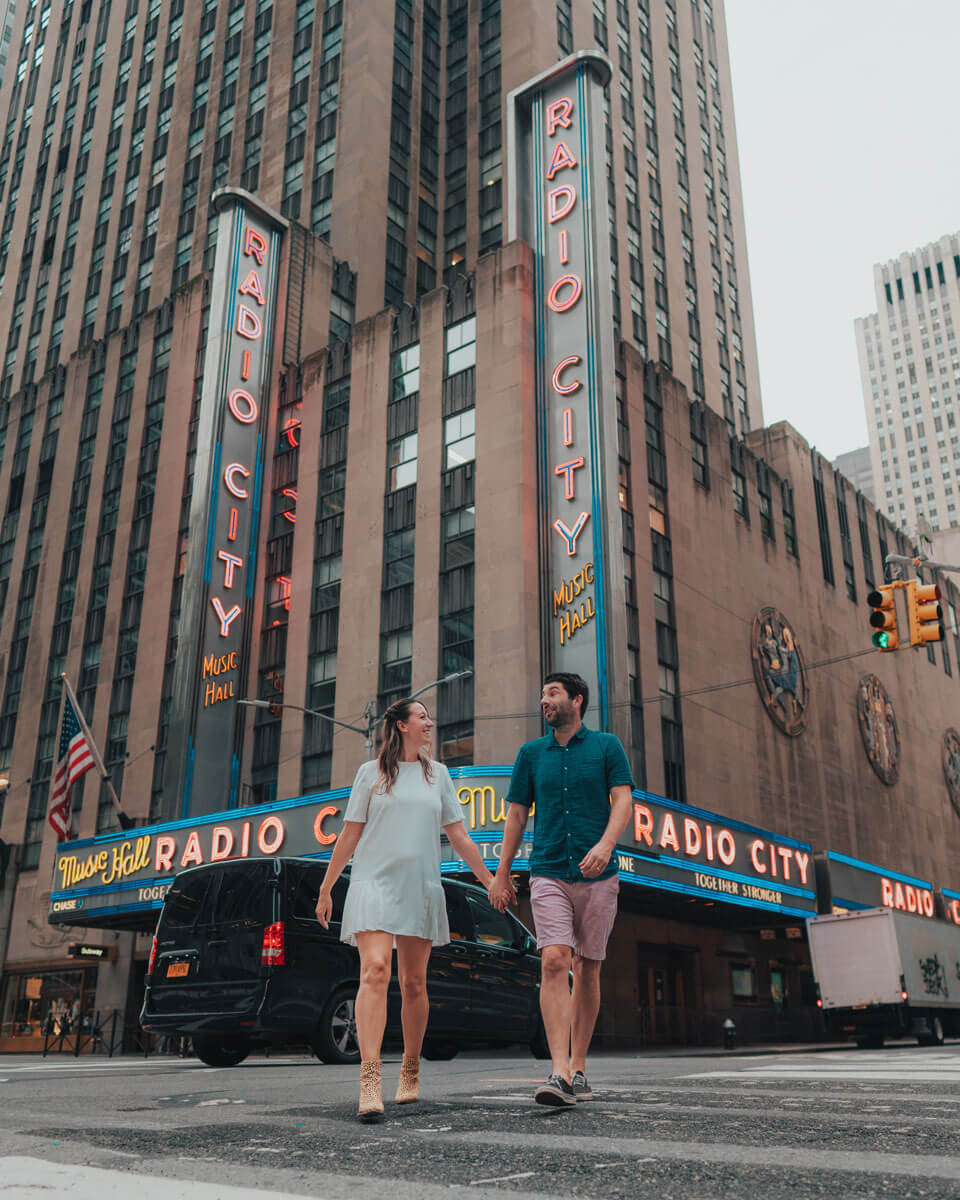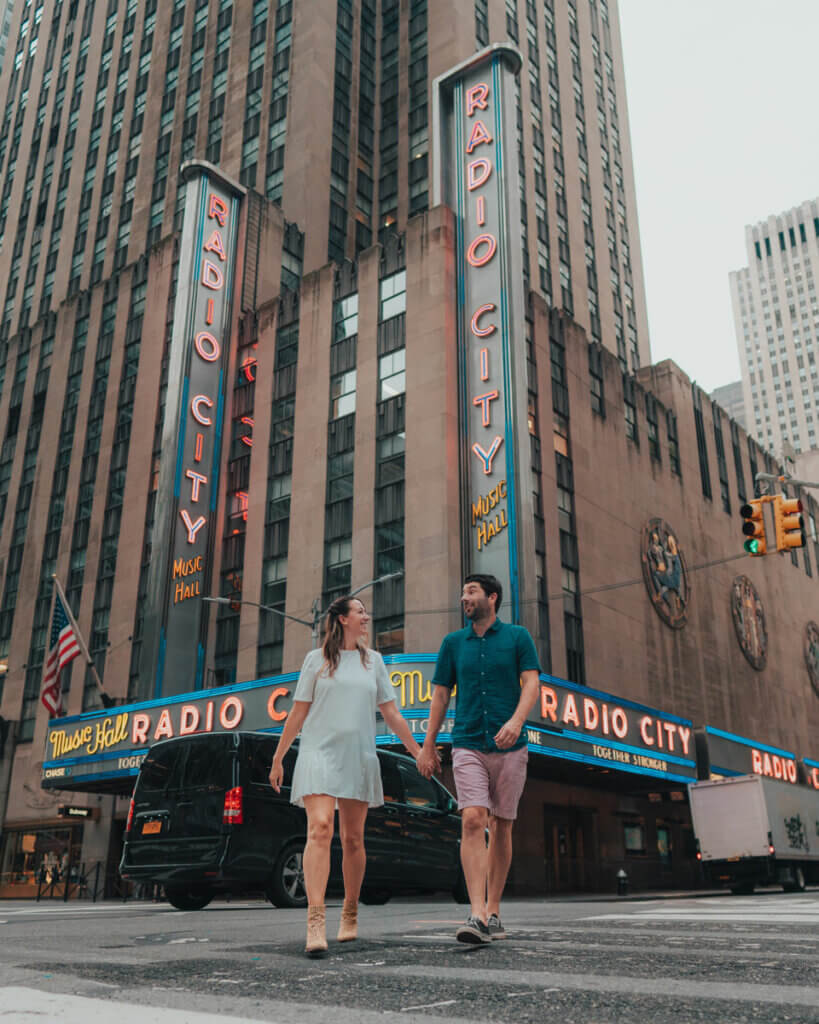 Sharing a block with Rockefeller Center, you'll find the famous Radio City Music Hall on 6th Avenue between W 50th and W 51st Streets. The theater actually opened in 1932, hosting live events, movie premieres, and even religious services. But Radio City reached its iconic status in the late 20th century when it launched its Christmas Spectacular, featuring the Rockettes.
Today, people come from all over the world to see the Christmas Spectacular at Radio City Music Hall, which runs from mid-November through early January. You can also do a behind-the-scenes tour. The rest of the year, you can see a variety of live concerts, comedy shows, and live television recordings.
22. Ellen's Stardust Diner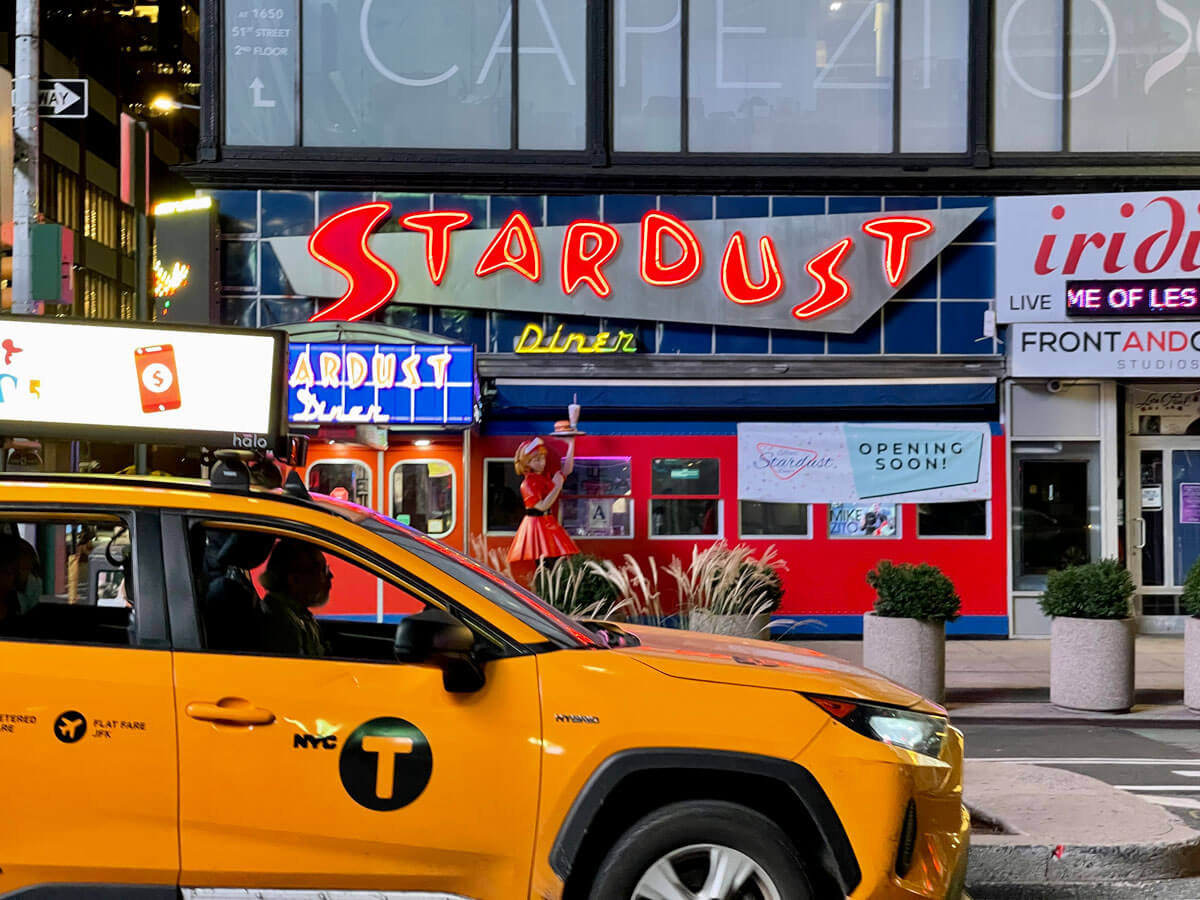 Ellen's Stardust Diner on the corner of Broadway and W 51st Street couldn't be anywhere else other than in the middle of NYC's Theater District! It's a 50s-themed diner with multiple levels known for its fabulous singing waitstaff. Check out the extensive menu full of American classics, you'll enjoy a show with musical performances you won't forget.
There are 50s memorabilia all over the walls, screens playing all kinds of performances from the 50s, and you'll often see one of the waitstaff will climb onto a table with a mic! The diner's waitstaff includes talented stage actors who have gone on to have amazing careers on Broadway and in music and film. There was even a former waiter who performed on American Idol!
This is without a doubt one of the best experiences for a first timer and one of the best old-school diners in NYC to check out!
23. Circle Line Sightseeing Cruises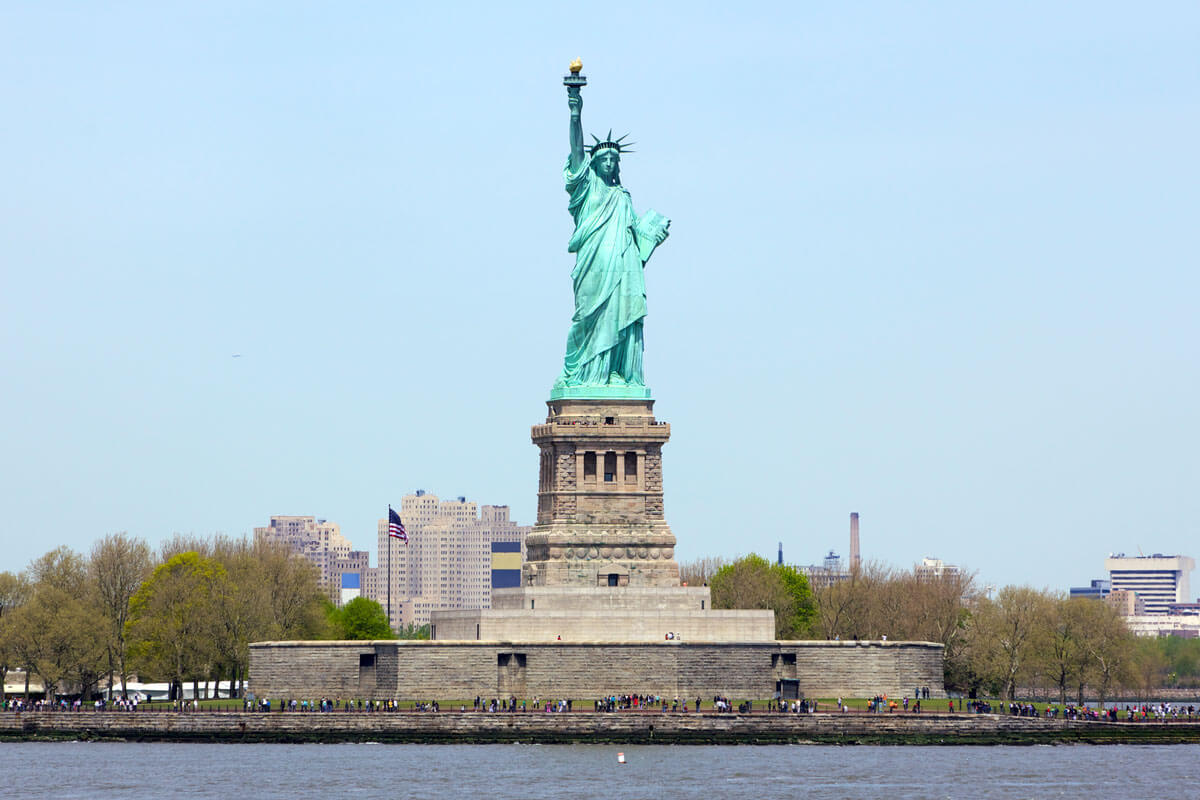 One of the best things to do in Midtown is taking in the skyline from the water on a sightseeing cruise. Circle Line has several different cruise options, many of which leave from Pier 83 in Midtown.
One of the most popular is the July 4th Fireworks Cruise. This nighttime cruise includes dinner and drinks, as well as live DJs for your fireworks-viewing enjoyment. Or you can see the Statue of Liberty on the hour-long Liberty Midtown Cruise.
The Harbor Lights cruise is a personal favorite. You'll love seeing the city skyline at night while you look out over the water and sip on cocktails. And Circle Line's signature tour, The Best of NYC, leaves from Midtown to take you past all the most iconic landmarks around the island of Manhattan.
24. Hudson Yards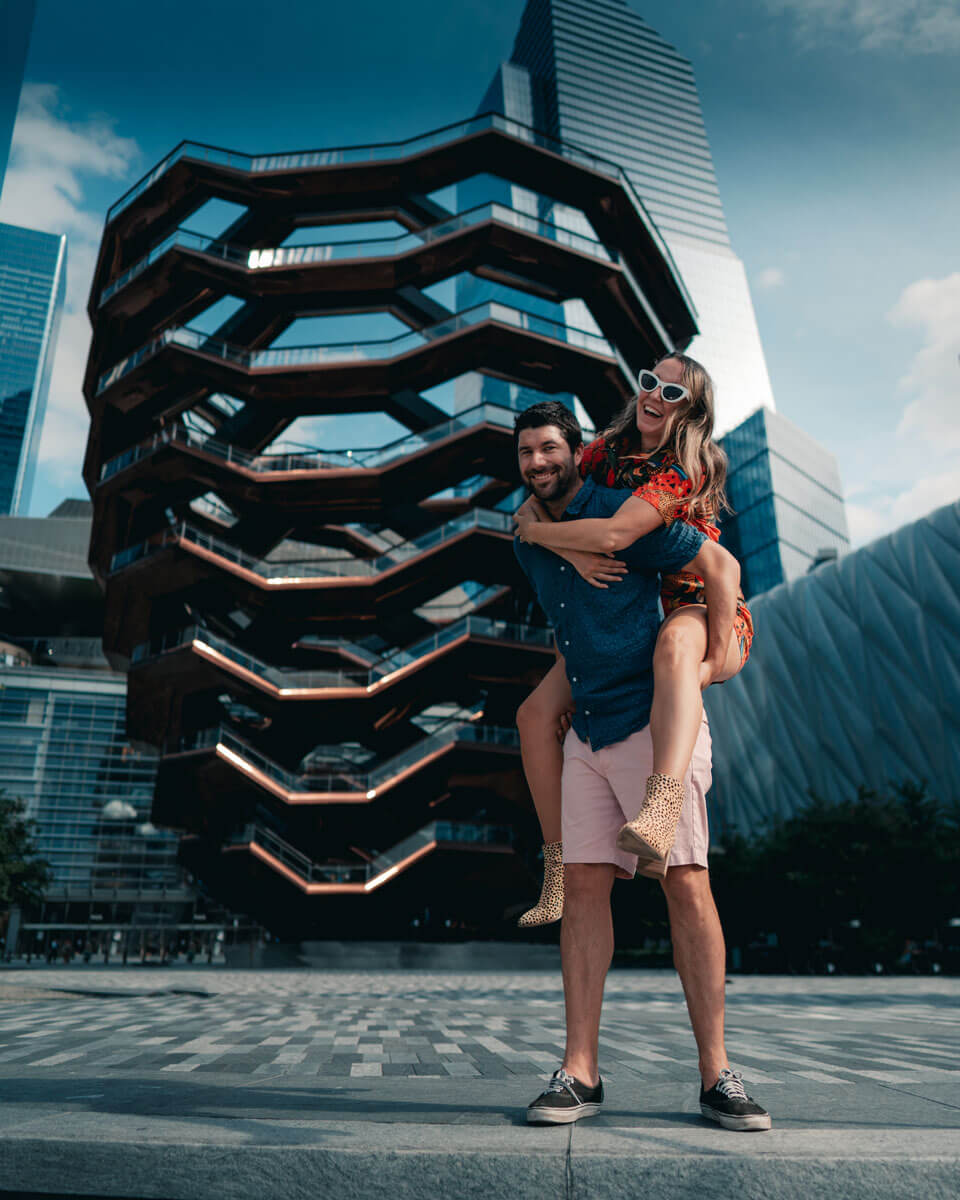 Hudson Yards is a younger New York City neighborhood in Midtown, featuring Hudson River views, glossy skyscrapers, and snazzy attractions. This is where you'll find sleek structures like The Edge Observation Deck, which is home to the highest outdoor observation deck in North America.
And The Vessel next to Bella Abzug Park is one of NYC's newest landmarks. It's been described as interactive artwork, featuring a honeycomb structure made up of landings and interconnecting staircases. You can visit this outdoor space in Manhattan for free any day of the week and look up from the base of the honeycomb structure. (Visitors are no longer allowed to enter the staircase).
For great shopping, head to the massive Hudson Yards Mall across from the Vessel. Also, the Mercado Little Spain is one of our favorite food courts in NYC. It features restaurants, kiosks, and bars. a wide range of both trendy and authentic Spanish meals. Try decadent churros and plates of Spanish jamón or pick up empanadas and paella.
This is definetely what to do in Midtown if you need a great break as there are plenty of sitting areas, places to eat, restrooms inside the mall, and you can even access the High Line from here too, another one of the top Midtown attractions!
25. St Patrick's Cathedral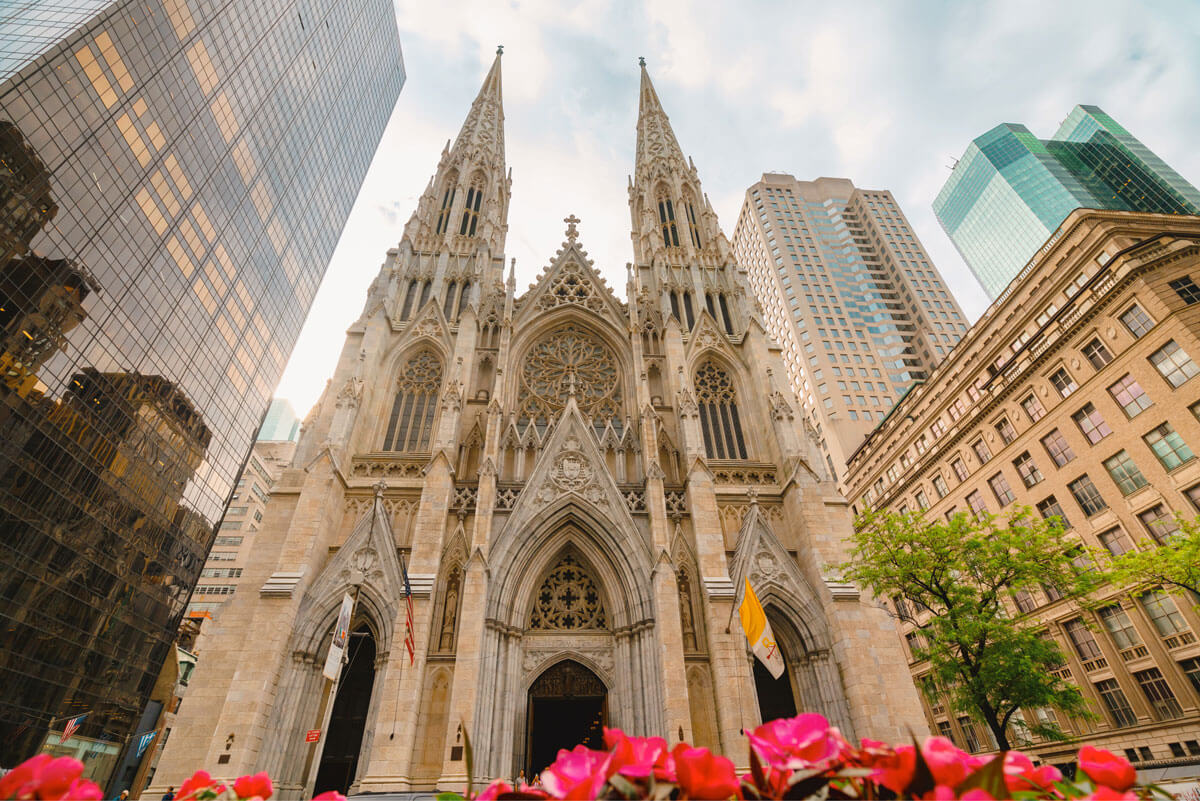 Across from Rockefeller Center on 5th Avenue is the breathtaking St. Patrick's Cathedral, one of the most popular destinations in NYC. The 140-year-old Neo-Gothic structure is a Roman Catholic church and the largest cathedral in North America.
You can visit, attend mass, and take tours of the stunning interiors. St. Patrick's is also a highlight of the infamous NYC St. Patrick's Day Parade. This is where the parade grandstands are located, and the church hosts a special St. Patrick's Day service.
---
What is Midtown NYC known for?
Midtown is known as the heart of Manhattan featuring iconic landmarks like the Empire State Building, Chrysler Building, Times Square, Rockefeller Center, world-class museums, shopping, and bustling entertainment options in the Theater District. Millions of people each year visit and stay in Midtown as it's a great base for exploring New York City's most famous attraction
Is Midtown Manhattan walkable?
Midtown Manhattan is very walkable, although it's the largest neighborhood in Manhattan, the best way to get around from Midtown attractions is to do so by foot so you don't miss famous landmarks like vantage points of the Empire State Building, Chrysler Building, Theater District, Rockefeller Plaza, New York Public Library, St. Patrick's Cathedral, and more! Just wear good walking shoes, which is a good rule of thumb for any visit to New York City as you'll do more walking than you realize.
Is Midtown Manhattan a good area to stay in?
Midtown Manhattan is the best area to stay in New York City for visitors wanting to see the city's best highlights. Not only are you walking distance to many popular attractions from the Theater District to the Empire State Building, but you're also close to great transportation hubs to help you access any other part of the city as well. There are plenty of hotel options, restaurants, and shopping in Midtown too.
---
What to do in Midtown NYC (Post Summary):
Empire State Building
Times Square
Rockefeller Center
Top of the Rock Observatory
Grand Central Terminal
See a Show on Broadway
Museum of Modern Art
Bryant Park
New York Public Library Main Branch
Shopping on 5th Avenue
Summit One Vanderbilt
Eat Your Way Through Koreatown
The Morgan Library and Museum
Flatiron District
Macy's Herald Square
Union Square
Chelsea Market
The High Line
The Galleries of Chelsea
Visit a Rooftop Bar
Radio City Music Hall
Ellen's Stardust Diner
Circle Line Sightseeing Cruises
Hudson Yards
St. Patrick's Cathedral
---
Need more help planning your visit to New York City? We got you! Check out all of our helpful New York City planning guides!
---
Enjoyed this guide to all the best things to do in Midtown NYC? Bookmark for later or share below on Pinterest!