There are many things to do in NYC in winter and this is arguably one of the most underrated times of the year to visit the city as it's the slowest and when you can find some of the best hotel deals and enjoy famous tourist attractions like walking the Brooklyn Bridge without the hoards of crowds that the more popular visitation months attract!
Grab your cold-weather gear and bundle up for all of these great winter activities in NYC to enjoy! Also, if you're looking for something a little more romantic, check out our winter date ideas in NYC too for more options!
Winter in NYC Activities to Try!
This guide covers winter things to do in NYC with the main focus on Manhattan and some of Brooklyn. However, we have a full guide to winter in Brooklyn which is full of incredible things to do and is one of the best places to spend winter in NYC, but we might be biased as we are Your Brooklyn Guide after all!
Also, if you're visiting winter in NYC early on during the holidays, see our guide to the best Christmas lights in NYC! Or if you are looking to ring in the new year, check out all the best places to celebrate New Year's in NYC!
PSST…don't know what to wear in the cold? Check out our full guide for what to wear in NYC in winter to help you stay warm on your fun city adventures!
Ice Skating
One of the first things that come to mind when thinking of things to do in NYC in winter is ice skating! What better way to embrace the chill in the air than to lace up some skates and hit the ice?
There are plenty of options when choosing a rink in New York, the most famous of which is the iconic Rink at Rockefeller Center! Enjoy a spectacular view of the Rockefeller Christmas tree during the holiday season, and the gorgeous Art Deco designs of Rockefeller Plaza throughout the winter!
Another one of the city's most popular rinks is at the Winter Village at Bryant Park. After skating, you can grab a drink at The Lodge Deck, or snap some photos at the carousel. Ice skating at Bryant Park is a festive and fun way to get outside during the winter in New York.
Another iconic spot for skaters is Wollman Rink in Central Park. This outdoor rink has truly magical views and is perfect for a fun day of skating followed by a leisurely stroll through Central Park!
If you're looking to stay indoors this winter, while still enjoying classic wintertime festivities, check out Sky Rink at Chelsea Piers! The fun on the ice doesn't end in March when the city starts to thaw out, because this indoor rink operates year-round!
Ice skating rinks don't stop in Manhattan either, there multiple ice skating rinks in Brooklyn including Prospect Park ice skating which has two rinks, one is a covered open-air rink and the other that connects is completely outdoors! This is a great place to go to get away from crowds and save a little money while you're at it!
Sledding in Central Park & Prospect Park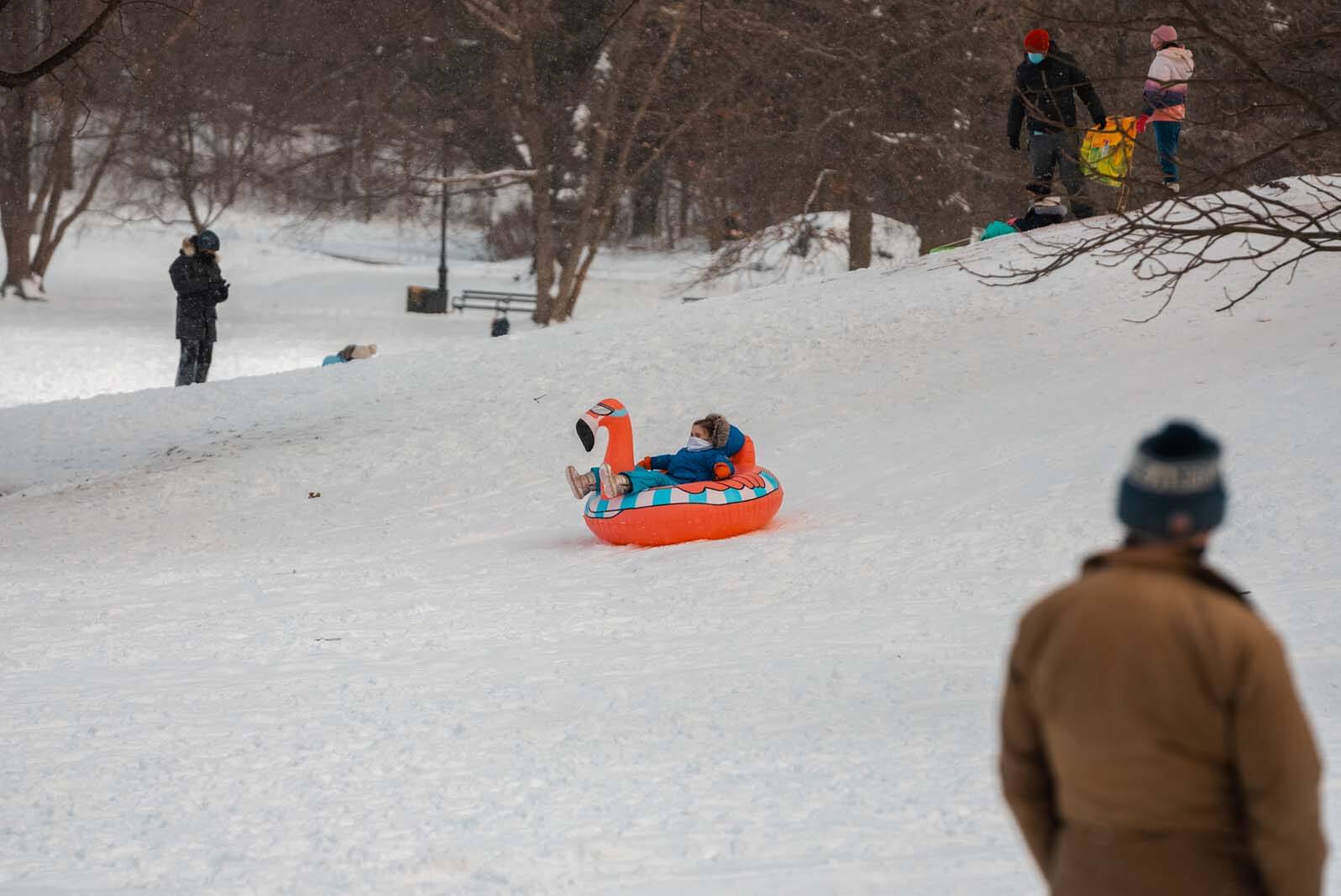 Few things are as whimsical as New York City covered in snow! One of the most beloved winter activities in NYC is sledding in Central Park! Once the city gets a nice blanket of snow, head to a hardware store to pick up a plastic sled, or get creative with frictionless finds around your apartment!
Some of the most popular places to shred some snow in Central Park are: Pilgrim Hill, located near the park entrance at 72nd Street and 5th Avenue, Cedar Hill, been 76th and 79th Street, and The Great Hill and The Pool near the park entrances at 100th and 103rd Street on the West side of the park.
If you aren't as handy with a toboggan and prefer to admire the snow on your own two feet, stroll around the Bethesda Arcade and see the lake frozen over!
Prospect Park is Central Park's sister in Brooklyn and also offers tons of sledding opportunities, Long Meadow has quite a few hills where you can find all ages enjoying sledding on a snow day!
Lightscape at Brooklyn Botanic Garden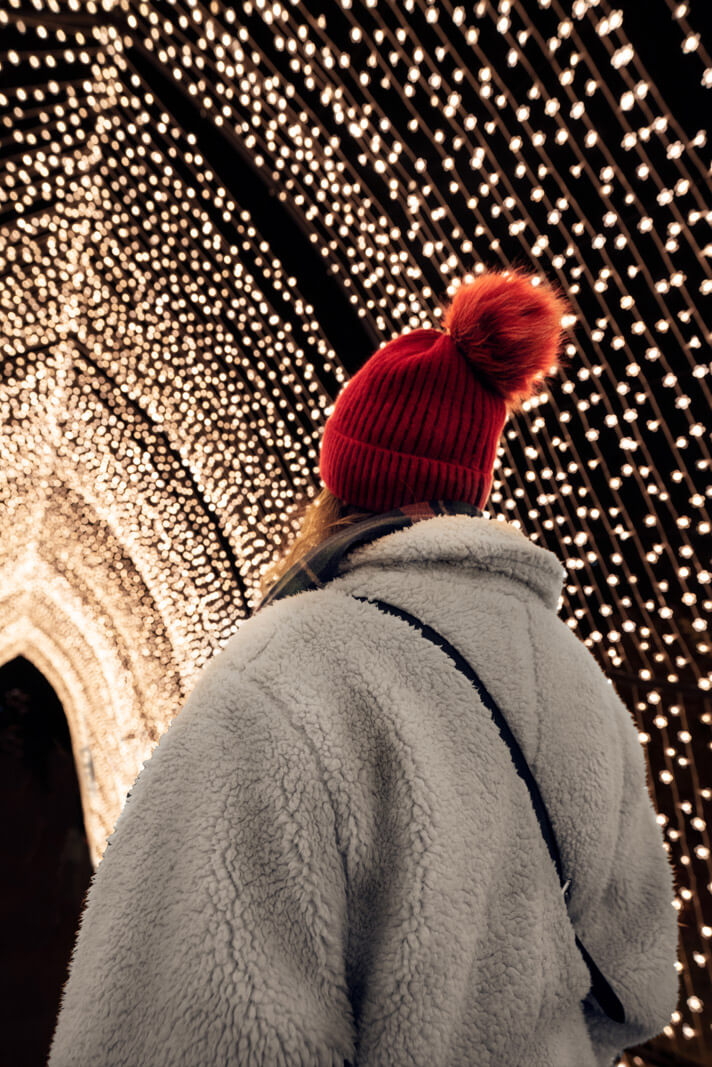 During the winter months of November through early January in the holiday season, Brooklyn Botanic Garden transforms into a winter illuminary garden with over one million lights on display for their seasonal, after-dark spectacular.
Walkthrough the path to one light installation after another featuring different artists, poetry written in light, and synched to music in this mesmerizing experience.
You will want to secure your tickets in advance for your timed entry on Brooklyn Botanic's website, see our full visitors guide to Brooklyn Botanic Garden too for more tips to plan your visit.
Walking and Biking Parks
It can be hard to stay active during the colder months, and we can watch our New Year's Resolutions start to drift out of our minds. Luckily, New York is filled with gorgeous parks that make braving the cold worth it! Head outside for a walk or bike in the park as a fun winter activity in NYC!
Central Park is expansive, with plenty of options for hiking and biking – all of which offer beautiful views and is full of some of the most popular outdoor activities in NYC.
For a faster pace and a little excitement, Washington Square Park is great for a stroll complete with people watching, buskers' music, and artists selling their artwork. Plus, you can snap a photo of the view of the Empire State Building through the Washington Square Arch – a quintessential New York view!
For bike enthusiasts, Hudson River Park offers 4 miles of biking along the Hudson River!
Brooklyn Bridge Park offers some of the best waterfront views of the city skyline and bridges along the East River in Brooklyn with walking paths, biking paths, and piers where you can play outdoor activities and sports!
Riverside Park, which stretches from 72nd Street all the way up to 158th Street along the Hudson River is another NYC park offering spectacular river views!
Headway uptown to Inwood Hill Park and hike along one of its 5 trails. This beautiful, lush park is so lovely and green that you'll barely believe you're still in Manhattan!
Tompkins Square Park in Alphabet City is a bustling park perfect for an East Village bike or stroll. A bonus – pick up pierogies from nearby Veselka for a delicious picnic in the park!
Museums
Of course, no list of winter activities in New York would be complete without mentioning some of the best museums in NYC. Head inside as the temperatures drop and warm up with some art and culture!
The Metropolitan Museum of Art on 5th Avenue is an iconic art museum. Check out their famous collections and special exhibits!
For a more scientific experience, just across Central Park on the Upper West Side is the American Museum of Natural History. This famed natural history museum makes for a fun and educational day for the whole family!
The Whitney Museum of American Art in the Meatpacking District has a wonderful collection of American art and stunning exhibitions.
If you're looking for a way to observe and commemorate Jewish history around Purim in February, visit the Jewish Museum on 5th Avenue!
For a historical winter activity, visit the Morgan Library and Museum in Murray Hill!
The Museum of Ice Cream is a colorful and interactive museum that can add a little brightness to the dark of winter. Located in Nolita, the Museum of Ice Cream is a sweet treat for the whole family (or some really cute Instagram pictures)!
If the chill in the air invigorates you, or if the city is covered in a glistening layering fresh snow, visit the Met Cloisters in Washington Heights. The beautiful Medieval art and architecture of the Cloisters are the perfect backdrop for a slow, winter day.
Another one of our favorite museums in Brooklyn to visit is the Brooklyn Museum, the third largest museum in the city with over 1.5 million works of art!
Winter-Themed Experiences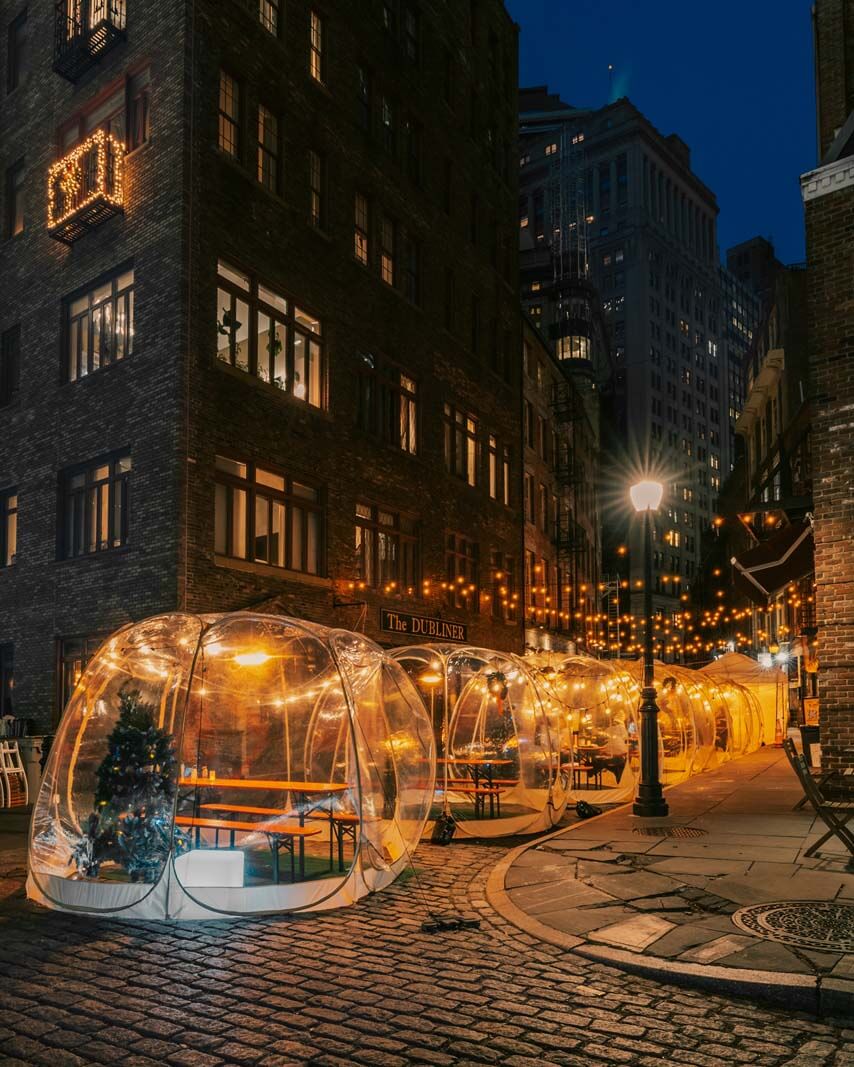 Winter-themed restaurants, bars, and experiences around the city make for festive fun during winter in NYC! Catch up with friends, try seasonal recipes, and enjoy the cozy ambiance of these winter wonderlands!
Eataly's Serra by Birreria is a seasonal rooftop restaurant that transforms into Serra Alpina during the winter! You'll feel like you're in the snowy mountains of Italy as you enjoy winter cocktails and seasonal Italian dishes.
The Cabin NYC is a cozy spot in the East Village to warm up with American fare and specialty cocktails!
Be transported to the slopes of the Alpine regions at Apres Ski at Kindred in the East Village! This apres ski-themed pop-up is sure to provide some coziness!
Heated, private dining bubbles are popping up all over the city this winter! What better way to cuddle up and connect with loved ones than by renting one of these private shelters for a meal or a drink! There are many locations offering these bubbles throughout the city, we recommend heading to Stone Street at Route 66 Smokehouse!
For an artistic and interactive winter-themed adventure, visit Artechouse at Chelsea Market! This digital art space has seasonal displays throughout the year that are magnificent sights to see! Plus, the interactive nature of Artechouse makes it a fun experience for kids too!
Also, for more winter dining be sure to check out our guide to heated outdoor dining in Brooklyn and our survival guide to outdoor dining in NYC in the winter!
Winter Sports
If you're a New York sports fan, head to Madison Square Garden to catch a New York Rangers game during the winter season! Represent your city with a fun and exhilarating winter activity!
Or head to Barclays in Brooklyn where you can catch a Brooklyn Nets game or New York Islanders!
Hot Drink Specialties
If you're looking for a way to warm up this winter, grab some hot drink specialties from some of New York's great local establishments!
Dominique Ansel Bakery serves up baked teams, like their famous Cronut! Grab a baked good and a cup of their Blossoming Hot Chocolate for a delicious winter treat!
Max Brenner New York in Union Square is a chocolate shop offering rich creations and delectable hot chocolate! Grab a cup to-go and stroll through Union Square Park, or peruse the Union Square Holiday Market during the holidays!
Lunar New Year Celebrations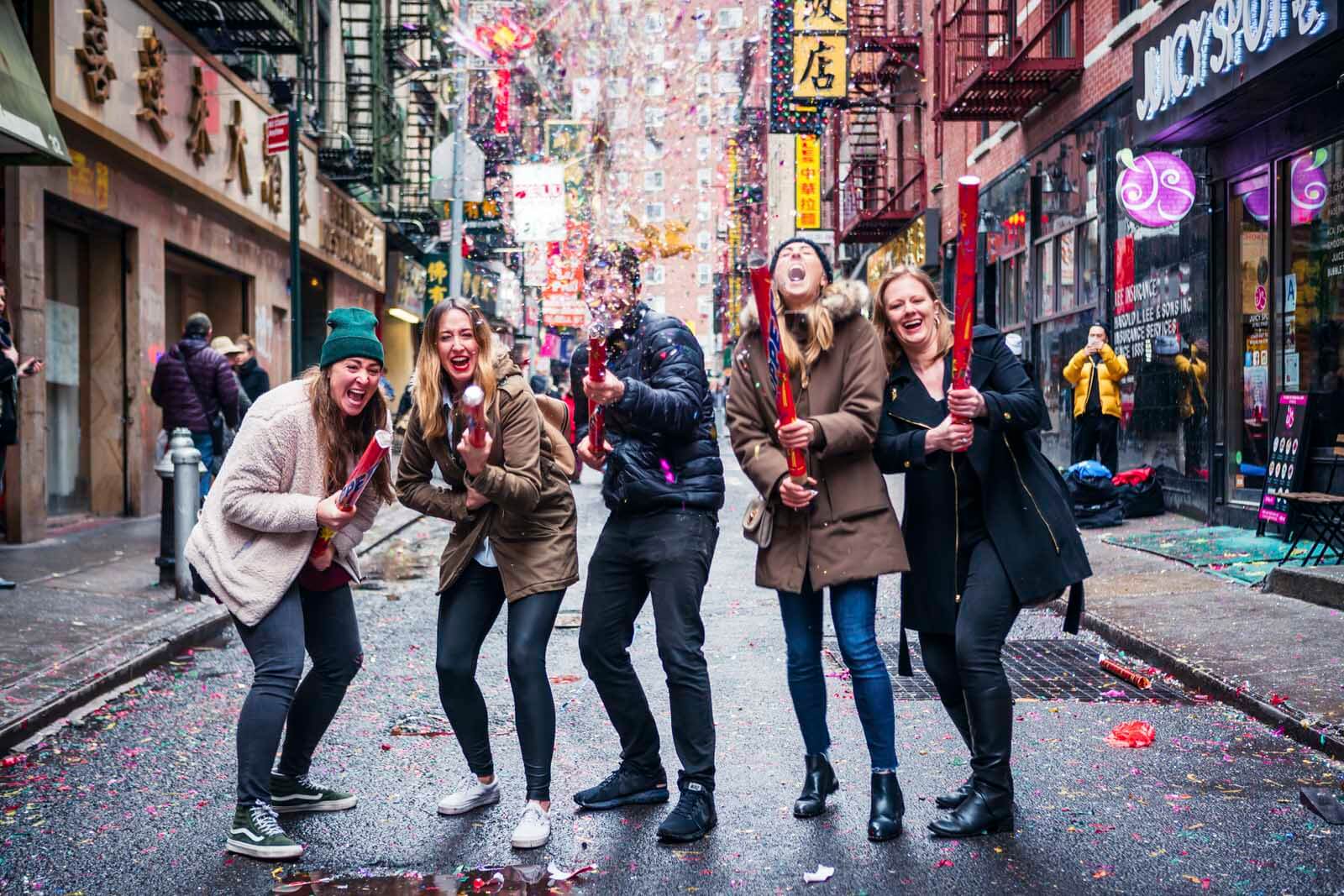 Celebrate the Lunar New Year in February in New York's Chinatown! This festive winter activity is a great way to celebrate the Lunar New Year and Chinese culture!
See the magnificent colors and costumes of the Lunar New Year Parade and Festival in Chinatown. Grab some noodles and dumplings at one of Chinatown's BYOB spots, or embrace the cold with a scoop from the famous Chinatown Ice Cream Factory!
Vintage Shopping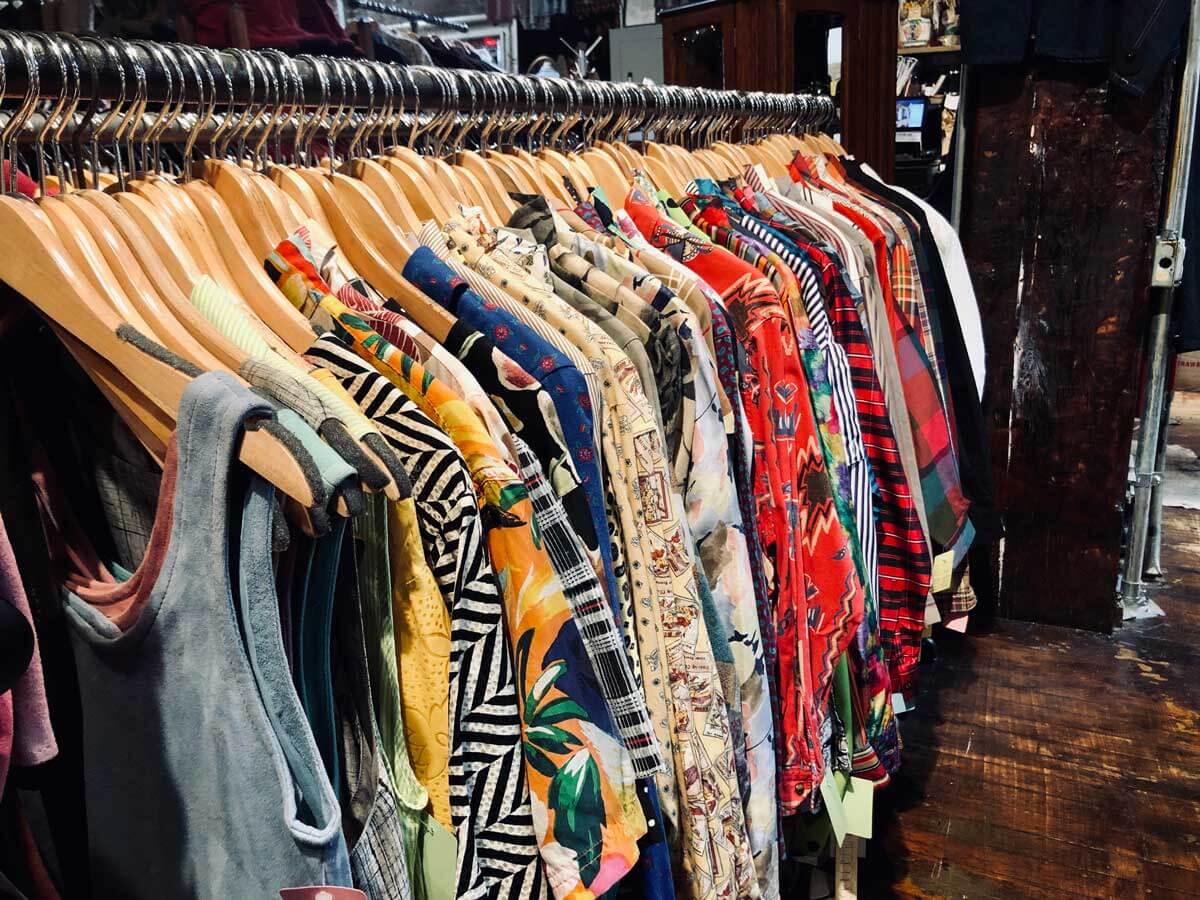 Update your winter wardrobe this season with some unique vintage finds! Check out one of New York's many great vintage shops for a thrifty and retro winter activity, be sure to also check out our guide to the best thrift stores in Brooklyn.
L Train Vintage in Williamsburg is a great place to find reasonably-priced and stylish vintage clothing! They also have several locations around the city including the East Village.
Our favorite vintage store though has to be Stella Dallas Living and 10ft by Stella Dallas neighboring one another. Both of these are also Williamsburg thrift stores that you need to check out, in fact the entire neighborhood has so many you could make an entire day out of it.
For the hardcore vintage shoppers looking to snag some rare finds and authentic vintage, check out Metropolis Vintage! They have a huge selection of vintage t-shirts!
For an upscale resale shopping experience, visit What Goes Around Comes Around for second-hand luxury clothing and accessories!
Beacon's Closet is an amazing place to find unique and stylish pre-owned pieces. Ranging from reasonably-priced, to some hidden designer finds, Beacon's Closet is a hip place to search for vintage treasure. One of our favorite locations is in Park Slope where there are a few other great vintage shops to explore!
For a more thrifty trip, visit one Housing Works' thrift shops around the city! Support a great cause while finding your next one-of-a-kind piece that will have all of your friends turning green with envy!
Cure Thrift Shop near Union Square is a great place to find unique clothing, decor, and homegoods! All of the proceeds go toward funding diabetes research, so you can do good while sleuthing for vintage finds.
Hamlet's Vintage in Greenwich Village is a fabulous little shop filled with goodies from the 1940s to the 1980s! No matter which decade you take style inspiration from, Hamlet's Vintage will surely have something you'll fall in love with!
Spa Days & Bathhouses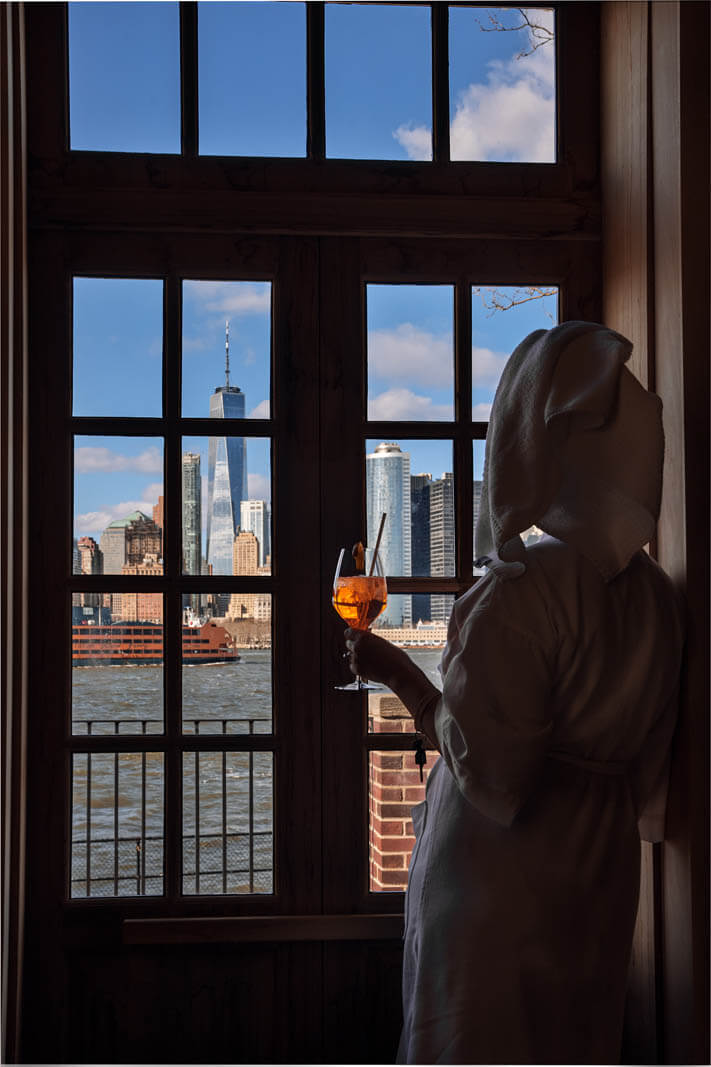 Warm up with a spa treatment and a schvitz during the biting winter in NYC! While there are many luxurious spas and salons throughout the city, these bathhouses are classic New York City relaxation!
Head to the East Village to visit Russian and Turkish Baths, or go downtown to Wall Street Bath and Spa! Enjoy the traditional Platza Oak Leaf treatment and some Russian and Turkish cuisine during your day of unwinding!
One of the best spas in NYC to check out all year is QCNY Spa on Governors Island! This spa not only has a heated outdoor pool overlooking the Manhattan skyline that's open in winter, but they have several themed relaxation rooms, steam rooms, saunas, and enough places to recharge to spend an entire day at.
See our full guide to the best spa days in NYC to help you decide where you should spend your day of rejuvenation and relaxation!
Bookstores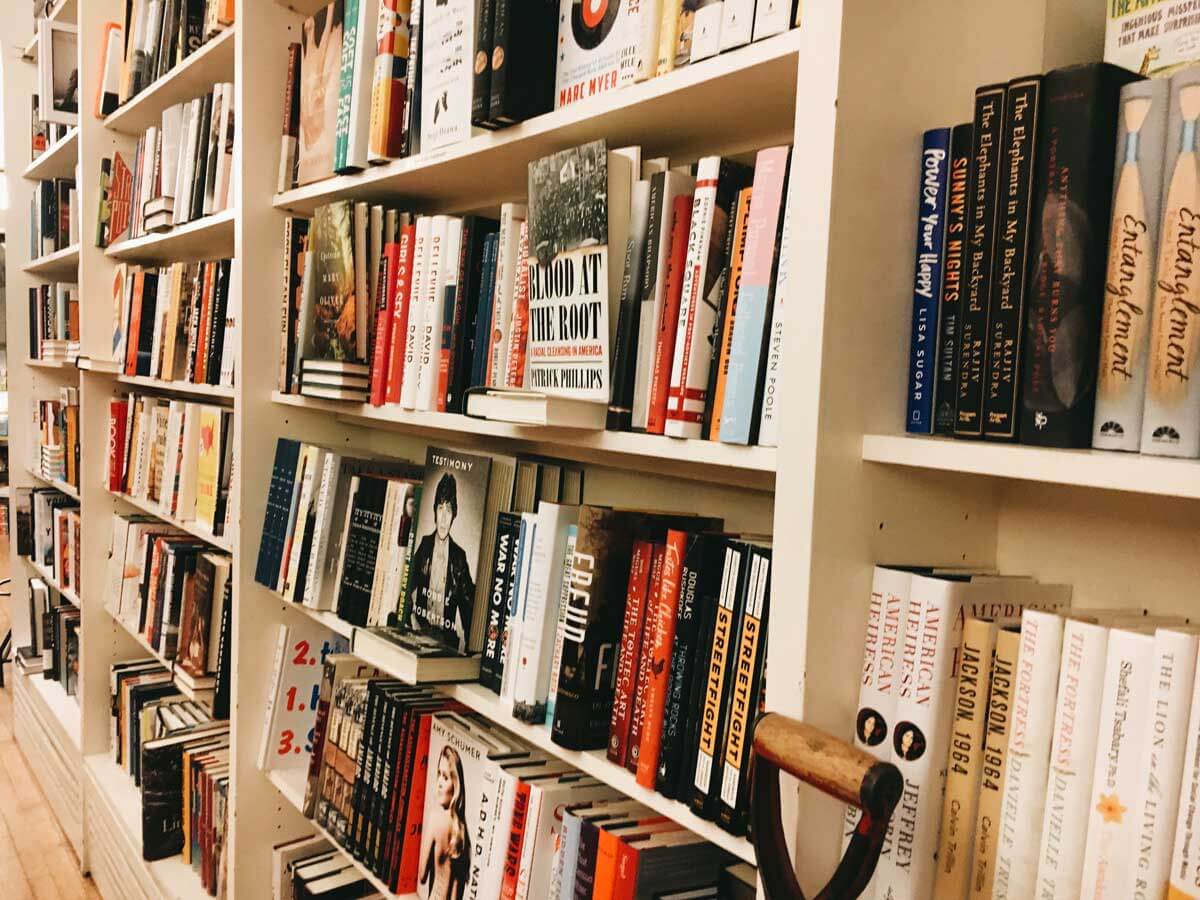 When it's just too cold in the NYC winter to brave the gusty streets, it's best to curl up by the hissing radiator with a good book. Here are some independent and used book stores around the city where you can replenish your library with some winter reads!
The Strand is probably New York's most famous independent bookstore, and with good reason! The original Strand, located at 12th Street and Broadway, is a sprawling shop with just about any book you can think of (and if they don't have it, they'll order it for you!). They also have a location on the Upper West Side!
McNally Jackson Books is another wonderful independent bookshop with several locations throughout the city! Stop by to browse their selections at their Nolita, Seaport, Williamsburg, or Downtown Brooklyn locations!
Head to Bowery and check out Codex Books, a cozy used bookstore and coffee shop that offers a curated selection of pre-owned books.
For the true crime and mystery-obsessed, visit The Mysterious Bookshop in Lower Manhattan!
East Village Books is a St. Marks Place classic, offering an awesome selection of used books, movies, and music!
For the literary collector, Westsider Rare and Used Books on the Upper West Side offers amazing used books and records!
Left Bank Books, located in the West Village, is an old-school Village tradition! Check out their collection of vintage and rare reads!
Also don't miss the best independent bookstores in Brooklyn!
New York Fashion Week
For the fashion-forward folks looking for some winter fun in New York City, prepare yourself for the haute season that is New York Fashion Week! The annual event happens in February and is a high-fashion week filled with the hottest styles, top celebrities, and more fashion inspiration than you can imagine!
While a lot of the shows are limited to industry guests, there are some public shows that you can snag tickets to. If you don't want to shell out the money for a show, but still want the chance to sneak a glimpse at celebrities sporting the latest trends, hang around TriBeCa during Fashion Week!
Once you get some inspiration, take yourself on a wintertime shopping spree down Madison Avenue (or just indulge in some of the best window shopping in the world)!
---
Did we miss one of your favorite things to do in NYC in winter or winter activities in NYC? Let us know in the comments below!