Check out all the best things to do in Prospect Heights, Brooklyn. This small neighborhood just steps away from Downtown Brooklyn surrounded by some of the best neighborhoods to explore. While Prospect Heights might not be the largest or most popular place to visit in the city, it's one of the most underrated.
Prospect Heights saw huge changes in the 2000s when the highly controversial development and construction of Barclays Center took place. Locals were rightfully worried that taking this high-value real estate and giving it to a developer and private entity for private use abuses eminent domain and this area would lose its historic 'Brooklyn atmosphere.'
While their concerns are valid, what's left of the area surrounding Barclays and Downtown Brooklyn still are some of our favorite neighborhoods to explore.
Wander through the pretty tree-lined streets filled with brownstones and rowhouses from the late 19th century and prepare yourself for their jam-packed foodie scene.
But first, where is Prospect Heights?
For the purposes of this guide to the best things to do in Prospect Heights, Brooklyn we are going to use these simple boundaries:
Prospect Heights delineations are Flatbush Avenue (west), Atlantic Avenue (north), Eastern Parkway (south), and Washington Avenue (east).
Barclays Center, a giant entertainment venue and arena home to the Brooklyn Nets is in the northwest corner of Prospect Heights, Brooklyn.
What to do in Prospect Heights, Brooklyn
Everything Down Vanderbilt Ave
Many of the best things to do in Prospect Heights, Brooklyn can be found by walking down Vanderbilt Avenue between Grand Army Plaza and Atlantic Avenue. This is what I would consider to be the central vein of this neighborhood dotted with restaurants, shops, cafes, and more.
Here are a few of our favorite picks along Vanderbilt Avenue, where you can find some of the best restaurants in Prospect Heights too:
Alta Calidad – One of my all-time favorite date spots for dinner is the innovative Mexican cuisine and menu available at this Prospect Heights restaurant that also won the 2018 Michelin Bib Award. Try the queso fundido, tacos, or the al pastor plate.
Ample Hills – One of the best local ice cream shops in Brooklyn has a legendary location here in Prospect Heights that even Questlove used to frequent! I have yet to try a flavor I haven't loved, this is a must-add and one of our picks for best things to do in Brooklyn even if you try another location around the borough.
1 of a Find Vintage – It's no doubt that Brooklyn is home to some of the best vintage and thrifting shopping in the city! One of my favorites in this neck of the borough is this vintage shop that sells men's and women's clothing along with accessories and other items! See more of the best thrift shopping in Brooklyn.
Little Cupcake Bakeshop – This legendary Brooklyn-born bakery has taken the city by storm since opening its first location in 2005 with other locations in Bay Ridge and Nolita. If you only have room to try one thing, let it be the award-winning chocolate Brooklyn Blackout Cake. Also, check out the best bakeries in Brooklyn, this made the list!
Olde Brooklyn Bagel Shoppe – If you're a visitor, please don't leave without trying one of the best bagels in Brooklyn! This old-school bagel shop has all the classics including those unforgettable Brooklyn bagels made with our secret ingredient, NYC water!
Gran Caffe de Martini – This is absolutely one of my favorite storefronts not only in Prospect Heights, Brooklyn but in the city! If the exterior of this charming Italian cafe doesn't sell you, their menu of imported coffee drinks and light bites will, not to mention this is one of the best spots for brunch in Prospect Heights.
Cataldo's – This is one of those classic, family-run Italian restaurants that is worth stopping by for one of their delicious wood-fired pizzas or Italian dishes. This is also pretty affordable considering the quality and compared to other of the best pizza restaurants in Brooklyn!
Joyce Bakeshop – Another sweet treat option on Vanderbilt in Prospect Heights, Brooklyn is this great stop in the morning for one of their warm, freshly made pastries and a coffee!
Ciao, Gloria – One of the best casual and light brunch spots in the area, this cute cafe serves coffee drinks and breakfast sandwiches until late in the afternoon.
LaLou – A great date spot in Prospect Heights is this biodynamic wine bar that focuses on small-batch wines paired along with a menu of light bites or mains in a beautiful, minimalistic setting.
Beer Street South – This is where to go if you're looking to grab a growler of craft beer to take home or back to your accommodation! They have a great hang-out space as well if you're looking for a great spot to just enjoy a beer break.
UnNameable Books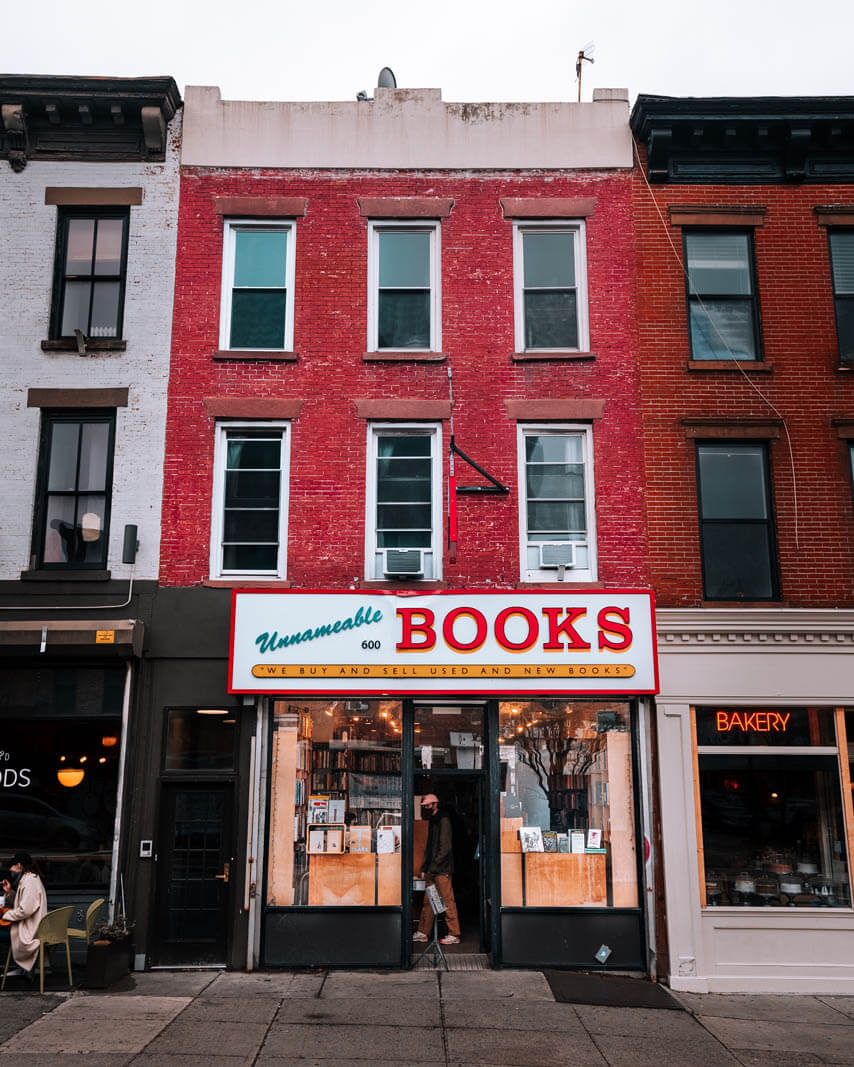 Calling all book lovers, this is one of the best things to do in Prospect Heights, Brooklyn! Check out Unnameable Books on Vanderbilt Avenue, one of the best independent bookshops in Brooklyn!
They have such a wide variety of genres there's bound to be a book for you in this store! They have one of those small, charming storefronts filled to the gills with books from floor to ceiling, new and used.
This bookstore is open daily until 11 PM, which makes it the coolest late-night hang out if you're bored and wanting to check out some bookstores while you're in the neighborhood.
Also, check their events page as they sometimes host talks, launches, and readings.
BierWax
I am in love with this unique spot on Vanderbilt Avenue in Prospect Heights! Bierwax is a vinyl bar and lounge where they have over 5,000 records behind the bar on display, the bartender picks out what you're going to listen to while you sit back and enjoy a delicious craft brew.
This vinyl craft beer taphouse has a small selection of vinyl for sale and sometimes pop-up events if you're feeling like shopping, be sure to check out the art on the walls, they typically feature an artist and if you love one of the works it might even be up for grabs and for sale!
Also, don't miss when they have live music sets so you can sit back, relax while listening to music and a good craft brew.
Grab Some Ice Cream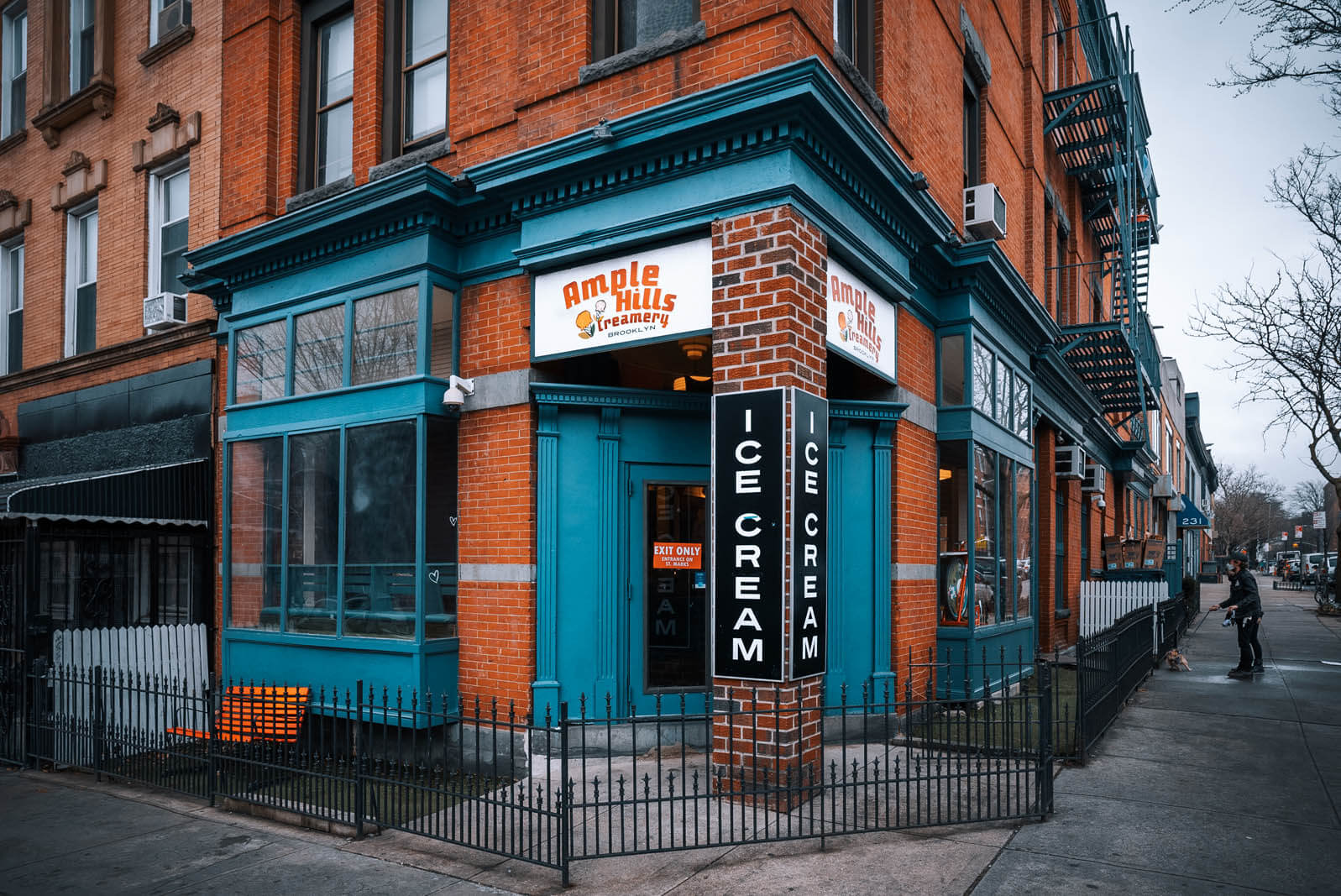 For being such a small neighborhood, comparatively, there is no shortage of sweet treats and ice cream available in Prospect Heights! No matter when you visit, between the bakeries and ice cream shops you're going to want to plan a few sweet treats while you're here.
I've already noted the Ample Hills Creamery location on Vanderbilt, I recommend trying a few samples and getting at least two scoops of two different flavors! Better yet, if you fall in love and want this back at home you can order some of their ice creams online to be delivered to your home!
Also on Vanderbilt Avenue in Prospect Heights is Van Leeuwen, an artisanal ice cream parlor with a few locations around Brooklyn. They got their start in a cute little yellow ice cream truck and after gaining popularity were able to open a few storefronts around the city as well! They offer some great flavors of ice cream along with some options for our plant-based friends with a great selection of vegan ice cream as well!
Located on Underhill Avenue is another great ice cream shop located in Prospect Heights. Blue Marble Ice Cream is another Brooklyn-born creamery that offers organic ice cream flavors and sorbet! YUM!
Gold Star Beer Counter
Who doesn't love a good hang out spot to enjoy a good drink or craft brew on draft? Gold Star Beer Counter is a great beer and hangout spot and one of our favorite stops and things to do in Prospect Heights, Brooklyn when we are enjoying our walks through the neighborhood.
There's a chill, interior space, and bar to hang out at or you can just walk up to the take-out window and order your beer for a sidewalk drink or to take home. I always love that they carry a great selection of beers from some of the best breweries in Brooklyn.
Four and Twenty Blackbirds Pie Counter
I swear this will be the last dessert and sweet stop for Prospect Heights! It's not our fault that there are so many great places packed in this smallish neighborhood perfect for satisfying that sweet tooth! Four and Twenty Blackbirds is a place most Brooklynites know about for their famous pies!
Their original location is in Gowanus, but they opened a pie counter here in Prospect Heights due to high demand, the owners and founders are two sisters who also have a cookbook and have won many awards for their delicious pies! The Salted Caramel Apple Pie is probably their most famous, but you can't go wrong with any of their pies.
Tom's Restaurant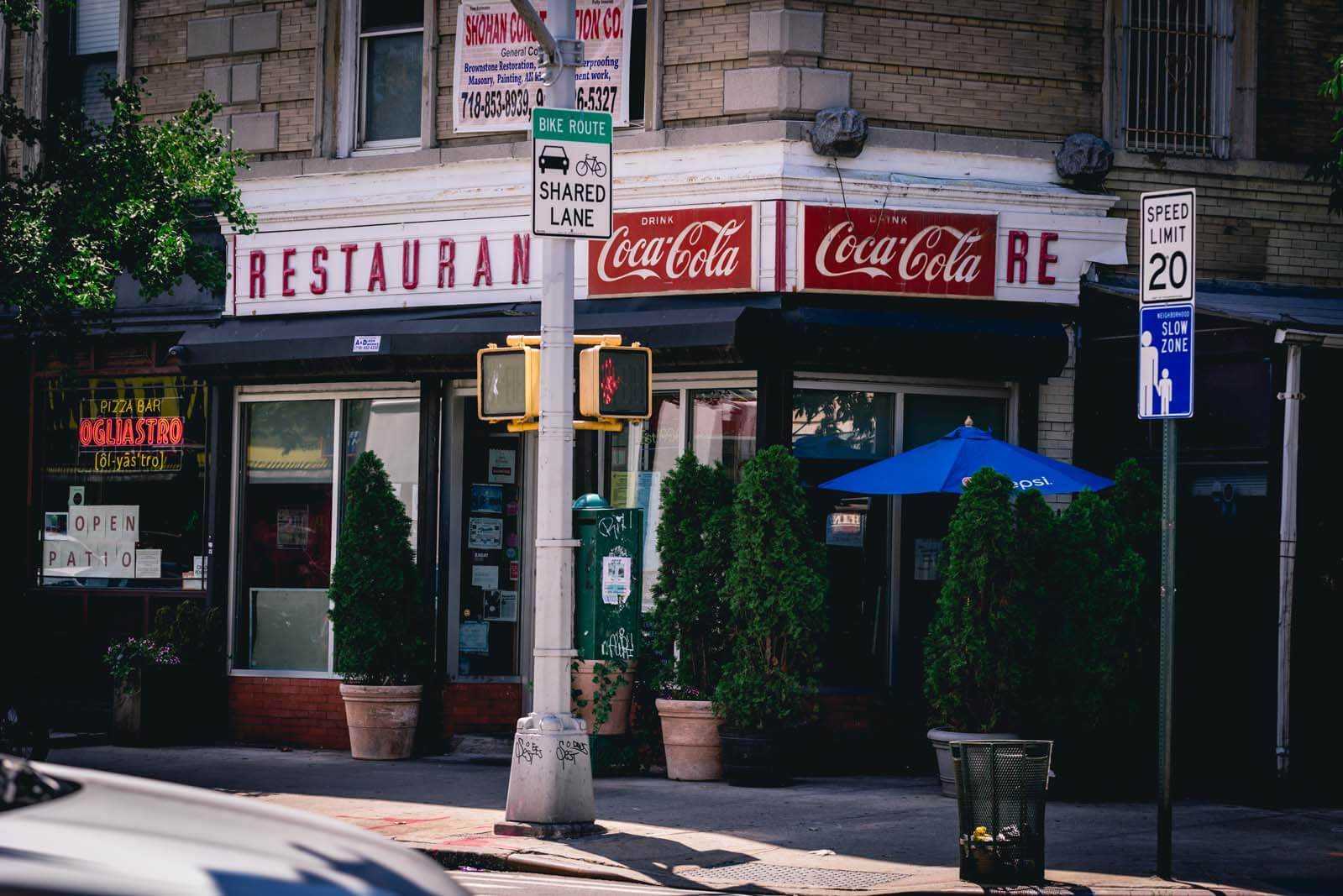 One of the most legendary things to do in Prospect Heights, Brooklyn is dine at this classic American NYC diner. This diner dates back to 1936 and is and has been loved in the neighborhood so much that it even had a human chain formed around it to protect it during unrest in 1968 after the assassination of Martin Luther King Jr.
Besides being a staple to the community of Prospect Heights and Brooklyn in general, Tom's Restaurant is one of the best diners in Brooklyn! Come for some great American-style diner breakfast and coffee, but the most popular breakfast order is their ricotta blueberry pancakes.
You can also get old-fashioned sweet treats here like a classic egg cream and other meals and classic dishes that bring back a flood of nostalgia like meatloaf. If you're craving the breakfast menu, don't worry they serve breakfast all day! Expect a wait on the weekends though and plan around them so you're not hangry in line or come on a weekday!
The owners also opened a second location on the Coney Island boardwalk if you find yourself exploring the best things to do in Coney Island!
Grand Army Plaza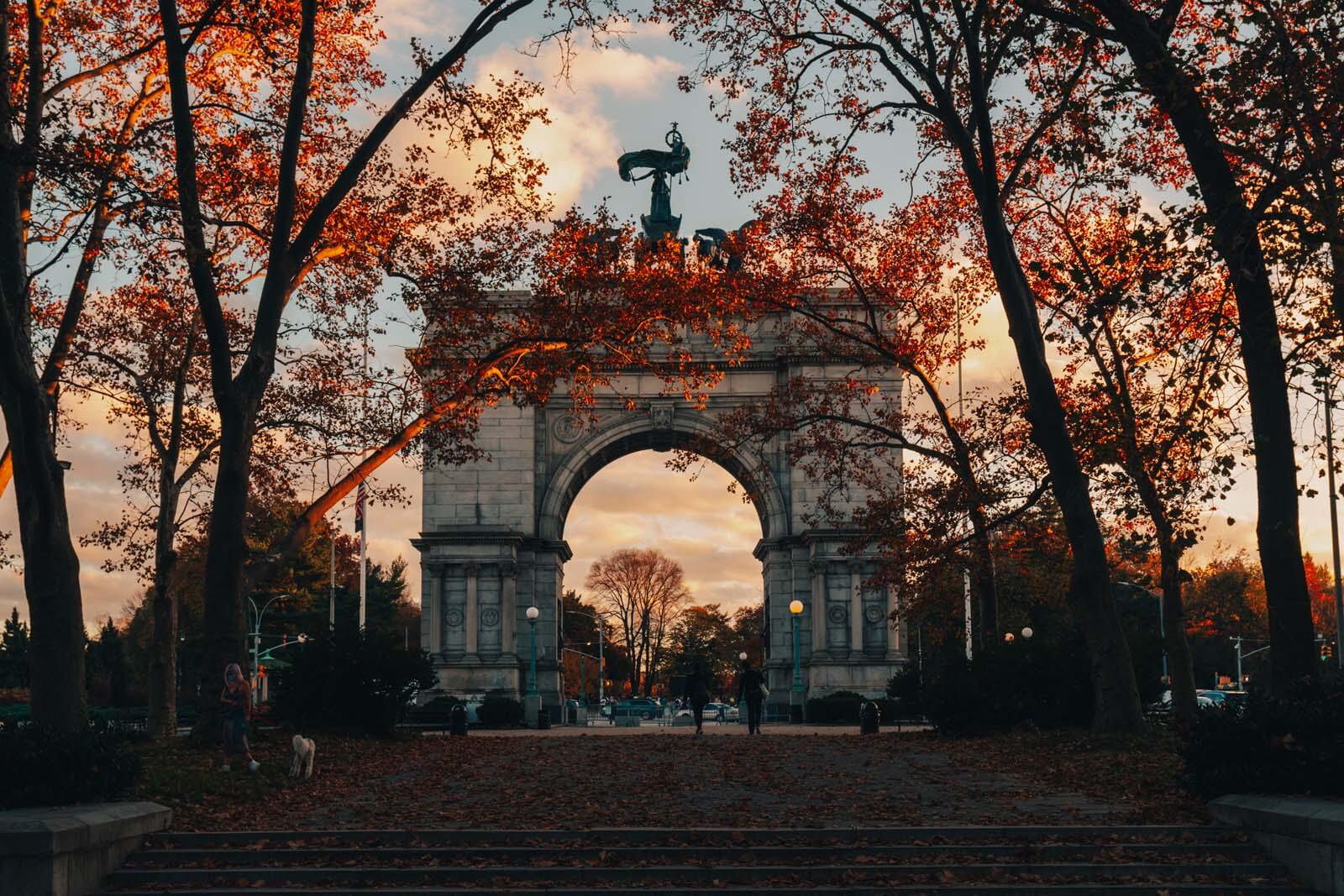 One of Brooklyn's most recognizable landmarks can be found on the edge of Prospect Heights and Prospect Park. The grand arch and entrance to Prospect Park is the Soldiers' and Sailors' Memorial Arch at Grand Army Plaza.
Besides being a great photography spot and way to enter the park, this archway has been a gathering place for social justice movements and protests, pop-up events, and the location of the weekly Greenmarket where local farmers and artisans sell their produce, food products, and other items.
While this is a pretty buzzing spot almost any time of day whether there's an event happening or not, one quiet spot here can be found at the Bailey Fountain. There is a gorgeous fountain right next to the Soldiers' and Sailors' Memorial Arch that offers shade and tree coverage from the sun and a hot day along with benches. This is one of our favorite places to take a walking break and soak in this spot that while the chaos of the traffic and city surrounds it, somehow feels really peaceful.
Underhill Avenue
One of my favorite streets to mosey up and down by foot in Prospect Heights, Brooklyn is Underhill Avenue. Families with kiddos certainly can take a play break at Underhill Playground, and the rest of us just walk here to peep at the cool townhouses and brownstones.
There's really nothing else to do here other than admire this pretty little street.
Frida & Diego Mural by Kobra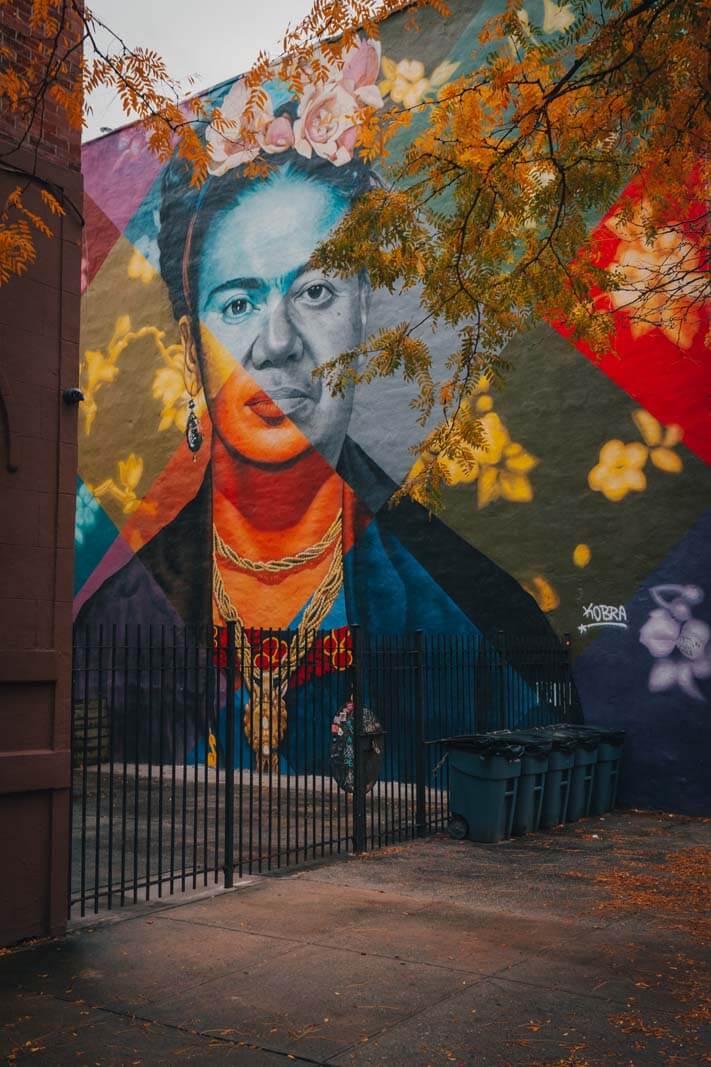 One of my all-time favorite street artists is Brazilian artist Eduardo Kobra and one of my favorite female artists of all time is Frida Kahlo, so naturally, one of my favorite things to do in Prospect Heights is to hunt down the prismatic colorful Frida mural by Kobra at 360 Prospect Place.
This mural was a part of Kobra's 18 murals around NYC in 2018, while some are located in high trafficked spots like off the freeway in New Jersey just outside of the city and at popular spots like the High Line in Chelsea, this one is tucked away and a bit more hidden.
The mural's official name is Frida & Diego and that never made sense to me the first few times I went to the mural, but if you look close you can tell Kobra actually combined physical attributes of both Frida Kahlo and Diego Rivera in this mural making them as one just like they were in real life as partners.
If you love Kobra like I do, you may want to explore more of his work in Brooklyn. Check out our guide to Williamsburg street art to find two of them! And if you love street art, check out our guide to the best Brooklyn street art.
A.MANO BROOKLYN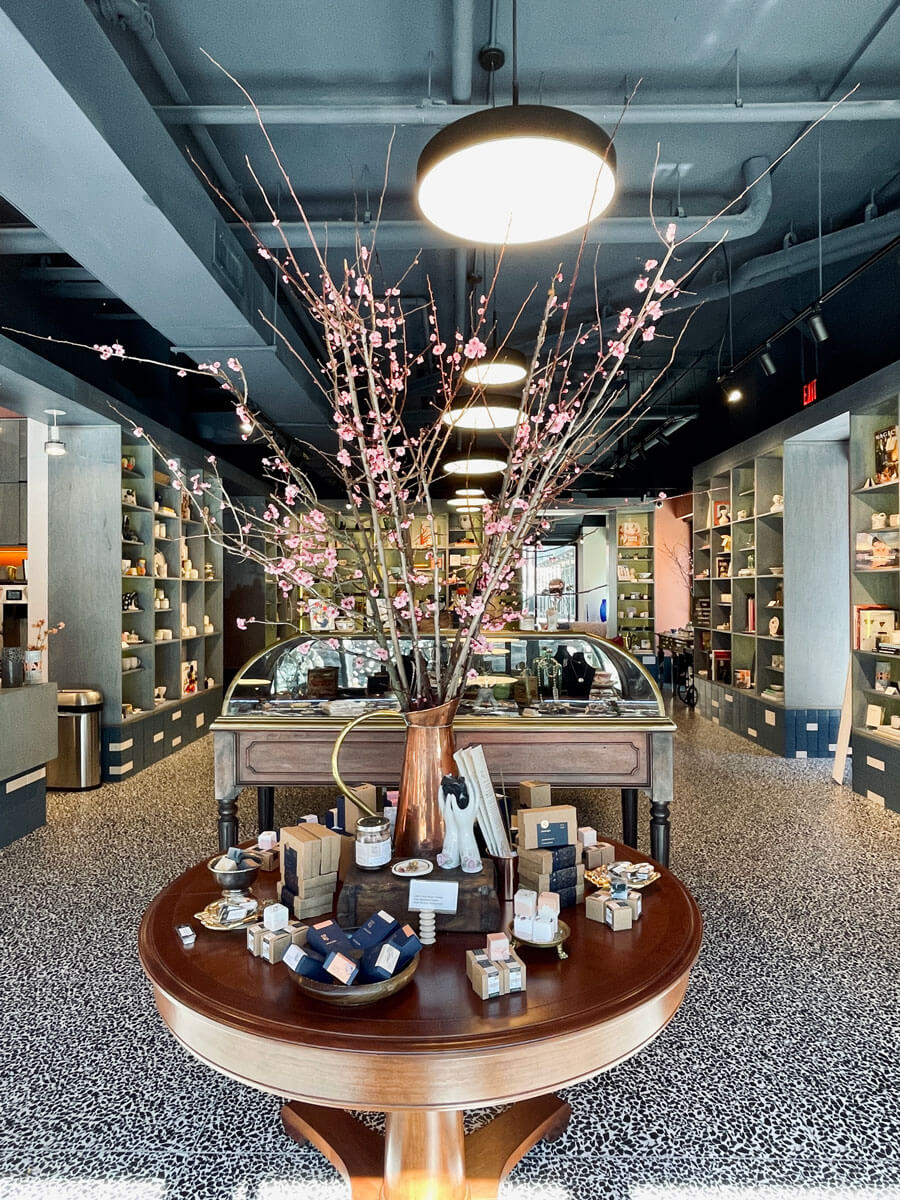 Welcome to the world of creativity located on Dean Street. This Brooklyn boutique and home shop features stylish interior decor and small gifts made that are either vintage or made by local artists including quite a bit of ceramic pieces from artists who create at BKLYN CLAY next door.
Better yet, there's an airy cafe located in the store so you can shop and caffeinate yourself for a little pick me up. So many cool finds here, this is where to go if you're looking for a unique gift or something to spruce up your own interiors.
Mount Prospect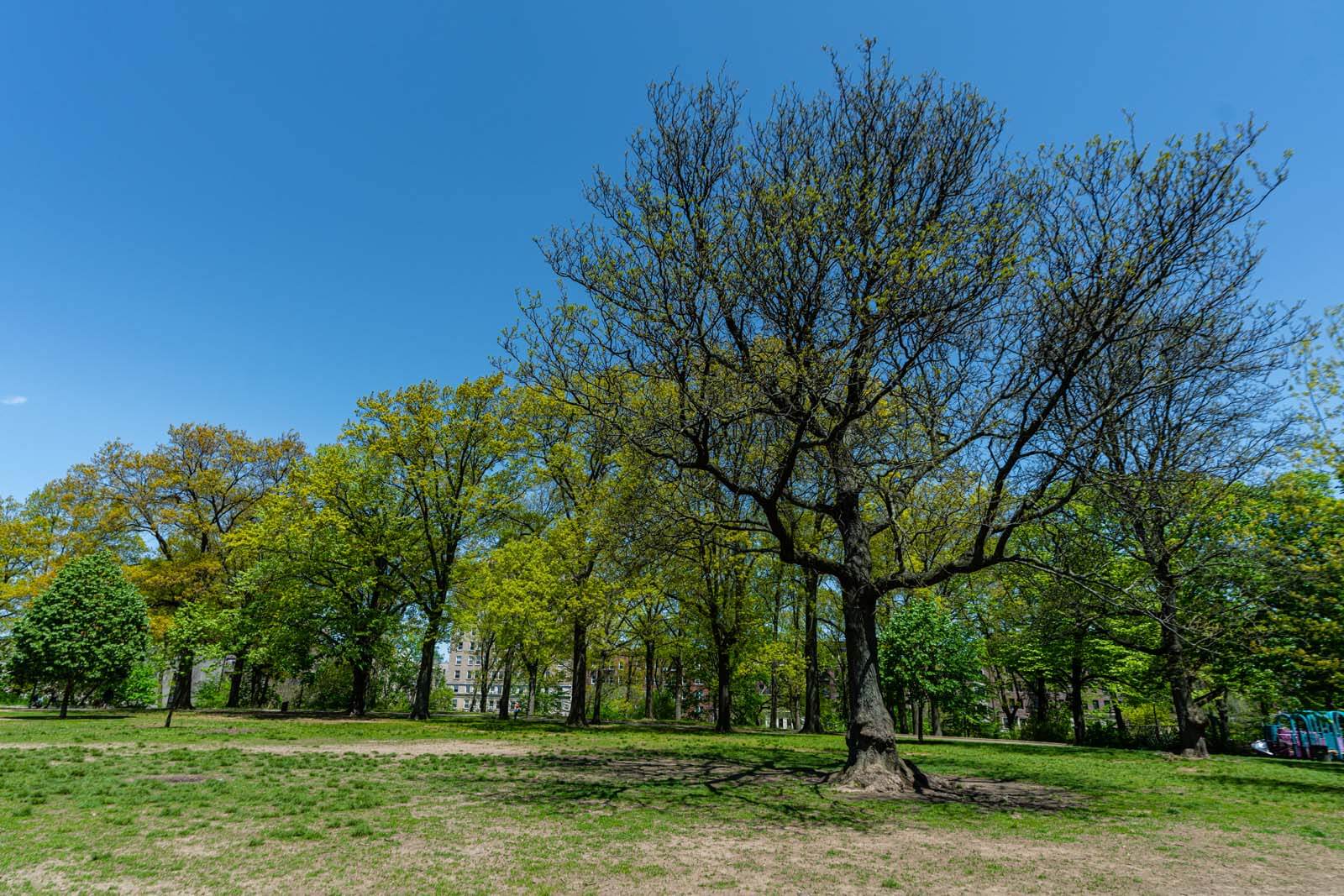 This next thing to do in Prospect Heights is a fun random factoid and one of the smaller parks in Brookyln! Did you know that there's a mountain in Brooklyn? Mount Prospect is the second-highest point in Brooklyn and used to be a part of Prospect Park but now is considered its own park itself near Eastern Parkway by Grand Army Plaza – very close to Prospect Park.
Don't get too excited though, this mount is only 200 feet above sea level.
It was actually the designers of Prospect Park (and Central Park!) Frederick Law Olmsted and Calvert Vaux who wanted Mount Prospect to be separated from Prospect Park because Flatbush Avenue cut through the area.
This lookout point was used in the 1700s by the Continental Army during the Revolutionary War since it gave strategic views of not only Brooklyn but also Manhattan, the New York Harbor, and as far as Long Island, New Jersey, and Staten Island.
Mount Prospect also shares the bit of land that the Brooklyn Botanic Garden and Brooklyn Museum too!
Brooklyn Botanic Garden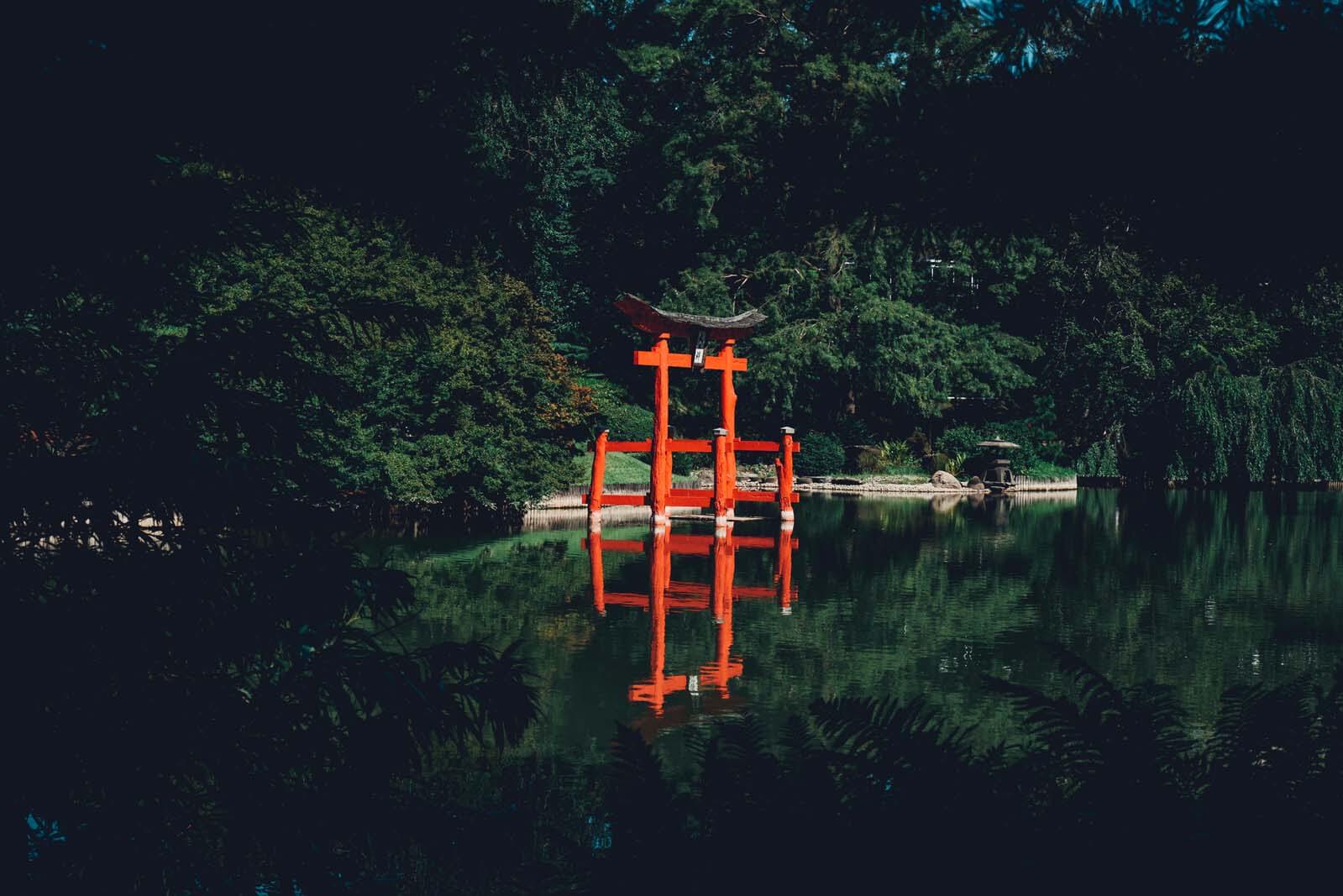 Technically not in Prospect Heights, Brooklyn but right on the border and too important not to mention is the gorgeous Brooklyn Botanic Garden. Located on the Eastern Parkway from Grand Army Plaza, Brooklyn Botanic Garden covers 52-acres of different gardens and collections of plants you could easily wander around in all day.
There are over 18,000 plants housed here as well as attractions like the three different plant pavilions at different climates housing different types of plants, and the C.V. Starr Bonsai Museum.
The garden has both indoor and outdoor areas to explore. Outside there is the Japanese Hill-and-Pond Garden, Cranford Rose Garden, Shakespeare Garden, Water Garden, and more. In the spring, between late April and early May, you don't want to miss the 200 cherry blossom trees in Brooklyn when they blossom.
If you're planning a visit that's not in that very tight window of the grand display of cherry blossoms, don't worry! There are actually different blooms happening in the garden every season and is amazing to visit any time of the year.
Admission free on Tuesdays, other days it's $15 for adults, $8 for seniors and students with IDs, free for children under 12. Closed Mondays.
Get the New York Pass which gets you access to 100+ attractions, including this one, for up to 10 days or up to 45% off savings on normal admission prices all with this mobile pass!
Brooklyn Museum
Located right next to the Brooklyn Botanic Garden is the Brooklyn Museum, one of the best museums in Brooklyn and the 3rd largest museum in NYC in terms of size.
The Brooklyn Museum houses 1.5 million pieces of work and is the third-largest museum in New York City. With a notable permanent collection from all over the world, each collection is organized by culture, geographic locations, or time period.
A few of the popular collections include Egyptian, American Art, Arts of Africa, Arts of the Pacific Islands, Arts of the Islamic World, and European art sections of the museum.
Famous artists on display include Norman Rockwell, Edward Hopper, Edgar Degas, Georgia O'Keeffe, and Mark Rothko to name a few and there is always at least one impressive temporary exhibit happening too, so even if you've visited in the past you should come back again to see what's new.
Admission is suggested but not mandatory, a $10 admission is suggested for adults. Closed Mondays & Tuesdays.
The first Saturday of every month there is free admission from 5-7 pm and special exhibitions.
Get tickets here or get the New York Pass which gets you access to 100+ attractions, including this one, for up to 10 days or up to 45% off savings on normal admission prices all with this mobile pass!
Prospect Park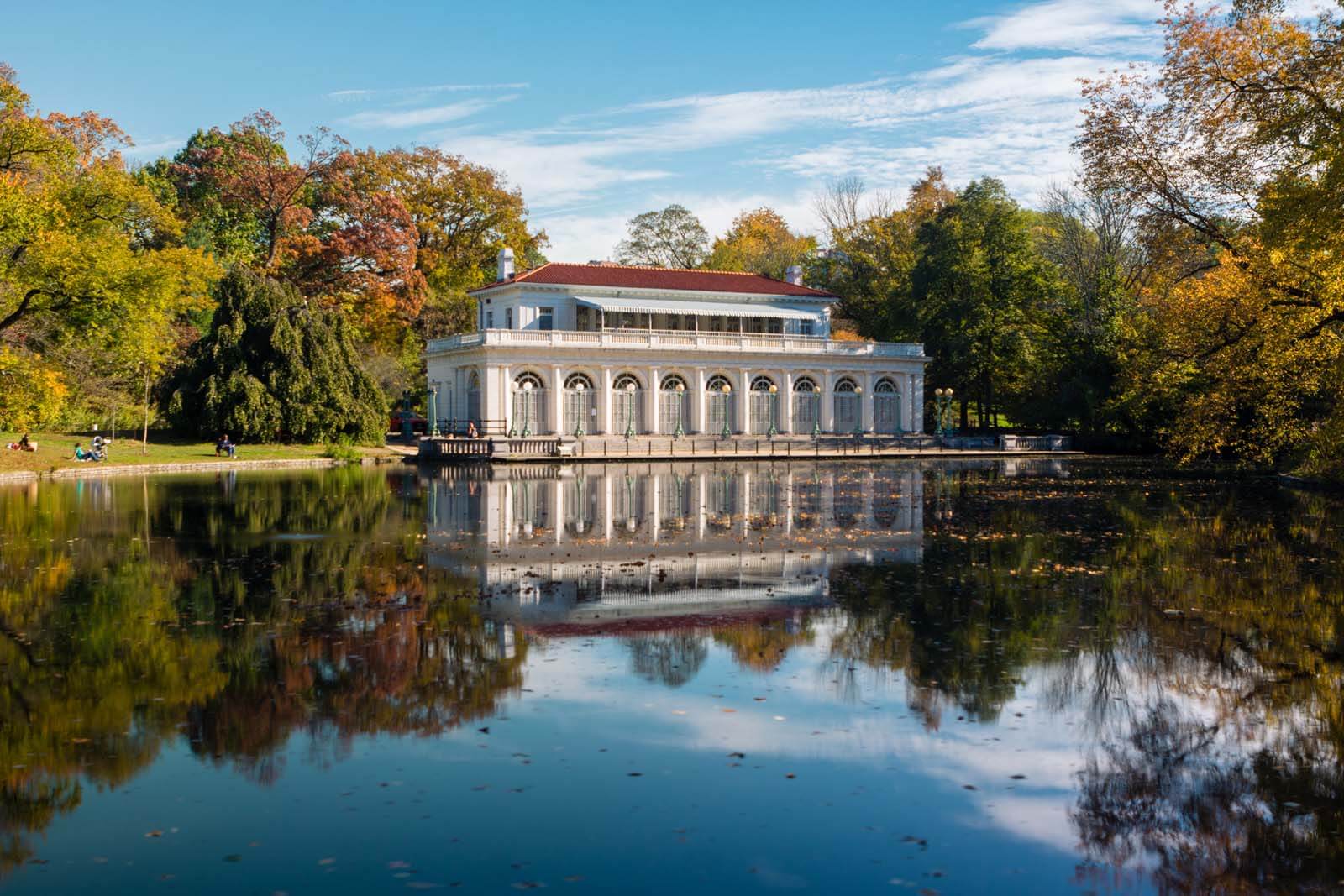 One of the things that make Prospect Heights, Brooklyn a very desirable neighborhood to live in, besides its pretty brownstone homes, is its proximity to Prospect Park. Spanning 585-acres full of large grassy lawns, beautiful architecture, hiking trails, waterfalls (yes there are actually quite a few waterfalls in NYC that can be found!), lakes, horseback riding, ice skating, the Prospect Park Zoo, and so much more.
There are enough activities and things to do in Prospect Park to spend an entire day, especially if you're looking for a great picnic spot in Brooklyn!
Brooklyn Public Library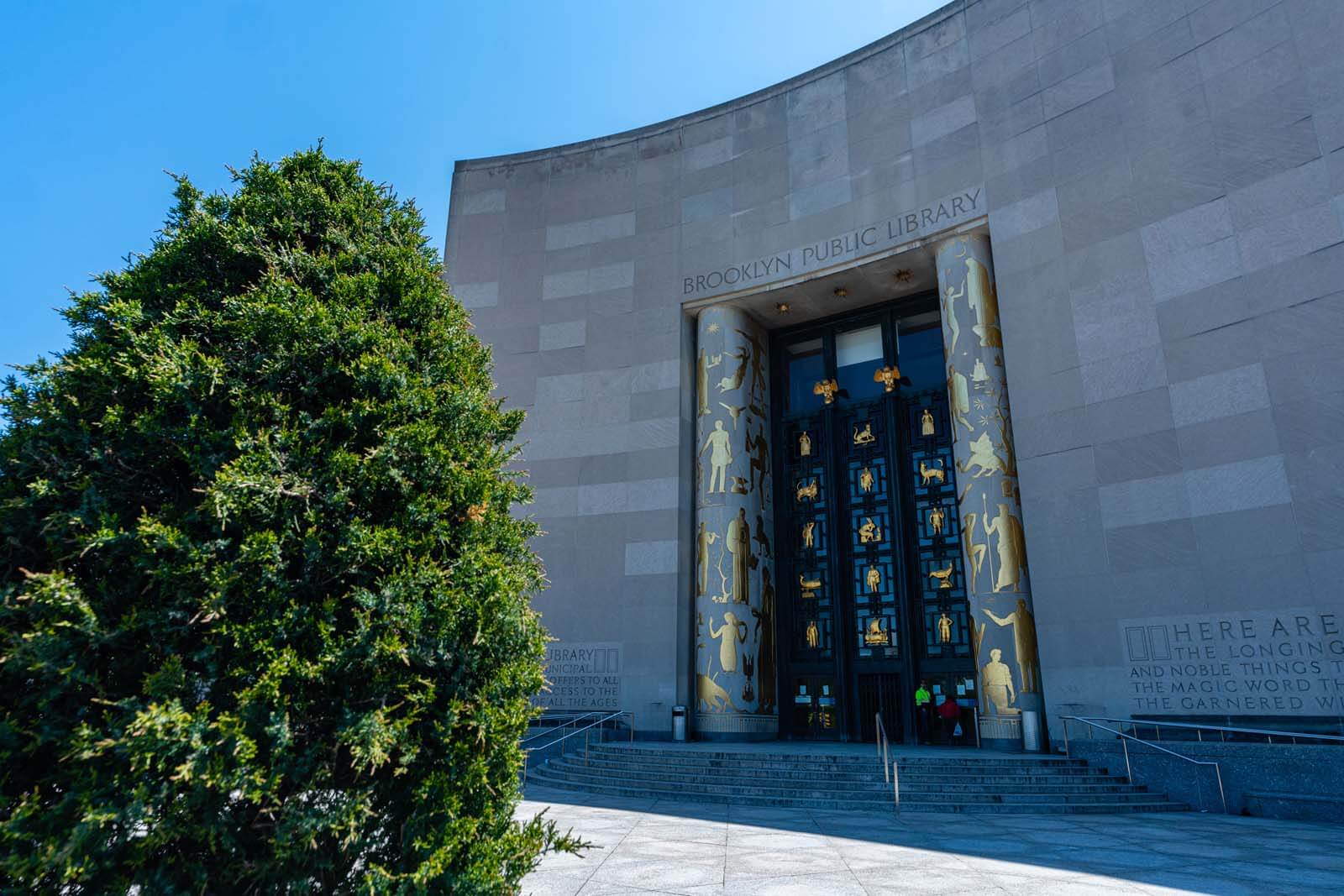 Located at the edge of Prospect Heights, Prospect Park, and the entrance to the Brooklyn Botanic Garden is the main Brooklyn Public Library with a collection of over a million books, cataloged material, and magazines.
The building itself is beautifully completed in Art Deco style with bronze Egyptian details at the main entrance. Besides being a place to do some research or borrow your next read, there are special exhibitions that happen at the library and occasional events in their giant auditorium.
Spaceship Tank Car
One of the most random things to do in Prospect Heights while you're walking around is spotting the bizarre silver spaceship car often parked on Park Place or nearby, or if you're extra lucky you'll see the owner taking their spaceship for a spin.
A dad in Brooklyn who really loves space and drones turned his Chevy Blazer into a steel-covered spaceship. As a matter of fact, this same dad also tried to get pizza delivery by drone in the city to be a thing and enjoys the strange looks he gets when driving his space car around Brooklyn.
Things to do Nearby Prospect Heights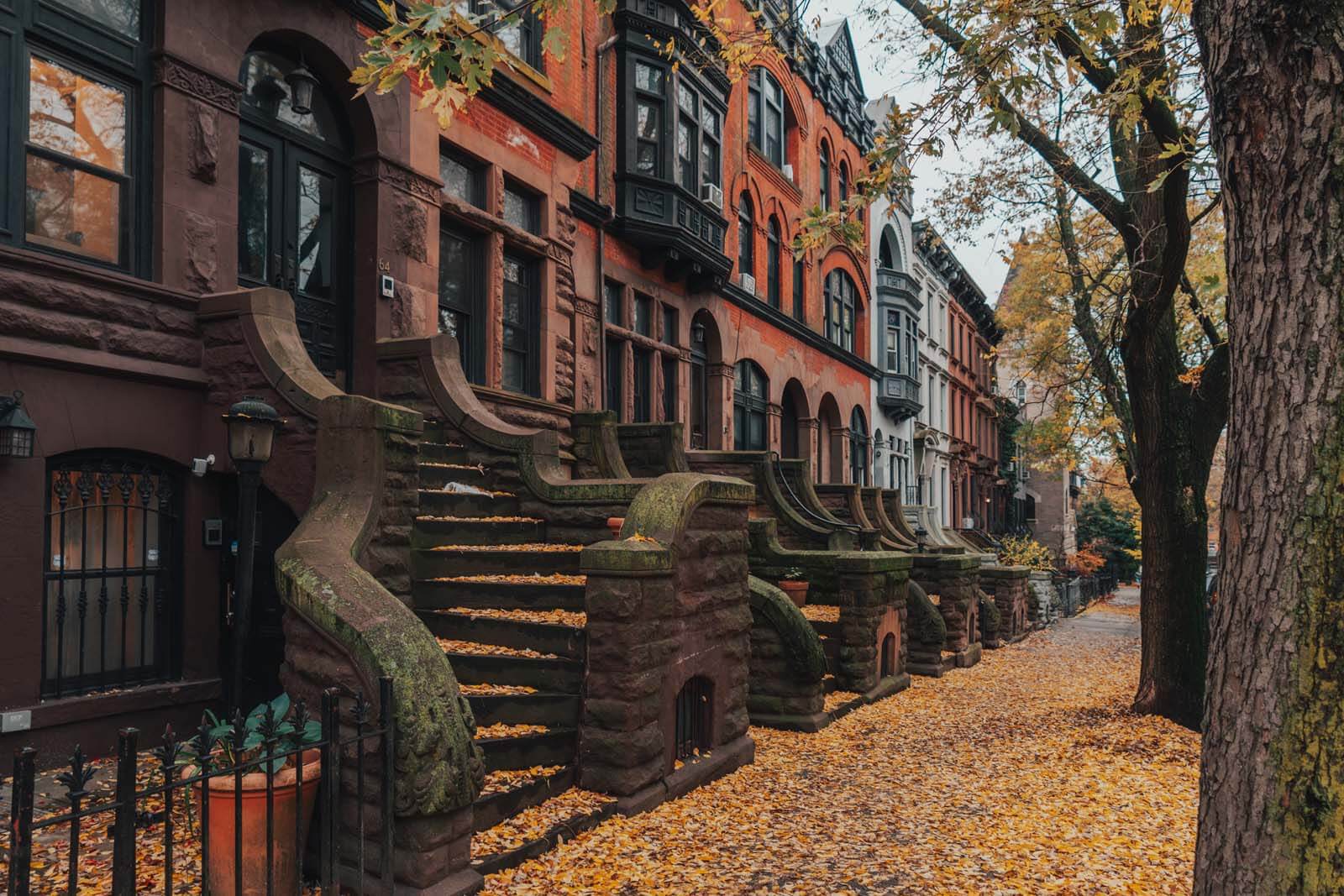 Either before or after you've explored the best things to do in Prospect Heights, there are plenty of options of what to do nearby! Prospect Heights is surrounded by Downtown Brooklyn, Crown Heights, a sliver of Gowanus, and Park Slope.
Downtown Brooklyn – Downtown Brooklyn draws visitors in for events at Barclays Center from Brooklyn Nets basketball games to concerts and other large-scale events. Besides that, there is a shopping mall, Dekalb Market food hall and shops, and plenty of dining options nearby to check out along with other notable Brooklyn attractions and venues like the Brooklyn Academy of Music (BAM) and the Brooklyn Tabernacle Choir.
See our guide to the best things to do in Downtown Brooklyn for more ideas.
Crown Heights – This Brooklyn neighborhood is teeming with amazing restaurants and cafes to check out! The best bet is to walk down Franklin Avenue if you're looking for a bite to eat, we highly recommend Chavela's or Barboncino Pizza. You can find more historic brownstones here as well as the Brooklyn Children's Museum and Jewish Children's Museum.
Gowanus – Only a sliver of Gowanus borders Prospect Heights, but Gowanus is a great neighborhood to explore if you're looking to continue to other popular neighborhoods like Park Slope or Boerum Hill. Gowanus also has a plethora of great dining options including two of the best BBQ spots in Brooklyn, Pig Beach, and Dinosaur Bar-B-Que. There are also a few of the best breweries in Brooklyn located in Gowanus if you're looking for a beer break.
See our guide to the best things to do in Gowanus for more ideas.
Park Slope – One of the most beautiful neighborhoods in Brooklyn and one of the most desirable neighborhoods to live in the city is Park Slope. Come see what all the fuss is about strolling through the Park Slope Historic District made up of 1,800 designated buildings built in the late 19th century through the early 20th century. Besides gorgeous architecture and beautiful tree-lined streets, you can find tons of shopping and dining along 5th Avenue in Park Slope and 7th Avenue.
See our guide to the best things to do in Park Slope for more ideas.
Getting to Prospect Heights
Getting to Prospect Heights is super easy if you ask us, especially if you're using the subway. There are four main subway stations that service the neighborhood of Prospect Heights, Brooklyn:
Bergen Street Station (2, 3 lines)
7th Avenue Station (B, Q lines)
Grand Army Plaza Station (2, 3 lines)
Eastern Parkway Brooklyn Museum Station (2, 3 lines)
Prospect Heights is also a short walk from Downtown Brooklyn and Atlantic Terminal, North Park Slope, and Crown Heights, so depending on where you're coming from you may want to plug your directions into Google Maps to see which subway stop is the best for you to use for your commute.
Other options include using CitiBike as there are various docking stations around Prospect Heights.
Where to Stay in Prospect Heights
Since Prospect Heights is very residential there aren't any hotels within the neighborhood, but a great option is staying in Downtown Brooklyn since its just a short walk to all the best things to do in Prospect Heights as well as a central location that can get you easily around the city as Atlantic Terminal not only has many subway lines that operate here but also the Long Island Railroad (LIRR).
Here are a few great options of where to stay nearby Prospect Heights, for more options check out our complete guide for where to stay in Brooklyn by neighborhood and budget including properties for any type of traveler along with a breakdown of what's nearby and how far each of these spots are from popular landmarks around Brooklyn and NYC.
Aloft New York Brooklyn
You can find this affordable 4-star hotel in Downtown Brooklyn on Duffield Street. The rooms are beautifully decorated and the hotel offers a fitness center, an indoor pool, a bar and lounge, coffee shops, and more.
If you're traveling with your furry friend, this hotel is pet-friendly!
Book Now on Booking.com | Compare Prices for Later on Hotels.com | See Rates on Expedia.com
Sheraton Brooklyn New York Hotel
Another great spot to stay is the Sheraton. This hotel is also located on Duffield Street, which means you'll have easy access to subways, fantastic dining, shopping, and more.
This 4-star hotel has everything you'll need and more for a magical stay in Brooklyn. This hotel is equipped with spa services, fitness centers, an indoor pool, and this is also where Kimoto Rooftop is! The beautiful rooftop bar and lounge sit on top of this very hotel.
The rooms are perfect for business travelers with plenty of workspaces. During your stay, customers can upgrade to a suite that has a separate living room and it also comes with special perks like access to the lounge, complimentary breakfast, snacks, and appetizers in the evening!
Book Now on Booking.com | Compare Prices for Later on Hotels.com | See Rates on Expedia.com
---
Enjoyed this guide to the best things to do in Prospect Heights, Brooklyn? Bookmark for later or share the love below on Pinterest!