Check out all the amazing things to do in Williamsburg, Brooklyn one of the coolest and popular neighborhoods within the borough (and entire city) to explore.
Since rezoning in 2005, Williamsburg has slowly but surely developed into a vibrant, young, and artists community with numerous places to visit both inside and outside.
This now picture-perfect neighborhood is known for its beautiful view of the Manhattan skyline, trendy shops, collection of murals from artists all over the world, amazing nightlife, and fantastic food scene! You'll also find fun bars that also have arcades, bowling, unlimited skeeball, events, and anything you can imagine – this is the neighborhood if you love nightlife, food, and entertainment options – plus it's just a short commute to Manhattan.
Speaking of, that's what makes Williamsburg one of the best places to stay in the city. Be sure to check out our full guide for the best Williamsburg hotels with skyline views too! On a budget? No worries, there are options here for that too!
There are a ton of incredible things to do in Williamsburg but check out some of our favorite spots in this Williamsburg Brooklyn guide.
Read Next: 100+ Amazing Things to do in Brooklyn
Table of Contents
What to do in Williamsburg Brooklyn
Stroll through Domino Park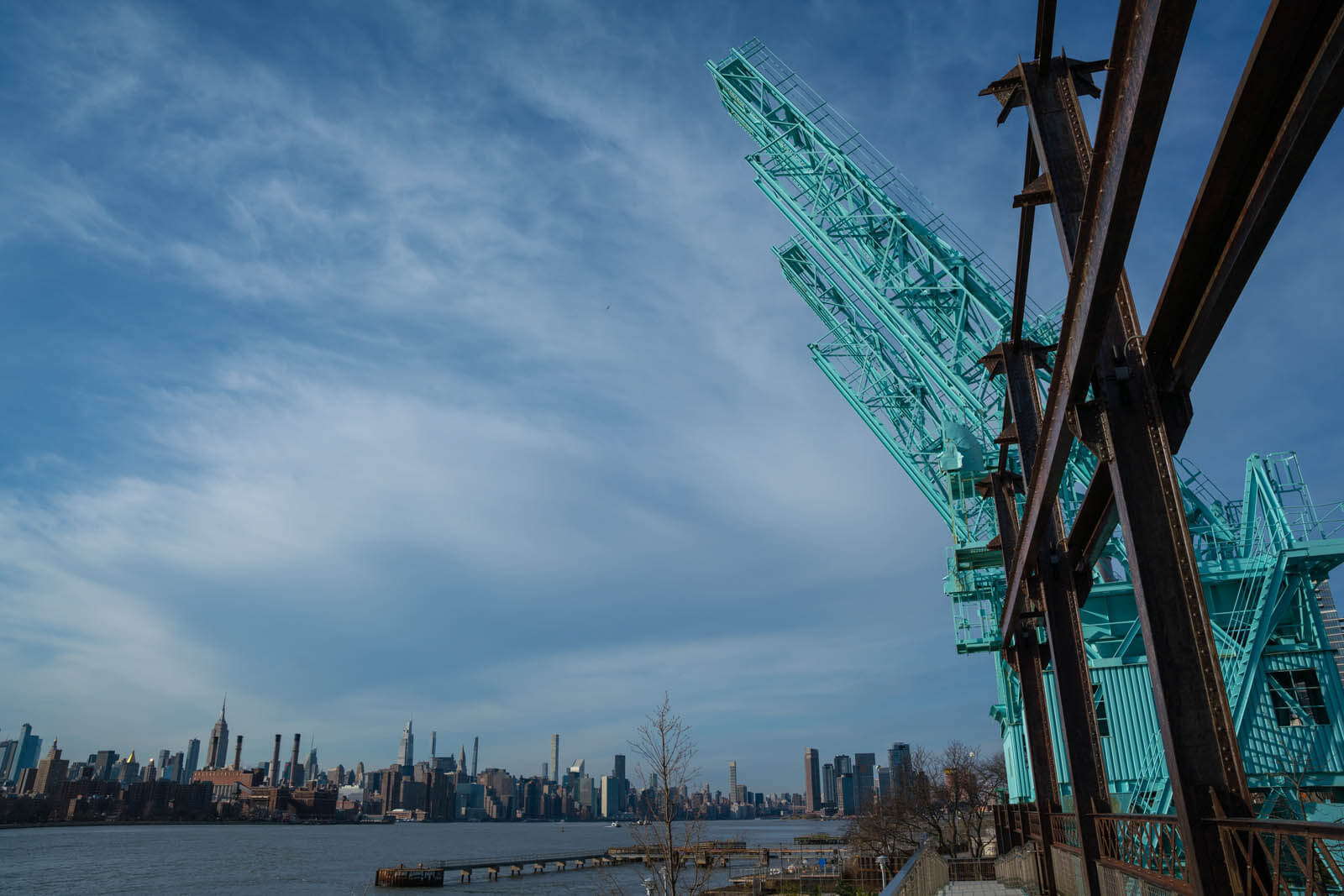 The most recent attraction and addition for what to do in Williamsburg was opened to the public in 2018. Just north of the Williamsburg Bridge, the former Domino Sugar Refinery was converted into a 5-acre public park with many attractions.
The park features an elevated walkway, playground, taco spot, fountain and seating steps, beach volleyball, and amazing views of the Manhattan skyline along the East River along the Williamsburg waterfront.
The park is named after the former sugar factory that was here, hence the name. You can still see traces of the past here as the architects and designers of the park (who also created the High-Line in Chelsea) purposefully left up some of the old factory equipment to pay homage to the history here.
Domino Park is also dog-friendly if you've got a furry friend with you on your trip to Williamsburg! Or, if you fancy eating with a view, this. is one of the best picnic spots in Brooklyn.
Spare some time at Brooklyn Bowl
View this post on Instagram
If you're looking for things to do in Williamsburg, Brooklyn Bowl is an excellent option with a fun twist to your normal bowling alley with a music venue tied in with a traditional bowling alley and bar. Rolling Stone has even named it, "one of the most incredible places on earth."
The Brooklyn Bowl is always a good idea for a fun time. There are 16 lanes, a restaurant, and music venue all under one roof. As mentioned, with features from the Rolling Stone, Brooklyn Bowl has made a name for itself and has featured great musical performances as well as a place to just hang out and have a good time.
This Williamsburg, Brooklyn guide wouldn't be complete without tips on the best way to experience this hot attraction! The Brooklyn Bowl gets pretty packed on the weekends and lanes are first come, first serve so be sure to plan ahead and check out their website for a list of upcoming events to either plan ahead or avoid the most competitive times to enjoy this experience.
Brooklyn Bowl is located right in the center of the nightlife scene on Wythe Avenue and is open until 12 am almost every night. With live music and great food, you're bound to have an epic time.
Head over to Gutter Bar for some pints and pins!
If you loved the last thing to do in Williamsburg, Brooklyn you'll probably also like this! Maybe you want to bowl but don't want to deal with loud music or concert crowd.
If you're looking for more of a relaxing game of bowling while still having an elevated experience complete with drinks, board games, and bar snacks then head over to Gutter Bar's vintage bowling lanes for more fun.
Described as an old-fashioned bowling alley, it will make you feel at home with hardwood floors and American craft-brewed beer.
The not-so-crowded 8 lane alley is perfect for a laid back weekend or weekday.
Gutter bar is 21+ at all times so if you're looking for things to do in Williamsburg with the whole family, then try out some of our other ideas for what to do in Williamsburg, Brooklyn that are more age and family-friendly!
Games and Drinks at Barcade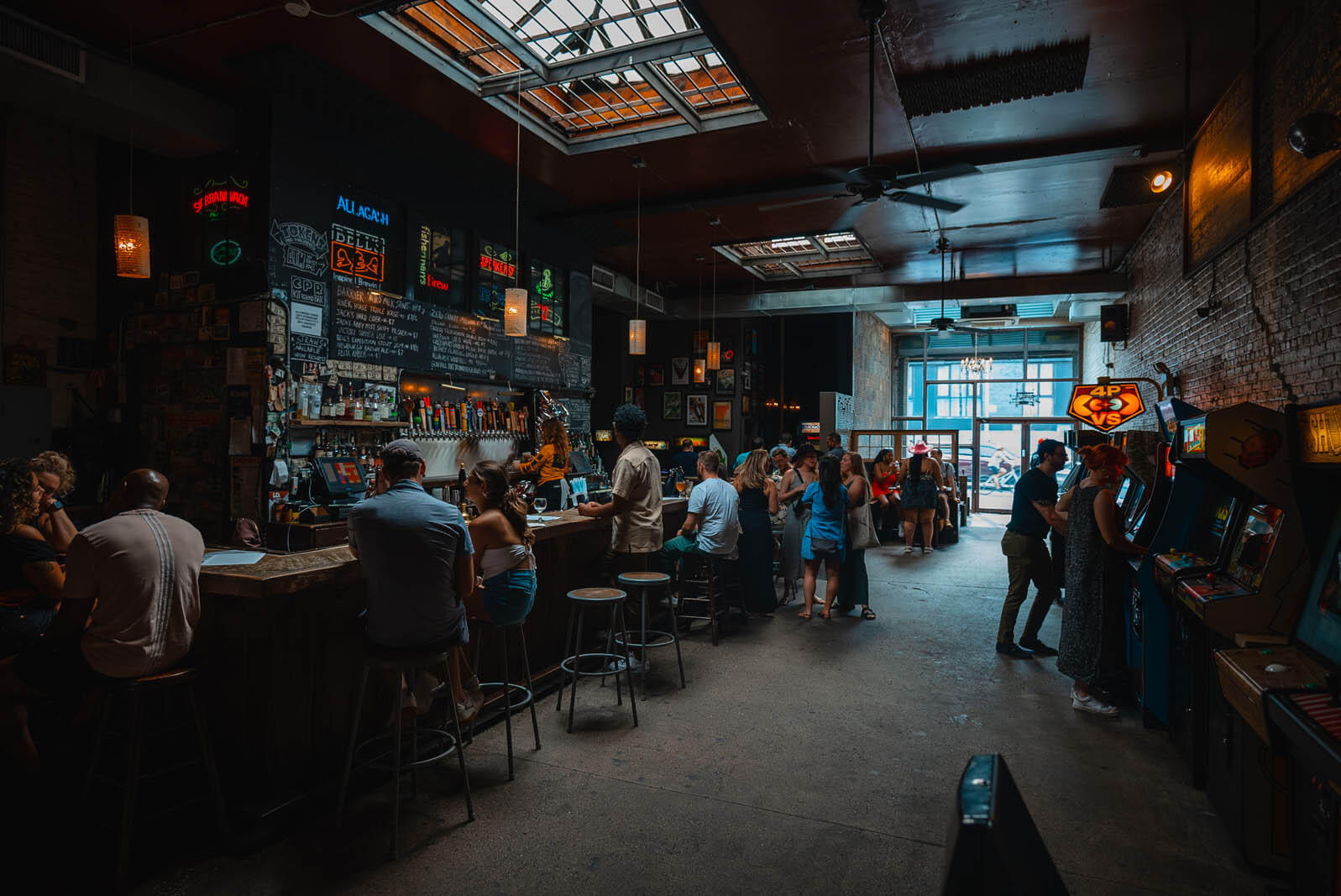 Another one of the best things to do in Williamsburg for entertainment and nightlife is the bar + arcade combo, Barcade! There are a few locations around the city and we are lucky enough to have one in Williamsburg.
This uber cool hang out spot has a full-service bar with great brews on drafts plus an impressive collection of vintage video games from Pac-man to Q*bert and pretty much anything else you can think of plus a collection of old school pinball machines.
Grab some tokens and take your beer around as you try to score the highest points!
Explore NYC's Past at The City Reliquary Museum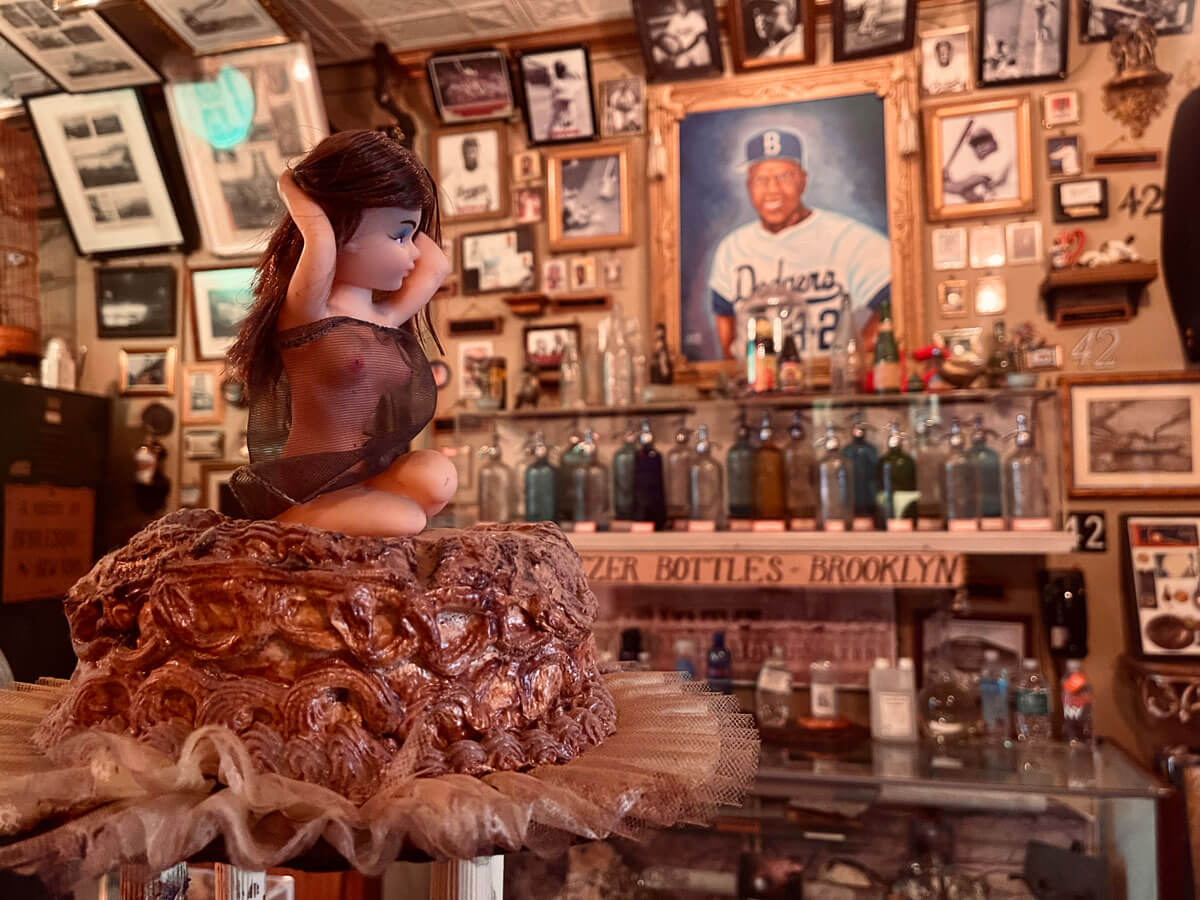 Are you a history buff? If so, this is what to do in Williamsburg, Brooklyn for you! The City Reliquary Museum is a community-run museum that highlights the history of New York City to its visitors and is true hidden gem in Williamsburg!
If an educational experience is on your list of things to do in Williamsburg, this museum is perfect for those who want to learn more about artifacts, community collections and cultural events from both the past and present.
This not-for-profit museum began in 2002 as a window display created by founder Dave Herman.
The museum has a permanent collection including everything from building fragments from landmark structures, vintage postcards from famous monuments in the city like The Statue of Liberty, antique subway tokens, paint chips from the L train platform, and other artifacts from all over the city.
The City Reliquary Museum in Williamsburg is located at 370 Metropolitan Avenue and is open every Thursday-Sunday, noon-6 PM
Check out more of the amazing museums in Brooklyn worth visiting!
McCarren Park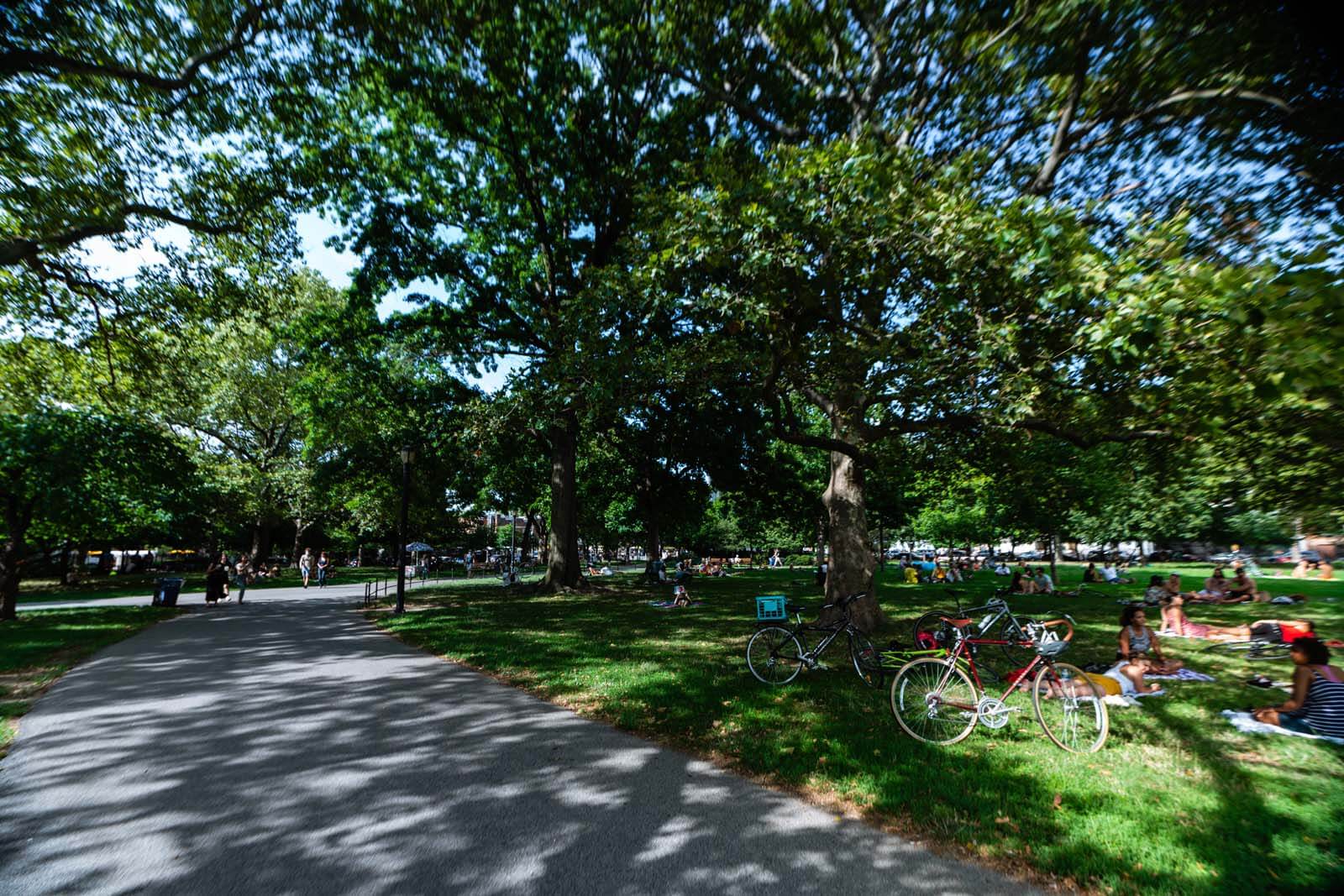 Another one of the best outdoor things to do in Williamsburg Brooklyn sharing the border with the Greenpoint neighborhood is McCarren Park.
McCarren Park is filled with 35 acres of outdoor activities. McCarren Park is not as well known as the other famous parks in Brooklyn but is still very popular and the perfect spot to hang out like a local in our Williamsburg, Brooklyn guide!
Their basketball courts and baseball fields make for great pickup games and their barbecuing areas are great for family and friend get-togethers. If you're looking for a good place to go on a hot day then head over to their free outdoor pools!
Also, in the warmer months, you can find fun activities here like the Renegade Craft Fair, Movies Under The Stars, and Skill Acquisition classes.
Marsha P Johnson Park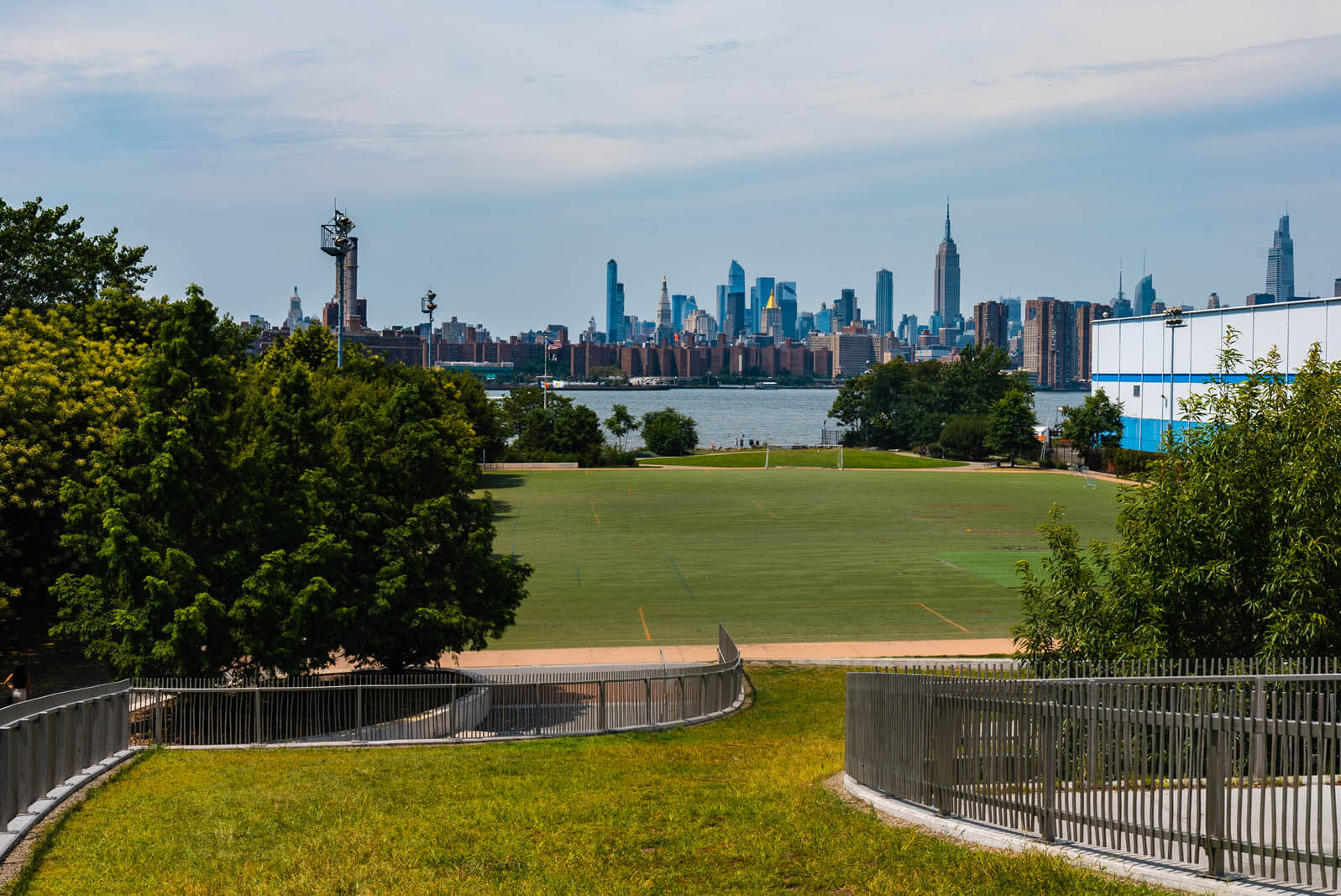 Looking for more amazing views and outdoor activities to enjoy in Brooklyn? Then this is what to do in Williamsburg, Brooklyn for you!
Marsha P Johnson Park, named after Marsha P Johnson, a transgender woman of color who was a pioneer of the LGBTQ civil rights movement and a prominent figure in the Stonewall Uprising of 1969, is located along the Brooklyn side of the East River offering amazing views of Manhattan as well as stunning views of the Manhattan skyline.
With the large amount of greenery, this park is a perfect place to lounge and relax. This park has also become home to Smorgasburg – a food market offered during the warmer months.
Just be aware that unlike other parks in the city, this park does not permit bicycles here. Marsha P Johnson Park is dog-friendly, but visitors can only bring in two dogs at a time – just in case the unlikely chance you're traveling with a large pack of dogs.
Bushwick Inlet Park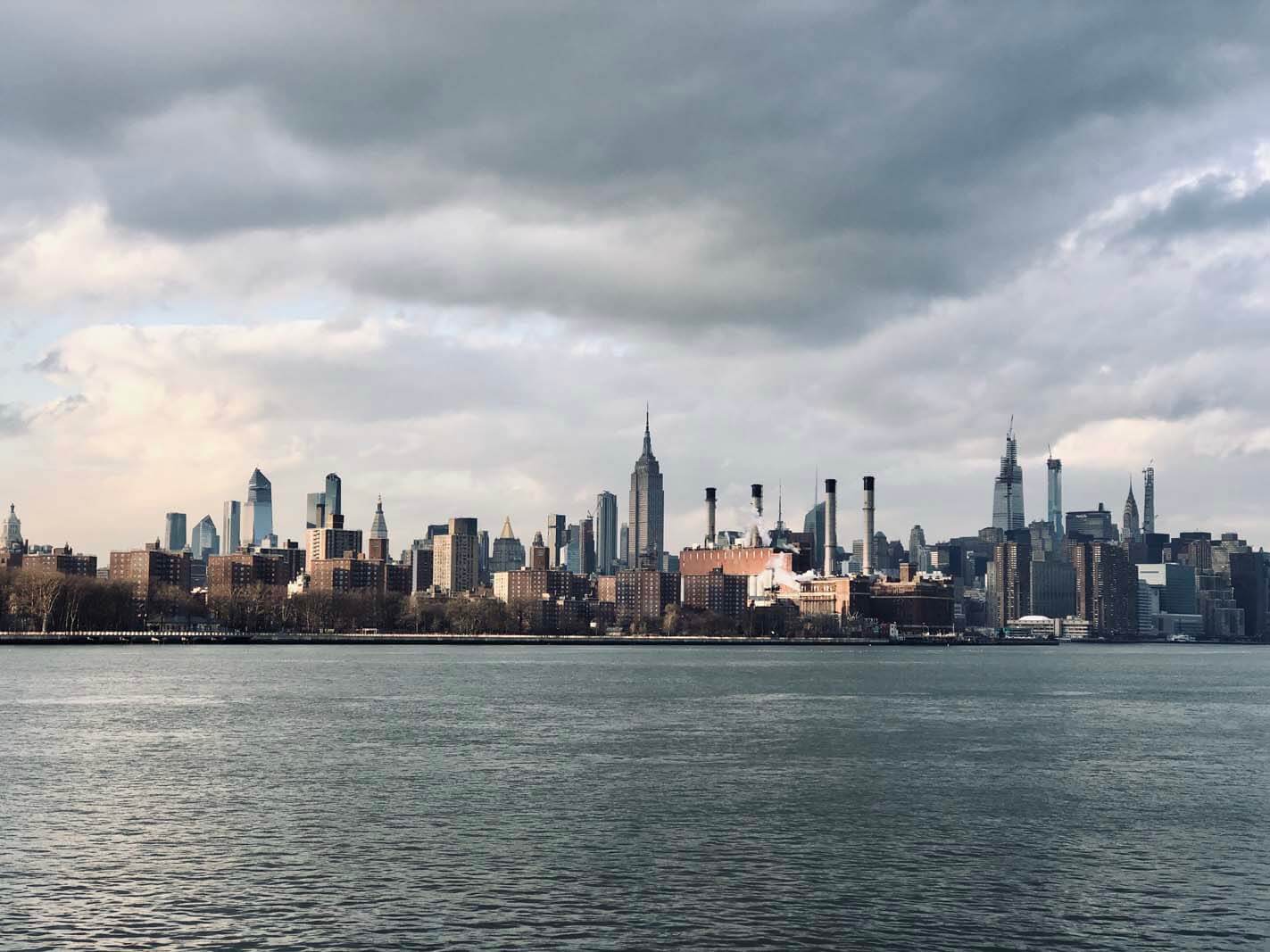 Another one of the best outdoorsy things to do in Williamsburg, Brooklyn is yet again another park! Bushwick Inlet Park is located directly in the center of the Williamsburg Waterfront. It's a public park that is placed beautifully along the East River and is eventually going to stretch all the way into the Greenpoint neighborhood.
The great views here make it a perfect spot to sit and eat.
The park was initially designed to keep the pathway from the south and eventually expand new designs into the north. This park adds a great new look to Williamsburg and provides more green areas to the old industrial neighborhood, transforming it into this family-friendly spot with top-notch views of the city skyline!
Better yet, this park is sustainable! The community center here is powered using sustainable electricity and heating through solar panels, geothermal heating, and a green roof.
Read Next: Best Instagram Spots in Williamsburg
Brooklyn Brewery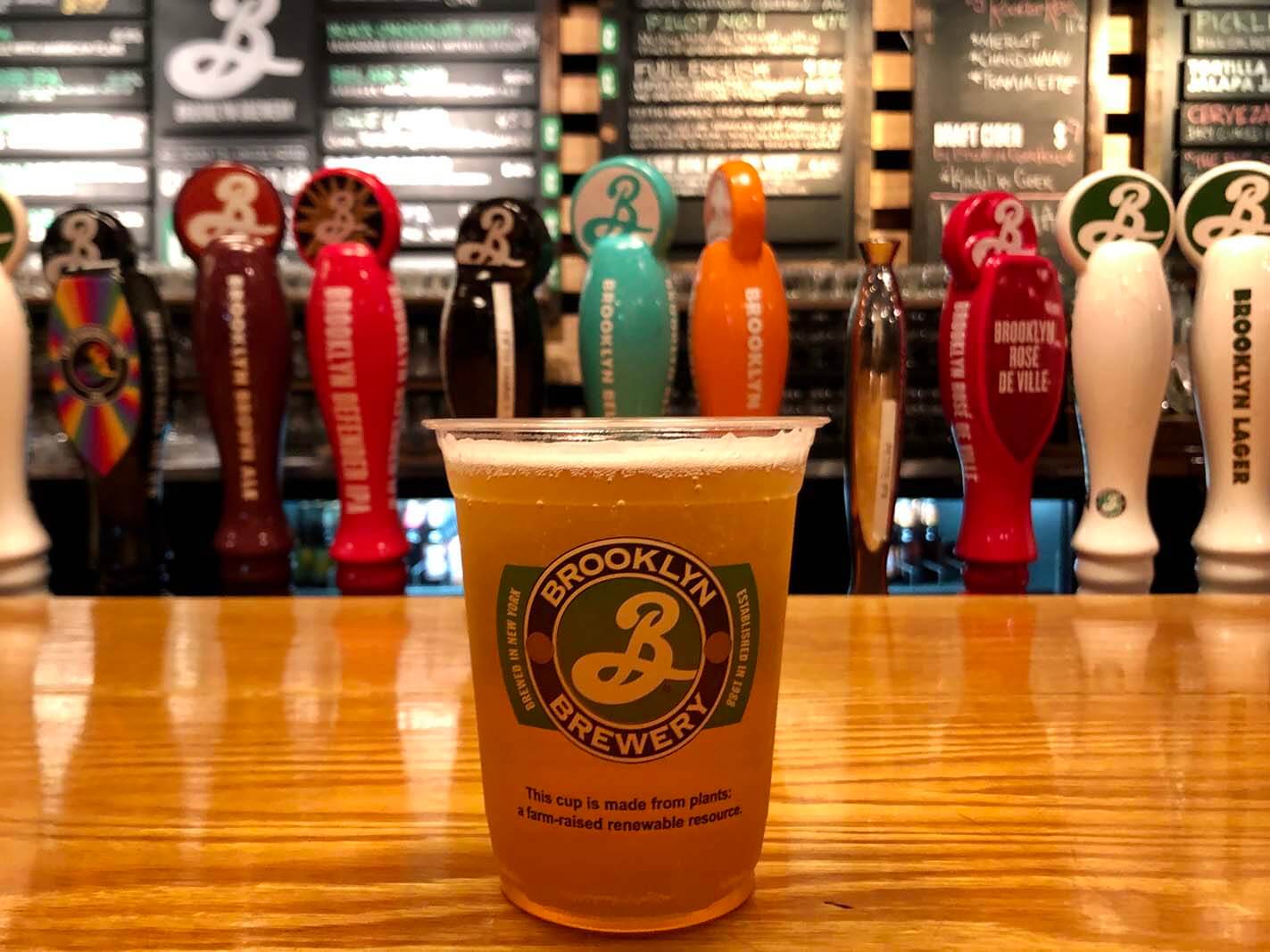 If you're a beer lover, this is what to do in Williamsburg, Brooklyn! The Brooklyn Brewery, also located in the heart of the nightlife scene in Williamsburg, is a craft brewer that draws inspiration from the community and is one of the most popular in the city.
Brooklyn Brewery was one of the first and one of New York's first post-prohibition craft breweries starting in 1988. This is also where the craft brew trend started here in Brooklyn.
The tap list ranges from classics to bold new experiments and you are able to try them out in their very own tasting room.
Along with their own tasting room, they have a company store where you can buy shirts and other collectible items and also purchase beer to go making an awesome Brooklyn souvenir or gift idea.
The brewery is a popular spot and is almost always busy on the weekends so expect a line outside by the food trucks.
If you want to learn more about the brewery you can take a tour or if you're looking to relax sit outside on the picnic tables.
Read Next: Best Breweries in Brooklyn
Radegast Hall & Biergarten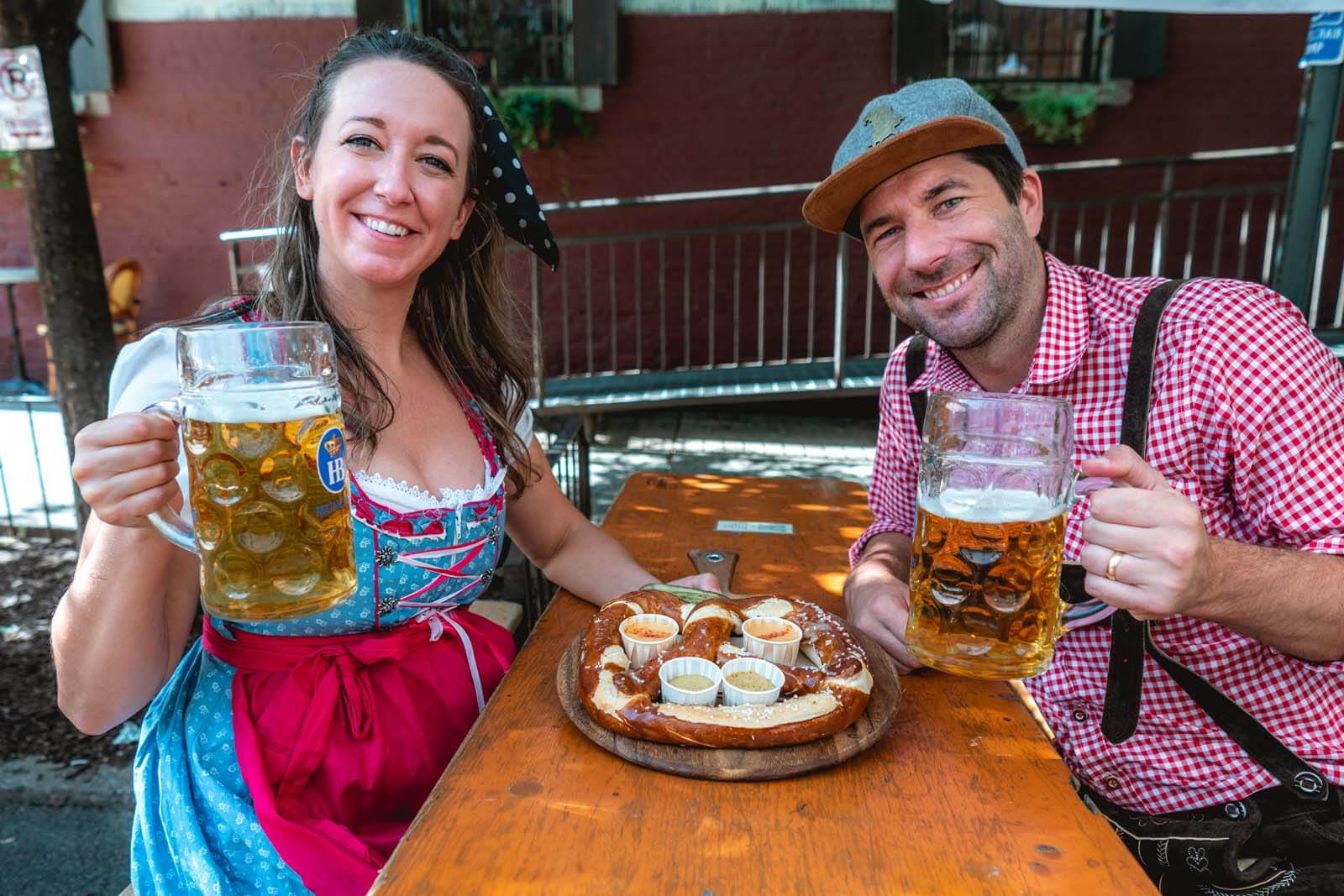 Another notable spot for beer lovers and thing to do in Williamsburg is Radegast Hall and Biergarten! This setting takes you right into a traditional German beer hall and beer garden serving up great German brews, different types of German food and snacks, as well as live music!
The scene here is pretty lively and you'll find yourself among a friendly and rowdy bunch! This is the perfect place to have a beer and a Bavarian soft pretzel late night!
This is also a part of our German beer garden in Brooklyn crawl!
Brooklyn Flea
View this post on Instagram
A perfect addition to the list of things to do in Williamsburg is located on Kent Avenue and 6th street. The Brooklyn Flea is known as one of New York City's top attractions. From the first weekend in April until October the market runs every Saturday in Williamsburg.
The Brooklyn Flea features hundreds of different vendors that sell items such as furniture, vintage clothing, jewelry, and other fun collectibles. Market-goers should expect to see only the finest crafts made by local artists and designers.
If you're planning a trip here, make sure you also check out the food market, Smorgasburg. The Smorgasburg has over 100 local food vendors so there's something for everyone.
Artists & Fleas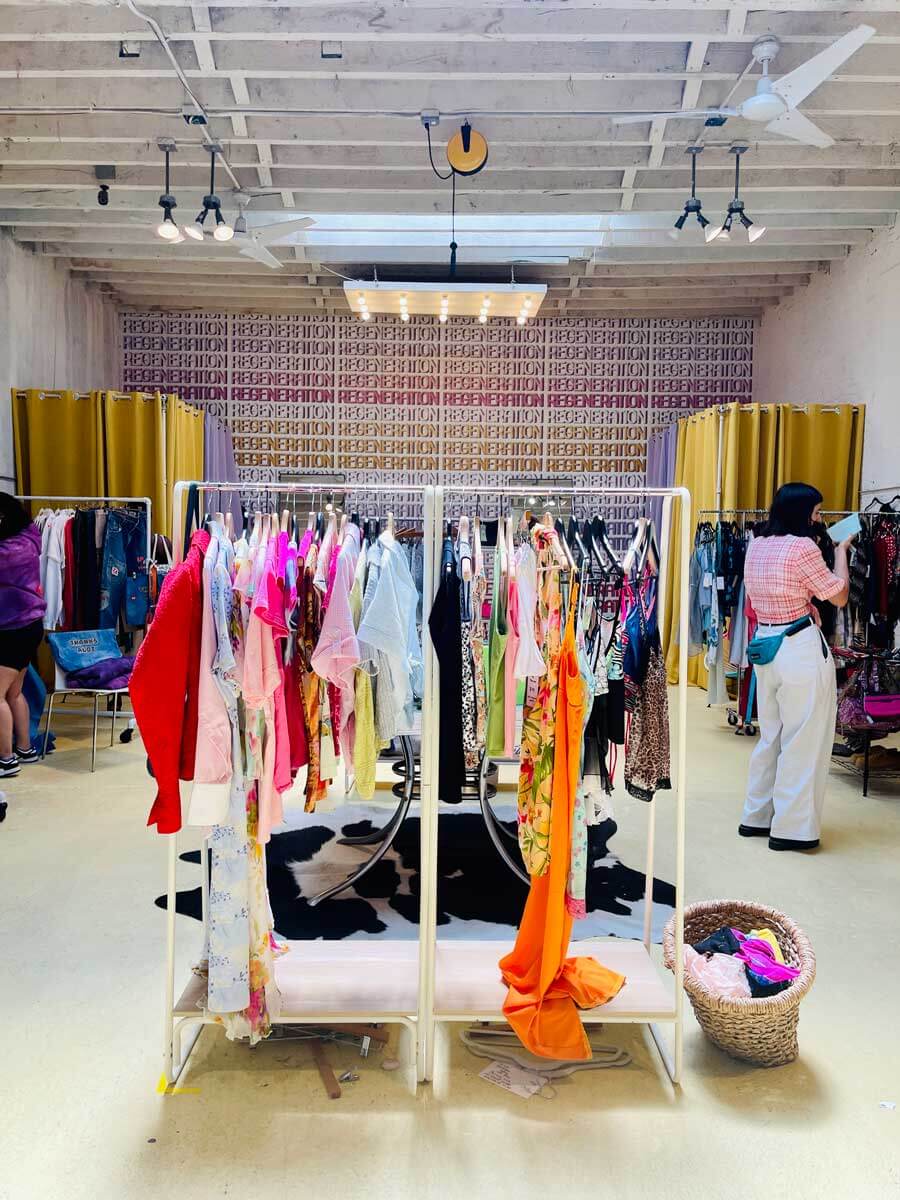 Another one of the best things to do in Williamsburg, Brooklyn is more shopping at Artists & Fleas. This trendy marketplace is home to over 75 sellers including SunPark NYC, Gypsy Nation Vintage, Thriftwares and Beauty Crisis.
Located on 70 North 7th Street, Artists & Fleas holds an exceptional reputation amongst international buyers. Here you're able to discover what's new and exciting in fashion, design, vintage, and art.
Easy access to this marketplace makes it one of the best spots in town.
Westlight at the William Vale Hotel
This Williamsburg, Brooklyn guide wouldn't be complete with one of the best views and rooftops in the city! If you're looking for the amazing nightlife I had mentioned before, here it is!
On the 22nd floor of the William Vale Hotel is a rooftop bar with extraordinary views of the city skyline. The Westlight was listed on the "Best Winter Rooftop Bars in NYC" and "10 Best Outdoor Bars in NYC for Summer Drinking."
This sophisticated cocktail bar has a younger vibe and is on the more bougie side when it comes to prices. Come here prepared to spend a little for the prime real estate.
The view is definitely worth the price so make sure you get outdoor seating which is first come, first serve.
Check out all the best rooftop restaurants in Brooklyn for more ideas and views!
Try an Elevated Movie Experience at Nitehawk Cinema
One of the most unique experiences and things to do in Williamsburg, Brooklyn is Nighthawk Cinema. Established in 2011, it is New York's leading dine-in theater complete with a full-service bar and one of the best movie theaters in Brooklyn.
Fresh, local ingredients make up the dining menu and a diverse cinematic experience make it a tough theater to beat. It was also the very first movie theater in NYC to get a liquor license!
Nighthawk Cinema is unlike your average movie theater. Their films strive to reach a wide range of audiences, and they support the future of filmmaking by screening and promoting local filmmakers.
This movie theater is definitely something to check out if you're looking for things to do in Williamsburg! They also have another location and is one of the best things to do in Park Slope if you find yourself in that area of Brooklyn.
Spectacle Theater
If you're a cinephile and love all things film, this is what to do in Williamsburg, Brooklyn for you! Spectacle Theater is a volunteer-run movie theater is known for screening rare and under-appreciated films every day of the week for a reasonable price of $5 making it one of the most affordable things to do in Williamsburg too!
The location is small but the concept is what makes this theater stand out from the others. Spectacle Theater allows you to bring your own food and drinks which is a very rare occurrence in modern-day movie theaters.
What's pretty cool is that when rent prices were skyrocketing in the area, the community successfully ran a fundraising Kickstarter campaign to help continue this awesome theater and community project led by local volunteers.
The space is limited and can fit no more than 30 people so plan on getting there early to find a good seat. This is an awesome date night spot and a must add to your Williamsburg, Brooklyn guide and checklist!
Brooklyn Waterfront Greenway Bike Lane
Another great outdoorsy thing to do in Williamsburg is the Brooklyn Waterfront Greenway Bike Lane.
While the project is still underway, it is projected to be a 26-mile route for pedestrians and cyclists. Hopefully completed by 2021, this route will include Greenpoint, DUMBO, Red Hook, Sunset Park, Gravesend and Sheepshead Bay in addition to the already completed waterfronts of Williamsburg, Brooklyn Bridge Park, Bay Ridge, Bath Beach and the Belt Parkway.
The Brooklyn Waterfront Greenway Bike Lane will provide increased access to transit throughout the city and make getting around easier than ever all while enjoying the gorgeous waterfront views!
What's even better is that you don't have to be a local to enjoy this activity. There are Citibike bike rental stations all over Williamsburg and Brooklyn so you can rent a bike to enjoy the greenway! Just be sure to download and set up the Citibike app before your visit.
Williamsburg Bridge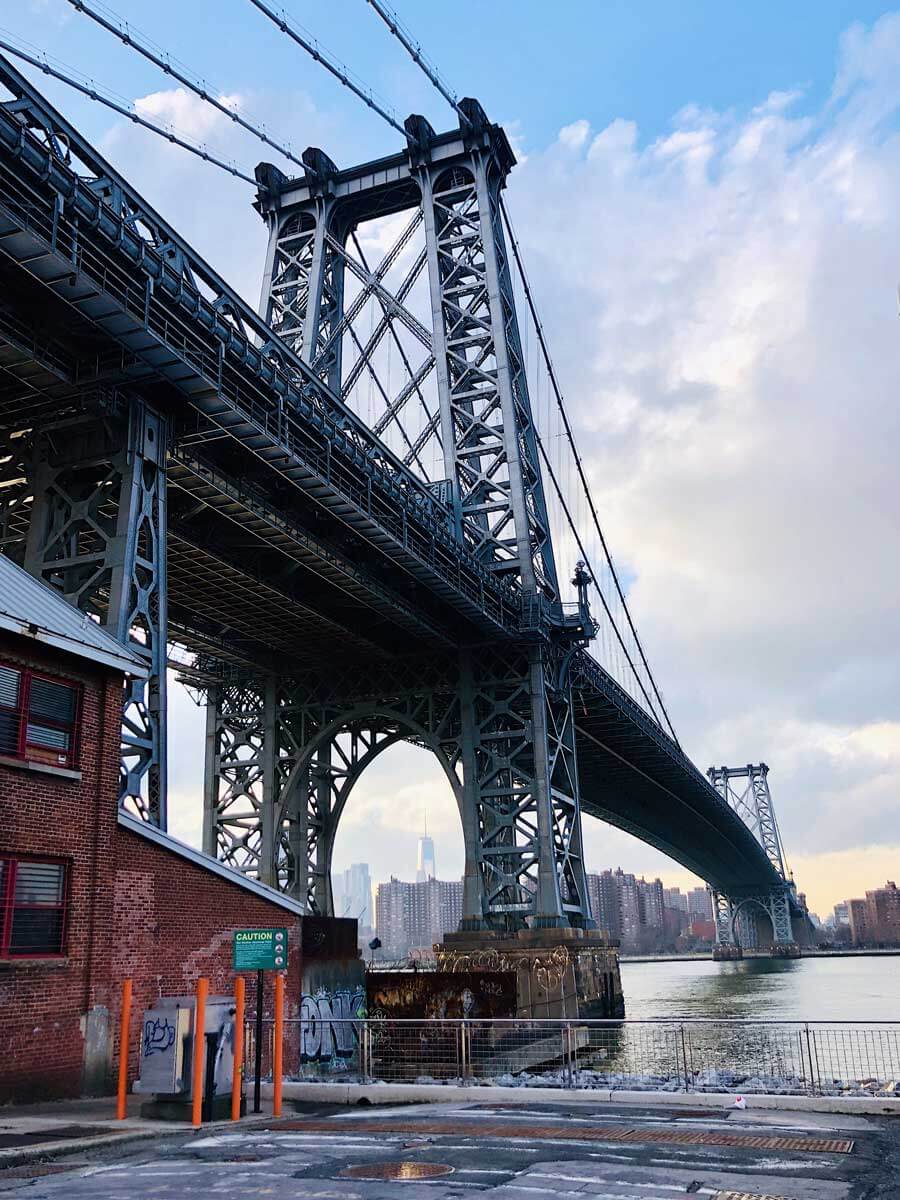 One of the most iconic things to do in Williamsburg, Brooklyn is the Williamsburg Bridge. Besides being an easy way to get you to and from Williamsburg from lower Manhattan, the bridge is a NYC monument in its own right.
The bridge has an absolutely stunning view of the city and there are many things to do in Williamsburg that are just under the bridge.
You can walk, drive, bike or take the subway across but if you want to appreciate Williamsburg and all its beauty, take a walk across and visit the restaurants and shops when you get into Brooklyn.
See our full guide on how to walk across the Williamsburg Bridge for tips since this is one of the best Brooklyn walks for views!
It's a little over a mile so wear comfortable shoes and don't forget to bring your camera because the Williamsburg Bridge is the perfect spot for a photoshoot!
Play some Brewskee Ball at Full Circle Bar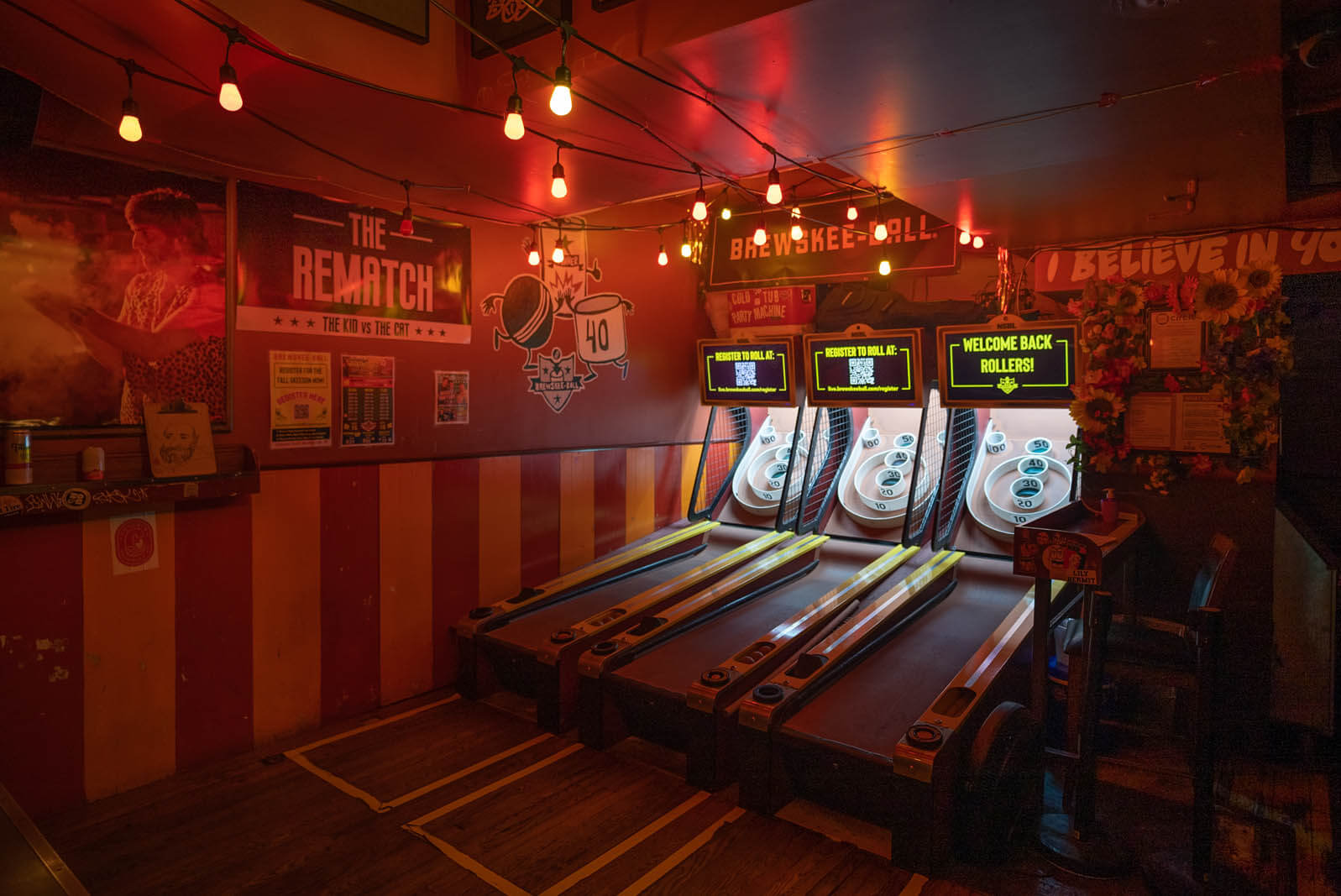 Located on Grand Street is another one of the most fun hang out spots, bars, and things to do in Williamsburg. Come in for drinks and pay $5 for unlimited skeeball, hence the name 'brewskee ball.'
They even have leagues for those who want to get serious with the sport! This is a fun hang out spot, date spot, and place to just play some skeeball while enjoying a nice adult beverage!
If you're looking for a great bite to eat, head to Emmy's Squared just down the street before or after your brewskee ball playing!
Read Next: Amazing Brooklyn Boutiques & Gift Stores in Brooklyn
Everything on Bedford Avenue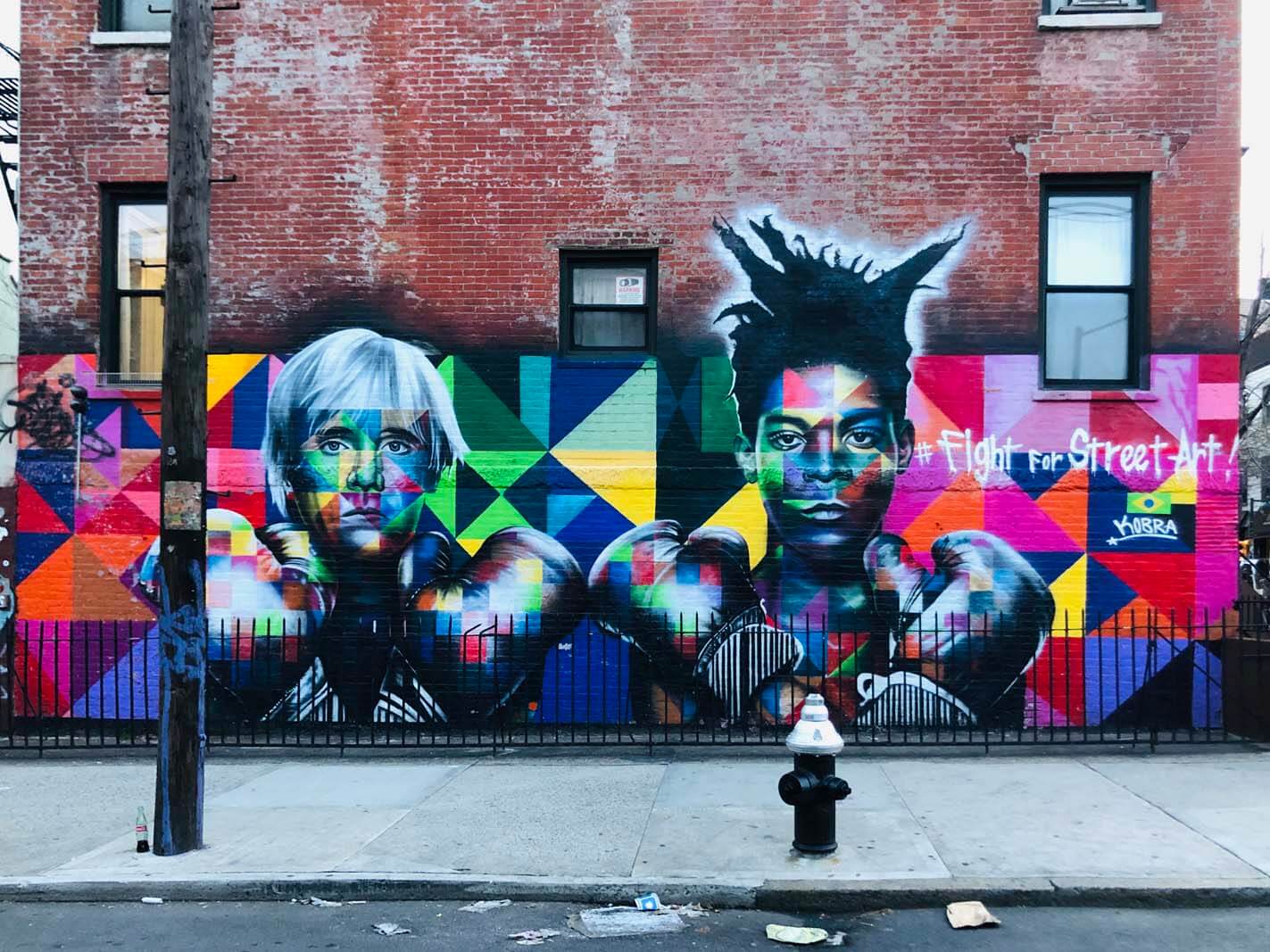 Some of the best things to do in Williamsburg, Brooklyn is on one strip, Bedford Avenue! Williamsburg is actually one of the larger neighborhoods so its not fair to say that's where everything is, but there is quite a lot going on down Bedford Ave, and a lot of what isn't is just off of Bedford Avenue!
Be sure to walk down Bedford Avenue from the Williamsburg Bridge all the way to McCarren Park! You'll find tons of murals and street art, shops, places to eat, and more right here.
Check out the Murals & Street Art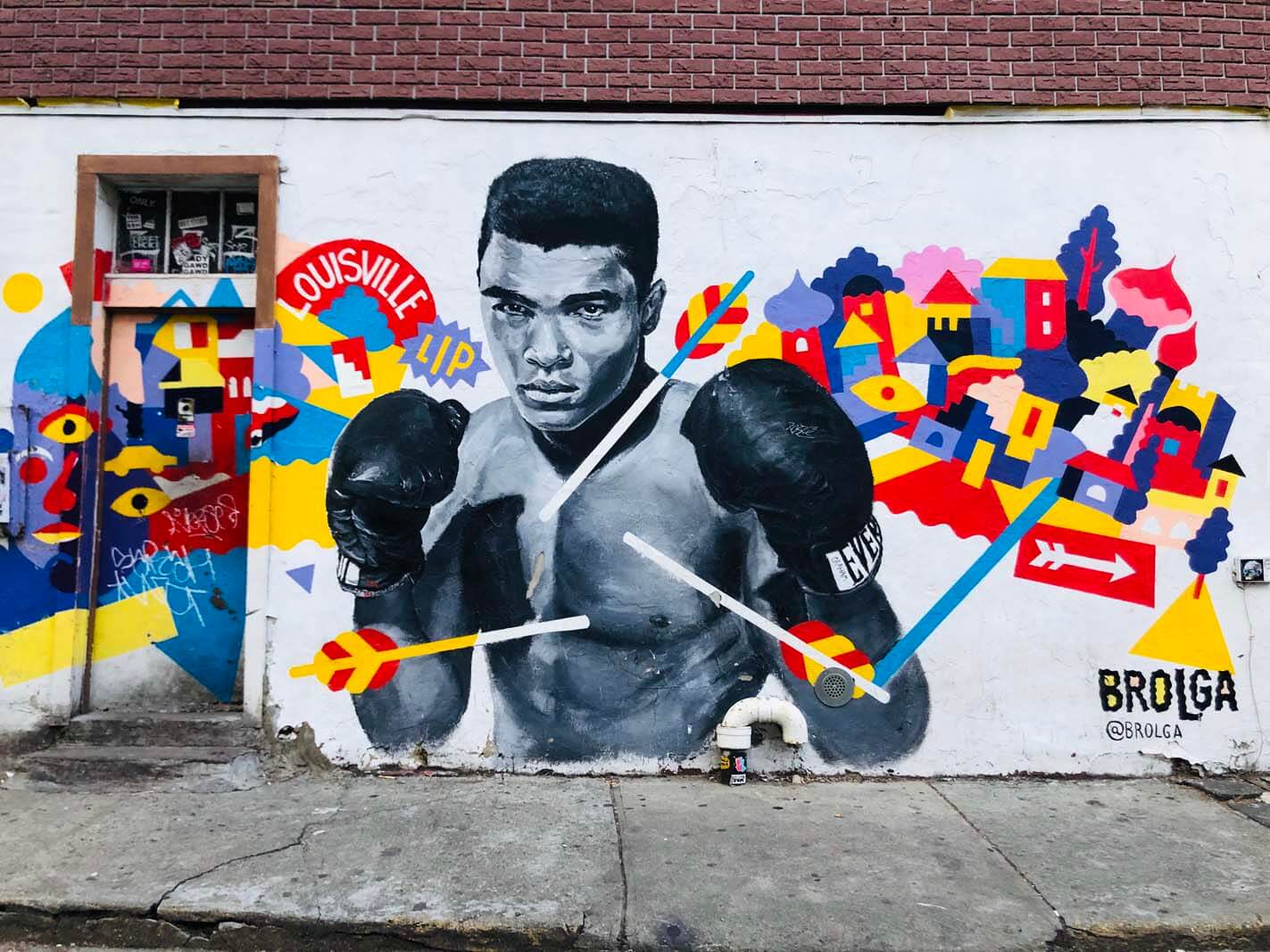 Easily one of the best things to do in Williamsburg, Brooklyn is hunt down all the incredible murals in this neighborhood. Even if you're not looking for them actively you will pass by a ton!
Even the advertisements and what would be traditional billboards elsewhere are actual pieces of art covering entire sides of buildings disguised as street art as well as stores like Warby Parker embracing the hipster neighborhood (I mean their entire brand is hipster) with their murals to even Dunkin Donuts with entire wall size murals.
You can't help but love the splashes of color from artists all over the world including some of the biggest names in the street art world scene like pieces from Kobra, Brolga, ROA, and JR to name a few.
The point being, there are tons of great artists on display here whether you've heard of them or not. Be sure to check them out, one of the best streets to see them is by walking down Bedford Ave, then cutting down individual streets and you'll find even more!
Our personal favorites are Kobra's two pieces, Elvis Presley War is Hell and Fight for Street Art, both off of Bedford Avenue as well as the colorful mural above from artist Brolga.
Read more on all the best murals & street art in Williamsburg. And if you love street art, check out our guide to the best Brooklyn street art.
Go Thrifting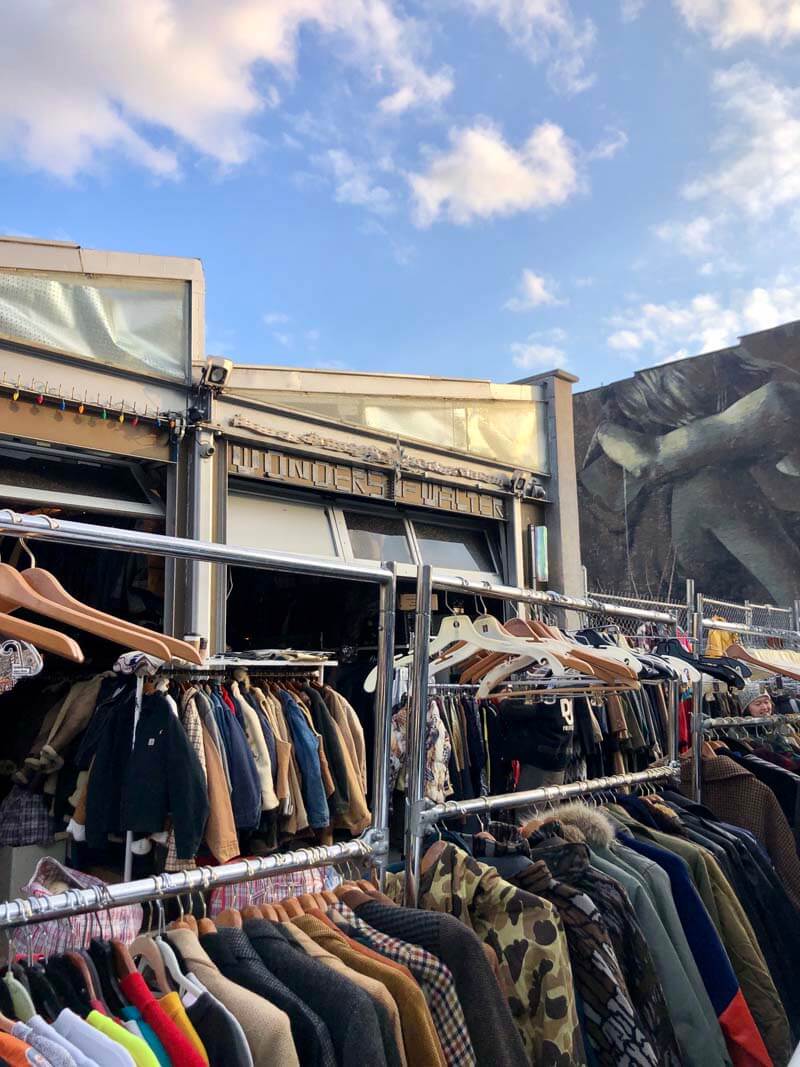 Easily one of the best things to do in Williamsburg, Brooklyn, or what the cool kids are doing is checking out the awesome vintage and thrift shopping in the neighborhood. Williamsburg boasts some of the best thrifting and vintage finds in the city so be sure to see if you can find any treasures and timeless classics during your visit!
Below are a few, but be sure to check out our entire guide to the best vintage shopping in Williamsburg, there's a lot more!
Domsey Express – This is where you can find some of the best bargains and deals on pre owned and loved items from clothing to accessories for both men and women! There are a few other locations in the city, but this one is considered the best!
Awoke Vintage – Another cool thrift and vintage shop reselling the coolest threads located in the Mini Mall off of Bedford Ave. While the space is small, they have curated a great collection of women's clothing including a sizeable collection of vintage Levis!
Malin Landaeus – This upscale, chic vintage store in Williamsburg only sells the finest of vintage treasures from their amazing boot collection to women's clothing and locally designed accessories. This is where you'll find some really unique and stylish pieces!
Mother of Junk – Finally a vintage and antique store for everyone! You can find great housewares, accessories, and other fun finds in this fun antique store.
Wonders of Walter – This cool vintage reseller and collector sells items out of their garage-style location when the weather is nice right on Berry Street. Find all kinds of vintage gems here for both men and women.
Buffalo Exchange – Find cute vintage clothing at this trendy chain. Not only can you buy but you can trade clothes, jewelry and other accessories here as well! Check them out on 504 Driggs Avenue.
Grand Street Local – Your go-to vintage shirt shop selling all kinds of vintage finds with an emphasis on menswear and unisex clothing.
Enjoy the Williamsburg Foodie Scene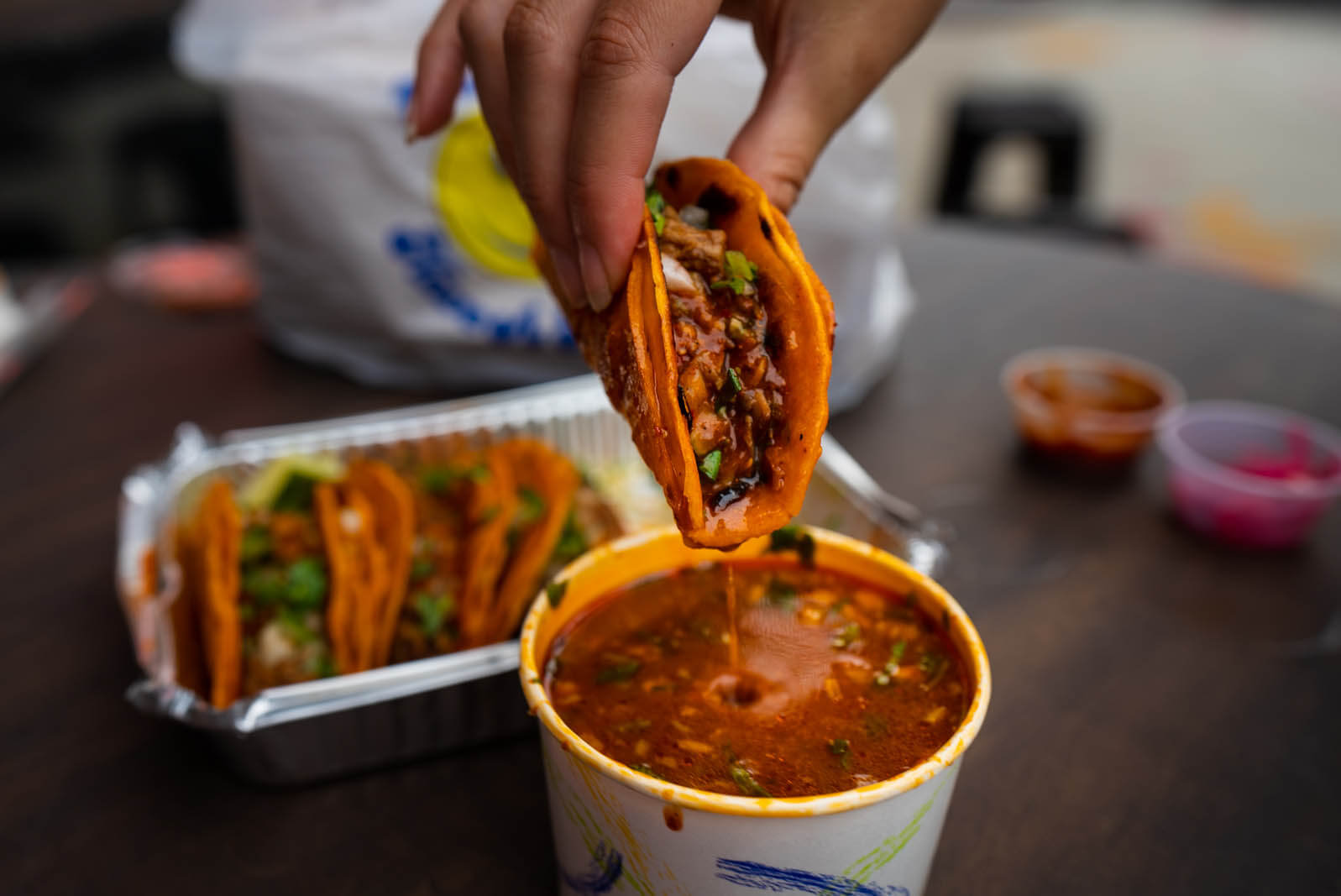 If walking around following our Williamsburg Brooklyn guide all day makes you hungry, check out some of the best food in Williamsburg we consider to be not only the best of the neighborhood but some of the best of Brooklyn.
Sunday in Brooklyn – Don't let their name fool you, Sunday in Brooklyn is open 7 days of week! Located near Domino Park, this restaurant offers breakfast, brunch and dinner. During the summer months sit outside and enjoy the beautiful Brooklyn views. In the winter months stay warm with their wood burning ovens located at each dining space. Sunday in Brooklyn is one of the best brunch spots in the neighborhood. Try out their Hazelnut – Maple Praline pancakes or grab some coffee from their takeaway window.
Juliette – Another great spot in Williamsburg is this French bistro. Located on North 5th street, this spot is known for its indoor garden room and roof deck. It gets pretty busy so expect a line. Happy hour is Mondays-Thursdays 5pm-close.
Pies 'N' Thighs – This southern restaurant is known for their fried chicken and signature pies. If you love chicken and waffles you have to try this sweet and savory southern spot located on South 4th Street.
SEA – This tasty Thai cuisine is located on North 6th Street. Amazing food and reasonable prices make this restaurant a great addition to our Williamsburg Brooklyn guide. Be sure to check out their amazing decor and decorations when you walk through this trendy spot.
The Meatball Shop – Located in the middle of all the action in Williamsburg, this restaurant serves a ton of meatballs and Italian comfort food. Good music and service makes it one of the most highly rated places on Bedford Avenue.
Peter Luger Steak House – Looking for an experience like no other? Peter Luger is the best steakhouse in the city for over 30 years and easily one of the best places to eat in Brooklyn. This old-school restaurant serves top notch steaks in a German beer hall setting. You won't find anything else like this in Williamsburg.
Patrizia's – Get ready to party because this Italian restaurant is filled with loud music and tons of great energy. Perfect for big parties and they do take reservations. Celebrate your next birthday in style at this trendy Italian spot.
Joe's Pizza – Arguably one of the best slices in the city, you can't miss this affordable and tasty option to try one of NYC's famous pies! You can buy by the slice or get a whole pie. The place is usually crowded and is a fan favorite with celebrities and food critics, don't worry though the line goes fast and it's totally worth it. Plus it's one of our favorite places for best pizza in Brooklyn!
Mekelburgs – Located across from Domino Park is one of our favorite casual eateries that serves up some serious eats. If you're new to Mekelburgs you need to try their porchetta sandwich. You can thank us later!
Carthage Must Be Destroyed – Once a hidden gem, now one of the most popular brunch spots in the city located in a not-so-obvious location in a former warehouse in an Instagram-worthy setting.
Birria-Landia Tacos – Probably some of the best birria tacos in NYC, you can always count on this taco truck at 490 Metropolitan Ave to deliver mouthwatering tacos. Pro-tips, the line goes fast, the tacos are on the smaller side so order extra, and of course don't forget to order the consome! Also, head to Rocka Rolla next door for drinks! This is also one of our picks for the best tacos in Brooklyn.
Emmy Squared – This popular franchise specializes in Detroit-style pizza, a take on Sicilian pizza and offers 6 slice mouthwatering, square pies with medleys of flavors and combos that make you understand the hype and success of this franchise! The Colony2 is a fan favorite with pepperoni, pickled jalapeno, and hot honey – YUM!
Alligator Lounge & The Charleston
One of the best cheap things to do in Brooklyn and in Williamsburg is head to either (or both) of these popular bars that offer a free personal pizza with each drink you order.
That's right! You get a FREE personal pizza with your drink order!!! The free pizza is cheese, but if you want toppings you can add them on for a small extra fee.
You can imagine this is a popular spot and late-night hang out spot. There are also some arcade games and pinball machines at both spots too. It really doesn't get better than that!
Alligator Lounge: 600 Metropolitan Ave
The Charleston: 174 Bedford Ave
Feed Your Sweet Tooth
So this next list of things to do in Brooklyn could technically be on the foodie list, but these sweets deserved their own special section of this Williamsburg Brooklyn guide.
Milk Bar – This dessert spot has been creating sweet new treats that you just have to try. They serve cereal in soft serve and invented layer cakes with unfrosted sides. They've been called, "one of the most exciting bakeries in the country." Check out this spot if you're in need of a food adventure!
Martha's Country Bakery – This bakery sells a wide variety of sweet treats and offers vegan and gluten free options as well! If you're near Bedford Avenue, stop into Martha's Country Bakery and try their amazing gelato and cake. This bakery also provides waiter service so if you're looking for a cute date spot in Williamsburg stop in for a quick after lunch treat or even a late night dessert.
Taiyaki NYC – Behold the most instagrammable dessert with a few locations around the city taking NYC by storm. These Japanese taiyaki fish waffles filled with ice cream and other fun and colorful toppings make the perfect, tasty treat that's also super photogenic!
Gelateria Gentile – Some of the finest Italian gelato right here in the heart of Williamsburg.
Shopping in Williamsburg
Wondering what else to do in Williamsburg? Calling all shoppers, this is what to do in Williamsburg, Brooklyn for you! Williamsburg is filled to the brim with the coolest and most hip independent boutiques, shops, places to buy local goodies.
Stop in to these local spots for some clothes and accessories!
Dyphor Home – Prepare yourself for home FOMO hard. Luckily you can buy the pieces in this unique and incredibly stylish home decor store.
ID Menswear – Stylish and local independent men's boutique location on Bedford Ave!
Meme Antenna – This cool gift shop is located in the Mini Mall off of Bedford Avenue already mentioned. You can find cool gifts and trinkets in here plus an awesome card selection.
Red Pearl – Another cool gift and trinket boutique off of Bedford Avenue worth checking out if you love clever gifts from small, creative designers and artists!
Pinkyotto – A stylish boutique for ladies featuring boho-chic apparel and accessories.
Beloved – Another cool gift shop and boutique located on Bedford Ave selling cool and artsy gifts, jewelry made by independent artists, and even cool gifts for babies.
Berlyn 65 – Another stylish gift shop selling great treasures for home as well as jewelry.
McNally Jackson Books – An independent bookseller chain local to NYC selling books from the floor to ceiling.
Catbird – Popular and stylish and responsible jeweler who is famous for their zapping jewelry technique which creates clasp-less jewelry that stays on until you cut it off.
A Land – This global franchise comes all the way from South Korea selling world renowned Korean skincare, cutesy accessories, and minimalist clothing fashions popular in the fashion scene in Seoul.
The Canvas – The Canvas by Querencia is an awesome sustainable fashion line making clothes that are better for the planet.
Spoonbill & Sugartown Books – A cool, independent bookstore in Brooklyn selling not only books but new and preowned books.
The Mini Mall – Exactly what it says it is, a mini-mall featuring local, indie vendors from book stores, vintage stores, to cool gift shops like Meme Antenna.
Twenty Sided Store – This wildly fun game store on Grand Street has all kinds of fun games, puzzles, and collector's items! Good luck walking out of there without something!
The Cool Cafe Scene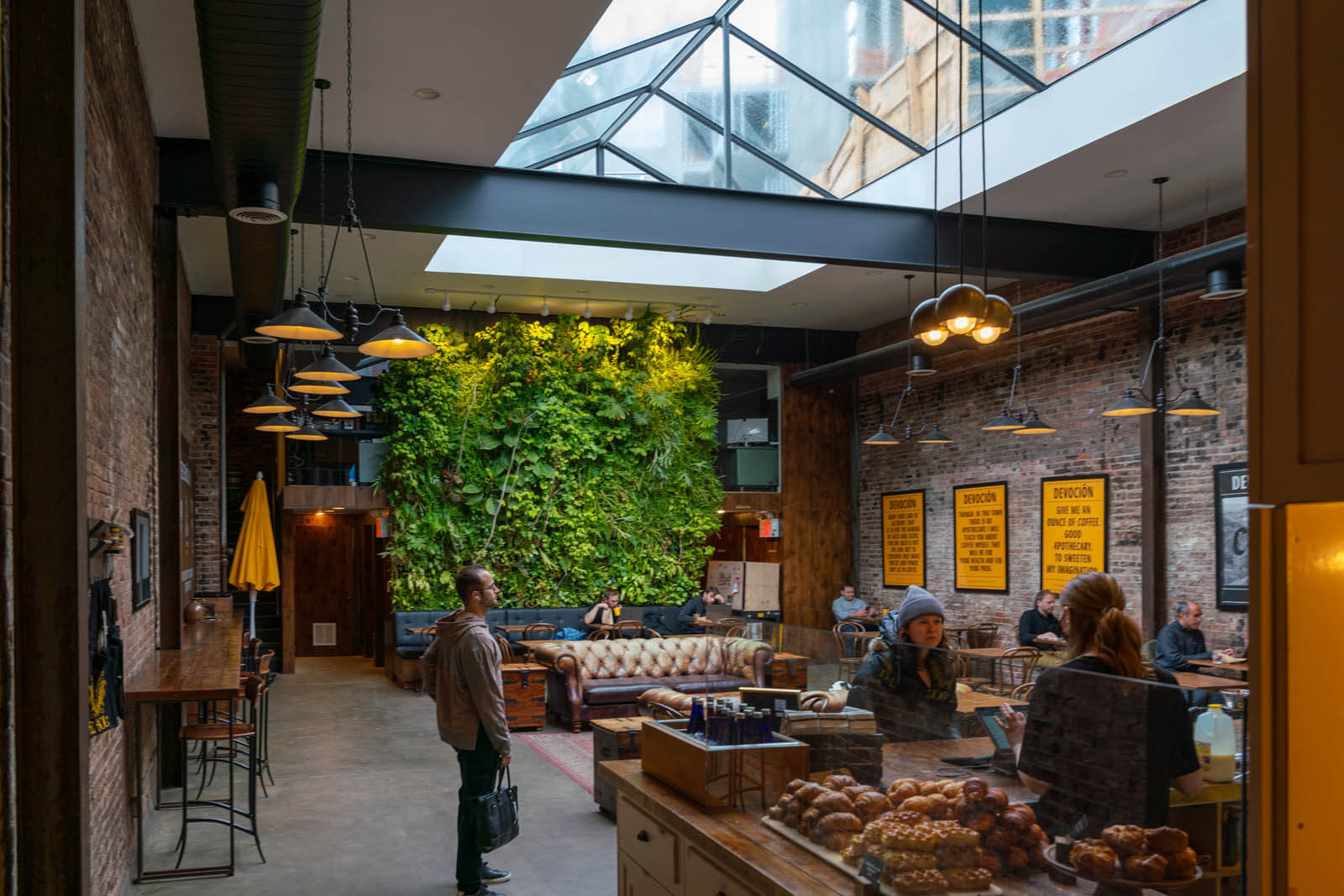 One of the best things to do in Williamsburg, being the cool neighborhood it is are check out the gorgeous and great cafe scene here!
Whether you have some work to do and need a great spot to sit for a bit while sipping on a latte or you just need a little pick me up, there are a ton of great cafes in this neighborhood to check out.
See our full guide to the best Williamsburg coffee shops for more!
Devoción – Probably the most well known of cafes in Williamsburg because of how beautiful this space is, Devoción sources their coffee from the finest beans in Columbia and offers one of the most inviting and beautiful atmospheres for hanging out with a cuppa in the city.
Fiction/BK Speed – This laid back cafe is a great place to get work done or just come in for a cup of coffee, beer, or light snack with the occasional live music performance.
Black Brick Coffee – If a cafe could scream Williamsburg with its decor, this would be it. This dimly lit, brick-walled cafe serves up Stumptown Coffee and has a chill, hip, and inviting vibe.
Hungry Ghost Coffee – A gorgeous space with a succulent covered wall and cozy atmosphere which has other locations throughout Brooklyn.
Bakeri – This charming Scandinavian cafe in Williamsburg has a French feel to it and famously delicious baked goods.
Hit up the Bar Scene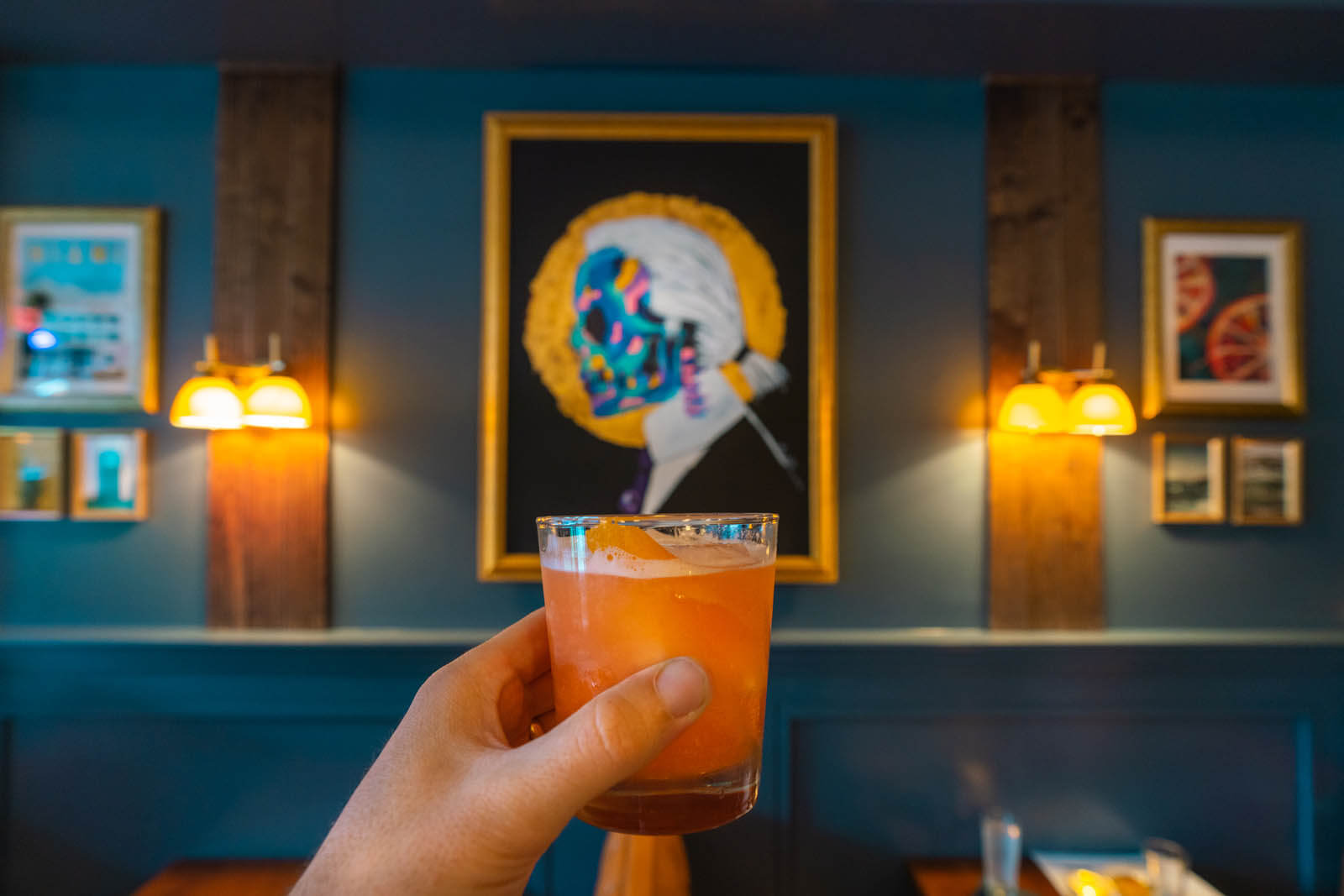 Williamsburg is also known for having a great nightlife scene, from swanky cocktail bars to 'dad dive bars' you can find it all here. As already mentioned earlier as suggestions for things to do in Williamsburg you also have bowling alleys/bars and arcade/bars as well as cheap dive bars that give you a free pizza with a purchase of a drink.
Check out our guide to the best bars in Williamsburg and also great hidden speakeasies in NYC (where you can find more Williamsburg hangout spots).
A few of our favorites include Philomena's in East Williamsburg where you can find craft cocktails including flaming drinks to drinks made with specialty infused ice cubes with ingredients like habanero or tajin.
Another great dive spot is Rocka Rolla which is one of those 'dad dive bars' we were referring to. You have to try their signature frozen coffee cocktail that comes in one of those classic Greek NYC coffee cups, you can also grab a bite to eat at the Birria-landia taco truck outside.
Enjoy the vibe at Skinny Dennis along with regular live performances or if you have a pooch in tow head to Lucky Dog, a dog-friendly bar!
Tours in Williamsburg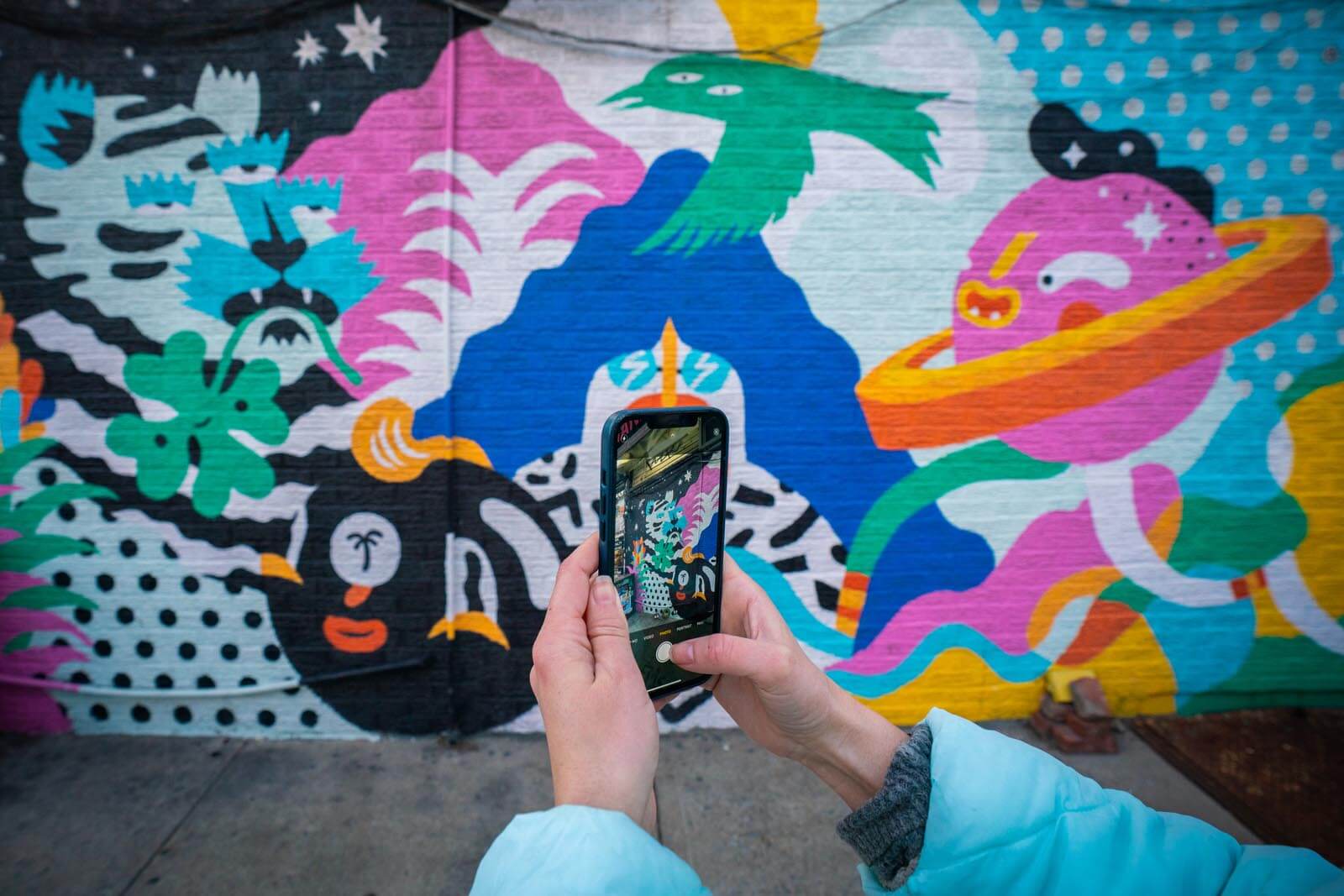 See the best of what to do in Williamsburg, Brooklyn by joining a tour with a professional and knowledgable local guide to teach you about the city history through walking tours, tasting tours, and historic tours!
Best of Brooklyn Walking Tour
Check out the best things to do in Williamsburg and learn about the borough in this Best of Brooklyn Walking Tour. This 3 hour walking tour takes you through the best of the Williamsburg neighborhood with a knowledgable guide.
See all the trendiest spots in this neighborhood while learning about the history and its influence on the contemporary culture of Brooklyn. See the different street art and murals, find out what the coolest local spots are, and learn about the historic buildings as you pass.
You won't want to leave Williamsburg after!
Book your Best of Brooklyn Walking Tour through Williamsburg
Boozy Brooklyn
Another awesome thing to do in Williamsburg, Brooklyn is join the Boozy Brooklyn food and drink tour! Taste the best of Williamsburg foodie and drink scene while learning about one of the city's hippest neighborhoods.
This small tour is held on Sundays and is a walking tour through Williamsburg including food and beer. You'll make stops at a local flea market, tastings at Brooklyn Brewery, spot som street art, and learn about the best spots in this awesome neighborhood.
Come hungry as you'll be filling up on this tour! There are vegetarian options as well, just be sure to state it in your booking.
Book your Williamsburg Sunday Funday Boozy Brooklyn tour
Best of Brooklyn Food, History, and Culture Tour
This half-day tour takes you through the best of Brooklyn paired with history, culture, and most importantly food! Hop aboard a luxury bus for this 5-hour tour with tastings in some of the coolest neighborhoods in Brooklyn. This is easily one of the best ways to see the best things to do in Brooklyn with a local expert and guide.
You'll make stops at traditional eateries featuring cuisines from all over the world, see why this city is a melting pot of cultures through your taste buds. You'll also visit the trendiest neighborhoods and learn about the history and iconic landmarks in Brooklyn along the way.
Your tour ticket includes all your tastings, transportation, a bottle of water, and a guide! They can accommodate to dietary requirements when you make your booking too.
Book your "Best of Brooklyn" Half-Day Food and Culture Tour
Brooklyn Brewery and Beer Tasting Tour
One of the best things to do in Brooklyn is drink their local craft brews from their emerging and incredible beer scene! This beer tasting walking tour lasts for 3 hours with a local guide. Get the insider knowledge on the best beer in Brooklyn through the neighborhood of Williamsburg.
You'll get behind the scenes access to some of the best breweries in the borough and try loads of different beer and also have a pizza break for lunch that's all included as well as a brewery map so you can continue the boozy fun times after your tour ends.
Book your Brooklyn Brewery and Beer Tasting Tour
Flavors of Williamsburg Food Tour
Another awesome food tour that covers the trendy neighborhood of Williamsburg. Don't make the mistake of coming without a completely empty stomach on this 3-hour food journey through one of the most popular areas in Brooklyn.
You'll learn about the rich culinary history, visit iconic restaurants and eateries, and sample amazing treats along this small-group tour with an expert local guide!
You'll also get to see some of the best views in Brooklyn while you learn the history. If you have dietary restrictions please contact the tour company after you book they can accommodate to your needs ahead of time.
Book your Flavors of Williamsburg Tour
Getting Around Williamsburg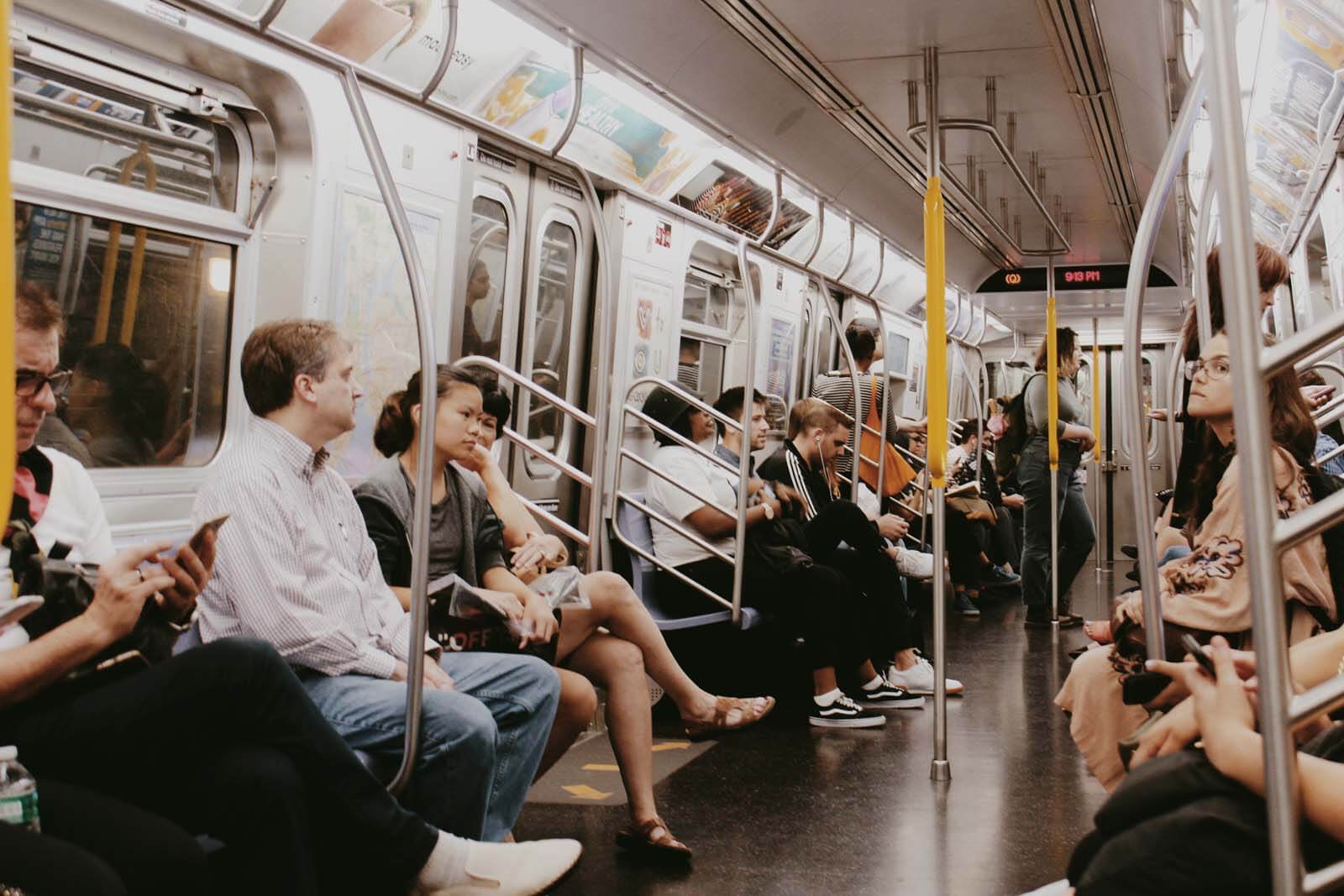 Now that you've read about all the best things to do around the neighborhood in our Williamsburg Brooklyn guide, here's how to get around.
There are a few different ways to get into and around Williamsburg but a lot of the action is right under the bridge so you won't need to go far.
From Manhattan, take the L Train to Bedford Avenue and you'll be right in the heart of all that's trendy in Williamsburg
From Queens or a different part of Brooklyn, take the G train to Metropolitan Avenue. After getting off at Metropolitan Ave, Bedford is only a short walk away.
If you feel like walking or taking a Citi Bike for a ride, then the Williamsburg Bridge is always an option to get to where you want to be as well as the East River Ferry which connects Williamsburg to Manhattan, both downtown and midtown, as well as Greenpoint, DUMBO, & Long Island City.
There are a few subway stops that service Williamsburg on the G, J, M, Z, and L lines:
Metropolitan Ave/Lorimer Street Station (G & L lines)
Bedford Ave Station (L line)
Broadway Station (G line)
Graham Avenue Station (L line)
Flushing Avenue Station (J, M, Z lines)
Morgan Avenue Station (L line)
Grand Street Station (L line)
Marcy Avenue Station (J, M, Z lines)
Montrose Avenue Station (L line)
Hewes Street Station (J & M lines)
Things to do Nearby Williamsburg
While there are tons of amazing things to do in Williamsburg, there are also tons of other amazing things to do in Brooklyn including Williamsburg's neighboring neighborhoods Greenpoint, Bushwick, and Bedford-Stuyvesant.
Check out some of these places located in Greenpoint to add to your Williamsburg, Brooklyn guide and list of activities to do.
Café Grumpy – Stop in for a caffeine boost or a quick bite at this hip coffee shop located on Meserole Avenue.
Slick Willie Table & Bar – Do you love late nights and happy hours? This restaurant and bar has both. Check out their craft cocktails and comfort food menu that makes you feel right at home.
Beacon's Closet – Shop 'til you drop at this secondhand clothing store known for their wide variety of vintage and modern items to buy, sell and trade.
Cherry Point – Expand your horizons with this Modern British restaurant specializing in housemade charcuterie located right on Manhattan Avenue.
Where to Stay in Williamsburg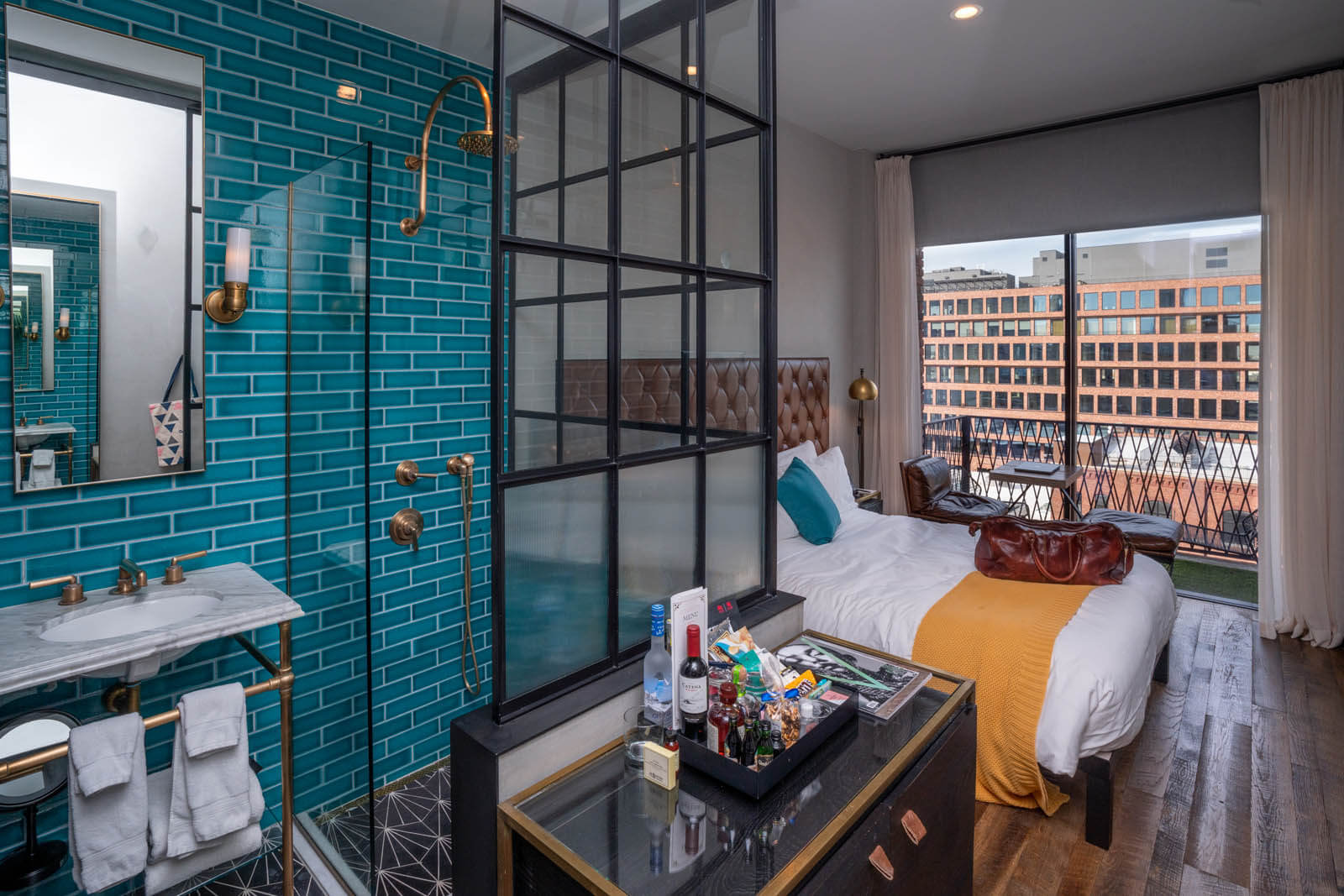 Not sure which neighborhood to stay in? Check out our entire guide for the best places to stay in Brooklyn by area and budget to help you plan your trip, or pick from one of these amazing Williamsburg hotels below.
William Vale Hotel
Referred to as "Williamsburg's Only True Luxury Hotel," The William Vale Hotel strives to provide a memorable experience for all guests. An award-winning chef, monumental pieces of art and custom metalwork details in the rooms are key to having an exceptional stay at this hotel.
The William Vale Hotel is respectfully rated 5-stars. With amazing views of the Manhattan skyline and the location being only blocks away from many venues and restaurants, this hotel has everything you could hope for.
The rooftop bar, Westlight, which is mentioned earlier in this article of things to do in Williamsburg is located right at the top of the William Vale Hotel. There is also a high-end Italian restaurant and a 60-foot long pool that is deemed the "longest pool in Brooklyn and the greater New York City."
Book Now on Booking.com | Compare Prices for Later on Hotels.com | See Rates on Expedia.com
Hotel Le Jolie
This 3-star hotel is located only a short walk away from the Metropolitan Avenue subway station as well as from the shops along Bedford Avenue making it a great location to explore what to do in Williamsburg, Brooklyn.
Continental breakfast and free wifi are some of the perks in this European-style hotel. This hotel provides free on-site parking on a first come first serve basis with a fantastic location to explore the best of Williamsburg.
Book Now on Booking.com | Compare Prices for Later on Hotels.com | See Rates on Expedia.com
The Williamsburg Hotel
The Williamsburg Hotel is one of the trendiest hotels for a trendy neighborhood sitting at eight stories high and has 147 rooms. Located on Wythe Avenue, this hotel is also walking distance away from many nearby shops and restaurants.
The rooms are brilliantly decorated with custom decor, large windows with natural light, views of the city, designer toiletries, and some even have balconies with some of the best views Brooklyn has to offer.
Besides being in a great location, The Williamsburg Hotel also has a stylish rooftop pool with incredible views of the city!

Book Now on Booking.com | Compare Prices for Later on Hotels.com | See Rates on Expedia.com
What to Bring to Brooklyn
Here are some of the best things you should bring on your trip, see our full Brooklyn packing list for more ideas of what you need to have when you make your trip!
This Pacsafe Shoulder Bag slings over your body and is the perfect size to carry your day essentials while exploring Brooklyn. This lightweight bag has anti-theft features so you can enjoy Brooklyn with ease of mind with Pacsafe's anti-theft patent products whether you're in a crowded area or on the subway.
This Pacsafe Anti-theft Backpack is another essential for Brooklyn or any city trip. This backpack has a patented anti-theft design with lockable zippers and slash-proof material in this sleek and comfortable designed backpack.
Avoid high tech thieves with this 15 pack of RFID blocking sleeves that doesn't require you to buy a special travel wallet, you can carry your favorite purse, wallet, or backpack by simply putting your credit cards and sensitive information in these RFID blocking sleeves.
Upgrade your wallet with this RFID Blocking Wallet by Pacsafe is the perfect pick. Always have your identification, bank cards, and credit cards protected from high tech thieves with this RFID blocking wallet in this sleek and slim design.
One of the best ways to keep valuables safe when you travel is this Portable Safe by Pacsafe. This is ideal when you're hotel has a safe that is too small for your belongings, with it's sleek and compact design so it doesn't take up much space in your luggage offering maximum security with its stainless steel wire mesh covered in a piece of cut-resistant canvas fabric. You simply lock this portable safe to a secure fixture in your hotel room when you leave.
This iPhone crossbody case is perfect for sightseeing as you can easily grab your phone for that perfect photo moment on the fly as well as keep your phone secured to your body and safe from pickpockets!
We recommend Allbirds Women's Wool Runner as well as the Allbirds Men's Wool Runner for an everyday walking shoe that's breathable, comfortable, and feels like you're walking on clouds. Your back and feet will thank us later, plus they are all the rage in the city at the moment.
A good reusable water bottle is one of the best things you can have in your day bag or on you at all times, plus New York City has some of the best drinking water in the country, cut back on single-use plastic and have a good reusable water bottle for your trip.
Don't leave the house without a good power bank. Don't spoil your fun exploring all the fun neighborhoods and things to see in Brooklyn by having your battery die on you. If you're anything like me you'll be using your phone to take photos, navigate, and post to social media while you're exploring.
When it comes to the city, this weather is not forgiving and you don't want to get caught out and about in the rain without an umbrella. That's why we recommend this compact wind resistant travel umbrella for what to pack for Brooklyn.
Are you a sensitive sleeper? A good pair of earplugs are essential for your Brooklyn or city trip, especially if you're not from a big city.
---
Enjoyed this post on the best things to do in Williamsburg Brooklyn and this Williamsburg Brooklyn guide? Bookmark for later or share the love below on Pinterest.