Looking for the best things to do on the Lower East Side? We got you. At the foot of the Manhattan Bridge, you'll see Sara D. Roosevelt Park to your right. From this park, all the way to the East River is the neighborhood of the Lower East Side.
It's a patchwork of historic tenement buildings, luxury apartments, and a variety of attractions. You can find all kinds of things to do on the Lower East Side, especially if you're interested in immersing yourself in NYC culture.
Did you know that the Lower East Side or LES is one of the oldest neighborhoods in NYC? In the 1800s and early 1900s, immigrants landing at Ellis Island came here to make a life in NYC. Largely from Germany, Italy, Greece, Eastern Europe, and Russia, they made their homes and created a community on the Lower East Side. By the 1920s, the neighborhood was home to the largest Jewish population in the city.
You've probably seen black-and-white photos of tenement buildings, factory workers, or the first street vendors in NYC. Those were probably taken on Orchard Street or another prominent street on the Lower East Side! The working-class residents of the LES lived in crowded tenement buildings and started businesses that you can find remnants of today.
These days things look a little different when you take a walk along E Houston, Orchard Street, Eldridge Street, or many others. But the LES is a direct result of its rich history. You'll find a multicultural neighborhood with great nightlife, trendy boutiques, and fascinating historical sites. And the mix of new and old architecture is a feast for the eyes.
Want to know more? We've picked 20+ of our favorite LES things to do below as some of the best sightseeing and things to do in Lower Manhattan can be found in this area.
Lower East Side Attractions You Don't Want to Miss
The Lower East Side of Manhattan sits between Bowery and the East River, from Canal Street up to Houston Street. And it's framed by the neighborhoods of Little Italy, Chinatown, the Bowery, and the East Village.
All the things to do on our list are within this area and you'll discover that some of the best things to do in NYC can be found in the Lower East Side. You can enjoy the neighborhood's Jewish heritage with stops like the Tenement Museum and Katz's Deli. Grab a show or visit an actual speakeasy from Prohibition Era! Keep reading for all the details.
Tenement Museum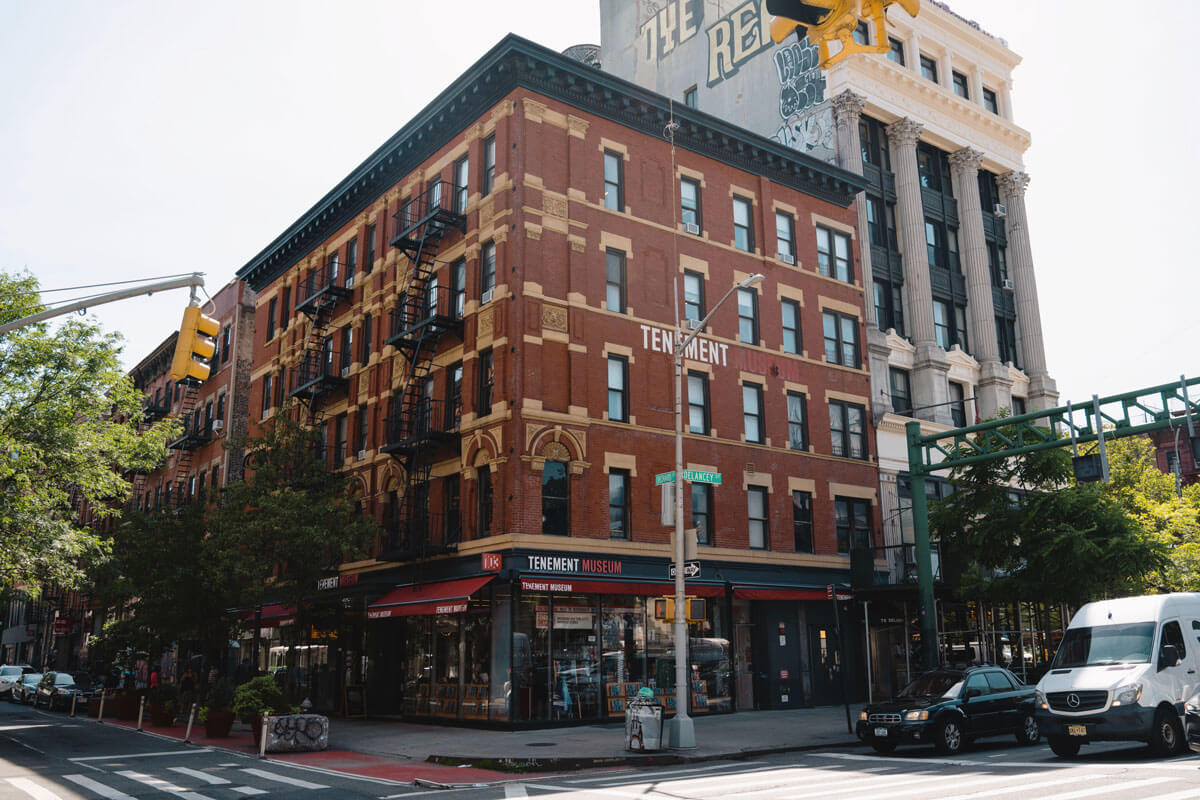 Address: 103 Orchard Street
A visit to the Tenement Museum is one of the best things to do on the Lower East Side and will change the way you look at New York City. Located at 103 Orchard Street, you'll find a glass-front museum on the ground level of a tenement building that dates back to the 1860s. This is where the stories of the working-class immigrants of NYC are told.
Choose between different apartment tours where you'll enter historically recreated homes and see how immigrants lived in different periods of the 19th and 20th centuries. You'll listen as actors tell the real-life stories of people coming from China, Germany, Poland, Puerto Rico, and more. Learn about their struggles, hopes, and accomplishments through theatrical retellings.
The Tenement Museum operates apartment tours out of 103 Orchard Street, but they also have a new building currently being restored at 97 Orchard Street. You can also book walking tours of the Lower East Side. And make sure to museum on the ground floor where you can see artifacts, pictures, and personal belonging found in tenement buildings.
You can book tours in advance or in person every day of the week from 10 AM to 6 PM. Some tours are accessible but you should contact the museum about them. And children 5 and up are permitted to attend.
Kat'z Delicatessen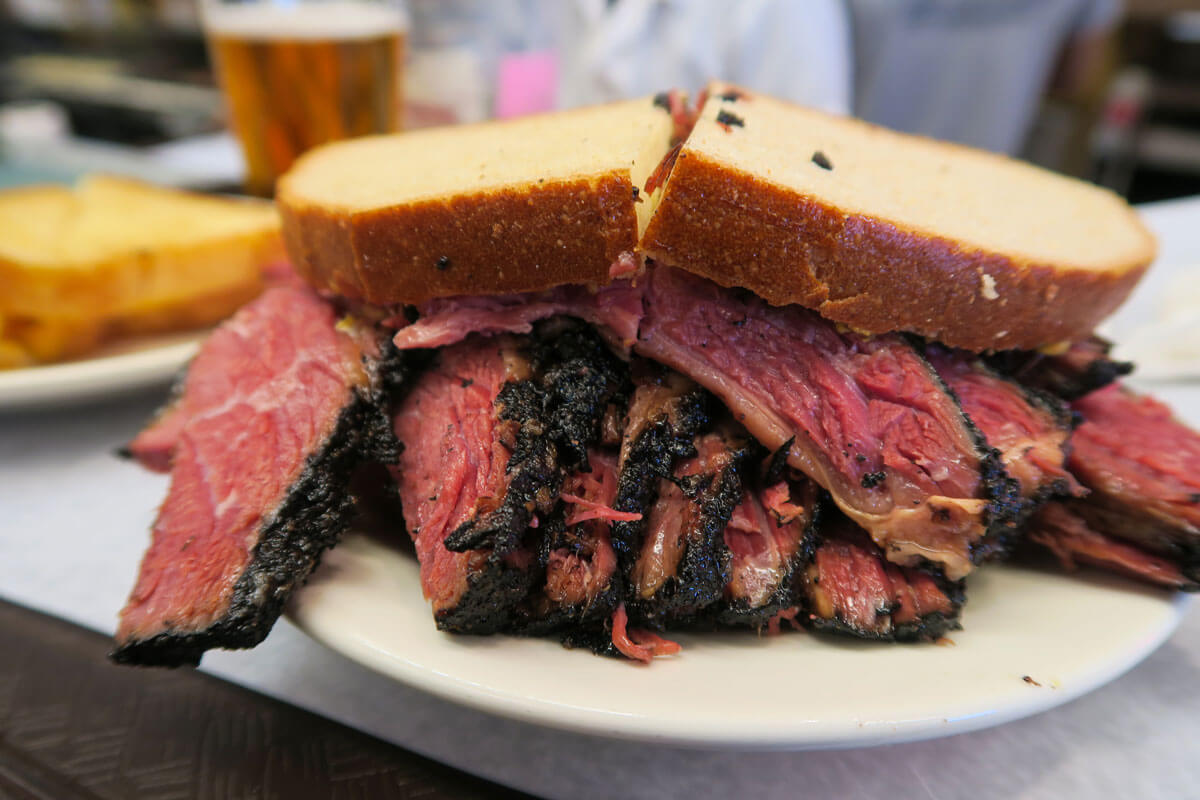 Address: 205 E Houston Street
Kat'z Deli is a New York institution that's been going strong since it opened way back in 1888, in fact it's one of the most iconic restaurants in eEw York City to dine at.
The Jewish-owned delicatessen has been at the same location since 1917, serving up Kosher pickles, pastrami on rye, matzo ball soup, and more. Most days, Katz' is open from 8 AM to 11 PM or midnight. It's also open 24 hours on Fridays and Saturdays.
There's usually a line out the door. You can choose to stand in line for the counter or wait for an open table and receive table service. They write your order on your ticket, and if you lose it, there's a fine!
The Rueben is a classic but they have all kinds of classic NYC options, including bagel & lox, egg creams, NY cheesecake, and more. You'll pay when you leave and they give you back your receipt to show as you leave.
It's a very New York experience with a staff that's larger than life with a New York drawl. But they're also some of the kindest people you'll meet. Look around the deli for old-timey paraphernalia, including a sign pointing out the table where one of the most famous New York City filming locations is, one of the scenes from When Harry Met Sally was filmed right here.
New Museum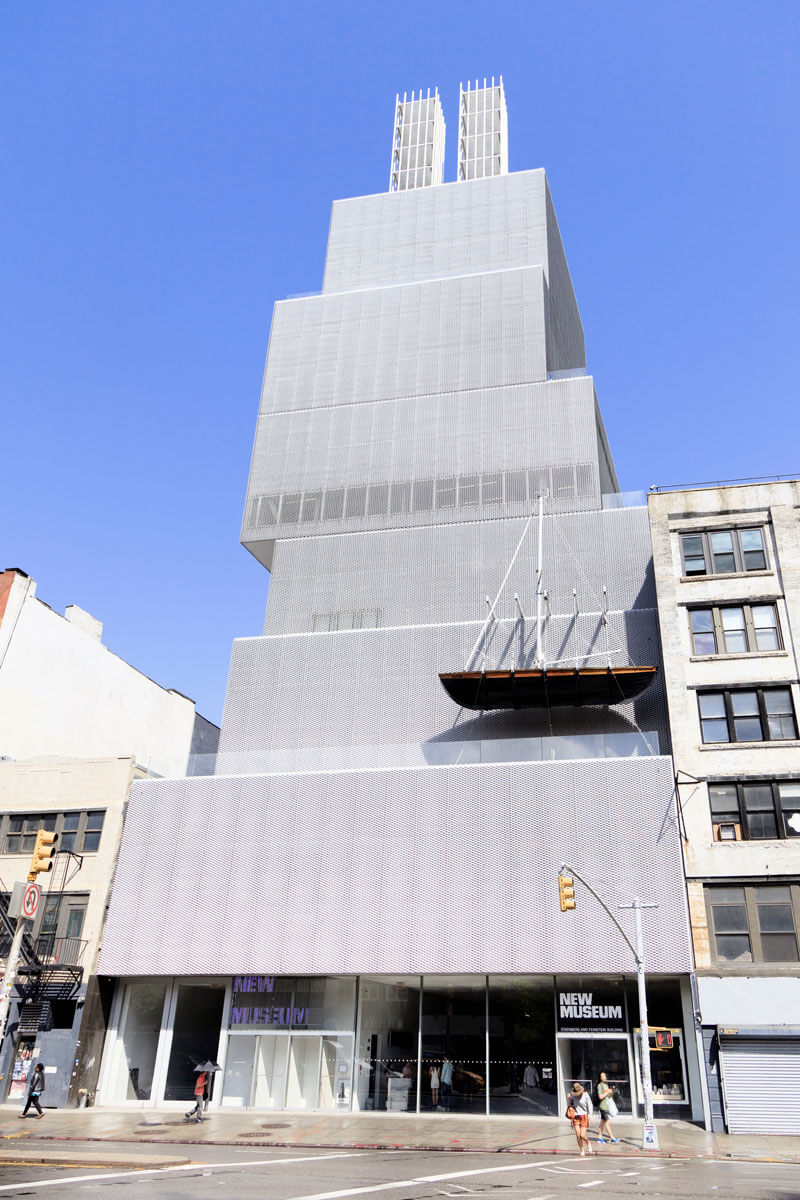 Address: 235 Bowery
If you're a fan of contemporary art museums, you'll love The New Museum. You'll find it on Bowery between Stanton and Rivington Streets in a stark, minimalistic metal building. The New Museum has been here since 2007 but was founded back in 1977. And it was the first contemporary art museum to open in NYC since the 1940s! Inside, you can walk gallery exhibitions across 6 levels, including a rooftop gallery with stunning views of the city.
Marcie Tucker founded The New Museum with a desire to support new and living contemporary artists, something that wasn't traditionally easy to find in the art world. Today, the museum is internationally recognized and strives to include unknown artists alongside more established ones through its curated exhibitions.
There's also a huge emphasis on creating a relationship between the artist and the audience. You can find out all kinds of regular events, including public talks, children's programs, youth workshops, artist residencies, programs for educators, and more.
You can visit The New Museum Tuesday through Sunday from 11 AM to 6 PM with a timed ticket available online and in person. On Thursday nights there are extended hours where you pay what you wish from 7 to 9 PM. And young people 18 and under a free.
Scarr's Pizza
Address: 22 Orchard Street
Come to Scarr's Pizza to taste a famous New York slice! This classic joint is serving up some of the best pizza in NYC and they know their product sells itself. Scarr's is a no-frills spot for a slice, with wood-paneled walls, neon signs, black and white photos of the New York skyline, and orange pendant lamps.
You can order by the slice or the pie from the old-school menu on the wall. They also offer a few other items including meatball parm subs, house salads, water, soda, beer, and wine. For a classic New York slice, try the pepperoni. But if you're going to get a second slice, go with the Sicilian!
Scarr's Pizza is on Orchard Street between Canal and Hester. They're open from noon to 11 PM and till midnight on Friday and Saturday.
Visit Economy Candy
Address: 108 Rivington Street
Economy Candy is a New York City treasure and is a must-see when you're visiting the LES! The Cohen family has owned the store since 1937 and you can visit at their location on Rivington Street between Ludlow and Essex Streets.
You'll see all your old-school favorites and modern brands. Peruse stands full of lollipops as big as your head, jars of gummies, and an entire imported candy aisle with international treats. In the back is a whole wall of assorted Jelly Belly flavors, and there's even a pick-and-mix station where you pay by the pound!
You can shop the Economy Candy brand, as well as get novelty candies and seasonal favorites in bulk. Behind the counter are all kinds of chocolate delicacies including fudge, chocolate-dipped fruit, turtles, and more. Sometimes they'll have tubs of comics for sale or a shelf of (new) vintage toys.
And don't forget to look up and check out the cool collection of vintage candy jars, toys, and other antique items! Economy Candy welcomes guests daily from noon to 5:30 PM.
Russ & Daughters
Address: 127 Orchard Street & 179 E Houston Street
Russ & Daughters is one of those places that reminds you what this neighborhood is all about. It all goes back to the story of a Polish immigrant named Joel Russ who started out in 1900 selling schmaltz herring out of a barrel on the streets of the Lower East Side. He worked his way up to a pushcart and then opened his store on Orchard Street in 1914!
In 1920 he moved the business to 179 E Houston St where the shop is located today. Russ eventually made his 3 daughters full partners, which was unheard of at the time!
Today, the 4th generation of the Russ family runs both the shop and the café (opened in 2014) that makes up this NYC staple.
One of the most authentic things to do on the Lower East Side might be enjoying a bagel at the Russ & Daughters café. The bagels are amazing, and their hot smoke/cold smoke platter is an entire experience. There's also the shop a few blocks away on Houston Street. Both the bagel shop and the café have a calm, clean old-school aesthetic and jazz music in the background so you won't want to leave!
Make sure to pick up some bagels or bialys. Russ & Daughters makes all their own bread, including bagels, rye, challah, and more at their Brooklyn Navy Yard location.
Pier 35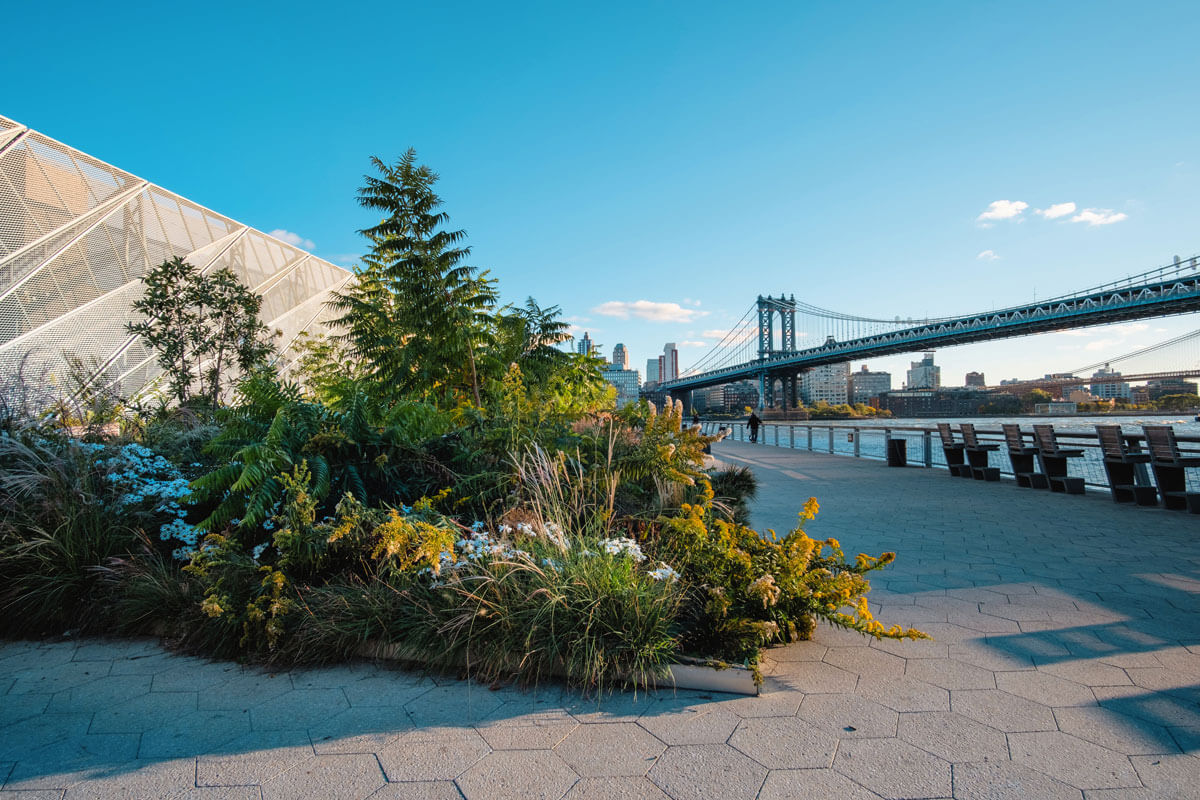 If you're going to be along South Street, make sure to check out Pier 35 along the East River. The small park is a newer addition and a nice stop for great views. It's a waterside pier with a walking path, native plants, and grassy lawns that leads to a lounging area with wooden deck steps and oversized porch swings.
It's the perfect spot to enjoy the sunset, with sweeping views of the harbor! You'll be able to see all kinds of landmarks, from the Brooklyn and Washington Bridges, the Statue of Liberty, and One World Trade Center, to the Williamsburg Bridge and DUMBO.
Essex Market
Address: 88 Essex Street
You could say that the Lower East Side grew up around the Essex Street Market, which was in the neighborhood as far back as 1818! It started as an outdoor market serving residents and was originally located on Grand Street between Essex and Ludlow. Then, pushcart vendors were the norm (perhaps the Russ family among them!) until the 1940s when the market moved indoors.
Over the years, most of the original vendors stayed with the Essex Market. If you visit today, many of them are just as old as the market itself! Always a part of the community, NYC was there for the Essex Market in 2019 when the brand-new location opened at 88 Essex Street, between Delancey Street and Broome Street.
You can shop there Monday through Saturday from 8 AM to 8 PM and Sunday from 10 AM to 6 PM. The massive market has grown to 2 levels, with all kinds of new and old vendors. It's a great place to find fresh local produce, seafood, and baked goods. There's an entire meat market and a great food court with restaurants from countries all over the world. Shop gourmet cheese, all your favorite Japanese treats, spices, beer, wine, and more.
The Back Room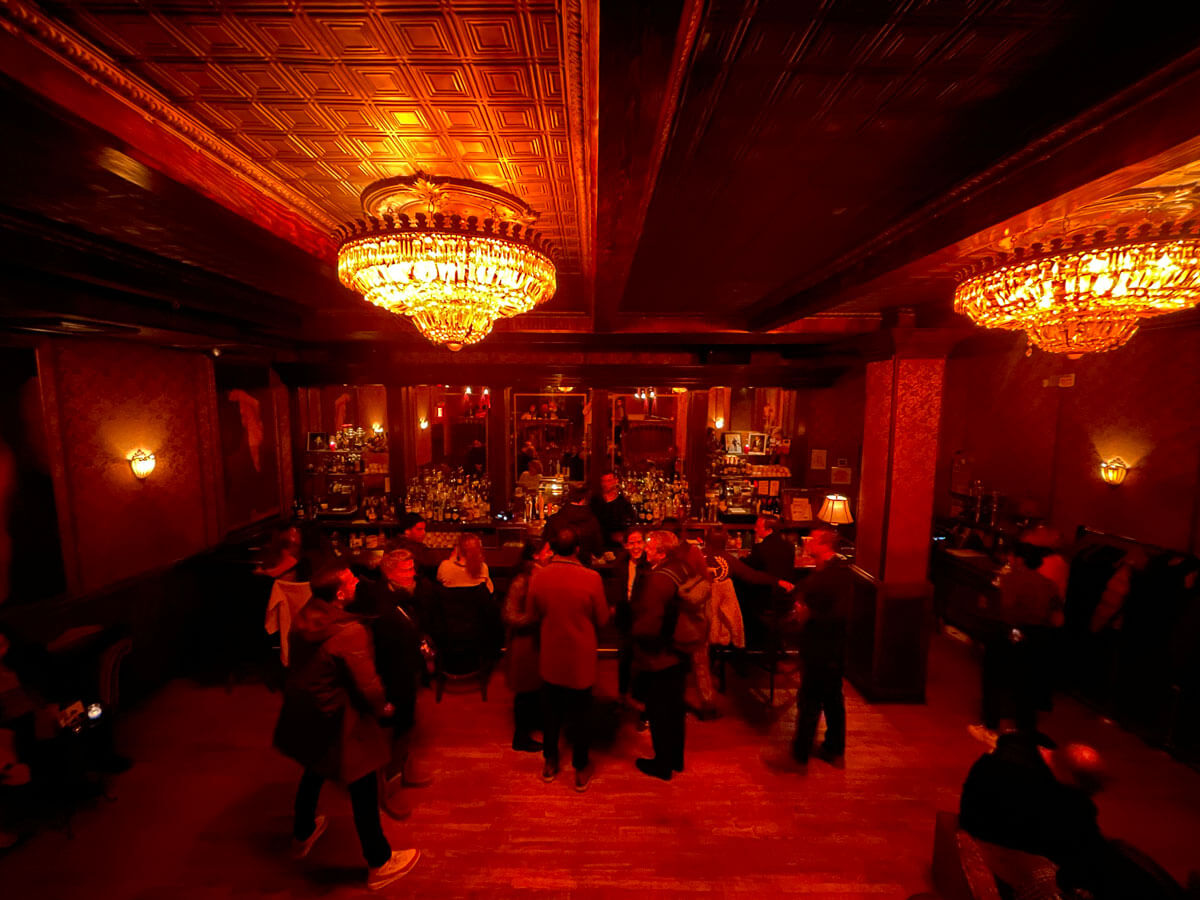 Address: 102 Norfolk Street
For a chance to visit one of the few REAL speakeasies left in NYC, visit The Back Room on Norfolk Street between Rivington and Delancey Streets. What makes it one of the top things to do in the Lower East Side is the experience. First, you have to look for the hidden entrance!
Look for the gate with a sign for "the Lower East Side Toy Company." It'll take you down a dark alley and up some stairs into another era. Inside the moody den that is The Back Room, you'll enjoy cocktails in teacups and beer in brown paper bags, just like they did back in the day.
In the 1920s, The Back Room was the cat's pajamas, playing host to the biggest names in theater and film. A few famous gangsters were even known to frequent the joint! Today, not much has changed as far as the vibe. Relax on velvet chairs and enjoy live jazz music while you sip on delicious drinks by candlelight. The Back Room opens every day at 6 PM and there's no cover charge.
Enjoy the Nightlife & Other Speakeasies
In the city that never sleeps, the Lower East Side stands out when it comes to nightlife. You'll find dive bars, dance clubs, wine bars, rooftop lounges, and even more speakeasies! Some of the best hidden bars in New York City can be found in the Lower East Side. Check out of few of our favorite spots when you're looking for things to do on the Lower East Side.
Attaboy is a no-menu cocktail bar with heavy speakeasy vibes. The unadorned door on Eldridge Street leads into a tiny industrial bar with about 25 seats. Tell the bartenders what you want and they'll ask for your preference on liquor, taste, ingredients, etc. If you want to avoid a wait, go during the week.
Beauty and Essex is known for their dramatic take on the speakeasy, you'll want to experience Beauty and Essex! After entering the pawn shop storefront (where you can really shop), head through doors into the over-the-top restaurant and lounge with a 2-story chandelier as the centerpiece. Enjoy 2 separate bars, themed dining rooms, and even a ladies' room with a salon inside!
Swan Room can be found on the corner of Canal and Orchard Streets, the Swan Room feels elegant and timeless. Inside the ground floor of the Jarmulowsky Bank Building, you'll find one of the most gorgeous spaces to enjoy cocktails and small plates.
Ray's is a dive bar created by Justin Theroux, Carlos Quirarte, Jon Neidich, Nicholas Braun, and Taavo Somer in appreciation of old-school NYC dive bars, and they succeeded! Located on the corner of Rivington and Chrystie Streets, it's a popular place to hang out among young 20-somethings that plays up dive bar vibes. Play some pool, listen to something on the jukebox, and enjoy a strong cocktail or a smash burger and a beer.
Mr. Purple is the place to be if you're looking for a rooftop bar on the LES, you can't do better than Mr. Purple at Hotel Indigo. It's a beautiful space with industrial elements and contemporary art everywhere, as well as panoramic views of the city! Come at night for the ambiance, and keep in mind that the dress code is described as "fashionable." In fact, it's one of our picks for the best rooftop bars in NYC too.
Catch a Show at the Bowery Ballroom
Address: 6 Delancey Street
The Bowery Ballroom is a private music venue in a historic building on Delancey Street that's known for being one of the best venues in NYC. Rolling Stones Magazine even dubbed the Bowery Ballroom "#1 Best Club in America." It's a great place to enjoy a drink and great up-and-coming bands.
After showing your ticket, you'll head to the lower-level bar for drinks until the show starts. The main hall is an intimate space that holds over 550 people over 2 levels with a bar at the back. The open floor plan is perfect for all kinds of creative setups and it's roomy, despite its small size, so it's great for dancing! You'll also love the original features of the more-century-old building.
Sweet Pickle Books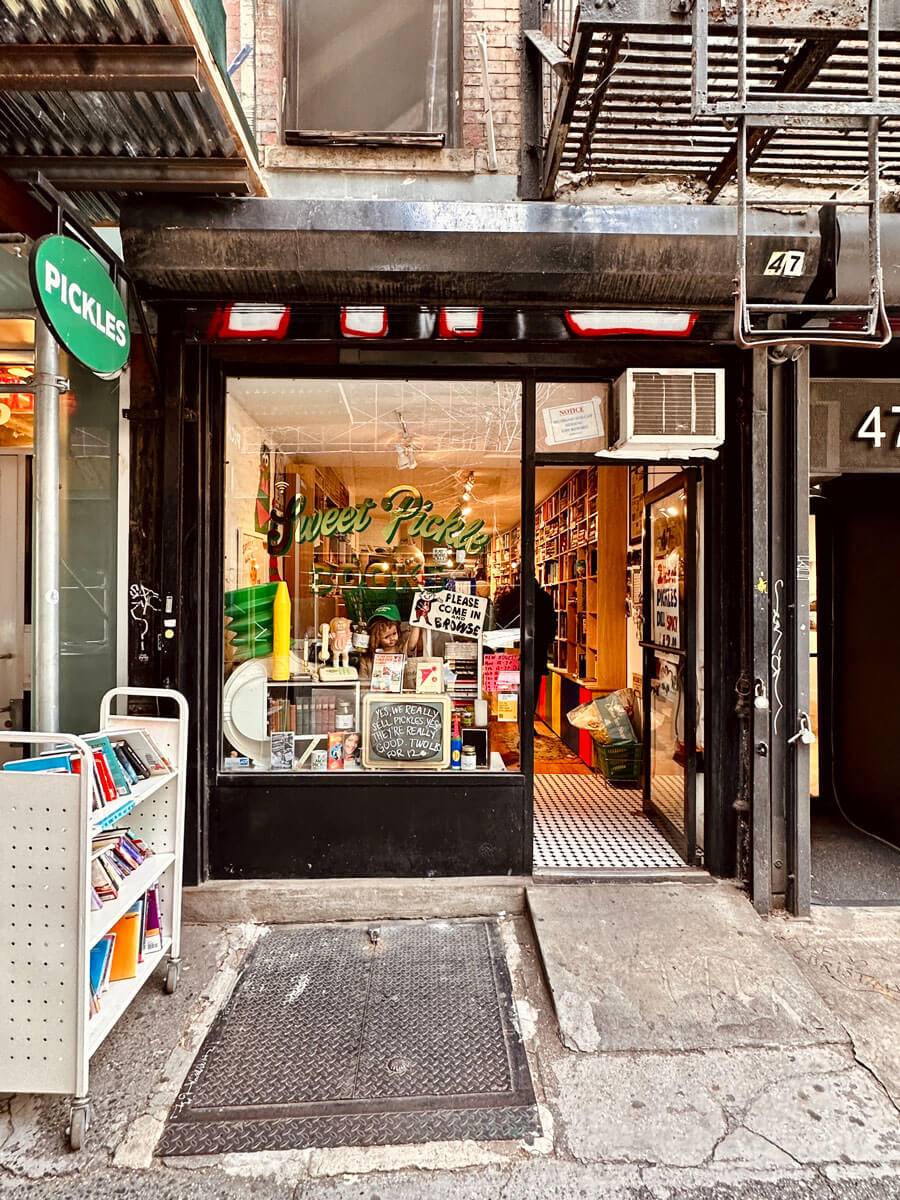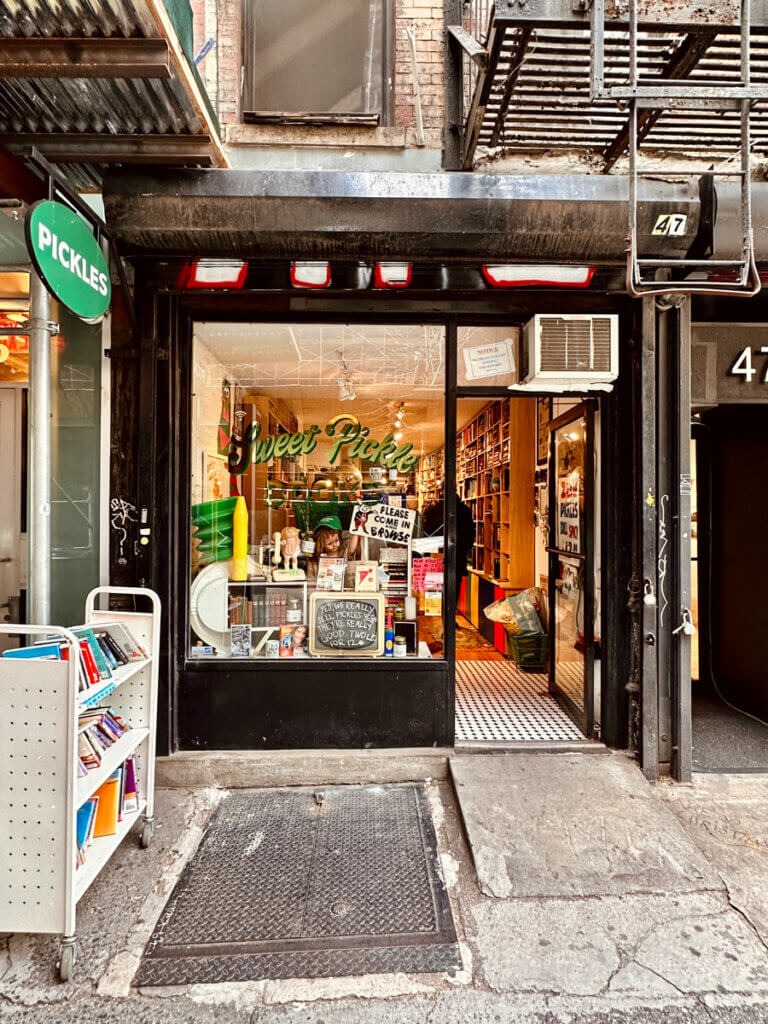 Address: 47 Orchard Street
Used bookstores are a sweet spot for us, and they're harder to find around NYC these days. So it's refreshing to know that Sweet Pickle Books is a great addition to Orchard Street, and it's thriving!
Sweet Pickle Books is the brainchild of LES resident, Leigh Altshuler. In 2020 she had a successful marketing career but changed gears to open a used bookstore/pickle store! Altshuler was inspired by the 1988 movie, Crossing Delancey to add homemade pickles to her list of offerings. In the movie, a book dealer falls in love with a pickle vendor on the Lower East Side!
You can come in and buy used records, secondhand books, Altshuler's homemade pickles, or all 3! She often has deals where you can trade in books for pickles, too. The narrow shop is a treat to visit and you can stop by every day from noon to 7 PM.
Rockwood Music Hall
Address: 196 Allen Street
Since 2005, Rockwood Music Hall has been hosting new and unknown artists, as well as some of the biggest names in the industry! It's a beautiful space on Allen Street near Houston with 3 different stages and affordable drinks.
If you're in the area, just come in for a drink and see who's performing! Or book tickets in advance for upcoming shows. Venue 1 is at the front, where you walk in. It's the largest room, with a balcony, a baby grand on stage, and no cover with a full lineup of live music every night. Venue 2 is slightly smaller with a corner stage, and venue 3 is fully seated and perfect if you want to reserve a table. All shows have a 1-drink minimum, 2-drink seated.
Visit a Cat Café
One of the most unique and rewarding things to do on the Lower East Side these days is to visit a cat café! Cat cafes have been popular in countries like Japan, South Korea, and Taiwan for years and it's finally making its way to the US with more and more cat cafes popping up around New York City.
You'll find 2 on the LES: Koneko at 26 Clinton Street and Meow Parlour at 46 Hester Street.
Koneko was the first Japanese cat café on the Lower East Side. Come in and enjoy a long menu of delicious pastries, Japanese treats, coffee, tea, and more. Then, get enjoy an hour-long play session with Koneko's adoptable cats! The café partners with Anjellicle Cats Rescue, and when you're ready, you can talk to the staff about beginning the adoption process. Book reservations on their website and check their website for special events throughout the week.
Meow Parlour is a nonprofit that works with the Animal Care Centers of NYC and rescues across the US, successfully rehoming over 200 cats. It's a great place that's very informative about their animals and you can see that they really know and love the cats.
Make sure to check out the framed information about each cat and talk to the staff if you're interested in adopting. You can book an hour session and also enjoy coffee and a macaron while you're here.
Dinner & A Show at The Metrograph
Address: 7 Ludlow Street
You'll find the brick façade of The Metrograph on Ludlow Street between Hester and Canal. For film lovers, this place should be on your bucket list! It's the perfect place for moviegoers who want much more than your typical movie-going experience. Metrograph is an independent theater with a line-up of curated shows and a fine dining restaurant.
The Art Deco interiors and glowing low-fi feel of the entire space are just the beginning. The entire experience at Metrograph is a call back to the Golden Age of American cinema in the 1920s when movie-going was an event. Come early for a drink at the lobby bar or book dinner at the Metrograph Commissary, a white-linen New American restaurant.
Films shown at the theater include international films, cult favorites, independent projects, director's cuts, niche films, and much more. The theaters are cozy with a classic feel like you've stepped back in time!
Make sure to visit the small gift shop and snack bar before your movie to pick up cold drinks and gourmet popcorn and treats. If you want to come for dinner and drinks before your movie, the Commissary opens at 5:30 PM Tuesday through Sunday. And it's open for brunch from 11 AM to 4 PM on Saturday and Sunday.
Museum of Street Art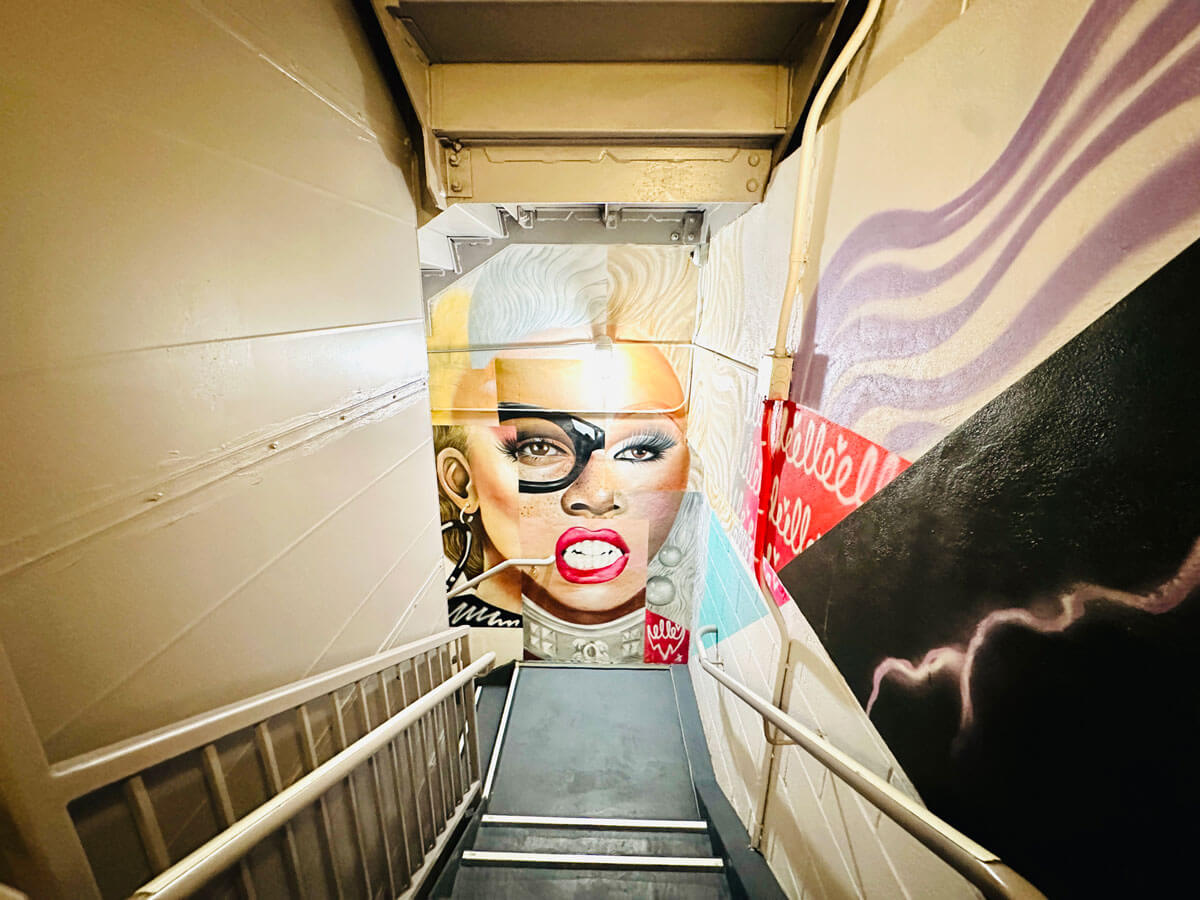 Address: 189 Bowery
The Museum of Street Art is a hidden gem of NYC. You'll find it at the citizenM New York Bowery Hotel on Bowery Street near Delancey Street. This small museum honors the legendary 5 Pointz building in Queens and is a must for anyone who loves NYC street art.
Five Pointz was considered a local landmark in the early 2000s, where people came from all over to see graffiti art decorating a local building, done by local and international artists alike. The building was one of a kind, but it was privately owned. Despite the community's efforts, 5 Pointz was demolished in November 2013 and its art was lost forever.
The event gave media coverage to the conversation around graffiti artwork being recognized as a truly American art form that should be recorded. The MoMA was born in 2016 in honor of 5 Pointz, featuring the work of 20 graffiti artists whose work was once part of 5 Pointz!
A visit to the MoMA is quick and educational. Located at the citizen hotel, you can't miss the 5000-square-foot mural honoring Five Pointz out front! Inside, you'll head up to the gorgeous MoMA café on the 21st floor. From here, you can walk down the 20-floor staircase to see what is the Museum of Street Art.
While you're here, also check out cloudM, one of our favorite rooftop bars in NYC and once you're done with the views and drinks you can take the steps down through MOSA!
Seward Park
Address: Corner of Essex and E Broadway
While you're looking for the best things to do on the Lower East Side, don't forget about Seward Park. Located at the corner of Essex and E Broadway, it's one of the largest parks on the LES and holds historical significance that changed NYC parks forever.
When Seward Park opened in 1903, it was the first ever city-built playground in the US! It's had many renovations over the years with the most recent being in 2019. Today you can come to enjoy the benches and walking paths under canopies of trees. There are ball courts, wildflower gardens, a beautiful playground, and a splash pad.
Yonah Schimmel's Knish Bakery
Address: 137 E Houston Street
The story of Yonah Schimmel's Knish Bakery is one version of a classic that shaped New York City into what it is today. In the late 1800s, the LES was a predominantly Jewish, working-class neighborhood. Schimmel was part of that community and began his bakery business out of a pushcart along E Houston Street in 1890. In 1910, the bakery moved to its brick-and-mortar location on Houston Street and has been in the family ever since!
The store has barely changed since those early days, and it's fascinating to see the old bits of paraphernalia and many of the original features of the store! This is the place to come for knishes, with both sweet and savory options. The potato is a classic, but the kasha is a bakery tradition, featuring Yonah's original recipe from over a century ago.
You can also order other Eastern-European classics like borscht, kugel, and latkes. Visit Yonah Schimmel's any day of the week between 11 AM and 5 PM.
Museum at Eldridge Street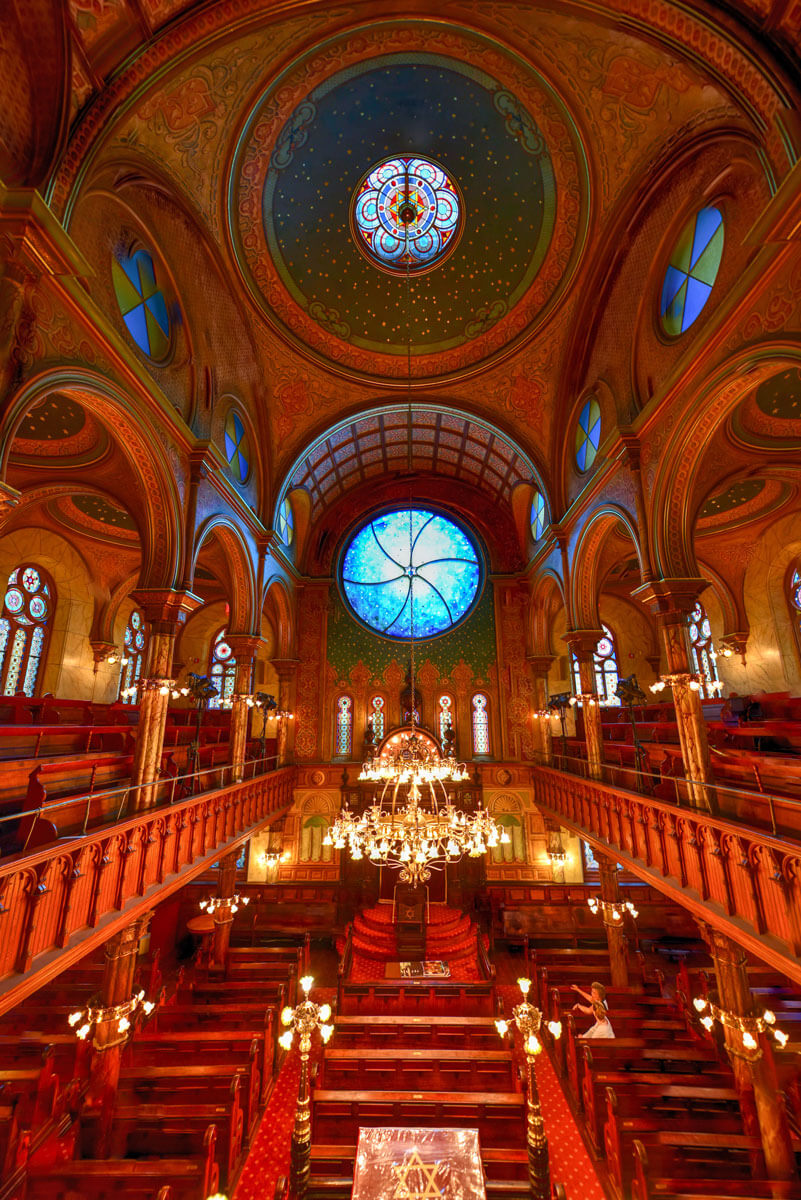 Address: 12 Eldridge Street
The Museum at Eldridge Street is actually a historic synagogue and Jewish Museum south of Canal Street on the Lower East Side. It was built in 1887 and was the first synagogue built in the US by Eastern European immigrants.
This is significant because, before this, places of worship were created by immigrant communities renting churches and synagogues from other American congregations. But Eldridge Street was the Jewish population for the first time making a little piece of New York their own!
The synagogue was a work of love and thrived for over 50 years. But in the mid-20th century, the synagogue saw a period of decline. It was shuttered as the majority of the Jewish population of NYC moved to the outer boroughs. The synagogue was rediscovered in the 1980s and restoration began. In 2007 it reopened as the Museum at Eldridge Street.
Come visit to learn about the history of immigrants in New York City and what it means to be a Jewish American. You can tour the beautiful building, see artifacts from Jewish life in the 19th and 20th centuries, as well as see works of art by Jewish artists. The museum is open Sunday through Friday from 10 AM to 5 PM. There's a small admission or you can pay as you wish on Mondays and Fridays. Public tours are offered throughout the day.
More Lower East Side Food & Restaurants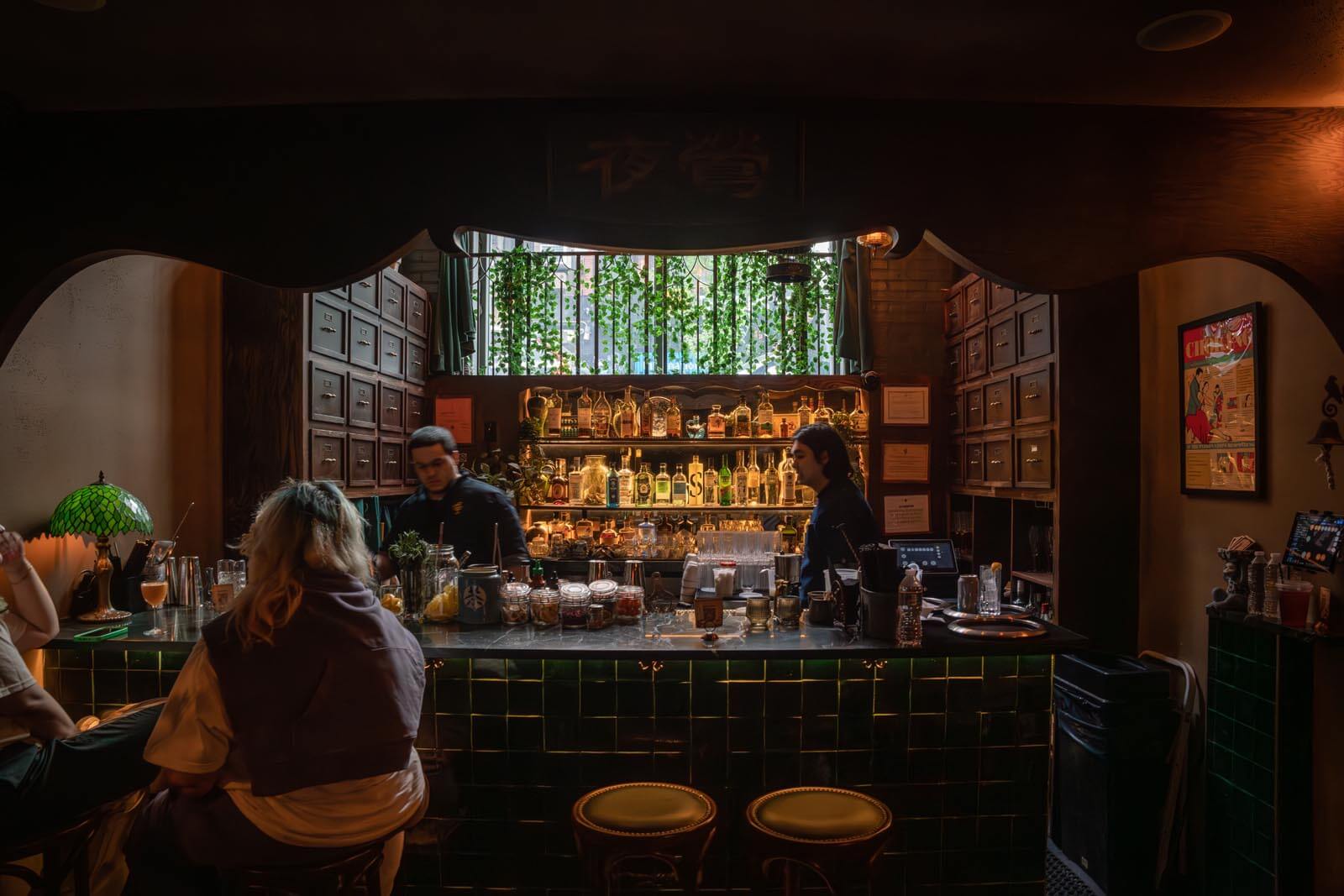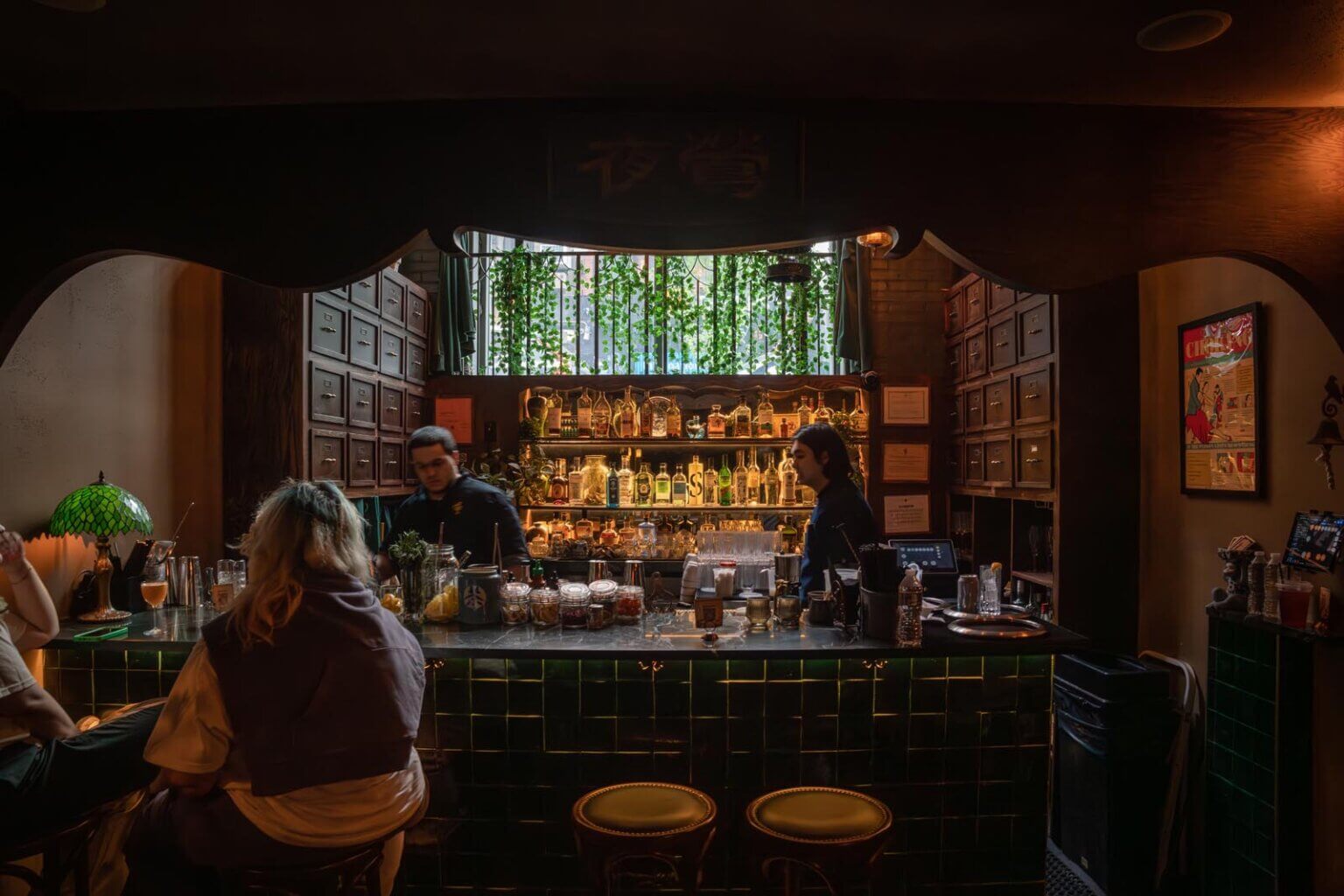 This neighborhood has many great spots to enjoy a delicious meal and it's one of the best things to do on the Lower East Side! We love Double Chicken Please explores creative takes on cocktails and serves up amazing chicken sandwiches.
If the line is too long here, don't fret, check out Ye's Apothecary for insanely good cocktails and really great Szechuan food.
Vanessa's Dumplings is a no-frill spot that does amazing things with both fried and steamed dumplings.
For a great atmosphere, go to Ivan Ramen. The ramen has unique touches and you'll find all kinds of refreshing takes on other Japanese favorites.
Clinton St Baking Company is our go-to for some of the best brunch in NYC (the pancakes are a must, they are actually some of the best pancakes in NYC too).
If you're craving beignets or po'boys, Cheeky Sandwiches is a hidden gem in New York City.
And Freemans is unlike any place you've been to with colonial décor where you can get elevated American classics or a full English breakfast!
If you want to try many places during your visit to the Lower East Side, check out a food tour where you can stop at 5-6 different places with a guide teaching you about the neighborhood!
Explore Chinatown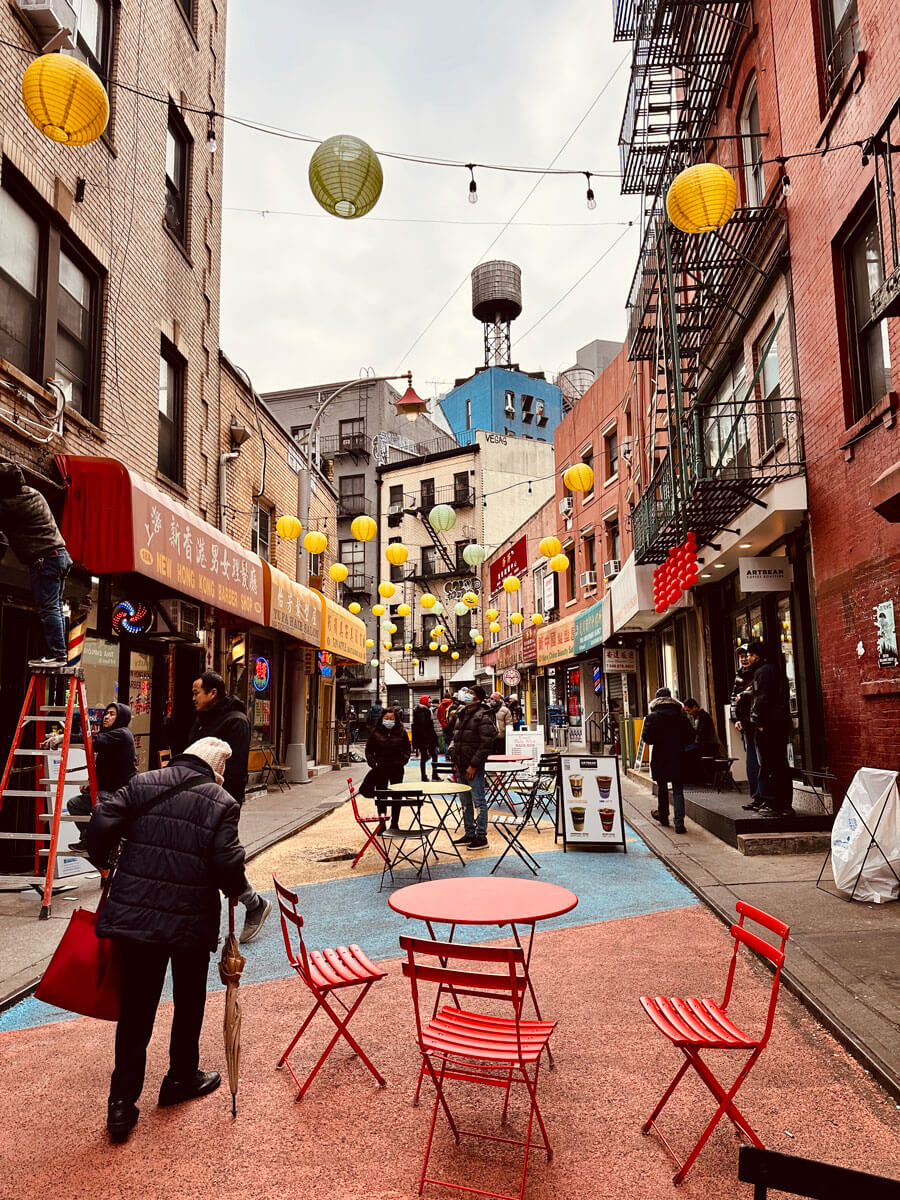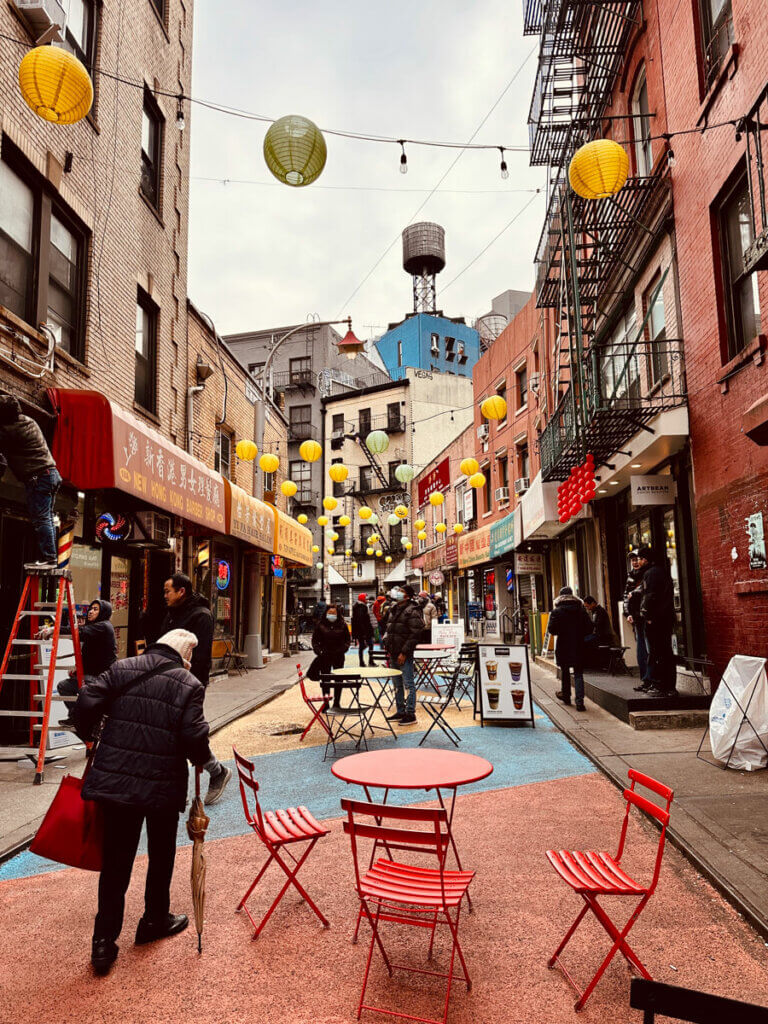 While you're exploring the Lower East Side, head to Canal and Mott to explore the heart of Chinatown. This small but dense neighborhood is where you'll find the best Southeast Asian and Chinese restaurants in the city.
Tourists come to peruse gift shops, while locals come to pick up tea, spices, and food items you can only find in this neighborhood! And don't forget to visit Chinatown in early February for the annual Lunar New Year Parade.
Explore the East Village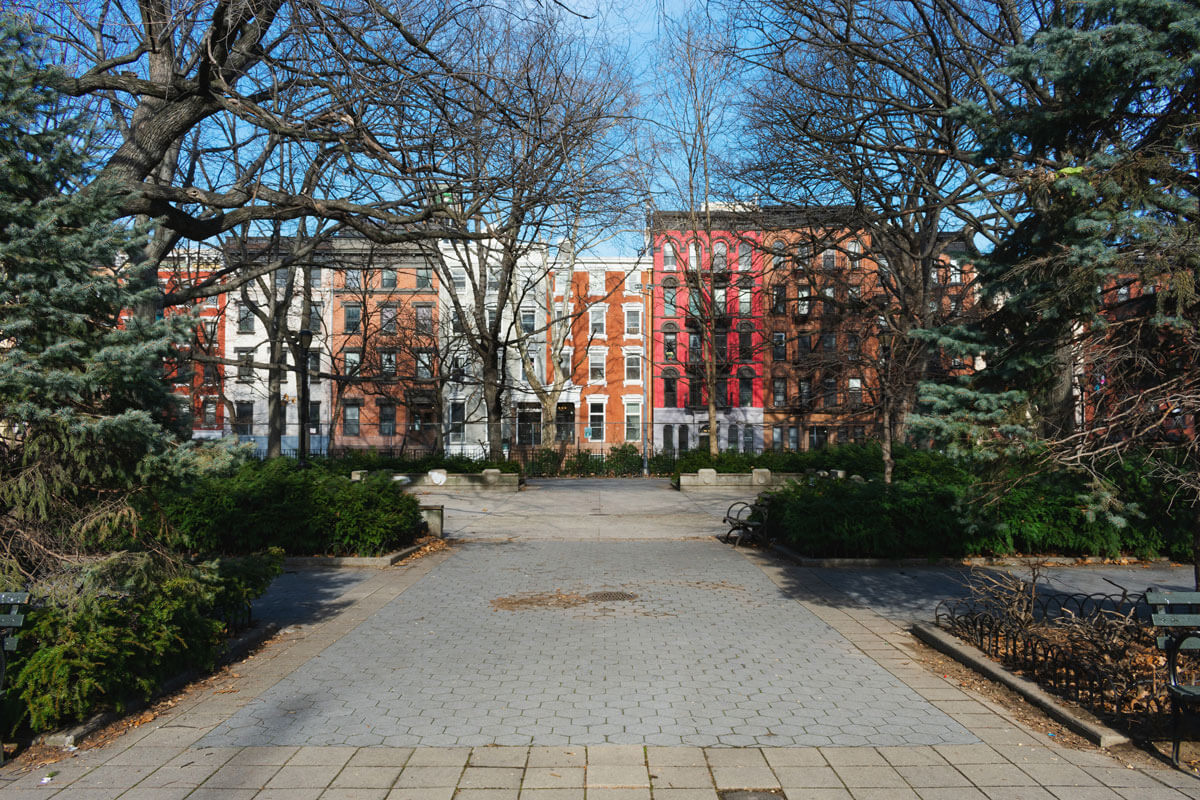 Centering around Tompkins Square Park, the East Village has never been able to shake its gritty punk feel, despite the rise of trendy eateries and clothing boutiques. This is where you'll find the best vintage shops, old-school tattoo parlors, and the last of the classic dive bars. And the nightlife is a serious thing with top-notch music venues, dance clubs, cocktail bars, and more.
Explore Little Italy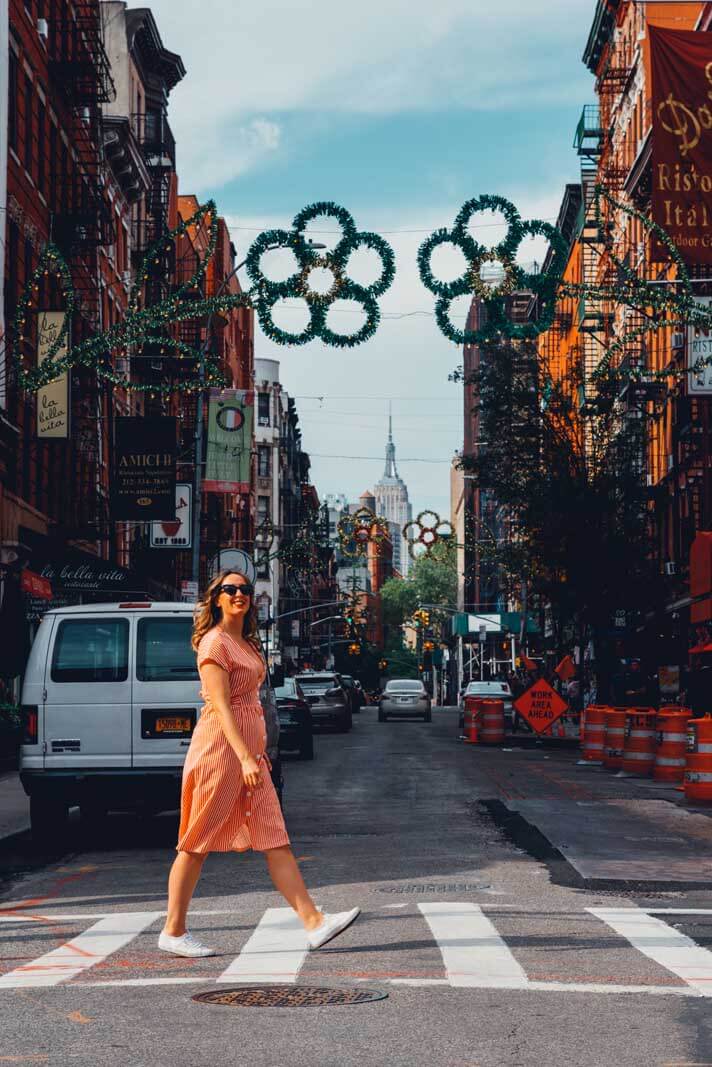 Wind up and down the streets of Little Italy for pizza places, Italian bakeries, and old-school Italian restaurants from both northern and southern Italy. Enjoy the nostalgic décor, authentic markets, and century-old Italian gift shops! And during the second week of September, come for the San Gennaro Feast on Grand Street for a feel of classic Italian New York.
Lower East Side Tours To Check Out
This 3-hour Lower East Side Food and Cultural Tour visits cultural and historic landmarks while stopping at 4 different eateries and sampling great bites to eat in the Lower East Side, Chinatown, and Little Italy.
This 3-hour Lower East Side History and Tasting Tour focuses on the Immigrant Experience through Chinatown and Little Italy by sampling cultural dishes brought to the United States by immigrants including Economy Candy, North Dumplings, Yonah Schimmel's Knish Bakery, and more plus stopping at historic sites.
This Lower East Side food tour is another excellent way to learn about the neighborhood while exploring with a local guide stopping at iconic eats like Katz's Deli and a few other neighborhood staples like Essex Market and a few other hidden gems in LES!
For something a little more intimate, you can book a Private 2-hour Lower East Side Food and Neighborhood tour stopping at and sampling some of the iconic eateries of the LES like Kat'z Deli and Russ & Daughters along with historic landmarks.
This Truly Unique Private Interactive Lower East Side Tour takes you on a storytelling journey with an improvisation actor who teaches the history of this culturally rich neighborhood by acting out different characters from New York City's past as a live performance. What a clever way to remember and retain all the history you'll learn on this tour.
Where to Stay in the Lower East Side
Check out our full guide to the best places to stay in New York City for more suggestions by neighborhood, but here are a few great hotels in the Lower East Side worth checking out to stay within walking distance of all the best things to do in this neighborhood.
Not to mention there are some great affordable prices in this area while still being near to great NYC sightseeing along with some of the most famous luxurious stays in the city.
$$ Untitled at Freeman Alley is a true hidden gem of a hotel tucked away in Freeman Alley right by one of our favorite bars and restaurants in the neighborhood. This stylish 4-star hotel has light-filled, chic rooms with great views of the city.
$$ CitizenM New York Bowery is stylish, art-forward hotel also houses the Museum of Street Art, a rooftop bar, and you can appreciate each detail in the rooms from the blackout curtains, mood lighting, am/pm shower toiletries, and excellent location.
$$ PUBLIC an Ian Schrager Hotel is another gorgeous 4-star hotel in the Lower East Side offers a lush garden and beautiful rooms with light wood and floor-to-ceiling windows that allow for the best natural light during the day and a nice moody ambiance by night with excellent restaurant options including a rooftop lounge with skyline views.
$$$$ Crosby Street Hotel is one of the most iconic NYC hotels that is popular among A-list celebrities and a truly one-of-a-kind luxury experience with each room individually decorated and amenities including their movie and screening room
---
What is the Lower East Side known for?
The Lower East Side is a historic Manhattan area historically known for being a working-class and immigrant neighborhood with cultural landmarks that's now a popular nightlife destination.
What is the famous street in the Lower East Side?
The famous streets in the Lower East Side are Bowery Street and Orchard Street.
Is it safe to walk around the Lower East Side?
The Lower East Side is a generally safe neighborhood to walk around, especially around the popular areas where there are restaurants, nightlife, and tourist attractions.
---
Best Things to do in the Lower East Side of Manhattan Summary:
Tenement Museum
Kat'z Delicatessen
New Museum
Scarr's Pizza
Visit Economy Candy
Russ & Daughters
Pier 35
Essex Market
The Back Room
Lower East Side Nightlife
Catch a Show at the Bowery Ballroom
Sweet Pickle Books
Rockwood Music Hall
Visit a Cat Cafe
Dinner & Show at The Metrograph
Museum of Street Art
Seward Park
Yonah Schimmel's Knish Bakery
Museum at Eldridge Street
More Lower East Side Food & Restaurants
Explore Chinatown
Explore the East Village
Explore Little Italy
---