Looking for the best thrift stores in Brooklyn and best Brooklyn Vintage shops? This guide has got you covered whether you're a local or visitor, new to thrifting in Brooklyn or even a seasoned second-hand shopper, as a season vintage shopper myself, I have hand-selected the best vintage stores in Brooklyn that you need to check out whether you're looking for your next piece of one of a kind clothing, designer label, or accessories.
There are many reasons to visit New York City. The food. The entertainment. The culture. But if there's one aspect of New York life that often gets overlooked—it's thrift shopping. Thrifting in Brooklyn is an experience in and of itself.
Being that life in New York is already pretty expensive. Why not treat yourself to some of the best vintage stores in Brooklyn where you can buy everything from unique second-hand treasures and luxury vintage pieces at a reduced price.
In this guide, we will go over our picks for the best thrift stores in Brooklyn, but be sure to visit our guide to the best vintage stores in NYC for more amazing neighborhoods and spots to hit up while you're here!
About the Author
Eric Garner is a Brooklyn-based writer who was raised down south who loves talking about film, TV, hip-hop, and fashion.
Best Brooklyn Vintage Shops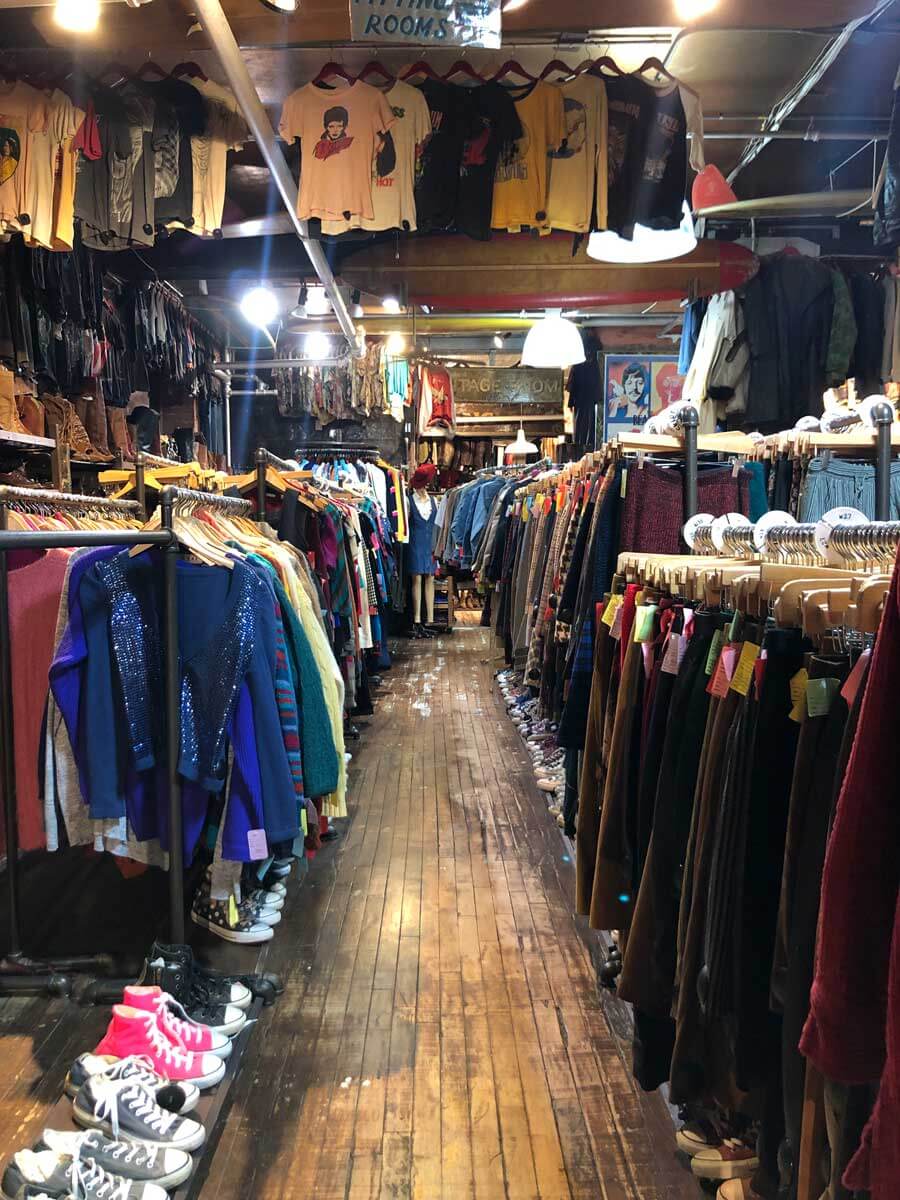 Broadway Fashion
1227 Broadway
Our first pick for thrift stores in Brooklyn is Broadway Fashion and it's located right in the middle of Bushwick. This Brooklyn thrift shop is great for picking up some of the basic essentials for your wardrobe without spending a ton of money.
This store has both men's and women's fashion. There's a wide selection of blouses and dresses for women and a variety of T-shirts, hoodies, and pants for men. There's also a selection of shoes and sneakers for both.
While you most likely won't find anything high-end here, this place is as affordable as it gets. You'll see pieces as low as $6. The selection is large, so take your time.
While you're here, be sure to check out the other best thrift stores in Bushwick to find all the best thrifting in Brooklyn around this neighborhood!
New Brooklyn Fashion
1065 Broadway
Also, located in Bushwick (just a few blocks away from Broadway Fashion in fact) is this hidden gem and a great spot for thrifting in Brooklyn. As far as Brooklyn Vintage shops go—this is a good place to start if you're looking to find a really good deal.
Selling mostly women's fashion (dresses, blouses, and shirts), this Brooklyn vintage shop contains a large variety of bright and vibrant colored clothing for the seasons.
Perfect for the spring and summer. There's also a smaller section of men's clothing in the back. Mostly jeans and t-shirts.
This spot is extremely affordable. Some pieces are as low as $5 too. If you're looking for a nice sundress to rock this summer, definitely give this place a look-see!
While you're at it, be sure to check out all the other best things to do in Bushwick while you're in the neighborhood.
Brooklyn Brickhouse Vintage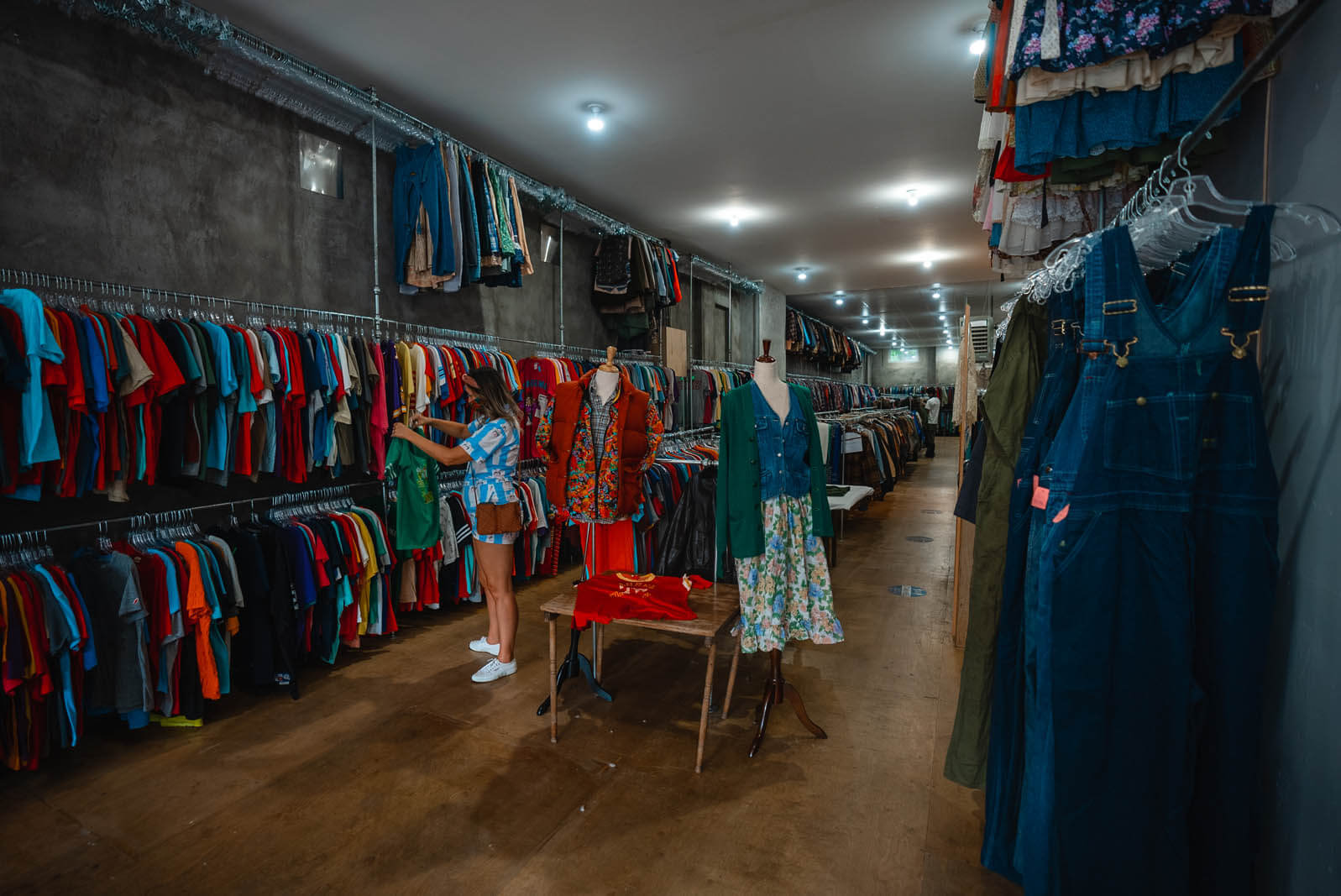 521 Grand St
This Brooklyn vintage shop in Williamsburg has a great selection of both men's and women's apparel. In the men's section, you can find a huge collection of vintage tees, button-down shirts, and great denim.
For the women you can find a selection of vintage dresses, tops, and more denim.
The prices are very reasonable considering you're in Williamsburg and you could spend a little time in here sifting through each of their vintage tees.
This is also a great spot to get a cool second-hand or vintage jacket too once the weather cools down.
Le Point Value
321 Clarkson Ave
With multiple locations all throughout the five boroughs–Le Point Value is another candidate for the most affordable thrift stores in Brooklyn award with their Prospect Lefferts Gardens location.
This Brooklyn vintage shop has a warehouse-sized selection of men, women, and children's clothing. It's a wonderland for basic articles of clothing as you can find just about any piece of clothing you're looking for here.
You could literally spend hours going through Le Point's seemingly endless supply of clothing and accessories.
Like the previous two stores, you won't find the most trendy brands or big-name labels here. However, if you take the time to go through the vast sea of items, it will be hard not to find something worth grabbing.
Green Village Used Furniture & Clothing
276 Starr Street
Speaking of immense vintage stores in Brooklyn, Green Village is another spot you could spend hours searching through in Bushwick. This place is huge. Warehouse huge.
As far as what they offer, it's all in the name, not only does this store sell men's and women's vintage clothing, but many household items (furniture and antiques) as well so you're sure to find treasures and great second-hand finds for the home and yourself here.
It will definitely prove to be a task to search through this store, but Green Village is definitely worth the effort and worth the patience, plan some extra time to sift through their selection of merchandise!
Monk Vintage
496 Driggs Ave
This Williamsburg thrift store is a popular Brooklyn vintage spot on Driggs Avenue. At Monk Vintage you can find a great, curated selection of Brooklyn vintage clothing, and in my opinion, more than any other seems to have a perfect blend of vintage and trendy clothing.
And as an added bonus, this store also sells artwork, antiques, and vintage movie posters in and around the checkout area.
And as another added bonus, you even have the option to donate your unwanted clothing or older styles and receive a discount of 25 % off your next purchase.
This Brooklyn vintage store also does a pretty great job at having a good selection of both men's and women's clothing for all four seasons. So, whether you're looking for a winter coat or sandals for the beach; Monk Vintage has you covered!
Brooklyn Woke Vintage
158 Bedford Ave.
I will now direct you to another Williamsburg gem and great option for Brooklyn vintage shopping; Brooklyn Woke Vintage. Brooklyn Woke will definitely be a special treat for those who grew up in the 80s and 90s.
This shop is home to many antiques and vintage goodies. They have vintage vinyl records, cassette tapes, action figures (Star Wars, WWE), old fashioned cameras, and even 80s style radio and CD players. They even have PEZheads, if you're old enough to remember those.
The prices here are pretty reasonable given the rarity of these items and the good condition that they are in.
You can also bring in your own personal vintage items and depending on the item and its condition—they will buy it from you.
There is very small selection of clothing for men and women here, but the vintage toys and antiques are definitely the main event. If you get a chance, be sure to check this place out!
Brooklyn Flea
Now our next pick for best vintage stores in Brooklyn is less of an actual store and more of an outdoor flea market. That market being Brooklyn Flea.
This flea market has four locations in total including the Lower East Side and Chelsea in Manhattan in addition to the locations in Brooklyn.
The DUMBO location is under the Manhattan Bridge archway at 80 Pearl Street and takes place on Sundays from 10 am to 5 pm.
The Williamsburg location is at Kent Avenue at North 6th Street (51 N. 6th Street) on Sundays from 10 am to 5 pm.
This market has probably the widest variety of merchandise of the places mentioned so far. Not only do vendors sell men and women's vintage clothing, but also furniture, antiques, Pokémon cards, children's toys, face masks as well.
This market also allows artwork to be sold by local artists, which gives you an opportunity to see what some of the city's emerging artists have to offer.
The prices here are pretty decent, nothing too expensive. The Williamsburg location is a particularly quick and easy search. A great stop to make on a nice spring or summer day!
Plus Bklyn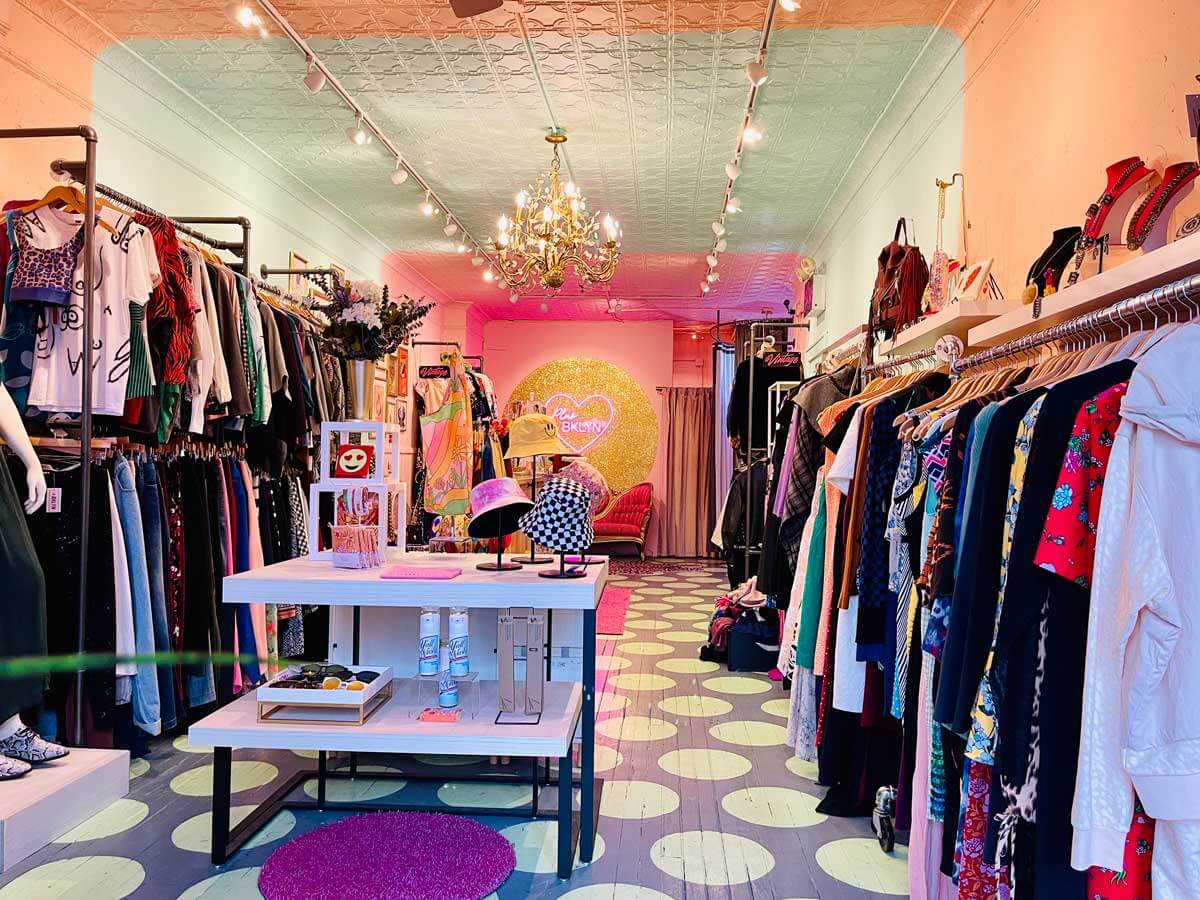 Located on Metropolitan Ave., this is one of the best vintage shops in Brooklyn for women specializing in plus-size clothing. Their selection of women's fashion styles range from one-of-a-kind dresses to leather jackets plus fun and colorful accessories.
Besides carrying fun styles with sizes ranging from 14-30, with select styles up to size 32, this vintage shop also buys your clothing for cash or store credit.
The Attic, Brooklyn N.Y.
231 Grand St
Continuing thrifting in Brooklyn in the Williamsburg area, we have what is maybe the cleanest and most sophisticated Brooklyn thrift store in my humble opinion.
Thrifting in Brooklyn has never looked so well-organized. This place is really easy on the eyes. As soon as you enter the store you will see a row of women's blouses and dresses—all of which are incredibly color coordinated.
In the back, you'll find a nice collection of men's pants and Hawaiian shirts. And besides the racks of clothing, you'll see a rack of very colorful collection fitted caps and sneakers.
The prices here can range from moderate to expensive, but you will definitely get what you pay for here. If quality is what you're after, The Attic is a must-see.
Crossroads Trading Co.
135 N. 7th Street
Speaking of quality, Crossroads Trading Co. is another great option for finding more modern and high-end, second hand clothing.
Crossroads has two locations in New York City (one in Williamsburg and one in Chelsea) and features some of the best high-end clothing of any of the thrift stores in Brooklyn. The selection for men's and women's clothing is pretty good. They have everything from skirts to winter coats.
The prices here can range from moderate to expensive. Usually the more expensive clothing is hung up on the wall with a big price tag on it—so you can't miss it and these are typically designer or higher-end labels.
This store also gives you the opportunity to sell or trade your own clothing and either receive cash or store credit with a discount on getting items in-store with that credit.
While some of the prices here are a little more steep compared to other vintage stores in Brooklyn you'll be hard pressed to find another store with this kind of collection of high-end goodies, plus you can get cash or trade-in when you need to clean out your closet and freshen up your wardrobe.
L Train Vintage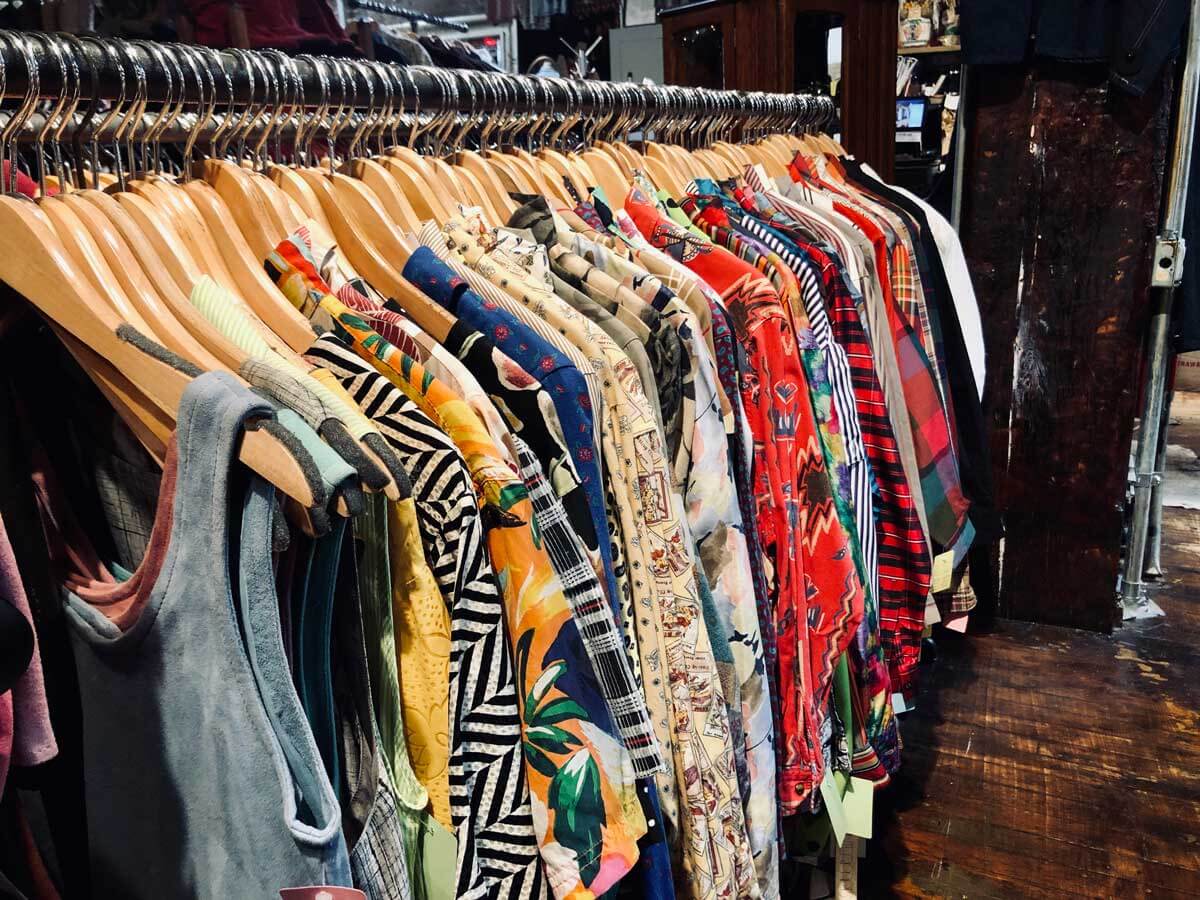 629 Grand St., 106 Thames St., 120 Knickerbocker Ave., 1377 Dekalb Ave., & 654 Sackett St
Now on the more affordable side of vintage clothing in Brooklyn, there's L Train Vintage, one of the most popular and well-known spots for thrifting in Brooklyn. L Train is arguably the most affordable vintage store Brooklyn has to offer—with many pieces being under $10 and a pretty well-curated collection of clothing and accessories.
L Train has multiple locations all throughout Brooklyn and features one of the most denim-heavy selections of clothing in any thrift shop. They have multiple racks of denim jeans and jackets.
Not only that, but L Train also has a pretty wide selection of men's and women's vintage clothing in Brooklyn. That selection includes blazers, dress shirts, flannel shirts, t-shirts, and dresses. This store is particularly great for finding work clothes or clothes intended for homemade Halloween costumes.
L Train is definitely high on the list for best vintage stores in Brooklyn. While you won't find the same high-end brands you would at Crossroads, there's plenty to be found at L Train Vintage.
Find their locations on their website.
Buffalo Exchange
109 Boerum Pl & 504 Driggs Ave
As far as affordable steals, there's no better place to look than Buffalo Exchange, a popular nationwide second-hand store. Buffalo has multiple locations throughout Brooklyn, Manhattan—and even Queens.
When it comes to variety of men's and women's clothing, Buffalo is one of the best thrift stores to go to. It has both high-end and low-end clothing. Old and brand new. Vintage and trendy.
This franchise also does a pretty good job at having clothing for every season of the year. Whether you need warm cozy sweaters or you're looking for a nice sun dress; they have it.
Buffalo also allows you to sell items from your own closet by scheduling an appointment on their website. You can get cash or trade it in for items in the store at a discounted price. Call ahead and ask what styles they are buying currently to increase your chances of selling or trading.
Proceedings go to a wide variety of non-profit organizations that aid with homelessness, sheltering animals, and environmental issues. So pairing together great affordable clothing with advocacy, adds up to one of the best thrift stores in Brooklyn.
Housing Works
150 Montague St & 266 5th Ave
Another thrift store in Brooklyn focused on that cause is Housing Works. There are a few locations throughout the city, including two in Brooklyn in Brooklyn Heights and Park Slope, also see our guide to best thrift stores in Park Slope for more great thrifting in Brooklyn opportunities.
This non-profit second-hand and thrift store in Brooklyn is dedicated to providing aid to homelessness and AIDS organizations as a charity through selling vintage finds in addition to social justice activism focusing on some of the city's most neglected communities.
Most locations have a huge selection of household items, appliances, and home furnishings. Some even have musical instruments such as guitars or pianos. Their merchandising is always well done and items are pretty affordable here.
Housing also sells men's and women's clothing, accessories, and jewelry. However, the clothing section definitely plays back seat to the furniture and other household items.
While you aren't able to sell items here, Housing Works does accept donations and those donations go towards worthy causes.
10 ft. Single by Stella Dallas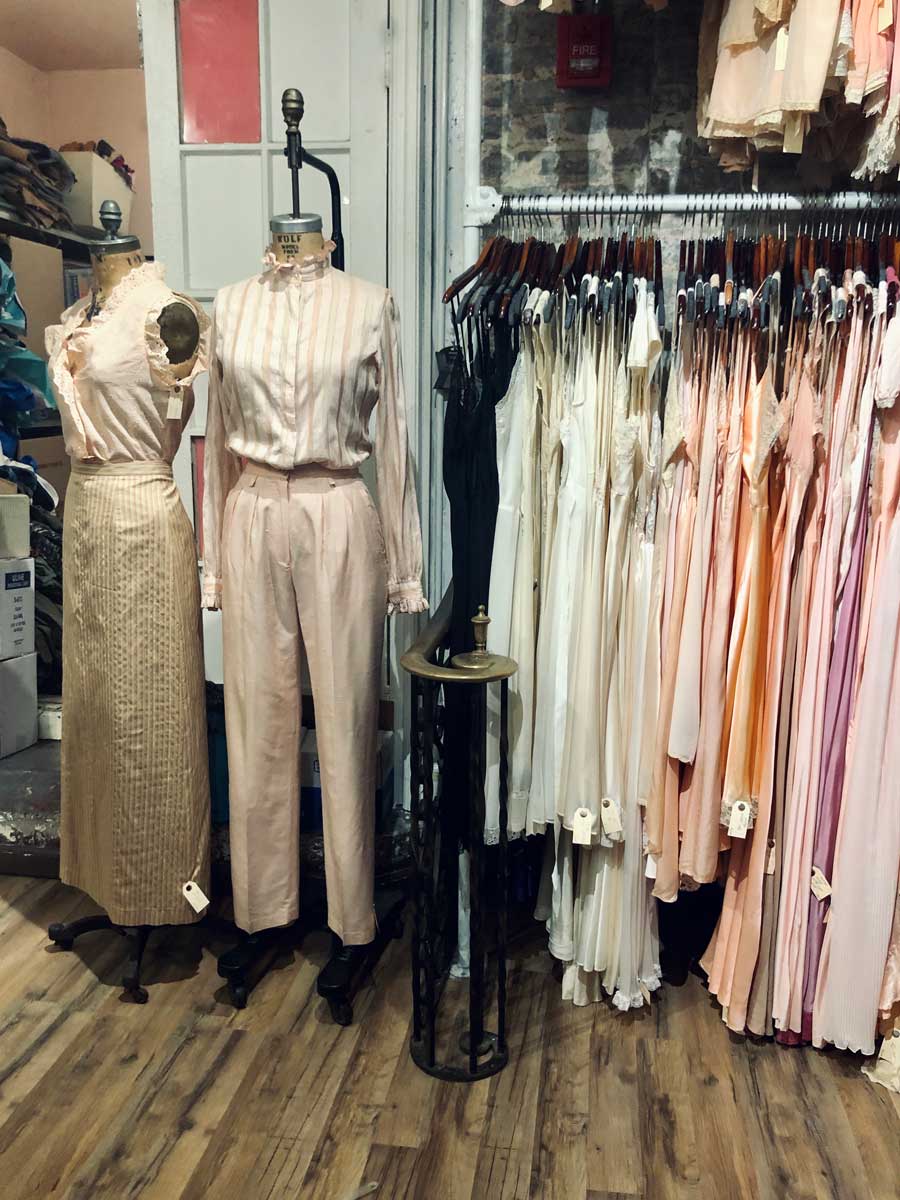 281 N 6th Street & 283 N 6th Street
This next pick for best thrift stores in Brooklyn actually has 2 locations with slightly different names in Williamsburg right next door to each other 10 ft. Single by Stella Dallas and Stella Dallas Living.
Stella Dallas Living serves as one of the best vintage stores in Brooklyn because the items are vintage in the truest sense of the word. They sell very old-fashionedly men's and women's clothing such as dresses, trench coats, and period pieces.
You will also find a very interesting collection of table cloths, bed covers, rugs in the front of the store.
10 ft. Single by Stella Dallas has more of what you'd expect while thrifting in Brooklyn. They have men's and women's vintage clothing. What does separate this store from the rest is the addition of quality vintage band tees.
This location also has a wide selection of leather jackets and varsity jackets hanging from the walls.
Prices at both stores are a bit on the higher end, but what you lose in money; you gain in novelty. If you take the time to look, you are very likely to find a lot of items here not commonly seen from other thrift stores in Brooklyn.
Grand Street Local
154 Grand St
Yet another Williamsburg hit and spots to get the best vintage clothing in Brooklyn. Grand Street Local is hands down one of the best vintage stores in Brooklyn.
This family-owned business has a huge selection of vintage band t-shirts, sweatshirts & jackets. This thrift store more than any other has a very strong sense of street sensibility. This Brooklyn vintage shop has everything from sporty clothing to assortments of sneakers and fitted caps.
As some of the pieces are pretty rare, this shop can be on the pricier side. Some of which are so rare that Grand Street Local will auction them off on the store's Instagram page.
You do have the option to sell items here, you'll need to reach out via their contact form on their website with photos.
Beacon's Closet
92 5th Ave., 23 Bogart St., & 74 Guernsey St.
This locally owned female-founded operation is undoubtedly one of the best thrift stores in Brooklyn. Beacon's Closet has four locations in total with three in Brooklyn (Williamsburg, Bushwick, & Park Slope) and the Manhattan location in Greenwich Village.
I'll start off with the atmosphere. Beacon's Closet tends to play a wide variety of music (ranging from indie, to pop, to neo-soul & hip-hop) which you'll need while browsing their selection of secondhand goodies. It takes a while to go through their selection, but it's worth the search.
Similar to Buffalo Exchange, Beacon's Closet has a mix of everything fashion-wise. However, what sets this place apart from other Brooklyn vintage shops is the uniqueness of the clothing they take in.
When you buy items here, the likely hood that you'll see another person on the street wearing the same thing is slim to none.
You do have the option to sell your unwanted clothing here. And whatever you can't sell, you can donate. This store is pretty affordable for the most part, but some pieces can be on the more expensive side.
Beacon retains a portion of the proceedings, but a large percentage goes to non-profit charitable organizations (Coalition for the homeless, Center for Racial Justice in Education, American Society for Suicide Prevention, etc.) A more extensive list of organizations is available on their site.
With that said you can't really go wrong with Beacon. It is an absolute must for thrifting in Brooklyn!
Dream Fishing Tackle
673 Manhattan Ave
One of the absolute BEST vintage stores in Brooklyn when it comes to all things furniture is this Greenpoint outpost with an unassuming name!
Filled floor to ceiling and wall to wall with super 90s vintage home furnishings from couches to chairs and all the accent pieces of furniture and home accessories.
Follow their IG for updates, but for the ultimate experience, you'll have to stop in. If you see something on their feed though, act fast as they typically do not last long.
FENG SWAY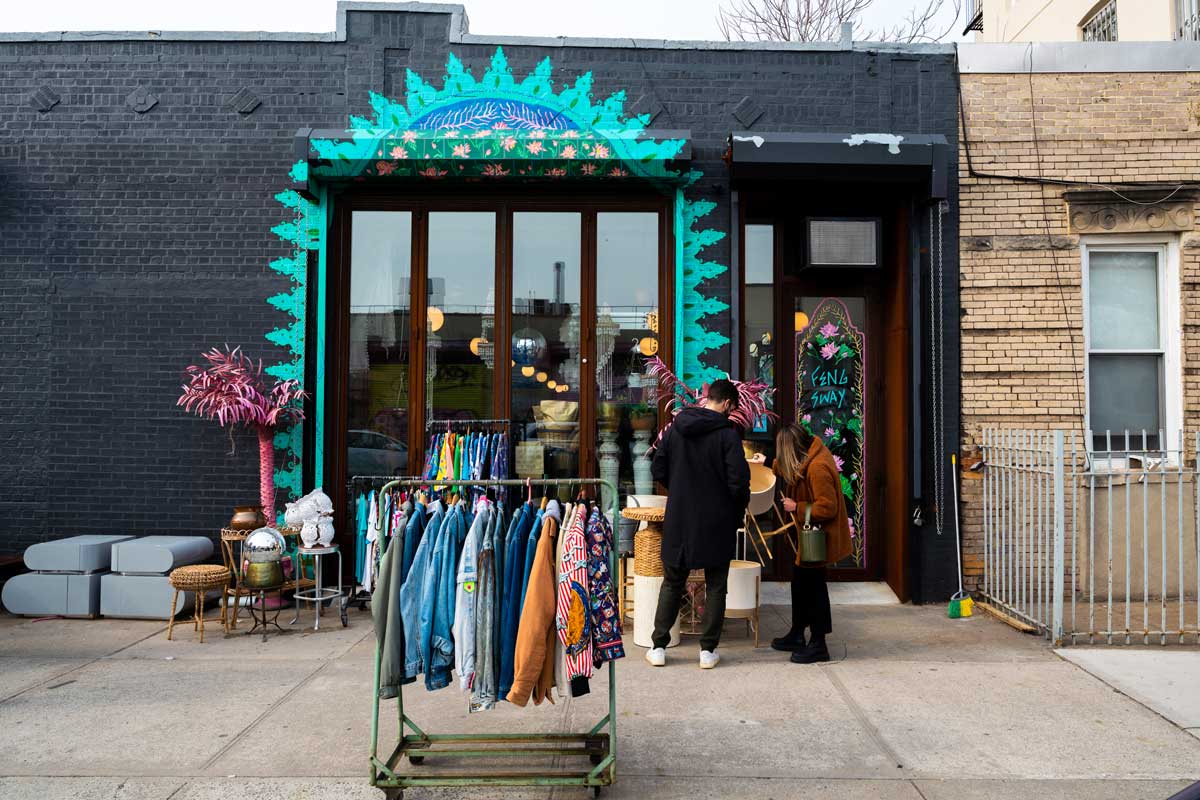 41 Norman Ave
Another great thrift store and one of the best vintage stores in Greenpoint that's perfect for finding gifts for loved ones is FENG SWAY. This hidden gem in Brooklyn stays true to its name—as its arrangements are some of the most aesthetically pleasing in the neighborhood. FENG SWAY offers all kinds of plants, gifts, and home décor. All of which feel very carefully selected and picked.
All the greenery makes for an overall beautiful look and welcoming vibe. The prices here are pretty great and because of their unique selection of antiques and collectibles, FENG SWAY is great for finding a neat gift for a loved one.
Their Instagram page is a good place to start if you want to see what they currently have before popping in yourself!