Looking for the best thrift stores in Bushwick? I got you covered, Bushwick has become one of the most attractive neighborhoods in Brooklyn due to its artsy vibe and great nightlife scene and another one of this Brooklyn neighborhood's attractive qualities is its collection and variety of unique Bushwick thrift stores.
Exploring thrift stores in Bushwick is an activity in and of itself. Whether you want to spend a little time thrifting before meeting up with friends or you just want to shop for some affordable clothing and household nick-nacks—the following Bushwick vintage stores are where it's at.
There are tons of great thrift stores in Brooklyn to choose from as well as some great thrift stores in Williamsburg if you find yourself exploring nearby neighborhoods, here are a few of my personal favorite stops in Bushwick to check out for your thrifting and second-hand treasure hunting.
While you're here, be sure to explore the best things to do in Bushwick too from exploring the colorful murals by artists all over the world at the Bushwick Collective to dining and drinking at some of the best Bushwick bars.
About the Author
Eric Garner is a Brooklyn-based writer who was raised down south who loves talking about film, TV, hip-hop, and fashion.
Bushwick Vintage Stores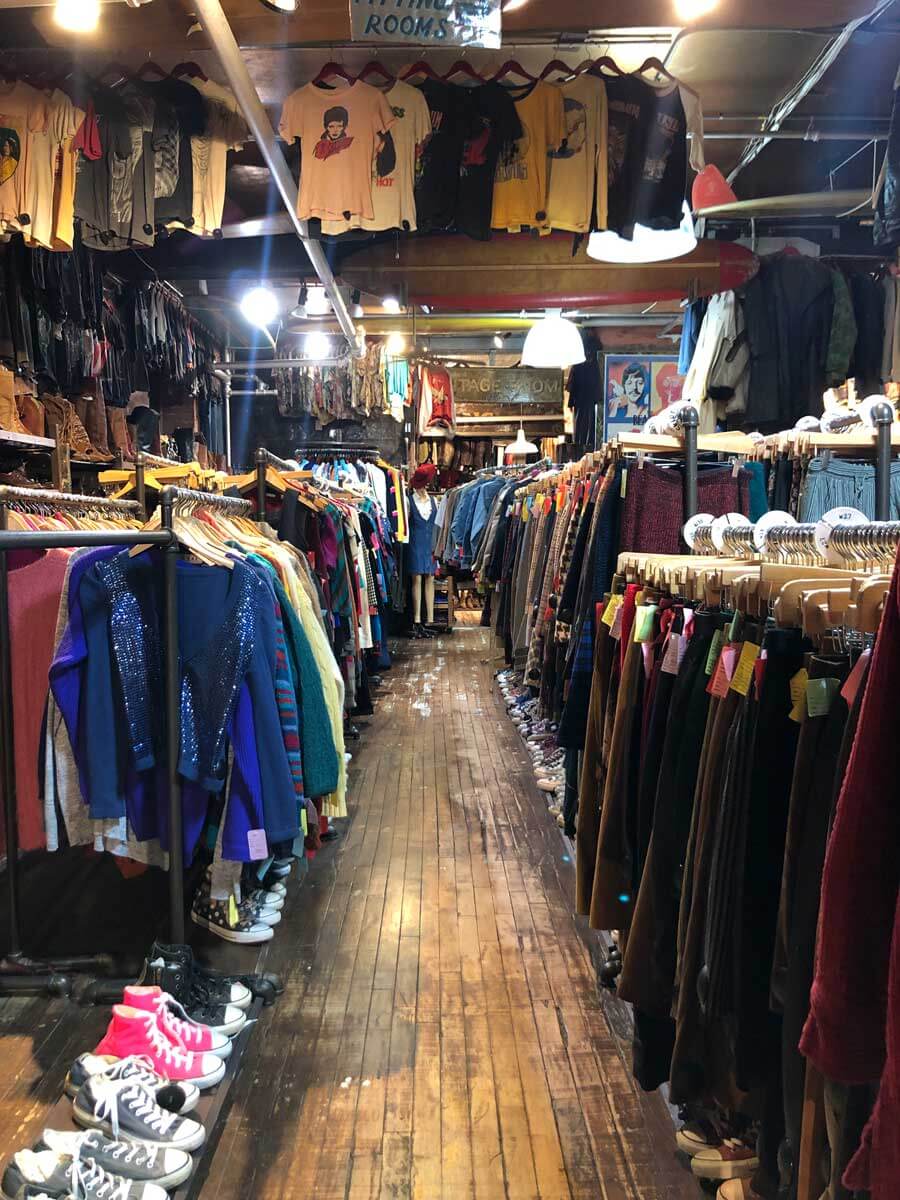 Domsey Express IV
1379 Wilson Ave
Starting things off, we have Domsey Express—which feels like what you would get if a vintage store and the dollar store made a store together. This store offers mostly vintage men's and women's clothing.
There are also household items and children's toys located throughout the store, but clothing racks take up the majority of the space. Domsey is perfect for finding seasonal clothing, but their section of dress shirts and dress pants are particularly impressive.
Something else that is impressive—is their collection of vintage band shirts located in the front display. Out of all the thrift stores in Bushwick, this one is easily the most affordable with some shirts & blouses being as low as 1.99—making this an essential of the Bushwick vintage stores.
Broadway Fashion
1227 Broadway
Broadway Fashion is another shining example of Bushwick thrift stores that offer extremely affordable men's and women's vintage clothing. Some of the best deals you can find here are as low as $6 on their price tags.
On the right-hand side you'll see blouses and dresses for the women. And on the left you'll see T-shirts, hoodies, and pants for the men.
The selection of clothing here is pretty wide and each rack is fully packed. While you won't find many big brand names here—Broadway is an excellent choice for adding some of the basic essentials to your closet without putting a huge dent in your wallet.
New Brooklyn Fashion
1065 Broadway
Located on Broadway is another one of my personal favorite thrift shops in Bushwick. Only a few blocks away from Broadway Fashion, which makes it easy to hit both of these Bushwick vintage shops in one trip is New Brooklyn Fashion.
Bushwick thrift stores tend to be on the more affordable side and this affordable gem is no different. New Brooklyn has some second-hand threads available for as low as five bucks.
This Bushwick thrift store, however, is more heavily focused on women's apparel (dresses, blouses, and shirts) than men's, but you will find a smaller section for men's fashion in the back. Mostly jeans, slacks, and shirts. The large array of colors for the women's clothing is what immediately stands out about this store.
I have found that this Bushwick thrift store tends to be better for finding spring and summertime essentials.
Le Point Value
367 Linden St. & 1081 Flushing Ave.
As far as Bushwick vintage stores go, none of them offer the kind of range of clothing that Le Point Value does. Le Point carries fashion for the entire family and is located all throughout the city—but has two locations in Bushwick.
The selection of men, women and children's clothing is wide and especially ideal for back to school shopping. The apparel here, although basic, is wide in scope and can take hours to get through.
Toys and other household items can also be found here, making this store a perfect weekend stop for the whole family to enjoy!
L Train Vintage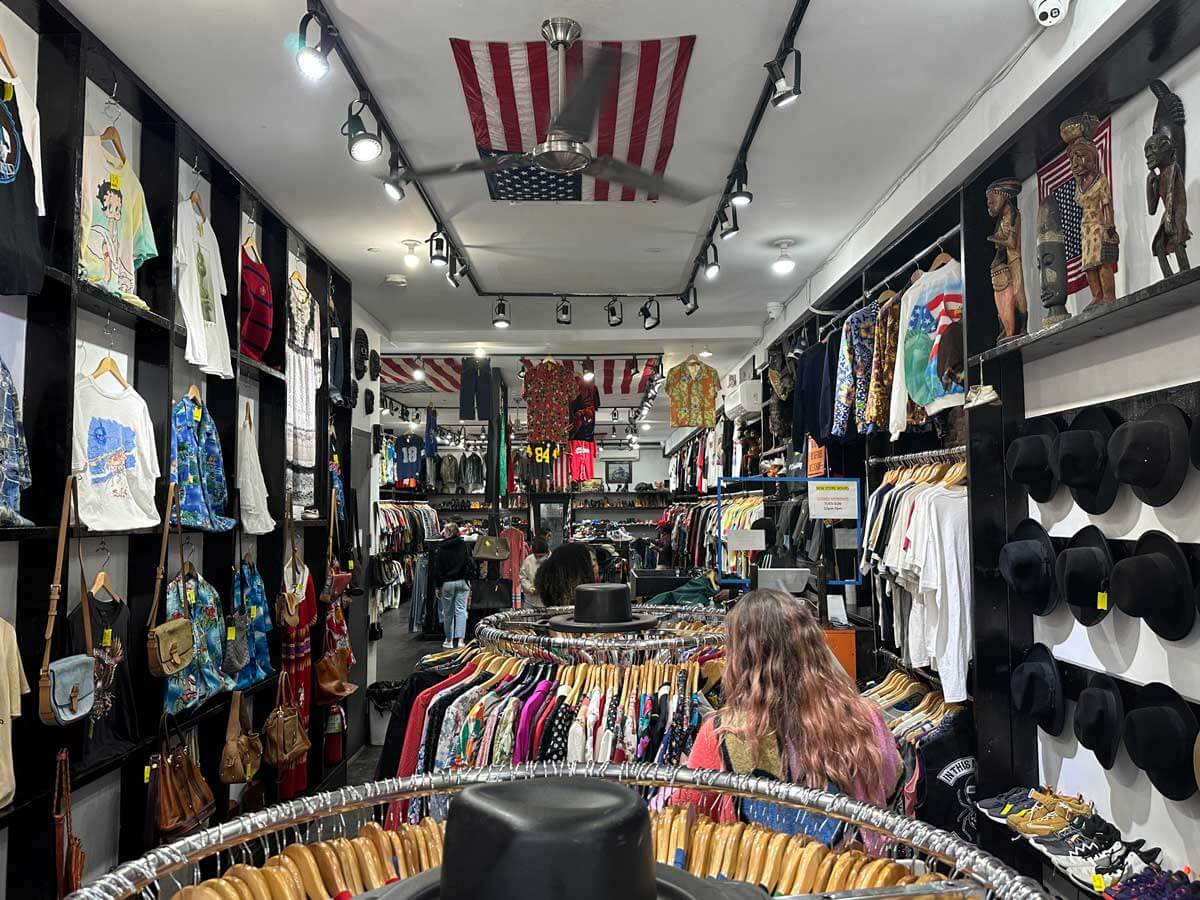 1377 Dekalb Ave
In need of some Levi jackets and jeans? Great news—L Train Vintage has you covered and is one of the most popular vintage shops with locations around Brooklyn and even Manhattan including a location here in Bushwick.
Of all the Bushwick thrift stores, L Train Vintage is probably the most denim-focused, which if you're looking for denim jackets, shirts, shorts, or jeans – you're in luck.
Not only do they sell a lot of denim clothing, but they also sell a surprising amount of Ralph Lauren shirts. And continuing the theme of extremely affordable Bushwick vintage stores, prices here go low as $5.
I'd say outside of Levi and Ralph Lauren, the brands here aren't too high-end, but even still—L Train Vintage has a satisfying collection of men's and women's vintage clothing and you're sure to find something when you walk in the door.
GGs Social Trade & Treasure Club
1339 Dekalb Ave
And located on the same block as L Train Vintage, you'll find one of the most gorgeous looking of all the Bushwick thrift stores—GGs Social Trade.
GGs is unique in that it's more small and intimate compared to other thrift stores in Bushwick. This shop serves as both a vintage shop and a gallery and definitely prioritizes quality over quantity.
While the selection of men's and women's fashion is relatively small, the options here are impressive. GGs focuses more on formal dress wear for both men and women. There's also a small selection of random vintage items throughout the shop including books and lamps.
The prices here range from cheap to expensive, and they have what is called a 5 dollar trunk filled with articles of clothing priced at—you guessed it, 5 dollars.
Reuse America
387 Bushwick Ave
Reuse America is one of many thrift stores in Bushwick that specializes in furniture and antiques, but what really stands out about Reuse—is its ability to give you the authentic vintage experience.
They sell a lot of mid-century clothing, accessories as well as household furniture & décor. However, there are also a lot of random vintage items located throughout the showroom as well.
You are very likely walk out of Reuse with things you didn't even know you wanted (Like bottles or decorative globes). They receive new items on a daily basis and most new arrivals are promoted on their Instagram page.
The prices here are moderate. Not too cheap and not too expensive. Similar to Green Village, this place is huge. Warehouse-sized even. You could easily spend a whole afternoon here. Take your time and enjoy what Reuse America has to offer.
Now, they are only open by appointment. So be sure to reach out and schedule a time to visit or shop their Instagram page.
Beacon's Closet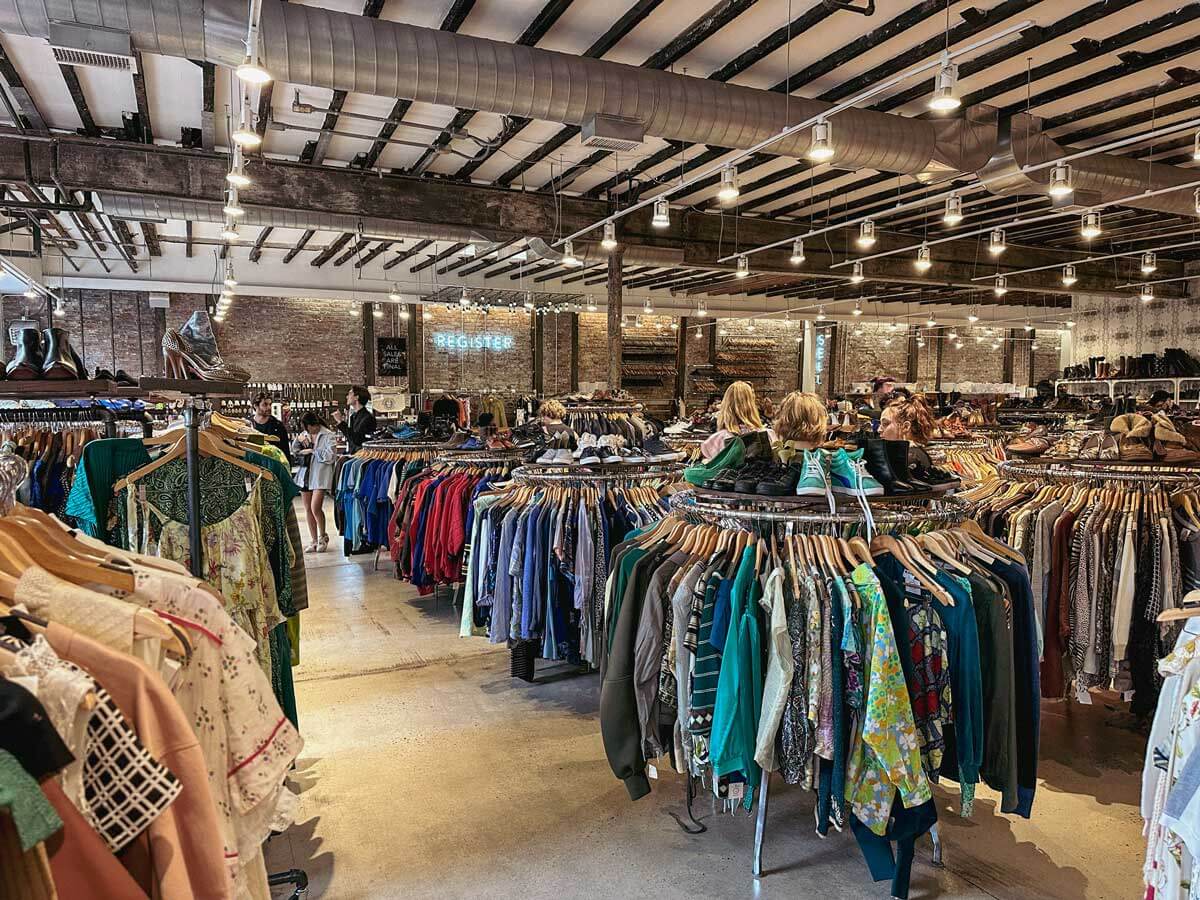 23 Bogart Street
Beacon's Closet has three locations in Brooklyn (Bushwick, Williamsburg, and Park Slope) and one in Manhattan (Greenwich Village), but the Bushwick location is particularly well laid out and one of my favorite spots to find some great second hand threads.
Every section feels organized and in its right place. As far as higher-end clothing goes, Beacon's Closet is one of the best thrift stores in Bushwick if you want to browse a great range of labels.
Almost all of the men's and women's fashion at this store is unique, bold, and carefully picked. Some of these items may be on the more expensive side, but most of them are affordable.
A significant portion of Beacon's proceedings go to non-profit charitable organizations (Coalition for the homeless, Center for Racial Justice in Education, American Society for Suicide Prevention, etc.).
Beacon's Closet also gives you the opportunity to sell any unwanted clothing in exchange for store credit or cash. However, like mentioned earlier, Beacon is very specific about what they take in—so keep that in mind and don't be completely heartbroken if your items don't get selected.
If you're hoping to sell or exchange your clothing at this Bushwick thrift shop, call them up to find out the type of items they are currently buying or labels they are looking for to increase your chances.
28 Scott Vintage
28 Scott Ave
Don't let its seemingly simplistic name fool you—28 Scott Vintage is one the most thoughtful and well-put-together thrift stores in Bushwick. 28 Scott is an underground vintage shop that sells men's and women's vintage clothing as well as home furnishing.
This vintage shop in Bushwick is highly inspired. Carrying some of the most vibrantly colored clothing and home décor you'll see in any of the Bushwick vintage stores.
With its artsy vibe and quality over quantity approach, 28 Scott definitely feels the most Bushwick-esque of all the Bushwick thrift stores. Prices here are pretty fair, given the quality of their items. Be sure to check out their Instagram page to see what they have in stock!
RGR Family Thrift Store
1457 Broadway
If you're at the beginning of your wardrobe journey or need a good place to pick up some bare necessities, RGR Family Thrift Stores is one of the best shops in Bushwick!
This Bushwick thrift shop covers the entire spectrum. It has everything from accessories (bags, hats, scarves, and belts) to outerwear (suits, jackets) and undergarments. With its wide selection, you'll have a hard time leaving here empty-handed.
With a huge selection to choose from and it's more than affordable pricing, RGR is the perfect thrift store if you need to fill up your closet with basic wardrobe essentials! This store is cash only, so be sure to have some ready before your visit.
Brooklyn Vintage Company
194 Irving Ave
When it comes to Bushwick vintage shops, you need to check out the amazing selection at Brooklyn Vintage Company. With a curated selection and mix of designer vintage clothing items, home decor, and other fun items to fill your apartment with.
I personally like the furniture collection here including a a regular selection of Eames/Miller chairs to awesome mid-century modern pieces. Their clothing is moderately priced, but considering how well curated their selection is, it makes sense. They have a great selection of vintage shirts and denim too.
Select Vintage
190 Wilson Ave
If you're looking for a great selection of 80s and 90s sportswear, vintage jerseys, t-shirts, hats, and more then this is the Bushwick thrift store you will want to check out!
This is more of a masculine thrift store in Bushwick with a huge emphasis on vintage sporting clothing. Looking for an old-school jersey, team hat, or concert tee? They got it and then some. And if you were a kid of the 80s or 90s you'll find a healthy amount of shirts that pay homage to the pop culture of that period too.
Bushwick Thrift Stores Map:
Best Vintage Stores in Bushwick (Post Summary):
Domsey Express IV
Broadway Fashion
New Brooklyn Fashion
Le Point Value
L Train Vintage
GGs Social Trade & Treasure Club
Reuse America
Beacon's Closet
28 Scott Vintage
RGR Family Thrift Store
Brooklyn Vintage Company
Select Vintage
---
Looking to do more vintage shopping while in the city? Check out our guide by neighborhood to the best thrift shops in NYC!