Who doesn't love a good one-of-a-kind find? You can treasure hunt at all the best vintage and thrift stores in Park Slope, Brooklyn next time you're feeling up for a thrifting adventure.
This guide covers the best vintage finds in Park Slope, from clothing and accessories to home goods and antiques! Plus we include thrift stores in Park Slope where you can trade or sell your unwanted items for new pieces or donate for a good cause.
Looking for more great spots for shopping? Check out our Park Slope shopping guide for all the best stops and check out the best thrifting in Brooklyn if you're looking to shop beyond the Park Slope neighborhood.
While there aren't a ton of options like vintage-heavy neighborhoods like Bushwick, Greenpoint, and Williamsburg, I find that Park Slope still is one of the best spots in Brooklyn to vintage shop as the shops they do have are pretty awesome.
After living in the neighborhood for a few years, here are my favorite thrift and vintage stores in Park Slope.
Cool Vintage Stores in Park Slope
Housing Works Thrift Store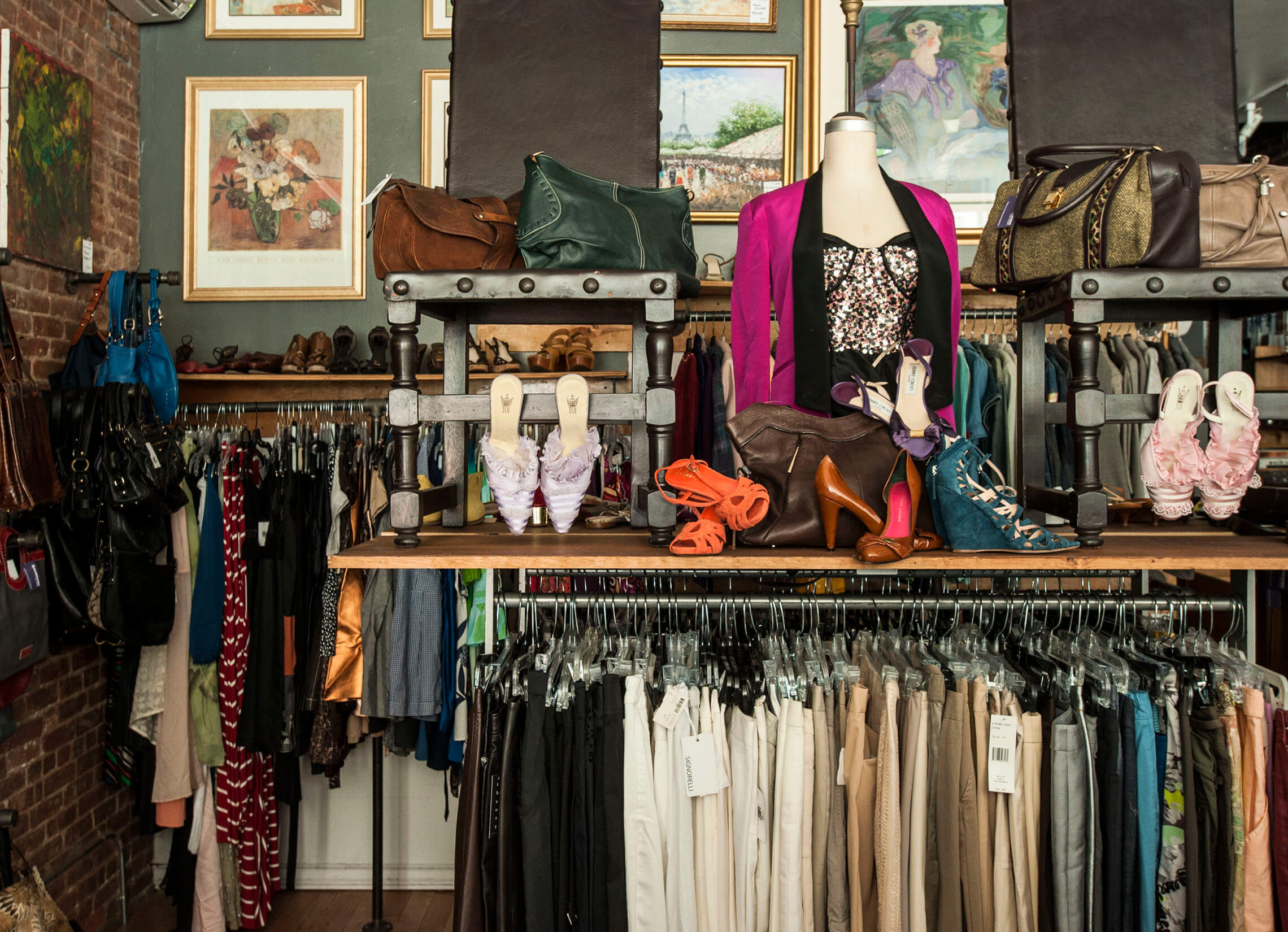 266 5th Avenue
One of the top thrift stores in Park Slope boasts a few locations around the city. Housing Works' Park Slope location on 5th Avenue represents one of the many branches of this New York City nonprofit dedicated to combating homelessness and AIDS through vintage sales.
They're also deeply involved in social justice activism, assisting underserved city communities. This Park Slope thrift store offers clothing for men and women, as well as household goods including really cool furniture pieces that seem to move fast.
You can support both Housing Works Park Slope locations by donating unwanted items. Thrift with a purpose at Housing Works Park Slope, a standout choice among Park Slope thrift stores.
Read Next: Explore 5th Avenue in Park Slope Guide
Life Boutique Thrift
515 5th Avenue
My personal favorite thrift store in Park Slope is Life Boutique Thrift. Explore both the main floor and basement collection of fun antiques, second-hand, and other fun vintage items from housewares, men's clothing, women's clothing, shoes, books, and toys.
They always have specials and extra deals going on and everything in here is very reasonably priced. Their window displays are always changing with great vintage finds.
This is one of the thrift stores in Park Slope that you could spend alot of time in sifting through the entire collection as they have so many fun finds in here.
Beacon's Closet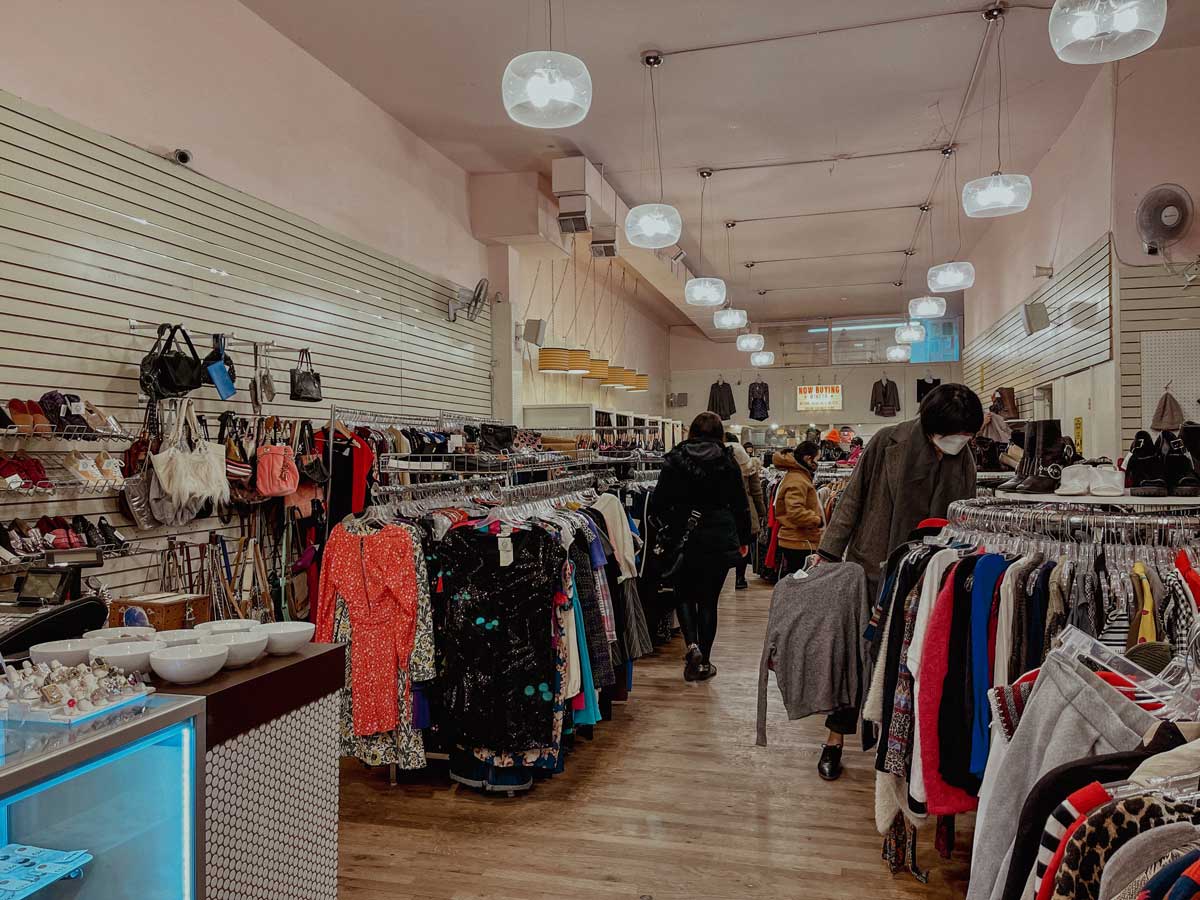 92 5th Avenue
Another favorite thrift store in Park Slope is Beacon's Closet, a place where you can shop or sell your old items to sell or trade in for new finds! There are several locations around the city including this stellar Park Slope location, all of their locations make it into my guide to favorite thrift shops in Brooklyn too.
Beacon's Closet has a collection of new and vintage pieces that are all in supreme condition. This is one of those places that you can usually always find something. They always have a fun sock collection too, don't worry these weren't used.
Plus if you want to rotate out your closet or make some extra spending money you can sell or trade your clothing here.
Don't be surprised if there's a line to get in around the weekends, I've seen this so many times when I lived in Park Slope. I was lucky to be able to come at less popular times, but honestly a line wouldn't deter me as it moves pretty quickly. Both my husband and I have found several things here, his favorite Schott nylon flight jacket was found here for under $30 which is a steal of a deal considering it was in near-mint condition.
Read Next: 100+ Awesome Things to do in Brooklyn
Slope Vintage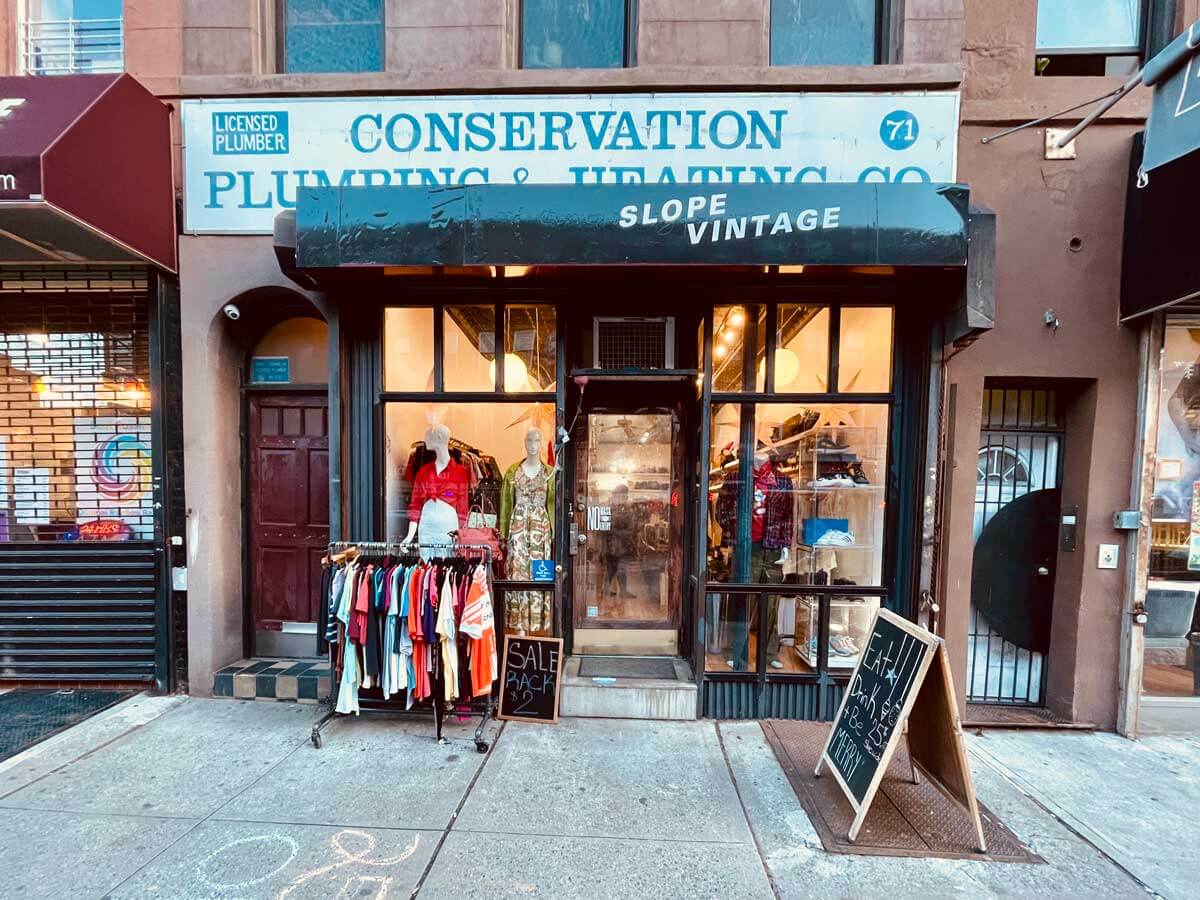 71 5th Avenue
Slope Vintage is another great vintage store in Park Slope offering a selection of men's and women's unique vintage finds from dresses to jackets and accessories in great condition.
The retail space is a bit smaller than some of the other thrift stores in Park Slope, but don't let that dissuade you from visiting as they have a stylish selection of items and perhaps your next vintage find!
I found that they had a cool selection of vintage dresses and their accessories were cool too.
Rewind Vintage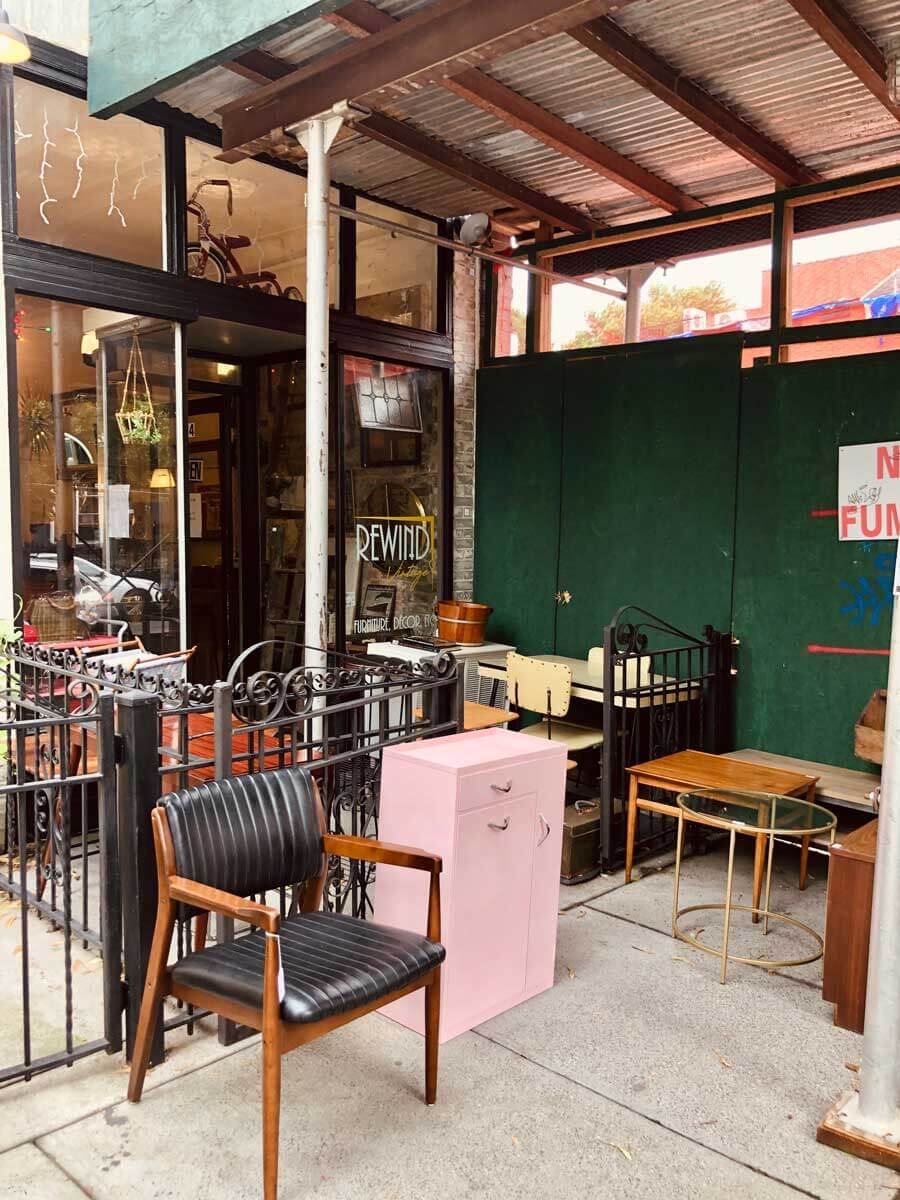 674 Union St
Rewind Vintage is a small antique store resting in the middle of Park Slope (Between 4th and 5th Ave) and focuses on vintage (but quality) home décor, furniture, and antiques!
You'll find that the items (such as dressers, cabinets, teapots, and other kitchenware) here are in great condition given their age, and the prices are pretty tough to beat!
This is a great spot if you're looking for beautiful vintage (even mid-century items) furniture at affordable rates! Just be aware that they are only open on Fridays (1-6 PM) and Saturdays (11 AM-5 PM).
It's a very small space, but I feel like every time I come in here the inventory is fresh so it's worthy popping in everytime you're nearby!
No Relation Vintage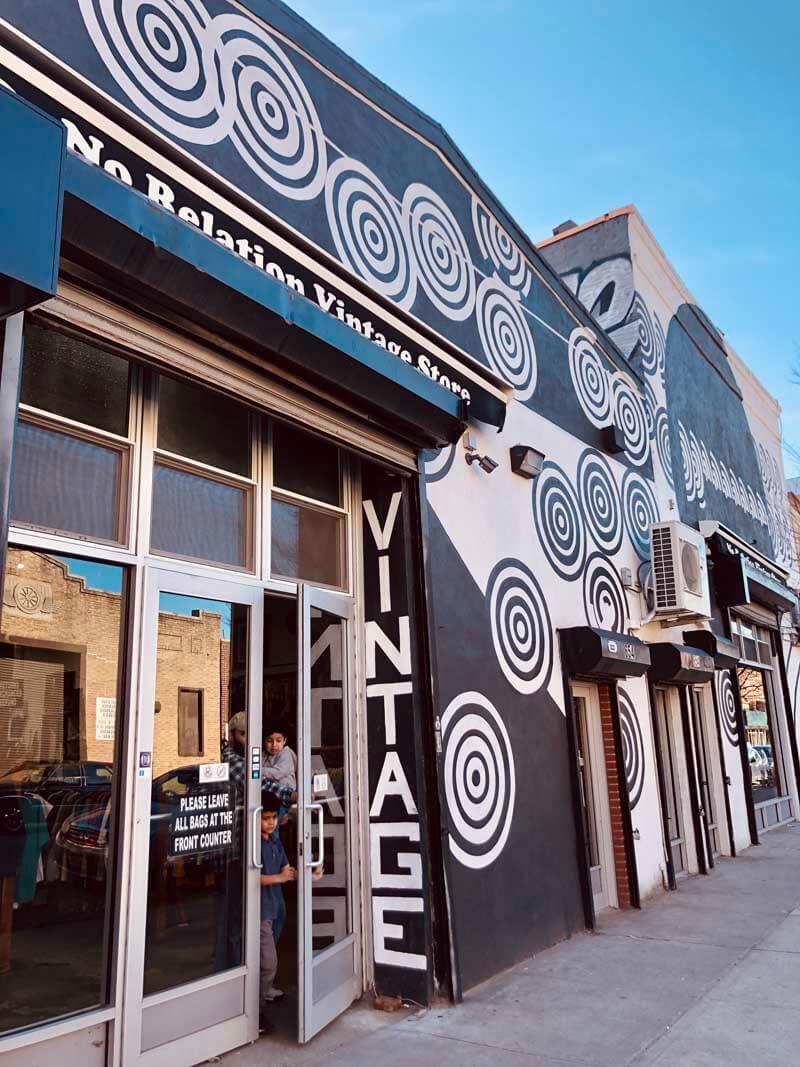 654 Sackett St
No Relation Vintage is a part of the L Train Vintage franchise (8 locations in total throughout the five boroughs), and has plenty to offer thrif store addicts! In fact, I always find something if not a whole bag worth when I come in. I especially find their jackets and coats to be top notch, as well as their denim!
No Relation sells a large variety of different clothing. They have denim jackets, pants, t-shirts, and coats—most of which are priced at or around 10 dollars. Also, this shop is just a 13-minute walk from the Barclay Center stop (2, 3, 4, 5, B, D, N, Q, R, W), making it pretty accessible no matter where you're coming from.
While it may take some digging (as their collections are massive), you're sure to find something of value should you decide to visit No Relation Vintage! This shop is huge and it can get busy on the weekends.
Trailer Park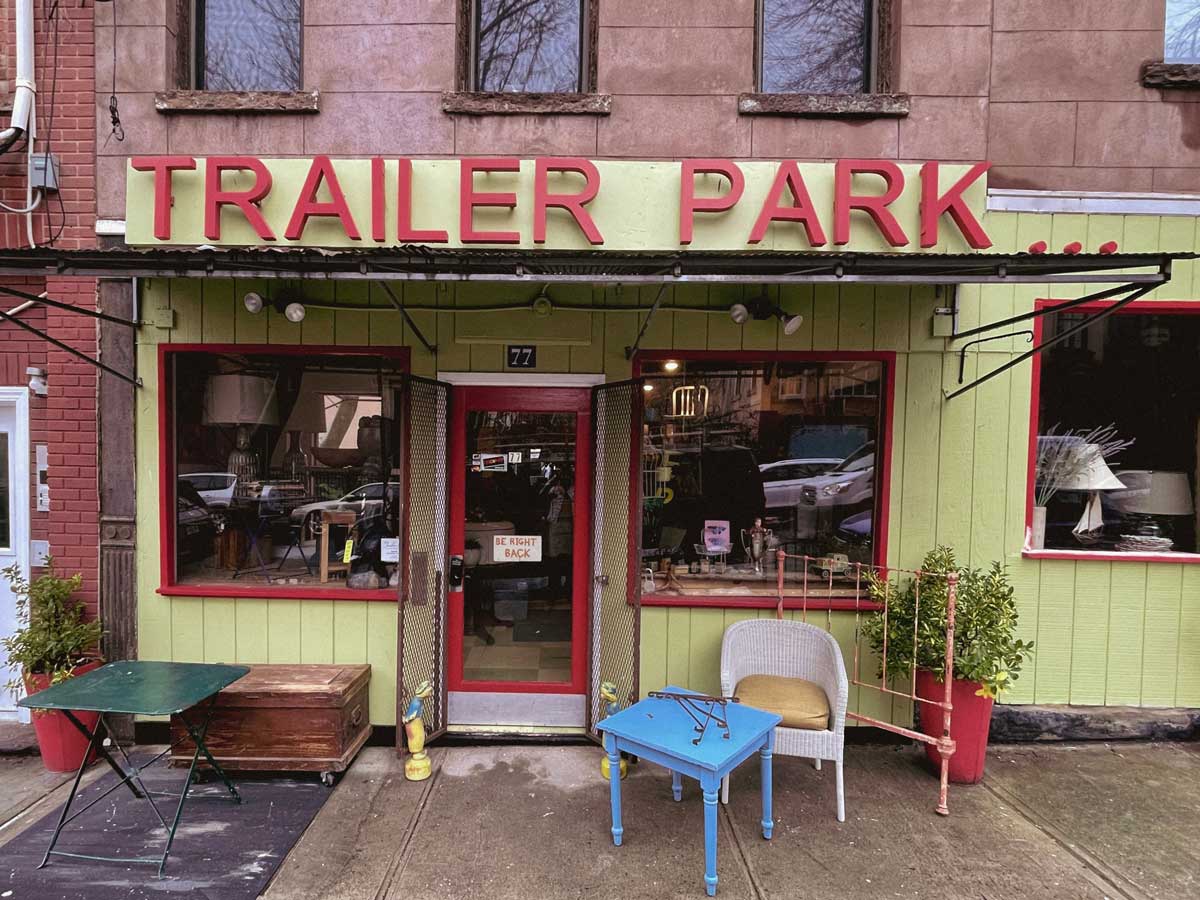 77 Sterling Place
When it comes to vintage stores in Park Slope for furniture and antiques, you need to check out this hidden treasure of a spot on Sterling Place. It was actually during late 2020 when I first came in here on one of my very long walks through the neighborhood when I was getting cabin fever all couped up in the apartment.
They have so many cool finds and even Amish hand crafted goods, which I wasn't expecting! I actually found my friend a fun vintage set of cups here that she loves and uses all the time.
It's worth coming in and browsing their collection, I love a good retro piece to add to my apartment.
Best Park Slope Thrift Shops (Post Summary):
Housing Works Thrift Store
Life Boutique Thrift
Beacon's Closet
Slope Vintage
Rewind Vintage
Trailer Park
---
If you're looking to do more vintage shopping while you're in the city, be sure to read and bookmark our guide to the best thrift shops in NYC by neighborhood to help you plan your vintage hunting quest!