Each of the Time Out Market New York restaurants have been carefully selected by local food experts to bring the best food in the city all under one roof. Because of the success and delicious eats from their original locations, each one of these Time Out New York restaurants offer some of the best of the food scene in New York City with all their own distinct personalities and the melting pot of flavors, cuisines, and cultures.
Time Out Market New York has 21 different fantastic options to eat from Japanese, Southern Comfort, famous New York Pizzerias, dessert, and more.
It might be overwhelming to pick what to eat, but we're here to help you find Time Out New York Market's best food during your visit! Better yet, if you want to you can take your food up to their rooftop view where you can get one of the best views of the skyline, Manhattan Bridge, and Brooklyn Bridge not to mention this is one of the best Brooklyn sunset spots too!
While you're in the neighborhood, be sure to explore all the best things to do in DUMBO too!
Important Information about Time Out New York Restaurants: Time Out Market New York is a cashless establishment. You will need to pay for Time Out New York Market's best food by credit card!
Learn more about the best restaurants in DUMBO.
Where is Time Out Market New York?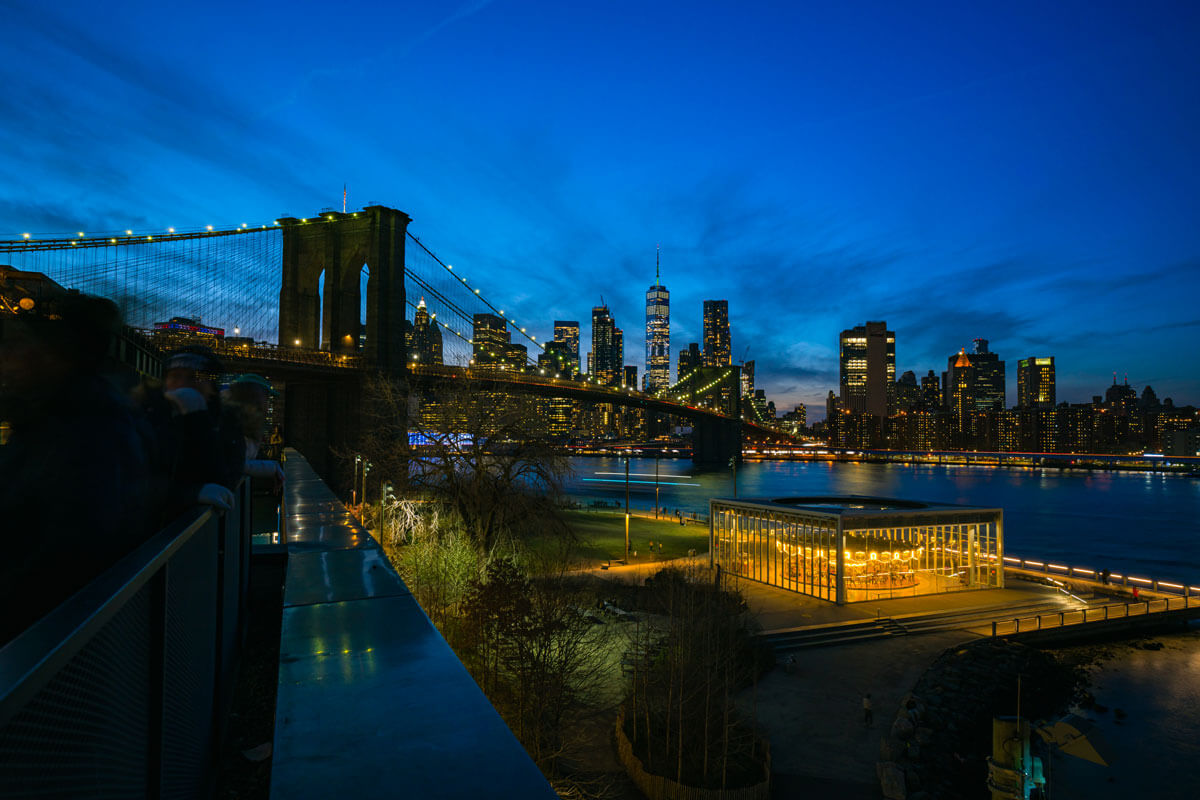 Time Out Market New York is located in DUMBO, Brooklyn in Empire Stores bordering Brooklyn Bridge Park and facing the East River and Manhattan between Brooklyn Bridge and Manhattan Bridge.
This location is supreme as it's arguably at the best view of NYC just feet away from the East River and views of the NYC city skyline and two of the most iconic and famous bridges in the city.
Better yet, Time Out Market New York also has an amazing terrace view from the 5th floor from their indoor bar and outdoor terrace that is completely free and offering the best vantage point of some of the city's most iconic landmarks.
Besides being one of the best things to do in Brooklyn, this is also one of the best photo locations in Brooklyn and in NYC.
Get to Time Out Market New York by taking the subway to York Street Station (F line) or the High Street Brooklyn Bridge Station (A & C lines). Time Out Market New York is less than a 10-minute walk.
You can also take the East River Line of the NYC ferry.
Read Next: Tricks & Tips for Walking Across the Brooklyn Bridge
Time Out New York Market's Best Food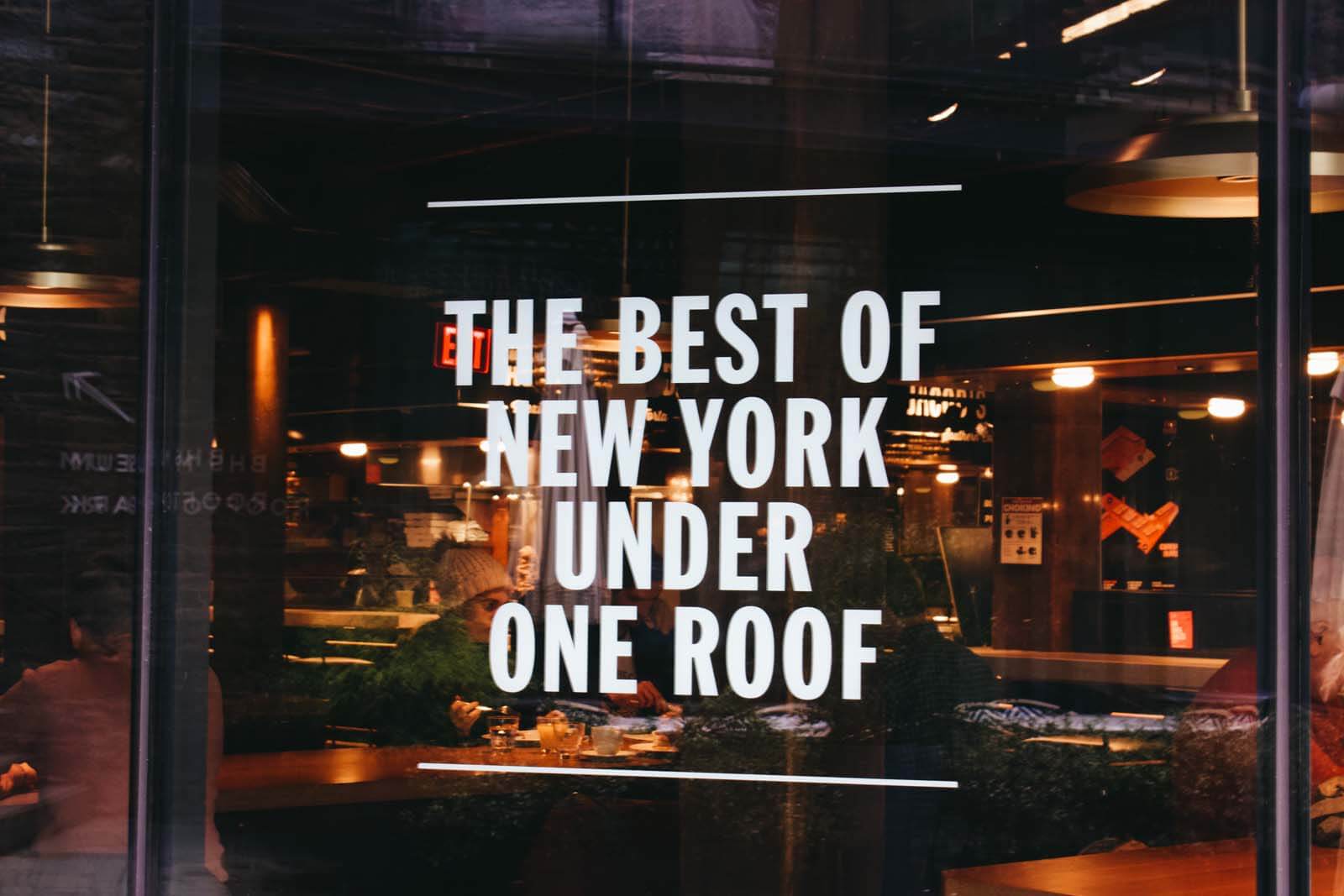 Ivy Stark
View this post on Instagram

Contemporary Mexican
New York not having good quality Mexican food is a thing of the past. With chefs like Ivy Stark, a Mexican cuisine expert, filling New York City, everything here tastes amazing. Famous for her Mexican restaurants around the city including El Toro Blanco, Casa Bocado, and Dos Caminos for example, has brought her famed love and talent at Mexican fare to Time Out Market New York.
Ivy Stark has brought can't miss classics like carne asada tacos and roasted chicken enchilada plates to Brooklyn and now we know what we've been missing. You won't want to forget to order the Pepita Chipotle Hummus or the Coctel de Campechana (fresh catch seafood cocktail) to share for the table.
If you're craving some authentic taste and a little bit of Mexican spice, this Time Out Market restaurant is a no brainer.
FELICE Pasta Bar
View this post on Instagram
Italian
FELICE began as a wine bar on the Upper East Side in Manhattan. Its purpose was to serve high-quality Italian wines ti accompany Tuscan plates.
With the success of their first location, FELICE opened five additional locations, one being our lovely spot in Time Out Market New York.
One of the best things about this delicious pasta spot is the price! Get the authentic taste of Italian pastas for under $20.
Some of their options that make this one of Time Out New York Market's best food spots:
Fettuccine Alla Bolognese— traditional veal ragu, 24-month aged Parmigiano-Reggiano
Fusilli Al Pesto— hand-cut arugula and basil pesto
Gnocchi al broccoli— braised broccoli, shallot confit
You can also try their chef's soup of the day, which is always dairy-free!
One of New York's best qualities is the authentic Italian food and FELICE Pasta Bar should definitely be one of the top Italian restaurants on your list.
Pat LaFrieda Meat Purveyors
American Fare – Butcher Shop
If you're big on juicy burgers, or tender and delicious chicken, cheesesteaks, and hotdogs, say no more, this is going to be one of Time Out New York Market's best food options for you.
We all have those days when we just crave something savory and hearty, and if you find yourself at Time Out Market New York on one of those days, Pat LaFrieda's is the place for you.
LaFrieda is a well-known chef and butcher, so trust us when we say he knows his stuff with their meat served all around the city's finest eateries including the meat producer for those famous Shake Shack burgers.
Dig into one of two cheesesteak options!
Black Angus cheesesteak— American cheese and caramelized onions
Chicken cheesesteak— Provolone, arugula, and spicy aioli
The flavor doesn't end there, LaFrieda offers a few more mouthwatering meat options:
Mel's Double Burger— American cheese, LaFrieda steak sauce and caramelized onions
The World's Greatest Hotdog— Caramelized onions, sweet + spicy peppers and honey mustard
All-Natural Buffalo Chicken Sandwich— Blue cheese aioli and shredded lettuce.
Pair any of these can't miss entrees with a side of taters or house fries for a savory, hearty, comfort meal made from some of the finest cuts of meat.
BKLYN Wild
View this post on Instagram
Vegan Contemporary Mexican
Remember Ivy Stark? Here she is again, helping customers take healthy eating with Mexican influences to a new level. With fresh ingredients from Brooklyn, BKLYN Wild is a vegan restaurant looking to serve everyone, regardless of any dietary restrictions.
Places like this are critical in New York because there's so many people looking for a healthier way to eat out. BKYLN Wild does it right with this plant-based menu.
A few of their crave-worthy options include:
Cauliflower quesadilla— GF cauliflower wrap, white cheddar, faux chorizo and pico
Feliz bowl— Quinoa, cabbage, avo, plantains, black beans with honey lemon dressing
Veggie Mac— Veggie pasta noodles, vegan cheese sauce, with impossible ground beef
The best part about this spot is that you don't have to give up your meat cravings. BKLYN Wild finds a way to make your favorite meals tasty and healthy for some of Time Out New York Market's best food.
Don't miss our guides to the best vegan restaurants in NYC & the best vegan restaurants in Brooklyn!
Jacob's Pickles
View this post on Instagram
Southern Comfort Food
There's nothing better than a sweet or savory hearty southern meal. That's exactly what you can find at Jacob's Pickles, where they have solidified their name on the list of Time Out New York Market's best food and a favorite restaurant in NYC.
Jacob's Pickles opened up in the Upper West Side in 2011, their goal was to provide New York with something it was missing, country-style comfort food and lots of pickles.
Since opening the Time Out Market New York restaurant location, southern comfort food has never been more appealing in Brooklyn. Check out some of these country classics:
Jacob's handmade pickles
Fried pickles
Honey chicken & pickles
Jacob's famous mac & cheese
If I were you I would take a look at their specials like the Southern fried chicken caesar salad and the Buffalo chicken mac & cheese – two dishes that make this one of Time Out New York Market's best food options.
Complete your meal at Jacob's Pickles with the ultimate comfort dessert, fried Oreo cookies!
Clinton Street Baking Company
View this post on Instagram
Bakery & Breakfast
This isn't the first time I've said it, and it definitely won't be the last, I love Clinton Street Baking Company. This is the perfect spot especially if you find yourself in DUMBO around breakfast time. By far one of Time Out New York Market's best food options and a personal favorite.
Clinton St. Baking Company opens at 8 AM daily serving exceptional first meal of the day items. This spot is definitely more of a sitdown option because who really wants to take their fluffy blueberry pancakes to go and chance they get cold? No one, duh.
Although Clinton Street Baking Company has a Lower East Side location, at 4 Clinton St, they also have locations in Tokyo, Dubai, Singapore, and Bangkok. Aren't we so lucky to have these global breakfast magicians in our beloved Brooklyn?
Try their main blueberry, banana walnut, or chocolate chunk pancakes all served with a warm maple butter. Practically irresistible if you ask us.
Or go for my personal favorite, the Spanish scramble. It's cage-free eggs, chorizo, tomatoes, caramelized onions, scallions, and Monterey Jack served with delicious hash browns and a mouthwatering side of hot sauce.
If you're a sucker for a heck of a breakfast or you're a breakfast for dinner kind of person, read no further. This is your spot! Clinton St. is where you can find some of Time Out New York Market's best food.
This is also one of our picks for the best spots for brunch in DUMBO!
Wayla
View this post on Instagram
Thai
While Wayla took NYC by storm when it opened for business in 2019, it was only a matter of time before it was going to make an appearance in one of NYC's famous food halls. Luckily for Brooklyn, Wayla found a nice little home right here in Time Out Market New York.
Wayla offers customers an authentic Thai experience with ingredients inspired by the markets of Bangkok. The Time Out location offers customers a variety of options for Thai food enthusiasts and those who may be new to Thai food. Visitors can find a number of papaya salads on their menu as well as spare ribs, half chicken, meat skewers, street-style chicken wings, and crab rice or noodles.
For seafood lovers, make sure to check out the Raw Bar when dining in! Wayla serves lobster, oysters, clams, shrimp, and more!
My favorite aspect of this restaurant is that Wayla actually translates to "time," in Thai, which means they ask you take a little time and stop by for a drink or a bite to eat.
If you love this Wayla location, feel free to check out their original location on the Lower East Side in Manhattan!
The Migrant Kitchen
View this post on Instagram
Arab-Latin
Two business partners joined together to create great food and make a positive impact on the world. You can join their movement by dining in at The Migrant Kitchen, an Arab-Latin pop-up restaurant at Time Out Market New York.
For every $12 spent at this restaurant, a meal goes to someone in need. Isn't that neat?
You won't want to miss all the flavor they have to offer at The Migrant Kitchen. Customers can start off with a delicious plate of hummus, empanadas, or potato wedges and follow that up with any number of their mouthwatering main dishes. Definitely check out the chicken or salmon dishes!
Don't forget to add a cucumber mint lemonade, you won't regret it!
The Migrant Kitchen has plans to expand in NYC, so keep an eye out for this amazing company continuing to do amazing things!
Chote Miya
View this post on Instagram
Indian
Exploring the flavors of the globe continues at Time Out Market New York! Chote Miya is a flavorful Indian cuisine inspired by Bombay's street-side eateries.
Chote Miya looks to provide a delicious and casual dining experience for featuring the flavors of India in their dishes and fusion recipes like their Bombay frankies that are similar looking to tacos but with ingredients and spices from India.
For starters, I would go with their Honey Chili Cauliflower or samosas! I would follow up with maybe one of their curries. Butter Chicken is one of the best options for people new to Indian cuisine.
They also offer vegetarian, vegan, and gluten free options.
And if you still need some convincing to check out Chote Miya at Time Out Market, check out their Instagram. I'm sure you'll be heading their way in no time.
Sugar Hill Creamery
View this post on Instagram
Desserts
There is absolutely no lack of sweet and delicious treats here in Brooklyn, but you're in store for the sugary experience of a lifetime here at Sugar Hill Creamery. This creamery opened their doors in Harlem back in 2017 and have started serving up their sweets right here in DUMBO.
Not only do all their ice cream flavors have interesting and random names, like "Chairperson of the Board," which is a blueberry cheesecake flavor, they also rotate their flavors on a daily basis at all their locations. It might be a good idea to have a couple go-to flavors for this reason!
In addition to all the yummy ice cream flavors, customers can order a coffee, sundaes, milkshakes, floats, ice cream sandwiches, or an ice cream hot chocolate.
Good luck deciding which sweet treat to get, it all sounds too good!
Fornino
View this post on Instagram
Italian
It wouldn't be an NYC food hall without some of the best pizza in NYC, would it?
With their original location in Williamsburg, Fornino has expanded and spread its dough and deliciousness into DUMBO.
It may be difficult to curb that pizza craving when visiting New York (it's even harder when you live here), but luckily, Fornino has the perfect remedy to send you home with a full belly and a cured craving.
Keep in mind, there's more to Fornino than just pizza. Their menu offers some starters, like meatballs, rice balls, fried potatoes, Italian corn on the cob, and much more. They follow those up with sweet or savory salads as well as sandwiches and a bunch of different pizza options.
These aren't just some plain old pizzas. Try any one of their specialty pizzas, you won't be disappointed!
Lombardi— Mozz, Prosciutto, arugula, parmesan, & lemon zest
Salsiccia di Pollo—Tomato, chicken sausage, roast peppers, caramelized onion, mozz, & rosemary
Pugilese— Mozz, fennel sausage, broccoli rabe, fresno chili, & parmesan
While there are many more specialty pies, also enjoy the classics like Marinara or Margherita!
This spot also offers a number of fun sweets and beverages, both non-alcoholic and alcoholic. There is no lack of satisfaction here at Fornino. Be sure to also check out our guide to best pizza in Brooklyn too!
Tiki Chick
View this post on Instagram
Tiki & Comfort Food
If you love Jacob's Pickles at Time Out Market New York, you will love Tiki Chick, created by the same guy, Jacob Hadjigeorgis.
Under the umbrella of Pickle Hospitality, which is where Jacob's Pickles and Tiki Chick fall, Jacob and his team run a number of other establishments. So he's done it before and he's done it again! In 2020, the man behind the famous pickles decided to take another shot at Southern comfort food and some tropically inspired cocktails.
At the Time Out Market New York location, try their buttermilk fried chicken sandwiches served in a variety of ways (with pickle chips of course).
Add some regular fries, cheese fries, or tiki style fries to complete the feast. And don't forget to add one of those frozen tropical cocktails I mentioned earlier.
After a visit to the Time Out Market pop-up location, feel free to check out the original Tiki Chick location on the Upper West Side in Manhattan.
Time Out New York Bars
View this post on Instagram
Need a drink? Don't worry, Time Out Market New York is fully equipped with full bars so you can have a nice drink to pair with any of these amazing Time Out New York restaurants.
They've partnered with several bar award winners from Ghost Donkey, Angel's Share, and Brooklyn Brewery to serve DUMBO the very best they can.
You can find signature drinks and brews on the perfectly curated menus at the three different Time Out Market bars.
Here are some suggested signature drinks to try!
Lil' Loco Jimenez's drink— Dorothy Parker gin, Kümmel liqueur, tomatillo-serrano sherbet, lime & celery
See-Saw— Brooklyn Gin, shiso syrup, lime & club soda
Bel Air Sour beer
Love Local Brews
If you were to ask us, the best bar at Time Out Market New York is the one located on the 5th floor as it has the most amazing view of the NYC city skyline, Brooklyn Bridge Park, Brooklyn Bridge, and the East River.
Read Next: Best Breweries in Brooklyn