Each of the Time Out Market New York restaurants have been carefully selected by local food experts to bring the best food in the city all under one roof. Because of the success and delicious eats from their original locations, each one of these Time Out New York restaurants offer some of the best of the food scene in New York City with all their own distinct personalities and the melting pot of flavors, cuisines, and cultures.
Time Out Market New York has 21 different fantastic options to eat from Japanese, Southern Comfort, famous New York Pizzerias, dessert, and more.
It might be overwhelming to pick what to eat, but we're here to help you find Time Out New York Market's best food during your visit! Better yet, if you want to you can take your food up to their rooftop view where you can get one of the best views of the skyline, Manhattan Bridge, and Brooklyn Bridge not to mention this is one of the best Brooklyn sunset spots too!
While you're in the neighborhood, be sure to explore all the best things to do in DUMBO too!
Important Information about Time Out New York Restaurants: Time Out Market New York is a cashless establishment. You will need to pay for Time Out New York Market's best food by credit card!
Learn more about the best restaurants in DUMBO.
Where is Time Out Market New York?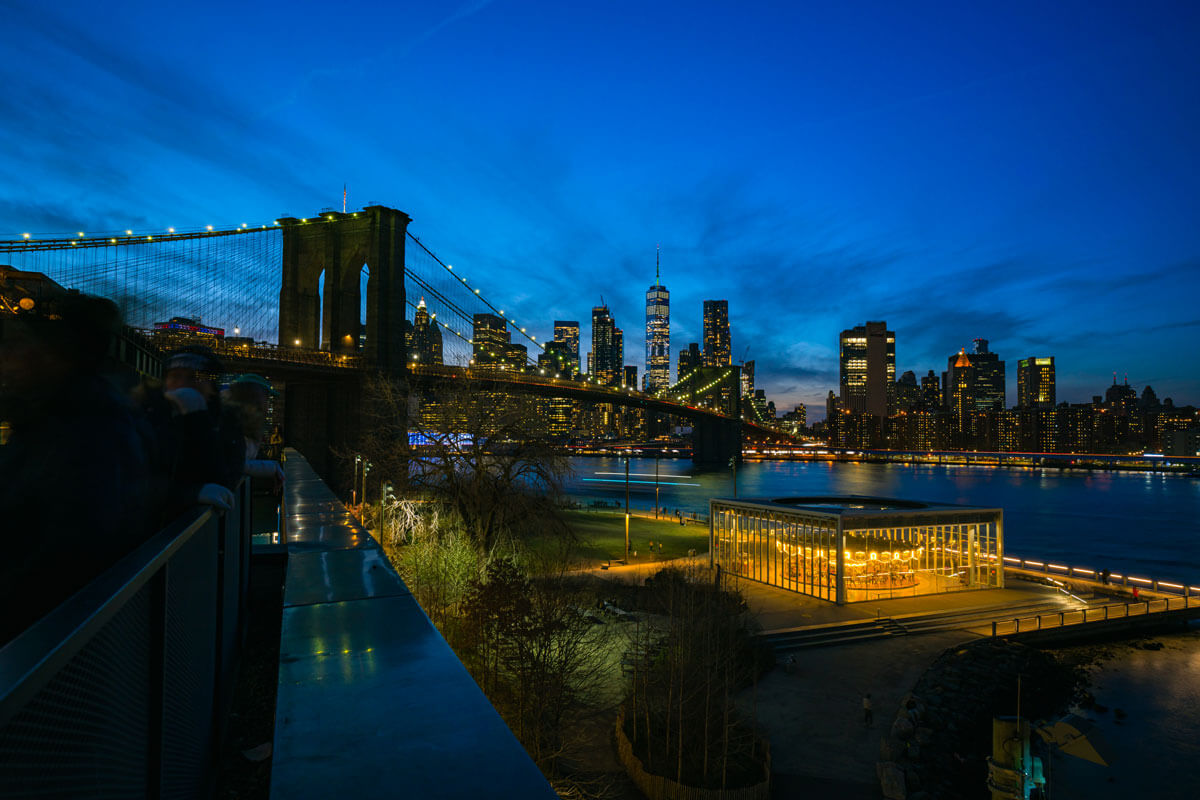 Time Out Market New York is located in DUMBO, Brooklyn in Empire Stores bordering Brooklyn Bridge Park and facing the East River and Manhattan between Brooklyn Bridge and Manhattan Bridge.
This location is supreme as it's arguably at the best view of NYC just feet away from the East River and views of the NYC city skyline and two of the most iconic and famous bridges in the city.
Better yet, Time Out Market New York also has an amazing terrace view from the 5th floor from their indoor bar and outdoor terrace that is completely free and offering the best vantage point of some of the city's most iconic landmarks.
Besides being one of the best things to do in Brooklyn, this is also one of the best photo locations in Brooklyn and in NYC.
Get to Time Out Market New York by taking the subway to York Street Station (F line) or the High Street Brooklyn Bridge Station (A & C lines). Time Out Market New York is less than a 10-minute walk.
You can also take the East River Line of the NYC ferry.
Read Next: Tricks & Tips for Walking Across the Brooklyn Bridge
Time Out New York Market's Best Food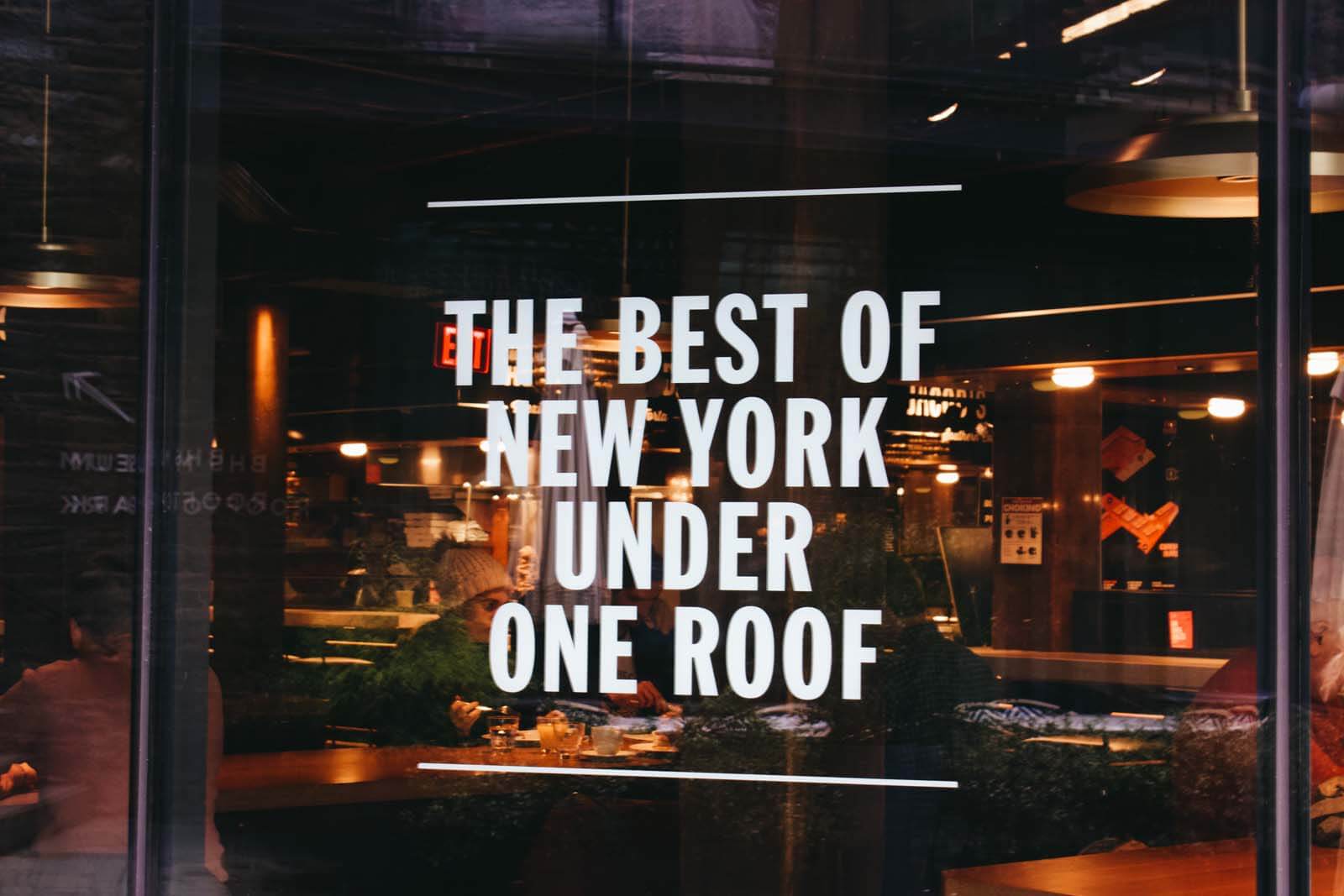 Fish Cheeks
View this post on Instagram
Authentic Thai Comfort Food
Named after a delicacy in Asia, Fish Cheeks was inspired by the tender cheek meat is considered to be the best-tasting part of a fish.
Fish Cheeks is proudly serves Bangkok-style Thai food in New York City with a focus on seafood. The original location opened up in 2016 in NoHo at 55 Bond St in Manhattan.
Since then, Fish Cheeks has been named to "Absolute Best Thai Restaurants in New York" by New York Mag and "38 Essential Restaurants in New York" by Eater.
If those accolades aren't enough to sell you on this Time Out New York restaurant, Try Fish Cheeks for their dishes like Coconut Crab Curry, mouthwatering oysters, Tom Yum Noodle Soup with Tiger Prawns.
All their meals are authentically curated due to the owner's upbringing in Thailand.
This Time Out Market New York spot also serves a variety of gluten-free and vegan options! Keep in mind that Fish Cheeks "brings an unapologetic heat to every dish."
Bessou
View this post on Instagram
Traditional Japanese
With its original location in NoHo at 5 Bleeker Street in Manhattan, Bessou has shared its popular modern take on traditional Japanese comfort food with us on the other side of the East River here at Time Out Market New York.
The owner was inspired by his cultural family traditions and love of Japanese food to open Bessou in New York City.
This Time Out New York restaurant has a limited and more precise menu compared to their original location featuring only their bento bowls, which makes indecisiveness less of an issue. Choose from any four of the main dishes, which are:
Fried Chicken Karaage
Miso salmon
Soy beef brisket
Japanese chickpea curry
Choose any of their irresistible sauces!
Scallion mayo
Spicy mayo
Shiso verde
Soy sauce
Not only does the food taste great, it looks great too. Stop by Bessou, which is loosely translated to "home away from home," to experience their delicious and aesthetically pleasing meals.
Mr. Taka
View this post on Instagram

Japanese Ramen
With amazing entrepreneurial efforts from Takatoshi and Takayuki, the masterminds behind Mr. Taka, they've brought some of Japan's best ramen recipes to New York City with a twist and non-conventional ingredient additions.
Their original NYC location is in the Lower East Side, which opened its doors in 2015. Since then, they've made their way to Brooklyn to share their can't miss Miso ramen with all of us who don't know what we've been missing.
Mr. Taka offers a variety of perfectly curated ramen bowls, don't hesitate to try one of these:
Tonkotsu ramen
Miso ramen
Vegan ramen
Black garlic ramen
They also take their Japanese cuisine a step further by offering yuzu salt edamame, pork belly buns, chicken wings and drums, and fried pork gyoza, which is a type of dumpling.
Alta Calidad
View this post on Instagram
Mexican
New York City truly is a melting pot uniting different people and cultures with the food. That's what we love most about New York, right? Alta Calidad is the definition of fusing cultures and delivering something tasty to New Yorkers.
Alta Calidad has always proudly served the Brooklyn community. They started in Prospect Heights and have made their way to DUMBO as one of our favorite Time Out New York Market's best food and we are so glad they're here.
Their internationally inspired cuisine takes us to the south of the border offering a list of tacos and more that will leave you with FOMO if you don't try them.
For tacos, good luck picking a favorite:
Steak barbacoa + chipotle
Chicken tinga + avo
Crispy shrimp, chorizo dust + crema
Next on their menu, try their sliced flatbreads that also offer variety of difficult decisions.
Carnitas + pickled veggies
Charred mushroom + queso fresco
Crispy queso + avo
Chorizo verde + eggs
Who are we kidding, how are you supposed to decide between any of these? Avoid the FOMO, try them all at their Time Out Market New York location.
Don't just take our word for it, Alta Calidad also was the 2018 winner of the Michelin Bib Gourmand Award.
Ivy Stark
View this post on Instagram

Contemporary Mexican
New York not having good quality Mexican food is a thing of the past. With chefs like Ivy Stark, a Mexican cuisine expert, filling New York City, everything here tastes amazing. Famous for her Mexican restaurants around the city including El Toro Blanco, Casa Bocado, and Dos Caminos for example, has brought her famed love and talent at Mexican fare to Time Out Market New York.
Ivy Stark has brought can't miss classics like carne asada tacos and roasted chicken enchilada plates to Brooklyn and now we know what we've been missing. You won't want to forget to order the Pepita Chipotle Hummus or the Coctel de Campechana (fresh catch seafood cocktail) to share for the table.
If you're craving some authentic taste and a little bit of Mexican spice, this Time Out Market restaurant is a no brainer.
FELICE Pasta Bar
View this post on Instagram
Italian
FELICE began as a wine bar on the Upper East Side in Manhattan. Its purpose was to serve high-quality Italian wines ti accompany Tuscan plates.
With the success of their first location, FELICE opened five additional locations, one being our lovely spot in Time Out Market New York.
One of the best things about this delicious pasta spot is the price! Get the authentic taste of Italian pastas for under $20.
Some of their options that make this one of Time Out New York Market's best food spots:
Fettuccine Alla Bolognese— traditional veal ragu, 24-month aged Parmigiano-Reggiano
Fusilli Al Pesto— hand-cut arugula and basil pesto
Gnocchi al broccoli— braised broccoli, shallot confit
You can also try their chef's soup of the day, which is always dairy-free!
One of New York's best qualities is the authentic Italian food and FELICE Pasta Bar should definitely be one of the top Italian restaurants on your list.
Juliana's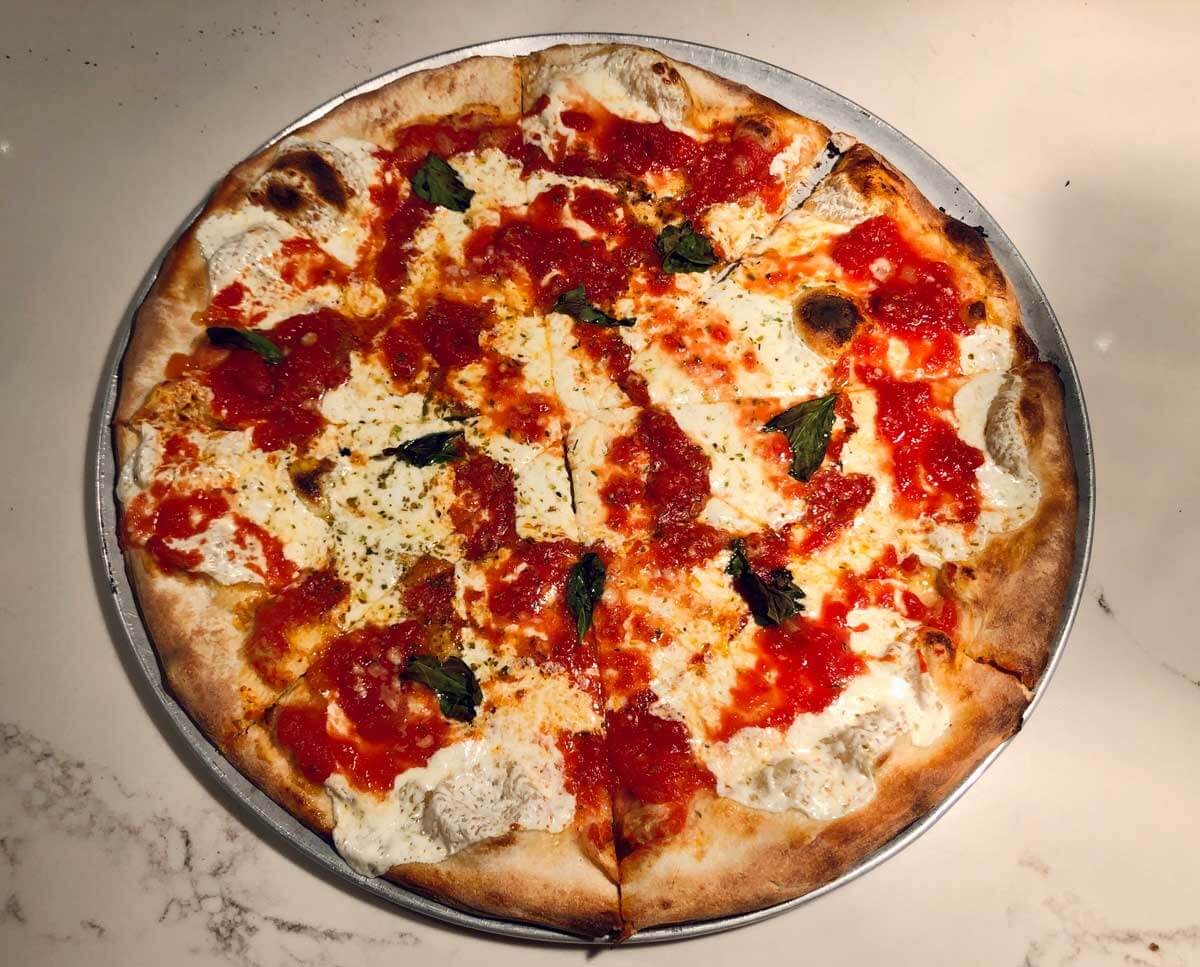 Italian
With its original location right down the street and one of the best places to get pizza in DUMBO and NYC, Juliana's opened a second location on the fifth floor of Time Out Market New York.
Enjoy your perfect New York pie overlooking the amazing waterfront from this scenic location. We recommend sitting at the bar if you can for the best view or in the warmer months taking your pizza outside on the open-air terrace overlooking Brooklyn Bridge Park and the NYC city skyline!
This Juliana's location offers a more condensed menu than the Old Fulton St location, but it still has everything you need and more.
Meatballs are available as a starter as well as their classic Margherita and white pies, and they've also included three of their can't miss specialty pies which make this hands down one of Time Out New York Market's best food options.
1— mozz, Scamorza affumiacata, pancetta, scallions and Oregon-grown white truffle
4— tomato, mozz, arugula and prosciutto
6— grilled chicken, mozz, Monterey Jack, white cheddar, guac and cilantro
Get the same exceptional pizza experience without the wait to be seated. Visit Time Out Market New York for the most authentic pizza the city has to offer.
Also, looking for more pizza? Check out our guide to the best pizza in Brooklyn.
Pat LaFrieda Meat Purveyors
View this post on Instagram
American Fare – Butcher Shop
If you're big on juicy burgers, or tender and delicious chicken, cheesesteaks, and hotdogs, say no more, this is going to be one of Time Out New York Market's best food options for you.
We all have those days when we just crave something savory and hearty, and if you find yourself at Time Out Market New York on one of those days, Pat LaFrieda's is the place for you.
LaFrieda is a well-known chef and butcher, so trust us when we say he knows his stuff with their meat served all around the city's finest eateries including the meat producer for those famous Shake Shack burgers.
Dig into one of two cheesesteak options!
Black Angus cheesesteak— American cheese and caramelized onions
Chicken cheesesteak— Provolone, arugula, and spicy aioli
The flavor doesn't end there, LaFrieda offers a few more mouthwatering meat options:
Mel's Double Burger— American cheese, LaFrieda steak sauce and caramelized onions
The World's Greatest Hotdog— Caramelized onions, sweet + spicy peppers and honey mustard
All-Natural Buffalo Chicken Sandwich— Blue cheese aioli and shredded lettuce.
Pair any of these can't miss entrees with a side of taters or house fries for a savory, hearty, comfort meal made from some of the finest cuts of meat.
Center Cut
View this post on Instagram
Kosher Butcher Shop
Created from the mastermind of premium butchering in New York, Albert Allaham moved to New York City years ago and developed Reserve Cut and The Prime Cut.
Our beloved Center Cut at Time Out Market New York is a branch off of the Reserve Cut Steakhouse located at The Setai Wall Street. His other business The Prime Cut is located in Brooklyn.
This Time Out Market New York spot deals out savory sandwiches made from kosher and premium meats. You won't regret trying any of these options from this full belly kosher deli:
Hot pastrami sandwich
Signature shawarma
Turkey sandwich
Chicken salad sandwich
All beef frankfurter
Pair any of these menu items with a classic order of potato salad or chicken noodle soup. And don't forget to add a bag of chips.
David Burke
View this post on Instagram
American
You won't overlook David Burke's creative and can't miss menu of all the Time Out Market New York restaurants. David Burke began his craft right here in DUMBO, at the famous River Café, one of the best DUMBO restaurants with a view and best views of the city in general.
This celebrity chef is known for his incredible American restaurant David Burke's Tavern located in the Upper East Side part of Manhattan (isn't it impressive when someone can just name their restaurant after themselves?).
David Burke offers an array of mouthwatering menu items that make this one of Time Out New York Market's best food options.
Spicy lobster dumplings
Maple bacon/zucchini clothesline— tomato Belgian waffle, gem lettuce, chipotle mayo
Pork shank "Redemption" mac & cheese with buffalo spice
Hipster steak frites— flatiron steak, shishitos, parmesan, chili oil + blue cheese crumble
If you're already daydreaming about these items, just imagine what else is in store for you at David Burke's location in Brooklyn.
Avocaderia
View this post on Instagram
Health Food
Love avocados? I know, what kind of question is that? If you're an avo on everything eater, this is one of Time Out New York Market's best food options for you.
Avocaderia has three New York locations and two of them are in Brooklyn. Check out the "world's first avocado bar," which has totally unleashed the power of avocado toast.
And as much as you want to say that avo toast is basic, you know it tastes amazing and looks even better on your Instagram feed…
In addition to the toast, this Time Out New York restaurant offers some other special menu items featuring avocado, like:
My Thai: spinach, arugula, cabbage, carrots, avocado, organic tofu, watermelon radish, spicy cashew, lime wedge, and ginger sesame dressing.
Avo Burger: whole avocado, brown rice, smoked salmon, arugula, watermelon radish, ginger sesame dressing, everything bagel seasoning, lime citronette
served with tortilla chips and mixed greens
Not only has Avocaderia shed light on the power of avocado, they have given healthy eating a whole new meaning and packed full of flavor.
BKLYN Wild
View this post on Instagram
Vegan Contemporary Mexican
Remember Ivy Stark? Here she is again, helping customers take healthy eating with Mexican influences to a new level. With fresh ingredients from Brooklyn, BKLYN Wild is a vegan restaurant looking to serve everyone, regardless of any dietary restrictions.
Places like this are critical in New York because there's so many people looking for a healthier way to eat out. BKYLN Wild does it right with this plant-based menu.
A few of their crave-worthy options include:
Cauliflower quesadilla— GF cauliflower wrap, white cheddar, faux chorizo and pico
Feliz bowl— Quinoa, cabbage, avo, plantains, black beans with honey lemon dressing
Veggie Mac— Veggie pasta noodles, vegan cheese sauce, with impossible ground beef
The best part about this spot is that you don't have to give up your meat cravings. BKLYN Wild finds a way to make your favorite meals tasty and healthy for some of Time Out New York Market's best food.
Loco Coco
View this post on Instagram
Vegan Bowls & Smoothies
Being vegan has never tasted so good thanks to another Time Out Market New York restaurant. Loco Coco has inspired us all to eat healthy and be environmentally conscious.
With fresh and delicious ingredients to make their food items, even their bowls and utensils are made from recycled coconut! This crazy healthy and crazy good spot offers bowls, smoothies, juices, and more!
After opening up on the Upper East Side, Loco Coco has established a name for themselves in Brooklyn at Time Out Market New York.
Some of their can't miss bowls are:
Nut Butter & Loco— organic açaí, banana, nut butter, almond milk and raw cacao topped with granola, banana, cacao nibs, strawberry, peanut butter
The O.G. L.C.— organic pitaya, banana, coconut, vanilla bean, almond milk topped with granola, strawberry, banana, blueberry, fresh pitaya, coco flakes
If you're feeling something other than a bowl, check out their variety of smoothies and unique lattes such as a pink pitaya or blue dream latte.
Being vegan in Brooklyn has never been so easy.
Little Ada
View this post on Instagram
Mediterranean
If Mediterranean food isn't something you crave usually, Little Ada is here to fix that. This Time Out Market New York restaurant is the child of Miss Ada in Fort Greene, Brooklyn.
We love a good restaurant that uses locally grown ingredients, and hopefully so do you. During the warm months, the Ada restaurants utilize their own backyard for fresh herbs!
Try any of these Mediterranean classics!
Classic pita and hummus
Israeli salad— tomato, cucumber, onion, tahini
Cauliflower shawarma— Amba roasted cauliflower, sweet potato hummus, creme fraiche
Chicken shawarma— with hummus, tahini, cucumber and pickles
Little Ada's has much more in store for you at Time Out Market New York, stop by and find your favorite Middle Eastern dish.
Jacob's Pickles
View this post on Instagram
Southern Comfort Food
There's nothing better than a sweet or savory hearty southern meal. That's exactly what you can find at Jacob's Pickles, where they have solidified their name on the list of Time Out New York Market's best food and a favorite restaurant in NYC.
Jacob's Pickles opened up in the Upper West Side in 2011, their goal was to provide New York with something it was missing, country-style comfort food and lots of pickles.
Since opening the Time Out Market New York restaurant location, southern comfort food has never been more appealing in Brooklyn. Check out some of these country classics:
Jacob's handmade pickles
Fried pickles
Honey chicken & pickles
Jacob's famous mac & cheese
If I were you I would take a look at their specials like the Southern fried chicken caesar salad and the Buffalo chicken mac & cheese – two dishes that make this one of Time Out New York Market's best food options.
Complete your meal at Jacob's Pickles with the ultimate comfort dessert, fried Oreo cookies!
Clinton Street Baking Company
View this post on Instagram
Bakery & Breakfast
This isn't the first time I've said it, and it definitely won't be the last, I love Clinton Street Baking Company. This is the perfect spot especially if you find yourself in DUMBO around breakfast time. By far one of Time Out New York Market's best food options and a personal favorite.
Clinton St. Baking Company opens at 8 AM daily serving exceptional first meal of the day items. This spot is definitely more of a sitdown option because who really wants to take their fluffy blueberry pancakes to go and chance they get cold? No one, duh.
Although Clinton Street Baking Company has a Lower East Side location, at 4 Clinton St, they also have locations in Tokyo, Dubai, Singapore, and Bangkok. Aren't we so lucky to have these global breakfast magicians in our beloved Brooklyn?
Try their main blueberry, banana walnut, or chocolate chunk pancakes all served with a warm maple butter. Practically irresistible if you ask us.
Or go for my personal favorite, the Spanish scramble. It's cage-free eggs, chorizo, tomatoes, caramelized onions, scallions, and Monterey Jack served with delicious hash browns and a mouthwatering side of hot sauce.
If you're a sucker for a heck of a breakfast or you're a breakfast for dinner kind of person, read no further. This is your spot! Clinton St. is where you can find some of Time Out New York Market's best food.
This is also one of our picks for the best spots for brunch in DUMBO!
Cookie Dō
View this post on Instagram
Dessert
Born in New York City, Dō was created by Kristen Tomlan who turned her childhood love for baking into a career. Dō has turned NYC upside down with its popularity and have spread the love to it's location at Time Out Market New York.
At this dessert spot, you can find a variety of tasty treats but the main attraction is their cookie dough flavors sold by the scoop, which comes in any cookie flavor or combination you could ever dream of. Think of Baskin Robbins but for the cookie dough world – made without eggs of course.
You can also try baked and frosted cookies, ice cream, and more!
Ice & Vice
View this post on Instagram
Ice Cream
Another beloved dessert shop born and raised in NYC. Ice & Vice is known for their crazy ice cream concoctions that keep us coming back for more.
Come here just for the dessert, or make sure you stop by after trying any of the other can't miss vendors at Time Out Market New York.
There's a variety of ways to go about ordering at Ice & Vice. You can order just a regular single or double scoop and add toppings, you can get a sampler set with five mini scoops, you can also get a milkshake, pint of ice cream, and most importantly, you can order of their specials menu.
Spumoni sundae— Rainbow cookie, basic b (Mexican vanilla, black lava sea salt), milk money (Toasted milk, sea salt chocolate granche), pistachio sundae
Pie Felicia slice-o-pie— Peanut butter, Nutella, potato chips, graham cracker crust
After-school sandwich— Malted vanilla ice cream, Mexican chocolate brownies
These are just a few of their signature desserts, find out what your favorite concoction is at Time Out Market New York.
Bread's Bakery
View this post on Instagram
Bakery
If you've been exploring Manhattan, there's a chance you've spotted Bread's Bakery in Bryant Park or even Union Square! If not, we're happy you traveled into Brooklyn for this baked goods experience.
Bread's Bakery is a New York City bakery and coffee shop dedicated to serving its customers with artisanal and handmade breads.
This location at Time Out Market New York offers sweet and savory options. If you can't decide which taste you're in the mood for, try one from each category!
In the sweet section they have a variety of crave worthy items:
Croissant
Almond Croissant
Chocolate chip cookie
Chocolate babka (dense cake filled with chocolate deliciousness)
Strudel (apple, poppy, + seasonal)
For savory they have:
Bureka— spinach, feta, potato (YUM)
Bureka platter— choice of 2 flavors, served with tomato, hard-boiled egg, tahini, + pickles
Cheese straw bites— 25 pieces served with two dips
This is the perfect spot in Time Out Market New York if you're looking for a pick-me-up pastry, coffee, or savory snack.
Time Out New York Bars
View this post on Instagram
Need a drink? Don't worry, Time Out Market New York is fully equipped with full bars so you can have a nice drink to pair with any of these amazing Time Out New York restaurants.
They've partnered with several bar award winners from Ghost Donkey, Angel's Share, and Brooklyn Brewery to serve DUMBO the very best they can.
You can find signature drinks and brews on the perfectly curated menus at the three different Time Out Market bars.
Here are some suggested signature drinks to try!
Lil' Loco Jimenez's drink— Dorothy Parker gin, Kümmel liqueur, tomatillo-serrano sherbet, lime & celery
See-Saw— Brooklyn Gin, shiso syrup, lime & club soda
Bel Air Sour beer
If you were to ask us, the best bar at Time Out Market New York is the one located on the 5th floor as it has the most amazing view of the NYC city skyline, Brooklyn Bridge Park, Brooklyn Bridge, and the East River.
Read Next: Best Breweries in Brooklyn