Looking for how to celebrate Valentine's Day in NYC? We got you. From romantic outings to special events during February in NYC, here are several ideas for things to do in NYC for Valentine's Day! Also, we've got things to do in NYC on Valentine's Day here for all budgets including free (or close to free) things to do all the way to luxurious, unforgettable experiences if you're looking to splurge!
Be sure to also check out our guide to all the most romantic things to do in New York City and romantic winter date ideas in NYC for more ideas!
Disclaimer: this post contains commissionable links.
Things to do in NYC for Valentine's Day
Sunset Cruise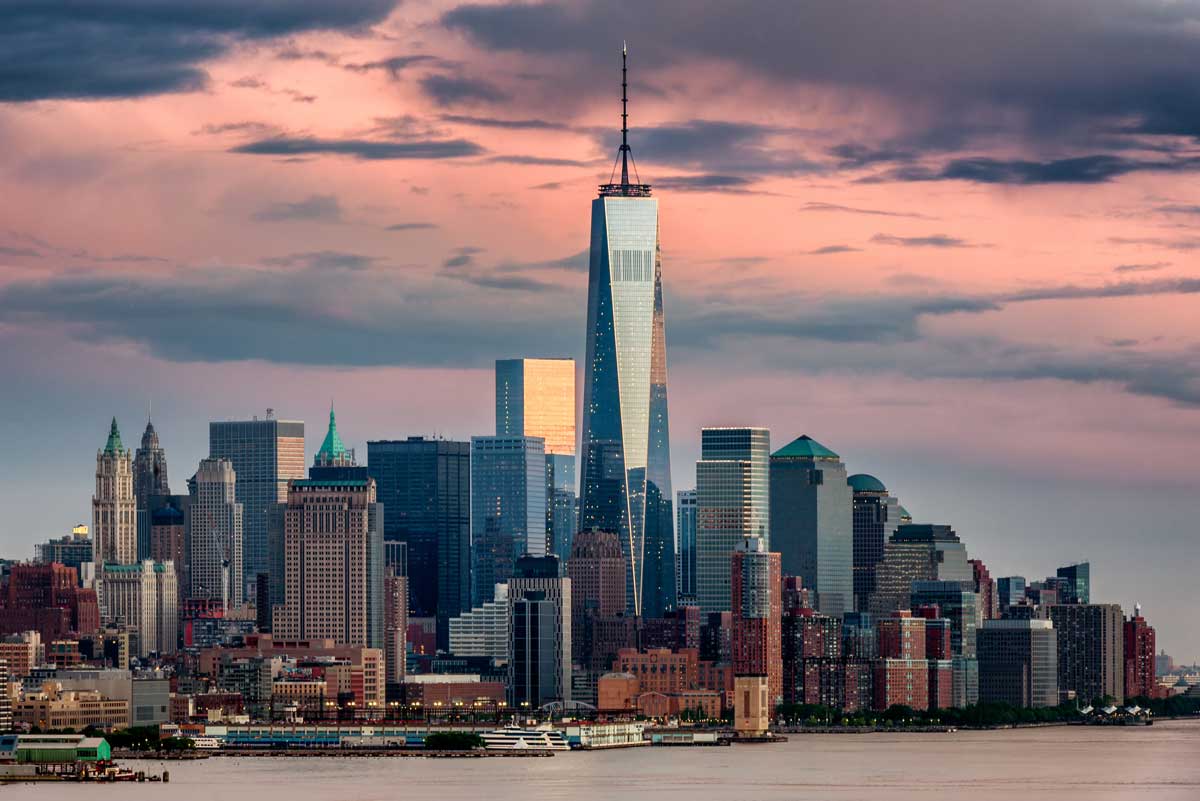 If you've never experienced Manhattan from the water at sunset, Valentine's Day is a wonderful time for it! You can take a sunset cruise aboard a 1920s replica yacht with your special person. Have a Valentine's Day in NYC you'll never forget, sipping champagne as you take in the city skyline backed by pinks, oranges, and purples.
There are only good seats on this vintage yacht, with both indoor and outdoor observation decks. Sit inside and listen to samba-jazz while you see sites like the Brooklyn Bridge, the Statue of Liberty, and One World Trade Center at twilight. Make sure to bundle up so you can walk the outdoor observation deck, or just cuddle up on the deck with your boo!
This romantic sunset cruise leaves Chelsea Piers and lasts about 90 minutes. There are a few different launch times, so you can go when it's still daylight to see Manhattan in full sun and after dark. Or leave right at sunset for the most amazing pictures of Lady Liberty with the eastern sunset behind her.
Helicopter Ride for Two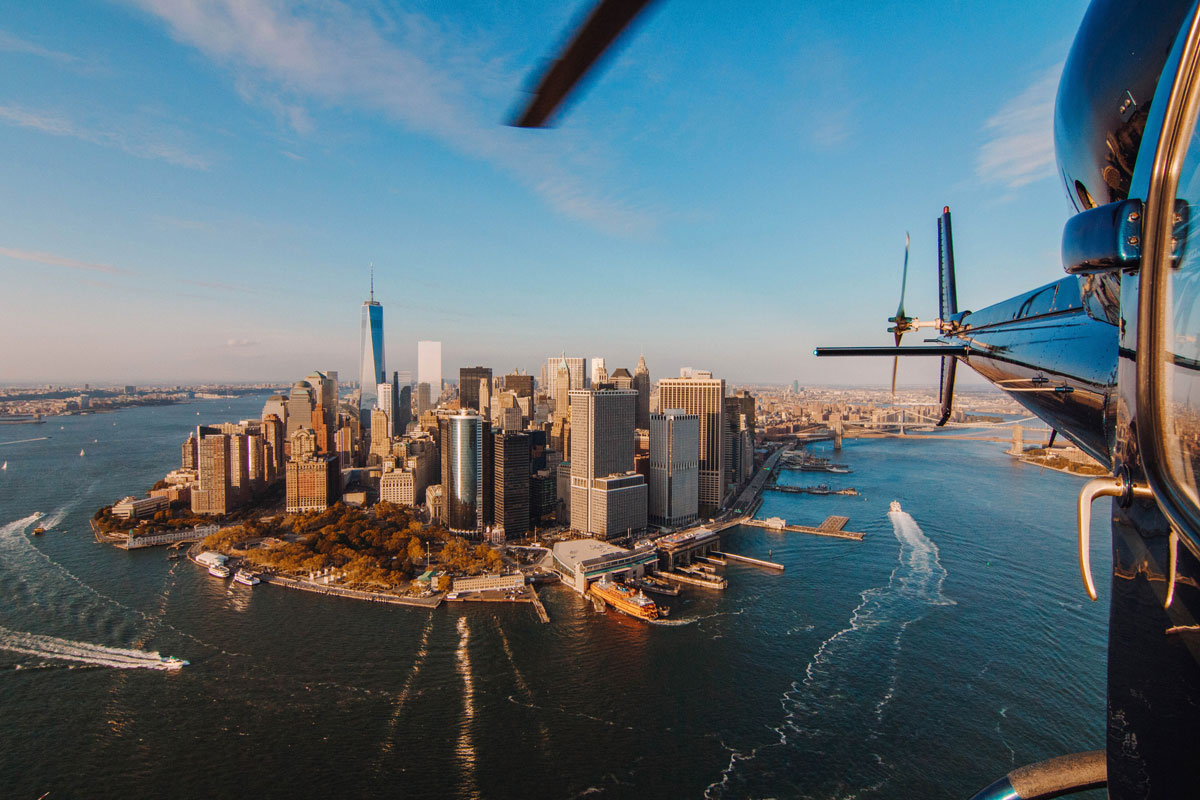 A great way to impress your Valentine is to surprise them with a private helicopter ride over NYC. During this evening helicopter tour, you'll see a dozen different New York City landmarks. See the Hudson River, the Empire State Building, the George Washington Bridge, and more.
You can even see Harlem and Yankee Stadium from overhead, but that's only outside of game nights. That's why this particular tour is perfect for Valentine's Day when you're in the off-season!
Whether it's your first Valentine's Day together or your 50th, this is a romantic and exciting way to spend this special day. Start your trip with a champagne toast and then see the sites and take some amazing pictures. And you'll enjoy entertaining narration by your friendly private guide while you see the city from above.
When looking for NYC helicopter tours, you'll find that many tours leave from an hour outside the city, but this one starts conveniently at a Midtown helipad. Plus, this ride is 30 minutes long, which is longer than most! If you want more in-depth info, you can read our post with tips and our pick for some more of the best helicopter tours in NYC.
Peace, Love, and Happiness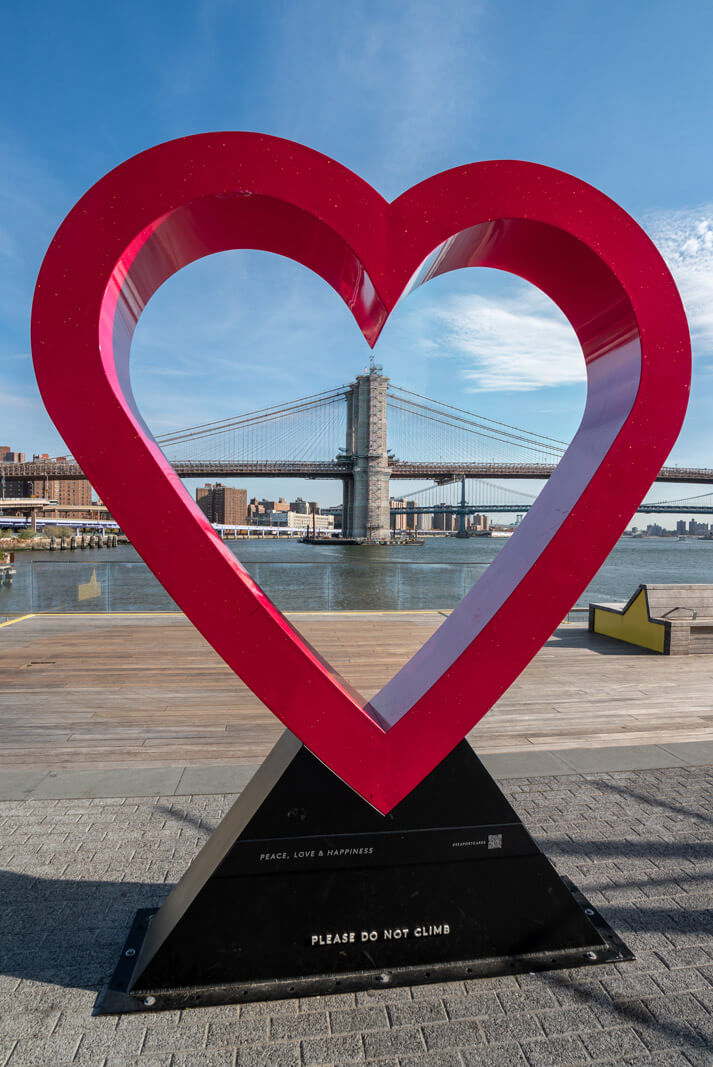 Seaport and Pier 17 in Lower Manhattan have many great experiences that are perfect for NYC on Valentine's Day, and Peace, Love, and Happiness is a must-see. It's a contemporary art installation with 3 separate metal sculptures: a blue peace sign, a yellow smiley face, and a red heart.
Artist and architect Scott Gerber was inspired to create the trio for New York City in 2020. He meant each image to remind people about what's important in life: to slow down and focus on the present, spread love and joy, and be kind and positive. If you are a fan of other contemporary street art in NYC, you can't miss out on the chance to pose with your love in front of this inspiring art installation!
Head to the Heineken Riverdeck at Pier 17, one of the best piers in NYC, where you can see this beautiful art sculpture with the Brooklyn Bridge in the backdrop.
Also, check out the Pink Pier at Pier 17, hosted at the Watermark for a unique pink outdoor pop up where all the glass greenhouses are illuminated with pink lights!
Industry City in Brooklyn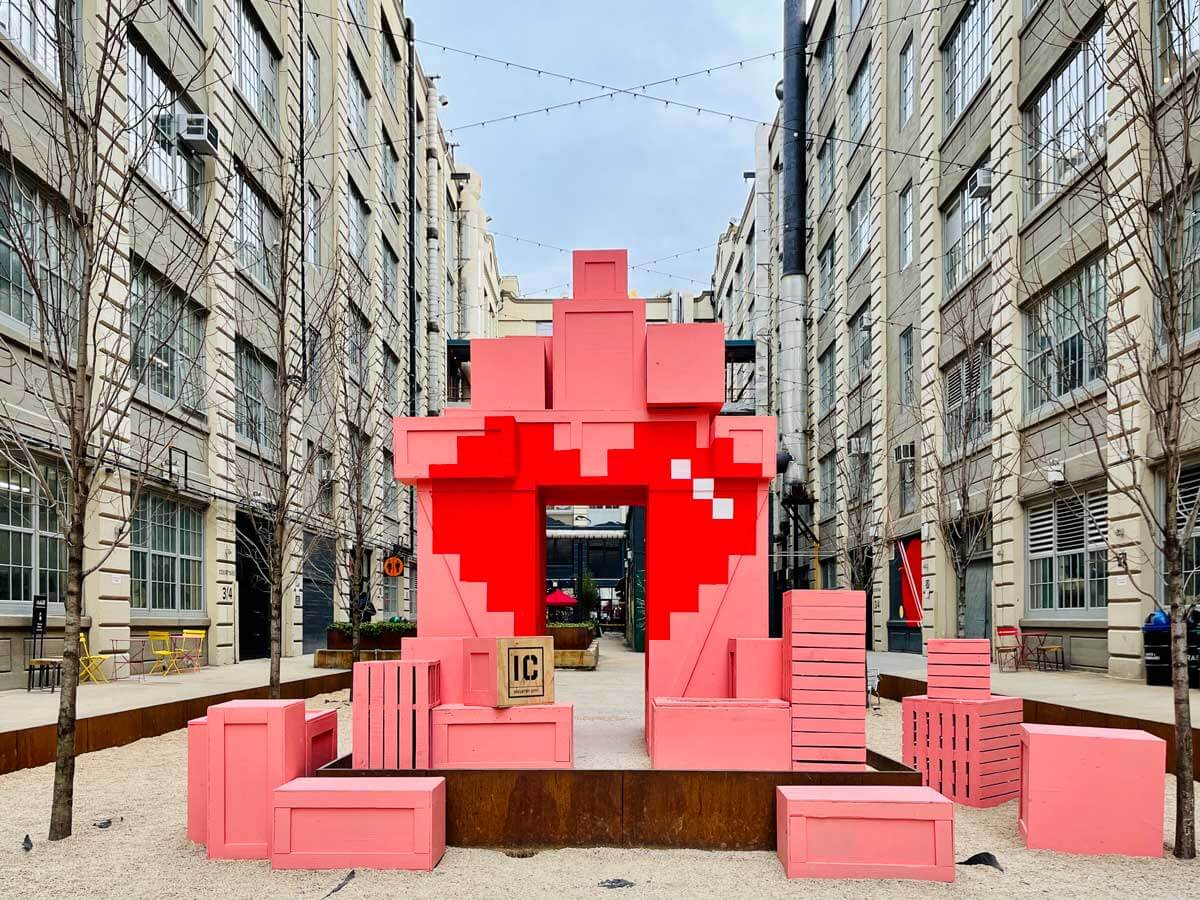 A visit to either the Seaport in Manhattan or Industry City in Sunset Park, Brooklyn are some of the best cheap date ideas in NYC for Valentine's Day in NYC. You have blocks of industrial buildings to stroll through that are full of boutique shops, fun eateries with exciting concepts, and more! In February there's always cute Valentine's Day décor, art installations, and photo spots.
Head to Courtyard 5/6 to go ice skating at the seasonal outdoor rink at Industry City or enjoy all the microbreweries along the courtyard. We love the idea of taking a self-guided art installation tour of the complex. Throughout the year, it's fun to check out the most current art covering the walls, floors, elevators, and courtyards, both indoors and outdoors at Industry City. But they really take things up a notch during the holidays, and we're always curious to see what they have going on during Valentine's Day!
You can also enjoy a creative date by going together to buy V-Day gifts for each other at IC. Why not book a knife forging class with Nazz Forge or grab some heart cookies from One Girl Cookies? There's even a Li-Lac Chocolates location here too and Mr. Boddington's Studio has greeting cards!
Individual vendors team up together during the holidays and often have special Valentine's Day bundles. And restaurants and grocers, like Sahadi's, offer festive prix fixe menus you can order ahead and pick up.
Romantic Spa Day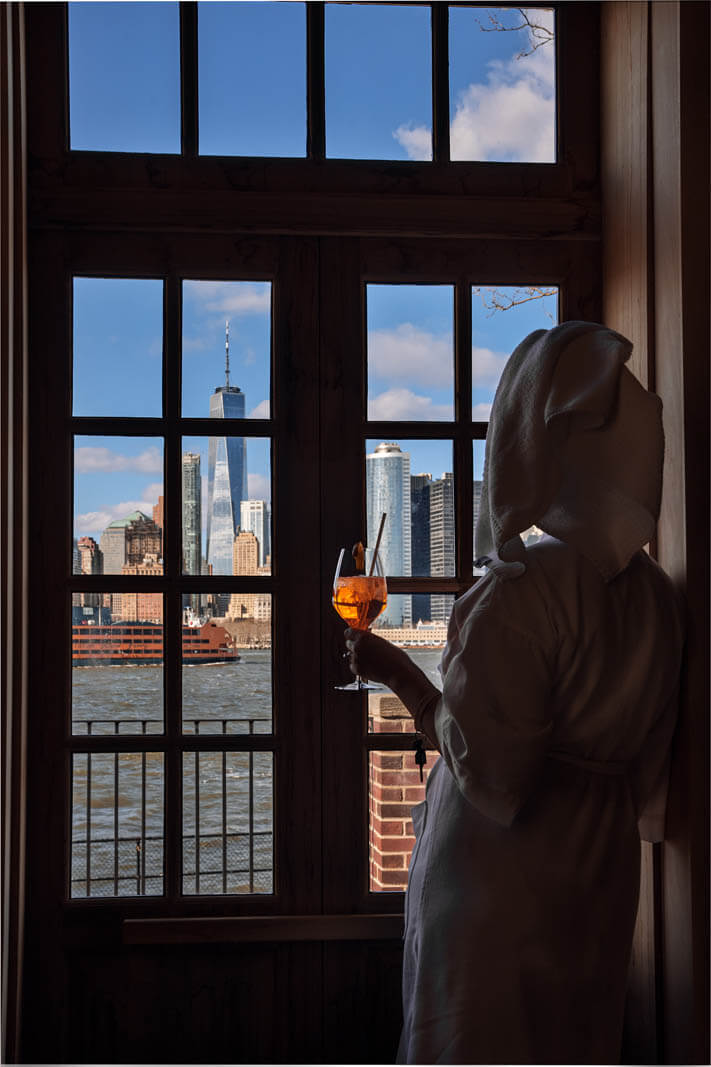 Take the day and relax together at one of the top-notch day spas across NYC. We love the ones that offer general admission with access to different saunas, pools, therapy rooms, and more. Some of these facilities also offer couples' massages for an additional fee. There are so many to choose from across NYC, but these are our favorites:
QCNY Spa: Enjoy over 20 different spa experiences on Governor's Island with some of the best views of the iconic New York City skyline! General admission gives you access to the entire spa. For an additional fee, you can also choose from 2 different couples' massages.
World Spa: This massive spa in Midwood, Brooklyn features 3 levels of saunas, baths, and treatment rooms from across the world. Plus, they're all stunning, which only inspires romance when you come for the day with your Valentine! World Spa also has deals for couples like massages, treatments, and private lounges.
Mermaid Spa: Mermaid Spa in Coney Island is a Russian bathhouse that's actually best known for its amazing Slovakian food. While they don't offer couples' packages, together you can explore baths, dry spas, ice pools, and more. They also have a Turkish hammam and offer body scrubs as well as classic Russian platza massages.
Great Jones Spa: Head to NoHo to relax for the day at the Great Jones Spa. Everyone loves the beautiful Water Lounge with its waterfall and lounge chairs. You also have access to different Jacuzzis, ice plunges, steam rooms, and more. And the spa offers a long menu of skin and body treatments, massages, and waxing services for both men and women.
Couples Photo Shoot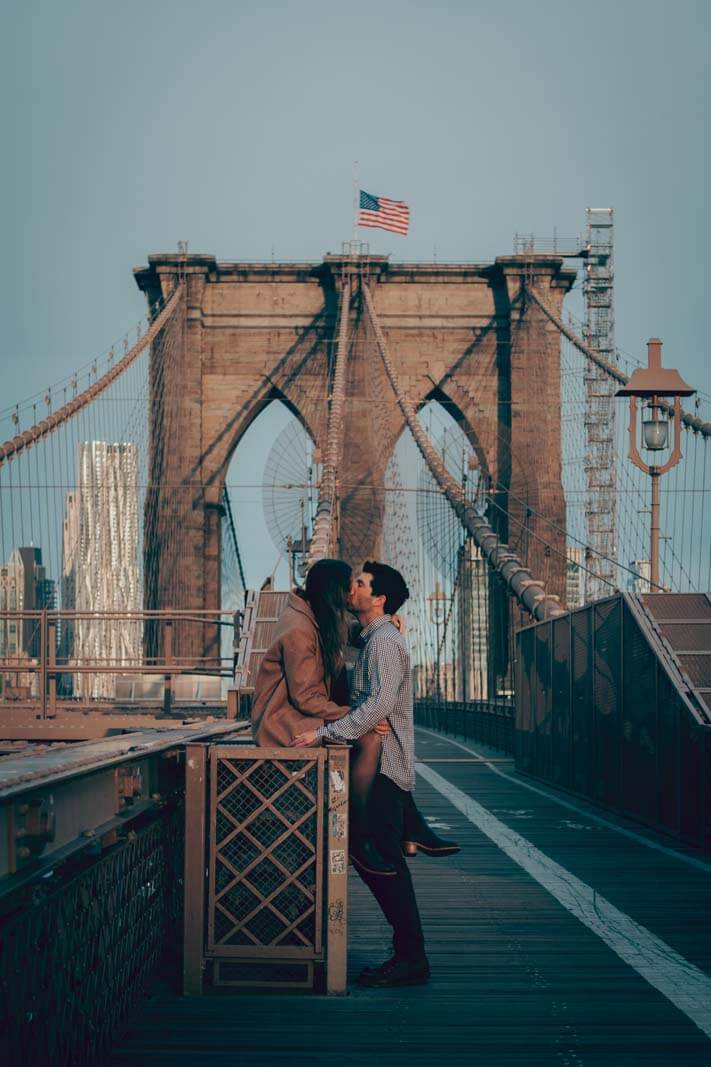 It's fun to venture into the beautiful streets of NYC together, but all your photos of the day can end up being selfies! Instead, book a photo shoot with Photo Journeys. They came up with the ingenious concept that's part sightseeing tour, part photo shoot.
Make memories that last when you book a local guide for this 2-hour tour. They offer different tours so you'll see the sites you're most interested in and get the photos you've been dreaming of. You'll see some of the most famous sites in New York City, as well as hidden treasures that are perfect for a photo shoot!
Photo Journeys offers a few different packages, including a customizable NYC itinerary planning session via zoom, or different photoshoot packages. Just want a professional photo shoot in NYC? They do that. Or just go for it and get married at City Hall on Valentine's Day with a private photographer in tow!
Dinner & A Show
View this post on Instagram
Celebrating Valentine's Day in NYC offers something for every kind of couple. Go with a classic and enjoy dinner and a show together in the City that Never Sleeps! You can see a classic show on Broadway or experience the New York Ballet perform at Lincoln Center.
NYC is also home to many wonderful immersive theater experiences. There's the infamous macabre show and experience, Sleep No More held inside the fictitious McKittrick Hotel set in a warehouse where 'hotel guests' follow around performers as they tell the story, each person will have a unique experience as you may even get split from your partner or group. After the performance, you'll head to the hotel's Manderley Bar for drinks. This is definitely one of the most unique ways to spend Valentine's Day in NYC!
Or have dinner at the glamorous Art Nouveau speakeasy, Jewel Thief Nomad. Indulge in cocktails and small plates from velvet booths while you enjoy interactive mystery theater.
If you've never been to a burlesque show, or if you're an avid fan, New York City is a great place to find a show! Head for after-dinner drinks at The Slipper Room where the MC keeps things lively well into the night. Or dance the night away at House of Yes in Bushwick. This whimsical venue that's part night club, part burlesque show is a must. And for a classic 1950s-style burlesque show with great cocktails, head to Nurse Bettie on the Lower East Side. Or check out The Rose Room: Cocktails and Cabaret experience in Midtown!
Museum of Sex Super Funland
View this post on Instagram
For spicier things to do in NYC for Valentine's Day, head to the adults-only Museum of Sex Super Funland exhibition. This 3-level museum is always a fun, educational stop with informative exhibits, a bar, and fascinating artifacts around the history and sociology of sexuality. But it's also just a blast, especially with the main carnival-themed exhibition, Super Funland.
There's an entire floor dedicated to Super Funland, a sex-themed carnival! There's a mirror house, a bouncy house, and tongue-in-cheek carnival games. It's fun to see how there's still a historical thread throughout the exhibition, with educational plaques and pictures from adult-themed topics in carnival history. At the end of the exhibit, you take an adult-sized slide down to a lounge where you can enjoy fun drinks.
Make sure to stop by the gift shop for a variety of NSFW sweets and souvenirs. And for the week of Valentine's Day, the Museum of Sex offers a couple's package. It includes admission for 2, Super Funland game plays, and some fun treats as well.
See a Jazz Show
View this post on Instagram
One of the best places to experience the improvisation and nuance of live jazz performances is in NYC. Set the mood by taking your Valentine's date for dinner at one of the top jazz clubs or bars across the city.
Go for dinner at Blue Note Jazz Club in Greenwich Village, which has hosted some of the biggest names in the business. Nearby is Zinc Bar, with its 1920s bar and art deco décor. Throughout the week the bar holds iconic jazz sessions, as well as nights dedicated to Latin, African, and Brazilian rhythms. And Smoke Jazz & Supper Club on Broadway is the perfect setting for an intimate meal and a show.
Impress your date by taking them to dinner at The Django. This subterranean jazz club at the Roxy Hotel feels just like you've stepped into bohemian Paris.
And then there's Minton's Playhouse in Harlem, which is a must for jazz aficionados! Established in 1938, it's said to be the birthplace of bebop and has hosted every known jazz performer you can think of.
See A Movie!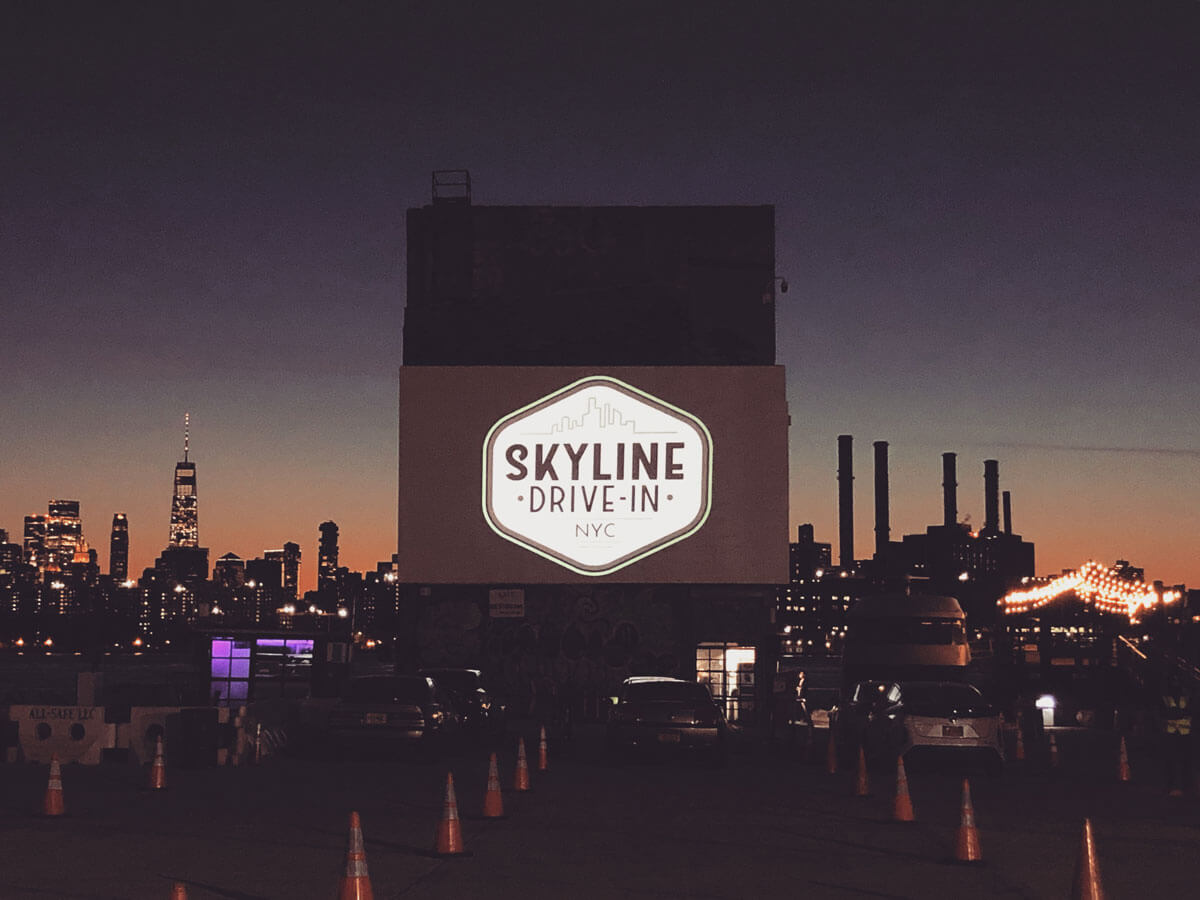 One of the best things to do for Valentine's Day in NYC and the most classic date night is cuddling up together for a good movie. We've done all the research, and across the 5 boroughs, you can find refreshing twists on a classic cinema experience.
If you've never been to Roxy Cinema, this is a perfect time. Inside the vintage art deco Roxy Hotel, this French-inspired theater is sure to be the perfect romantic setting. Grab some gourmet movie snacks or even a cocktail before you head to your seats. The Roxy Cinema shows oldies, new indie films, and both foreign and American blockbusters.
Grab a blanket and see some of the latest hits at Skyline Drive-In, located in Greenpoint, Brooklyn. Rain or shine, sleet or snow, they show projected movies with views of the Manhattan skyline in the distance.
And Nitehawk Cinema has two Brooklyn locations, one in Williamsburg and one near Prospect Park. Get to know your date at the cinema bar before your movie or play video games in the game room! Each venue also offers drinks and fare served during your movie.
Splurge on a Hotel with a View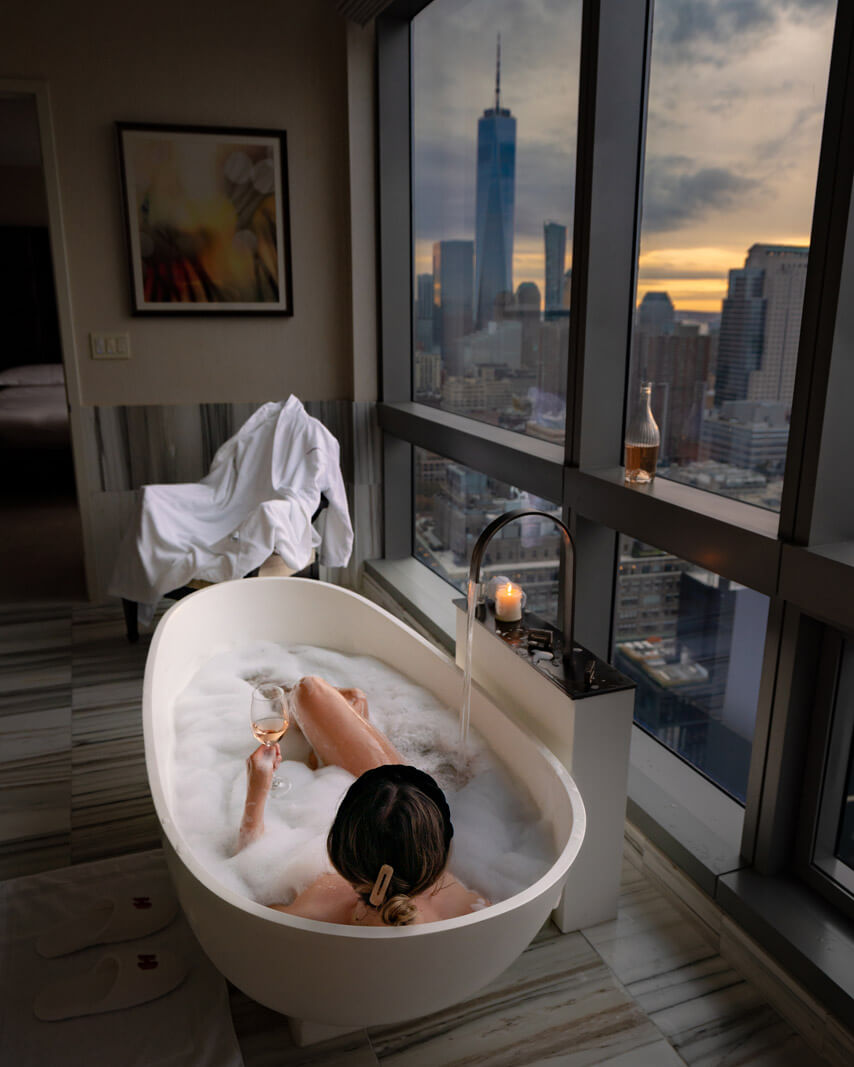 End (or start) your evening in NYC on Valentine's Day with one of the decadent NYC hotels with a view. We love the Dominick Hotel in SoHo. Rooms at this luxury hotel include floor-to-ceiling windows with sweeping views of Manhattan from north, south, east, and also west! Plus, guests have access to terrace lounges and rooftop pools for even more views.
We loved our stay at The Langham, New York, Fifth Avenue in Midtown. You can book south-facing rooms with fantastic views of the Empire State building.
And the boutique Moxy Chelsea in the Flower District has great West Side views. But we especially love this one for the 360-degree views of the Manhattan skyline from the hotel's The Fleur Room. It's a glamorous, botanically-themed cocktail lounge with floor-to-ceiling windows.
And if you want to spend Valentine's Day in Brooklyn, consider the coveted 1 Hotel Brooklyn Bridge. Book either the Liberty King or Bridge King rooms for unbeatable views of the Hudson River, the Statue of Liberty, and the Brooklyn Bridge. However, this hotel is probably best known for its hopping rooftop bars, restaurant, and pools with even better views! The bathrooms have views for days too.
Dinner or Drinks with a View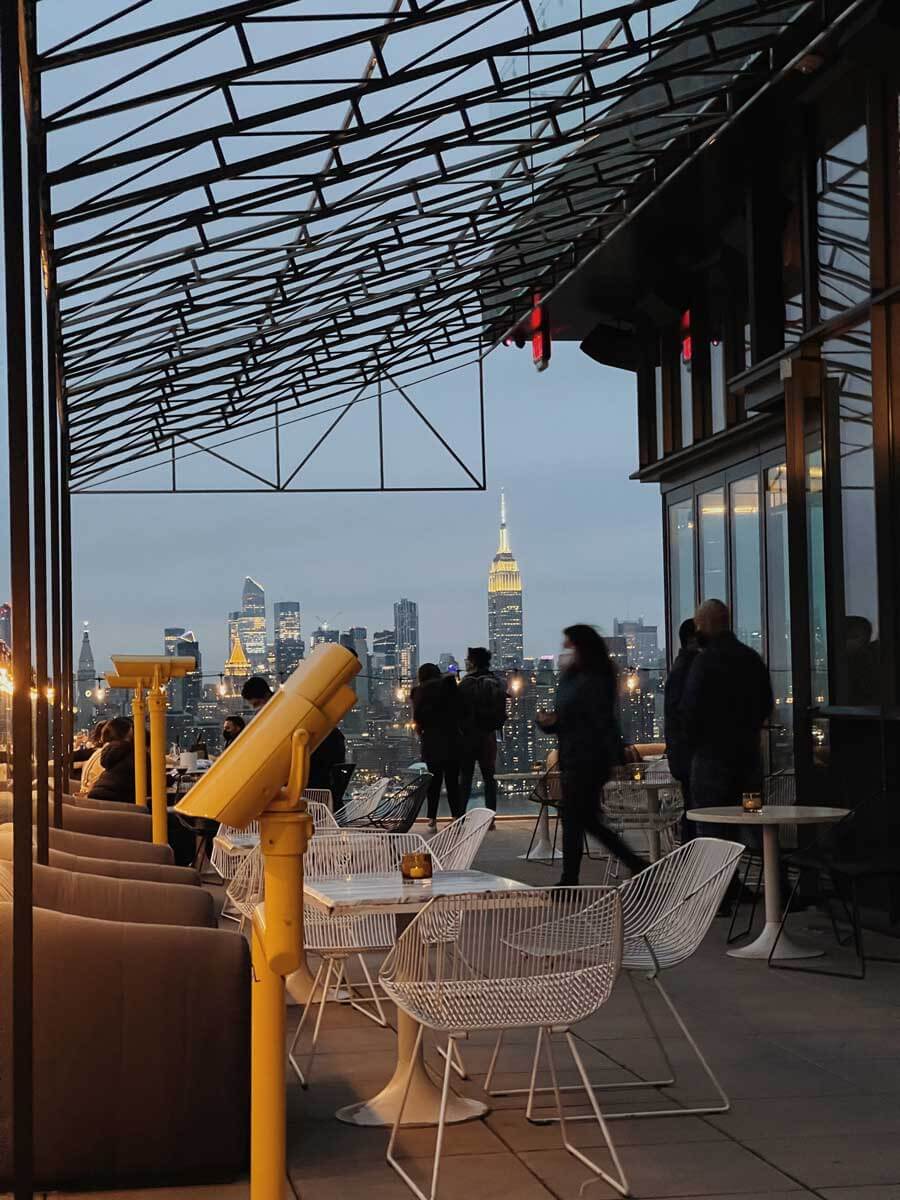 One of our favorite things to do is find the very best bars and restaurants with a view! Imagine an intimate table for two nestled high above the city with the lights and stars twinkling in the night sky. It's the perfect setting for a romantic Valentine's Day dinner in NYC. Here is just a handful of some of the best ones:
Laser Wolf Brooklyn: This casual eatery is one of the best restaurants in Williamsburg serving up delicious Israeli food, fun cocktails, and wine by the glass. Enjoy a conversation over salatim with terrace dining overlooking the Hudson River and the Midtown skyline.
Westlight: Take in the unobstructed views from the chic lounge on top of The William Vale in Williamsburg. Come here for classic drinks and international street food small plates and one of the most incredible skyline views, making it one of our top choices for best rooftop restaurants in NYC.
Panorama Room: The rooftop bar and lounge at Graduate Roosevelt Island offers the same whimsy as the rest of the themed boutique hotel! Fill up on oysters and artisan drinks while you watch the sunset over Manhattan.
Magic Hour: This rooftop bar at Moxy Times Square is an entire experience! Enjoy a fun dinner and drinks with an amusement park theme and views of the Empire State Building.
ONE Dine: Win points with your Valentine when you book reservations at this show-stopping restaurant inside the One World Observatory (you must purchase tickets to One World Observatory to dine here and make a reservation, but don't worry this is one of the most stunning observation decks in NYC). Enjoy unbeatable views, a seasonal al-a-carte menu, and gourmet cocktails.
Romantic Valentine's Day Dinner
Finding the perfect spot for a romantic Valentine's Day dinner can be very competitive in New York City. Or recommendation? Get your reservations in early for a table at Le Grand Boucherie and you'll never regret your choice.
This classically French brasserie is high on the romantic scale with Art Nouveau architecture, a stained-glass atrium, and white tablecloth service. Cozy up for the evening with heated floors in the mezzanine, or people watch on the heated patio that's open for seating year-round. You'll be impressed by the massive menu with everything from French onion soup to wagyu beef. There's also a raw seafood bar and an extensive wine list.
Or check out the River Cafe under the Brooklyn Bridge in DUMBO, this is one of the most romantic eateries in the entire city!
You also can't go wrong with one of the best classic New York City steakhouses either! Be sure to secure a reservation though.
Ice Skating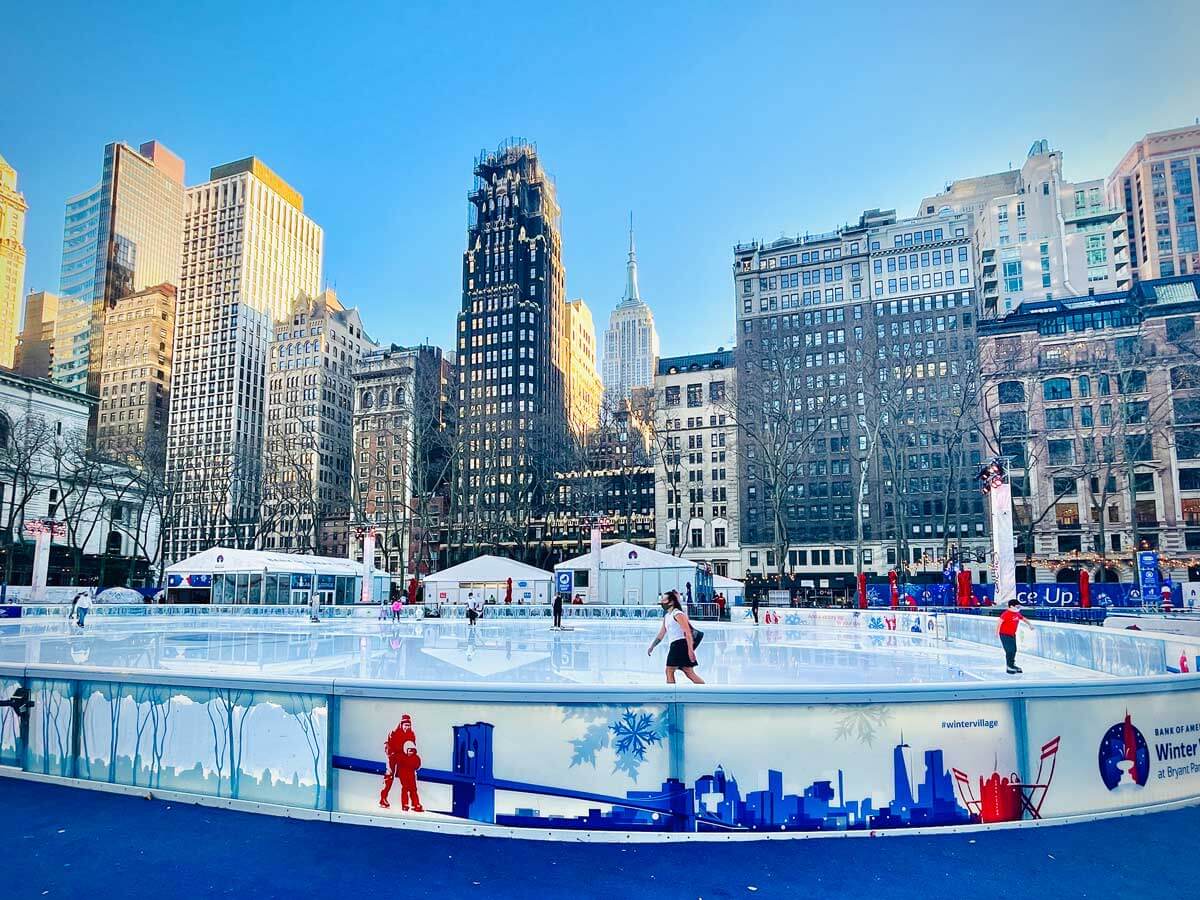 Plan an iconic Valentine's Day in NYC with a visit to one of the best skating rinks in New York City. While there are ice rinks open year-round, the most beautiful ones are seasonal outdoor rinks, like Wollman Rink at Central Park. Take in the city skyline at the large rink located on the southeastern corner of the park. Admission is separate from rentals, which include skates, lockers, and rink-side igloos.
Or go for another stunning rink at Rockefeller Center Plaza. Known for its famous location under the Christmas tree at Rockefeller Center, the ice rink is most popular during the holidays. However, it's open from October through April with tickets priced by demand. You can upgrade to VIP for perks like complimentary skate rentals and access to the Ski Lounge.
Another newer favorite for Valentine's Day is the Industry City Rink in Brooklyn. November through March or April, a portion of Courtyard 5/6 is converted to an outdoor rink covered in string lights! Warm up after your skate with a hot drink at rink-side fire pits or check out the restaurants off the courtyard that offer heated outdoor seating.
Wine Tasting
View this post on Instagram
One of the best things to do in NYC around Valentine's Day is enjoying one of the quality wine bars and even wineries you'll find across New York City. Wine tastings offer entertainment, high-end service, and casual social interaction. This is the perfect recipe for an elegant, easygoing date night!
City Winery has tasting rooms at a few locations across Manhattan, but we recommend the venue at Pier 57 or Grand Central. You can enjoy live music performances, or sit on the deck with views of the Hudson. There's a full-service restaurant and bar that you can visit as well. Wine tastings are booked in advance. It comes with 5 tastings and a private sommelier to guide you through the experience.
Head to Brooklyn for more excellent wine bars. Red Hook Winery is yet another great waterside location. The tasting room is set inside an old warehouse for a casual ambiance. Book a curated tasting with 6 different wines that change every month. You can order small bites to eat as well.
And Brooklyn Winery is a fun place to go for a wine tasting. They offer a private Tour & Tasting package that begins with complimentary food or drink and a complimentary gift! After a tour of the urban winery, you'll taste 6 varietals with the option to add more. Then you can go on your way or stay for dinner at their onsite restaurant and wine bar.
Get the Best Chocolate in the City!
View this post on Instagram
Any date in NYC on Valentine's Day isn't complete without a classic Valentine's gift. Shop for the best chocolate heart at New York City-based chocolatiers, or visit with your Valentine for a fun experience.
Established in 1923, Li-Lac Chocolates it's NYC's oldest chocolate maker. You can find locations across Manhattan and the current factory at Industry City in Brooklyn. Choose from their classic Valentine's Day hearts and specialty molds, or purchase custom orders.
Myzel's is a small family-owned chocolate shop creating European-style chocolate in the heart of Midtown. Customize a box of chocolate truffles for your Valentine or try one of their hundreds of licorice flavors.
And Jaques Torres has 2 equally beautiful locations, one in DUMBO and one in Grand Central Station. Shop Chef Jaques Torres' handmade chocolate in every form, including classic hearts and Valentine's Day bundles.
Take a Romantic Weekend Getaway to the Catskills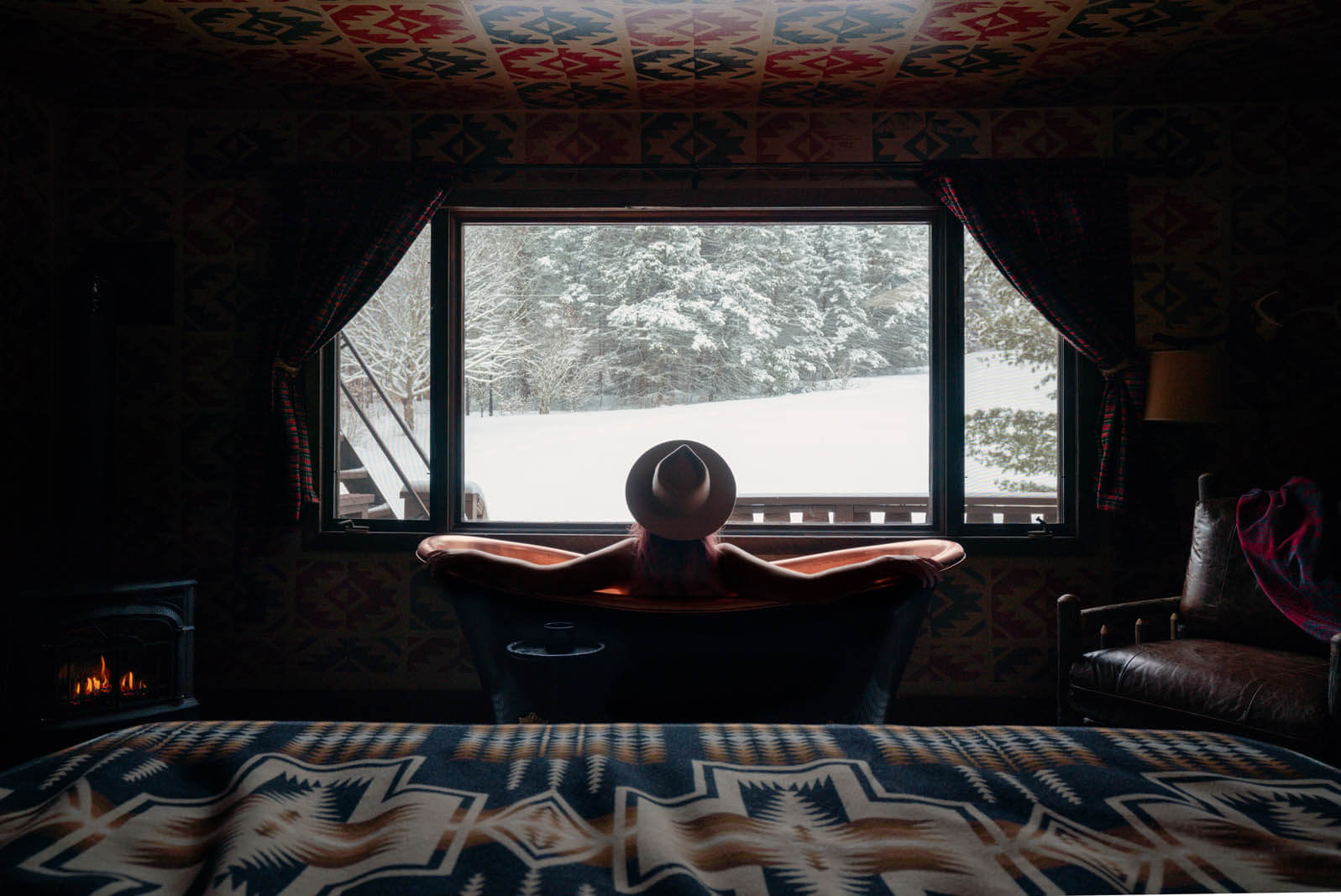 Valentine's Day in NYC can be a memorable experience, but so can a weekend getaway in the Catskills. Though the Catskills are a popular summer destination for all things outdoors, winter offers a different feel. Enjoy cozy B&Bs, venture out on a winter hike, or explore Catskill Mountain towns, not to mention the Catskills are also home to some of the best skiing near NYC too!
Head to Tannersville at the foot of the Catskills for great waterfall hikes (yes, even in the snow!), top-notch antiquing, and close proximity to ski slopes. Or enjoy all the quirky artisan shops and thrift stores in Woodstock. Warm up after a stroll through town with a warm bowl of something at one of the many great restaurants and bakeries in town.
For a quiet retreat where you can hole up in a great hotel, we recommend either Roxbury or Phoenicia. Both mountain towns offer a week's worth of things to do for those willing to venture into the cold. But we think the amazing boutique hotels in both towns are to die for. Roxbury has the quirky, themed Roxbury Motel and Phoenicia has the Urban Cowboy Lodge, both of which need to be experienced on a romantic Valentine's weekend away!
---
There you have it, some of the best things to do for Valentine's Day in NYC! Bookmark this for later!