We have put together some of the most gorgeous walks in Brooklyn to choose from for your next adventure, day you want to bump up your step count, or semi-aimlessly explore neighborhoods you're not as familiar with. There is no shortage of amazing places to stroll and wander in this giant borough, so we've carefully curated a list of 10 of our favorite Brooklyn walks to enjoy from historic sites, residential areas filled to the brim with gorgeous brownstones, parks and nature walks, to some of the best views the entire city has to offer.
After checking out all our suggested Brooklyn walks, let us know if we missed your favorite! Also, be sure to check out some of the best areas of Brooklyn to explore too – all of which have great walks!
10 Gorgeous Brooklyn Walks
Prospect Park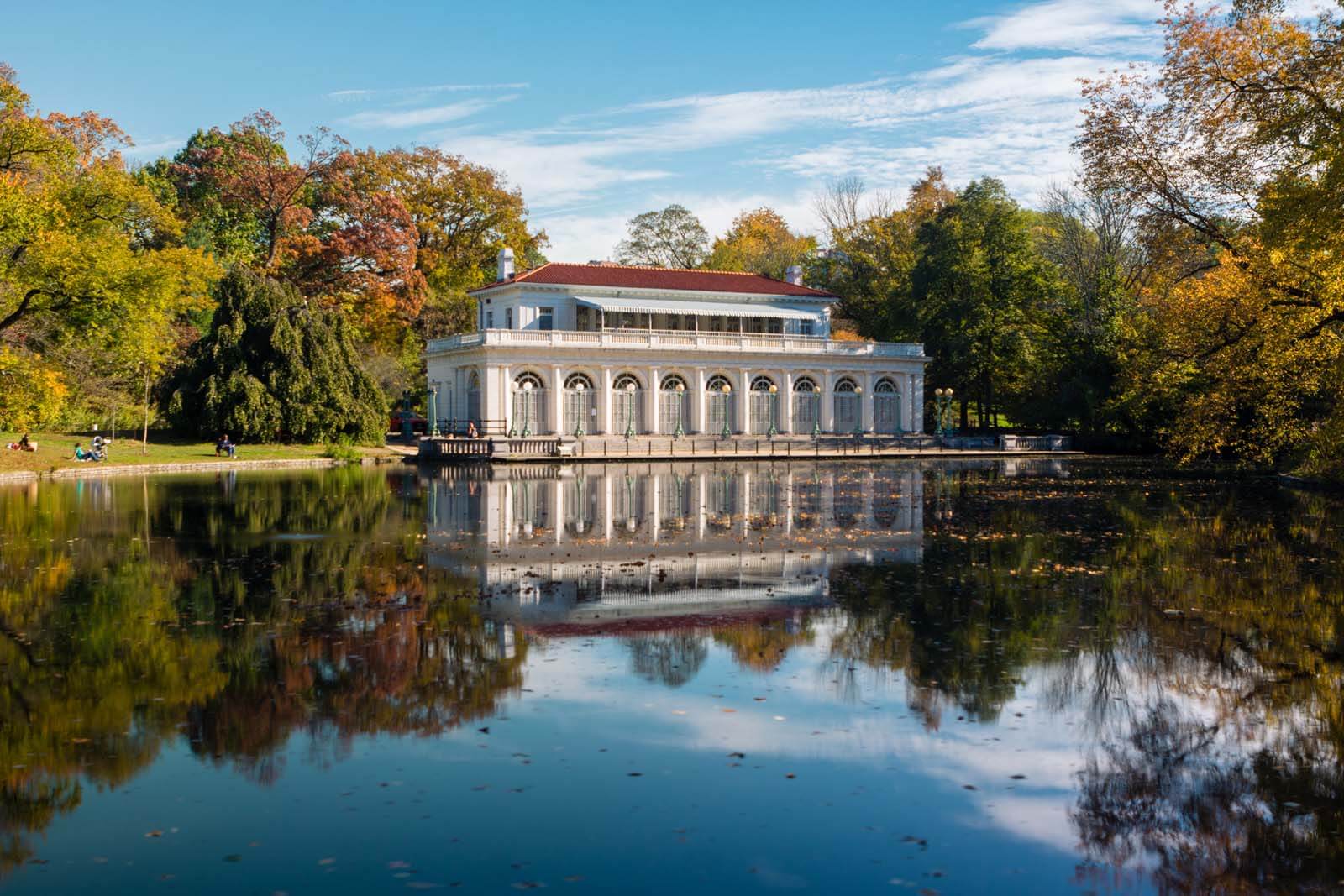 One of the most scenic walks in Brooklyn that's a no brainer is strolling through Prospect Park. With just under 600 acres of land and tons of trails to traverse all the different landscapes that Calvert Vaux and Frederick Law Olmsted, the famous designers of Central Park as well, designed.
You can walk along the 3.35 mile loop that goes around the entire interior of Prospect Park or head to the Ravine where there are trails that mirror landscapes you'd find in the Adirondack Mountains in Upstate New York, the inspiration for this area of the park, as well as waterfalls and gorgeous tunnels to pass through. Most people are surprised to learn that there are several New York City waterfalls to check out, including many in Prospect Park!
One of the most scenic areas to check on on this Brooklyn walk is also the Prospect Park Boathouse and the Peristyle as well as other trails. See our full guide on all the best things to do in Prospect Park for more ideas and inspiration for one of the most scenic areas for Brooklyn walks.
Victorian Flatbush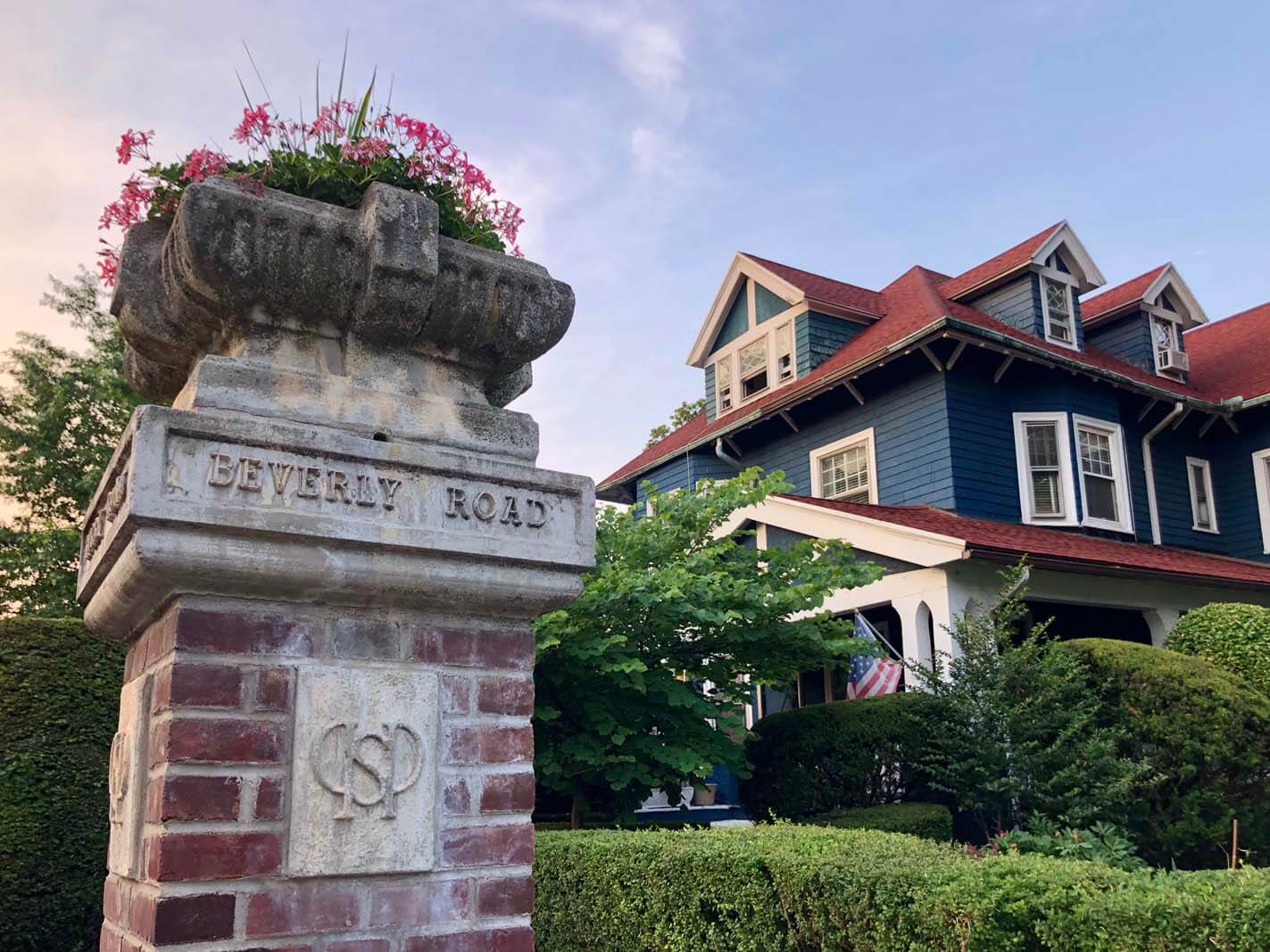 One of the best walks in Brooklyn for anyone who loves architecture is undoubtedly through the highly coveted neighborhood full of Victorian mansions and historic landmarks. The area of Victorian Flatbush and Ditmas Park also is one of the earliest settlements in New York City dating back to the Dutch colonists.
To fully experience this neighborhood, we recommend taking this walk in Brooklyn passing through the streets lined with huge mansions in different architecture styles from English Tudor, Queen Anne, Swiss Chalet, to even Japanese pagoda inspired homes located within 100 square blocks.
For home hunting, we recommend walking up and down Albemarle Road, Marlborough Road, Rugby Road, Westminster Road, and Beverley Road for starters. Give yourself at least an hour or so to just walk up and down the streets and enjoy the quiet, tree-lined streets with magnificent homes.
After admiring all the huge mansions and suburbia tucked away right in the middle of the city, head over to Flatbush Reformed Protestant Dutch Church, a site that dates back to 1654, be sure to pass by the King's Theater which has been beautifully restored, and don't miss the building that housed the former Erasmus Hall High School where celebrities like Barbara Streisand, Neil Diamond, and Bobby Fischer went to that was one of the oldest schools in the country funded by our nation's founding fathers including Hamilton and Burr.
If this walk-in Brooklyn worked up an appetite you're in luck as there is a great global food scene here and you can find some amazing eateries along Cortelyou Road. If you're up for more walking, you can continue to Prospect Park which borders this neighborhood.
This whole area is full of some of the best hidden gems of Brooklyn!
Bushwick Collective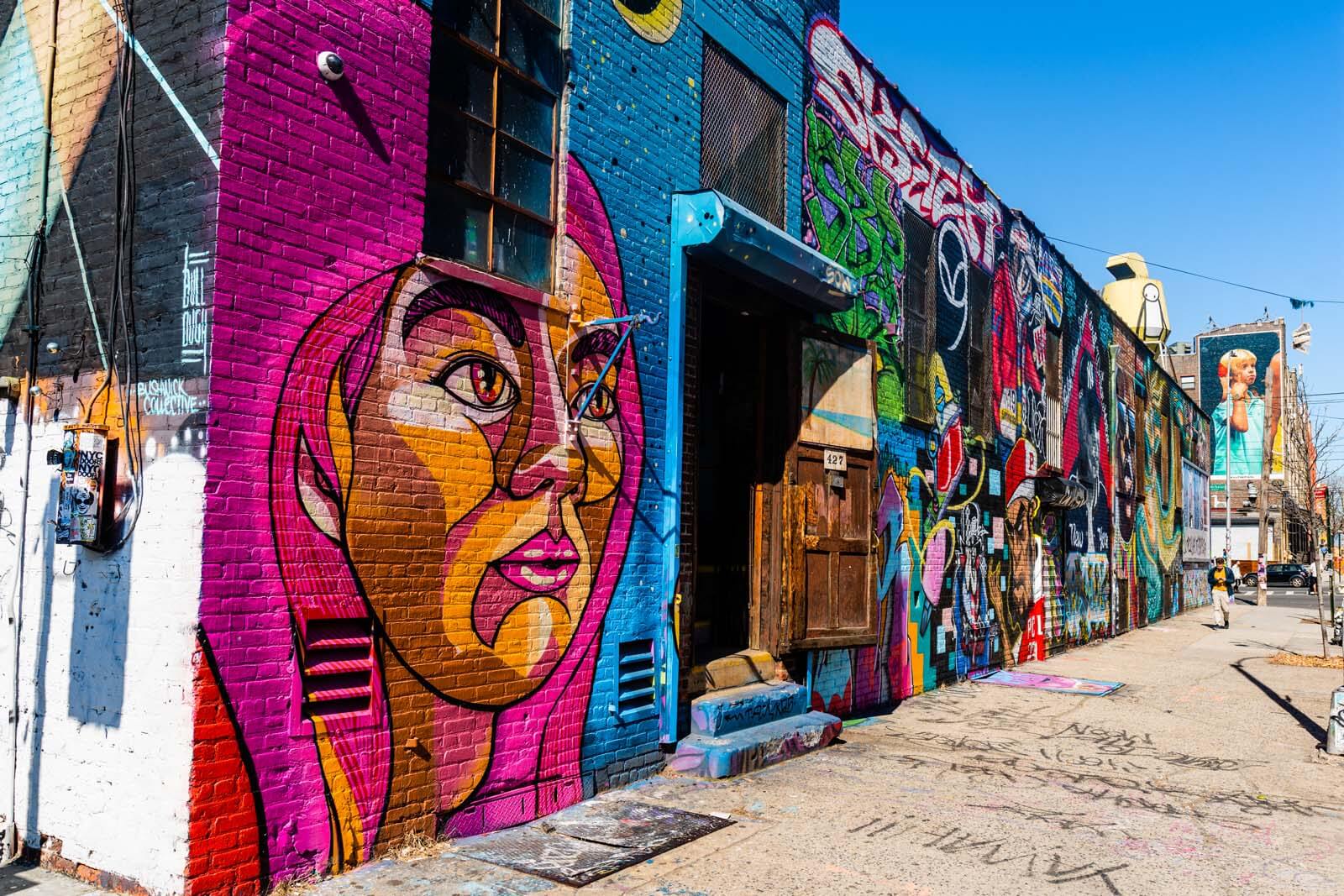 This is one of the best walks in Brooklyn for anyone who is a fan of street art! The once very industrial neighborhood of Bushwick has streets full of colorful murals covering walls of warehouses and workshops known as the Bushwick Collective.
This giant open-air gallery was founded by a local, Joseph Ficalora who wanted to revive himself and his neighborhood after losing his father who was murdered at a nearby subway station, and also lost his mother to an illness. Bushwick was known for its high crime rates, which we have seen lower significantly over the decades since then.
Starting the Bushwick Collective was a way for Ficalora to brighten up not only the neighborhood but help him cope with his painful memories, and it took off and helped completely transform the neighborhood.
The Bushwick Collective started in 2012 and in its early years, they even had some of the biggest names in the street art world complete murals from Blek le Rat to Banksy, Shepard Fairey, ROA, and other famous local Brooklyn artists like Sara Erenthal whose work you can see all throughout the city.
Ficalora works with the local business and property owners to 'borrow' walls for the collective which is done every year usually around the first of June. What's nice about this Brooklyn walk is that if you have already been, as long as it wasn't just recently, chances are there's always new work popping up and something new to see.
In our opinion, the best way to complete this colorful walk in Brooklyn would be to follow along Troutman Street between Irving Avenue and Cypress Avenue. The closest subway station is Jefferson Street Station which operates the L train.
Walk up and down the streets from here and be sure to check both sides as some of the murals are tucked away or you may miss from just walking in one direction.
After exploring all the amazing murals, be sure to check out all the best things to do in Bushwick for before/after this awesome Brooklyn walk!
Brooklyn Heights & Promenade
One of the most scenic walks in Brooklyn for architecture and history lovers is taking a stroll through Brooklyn Heights, one of the first neighborhoods outside of Manhattan with gorgeous brownstones and jaw-dropping row houses.
This neighborhood dates back to 1834 and many of its historic and gorgeous buildings are protected under being declared an official historic district that's also on the National Register of Historic Places. This was actually the country's first designated historic district too!
Besides being filled to the brim with sophisticated brownstones and preserved row houses on well-manicured tree-lined streets, the Brooklyn Heights Promenade offers unrivaled and unobstructed views of not only the Statue of Liberty but Lower Manhattan's skyline and the Brooklyn Bridge.
For this historic and scenic walk in Brooklyn we recommend weaving your way up and down as many streets as possible. A suggested route would be to walk down Henry Street, from here you will reach the first of the fruit streets if you're coming from DUMBO (if not you can do this in reverse), the fruit streets are Cranberry Street, Orange Street, and Pineapple Street.
We personally enjoy going up and down all the streets here since its relatively a small neighborhood, so once you've done the "Fruit Streets," make your way to the Brooklyn Heights Promenade, there are a few entrance points, but if you're following our suggested Brooklyn walks guide you can enter by Clark Street.
Take as long as you need to walk up and down the Promenade and take in all the views. There are benches here as well if you need to take a walking break.
After you've had your fill of incredible views, this is seriously one of my favorite spots in the city and one of our favorite Brooklyn photography locations, we recommend heading back to see more of the pretty cobbled streets.
We suggest checking out Grace Court Alley and College Place Mews, which is full of old carriage houses and mews that are now luxury homes and other great streets to wander down are Joralemon Street, Montague Street, and Willow Street where Truman Capote's home is at 70 Willow Street.
There are so many things to do in Brooklyn Heights for architecture and history lovers, we recommend reading our full guide.
Park Slope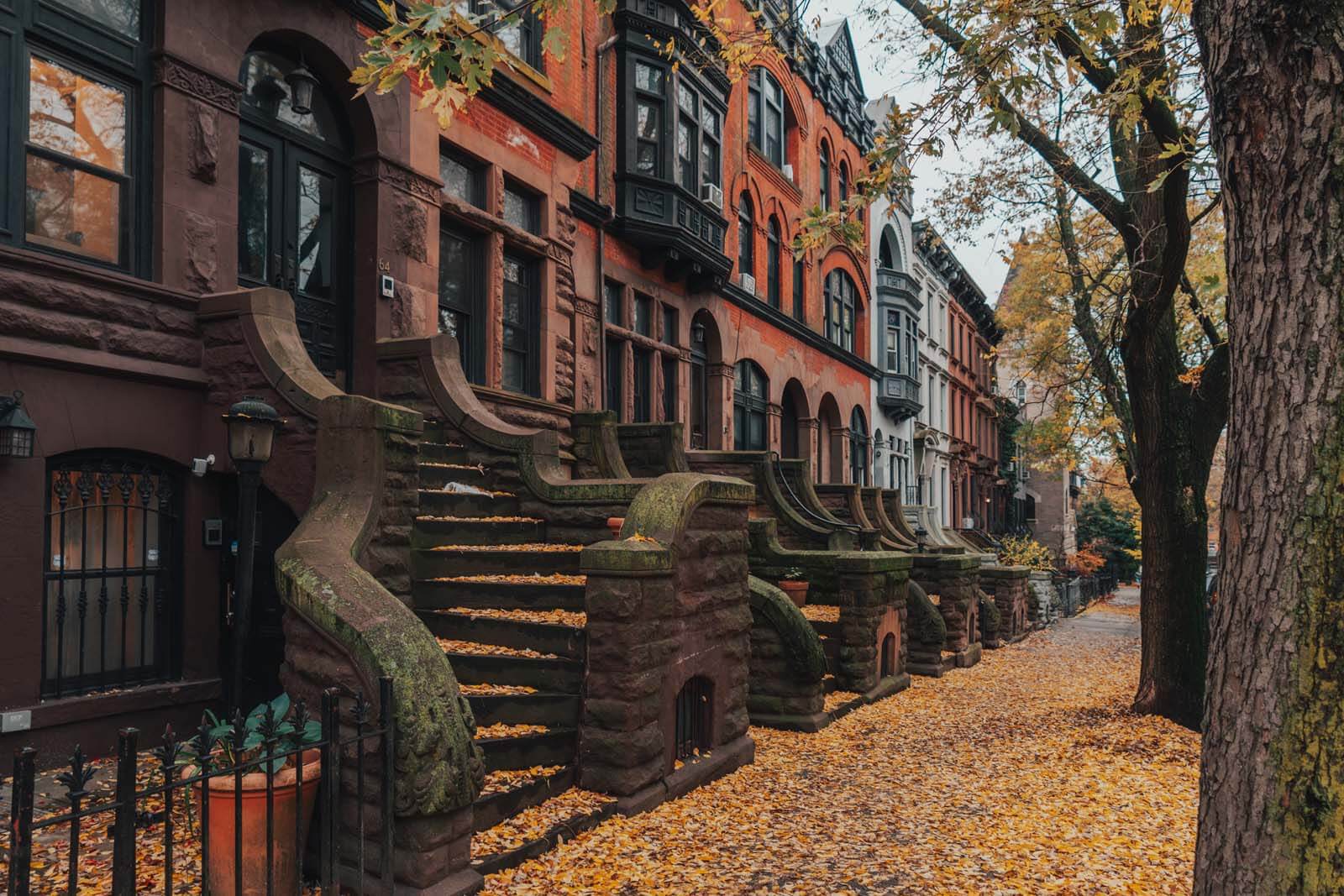 Our next top pick for Brooklyn walks you don't want to miss takes us to the residential brownstone mecca of Park Slope, one of the most desired neighborhoods to live in the city with families and beautiful neighborhoods of Brooklyn. Park Slope is also a designated historic district with 2,575 buildings built between 1862-1920 within 40 blocks and is New York's largest landmarked neighborhood if you are counting by number of buildings.
Like our last walks in Brooklyn in Brooklyn Heights, this is a real treat for anyone who is a fan of architecture!
Besides being full of street after street of stunning 19th-century row houses, Park Slope also has an incredible dining and shopping scene on 5th & 7th Avenues.
Our recommend walks in Brooklyn route for Park Slope is going to have you cover 5th Avenue up to Prospect Park West from 9th Street all the way to Flatbush Avenue. You most certainly can go up every street here, especially if its a beautiful day, but Park Slope is on a slope from Prospect Park, so if you're heading up and down the streets (not Avenues) you may feel the burn in your legs as you will be walking on a slight incline the entire way up to Prospect Park West.
If that seems too strenuous for you, we recommend walking up 9th Street to Prospect Park West, once you get up here be sure to cross the street and walk along the outer perimeter of Prospect Park so you can actually get a great view of the magnificent buildings along Prospect Park West.
From here, go up and down as many streets as you like, they are all STUNNING. If you're looking for some points of interest or if you work up an appetite make sure you check out our guides to the best things to do in Park Slope and Park Slope 5th Avenue guides for ideas and recommendations.
You can find President Barack Obama's former Brooklyn brownstone residence at 640 2nd Street, we recommend making your way to Grand Army Plaza, and if you're feeling up to it you have many access points to enjoy Prospect Park too!
Read Next: Amazing Brooklyn Boutiques & Gift Stores in Brooklyn
Brooklyn Bridge Park & DUMBO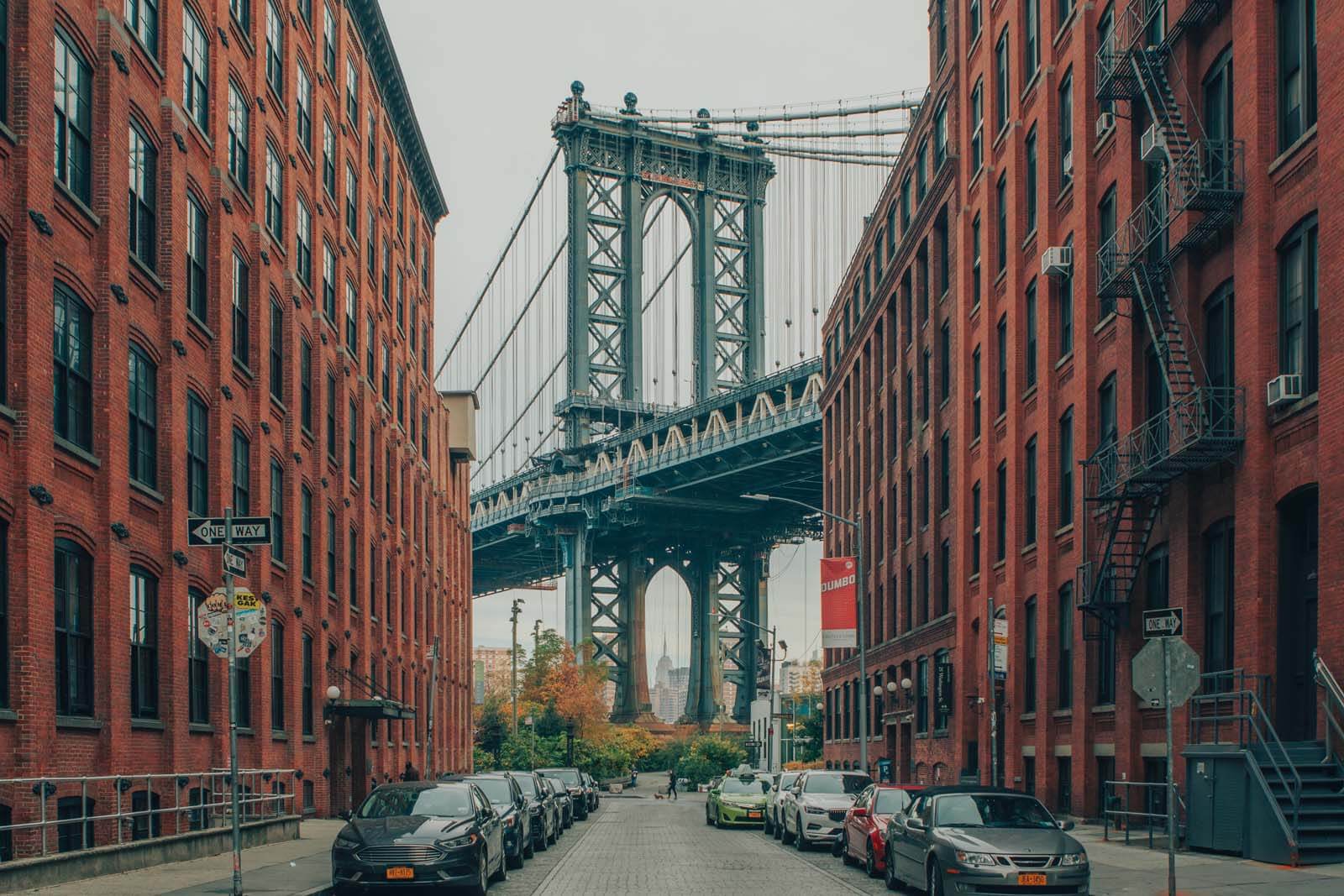 One of the more popular walks in Brooklyn that almost any visitor to the city does is the Brooklyn Bridge walk, and for a good reason not only is it one of the most iconic landmarks of all of NYC, but it also offers some of the best views and photo spots in the city not to mention the history of the Brooklyn Bridge is also fascinating.
If you haven't done the walk across the Brooklyn Bridge, start in Lower Manhattan and make your way over by foot so you can enjoy the rest of our suggested Brooklyn walk through Brooklyn Bridge Park and DUMBO where you get some of the best views of the city from across the East River with an unobstructed view of the skyline and Brooklyn and Manhattan Bridges.
After walking the bridge, make your way to towards the piers in Brooklyn Bridge Park, you'll pass Fulton Ferry Landing, the historic building that sits at the base of the Brooklyn Bridge that was the location of the first ferry service that ran between Manhattan and Brooklyn as far back as 1642.
Follow the paths along towards the 6 piers where you can find more areas for viewing the amazing skyline vistas and enjoy some outdoor art sculptures and even play sports. After enjoying this area, walk back towards the Brooklyn Bridge to enjoy the rest of Brooklyn Bridge Park and all the best things to do in DUMBO.
Continue along the East River waterfront for more incredible views of the skyline passing Jane's Carousel, there are many places to rest your feet before continuing your Brooklyn walk. If you need a bite to eat, there are a plethora of amazing DUMBO restaurants with a view or an amazing array of options at the Time Out Market food hall. If you go to Time Out, make your way up to the 5th floor outdoor viewing area where you get some amazing photos of the skyline, Brooklyn Bridge, and cityscape views!
Be sure to also give yourself time to walk around DUMBO, you won't want to miss one of the most photographed spots in the city at the corner of Washington and Water Streets. This is where you get the view of the Empire State Building perfectly lined up in the center of the Manhattan Bridge with the renovated industrial DUMBO warehouse buildings on the side.
There are tons of great shops, restaurants, and cafes in this area, if you have extra time make your way by foot through the small old Irish-enclave in the city, Vinegar Hill where you can find a cluster of 19th century Federal and Greek Revival style homes.
Also, if you've already walked the Brooklyn Bridge and want an alternative, try the Manhattan Bridge walk!
Williamsburg Street Art & Domino Park
Another great pick for Brooklyn walks for views, street art, great shopping, and dining is through the hipster neighborhood of Williamsburg. The streets are lined with murals and street art from commissioned pieces from artists all over the world to billboard advertisements and even Dunkin Donuts has a 'hip' feel here with their own mural.
The waterfront of Williamsburg doesn't disappoint either with drop-dead gorgeous views across the East River of Manhattan's skyline and the Williamsburg Bridge which is why this is one of our top walks in Brooklyn because there's so much to offer in this area.
We recommend making your way down Bedford Avenue browsing the shops if you are in the shopping spirit or grabbing a bite to eat. We also like weaving our way towards the waterfront exploring the parallel streets of Berry Street and Wythe Street.
Along the way, be sure to spot some of the best street art in Williamsburg. We personally love the Eduardo Kobra and Brolga murals! The most iconic mural of Williamsburg though not to be missed on your walk in Brooklyn is the Mona Lisa of Williamsburg at the intersection of Broadway and Metropolitan Avenues.
You will find yourself at Domino Park once you get to the waterfront, this is one of the best parks in Brooklyn and where you can climb and walk around the former Domino Sugar Refinery ruins which are now a part of the urban playground and park overlooking Manhattan.
If you want to soak up more waterfront views and midtown Manhattan, check out Marsha P Johnson Park. If you're looking to do an alternative bridge walk, we recommend checking out our guide to walking the Williamsburg Bridge, or if you're interested in exploring the world of the Hasidic Jewish neighborhood, you can walk through South Williamsburg towards Brooklyn Navy Yard.
Be sure to also check out our full guide to the best things to do in Williamsburg if you plan on hanging out here for the day, there are plenty of things to do and our guide is full of recommendations!
Green-Wood Cemetery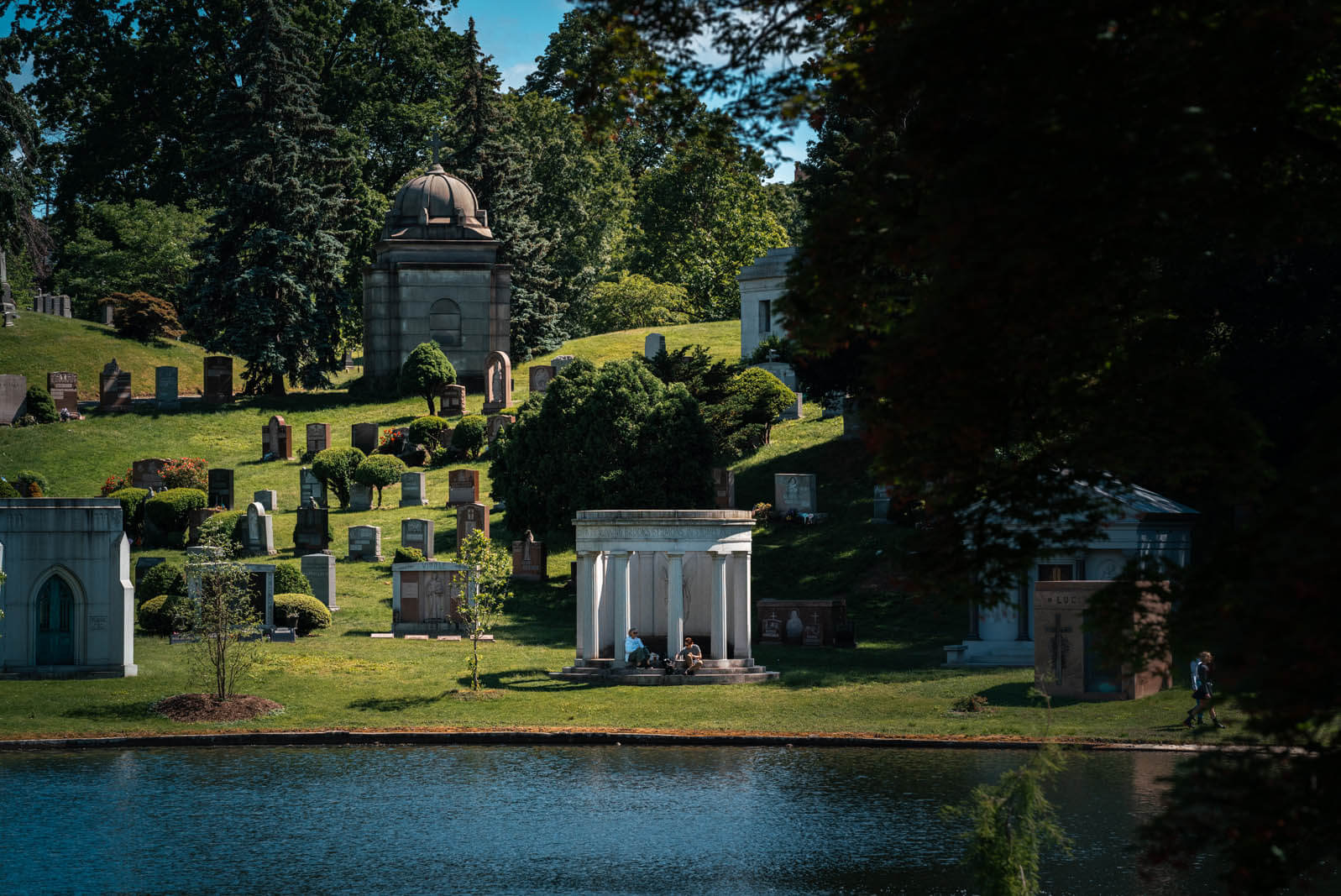 One of the more unique walks in Brooklyn to enjoy has been a locals favorite since the 19th century. Green-Wood Cemetery seems like an odd place to walk around in Brooklyn because it's where the deceased permanently rest, but once you learn more about Green-Wood Cemetery and see it for yourself you'll understand why this is one of the most popular Brooklyn walks for South Brooklyn residents.
Located between Greenwood Heights, South Slope/Park Slope, Fort Hamilton, and Sunset Park lies Green-Wood Cemetery that was built in 1838 as a rural cemetery as Manhattan was running out of space for bodies.
The attractive 478-acre cemetery became popular quickly and was often called Brooklyn's first public park as Prospect Park didn't exist yet. It became so popular that it inspired the creation to design Central Park, and then Prospect Park.
This massive cemetery is listed as a National Register of Historic Places and a National Historic Landmark and home to gorgeous architecture including famous monuments, mausoleums, chapel, and gates with a labyrinth of winding pathways throughout the entire cemetery.
We recommend entering at the main entrance, not only because it's an exquisite example of Gothic Revival architecture, but this entrance is open daily whereas others have varied hours that they are open. Weave your way through the several famous mausoleums and monuments adorned in Romanesque, Gothic, Classical, and Egyptian styles as well as views of Lower Manhattan from its highest point.
When you're done, we recommend checking out the food in South Slope or walking down to Industry City where you can find tons of eateries, food halls, shops, and colorful murals.
BoCoCa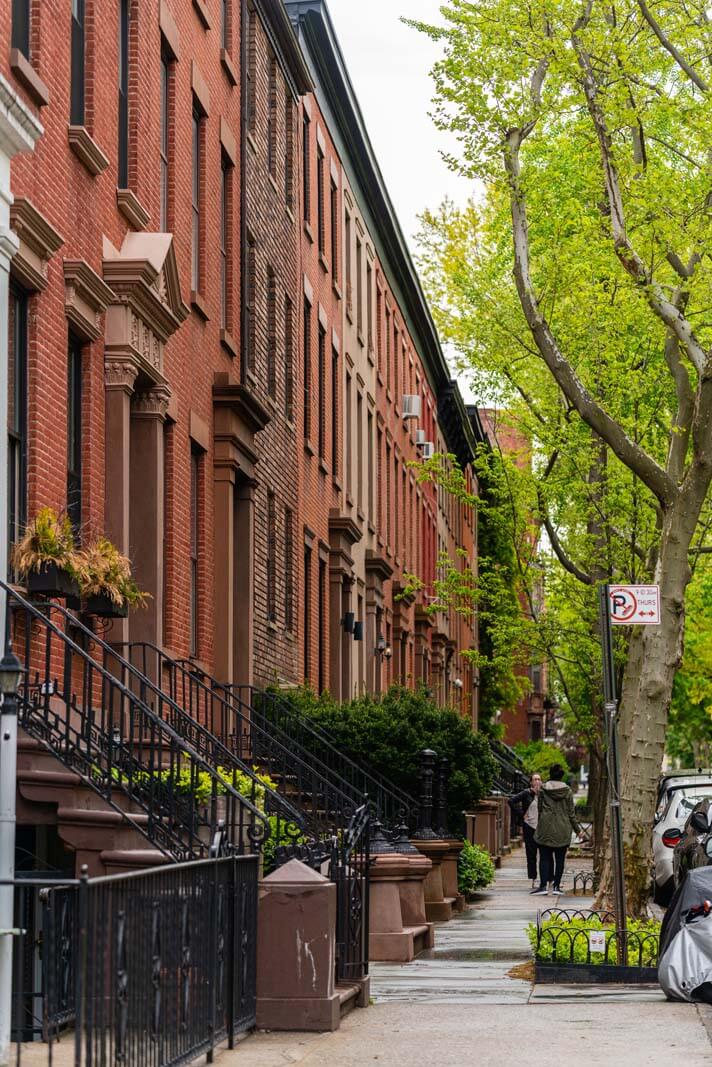 I actually personally hate calling this area BoCoCa but for the purposes of this guide to the best walks in Brooklyn, it's easily the most succinct way of saying it. BoCoCa is a combination of three of the most gorgeous neighborhoods which include Boerum Hill, Cobble Hill, and Carroll Gardens.
Like Park Slope, one of our Brooklyn walks mentioned earlier, these three neighborhoods are full of beautiful row houses and brownstones as well as some great shopping and dining streets.
For this walk in Brooklyn we recommend making your base points to discover and branch off down side streets in BoCoCa from Court Street and Smith Street.
We recommend walking down Smith Street popping in shops and snacking and then coming back by walking on Court Street where you will want to save your appetite for because Court Street has some of the best dining in Brooklyn! This is also where you can find some of the best restaurants in Carroll Gardens.
Along the way, be sure to stray from the main streets and head up and down the intersecting residential streets where you'll find the occasional hidden gem of a shop, cafe, or restaurant and stunning homes. If you have more time to continue walking, check out Henry Street too.
Check our entire guide to the best things to do in Carroll Gardens and BoCoCa to plan your walk around!
Coney Island Boardwalk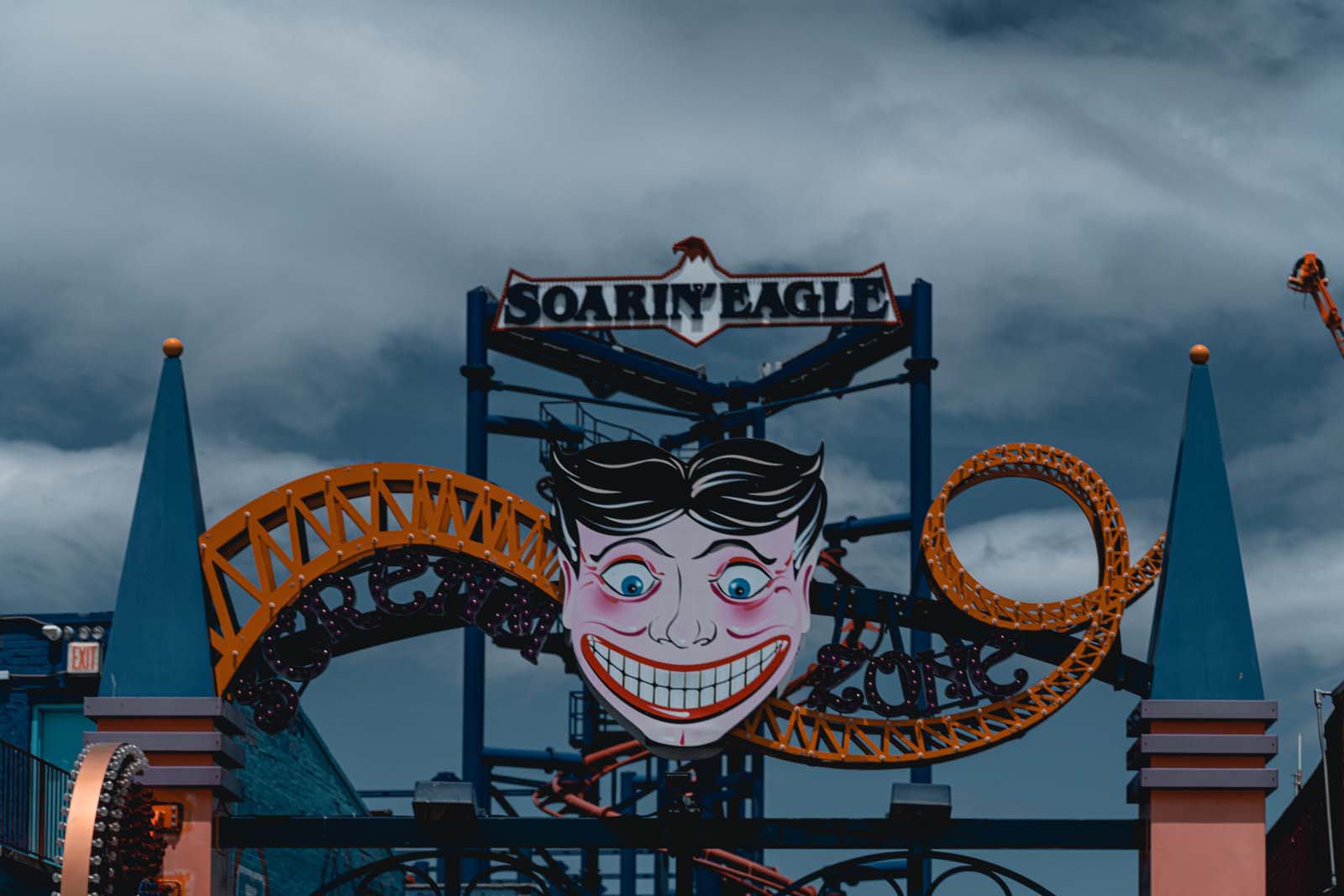 Another one of the best walks in Brooklyn takes you to one of America's oldest and iconic amusement parks and boardwalks! Even though most of the best things to d at Coney Island takes place in the summer months, there are things to do offseason and this is one of the best walks in Brooklyn any time of the year especially off-season if you're hoping to avoid crowds and still admire all the historic sites, ocean views, and amazing things to see here.
Just note, if you do come in the middle of the summer season you may have a more crowded walk than you anticipated, regardless this is still a fun time to visit and see the buzzing and summer crowds enjoy the amusement parks and classic Coney Island experience.
We have visited off season and really enjoy the walk even with Luna Park and Deno's Wonder Wheel closed for the season. Even in the off-season, you can see many of the classic rides like the Wonder Wheel and Cyclone roller coaster to name a few.
We recommend walking the 2.7 miles length of the Riegelmann Boardwalk where you will be walking along the ocean and Coney Island beach, the historic amusement parks, and rides, and you can make your way to the Eastern European and Russian enclave neighborhood and beach community of Brighton Beach. Be sure to check out all of our picks for the most interesting hidden gems in Coney Island too!
If you work up an appetite, be sure to stop at Nathan's Famous on the corner of Surf & Stillwell which is open year round and is home to America's most famous hotdog born here at Coney Island by German immigrant Nathan Handwerker.
If you're visiting off season, be sure to check out all the best Coney Island winter attractions that are open!
Dyker Heights Christmas Lights!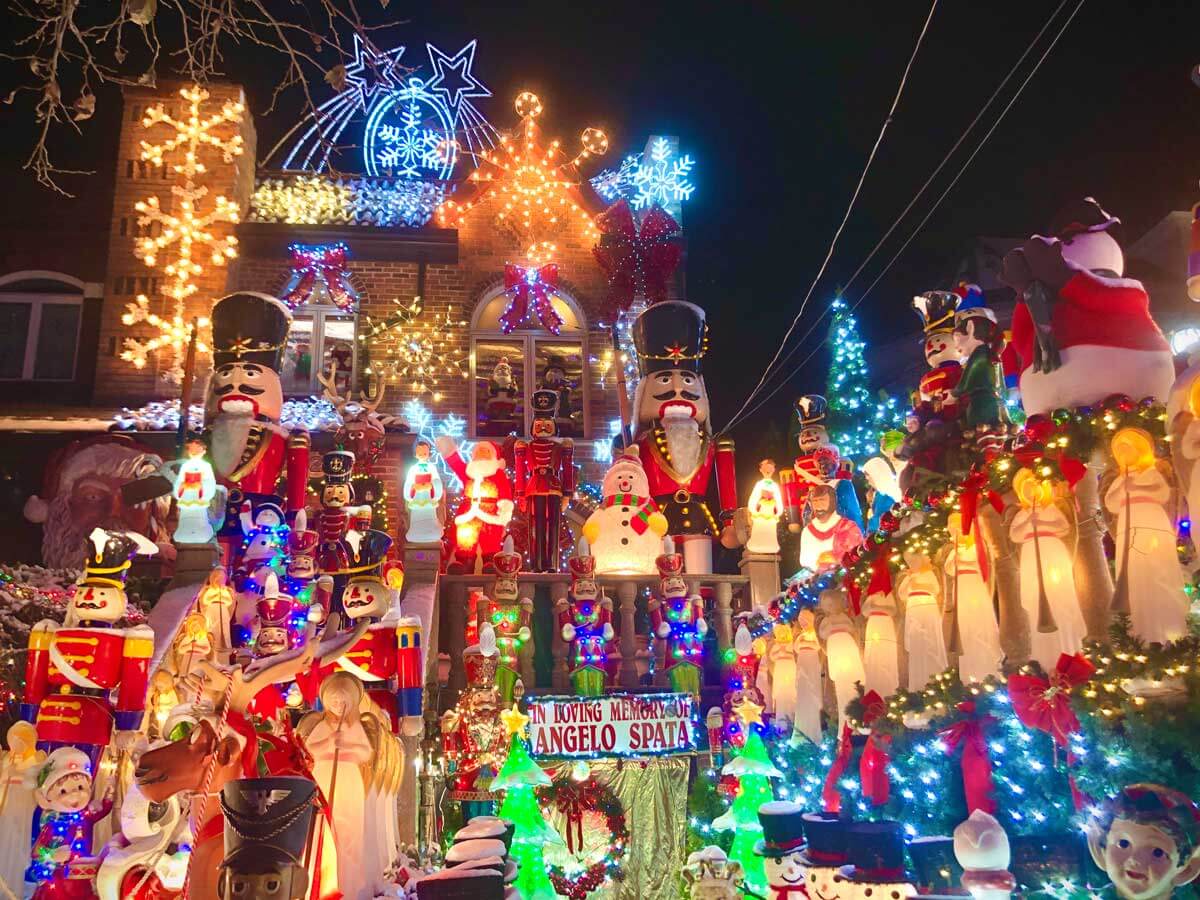 We have a bonus walks in Brooklyn to share! If you're looking for the best Brooklyn walks in the winter, you will want to check out the famous holiday lights in the residential neighborhood of Dyker Heights, which have become one of the city's most famous light displays and Brooklyn winter activities to enjoy!
Each year between Thanksgiving and New Years Day, the neighborhood of Dyker Heights illuminates their entire neighborhood with festive light displays at private residences who take Christmas pageantry to a whole new level for any holiday light peeper to enjoy.
The Christmas lights in this neighborhood have been a tradition for over 30 years and is a friendly, unspoken competition between neighbors of who can have the most elaborate holiday home display, some of which have up to $20,000 invested in their annual displays!
We recommend reading our entire guide to the Dyker Heights Christmas lights to find all the hotspots and learn about the most famous homes on this popular winter walks in Brooklyn. In short, the best streets for viewing the holiday lights and decorations are 83rd Street and 84th Street between 10th and 12th Avenues.
Also, check out our guide to the best things to do in NYC in winter for more ideas!
---
Liked this post about the best walks in Brooklyn and the best Brooklyn walks for scenic views of the city? Bookmark for later or share the love below on Pinterest.