Looking for the best weekend getaways in the Catskills? We got you. With just around a 2-3 hour drive from New York City (depending on where you're spending your Catskills weekend getaway), this is no doubt one of the most popular escapes for city dwellers.
And even when you're in the Catskills, it's got this Brooklyn-vibe to it and it's not uncommon to meet indie shop, restaurant, or hotel owners that hail from Brooklyn up in this creative mountain community full of charming towns, idyllic mountain lodges, B&Bs, Inns, hotels, and motels not to mention all-season activities to give you a good excuse to book a Catskills weekend getaway anytime of year.
From the summer fun and activities on the rivers, lakes, and outdoor activities on the mountains from hiking to fishing to hitting the multiple slopes of the region in the winter and soothing your achy muscles away in the spa or clawfoot tubs at your hotel.
No matter what you're looking for – you can find it here. So next time you're looking for the perfect city escape, consider any one of these wonderful weekend getaways in the Catskills.
This guide covers a few of our favorite picks plus what to do, see, eat, drink, and where to stay at each one of these destinations!
Amazing Places to Spend a Weekend in the Catskills
Roscoe & Livingston Manor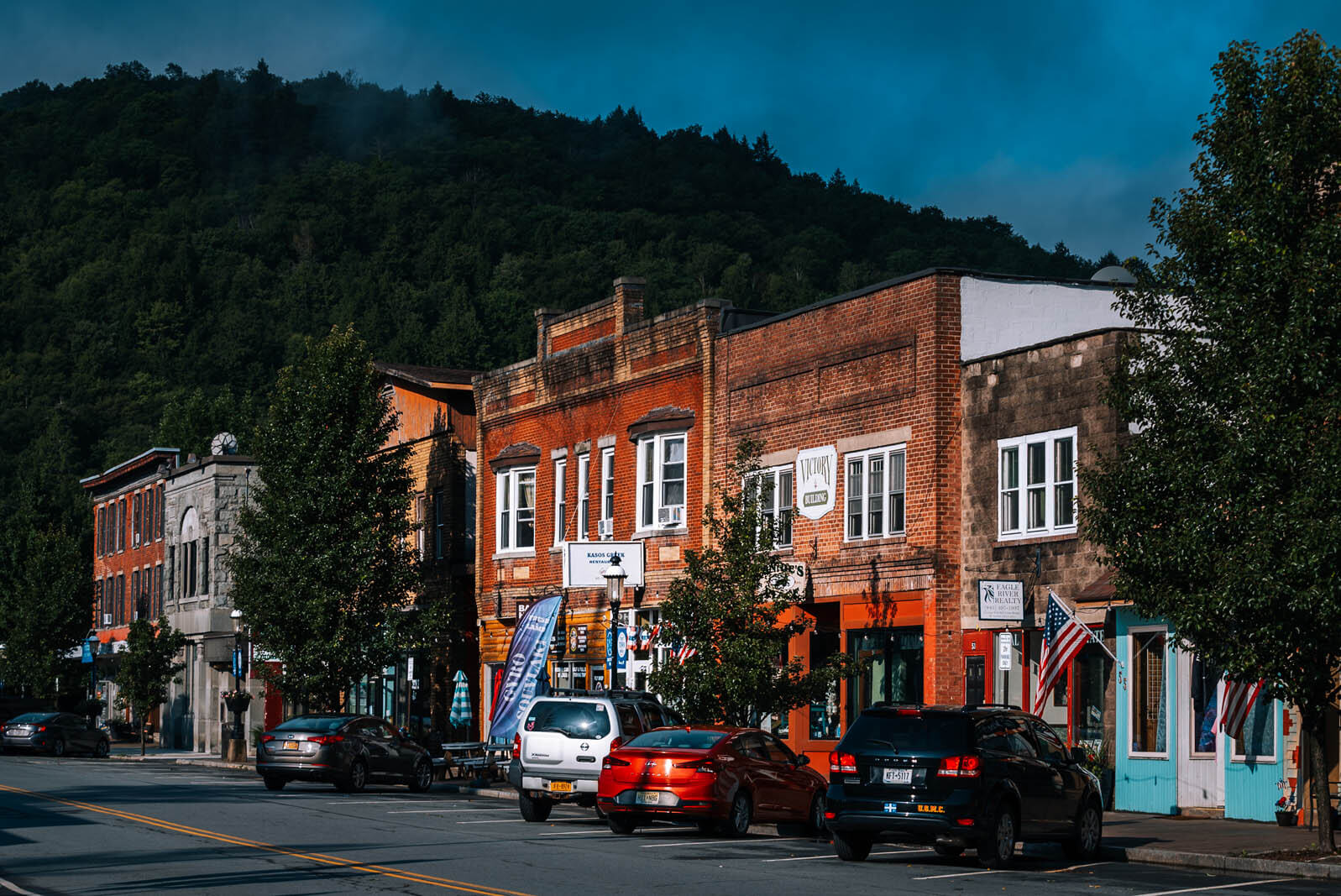 Do you live by repeated viewings of Dirty Dancing and The Marvelous Mrs. Maisel? Then a Catskills weekend getaway to Roscoe and Livingston Manor, NY may be for you!
Located only 7 miles from each other in Sullivan County, this area of upstate New York was known as the "Borscht Belt" for its prolific selection of summer resorts frequented by Jewish Americans from the 1920s through 1970s.
While sadly many of the resorts have fallen into disrepair (the ruins of the inspiration for Dirty Dancing's Kellerman's Resort can be found in nearby Liberty), the remnants of the "Jewish Alps" have remained in an area full of sun-soaked summer hospitality in the form of breweries, campsites, concert halls, and fly fishing in Roscoe, also known as "Trout Town, USA".
What to do at this Catskills Weekend Getaway Spot:
Roscoe Railway Museum
7 Railroad Ave, Roscoe NY
This historic museum preserves aspects of the New York & Ontario Railway, which fostered economic growth in the area from 1868 to 1957. One particularly unique facet? The history of the line's "trout cars", which would carry fish from Long Island and other upstate hatcheries and repopulate them directly from train cars into streams.
Concrete + Water
8 Pearl St, Livingston Manor, NY
Be sure to stroll through downtown Livingston, where you can find charming shops like Concrete + Water, perfect for stocking up on upstate haute couture (think: beanies, oversized sweaters, farmhouse dresses and flannels). Concrete + Water is also an excellent choice for home goods, gifts, and trinkets, featuring a curated collection of candles, stationery, high-end soaps, and dishware.
Homestedt
6 Pearl St Livingston Manor, NY
Looking to design your own Catskills weekend getaway dream home? Make sure to stop by Homestedt, a "home design renovations and nature experience company" that's part showroom, part shop. Pick out the walnut desk of your dreams — or, if you're saving up ahead of buying that country cottage, check out some of their Catskills-themed merchandise from local vendors.
Bethel Woods Center for the Arts (Woodstock Music Festival Site)
200 Hurd Road Bethel, NY
A 30-minute drive from the Livingston/ Roscoe area is the Bethel Woods Center for the Arts, site of the legendary 1969 Woodstock music festival. Visit the onsite museum filled with historic photo archives, film archives, and artifacts of Woodstock, including a hippie bus!
There's also a high-tech augmented reality tour allowing you to experience the atmosphere of the festival and even Jimi Hendrix playing the Star Spangled Banner. And be sure to check the Bethel Woods calendar, where the musical stars across genres play seasonal concerts to new "Woodstock" audiences.
Fly Fishing
2179 Old Rte 17, Roscoe, NY
Whether you're an expert or a novice, fly fishing in Trout Town, USA is a Catskills weekend getaway must — work with a guide at Baxter House River Outfitters, The Beaverkill Angler, or Trout Town Flies, or strike out on your own by renting equipment and purchasing a license at ​​RCP Outpost, the Roscoe Campsite Store.
Staying at Roscoe Campsite is the ideal way to enjoy the beauty of Sullivan County and fly fish to your heart's delight — the campsite lets guests fly fish directly from their campsites along Beaver Kill.
Places to Eat & Drink at this Catskills Weekend Getaway Spot:
Do Good Distillery
10 Union St Roscoe, NY
Operated out of the historic 1920s Roscoe Firehouse, Do Good Distillery specializes in craft vodka, gin, and bourbon. Try their Catskill Breakfast (bourbon cream, coffee, roasted cinnamon nutmeg) for a warm, wintery pick-me-up or the Roscoe Mule (Bootlegger vodka, lime, and ginger beer) for a refreshing summer toast.
Roscoe Beer Co.
145 Rockland Road, Roscoe NY
Fully embracing Roscoe's "Trout Town" legacy, Roscoe Beer Co. is a convivial, community-oriented beer hall serving up craft brews daily, along with seasonal Summerfest and Oktoberfest tasting events. Try their Whitetail Pale Ale, or if you're the DD, their signature Root Beer!
Catskill Brewery
672 Old Rt 17, Livingston Manor, NY
Looking for hyperlocal brews? This charming, farmhouse brewery brews their beer from nearby fresh mountain water. Sample their Freak Tractor Farmhouse Ale or Devil's Path IPA while you enjoy one of their Comedy Nights or the frequent appearance of the Catskills Food Truck.
Upward Brewery
171 Main St Box 1015, Livingston Manor, NY
If you've been searching for the perfect brewery photo-op, look no further than Upward Brewery, a 120-acre reserve known as Beer Mountain and the most stylish taproom around. Enjoy an Ascension Pilsner paired with Kimchi fries as you look out of Upward floor-to-ceiling windowed views of the Livingston Manor.
The Kaatskeller Pizza
39 Main St, Livingston Manor, NY
Pair curated cocktails with crispy, wood-fired pizzas at The Kaatskeller. Try the Dreaming of Buffalo Pie (Buffalo Kombucha hot sauce and chicken), or, if seafood is more your scene, their whole roasted Herb Pesto Trout.
The Smoke Joint
630 Old Rte 17, Livingston Manor, NY
Enjoy 12-hour smoked shoulder, Texas-style smoked brisket, and divine pulled pork sandwiches at the Smoke Joint, home to some of the area's best BBQ. Wash them down with their Honky Tonk Woman (blackberry puree, lime aide, and vodka) cocktail!
Roscoe Diner
1908 Old Rte 17, Roscoe, NY
A classic, road-trip joint that looks transported out of 1965, the Roscoe Diner is a great place to stop on your way in or out of town for banana pancakes, 3-egg omelets, and deep fried french toast!
Where to Stay at this Catskills Weekend Getaway Spot: 
Roscoe Campsite
2179 Old Rte 17, Roscoe, NY
Whether you plan to fly fish (or just wave to the fish) in nearby Beaver Kill, Roscoe Campsite is a great option to fully enjoy the beauty of Sullivan County. We recommend staying in one of their cabins or the glamping-covered wagons, though you also have the option to reserve an RV space or a tent!
Arnold House
839 Shandelee Rd, Livingston Manor, NY
Set on 80 acres surrounding Shandelee Mountain, the Arnold House is a chic country retreat owned and operated by the Foster family, who have lived in Livingston for 5 decades. Featuring a spa, tavern, garden workshops, and a serene greenhouse, The Arnold House also hosts weddings and events for large groups, perfect for celebrating family and friends or a company retreat.
Best Time to Visit This Catskills Weekend Getaway Spot: 
Summer and early fall is the best time to visit Roscoe and Livingston to fully enjoy Beaver Kill, beer gardens, and the outdoor scenery. However, if you find yourself in need of a winter weekend getaway in the Catskills, the Arnold House offers winter cabanas and a year-round tropical greenhouse as a way to escape the cold!
Narrowsburg & Callicoon
Settled along the Delaware River and the foothills of the Catskills Mountains, Narrowsburg and Callicoon are charming hamlets a 20-minute drive from each other with plenty of shopping, hiking, and of course, kayak, canoeing, tubing, swimming, fishing, and eagle-watching from the banks of the river.
What to do at this Catskills Weekend Getaway Spot:
Lander's River Trips
The best way to explore the Delaware River? Rent a raft, kayak, canoe, or tube from Lander's River Trips. Open since 1955, Lander's River Trips is a family-run business guiding visitors through over 70 miles of the Delaware stretching from Hancock to Port Jervis with multiple launching sites as well as campsites. Look out for frequent appearances by Bald Eagles along the river route as you float through its clear waters in total relaxation (that is, unless you're canoeing — bring your arm muscles!).
Hiking
While in Narrowsburg, try an afternoon hike at Tusten Mountain Trail or the Damascus Forest Trail, and if you're closer to Callicoon, try nearby Hancock and the Bouchoux Trailhead!
Hawk's Nest
546 NY-97, Sparrow Bush, NY
Driving in or out of town? Make a detour through Rt 97 to check out this breathtaking view of the Upper Delaware River and (hopefully) a few hawks or bald eagles! Fun fact, the Hawk's Nest is also easily recognizable as the site of the harrowing car crash in Dr. Strange (drive safely, regenerative multiverse powers are not included!).
Callicoon Theater
30 Upper Main St Callicoon, NY
Built in 1948, the Callicoon Theater is the oldest operating cinema in the area. The 350-seat, stylish art-deco movie house built in Quonset Hut style shows everything from new-release blockbusters to indie flicks to local film festival selections, as well as live events and concerts. As they say, "the prices are low and the popcorn butter is real…find out what's coming soon, at the Callicoon" — so make a trip to the historic theater on your weekend in the Catskills.
Spruce Home Goods
35 Lower Main St, Callicoon, NY
Artisan kitchenware, glassware, linens, pillows, and home fragrances abound at Spruce Home Goods, an indie shop filled with well-made, hand-crafted treasures. Pick up a cozy blanket and the scent of (yes) spruce for your home along with rotating pastries to snack on after you browse!
Litt Home and Book
43 Lower Main St, Callicoon, NY
A friendly, indie book shop full of staff-curated picks and delightful stationery, ornaments, and accessories, Litt Home and Book is the perfect place to stock up on supplies for a vacation weekend of reading — an ideal option for rainy days!
One Grand Books
60 Main St, Narrowsburg, NY
One Grand Books centers its selection around "Desert Island" book picks, sourcing lists of must-read picks from notable creatives, thought leaders, and celebrities. And yes, Michael Ian Black, we agree — From the Mixed-Up Files of Mrs. Basil E. Frankweiler is one of the best books of all time!!
Sunny's Pop
76 Main St, Narrowsburg, NY
Owned and operated by Sunrise Ruffalo (yes, she is Mark Ruffalo aka the Hulk's wife!) Sunny's Pop is a delightful antique shop featuring wares from the early 19th century to mid-20th century, all hand-chosen by Sunny and the staff. Pick up a pair of gorgeous sculptural earrings or intricately designed candlesticks as a stylish way to shop sustainably.
Places to Eat & Drink at this Catskills Weekend Getaway Spot:
Callicoon Brewing Company
15 Upper Main St, Callicoon, NY
Housed in the historic, century-old Olympia Hotel, the Callicoon Brewing Company is a lively, charming brewpub with a wide variety of draft and tap beers and pub snacks. Try the fried pickles and chicken schnitzel with the Callicoon Cow Pale Ale!
Catskills Provisions Distillery
16 Upper Main St, Callicoon, NY
Successful publisher Claire M. Marin left her job in New York City, moved to the Catskills, and became a beekeeper. Her career change is a delightful boon for locals and visitors alike, keen to try her proprietary vodka and whiskey made with honey from her beehives. While you're there, pick up some raw honey, maple syrup, and beespoke gin to go!
2 Queens Coffee
104 Kirks Rd, Narrowsburg, NY
Speaking of bees, no weekend getaway in the Catskills is complete without a trip to 2 Queens Coffee, where beekeeper Charles Wilkin and Head Coffee Roaster Martin Higgins founded this Narrowsburg cafe where freshly roasted beans, locally baked pastries, and house-brewed teas pair perfectly with their Catskill wildflower honey.
Try an Afternoon Queen Tea (Black tea, Lemon balm leaves, Strawberry pieces, Calendula & Sunflower petals) or an earthy Jazz Hands Espresso — is there a better name for being caffeinated?
The Heron
40 Main St, Narrowsburg, NY
On a first romantic getaway with your SO? Go for a date night dinner at The Heron, a sustainable, farm-to-table New American restaurant with creative takes on New York strip, pork chops, oysters, and fried chicken. And don't forget their well-regarded cocktail program, featuring hits like the Three's Company (Full Moon Mule, Spiked Apple Cider) and Cranberry Margaritas.
B-Line Ice Cream
7 Erie Ave, Narrowsburg, NY
Rounding out our bee theme is B-Line Ice Cream, a seasonal dessert shop in Narrowsburg that uses local beehive honey to sweeten its small-batch, ice cream treats. Try the Cafe Con Leche, Cardamom Pistachio or Mayan Chocolate!
Peppino's
31 Lower Main St, Callicoon, NY
One of the oldest Italian restaurants in town, Peppino's is a family-run favorite for pizza (gluten-free options available!), calzones, and pasta. Try their Butternut Squash Manicotti or Peppinos' Special Pizza (sausage, pepperoni, mushrooms, onions, black olives and peppers).
Where to Stay at this Catskills Weekend Getaway Spot:
Hotel Darby
9 Manor Dr, Lake Beach, PA
Quick note, the Hotel Darby is technically in Pennsylvania — but just across the Delaware River! An easy drive to downtown Narrowsburg, Hotel Darby is another stylish resort run by the Foster family (also the proprietors of Arnold House in Livingston Manor and 9 River Road, below!). Check out the well-appointed guest rooms outfitted with Malin + Goetz bath products and Scrabble board games for the ultimate restorative stay after a busy day in town.
9 River Road
9 River Road Callicoon, NY
Another venture from the Foster family,9 River Road is a small, elegant hotel in an 1884 country house. Book here for the casual, family-style vibes (check-in is at the kitchen table! Dogs are allowed!) and the close distance to downtown Callicoon.
Western Hotel
22 Upper Main St, Callicoon, NY
An 1852 Victorian mansion and National Historic landmark smartly renovated to reflect the best features of its old-school charm with new touches like Flatscreen TVs. While you're at the Western Hotel, be sure to stop by the hotel's restaurant for smoked trout mousse and shrimp ceviche tapas!
Best Time to Visit This Catskills Weekend Getaway Spot: 
Summer or early fall is the ideal time to visit Narrowsburg and Callicoon — you'll get the most out of the Delaware River, seasonal restaurants (including B-line Ice Cream), and events around town.
Hunter & Tannersville
The classic novel and frequent pop-culture reference Rip Van Winkle was set in the foothills of the Catskills — many years after Rip Van Winkle woke up to an entirely changed world, the towns of Hunter and Tannersville have taken the literary connection and run with it, erecting monuments to the man on Hunter Mountain and in a giant mural in downtown Tannersville.
Aside from reenacting the Dutch traveler's tale (yes, it is that easy to have a few cocktails and want to nap!!), there are lots to do in Hunter and Tannersville on the slopes, in shops, and at the Kaaterskill Falls (one of the best hikes near NYC).
What to do at this Catskills Weekend Getaway Spot:
Hunter Mountain
64 Klein Ave, Hunter, NY
Ski bunnies, assemble! Hunter Mountain and the Hunter Mountain Resort are ideal place for skiers and snowtubers (put your hands up!) of all levels. Dozens of trails across three separate mountains accompany ski lodge dining (try their Belgian Liege Waffle), spa facilities, and condominium lodging perfect for booking a weekend getaway in the Catskills.
Not to mention, this is one of the best options for skiing near NYC too!
Kaaterskill Falls
The highest cascading waterfall in New York State at 260 feet, Kaaterskill Falls are a spectacular place to appreciate the true beauty of the area. While views of the falls are available from nearby hiking trails, the best vantage points are from the viewing platforms at the bottom and top of the falls.
Insider tip, the top viewing platform is easier to navigate and allows for panoramic views of the Catskill Mountains!
New York Zipline
Hunter Mountain Ski Bowl Route 23A, Hunter, NY
While some of us are deeply afraid of heights (can't tell you who, but know that some of us are deeply afraid of heights), for the fearless adventurers out there, there is New York Zip Line. Get the ultimate birds-eye view of Hunter Mountain 600 feet above the valley while speedily zipping to your heart's delight. I'll wave to you from the ground!
Catskill Mountain Country Store
6014 Main St Tannersville, NY
Stock up on homemade jams, jellies, pies, toys, crafts, home goods, and board games at this old-school treasure in downtown Tannersville. The Catskill Mountain Country Store also serves up tasty breakfast and lunch samplers like the Tall Tale (Locally smoked trout, sour cream, and fresh chives in a 3 egg omelet, served with a pile of home fries), the Stars and Stripes (3 huge buttermilk pancakes filled with strawberries, bananas and blueberries, topped with fresh whipped cream), and the Napoleon Wrap (Grilled boneless breast of chicken, fresh mozzarella, tomatoes, pesto, and parmesan shavings). And don't forget to grab dessert from their old-fashioned ice cream counter!
Tannersville Antiques
6045 Main St, Tannersville, NY
The largest antique shop in the Catskill Mountains, Tannersville Antiques is chock-full of beautiful jewelry, furniture, clothing, and home decor that is frequently updated. Reenact your Antiques Roadshow and search for treasures before stopping to snap a pic in front of the Rip Van Winkle mural outside!
Sundry
6036 Main St, Tannersville, NY
Looking for home goods old and new? Try SUNDRY, a Tannersville-based shop full of curated kitchenwares, fragrances, and decorative objects from local vendors. An illustrated field guide to the Catskills would make an excellent housewarming gift for your friend who decamped upstate!
Orpheum Film & Performing Arts Center
6050 Main St Tannersville NY
A state-of-the-art performance venue, Orpheum Film & Arts Center is home to concerts, art exhibitions, dance performances, and movie screenings!
Catskill Mountain Foundation Gallery and Bookstore
7971 Main St, Hunter, NY
A sustainable, multicultural gift shop celebrating artisans from the Catskills and around the world, this well-curated store is the perfect place to shop after a performance at Orpheum Film & Performing Arts Center
Places to Eat & Drink at this Catskills Weekend Getaway Spot:
Hunter Mountain Brewery
7267 New York, NY-23A, Hunter, NY
Open for over 6 years, Hunter Mountain Brewery declares itself a "place for simplicity", where pub food favorites, craft brews, and cocktails are served in a friendly, lodge-like setting. Try the Crazy Hazy IPA or the Crystal Ball Lager with a beer cheese soup and brisket!
Prospect Restaurant
13 Scribner Hollow Road, Hunter NY
Housed in the Scribner Lodge, Prospect is a marriage of seasonal, locally-sourced Catskills specialties and modern Italian cuisine. Sample the Hudson Valley Cheese Plate before diving into the Squid Ink Spaghetti — and don't forget to try an Alpine Negroni (Gin, Cynar, Alpine Liqueur, Antica, Benedictine, Yellow Chartreuse) as you enjoy a leisurely meal with views of Hunter Mountain.
Mama's Boy Burgers
6067 Main St, Tannersville, NY
Taking farm-to-table very seriously, Mama's Boy Burgers are cooked with grass-fed, Angus beef from JJ farms (a short 6 miles from the restaurant). Try the Jersey Boy (Local Black Angus Beef, Smoked Mozzarella, Italian Peppers, Fresh Basil, Basil Mayo) or for the veggie-inclined, the Falafel Burger (House-Made Falafel, Spiced Gouda, Tomato, Cucumber, Harissa Yogurt Sauce). 
Bear and Fox Provisions
5932 Main St, Tannersville, NY
Come for the incredibly good coffee drinks, breakfast sandwiches or brekkie tacos, and stay for the fun shop full of fun Catskills merchandise and gifts!
Where to Stay at this Catskills Weekend Getaway Spot: 
Hotel Mountain Brook
57 Co Rd 23C, Tannersville, NY
Originally a 1940s summer retreat, this upscale lodge underwent significant renovations to become one of the best places to stay for a weekend in the Catskills. Stay in a stylishly appointed suite with a cozy fireplace and direct views of the Catskill mountains, and make sure to wake up early enough each morning to enjoy the complimentary breakfast at Hotel Mountain Brook!
Scribner's Lodge
13 Scribner Hollow Rd, Hunter, NY
A favorite amongst trendsetters, Scribner's Lodge sits on the property of the 1966 Scribner Motor Lodge, retaining all of the charm of an old-school resort with all of the amenities of a sleek, modern, cabin complex. Curl up with a book on your private deck overlooking the mountains or dine at the aforementioned Prospect House. Scribner's also hosts seasonal events like their Winter Garden and Après Ski pop-up!
Best Time to Visit This Catskills Weekend Getaway Spot: 
Best Time to Visit: Hunter and Tannersville are worthwhile trips any time of year — from skiing in the winter, trying the New York Zipline in the summer, and hiking at Huckleberry Ledge in the fall, there are plenty of seasonal and all-season adventures to keep you busy!
Woodstock
You've likely heard of the Woodstock music festival (though for clarification, the festival itself was held in the town of Bethel) — but beyond the beautiful Bethel Woods Center for the Arts, we recommend driving to the actual town of Woodstock for a great assortment of indie shops, hiking trails, and a beautiful Buddhist monastery, much of it within walking distance.
What to do at this Catskills Weekend Getaway Spot:
Overlook Mountain
A steady incline trail along a gravel road, a hike up Overlook Mountain is an excellent way to spend a weekend getaway in the Catskills. The trail is considered moderately difficult, just under 5 miles, and takes (on average) about 2 hours and 48 minutes, making it perfect for an afternoon hike (don't forget to take a few photos of the Overlook Mountain House Hotel ruins!). Dogs (on a leash!) are also welcome on the trail!
Woodstock Waterfall Park
8 Tannery Brook Road, Woodstock NY
Check out beautiful Woodstock Falls at this small and scenic park overlooking the Tannery Brook falls. Open 24 hours a day, Woodstock Waterfall Park is ideal for a romantic, after-dinner stroll.
Karma Triyama Dharmachakra Monastery
335 Meads Mountain Rd, Woodstock, NY
Currently, the North American Seat of His Holiness the 17th Gyalwang Karmapa, the Karma Triyama Dharmachakra Monastery (also known as KTD) is a beautiful, spiritually meaningful Buddhist monastery in Woodstock. KTD is open for public tours for visitors to appreciate the spectacular facilities as well as to attend workshops and retreats to learn more about Buddhist teachings and the practice of meditation.
Three Turtle Doves
62B Tinker St, Woodstock, NY
This high-end, art deco-influenced vintage shop is the perfect place to find well-curated and stylish pieces from decades of yore. Two prominent endorsers of Three Turtle Doves are the fictional but no less chic Carrie Bradshaw and Miranda Hobbes, who sported vintage purses from the shop in a few episodes of And Just Like That.
Rock City Vintage
5 Rock City Rd, Woodstock, NY
Owned and operated for 35 years by Molly Farley, a veteran of the Woodstock creative scene, Rock City Vintage is chock-full of groovy, mod squad-esque vintage finds. Farley also sells Fresh Vintage, a collection of one-of-a-kind creations designed with vintage fabric!
Bethel Woods Center for the Arts
200 Hurd Road Bethel NY
As mentioned in our Roscoe/Livingston guide, Bethel Woods Center for the Arts is the location of the 1969 Woodstock Music Festival and the campus is still home to a working concert venue and museum dedicated to the 1960-70s music scene. Check their calendar for upcoming acts or tour the museum filled with exclusive archives!
Woodstock Playhouse
103 Mill Hill Rd, Woodstock, NY
Opened in 1938 and one of the oldest operating theaters in the Catskills, the Woodstock Playhouse has survived economic hard times, a devastating fire, and multiple changes of ownership to delight audiences with theatrical performances and concerts. Check out the Woodstock Symphony or one of the season's musicals for a night out during your weekend Catskills getaway!
Places to Eat & Drink at this Catskills Weekend Getaway Spot:
Yum Yum Noodle Bar
4 Rock City Rd, Woodstock, NY
A YBG favorite, Yum Yum Noodle bar delivers top-notch Japanese noodles and Southeast Asian street food that's some of the best in the Catskills. Make your own noodle bowl with fresh, locally sourced, seasonal ingredients that you can customize to your liking!
Station Bar and Curio
101 Tinker St, Woodstock, NY
Amid the shops of Tinker St is the quirky Station Bar and Curio, a pub built out of an early-1900s Ulster County Delaware Railroad Company station. Try a variety of local whiskey flavors and craft brews (we like the Hudson Valley Holocene IPA) paired with a honey basil grilled cheese or a warm German pretzel!
Tinker St Tavern
297 Tinker St, Woodstock, NY
Housed in the historic Peterson House of 1897, Tinker St tavern is an excellent place to grab a cold beer and listen to live music. And if you're feeling brave, stop by for their Karaoke night!
Early Terrible
​​45 Mill Hill Rd, Woodstock, NY
"A timeless wine lounge with Global flair" Early Terrible is also known for its specialty cocktails, including hits like the Violet Blonde (white rum, blackberry blueberry shrub, fresh squeezed lime juice and mint) and the Hog Race (black truffle-infused Hendrick's Gin, housemade cinnamon syrup, pear puree, freshly squeezed lemon juice).
Tinker Taco
54 Tinker St, Woodstock, NY
Stop by the Tinker Bar to enjoy a spicy margarita and freshly made empanadas from the Taco Lab! Note that the Taco Lab is open seasonally, so be sure to check their social media for updates.
Garden Cafe
6 Old Forge Rd, Woodstock, NY
Looking for vegan restaurants during your weekend getaway in the Catskills? Look no further than the excellent Garden Cafe, full of fresh, organic vegan fare and tasty juices! Try the Indian Chickpea Blinis and Buffalo Cauliflower Tacos!
Where to Stay at this Catskills Weekend Getaway Spot: 
Twin Gables Woodstock
73 Tinker St Woodstock, NY
Twin Gables Woodstock is a funky B&B is housed in an 1880s renovated Victorian house, brightly repainted and outfitted with contemporary artwork to give it an appropriately Woodstockian old-meets-new vibe!
Herwood Inn
148 Tinker St, Woodstock, NY
Another excellent boutique hotel is the Herwood Inn, a well-designed, eco-friendly, and jauntily decorated hotel with suites named after famous musicians like Aretha Franklin and Joni Mitchell (aka the Mitchell Manor) and a hot tub in the backyard!
Best Time to Visit This Catskills Weekend Getaway Spot: 
Woodstock is a great place to visit every season — enjoy concerts at Bethel Woods and Woodstock Playhouse in the summer, stroll down the shops of Tinker St in the fall, and cozy up to a warm bowl of noodles from Yum Yum in the winter!
New Paltz
Located around Mohonk Mountain, New Paltz has a charming, low-key ambiance and is filled with small shops and restaurants as well as the cultural centers of SUNY New Paltz and Historic Huguenot district — it's the perfect place to get a little bit of art, history, science, and outdoor activity, all within a 2-hour drive from NYC!
Now you could argue this is in the Hudson Valley, but there are some crossover between the Hudson Valley and Catskills destinations and this area is so cool that we had to include in as a weekend getaway in the Catskills worth checking out!
What to do at this Catskills Weekend Getaway Spot:
Wallkill Valley Rail Trail
Over 22 miles, the Wallkill Valley Rail Trail follows the former corridor of the historic Wallkill Valley Railroad and is open all-seasons for hiking, jogging, cross-country skiing, biking, and horseback riding.
Minnewaska State Park
5281 Route 44-55, Kerhonkson, NY
This scenic preserve around Lake Minnewaska and the Shawangunk Mountain range is full of 50 miles of hiking trails, rock climbing areas, and waterfalls to enjoy. You can also camp at the Samuel Pryor Shawangunk Gateway Campground on weekends!
Dressel Farms
271 State Route 208 New Paltz, NY
Fun for all ages, Dressel Farms is the ideal place to spend an afternoon picking your own apples, fresh corn, peaches, and strawberries. Short on time? Snag local honey, fresh maple syrup, and apples that someone else picked (but taste just as good!) at their farm stand.
Huguenot Street
81 Huguenot St, New Paltz NY
A national historic landmark, Huguenot St commemorates the origins of the New Paltz Munsee Lenape people as well as Dutch and French Huguenot settlers. Seasonal guided tours are available through historic properties like the Munsee wigwam, reconstructed 1717 French Church, and 18th century Jean Hasbrouck House.
John H Kirk Planetarium
Coykendall Science Building, SUNY, New Paltz, NY
Over at SUNY New Paltz, check out the John H Kirk Planetarium, named after the school's first director of the facility and featuring educational public astronomy shows!
Samuel Dorsky Museum of Art
1 Hawk Dr, New Paltz, NY
Also at SUNY is the Samuel Dorsky Museum of Art, featuring over 6,000 works spanning over 4,000 years. The museum features both wide-ranging global pieces and a significant collection of American art with a specific focus on Catskills and Hudson Valley artists.
Places to Eat & Drink at this Catskills Weekend Getaway Spot:
Coppersea Distillery
239 Springtown Rd, New Paltz, NY
A founding member of the Empire Rye consortium, Coppersea Distillery is a top-notch purveyor of hand-crafted whiskies distilled from their own organic barley and supply from neighboring farmers. They offer group tours and tastings, perfect for thirsty friends on a weekend Catskills getaway!
Robibero Family Vineyards
714 Albany Post Rd, New Paltz, NY
If wine is more your scene, check out Robibero Family Vineyards, a 42-acre winery located near the Shawangunk Mountain ridge. Small-batch wines are sold in their tasting room or by their outdoor fire pit, where they also host events like Wine with Your Valentine and Wine/Chocolate pairings!
A Tavola Trattoria
46 Main St New Paltz, NY
Voted Best Restaurant in Hudson Valley 2013 & 2014, Best Pasta in the Hudson Valley 2014, Best Italian Restaurant in the Hudson Valley by Hudson Valley Magazine 2013, A Tavola Trattoria is definitely worth checking out on a weekend getaway in the Catskills. Be sure to try the Pappardelle Bolognese or the sausage orecchiette with a Hop Happy cocktail (rye, lemon, IPA float).
Krishna Kitchen
5 Church St, New Paltz, NY
Some of the finest Indian cuisine in the Catskills, Krishna Kitchen serves up vegan and vegetarian specialties like freshly baked cilantro samosas, lentil shepherd's pie, and Paneer Masala Dosa!
Schatzi's Pub and Bier Garden
36 Main St, New Paltz, NY
An amiable pub and beer garden, Schatzi's is known for its craft brews, rotating seasonal cocktails, and delicious bar snacks — try some Chicken Parm sliders, Jalapeño poppers, and smoky corn chowder!
Garvan's Gastropub
215 Huguenot St, New Paltz, NY
Located on historic Huguenot Street in a building from 1759, Garvan's is a cozy spot to grab some shrimp scampi or braised short ribs in a warm, welcoming setting. For those shopping through this list with venues on mind, they also host weddings!
La Charla
127 Main St, New Paltz, NY
La Charla is a tasty Mexican restaurant with great drink specials ($5 margaritas, anyone??). We recommend the chile relleno and shrimp fajitas!
Where to Stay at this Catskills Weekend Getaway Spot: 
Mohonk Mountain House
1000 Mountain Rest Rd, New Paltz, NY
This sprawling, the palatial resort is rumored to be the inspiration for The Shining, but don't be afraid — you'll be a lot more relaxed than Jack Nicholson after staying in one of their elegant Victorian rooms, visit the serene spa, and enjoy top-notch meals that are included in your stay! All play and no work, baby!!
Mohonk Mountain House has also been used to film some incredible shows like Succession and even feels like a castle in New York. This is one of the most legendary places to have a weekend getaway from NYC.
Minnewaska Lodge
3116 US-44, Gardiner, NY
If you'd like to stay by the Shawangunk Mountains and Minnewaska State Park, but camping isn't your thing, try Minnewaska Lodge, a quaint lodge overlooking the mountain range with easy access to nearby hiking and gorgeous views!
Best Time to Visit This Catskills Weekend Getaway Spot: 
New Paltz is another all-season treasure, perfect for hiking, skiing, and canoeing on Minnewaska Lake. Some local businesses are seasonal, so it's worth double-checking their social media for opening times and hours if you have a favorite on the list!
Roxbury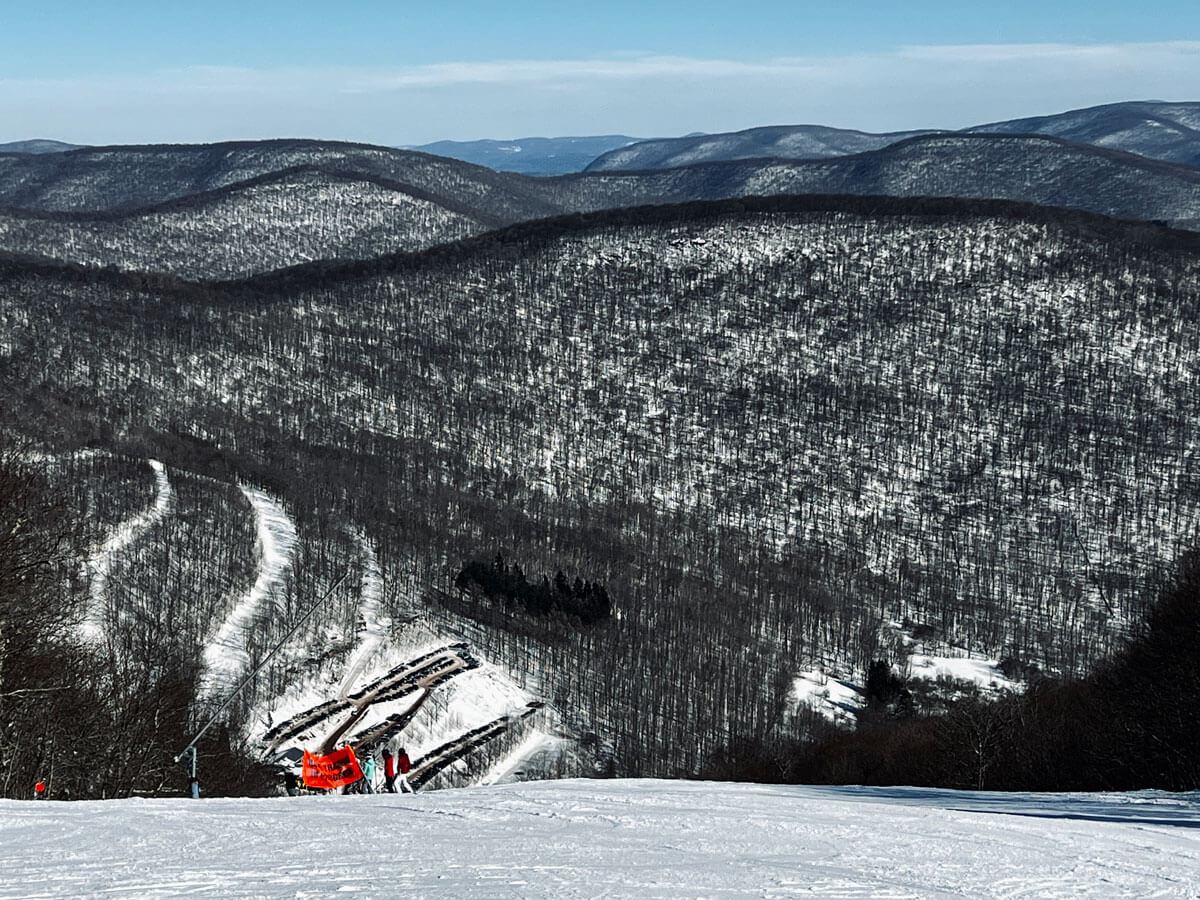 A tiny town of under 2,000 people, Roxbury is an idyllic postcard of a town, its main street filled with storied buildings ranging from the 1893 Gould Church to the Hamlet Historic district of Victorian houses (now listed on the National Register of Historic Places).
Roxbury is also bordered by nearby destinations Margaretville, Pine Hill, and Bovina, all of which are worth a visit for their boutique shops and restaurants!
What to do at this Catskills Weekend Getaway Spot:
Plattekill Mountain
469 Plattekill Rd, Roxbury, NY
Ski season upstate can get a little bit, well…crowded. When you want to ski in peace, head to Plattekill Mountain, the last family-owned and operated mountain in the Catskills. Here you'll find everything from beginner trails to Black Diamond spread out over 38 miles of courses and an 1100 foot vertical drop.
Kirkside Park
Kirkside Driveway, Roxbury, NY
Spend a peaceful afternoon wandering the Adirondack bridges and gardens of the 14-acre Kirkside Park, the centerpiece of downtown Roxbury and the former estate of Helen Gould-Sherpard (daughter of Jay Gould, Roxbury native and American railroad magnate).
Roxbury Arts Group
5025 Vega Mountain Rd, Roxbury, NY
The Roxbury Arts Group is a multifunction venue showing visual art collections, hosting community events, concerts, and performances as well as providing educational arts programming. Check out an art exhibition on a rainy day during your weekend in the Catskills!
Roxbury General
53587 NY-30, Roxbury, NY
Roxbury General is your go-to source for local artisan goods, gifts, and Airbnb accouterments (hangover cure kits, anyone?). Roxbury General is another great option for rainy days as they carry to make your own ceramic mug, bind your own book, and carve your own stamp kits for some offline crafting zen.
Locust Grove Soap
53798 NY-30, Roxbury, NY
Need a host gift or bring something special home?? Pick up some luxury soap at Locust Grove, specializes in homemade, glycerin-based soap without irritating alcohols or detergents!
Places to Eat & Drink at this Catskills Weekend Getaway Spot:
Trattoria Locale
520 Main St, Margaretville, NY
Chef Daryl Debeech has created a proper Italian trattoria in Margaretville, offering homemade pasta and Italian classics as well as freshly pulled mozzarella (!!). Try the Chicken Parmesan paired with a glass of chianti, or the Mussels steamed with Sauv Blanc and their otherworldly bread.
Chappie's
53535 NY-30, Roxbury, NY
Chappie's (originally Cassie's) has been a community watering hole and hangout for decades — go here for great beer, steak frites, and sticky toffee pudding.
Fierce Grizzly
53530 NY-30, Roxbury, NY
Fierce Grizzly, open for lunch with dinner service available Thurs-Sat, is a funky continental cafe housed in an old tin shop and renovated in cozy, moody green and gold decor. Order a classic Reuben sandwich or a focaccia goat cheese, and be on the lookout for specials like the top-notch clam chowder and beef stew!!
They also have a great wine selection!
Russell's General Store + Magpies on Pink Street
2009 County Hwy 6, Bovina Center, NY
Stock up your weekend rental in style with provisions from Russell's General store, which — in addition to serving a rotating menu of mouthwatering sandwiches, offers pies from dessert-baker in residence Magpies on Pink Street. Go for the delicious sandwiches, stay for Maggie McDowell's pies.
Where to Stay at this Catskills Weekend Getaway Spot:
The Roxbury Motel
2258 County Highway 41 Roxbury, NY
Nestled next to historic Stratton Falls, the Roxbury Motel was known as the Roxbury Motor Lodge before it was renovated into a quirky, themed boutique motel peppered with green accents (including an Emerald City room?!).
In warmer weather, enjoy the old-school motel pool and tour the Stratton Falls trails and in winter, tromp through the snowy buildings before relaxing at the spa. And yes, you will see Locust Grove Soap there!
Hanah Mountain Hotel
576 W Hubbell Hill Rd, Margaretville, NY
Golfers, assemble! Hanah Mountain Hotel is a gorgeous mountain resort that boasts a challenging (duh, we're…in the mountains) 18-hole course, as well as elevated chalet-style lodging and fine dining onsite!
Best Time to Visit This Catskills Weekend Getaway Spot:
Roxbury makes for a great trip in all seasons and all weather — there's plenty of opportunity for strolling outdoors and just as much for indoor crafting or hanging out in a spa.
Phoenicia
Under 3 hours from NYC by car, Phoenicia is the ideal Catskills weekend getaway for diner breakfast and farmer's market-filled mornings, hiking and shopping afternoons, and brewery evenings. Slightly less well-trod than heavy-hitter Hudson, Phoenicia has all of the quirky charm of the most popular Catskills destinations with fewer crowds!
What to do at this Catskills Weekend Getaway Spot:
Phoenicia Farmers Market
85 Main St Phoenicia, NY
One of the best parts of a weekend getaway in the Catskills is bringing home treasures that you just can't get in the city. And while yes, many Catskills farmers do bring their wares down to New York, there's something about picking out hyper-hyper local fresh produce, homemade breads, jams, jellies, and chutneys, local wines, and freshly-churned butter and cheese (bring me back some cheddar!). The market is open year-round (mercifully held indoors at wintertime) and shares events, weather updates, and product highlights on their Instagram.
The Kaleidoscope and the Shops at Emerson
5340 Rte 28, Mount Tremper, NY
Housed in the Emerson Resort and Spa is one of the hidden treasures of the Catskills (and the world??), a silo-turned-60-foot-tall kaleidoscope designed by award-winning artist Charles Karadimos.
Be sure to check out the Kaleidoshow, an immersive visual art and musical experience based on the original creation of psychedelic artist Isaac Abrams and his son and composer, Raphael. The show offers a unique storytelling experience that will inspire you to design your own kaleidoshow, which can be conveniently done with the many kaleidoscopes available for sale at the adjacent store!
While you're shopping, make sure to stop by the adjacent Shops at Emerson, where you can find everything from hand-crafted home accents, thoughtfully curated local clothing designers and high-end boutique duds at Melina's, educational toys and books at the Toy Chest, to Catskills-themed merch and locally made goods at the General Store.
Belleayre Mountain Ski Center
181 Galli Curci Rd, Highmount, NY
Are you dreaming of a ski weekend in the Catskills? Head to Belleayre Mountain Ski Center for all of the skiing, snowboarding, and snowshoeing you can handle! Lessons are available for those of us who find ourselves slightly below Black Diamond level, and for those of us who would really rather watch other people ski (and enjoy spectacular views of the mountain and greater Catskills), Belleayre is home to the only fully-functioning gondola in the area. If you find yourself here in the summer months, you're in luck — spend an afternoon swimming at Belleayre Beach, hiking the mountain, or enjoying scenic gondola rides year-round!
Empire State Railway Museum
70 Lower, High St, Phoenicia, NY
Open for over 60 years, the Empire State Railway Museum is dedicated to preserving the rich history of the Catskills railways in the historic Ulster & Delaware Phoenicia Railroad Station, originally built in 1899. Tour the museum's antique railroad equipment and learn what the set up of trains on the Lake Superior Line was like before stopping by the gift shop to pick up a model train for your favorite railway enthusiast or former fan of Shining Time Station.
Catskills Clothing Company
38 Main St Phoenicia, NY
What began as a pop-up shop in 2014 is now a must-visit destination on your Catskills weekend getaway. This funky clothing shop not only sells chic, contemporary Catskills-themed merchandise but also houses an impressive vintage collection of clothing and housewares in their antique annex!
Nest Egg
84 Main St Phoenicia, NY
Nest Egg is a charming country store filled with local goodies and gifts, including an impressive menu of homemade fudge! Bring us back some maple!
Phoenicia Arts and Antiques
40 Main St Phoenicia, NY
Housed in a historic pharmacy building downtown, check out Phoenicia's very own gallery and artisan marketplace. And if you're in town for a while, try one of their classes and maybe you too will be selling your wares soon!
Places to Eat & Drink at this Catskills Weekend Getaway Spot:
Phoenicia Diner
5681 NY-28, Phoenicia, NY
Do not be alarmed by the large crowds that swarm Phoenicia Diner every weekend — the top-notch team at the diner are able to seat everyone quickly, and besides, it's worth the wait.
Phoenicia Diner's team prides itself on sourcing as much of food as possible from local purveyors, as with their locally smoked trout or lox on a bagel and their daily selection of house-made pastries.
I recommend the Farmer's Skillet or the Full Phoenician Breakfast, and picking up a keychain or a t-shirt to commemorate your meal! I fondly stare at my Phoenicia Diner keychain, dreaming of the day I can return to order their signature potatoes.
Brio's Pizza
66 Main St Phoenicia, NY
Open since 1973, this charming, community-oriented spot has been serving up wood-fired, crispy, savory Neapolitan pizzas, sandwiches, burgers, and cakes to locals and visitors for decades. We recommend the Goat Cheese pizza and Calabrese salad, and if you're there for breakfast, one of their signature Nitro cold brew coffees and Italian breakfast with Asiago bread!
Peekamoose Restaurant and Taproom
8373 NY-28, Big Indian, NY
Weekend getaways in the Catskills are a popular choice among New Yorkers planning a bachelor/ette party, which brings up an important question — where can you go for a special occasion dinner as a large group without renting out an entire restaurant?
Enter Peekamoose, an elevated, farm-to-table spot, for, as they put it "bumpkins and slickers alike". Enjoy seasonal rotating menu items sourced from local purveyors, natural wines, and thoughtfully curated cocktails like the Tattooed Genius (​​Hudson rye whiskey, Luxardo apricot liqueur, Carpano Antica vermouth, Lockhouse Amaro, lemon), all housed in a warm, welcoming environment.
Woodstock Brewing
5581 NY-28, Phoenicia, NY
Another excellent choice for groups is Woodstock Brewing, a 15-barrel brewery boasting a wide variety of IPAs, pilsners, pale ales, and sours. We recommend trying the Mean Charlene (Brewed with pale and wheat malt, conditioned on generous amounts of Pineapple, Mango, Passion fruit and tart Key lime, lactic acid, Himalayan pink salt) and sharing their chorizo tacos.
Where to Stay at this Catskills Weekend Getaway Spot:
Urban Cowboy Lodge
37 Alpine Road Big Indian, NY
Are you ready to put up an OOO message like you mean it? Head to Urban Cowboy Lodge, a picturesque, 68-acre wilderness resort where the Esopus Creek runs through the property and there is very little cell phone service and no TV. Unwind with a cocktail in one of their clawfoot tubs or play a board game by the fire. That status report meeting can wait!!!
The Pines
5327 Rte 212, Mount Tremper, NY
The Pines is a restaurant, bar, and lodge perfect for traveling with groups — their accommodations include suites with a full kitchen, living room, porch, and firepit that can house 4-6 people in each unit.
The Pines also has an adjacent stream available for leisurely dips and a communal field for picnicking and relaxing by the mountains. And let's not forget to talk about the excellent food selection at the Pines, including pitch-perfect smash burgers and some otherworldly homemade pies!
Emerson Resort & Spa
5340 Rte 28, Mount Tremper, NY
Come for the kaleidoscope and shopping, stay for the lush, restorative spa, and resort experience! Book a room in Emerson Resort and Spa's classic, Victorian-fixtures Inn or luxe, ski-chalet lodge (and don't worry, there are also dog accommodations!!). Make sure to book a signature hot stone massage or Italian mud wrap before heading to dinner at the Woodnotes Grill!
Best Time to Visit This Catskills Weekend Getaway Spot:
SPRING/SUMMER: If you're in Phoenicia during the warm weather months, take advantage of hiking The Mount Tremper Trail, Wittenberg Mountain, and the Belleayre Crosscountry Trails at the aforementioned Belleayre Ski Center, camping by the creek at the Sleepy Hollow Campground, and checking out Schoharie Creek. And don't forget to catch a performance by the Catskill Mountain Shakespeare company for fantastic outdoor classical theater or the yearly Phoenicia Festival of the Voice for summer concerts under the stars!
FALL/WINTER: Excellent leaf-peeping can be found nearly anywhere along Rt 28 and the Catskills Scenic Byway 23A! Ski bunnies will enjoy Belleayre or nearby Hunter Mountain Ski Resort. Check out the Phoenicia Playhouse for year-round theater, concerts, and classes held in a 19th-century building! Visit the Phoenicia Library for events and classes held in the newly rebuilt, first Passive House designed energy efficient library!
---
About our Guest Author
Sarah Beling is a playwright, New Yorker, and passionate food enthusiast who is always looking for her next meal. You can find her in an NYC park, enjoying a chopped cheese sandwich and reading about NYC's best new places to eat.
Found this guide to the best weekend getaways in the Catskills helpful? Bookmark this guide for later to use for future travels and use our suggestions on your trip!