Looking for how to spend a perfect weekend in Boston? We've got you covered. Planning a Boston getaway can be pretty overwhelming. After all, there are many things to do in the city, making it overwhelming to figure out how to fill your Boston itinerary!
Luckily, we are here to help whether your weekend in Boston gives you 2 or 3 days, we have put together his Boston itinerary to help you plan your weekend escape.
Below are some of the best things to do during your weekend in Boston. Feel free to use this Boston getaway guide exactly as is or tweak and substitute for some of the activities that interest you!
And if you're coming from New York City, be sure to check out more of our favorite weekend trips from NYC.
3 Days in Boston Itinerary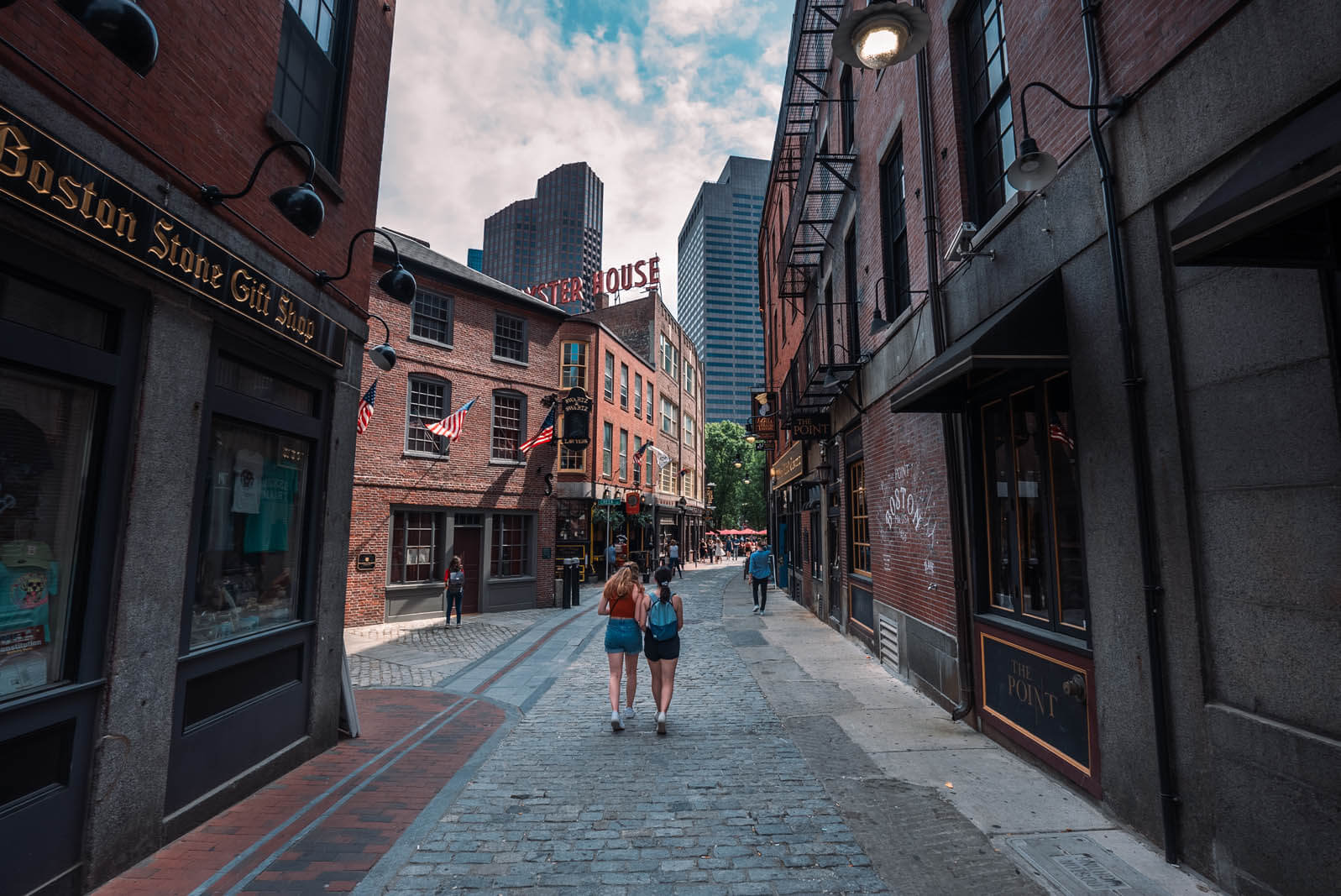 Day 1 of 3 days in Boston
Have Breakfast at Tatte Bakery & Cafe
Start your weekend in Boston with some breakfast near Copley Square. Tatte Bakery & Cafe is a popular cafe is a great spot to grab a quick coffee and breakfast before heading off to all the fun on your Boston getaway.
Their most popular items to try are pretty much anything made with their house-made croissants. However, you can't go wrong with any of their sandwiches or baked goods! We recommend having a light breakfast so you're plenty hungry for our lunch recommendation later in the day!
Walk Around Copley Square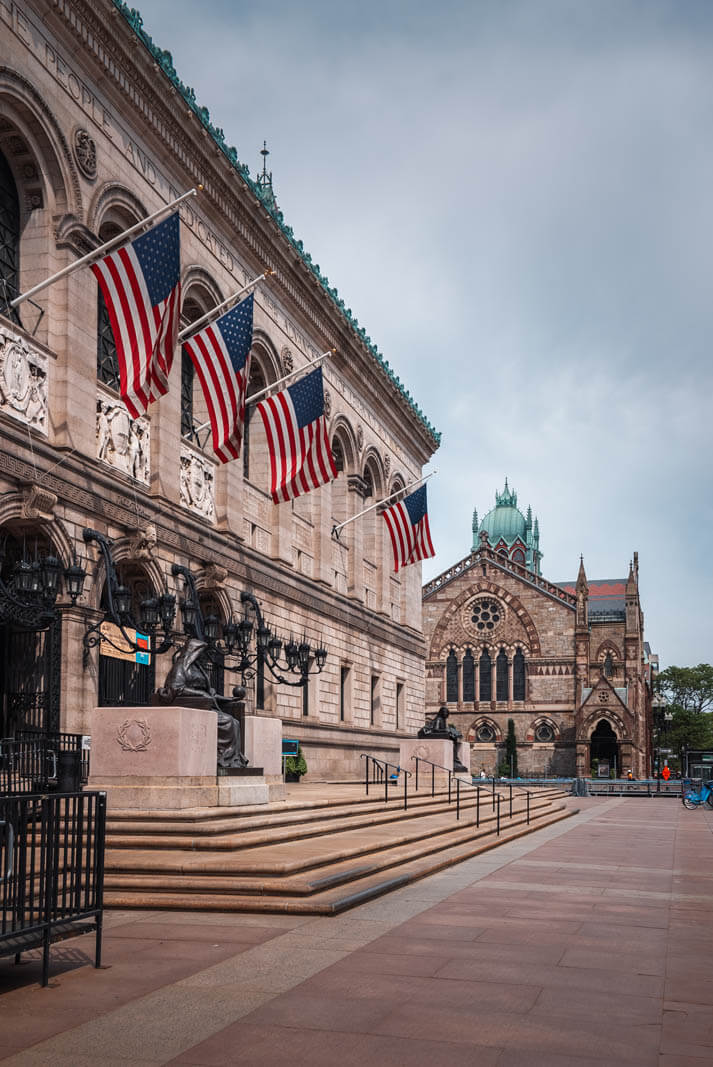 Start your Boston itinerary by checking out one of the most famous areas to visit, Copley Square is a public square in the popular neighborhood of Back Bay in Boston. Copley Square is known for its cultural institutions and before 1883 was known as 'Art Square.'
Visit the Boston Central Library, the second-largest library in the United States just behind the Library of Congress in Washington DC. The library houses a large collection of books as well as historic artifacts, archives, and even artwork including original music scores by Mozart, artwork by Rembrandt, and even first edition works by Shakespeare.
Copley Square is also where you can find the famed Boston Marathon finish line which is a popular photo opportunity. The Boston Marathon is the world's oldest annual marathon race and is one of the most famous in the world.
If you're looking to do some shopping on your Boston getaway you can head to Copley Place, an indoor shopping mall that has familiar brand names and department stores.
While you're here, be sure to witness the magnificent beauty of both Trinity Church and Old South Church.
Even if you only have 2 days in Boston, visiting Copley Square and the historical sites nearby are a great addition to any Boston itinerary.
Quincy Market & Historic Boston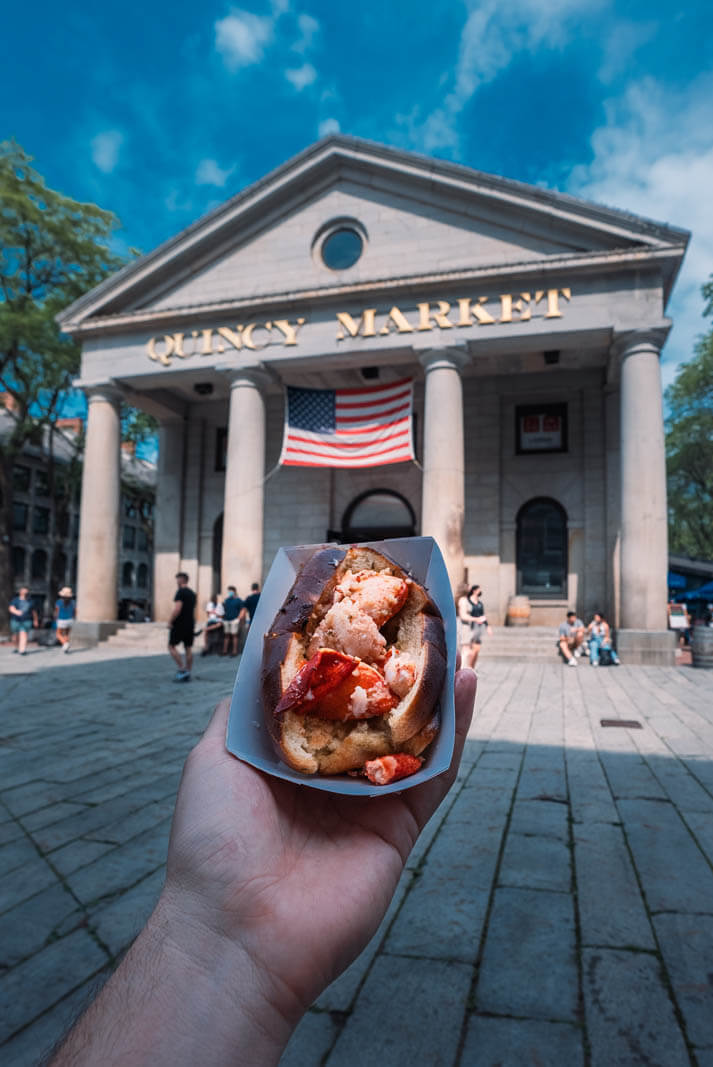 Even if you're not a big shopper, you don't want to miss a visit to Quincy Market on your weekend in Boston. This historic market near Faneuil Hall dates back to the 1820s and was one of the largest markets of its time and is a designated historic landmark.
Here you can find plenty of vendors selling souvenirs and other shops selling local products as well as an array of different food stalls and restaurants to dine at. If you only have time to eat one thing here, grab a lobster roll or chowder at Boston Chowda.
If you're looking for more of a sit-down restaurant make sure to at least walk around Quincy Market before taking a short walk over to Union Street where you can find The Union Oyster House, a historic seafood restaurant that has been serving New England seafood since the early 1800s and is one of the oldest operating restaurants in the United States.
There are a few other historic spots worthy of checking out too including the Green Dragon Tavern, which dates back to 1654 and is the oldest historic bar in Boston where Paul Revere and the Sons of Liberty would have their secret meetings.
Another historic watering hole to check out on your weekend in Boston is The Bell in Hand Tavern which dates back to 1795 and is America's oldest continuously operating tavern that Paul Revere used to also frequent.
Also, next to Quincy Market, you can also find the first-ever Samuel Adams brewery where he started his first micro-brewery straight out of his home!
Visit The Freedom Trail Stops
No Boston getaway is complete without seeing The Freedom Trail and understanding its historic significance to the history of the American Revolution.
The Freedom Trail is a 2.5-mile-long pathway in Boston that passes 16 locations tied to the history of the United States stretching from Boston Common to Bunker Hill Monument in Charlestown.
Follow the red brick road and you'll be able to explore the stops including museums, parks, cemeteries, monuments, and more. Some of the most popular sites on this trail include The Paul Revere House, Old North Church, and The USS Constitution Museum!
If you want extra information on the significance of all these stops along the way, consider booking a Freedom Trail walking tour with a knowledgeable guide that takes you along the trail on a 2-hour walking tour.
Whether you're spending 3 days in Boston or an entire week, visiting The Freedom Trail is one of the best ways to immerse yourself in the city's history.
Day 2 of 3 days in Boston
Explore Cambridge and Harvard University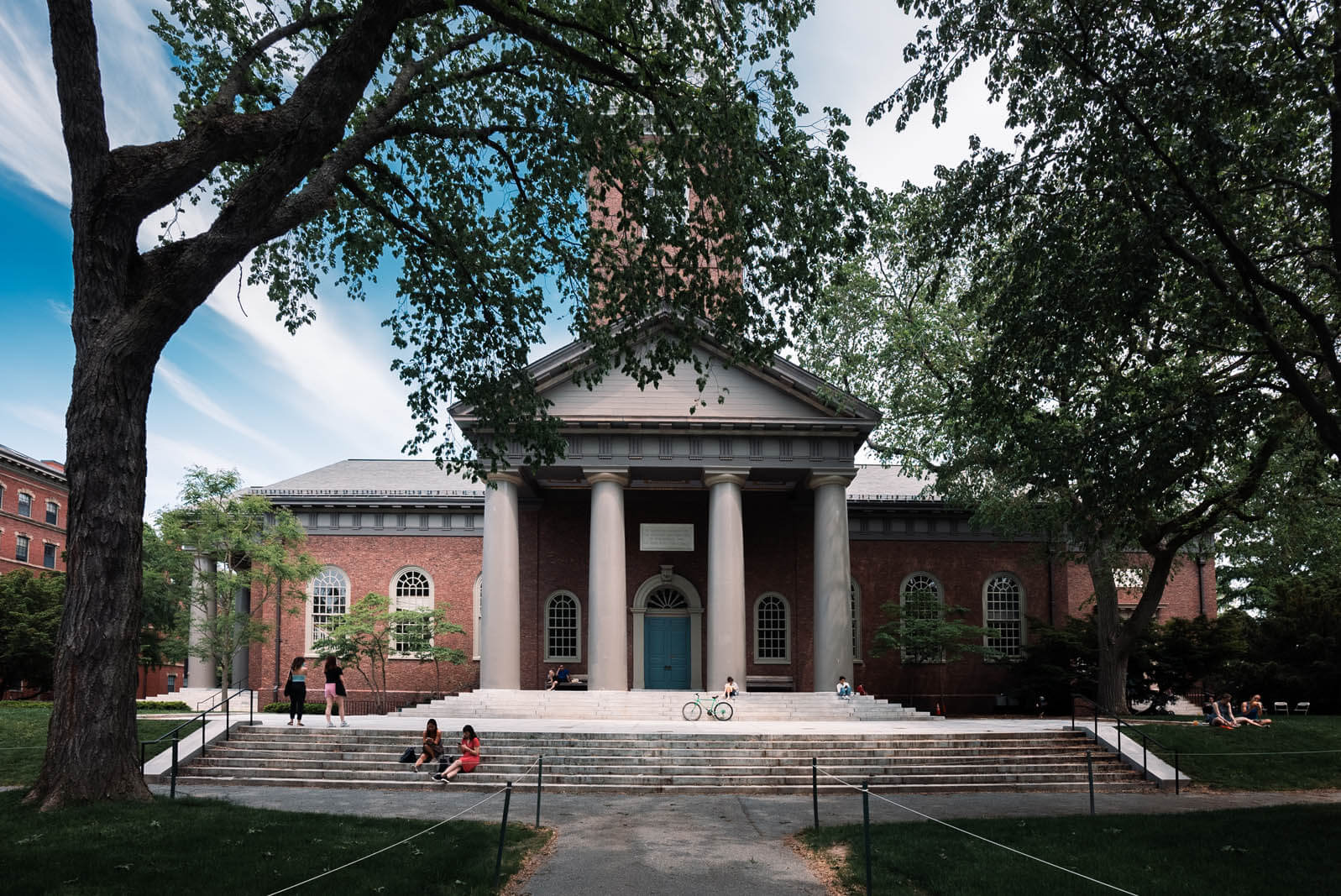 Another popular area to explore in Boston that we highly recommend planning into your Boston getaway is walking around Cambridge and Harvard University. Harvard is not only one of the most prestigious higher education institutions in the world, but it's also America's oldest university.
Whether you want to sign up for a student-led guided tour or tour the campus yourself on your Boston itinerary, you can expect to spend at least an hour exploring the campus and its historic and cultural highlights.
One highlight to check out on the Harvard campus is the John Harvard Statue. This bronze statue is often known for being good luck if you touch the left foot. In fact, it's said to be a common tradition among Harvard students and visitors.
Nearby this statue is The Harvard Square and The Coop, the university's bookstore if you feel like picking up any collegiate swag.
After exploring The Harvard University campus hang out in Harvard Square and grab a drink or lunch in the area. Russell House Tavern offers microbrews along with a menu full of American-fare from brunch to dinner or Grendel's Den Restaurant and Bar for another sitdown restaurant and pub.
Before leaving Cambridge, if you're looking to explore more of the most prestigious campuses you can also visit the Massachusetts Institute of Technology, aka MIT whose campus is also here. You can walk around the campus, but we recommend taking a scenic walk along the Charles Riverfront.
Visit the Grolier Poetry Book Shop
No weekend in Boston is complete without exploring and browsing some of the best literature of the town. Nearby Harvard University is the well-known Grolier Poetry Book Shop. Founded in 1927, this old book store is known for its exclusive collection of poetry books. You can expect to find newly released poetry books and classic poems from famous poets here!
Visit The Boston Tea Party Ship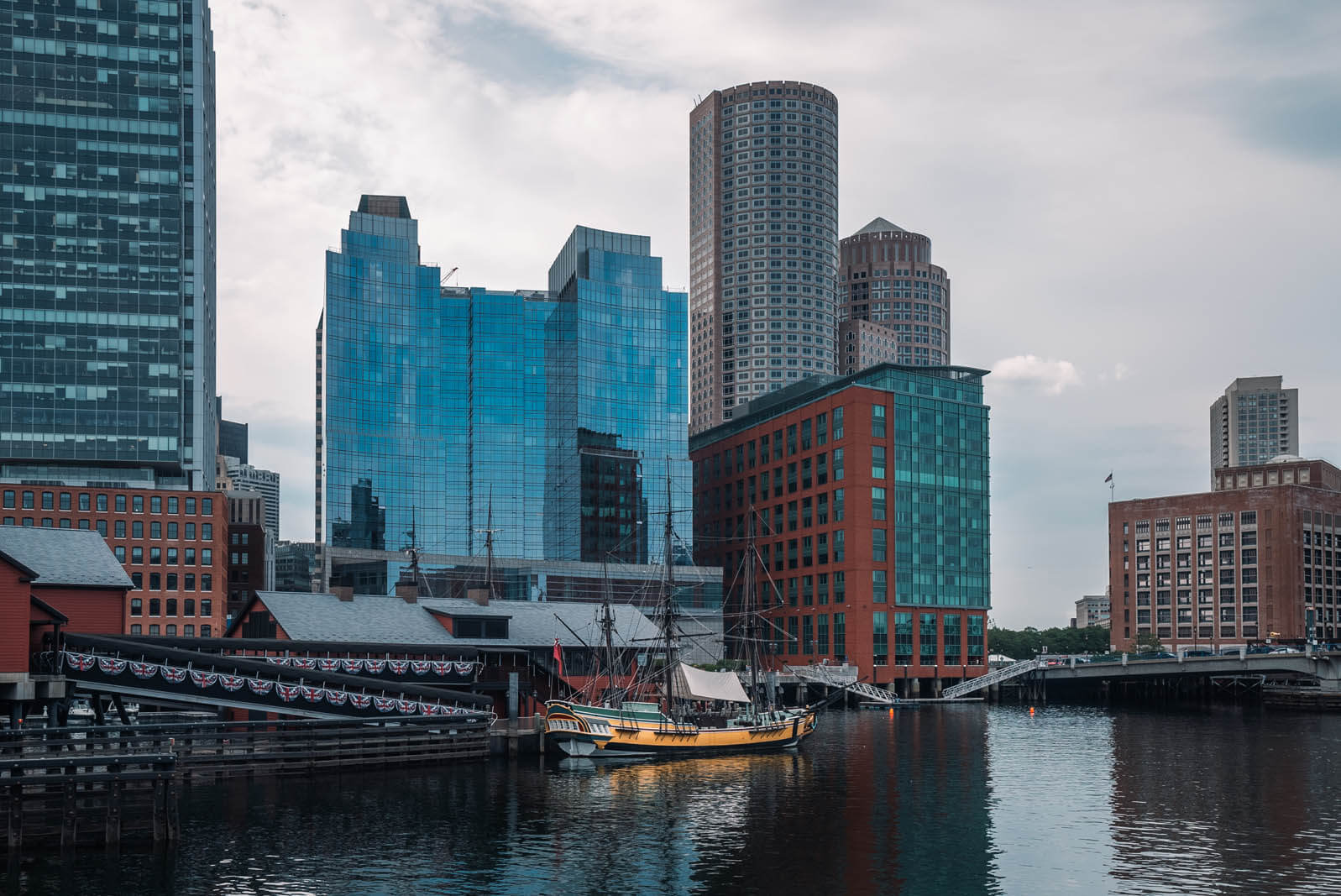 After visiting Cambridge, we recommend heading to the Seaport District for one of the most iconic attractions for your Boston itinerary!
The Boston Tea Party Ship is one of the most popular, immersive historic attractions in Boston that lets visitors take a hands on history tour of the Boston Tea Party when the Sons of Liberty protested the Tea Act of 1773 in an act of defiance towards the British rule by dumping tea into the Boston Harbor.
The experience has an interactive museum that chronicles the events leading up to this monumental moment in US history as well as walking on board an 18th-century sailing vessel with a demonstration where you can pretend to dump tea into the harbor.
This all-in-one ship and museum is a great place to learn more about American history on your Boston getaway! By exploring this museum during your weekend in Boston, you'll be able to participate in interactive exhibits, watch live actors, and see full-scale replicas of the historic 18th-century vessels.
If you have extra time, the Boston Children's Museum and the Institute of Contemporary Art are located in Seaport District too.
Dinner in Seaport District
After learning about the Boston Tea Party end the evening of your 2 days in Boston by having dinner in Seaport District. If you still need to work up an appetite at all head to check the views at Martin's Park, Fan Pier Park, and the Harbor Walk for some beautiful, waterfront views.
Great dinner options in the area include Trillium Brewing, a local New England brewery serving up farmhouse brews alongside their food menu. Strega Italiano Seaport is a classic steakhouse serving a fine menu of seafood and steaks and if you're looking for waterfront dining with great seafood options, check out the Barking Crab.
Day 3 of 3 days in Boston
Breakfast at Blackbird Doughnuts
Start the morning of your 3 days in Boston off with one of the best donut spots in Boston! Blackbird Doughnuts is a great place to grab a donut and coffee before starting your day!
Although they have multiple locations throughout all of Boston, we recommend stopping by the location in Beacon Hill (175 Cambridge Street) so that you can continue on our suggested Boston itinerary and explore the neighborhood afterward.
Explore Beacon Hill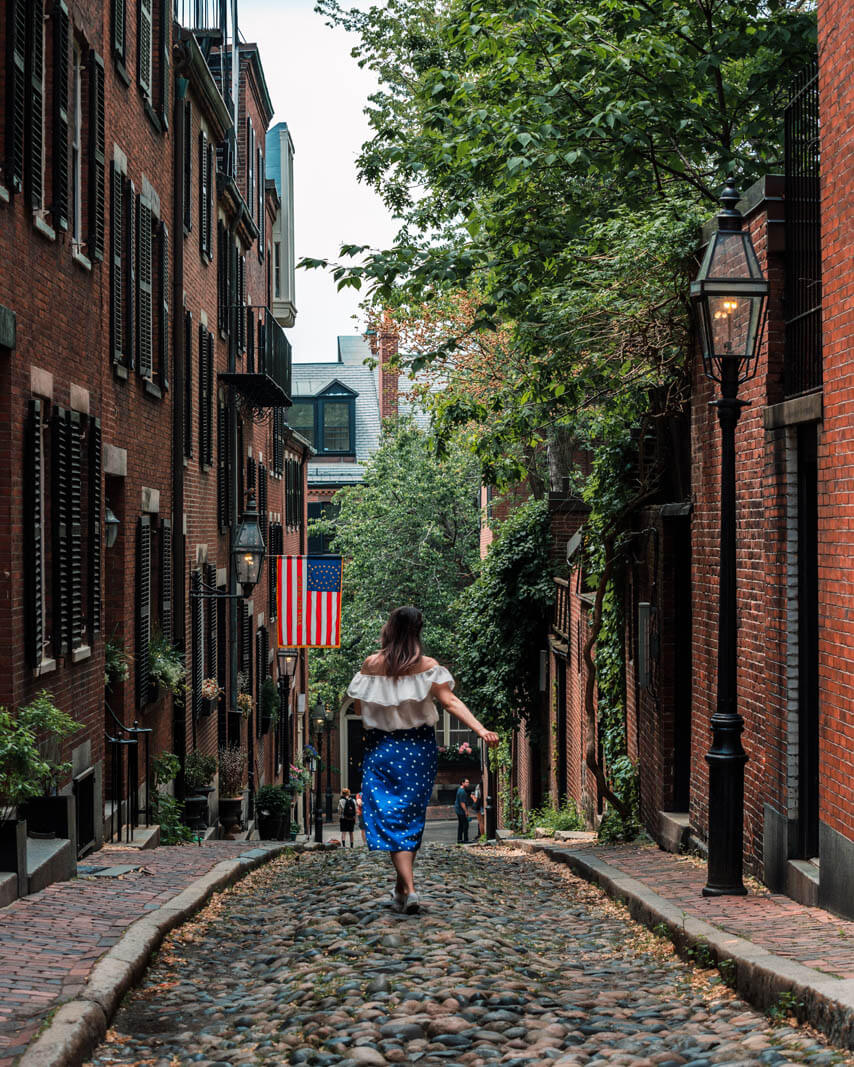 Beacon Hill is one of Boston's oldest neighborhoods not to mention one of the most beautiful. Its charming, cobblestone streets and federalist architecture make it a great place to explore and great for photography.
The most photographed street in Boston is Acorn Street, tucked away between streets, once you find this picturesque cobbled lane you'll get a glimpse into colonial America.
Some points of interest worth checking out while exploring Beacon Hill on your Boston getaway include Charles Street Meeting House which is also on the National Park's Service Black Heritage Trail. This historic church was the first integrated church in America and served as a meeting place for abolitionists. Serving as an important site for the anti-slavery movement, this church was where speeches by Sojourner Truth, Harriet Tubman, and Frederick Douglass took place.
Take a walk around Louisburg Square where you can find some of the most expensive real estate in the city and ooh and ahh at the beautiful homes.
Walk by the Massachusetts Statehouse, the seat of government for the state of Massachusetts and National Historic Landmark.
Last but not least, spend some time walking up and down the boutiques and shops and more historic buildings along Charles Street.
Grab a Drink at The Cheers Bar
Next up on your Boston itinerary is to head over to where everybody knows your name at the Cheers Bar! Located across from Boston Public Garden. This iconic landmark was the inspiration for the 1980s classic hit television series Cheers. The original bar that inspired the show was called the Bull & Finch Pub but since the show was a sweeping success, this location that inspired the setting is now known as the official Cheers Bar.
This spot has been Boston's best neighborhood bar for decades and any Cheers fans can go enjoy a beer with their pals and feel like you're right in the show. For super fans, there's the merchandise you can purchase here too as a fun souvenir.
Boston Public Garden & Boston Common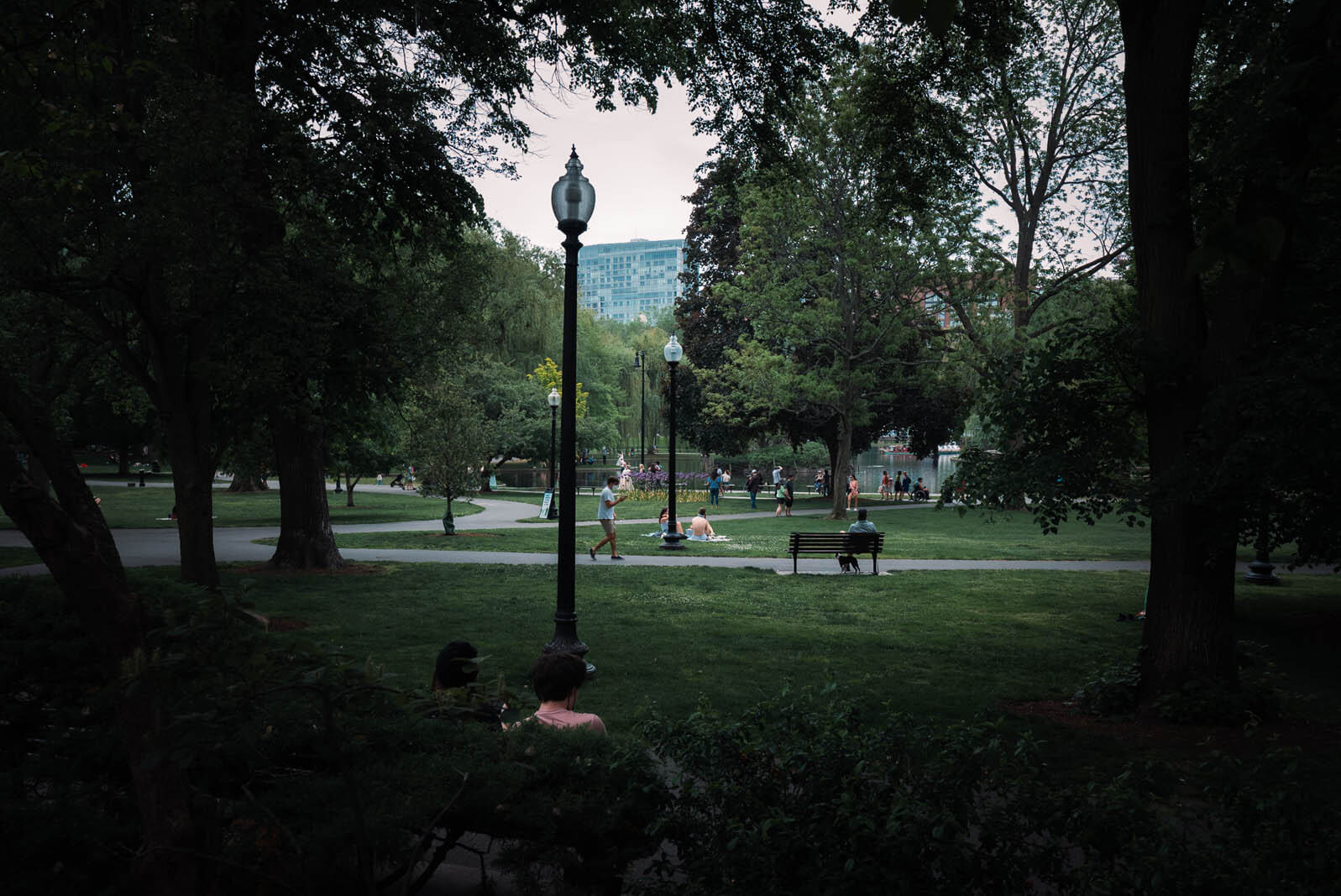 Not to be missed during your 3 days in Boston itinerary are the most beloved greenspaces in the city, Boston Common and the Boston Public Garden which neighbor one another.
Boston Common is the oldest city park in the country and dates back to 1634 and was a meeting place during some of the most important and crucial moments of American history from the Revolutionary War to a gathering place for activists during the Civil Rights Movement and Anti-Vietnam war rallies.
Walk around the park and take a closer look at the monuments and historic plaques or grab a bench and just take a break from all the sightseeing you've been doing on your Boston itinerary.
The Boston Public Garden is another park next to Boston Common on the network of parks in the city known as the Emerald Necklace. This park is famous for its blooming tulips, swan boats, and ever-changing trees! But, most importantly, it is America's first public botanic garden too!
Explore Back Bay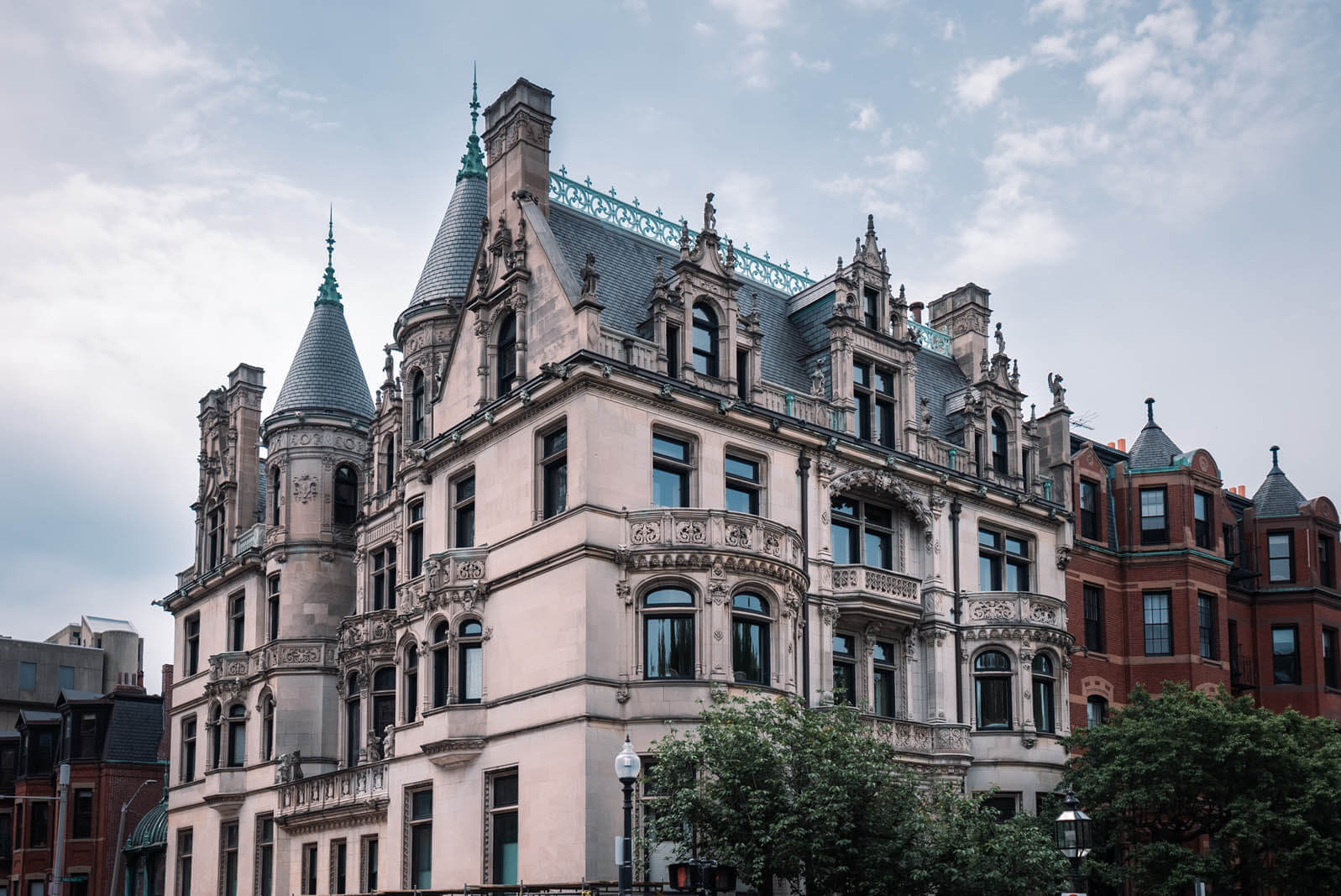 If you're into wandering some of the most beautiful neighborhoods in Boston, continue to explore Back Bay known for its gorgeous Victorian brownstone homes and a great place to grab a bite to eat or do a little more shopping not to mention you're walking distance to all there is to see and do in Copley Square too in case you didn't fit that in earlier on your Boston getaway.
For peeking at some of the most beautiful homes in the city take a stroll down Marlborough Street and Commonwealth Avenue. Along Commonwealth Avenue, you can walk along the grassy mall and check out the historic monuments and statues along the way.
Back Bay is also the location of the Isabella Stewart Gardner Museum that famously had one of the largest art heists in the history of the art world. In 1990, 13 artworks were stolen from the museum and it's still a mystery. If this is news to you, check out the docuseries This is a Robbery: The World's Largest Art Heist on Netflix before your visit.
While you're in Back Bay on your Boston getaway be sure to grab dinner at one of this neighborhood's great options from seafood at Saltie Girl or grab something a little more casual like a burger at Bukowski Tavern.
Extra Time on your Boston Getaway?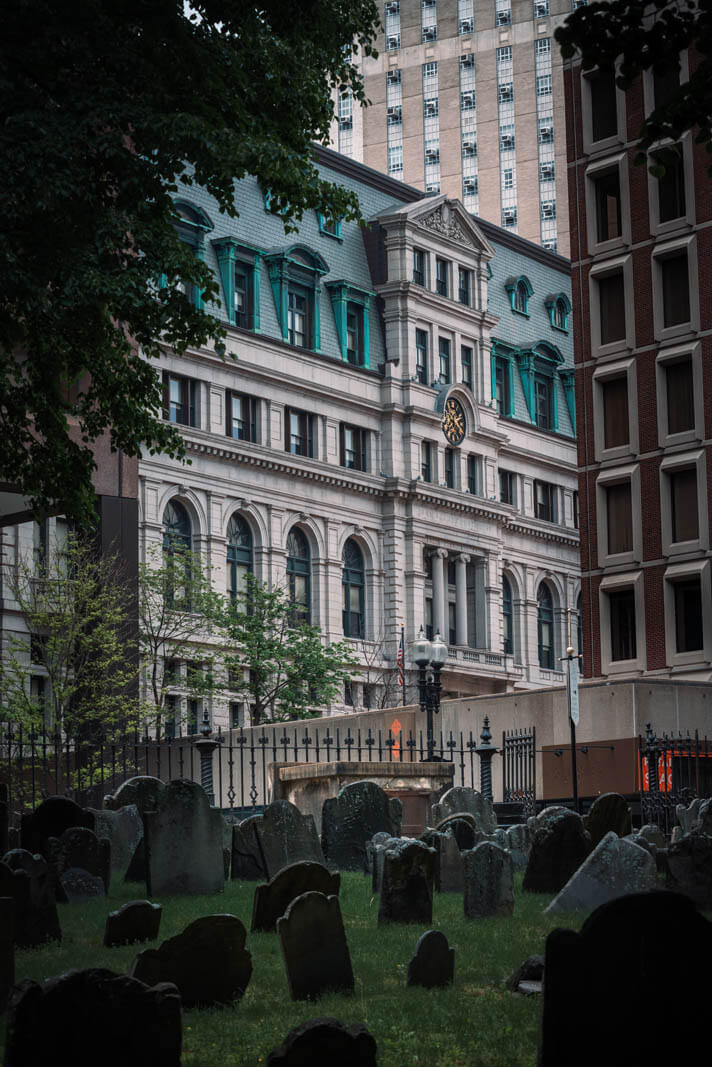 Take a Boat Tour
Boston has a great selection of different types of boat tours to add to your itinerary if you have extra time! From whale watching to scenic harbor cruises, there is a boat tour for just about anyone.
The Boston Duck Boat Tour offers an 80-minute tour on an amphibious duck boat from WWII where you tour some of the city's most historic spots from both land and water as you make a splash driving into the Charles River. Book here.
Or join a 3-hour whale watching catamaran tour where researchers from the Whale Center of New England will educate guests on the different types of marine life you may encounter along the way from white-sided dolphins to Humpback, Finback, and Minke whales in their natural habitat. Book here.
Or join a classic 90 minute Boston sightseeing cruise around the Boston Harbor learning about some of the historic landmarks and stories of our country's past all from the water as well as passing through the Harbor Islands National Park area too. Book here.
Tour The Museum of Fine Arts
The Museum of Fine Arts in Boston is the 14th-largest art museum in the world and worth checking out if you have the time on your 3 days in Boston. With almost half a million works of art and 100 galleries, you're guaranteed to have enough to explore during your time here.
Walk Around The North End
The North End of Boston is often referred to as "Boston's Little Italy." This lively neighborhood is a great place to visit if you want to explore delicious eateries and see some of the city's oldest buildings. Here, you can find The Paul Revere House on The Freedom Trail, many famous pizzerias, and delicious coffee shops.
One of the most popular things to do in North End is to visit one of the many family-owned Italian restaurants. One of the most popular places for pasta is Panza. Afterward, you can stop at Mike's Pastry, a popular Italian bakery that serves cannolis, donuts, and more!
Weekend in Boston: Where to Stay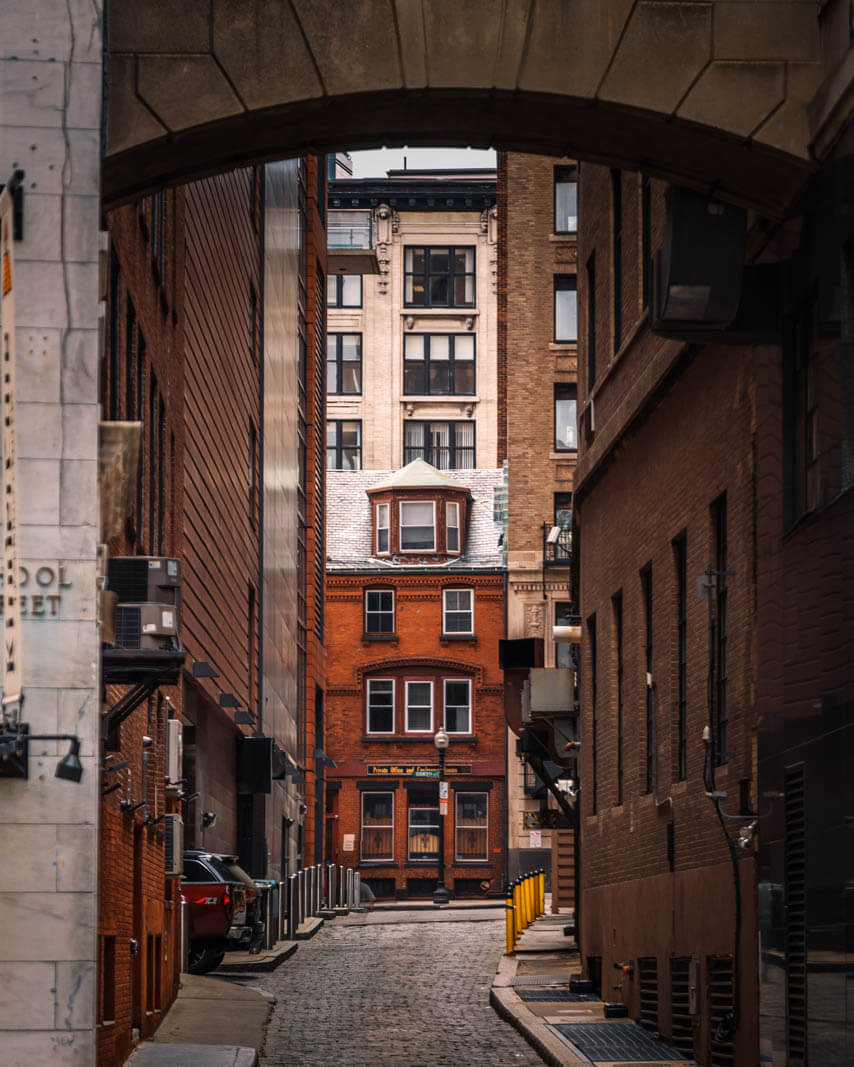 $ Sonder 907 Main is a great option for where to stay during your weekend in Boston if you're looking for something more budget-friendly without sacrificing comfort at this budget-friendly high-end hotel in Cambridge. The rooms are stylish and individually decorated and the hotel has a stylish lobby and rooftop bar. Book here.
$$ Revere Hotel is the perfect place to stay during your 3 days in Boston if you want to be walking distance to the city's most historic landmarks like Boston Common and the nearby Freedom Trail stops. The hotel has interesting artwork and interior design that pays homage to Paul Revere plus there's a really great rooftop bar here with great views. Book here.
$$$ The Liberty is a historic hotel that was once the location of a jail. Don't let that fool you, this luxury stay in Beacon Hill offers gorgeous rooms with city views from the floor to ceiling windows, restaurants, atrium, and is in a stellar location for sightseeing and walking to nearby landmarks. Book here.


---
Enjoyed this guide and Boston itinerary to help you plan your 2 days in Boston or 3 days in Boston? Bookmark for later or share the love below on Pinterest!