Looking for where to stay in DUMBO? We have put together a comprehensive guide of the best hotels in DUMBO, Brooklyn, one of the best places to stay in New York City due to its proximity to not only all the best things to do in Brooklyn but also a simple and easy commute to Manhattan.
Need help getting to/from DUMBO? See our guides on how to get from JFK to DUMBO and vice versa as well as how to get from LaGuardia to DUMBO and vice versa to make your trip smooth sailing!
Be sure to also check out our entire guide for where to stay in Brooklyn by neighborhood and budget if you're not sure which neighborhood is right for you!
The Best Hotels in DUMBO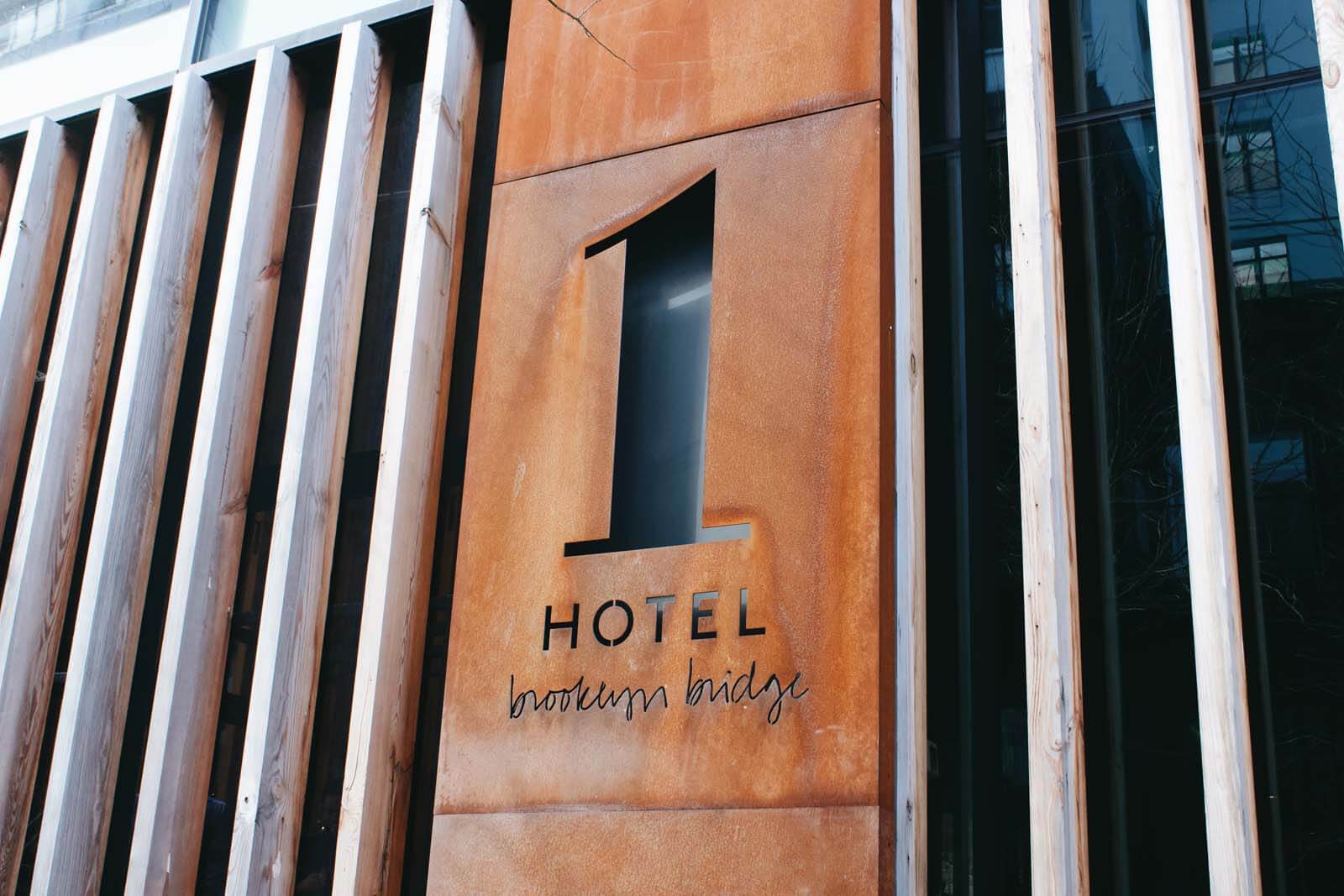 $ The Tillary Hotel
The Tillary is one of the best DUMBO hotels located right between the action in Downtown Brooklyn and all the beauty in DUMBO. Enjoy your view of the Manhattan Bridge right outside your hotel in this epic location.
The Tillary provides a café, a bar, and even an outdoor terrace. The Tillary also offers complimentary wifi, 24/7 from desk, and soundproof windows (which can be a huge help when staying in NYC) with stylish rooms offering designer toiletries and fine Italian linens.
Besides having incredible views, you can find a great lobby lounge and beer garden here for a fantastic spot to hang out steps away from your room.
There is parking on the property as well for an added fee.
Book Now on Booking.com | Compare Prices for Later on Hotels.com | See Rates on Expedia.com
$$ Mr. C Seaport
This gorgeous 4-star hotel in DUMBO Brooklyn has 66 rooms with all the beautiful views of DUMBO and Brooklyn from across the East River in Lower Manhattan.
While this technically isn't in DUMBO or Brooklyn, you get to see the best of it from across the way located right next to the Brooklyn Bridge where you can walk or bike (if you dare on a busy day) across to DUMBO and Brooklyn.
Mr. C hotels provide 24-hour room service, daily shoe shine, complimentary wifi, and much more being a member of the Leading Hotels of the World with fashionably decorated rooms, some of which have terraces with incredible views.
Book Now on Booking.com | Compare Prices for Later on Hotels.com | See Rates on Expedia.com
$$$ 1 Hotel Brooklyn Bridge
This incredible property is more than one of the best DUMBO hotels you can stay at. 1 Hotel Brooklyn Bridge is also home to Harriet's Rooftop & Lounge, one of our picks for best things to do in DUMBO Brooklyn guide with one of the most amazing views money can buy of the NYC skyline and rooftop pool.
1 Hotel offers both Brooklyn city and skyline views, which ultimately determine the cost of your stay. This is one of the finest properties and locations to stay in not only DUMBO, but also Brooklyn and New York City.
This 5-star hotel comes equipped with the bar/lounge, room service, complimentary wifi, and industrial-chic rooms. Also, 1 Hotel is also home to one of the best spots for brunch in DUMBO and one of our picks for best rooftop bars in DUMBO.
Book Now on Booking.com | Compare Prices for Later on Hotels.com | See Rates on Expedia.com
See our full guide for more amazing NYC hotels with a view to help you plan your stay!
Best DUMBO Airbnbs
While there aren't a huge number of hotels in DUMBO Brooklyn, there are quite a few individual properties and DUMBO Airbnbs you can look into to stay in this incredible and favorite neighborhood.
If you are new to Airbnb, you can get $30 off your first stay with this code
Beautiful Bright 2 Bedroom Apartment with Balcony in DUMBO
This beautiful and bright 2 bedroom renovated apartment with a balcony in DUMBO can sleep up to 5-6 people in the heart of DUMBO just one block away from both the Brooklyn and Manhattan Bridges and one block away from the nearest subway station.
The apartment features huge windows so that you get alot of natural sunlight and a fully equipped kitchen. One of the best perks of this apartment has to be the balcony.
We personally love the light and bright modern design.
If this place seems familiar in some way, maybe that's because it was the filming location for Hollywood movies including Vanila Sky with Tom Cruise and Scent of a Woman with Al Pacino.
Check availability and book here.
Private Room in former Blue Oyster Cult Crashpad & Artist Studio
Book this beautiful DUMBO Airbnb if you want to take a trip through music and rock culture in this private room in a former Blue Oyster Cult crash pad and artist studio.
This artist studio was once home to George Geranios, the soundman for the legendary rock band, the Blue Oyster Cult. This was also where the band crashed when they were just getting started.
The visage of the hallways is raw and industrial. However, the interior of the apartment is super-cozy and warm.
Guests staying in this private room will enjoy the peaceful nature of the neighborhood that the apartment is in. The room, as with the entire home, is large and airy.
Check availability and book here.
Charming 2 Bedroom Apartment in DUMBO
This DUMBO Airbnb is a charming 2 bedroom apartment located only a block away from the train station and the Brooklyn and Manhattan bridges. It offers free parking on the street – a highly coveted privilege in New York City.
The tones in the apartment have a great balance of earthy tones and minimalist design with a lot of natural light that streams in from the windows gives it a happy, light, and bright space in the daytime.
Of course, being a brand new apartment, 650 SF, the installed lighting is perfectly balanced as well.
Both bedrooms in the apartment are spacious and have large beds in them. If you are traveling with a family, you can also get an extra bed and a crib for a baby.
Check availability and book here.
Read Next: Best Cafes in DUMBO
Luxury Flat with Balcony & View in DUMBO
This luxury flat with a balcony and amazing view and DUMBO Airbnb is situated on the fourth floor of a brand new building in one of DUMBO's more quiet streets.
It features a single and spacious bedroom that is fitted with a queen-sized bed. Its living room is just as spacious and is elegantly furnished with tasteful wooden chairs and tables. The walls are painted a delicate white and adorned with interesting paintings and sculptings.
Besides being tastefully decorated, this DUMBO Airbnb has a private balcony where you can enjoy a meal or a drink with a friend while marveling at the beautiful views of Brooklyn and even a peek at some of the most iconic buildings in Manhattan.
Imagine sitting out there in the evening as the sun sets and the light it casts plays brilliantly on the skyline listening to all the sounds of the city on your private patio.
You will have the entire space to yourself and although the flat is located on the fourth floor, an elevator is provided so you can skip the stairs. Check availability and book here.
Luxury DUMBO Penthouse
For the upscale traveler looking for more luxurious digs that feels like your own home here in the city vs just a room in one of the hotels in DUMBO Brooklyn, this luxury penthouse that's been featured in the NY Times is an awesome option.
Its design is exquisite and innovative, which is one of the reasons it recently found a feature in the architectural section of the New York Times.
It is absolutely massive and is a piece of art work with tons of indoor space and roof decks that you can walk about on and enjoy breathtaking views of the skyline.
The unique master bedroom features a king-sized bed, and the master bathroom features a giant, two-person walk-in shower.
There are so many design details you can really appreciate in this penthouse from the gorgeous wallpaper on the walls, the woodwork on the floors, and the gorgeous furnishings.
Being the penthouse, there is an elevator available to take you up and down as you require. This apartment is located in a convenient part of the DUMBO neighborhood and is only two blocks away from the popular F-train. Check availability and book here.
This is also one of the best Airbnbs in Brooklyn, be sure to read our guide for more!
---
What to Bring to DUMBO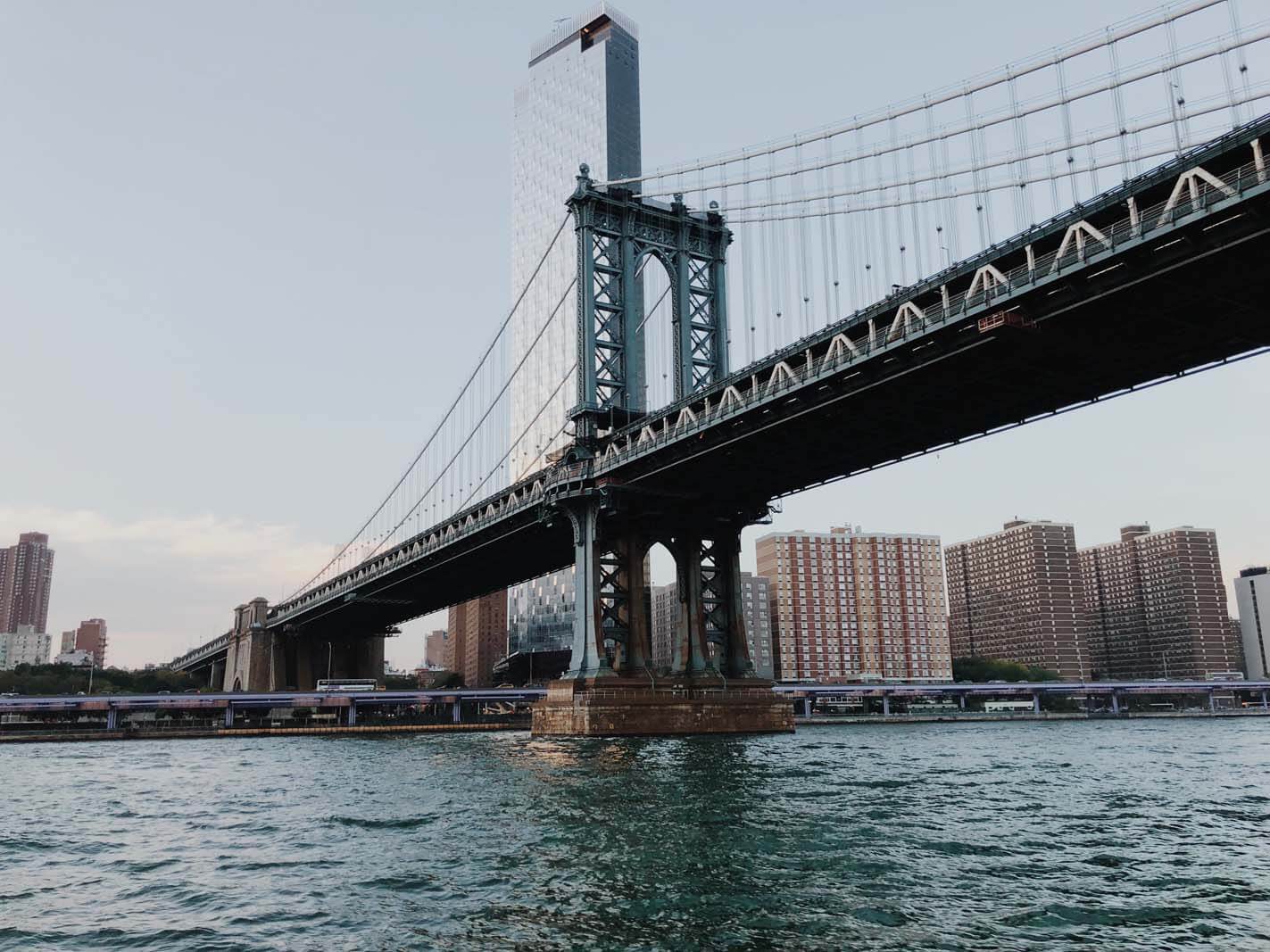 See our full Brooklyn packing list before your trip to make sure you have all our suggestions!
This Pacsafe Shoulder Bag slings over your body and is the perfect size to carry your day essentials while exploring DUMBO and Brooklyn. This lightweight bag has anti-theft features so you can enjoy Brooklyn with ease of mind with Pacsafe's anti-theft patent products whether you're in a crowded area or on the subway.
This Pacsafe Anti-theft Backpack is another essential for Brooklyn or any city trip. This backpack has a patented anti-theft design with lockable zippers and slash-proof material in this sleek and comfortable designed backpack.
Avoid high tech thieves with this 15 pack of RFID blocking sleeves that doesn't require you to buy a special travel wallet, you can carry your favorite purse, wallet, or backpack by simply putting your credit cards and sensitive information in these RFID blocking sleeves.
Upgrade your wallet with this RFID Blocking Wallet by Pacsafe is the perfect pick. Always have your identification, bank cards, and credit cards protected from high tech thieves with this RFID blocking wallet in this sleek and slim design.
One of the best ways to keep valuables safe when you travel is this Portable Safe by Pacsafe. This is ideal when you're hotel has a safe that is too small for your belongings, with it's sleek and compact design so it doesn't take up much space in your luggage offering maximum security with its stainless steel wire mesh covered in a piece of cut-resistant canvas fabric. You simply lock this portable safe to a secure fixture in your DUMBO hotel or DUMBO Airbnb room when you leave.
This iPhone crossbody case is perfect for sightseeing as you can easily grab your phone for that perfect photo moment on the fly as well as keep your phone secured to your body and safe from pickpockets!
We recommend Allbirds Women's Wool Runner as well as the Allbirds Men's Wool Runner for an everyday walking shoe that's breathable, comfortable, and feels like you're walking on clouds. Your back and feet will thank us later, plus they are all the rage in the city at the moment.
A good reusable water bottle is one of the best things you can have in your day bag or on you at all times, plus New York City has some of the best drinking water in the country, cut back on single-use plastic and have a good reusable water bottle for your trip.
Don't leave the house without a good power bank. Don't spoil your fun exploring all the fun neighborhoods and things to see in Brooklyn by having your battery die on you. If you're anything like me you'll be using your phone to take photos, navigate, and post to social media while you're exploring.
When it comes to the city, this weather is not forgiving and you don't want to get caught out and about in the rain without an umbrella. That's why we recommend this compact wind resistant travel umbrella for what to pack for Brooklyn.
Are you a sensitive sleeper? A good pair of earplugs are essential for your Brooklyn or city trip, especially if you're not from a big city.
---
Liked this post on the best DUMBO hotels and DUMBO Airbnb listings for your trip? Bookmark for later or share the love below on Pinterest!