Without a doubt, Williamsburg coffee shops are top tier. Being in one of the coolest neighborhoods in the city would you expect anything less?
And as a regular to the Williamsburg area, I am elated to share some of my personal favorite cafes in Williamsburg hang out and grab a pick me up or stay and hang out a bit whether you're looking for something to grab and go or post up with a laptop to get work done or a good book.
Williamsburg is also home to some of the best coffee shops in Brooklyn, so this guide will help you narrow down which one might be the perfect fit for you!
Check out my picks for the best cafes in Williamsburg!
Best Cafes in Williamsburg
Devoción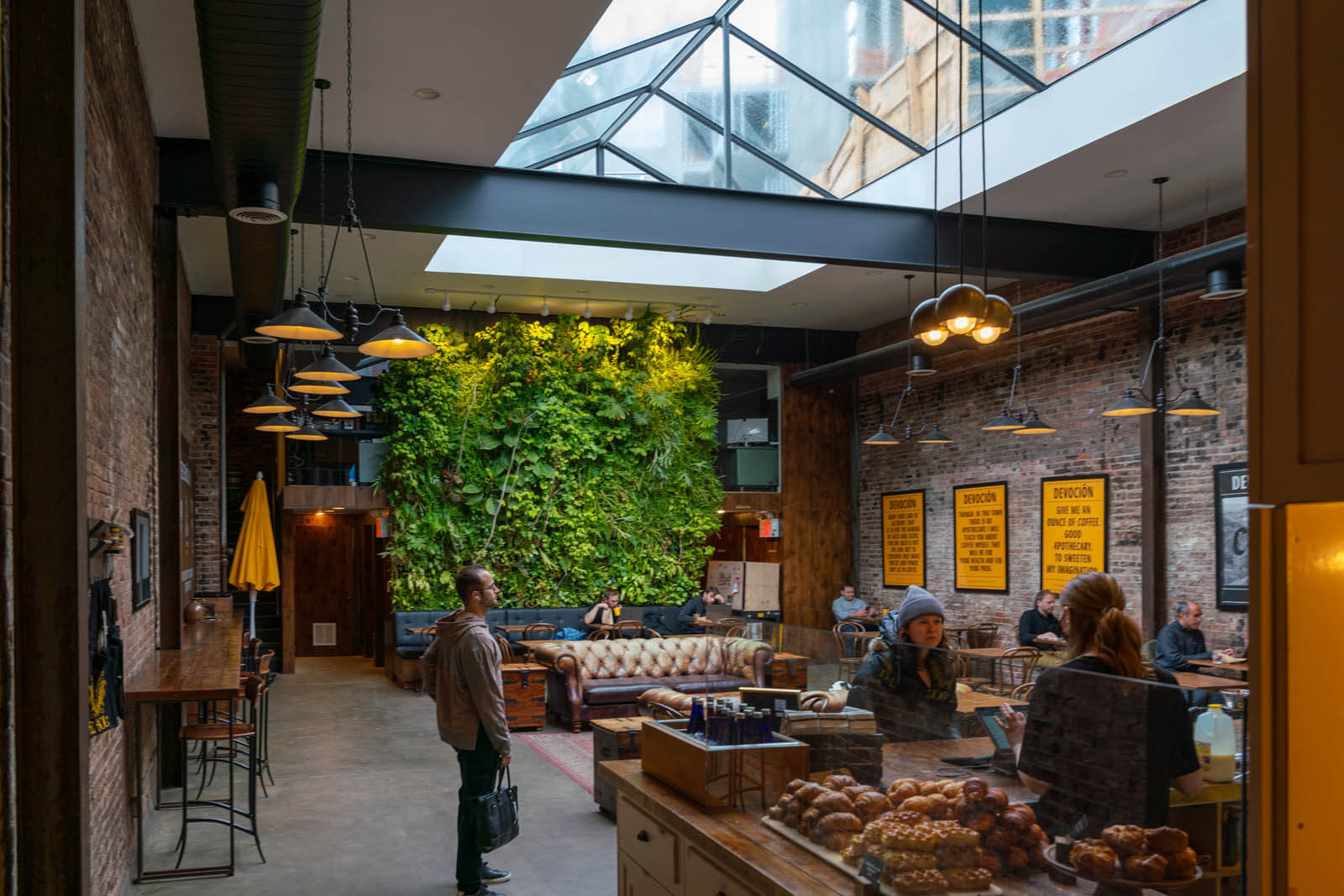 Address: 69 Grand Street
Known for its quality coffee, this Williamsburg coffee shop is the perfect place for any avid coffee consumer.
Previously built as a warehouse in the working waterfront district, this industrial brick-building stores a lot of Williamsburg history. The shop has kept the original structure and displays the old brick and steel beams beautifully.
A tall ceiling with a glass rooftop adds to the shop's design and provides great lighting to get work done or hang out.
Check out this cozy neighborhood café to admire the history of the building and grab a great cup of coffee.
Open 8 am – 7 pm every day
Black Brick Coffee
Address: 300 Bedford Avenue
If you're looking for a Williamsburg coffee shop with a full matcha menu, head over to Black Brick Coffee! With many different drink and food options this Williamsburg cafe is definitely one of our favorite coffee spots.
The dimly lit lights and vintage decor make this coffee shop stand out among all the other shops in the neighborhood.
Be aware that the patio outside and some tables inside are laptop free so keep that in mind if you're coming here to get some work done!
Open 7 am – 6 pm Monday – Friday, 8 am – 7 pm weekends
Read Next: Best Street Art in Williamsburg
Hungry Ghost Coffee
Address: 721 Metropolitan Avenue
Founded in 2012 by Murat Uyaroglu, this Williamsburg coffee shop opened its first location in Prospect Heights.
Hungry Ghost Coffee's main goal was to create a welcoming spot for the community while also serving superior high-quality coffee. Since opening, they have been proud partners with Stumptown Coffee.
This super cute Williamsburg coffee shop now has 13 locations spread out between Brooklyn and Manhattan.
Be sure to check out this popular cafe in Williamsburg or in its other locations around the city!
Open 7 am – 8 pm, Friday – Sunday, 7 am – 6 pm Monday – Thursday
Blue Bottle Coffee
Address: 76 N 4th Street
What was once an industrial building has now turned into a cozy Williamsburg coffee shop on the bottom floor of a residential loft – which just screams Williamsburg all over it.
An expanded food menu and high-quality cold brews make this Williamsburg cafe the perfect spot to grab an espresso drink.
The inside decor is very cute and fits right into this trendy neighborhood.
Blue Bottle is where you can get a serious quality cup of joe. They only serve coffee less than 48 hours out of the roaster so you know that you're getting a cup of freshly roasted coffee with peak flavors of the finest responsibly sourced coffee beans. Other types of coffee like blends and espressos are timed perfectly from roasting to sipping for peak flavors as well.
These guys have it down to a science and perfected the coffee experience. This Williamsburg coffee shop has a natural ambiance to it and is the perfect place to grab a coffee to stay in or to take away along with one of their tasty treats.
This size of this spot makes it hard to stick around and get work done, but if you're looking for a drink to go try out this sweet cafe in Williamsburg.
Open 6:30 am – 6:30 pm Monday – Thursday, 7 am – 7 pm Friday – Sunday
Read Next: Awesome Things to do in Brooklyn
PPL
Address: 189 Roebling Street
For truly one of the most aesthetically pleasing coffee shops in Williamsburg make sure you immediately check out PPL. I'm sure you've seen it all over Instagram by now, which to be honest was the original reason I came to check this place out. I was pleasantly surprised though they actually have some of the best coffee in Williamsburg.
The interior is covered in plants, knicknacks (the best kind of knicknacks) and a long counter where you can order your coffee. They also have an outdoor window if you're with your four legged friend.
Not only do they have delicious coffee, they also have one of my favorite matcha lattes and if you're looking for some small snacks, don't leave without trying the matcha scone.
There is no indoor seating and only a couple of benches outside so this is definitely more of a grab and go rather than sit and work spot.
Open every day from 8 am to 5 pm and 9 am to 5 pm on the weekends.
The West Brooklyn
Address: 379 Union Avenue
One of the best Williamsburg cafes that serve not only amazing coffee drinks but cocktails is The West Brooklyn.
Equipped with tons of outlets and barstools make it a perfect workspace for those early mornings or late nights.
This rustic but otherwise homey Williamsburg coffee shop can be deceiving when it turns into a bar at night with a wide selection of tap beer options and other alcoholic beverages.
Grab a coffee (or beer) and watch some of the local artists perform in The West's very own event space.
It is usually pretty busy on the weekends, so come early if you want a spot.
Open daily 7:00 am – 2:00 am
Butler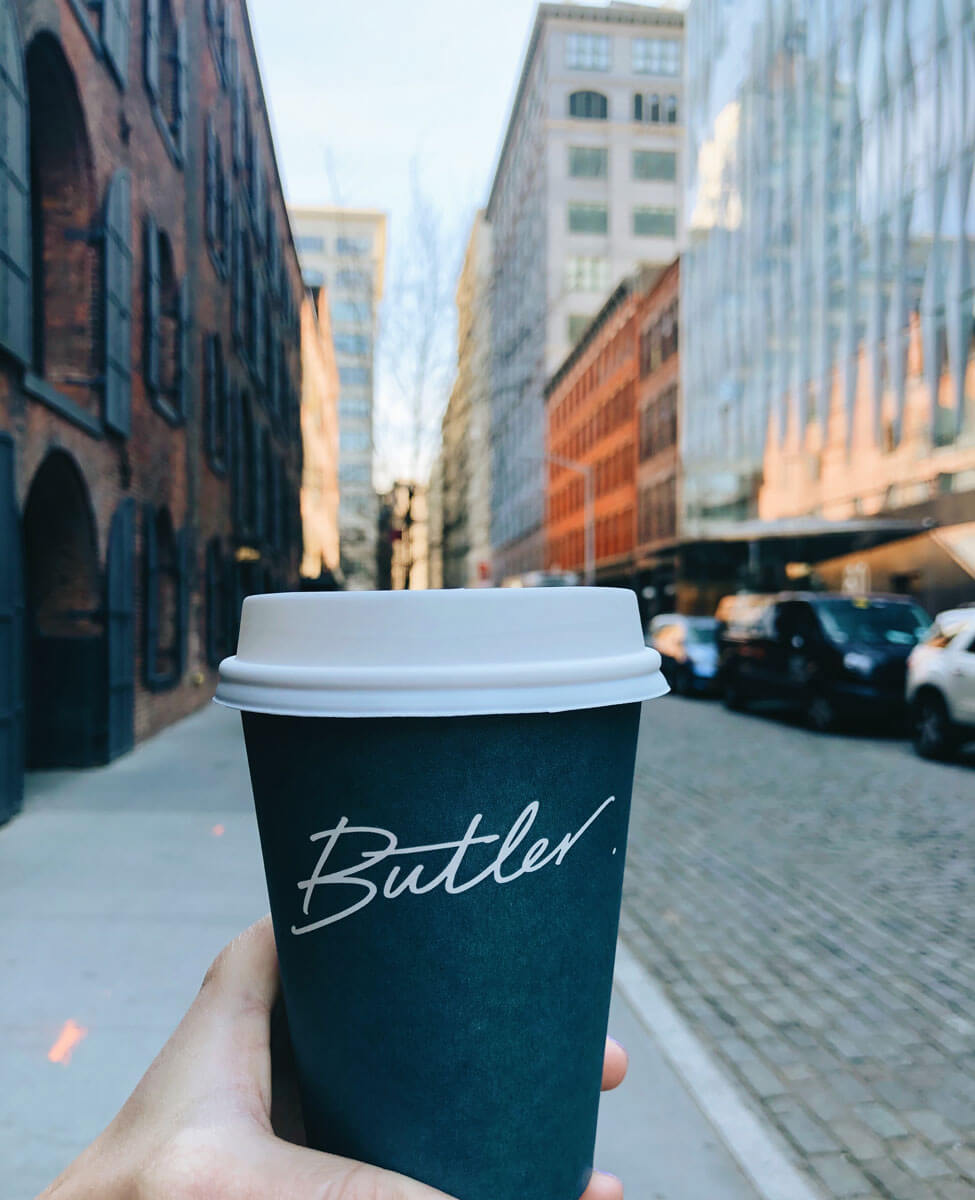 Address: 95 S 5th Street (South Williamsburg) & 101 N 8th Street (North Williamsburg)
Need a pick me up after your walk through Domino Park or need a pick me up for your walk through Domino Park? Stop into Butler, one of the more upscale Williamsburg cafes that has two locations.
These Williamsburg Brooklyn coffee shops also are one of the best brunch spots in the neighborhood. They also have several locations around the city including a pick as one of our favorite cafes in DUMBO as well!
Don't believe us? Try some of their various breakfast items or fancy lattes for yourself!
Wifi is available and street benches surround the building making it a great place to soak up the sun on a summer's day.
Bike racks are also available so lock-up and drink up at this spectacular Williamsburg coffee shop.
Open (South Williamsburg) 6:30 am – 5 pm Monday – Friday, 7:30 am – 6 pm weekends & (North Williamsburg) 7 am – 3 pm Monday – Friday, 8 am – 4 pm weekends
Partners Coffee
Address: 125 N 6th Street
Learn while you sip at one of the most unique and best cafes in Williamsburg, Brooklyn.
This specific location is home to Partner's Brew School and Roastery, which allows you to see how the coffee is made and also view their very own cupping lab.
Previously known as Toby's, this Williamsburg coffee shop has recently rebranded to Partner's. BUT, that doesn't change the fact that their coffee is still just as AMAZING.
Try their delicious Brooklyn blend and pair it with one of their tasty pastries (if you're up to it.)
Open 6:30 am – 6 pm Monday – Friday, 7 am – 6 pm weekends
Read Next: Best Brooklyn Bookstores to Check Out
Variety Coffee Roasters
Address: 368 Graham Avenue
Sit down and recharge at this trendy Williamsburg cafe. The decor is super cute and there is plenty of space to get work done.
Free wifi is also available but keep in mind the music can get a little loud if you're someone who works better in quiet.
If you're a fan of cold brew be sure to try their draft cold brew! Find yourself in love with their brews? You can sign up for their coffee subscription too!
Open until 9:00 pm, this is the perfect Williamsburg coffee shop for a late-night coffee lover.
Open daily 7:00 am – 9:00 pm
Oslo Coffee Roasters
Address: 133 Roebling Street & 328 Bedford Avenue
Another Williamsburg cafe that serves incredibly delicious coffee is Oslo Coffee Roasters. In fact, it is so good they have two different locations across Williamsburg, clearly making it one a best Williamsburg coffee shop.
All of their coffee is delicious but they definitely have one of my favorite iced lattes in the city. They also offer great snacks and small bites including blue sky bakery muffins (one of the best bakeries in Park Slope).
Oslo is great for hanging with friends as there is seating inside and outside. It is also a great place to work and laptop friendly.
Open Mondays through Friday 7:30 AM to 4 PM, Weekends 8 AM to 4 PM
Bakeri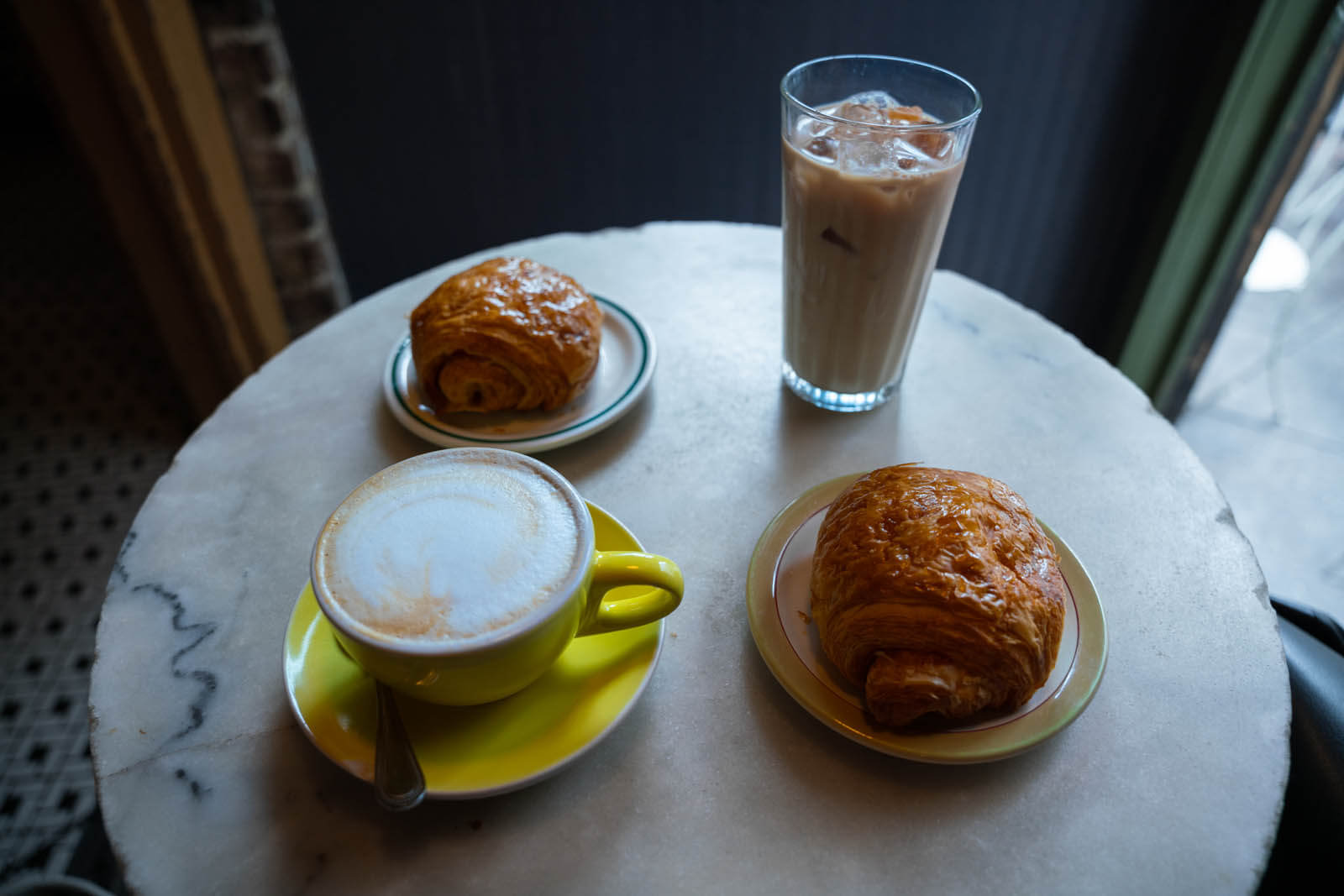 Address: 150 Wythe Ave
This quaint and cozy Scandinavian cafe in Williamsburg has not only one but two locations, with one being in Williamsburg and the other being in Greenpoint. Bakeri is a cozy Williamsburg coffee shop, when I say cozy, I mean it is a bit small but packed with character and charm and on a beautiful day you can take advantage of their garden patio outback.
The cafe definitely has a French feel and charm to it and I absolutely love the open-kitchen where you can sense the scents of fresh baked goods straight from the source. Grab a coffee drink of choice, but know that this Williamsburg cafe is known for its fresh baked goods and bread – so don't skip out on grabbing yourself a treat while you're here.
Open 7 am – 6 pm Monday – Friday, 8 am – 6 pm weekends
Shop 
Address: 232 Metropolitan Avenue
Just like so many other Williamsburg coffee shops on this list, Shop is definitely somewhere you are going to be immediately drawn to for their minimalistic vibe and trendy hipster vibes. They also happen to have some of the best coffee in Williamsburg making this a top Williamsburg cafe.
Shop (formally known as Sweatshop) is an Australian coffee shop with some very friendly baristas that put time and care into each coffee they make. With that being said, make sure you try the flat white as it happens to be one of the best in the city.
The space is small but they do have indoor and outdoor seating and if you get there early, it is a great spot to work or meet friends. They also have breakfast, lunch and pastry options should you get hungry while you work.
Open daily from 8 am to 4 pm
Lion's Milk 
Address: 104 Roebling Street
Another coffee shop in Williamsburg that initially drew me in based on the aesthetics is Lion's Milk. The space is small but mighty and features local artist's work, delicious coffee and offers wine and tapas some nights of the week.
While the space might be small, every time I have been there seems to be more seating that other spots in Williamsburg making this not only a great spot for coffee in Williamsburg but also a great spot to get work done or meet up with friends. They also offer outdoor dining and are laptop friendly.
In addition to coffee and the tapas mentioned above, Lion's Milk also offers breakfast, lunch and dinner. Also, make sure you try a Turkish pastry or Turkish coffee while you are here!
Open during the week from 7:30 am – 4:30 pm and 8:30 am to 5 pm on the weekends.
Copper Mug Coffee 
Address: 131 N 4th Street
You will immediately be drawn to Coffee Mug Coffee because of the backyard. It is large, especially for New York standards, and has ample seating for working or meeting friends for some of the best coffee in Williamsburg.
If outdoors isn't your thing, they also offer a very cozy and inviting inside space with plenty of seating, WiFi and laptop friendly tables.
In addition to coffee, food is available including sandwiches, wraps, smoothies and bowls.
Copper Mug Coffee is open every day from 7:30 am – 6:30 pm and open from 8:30 am to 6:30 pm on the weekends.
Coffee Shops in Williamsburg (Post Summary):
Devoción
Black Brick Coffee
Hungry Ghost Coffee
Blue Bottle Coffee
PPL
The West Brooklyn
Butler
Partners Coffee
Variety Coffee Roasters
Oslo Coffee Roasters
Bakeri
Shop
Lion's Milk
Copper Mug Coffee
---
Found our favorite Williamsburg coffee shops and best cafes in Williamsburg guide helpful? Bookmark for later or share the love below on Pinterest!