Did you know that Williamsburg rooftop bars offer some of the best views in the entire city? Rooftop bars are undoubtedly one of the most popular things to do in the warmer weather months in the city and out of all of Brooklyn, Williamsburg has the most rooftop bars, restaurants, and venues with great views of Manhattan and the most famous NYC skyscrapers.
Besides great views, we have some rooftop bars in Williamsburg, Brooklyn that are more of an outdoor, urban garden to hang out or laid-back venue with performances, live sets, dance parties and so on. Many of these rooftop bars in Williamsburg also have a great restaurant menu as well and are awesome brunch spots.
Not to mention, a few of these rooftop bars even are open year-round or some have indoor options in the winter that are still location on the roof with views. So enjoy one of the best things to do in Brooklyn if you're looking for drinks, food, fun, and views!
We recommend making a reservation for all of these locations to secure a seat! Some of these rooftop bars in Williamsburg won't even seat you without a reservation, so double check before your visit and RSVP!
Want more rooftop action? Check out our guides to the best rooftop bars in Brooklyn and the best rooftop restaurants in NYC for more amazing spots to check out.
Best Rooftop Bars in Williamsburg
Westlight at The William Vale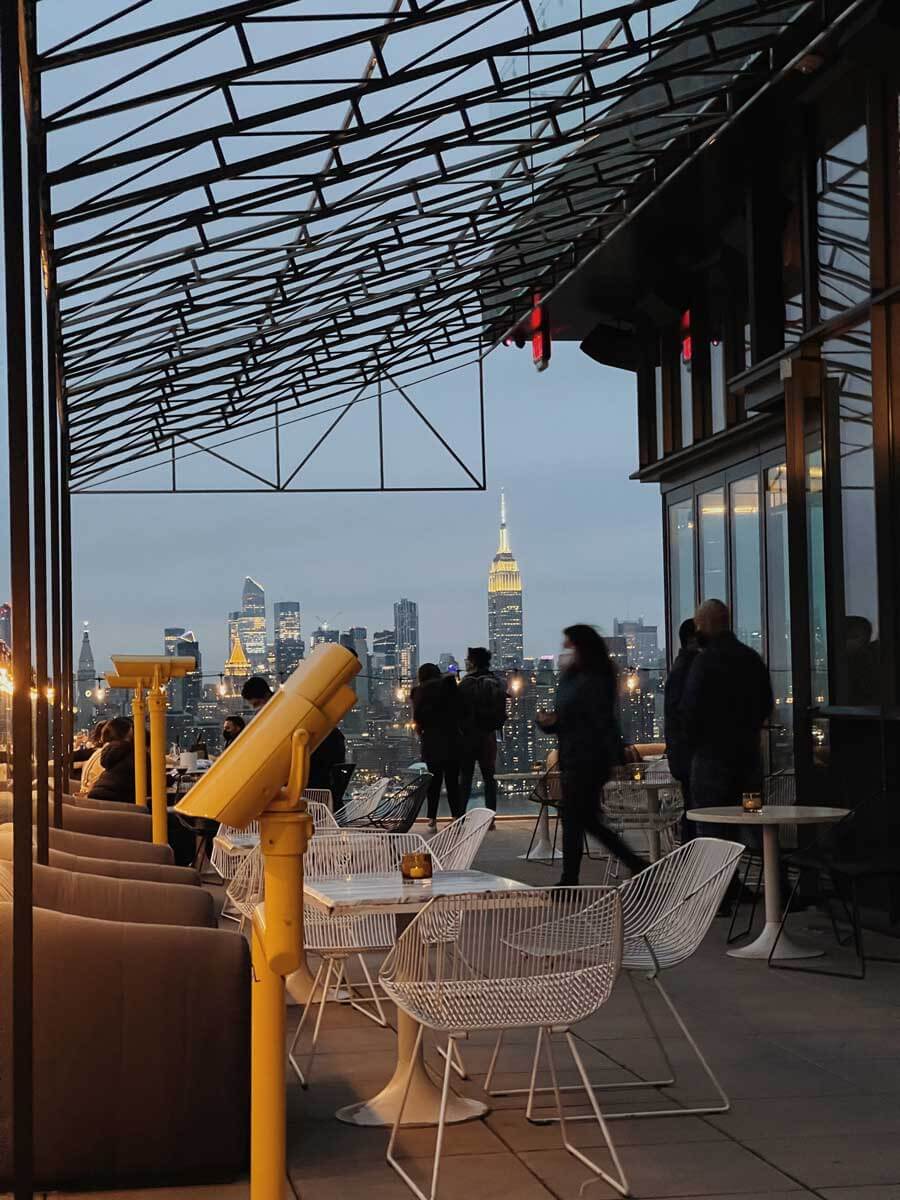 This Williamsburg rooftop bar is not only one of the best in Brooklyn but in all of NYC. Westlight provides a stunning view of the Manhattan city skyline over the East River as well as views of Brooklyn from this rooftop bar in Williamsburg.
Located on the 22nd floor of the sophisticated William Vale hotel, one of the best hotels in Williamsburg, you can find this luxe cocktail bar with bar snacks and pairing menus all while offering sweeping 360 views of the city, which is why it's one of our favorite bars in Williamsburg.
The Westlight was also listed on the "Best Winter Rooftop Bars in NYC" and "10 Best Outdoor Bars in NYC for Summer Drinking."
What's awesome about this spot is that in the winter you can still enjoy the view because there is an indoor area on the 22nd floor as well with skyline views, making it one of our favorite things to do in Williamsburg.
We recommend grabbing a few of their tapas paired with wine from their extensive list, cocktails, or draft beer.
Just be prepared for lines for the elevator, then expect another line. This is a popular rooftop and a Brooklyn bucket list item, what can we say!
Summerly
View this post on Instagram
A guide to all the best Williamsburg rooftop bars wouldn't be complete without Summerly at The Hoxton hotel. This trendy and luxury hotel not only is a stylish place for where to stay in Brooklyn but offers one of the rooftop bars in Williamsburg.
This Williamsburg rooftop bar also has a New England-inspired menu with lobster and other seafood dishes on their daily menu as well as their weekend brunch menu. We recommend checking out their famous lobster rolls!
Lounge on their rooftop couches or a table with panoramic views of the city including that iconic NYC city skyline. Don't miss trying one of their amazing cocktails and be sure to soak in one of the best views of the city.
This is also the perfect romantic date night spot with that special someone or a brunching with the pals on the weekend spot!
Trust us and be sure to snag a reservation before trying to visit this Williamsburg rooftop bar and restaurant.
Berry Park
View this post on Instagram
One of our favorite Williamsburg rooftop bars is Berry Park. While this building doesn't seem like it would get skyline views based on its height, it does, and they're pretty spectacular!
Known for their public viewings of soccer games on their giant screens known for having a decent beer list and often considered a beer garden/rooftop/soccer bar. Not a beer drinker? No worries they have a decent cocktail menu and wine list as well along with a great brunch and regular dining menu with a German influence.
This rooftop bar in Williamsburg is pretty laid back during the daylight hours and by night it turns into a nightlife spot with a different energy.
Night of Joy
View this post on Instagram
Another amazing rooftop bar in Williamsburg, Brooklyn is the Night of Joy at the edge of Greenpoint. What we love about this Williamsburg rooftop bar is the unpretentious and laidback vibe. This spot is definitely less bougie than some of the other rooftop bars in Williamsburg we mention, but don't let that dissuade you from checking out what this spot has to offer.
Their indoor bar feels like you're in your aunt, grandma's, or parents' old living room with dim lighting and aged furniture to give you that 'lived-in living room from yesteryear' vibe – it's funky!
But, that's not what we're here for, in this guide, we want to know all about that rooftop patio! Their rooftop bar is seasonal basically being open from spring through fall and closing in the winter. So if you're planning a visit on a shoulder season, just call into double-check their rooftop bar is open during your visit.
While this Williamsburg rooftop bar doesn't have views, this is where you come for a cool hang out spot, live music sets, and a laid back atmosphere. Be sure to try one of their frozen margaritas!
Juliette
One of the most stylish restaurants and places to eat as well as one of the best Williamsburg rooftops is Juliette! Their French-inspired bistro menu is made of only fresh ingredients and the perfect spot for a romantic date night. But even better yet, this spot is also home to one of the best rooftop bars in Williamsburg.
The seasonal rooftop bar and restaurant feel like a little oasis and if you fall in love with it, let's be honest you will, you even have the option for renting out rooftop space here for a private event. While many come to eat in the leafy indoor dining, we absolutely love this rooftop.
This is an awesome spot to brunch in Williamsburg, and probably one of the most well known in Brooklyn. While the rooftop and outdoor dining area is located on just a one-story building you can't expect any crazy skyline views, but you can admire the charming atmosphere.
This is also a great spot for a date! Be sure to read more of our favorite date ideas in NYC for more inspiration!
El Techo at the Llama Inn
View this post on Instagram
Another fun option for Williamsburg rooftop bars and restaurants in the Llama Inn, a chic Peruvian restaurant with a cute garden rooftop bar called El Techo. And since the menu is Peruvian-inspired, you can't miss one of their signature pisco cocktails.
You can find snacks and cocktails on this rooftop bar in Williamsburg, while the full menu is available in the restaurant, which is one of our picks for best restaurants in Williamsburg I might add.
This laid-back rooftop bar in Williamsburg doesn't come with crazy skyline views, but it does offer views of the BQE. This is a fun spot for cocktails and some delicious Peruvian bites on a beautiful day.
And even though this post is all about rooftops we can't not mention their incredibly stylish interior that will leave you rubbernecking as you walk through.
Bia
A fun, laid-back hangout spot with mouthwatering Northern Vietnamese food is Bia, another one of our favorite Williamsburg rooftop bar and restaurant right next to the Williamsburg Bridge.
This is one of those great stops if you happen to do to the Williamsburg Bridge walk and want a place to get a drink or some Vietnamese grub. We love how laid-back this garden rooftop bar in Brooklyn is, the atmosphere here is completely unpretentious and more like a cool casual hang spot.
Because of the location, you can get good views of the pedestrian walkway of the Williamsburg Bridge.
We recommend trying their signature cocktails, a Vietnamese iced coffee with whiskey!
Talk Story at the McCarren Hotel Rooftop
View this post on Instagram
Talk Story at the McCarren Hotel is another one of the best Williamsburg rooftop bars located on one of the area's most trendy and modern hotels. This tropical-themed rooftop bar in Williamsburg offers sweeping skyline views of the NYC city skyline and opposite are views of McCarren Park alongside designer craft cocktails with a tropical theme.
Pair your tropical cocktails with Hawaiian island-infused fare like fresh sushi and salad. And for non-alcohol drinkers, Talk Story serves up some great mocktails too.
This rooftop bar in Williamsburg also has a great line up of all-female bartenders, plus they use a sustainable approach to the ingredients they use.
Our Wicked Lady
View this post on Instagram
One of the coolest Williamsburg rooftop bars and event space/venue is Our Wicked Lady. Actually, this location is technically in Bushwick, but since it's so close and one of the best spots for nightlife we just had to include it here.
Set in a former warehouse, this giant space was turned into a famous bar with its amazing rooftop terrace year-round making it one of the most unique venues in the city where they host rooftop dance parties, private events, live shows and performances, and just a dynamite rooftop bar.
In the summer months, you can enjoy the open-air rooftop, in the winter they have it fully 'winterized' so you can enjoy this fun spot all year long.
Lemon's
View this post on Instagram
(This Williamsburg rooftop bar is not currently open)
This trendy rooftop bar in Williamsburg is located on top of the stylish Wythe Hotel in the heart of this trendy neighborhood. This awesome spot turns into one of the coolest lounges in the city with its live performances, DJ sets, and views of the city.
Try some of their signature cocktails and if you're with a group of friends you can get one of their giant sharable cocktails.
This is one of the few rooftop bars in Williamsburg, Brooklyn that is open in the morning for coffee and pastries with a view. They also have a regular dining menu as well as a small bites menu.
We love the decor and light and bright colorful vibe they have going on here not to mention the stunning views of Manhattan. ThisWilliamsburg rooftop bar and lounge is really perfect any time of day whether you're looking for a light breakfast with a view, lunch and cocktails, an afternoon drink, or a swanky night hangout with a view.
If you get bad weather, don't fret their inside dining interior is to die for and it also has a view of the skyline!
The Williamsburg Hotel
View this post on Instagram
The most unique Williamsburg rooftop bar is located above the rooftop pool at the gorgeous Williamsburg Hotel with sweeping views of the NYC city skyline. The Water Tower serves up cocktails in a floating, glass structure designed around the water towers you see on buildings all over the city.
This is more exclusive than other rooftop bars in Williamsburg because in order to secure a spot in this floating, glass bar you will have to pay steep prices for a single cocktail ($150) or table service ($500). The custom-designed water tower bar has floor-to-ceiling windows with velvety furniture and bright decor.
For those who can't or don't want to do that option, you can also enjoy the bar at the pool directly below The Water Tower still on the roof as well as the Brooklyn Bread Lab cafe.
Better yet, we recommend renting a cabana on a hot summer day to enjoy this rooftop bar in Williamsburg, the pool, and the panoramic skyline views!
Guests of the hotel can enjoy the pool, for those who aren't staying at the Williamsburg Hotel you can snag a dinner reservation on the rooftop for the unbelievable views.
Don't miss their rooftop movie nights, DJ sets, and more – check their website for programming.
Ainslie
View this post on Instagram
Located inside an old warehouse you can find everything at Ainslie from a menu full of Italian fare including wood-fired pizzas, an extensive wine list, and a beer garden, not to mention their stellar Williamsburg rooftop bar!
Ainslie has multiple floors and is known to be a great place with groups of friends as there are DJ sets, two bars, outdoor patio, and of course the rooftop.
This is the perfect stop for dinner, drinks with a view, and the nightlife that follows when the live music starts.
---
Liked this post on the best rooftop bars in Williamsburg, Brooklyn? Bookmark for later!