Check out the best Williamsburg thrift stores in Brooklyn! There are so many amazing Williamsburg vintage shops to choose from being one of the best neighborhoods in all of NYC to shop second-hand treasures! Not to mention one of our favorite things to do in Brooklyn.
This guide to the best consignment and thrift shops in Williamsburg is perfect for any vintage shopping lover including the best places to find amazing one-of-a-kind used items in great condition. Plus we include vintage stores in Williamsburg where you can trade or sell your unwanted items for new pieces or donate.
While you're in the neighborhood exploring the best Williamsburg thrift stores, be sure to check out the best things to do in Williamsburg or if you build up an appetite shopping (you'll need to take a break that's how many awesome vintage shops there are around here) check out our guide to the best food in Williamsburg!
Williamsburg Vintage Shops
Super Real Much
Located just a couple of blocks from McCarren Park is the cool Williamsburg vintage shop Super Real Much. This little vintage store in Williamsburg packs a huge punch with an amazing collection of women's vintage clothing, accessories, and select home goods.
In addition to their curated vintage pieces, they have fun gifts, candles, jewelry, hip stationery, and some new clothing pieces.
Super Real Much is a great place to browse for unique and reasonably-priced clothing and gifts – plus you can shop online!
Chickee's Vintage
Another one of the best Williamsburg thrift stores is Chickee's Vintage on Wythe Avenue offering too-cool selection of vintage t-shirts and designer pieces.
This Williamsburg vintage shop has a highly curated selection of genuine vintage, and their prices reflect their authenticity and condition. For serious vintage collectors and casual shoppers alike, Chickee's Vintage has a small but spectacular selection.
They offer online shopping and international shipping, so you can snag one of their vintage finds even if you can't make it to Williamsburg.
If you have a vintage piece that you're looking to sell, you can contact Chickee's Vintage!
Beacon's Closet
One of the most popular Williamsburg thrift stores is Beacon's Closet, and with good reason!
Beacon's Closet has a massive selection of both men's and women's pre-loved clothing, shoes, and accessories. They even have a few vintage and designer pieces nestled among their racks! Although prices vary depending on condition, brand, and trends, Beacon's Closet's collection is extremely reasonably priced.
With multiple locations around Brooklyn, as well as an online shop, you can grab some great finds from Beacon's Closet, no matter where you are! They also have buy, sell, and trade options at their locations, as well as a by-mail option.
L Train Vintage
Another one of Williamsburg's best thrift shops is L Train Vintage on Grand Street. Although this Williamsburg location is one of L Train's smaller shops, it is bursting with reasonably-priced vintage and pre-loved clothing, shoes, and accessories.
Rummage through the racks and you may even stumble upon a designer piece or two! I personally shop at their Park Slope thrift store location and always find at least one or two things to walk out with!
Urban Jungle
Urban Jungle, a member of the L Train family, is a huge vintage thrift store located in East Williamsburg. Once you happen upon the swinging yellow submarine sign and enter the shop, you'll realize why it's called Urban Jungle!
This Williamsburg thrift shop offers a cool collection of reasonably priced finds – from racks upon racks of t-shirts, flannels, Hawaiian shirts, bins of hats, and rows of shoes, to one-of-kind sweaters, denim, and vintage dresses.
10 ft. Single & Stella Dallas Living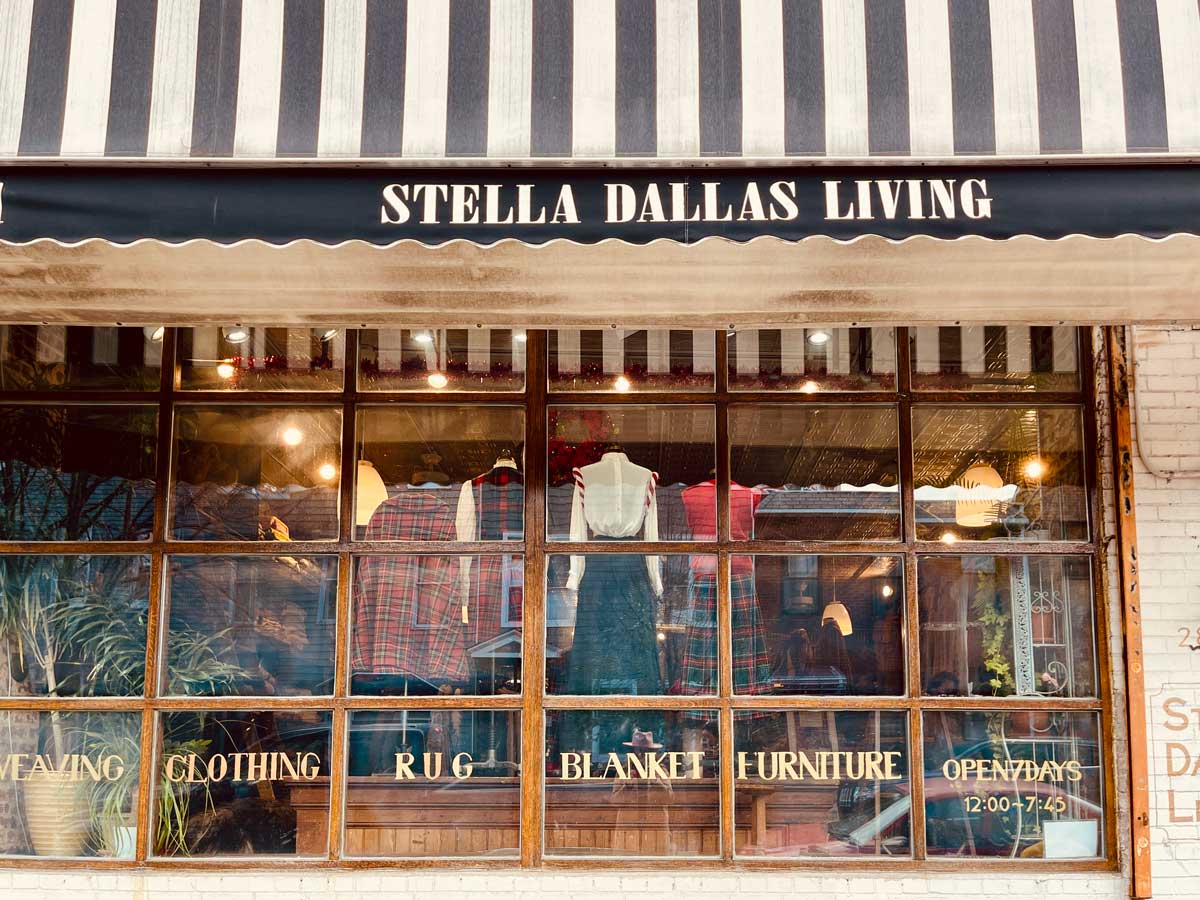 Situated right by the Brooklyn Queens Expressway is 10ft Single by Stella Dallas Living and Stella Dallas Living, probably one of the most well known Williamsburg vintage shops. These shops are filled to the gills with incredible vintage clothing and accessories and their window displays are always top-notch and stop me in my tracks.
At 10ft. Single you can find an overwhelmingly amazing selection of vintage finds! Sift through the packed racks at 10ft Single and you'll be sure to find a unique vintage piece that is perfect for you!
Stella Dallas Living has higher-end clothing and what feels like 'period pieces' but also antique homeware and cool finds like vintage blankets.
Both of these vintage shops in Williamsburg are next to eachother, so stop by both!
Antoinette
Antoinette Brooklyn, located on Grand Street, is a fabulous Williamsburg vintage shop! They have a dreamy curation of vintage clothing, shoes, and accessories, as well as new pieces from local designers!
Antoinette's new and used clothing run a little on the high end, so make sure to check the price tag before falling in love with one of their unique pieces!
Awoke Vintage
Awoke Vintage is a great vintage store in Williamsburg in the mini-mall on N. 5th Street! This popular spot often has sidewalk sales and always have a killer collection of vintage Levis.
They have cute vintage clothing, new jewelry, beauty products, and gifts, all of which are moderately priced.
Besides their Williamsburg flagship, Awoke Vintage has also opened two additional locations in Greenpoint and offer online shopping!
Ecdysis
Located in the same mini-mall on N. 5th Street is Ecdysis. This hip Williamsburg vintage shop has vintage t-shirts, ranging from moderately priced to higher tags on true, rare vintage tees.
Ecdysis also sells retro sunglasses for both men and women, as well as a collection of smudge sticks and other mystical home goods. You can also shop online in case you want to snag a unique tee before you're able to check out their Williamsburg store!
UPDATE: Now only their Manhattan location is open at 113 Division Street in Chinatown.
Plus Bklyn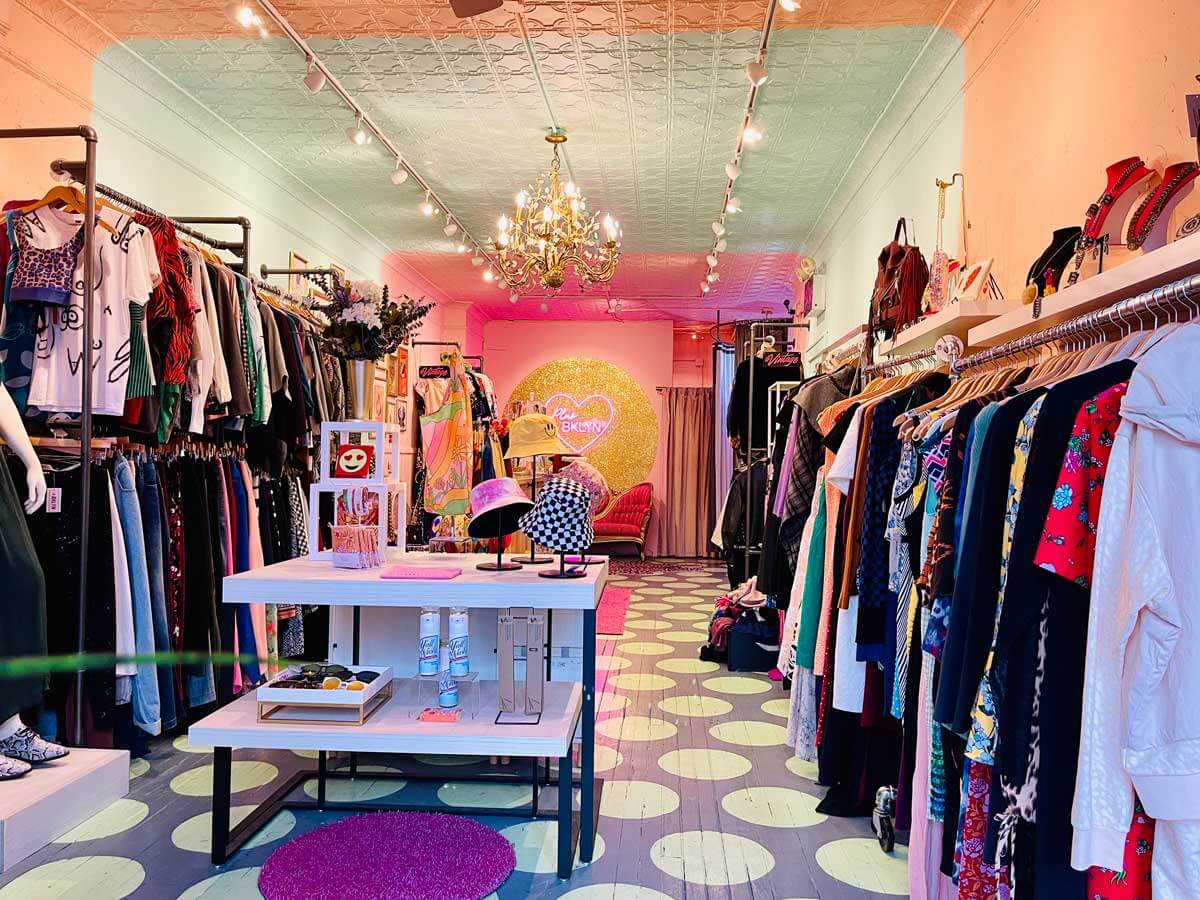 Located on Metropolitan Ave., this is one of the best vintage shops in Williamsburg for women specializing in plus-size clothing. Their selection of women's fashion styles range from one-of-a-kind dresses to leather jackets plus fun and colorful accessories.
Besides carrying fun styles with sizes ranging from 14-30, with select styles up to size 32, this vintage shop also buys your clothing for cash or store credit.
Rugged Road & Co.
Finish your mini-mall vintage rummage at Rugged Road & Co., also located on N. 5th Street! This vintage store in Williamsburg focuses on one of a kind men's pieces from cool jackets from NASA to bombers and cool shirts to antique accessories and cool bandanas.
Rugged Road & Co. really boasts one of the best vintage collections in Williamsburg – with vintage clothing, jewelry, accessories, home goods, and even vintage vinyl. This curated collection does run on the more expensive end, but is well worth it when you find the perfect piece in their carefully curated collection.
Rugged Road & Co. also offers online shopping if you can't make it to this Williamsburg thrift store in person!
Monk Vintage
Located on Driggs Avenue is the Williamsburg thrift store, Monk Vintage! Monk Vintage has an awesome collection of vintage and pre-loved shoes, clothing, and accessories.
This shop is jam-packed with awesome, eclectic beauties, ranging from thrifty pieces to designer finds!
Monk Vintage accepts donations, and even offers a discount on your next purchase whenever you drop off things to donate!
Malin Landaeus
Located only a block away from the Bedford Ave stop on the L train is Malin Landaeus, home to one of Williamsburg's best vintage collections.
This is one of the best Williamsburg thrift stores if you're looking for vintage clothing pieces and want to support a shop that focuses on sustainability!
Horizons Vintage
Horizon's Vintage is a trendy Williamsburg vintage shop, located right on Metropolitan Avenue. They have a good mix of vintage clothing and jewelry pieces, as well as some select pairs of new shoes.
Horizon's Vintage collection is highly curated, and their prices reflect this and most of their pieces are on the more expensive side. This shop also offers online shopping!
Brooklyn Brickhouse Vintage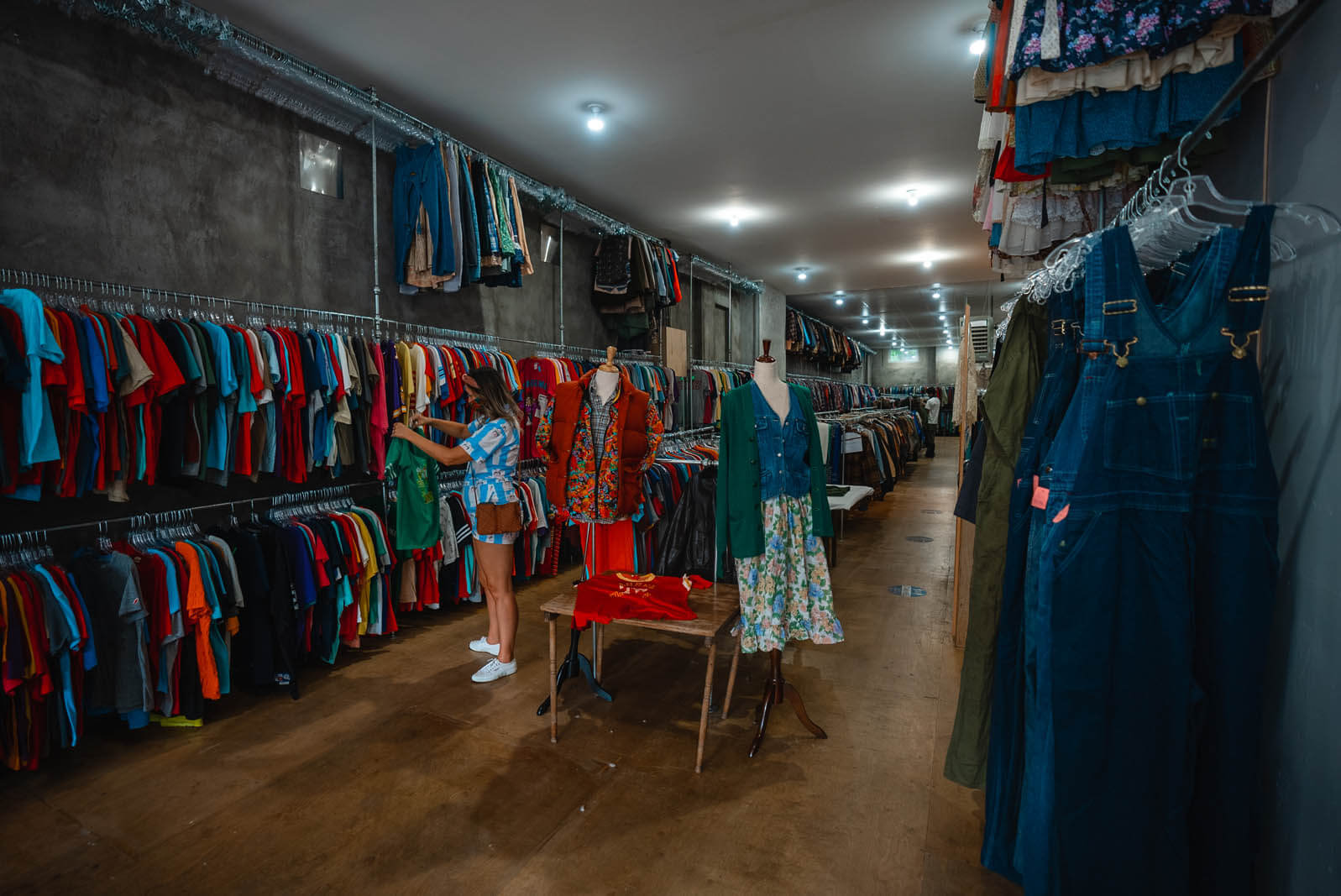 Another one of the best thrift stores in Williamsburg located on Grand Street is Brooklyn Brickhouse Vintage with its vast collection of men's vintage tees, button-down shirts from vintage to new, denim, and women's apparel ranging in vintage dresses, tops, and denim.
The space is large and the prices are reasonable.
Rabbits Vintage Fashion
If you're looking for a hip Williamsburg vintage shop, look no farther than Rabbits Vintage Fashion on Havemeyer Street!
Rabbits offer shoppers a great selection of moderately-priced vintage clothing, accessories, and shoes, and even a whole collection of vintage kimonos! Rummage through, and you may even come across some designer pieces tucked into the mix.
Amacord Vintage Fashion
Amacord Vintage Fashion's Williamsburg boutique is located on Bedford Avenue. This vintage shop boasts European-inspired, high-end, luxury vintage pieces.
You can find clothing, jewelry, and accessories here, and are all a bit pricey as most pieces are designer. You can even shop some of their collection online!
Arbor Vitae Vintage Clothing
CURRENTLY ONLINE ONLY
Head to Arbor Vitae Vintage Clothing to check out their popular discount racks! Located on Bedford Avenue, this vintage store in Williamsburg is the hip, colorful spot is a must-see when vintage shopping.
Arbor Vitae is a family-owned vintage store with pieces from the 1940s to the 1990s, with selections for both men and women. Their prices range from moderate to the higher-end, depending on the brand and quality of the piece. You can shop Arbor Vitae's collection online via Thrilling, Etsy, or their Instagram page!
Le Grand Strip
Located on Grand Street, Le Grand Strip is a funky, French-inspired vintage shop.
You can peruse their selection of vintage clothing, lingerie, jewelry, and accessories – which range from moderately-priced accouterments to the more luxurious pieces which sell for more. You can also shop a selection of their jewelry and accessories online.
Visiting this Williamsburg vintage shop will make you feel like a fabulous French artist from moments' past!
Wonders of Walter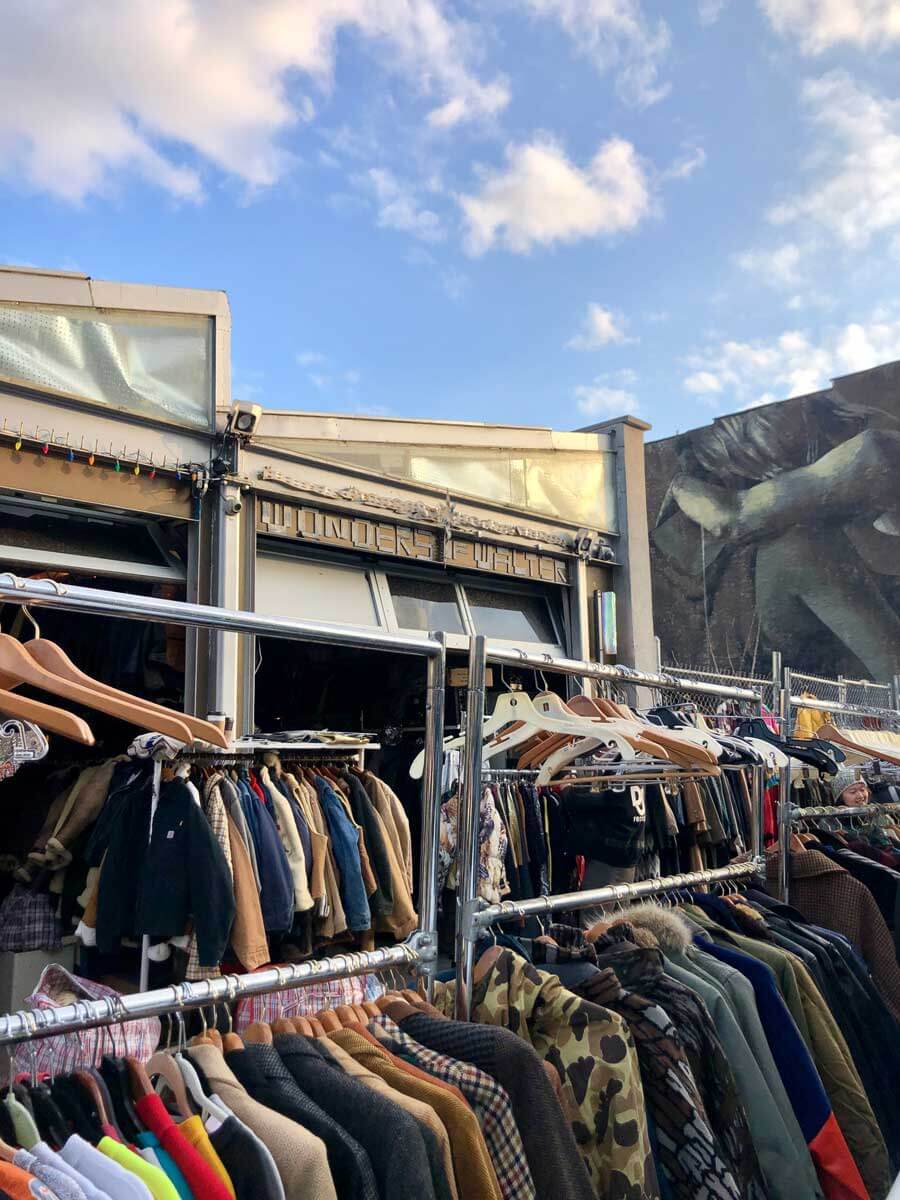 Located at 135 Berry Street, Wonders of Walter is a sidewalk pop-up vintage clothing shop! This streetside Williamsburg vintage shop is just as cool as it sounds, with t-shirts, retro coats and jackets, and accessories.
With the feel of a rummage sale, but the curation of a vintage boutique, Wonders of Walter has pieces ranging from moderate to higher-priced, depending on the brand, age, and rarity of the item.
Stop by some afternoon (except on Tuesdays, when they are closed) to explore the collection that Wonders of Walter has to offer! This is always one of my favorites to pass by since it's so convenient to shop right on the sidewalk.
Known to Man
On Graham Avenue sits the small vintage shop, Known to Man. This small, well-organized store has a selection of women's vintage clothing and accessories.
Their clothes are posh and moderately-priced, making it the perfect place to pick up some unique vintage staples to add to your wardrobe! They also sell mystical extras, and even host a weekly tarot card event, making Known to Man one of the most magical vintage shops in Williamsburg!
Known to Man has a Depop shop, so you can shop a selection of their pieces online!
Friends NYC
Friends NYC is located right across the street from the Morgan Avenue stop on the L train, and is a vintage clothing shop that is bursting with fun!
In addition to some vintage clothing pieces, Friends NYC has a huge assortment of new accessories, jewelry, bath and beauty products, incredible gifts, and unique housewares. You can pick up some crystals to enhance your energy, an amazing vintage top, a lighter adorned with Britney Spears's face, and a hilarious keychain all in one trip!
Friends NYC offers some higher-end, designer, and handmade products that are a little pricier, as well as affordable gifts and accessories, and great sale prices. If you don't have time to sift through their funky collection in-person, you can shop online!
Velma Vintage
Velma Vintage is a Williamsburg vintage shop with a collection put together by a vintage curator who has been collecting for over 20 years – so you already know their pieces are good!
This shop has stunning true vintage blouses, dresses, shoes, accessories, and an impressive amount of kimonos. Velma Vintage will make you feel like you stepped back in time, into a world of romantic nostalgia! Their meticulously curated items range from moderate to higher prices, depending on their age, condition, and rarity.
If you can't make it to their N. 1st Street storefront, you can shop their collection on Etsy, Poshmark, or Instagram!
Grand Street Local
Touted as one of the best vintage stores in Brooklyn, this vintage store in Williamsburg is sure to wow! Grand Street Local has hundreds of vintage t-shirts and sweatshirts, with just about any team, band, logo, or pattern you can imagine.
Grand Street Local is family-owned, and all of their vintage pieces are hand-selected to ensure their selection is as cool as possible! Their shirts range in price, depending on how rare the piece is. They also auction off rare vintage items weekly, so if you're a collector make sure to check it out!
If you have vintage clothing items that you're looking to sell, you can contact Grand Street Local!
The Attic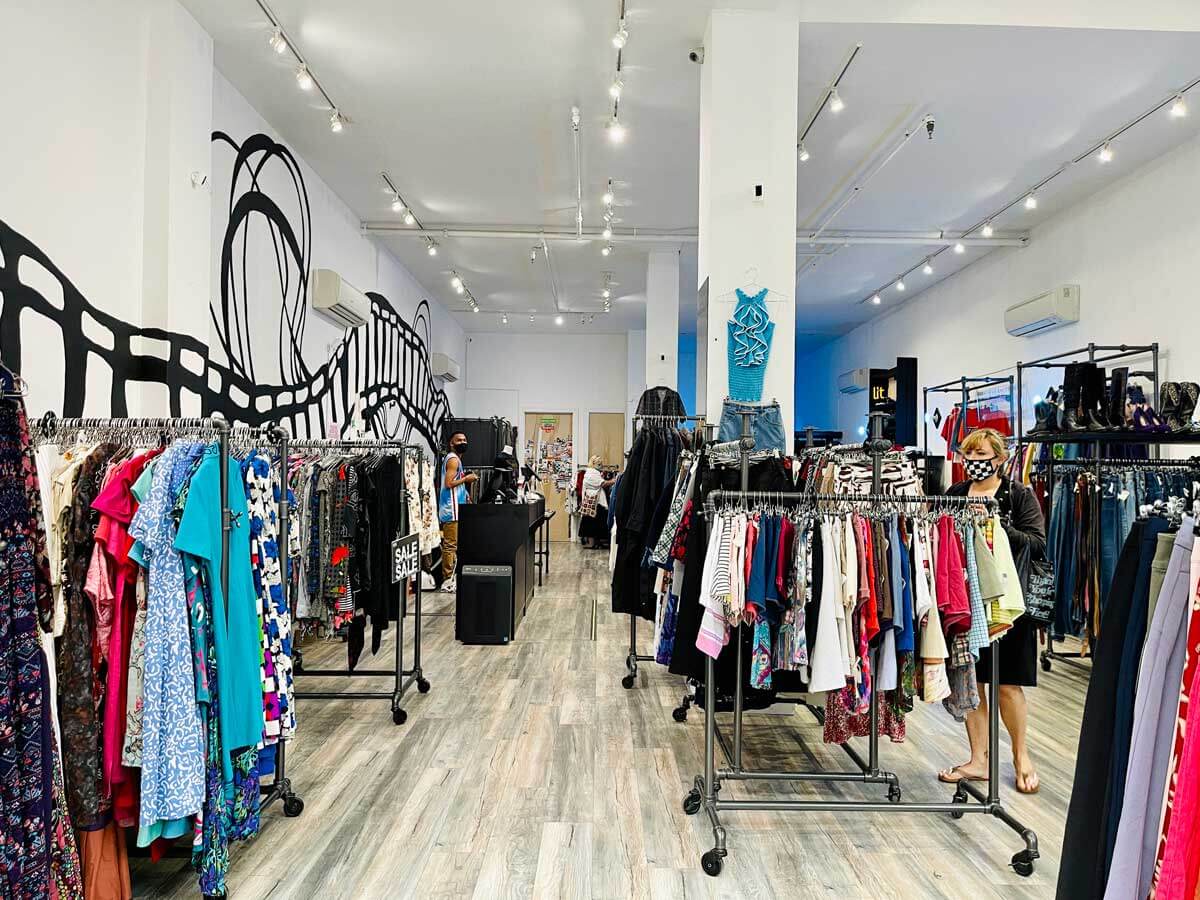 Head up to The Attic for a huge assortment of reasonably-priced, authentic vintage fashion and another one of the great Williamsburg thrift stores!
One of the most amazing vintage stores in Williamsburg, The Attic truly has everything you could possibly imagine – from vintage jackets and outerwear, to Levi's denim, adorable rompers, a plus-sized collection, and reworked vintage items that blend old styles with new trends.
You can feel good about stocking up on awesome finds, as The Attic focuses its efforts not only on providing cute clothing but also on sustainability practices. You can visit The Attic on Grand Street or shop online!
Buffalo Exchange
If you've ever spent any time thrift shopping, then you've no doubt been to (or at least heard of) Buffalo Exchange! This chain of thrift shops are known for their massive selections of pre-loved men's and women's clothing, shoes, and accessories.
Buffalo Exchange's Williamsburg location is on N. 9th Street, not far from the Bedford Ave. stop on the L train. Their collection of reasonably-priced goodies are all hip and trendy, and range from vintage finds to higher-end brand names.
Buffalo Exchange also has buy, sell, and trade options at all of their locations, as well as through the mail in case you're shopping Williamsburg thrift stores from home!
---
If you don't want to stop you are just a short distance away from all the great vintage shops in Greenpoint too since it's next door! And if you find yourself exploring other parts of the city, be sure to check out our full guide to the best thrift stores in NYC by neighborhood.
Liked this post on the best Williamsburg thrift stores and best vintage shops in Williamsburg? Bookmark for later or share the love below on Pinterest!