A small, but mighty neighborhood to explore, check out all the wonderful things to do in Windsor Terrace, Brooklyn, a true treasure of a neighborhood here in Brooklyn worth enjoying a walk through moseying through the interesting homes and architecture, grabbing a bite to eat, shop, and check on out on your way to or from Prospect Park.
This has become one of my personal favorite places to take a morning or afternoon walk in as it's very quiet and connects two of the best green spaces and parks in Brooklyn, Prospect Park, and Green-Wood Cemetery. Not to mention there's an overwhelmingly delightful small-town feel to this neighborhood and a really great selection of eateries for such a small area.
In this guide, we will showcase what there is to do and see in Windsor Terrace, Brooklyn so you can plan a visit to this charming area and hidden gem in Brooklyn.
But first, where is Windsor Terrace, Brooklyn?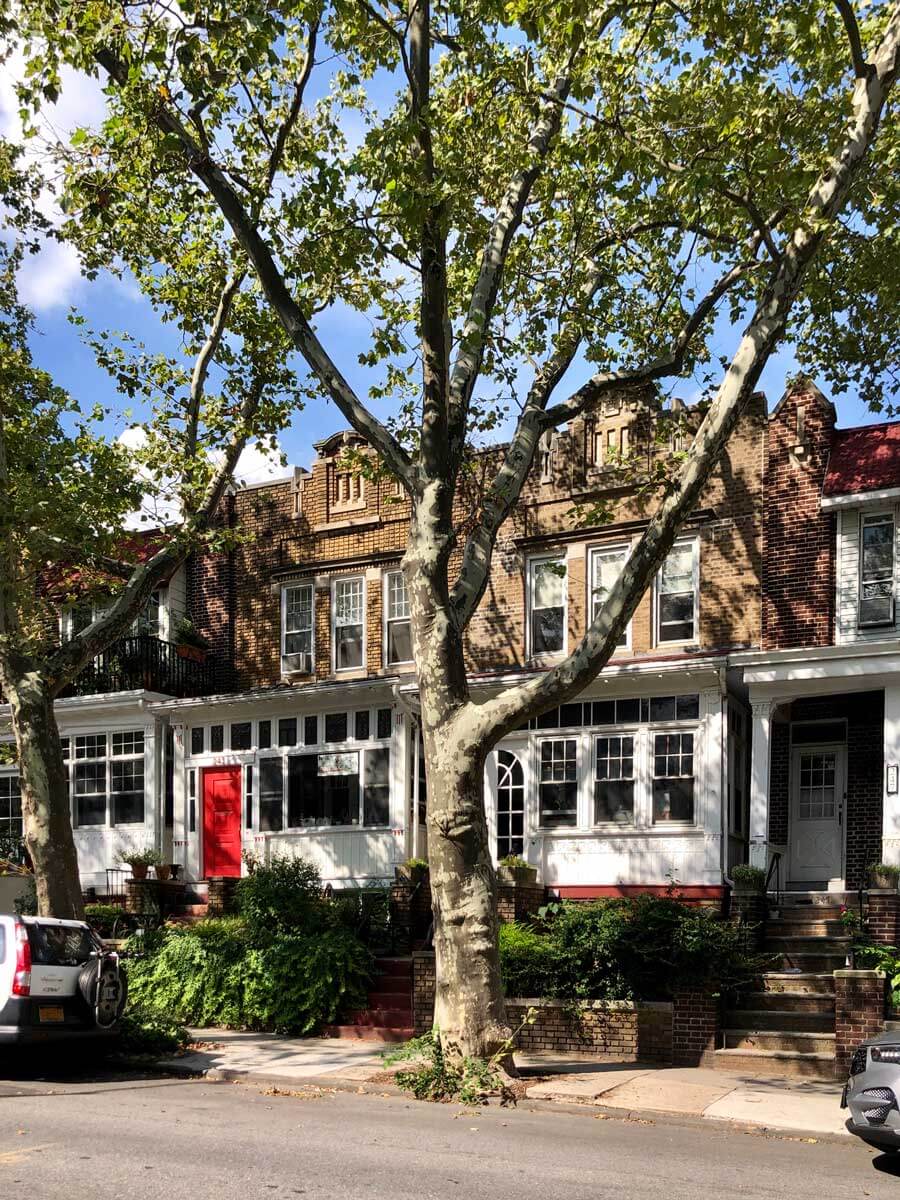 For the purposes of this guide to things to do in Windsor Terrace, here is the area this neighborhood covers. Windsor Terrace, Brooklyn is on the smaller side when it comes to neighborhood size in the city.
The landmarks that define the delineation of this neighborhood include the narrow strip of blocks between Prospect Park and Green-Wood Cemetery.
Prospect Park borders Windsor Terrace on the east and northeast sides and Green-Wood Cemetery on the southwest. The neighborhoods of Park Slope at 8th Avenue) borders Windsor Terrace to the northwest and the neighborhood of Kensington at Caton Avenue on the south.
The entire neighborhood is only .5 square miles and the Prospect Expressway cuts right through the neighborhood.
Fun Facts & History of Windsor Terrace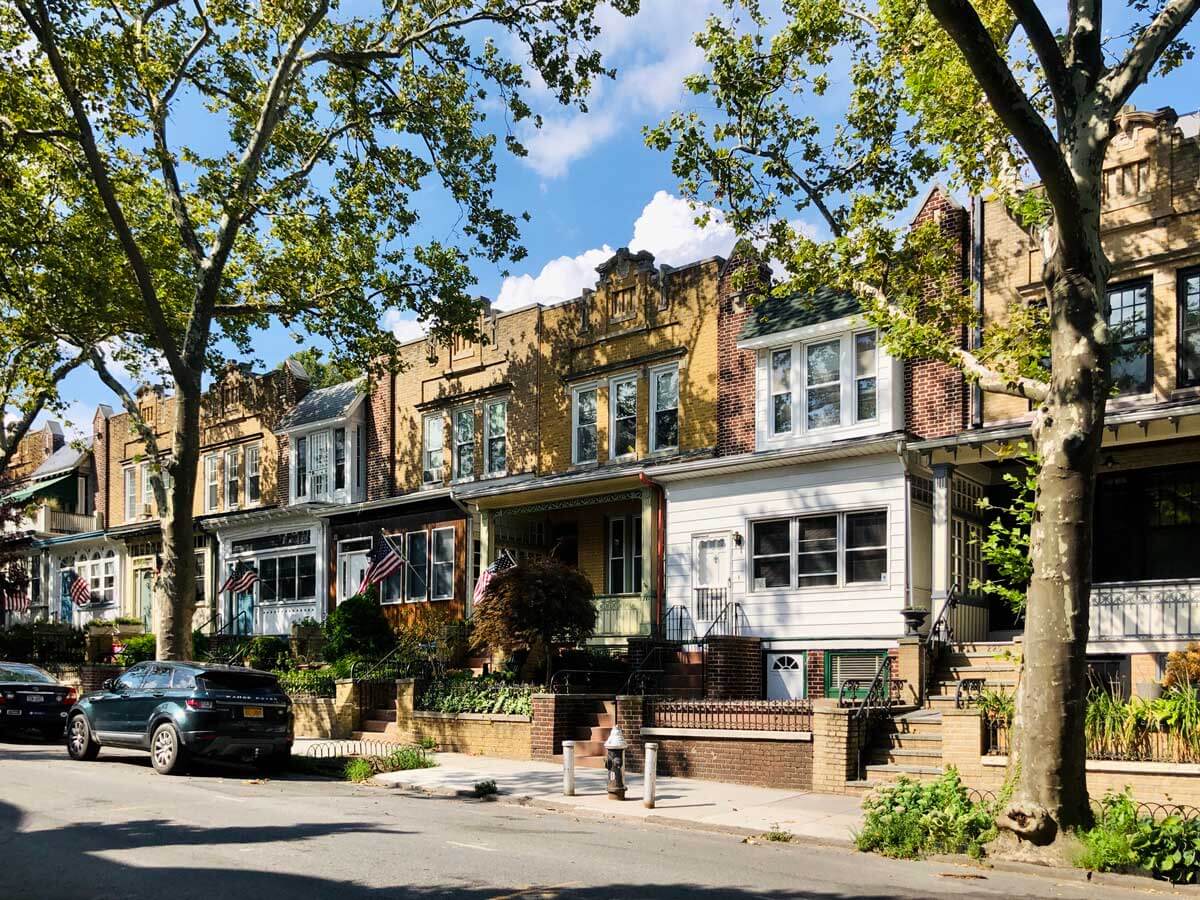 Windsor Terrace was named after the real estate developer who purchased this farmland from John Vanderbilt in 1849, William Bell.
Bell named it after Windsor, England before selling it to another developer, Edward Belknap in 1851 who lost the neighborhood in 1856 due to foreclosure.
The land that we now know of as Windsor Terrace was historically inhabited by the Gowanus and Werpos tribes of the Canarsee (Lenape) Native Americans before European colonization.
After large waves of immigration from Europe, this neighborhood was known for being home to Irish families as well as enclaves of German, Polish, and Italian families, which many of the places of worship around here reflect.
Due to gentrification, like much of the city, starting in the 1980s, families who could no longer afford to live in other Brooklyn neighborhoods started flocking here and driving prices up.
This neighborhood is known for its unique style of rowhouses with some of the prettiest porches in the city. These homes are some of the most highly coveted real estate in the area since they offer porches, garages, and other features that are luxuries in NYC and rarely go up for sale.
This neighborhood has also been used as a filming location in Brooklyn including the 2012 film, The Amazing Spiderman starring Andrew Garfield and Emma Stone. Aunt May, Uncle Ben, and Peter Parker lived in a house in Forest Hills, Queens but the filming location was actually here at 30 Fuller Place.
For other movie buffs, Carol's apartment in the film As Good as It Gets filmed at 1 Windsor Place too!
Things to do in Windsor Terrace
Windsor Place Antiques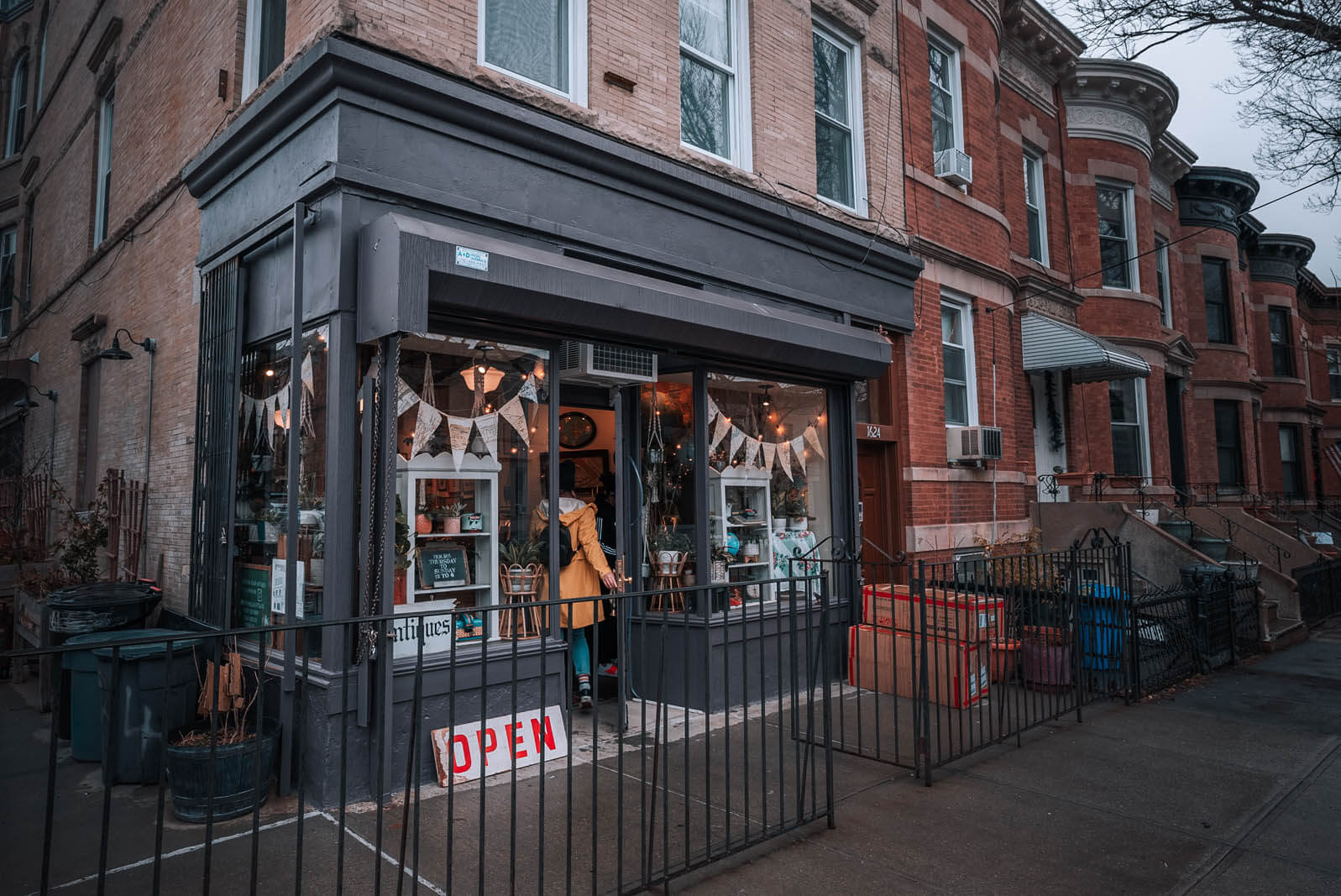 For those who love antique shopping and vintage treasure hunting as I do, you'll appreciate this charming antique shop on the corner of 10th Avenue and Windsor Place.
This is one of the best things to do in Windsor Terrace if you're looking for cool ephemera, posters, vintage maps of the US and NYC, and other rare prints and finds. This small space offers a very carefully curated collection of antiques, decorative pieces, and even their own print shop which you can take a sneak peek ahead of time at their Etsy shop.
I personally love thumbing through the old NYC postcards, pendants, and other trinkets throughout the shop!
True Love Always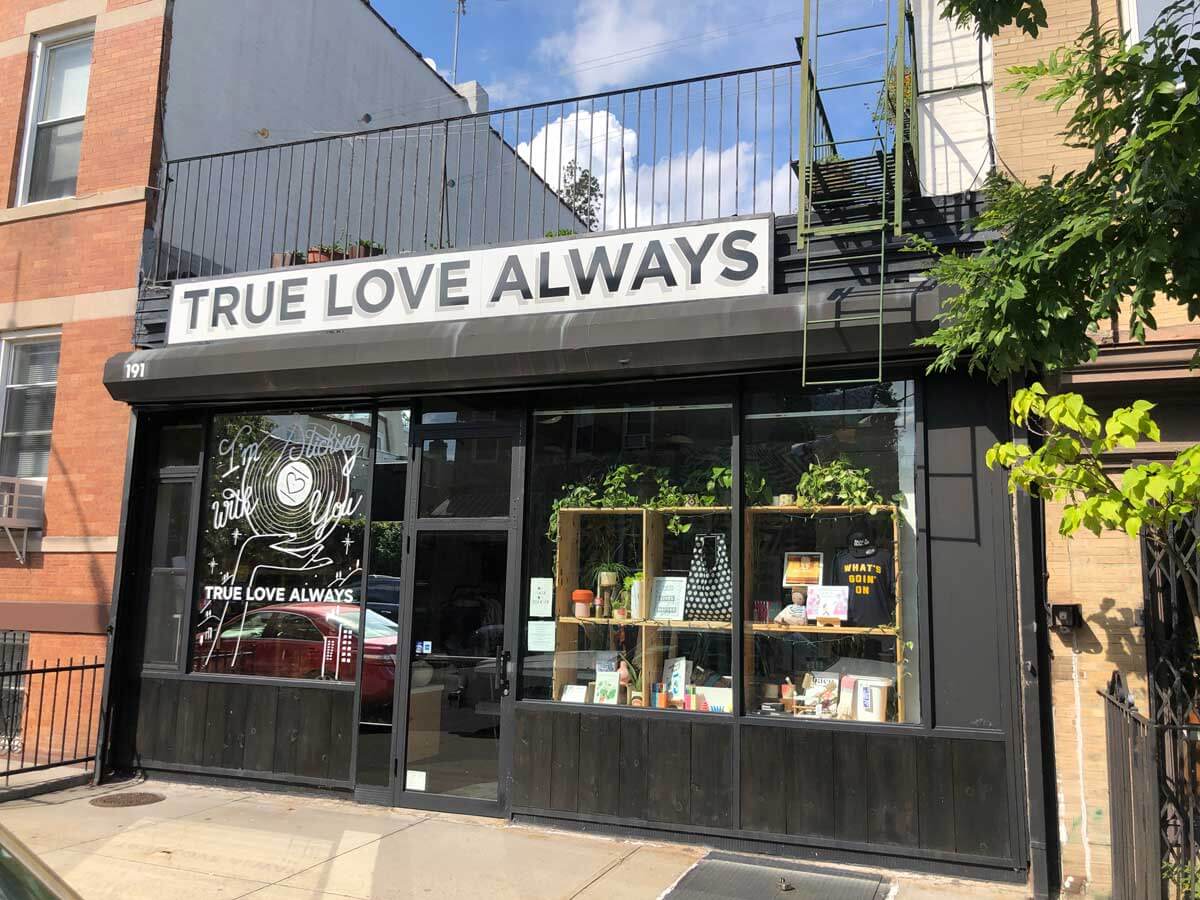 Another fun stop and thing to do in Windsor Terrace, Brooklyn is stop in and shop at True Love Always, just a door down from Windsor Place Antiques. This shop offers a selection of unique home goods and decor, small gifts, a vinyl collection, and some vintage and new threads to choose from.
Everything in this store has been handpicked by someone 'cool' or at least that's the vibe it gives off and we love stopping in to see what the latest selection of goods are as well as browsing the latest titles as we love shopping at record stores in Brooklyn.
Something else I love about this independent boutique in Brooklyn is that they also carry Brooklyn-made products including their own merchandise line!
Daytime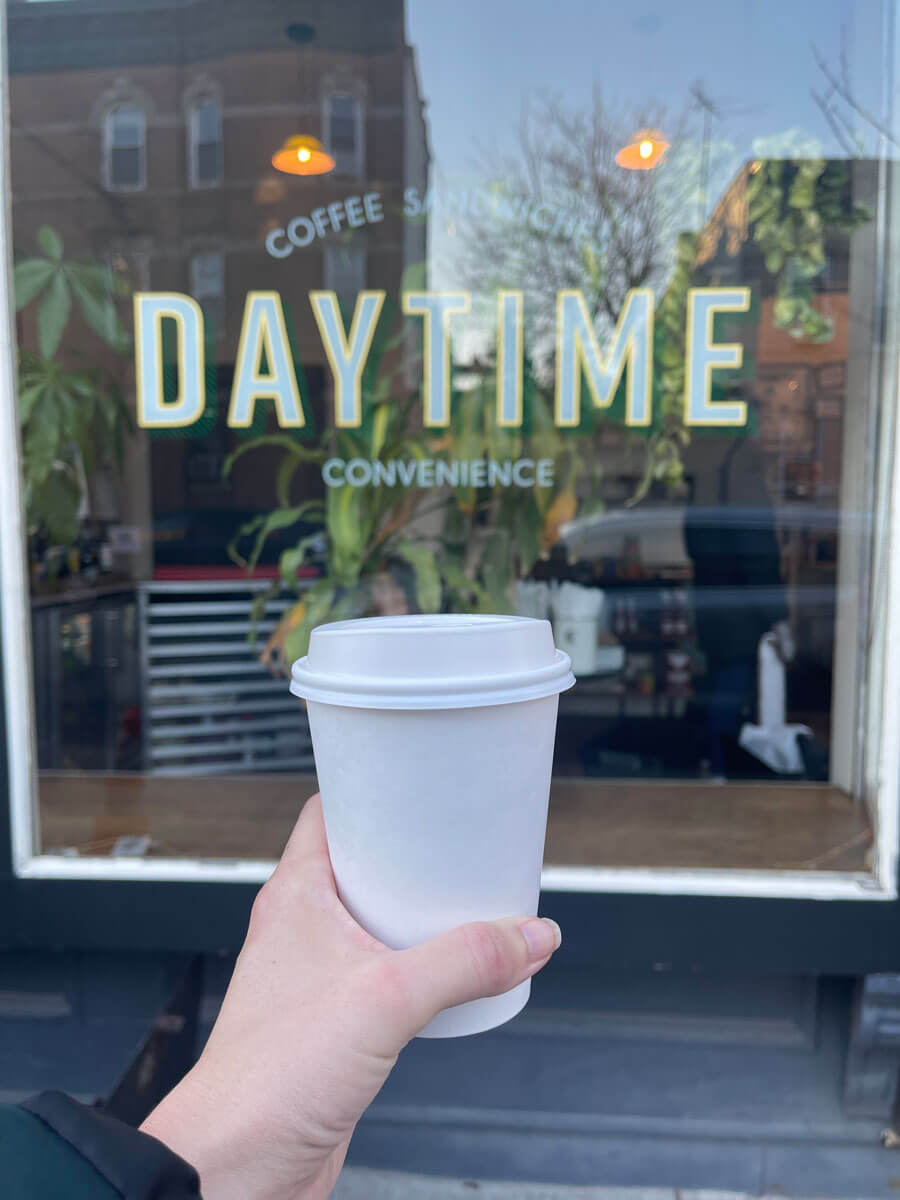 One of the best things to do in Windsor Terrace, Brooklyn that has a cult-like following is head over to the cafe, Daytime on Windsor Place. You'll often spot a scattered group of people outside here waiting for their scrumptious sandwiches, bowls, or toasts to come out as it's a popular neighborhood spot for breakfast and lunch.
They also have drinks including a selection of alcoholic beverages alongside their standard cafe drink selection made with freshly roasted coffee with a few specialty drinks the barista will throw together you with a little magic and love.
The space is also something to love here filled with light and lots of plants. This is a breakfast/lunch spot make people flock to Windsor Terrace from other neighborhoods.
Krupa Grocery
Another great foodie location and thing to do in Windsor Terrace, Brooklyn. Located in a former newsstand, Krupa Grocery is a local favorite spot for their morning grab & go breakfast and coffee. Don't miss their dinner menu either featuring seasonal American fare.
You can dine in or grab one of their prepared Prospect Park picnic boxes or brunch to have the ultimate Brooklyn picnic.
Another thing that Krupa Grocery is known for, besides their provisions market selling all kinds of kitchen goodies and condiments, are their famous Wednesday Fried Chicken and Sunday Supper that require pre-ordering!
The Double Windsor
One of the popular neighborhood hangouts for beer and delicious grub is The Double Windsor. They have a great selection of rotating craft brews and a menu of elevated bar grub, and one helluva burger, to pair with your suds.
You can find this spot in Windsor Terrace, Brooklyn always buzzing at the corner of Prospect Park West and 16th St. If you're a whiskey drinker, they've got a selection of that too for you.
The inviting space feels like an Irish pub with a jolly crowd, which is exactly what the owners who have been long time residents of this neighborhood had in mind, plus they keep their kitchen open way later than most restaurants in the area, so this is great for a late-night meal or post-movie stop from nearby Nitehawk Cinema.
Le Paddock
Another popular foodie spot here in Windsor Terrace, Brooklyn is LePaddock, a French bistro that offers brick oven pizza and a great weekend brunch menu.
If you plan on dining at this spot, the only accept cash or AMEX as forms of payment. If you forget, don't worry there's an ATM on site.
Poetica Coffee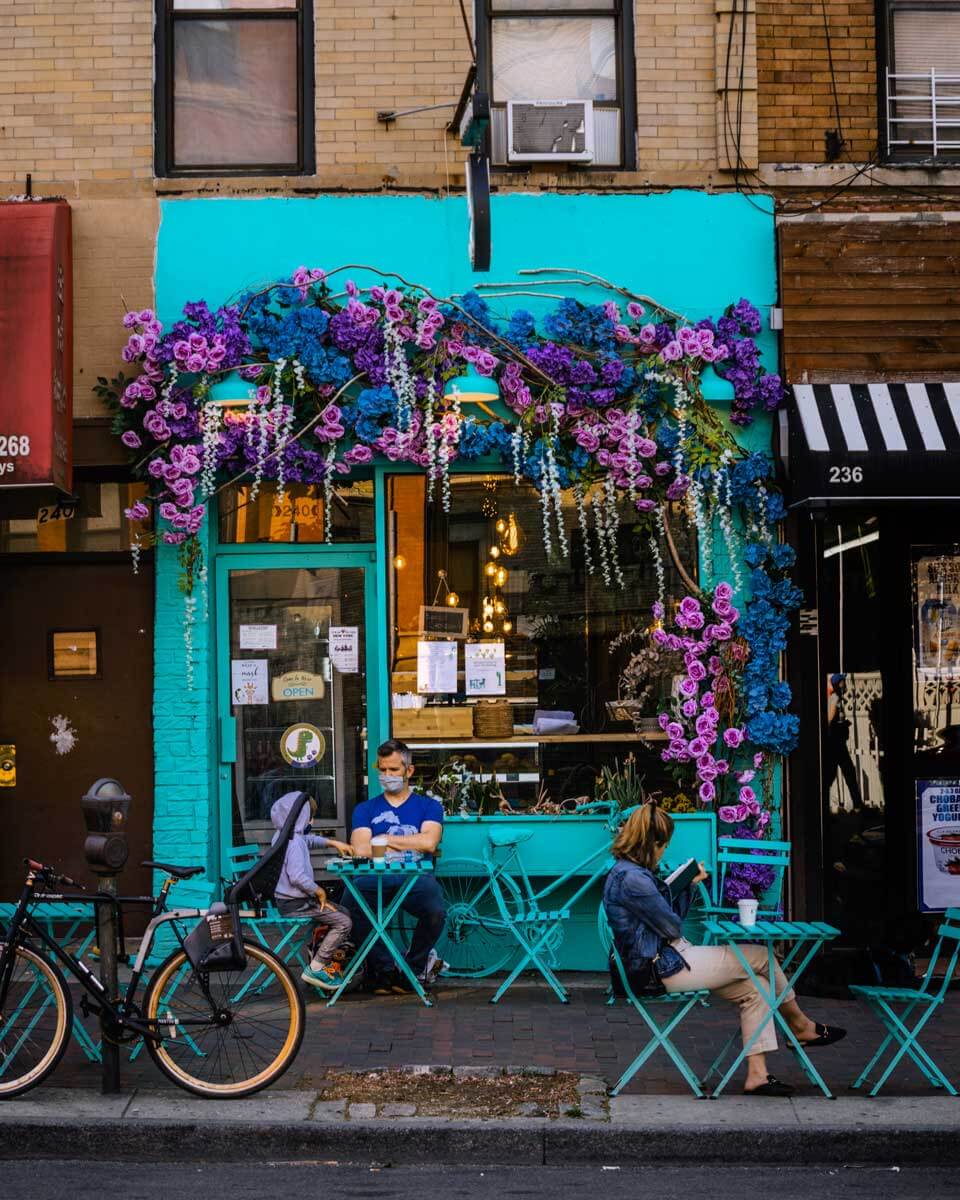 This gorgeous cafe is a great stop in Windsor Terrace located on Prospect Avenue with an inviting picture-perfect, floral facade! Their coffee beans are meticulously picked to make the perfect cup of joe.
You can also visit their other locations in Boerum Hill, Williamsburg, and other Windsor Terrace locations too.
Terrace Books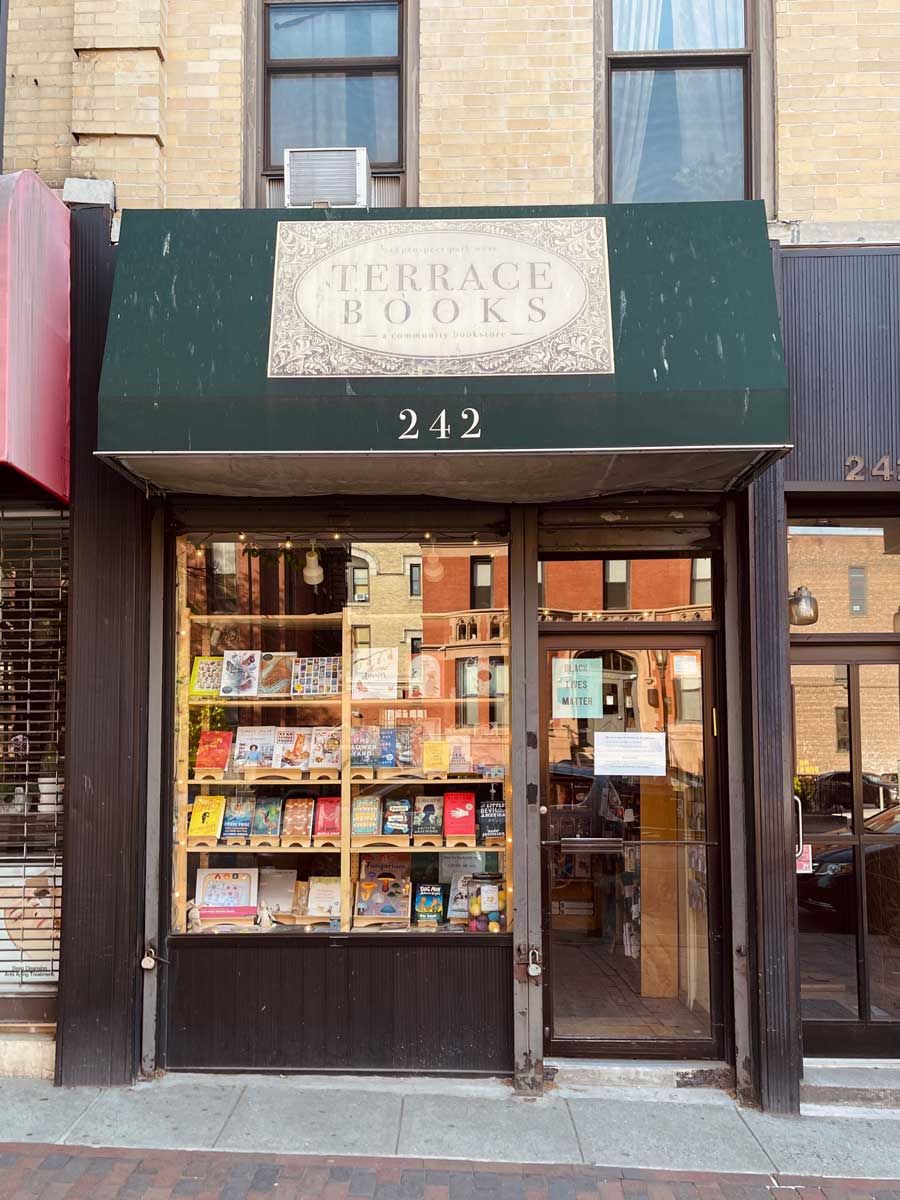 Even though Windsor Terrace is a small neighborhood, they still have their very own bookshop which just adds to the charm and lure to this area. This is just one of many incredible independent bookstores in Brooklyn worth checking out. Terrace Books are owned by the same people who own Community Bookstore, another popular bookshop in the city!
Terrace Books has a great selection of new titles but also is known for being one of the better bookshops for used books and rare books as well. You can browse their book selection online too, especially if you're into rare books whose inventory includes a first edition and signed copy of Not I by Samuel Beckett selling for $1,500.
If you're a collector or have some books you're trying to find a new home for, they do buy books by appointment. They're always hunting for rare and vintage fiction books that are in good condition, so be sure to spread the word if you have any bibliophile friends.
Last but not least, this Brooklyn Windsor Terrace spot has storytime on Sundays at 11 am.
Farrell's Bar & Grille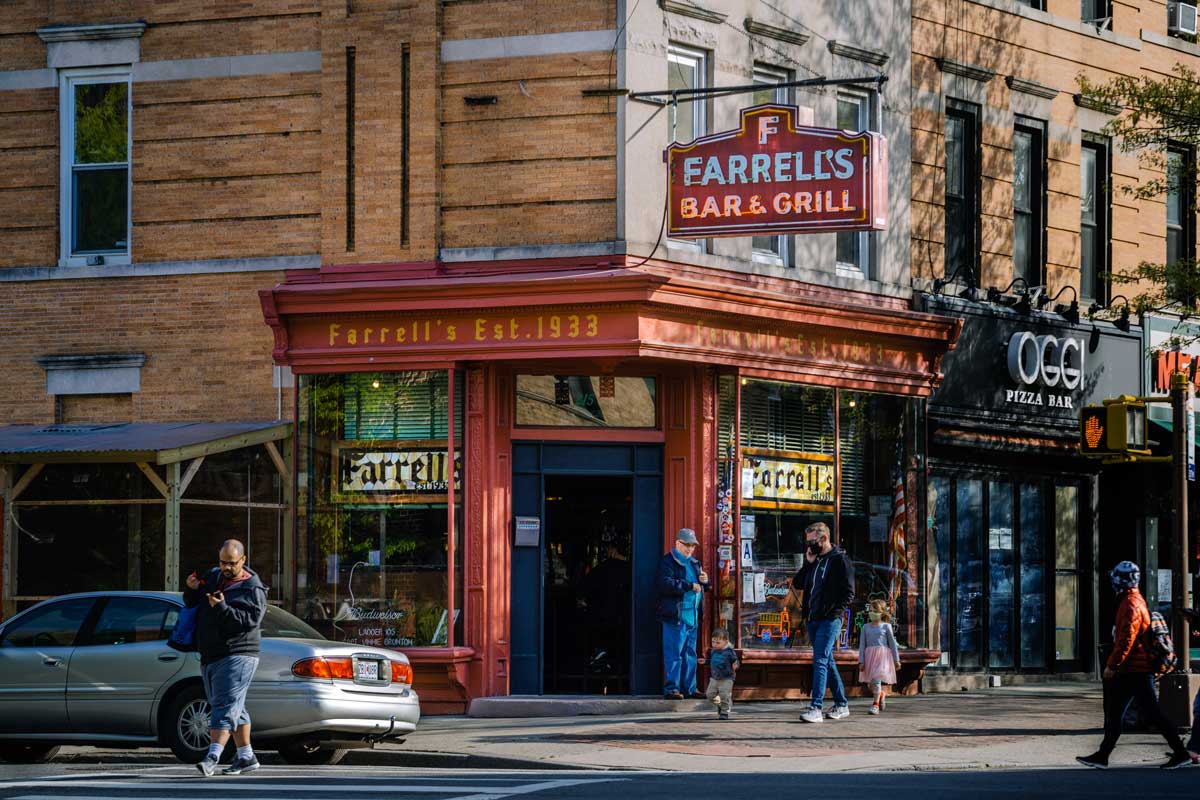 This classic spot is one of the most popular and well-known things to do in Windsor Terrace because it's been around for nearly a century and is one of the oldest and most loved bars in Brooklyn.
This is that cash-only neighborhood bar that you can rely on to stay the same as its been unchanged through the neverending evolving cycle of the city that surrounds it. The only thing that's really changed is that you can't drink from styrofoam cups anymore, but don't worry, they keep a stack on display for looks only behind the bar for old time's sake.
There's even a documentary film titled "Why Farrell's?" created by two locals, Jason Cusato and Rob Martin who share why this spot is so special and weaved into the fabric of this community and the story behind this unicorn of a place unchanged throughout the years.
The Irish America website even calls this the last Irish Saloon in this piece which tells the tale of this legend of a place.
The Adirondack
Do you love the Adirondacks like we do? What if we told you that you didn't have to leave Windsor Terrace, Brooklyn to get an Adirondack experience? Well, more like 'Adirondack-themed' experience right here in the city.
This themed bar offers a killer selection of New York state craft brews on draft from breweries in Brooklyn to Upstate alongside a list of bottled and canned beers, wine, and mixed drinks including seasonal house specialty drinks.
This is one of the most beloved dive bars in the nearby neighboring neighborhoods (tongue twister!) that stays open until the wee hours of the morning.
Prospect Park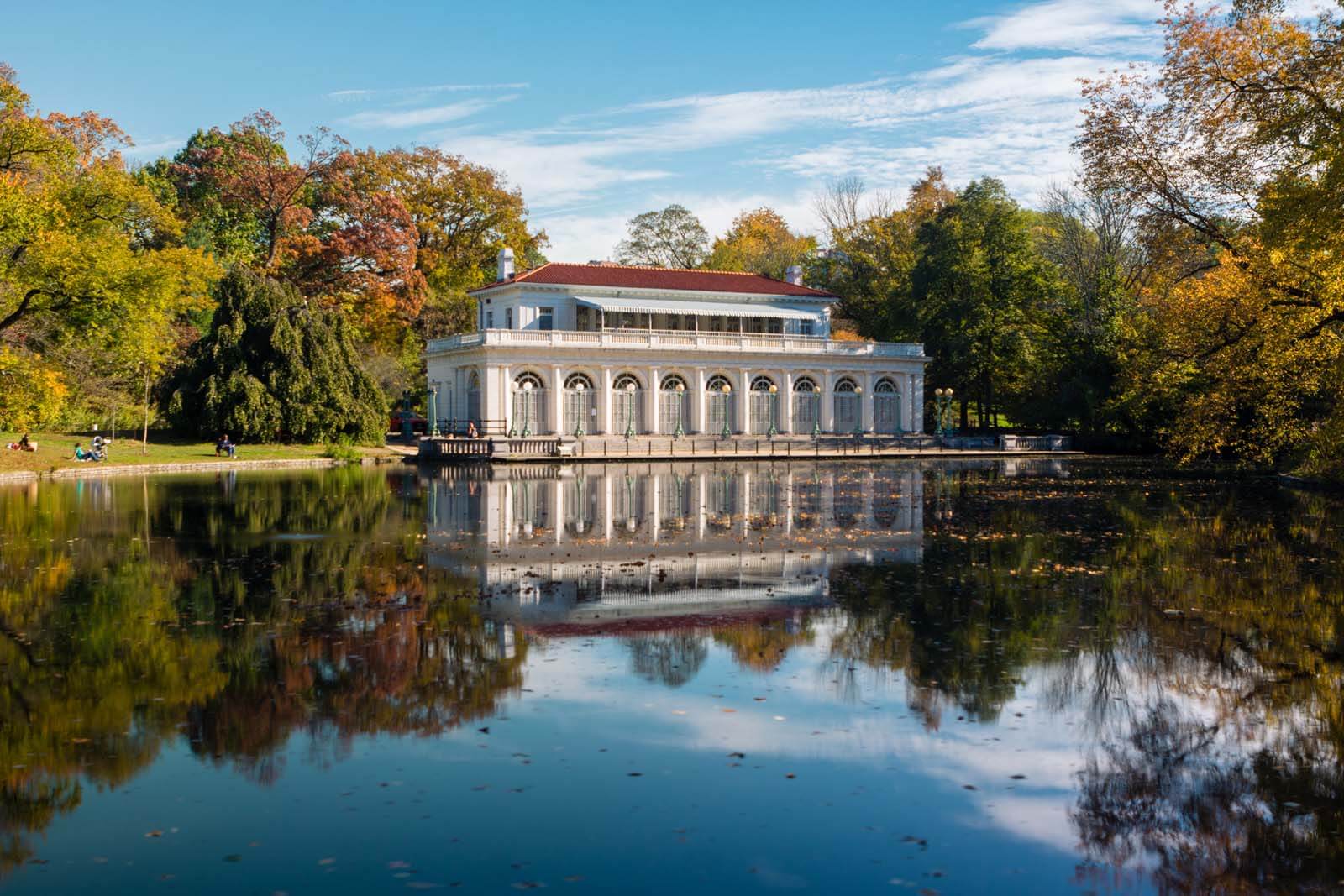 You can't mention things to do in Windsor Terrace, Brooklyn without mentioning all there is to do in Prospect Park. Walk, run, bike, picnic, and even horseback ride through one of the best parks in the city.
If you are looking to picnic you can bring your own or as mentioned earlier, pick up a prepared picnic from Krupa Grocery. There are CitiBike stations everywhere so if you're looking to get around by bike without owning one, it's no problem. Just watch out for the hills, they will surprise you and there are signs letting you know which route to take to avoid those thigh and butt-burning parts.
My husband and I love walking through different areas of Prospect Park as there are tons of historic buildings like the gorgeous Prospect Park Boat House, walking trails, waterfalls, and lawns to hang out at brought to you by the same designers of Central Park.
You can spend as little time as you want or an entire day as you can also spend time at the Prospect Park Zoo or head to the other end of the park and give a visit to the Brooklyn Museum, Brooklyn Public Library, Grand Army Plaza, and the Brooklyn Botanic Garden.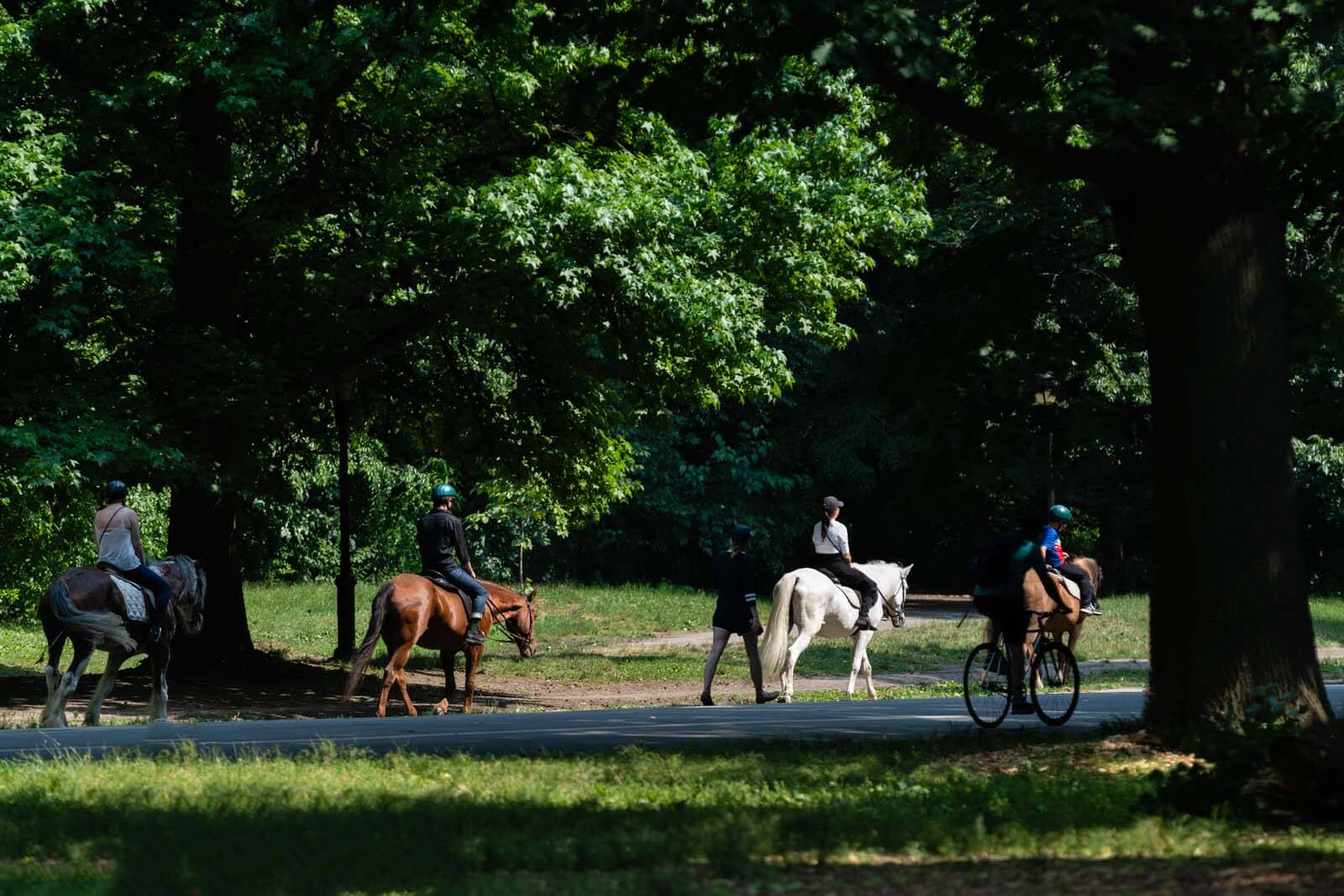 Last but not least, there's horseback riding in Prospect Park available at Kensington Stables which is actually right here at the Windsor Park section of the park. The growing up on a farm in Ohio in me almost couldn't believe my eyes the first time I spotted horseback riders right here in the heart of the city in Prospect Park! Be sure to arrange ahead of time if you're looking to ride a horse!
Green-Wood Cemetery
The other greenspace on the other end of Windsor Terrace, Brooklyn is the famous Green-Wood Cemetery. Maybe greenspace doesn't come to mind at first when you hear the word cemetery, but this spot was nicknamed Brooklyn's first public park as it pre-dates Prospect Park and Central Park and was popular in the Victorian period to come and hang out.
Because of its popularity, Green-Wood Cemetery actually inspired the city's competition to design Central Park. Once you see the grand Gothic Revival entrance at 25th Street and explore the grounds a little, you can easily see why this space, albeit a burial grounds, attracted people especially since neither Central Park or Prospect Park yet exist.
This massive cemetery is listed as a National Register of Historic Places and a National Historic Landmark and home to gorgeous architecture including famous monuments, mausoleums, chapel, and gates. It will take some time to explore, so we recommend if you're short on time planning your route ahead a little, or if you're free as a bird you can easily just spend time wandering aimlessly.
Speaking of birds, Green-Wood Cemetery is one of the few locations in Brooklyn where you can spot the green monk parakeets who nest in that same grand entrance we talked about on 25th Ave. These bright-colored parakeets are one of our favorite hidden gems in Brooklyn and said to have been originally from Argentina and are not a native species to this part of the United States who have been living here for at least the past 4 decades.
There are only a few places you can spot these little flying friends in the city, and this is one of them!
Weave your way through the massive cemetery's winding pathways passing by gravestones of famous figures from war heroes to mobsters.
Certain entrances are only open on some days. Be sure to check before you visit. The Main Entrance on 5th Ave & 25th Street is open daily.
Nighthawk Cinema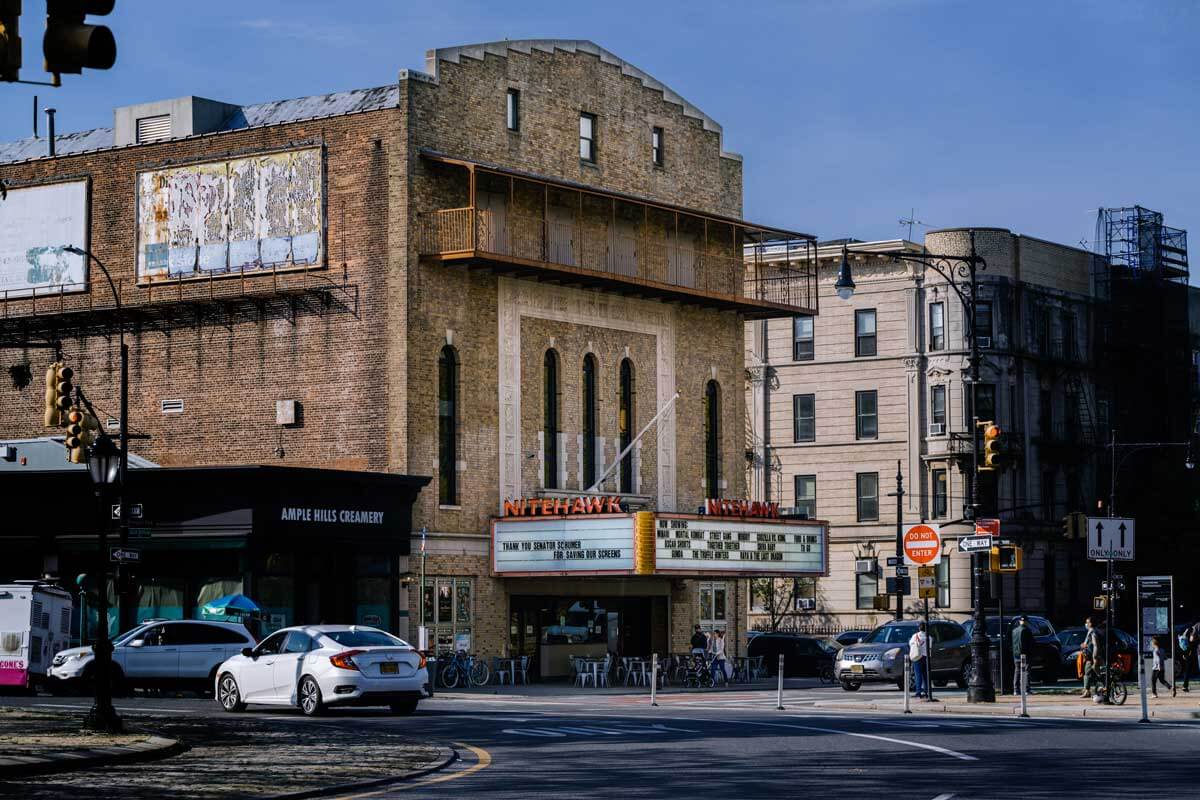 One of my absolute favorite things to do in Windsor Terrace, Brooklyn is have a one-of-a-kind movie experience at Nitehawk Cinema, one of the best movie theaters in Brooklyn.
This independent cinema is what we think the movie experience was more like in the golden age. Sit back and relax while watching a film and order a meal or a cocktail while you're enjoying the show.
This was the first movie theater in New York to get a liquor license and the first in the city to offer dining while you watch the movie, so you can literally have dinner and a show!
There are two locations, one in Williamsburg and one here which is technically in Park Slope, but literally on the line so we are including it. This location is in a gorgeous landmark Art Deco movie theater building that was the home to The Sanders from 1928 to 1978, and as The Pavilion from 1996 to 2016.
Take a Walk
I saved the best for last, well sort of. If you plan on doing a few of the best things to do in Windsor Terrace, Brooklyn you'll already take care of this, but if not we recommend planning a walk so you hit up some of the best stops already mentioned and admire this gorgeous, small-time neighborhood.
My favorite thing to do is what I like to call 'street peeping' which is literally just admiring the architecture both residential and commercial properties. The gorgeous brick and wooden row homes on Windsor Place with the best porches are some of my personal favorites. There's something so charming about them and different compared to the elegant and large brownstones you can find in neighborhoods like Park Slope, which I also adore.
Another spot worthy of walking past is the historic Romanesque Revival firehouse at 1307-1309 Prospect Ave from 1895. Something to keep in mind for historic significance was that when this firehouse was constructed firefighters were using horse-drawn carriages to put out fires!
Another spot worthy of checking out on your neighborhood stroll are the rainbow homes at the end of the cul-de-sac on Temple Court and the pedestrian walkway over the Prospect Expressway.
What to do Nearby Windsor Terrace
Park Slope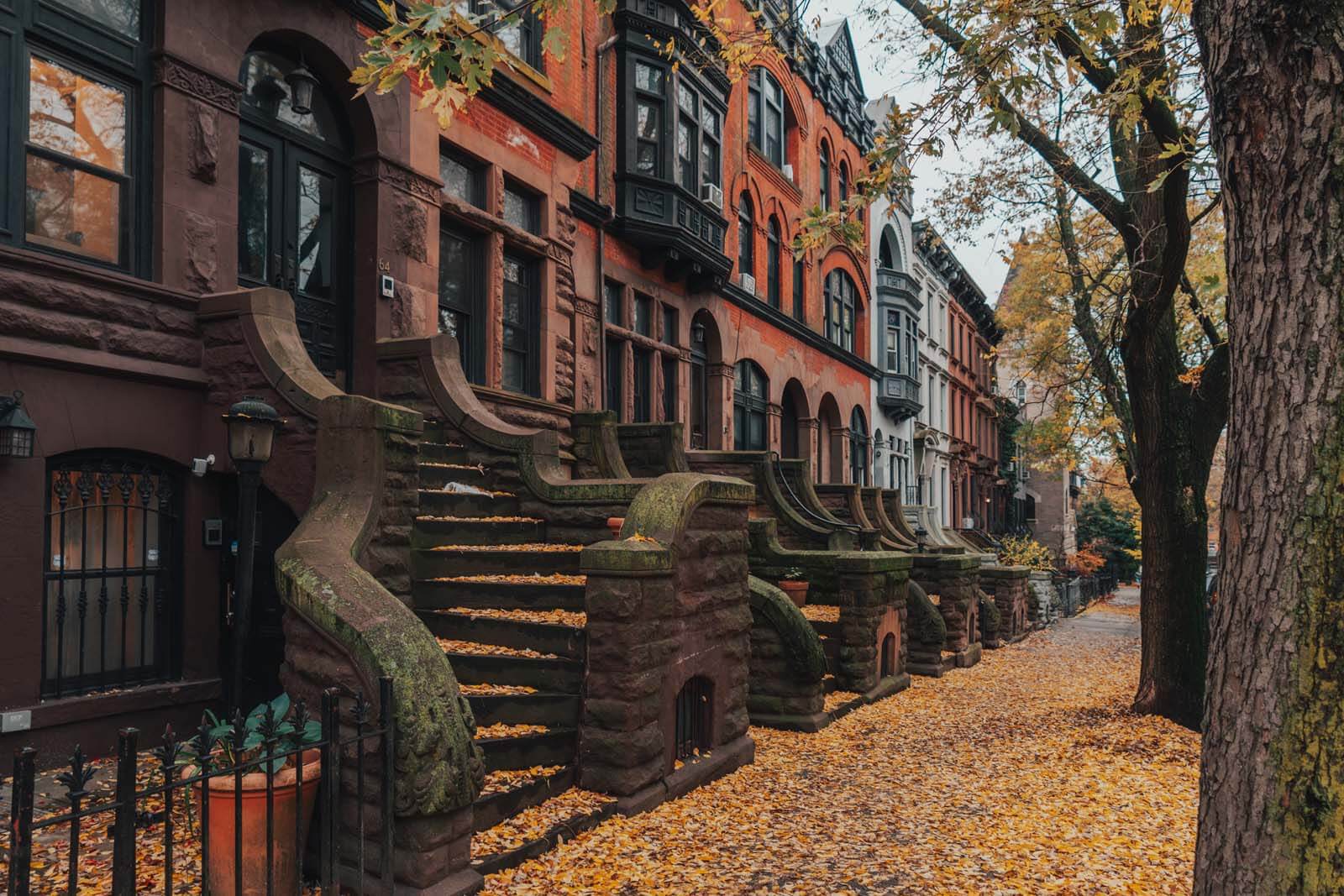 Continue a scenic stroll through the historic brownstones and manicured neighborhood of Park Slope. If you're an architecture lover or street peeper like myself, this area does not disappoint. Head down to 5th and 7th Avenues for loads of shopping, dining, snacking, and drinking options.
If you like historic spots, check out The Old Stone House which dates back to the 1600s and was an important and strategic landmark during the Revolutionary War.
There really is a lot to do here, so read our full guide to things to do in Park Slope to plan your visit.
Victorian Flatbush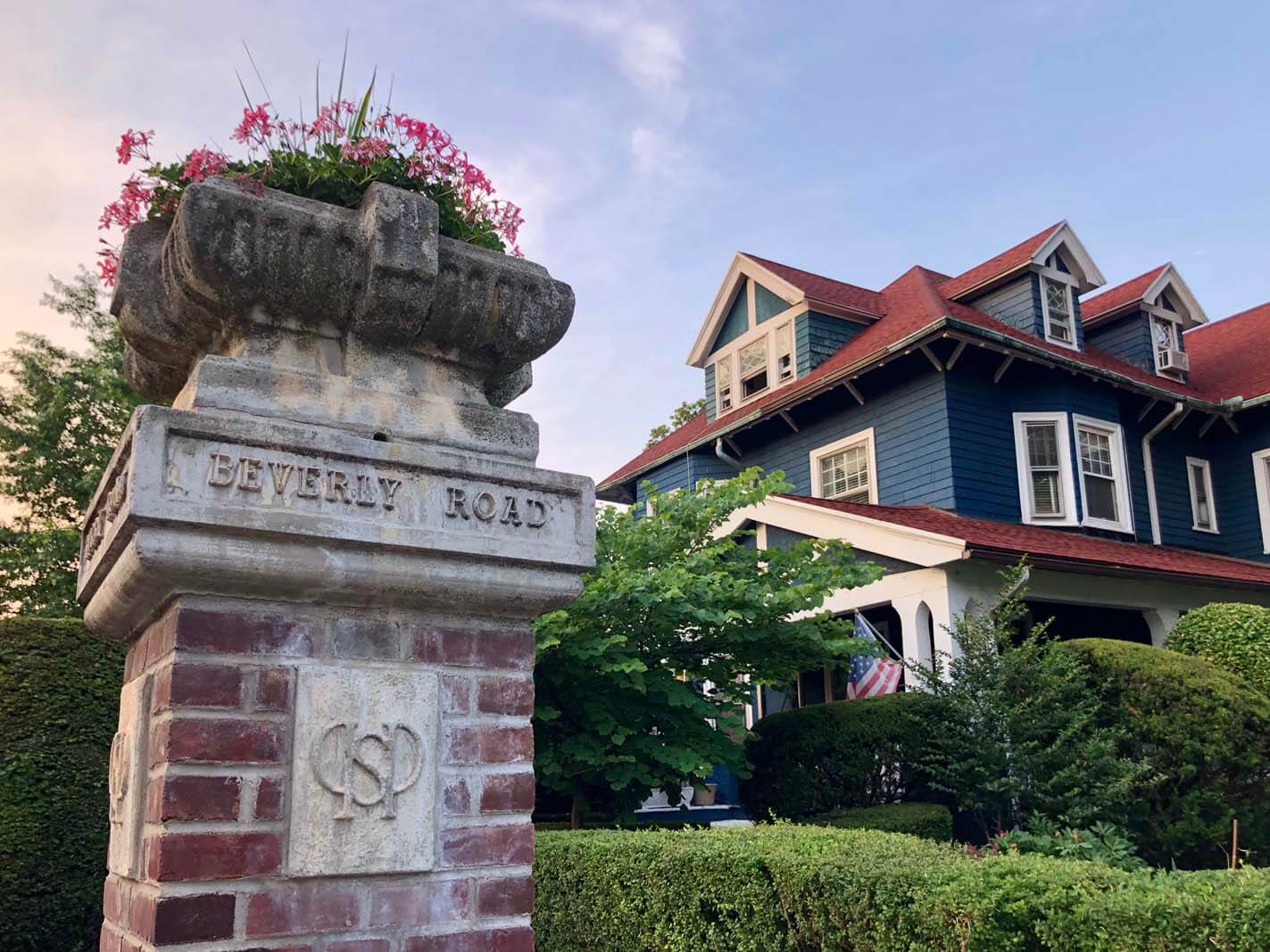 Another gem of a neighborhood that is perfect for a scenic walk through historic homes is Victorian Flatbush, aka Ditmas Park. Find more great restaurant and dining options and check out elaborate mansions that are in all kinds of architectural styles from Japanese pagoda to Queen Anne and all the in-betweens making this a rare suburb in the middle of the city with global styles of architecture.
We've put together an entire explorer's guide to Victorian Flatbush and Ditmas Park for you to plan your visit. You won't want to miss some of the other historic buildings over here too like one of the oldest churches in Brooklyn, the Kings Theater, and the two closest subway stops in the city.
Kensington
Another residential neighborhood worth exploring by Windsor Terrace, Kensington offers another gateway to Prospect Park and more architecture peeping among delicious eateries and cafes.
I love looking at the homes on Caton Ave and at the intersection, with Fourth St, you can spot the Battle of Brooklyn, American Revolutionary War, historic canon monument.
If you're always searching for great produce for reasonable prices, check out the markets along Church Ave, bring a bag, and be prepared! I ended up lugging around a bag of mangoes and other tropical fruits along with the best avocadoes I found all summer on my 40-minute walk home and coming prepared with a better bag would have been nice.
Getting Around Windsor Terrace
Getting around Windsor Terrace couldn't be easier as it's less than 1 square mile and has two subway stations plus a few nearby in neighboring neighborhoods.
The subway stations servicing Windsor Terrace, Brooklyn are:
15th Street Prospect Park Station (F & G trains)
Fort Hamilton Parkway Station (F & G trains)
Besides being able to easily get around by subway, you can also rent a Citibike using the easy to follow instructions on the app, you need a smartphone with a phone number and credit card to get started.
Just keep in mind you have to dock your bike every 30 minutes, even if you plan on continuing to ride. Also, if you plan on exploring south of Windsor Terrace you won't be able to take a Citibike as there are no docking stations there.