Did you know there are several great comedy shows in Brooklyn? Most people think that Manhattan or the Village is where you need to go to get the best comedy in the city, but what many don't realize is that some of the best comics in the country and in NYC perform all over the city including the Brooklyn comedy clubs!
While I am a huge fan of the Village Underground and the comedy scene over yonder in Manhattan, I've grown to love the comedy scene over here in Brooklyn and dare I say prefer seeing a show at a comedy club in Brooklyn nowadays as the venues here are pretty unique and some even intimate with smaller crowds.
Get your laughs in at these best comedy shows in Brooklyn that are happening now from some of the best comedy clubs in Brooklyn and in NYC.
Brooklyn Comedy Clubs To Check Out
The Tiny Cupboard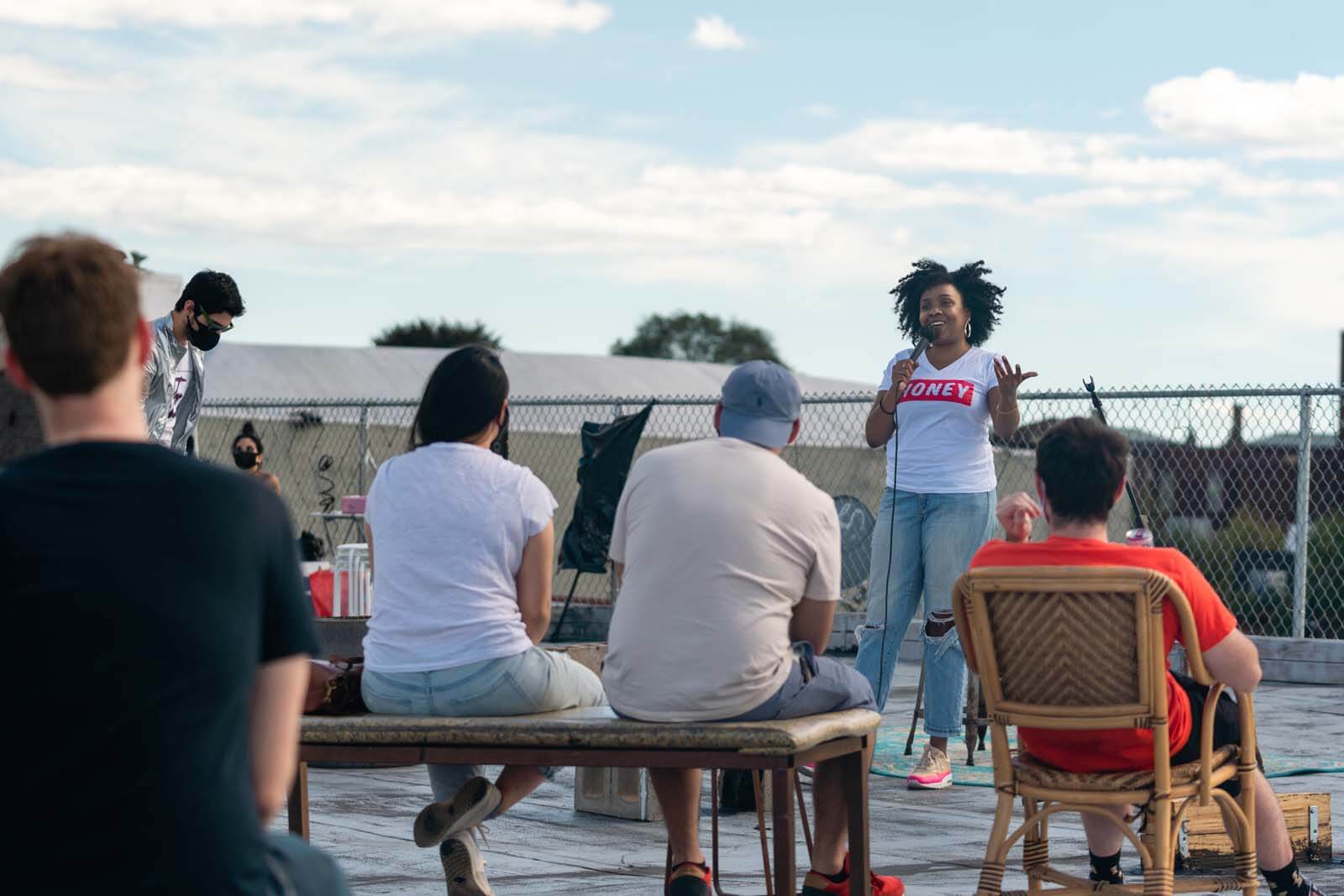 This Brooklyn comedy club and venue hosts shows with stacked line ups! The Tiny Cupboard in Bushwick is the qurkiest venue in the city hosting events including virtual and outdoor comedy shows in Brooklyn!
Visit their website to see their upcoming events and secure your tickets to their many rooftop comedy shows in Brooklyn with epic views of Manhattan as well as their "church" indoor comedy shows every day of the week.
Either way, you choose to participate in some laughs you will need to register.
The rooftop stand up comedy shows in Brooklyn range from free to $10 and you can BYOB and BYOF (bring your own food) as long as you're respectful. This is awesome because that makes these comedy shows in Brooklyn accessible to pretty much any budget.
There are multiple shows a night taking place on their rooftop at their location at 1717 Broadway. No need to bring a blanket, they have stools for attendees to sit on.
And if it's within your means and you love keeping comedy alive during this time, consider donating what you can to continue to support small comedy venues during this time by visiting their support us page!
Standup Ala Mode
Ahh, one of our favorite Brooklyn comedy clubs all year has been Standup Ala Mode who normally hosts small, standup events at Ample Hills in Gowanus where your ticket includes a scoop of some of the best ice cream in the city!
What's awesome is that Standup Ala Mode still has a few comedy shows in Brooklyn, including Friday night shows at the Ample Hills location in Gowanus which includes ice cream with your ticket purchase!
They also have weekly backyard comedy shows on the weekends too that are BYOB, double win! Once you buy your ticket they send you the location for a small, intimate comedy show in Brooklyn with a packed lineup of hilarious comedians. These shows typically take place in Gowanus, Park Slope, Prospect Park West, Brooklyn Heights, and Boerum Hill.
Their comedy shows in Brooklyn typically happen on the weekends, check their Instagram page for their weekly announcements and directions to purchase tickets as their quantities are limited to ensure safe, social distancing measures.
To adhere to social distancing and health and safety measures, they have limited seating and will not allow tickets to be purchased at the door, only in advance. Social distancing regulations will be monitored and enforced. You also have to come prepared with a mask.
All of their comedy shows in Brooklyn only allow audience members who are 18 and over. Stay tuned and follow their page as they continually add more shows and announce their lineups!
All of their comedy shows in Brooklyn are $10. The Ample Hills, one of the best ice cream spots in Brooklyn, offers free ice cream with your ticket and their backyard comedy shows are all BYOB.
Penthouse Comedy
More comedy shows in Brooklyn presented by NY comedians Shafi Hossain & Jake Velazquez from the Penthouse Comedy crew host weekly shows at venues in the borough including Santo Bruklin in Carroll Gardens, Crystal Lake in Williamsburg, the Tiny Cupboard in East Bushwick, and Eastville Comedy Club in Brooklyn on Atlantic Avenue.
Penthouse Comedy offers both indoor and outdoor options for comedy shows in Brooklyn with the two outdoor shows being held at Santo Bruklin and the Tiny Cupboard, another comedy club in Brooklyn mentioned in this guide!
They adhere to health and safety measures and require guests to their comedy shows to wear masks and require temperature checks.
You can check their upcoming shows including any promotional tickets or discounts on their Instagram page. Most shows are $10 a ticket.
Keep an eye out this summer, they are co-producing a Summer comedy festival with the Tiny Cupboard that will be coming this August.
Eastville Comedy
View this post on Instagram
One of the only Brooklyn comedy clubs with a venue originally here in Brooklyn is now offering virtual shows and outdoor pop-up shows.
You can get your laughs at their outdoor social distance pop-up comedy shows in Brooklyn at their EastVille Comedy Club location at 487 Atlantic Avenue.
You need to purchase your tickets in advance on their site, which are only $5. The comedians at this comedy show in Brooklyn perform inside the club at the front door with a microphone and the audience watches from outside at the sidewalk seating.
You can purchase snacks, booze, and other beverages here. This Brooklyn comedy club is also offering free popcorn with any cocktail purchase!
Seats are limited and they are only allowing 2-5 audience members per table, so be sure to plan with your social distance bubble buddies. They are currently not letting 1 person have a table to themselves, so keep that in mind when planning your visit.
They have disinfectant wipes and sanitization methods in place for the health and safety of everyone and will be monitoring and enforcing social distancing rules.
If attending one of the comedy shows in Brooklyn in person that are currently going isn't right for you, you can still enjoy a comedy show from home with their live stream events.
These shows are free and require pre-registration to get the live stream information. However, they encourage you to be a donor and have different amounts that you can purchase within your means from $5 – $100. Viewers in attendance will get to interact with the comedians throughout the live stream.
All of these comedy shows in Brooklyn put on by EastVille Comedy Club are raising money and awareness for various charities and social causes including Black Lives Matter as well as the EastVille survival fund.
Visit EastVille Comedy Club to find out when their next comedy show in Brooklyn is or livestream event and to purchase your tickets, make donations, and other information.
Brooklyn Underground Comedy
Another awesome Brooklyn comedy club offering weekly shows at the Arrogant Swine in Williamsburg in East Williamsburg ( off the Morgan L subway stop) the shows hosted by Brooklyn Underground Comedy produced by Rachel Lander and Laura Sogar.
Their shows are currently all outdoors that are weatherproof in case there is rain in the forecast! So rain or shine, you can still get your laughs on.
Be sure to check out their Instagram page as they announce their line-ups and random pop-up comedy shows in Brooklyn on there. Depending on the show, tickets range from $10-$25 and there are even some surprises like their collaboration with a Blink 182 cover band or Broadway performers.
The comedy shows at the Arrogant Swine also feature Berlin DJ, DJ Maya as well as a stacked BBQ menu from the restaurant along with a full-service bar. Unlike other comedy shows, especially in Manhattan, this comedy show in Brooklyn doesn't have a food or drink minimum, but this option is available.
Make It Clap Comedy
Another exciting Brooklyn comedy show going on is by Make it Clap Comedy. They host weekly comedy shows in Brooklyn.
On Mondays, you can check out their comedy shows at BKLYN Comedy Club hosted by Matt Richards. This particular show is $20 and you can enjoy Sounds by Luv music set.
Since their comedy shows may change some, it's best to follow their Instagram page for the latest updates.
I Hate You The Least Comedy
Looking for a unique style comedy show in Brooklyn to check out? I Hate You The Least Comedy offers weekly shows that are 'speakeasy style' at outdoor venues around Williamsburg!
Tickets range from $10-15 and this independent Brooklyn comedy show is lead by three comics, Julie Ray, Kelly Taylor, and Andrew Casertano who share all their profits with all those behind putting on their hilarious shows from the comics, venue, photographers, and even DJ! You can find their upcoming Brooklyn comedy shows using the link in their Instagram profile.
---
Did we miss any comedy shows in Brooklyn or any Brooklyn comedy clubs who are currently doing something? Let us know and we'd be happy to not only check it out but include it here in our guide to laughs right now!