Who is ready for a good time filled with some laughs with some of the best comics in the country? Get your laughs in at these best comedy shows in Brooklyn that are happening now from some of the best comedy clubs in Brooklyn and in NYC.
Since things look a little different 2020 and indoor spaces are still closed, that doesn't mean that Brooklyn comedy clubs and comedy clubs throughout the city haven't figured out a way to bring what they're best at to the people of New York City, laughter.
Many of the comedy clubs in Brooklyn have figured out a way to adapt to virtual or outdoor comedy shows right here in Brooklyn.
We have been to all of these and can attest that they are all amazing and appreciated during this strange time we are all in. So grab your picnic blanket, BYOB, and get ready for the best comedy shows in Brooklyn happening right now.
Brooklyn Comedy Clubs To Check Out
StandUp NY
StandUp NY actually is not a Brooklyn comedy club, but one located in Manhattan's Upper West Side that has been around since 1986 and is considered one of the city's premier comedy clubs who has comedians like Jerry Seinfeld, Chris Rock, Jon Stewart, and other big-name comedians on their stage performing for their audience.
During the past few months though, this comedy club has been offering comedy shows in Brooklyn and all around the city in their parks. The main comedy club remains closed, but you can find weekly outdoor comedy shows in Brooklyn at Prospect Park McCarren Park, and now Cooper Park, some of the best parks in Brooklyn.
Showtimes and locations are released daily at 10:00 am ET on their Instagram page.
Currently, they have three comedy shows in Brooklyn at Prospect Park, McCarren Park, and Cooper Park, but you can also find their other performances at Sheep Meadow, Cedar Hill, and Battery Park. They are taking requests for neighborhoods that want performances if you head to their website and fill out a form!
What to Expect:
You can purchase tickets in advance or Venmo money to @Stand-up-ny which is nice because they are making their shows accessible and affordable, please do donate though because comedians are hurting with all the comedy clubs in Brooklyn and the rest of the city being closed until further notice. Donate what you can to help pay the comedians. Their suggested donation is $20 per person, but you can use a 50% off code "BROKE" at check out if you can't afford that.
Bring your own blanket to sit on and you're able to BYOB as pretty much everyone looks the other way as long as you're being discreet.
The shows are limited capacity and ask that people who show up respect the 6ft distancing rules.
The location of this comedy show in Brooklyn at Prospect Park is at the top of Long Meadow by the Boy Scout's Tablet Monument (Theodore Roosevelt Rock) near 3rd Street and Prospect Park West. Shows start at 6:30, head there early to make sure you find the right spot, look out for the StandUp NY in the Park signs where the comedians will perform their comedy show in Brooklyn.
The location of this comedy show in Brooklyn at McCarren Park is behind the restroom building, you can enter at Bedford and Lorimer to get there quickest.
For the Cooper Park comedy show in Brooklyn, enter at Sharon & Maspeth.
If you're uncertain of any of these locations, be sure to message them on Instagram to help you get easy to follow directions!
Standup Ala Mode
View this post on Instagram
Ahh, one of our favorite Brooklyn comedy clubs all year has been Standup Ala Mode who normally hosts small, standup events at Ample Hills in Gowanus where your ticket includes a scoop of some of the best ice cream in the city!
What's awesome is that Standup Ala Mode still has a few comedy shows in Brooklyn, including Friday night shows at the Ample Hills location in Gowanus which includes ice cream with your ticket purchase and are BYOB!
Their comedy shows in Brooklyn typically happen on the weekends, check their Instagram page for their weekly announcements and directions to purchase tickets as their quantities are limited to ensure safe, social distancing measures.
Their latest comedy show in Brooklyn venue is at Hidden Hemp in Park Slope and are dog friendly! Each ticket is $10 and comes with a CBD sample from Hidden Hemp! You can BYOB at these shows as well!
To adhere to social distancing and health and safety measures, they have limited seating and will not allow tickets to be purchased at the door, only in advance. Social distancing regulations will be monitored and enforced. You also have to come prepared with a mask.
All of their comedy shows in Brooklyn only allow audience members who are 18 and over.
Make It Clap Comedy
Another exciting Brooklyn comedy club going outdoors is Make it Clap Comedy. Their comedy shows in Brooklyn used to be on Saturdays and Sundays at Greenpoint Terminal Market at 3 PM.
Now their shows have moved, it's best to follow their Instagram page for the latest updates. Some of their comedy shows in Brooklyn are taking place at Irving Square Park in Bushwick, but as mentioned check their page to make sure you know where their next show is!
These comedy shows in Brooklyn are organized by Billy June and Teona Sasha. We are not going to lie, their comedy show had a solid line up including SNL cast member Chris Redd among other great comedians.
These comedy shows in Brooklyn are free, but there is a tip jar which is encouraged to leave what you can for the comedians who are putting on a great show for you.
What to expect:
Bring your own blanket to sit on or you'll have to sit on the concrete. It's a little uncomfortable, but worth it for some free laughs.
The shows are limited capacity and ask that people who show up respect the 6ft distancing rules. There is an area that has cones around it, once this starts filling up you will have to stand outside of it. The shows start at 3 PM, we recommend getting here a little early so you can get a good spot and easily avoid sitting too close to anyone.
If you have back problems or comfort concerns, we recommend bringing something padded to sit on so you can enjoy this free comedy show in Brooklyn without discomfort!
Don't forget to bring a little cash so you can leave a tip in the jar.
Eastville Comedy
View this post on Instagram
One of the only Brooklyn comedy clubs with a venue originally here in Brooklyn is now offering virtual shows and outdoor pop-up shows.
You can get your laughs at their outdoor social distance pop-up comedy shows in Brooklyn at their EastVille Comedy Club location at 487 Atlantic Avenue.
You need to purchase your tickets in advance on their site, which are only $5. The comedians at this comedy show in Brooklyn perform inside the club at the front door with a microphone and the audience watches from outside at the sidewalk seating.
You can purchase snacks, booze, and other beverages here. This Brooklyn comedy club is also offering free popcorn with any cocktail purchase!
Seats are limited and they are only allowing 2-5 audience members per table, so be sure to plan with your social distance bubble buddies. They are currently not letting 1 person have a table to themselves, so keep that in mind when planning your visit.
They have disinfectant wipes and sanitization methods in place for the health and safety of everyone and will be monitoring and enforcing social distancing rules.
If attending one of the comedy shows in Brooklyn in person that are currently going isn't right for you, you can still enjoy a comedy show from home with their live stream events.
These shows are free and require pre-registration to get the live stream information. However, they encourage you to be a donor and have different amounts that you can purchase within your means from $5 – $100. Viewers in attendance will get to interact with the comedians throughout the live stream.
All of these comedy shows in Brooklyn put on by EastVille Comedy Club are raising money and awareness for various charities and social causes including Black Lives Matter as well as the EastVille survival fund.
Visit EastVille Comedy Club to find out when their next comedy show in Brooklyn is or livestream event and to purchase your tickets, make donations, and other information.
The Tiny Cupboard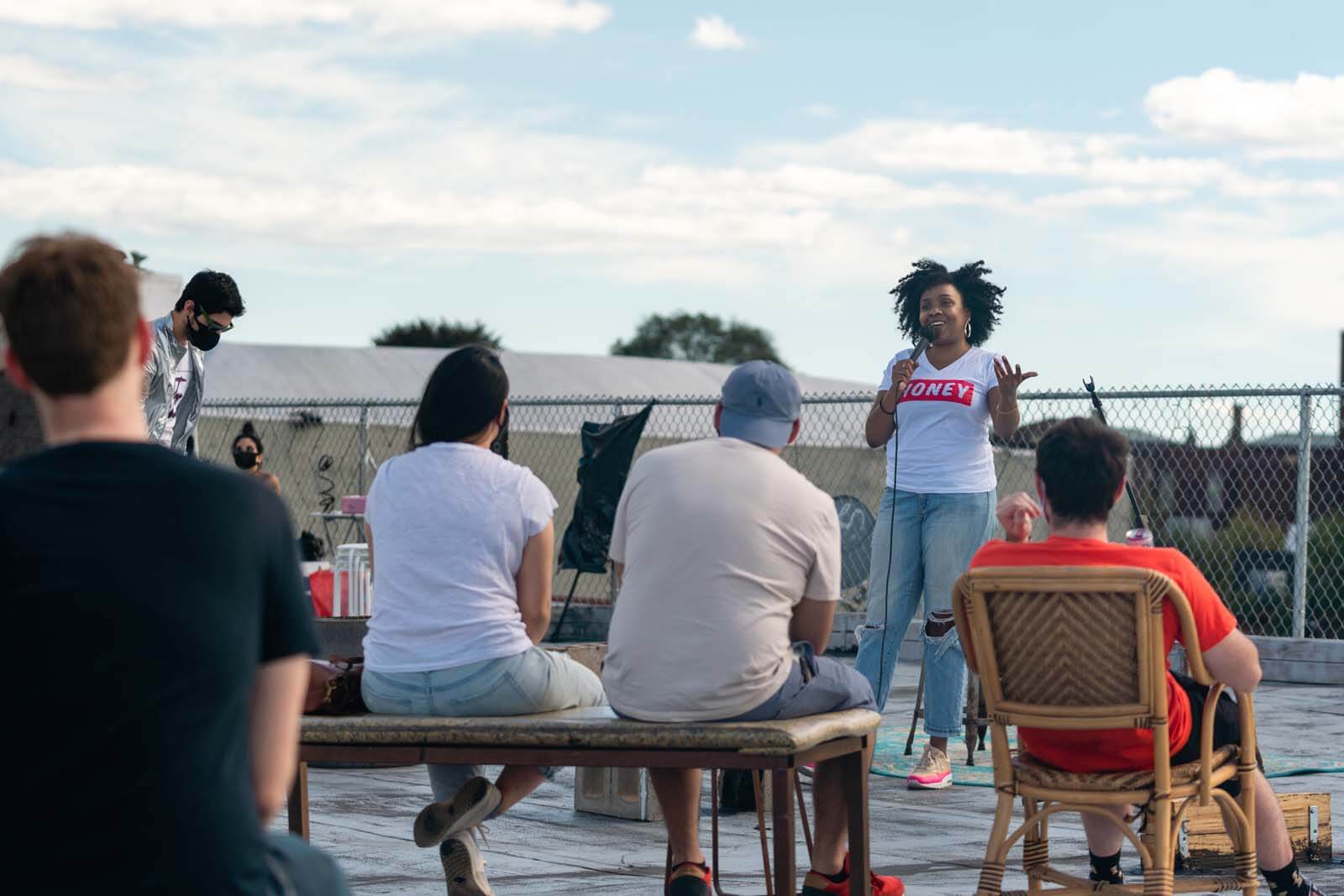 Another Brooklyn comedy club and venue who is doing comedy shows is The Tiny Cupboard. They are the "World's Smallest Venue & Community DIY space" hosting events including virtual and outdoor comedy shows in Brooklyn!
Visit their website to see their upcoming events and secure your tickets to their many rooftop comedy shows in Brooklyn with epic views of Manhattan as well as their virtual comedy shows on Thursdays! Either way, you choose to participate in some laughs you will need to register, but don't worry some are free!
The rooftop stand up comedy shows in Brooklyn range from free to $5-$7 which is a pretty sweet deal if you ask us! There are multiple shows a night taking place on their rooftop at their East Bushwick location at 1717 Broadway and enforcing social distancing and safety measures, so come prepared with a mask! No need to bring a blanket, they have stools for attendees to sit on.
And if it's within your means and you love keeping comedy alive during this time, consider donating what you can to continue to support small comedy venues during this time by visiting their support us page!
---
Did we miss any comedy shows in Brooklyn or any Brooklyn comedy clubs who are currently doing something? Let us know and we'd be happy to not only check it out but include it here in our guide to laughs right now!