Looking for indoor things to do in NYC on a rainy day or cold, blustery day? We've got you covered. Don't let a little rain ruin your day or time in the city. What's awesome is that there are tons of options and things to do indoors in NYC including anything and everything from museums, and entertainment options like shows or bars that have games, to enjoying a relaxing day at the spa, in a cozy cafe, or browsing titles in any of the many bookshops in the city.
There's something about rainy days in NYC that are a bit enchanting. I'm not trying to go out of my way to romanticize gloomy weather, but the city sort of has a Gotham feel to it when it rains.
If you don't want to get wet, don't worry – we have plenty of suggestions for things to do in NYC when it rains! Whether you're a visitor whose NYC itinerary or trip calls for some unexpected rain or a local looking for some creative things to do in New York when it's raining – we've got ideas for you!
Disclaimer: This post contains affiliate links.
Things to do Indoors in NYC on a Rainy Day
Hit up the Museums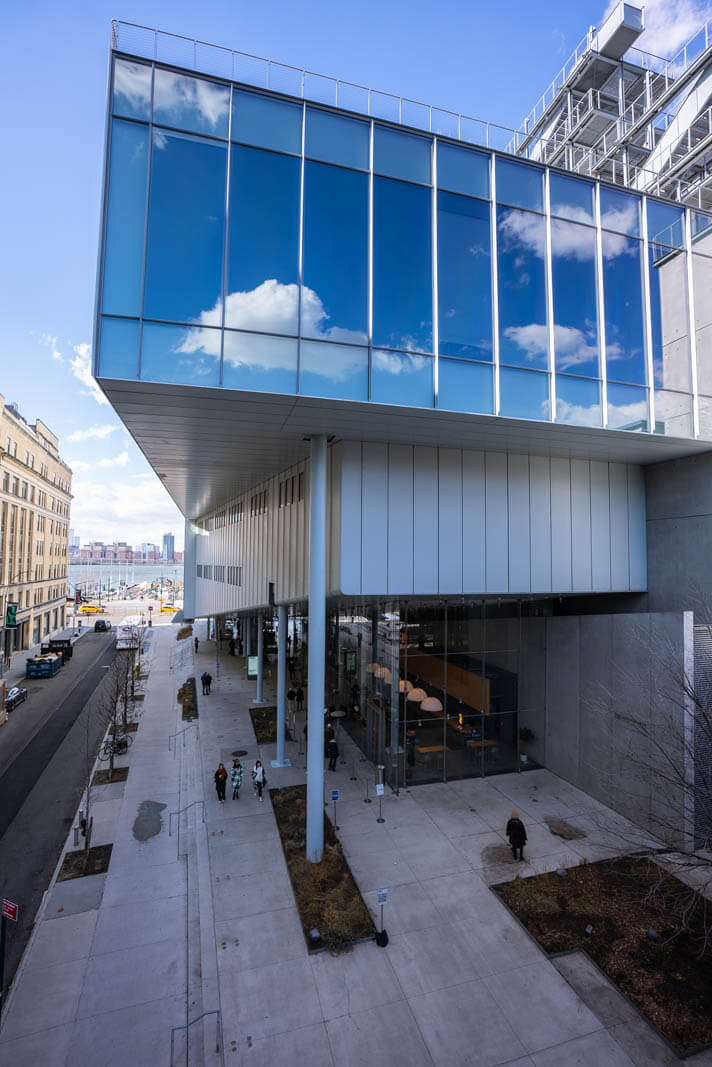 One of the most popular things to do in NYC when it rains is to visit a museum! There are several incredible museums in NYC and even free museums in NYC to visit!
Better yet, there are more incredible cultural institutions in the boroughs too, take, for example, exploring the best museums in Brooklyn. One of the best is the Brooklyn Museum, which is the city's third-largest museum with a collection of over 500,000 works from all over the world including impressive collections of Egyptian and African art not to mention their 17th-20th centuries collection of sculptures and paintings.
The Brooklyn Museum is always showcasing new, temporary exhibits. Special exhibits may require additional tickets or fees.
Another great rainy day NYC museum is the American Museum of Natural History! This massive museum is easy to spend an entire day at located along Central Park West. Here, you can expect to learn more about their collections including over 34 million specimens of rocks, minerals, human remains, cultural artifacts, plants, animals, fossils, and more across their 45 permanent exhibition halls as well as the Hayden Planetarium.
Alternatively, another one of the most famous museums to visit on a rainy day in NYC is across Central Park off 5th Avenue, the Metropolitan Museum of Art, famous for being the largest art museum in the country with a permanent collection of over 2 million pieces of artwork not to mention its also one of the largest art galleries in the world.
These museums are some of the most famous and an easy way to spend a good portion of your rainy day in NYC. Although there are literally too many museums to count, if you've already seen the classics, check out a few other great museums like the Whitney Museum of American Art.
Located in the Meatpacking District in Manhattan, the museum houses works from some of the best American artists from the 20th and 21st centuries including works from Edward Hopper, Robert Henri, Georgia O'Keefe, Andy Warhol, and Theodore Robinson to name a few not to mention their focus on featuring living American artists too.
Other cool museums include the Guggenheim on the Upper East Side along Central Park on 5th Avenue, Morgan Library & Museum in Murray Hill, and the New York Transit Museum in Brooklyn to name a few more!
PSST…visiting museums can add up! And many of the free museums or pay-as-you-wish museums are only for New York, New Jersey, and Connecticut residents. Another way to save big on your NYC itinerary is to get an attraction pass.
The New York Pass which you can purchase anywhere from a 1 Day Pass to a 10 Day Pass that gets you into over 100 attractions, including tons of museums! Once you purchase your New York Pass you download the Go City app and use that to get up to 45% savings on popular attractions as well as a few hidden gem attractions ranging from the city's top attractions like the observation decks to under-the-radar museums and attractions.
See our full breakdown of the New York Pass
Check out Art Galleries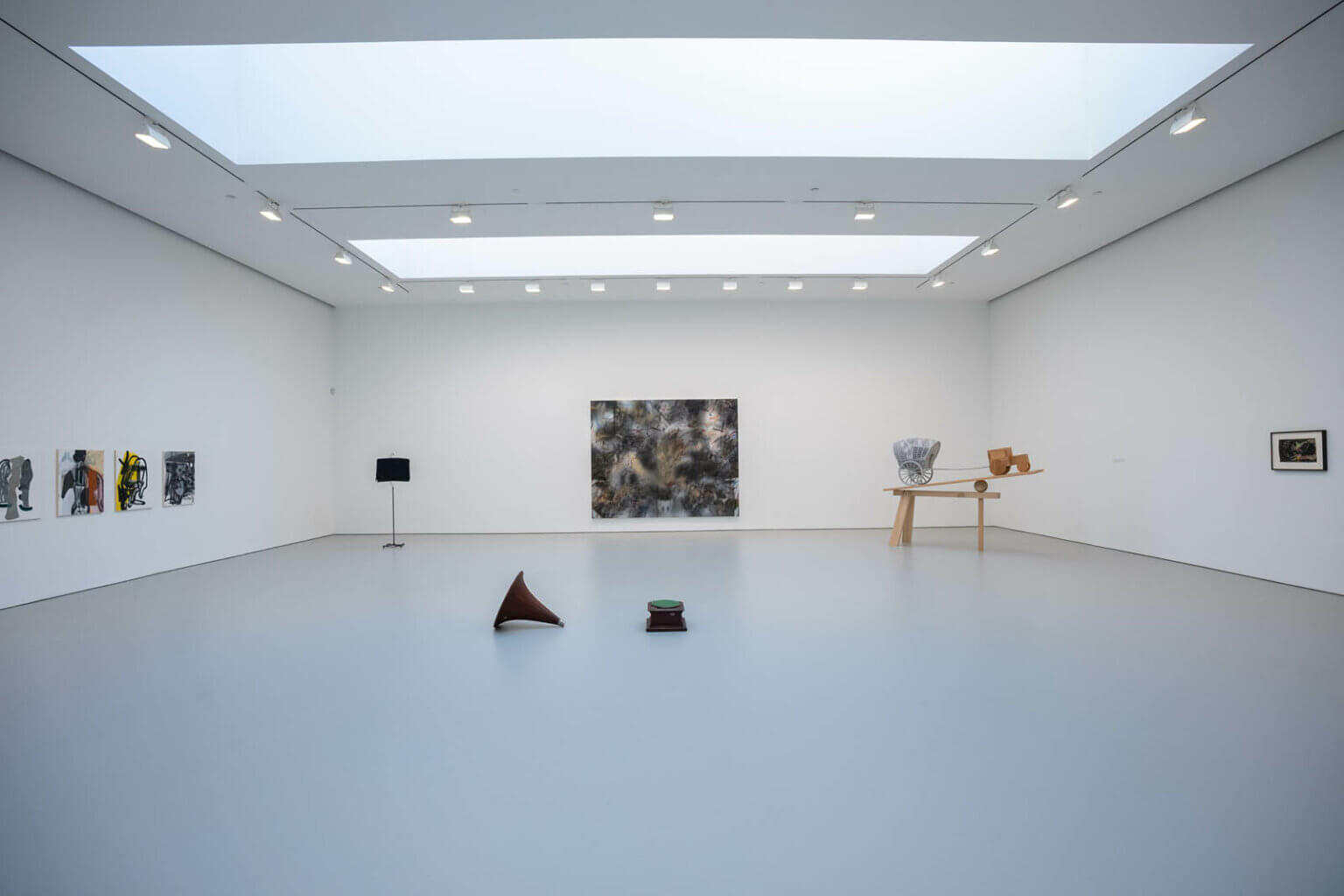 One of the best rainy day activities in NYC is visiting an art gallery! The city is riddled with cool art galleries, many of our favorite are the art galleries in Brooklyn too.
You'll find that there are a few neighborhoods that have a higher concentration of galleries to explore on a rainy day in NYC too – for example, Chelsea in Manhattan is famous for having hundreds of galleries in a smaller area, a few of which we mention below.
If you're wanting to check out galleries in Brooklyn be sure to check out the neighborhoods of Red Hook, DUMBO, and Bushwick where you'll find a healthy amount of galleries to browse.
If you're in the mood to view contemporary art, be sure to check out the Jim Kempner Fine Art Gallery in Chelsea. This gallery showcases modern drawings, paintings, sculptures, and more!
Another excellent art gallery nearby is the Guy Hepner Gallery. This unique gallery has many different prints on display and for sale. If you visit here, you'll be able to see some of the biggest names in pop art like Andy Warhol and Banksy.
If you're in Brooklyn and you still want to enjoy New York when it's raining, be sure to check out Minus Space. Minus Space is an art gallery in DUMBO, Brooklyn, specializing in abstract and reductive art. If you visit this gallery, expect to be exposed to artists from all around the world!
Find Your Next Book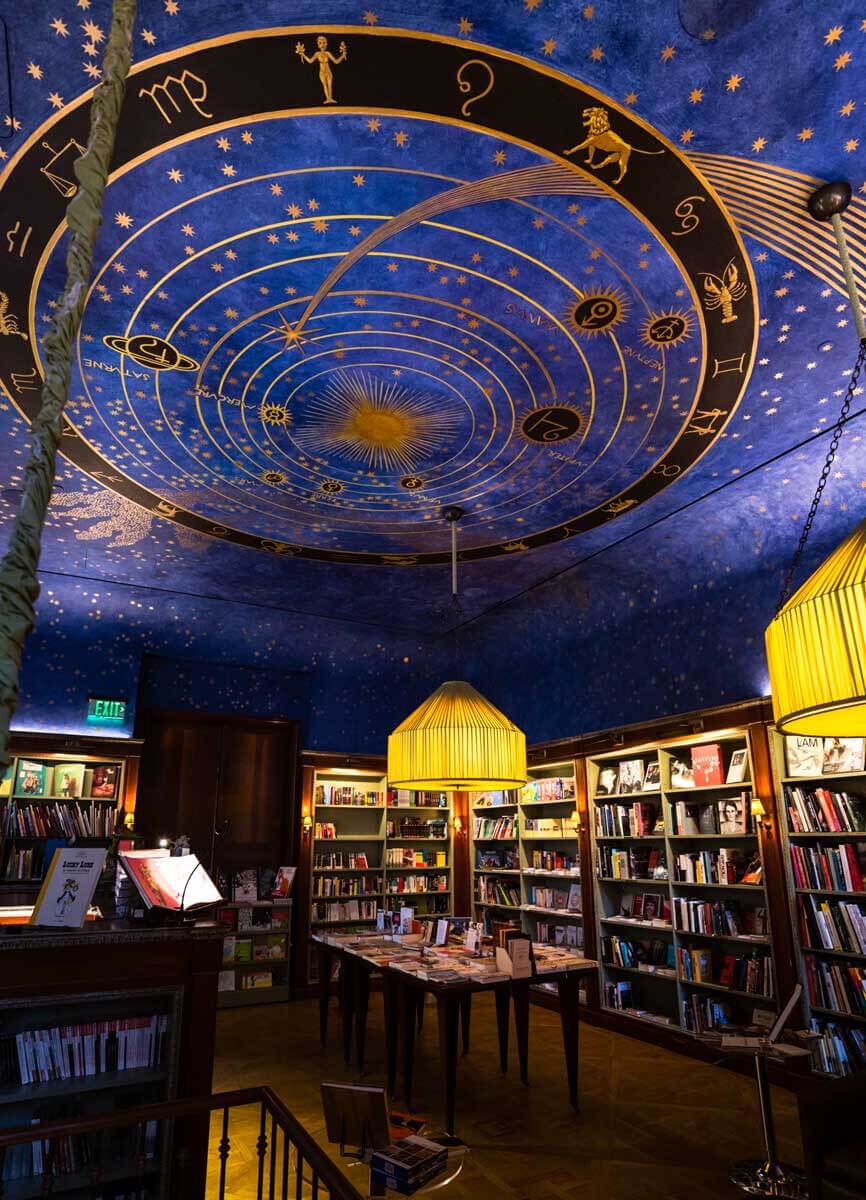 There's something so comforting about browsing titles in any of the amazing indie bookshops in NYC on a rainy day. Take it up a notch by picking out your new read than finding the perfect charming cafe to cozy up at and start reading your new book paired with a latte or tea for hours.
One of the best things to do indoors in NYC is to find your next read by browsing our incredible bookshops. One of the most famous bookstores in the city is The Strand. The Strand is the largest non-commercialized bookstore in the entire state and is the only survivor of Book Row, an old row of bookstores that no longer exist today. Here, you can find new, used, and rare books – a real treat for the bibliophile.
Another great rainy day NYC indie bookstore is Books are Magic in Cobble Hill. This is one of the best bookstores in Brooklyn that offers an impressive collection of titles, many rare books, and readings by authors among other events.
McNally Jackson Books has several locations around the city and is another excellent choice when trying to find your next read. With four locations throughout NYC, my favorite might be the Seaport District location complete with a cozy cafe.
And while this list could go on and on (seriously there are so many good bookstores in NYC), another stand out bookshop is Albertine! This bookstore is a reading room and bookshop all in one and offers the most extensive collection of French books in America, not to mention this is probably the most whimsical of bookstores in the city.
Catch a Movie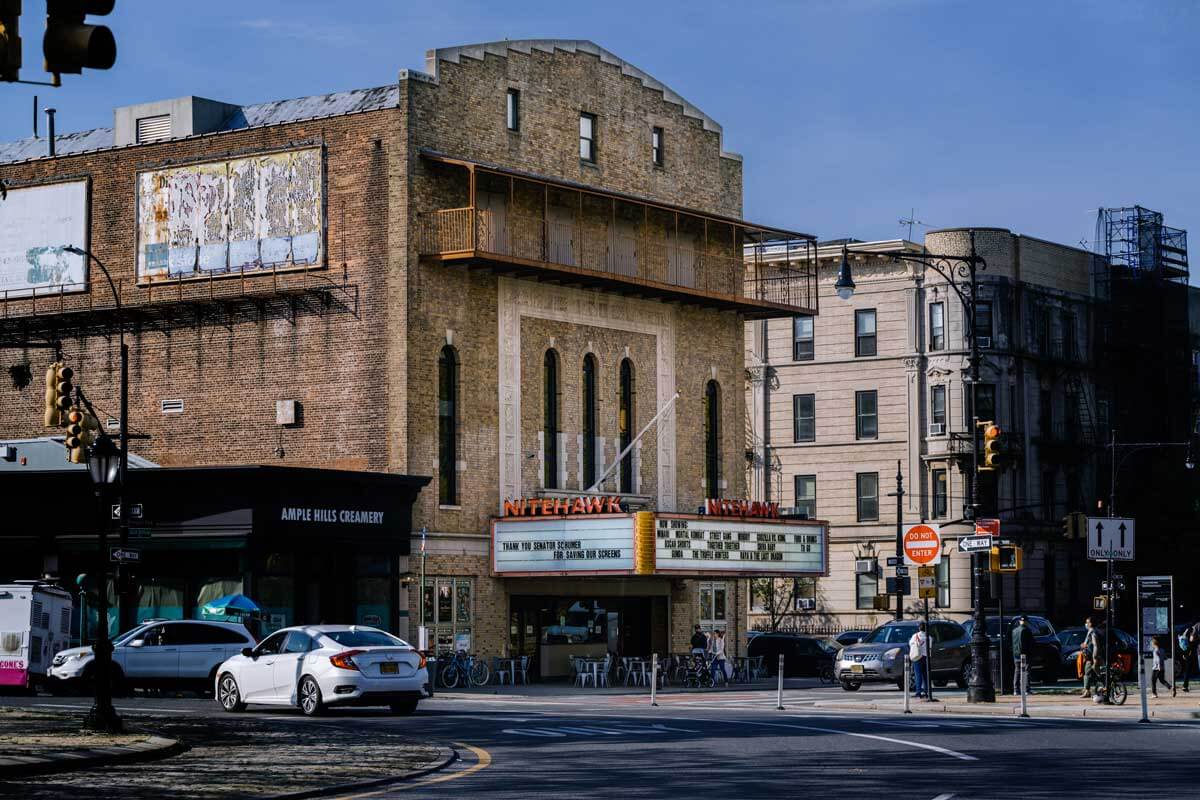 Catching a movie is one of the best indoor things to do in NYC, especially on a rainy day! One of the most unique theaters in the city is Nitehawk Cinema, which has two Brooklyn movie theater locations in Park Slope and Williamsburg. This cinema is great for anyone that wants a rainy day NYC movie theater experience complete with cocktails and a full bar plus a restaurant that will serve you as you watch the show.
Another great rainy day NYC theater is the IFC Center, an art-house theater known for showing independent films. Formerly known as Waverly Theater, this cinema is located in Greenwich Village near Waverly Place.
The Angelika Film Center & Cafe in SoHo is another great choice to catch an indie flick on a rainy day in NYC. This boutique theater offers a mix of movies plus a cafe on site.
Another great option for a movie theater with a full on dining experience is IPIC Theater in Seaport Historic District in Manhattan. This full-service theater showcases the blockbuster hits while you dine and drink on their plush seating.
Visit a Speakeasy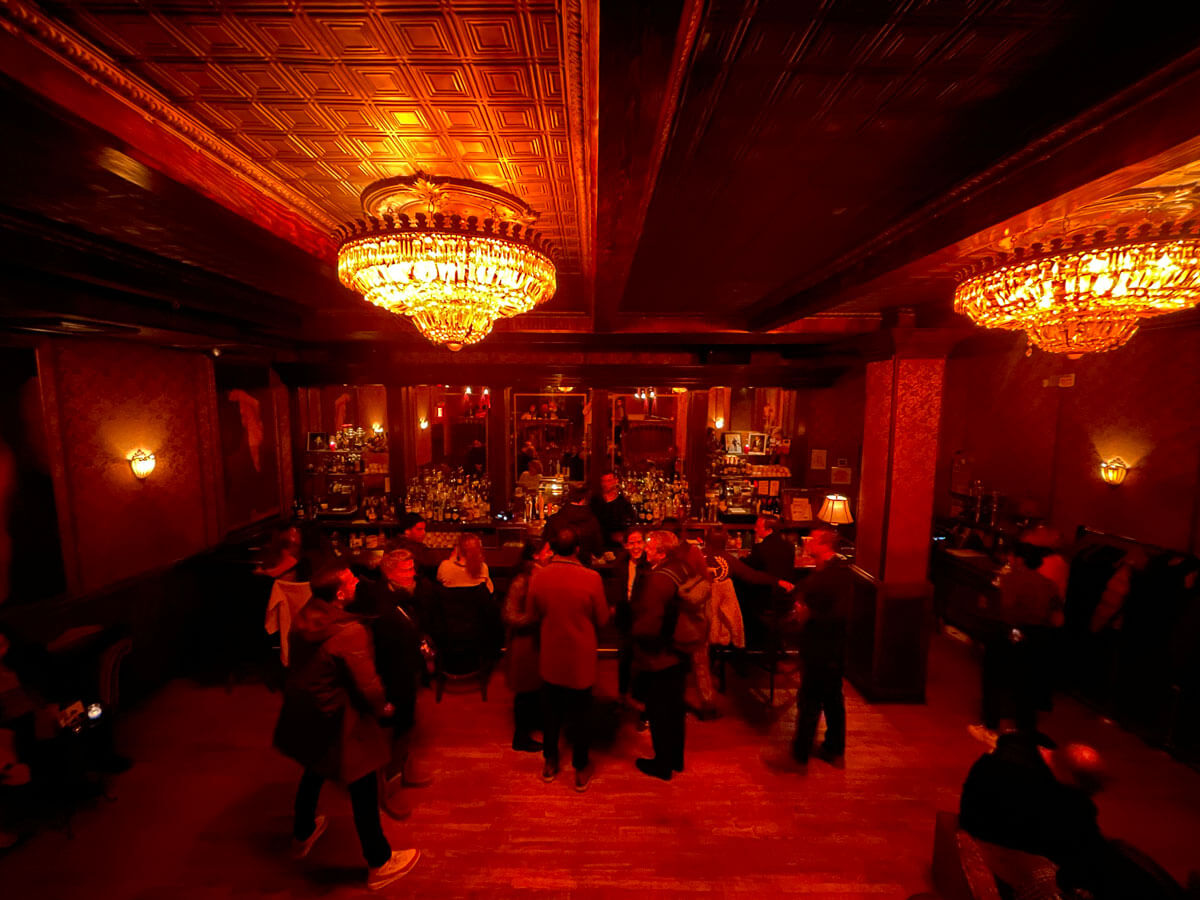 One of the best things to do indoors in NYC is to visit a speakeasy! New York has a hotbed of speakeasy bars and creative mixologists who make having your next drink an entire experience.
There are tons of great speakeasies in NYC worth checking out. One worth checking out is Little Branch in the West Village. This underground den-like speakeasy that's dimly lit, snug and cozy, and serves up great drinks.
Another cool hidden bar worth checking out on a rainy day in NYC is Blind Barber in the East Village! This day-time old-school barbershop has a secret, it has a lively speakeasy with dance tunes in the back. Perhaps you first need a cut, then follow up with heading back to the secret bar to show off your new hair.
Among the many speakeasies in New York, The Back Room stands out for its unparalleled authenticity. This was an actual Prohibition-era speakeasy and is one of just two currently in operation citywide with this distinction. It was a cherished haunt of 1920s stage and screen actors and hosted secretive gatherings for notable bootlegging figures like Lucky Luciano and Meyer Lansky. Even today, cocktails are discreetly served in teacups, preserving the speakeasy charm amid its vintage decor and period pieces in a warmly-lit setting.
Tour the New York Public Library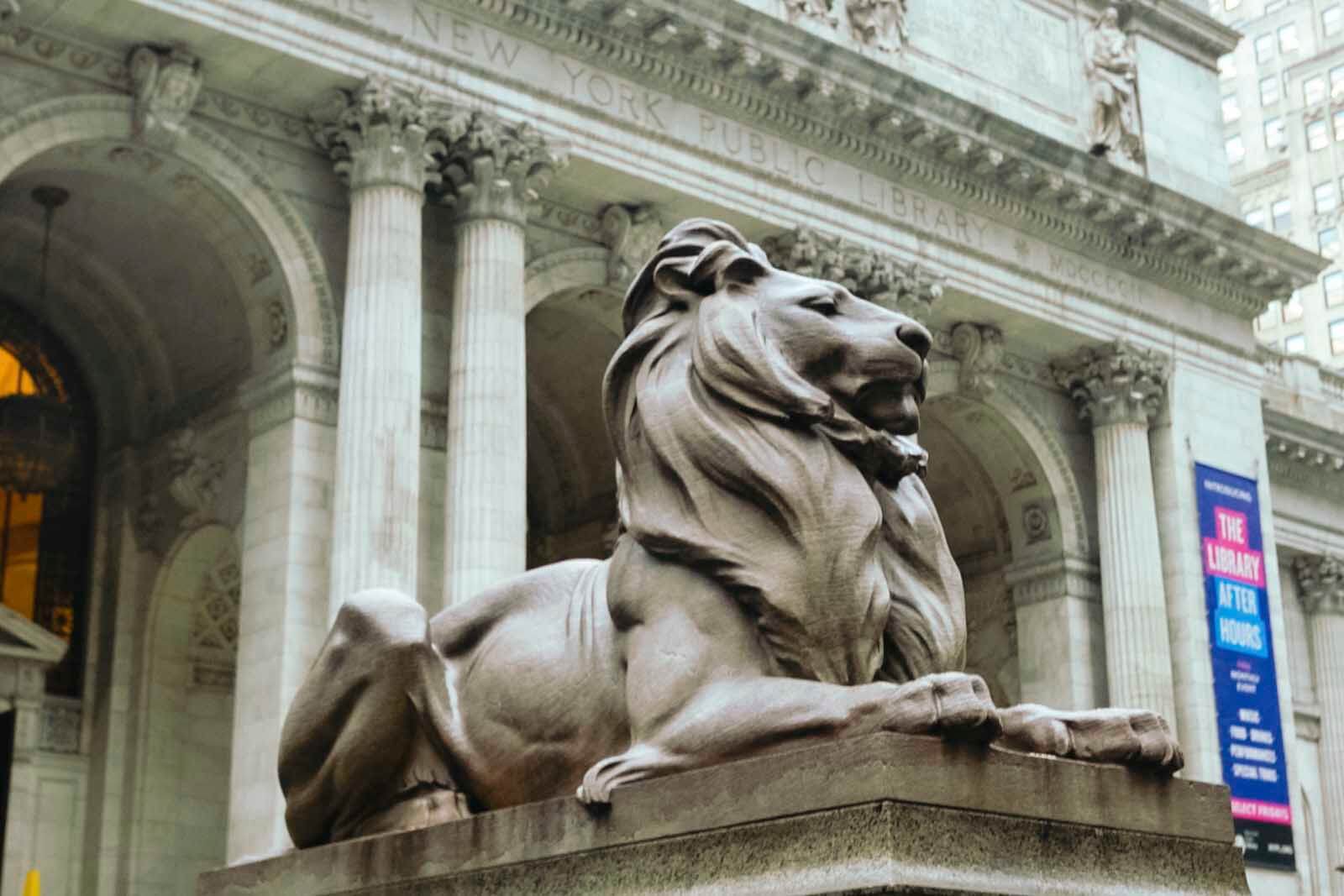 One of the best indoor things to do in NYC for all ages is visiting the New York Public Library. Now technically there are over 90 locations for NYPL, but the one we are referring to is the famous one, Main Branch located on 5th Ave and Bryant Park.
Come ready to work or explore. A few spots you don't want to miss are first being greeted by the two famous lions, Patience and Fortitude who also are movie stars seen in various productions of tv series and movies that used NYPL as a backdrop including Ghostbusters!
Inside the library be sure to check out Astor Hall, Rose Reading Room, Rare Book Division, and the Treasure's section where you can find the original Winnie the Pooh and friends on display.
Hit up the City's Most Exciting Bars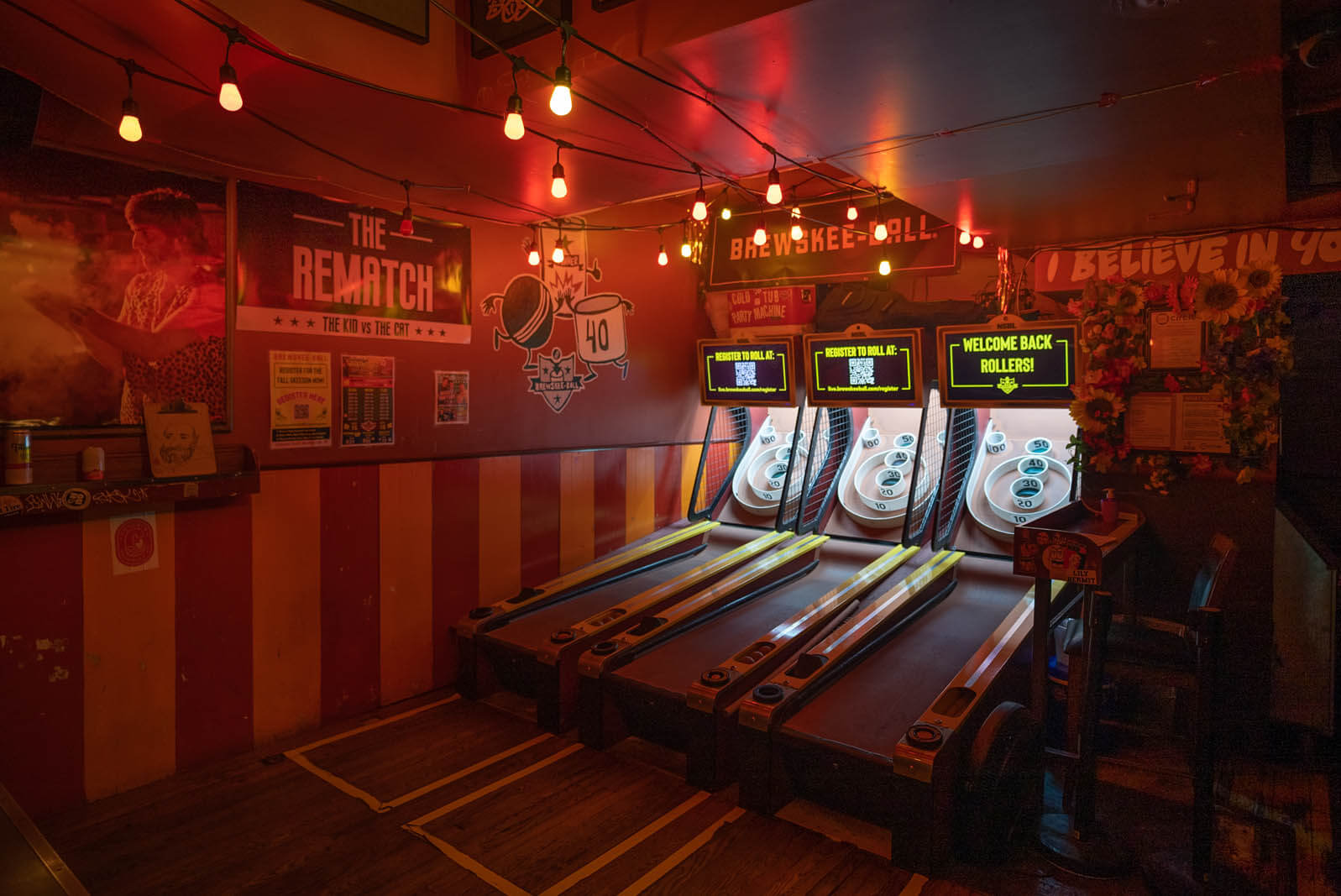 Okay, I know we already mentioned speakeasies but one of the most fun indoor activities in NYC for adults is hitting up one of the city's most exciting bars! And by exciting, we mean bars that also have a cool entertainment element built into their business.
Another fantastic, Brooklyn-based bar is Full Circle Bar in Williamsburg. This bar offers unlimited skeeball play and affordable beer, the perfect place to hang out for hours with pals on a rainy day in NYC.
If you want to go bar hopping, be sure to hit up Barcade. This bar + arcade has a full bar with a nice selection of brews on draft plus a large collection of vintage video games and pinball machines you can play. There are locations in Chelsea and Williamsburg.
Lastly, if you find yourself exploring Gowanus in Brooklyn, be sure to hit up The Royal Palms Shuffleboard Club! This bar serves delicious cocktails, has occasional live music, offers various food trucks to choose from, and has shuffleboard courts inside for guests to use.
On the Lower East Side, you can check out a fun social club known as Sour Mouse. This space not only has live music with dance parties, but it also has pool tables, table tennis, and foosball! They also have regular events they host too.
See more of our favorite themed bars in NYC too for more fun options!
New York Aquarium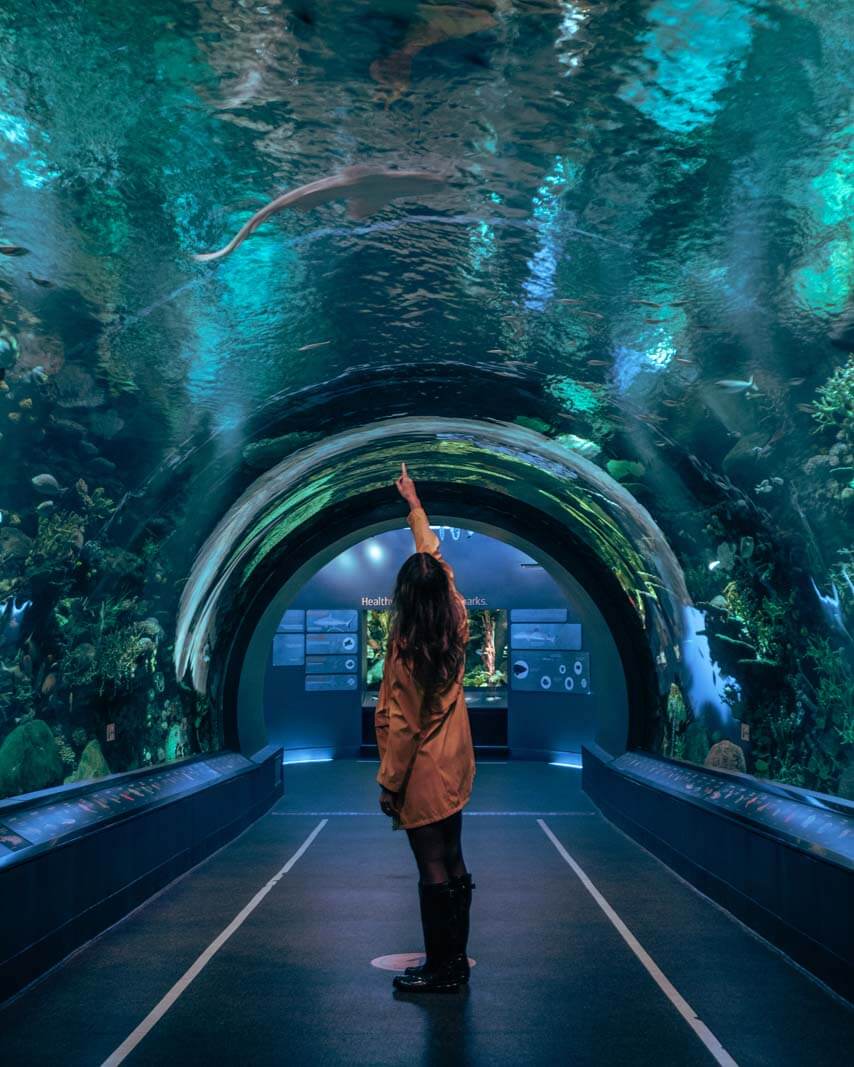 One of the best rainy day activities in NYC is to visit the New York Aquarium in Coney Island! This aquarium is the oldest operating aquarium in the United States and is located on the famous boardwalk at Coney Island.
While there are some outdoor exhibits of the aquarium, the sea lions don't seem to mind the rain, most of the exhibits are indoors including the impressive sharks exhibit featuring a tunnel that visitors walk through surrounded by coral reefs and 115 different species including 18 different species of sharks and rays, sea turtles, fish and more all around you and above your head.
This is also one of the best things to do in NYC with kids, but even as adults we enjoyed it too! You need to reserve your tickets in advance, see our full guide for tips and tricks for visiting the New York Aquarium.
Cozy Up in a Cool Cafe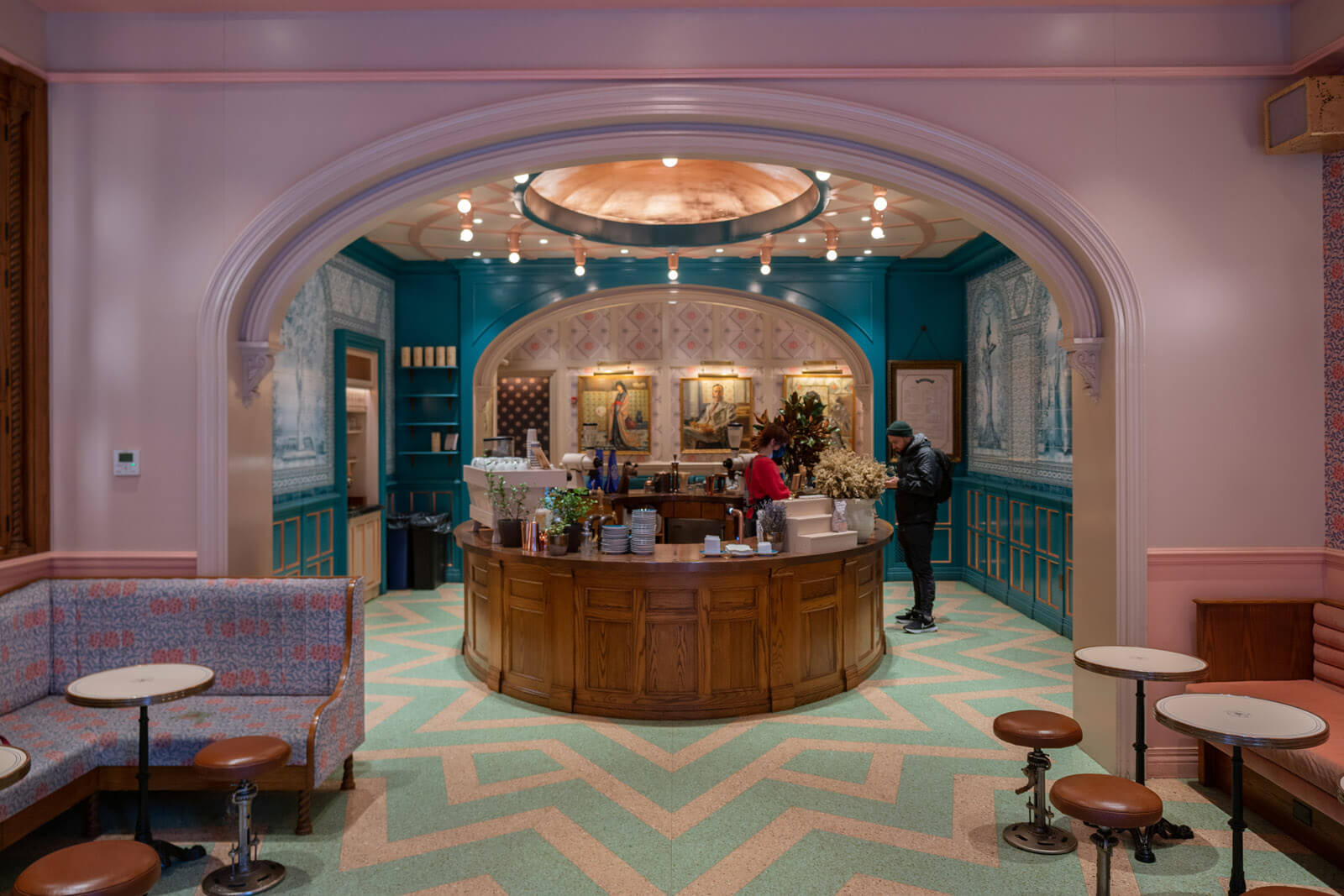 One of the best indoor things to do in NYC is to visit a cozy coffee shop! We are huge fans of the great cafes in the city and there are so many Brooklyn coffee shops we love too.
One coffee hot spot worth checking out is Devocion. This shop has locations throughout NYC, including one in Williamsburg and one in Flatiron. Each shop is large, has cozy seating, and offers free WiFi, making it a great spot to stop and do work or read a book on a rainy day in NYC.
Another great rainy day NYC coffee shop is Felix Roasting Co. which has SoHo and Midtown locations. These cafes are honestly stunning and rather than feeling like you're in a cafe, you feel like you're on a set of some cool photoshoot or Wes Anderson film. The SoHo location is in the photograph above and the Midtown location has a completely different set up and interior design with two floors.
If you want to combine the best rainy day activities in NYC, be sure to check out Remi Flower & Coffee. This spot is a coffee shop and florist all in one! Located in Midtown East, this cozy spot offers great lattes and custom floral arrangements that are great for a wide range of occasions. There's something nice about a pretty bouquet of flowers to brighten up a gloomy rainy day in NYC.
Another spot worth visiting in New York when it's raining is Milk + Roses. Located in Greenpoint, Milk + Roses is an Italian restaurant, library, and garden all in one! This intimate cafe often has live music and delicious wines, making it an excellent spot for anyone searching for fun indoor activities in NYC for adults!
Visit Grand Central Terminal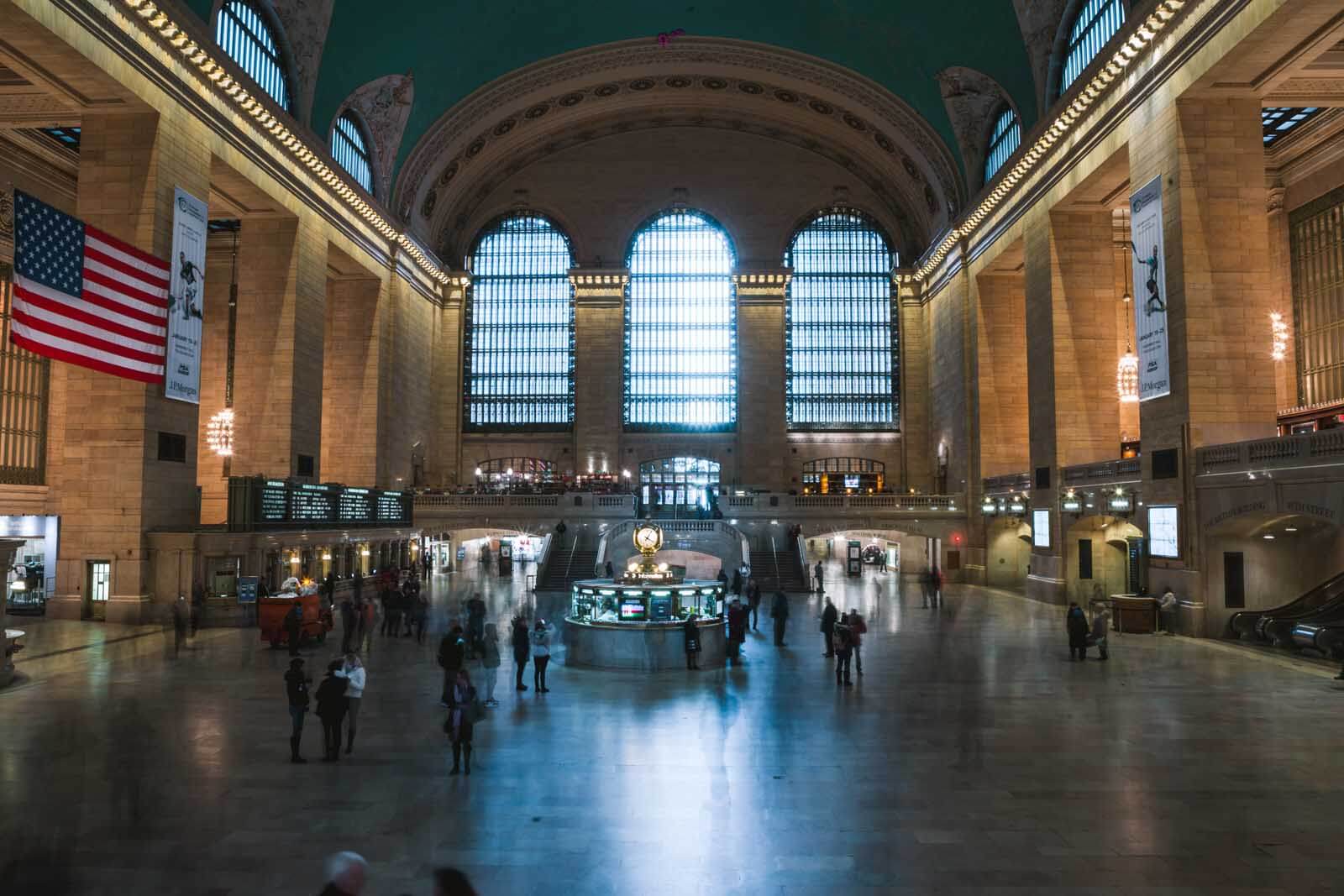 One of the most iconic indoor activities in NYC is exploring Grand Central Terminal. This commuter rail terminal is located on East 42nd Street and is known for being the busiest train station in the country, not to mention one of the most beautiful. The interior of this train station is unlike any other and boasts stunning, detailed features that are worth taking a moment and admiring, like the celestial ceiling in the main concourse.
Better yet, this is a great rainy day activity in NYC because there are a multiple cool points of interest inside.
For instance, the Whispering Gallery. The Whispering Gallery is a domed intersection of two walkways on the lower level. Here, you can hear everything, including the quietest whisper. One person goes into one corner and the other in the opposite diagonally and you can whisper to each other clear as day even though you're around 30 feet away from one another.
If you want to have an outstanding indoor dining experience in Grand Central Terminal, stop by the food concourse in the lower level where you can find all kinds of great places from fast food to Michelin star eateries to enjoy including Grand Central Oyster Bar! This iconic eatery not only has an epic location but has been a mainstay for nearly a century.
Besides having great places to dine, Grand Central Terminal also has shopping too (~65 shops to give you an idea!) from huge retailers like Apple to small shops.
And, if you want to learn all about the fascinating stories and details behind this legendary landmark in the city, consider booking Secrets of Grand Central Terminal Tour that takes you through the fascinating history as well as some of the gems inside including the hidden tennis court, the story behind the celestial ceiling art, and much more. Book here.
See a Show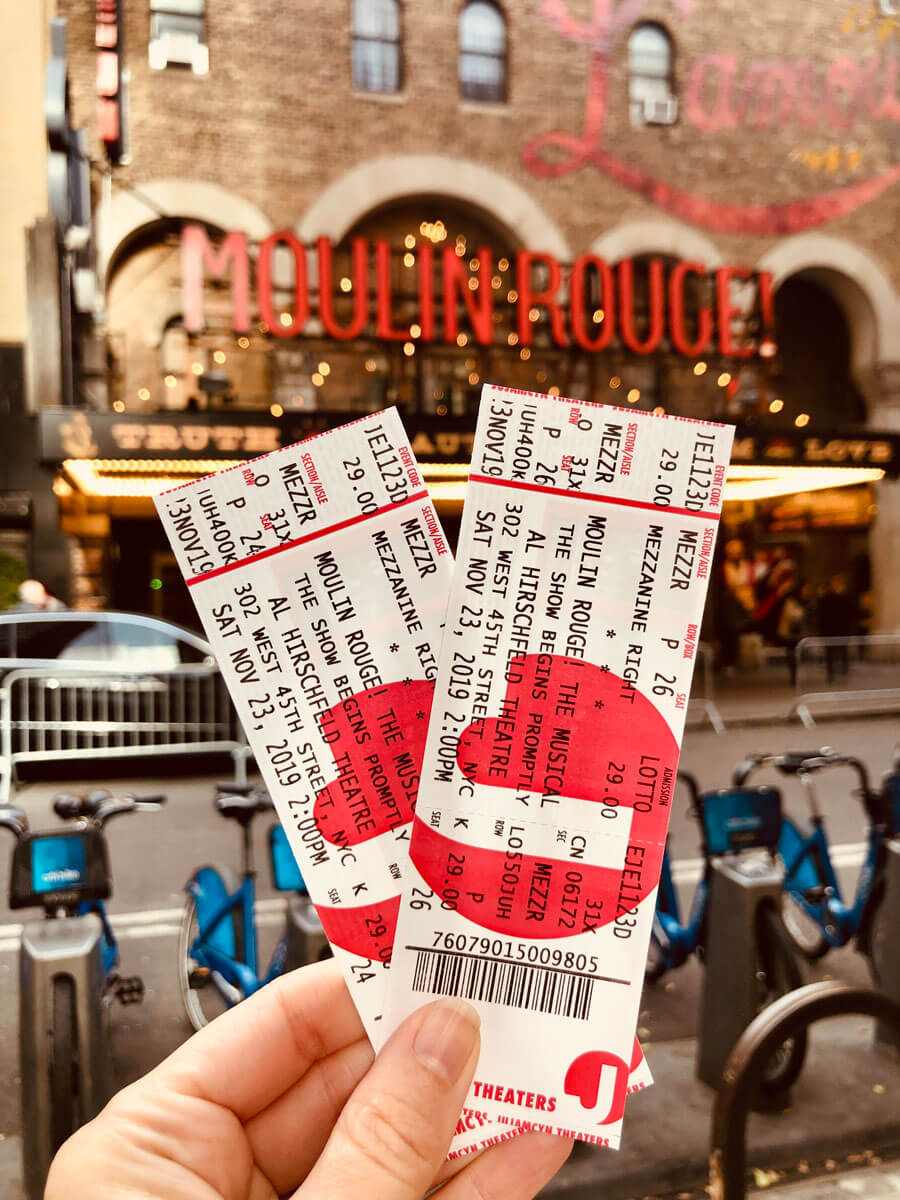 One of the best things to do in NYC when it rains, and on any visit, is to see a show on Broadway! NYC always has so many incredible shows that it's actually hard to pick what to see.
Didn't plan onto visit New York when it's raining? Well don't worry, there are so many shows and theaters that you can actually buy tickets the day of, most often at a discount by visiting the TKTS booth and asking for same-day shows! You might not get to see sold out shows this way (or maybe, it's worth checking) but there are so many shows surely you can find one.
If you have a little time to plan ahead, you can also check websites like SeatGeek, a popular ticket search engine that makes finding tickets Broadway quick and easy! Plus when you add our promo code BROOKLYNGUIDE to your SeatGeek account, you receive $20 off your first ticket purchase. (We receive a small commission at no extra cost to you)
Musicals aren't the only type of shows that come aplenty in the city, another one of the best things to do indoors in New York is to see a comedy show!
Head to the Village where you can find some of the most popular comedy clubs in the city like the Comedy Cellar. This comedy club consistently has top comedians from all around New York to perform. You'll want to try to get tickets in advance, but if you don't you can show up an hour or so before the show and see if you can get in on standby.
Or if you're into hitting up the smaller, more intimate comedy venues consider checking out any of the many great comedy shows happening in Brooklyn!
Enjoy a Day at the Spa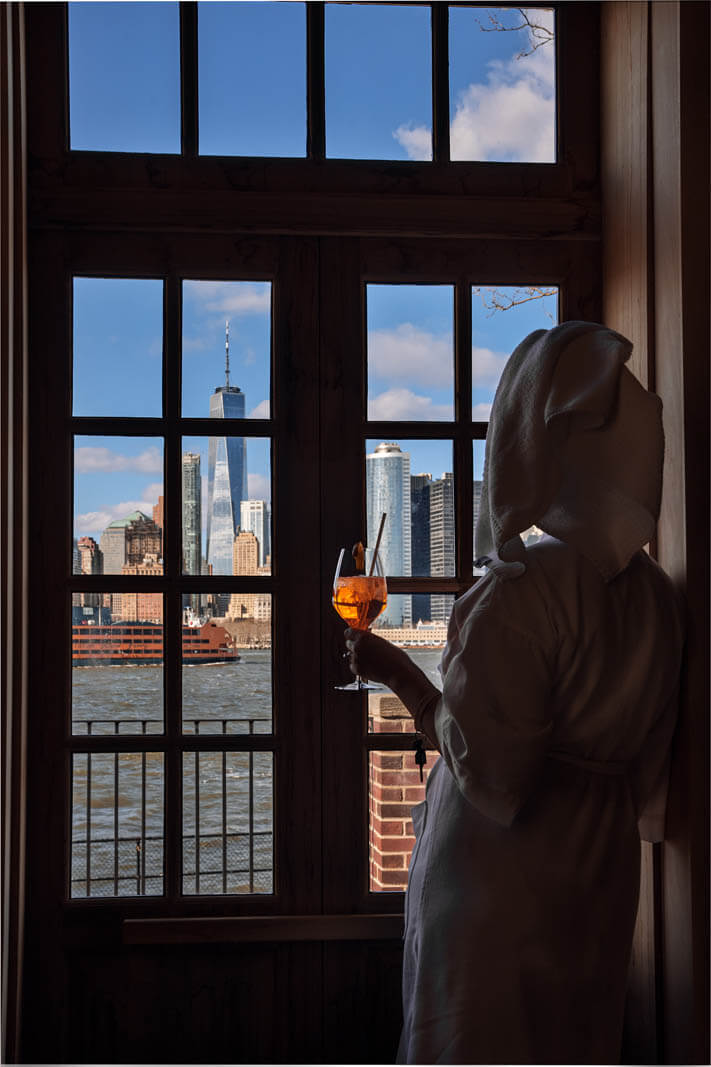 Treat yourself in New York when it's raining by escaping the gloom and having the ultimate day of relaxation by visiting one of the cool spas in New York City.
QC NY Spa at Governors Island wins for having the most stellar location. You can find a day of serenity and rejuvenation with over 20 different wellness experiences at this spa, including a Vichy shower, infrared beds, themed saunas, and relaxation rooms.
AIRE Ancient Baths located in Lower Manhattan, this unique spa offers different types of massages and hot baths. They also have rooms for meditative aromatherapy experiences and many couples' packages!
The Spa at Equinox in Hudson Yards offers many things to do in NYC when it rains. This indoor oasis has saunas, facials, massages, and cryotherapy to name a few of the many wellness experiences you can enjoy here. This spa is located inside the Equinox Hotel and is a great place to sit back and relax during a rainy day in NYC.
Another great spa is the Bamford Wellness Spa in Brooklyn located at the 1 Hotel. This spa is known for its full-body massages and facial treatments you can book.
One more worth mentioning, there are so many, is Chillhouse who has its Flagship in SoHo West. This sweet spot offers multiple spa services a la carte including a cafe in a 'cool' spa aesthetic setting and offers everything from facials, to massages, to mani-pedis and more. But their main feature is that they offer memberships where you can subscribe and get monthly treatments that you can use or save for those rainy days in NYC.
They have a pretty cool concept if you're frequently getting treatments this could be worth it for you – especially if you're a local and can enjoy their services easily – otherwise check out their one-time experiences.
These are some of the best things to do indoors in NYC, so use the next rainy day as an excuse to truly treat yo'self.
Museum of Ice Cream
One of the most popular things to do indoors in NYC, even when it's not raining, is to visit the Museum of Ice Cream. Located in SoHo, this ice cream and the candy-themed museum has many colorful, photo-worthy exhibits that's fun for all ages.
Not to mention, you get ICE CREAM! Book your tickets online to secure your spot for this highly popular tourist attraction in the city!
The Friends Experience
The Friends Experience is one of the best things to do indoors in NYC! This unique experience allows you to experience set recreations and original props and costumes from the legendary show Friends!
And for the die-hard fans, food, drinks, and souvenirs are also available for purchase. Be sure to book your tickets online to secure a spot.
Indoor Mini Golf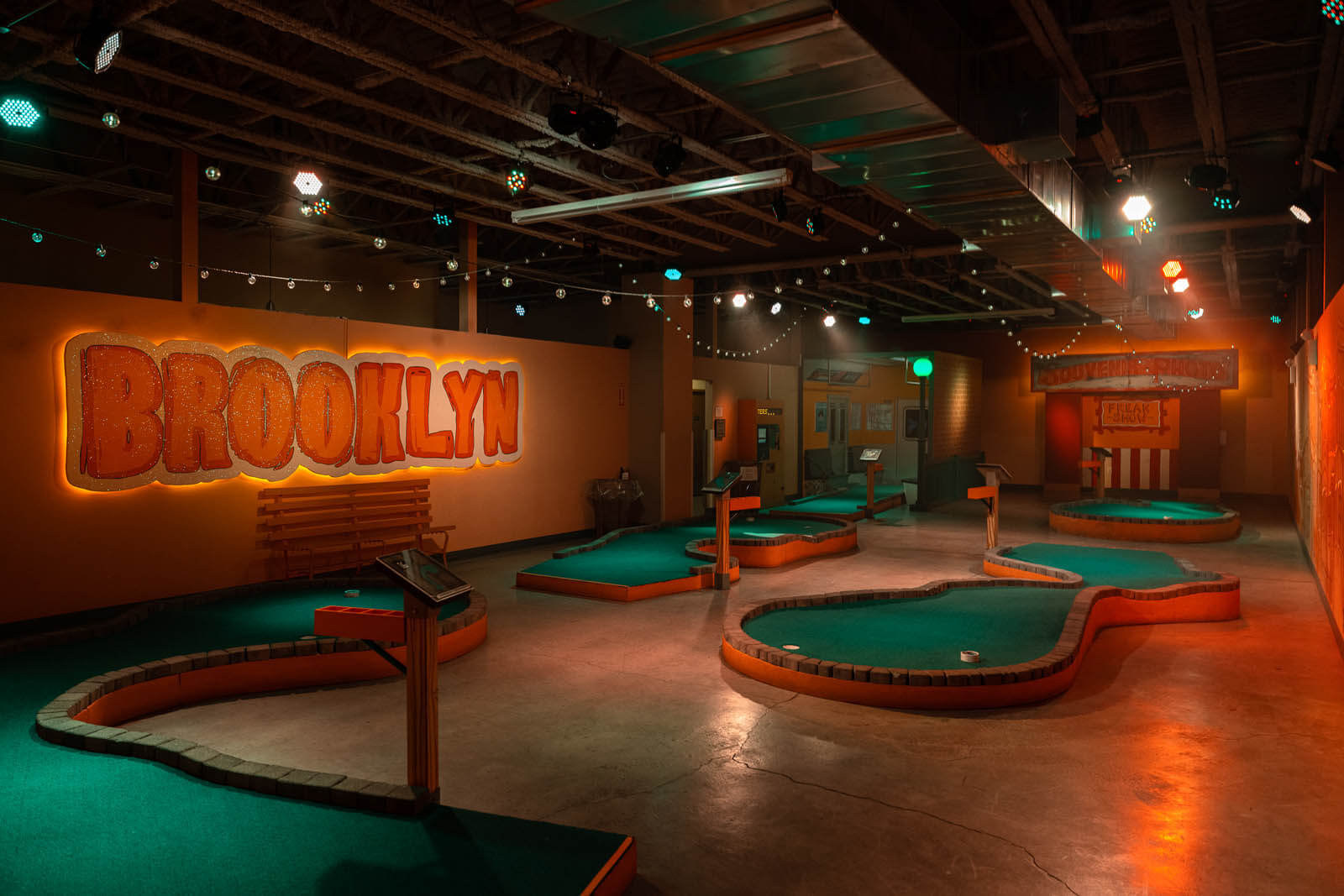 So I bet you didn't know that one of the best things to do indoors in NYC is mini golf! For those who are with kids, check out Shipwrecked Mini Golf in Red Hook, Brooklyn for a theatrical indoor mini golf course that's fun for groups of adults and still family friendly! They also have escape rooms and other fun indoor activities too!
For adults only, check out Swingers Crazy Golf in NoMad. This fun mini golf course is entirely indoors with a really fun and over-the-top themed bar too! They also have a few great food options here too.
Try an Indoor Tour or Experience
One of the best indoor things to do in NYC is to take a tour! Whether you're a tourist or local, the guided tours throughout the city are always a fun way to get out and learn more, and better yet there are quite a few that are perfect for a rainy day in NYC.
One of the best tours in the city is the Sex and the City Sites Bus Tour! On this guided bus tour, you'll be taken through many places where the iconic show was filmed.
Another great indoor tour is the Catacombs by Candlelight Tour. This 1.5-hour guided tour will take you through the catacombs at St. Patrick's Old Cathedral in Nolita that are not open to the public. Along the way, you'll learn all about the history of this famous landmark. Pssst…this tour is also included on the New York Pass for those who are bundling experiences to save money!
So if the catacombs are in the original catholic cathedral, hence the name 'Old Cathedral.' The St. Patricks Cathedral that comes to mind for most is the more famous and larger cathedral that was built later further uptown on 5th Avenue, St Patrick's Cathedral.
This is definitely one of the most beautiful houses of worship in the country and you can learn all about it on a Self-Guided Audio Tour. This self-guided tour allows you to explore the iconic landmark at your own pace and learn more about each part of the church, another perfect option for indoor activities in NYC.
One of the most unique things to do indoors in NYC with a group of friends is an escape room experience. The Escape Game's 1-Hour Escape Room Adventure is a great option! This escape room experience forces you to choose between two options: become a spy to discover a stolen painting or become a prisoner determined to break out of jail.
As you probably know, one of the best rainy day activities in NYC is to visit museums as already mentioned earlier, but one unique opportunity is to take a guided tour of the MOMA. This guided tour will allow you to learn more about the iconic landmark, famous art pieces, and Central Park.
If you're looking for a classic tour of a popular NYC attraction, check out a tour of Radio City Music Hall! Explore the inner workings of "The Showplace of the Nation" with the Radio City Stage Door Tour. This guided experience provides an exclusive glimpse into the iconic Radio City Music Hall where you'll get to admire beauty of its art deco design, unravel the mysteries of the Great Stage, meet a Rockette, and more. Tours are available daily from 9:30 am to 5:00 pm.
Go Bowling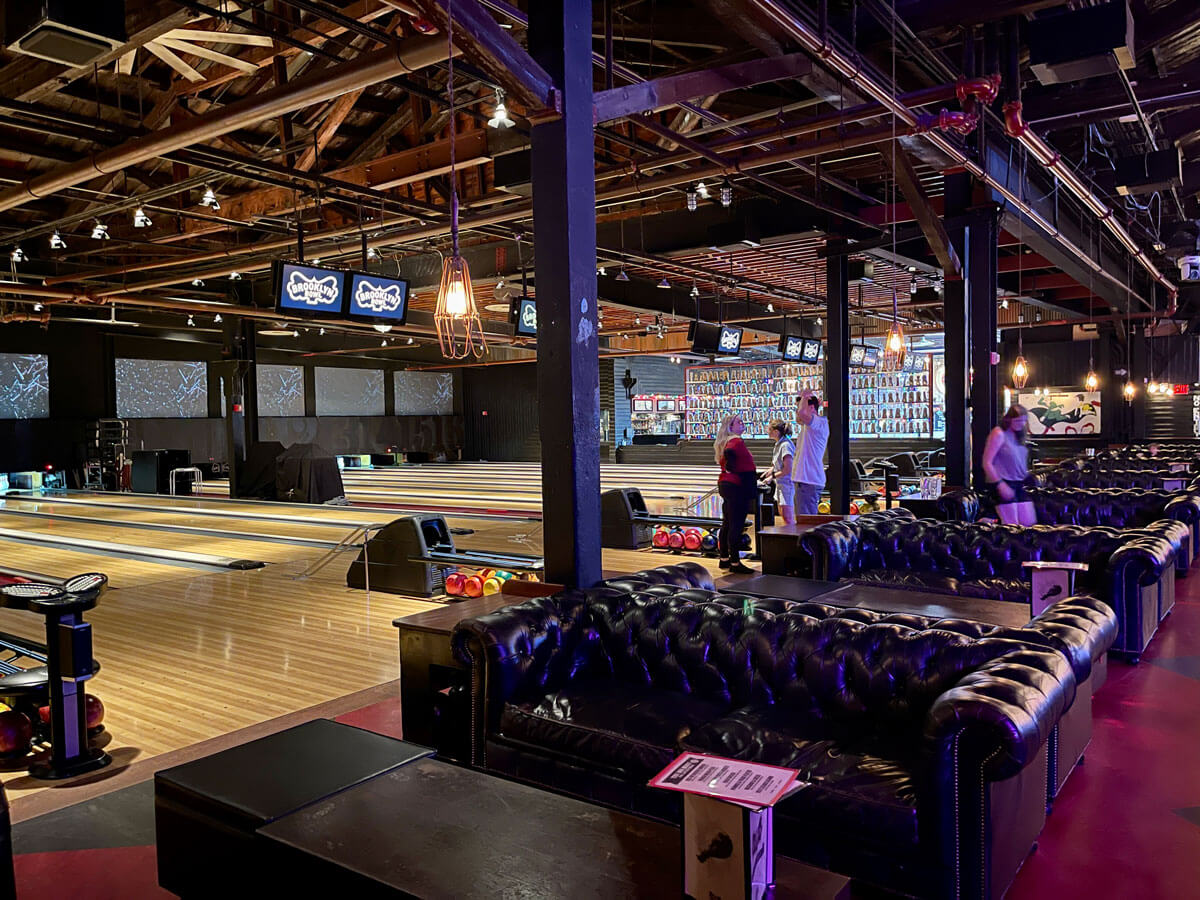 Did you know that New York has some seriously cool bowling lanes? What better way to spend a cold or rainy day in NYC than rolling a strike at one of our coolest bowling alleys?
My all-time favorite is Brooklyn Bowl located in Williamsburg. This bowling alley is decked out with comfortable leather sofas, a full restaurant, bar, and fun-themed events. Oh, and there's a full-on concert venue here too so you can actually enjoy a performance while you bowl!
The Gutter is another fun bowling/bar complete with vintage bowling lanes, brick oven pizza, and a full bar area with multiple locations including Williamsburg and LIC.
If you're looking for a classic bowling alley, head to Sunset Park's Melody Lanes (located just off the 36th Street Subway stop, F, R, & N trains). This is as close as it gets to your run of the mill, classic bowling alley you grew up with!
Bowlero is another fun bowling alley that's not just a bowling alley! With locations all across the country, including two in Manhattan in Times Square and Chelsea Piers, you can find a full-blown arcade, restaurant, and lounge at their locations.
If you're looking for a more interesting game of bowling, head to Randolph Beer's DUMBO location where you can find Belgian Feather Bowling among other games!
Spend a Day at Brooklyn Art Haus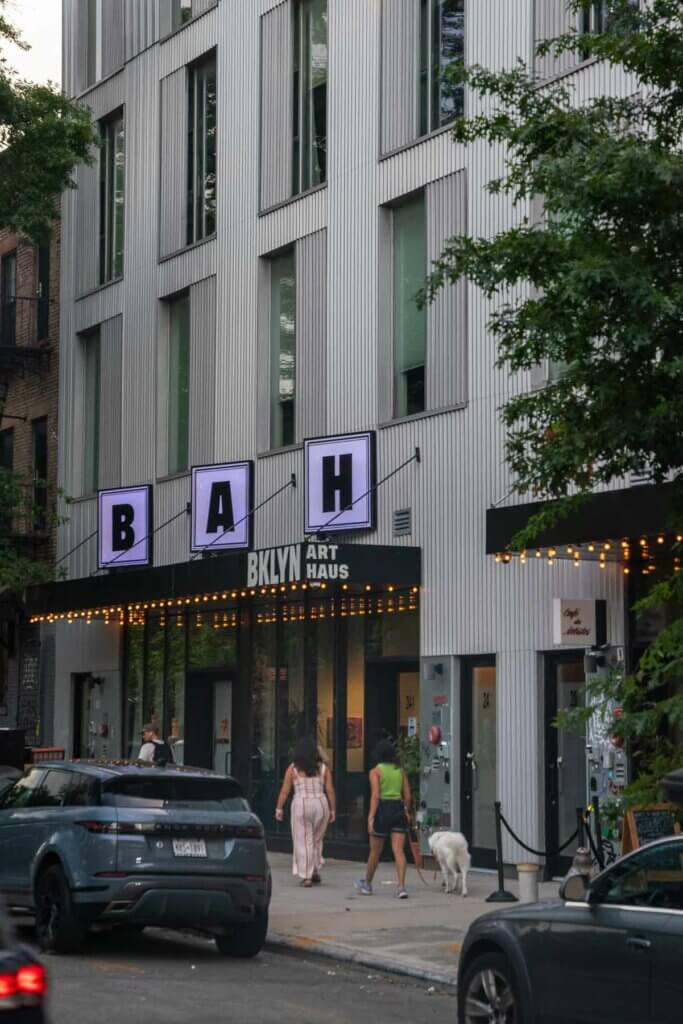 Located in Williamsburg is one of the newest collaborative spaces and hang out spots that should be on your radar, even if it's not a cold or rainy day in NYC! (Although, this is the perfect place to spend indoors in NYC).
Located near the Metropolitan Avenue Station, this art space is more than that. During the day you can hang out with a good book or your laptop in the cafe area and gallery. Their gallery features contemporary artists, during our visit there were works by Shepard Fairey among many others.
The cafe area also transforms into a bar in the late afternoon and evenings where you can also dine with some casual Mediterranean fare.
Their larger gathering space regularly hosts events including anything and everything from a circus show, comedy shows, live music, and anything you can think of from clown shows to theatre!
Check Out an Indoor Adventure Park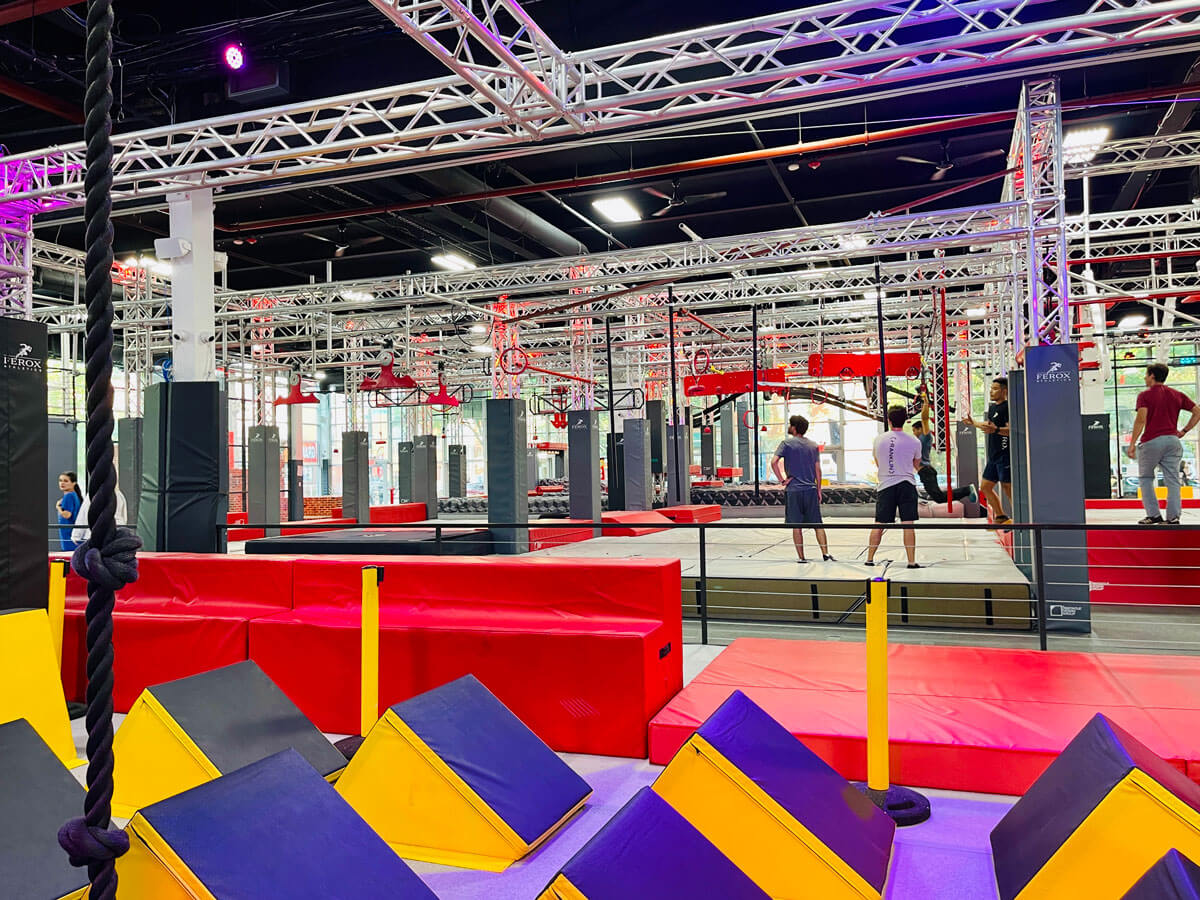 When it comes to the best things to do in NYC indoors on a rainy or cold day, why not get active in some of the large warehouse spaces that have been transformed into adventure parks!
Located in DUMBO you can find Area 53, a giant warehouse space that hosts laser tag! Or their Williamsburg location also has indoor ziplining, roller skating, fun slides, an arcade, rock climbing, and ropes course all in one space! Oh, they have paintball too!
It's hard to imagine such a space exists in a neighborhood like DUMBO! Better yet, this space is family-friendly and if you're without children and prefer to keep it that way, they have full on adult nights too.
A different type of indoor adventure park can be found in Greenpoint at Ferox Athletics, where you'll find an indoor ninja training gym! In fact, this is the largest gym of its kind (for ninja training) on the East Coast!
Okay, so what kind of ninja training you might be wondering? Ninja Warriors. So expect to find trampoline courses, obstacle courses, and equipment that tests your strength! They have areas for kids and adults as well as classes (which if you've never done anything like this you might want to look into, but I can barely do the monkey bars let alone run up a wall).
Enjoy an Immersive Art Exhibit
Immersive Art Exhibits have taken the city by storm. And if I am being honest, the reason why is that they are REALLY cool and trippy. If you are photosensitive, you may want to skip this suggestion for indoor activities in NYC, if not, keep reading as there are a few cool ones to check out (and they are always adding more or changing out exhibits).
First, what are immersive art exhibits you might be wondering? If you're not familiar already, it's basically an art exhibit that features motion tracking or large projections on walls and in some cases virtual reality! They are really cool and larger than life art that you get to be a part of. Have you ever looked at a painting and wished you could be inside of the scene? That's what immersive art does!
Okay, so now that you have an idea of what this is you can easily see why this is one of the coolest things to do indoors in NYC!
ARTECHOUSE is probably the most famous of immersive art spaces in NYC. This digital arts space is located at Chelsea Market and features a rotating line up of innovative, multi-sensory art exhibits you get to be a part of.
INTER_ offers a similar concept located in SoHo except visitors get to explore two stories of interactive exhibits.
Arts District in Greenpoint, Brooklyn offers a few different experiences to enjoy, but the main star here is the 360 projections in their main room they call Limitless AI. Split into three chapters, you can sit or lay in awe as you see multi-sensory projections across the walls, floor, and ceiling or you're welcome to walk around and see things from another perspective!
The experience is really cool and they often have other ticketed exhibits you can add on, when we went they had a few interactive exhibits by Darkfield, which was trippy and dark. We experienced an exhibit known as Flight, where you go inside a shipping container that has been transformed to look like the inside of a commercial aircraft and the experience simulates a plane crash…which I didn't realize before going in. Anyway, this was a temporary exhibit but they always have new things happening.
Sleep No More
Ok, so it's the evening and you want to go out but want to do something a bit different. The problem is it's rainy and cold and you're not quite sure what to do. You've seen countless shows and are looking for something a bit different, but love theater. What about being a part of the theatrical performance by going to Sleep No More?
Debuting in 2011, this immersive, avant-garde theatrical experience is set in the fictitcious McKittrick Hotel, a sprawling, multi-story venue. Audience members (that's you) don masks, enter in silence, and are set loose to explore the meticulously designed and dimly lit spaces.
Throughout the hotel, actors perform scenes inspired by Shakespeare's "Macbeth." The narrative is non-linear, and attendees are encouraged to follow characters or investigate rooms to piece together the story.
The experience combines dance, music, and eerie visuals, creating an unsettling and dreamlike journey that offers a unique and mysterious theater encounter, unlike any traditional stage performance.
If you're with a group, get ready to split up and go on your own journey. Don't worry though, you can always meet up in the hotel lobby bar, the perfect place to catch your breath and meet back up with friends.
My only advice is to wear comfortable shoes (like sneakers) and clothing as you will be going up and down flights of stairs exploring freely and if you want to keep up with a specific performer, you may even have to jog!
If you're lucky, you'll be one of the few audience members to be pulled into a room for a private performance by one of the performers. This is such a unique experience and one of my personal favorite things to do indoors in NYC and things to do in NYC at night!
Head to an Indoor Observation Deck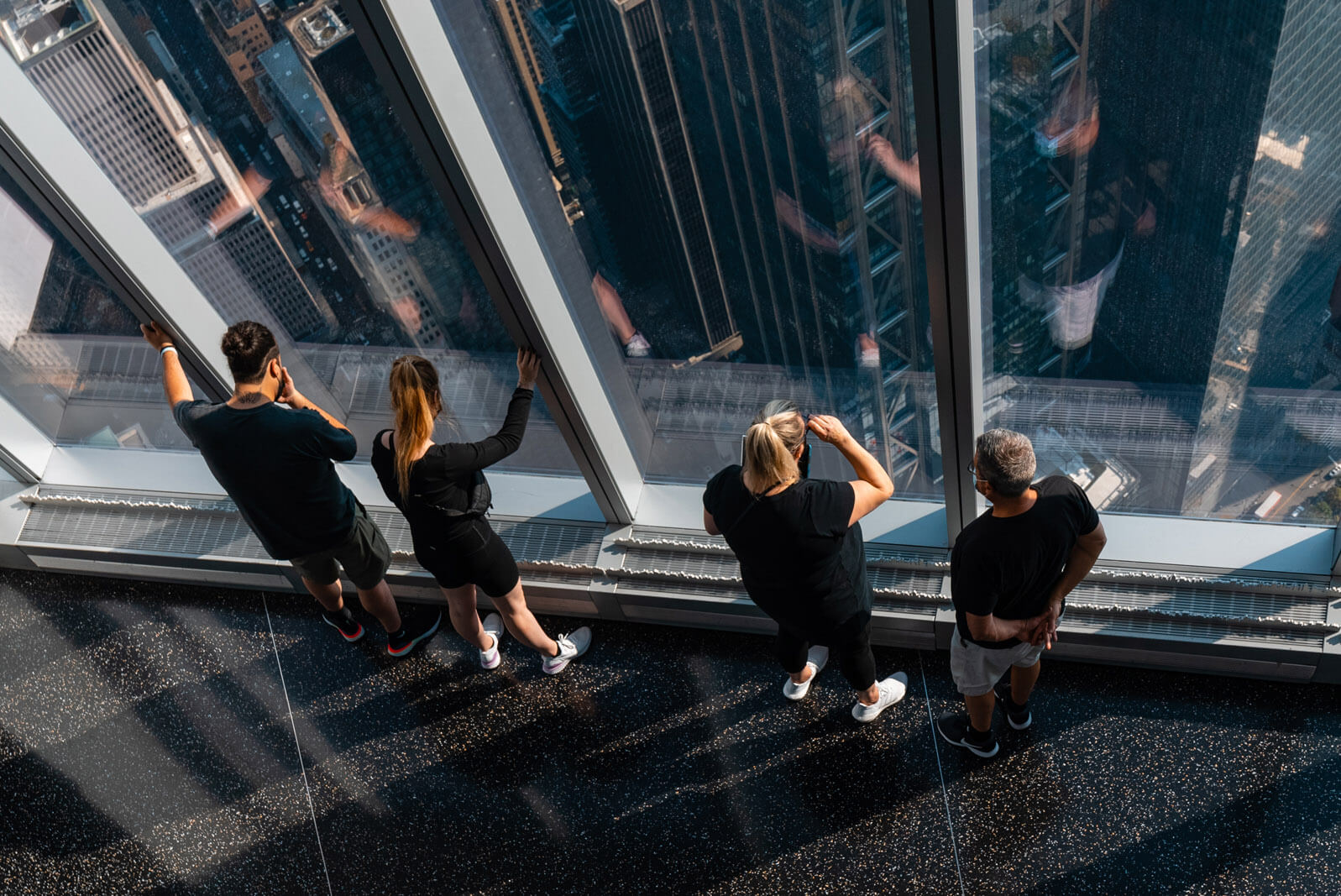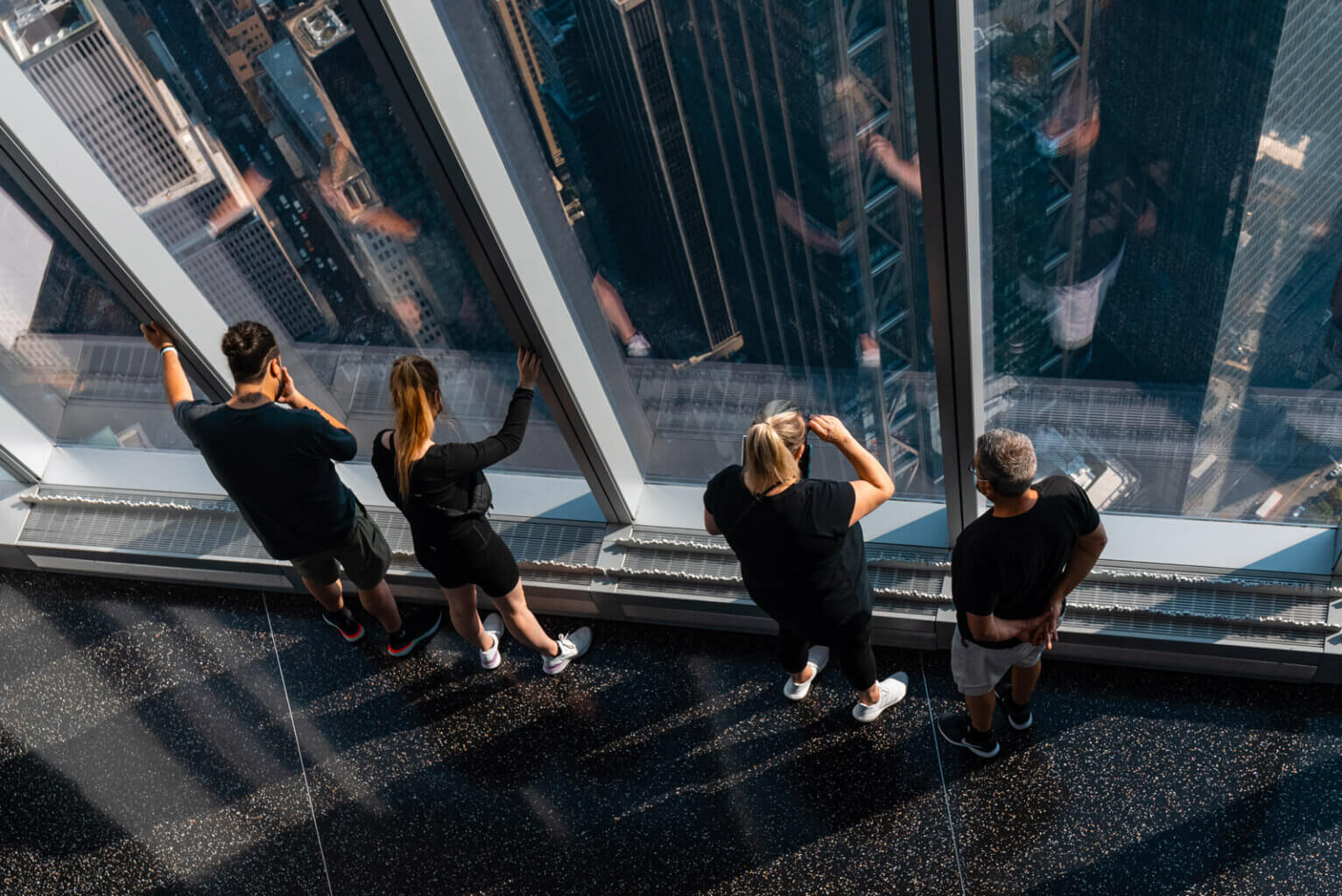 If it's a rainy day in NYC you might be thinking that all the best observation decks in New York are off limits. But, as long as there's some visibility, there's actually two observation decks that are mostly or entirely indoors you can still enjoy (and most likely without the crowds on a sunny day). Or if you're visiting on a cold day, these both are some of the best things to do in NYC indoors!
One World Observatory, also known as One World Trade or the Freedom Tower, is completley indoors. Located in Lower Manhattan, you'll get views from this observation deck unlike anywhere else in the city. Guests can enjoy 360 views around the city from the 7th tallest building in the world!
And while visiting One World Observatory, you can also book a reservation at the restaurant up here for even more unparalleled views at One Dine on the 101th floor! Or if you don't want to stick around for a meal, you can just have a drink at the bar.
Another observation deck that's mostly indoors is Summit One Vanderbilt. This is actually my favorite observation deck, and while there is an outdoor area the coolest part of visiting Summit One Vanderbilt is actually the indoor mirrored rooms that reflect the nearby skyscrapers like NYC iconic landmarks The Empire State Building and Chrysler Building.
There are also different rooms featuring art exhibits by artist Yayoi Kusama you can explore too! We love the cafe here as you can sit have a coffee or snack looking directly at the top of the neighboring Empire State Building!
So whether it's cold or rainy out with some visibility, both of these are great options!
Eat Your Way Around an Indoor Food Market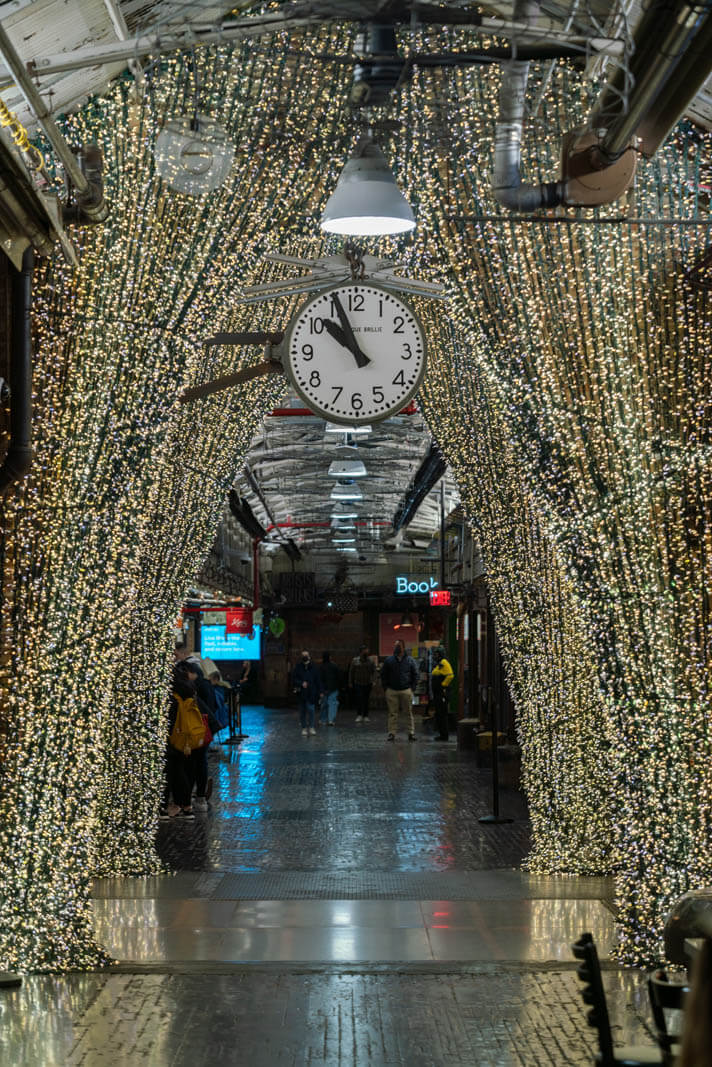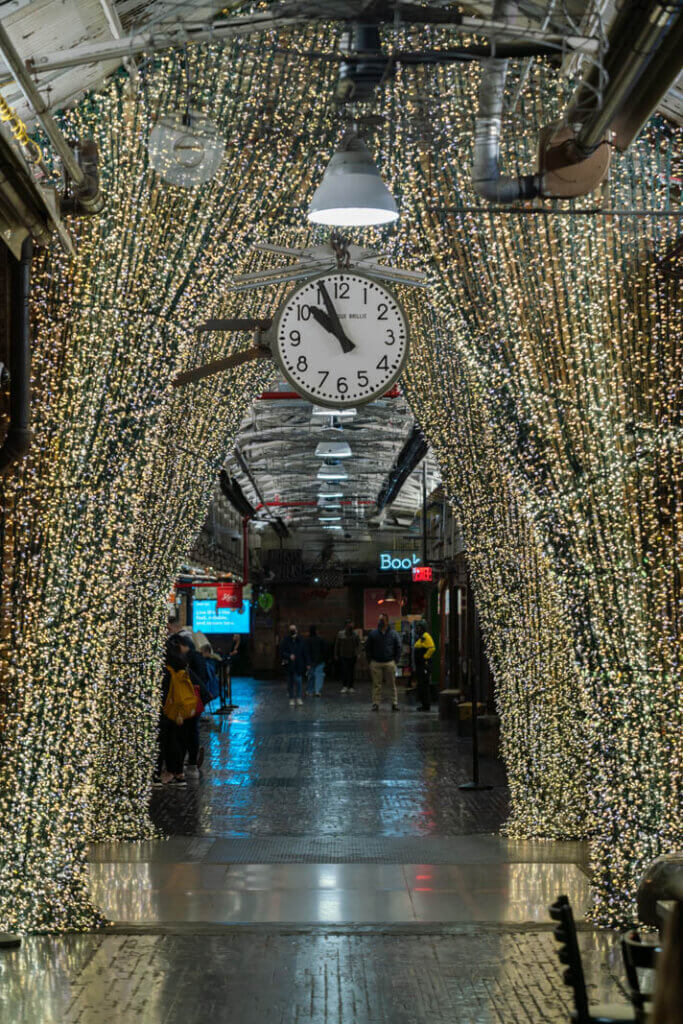 New York City is known for it's world-renowned food scene and one of the hardest parts about traveling to New York City with a group is deciding where to eat. But there are perfect places in the city if you run into this problem and they happen to be indoor things to do in NYC too!
The city boasts several indoor food markets where you can find some of the best flavors of the city all under one roof. Many of which feature secondary outposts for popular eateries around the city. While some of these food halls and markets are woven into the fabric of the city's history, some are newer and just a delicious to visit!
For historic food markets, check out Chelsea Market. This is arguably the most famous food market in NYC set in the former home of the Nabisco factory and where the Oreo cookie was invented! You'll find multiple levels of restaurants and eateries from sit down spots to grab-and-go spots. You're welcome to grab something to go and explore the shops here too!
Another awesome food market is Essex Market, one of the best things to do on the Lower East Side. This historic market was a public market for decades. In more recent years, this historic space made a huge transformation featuring all kinds of vendors and eateries. And better yet, after eating you have an array of indoor things to do in NYC on the same block including a movie theater, photography museum, and Yu & Me Books.
For some of the best views of the city along with plenty of great food, head to DUMBO's TimeOut Market New York. Located on the waterfront of the East River with unobstructed views of the NYC city skyline along with both the Brooklyn Bridge and Manhattan Bridge, you can't beat these views or location! The lower level features multiple vendors and eateries, but be sure to go to the upper level where you can cozily sit in the lounge and bar area to eat your food or have a drink and take in the view!
Eataly Flatiron, located in the Flatiron District of NYC, is a food lover's paradise and an excellent choice for spending a rainy day in NYC indoors. This massive Italian marketplace combines a huge marketplace with diverse dining options, or wander through various sections, each dedicated to different Italian culinary delights. Y
ou can shop for high-quality ingredients like fresh pasta, artisanal cheeses, and imported olive oils. Eataly also features several restaurants and food counters where you can indulge in Neapolitan-style pizza, house-made pasta, seafood dishes, and more.
Oh, Eataly also offers pasta-making classes, wine tastings, and other fun events too!
Ride the SeaGlass Carousel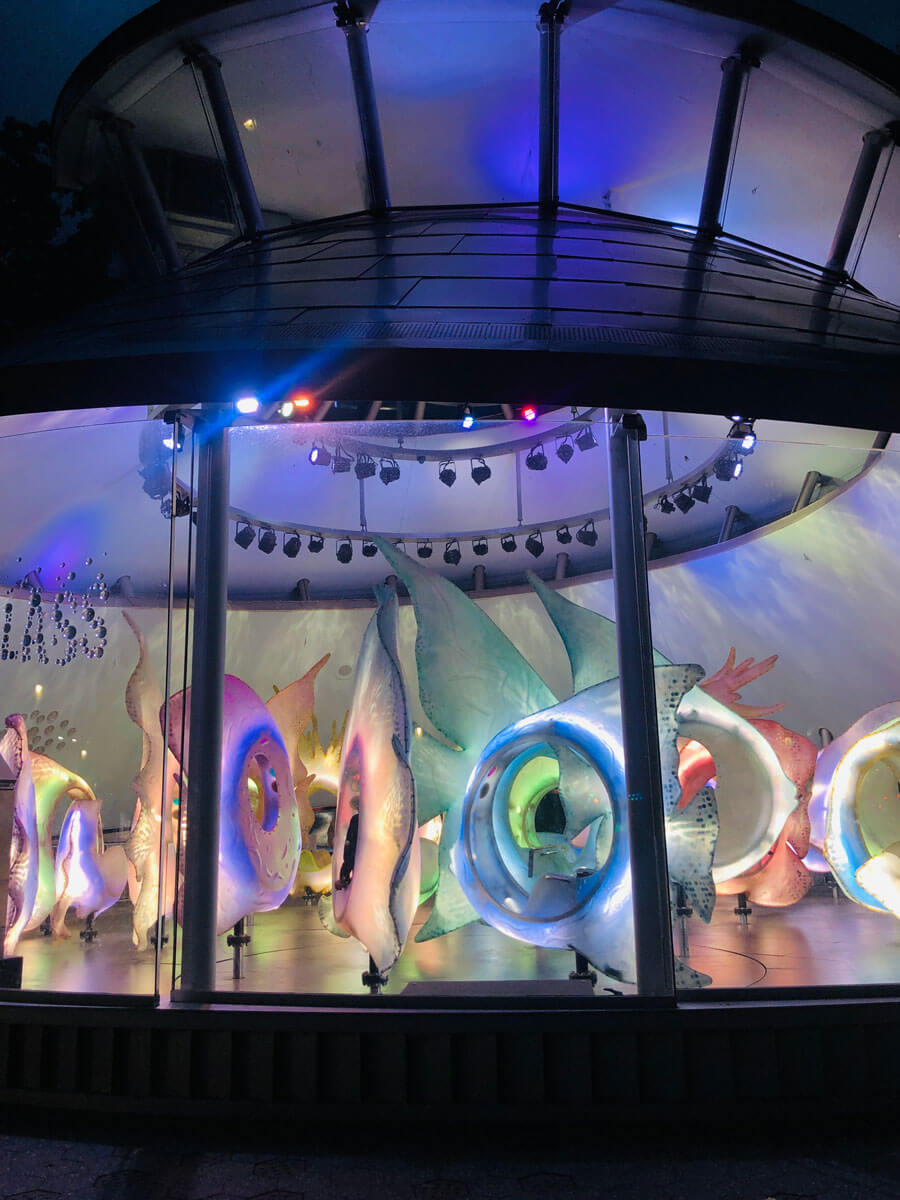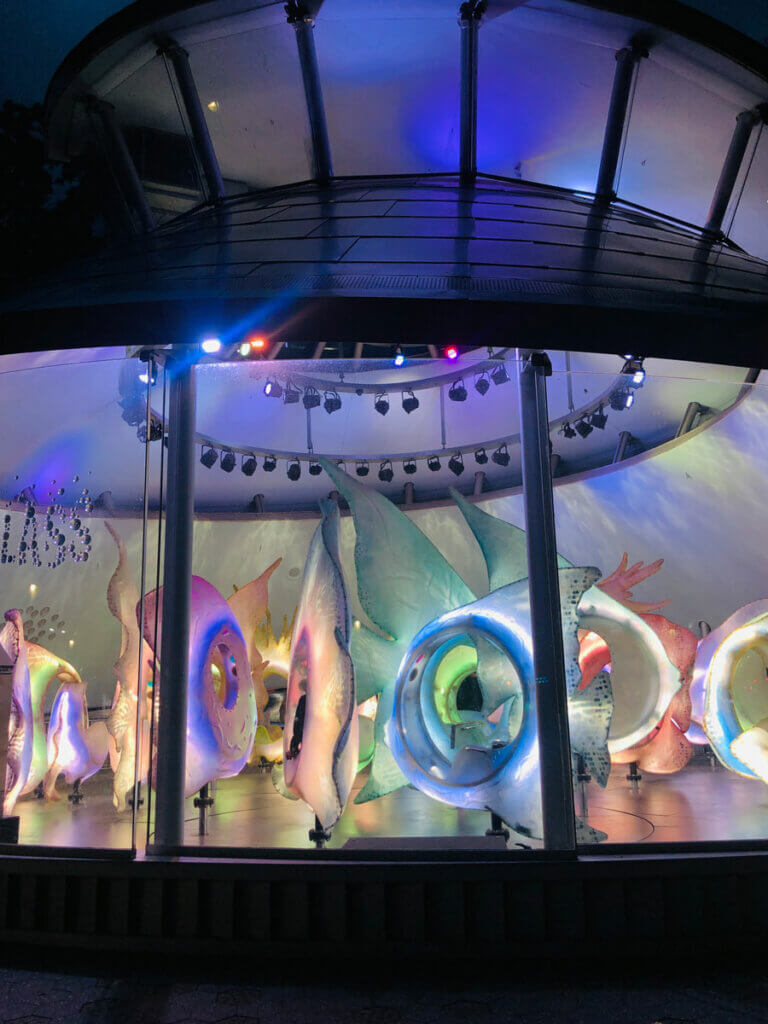 One of the most unique indoor things to do in NYC is located in Battery Park in Lower Manhattan. The whimsical and wonderful SeaGlass Carousel might only be one, slightly quick indoor activity in NYC, but it's so cool it's worth mentioning.
Located at the site of the first New York Aquarium (before it moved to Coney Island), this beautiful, modern carousel is unlike any you've ever seen before with an under the sea theme.
For just $6 you can float away on one of the iridescent, luminescent fish-shaped chariots that appear to swim gracefully through an underwater fantasy world. As the fish spin, they change colors slowly and mimic a mesmerizing dance as gentle music plays.
There really isn't any other carousel in the world like this one! Afterward, warm up in Fraunces Tavern, one of the oldest and most historic bars in NYC. They have comfort food and the coziest setting to dine or have a drink on a cold or rainy day in NYC.
Check Out an Escape Room
For more interactive things to do indoors in NYC on a rainy day or cold day, check out one of the city's cool escape rooms. Whether you're with a few friends or a large group, you can work together as a team to solve puzzles, riddles, and mysteries to escape one of the many themed escape rooms across the city in an hour or less!
Mission Escape in Midtown is an award-winning escape room company that offers three different types of escape rooms, a cyberpunk room, a mystery room, and a sci-fi themed room!
In the Garment District, Exit Escape Room offers 4 different adventures to choose from a money heist, sugary-themed escape challenge, a magical realm where you have to defeat an evil witch, and a theme where you have to stop a speeding train!
If you're looking for something a little more spooky for the grown-ups only, check out Komnata Quest in Greenpoint, Brooklyn where you have to work to escape their horror-themed rooms!
Best Indoor Activities in New York City (Post Summary):
Hit up the Museums
Check out Art Galleries
Visit an NYC Bookshop
Catch A Movie
Visit a Speakeasy
Tour the New York Public Library
Hit Up the City's Most Exciting Game Bars
New York Aquarium
Cozy Up in a Cafe
Visit Grand Central Terminal
See a Show
Enjoy a Day at the Spa
Museum of Ice Cream
The Friends Experience
Indoor Mini Golf
Try an Indoor Friendly Tour or Experience
Go Bowling
Spend a Day at Brooklyn Art Haus
Check out an Indoor Adventure Park
Enjoy An Immersive Art Exhibit
Sleep No More
Head to an Indoor Observation Deck
Eat Your Way Around an Indoor Food Market
Ride the SeaGlass Carousel
Check out an Escape Room
---
Enjoyed this guide full of indoor activities to enjoy in New York when it's raining? Bookmark for later or share the love below on Pinterest.