Wondering how to see a show on Broadway in NYC? Where to start? Or what are the best Broadway shows in New York right now? Or maybe you're looking for how to get cheap Broadway tickets?
Planning all the details on an NYC trip can be exhausting or if it's your first time going to see a Broadway show in the Theater District and all the information is overwhelming.
Well, you're in luck because that's exactly what this guide is for! We cover how to get to Broadway, how to get tickets for you or a group (while you're in NYC and even planning well in advance) – plus money-saving tips for how to get cheap or steeply discounted Broadway tickets, what to wear to a Broadway show, and even some alternative options you might be interested in!
Don't fret, this doesn't need to be an overwhelming experience. Especially with some of the best live performance theaters in the world located all in one spot not to mention 41 different Broadway theaters with some of the biggest stars and best talent in the live performance world!
Not to mention this is one of the best things to do in NYC whether you're a visitor or a local!
Broadway Shows in New York Guide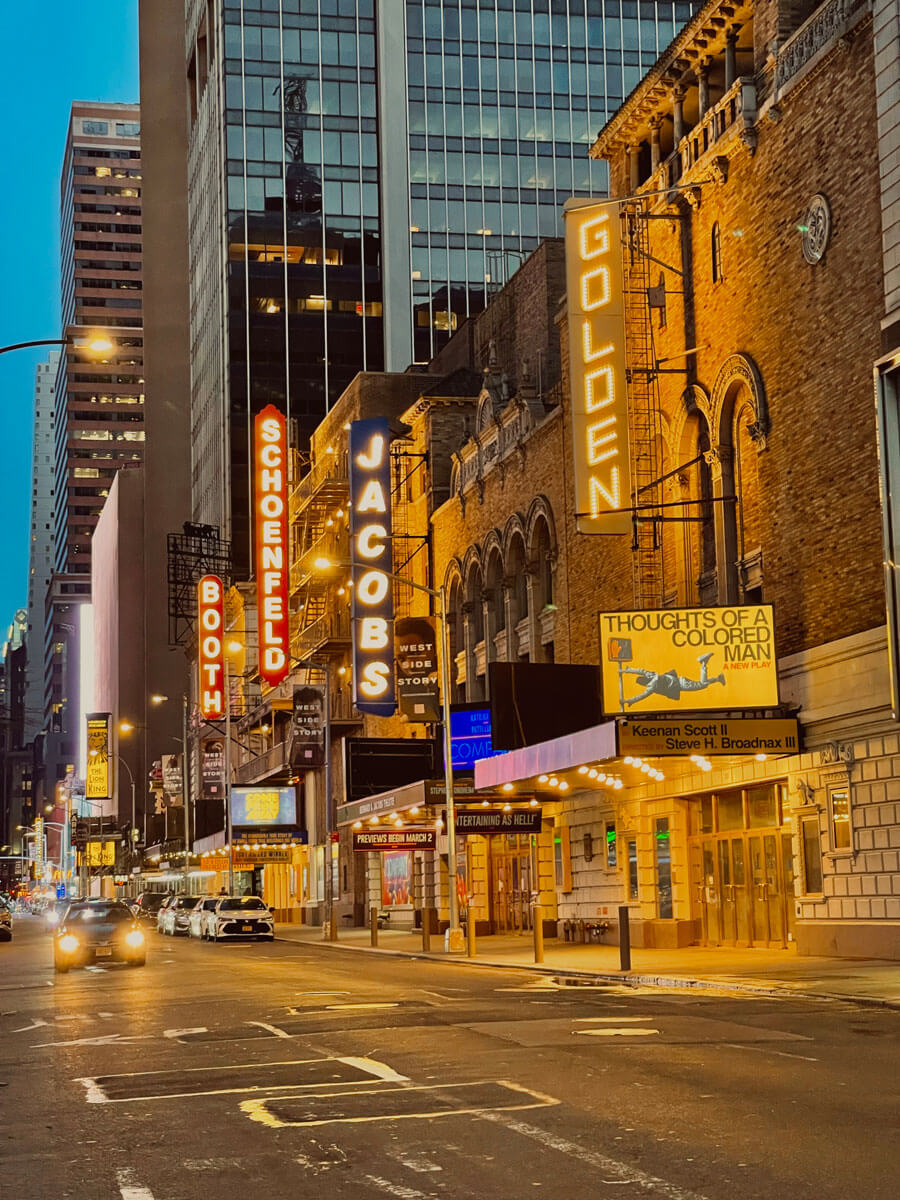 Where is Broadway?
If you're wondering how to see a show on Broadway, the first question you may ask yourself is: where is it exactly?
There are 41 theaters where you'll to find a Broadway show in New York City. Most of which are located between 41st Street and 54th Street (between 6th Ave and 8th Ave) in Midtown near Times Square, this area is commonly referred to by locals as the Theater District.
As most Broadway theaters are located in the Theater District, the nearest subway stations would include:
50th Street Station (C & E lines)
42nd St/Times Square Station (1, 2, 3, 7, N, Q, R, S lines)
49th Street Station (N, Q, R, W lines)
42nd Street –Bryant Park Station (7, B, D, F, M lines)
50th Street/Broadway Station (1, 2 lines during late nights)
50th Street Station (1 line)
How to Get Broadway Tickets & Tips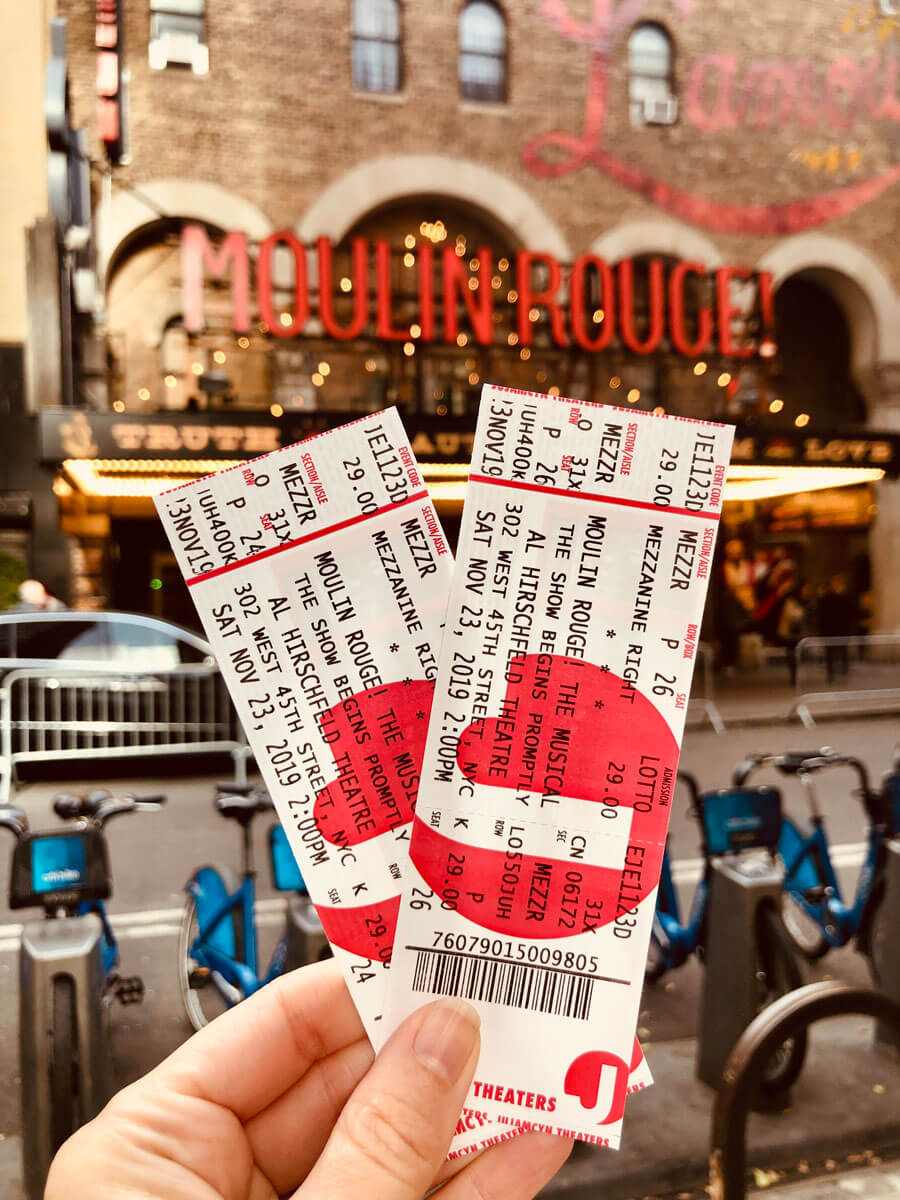 If you're looking to see the best Broadway shows in New York, first you're going to need to know how and where to buy tickets. There are three main ways to purchase Broadway tickets.
Buying Broadway Tickets In-Person: You can visit the theater's box office and purchase tickets directly. By doing so, you will avoid the added fees and charges that come with purchasing tickets online or by phone. You will also be able to rest easier knowing that you bought from the official theater (as opposed to a third-party vendor).
Buying Broadway Tickets by Phone: You can purchase most tickets by contacting Ticketmaster (at 800-982-2787) or Telecharge (at 212-239-6200). If this is your preferred method, make sure to check Broadway.org for the most accurate shows, locations, and show times before calling up.
Buying Broadway Tickets Online: The best site for learning how to see a show on Broadway and to purchase tickets is Broadway's official site at Broadway.org. You have the option to either visit the site or download the Broadway app.
SeatGeek, a popular ticket search engine that makes finding tickets Broadway quick and easy! Plus when you add our promo code BROOKLYNGUIDE to your SeatGeek account, you receive $20 off your first ticket purchase. (We receive a small commission at no extra cost to you)
Other sites where you can purchase tickets include telecharge.com, ticketmaster.com, playbill.com, theatermania.com.
How to Get Cheap Broadway Tickets
Ok, here's the real info you're probably looking for because if you can save some money why wouldn't you? While I am a huge proponent of supporting the arts, tickets can be pricey, and traveling to NYC can be pricey too. That's why we recommend using the best tips and tricks for enjoying NYC on a budget too.
Plus, if you save money by getting discounted or cheap Broadway tickets, you can use that money to support other artistic institutions, venues, and local businesses on your trip to help spread the love a little further when visiting the city.
Keep in mind some of these options for snagging cheap Broadway tickets either means planning well in advance (for groups and families) or waiting to the very last minute and leaving it up to lady luck to see if you can secure those sweet deals with last-minute lottery tickets.
Here are a few of the top ways to get cheap Broadway tickets:
TKTS booths: If you're looking for some same-day tickets (at a discount), TKTS booths may be the way to go.
Located at Broadway at, 47th Street, the Times Square ticket booth offers cheaper tickets for both Broadway shows and Off-Broadway shows in New York.
While it is risky if you had a particular show in mind, TKTS booths are a great option if you're flexible and want to find a great deal at the last minute. Visit their website for more information on how to see a show on Broadway via booths.
In-person Lottery/Rush: If you don't mind standing for prolonged periods of time, the lottery is another option. You can visit the Theater box office the day of the show (as soon as it opens) to check if they have any tickets available.
Similar to TKTS booths, this option is risky as a spot is not guaranteed—but this method also provides the best pricing for otherwise very expensive tickets.
Online Lottery: I've used this method several times to get cheap Broadway tickets for shows. The only catch is that you're not guaranteed to win, you'll be notified with little notice, and whoever won the tickets has to be present to pick them up with a photo ID at the will-call box office the day before the show.
What's awesome about this though? Many shows offer steeply discounted tickets and sometimes even front row seats making the arts, entertainment, and live theater accessible to more people.
Most lottery tickets are around $30-50 a person but shows like Hamilton at Richard Rogers Theater have one of the best lotteries out there offering front row tickets (in the splash zone!) for $10 a person if you're one of the lucky ones who win!
Keep in mind these are highly competitive – so this option for cheap Broadway tickets is best for last-minute or spontaneous folks who don't mind if they miss out.
There are a few different sites for online lotteries for Broadway tickets, the easiest way to find a specific show you want is to actually go to Google and search "[show I want to see] online Broadway lottery tickets."
Some shows like Aladdin, Lion King, Wicked, and Tina Turner are on the same site like Broadway Direct. Hamilton can be done directly through their app or on Lucky Seat along with a whole selection of popular shows like Moulin Rouge, Hadestown, Dear Evan Hansen, Cats, The Book of Mormon, and many more.
Check a few days in advance and see when you can enter for the Broadway shows you want to see. Then keep an eye on your notifications to see if you're one of the lucky ones!
Group/Family Discount: If you just happen to have a large group (10-15 people), you may be eligible for a discount on tickets. By visiting an individual show's web page, you can find out if that particular show has a "Group Sale".
Of course, planning any gathering for a group that large can be a challenge; however, you can potentially save up to 15% on pricing and be sure to book in advance to secure seats for your group. Visit this page for more details.
Another great option is the family discount. Broadway offers family discounts and other special offers for shows year-round. By turning a Broadway show into a family affair, you will be opening yourself to unique experiences that would otherwise be unavailable.
Wednesday Matinee: If want to see a Broadway show during the daytime, why not try the Wednesday matinee? This is another great way to save big time on Broadway tickets. Not only are these time slots much cheaper, but you will also avoid the more crowded nature that is so prevalent at evening shows.
You'll also be able to get out at a decent hour as well, freeing up time for other nightlife activities!
Standing Room Only: If a show is already sold out (or close to it), you may have the option to purchase Standing Room Only tickets. It's one of the least expensive ways to purchase a ticket and can result in a spontaneous experience. The only drawback is— you'll be on your feet for the entire show.
That may be a deal-breaker for a lot of people, but other folks—not so much. If you don't mind standing on your feet and also want to save some money in the process, there isn't a better option than getting Standing Room Only tickets.
American Express: If you're an American Express member, then you're in luck! This famous credit card service offers members exclusive deals and early (pre-sale) tickets, not accessible to the general public.
Through their collaboration with Ticketmaster—American Express has become a preferred credit card when it comes to Broadway shows and can be a great asset, if you're looking for cheaper tickets. Go to this page to learn more.
**Final Tip: Avoid buying tickets from off the street as there a lot of scammers out there. If possible, always purchase tickets directly from the Broadway site, the individual show's site or by one of the methods listed above. **
What to Wear to a Broadway Show?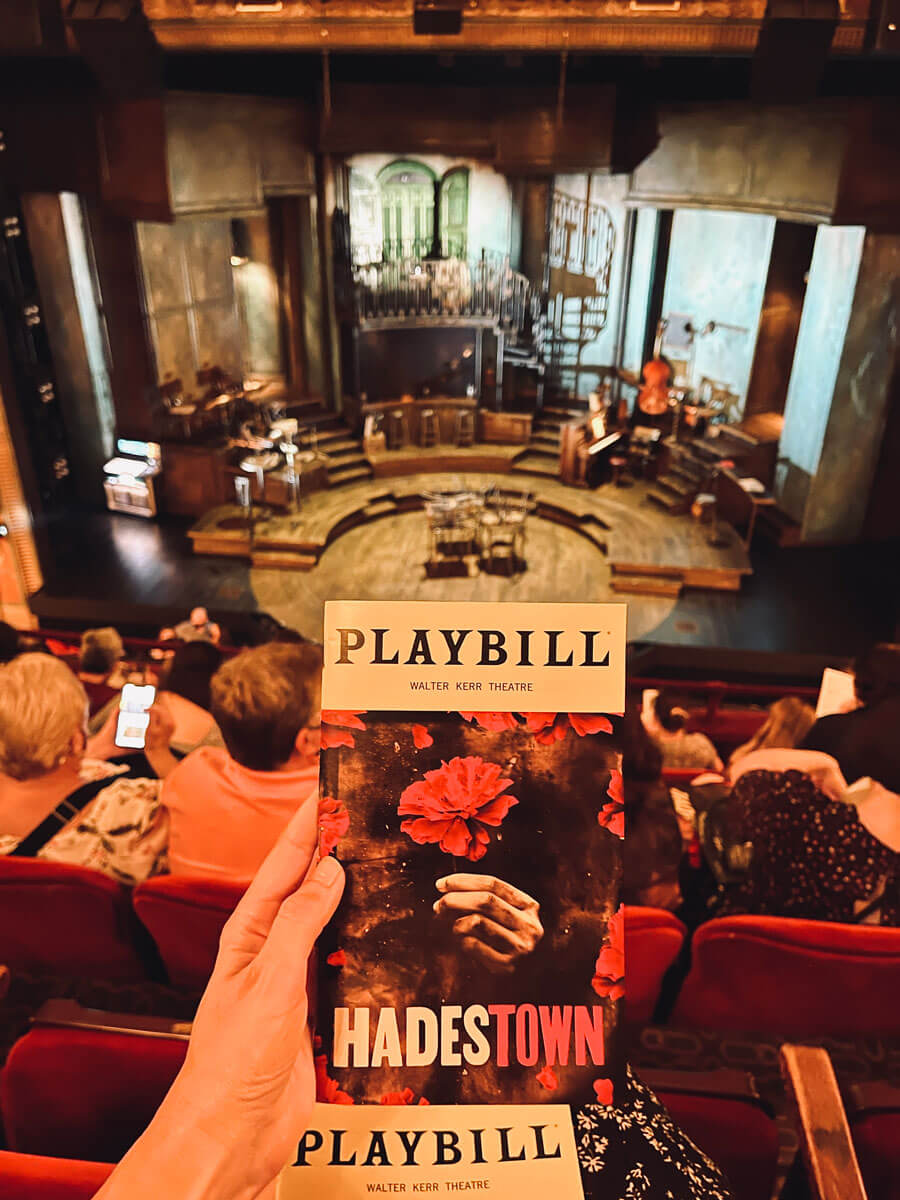 Finding out how to see a show on Broadway show may raise certain questions. A big one may be: what's the dress code for a Broadway show? The short answer is: there is none.
There are no official rules about what attire you have to wear, or what kind of wardrobe will prevent your entry into a Broadway show in New York. Some people may dress more casually (jeans and a t-shirt) others may want to be dressier (Button up or a dress).
That doesn't mean there isn't theater etiquette though.
As far as what's common, the matinee crowd tends to dress more casually while the late-night crowd tends to be more sophisticated. Think business casual if you're leaning on the casual side.
All in all, it's up to you to make the best judgment based on the weather, the type of show you're seeing, and what time of day you're seeing the show! Just make sure you're comfortable as if you're tall like I am you'll find the seats to be a little on the smaller side.
10 Most Popular & Best Broadway Shows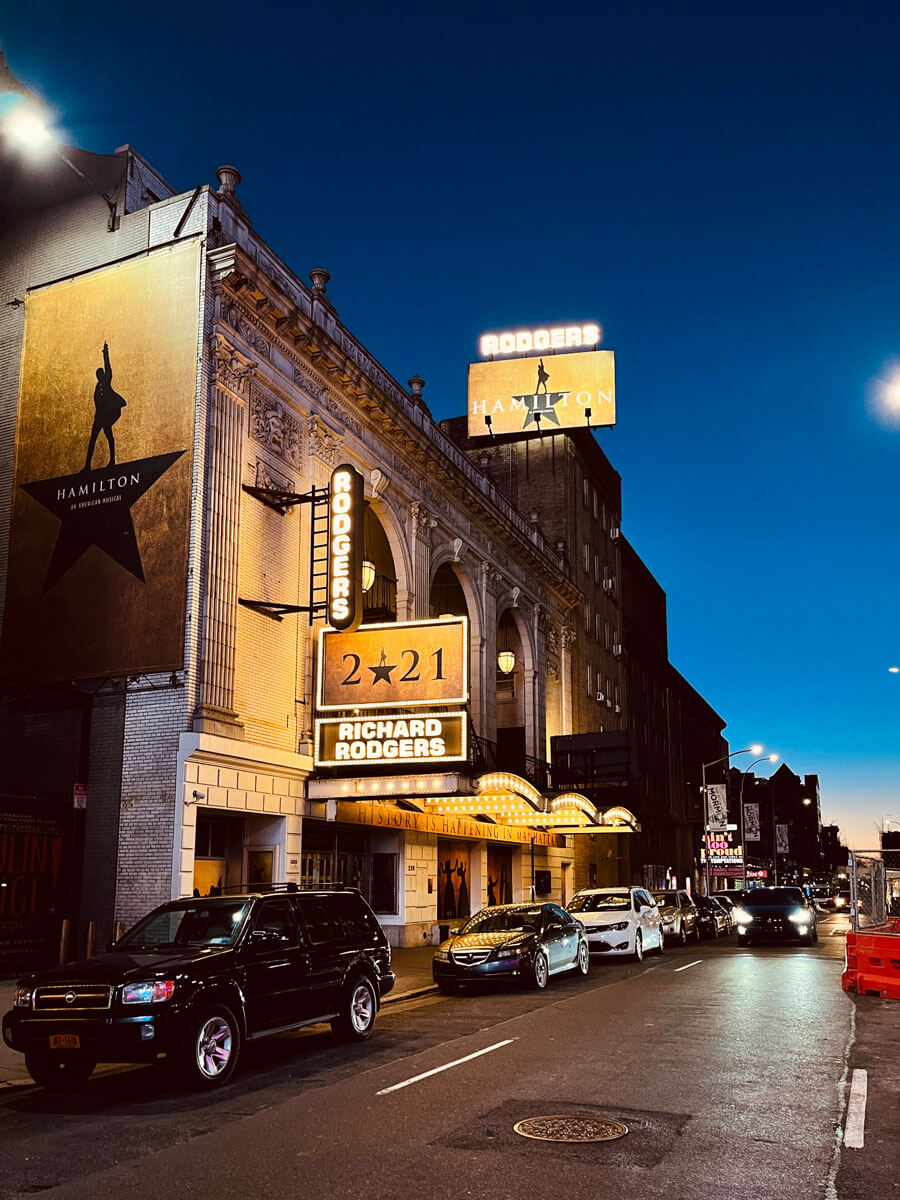 You know where to go. You know how to get tickets. You know what to wear. The next question is: What is the best Broadway show to go see?
Lucky for you, there are several. Below you'll find our recommendations for the most popular picks for best Broadway shows to go see. All in all, it does depend on what you're looking for from the show and your taste. But if you're not sure, here's a good place to start.
1. Hamilton (Richard Rogers Theater)
Penned by Lin-Manuel Miranda, this inventive rap/hip-hop musical tells the story of the titular founding father—Alexander Hamilton.
One thing that separates this show from other Broadway shows in New York is its choice to cast people of color as the founding fathers of the United States and other figures of that era.
After watching this seamless blend of hip-hop and emotional storytelling, you'll wonder why other historic tales haven't gotten the same treatment yet!
And if you can't make it to the show in person, you can always stream this one on Disney+ at home with the original 11 Tony award-winning cast including Lin-Manuel Miranda himself. This is one of the best Broadway shows ever, IMO. So if you get the opportunity to see this as a live performance, don't miss it.
2. The Lion King (Minskoff Theatre)
Who isn't familiar with the epic tale of The Lion King? For the uninitiated, this story centers on Simba—a young lion destined to succeed his father as Lion King.
This musical is based on the highly popular 1994 film of the same name and has become a marvel in its own right.
Widely regarded as one of the best Broadway shows of all time, this musical comes together beautifully thanks to Elton John's elegant score and the show's brilliant puppetry!
You've probably also seen the viral video a few years ago where the cast of the Lion King on Broadway surprised unsuspecting commuters on the subway in NYC with a live performance of the Circle of Life in 2014. If not, you need to watch it.
3. Book of Mormon (Eugene O'Neill Theatre)
With South Park writers Matt Stone and Trey Parker at the helm, you know you're in for a witty if not vulgar ride!
Garnering controversy as well as 9 Tony awards since its 2011 debut, Book of Mormon is a biting satire of The Church of Jesus Christ of Latter-day Saints.
A top contender for best Broadway shows that will have you thoroughly entertained from start to finish! This one isn't for the faint of heart when it comes to satire and comedy though, keep that in mind when planning to see this show.
4. Harry Potter and the Cursed Child (Lyric Theatre)
Set 19 years after the conclusion of J.K. Rowling's extremely popular series, we see Harry Potter and company as they help usher in the next generation to Hogwarts.
The show has become a huge hit and even won 6 Tony awards in 2018. With its mesmerizing storytelling, Harry Potter and the Cursed Child hit the Broadway stage in satisfying fashion!
5. Moulin Rouge (Al Hirschfeld Theatre)
Moulin Rouge! This musical is based on Baz Luhrmann's 2001 film, and much like the film, the Broadway version pulls inspiration from pop songs for their musical numbers (including songs that have come out since 2001) in this jukebox style Broadway show.
While it may stray a bit from the original story (as all adaptations do), this musical breathes new life into a much-loved story!
6. Hadestown (Walter Kerr Theatre)
Drawing from the Greek myth of Orpheus and Eurydice, Hadestown follows Orpheus trying to rescue Eurydice (his lover) after she is ensnared in the underworld known as Hadestown.
Winning 8 Tony Awards, this musical proves to be a thrillingly haunting ride that makes its old story feel very new. This is one of the newer shows compared to the rest of the picks for best broadway shows that's been gaining a lot of critical acclaim and attention.
7. Chicago (Ambassador Theatre)
This classic musical tells the tale of two criminals living in the Prohibition Era, taking us through the sex, murder and crime of the 1920s. This musical's darker tone proved too much for people in the 70s—but has since become big hit with modern audiences. Chicago is must see, especially if you're a fan of jazz music!
8. Girl From the North Country (Belasco Theatre)
Set in early 30s America, Girl From the North a Country tells the story of a group of Wanderers whose lives intertwine while staying at a guesthouse. This critically acclaimed musical uses Bob Dylan songs as the perfect backdrop for a very somber story about life during the Great Depression.
9. Wicked (The Gershwin Theatre)
Maybe the most essential Broadway show in New York, Wicked serves as the prequel story to Wizard of Oz. In this musical, we get to see how both the Wicked Witch of the West and the Good Witch come to be.
Its spellbinding visuals and incredible score (by Stephen Schwartz) won this musical 3 Tony awards—and a Grammy. As far as best Broadway shows go, this one should be near the top of your list!
10. The Phantom of the Opera (Majestic Theatre) – Finished in April 2023
Arguably the most famous Broadway show in New York, The Phantom of the Opera has been going strong for decades and tells the story of the titular phantom who falls in love with a singer. This long-running musical is a quintessential Broadway show in New York that must be experienced by everyone at least once!
See it before it's gone! The are retiring this classic show in April 2023.
Alternative Options to Broadway
While Broadway shows in New York were the main focus here, Broadway is not the only area in NYC to see shows. There are many Off-Broadway shows in New York spread all across the boroughs as well as Off-Off-Broadway which are much more intimate.
Off-Broadway is a professional theatre venue with a smaller seating capacity of between 100-499 seats. Off-Off-Broadway is even smaller with less than 100 seat venues.
Off-Broadway is a great way to see a show that could be picked up and produced on Broadway in the future. Hamilton and Rent both started in smaller theaters before being brought to Broadway and often many of the shows have budding talent before superstardom like Meryl Streep and Barbara Streisand.
Some venues that host Off-Broadway shows include Astor Place Theatre (Noho), Atlantic Theater Company Linda Gross Theater (Chelsea), Brooklyn Academy of Music (Downtown Brooklyn), Cherry Lane Theatre (West Village), and Classic Stage Company (East Village).
One of my favorite examples and facts about stars starting at Off-Broadway is Barbara Streisand who started at a backstage hand at Cherry Theater in her youth!
---
Found this guide for how to see a Broadway show helpful? Be sure to bookmark for later! Enjoy your time in NYC!
Need more help planning your NYC trip? Be sure to check out our suggested NYC itinerary plus cool and unique hotels in NYC as well as NYC hotels with a view for an unforgettable trip!