Looking for historic and famous bars in New York City? We got you. What makes a bar historic? While some could argue that any bar where you leave with a good story counts, there are more than a few New York City joints where there are decades and centuries of legendary evenings memorialized within the walls (and maybe a few ghosts, too!). Throw in a few watering holes that were once Prohibition-era speakeasies, and you have yourself a solid historical rabbit hole to research while you sip on a beer.
So how do you know you're in a historic bar? There may be a low tin ceiling and dim lighting that screams Prohibition speakeasy, sawdust on the floor that can only be explained as part of the experience, and cantankerous old bartenders who are readily available to tell you their life story (and about the aforementioned ghosts). Bonus if they're still serving the same cocktails as they did two centuries ago.
Check out the Big Apple's best historic bars to relive the wild nights of the city's past, complete with some of their original architecture and all of their original lore.
Historic & Famous NYC Bars
Fraunces Tavern
54 Pearl Street New York, NY
Established in 1762, Fraunces Tavern is not only the oldest tavern in NYC but also a landmark on the National Register of Historic Places! The revolutionary haunt hosted George Washington and his troops on December 4th, 1783, where the general and soon-to-be President thanked troops for their service before sending them home.
It was also the location of the last known sighting of Alexander Hamilton and Aaron Burr a week before their fatal duel, where Burr was said to have been in a "gloomy" and "sour" mood while Hamilton appeared "convivial".
Head to the historic bar in NYC (located in the Financial District) for a tour through their comprehensive museum, a few songs and a pretzel at their upstairs piano bar, and a few brews to recreate the nights of some of America's most well-known founders (don't get into any duels, though!).
McSorley's Old Ale House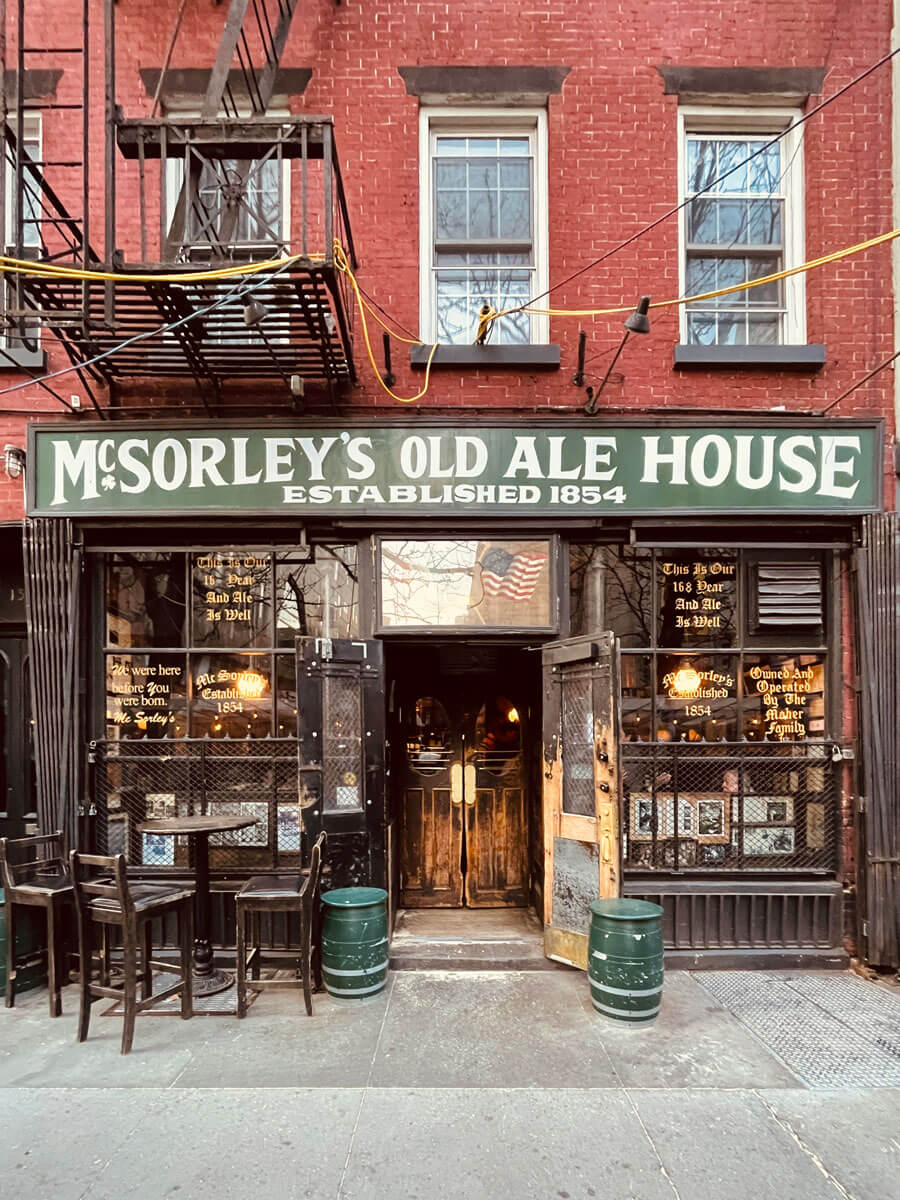 15 E 7th Street, New York, NY
One of the most famous bars in New York City, McSorley's motto, "We were here before you were born" applies to…everyone. Established in 1854, the long-standing, cash only, Irish pub (which didn't admit women 🙄 until it was sued in 1969) is one of the East Village's oldest relics, known for its signature Ales (now produced by the Pabst Brewing Company) and sawdust on the floor (historically used to catch chewing tobacco and spilled beer).
One of the oldest bars in NYC, McSorley's has seen the likes of poet ee cummings and writer Joseph Mitchell, whose New Yorker article would become the book McSorley's Wonderful Saloon. It's also the site of a now debunked urban legend that illusionist Harry Houdini left a pair of handcuffs at the bar after escaping them on a dare.
That being said, there's no way of proving that the rumors of Houdini haunting the joint in the form of a cat aren't true…
Pete's Tavern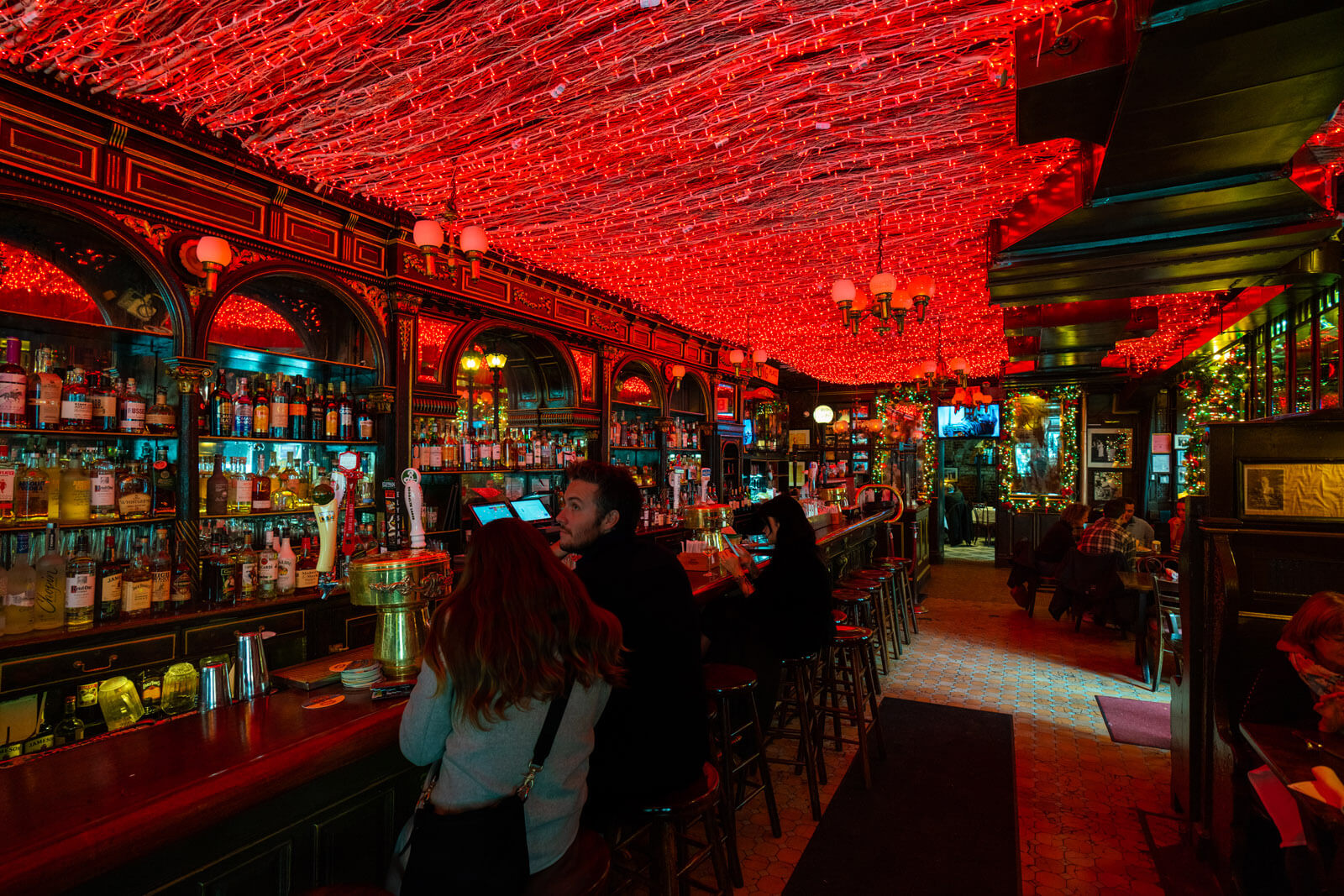 129 E 18th St, New York, NY
Nestled by the historic and exclusive Gramercy Park, Pete's Tavern is one of the oldest bars in NYC. Originally the "grocer and grog store" of the Portman Hotel, the space was eventually purchased by Peter D'Belles and renamed for its new owner in 1922.
The famous NYC bar was also notorious for remaining open throughout Prohibition, then disguised as a florist with a speakeasy password for patrons (and politicians) in the know. The bar has preserved the original architectural features from its 1864 origins and features lunch, brunch, dinner, and long-standing signature cocktails like Pete's Old Fashioned (Rittenhouse Rye, Regan's Orange Bitters, Angostura Bitters, Luxardo Cherry Juice, Orange Oils, Luxardo Cherry).
Pete's is also an especially festive bar around the holidays, featuring hundreds of twinkling Christmas lights and boughs of holly, and is featured in our Best Holiday Themed Restaurants and Christmas Bars in NYC guide!
Ear Inn
View this post on Instagram
326 Spring St, New York, NY
Open since 1817 in Hudson Square, the Ear Inn is one of the oldest taverns in NYC with quite the storied history. Originally built as a home for James Brown, an African aide to George Washington (depicted in the famous Delaware River crossing painting), the space was refashioned into a popular sailor watering hole after Brown passed.
The apartment above the famous NYC bar would go through phases as a brothel, boarding house, smuggler's den, and doctor's office, but the ground floor has remained a tavern throughout its existence.
As for the unusual name — when current owners Martin Sheridan and Richard "Rip" Hayman took over in the late 1970s, they avoided signage scrutiny by the city's landmark commission by letting the "BAR" sign become "EAR". And it worked!! Tricky, tricky!
Bemelmans
View this post on Instagram
35 E 76th St, New York, NY
Both one of the most famous NYC bars and a symbol of New York's gilded reputation, Bemelmans Bar— located on the Upper East Side inside the Carlyle Hotel — was named for frequent guest, artist, and author Ludwig Bemelmans, well-known for writing the Madeline series and lesser-known for his massive hotel bill at the Carlyle.
Bemelmans painted the bar's iconic mural depicting Madeline characters in Central Park as a form of payment to the establishment (side note: can we apply this method of payment to NYC rent?!) and a legendary New York landmark was born.
Extremely popular among visitors and New Yorkers alike, Bemelmans Bar only accepts walk-ins — so go early to take in the art at the historic bar in NYC and drink an Elaine's Smoky martini (named for one of the Carlyle's other most famous residents, Elaine Stritch).
White Horse Tavern
View this post on Instagram
567 Hudson St, New York, NY
Known as a historic writers' hangout, the White Horse Tavern is one of the most famous bars in NYC. Open since 1880, the West Village watering hole was a popular meeting place for the bohemian artists of the 1950s and 1960s, including writers Dylan Thomas, James Baldwin, Jane Jacobs, musician Bob Dylan, and writer Jack Kerouac, who was frequently kicked out of the bar.
We recommend drinking the Dylan Thomas ("Double pour of Jack, Neat. Water back, No ice. Don't Ask") as creative fuel for your next great novel!
The Paris Cafe
119 South Street, Peck Slip, New York, NY
One of the oldest taverns in NYC, South Street Seaport's Paris Cafe was originally opened in 1873. Initially, part of the Meyers Hotel and Bar in the Fulton Fish Market, the bright yellow bar and brunch favorite survived Hurricane but closed in the whole mess of 2020.
Luckily, the storied establishment is making a comeback and soon will bring brews, cocktails, and burgers back to the seaport. Talk about a salty survivor!
Old Town Bar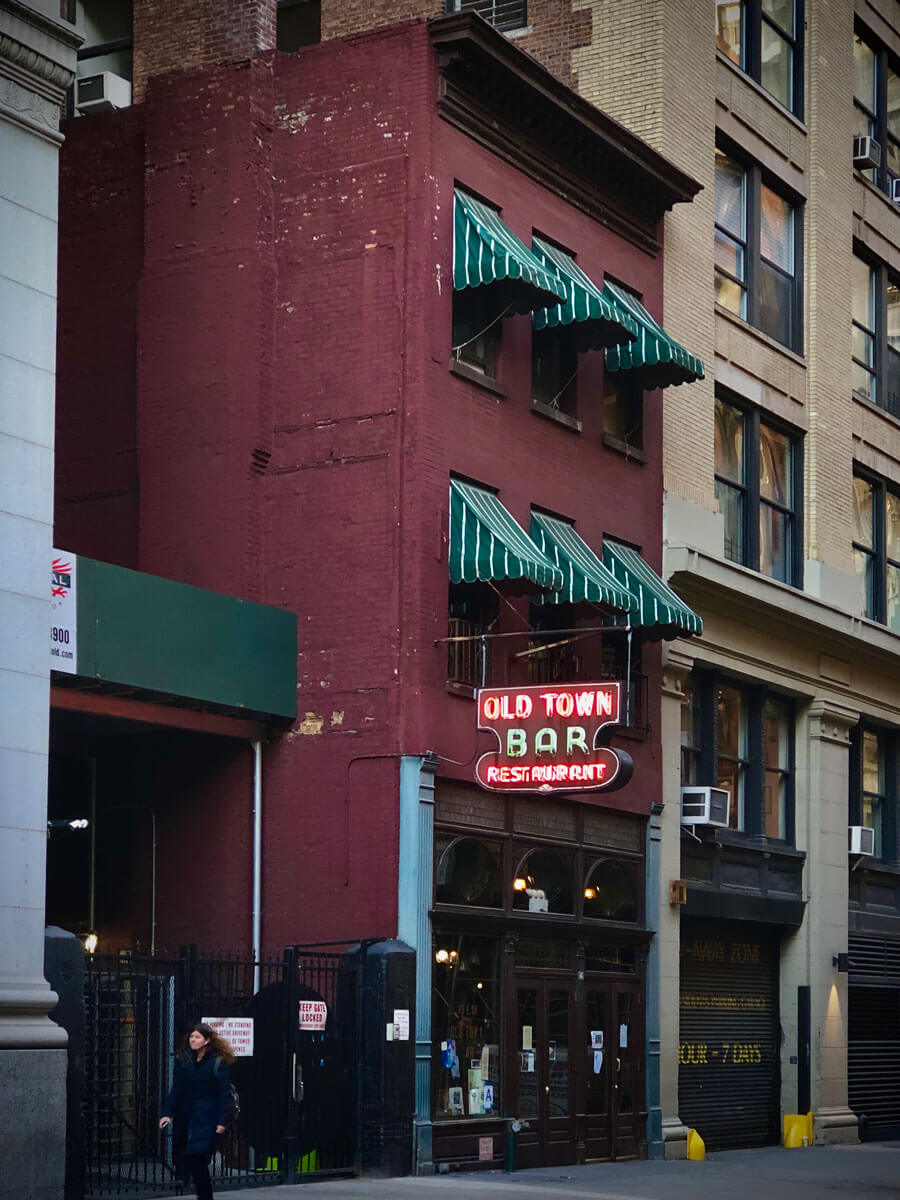 45 E 18th St, New York, NY
Yes, Old Town Road is catchy, but Old Town Bar got there first. Open since 1892, the historic bar in NYC was originally a German establishment named Viemeisters before changing its name to Craig's and serving food during Prohibition to avoid a shutdown.
Though it survived the temperance movement, the bar languished until local operator Larry Meagher took hold of the space in the late 1960s, restoring and preserving its 19th-century fixtures like the 16-foot tin ceiling and the marble and mahogany bar.
The bar has also been preserved on film, appearing in NYC based movies like Bullets Over Broadway, The Last Days of Disco and TV shows like Sex and the City and The Marvelous Mrs. Maisel. We recommend trying a brew and one of the bar's famous burgers while you take in the history!
Teddy's Bar & Grill
96 Berry St, Brooklyn, NY
The longest continuously operating bar in Brooklyn, Teddy's is easily one of the most famous bars in New York City. The Williamsburg watering hole established in 1887 features the original woodwork, stained glass window, and tin ceiling as when it was a carriage house turned Irish tavern turned brewery turned bar.
Famous neighbors include Mae West's father, who was said to have resided above the bar, and the many fictional characters portrayed in movies and TV filmed at the joint, including Boardwalk Empire and The Good Wife.
We recommend trying the Teddy's Classic Bloody Mary and one of their many craft draft beers!
The Brooklyn Inn
148 Hoyt St, Brooklyn, NY
Known for its distinctive corner facade, The Brooklyn Inn in Boerum Hill is a historic bar in NYC worth visiting for its rich architectural history and cozy, warm vibe. Originally converted from a house into a bar by Anton Zeiner in 1885, Zeiner's widow Marie, who had extensive carved woodwork installed onto the bar, fell into debt and sold the space to a brewery in 1896, where it was a well-known German beer house through Prohibition, secretly selling alcohol despite being caught at least once.
Turned into a restaurant called Hubert's for several years, the bar's current owners purchased the space in 1990, maintaining the bar's original woodwork from the late 1800s and restoring its function as a bar. Head there to play pool in the back room and grab a pint with friends!
Sunny's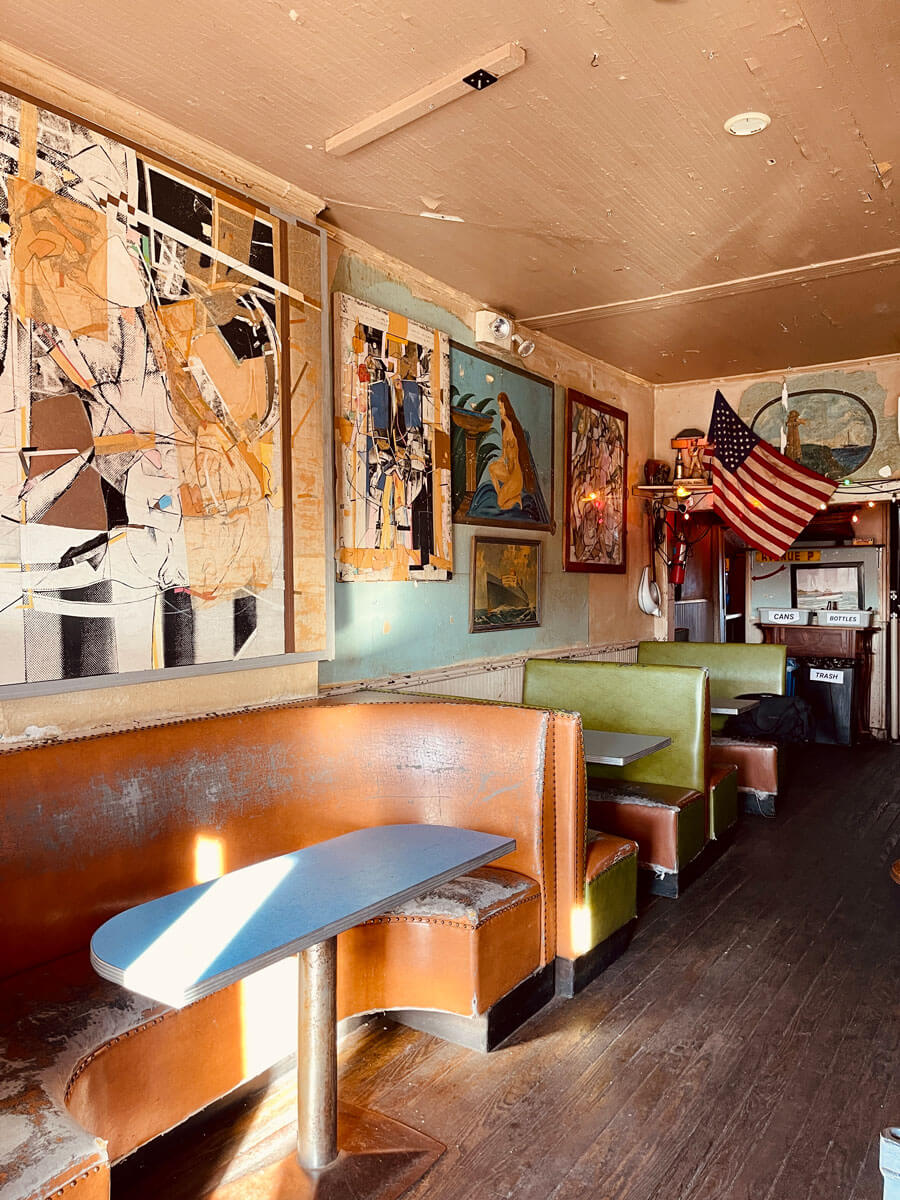 253 Conover St, Brooklyn, NY
A Red Hook gem, this historic hangout is one of the oldest bars in NYC. Established in the 1890s, the waterfront watering has been operated by the family of Antonio Balzano, aka Sunny, for generations and is well-known for its eccentric décor, live music, and shaggy, convivial vibe.
Though Balzano passed away in 2016, his legacy of keeping the place "just a meeting place for folks — painters, writers, musicians, plumbers — who care about each other so much they don't mind the trip" lives on.
Bohemian Beer Hall
29-19 24th Ave, Queens, NY
One of the most historic bars in NYC, the Bohemian Beer Hall in Astoria, Queens features a rich legacy of Czech and Slovak immigration. Originally established in 1910 as a community center for Czech and Slovak people living in New York, the bar portion of the Bohemian Beer Hall opened in 1919, just in time for Prohibition.
The hall would survive and go on to become one of the borough's — and the city's — most well-known beer halls. Bohemian is another excellent spot to stop along your holiday-themed bar crawl.
Killmeyer's Old Bavaria Inn
View this post on Instagram
4254 Arthur Kill Rd, Staten Island, NY
Hop the Staten Island Ferry, one of the best free things to do in NYC, and to get an up close look at Lady Liberty, to check out one of the most historic bars in NYC, Bavarian beer hall Killmeyer's.
While its exact origin date is unknown, Nicolas Killmeyer purchased the building in 1855 where a bar and hotel was run by the family until 1954. Several operators later and in 1995, Ken Tirado brought back the Killmeyer name and has been serving up traditional German beer hall cuisine ever since.
Enjoy German lagers like the Kostritzer Schwarzbier (on tap for the last 25 years), chicken schnitzel, and potato cheese pierogies, and yearly seasonal Oktoberfest events!
Peter McManus Café
View this post on Instagram
152 7th Ave, New York, NY
An Irish pub opened in 1936, Chelsea's Peter McManus Café is one of the most famous NYC bars that is still run by the McManus family. A popular filming location for New York-centric shows like Seinfeld, Law and Order, and Saturday Night Live, the bar was a longtime after-hours hangout for cast members and other improvisers from the once-nearby Upright Citizens Brigade.
Make sure to grab one of Peter McManus Café's many whiskey flavors and an award-winning burger!
William Barnacle Tavern
View this post on Instagram
80 St Marks Pl, New York, NY
Prohibition forced many New Yorkers to drink underground — and that included the City Council. They took their happy hours over to the William Barnacle Tavern (then known as Scheib's Place) on St. Marks Place, a historic speakeasy and one of the oldest taverns in NYC.
After Prohibition, the watering hole became a popular jazz venue known for hosting the likes of Frank Sinatra, Monk Mingus, and Lord Buckley and even hid a hidden bounty for one of its owners, Howard Otway, who, in 1964, came upon two million dollars hidden in a basement safe in 1964 (!!). While Otway would go on to build a hotel with the money, the bar itself would live on as the William Barnacle Tavern and feature the original bar from the 1920s!
King Cole Bar
View this post on Instagram
Two E 55th St, New York, NY
Nestled in the glamorous, gilded St. Regis Hotel, the King Cole is the famous bar in New York City. You've seen its legendary mural, painted by American illustrator Maxfield Parrish, in the likes of Gossip Girl, The First Wives Club, and The Devil Wears Prada as the background to quintessential New York stories — but you may not have heard that the King Cole Bar (and specifically bartender Fernand Petiot) invented the Bloody Mary — also known as their signature Red Snapper cocktail (Bloody Mary was deemed "too vulgar"). Order one and do your best Goldie Hawn impression!
Bailey's Corner Pub
View this post on Instagram
1607 York Avenue, New York, NY
One of the most famous bars in NYC, Bailey's Corner Pub on the Upper East Side has been a favorite among locals since the 1950s. Featuring classic Irish pub décor, an extensive beer list, and live music, Bailey's is a great place to stop after a day at Carl Schurz Park or The Met!
Ryan's Daughter
View this post on Instagram
350 E 85th St, New York, NY
Adding to the old-time Upper East Side bar list is Ryan's Daughter — a "new pub in an old spot" that took over the site of a Prohibition-era bar in 1979 and has been a local go-to ever since! Featuring regular trivia nights, a second-floor performance space and live sports viewing parties, grab a mini Shepherd's Pie and a Jameson for a perfect night.
Brady's
1583 2nd Ave, New York, NY
The hits keep coming! Head to one of the oldest bars in NYC — Brady's on the Upper East Side, opened in the early 1900s under the name "McGrath's" and continuously operating through Prohibition. Run by the same family since 1961, Brady's boasts several dart boards (v. old school!) and hosts the APA Pool League of New York.
Finnegan's Wake Pub
View this post on Instagram
1361 1st Ave., New York, NY
Rounding out our tour of famous bars in NYC — Upper East Side Edition — is Finnegan's Wake, billed as "the last great pub in New York" (we'll let you decide after a proper UES bar crawl!). Serving up copious draft beers, Irish coffee, and plenty of Guinness, Finnegan's is a great place to duck in on a rainy day, order a beverage, and break out that copy of the James Joyce classic that you haven't cracked open since high school.
Landmark Tavern
View this post on Instagram
626 11th Ave, New York, NY
Opened in 1868, the Landmark Tavern opened on what was then the shores of the Hudson (now 11th Avenue). Owner Patrick Henry Carley and his wife simultaneously operated a bar on the ground floor and a home for children on the second and third floors until Prohibition, when the upstairs was turned into a speakeasy.
The tavern has continuously operated until present day, and along the way has picked up more than a few, er, long-term patrons. Legend has it that the Landmark, one of the oldest taverns in NYC, is haunted by the ghosts of a young girl who lived (and died of Typhoid Fever) in the upstairs home and a Confederate soldier who died in a bar fight on the premises. Sounds like an ideal place for a Halloween happy hour…
Amsterdam Ale House
View this post on Instagram
340 Amsterdam Ave, New York, NY
In service on the West Side since the corner of Amsterdam and West 76th Street was made of cobblestones (and the bar was called Sweeney's), the Amsterdam Ale House is one of the oldest bars in NYC. Known for their custom Tiffany lamp interiors (still there today!), over 100 beers on tap, and a loyal clientele (a photo of their most devoted regular remains at the bar's entrance), Amsterdam Ale House is an ideal place to grab a brew after a walk in Central Park or after a show at The Beacon Theatre.
Neir's Tavern
View this post on Instagram
87-48 78th St, Queens, NY
"The most famous bar you've never heard of" is Neir's Tavern in Queens, which has still managed to become one of the most well-known taverns in town. Open for over 190 years, the bar has welcomed thousands of New Yorkers and is also the site of several pivotal scenes in Goodfellas. Grab a beer by the gorgeous mahogany bar and (quietly) practice your best Deniro impression.
Yankee Tavern
View this post on Instagram
72 E 161 St, The Bronx, NY
Hitting a home run in the Bronx since 1927, the Yankee Tavern is one of New York's most historic bars in NYC. The family-owned bar was once the post-game hangout spot of Bomber greats like Yogi Berra, Lou Gehrig, and Babe Ruth (who apparently used to regularly buy a round for the crowd). Still serving brews that are cheaper than inside the stadium, head to Yankee Tavern before or after double header uptown!
Honorable Mentions
While these picks are more restaurant than bar, they're just as historic (and do serve drinks!):
One If By Land, Two If By Sea
View this post on Instagram
17 Barrow St, New York, NY
Housed inside an 18th-century carriage house, One If By Land, Two If By Sea is fine dining American restaurant that was once a brothel and once owned by the infamous Aaron Burr…and is said to be haunted by his ghost. Order one of their signature Beef Wellingtons and enjoy being in "the room where it happens."
P.J. Clarke's
View this post on Instagram
915 Third Avenue, New York, NY
Now popular throughout the city, the original, Upper East Side P.J. Clarke's opened in 1884 and has hosted such notables as Nat King Cole (who proclaimed the saloon's famous burger as "The Cadillac of burgers"), Buddy Holly (who proposed to his fiancé there), and Elaine Stritch, who was said to be a regular there.
Also, Mad Men fans might remember when Peggy and the boys came dancing here in the first season of the hit show.
Keens Steakhouse
View this post on Instagram
72 W 36th St., New York, NY
Once a part of the Lambs Club, Keens became a vaunted steakhouse in 1885 that still delights New Yorkers to this day! Visit Keens (and all of the best steakhouses in NYC!) for time-honored filet recipes and personable service that make for a special night on the town!
---
About Guest Author
Sarah Beling is a playwright, New Yorker, and passionate food enthusiast who is always looking for her next meal. You can find her in an NYC park, enjoying a chopped cheese sandwich and reading about NYC's best new places to eat.