Looking for a reason to explore all the amazing things to do in Red Hook, Brooklyn? Well, we have quite a few! This is a highly underrated neighborhood unless you already know what makes Red Hook so special and one of the coolest neighborhoods to explore in the borough.
This neighborhood gets its name from the Dutch colonizers in the 17th century making it one of the earliest areas in Brooklyn to be settled at in 1636. They named it "Red Hook" because of the red clay found here on the edge of the peninsula, the Dutch called it Roode Hoek, which meant "red point."
Fast forward to the early 20th century and Red Hook was a very prosperous shipping and port area, this would see a huge decline by the end of the 20th century and up until recently, this neighborhood was considered a 'tough part of Brooklyn,' even with gangsters like Al Capone, aka Scarface himself, who participated in some criminal activity here before heading off to Chicago.
Because of the history with this being a crucial industrious shipping port, you'll find a lot of industrious old warehouse-style buildings, pre-Civil War federal-style buildings, reminders of the shipping port days, and row houses that used to be the homes of the shipyard workers and longshoremen.
This neighborhood is pretty isolated when it comes to public transportation with no direct subway stops, the nearest being Carroll Gardens with a walk or you can reach the area by water using the ferry.
Because of this, many people don't realize there's a really great food scene here, arts and culture scene, and they're missing out on the great waterfront views featuring Lady Liberty herself. So now that we gave you a little introduction to this neighborhood, let's dive into the best things to do in Red Hook.
P.S. While you're here, be sure to walk around and enjoy all the things that pay homage to this once prosperous waterfront hub of the city from the nautical-themed decor on homes and businesses, homes that have 'red hooks' hanging about on the exterior of their houses, and the bustling seafood scene all paying tribute to this waterfront neighborhood.
But first, where is Red Hook?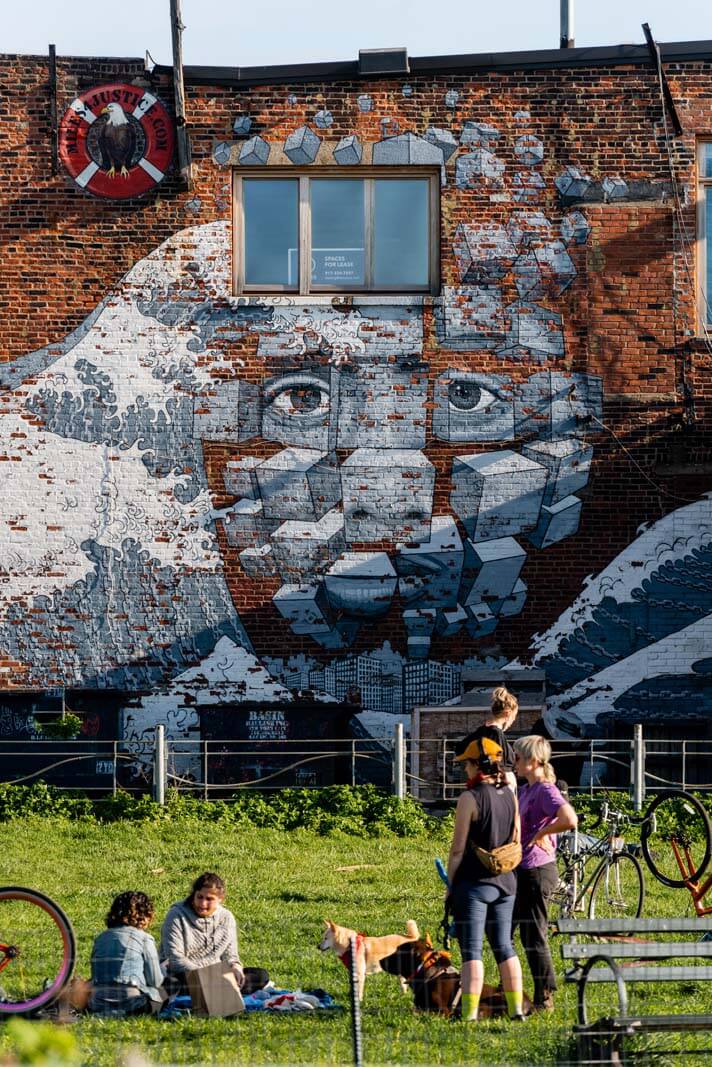 For the purposes of this guide to things to do in Red Hook, Brooklyn we are going to use these boundaries to describe the delineation of this neighborhood in northwest Brooklyn. Red Hook, Brooklyn is bounded by the Upper New York Bay, Gowanus Expressway, Carroll Gardens, and Gowanus Canal.
What to do in Red Hook
Museums & Galleries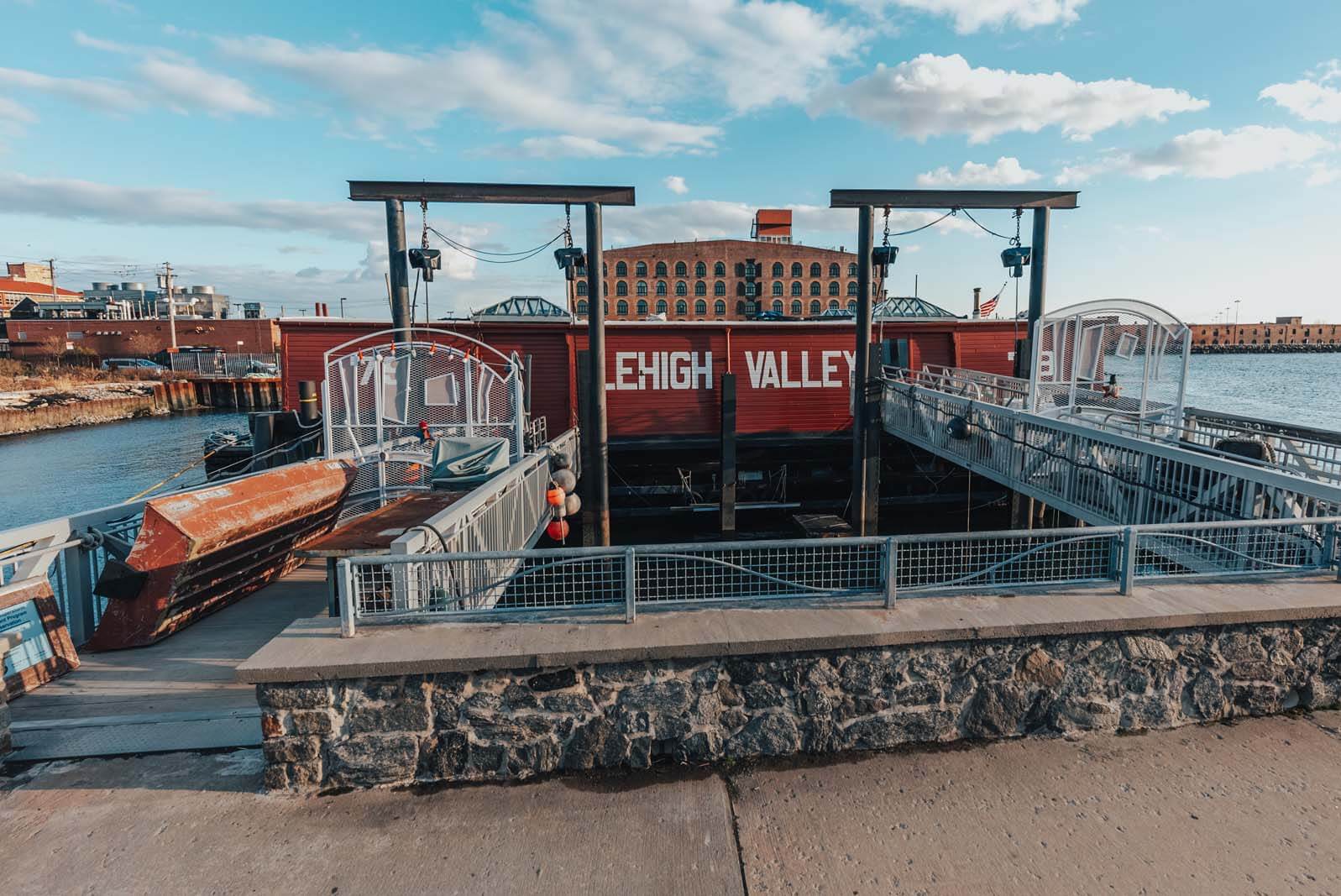 Something I found surprising about this neighborhood is that even though it's pretty isolated in terms of public transportation, there's a thriving creative community here including museums, galleries, and artist studios worth exploring!
Checking out at least one of these cultural institutions should be on your radar when exploring the best things to do in Red Hook! Here's a few worth mentioning which are also some of the best indie Brooklyn art galleries to check out!
Pioneer Works
One of the coolest and under the radar museums in Brooklyn and a fun thing to do in Red Hook is Pioneer Works on Pioneer Street.
This space named itself to pay homage to the former factory that used to be housed in the same building, Pioneer Iron Works who made iron products including railroad tracks dating back to as early as 1866.
Today you'll find a really cool, collaborative urban artistic space occupying this historic building. This cultural institution runs as a not-for-profit center focusing on the arts and sciences celebrating radical and free-thinking artists to have space and resources to create.
Visitors can come and explore the various exhibits by the different artists who are members here or even participate in a class and explore your own creativity! Better yet, Pioneer Works has no admission making it one of the best free things to do in Brooklyn!
Closed on Mondays & Tuesdays.
Waterfront Museum & Showboat Barge
Another cool museum and thing to do in Red Hook where you can learn a bit more about the history of the area is the Waterfront Barge Museum or Waterfront Museum and Showboat Barge.
This museum is dedicated to the historic preservation and heritage of the New York Harbor and waterfront, from the history of the passageway for commuters, its role in the local economy, and water sport and recreation.
There are many different exhibits and displays including historic boats from wooden barges to tugboats. You can also learn about the different people who had a role to play in the local history along with their stories all while onboard the Lehigh Valley Railroad Barge Number 79, a preserved Hudson River Railroad Barge.
Better yet, this is free! There are seasonal closures and hours vary, it's best to check their website before to plan your visit.
Kentler International Drawing Space
Since 1990, Kentler International Drawing Space opened its nonprofit organization and gallery showcasing contemporary drawings and works done on paper by under-recognized and talented, emerging artists to the public in their creative space.
The works on display feature nearly 300 of both US-based artists as well as works by international artists in their showroom and gallery as well as offer different programming from 5 rounds of exhibits annually to events founded by two artists, Florence Neal and Scott Pfaffman.
You can find this cool little gallery and fun thing to do in Red Hook in a little storefront space on Van Brunt St, and is open for visitation Fridays through Sundays 12-5, but if you want to see their Flatfiles exhibit, you'll need to schedule an appointment to visit.
Auguste Garufi
If you're a lover of art and love seeing artists work in the same space they create in, then this is a pick for things to do in Red Hook for you! New York-based artist, Auguste Garufi invites visitors to stop in his working studio on Smith Street where he creates in daily to browse his current works on display that tie in his love of poetry into his mixed forms of art through film, canvas, and installations.
Amorphic Robot Works
Located on Pioneer Street, you can find one of the most unique galleries/churches/art installations in the city! Also known as "The Robotic Church," by artist Chico MacMurtrie, who works with multimedia, has a collection of over 50 pneumatic robot sculptures on display in a former Norwegian Seaman's church in Red Hook, Brooklyn that he made between the late 1980s through 2006.
This space is filled with all kinds of different robots, some of which are as big as 15 feet in height, and some are programmed and operate to perform tasks or make a sound. Together the machines move with rhythm and percussive sounds. If you want to visit this interesting thing to do in Red Hook, you're going to have to sign up for the artist's newsletter as it's only available to see during special events throughout the year.
Look North Inuit Art Gallery
Another interesting gallery and what to do in Red Hook if you are fascinated by Inuit Art and culture is the Look North Inuit Art Gallery. This gallery's focus is dedicated to promoting Inuit and Arctic Culture through art with a display of authentic contemporary sculptures, paintings, etchings, and prints from both well-known artists and up-and-coming creatives from over 30 Inuit communities in Canada's Arctic region.
This gallery was founded by Jim Clark in 2006 who spent 25 years on research and commercial vessels through Arctic landscapes and getting to know and appreciate the communities he visited cultures and artwork, which is the mission and goal to share with the Red Hook community as well as New York City. He also has another location in Vermont.
Mary Whalen
This historic oil tanker from 1938 is designated on the National Register of Historic Places is another cool idea for what to do in Red Hook if you want to dive down the history of this waterfront neighborhood.
PortSide New York, another nonprofit, runs programs on Mary Whalen, a rare last-surviving bell boat which is a ship that is controlled with telegraph signals sent from a bridge and was active from 1938 to 1994.
You can't currently go on the boat at this time, you can peek at it since it's the last of its kind, and you can visit the Mary Whalen by enjoying a virtual tour.
Red Hook Parks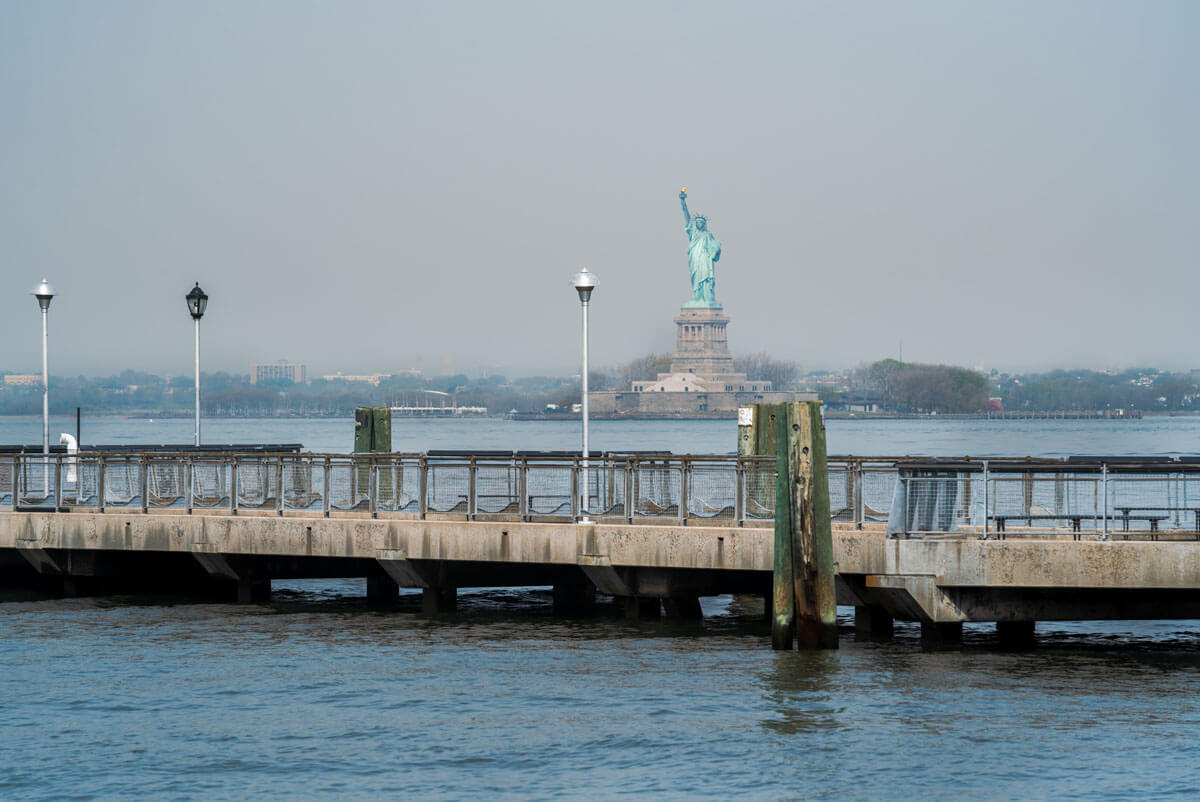 Louis Valentino Jr. Park & Pier
One of my favorite things to do in Red Hook is head to Louis Valentino Jr. Park & Pier, which is conveniently located next to Steve's Authentic Key Lime Pie, so grab a treat to along with the treat of a view you get here right on this waterfront park!
This is one of the most under-the-radar parks in the borough and one of the best spots to catch a Brooklyn sunset! The end of the pier offers a great, front-row seat to the Statue of Liberty views, the closest land, front-facing view of her, not to mention Brooklyn view of the Manhattan skyline.
There are also views of Staten Island and Governor's Island from here as well and a nice small lawn for picnics with a cool mural. The park itself is named after a brave firefighter by the name of Louis Valentino Jr., who passed away in 1996 trying to save injured firefighters in a three-alarm fire, this park pays tribute to this local hero.
Erie Basin Park
Another great spot to check out in Red Hook, Brooklyn is Erie Basin Park, located right next to the IKEA (and owned by them) and on the waterfront. This narrowish, tree-lined space offers seating up and down an esplanade, with spacious, but private benches and a few stretches of grass to spread yourself out which makes an ideal spot to catch a sunset or a nice little Brooklyn picnic spot.
What's interesting about this spot is that under an agreement with the city, in order for IKEA to be able to build and open a store here they had to agree to make a public green space for the community and this was the result. It reminds me of the story behind one of our favorite hidden gems in Gowanus, the Cement Building had to be restored in the giant Whole Foods on 3rd Ave and 3rd St.
Coffey Park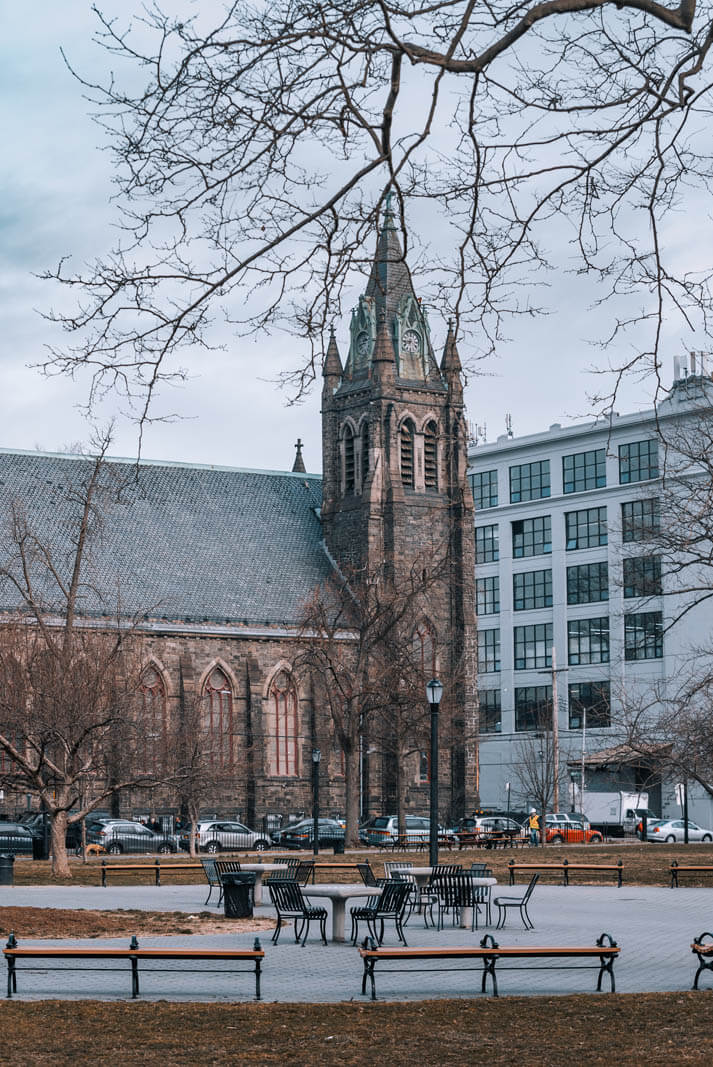 This next park and thing to do in Red Hook wasn't on my radar until walking to the neighborhood a few times coming from my home on the edge of Park Slope and Gowanus. Coffey Park is a beautiful park named after Michael J. Coffey, a former state senator and district leader representing none other than Red Hook.
The park itself has nice paved walkways cutting through the park with permanent chess and checkerboards in the center and the backdrop being the beautiful Roman Catholic Church, Visitation of the Blessed Virgin Mary in the backdrop.
In the spring, this park is especially beautiful when all the trees are in bloom and there is an ample amount of space for picnics on the lawn, benches to take a break on, and of course, if you bring your own checkers or chess pieces you can play a round or two.
Everything on Van Brunt St.
If there was a 'Main Street' of Red Hook, Brooklyn it would be Van Brunt Street which starts and ends all in this neighborhood and is lined with cool shops, cafes, restaurants, and bars.
Here are a few of some of the notable stops along Van Brunt St., we recommend walking up and down here while exploring all the great things to do in Red Hook.
Record Shop – As a vinyl fan, I can appreciate all the great record shops in Brooklyn available, this one is no different. Run by a local who also happens to be in the band Nymph, Bene Coopersmith opened up this storefront for the overflow of his own personal collection. You can find a variety of genres here and even some rare vinyl for that kind of collector.
The Black Flamingo – This has easily become one of my personal favorite cafes in Brooklyn! From the pretty interior and great coffee and sandwich/croissant selection to the pretty garden back patio with the friendly cat Billy who stops by to give you his good graces, the unofficial host of this spot. Swing by, grab your favorite type of hot (or cold) coffee/tea drink and sit back and relax in their pretty little back patio.
Red Hook Tavern –Brought to you by the same restaurateurs behind Hometown Bar-B-Que in Red Hook is this popular spot with American-fare, famous for their burgers, and hang-out spot. I love the exterior of this spot too, it just has an old-school feel to it that you can't help but love.
AR Hot Bagels – You can't have a neighborhood guide including food recs without including the neighborhood bagel joint. Best enjoyed in the morning, especially if you want your favorite bagel flavor as they can sell out as the day goes on, for your classic bagels and cream cheese or bagel sandwiches.
Red Hook Lobster Pound – One of the best things to do in Red Hook is eat at one of the many amazing seafood spots, not to mention one of the best restaurants in Red Hook. The Red Hook Lobster Pound serves up New England style lobster rolls plus other seafood options all inspired by the cuisine of Maine and cocktails!
Hyssop – This little, adorable storefront brought to us by chef Melinda Tracy introduces a curated collection of everything you need for hosting the perfect dinner from cool tea towels, cutting boards, beeswax candles to ceramic serving dishes and food ingredients like locally sourced honey, coffee, tea and other fun things! She also sells farm-to-table prepared meals to go.
Good Days – This cool boutique is a specialty shop that sells their own brand and label Antler & Woods who sells men's and women's apparel from outerwear to swimwear.
Brooklyn Ice House – This laid-back tavern is a neighborhood watering hole with a cool backyard space and patio with affordable drinks to pair with their great bar grub.
Erie Basin Antiques – Find some of the coolest vintage and antique jewelry the city has to offer in this cool little shop with a collection of jewelry ranging from the 18th – 20th centuries.
Baked – Looking for some sweets? Stop in this adorable bakeshop that has everything sweet from cookies, cupcakes, to other pastries that have even gotten praise from an A-list clientele like Oprah and Martha Stewart!
San Pedro – OMGGGG do you like delicious tacos? This is your stop if so, their carnitas tacos are heavenly and this spot is known for their margaritas, better yet they have a relaxed, cool vibe going on here and plenty of vegetarian options which is why this is one of our favorite Brooklyn taco spots.
Open Invite Shop – Do you love stylish interiors? Or do you need a cool/unique gift for someone (or yourself)? Stop in this Van Brunt shop for some seriously cool finds from independent designers and brands as well as a few carefully curated second-hand and vintage items.
Apotheke – Check out this Brooklyn-based home fragrance and body care brand selling luxury items for the home perfect for gifting or to just step up your own home fragrance game. You might even spot their products at your next hotel stay too! They've got insanely great smelling candles, soaps, lotions, and a stunning space here in Red Hook worth checking out.
Red Hook's Food Scene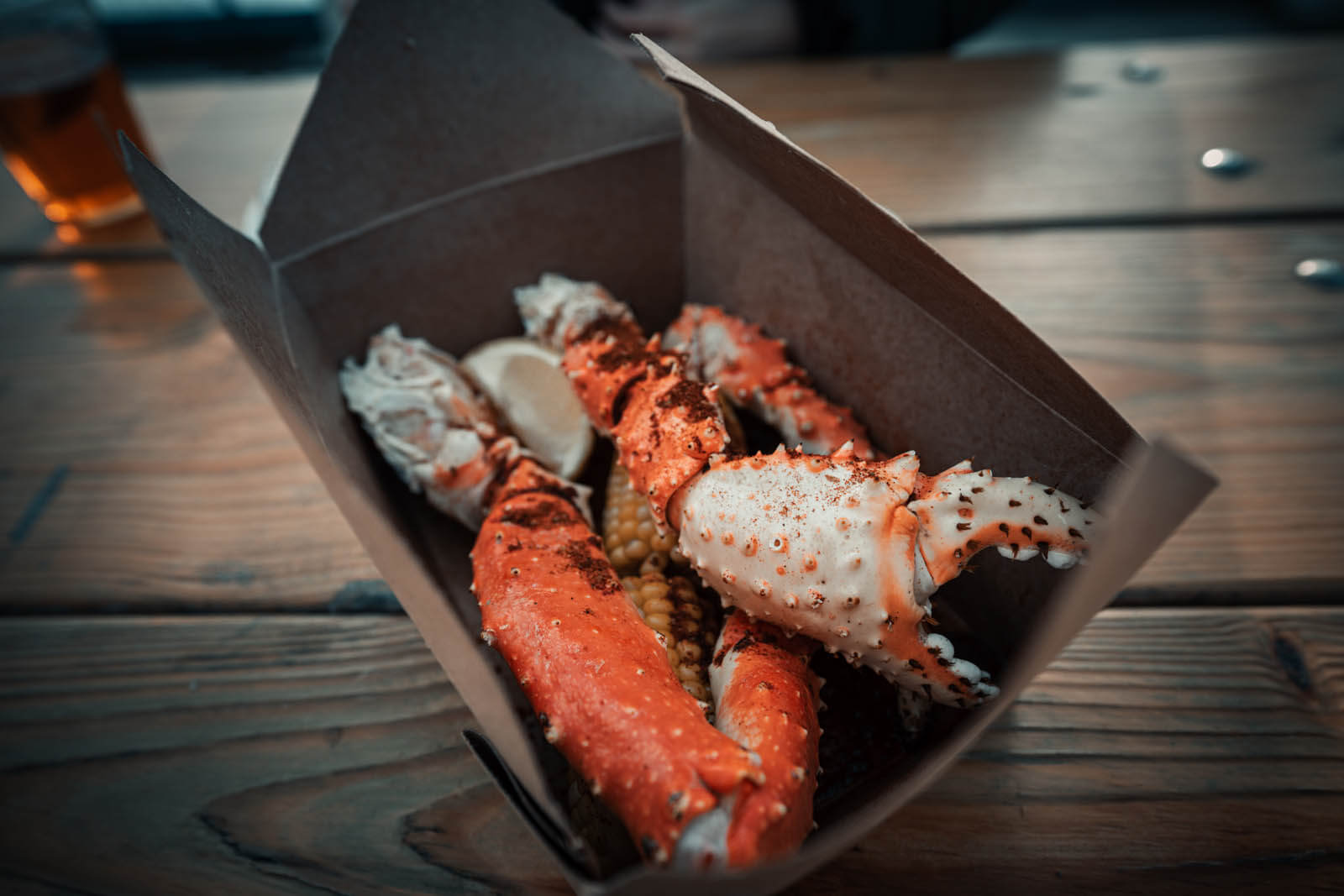 One of the best things to do in Red Hook is to EAT! With great seafood options, I mean seriously good options, and other eateries that have been bringing people all the way here and even put Red Hook on the map for some, this is something this Brooklyn neighborhood can definitely brag about.
We already mentioned some great spots under what to do in Red Hook on Van Brunt St. like Red Hook Tavern and Red Hook Lobster Pound to be specific, but here are a few more worth noting and if you're only coming to check out what to do in Red Hook for a day, good luck trying to decide which of these places you're going to eat at.
Hometown Bar-B-Que – This is seriously one of the best BBQ spots in Brooklyn and in all of NYC and actually one of my first dining experiences in Brooklyn when I visited before moving here. This Texas-style BBQ joint attracts people for their brisket, but all their slow-smoked meats are amazing along with their sides, craft brew selection, and if you're visiting on the popular weekend hours you may even get some live music to go along with the seriously good food.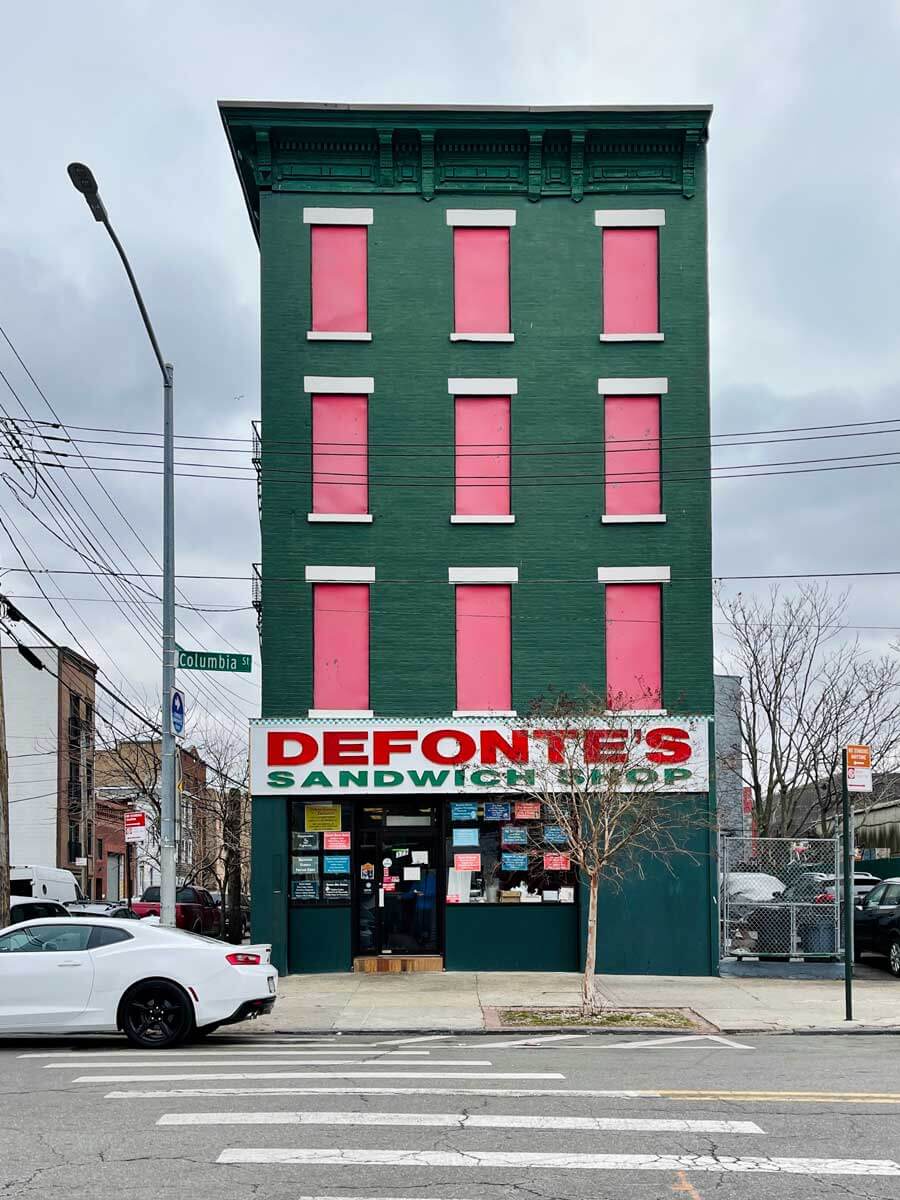 Defonte's – This is one of the most legendary sandwich shops in Brooklyn that's a century old! Known for their largely satisfying hero sandwiches, this shop offers a classic New York immigration story too.
Nick Defonte left his Italian hometown of Mori di Bari to come to America through Ellis Island and settled here in Brooklyn along with many other Italian immigrants at the time. After working a few industrial jobs that were available at the time, Defonte purchased this spot for $100 and opened his sandwich shop in 1922 and the rest is history!
The menu is stacked with options and this cash-only spot is really affordable. If you want to follow in my footsteps, order something with the fried eggplant on it!
Brooklyn Crab – Ahh, another staple to the neighborhood and one of the best things to do in Red Hook, especially in the summer is to grab a seafood feast at the cool multi-level outdoor dining setup at the Brooklyn Crab. Enjoy the waterfront views, cool old car sitting out in front, buckets of crab, their raw bar, and everything else.
Court Street Grocers Hero Shop – Another one of our favorite sandwich shops in Brooklyn with its main shop in neighboring Carroll Gardens is Court Street Grocers, this outpost is their Red Hook hero shop and menu of seriously good sandwiches. My personal favorite is the B+C breakfast sandwich with chorizo, but all their sandwiches are legendary.
Sweet Treats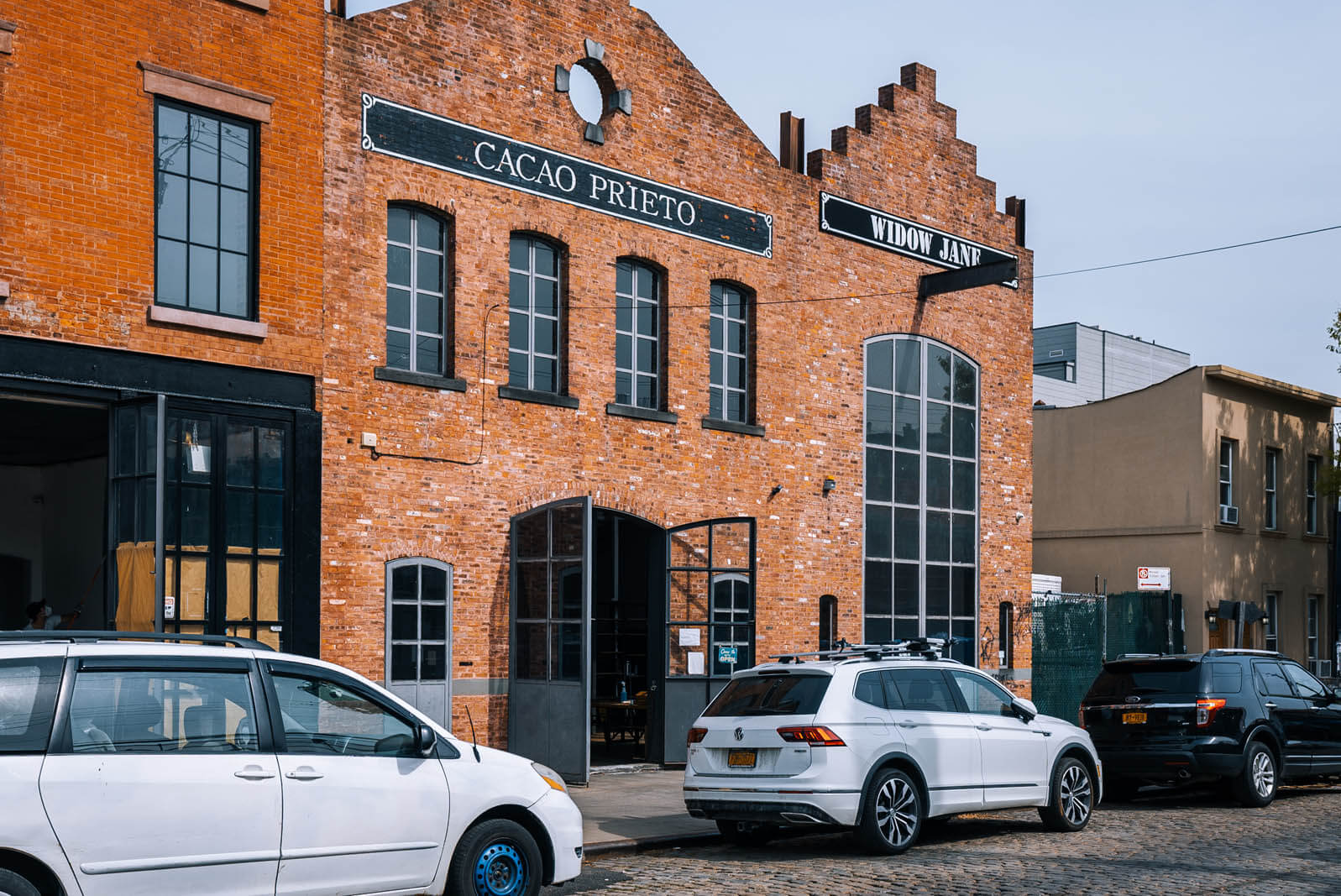 When I said one of the best things to do in Red Hook was to eat, I wasn't messing around. Besides having seriously great options for proper meals from legendary sandwich shops to some of the best BBQ in the city and of course seafood, Red Hook, Brooklyn also has great dessert and sweet treat options!
Here are a few sweet treats you won't want to miss, in addition to Baked on Van Brunt St.
Ample Hills Creamery – Voted the best Ice Cream in America before with locations all throughout the city and one of the best spots for ice cream in Brooklyn is the Ample Hills Creamery here in Red Hook which also has a museum! So get your scoops then tour the museum at the largest ice cream production facility in all of NYC.
Raaka Chocolates – Another sweet spot in Red Hook, Brooklyn. This is one of the few chocolate factories left in the city that offers the opportunity to visit the factory at their store where they sell the unroasted chocolates they make from bean to bar. They specialize in chocolate bars in a variety of flavors as well as quality baking chocolate to create something sweet at home.
Steve's Authentic Key Lime Pies – This key lime pie shop actually gives Florida Keys key lime pie joints a run for their money, seriously since it's only one of two commercial bakeries in the country that uses freshly squeezed key limes in their recipe! Steve's doesn't disappoint with options of full pies, small pies, and little frozen key lime pies served on a stick and covered in chocolate called Swingles.
Drinking Spots in Red Hook
From distilleries to wineries, breweries, and bars available in Brooklyn, Red Hook as all of these options available! Here are some of the best places to grab a drink in the neighborhood in addition to Brooklyn Ice House mentioned earlier.
Sixpoint Brewery – One of the two OG breweries in Brooklyn, the other being Brooklyn Brewery, Sixpoint was one of the first craft breweries to successfully be around in Brooklyn predating the reversal of the severely outdated prohibition laws that thwarted the craft brew scene here in the city.
Sixpoint has been around since 2004 in the small garage space and uses the 'mad science' approach for their signature brews. I love their outdoor space, which is great every season because the mural-covered walls surrounding it blocks the wind and they have heaters with tables.
If you're not sure what to try, I am a huge fan of their juicy, hazy IPAs and their Resin is always a safe choice.
Red Hook Winery – Did you know there's a winery in Brooklyn (there are actually multiple wineries in Brooklyn)? Red Hook Winery grows their grapes in the vineyards of North Fork, Long Island in the Hamptons and the notoriously great wine region of the Finger Lakes.
They bring their grapes to Pier 41 where they process, make, and bottle their wine highlighting the best of winemaking in the state of New York. The winery offers a tasting room where you can sample wines by the glass or a flight with views of Lady Liberty and Manhattan making it one of my favorite hidden gems in Red Hook.
Van Brunt Stillhouse – Located on Otsego St, despite the name, is this farmhouse distillery using nothing but organic wheat, rye, and corn from a farm near Ithaca, NY. Try their whiskey, rum, and grappa in a cocktail or straight up in a tasting flight at their tasting room or dock bar and patio.
Widow Jane Distillery – Located on Conover Street, this distillery is where to go if you're a bourbon fan! This artisanal distillery does small batch bourbon whiskeys. Come in for a tasting or grab a bottle to take home.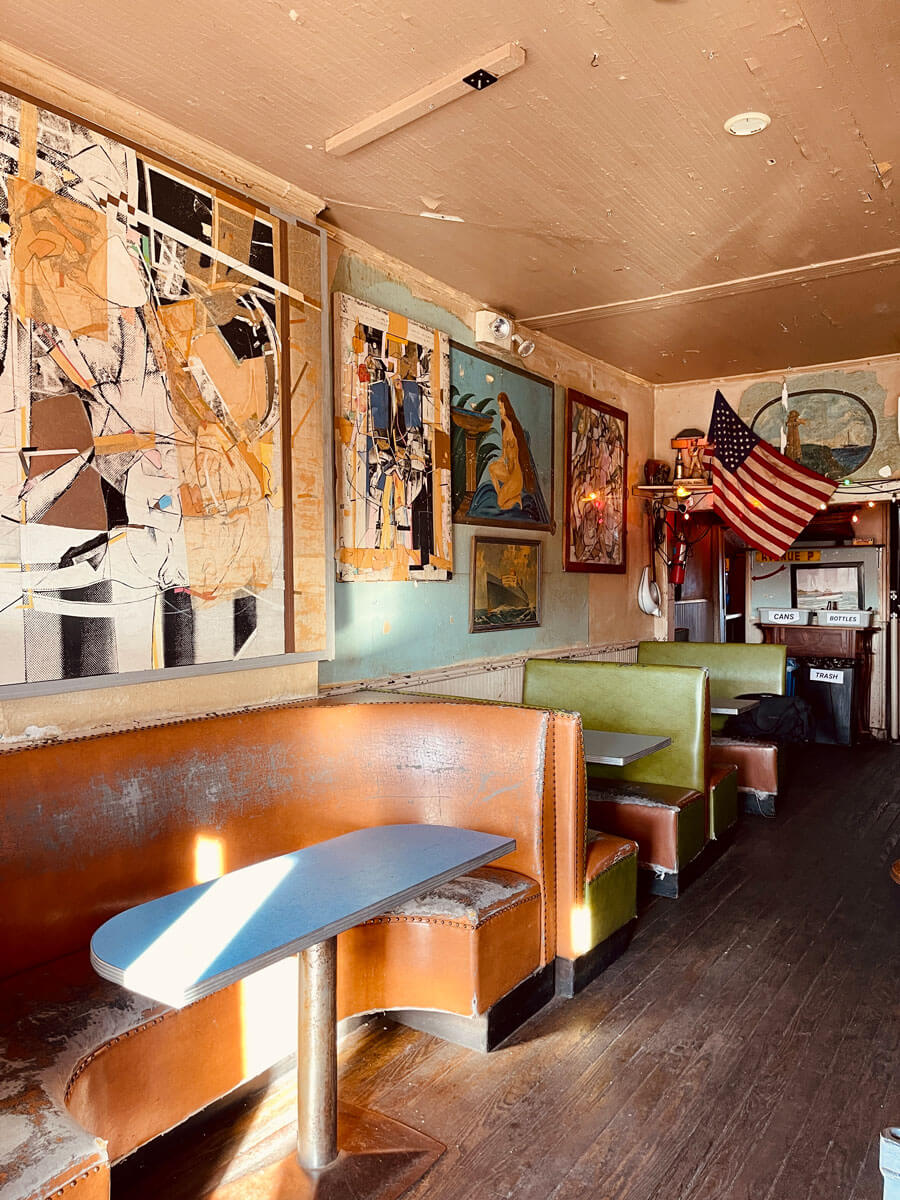 Sunny's Bar – This is the oldest bar in Red Hook, Brooklyn dating back to 1890 and a favorite watering hole among the locals who live here with affordable drinks, live music, and cool hang-out spot. If you're looking for a great bar to hang out, this is the spot.
Cacao Prieto – This is one of those things to do in Red Hook that actually could be in two categories here, for sweets and drinks! This cacao spot brings cacao and the flavors of the Dominican Republic to Brooklyn selling all kinds of cacao products from fine chocolates to two types of cacao rum that are amazing in cocktails as well as a bourbon whiskey. On the weekends you can join a tour of the facility to see where guests can follow the facility's process of the cacao bean and how it goes from farm to chocolate bar as well as how chocolate is infused into distilling rums, liqueurs, and whiskey in their grain to bottle process.
Random Fun Things to do in Red Hook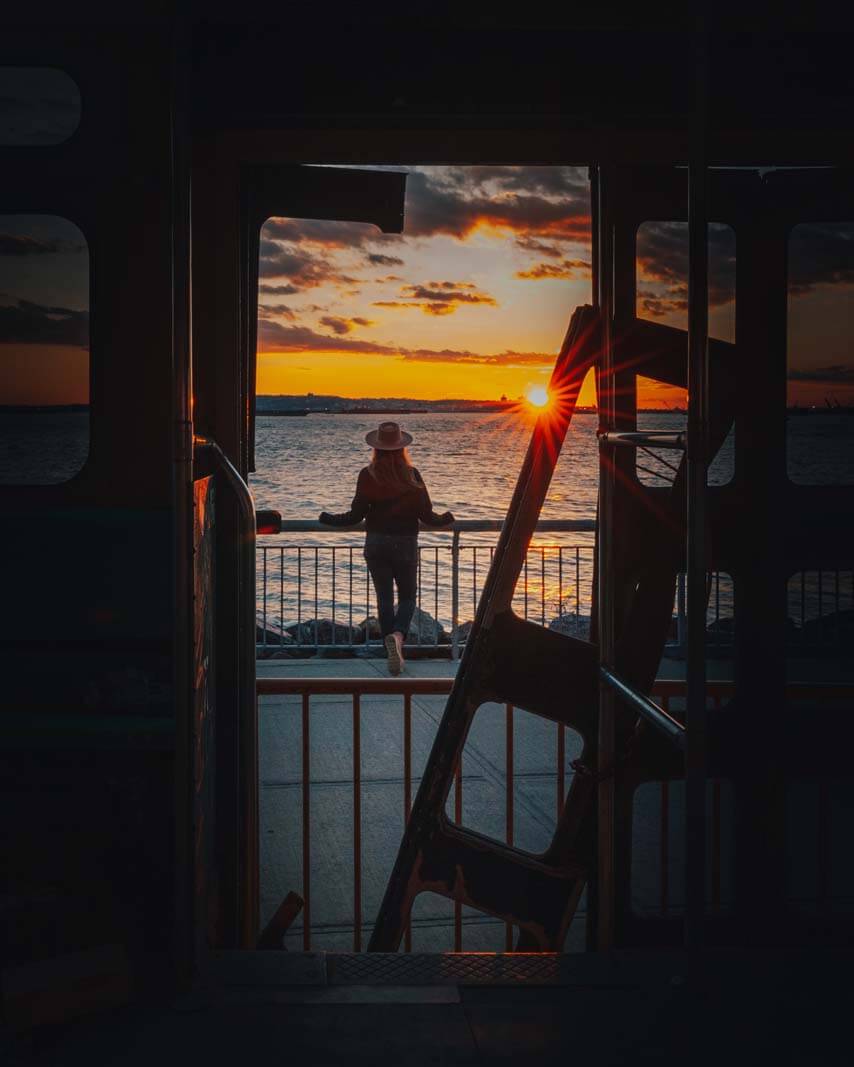 Find the Red Hooks
One of my favorite things to do in Red Hook, Brooklyn is just walking around. Not only will you notice random nautical-inspired decor on some of the homes but you can play a little scavenger hunt looking for the 'red hooks of Red Hook.'
I scoured the internet to try and find a cool backstory behind why some homes have little red hooks hanging on their homes in "Red Hook," but came up empty-handed. Since the neighborhood was named after the red clay soil, I came to the conclusion that playing on the words of 'red hook' and tying in its industrious history is just a fun way to pay homage to their neighborhood and a sense of local pride.
Anyway, like little hidden gems, as you're walking around Red Hook, Brooklyn and like a little Easter egg hunt, look out for some of the little red hooks on display on random homes and businesses in this neighborhood and enjoy yourself a little scavenger hunt.
The Manger Cats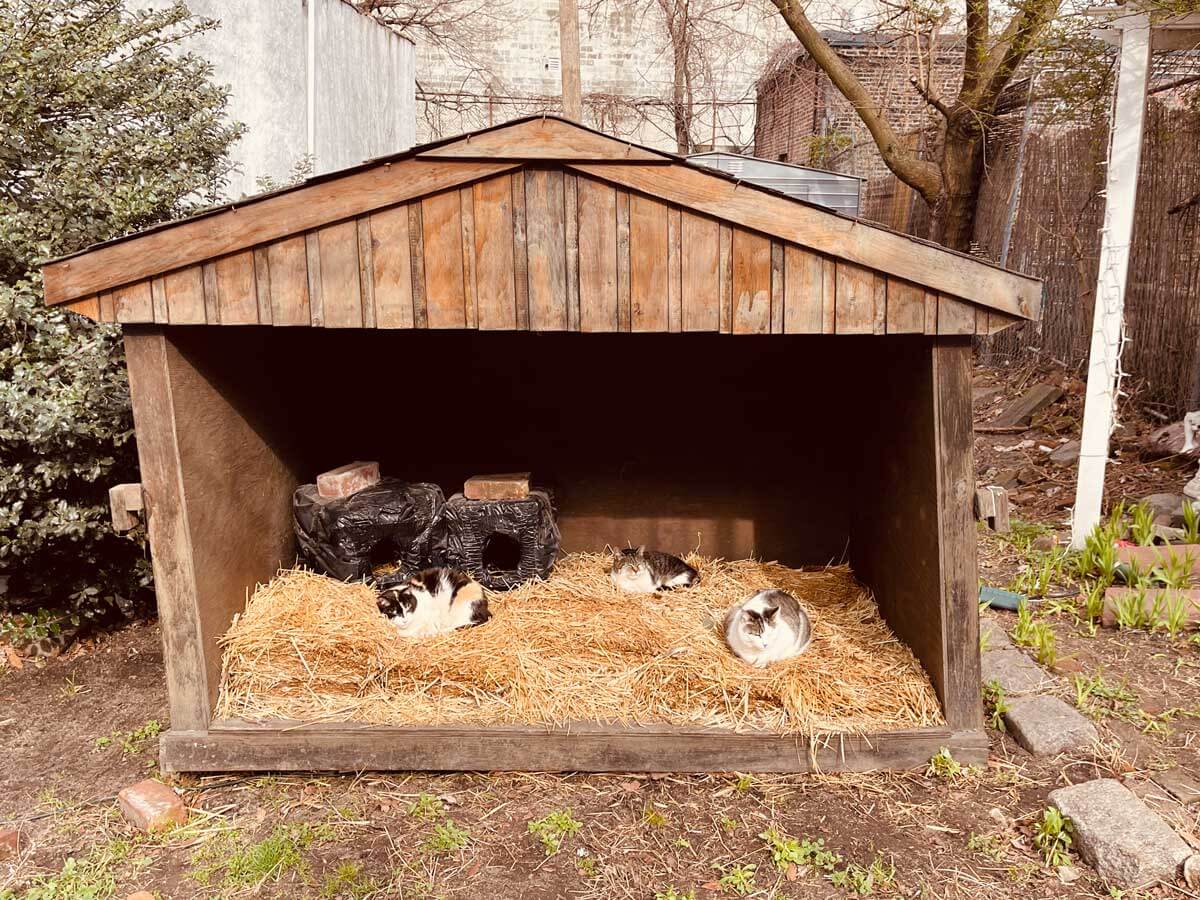 I'm not going to lie, I really love cats so I get excited when I 'spot' a cat in the streets, especially ones that are well looked after and taken care of by the local community. You'll find that alot in Red Hook, the cats are a part of the community and neighborhood here.
The Black Flamingo cafe even has a friendly neighborhood cat that swings by and greets visitors named Billy who has become sort of a local legend, but one of my favorite places to spot cats is at the little manger in the empty fenced-off lot on Van Brunt St. Any given day you can spot cats nested up in here and its one of those random things that always makes me smile.
During the holidays, this manger is festive with a full-on nativity scene, and guess what? The cats curl up next to the Virgin Mary and Joesph, there's no need for a baby Jesus statue because the cats fill in the rest of the scene to make a 'festive cativity scene' to celebrate Christmas. These cats are so famous they even made a feature in People Magazine.
So, if you're a cat lover like me and love a good random local story – checking out the cat manger on Van Brunt is what to do in Red Hook for you.
Fairway – NOW FOOD BAZAAR
Before Wegmans came to Brooklyn, the Fairway in Red Hook was all the rage and known by pretty much all Brooklynites. This giant grocery store located in an old giant industrious warehouse on the Red Hook waterfront had it all and was known for its expansive cheese selection.
The grocery store even starred as a filming location with Anne Hathaway in Modern Love.
Sadly, the fate of Fairway is uncertain as Food Bazaar recently bought it and it switched ownership. While unless you have a car or live in walking distance, this is a hard place to do your weekly grocery runs.
But this iconic and famous grocery store is great for picking up picnic supplies and there are ample amounts of picnic spots in Brooklyn located in Red Hook along the waterfront whether you sit on the nice benches at Erie Basin Park, head to the lawn patch or benches at Louis Valentino Jr. Park & Pier, or you can head to Coffey Park.
While a grocery store doesn't sound like one of the most thrilling things to do in Red Hook, I was pretty impressed with the sheer size and selection here. So, if picnics are your jam – stock up on your supplies here!
1951 Trolley in Red Hook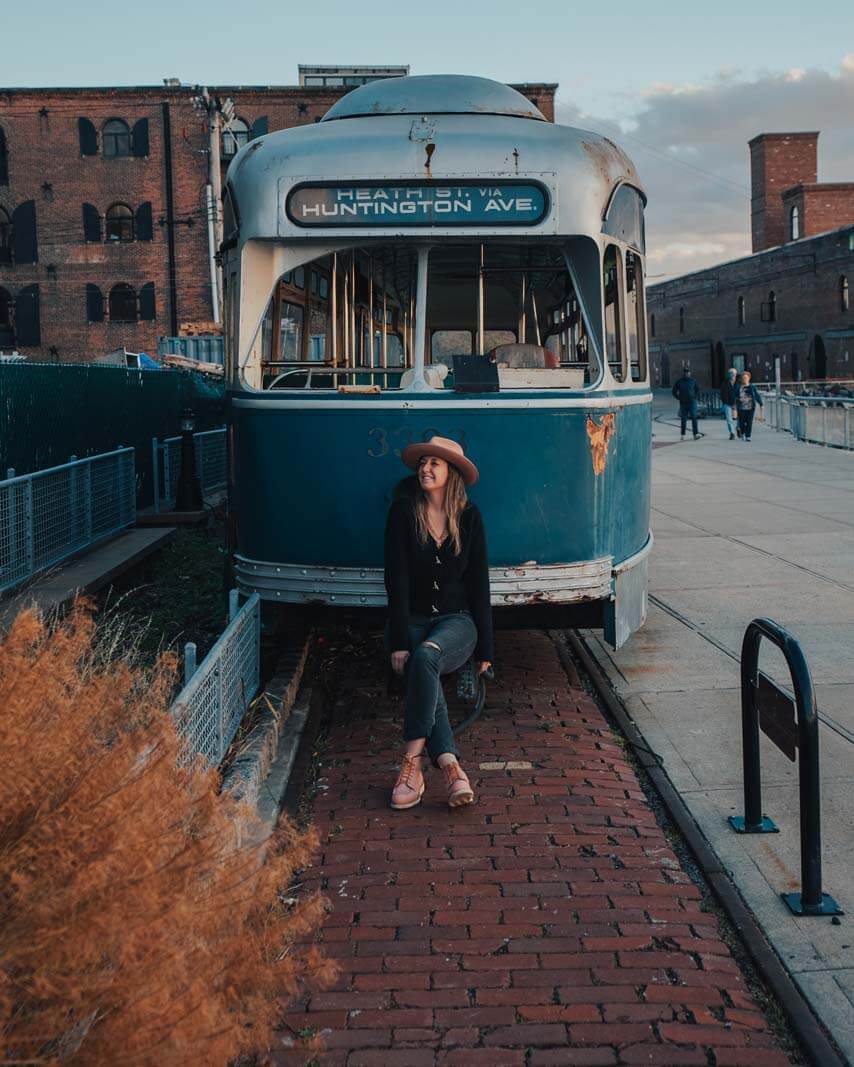 One of my favorite things to do in Red Hook is visit this old abandoned street trolley from 1951 nestled between the waterfront and Fairway Market.
This is the last remaining trolley from the ambitious project to bring trolley car transportation to Red Hook and attempt to popularize the 'trolley lines' in Brooklyn as a mode of public transport that would run from Red Hook to Downtown Brooklyn.
There was a brief moment in time in the 1990s and early 2000s where there was a collection of old trolleys from around the country and an operating 1-mile trolley loop in Red Hook that ended up being decommissioned and repaved over in 2004.
There were a total of four trolleys like this on the Red Hook waterfront until Hurricane Sandy damaged this area severely and now there is only one which you can visit for free.
This also happens to be a great sunset spot in Brooklyn too.
Shipwrecked Mini Golf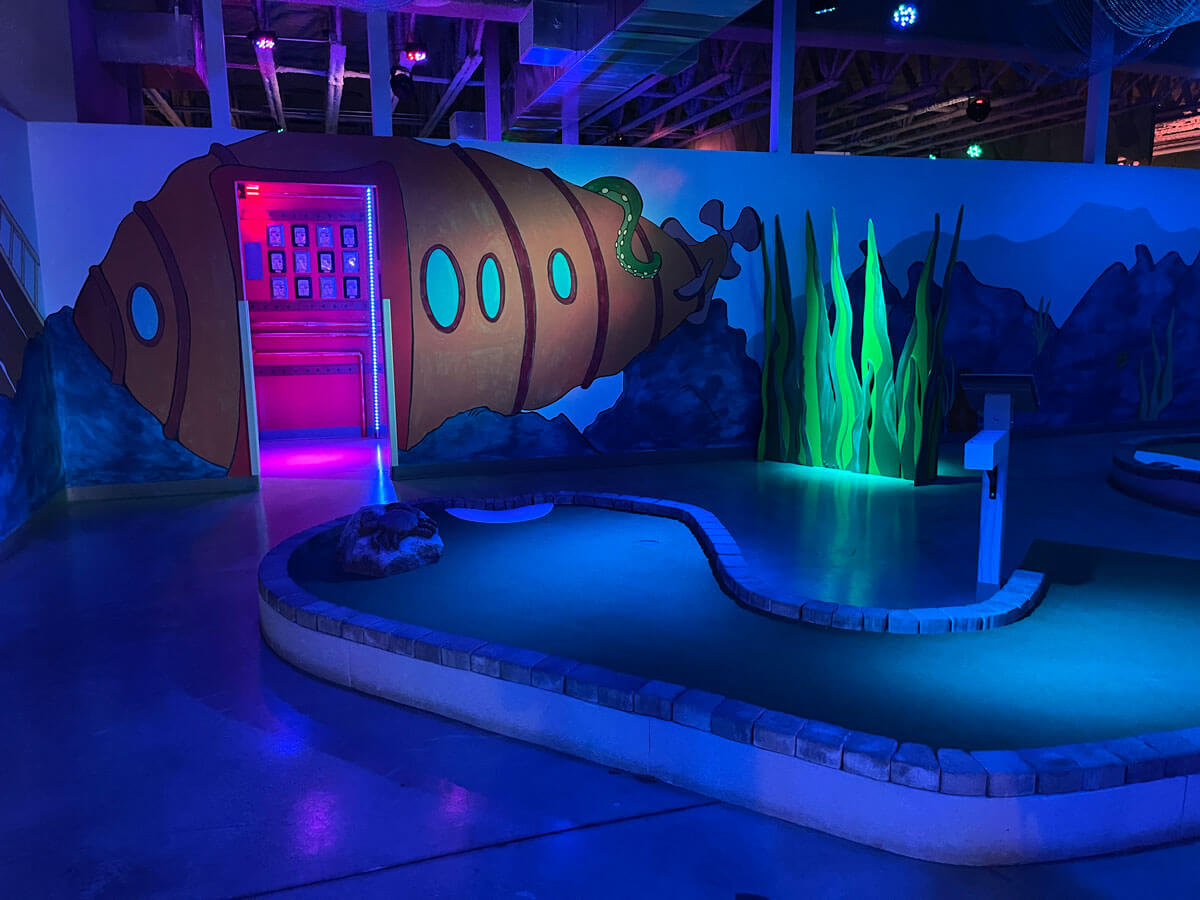 One of the best things to do in Red Hook (and a true hidden treasure) is enjoy a fun time playing all 18 holes at Shipwrecked Mini Golf! This indoor mini golf course has several different themed rooms with interactive exhibits perfect for a group of friends or families with kids.
There are also a few arcade games like skeeball, basketball, and other fun video style games to play before or after as well as a concession stand that even sells boozy drinks you can take on the course with you.
Better yet, they stay open late until 11 PM so if you want a kid-free space, come for a late night mini golf session with some friends or a hot date.
Getting to Red Hook, Brooklyn
As mentioned earlier, getting to all the best things to do in Red Hook can be a bit tricky if you're only used to getting around by subway because there aren't any direct subway stops that service this neighborhood. However, that doesn't mean that public transportation is not an option, there are still other ways to access what to do in Red Hook by using the New York Water Taxi, the Ikea Ferry, Citibike, bus, or subway to Carroll Gardens and walk the remainder of the way.
There are two ferry options, which is a very scenic way to get to Red Hook!
If you're coming from Lower Manhattan, or from DUMBO or Atlantic Ave in Brooklyn, you can hop on the South Brooklyn route on the NYC water taxi at Wall Street / Pier 11. This ferry first stops at DUMBO / Pier 1, Atlantic Avenue / Pier 6, and then the Red Hook stop. You can use your MetroCard to purchase a ticket for this option.
Another option is the Ikea which departs from Pier 11 at Wall Street in Lower Manhattan and arrives at the Ikea pier in Red Hook. This option is free on the weekends and on Mondays through Fridays costs $5.
If you want to come by subway, the nearest subways are:
Carroll Street Station (F & G lines, plus ~22 min walk)
Smith & 9th Street Station (F & G lines, plus ~18 min walk)
Another option to get to Red Hook, Brooklyn is the B61 Bus whose route runs through Downtown Brooklyn, Park Slope, and Red Hook.
Last, you can always CitiBike. You just need to download the app and set up your payment, from there you can rent bikes from docks all over the city and they have electric bike options now too, but this option is a bit pricier as they charge a docking fee of $3.50 then charge you a small fee by the minute after – so this option can add up!
What to do Near Red Hook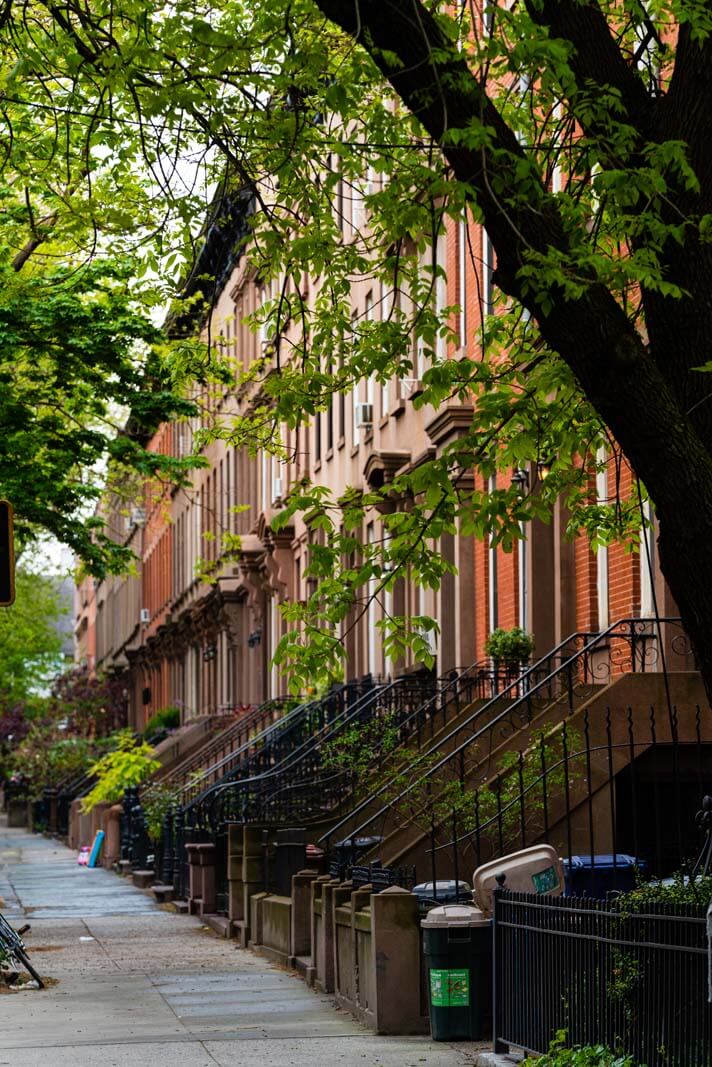 If you only plan on spending part of a day exploring what to do in Red Hook and want to add on exploring the nearby neighborhoods, we recommend exploring both Carroll Gardens and Gowanus which are a short walk from Red Hook.
Carroll Gardens
This is one of the most beautiful, residential neighborhoods in Brooklyn! There are tons of great things to do in Carroll Gardens including walking up and down the pretty streets if you love pretty homes and architecture or all the shopping, dining, and drinking options up and down Court Street and Smith Street.
This is one of those neighborhoods that's easy for me to spend at least a few hours in just moseying around. It's also easy to cover the neighborhoods of Boerum Hill and Cobble Hill from here too, which are both very beautiful and have a very similar vibe to Carroll Gardens.
Gowanus
If you loved what Red Hook had to offer, you'll probably enjoy all the things to do in Gowanus too. This industrial neighborhood has a thriving arts scene with cool indie galleries, great restaurants, multiple breweries, BBQ spots, a shuffleboard spot, a rock-climbing room, ax throwing, and so much more.
There are also some cool hidden gems in Gowanus too!
Columbia Street Waterfront District
From Red Hook going towards Brooklyn Heights, once you cross Hamilton Ave, is one of the best-hidden treasure neighborhoods of Brooklyn. The neighborhood of Columbia Street Waterfront District is small, but mighty. Check out the outdoor sculpture of The Mowing Picasso and nearby you'll also spot a local resident who transformed his entire yard into a sculpture park!
Head down Union Street where you can find no shortage of great places to eat – if you must pick one grab a bite to eat at the neighborhood Italian haunt, Ferdinando's Foccaceria which has been a staple of the community since 1904. Alma is another stand out spot here, which has a cool rooftop space.
---
Enjoyed this guide for what to do in Red Hook, Brooklyn? Bookmark for later or share the love below on Pinterest.