Looking for the best holiday-themed pop-up Christmas bars in NYC and restaurants that are in the ho-ho-holiday spirit? We've got you covered.
What's the best time of year to grab drinks with friends in the city? As a bit of a contrarian, I'm here to argue that it is not necessarily the obvious (summer) but rather, the winter – and in particular, the holiday season spanning Thanksgiving in NYC through the New Year.
Nothing makes you feel more like a glamorous New Yorker than dashing from holiday party to holiday cocktail to holiday dinner, dizzily exchanging gifts and laughs with friends before everyone departs to Aunt Gilda's.
If you love a party but the planning aspect gives you hives, the holiday pop-up bar is the answer to your prayers – take advantage of a spot that is already elaborately decorated to the nines (often with a theme!) and spacious enough to accommodate groups large and small.
Mixologists and chefs are at their creative best, concocting themed cocktail classics and elevated versions of traditional holiday fare that eliminates the need for you to try to roast a rack of lamb in your 350 square foot apartment.
Planning a romantic holiday meal with your S.O.? Look no further than the prolific winter cabin, yurt, and snow globe villages that appear around town, complete with dreamy twinkling lights and champagne for toasting.
On the prowl during "cuffing season"? Check out the many boisterous bars that set the scene for singles looking to lock eyes with a stranger during the opening chord of "All I Want for Christmas is You".
We've got Christmas-themed restaurants in NYC, ski chalet and winter cabin-themed joints, and a Chanukah-themed spot for my chosen friends! Let's meet up, give each other the same gift, and clink glasses to a new year full of health and good cheer at one of our favorite things to do in NYC at Christmas!
Best Christmas Restaurants in NYC
Rolf's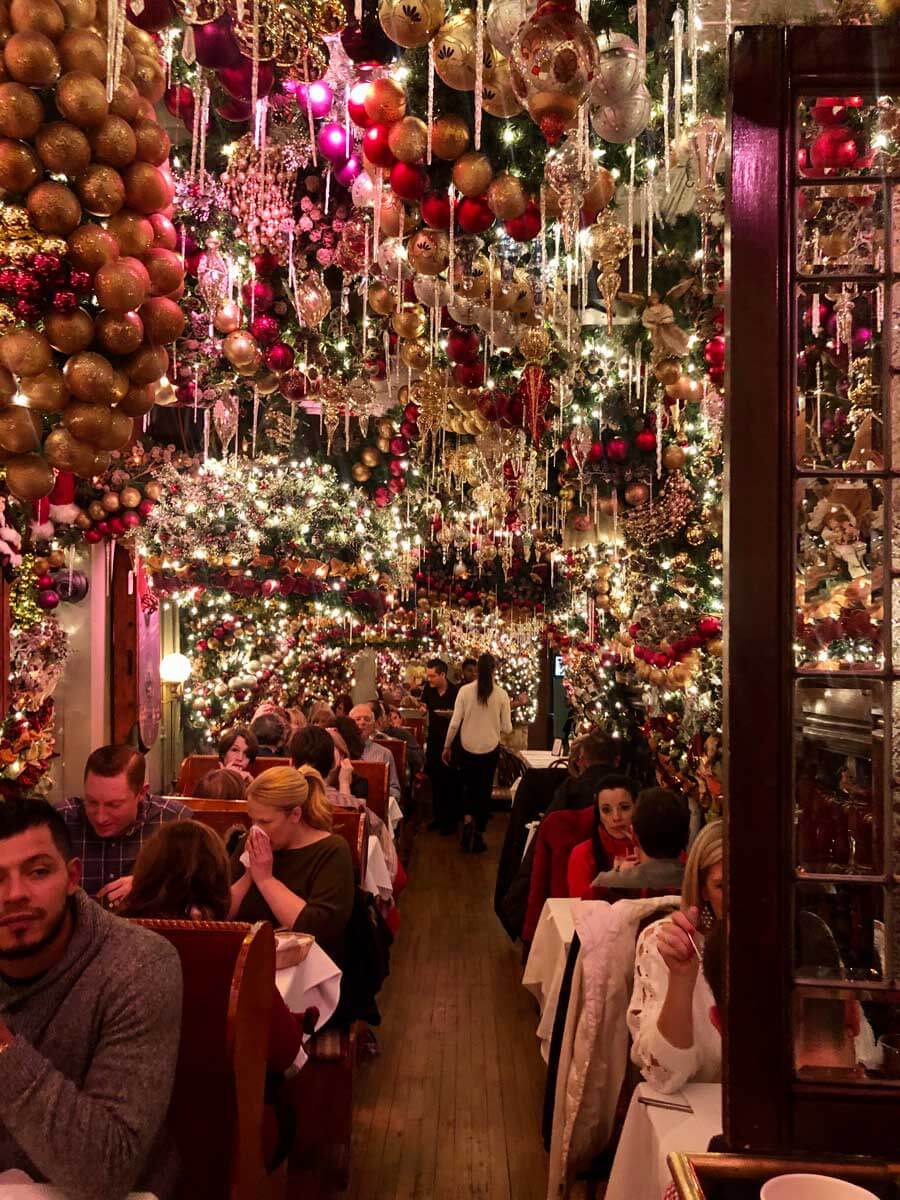 281 3rd Ave
If you're looking for a Christmas restaurant in NYC, look no further than Rolf's. This Gramercy mainstay is well-known for its yearly transformation into a Germanic winter wonderland complete with a gorgeous canopy of intricate ornaments, lights, and Kris Kringle(s)!
In addition to their extremely seasonal ambiance, Rolf's is known for excellent schnitzel, pork chops, and beef stew. They even have a hearty Thanksgiving Day menu complete with apple and pumpkin pie or Black Forest chocolate cake (you will need a traditional Thanksgiving Day nap afterward especially if you also attended the Macy's Thanksgiving Day parade too).
What a way to kick off the holiday season! Rolf's is extremely popular among tourists and locals alike, so be sure to call ahead for a reservation to ensure your time is booked!
Serra Alpina Rooftop at Eataly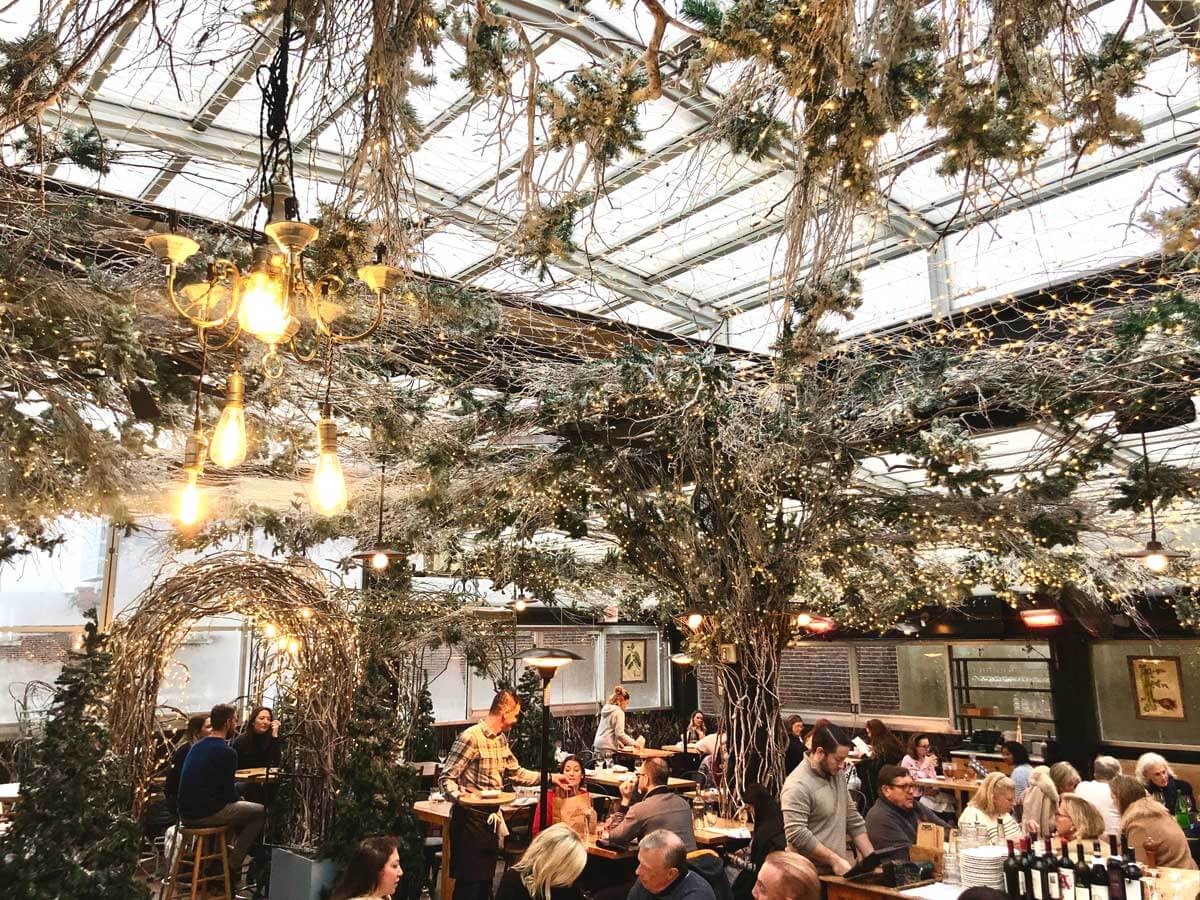 200 5th Ave
Want to keep traveling Europe without leaving the city? After Rolf's, head over to nearby Serra Alpina, a seasonal (and heated) rooftop bar by the folks at Eataly Flatiron and one of the best Christmas restaurants in NYC in December.
Fashioned to look like a wintry forest, Serra Alpina is filled with "snow" covered branches, cold-weather plants, and twinkling lights in a homey, comfortable setting.
In addition to decorating seasonally, Serra continually updates their menu to reflect locally available fare from nearby farmers. Enjoy the best of New York and the Tri-State area's produce, cooked in hearty Italian style in a romantic setting – then head to one of Eataly's stands on your way out to pick up some specialty food gifts for your friends and family!
PS, this spot also does other seasonal themes and is especially beautiful in the autumn too!
Midwinter Night's Dream at PHD Terrace (Dream Hotel Midtown)
View this post on Instagram
210 W 55th St
Midtown Manhattan is a hotspot for Christmas bars in NYC – when you need a transformative cocktail break from the hustle and bustle of Rockefeller Center, head to the Dream Hotel.
The Dream's PHD Terrace rooftop is one of the most popular year-round rooftop bars in NYC for its spectacular view of the city, and reworks the decor for the corresponding season.
Their holiday theme is a winter interpretation of Shakespeare's Midsummer Night's Dream, complete with greenery in the style of a posh English garden and all encased under a glittery canopy of lights.
Be sure to try the boozy, dessert-themed cocktails with flavors like s'mores and ginger bread. And for those looking for a holiday date, everyone looks great under the canopy of lights, and mistletoe abounds…sounds like the perfect setting for a Shakespearean coupling. Maybe you'll come back next year for your anniversary!
Bryant Park Winter Village
42nd Street and 6th Ave
Bryant Park is a year-round sanctuary for New Yorkers and one of the best parks in NYC, but it's an especially noteworthy place during the holiday season and a great area to find Christmas themed restaurants in NYC.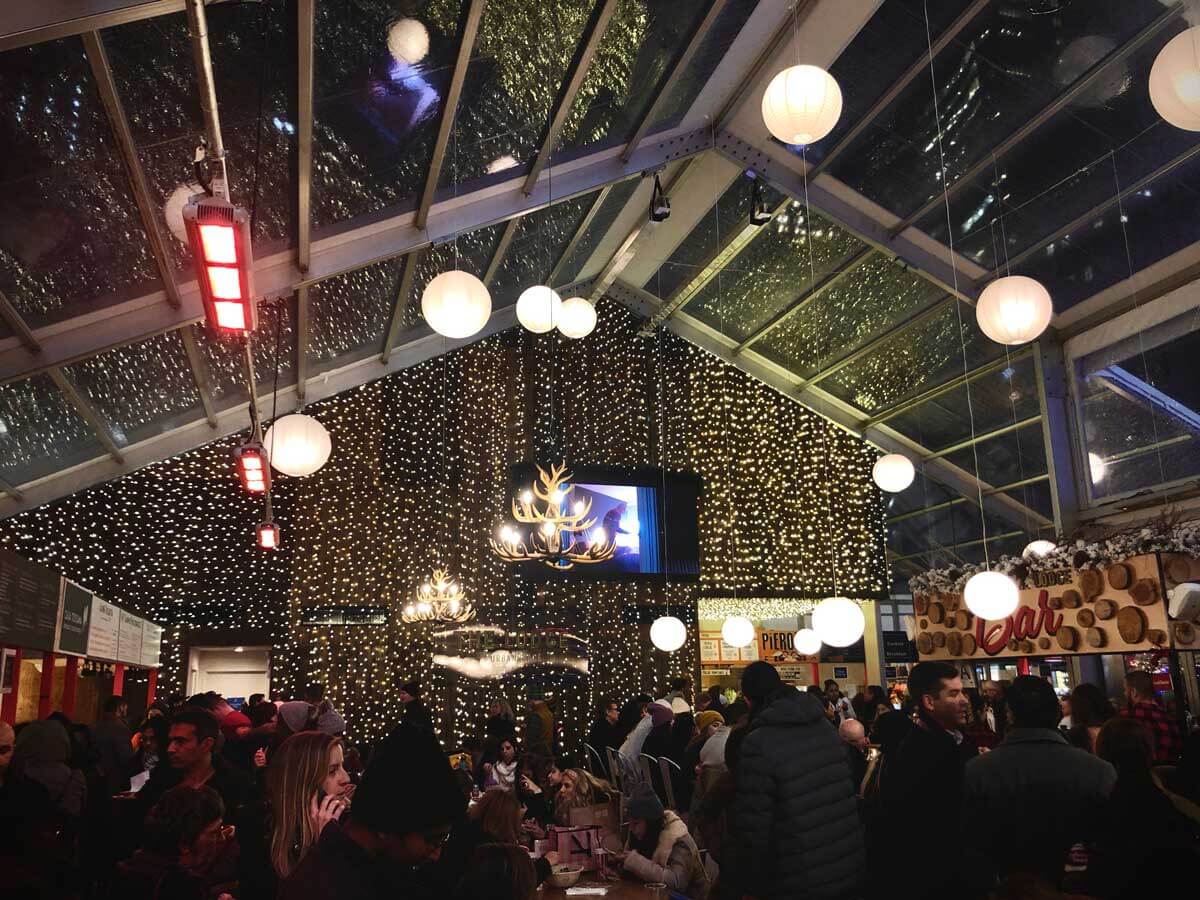 The park is converted into an elaborate winter village, complete with free ice skating and a robust selection of vendors in its holiday market (one of the best Christmas markets in NYC). Within the market there are a wide variety of food and beverage pop-ups, serving everything from high-quality hot chocolate to full meals that will refuel you after a day of shopping and skating.
The Lodge by Prime Video in particular has a great après-ski vibe and highly photographable cocktails to memorialize your holiday season in style.
There are also a few igloos you can dine in and stay cozy and comfy under the twinkling lights of the city!
As mentioned, you can enjoy one of the best ice skating rinks in NYC here for free! That's if you have your own ice skates, if not you can rent them here.
Bohemian Hall and Beer Garden
View this post on Instagram
29-19 24th Ave, Queens
You know the situation well – you and your friends are trying to get together for a drink before everyone leaves to visit family for the holidays. One friend is coming from another party, another isn't sure they'll make it in time from work, and another still wants to bring their roommates.
Where is the best place to meet up where everyone can arrive at different times and you don't have to sweat over your reservation number? The Bohemian Hall and Beer Garden – a Czech/Slovkian beer hall opened in 1919 – is your answer!
This generously sized joint (with ample indoor and outdoor space) is decorated all-around in holiday cheer, and even hosts its own tree-lighting ceremony. Grab a brew and catch up (with whoever shows!) among the illuminated reindeers at one of the best Christmas restaurants in NYC.
Ho Ho Holiday Lounge at The Springs
View this post on Instagram
224 Franklin St, Brooklyn
Normally a tropical patio oasis with vacation-themed cocktails and fare, The Springs transforms into the Ho Ho Holiday lounge during the month of December.
The inside space at The Springs is outfitted with Christmas trees, warm fireplaces, poinsettias, and of course, themed cocktails and snacks. The patio becomes its own mini Christmas tree farm (with trees available for purchase!) as well as an outdoor photo booth complete with a festive sled for your commemorative needs! Try a candy-cane themed shot and hang around this NYC Christmas bar for a chance to see Santa (we hear he shows up from time to time)!
And even when it's not the holiday season, this is one of the best bars in Brooklyn!
Tavern on the Green
View this post on Instagram
W 67th St
Located just inside the West side of Central Park, Tavern on the Green is a long-standing and popular choice among restaurants in NYC for Christmas.
Known for decades as a chic watering hole and party venue for well-known New Yorkers, Tavern on the Green is especially festive at Christmastime, and also hosts its own tree-lighting ceremony (complete with elaborately fashioned twenty-foot tree!), which is also one of the best Christmas trees in NYC to check out!
Don your holiday finest and head to a warm and inviting holiday dinner of Caramelized Rack of Lamb (served with Broccoli Rabe, Duck Fat Lyonnaise Potatoes, Honey & Herb Glaze) or Cauliflower Steaks (served with Carrot Ginger Purée, Farro Pilaf, Arugula Pesto).
Additionally, if you'd like to avoid mentally calculating how long you have to cook a turkey this holiday season, Tavern on the Green offers a robust Thanksgiving dinner selection featuring the aforementioned cauliflower steaks, salmon, beef sirloin, and of course, turkey!
Their Thanksgiving menu is topped off with tantalizing sides like sage and sausage stuffing, orange glazed carrots, and maple whipped sweet potatoes. Finish your meal with a salted bourbon pecan tart and enjoy the cheerful holiday ambiance of Central Park, one of the best things to do in NYC at Thanksgiving post feast.
Ophelia Lounge
View this post on Instagram
3 Mitchell Pl 26th floor
The Ophelia Lounge is a truly underrated gem of an NYC Christmas bar. Unassumingly located near the U.N.plazas of Midtown East, Ophelia Lounge sits on the 26th floor of the Beekman Tower and boasts 360-degree views of Manhattan year-round.
Come November the already fashionable lounge remodels itself into a glittering, glamorous snow globe constructed of plush, faux-fur covered bar stools and delicate light strings that dangle from the ceiling.
The elegant setting at Ophelia makes it an ideal place to get gussied up and ring in the new year (if you're interested, be sure to call and reserve a ticket as they sell out fast), but the party lives on through the winter – it would also make an impressive Valentine's Day spot!
Put on your finest sparkling get-up, order a Hot Teddy (bourbon, pineaeu des charrents, spiced tea and bitters) and take in the lights of the city!
Dining Bubbles on Stone Street at Route 66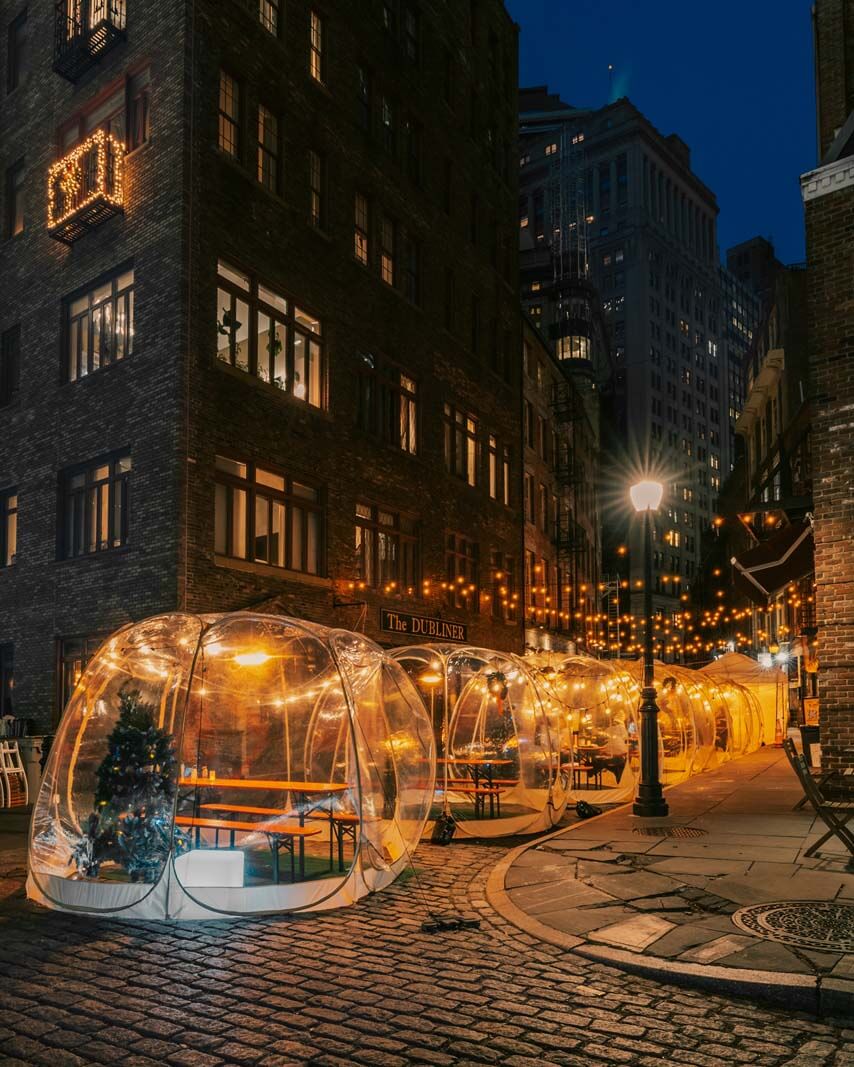 46 Stone St
Historic Stone Street in Downtown Manhattan is a must-visit spot in all seasons – the cheerful, cobblestone-laden alleyway is a wonderful respite from the harder edges of the city.
One of Stone Street's highlights is the Route 66 Smokehouse, a BBQ-focused kitchen and beer garden serving up savory treats like the Texas Brisket sandwich, Nashville Hot Chicken sandwich, and Beyond Burger.
In collaboration with their neighboring sister restaurant The Cauldron, Route 66 takes their beer garden into the winter season and becomes one of the best Christmas restaurants in NYC with completely heated, holiday-decorated igloo-like dining bubbles that can fit as many as 10 people!
If you're looking for a beer garden that feels a bit like a remix of Oktoberfest and Santa's village, this is it! These bubbles are the perfect solution for those who love a casual NYC Christmas bar hangout but find that they are maybe getting a little too old for noisy bars (Elder Millennials put your hands up and shake a skinny-jean laden leg!).
Matzo Ball NYC
Why should Santa corner the market on magically appearing once a year? If you're Jewish and want to try something a bit different than the traditional Chinese food takeout and movie routine on Christmas Eve, the Matzo Ball is a yearly party/speed dating event in multiple cities across the U.S., including New York.
Featuring live DJ performances at an elevated-club venue (exact locations change from year to year), the Matzo Ball is a great place to celebrate something other than Christmas on December 24th and maybe find love in the process!
230 Fifth Rooftop Bar
View this post on Instagram

230 5th Ave
A perfect complement to a day spent strolling by the holiday window displays in NYC of 5th Ave. and the Rockefeller Center Christmas Tree, The 230 Fifth Rooftop is a Midtown oasis of heated private igloos (be sure to make a reservation, they fill up quickly during the holiday season!).
Sip on seasonal cocktails like the Almond Joy hot chocolate (Malibu Rum, Hot Chocolate topped with whipped cream), Morgan's Hot Cider (Captain Morgan spiced Rum with Cinnamon), or Hot Spiced Mulled Wine while catching views of the Empire State Building and surrounding skyscrapers at their glittery holiday finest.
And if you find yourself without plans in NYC on December 25th, don't despair! The rooftop at 230 Fifth also offers a Christmas day boozy brunch – wander the city on an (unusually) quiet day and enjoy brunch and cocktails at one of the best Christmas bars in NYC!
Miracle Bars (several locations)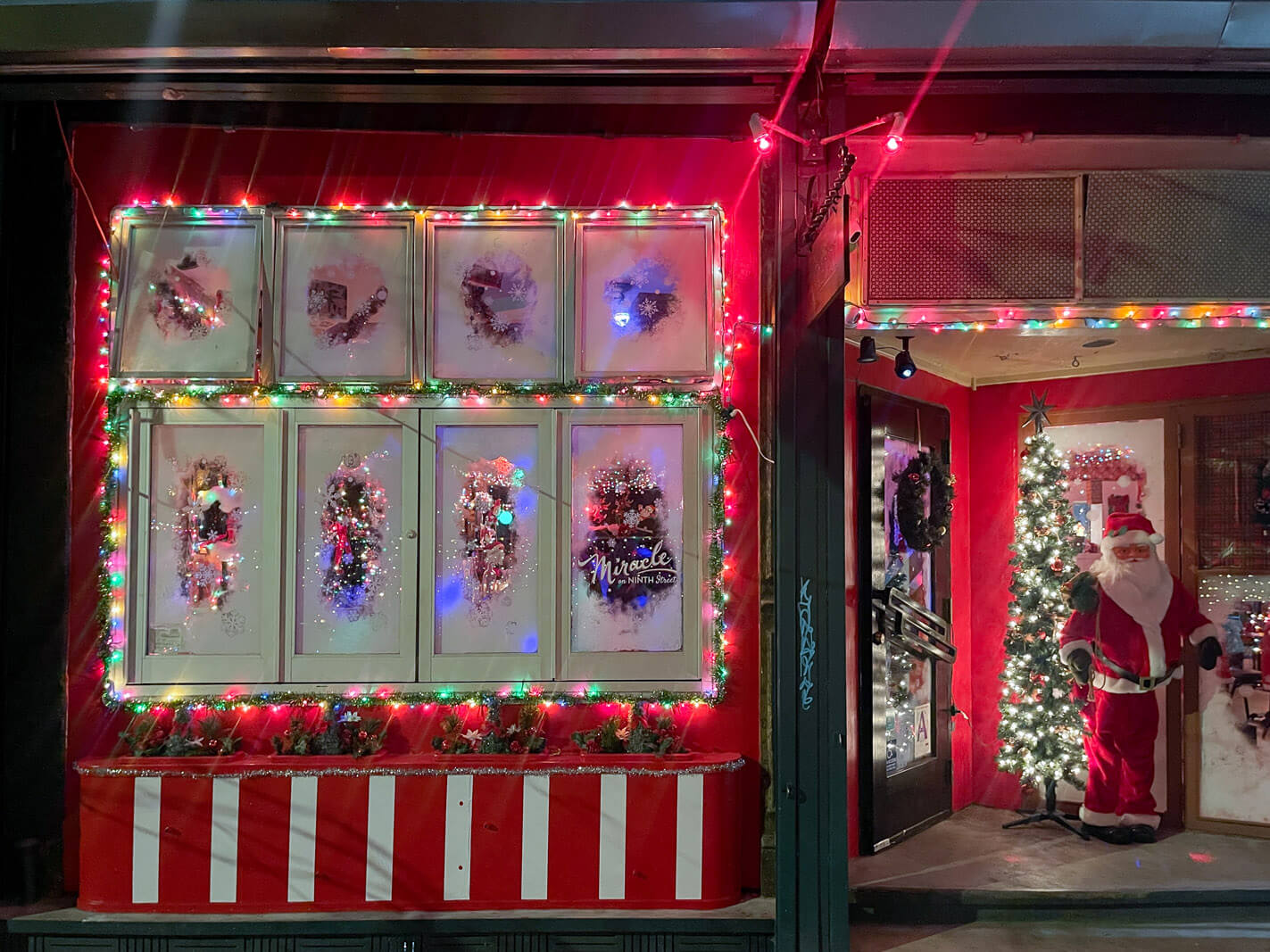 Miracle on Union & Miracle on 9th Street
Just like Santa's elves, the spirited team at Miracle have made it their mission to spread holiday cheer to bars across the nation. Here in the city, Miracle holiday pop-ups have manifested at The Cabinet in Manhattan (649 E 9th St) and Thief in Williamsburg, Brooklyn (595 Union Ave).
At The Cabinet, you'll find a homemade decor vibe and a year-round mezcal-focused drink menu infused with the spirit (and spirits!) of the season – check out a Jiminy Cricket (whiskey, branca menta, rum cream, hazelnut) or a Hot Chocolate (served with mezcal, green chartreuse, and cinnamon).
Plus they have a Hannukah corner too for those celebrating Hannukah in NYC!
If you head over to Thief (whose motto is "Let's Steal Back Some Time" – seems apropos for the chaotic holiday season!), you'll find North-Pole themed decor and holiday merch for purchase (a great way to get some last-minute shopping done while you imbibe!). Be sure to visit both locations for slightly different versions of the best Christmas bars in NYC.
The Standard
View this post on Instagram
25 Cooper Sq
Sterling stalwarts of the NYC nightlife scene, the Standard Hotels are famous for their hip and coveted events held in unique bar and restaurant spaces.
During the holiday season, the Winter Garden at the Standard East Village becomes a cold-weather paradise of luxe private yurts and (heated) outdoor dining among twinkling shrubbery and faux-fur covered seating. Enjoy some of the Standard's top-knotch New American favorites along with seasonal add-ons like the fondue platter and spiked hot cider.
If you have a birthday that falls during the holiday season and are looking for a restaurant in NYC for Christmas and birthday cheer, this is the place to book your dinner – just be sure to make a reservation well in advance, as visiting the winter garden is a favorite option of Christmas themed restaurants in NYC for locals and tourists alike!
Rockefeller Center City Winery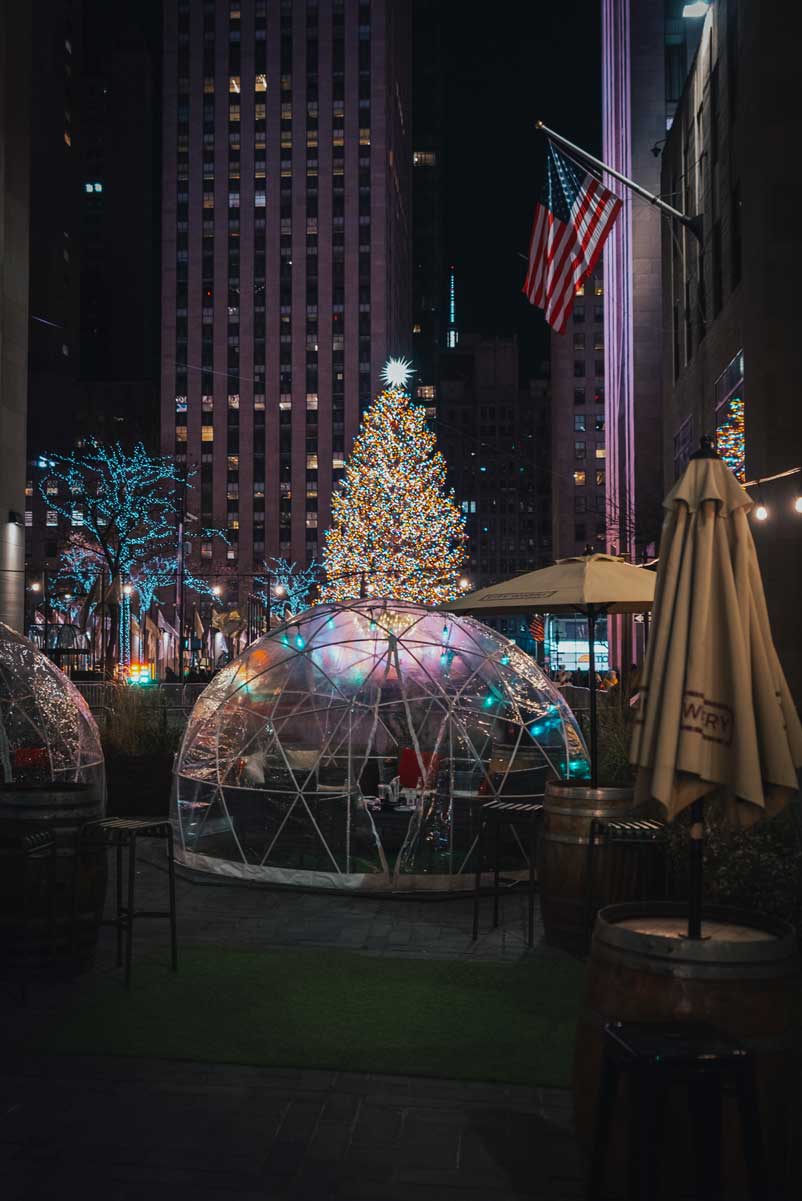 45 Rockefeller Plaza
A very well-known fact is that the Christmas tree at Rockefeller Center can get, well – busy. The most famous Christmas tree in the world is an obvious destination for visitors from near and far, and most days during the holiday season draw a large crowd.
One excellent way to get your Rockefeller Center tree fix without having to jockey for viewing space is to post up at the Rockefeller Center City Winery pop-up.
This City Winery outpost features winter domes perfectly located within eyeline of the tree, with the added bonus of wine to accompany you! Share a cheese plate and a bottle of Cabernet Sauvignon while you marvel at the lights from your own personal wine bar and one of the best Christmas-themed restaurants in NYC!
Mr. Purple
View this post on Instagram
180 Orchard St 15th floor
If you're looking to go on a few holiday season first-dates, the wide variety of private yurt/bubble options in the city make for appropriately wintry and romantic settings.
Housed inside the chic Indigo Hotel in SoHo, Mr.Purple is another fine option for those looking for a fashionable and luxe Christmas restaurant in NYC that is also an excellent date spot.
The rooftop at Mr. Purple is modeled in the finest après ski-chalet decor complete with soft candle-lit birch and faux-fur decor, flatbread bites, fruit and cheese fondue sets, pork-belly skewers and endless Veuve Clicquot. Reservations are also available for larger groups if you're looking for a sumptuous, cozy hangout in the colder months.
The Greens at Pier 17
View this post on Instagram
89 South St
Located in a prime spot on the East River by South Street Seaport, The Greens at Pier 17 sports an innovative installation in the winter months – stylish, glass enclosed, winter cabins that are outfitted with Christmas trees, cozy blankets, and comfort foods (try the fried chicken or baked hake!).
Cabins can fit up to 10 guests, and reservations are required. Another great aspect of The Greens is that a portion of your reservation fee is donated to organizations that help feed New Yorkers in need.
Spend a warm, relaxing dinner with family and friends overlooking the Brooklyn skyline at one of the best Christmas restaurants in NYC.
Lillie's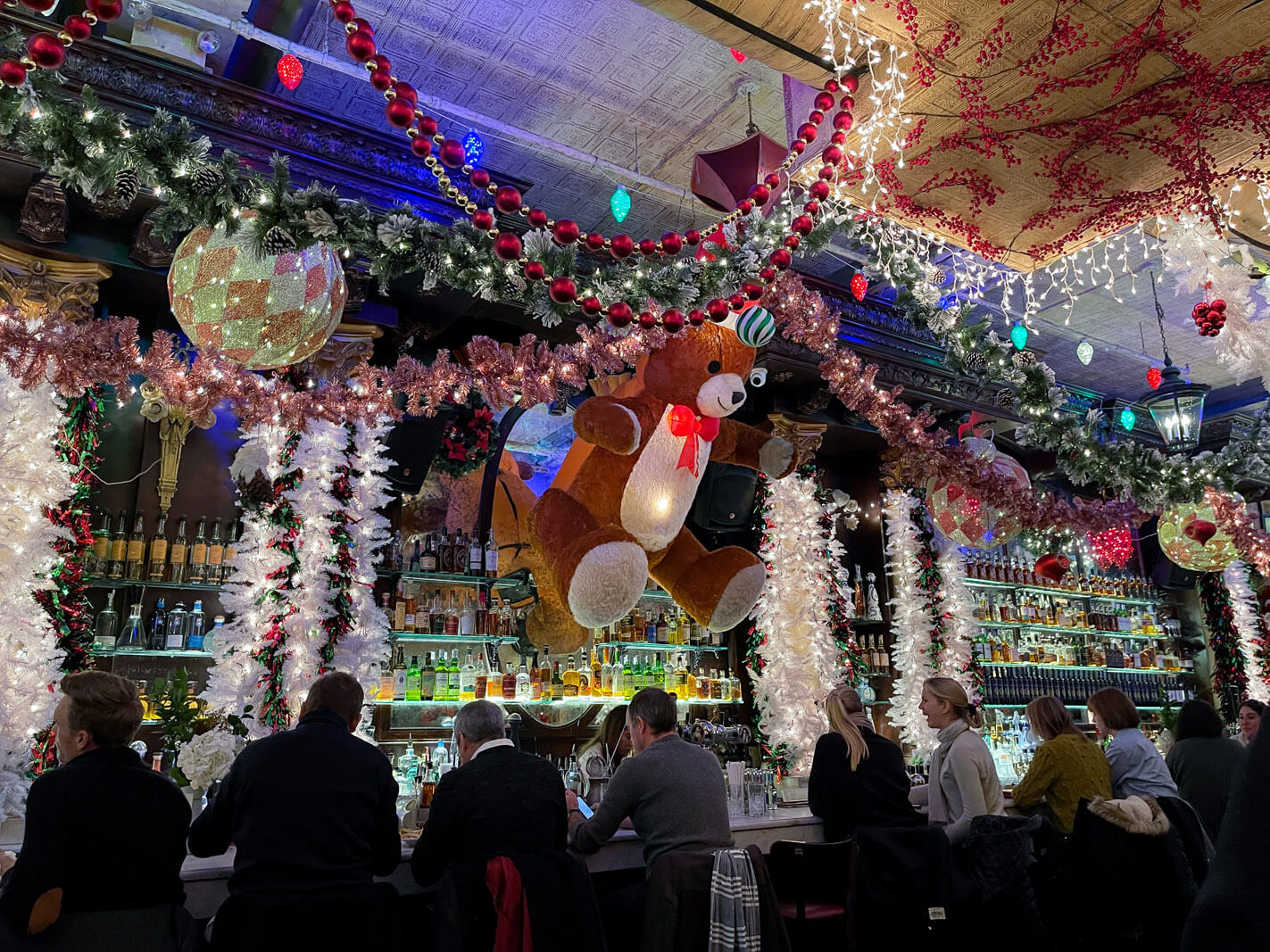 Times Square 249 W 49th St & Union Square 13 E 17th St
Are you familiar with those Christmas-themed stores that explode with quirky charm? Have you ever wanted to eat and drink in one? Then Lillie's Victorian Establishment is for you!
Lillie's, which boasts locations in both Times Square and Union Square, are some of the best restaurants in NYC for Christmas and are known for their tasty, New American pub fare, creative cocktails, and extremely thorough seasonal decorating.
Dine under the shine of hundreds of ornaments, boughs of holly, Nutcrackers, larger-than-life wreaths, and giant animatronic teddy bears in an opulent-yet-friendly bar setting that is parallel to none among restaurants in NYC for Christmas.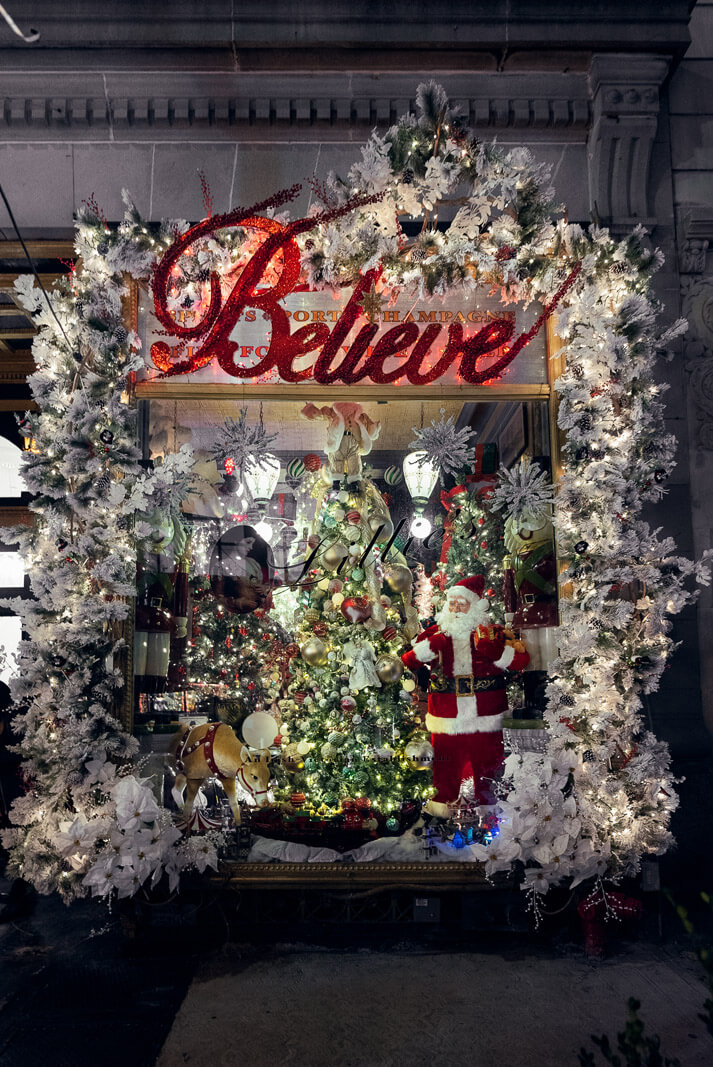 The Union Square outpost is the perfect place to snag a hearty brunch after shopping the Union Square Holiday Market, while the Times Square location is an ideal choice for a post-show holiday cocktail after checking out one of Broadway and off-Broadway's newest offerings.
Snowday in Brooklyn
348 Wythe Ave, Brooklyn
Popular brunch joint Sunday in Brooklyn is known for its aesthetically pleasing yet equally tasty fare – chief among the selection are the impossibly perfect Sunday Pancakes™ (yes, they are trademarked!) which are topped with Hazelnut Maple Praline and brown butter.
While you can get the Sunday Pancakes year-round, during the holiday season Sunday in Brooklyn becomes Snowday in Brooklyn, one of the best Christmas bars in NYC.
The bar room at Snowday is thoughtfully decorated with frosted windows, Christmas trees, wreaths, and of course, artificial snow that creates a warm and inviting atmosphere to catch up with friends over a winter piña colada, served in a polar bear-shaped drinking vessel.
Snowday is an extremely popular choice for Christmas themed restaurants in NYC, so be sure to make a reservation if possible!
Nog Shop at Quality Meats
57 W 58th St
Quality Meats (part of the Quality family at Quality Eats, Quality Bistro, and Quality Italian) has a look and feel that already lends itself to the holiday season – the brick and wood-paneled steakhouse gives off a cozy, intimate, wintry vibe perfect for holiday dates or anniversaries.
During the holiday season Quality Meats transforms into the Nog Shop, one of the best restaurants in NYC for Christmas serving up themed cocktails along with their traditional steakhouse fare.
Try an Après Ski Sangria or one of their nog varietals served in creative glassware fitting of a 19th century brasserie in the Alps. For a complete date itinerary, try skating at Wollman Rink in Central Park, one of the most famous ice skating rinks in NYC, followed by shopping in the Columbus Circle Holiday market before heading to the fantastic Christmas restaurant in NYC, The Nog Shop at Quality Meats!
Après Arlo
View this post on Instagram
231 Hudson St
Located in Soho's chic Arlo Hotel, Après Arlo is their courtyard Christmas restaurant in NYC and a transformative holiday dining experience!
The entire courtyard is remodeled into a Swiss skiing village, complete with elaborately constructed private cabins decorated to the hilt with rocking chairs, Christmas trees, blankets, and wreaths.
Après Arlo serves up hearty homemade pastas along with their seasonal wine, beer, and cocktail selection from their in-house restaurant, Harold's– make sure to try the Chai Chalet Toddy (cognac, cranberry, vanilla, chai tea).
There's even a nightly faux-snow show that adds to the magical ambiance! If you're staying in town for the holidays and want to take your family and friends somewhere truly otherworldly, Après Arlo also serves Christmas Eve dinner and Christmas Day brunch!
Pink Holiday Pop-Up at The Moxy Hotel
485 7th Ave
Maybe you're into Christmas, but you're looking for a break from the intense red and green motif around town – head over to the Pink Holiday Pop-Up at the Moxy Hotel in Midtown!
The entire second floor of the Moxy is refitted into a pink paradise, including cheerful and campy pink Christmas trees, wreaths, and twinkling lights.
Stop by the pink-themed boozy hot chocolate bar and try a Pink Velvet Hot Chocolate while posing in front of the many neon signs and photo staging-ops throughout the space! Snap a few to commemorate your time at one of the best Christmas bars in NYC!
The Skinny Bar and Lounge
174 Orchard St
What if you identify more as The Grinch than Kris Kringle? If you'd like a bit of an alternative Christmas restaurant in NYC, check out the rotating holiday pop-ups at The Skinny Bar and Lounge on the Lower East Side.
Known year-round for their custom cocktails and seasonal fare (be sure to try their excellent burgers!), the Skinny turns into a grinchy paradise (past themes include the "Helliday Inn" and "Naughty or Nice"), complete with actors that play Grumpy Santa, creepy-campy decor, and cheeky holiday party games. Blow off some steam after the office holiday party at this raucous NYC Christmas bar!
Sleyenda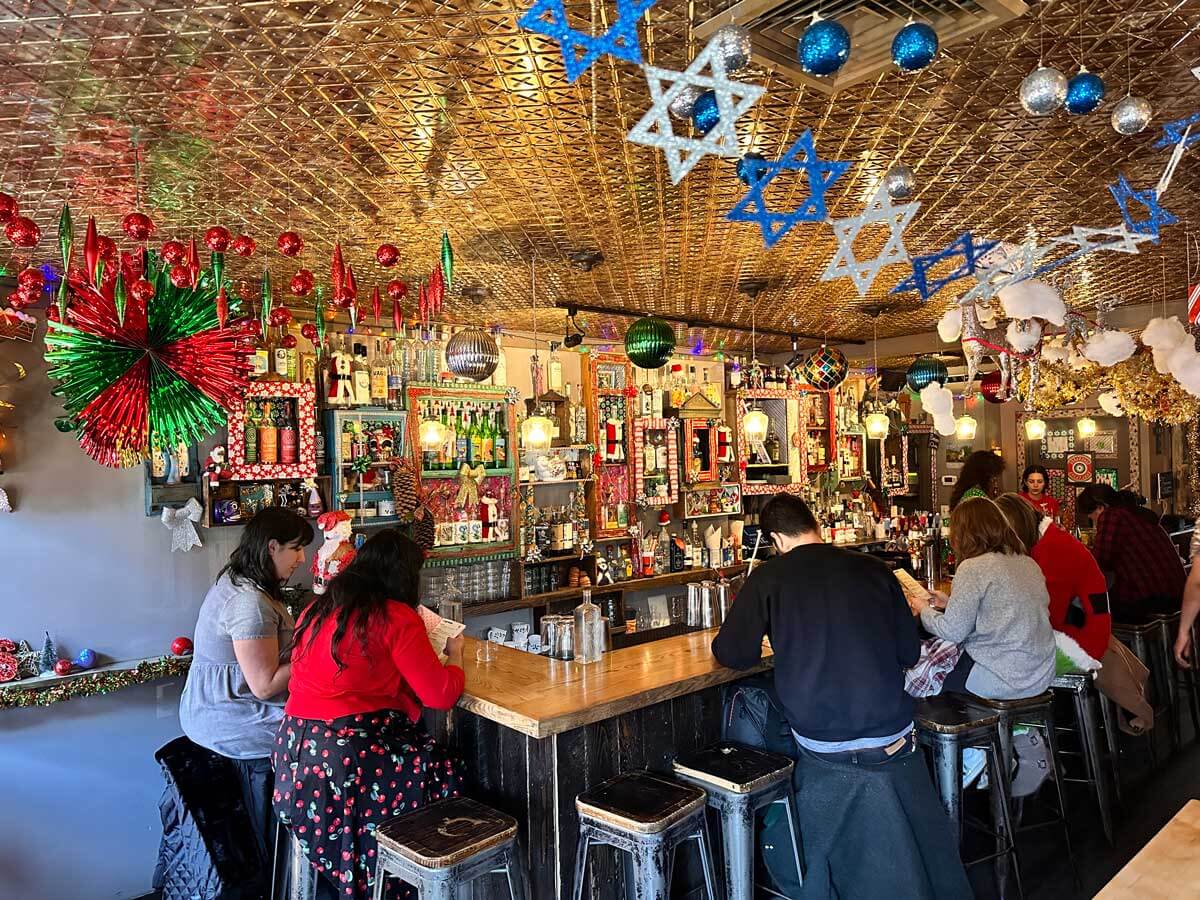 221 Smith St, Brooklyn
It's well-known that during the holiday season Leyenda, a Cobble Hill favorite for pan-Latin cuisine and cocktails, becomes Sleyenda – a friendly and inviting NYC Christmas bar.
Enjoy cocktails like the Nutcracker Old Fashioned, Mexican Hot Chocolate, or Candy Striper (leblon cachaca, coconut, vanilla maple, lime, peppermint, and cardamom) in a cheerful, chrome-decked setting where you can also purchase holiday themed glassware and gifts from local vendors.
Check out one of Thrillist's Best Cocktail Bars in America and celebrate the holiday season in style!
Donner and Blitzen's Reindeer Lounge at Bell Book & Candle
View this post on Instagram
141 W 10th St # A
If you are hoping to leave less of an environmental footprint while still celebrating the holiday season, the award for most sustainable Christmas restaurant in NYC definitely goes to Bell Book & Candle – a unique West Village spot known year-round for its seasonal produce sourced from its aeroponic rooftop garden.
During the holidays the basement restaurant and lounge remodels its decor into a cheery, tinsel-laden space serving up seasonal cocktails (try the holiday Old Fashioned with rosemary-infused bourbon!) bottomless brunch, and $1 happy hour oysters!
Bell Book & Candle is one of the best Christmas restaurants in NYC to meet a friend for happy hour snacks, exchange gifts and holiday anxieties (hey, we're New Yorkers!) before traveling home.
Oscar Wilde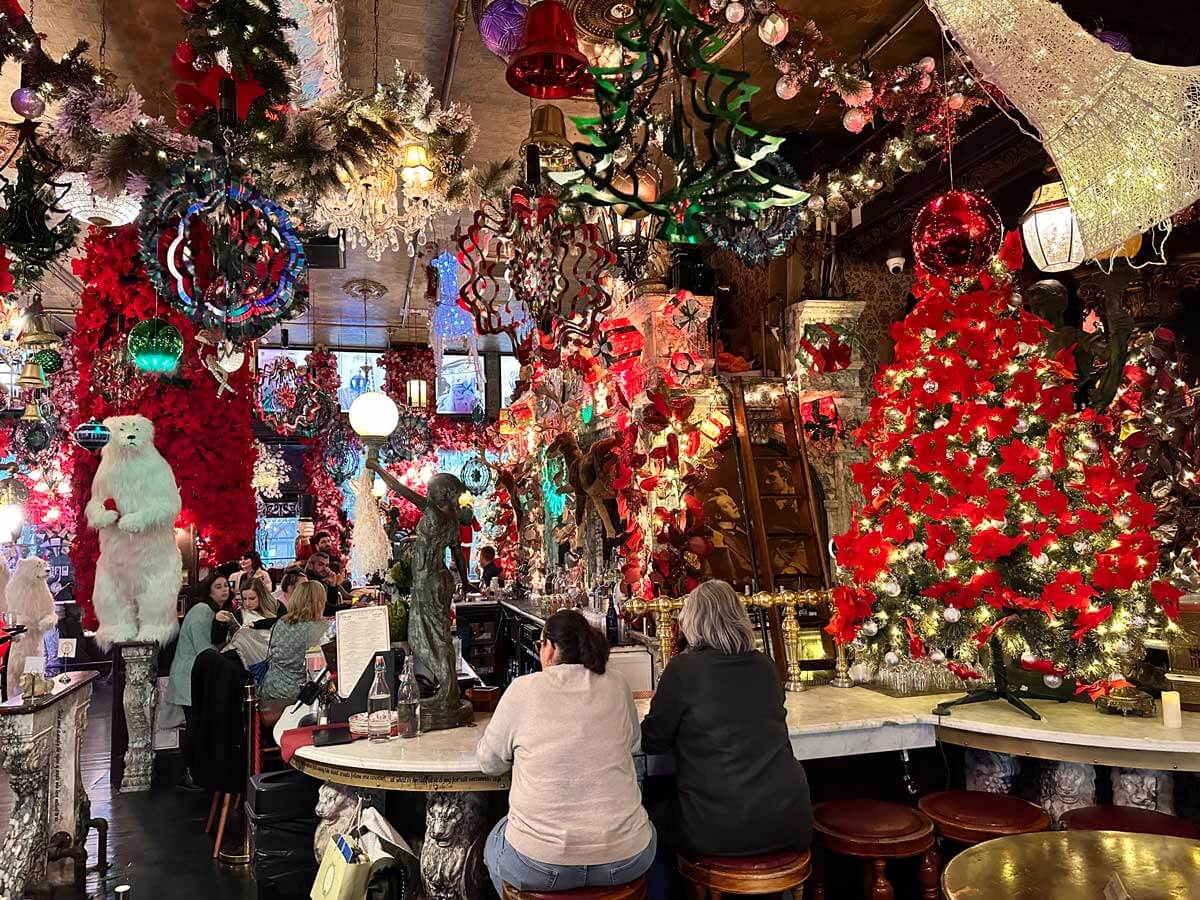 45 W 27th St
This Victorian bistro that pays homage to Mr. Oscar Wilde is another one of the best Christmas-themed restaurants in NYC! Oscar Wilde not only gets decked out for the winter holidays but also during Halloween time too!
This Victorian and prohibition-inspired whiskey bar is also home to the longest bar in NYC stretching at 118.5 feet long! During the holidays you can experience their whimsical holiday decor while somehow they've managed to keep very tasteful and not over the top while having touches of the holiday from ceiling to the floor!
Pete's Tavern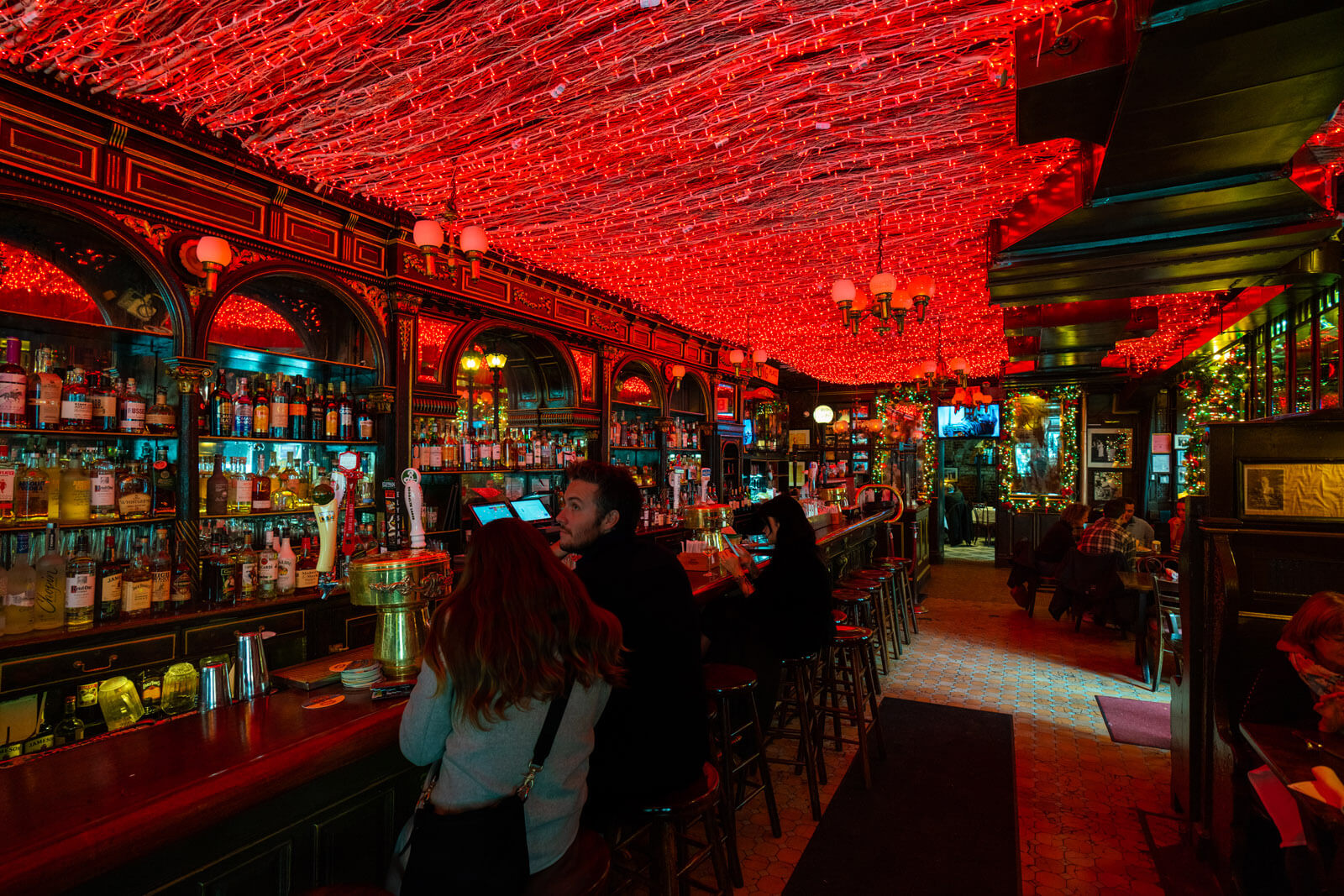 129 E 18th Street
Another bar that gets festive for the holiday season can be found at "New York's oldest original bar," found in Gramercy Park and has been around since 1864. Pete's claims to be the oldest continuously operating tavern in the city and that is a reason to visit alone besides being a popular filming location for shows like Seinfeld, Spin City, Sex and the City, and even Law and Order to name a few.
During the holiday season, this becomes one of the best Christmas bars in NYC! The entire ceiling is covered with red lights that reflect in the windows and the doorways are covered in holiday greenery.
Besides the decor, it is said that O. Henry actually wrote the classic Christmas story short, "The Gift of the Magi," while sitting at this bar too!
You don't want to miss this quintessential New York establishment, especially during the holidays!
Loreley Beer Garden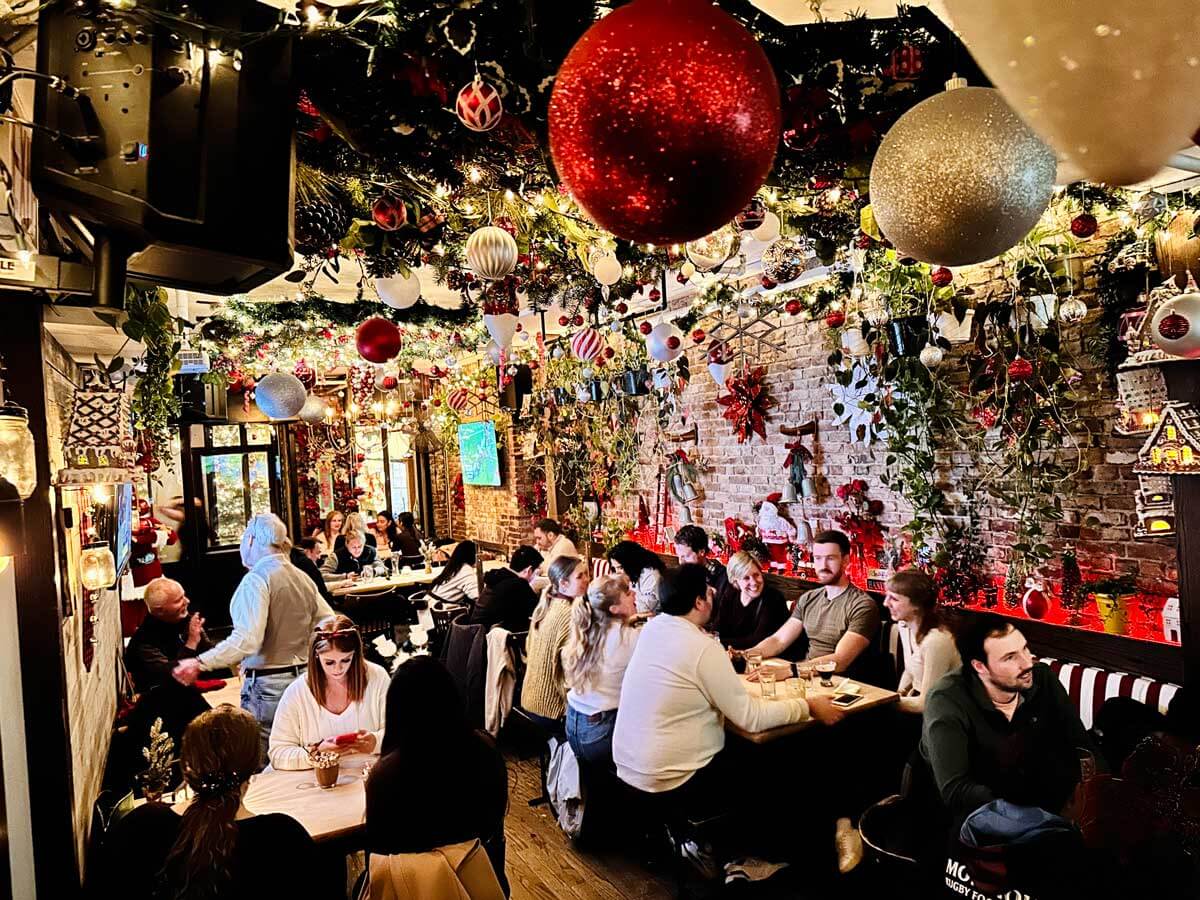 7 Rivington St
Another not to be missed Christmas bar in NYC is Loreley Beer Garden, a Lower East Side biergarten that gets super festive in the holiday season! The indoor bar is decked to the halls with seasonal decor and their heated outdoor beer garden is also dripping in holiday decor!
For drinks be sure to check out their winter specials including spiked egg nog, bourbon hot chocolate, winter sangria, mulled wine, and other fun holiday cocktails!
Holly Jolly Holiday Bar
47 7th Ave
One of the newest and most exciting holidays pop up bars in NYC is the Holly Jolly Holiday Bar at Mad Morton in the West Village! This festive bar has holiday classics and cartoons playing on the tvs throughout the bar and restaurant, holiday-inspired cocktails, and ornaments and glittery snowflakes hanging from the ceilings!
Sit at the bar or a table, either way you're going to be guaranteed a time full of cheer and fun!
To enjoy this holiday restaurant and Christmas bar in NYC you have to pay for a reservation which includes a guaranteed spot in this holiday spot plus one free cocktail from their holiday menu! You can also make a reservation for Santa's Boozy Brunch on the weekends, your reservation and ticket include one entree and a holiday cocktail or you can upgrade your reservation to get bottomless mimosas!
Paddy McGuire's Ale House
237 3rd Ave
So you didn't into the most famous NYC Christmas bar at Rolf's this season because reservations are tough to come by and there was a long line? Don't you worry! Walk just down the street to Paddy McGuire's Ale House for another Christmas bar in NYC!!
If you're feeling hungry, grab a bite to eat first though as this is a spot just for drinks! Enjoy sitting at the Irish bar with a canopy of holiday ornaments dangling over your head illuminated by strings of lights! And if you need a great pick-me-up, their espresso martinis are just what the doctor ordered!
Skinflints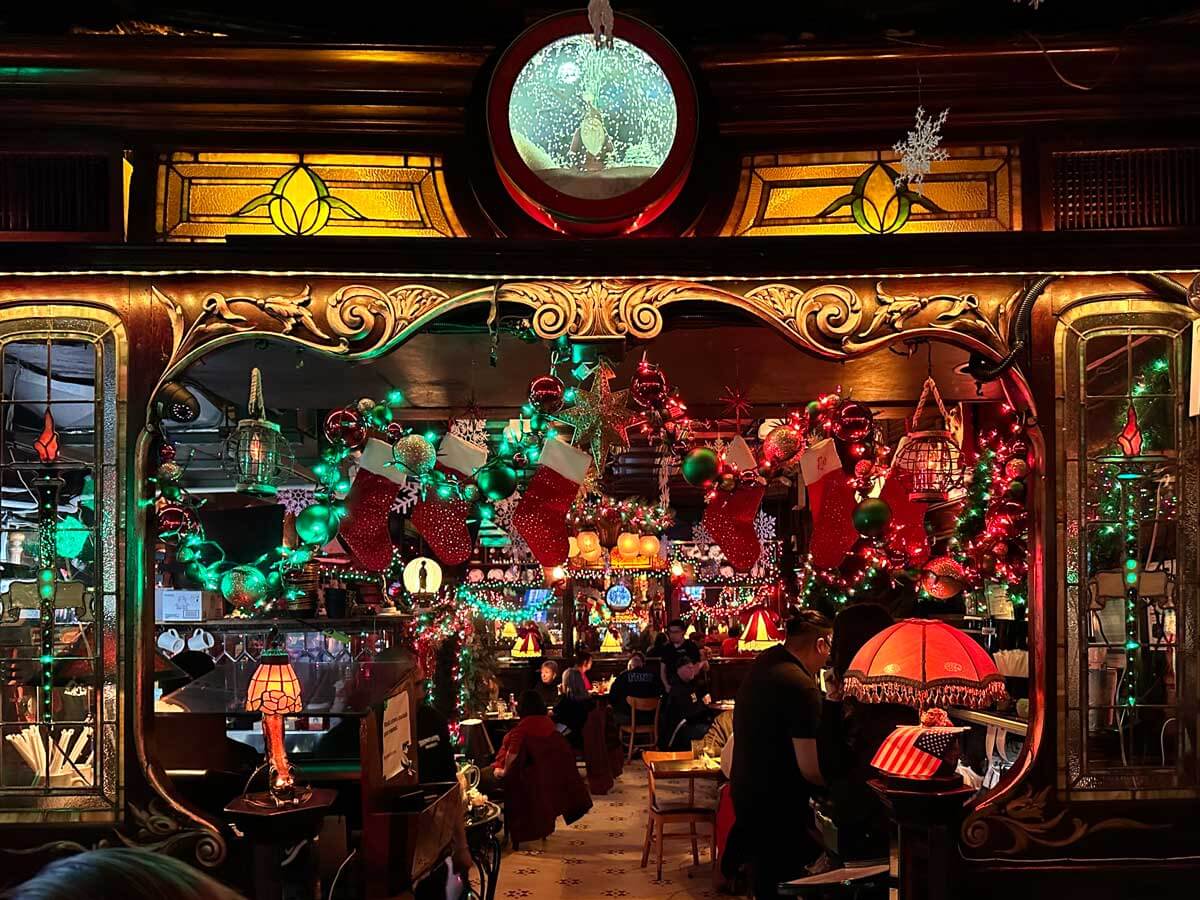 7902 5th Ave, Bay Ridge
For one of the best-hidden gems and Christmas restaurants in NYC, you'll want to venture out to Bay Ridge deep into Brooklyn! Skinflints is a neighborhood mainstay and New York City classic establishment. Not only do you find some of the rare food and drink prices that won't absolutely break the bank, but you also will find one of the best holiday themed restaurants in the city!
This longtime restaurant has been around since 1975 and serves up burgers you don't want to miss! But better yet, during the holidays you'll be greeted with floor-to-ceiling decor from the bar to the dining area. From snow globes, glowing garland, to tinsel and holiday choo choo trains, this is probably one of the best kept secrets for New Yorkers at the holiday season!
This is a GREAT addition to seeing the Dyker Heights Christmas lights nearby, you can easily walk here or hop on the train for a few stops pre or post-Christmas lights sightseeing!
Frosty's Christmas Bar New York
View this post on Instagram

220 W 44th St
For an over-the-top, three stories of holiday madness, you'll want to head to Frosty's Christmas Bar New York! Located in Times Square, this is a not to be missed holiday destination and pop up bar if you're wanting to party with Santa and all his helpers this season!
There are two different experiences to be had here, you can either party at the bars on the bottom two levels of Frosty's or you can enjoy lunch or dinner at this festive NYC Christmas restaurant on their top floor. Either way you go, you'll have several holiday photo opportunities including fun sets with Santa's sleigh or even a chance to get a photo with fun characters walking around!
All entries are timed and you need a ticket to enter the bar areas. You don't need a ticket to dine at this holiday-themed restaurant, but you do need a reservation!
Papillion Bistro & Bar
22 E 54th St
One of the best Christmas restaurants in NYC can be found at this bi-level French brasserie and restaurant (who also gets decked out for other holidays like Halloween too!). Centrally located in Midtown next to all of the other fun Christmas season festivities and activities, Papillion transforms into a holiday wonderland!
The same owners of Lillie's Victorian and Oscar Wilde are also responsible for the holiday theme decor here, so you know it's good as all of these establishments are some of the BEST Christmas bars in New York!
Be sure to go up the stairs for the best view of all the decor hanging from the ceiling and walls to the floor! And be sure to enjoy a nice lunch or dinner here while you're at it.
They are currently closed on the weekends though, so you'll want to plan your visit to this NYC Christmas restaurant on a weekday.
Sleigh Bar
View this post on Instagram
754 9th Ave
Located in Hell's Kitchen, close to all the fun Midtown holiday festivities, is another festive holiday pop up bar in New York! Located in the former home of Chow Down NYC, this holiday dive bar features kitschy decor like Christmas trees dangling upside down above the bar, twinkling strings of lights, and even a few menorahs!
And any good NYC Christmas bar, they've got holiday cocktail specials and even a souvenir cup you can buy and take home to remember all the good times and yuletides you had here.
Grinchy's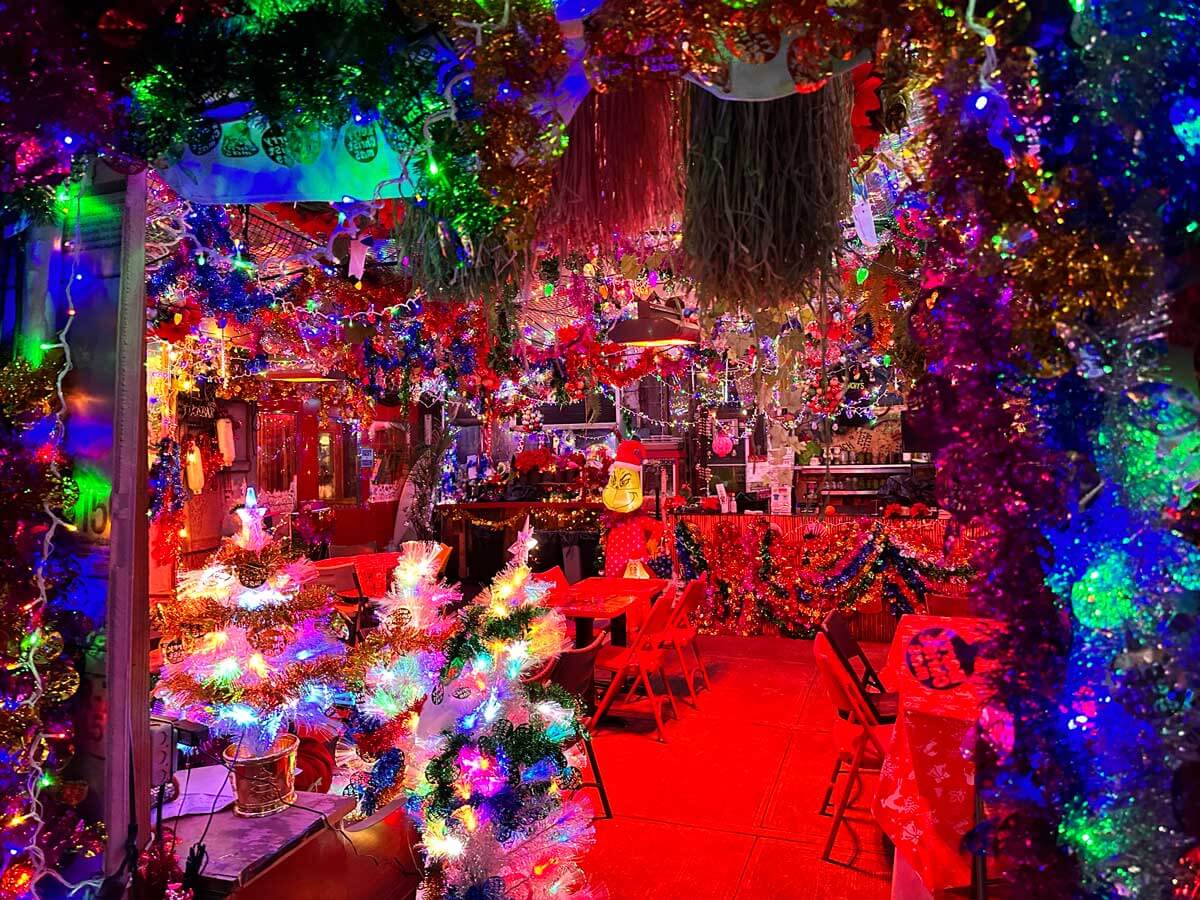 261 Moore St
One of the coolest Christmas-themed holiday pop-ups is at none other than Roberta's in Bushwick, one of the best places for pizza in Brooklyn with their 'Grinch' themed holiday pop-up! This holiday tiki bar has wild and over-the-top decor from floor-to-ceiling tinsel in their heated tented area, outdoor seating (with heat), and of course, all kinds of Grinch decor including blow-ups, cutouts, and even a Grinch flipping the bird while smoking a cigarette.
The best part about this Christmas-themed restaurant in NYC is that you get to enjoy Roberta's pizza while you're at it!
Check Resy, you'll have to secure a reservation to sit in the holiday-themed area only available in the evenings.
---
One of the best parts of the holiday season in New York is that it lasts from November through January (and a few of these spots even extend through March!). Plan to get through slush and winter winds by warming up with family and friends frequently at these fantastic restaurants in NYC for Christmas!
---
About our Guest Author
Sarah Beling is a playwright, New Yorker, and passionate food enthusiast who is always looking for her next meal. You can find her in an NYC park, enjoying a chopped cheese sandwich and reading about NYC's best new places to eat.
---
Enjoyed this guide to the best Christmas themed restaurants in NYC and Christmas bars in NYC? Bookmark for later and consider checking out our other holiday guides to the city including the best Christmas lights in NYC, the best Christmas movies set in NYC, and make your way to Brooklyn to see the Dyker Heights Christmas lights!