Looking for the best Bed Stuy bars to check out? We got you! From its beautiful brownstones to its buzzy tree-lined streets, Bed Stuy is a sprawling neighborhood in Brooklyn that is home to some of the hottest and most happening bars in the city!
From chill live music venues to craft beer spots, and some of the most relaxing and laidback backyards in the borough, you'll find all of the city's watering hole gems right here in Bed Stuy.
So whether your goal is to enjoy a crafty cocktail or cheap pint, a full-fledged feast or a grab-and-go snack, these Bed Stuys bars have got you covered.
And while you're here be sure to check out the best things to do in Bed Stuy.
Cool Bars in Bed Stuy
Glorieta Baldy's
Address: 502 Franklin Ave
Feeling a craft beer craving coming on? Head over to Glorieta Baldy's! From hard-to-find craft beers to a $5 Narragansett, this not-so-fancy Bed Stuy bar actually makes some fancy drinks.
There are even pinball machines for when you're feeling a little competitive (and tipsy). This is the sort of place that compels you to stay and sip all night long, regardless of whether you're with a group of friends or on a romantic (or not so romantic) date.
When the weather is warmer, grab a sidewalk or open window seat! Otherwise, enjoy the cozy interior and satisfying suds!
Chilo's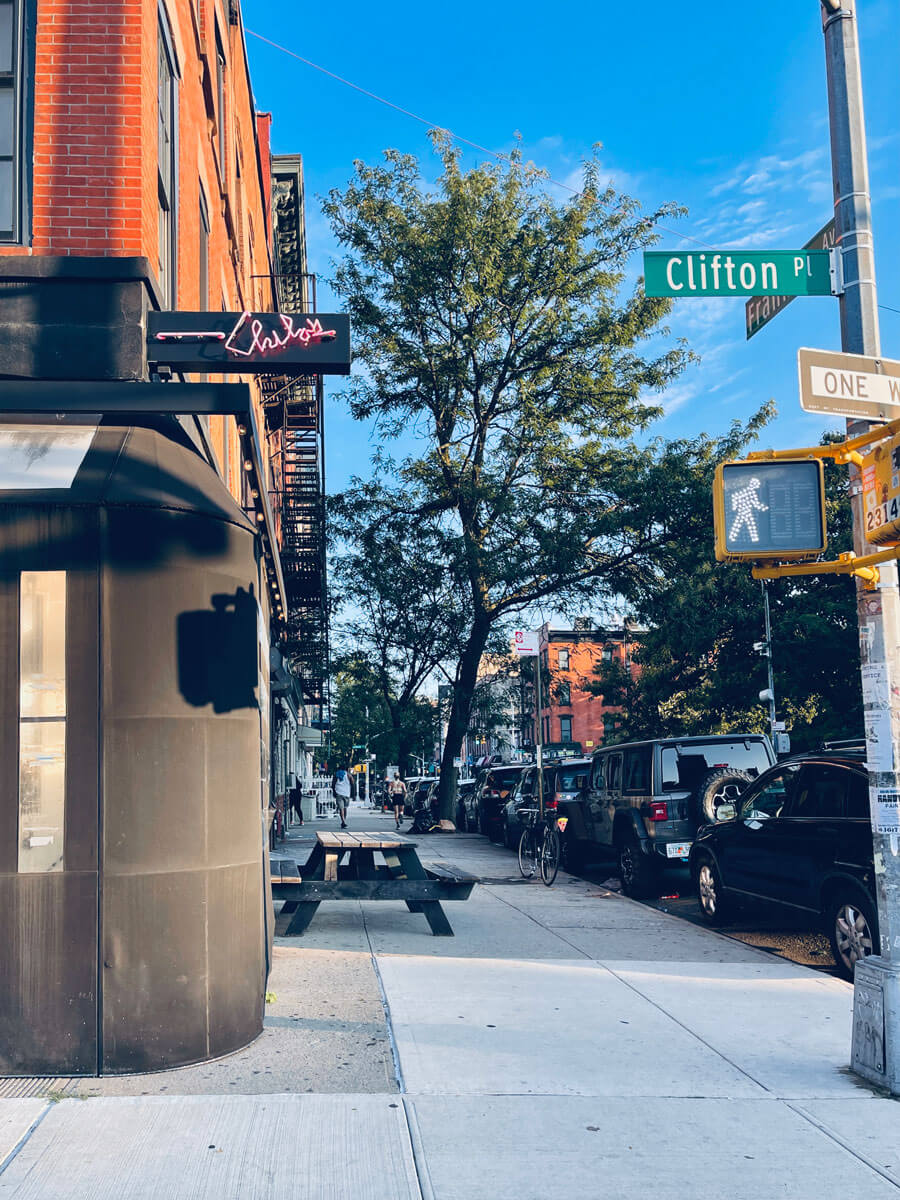 Address: 323 Franklin Ave
Who doesn't love a taco truck, right? But when that truck happens to be parked outside a divey tequila/mezcal bar, that's even better! Not to mention this spot is also where you can find some of the best tacos in Brooklyn!
Yes, the margaritas and micheladas in this Bed Stuy bar are top-notch. Not to mention the pico back shot with pico de gallo and tequila. But while you're there, be sure to also check out the happy hour drink specials.
With some of the best frozen cocktails in Bed Stuy and a great backyard (that's even covered in the winter), there's no reason you can't enjoy Chilos all year round.
Also, one of the best places to eat in Bed Stuy! Win, win all around.
C'mon Everybody
Address: 325 Franklin Ave
Just as its name suggests, this queer-owned Bed Stuy bar is for everybody! And it's only a hop, skip, and a jump away, from Chilo's. So once you get a taste for those delicious tacos head over to C'mon Everybody to enjoy some booming beats—and more.
There's a bar up front, a room with a stage at the back with eclectic live music (and occasional dance party), and even a tiny corner art gallery. One of the best bars in Bed Stuy, C'Mon Everybody hosts a diverse crowd that it attracts with comedy nights, storytelling, rock shows, and burlesque acts. Seriously, what better way to spend a night out in Bed Stuy than a night in C'mon Everybody?
Zig Zag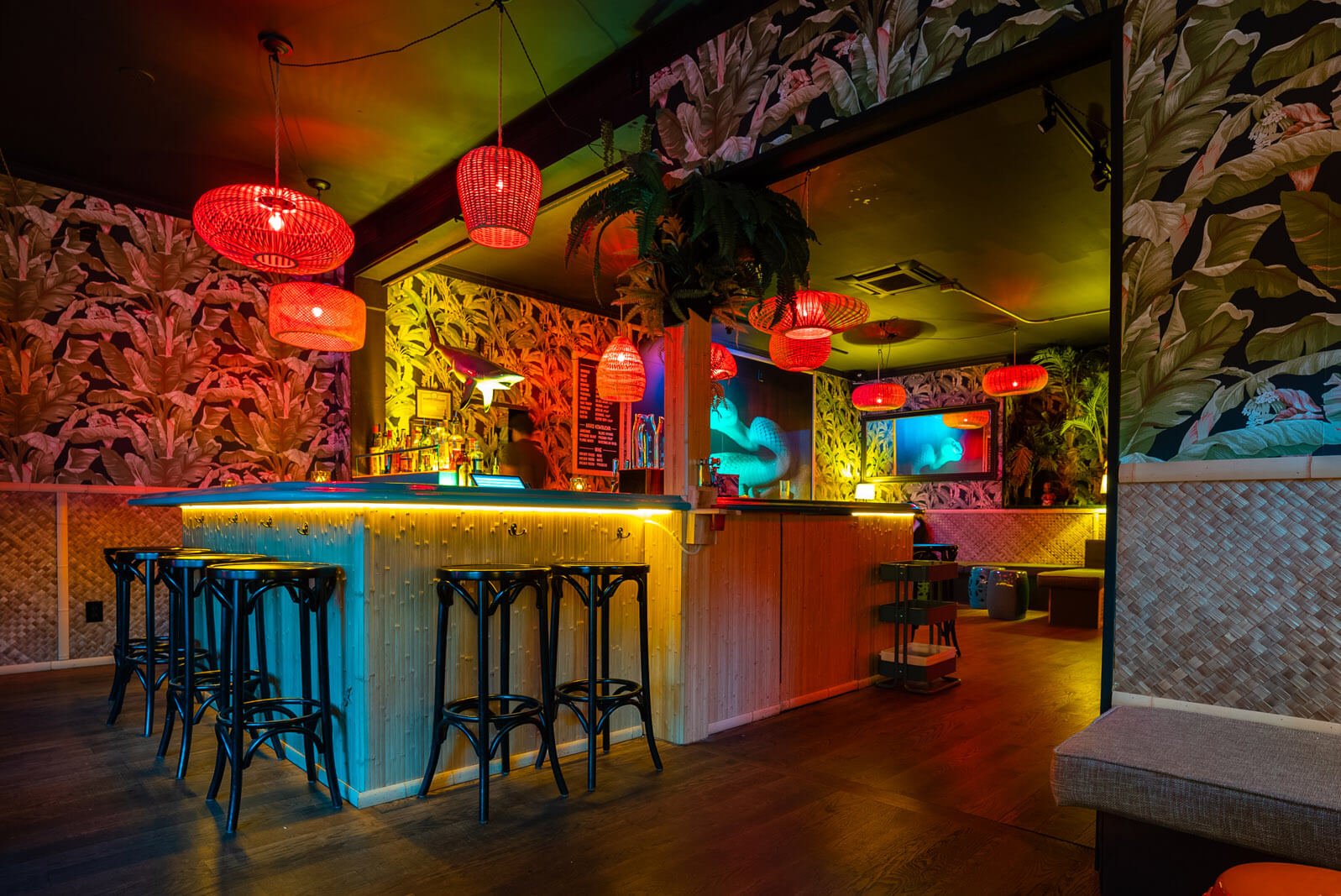 Address: 382 Marcus Garvey Blvd
One of the most fun bars in Bed Stuy for anyone looking to be transported to a swanky tropical lounge needs to check out Zig Zag tiki bar. From fruity and tropical concoctions, some of which are served in fun tiki-inspired cups like a shark, waving kitty, pineapple, and tiki head to a full offering of wine and beer as well.
Enjoy the retro tropical decor which makes you feel like you've escaped to a little oasis of paradise as you lounge around on a date, with a friend, or coworker sippin' on your fun drink.
Because of how fun the drinks are and the entire ambiance in here with their over-the-top and fun decor, this is one of our favorite bars in Brooklyn!
Turtles All the Way Down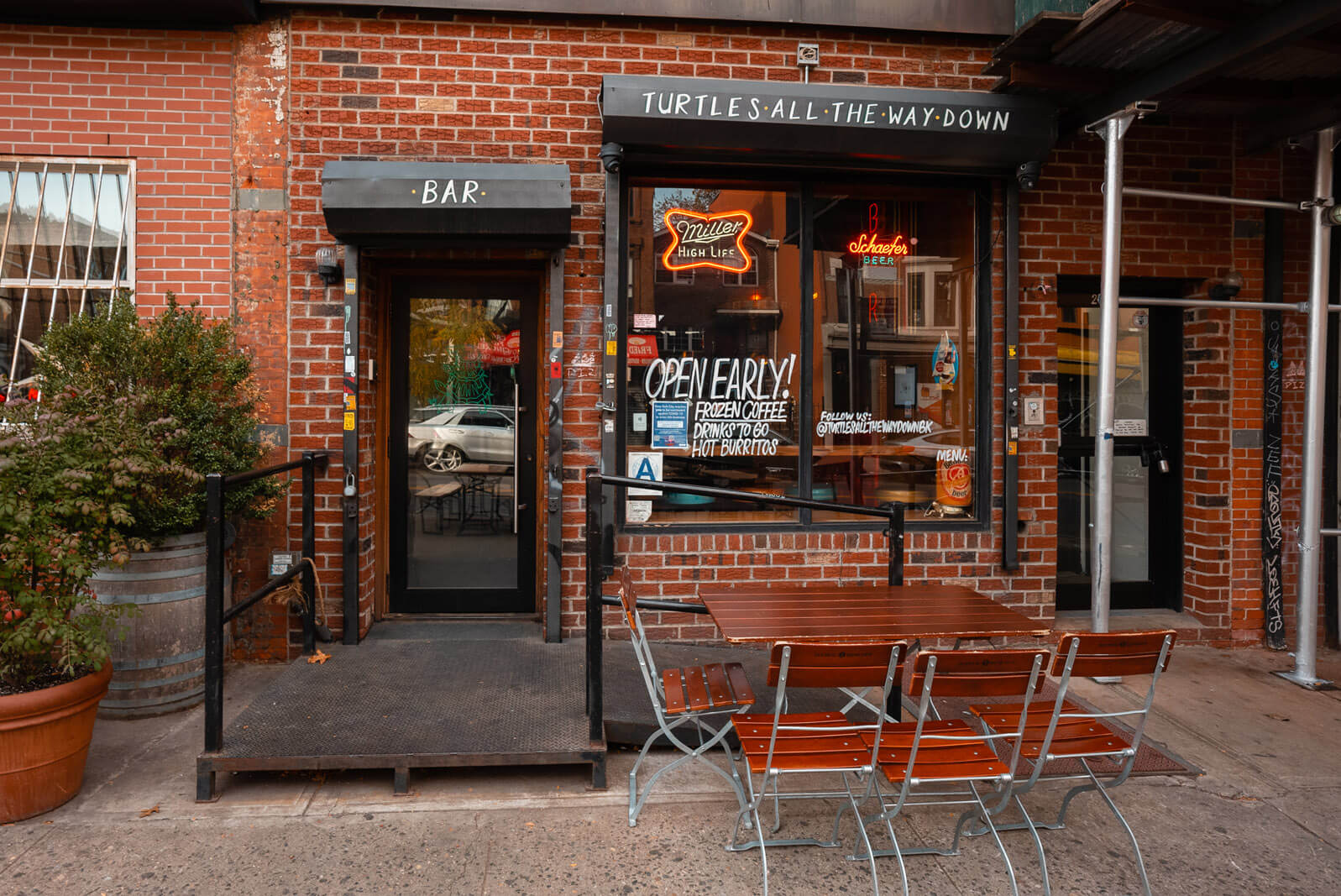 Address: 236 Malcolm X Blvd
Looking for an aquarium, dance hall, dive bar combo to enjoy on your next night out? This Bed Stuy bar checks all those boxes whether you knew you were looking for it or not, this is a fun place to end the night not to mention is fido-friendly.
Play your favorite tune on the old-school jukebox, grab a drink, and be sure to pay a visit to the resident turtles, who race from time to time.
You might be wondering what's up with the name. Besides being inspired by the name of a Sturgill Simpson song with the same name, but also the theory and concept of infinite regress.
As this interview on The Patch describes:
The theory derives from a debate between an established scientist and an elderly woman who believed, "The world is really a flat plate supported on the back of a giant tortoise."

When the scientists tried to trick her into defeat by asking what the tortoise stands on, she replies, "It's turtles all the way down."
LunÀtico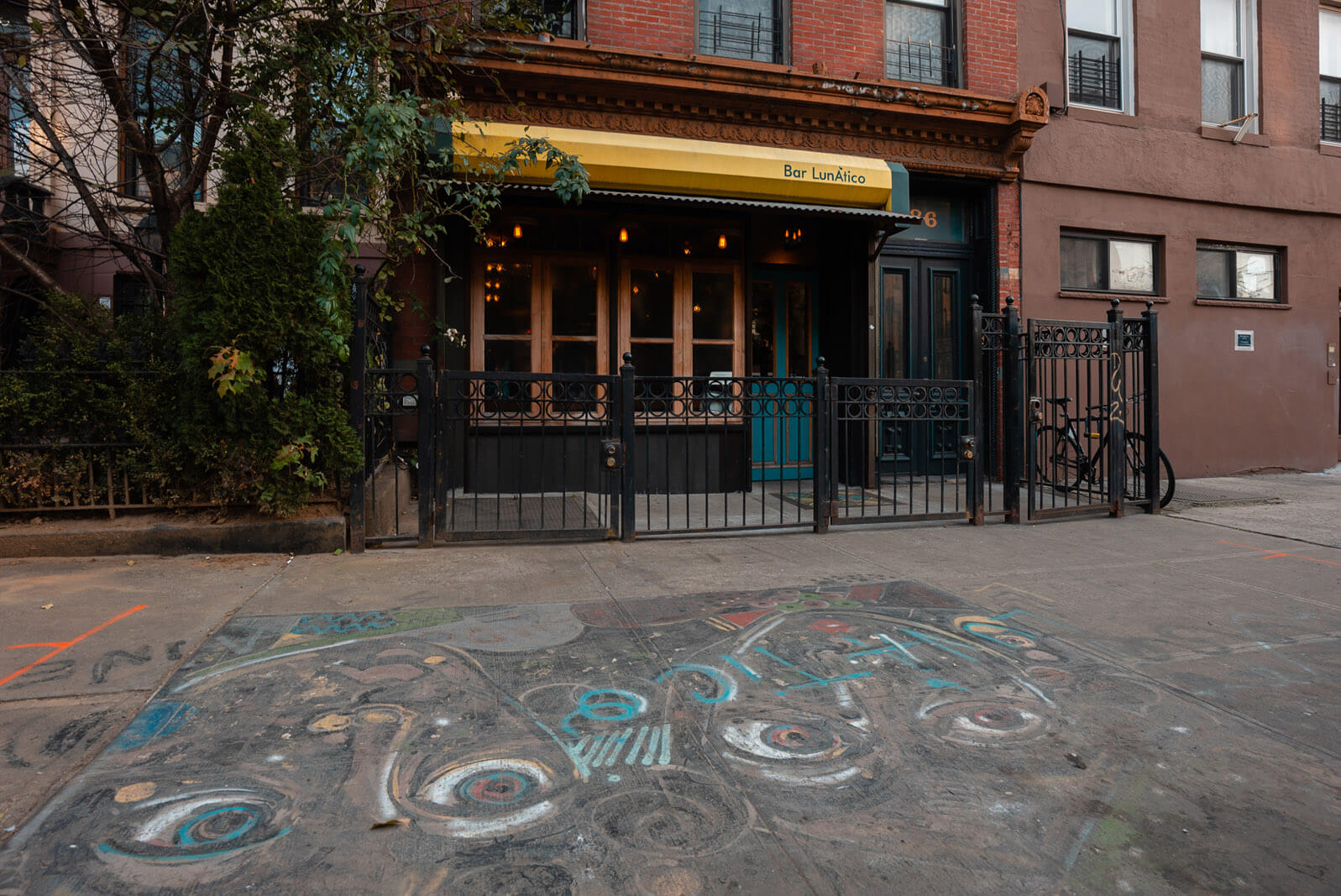 Address: 486 Halsey St
Equal measures cocktail bar, restaurant, live music venue, and coffee shop, LunÀtico is one of the best Bed Stuy bars in the city—hands down! But that's not all. This elegant spot seduces with its cocktail menu alone.
Try inventive cocktails like "star of midnight," "creole moon," and "liquid love," or throng to the small stage for intimate live shows that run six days a week instead. The food menu too is just as delicous. Add them all together and you end up with a magical place that's filled with delights, which makes LunÀtico one of the best bars in the neighborhood.
Dynaco
Address: 1112 Bedford Ave
Whether you live in Bed Stuy or happen to stumble upon the area, this warm and welcoming neighborhood bar boasts an impressive cocktail, beer, and wine selection; plus rotating snacks and even a cake list that will tend to whatever your heart desires.
The aesthetic of this Bed Stuy bar can feel like a cabin in the countryside with its long wooden bar, dim lighting, vintage lamps, and a fireplace to really set the mood.
But it's a fun place to rock n' roll all night. So if you're looking to start your night out or finish it off before you head home, Dynaco is always a great choice.
PS this Bed Stuy bar is cash only! Come prepared!
Lover's Rock
Address: 419 Tompkins Ave
Rum and reggae meet at this Caribbean-themed cocktail bar in Bed Stuy. Here, you'll enjoy a rare combination of low-key chill and upbeat fun vibes that make it quite easy to hang around for hours.
Be sure to also checkout the breezy backyard where you can chat and chew over a rum punch—or two!
Do or Dive
Address: 1108 Bedford Ave
A new-ish kid on the block, this bar in Bed Stuy, Do or Dive is a great place to get cheap cocktails—like the frozen alcoholic coffee drinks they serve in paper cups.
Inside, you'll see a bunch of antique lamps, vinyl bar stools, and vintage beer signs that makes this spot feel like a time capsule from yesteryear. But if you're looking to hang out with a hipster typical Bed-Stuy-style crowd or those who are the opposite of them, at Do or Dive you're guaranteed to have a great time…and most likely a hangover.
Doris
Address: 1088 Fulton St
Whether it's a weekday or weekend, you'll always find a crowd at Doris, and what's not to love? From the cute backyard to its sultry southwestern vibe, and live DJ to its disco ball lighting, Doris is a love-at-fight-sight kind of Bed Stuy bar.
Chill out in the backyard on those beautiful summer-y nights or at the ping-pong table if you're feeling competitive. Doris is quite simple one of the best watering holes for Bed Stuy locals and beyond.
Try one of their cocktails, brews on draft, and enjoy the ambiance here. They also have a good old-fashioned matchbook you can grab and take home from here! Theirs is one of my favorites that I've collected!
Bed-Vyne Brew
Address: 370 Tompkins Ave
Missing partying in the basement like it's 1999? At Bed-Vyne Brew you can relive those memories (or erm, lack thereof) once again. This tiny, dark space offers beer and wine only, which makes things civilized. Well, sort of. What we mean is as civilized as can be when there's a live DJ on deck.
But what really sets this Bed Stuy bar apart is that it has a strong craft beer selection with rotating taps that feature some of the best-known breweries like Itaca, Empire, Sly Fox, and Two Roads.
But Bed-Vyne Brew isn't just a casual pub that pours out pints for a crowd. In fact, here you can actually have a low-key dance party with a (small group of) friends. We say that because the dance floor is only enough for 10 people. Make sure you're one of them!
Wonderville
Address: 1186 Broadway
Located on the edge of Bed Stuy on Broadway is one of the most fun bars in Bed Stuy. This old school arcade/bar has stellar happy hour deals plus unlimited free play on their fun collection of independent video games and arcade games. Got a group of friends? Bring them! There are even video games here that can play up to 16 people! Don't worry there are plenty of options for single player, two players, three players, four players, etc.
Wonderville is another Bed Stuy bar that also hosts frequent events. From video game competitions, live music sets, open VHS nights where patrons can bring their own VHS tape to be played inside the bar.
We love a themed space to enjoy a drink at! Check out all our favorite unique bars in NYC with a cool theme!
Therapy Wine Bar 2.0
Address: 260 Malcolm X Blvd
Not feeling too great? Why cry over spilt milk when you can sip all your sorrows away with a glass of wine instead? Afterall, we love a good Brooklyn wine bar! And there's no better Bed Stuy bar to do just that than Therapy Wine Bar.
This chill spot has reasonably priced wines by the glass, feel-good pitchers, and cheese and meat plates that are so, so finger lickin' good.
But take note: it's not exactly a sommelier's paradise, which means this spot never really gets too crowded. Actually, that might be a good thing, considering noone needs to see you sip and spill all your deepest (and darkest) secrets!
Fulton Grand
Address: 1011 Fulton St
A trendy bar for local hipsters and fun-loving out-of-towners, The Fulton Grand is one of the best bars in Bed Stuy that boasts an impressive craft beer and cocktail menu.
But that's not all. Anyone can have a good time at this Bed Stuy bar because the vibe is unpretentious and the prices are affordable—making this an ideal post-work spot that offers you nothing less than those all-round good vibes.
Brooklyn Beso
Address: 370 Lewis Ave
In search of bottomless mimosas and more? Look no further than Brooklyn Beso. This Latin-and-Caribbean-inspired Bed Stuy bar is sure to make your experience memorable.
It's the perfect spot for a romantic date or for dinner and drinks with friends. Once in, the garden-like space will transport you to a tropical destination almost instantly with its colorful murals and lounge chairs.
DJs spin some top tunes at the backyard of this Bed Stuy bar, which means there's if there's one place in the neighborhood to really get down (and dirty), it's a Brooklyn Beso.
Coyote Club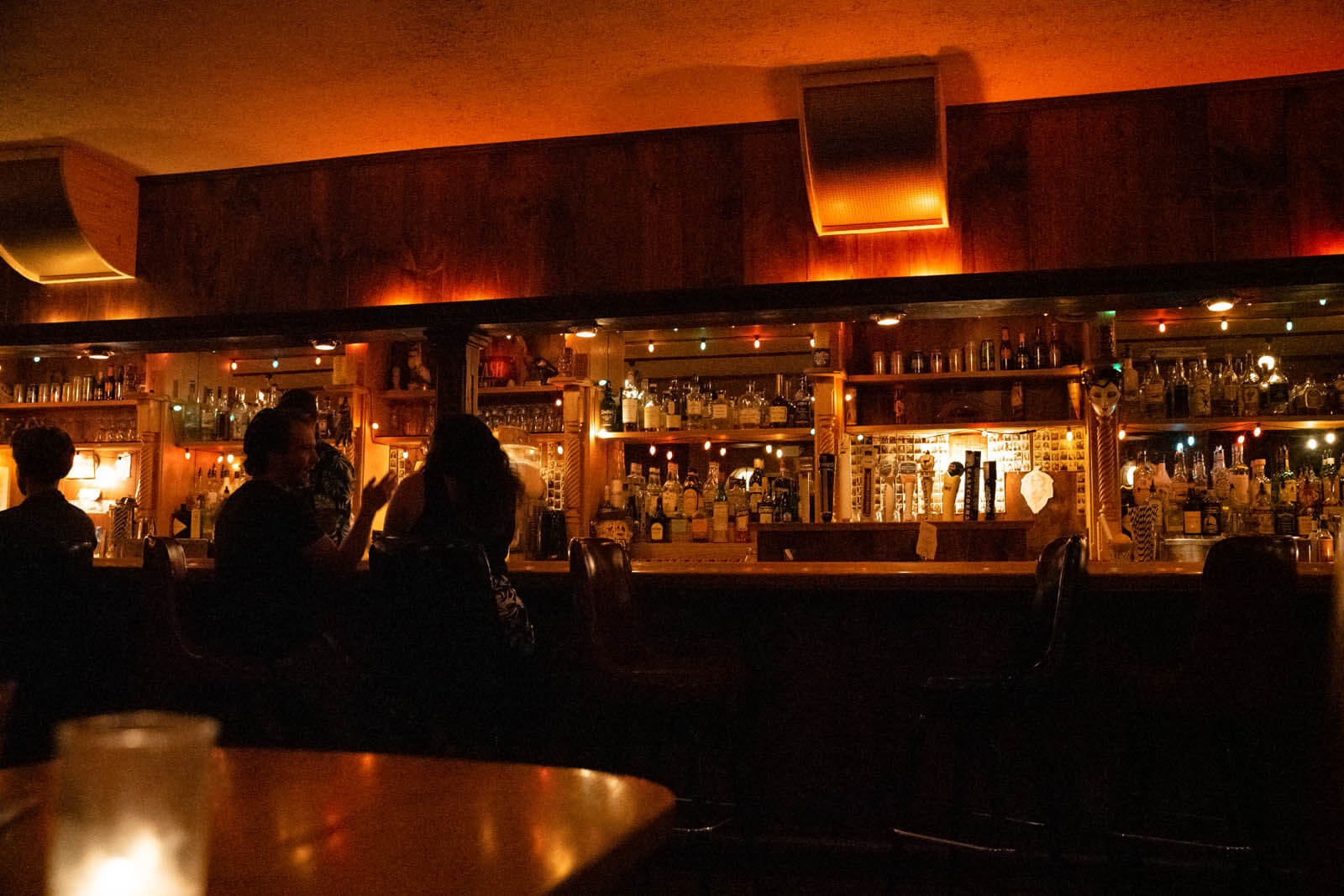 Address: 417 Throop Avenue
I absolutely love the Coyote Club, this not-really-a-dive-bar dive bar is just such a cool space to hang out and have a cocktail. The aesthetics are of those in an old 'dad' bar but you can tell it's been thoughtfully put together complete with dim lighting, lamps dangling over the red leather booths, wooden details from floor to ceiling, and of course cheap drinks.
There's also a giant light up horse painting (that very much reminded me of a giant sand art painting I saw at Ha Long Bay in Vietnam years ago), pinball machines, and even a photo booth.
What's not to love here? There's also generous daily happy hour specials and an outdoor seating area. This is a place that has a great vibe, aesthetic, and good deals.
All Night Skate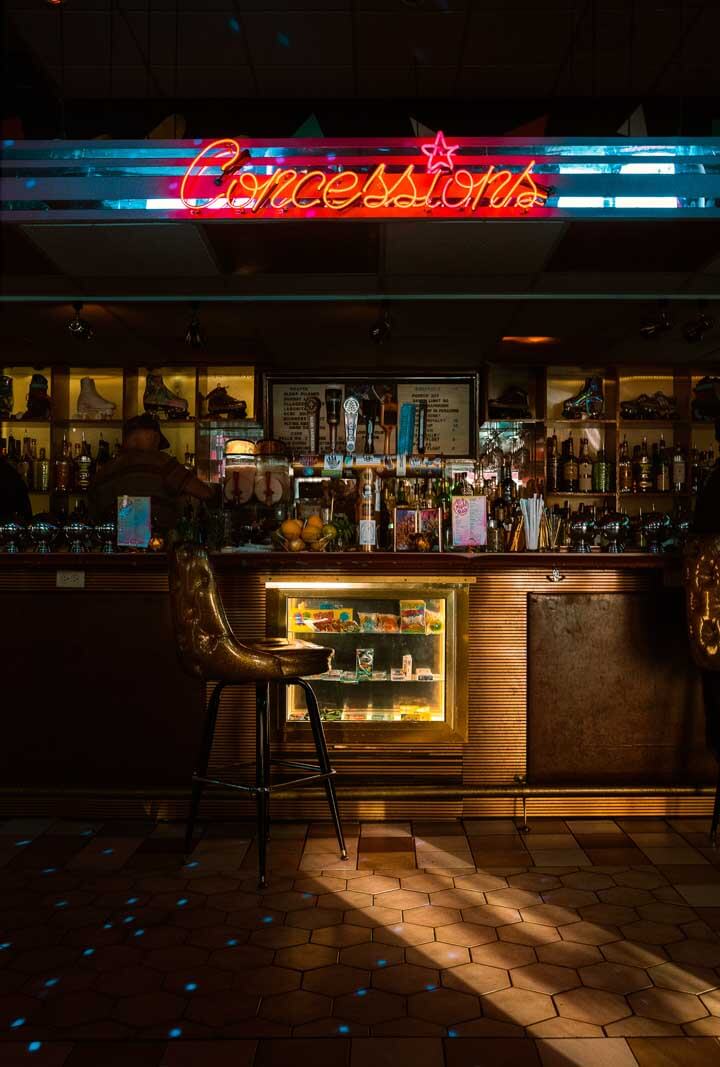 Address: 54 Rockaway Ave
This has to be one of the most fun bars in Bed Stuy, located in the Ocean Hill subsection of the neighborhood is this fun-themed bar. While you won't be finding anyone roller skating here, the entire bar is themed after a retro roller rink! Complete with neon signs, an actual concession stand serves as the bar, disco ball, and even a few arcade games.
Grab one of their cocktails, there's even a flaming drink here, and grab a booth or head up the narrow spiral staircase to the upper level overlooking the late night roller rink disco below.
While there is no 'official' skating here, if you bring your roller skates (or wear them) you get a small discount for being cool and on theme. Mostly, this Bed Stuy bar is a good ol' fashioned dose of nostalgic escapism.
The Franklin 
Address: 448 Franklin Avenue 
The Franklin is located on one of my favorite corners of Bed Stuy and is a great spot to grab cocktails, especially when you're coming home from work as it is not far from the Franklin Avenue C stop. Not to mention it is super aesthetically pleasing and is one of the best bars in Bed Stuy.
Not only does the Franklin offer a great wine and local beer list, they also have some incredible cocktails. They have your classics but they also have their own unique ones to try as well as a long list of spritzes, the perfect summer cocktail. Food is also offered if you need a snack! 
The Franklin is open every day but Monday and Tuesday. Reservations are not accepted but both indoor and limited outdoor dining are available. 
Also, check out their wine and liquor store adjacent to the bar, it's one of my favorites for independent labels, plus you're at the famous ODB mural!
Three Maples 
Address: 1452 Fulton Street 
Another one of the most aesthetically pleasing and best bars in Bed Stuy is Three Maples, a cocktail bar that has some incredible cocktails and a great happy hour!
Just like so many other bars in Bed Stuy, Three Maples has all the classics but also creates a cocktail list of their own with delicious options for a twist on the traditionals. Wine and beer are also available and if you need a snack, they have a great menu of bites to choose from including their famous bacon!
Three Maples is open every day at 4 pm except for Mondays and Tuesdays. Reservations are not accepted and indoor dining is available.
Captain Dan's Good Time Tavern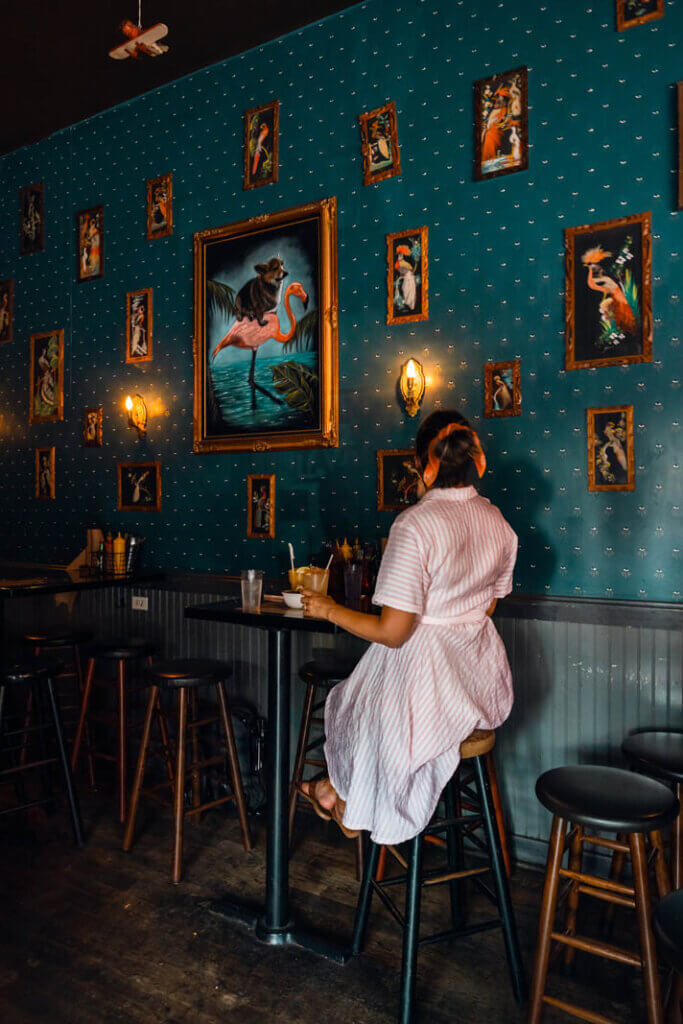 Address: 497 Greene Avenue 
When I used to live in Bed Stuy I would pass by Captain Dan's often on a walk and every time I passed by I told myself I needed to go in because it always looks like everyone truly is having a good time. It's unpretentious and no thrills but once I finally went in, I saw what all the hype was about. It really is just a great time with friends (or by yourself) to grab a beer, and enjoy good music. Plus their artwork is fun.
Captain Dan's has all your traditional drinks and a great beer menu. They also have some incredible food, making this not only one of the best bars in Bed Stuy but also a great place to eat.
Captain Dan's is open every day for lunch until late. The opening and closing times vary by day so make sure to check out the hours before visiting. They also have a great feature on Google Maps where you can check the wait time. Reservations are not accepted but they offer both indoor and outdoor dining. If you're lucky, ask for the spot by the window for the best of both worlds.
Best Bars in Bed Stuy (Post Summary):
Gloriata Baldy's
Chilo's
C'mon Everybody
Zig Zag
Turtles All the Way Down
LunÀtico
Dynaco
Lover's Rock
Do or Dive
Doris
Bed-Vyne Brew
Wonderville
Therapy Wine Bar 2.0
Fulton Grand
Brooklyn Beso
Coyote Club
All Night Skate
The Franklin
Three Maples
Captain Dan's Good Time Tavern
---
Did we miss your pick or picks for best bars in Bed Stuy? Let us know in the comments below, we are always looking for more places to check out! Cheers!