Looking for the best wine bars in Brooklyn? This guide has got you covered, or did you know there are several wineries in Brooklyn? Brooklyn even has vineyards!
This guide covers all of them! So before packing your bags to head out to Long Island or Upstate for wine country (although we highly encourage you to go to both the Finger Lakes and Long Island too) take a look in your own backyard as we have wine bars and even wineries in Brooklyn!
Blend art, elegance, and liquid relaxation. Boom. Now you've got wine. Although anyone who has had the misfortune of consuming two-dollar wine knows it can also result from the cursed combination of sugar and acidic notes beyond identification.
Thankfully for residents of New York's finest borough (but hey, we're a bit biased over here), Brooklyn wine bars offer palatable wines with all of the art and none of the headaches.
Whether you're looking for your next date spot or just a place to grab a great glass of wine, or two, or a whole bottle here are some great Brooklyn wine bars and Brooklyn wineries to check out! If you're looking for more ideas, check out our picks for best bars in Brooklyn too.
Brooklyn Wine Bars & Wineries
Rhodola Wine Bar
View this post on Instagram
197 Adelphi St, Fort Greene
Will the environmentally-conscious vino lovers among us please stand up? Of all the wine bars in Brooklyn, this spot is for you. With sustainability and love of mankind as core guiding principles behind its business philosophy, this zero-waste vino venue is the first of its kind in the country.
Rhodola collaborates with wineries in Brooklyn and beyond who take just as much pride in preserving Earth's beauty as they do, wineries that practice minimally invasive agriculture so that every sip feels ethical for both man and planet.
The Ten Bells
65 Irving Ave, Bushwick
One of the most aesthetically gorgeous wine bars in Brooklyn can be found in the heart of Bushwick. The Ten Bells opens in the late afternoon through the evening, this natural wine bar in Brooklyn is the perfect date spot or a place to catch up with a friend over natural wine, one of their signature cocktails, and tapa menu.
The Bushwick location is actually a second location of this popular wine bar, whose original location is in the Lower East Side in Manhattan.
Their focus is on providing a carefully curated list of natural wines or wines produced from biodynamic or organic grapes.
Besides having an incredibly gorgeous interior, there's also a beautiful backyard space to enjoy on a nice day.
Tailfeather
View this post on Instagram
581 Myrtle Ave, Clinton Hill
Pizza has earned a reputation as a late-night meal for the eager and desperate, but thanks to local joints like Tailfeather—and of course, the famous Paulie Gees—pizza has built a reputation of quasi-opulence.
For the perfect pie, small plates, and an extensive wine menu for even the most selective palates, visit this Clinton Hill gem. Their menu highlights which wines are women-owned, which are biodynamically produced, and which pair well with potato chips.
If you just found yourself wondering what exactly constitutes an excellent wine and potato chip pairing, you'll have to stop by and let the staff share their expertise.
Also, if you're looking for more pizza, go to our guide to the best pizza in Brooklyn – we gotchu covered!
The Red Hook Winery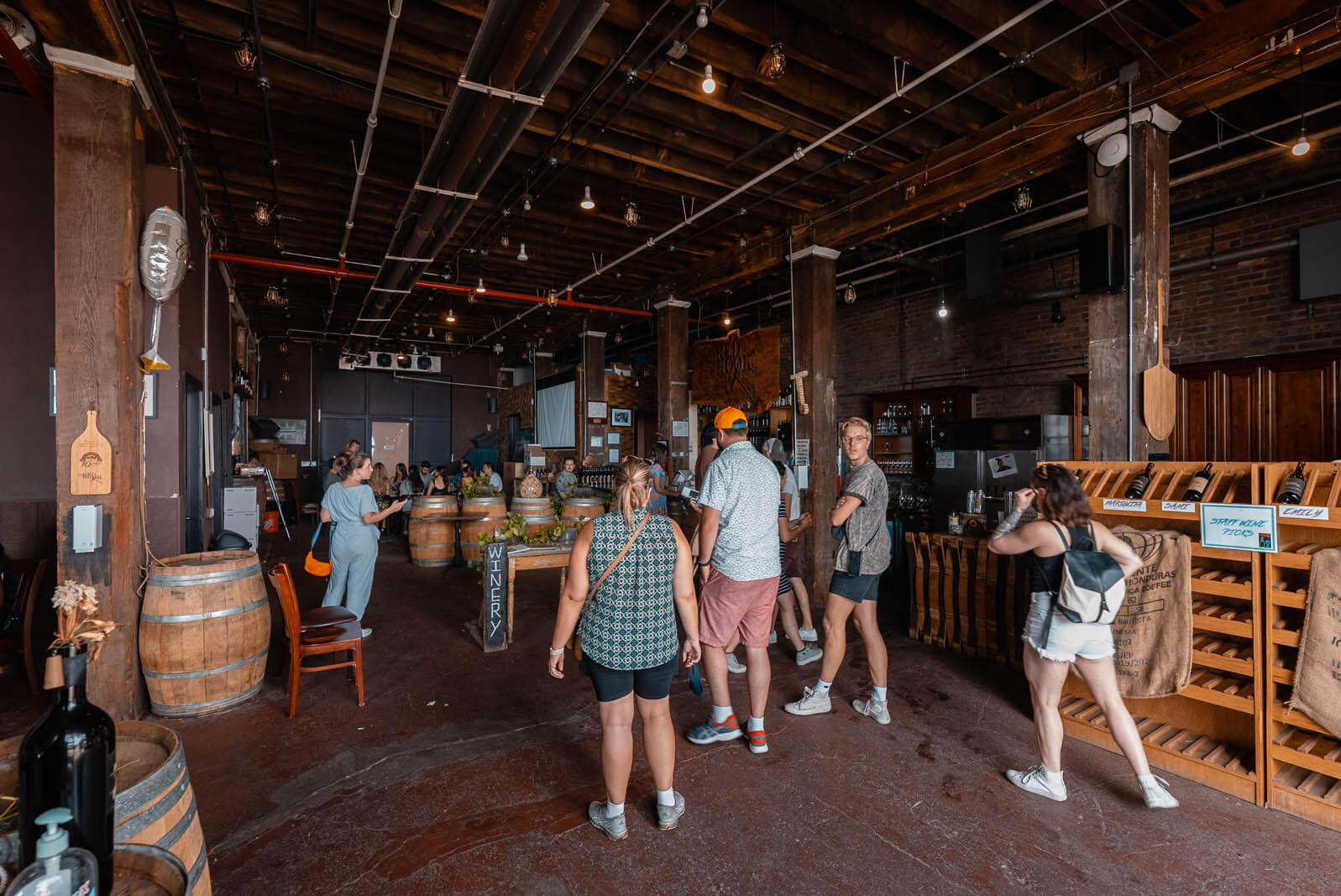 175 Van Dyke Street Pier 41, Red Hook
Not all wineries in Brooklyn so happen to be idyllically situated along the water, so be sure to reserve an evening with loved ones at the Red Hook Winery when it's time for some rejuvenation!
Relax along the waterfront at Red Hook Winery, sipping wonderful new discoveries amidst views of the Statue of Liberty and Manhattan skyline. This serene spot carries almost bucolic vibes and invites patrons to imbibe with small plates as they soak up the twilight sun and ocean waves.
Though they don't have a Brooklyn vineyard nearby the facility, Red Hook Winery collaborates with a number of vineyards close to home throughout NY state.
​​For $25.00 or $35.00 for groups of 2-4 and 5-10, respectively, guests can enter the tasting room and participate in a guided wine tasting orchestrated by expert staff. (Gratuity & taxes not included.) Tour participants receive a 10% discount on bottle purchases during their visit, where over 150 Red Hook Winery labels are available for tasting and purchase. If you love your experience and just can't get enough, request more information about their beloved wine club membership.
While you're here check out our other favorite things to do in Red Hook nearby.
Black Mountain Wine House

View this post on Instagram
415 Union Street, Carroll Gardens
Imagine trekking up a scenic mountainside in the pleasant and mild chill of mid-Autumn to enjoy a steaming cup of hot cocoa in a quaint Adirondacks mountain cabin. Brooklyn wine bars can offer you that experience. At least, that's what it feels like unwinding at Black Mountain Wine House, which has an inviting Adirondack vibey setting.
A classic fireplace, illuminating and warming during cold NYC winters, sets the perfect backdrop for an intimate date night or late night rendezvous between old friends. Pair international wines with hearty plates like gruyere mac 'n cheese drizzled in rich truffle oil.
King Mother
View this post on Instagram
1205 Cortelyou Road, Ditmas Park
Come around this charming spot and Brooklyn wine bar where patrons can order wines from across the globe at fair prices in a relaxing setting. They dually serve exquisite local offerings from wineries in Brooklyn as well.
Guests rave about their perfectly textured warm focaccia bread and unique cheese plates comprising thoughtfully curated selections. In addition to an endless wine list, King Mother has respectable beer offerings for those less keen on grape's gift to mankind.
And before or after, take a scenic stroll around the gorgeous mansions of Victorian Flatbush.
Brooklyn Winery
View this post on Instagram
213 N 8th St, Williamsburg
We'll start off by mentioning our favorite Brooklyn wine special: Bottles are half off at Brooklyn Winery on Wednesdays with a $20.00 food purchase.
Brooklyn Winery specializes in small-batch wines that leverage contemporary innovation and traditional winemaking techniques. Grapes are sourced from suppliers throughout the country, then designed to perfection on-site.
Like other wineries in Brooklyn, this local favorite sells its artisanal wines for your at-home enjoyment. Their customizable wine membership plans take access to domestic libations a step further, shipping wine lovers 4-12 bottles directly to their homes every season.
Wineries in Brooklyn also typically offer educational tours throughout their facilities, giving the curious intimate exposure to the winemaking process. Brooklyn Winery is no exception. For $35pp, reserve your spot on a winery tour where you'll learn how Brooklyn winery sources their grapes and transform them into the wine we all know and love.
Winemak'Her Bar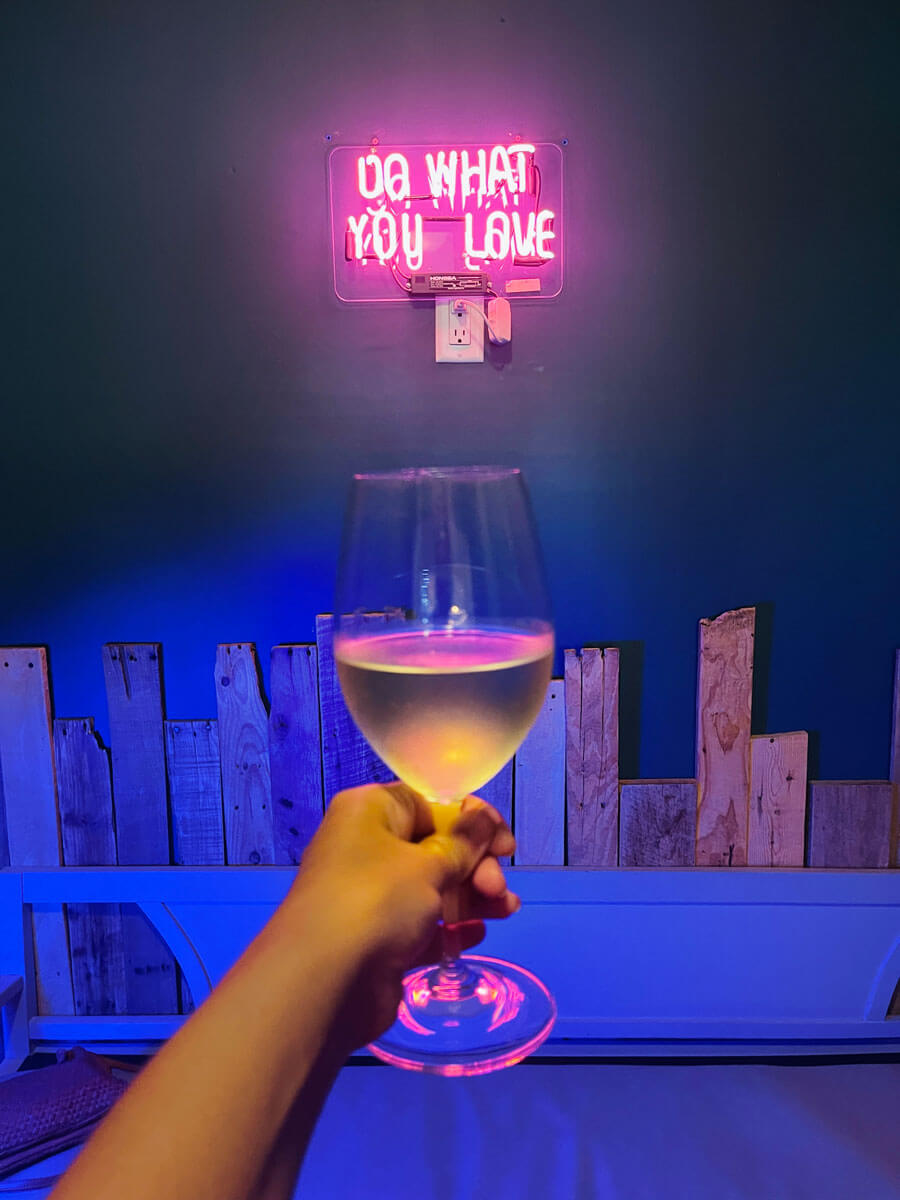 492 5th Ave, Park Slope
As signaled by its clever name, this warm and welcoming addition to the Brooklyn wine bar scene offers wines produced by women. Most of their wines are imported from Europe, though there are several delicious options from USA and South American vineyards as well.
Like any respectable wine bistro, Winemak'her has a delectable menu of fine cheeses and charcuterie to complement the deep flavors of ruby reds and crisp champagnes.
D'Antan
View this post on Instagram
858 Bergen St, Crown Heights
Listen up for an amateur lesson in Italian 101: D'antan is an old phrase meaning 'of the past' in Piedmontese, a classic Italian dialect spoken by the people of Piedmont.
This wine and kitchen venue is unique among Brooklyn wine bars, keeping the soul of Piedmont near and dear to its essence by honoring old, authentic recipes and serving over 100 wines that respect traditional viticulture practices.
Enjoy a few glasses under the warm lighting of the indoor area or in the stretch of outdoor seating extending down the sidewalk.
Like many wine bars in Brooklyn, this popular date spot specializes in orange wines, which are specialty wines growing in popularity throughout the country.
They are produced using white grapes whose skins have been left to soak in the developing wine, imparting depth of flavor and amber hues. (For a quick reductive explanation, orange wines are created by applying red wine production techniques to white wine grapes, yielding wines that possess both the full-bodied complexities of reds and the crisp refreshment of charming whites.)
Woodhul Wine Bar
644 Driggs Ave, Williamsburg
Let's talk about the other amazing alcoholic beverage starting with 'W' for a moment, shall we? Whiskey. When a neighborhood Brooklyn wine bars go the extra mile to curate a top-notch whiskey list, that just can't be ignored. It's sacrilegious. Woodhul's whiskey menu includes 8 quality whiskeys, each with a unique profile accentuating sweet tones of toffee and chocolate, spices, wood, or magical combinations of them all. Now. Onto the wines…
Woodhul has a broad selection of champagnes, whites, reds, rosés, and sweet port wines from across the globe. In addition to familiar wine varieties like pinot noirs and Sauvignon Blancs, their menu hosts lesser-seen varieties like a brilliantly acidic Albarino claiming notes of crushed seashells and an exquisite Dolcetto emphasizing sharp and sweet cranberries.
Their open kitchen serves small plates until 2:00 AM every night, making this an excellent option for those hungry far after sunset.
Tambour Brooklyn
View this post on Instagram
652 5th Ave, Park Slope
Soothe your palette and calm your ears at Tambour, a beautiful gem of an establishment that hosts live jazz and blues acts every Friday through Sunday. (Tambour's namesake is an ode to drums, as the word means 'drums' in many languages, so prepare to get lost in vibrant rhythms.)
Beyond small-scale plates like salmon tartar coated in Fresno chilies and sweet apples, Tambour offers full entrees: French-style strip steak and short ribs on mushroom ragu and polenta cakes. Food is treated with just as much reverence as the wine collection here, with all menu offerings prioritizing local farm-to-table delicacies.
If you prefer your wine served with a splash of orange juice, Tambour offers bottomless brunch on Sundays from 11:30AM – 3:30PM.
Naked Dog
View this post on Instagram
47 Java St, Greenpoint
Situated along the Greenpoint waterfront, this beautiful restaurant and Brooklyn wine bar attracts diners across the city to explore fine wines that cannot be obtained elsewhere in the neighborhood.
Each year, Naked Dog determines the hottest new harvests across Italy to update their wine list with the smoothest productions wine country has to offer.
Of course, vintage wines and their classic, traditional flavors stay available year-round as well. Other than wines and classic beers, artistic cocktails complete the drink menu. Patrons highlight the Hornet as a favorite cocktail. A glance at its ingredients list showcases exactly why; Tequila, elderflower liquor, cucumber, cilantro, and the heat of fresh jalapeno juice round out this unique drink.
And with housemade pasta coated in scrumptious sauces, their unparalleled food offerings similarly remain true to the Italian spirit. Gluten-free foodies are also welcome.
Tuffet
View this post on Instagram
286 Graham Ave, Williamsburg
An idyllic backyard space saturated in warm light and framed with a vine-lined wall assigns Tuffet a serene ambiance that encourages storytelling and laughter between friends, optimistic sparks of new romance, solo excursions with a good novel, and consumption of simple, good wine.
During daytime hours, Tuffet is one of the only wine bars in Brooklyn that serves as a beautiful outdoor space complete with a fireplace where friends can gather or professionals can work. (Tuffet invites workers to use their daytime bar as a working space to hammer out to-do lists; there's quality WiFi to get you through your day.)
​​As the sun gives way to the moon, Tuffet transforms into a late-night venue where food and drinks are offered until 2:00 AM on the weekends. Select from a dozen artisanal cheeses and salted, flavorful charcuterie that melt in your mouth between mouthfuls of full-bodied wine and craft beer.
BrookVin
View this post on Instagram
381 7th Ave, Park Slope
This superb Brooklyn wine bar boasts an outdoor backyard that looks straight from a dream. Lined with healthy greenery and colorful flowers during the warmer seasons, this casual garden is the ideal spot to imbibe on wine and enjoy quality cheeses and other crudos.
The Vermont Cheddar Mac 'n cheese is a customer favorite, its rich flavors well complementing their extensive wine list. Speaking of wine lists, Brookvin boasts a modest but thoughtful one.
If you're particularly interested in dining amidst the flora, be sure to make a reservation. Reservations are only available to groups of 4 and more. Otherwise, bar seating and standard indoor tables are first-come, first-serve.
June
View this post on Instagram
231 Court St, Cobble Hill
This cozy setting looks extracted straight from the era of Jay Gatsby and serves nearly 100 natural wines by the bottle. They provide extensive options to fit every palate and budget, with bottles ranging from a modest $55 to $322 if you're open to an evening of splurging.
Pair your selection with tempura asparagus, figs in creamy stracciatella, and warm slices of crispy baguettes for an unforgettable foodie experience.
Pinkerton Wine Bar
View this post on Instagram
263 N 6th St, Williamsburg
Cozy and comfortable, this delightful Williamsburg staple serves quality wines, craft beer, and artisanal charcuterie to eager guests. For over a decade, locals have flocked to Pinkerton's raw bar to indulge in fresh oysters and snow crab legs with good wine.
For a less traditional raw bar experience, pair your wine with caviar and the briny sweetness of sea urchins. (Really, how many wine bars in Brooklyn serve sea urchin?)
Pinkerton doesn't serve full entrees, but with $1.00 oysters during specials and a variety of small plates and sandwiches, it's an excellent choice for light fare among friends and lovers.
Goblet Wine Inc
View this post on Instagram
6010 20th Ave, Mapleton
Goblet is an artisanal boutique winery that takes winemaking seriously. It's the spectacular culmination of nearly two decades of hobbyist winemaking from one enthused and passionate craftsman.
Goblet specializes in serving kosher wines customers rave about. Their wines are developed on the premises, so it really doesn't get any fresher than this. Ever had wine dispensed and corked directly from its oaken barrel and delivered straight to your hands?
Over 40 barrels of both red and white varieties are matured on-site, and all are available for your immediate purchase. Goblet will even let you design the bottle label if you prefer something customizable for a gift or event.
Swing by in-person for lively tours and accompanying barrel tastings.
Have & Meyer
View this post on Instagram
103 Havemeyer St., Williamsburg
Have & Meyer just might have the most beautiful interior dining space on this list. With soft lighting draping down columns and strung across the ceilings, with massive healthy greenery dripping from above and punctuating the rustic decor, it's an Instagram-ready environment that feels like peace.
This Italian wine bar serves over 100 natural wines, including a humble selection of orange wines. This is a warm venue where patrons have ample opportunity to explore options they'd otherwise never encounter from across the pond.
Aligning with their philosophy of slow food—food that is clean, sustainable, and fair to laborers—Have & Meyer wine curators maintain healthy partnerships with wine providers to confirm ethical supply chains and that their farmer partners are committed to sound agricultural practices.
The Four Horsemen
View this post on Instagram
295 Grand St, Williamsburg
The expansive wine menu is the shining star in Four Horseman BK, the Williamsburg wine bar owned by LCD Soundsystem's James Murphy.
Whether you're itching for the explosive deep flavors of a full red, the clean feel of a pale white, or wine that tastes like it might as well be kombucha, this venue has you covered. Most wines are served by the glass rather than by the bottle, allowing patrons to experience a variety of wines rather than sticking to a bottle.
When you think 'wine bars in Brooklyn', you probably don't think of Michelin stars. But surprise—this joint has one, so prepare to launch your taste buds on a journey of tantalizing flavor alongside your glass of wine.
Their menu rotates with the seasons, but as they specialize in raw dishes and a ricotta-based appetizer featuring tomato, peaches, and kelp, be sure to try them if you catch them on the menu. This is one of our favorite restaurants in Williamsburg to try too.
During the day, before the elegant wine bar enters full swing after 5:00PM, The Four Horsemen hosts a humble coffee cart called Daymoves serving up the smoothest brews in the area.
Rooftop Reds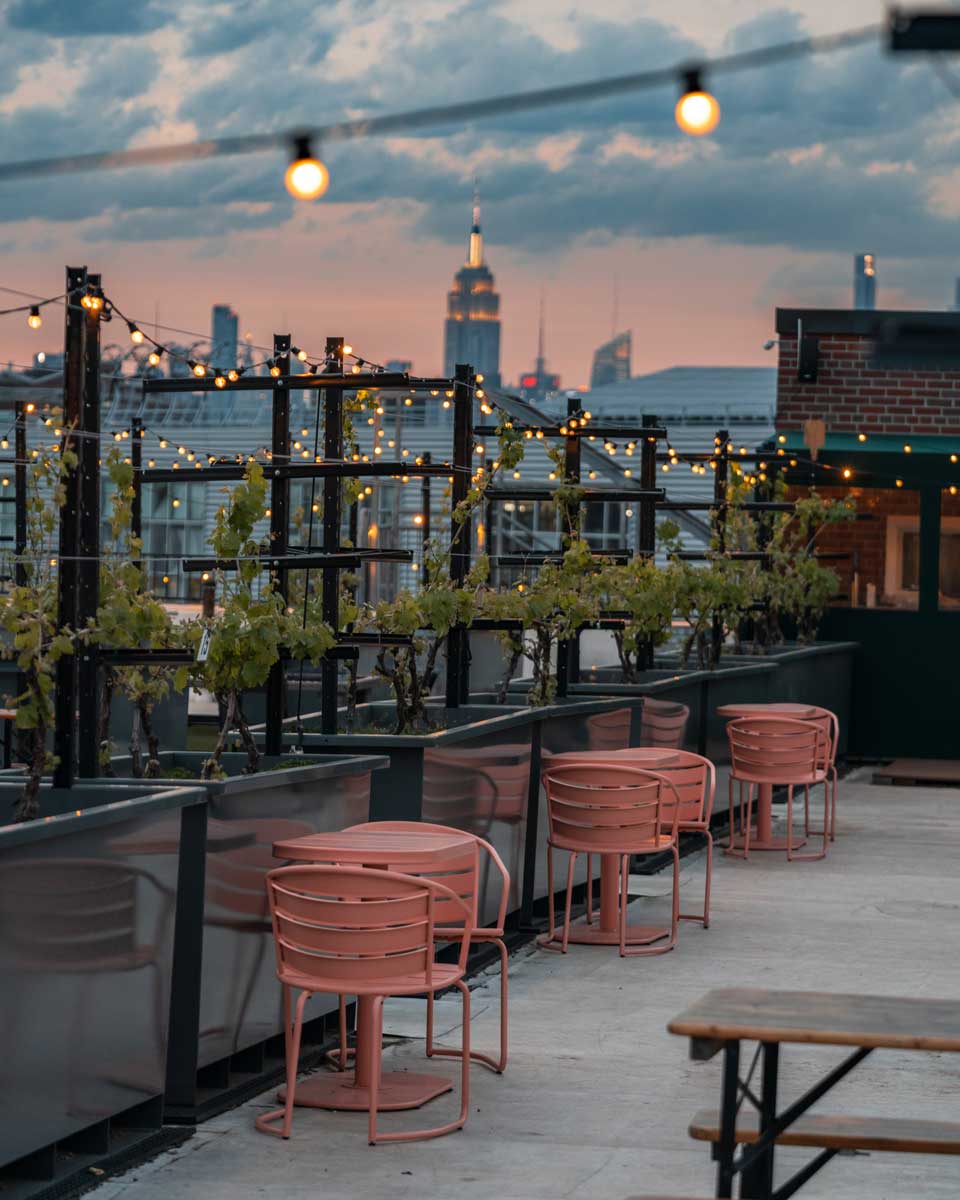 299 Sands St Building 275 Suite 202, Navy Yard
Sitting high above with skyline views in Navy Yard, this Brooklyn vineyard is the first commercially performing rooftop vineyard in New York City. They innovated an urban planting system with the assistance of Cornell University that allows them to maintain a vineyard in the sky, a vineyard you're welcome to visit. As you explore this winery in Brooklyn, absorb all the beauty of the Brooklyn backdrop as you down a carafe of wine.
During the warmer seasons, Rooftop Reds hosts movie nights where guests view classic and contemporary cinematic hits and sip on smooth reds.
They require a reservation, which can be secured on their Eventbrite page for $15.00 per person. Each reservation secures a 3-hour time slot to explore the premise and is strictly observed by the venue, so arrive on time and ready to drink some wine!
Make sure to pay close attention to the directions once you make your reservation, the instructions are a bit tricky and you'll need them.
Also, if you love rooftops with views check out our guides to best rooftop bars in Brooklyn and best rooftop bars in NYC!
LaLao
View this post on Instagram
581 Vanderbilt Ave, Prospect Heights
LaLou offers wine by the glass and a beautiful backyard garden, so it should already be at the top of your list among Brooklyn wine bars! This natural wine-centered locale specializes in limited-production wines, meaning they offer couture flavor profiles you may find inaccessible next harvest, so make sure you indulge in everything that catches your eye. It may not be there the next time you visit!
Food options rotate seasonally and are sometimes limited to small plates. However, when this is the case, the menu is curated in such a way that mixing and matching plates can provide the complete satisfaction of an entree. Take your friends and sample the menu in its entirety!
Kiki & Romeo
View this post on Instagram
558 Halsey St, Bed-Stuy
We're rounding out this list with another trendy natural wine bar, this one located in Bed-Stuy along Halsey Street! This Brooklyn Wine Bar boasts a magnificent array of natural wines as a remarkable addition to the neighborhood where wine lovers gather to experience wine as art.
In this humble setting, product is truly the priority. They are well-known for their knowledgable staff who can provide expert recommendations for wines that delight your unique, individual preferences.
They are only open Thursday through Sunday.
---
Did we miss your favorite Brooklyn wine bar? Let us know in the comments below and we will check it out!