Looking for the most unique themed bars in NYC? Whether you're looking for somewhere memorable to sip on a libation or are a huge fan themed activities, this guide has you covered.
New York is for everyone. Sure, not everyone might be for New York, but I can almost guarantee that whatever you might be looking for–whether it's an oddly specific bookstore, a rave in a basement, being encouraged to copiously drink as you watch a Shakespeare play or something else I couldn't even dream up–we've got it, and sometimes we've got it in droves.
And if you've decided to visit here, or you live here and feel like having a drink (or six) somewhere that seems to have spawned from a Hitchcock film, an F. Scott Fitzgerald novel or Neverland, we've got those things too.
Let your wildest, booze-fueled dreams lead you to whatever crevice of the world you desire–and maybe start with this list of the best-themed bars in NYC to kick off the adventure.
The Most Fun Themed & Unique Bars in NYC
The Little Shop
Address: 252 Front St, New York, NY 10038
Do not get this confused with the stage play by a similar name! This bodega-in-the-front, the party-in-the-back speakeasy is the furthest thing from horrifying, although the decor, staff and some of the guests tend to emit a nose-elevated air of "we're better than you and we know it," which is far more fun than it is off-putting.
So if you're feeling yourself and want to hit the town dressed to the nines with your friends or a date, head on down to Seaport and pop a squat on one of The Little Shop's eclectic furniture pieces or a well-crafted barstool.
Cocktails at this cool bar in NYC, although on the pricier side, are otherworldly concoctions you'd be hard-pressed to find many other places, and if you're feeling like the lifestyle of the rich and famous is getting to your head a bit, order a bag of Takis from the aforementioned bodega up front and have the staff plate it for you.
Theme: convenience store with a hidden speakeasy
Know before you go: MAKE A RESERVATION. Lord knows getting down to Seaport requires a worthy destination (which this is), but you won't get into this themed bar in NYC without planning ahead of time. Closed Mondays.
Fresh Kills
Address: 161 Grand St, Brooklyn, NY 11249
Everyone has a go-to panic order at the bar. For me, it's a rum and coke. At Fresh Kills, one of the most fabulous bars in Williamsburg, there's no need to panic.
Lose your indecisive anxiety and just tell the waitstaff what you're generally in the mood for: something spicy? Something sweet but not too sweet? A whiskey drink for someone who typically doesn't like whiskey? (I actually ordered that last one here and it was incredible.)
The whole schtick at this fun bar in NYC is that there is no menu, and each cocktail is tailor-made to your preferences. All that being said, this is definitely a know-before-you-go type of place as the schtick will likely not be explained to you: a server will simply approach your table and ask what you'd like.
Theme: no direct theme here, but this is one of the most fun bars in NYC to impress, the staff creates custom cocktails based on your favorite flavors.
Know before you go: This unique bar in NYC does not take reservations, so if you go at a busy time you may have to wait in line for a bit. I recommend happy hour for your best shot.
Frying Pan
Address: Red Boat In Park, 207 12th Ave, New York, NY 10001
Want to get nautical within the confines of Manhattan? Look no further than Frying Pan, a decommissioned fireboat that has taken permanent residence at Pier 66 on 26th Street in the Hudson River.
This cool bar in NYC is open between May and September, and in April and October when weather permits (65 degrees or above and fair conditions).
Typical fare includes pitchers of beer, margaritas and other summery favorites, in addition to seafood-centric pub food (although they have burgers, tacos, sandwiches, and the like for those who opt for turf over surf).
If you get seasick easily, this themed bar in NYC is not the place for you (you can visit their stationary location inside Building 5 at Industry City in Brooklyn instead), but if you've got a summer afternoon to kill and feel at one with the river, come aboard!
Theme: unique bar located on a decommissioned fireboat.
Know before you go: Seasonal, May through September and when weather permits in April & October.
St. Mazie
Address: 345 Grand St, Brooklyn, NY 11211
It's best to stumble into this absinthe-fever dream, swingin' jazz hotspot in Williamsburg, but if you're hearing about it for the first time on Your Brooklyn Guide and it sounds interesting, you can always mosey along Grand Street and say something like, "oh, this place looks interesting!" so that the facade of discovery remains intact.
The main attraction here is nightly, white-suited, short-tied jazz performances, and you'll be sure to start upper-half dancing in your seat as you sip on an old-school cocktail or straight absinthe served with a sugar cube and stirring knife.
This cool bar in NYC serves a la carte charcuterie offerings to suit any sized group who lives for the shared activity of noshing, and if you've come for the company more than the music, there is also a "speakeasy" downstairs in the cellar with a quieter atmosphere.
Theme: Jazz bar with speakeasy.
Know before you go: Reservations are strongly recommended for the weekends for the supper club and stageside seating.
La Noxe
Address: 315 7th Ave Entrance at, 162 W 28th St, New York, NY 10001
Even the name of this speakeasy oozes with avante-garde charisma and sexiness. Contrary to its uniquely designed, red-lit interior and incredibly purposeful exclusivity, La Noxe can only be accessed by entering the 1 train station at 28th Street and 7th Avenue.
One of the best-themed bars in NYC, La Noxe's Instagram page is more akin to that of an experimental art house than a bar, seductively enticing its patrons underground for some not-so-well-mannered revelry.
Theme: Hidden bar inside the 28th Street Subway Station
Know before you go: This is decidedly another reservation-only spot: make sure to book in advance so you haven't taken the subway here just to take it right back from whence you came.
Radegast Hall & Biergarten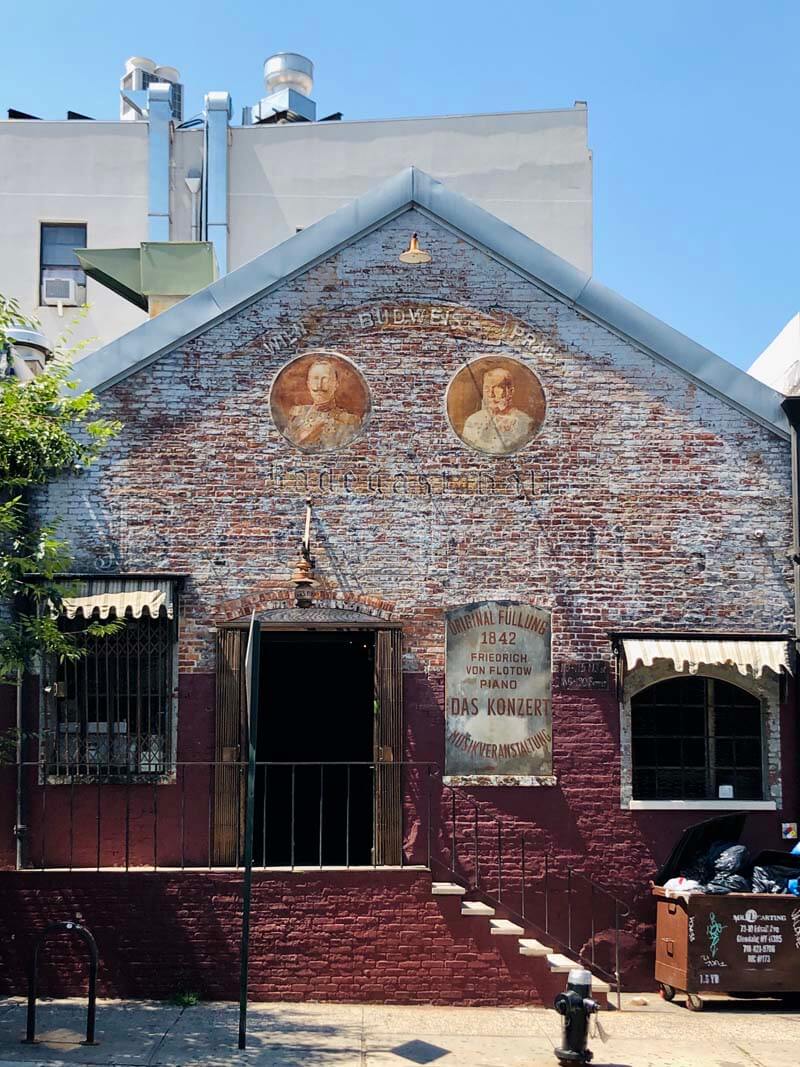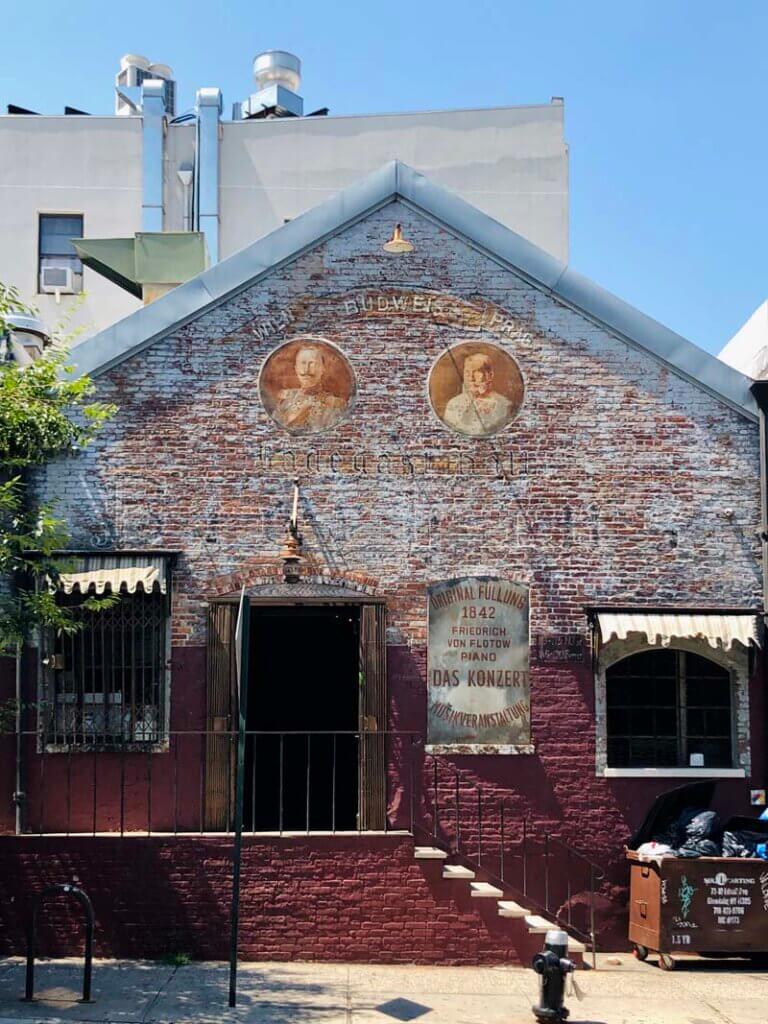 Address: 113 N 3rd St, Brooklyn, NY 11249
If you don't feel like keeping your cool in an underground, high-brow environment, and you're the type of drinker who would rather chug an entire stein of beer as it flows down your chin onto your shirt, this NYC themed bar in Williamsburg is your calling.
If the movie "Eurotrip" has ever inspired you in the slightest, you'll find respite in this wood-paneled German beer hall. If rowdiness is your name… you get it.
Put the martini glass down in favor of a massive stein and get to drinking with no frills. Radegast is like the cooler brother of the Meatpacking District's Standard Biergarten, with more taps, longer wooden benches and more acceptance of whatever raunchy pleasantries you'd like to hurl at a friend across the room.
If you fancy yourself a good German beer, you'll be inclined to know that there are actually quite a few options for German Biergartens in Brooklyn!
Theme: German beer hall and Biergarten
Know before you go: This themed bar in NYC typically has live music Wednesday-Sunday to set the tone for your brand of communal abundance, and if you come with a large group, a reservation might be a good idea.
Please Don't Tell (PDT)
Address: 113 St Marks Pl, New York, NY 10009
Well, here I am breaking the only rule of this East Village speakeasy. But why gate-keep one of the best-themed bars in NYC?! In fact, it's one of our favorite NYC speakeasies to visit.
PDT takes no prisoners and hardly any reservations, so don't expect to waltz right in. Call at exactly 3 pm (and keep calling until someone picks up) for a reservation. If you don't have a reservation, it's highly unlikely you'll be able to walk in.
If Google Maps has led you to the entrance on St. Marks Place and you still can't seem to find it, that's because it's buried in the walls of Crif Dogs, the East Village's premier provider of late-night hot dog fixes.
Simply follow the instructions in the phone booth to your left when you enter this NYC themed bar, and someone will immediately open up the door to take you in.
Theme: Cool speakeasy hidden behind a hot dog joint.
Know before you go: Be persistent and call at 3 PM to secure a reservation (until someone answers the phone) otherwise, it might be difficult to get in. Sometimes you can snag a reservation on Resy.
Oscar Wilde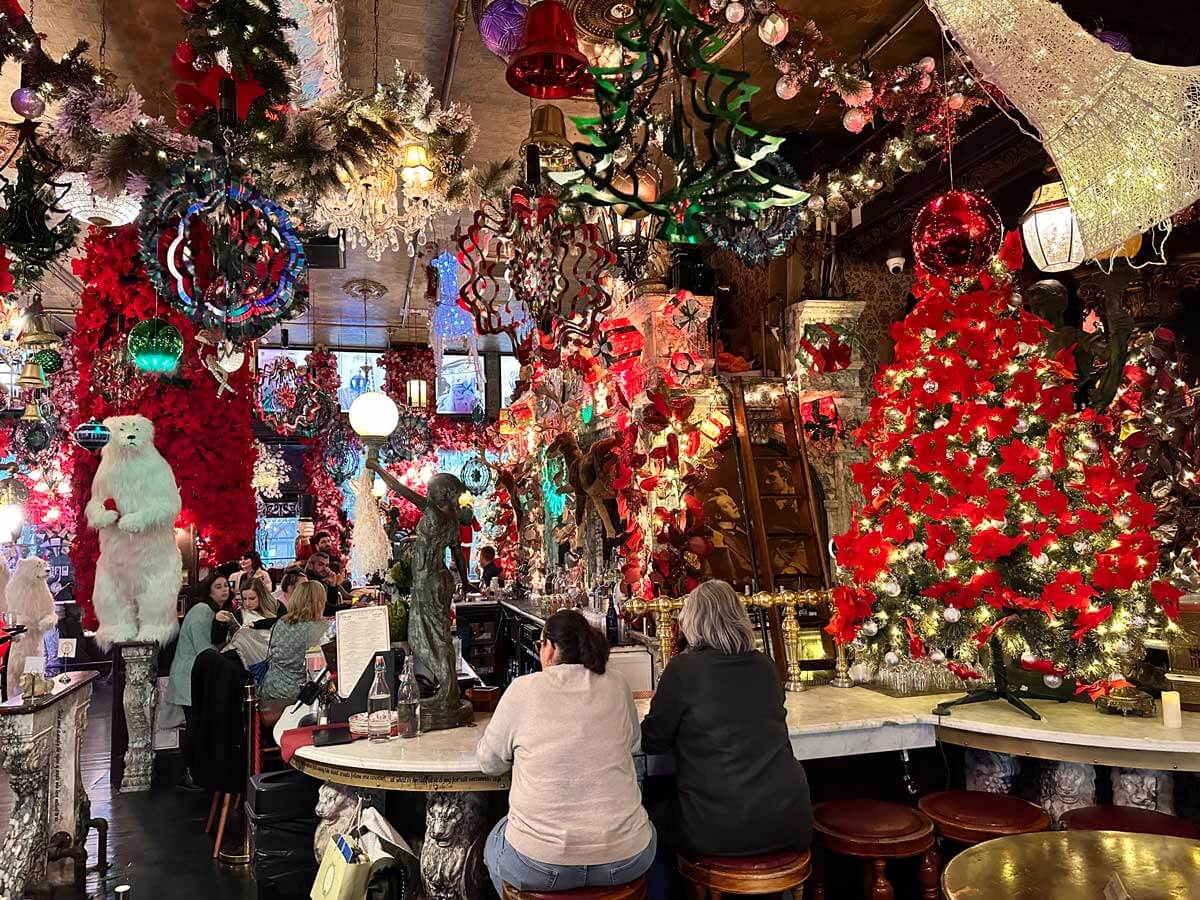 Address: 45 W 27th St, New York, NY 10001
Step inside this massive, cluttered, NYC themed bar, and you'll feel like you've arrived at the estate sale of some far-flung duke from the Victorian era. O
scar Wilde's website claims to "turn the Victorian era on its head. – without relinquishing any of its glamour… with a touch of sophisticated debauchery." The place boasts the longest bar in NYC at 118.5 feet, all kinds of ephemera from the Victorian era and the absinthe cocktails to match.
True to its namesake author's subversive nature, this unique bar in NYC takes residence in NoMad, in the building that once housed the Prohibition Enforcement Headquarters during the 1920s.
And if you only came for a picture, there are plenty of wild (pun intended) backdrops within the confines of the bar, as well as a bronze-cast statue of the man himself stationed outside the entrance.
Oh, and this place gets DECKED out for the holidays and even non-holidays. There's always something going on here and over-the-top decor is the name of the game at Oscar Wilde.
Theme: Victorian and Oscar Wilde-themed bar with fun seasonal decor.
Know before you go: They change their seasonal decor frequently! No two visits will be the same.
Lillie's Victorian Establishment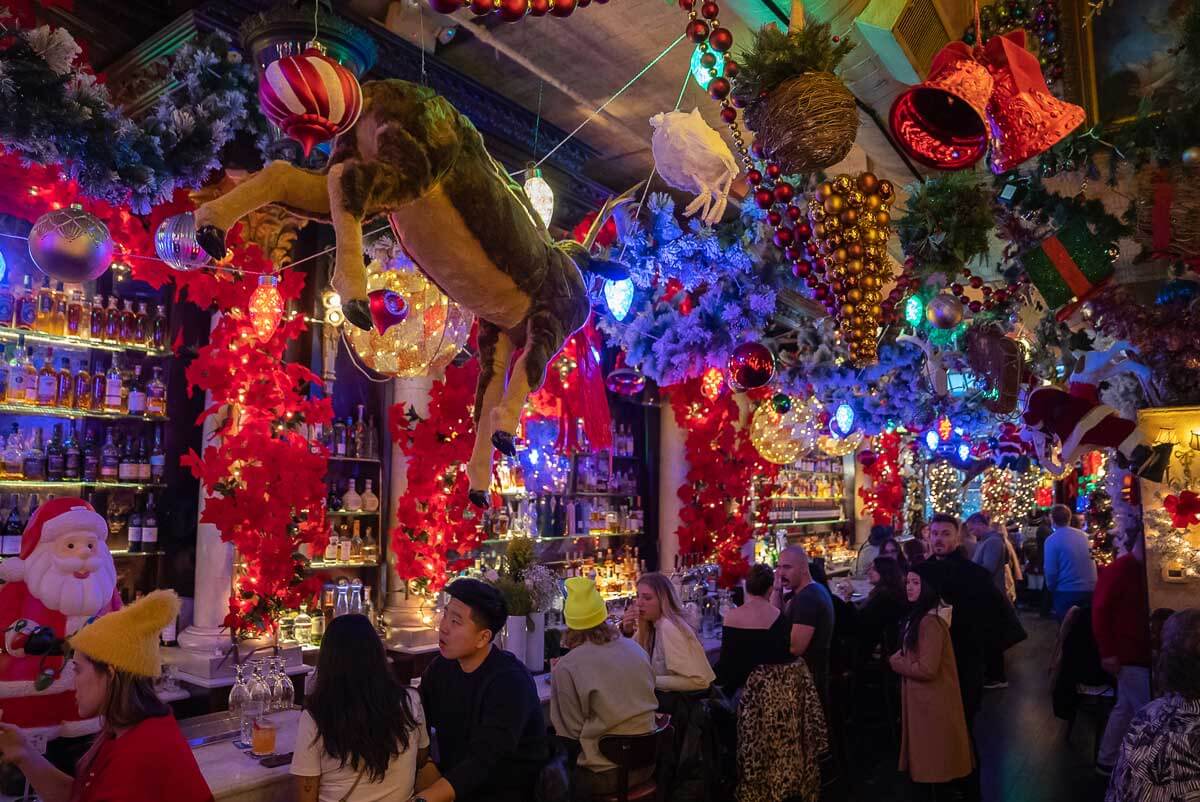 Address: 13 E 17th Street , Union Square & 249 W 49th Street, Times Square
From the same group who brought you Oscar Wilde comes their sister establishment, Lillie's. The Victorian theme here runs parallel to Oscar Wilde's, with the added benefit of thespian flair stemming from its namesake's career as a high-society stage actress and fitting location in New York's Theater District.
Lillie Langtry was a British actress sought after by the likes of King Edward VII who came to America in 1882 to expand her career across borders. Her legacy and lore are reflected in the establishment's ornate decor and menu offerings like Afternoon Tea, which comes in three separate tiers and with all the pomp an American anglophile could dream up, scones included.
Lillie's boasts a pair of the best themed bars in NYC as it has two locations: one in the Theater District/Times Square area, and one in Union Square. Not to mention, these are some of our favorite Christmas bars in NYC during the holiday season too!
Theme: Victorian-themed bar with fun seasonal decor for holidays throughout the year.
Know before you go: They change their seasonal decor frequently! No two visits will be the same.
The Cauldron
Address: 47 Stone St, New York, NY 10004
This fun bar in NYC is a doozy. For the witches and wizards among us, take a trip down to Stone Street in the Financial District, the oldest paved road on the isle of Manhattan, and brew your own "potions" with the help of a magic wand.
This themed bar in NYC boasts a wise old tree who dispenses drinks, afternoon tea (which also involves creating your own concoctions), and the aforementioned potions experience, which is $50 per adult and comes with a complimentary drink and two of your own creation.
The website encourages reservations, although walk-ins are welcome if space permits. Stone Street harbors a row of pubs and restaurants that spill out onto the cobblestone pavement, so if you feel like pregaming or postgaming your potions experience, there is an abundance of nearby options to pick from, too.
Theme: Whimsical magic-themed bar for wizards and witches!
Know before you go: If you're visiting during Halloween in NYC (or the season) you'll need to secure reservations, otherwise, they are strongly recommended throughout the year too.
Marie's Crisis Cafe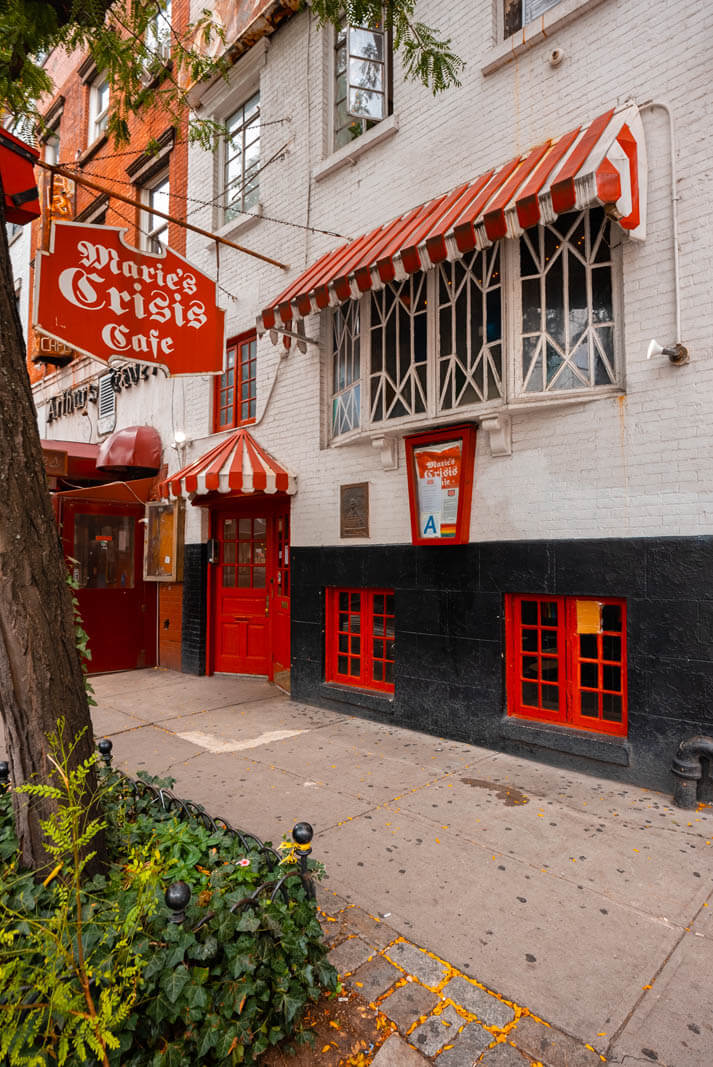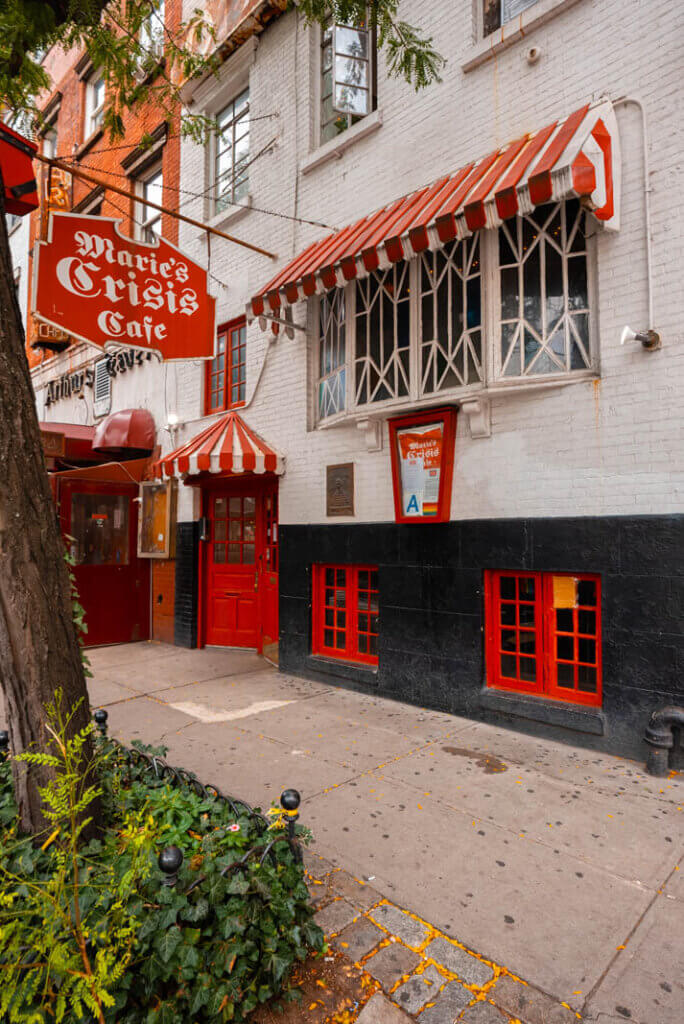 Address: 59 Grove St, New York, NY 10014
Arguably the second-most iconic LGBTQIA+ bar in the city after the Stonewall Inn, Marie's Crisis is a West Village fixture that has withstood the test of time.
Marie DuMont, a Frenchwoman, opened the unique bar in NYC in 1929, and named it Marie's Crisis as a nod to Thomas Paine's pamphlet, "The American Crisis," published during the American Revolution. Paine died on the site in 1809.
The current building, erected in 1839, was once a boarding house and then a brothel before Marie took ownership.
Beyond its history of acceptance for the LGBTQIA+ community (particularly in a time when few other places were accepting), Marie's Crisis is one of the best themed bars in NYC and known for its showtunes singalongs–so if you're into Broadway or have a general penchant for pageantry, Marie's Crisis is your crisis, too.
Theme: Showtunes bar with a fun nod to history
Know before you go: no reservations are possible here! It's cash-only and they require a 2-drink minimum per person with non-alcoholic options for nondrinkers. In the winter, there's a mandatory coat check for $1.
Beauty Bar
Address: 231 E 14th St, New York, NY 10003
If Coyote Ugly is where you take a straight male friend to do a birthday body shot off the cowgirl boot-clad bartender as Rihanna's S&M plays over the loudspeakers, Beauty Bar is its less toxic, feminine neighbor for the aesthetically-inclined, bargain-hunting sect of partygoers.
Don't get it twisted–this cool bar in NYC is still a dive, with a little more class and much, much cooler decor. Offering what is perhaps the best bang for your buck in the city, this East Village watering hole has an always-on deal consisting of a martini and a manicure for $10.
Let me say that again: you can get a manicure and a martini at this fun bar in NYC for $10, total.
The space also boasts a back room where they host comedy nights, live music sets and other events, and when the events are over, the back room becomes the dancefloor. The entire vibe is retro, right down to the music, so if you opt for Diana Ross instead of Drake, feel free to come here and show off your disco soul alongside your newly painted nails.
Theme: Retro salon/Bar theme. Get a manicure while you sip on a martini!
Know before you go: Closed Mondays.
Sunken Harbor Club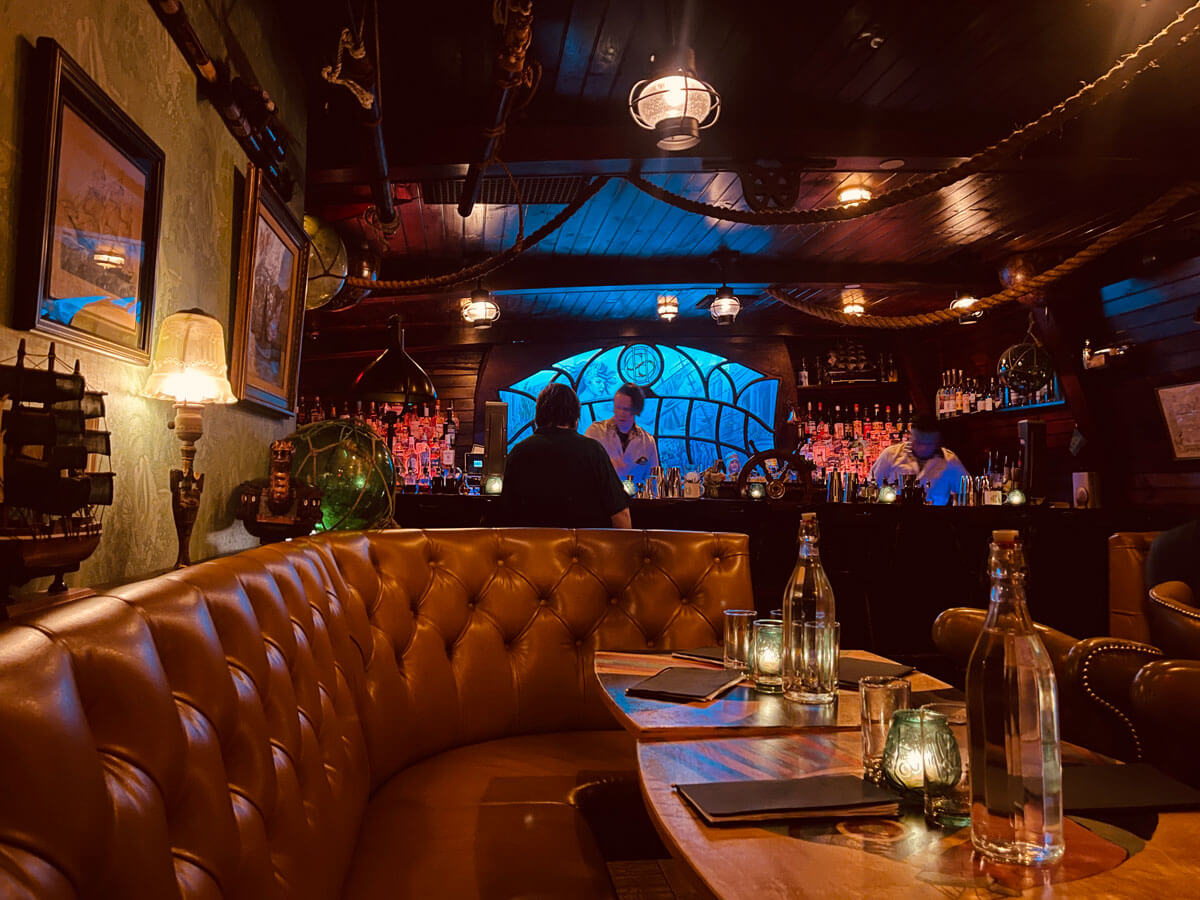 Address: 372 Fulton St 2nd Floor, Brooklyn, NY 11201
The mystique of this maritime-themed haunt in Downtown Brooklyn stems entirely from the "leather-bound volumes of the club's journal of record," discovered in 2019. The Compendium Bibendium had to be decoded for its finders to make sense of it, but when they did, Sunken Harbor Club was born–or reborn, if the journal of record is taken at face value (apparently the club has existed in one form or another for centuries).
Today, Sunken Harbor Club is one of the best themed bars in NYC and artfully serves up tropical cocktails at their Brooklyn and Bermuda locations. The former is on the second floor of Gage & Toller, with a menu divided by strength of drink rather than genre, liquor or price range as you work your way from lighter alcoholic cocktails into the abyss where you'll have stronger drinks.
Sitting inside this dimly lit bar that feels like you're in the hull of an old pirate ship you'll apprecaite the occassional sound effects of what sounds like waves hitting the side of the ship.
Theme: Hidden under-the-sea themed bar from inside an old wooden ship.
Know before you go: Walk-ins encouraged.
Barcade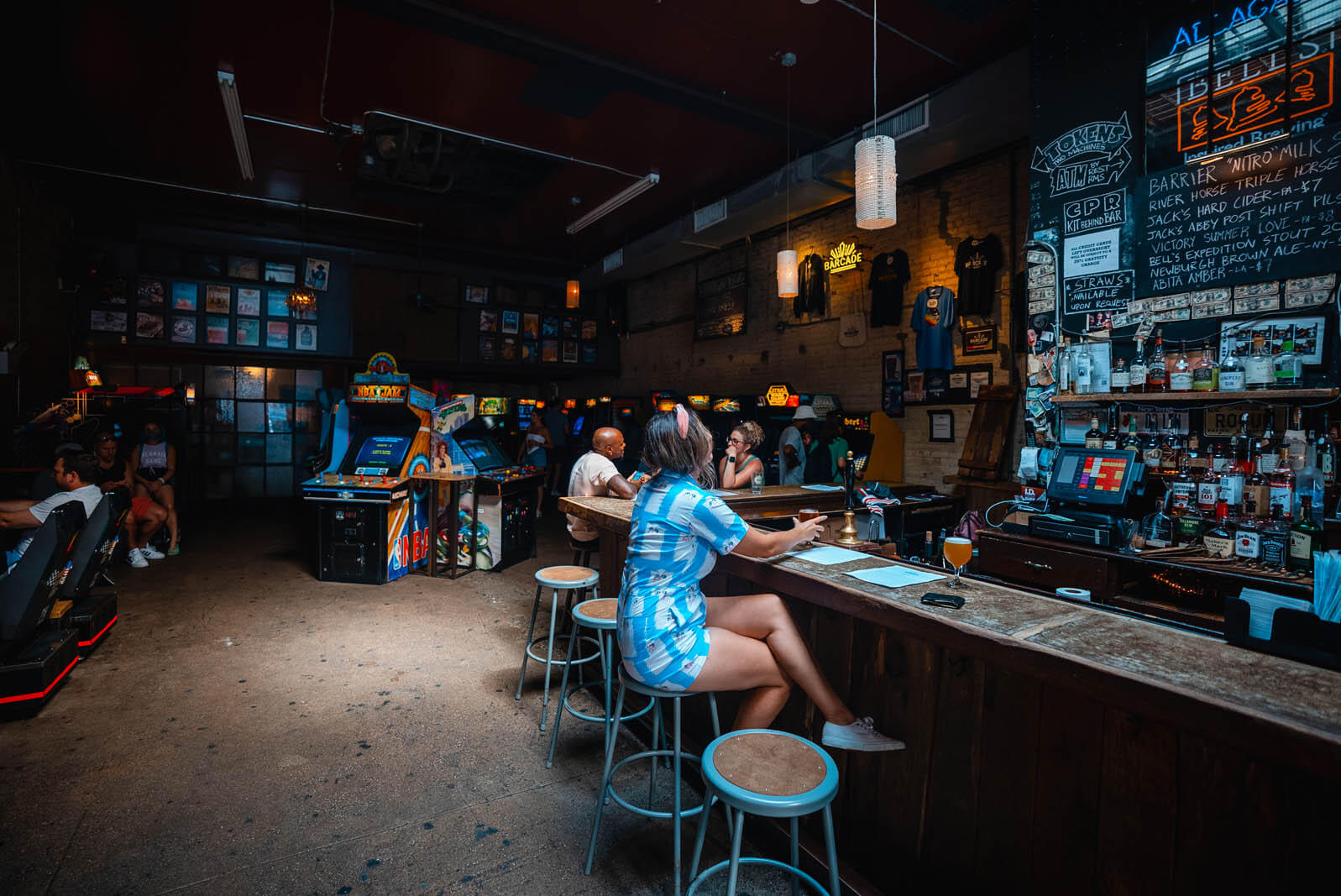 Address: 148 W 24th Street, 6 St. Marks Place, & 388 Union Avenue
Self-proclaimed the "original arcade bar," Barcade is all in a name. With three locations in the city–one in the East Village, one in Chelsea and the original location in Williamsburg, this set of fun bars in NYC offers all kinds of retro video games, pinball machines (which are featured most heavily at the Williamsburg location) and more, including a wide variety of craft beer on tap.
They only accept tokens for the games, which amount to 25 cents a pop, and have no qualms about not appealing to the "it crowd" of NYC; Barcade is cool in its own right. If you grew up on Pong, Pacman and Space Invaders, or your parents who are visiting from out of town did, this cool bar in NYC won't make you feel weird for pairing your IPA with a healthy dose of childish nostalgia.
Theme: Bar + Retro Arcade
Know before you go: You'll need to purchase tokens to play games at the bar, these never expire and work at any Barcade location. Also, if a machine eats your tokens (it happens) let a staff member know and they will fix the machine and get you those missing tokens!
Otto's Shrunken Head
Address: 538 E 14th St, New York, NY 10009
If the name of this NYC themed bar evokes images of white sand beaches pristinely manicured by Poseidon himself, or blue lagoons surrounded by the teeny-tiniest of southern Pacific atolls, guess again. The palmwood accents and tropical drinks served in a variety of totem-like receptacles are about as far as the theme goes (which is decently far), but Otto's wouldn't be Otto's without its inherent NYC flair added to the mix.
It feels more like an avante-garde punk band took the place over and made it resemble something as close to CBGB as possible, leaving the tiki details somewhat intact.
This unique bar in NYC hosts a variety of musical acts, literary readings and other events, and you'd be sorely mistaken if you assumed they only hosted reggae nights or ukelele-accompanied poetry readings.
Their content is eclectic just like their vibes, music and drinks– and if none of that interests you, maybe their volcano blast cocktail served in a flaming bowl big enough for 3-4 drinkers will.
What sets Otto's apart from the other tiki bars out there is its appeal any time of year, rain or shine. And I know, because I've been on a disgustingly rainy winter night.
Theme: Tiki Bar
Know before you go: Closed Mondays.
Gallow Green
Address: 542 W 27th St, New York, NY 10001
Located atop the McKittrick Hotel in Chelsea at the end of a long maze which includes a bellhop-operated elevator ride, an old-fashioned ticket window and an abandoned rail line situated between rows of lush greenery, Gallow Green is an oasis hidden from most New Yorkers due to the fact that it is within a (fake) hotel, that hosts performances.
Honestly, this place would make a lovely setting for a wedding. They offer plentiful seating options, which range from couch sections to long wooden tables and ornately designed café tables, all surrounded by the greenery alluded to in its name.
Drinks at this fun bar in NYC are on the slightly pricier side, but they're not altogether exclusionary and should be consumed with gusto and appreciation for the setting you find yourself in. Of course, as this NYC themed bar is an outdoor spot, Gallow Green's open season is limited to the nicer months of the year.
And while you're here, you should totally check out Sleep No More, an immersive and interactive theatrical experience based on Shakespeare's Macbeth. Set in a 1930s hotel, audience members wear masks and roam freely through the multi-story environment, encountering scenes, characters, and secrets, creating a unique and mysterious theater encounter.
Theme: Secret garden
Know before you go: Open year round, despite the garden setting!
Beetle House
Address: 308 E 6th St, New York, NY 10003
Beetle House's claim to fame is that they celebrate Halloween all year round, and that is nothing but the truth. Step inside this East Village nightmare, and you've stepped into the twisted mind of Tim Burton, with all the zebra stripes and misfigured creatures he could dream up.
The theme of this fun bar in NYC doesn't end at the decor; drinks here have names like Beetle's Juice, Headless Horseman and The Black Lagoon, and many are served bubbling, frothing or both.
For such intricate devotion to the theme, prices here are comparable to many other New York bars, if not cheaper. They have pre fixe dining options if you're into that (and reservations for this experience are encouraged), but they also take walk-ins if you're just there to drink in fear.
To steal a line from Beetle House's website: "we welcome and honor all of the freaks, weirdos, and creatures of the night to come die with us, sorry DINE with us for an unforgettable night."
Theme: based on the whimsical and weird world of Tim Burton's films!
Know before you go: Reservations required for dinner service
Rolf's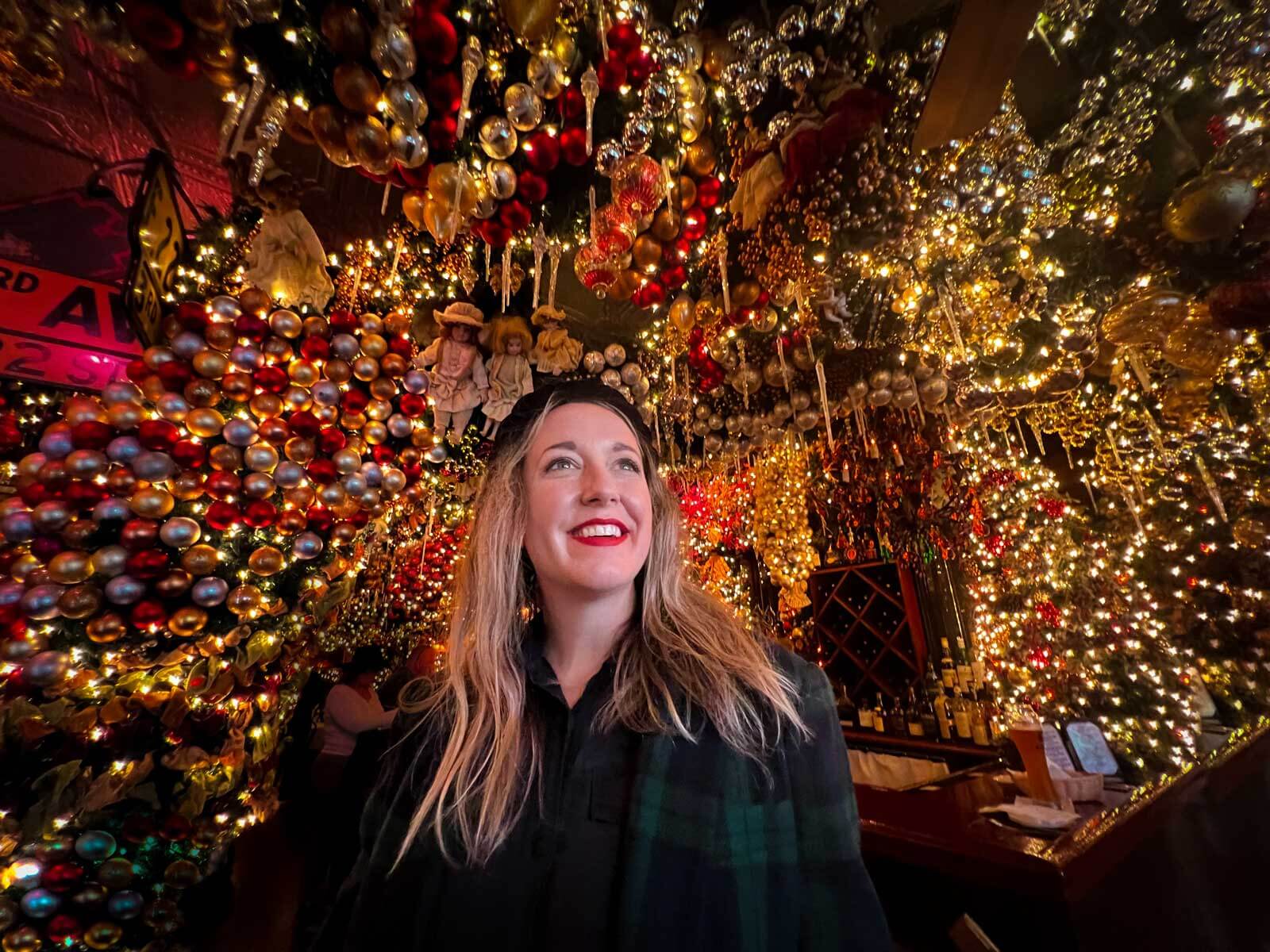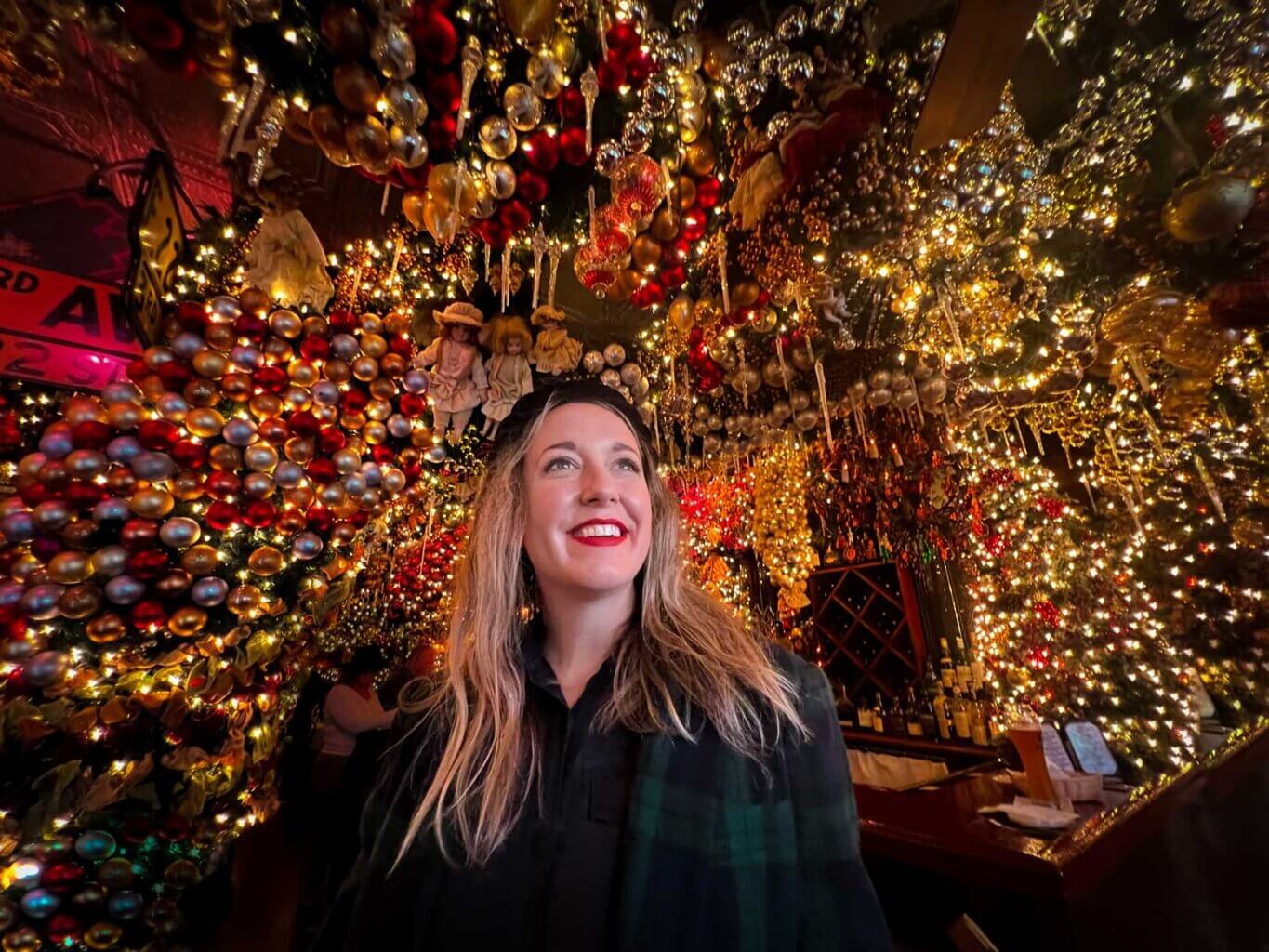 Address: 281 3rd Ave, New York, NY 10010
If Beetle House owns Halloween in NYC, Rolf's owns Christmas. Same idea, similar absurdity, different holiday (minus Tim Burton).
Starting at the end of September, the interior of Rolf's is adorned with fantastic Christmas light displays, (creepy) antique dolls, trinkets, artwork, fake fir trees and more, all of which takes the mastery of five incredible craftspeople over a three month period of labor as Christmas approaches each year.
Although it is one of the best themed bars in NYC, Rolf's is more of a restaurant than many other places on this list, and to avoid confusion, their full name is Rolf's German Restaurant. They serve up traditional Bavarian food and German beers on tap, as well as holiday-themed cocktails and of course, the childlike wonder that defines Christmas morning. Ho ho ho.
This is one of our favorite things to do in NYC at Christmas, but recommend coming earlier in the season if possible since the line can wrap around the block to get in!
Theme: Starting late September, this restaurant has over the top Christmas decor taking up every inch of their ceiling.
Know before you go: Good luck getting a reservation! Just keep trying to call as they are an old-school establishment. During the peak holiday season, the line will be around the block to get in.
Jupiter Disco
Address: 1237 Flushing Ave, Brooklyn, NY 11237
Jupiter Disco exists between two worlds on a triangular, shadowy block in the deepest corner of East Williamsburg/Bushwick before it becomes Ridgewood, flanked by a corner deli and an auto repair shop.
This unique bar in NYC is an homage to everything science fiction, right down to the location. Contrary to its genre's futuristic bent, somehow this place also feels like a cultural blast from the past, with a dystopian, steampunk atmosphere reminiscent of Total Recall's "The Last Resort" bar, located in the Venusville neighborhood of Mars.
The drink prices are a blast from the past too: a beer and shot combo goes for $5 during happy hour at this NYC themed bar. There is an accurate blueprint of Mos Eisley's Cantina framed on the wall (of Star Wars fame), cutely named drinks like Lunar Flash and Cosmic Dust and the musical ambiance to match, EDM bleeps and bloops included. Kurt Vonnegut would find this place brave, and so would the main character from his 1965 novel God Bless You, Mr. Rosewater, who jubilantly exclaimed at a science fiction writer's convention, "You're the only ones crazy enough to really care about the future."
So if you're also crazy enough to really care about the future, but you feel like dancing your face off without Big Brother watching, Jupiter Disco is the planet for you.
Theme: Sci-fi and space
All Night Skate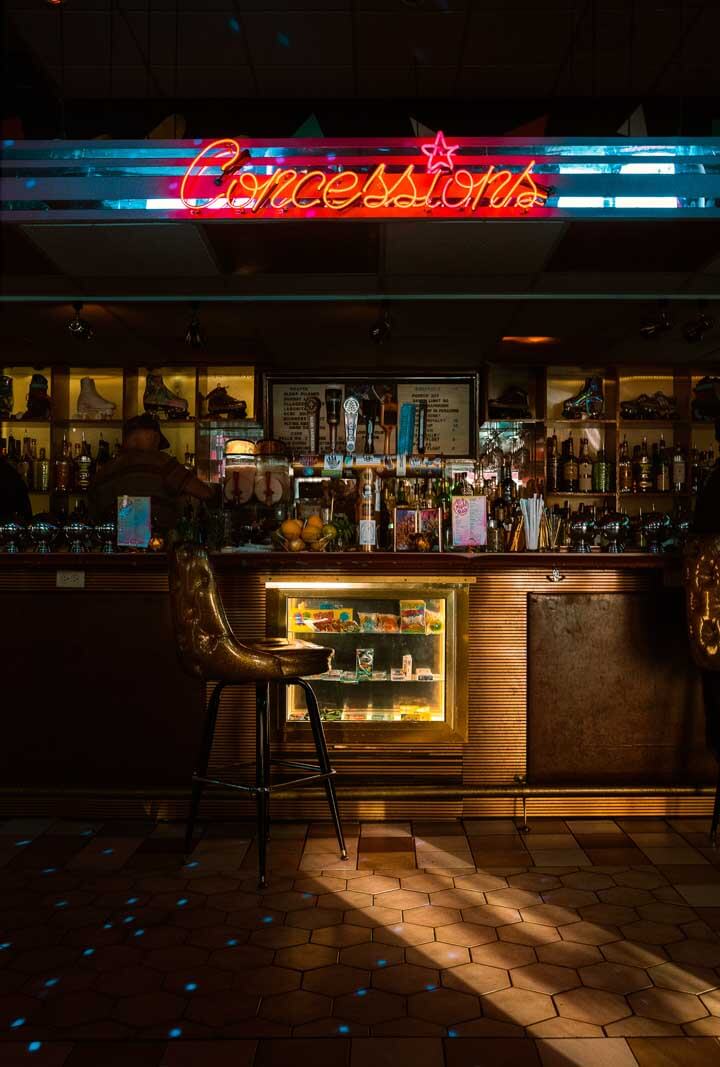 Address: 54 Rockaway Ave, Brooklyn, NY 11233
If Jupiter Disco's tie to the past is a nod to the height of the science fiction genre, All Night Skate in Bed-Stuy is altogether more direct about its nostalgic musings. Whereas this themed bar in NYC is skate-themed, there is no roller rink, although they do offer discounts for patrons who arrive on wheels.
Commit to that at your own peril, though, for fear of the dreaded "skate of shame" that could theoretically result from meeting someone here who shares your passion for Earth, Wind, Fire and big hair.
There is a room dedicated to vintage arcade games, a second-floor balcony, a jukebox and all the neon-accented disco decor you loved in Boogie Nights.
Come to bounce, boogie and bump, and when you're exhausted from showing off your Travolta-caliber moves, feel free to pick up a taco or three provided by Mr. Taco.
Theme: Retro roller rink
Know before you go: This is not an actual roller rink, just a theme! Although, if you do bring your own skates you get a discount!
House of Wax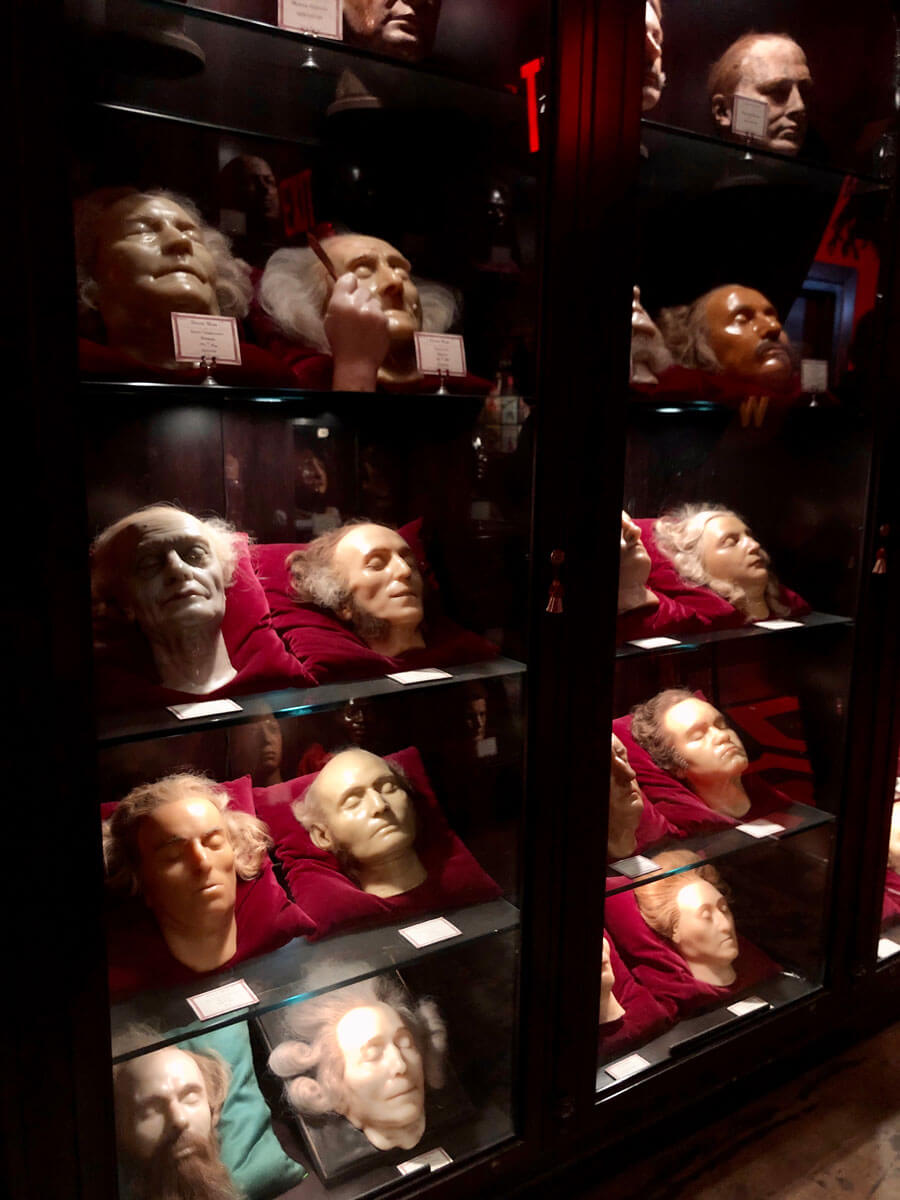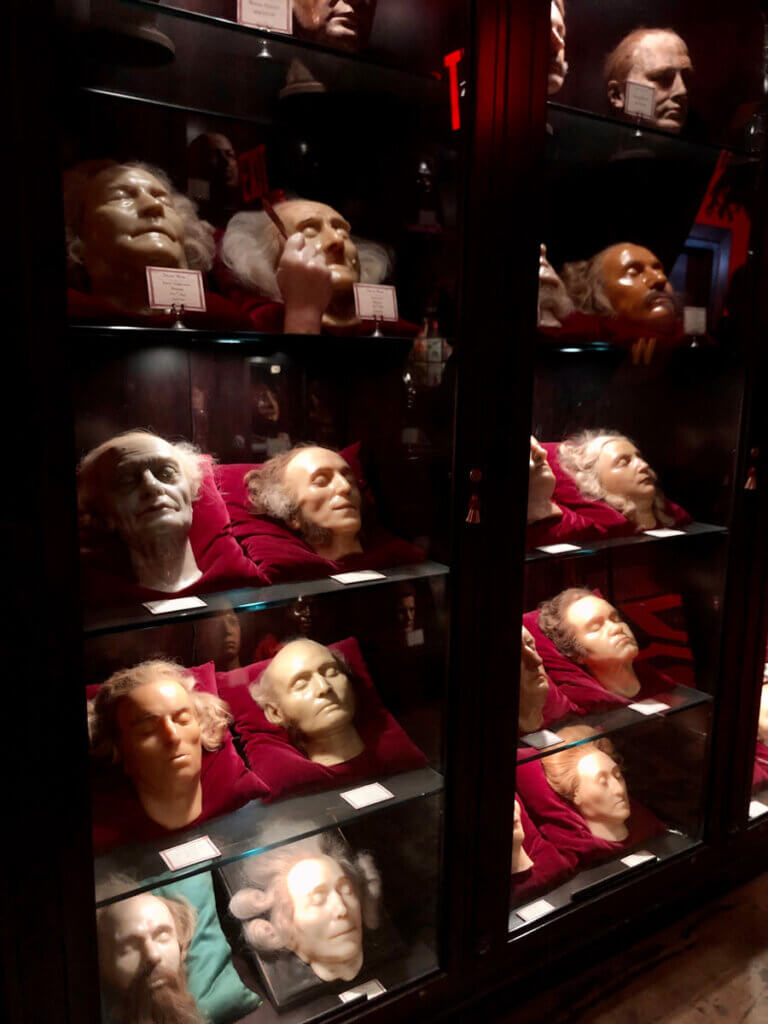 Address: 445 Albee Square W #4410, Brooklyn, NY 11201
This list only gets weirder as we go. Need I remind you, there is something in New York for everyone. House of Wax is no exception– is one of the most unique bars in NYC and is exactly what it sounds like. Buried within Downtown Brooklyn's CityPoint Shopping Center, this primordial version of Ripley's serves up drinks to match the collection of anatomically sound wax figures lining the walls, divided into menu sections like "Anatomicals," "Pathologicals" and "Geographicals."
The collection was originally crafted for Castan's Panopticum, which closed in 1922, but then bought by House of Wax's owner for his pub of oddities.
Fair warning, some of the wax figures are graphic. Let your imagination run wild with that, and you'll probably still be surprised when you enter this themed bar in NYC.
Theme: Macabre bar surrounded by 20th century anatomical wax collection
Know before you go: This is located within CityPoint BKLYN where Alamo Drafthouse is. You do not need a movie ticket to get into House of Wax.
DDT
Address: 847B Union St, Brooklyn, NY 11217
No, this NYC themed bar is not named for the ozone-depleting pesticide banned by the U.S. in 1972, but rather the killer finishing move of pro wrestler Jake "The Snake" Roberts.
This low-key spot in Park Slope maintains an emphasis on its slightly elevated pub-style food and neighborhood friendliness, with the wrestling theme to boot for its patrons who live and die WWE.
By no means does it mimic the ultra-masculine rowdiness one might find inside the ropes, although despite its small capacity and familiar vibe, the wrestling theme pervades in the lucha libre mask decor and Stone Cold Steve Austin's Broken Skull Beer.
Indulge in the menu-leading cheesesteak or a glass of South African wine, but only once they've re-opened (DDT is temporarily closed for renovations at the time of writing this post). Your Rick Flair "wooooooo!!!" will have to wait.
Theme: Pro-wrestling
Know before you go: Temporarily closed for renovations.
The Drunken Laboratory
Address: 1111 Dekalb Ave, Brooklyn, NY 11221
If you and a group of friends, family or acquaintances have a bone to pick with one another, The Drunken Laboratory in Bed-Stuy might be the place to settle it.
This cool bar in NYC offers ticket packages for pseudo-sciencey games and competitions–beakers, lab coats and protective goggles included.
Be aware that this experiment is not for walk-ins–you'll have to make a reservation and book one of the ticket packages offered, which range in price from $55-80 per person.
Beyond the science experiments you'll engage in to craft your drinks, you can compete in a Pop-Off Quiz, Drunken Karaoke or Tipsy Ted Talk, and prizes are awarded throughout in the form of free shots, merch, hangover kits and more.
Theme: Science lab
Know before you go: Need to book a ticket to come and enjoy the fun!
Wonderville
Address: 1186 Broadway, Brooklyn, NY 11221
Another arcade-centric establishment, this NYC themed bar and event space on the outskirts of Bed-Stuy towards Bushwick maintains a fierce commitment to the art of retro, independent arcade games, working with artists to develop a rotating selection of obscure indie consoles that are free to play.
They host live music events frequently, and boast a stage and nearly complete sound system for performers.
In addition to the arcade games and music, this cool bar in NYC also hosts occasional board game nights, video game competitions, comedy shows and more.
Drinks are wildly cheap across the board, with cocktails available for $10 on average and a few beer and shot combo options during happy hour (Mon-Fri 5-8pm) that go for $6.
If Barcade was built for the casual retro arcade game enthusiast, Wonderville was built for a more serious sect of gamers who possess an appreciation for their craft. If that doesn't describe you, not to worry–Wonderville has plenty to offer for the casual gamer or drinker, but you just might run into some real gurus on the sticks.
Theme: indie/homemade arcade bar
The Back Room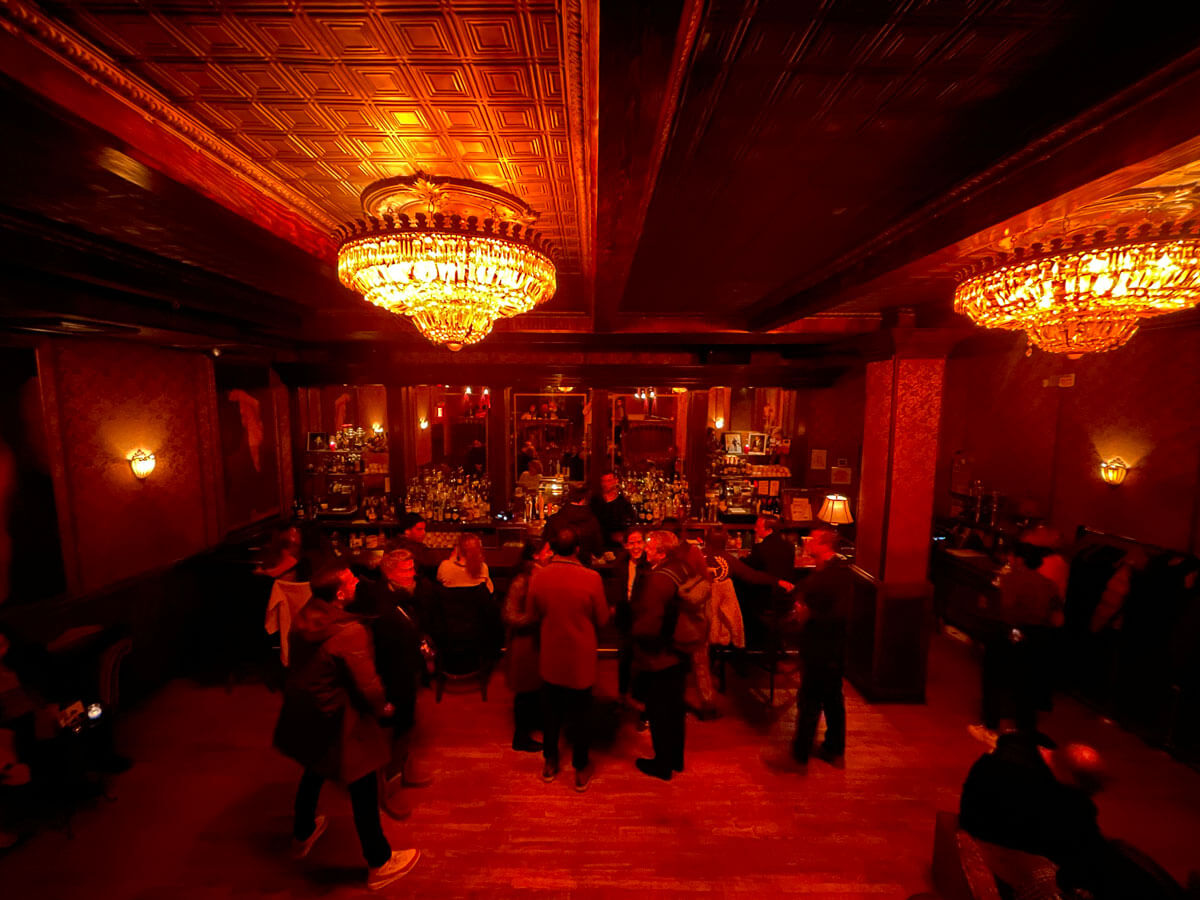 Address: 102 Norfolk St, New York, NY 10002
There are all kinds of speakeasies in New York, but the Back Room just might take the cake as far as authenticity goes. This themed bar in NYC was an actual speakeasy during Prohibition and is one of only two currently operating speakeasies in the whole city that can boast this fact.
It was a favorite spot of New York's stage and screen actors during the 1920s, and played host to "business meetings" for the likes of Lucky Luciano, Meyer Lansky and other bootlegging gangsters of the day.
Cocktails here are still served in teacups to throw off the fuzz, and the warmly-lit ambiance puts the red-hued, gold-trimmed vintage decor and period pieces in the spotlight.
Walk-in groups of any size are welcome, but if you have a group of 5 or more, I recommend making a reservation via email, which is the only way to make one.
On Fridays and Saturdays they have a strict age limit of 25 and up, and they never allow real fur to pass the tresses of the secret entrance.
Theme: Authentic speakeasy from prohibition-era
Know before you go: You'll need to find the entrance! Find the sign that says, THE LOWER EAST SIDE TOY COMPANY. Pass through the gate there and walk down an alleyway and up a set of stairs to find the bar (this is the same way people got in during the prohibition!).
Swingers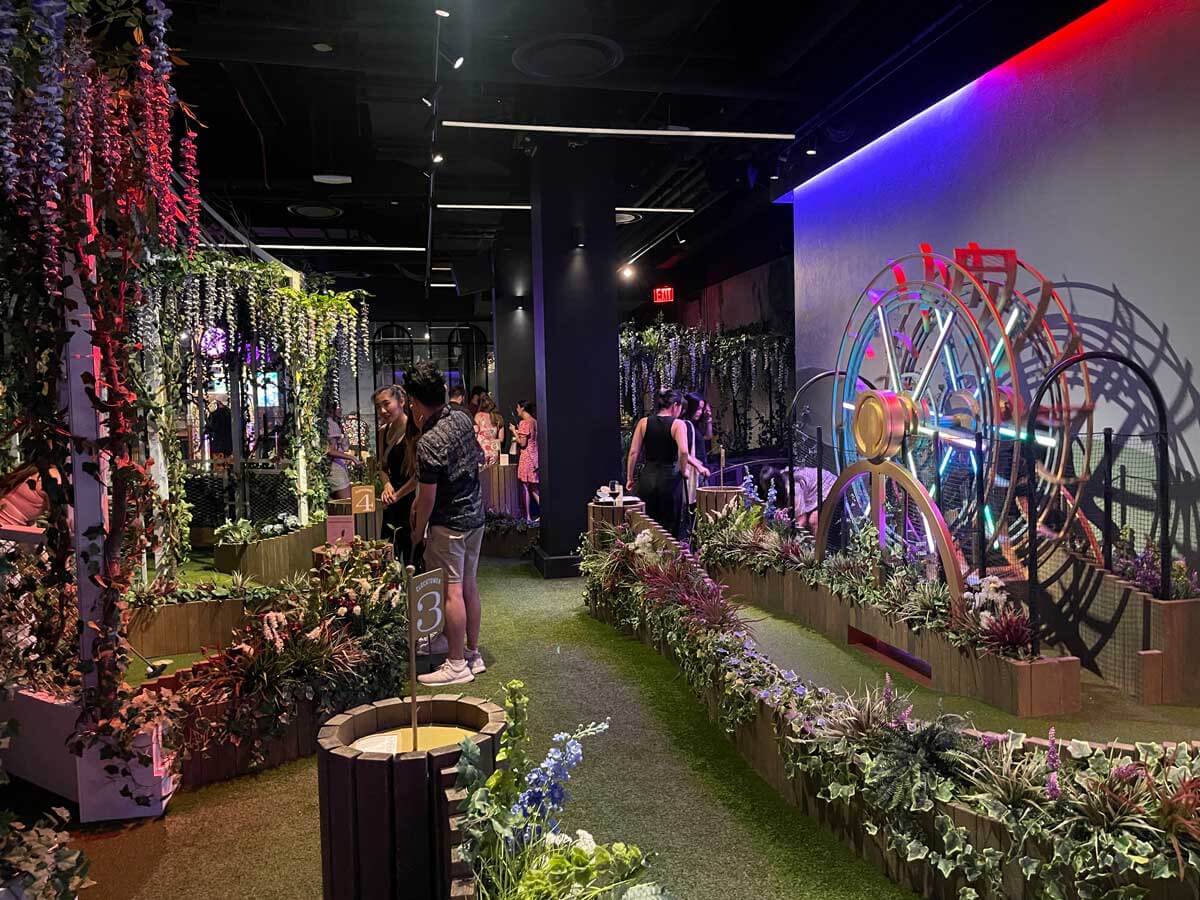 Address: 35 W 29th St, New York, NY 10001
No, not that type of 'swingers'. I know what you're thinking with a name like that! Swingers, or Swingers Crazy Golf, is a whimsical indoor mini-golf course reminiscent of a retro, 1920s English golf club with a playful twist.
As you step in, you'll find a beautifully designed mini-golf course featuring intricate holes with unique challenges and surprises from tulip fields to windmills. The course is adorned with lush greenery, vintage props, and vibrant colors!
But that's not all. There's a full bar, and food court style dining area where you can get artisinal street food. This is easily one of the most fun things to do indoors in NYC (hey, rainy day fun!) plus one of the most unique bars in NYC where you can also play a round of fun mini golf!
Theme: Whimsical 1920s English golf club
Know before you go: There are 3 nine-hole golf courses, you will want to make a reservation or you can walk up (first come, first serve basis).
The Woo Woo
Address: 266 W 47th St, Manhattan, NY 10036
Okay, so Swingers wasn't that type of themed bar in NYC, but if you're looking for a more adult-content and themed bar in New York, you'll want to head to The Woo Woo.
Hidden under The Mean Fiddler in Midtown, this risque underground speakeasy style bar resembles an adult 'play' store with a 1980s nostalgic vibe in the mix.
Channeling the edgy allure of 1980s Times Square, The Woo Woo offers an evening of sensuality and intrigue, fused with contemporary openness. Ring the doorbell at The Mean Fiddler and gain access to this hidden bar (you may need a password). Ascend a graffiti-adorned staircase to enter an adults-only space complete with vintage adult magazines and videos that might spark a few cheeky conversations.
Theme: 1980s XXX adult-store
Know before you go: Reservations available on Resy, hunt around their website for the password you might need it! Closed Mondays.
Royal Palms Shuffleboard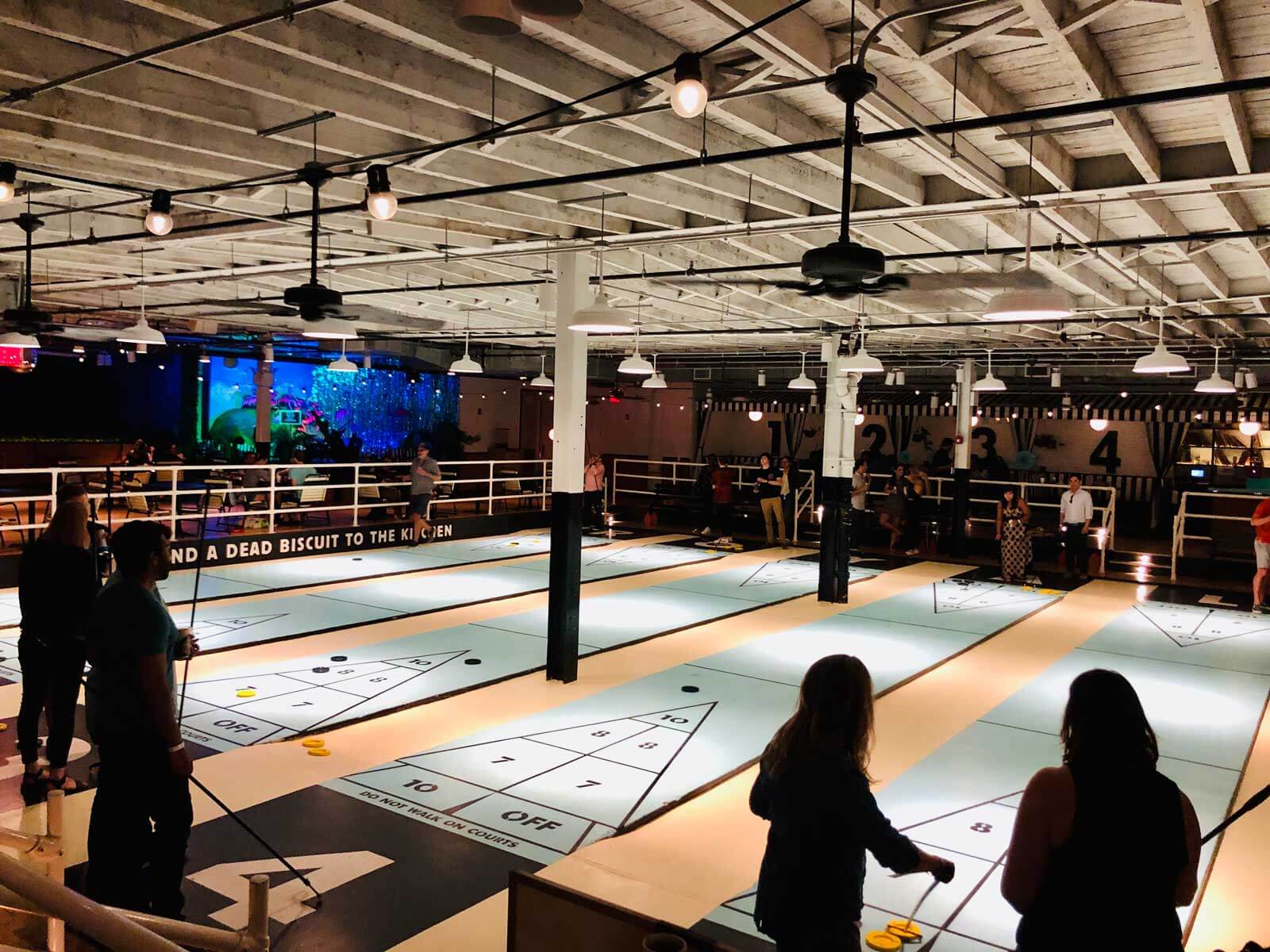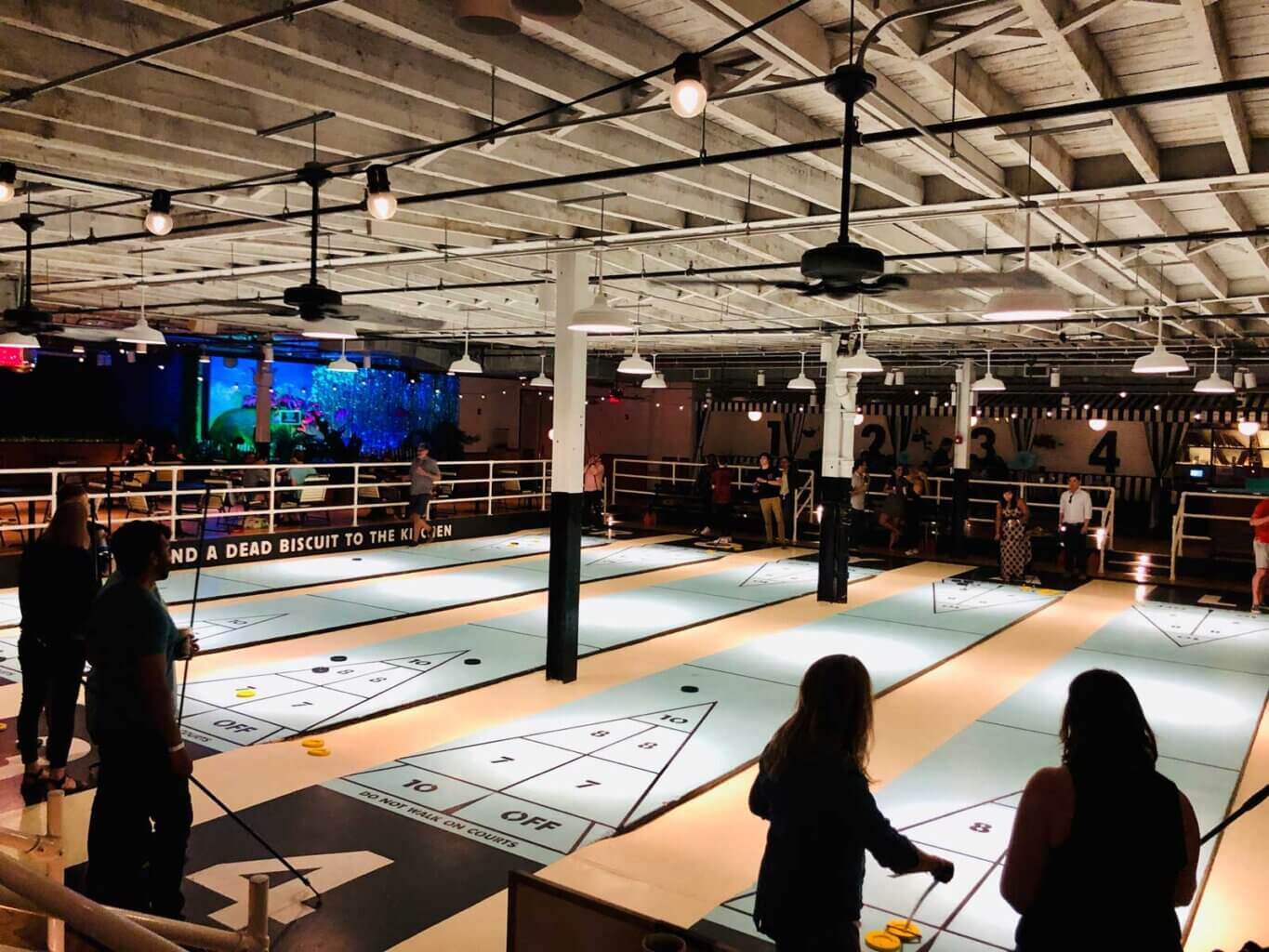 Address: 514 Union St, Brooklyn, NY 11215
The Royal Palms Shuffleboard Club in Gowanus, Brooklyn, is a standout among unique NYC bars due to it's fun hangout space and one of the only places dedicated to the game of shuffleboard. It transports patrons to a retro Florida oasis, offering a genuine shuffleboard experience amidst palm trees, pastel decor, and an overall beachy vibe.
The club boasts multiple shuffleboard courts, where guests can learn the game or compete with friends.
Beyond shuffleboard, you'll find an extensive cocktail menu, many of which are tropical themed, food, live entertainment, and other fun games hanging around.
The Royal Palms merges nostalgia, social gaming, and an island getaway ambiance, making it one of the most fun places to hang out with friends!
Theme: Retro Florida shuffleboard and game bar
Know before you go: Walk-ins are normal here unless you have a party, then you'll want to make a reservation.
Ciao Ciao Disco
Address: 97 N 10th St, Brooklyn, NY 11249
Let's romanticize the disco scene in New York City in the 1970s. I mean if the legendary Studio 54 were still around, it would be on here. Instead, we are left with disco themed bars in NYC like Ciao Ciao Disco in Williamsburg, Brooklyn.
This 1970s Roma discotechque themed bar not only has a disco ball but a glowing dance floor and mirrored walls complete with a live DJ all set in an unmarked former warehouse. Be sure to come ready to get your groove on the dance floor.
Theme: 1970s Italian Disco
Know before you go: located in an unmarked door
Other Unique & Cool Bars in NYC (Honerable Mentions)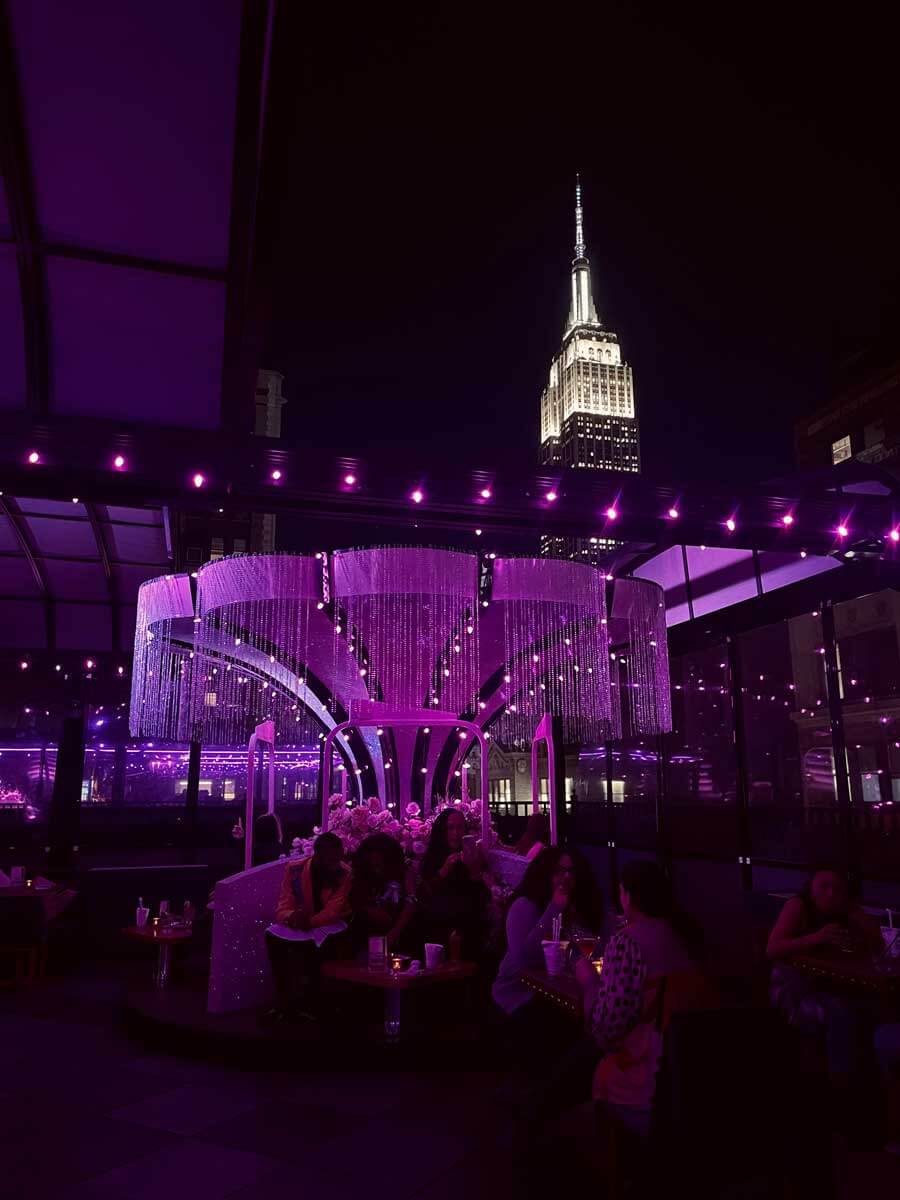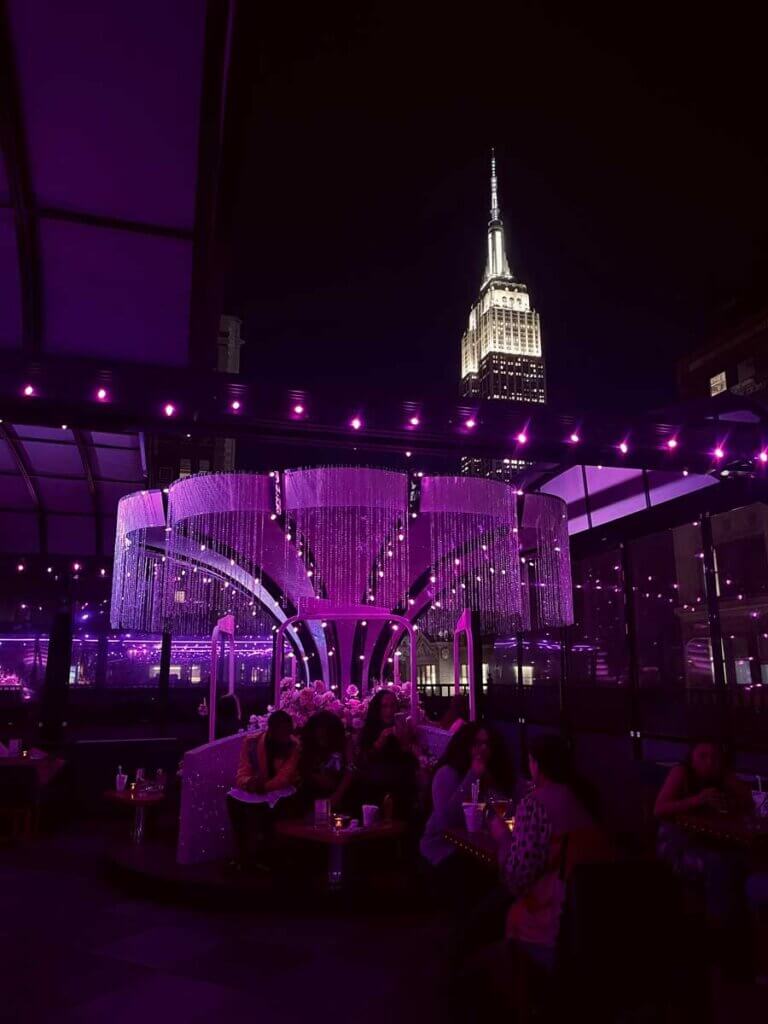 This list of the best themed bars in NYC was too fun to make, and there are so many other incredible themed spots throughout New York that unfortunately couldn't be included. Below is a quick list of honorable mentions if you're feeling curious and be sure to check out the oldest and most historic bars in NYC too!
McSorley's Old Ale House: East Village establishment exclusively serving up McSorley's own light and dark ale since 1854. Ales come in twos, for whatever reason.
Blind Barber: New-fangled speakeasy in the back of a fully operational East Village barbershop.
The Garret East/West: This fun bar in NYC is also known by its pseudonym, Borrachito, which functions as a taco joint by day. Party in the back behind the sliding door. Great music. The Garret West is a second-floor speakeasy in the West Village. Go through the 5 Guys to get there.
Air's Champagne Parlor: Tiny, upscale champagne experience (although much more accessible than you might imagine) with inventive decor and light bites. Make a reservation.
Fraunces Tavern: Setting of the revolution. Yes, the American Revolution. Founding fathers gathered here in the Financial District to discuss the matters at hand as the war approached and this is the site where General George Washington gave his farewell speech to his Continental Army. Perhaps the most unique bar in NYC as it is the oldest one in town.
Magic Hour Rooftop Bar and Lounge: Times Square indoor/outdoor rooftop that is somehow both glitzy and whimsical. They have a carousel-inspired seating area that slowly rotates, and great photo-op spots with Empire State Building views. Heavy carnival theme.
Studio 151: Vinyl-centric East Village bar/club with a $20 cash cover (ATM next door in the deli). Great throwback tunes that will get you dancing even if you don't like throwbacks. Sushi restaurant by day.
Bemelmans Bar: Ludwig Bemelmans, creator of the Madeline children's books, created the murals at the Upper East Side spot in exchange for a year-and-a-half-long stay at its host hotel, the Carlyle, for him and his family. Piano bar with varying cover charges if you go when acts perform. Smart dress code after 5:30pm (collars for men, no shorts or hats).
Cowgirl NYC: Western-themed bar and restaurant in the West Village, complete with saloon doors in the back. They dress up their window display mannequins monthly to fit seasonal/holiday themes. Best frozen margarita in town, hands down.
Unique NYC Themed Bars (Post Summary):
The Little Shop
Fresh Kills
Frying Pan
St. Mazie
La Noxe
Radegast Hall & Biergarten
Please Don't Tell (PDT)
Oscar Wilde
Lillie's Victorian Establishment
The Cauldron
Marie's Crisis Cafe
Beauty Bar
Sunken Harbor Club
Barcade
Otto's Shrunken Head
Gallow Green
Beetle House
Rolf's
Jupiter Disco
All Night Skate
House of Wax
DDT
The Drunken Laboratory
Wonderville
The Back Room
Swingers
The Woo Woo
Royal Palms Shuffleboard
---
Did I miss any of your favorite themed bars in NYC? Let me know in the comments below. If you're looking for more fun bars to check out (at a discount) check out my guide to all the best happy hour spots in NYC for more cool places to grab a drink or bite to eat.