Looking to check out the best coffee shops in Greenpoint? This guide has you covered! Hi, my name is Quinn and I am the creator of @quoffeequest on Instagram, a page dedicated to sharing my quest for the best cup of coffee in New York City with all my fellow coffee lovers!
I have had the pleasure of visiting several of the best coffee shops in Brooklyn along with cafés, bakeries, and beyond and am very excited to share some of my favorite Greenpoint cafes with you to include on your Brooklyn visit if you're from out of town or recommend a new Greenpoint coffee shop to check out even if you're a local.
Here are my top picks for the 10 best coffee shops in Greenpoint, in no particular order because each one of these cafes in Brooklyn is great! Also, while you're in the neighborhood, be sure to check out all our picks to best things to do in Greenpoint!
Greenpoint Cafes Worth Checking Out
Café Alula
252 Franklin St.
Starting off with a bang! Café Alula is a bright and beautiful, Lebanese-inspired café in Greenpoint. This Greenpoint cafe offers a variety of coffee beverages, including their cold brew, cappuccino, espresso, turmeric latte, etc., as well as other cold beverages, such as their rose lemonade, rose matcha, and halwa latte, which all sound delish!
I usually get a cold brew with a splash of oat milk. They also serve up a variety of grub, sandwiches, breakfast burritos, bowls, salads, and more.
You can enjoy your coffee and/or grub in their gorgeous, outdoor seating arrangement out front, in their backyard, or you can order for takeout – the options are endless!
Maman
80 Kent St.
Maman, another incredible Greenpoint café to check out! This Greenpoint coffee shop isn't just available here either – Maman can also be found throughout New York City, as well as in Canada!
This cafe in Greenpoint is gorgeous with all their treats, tower of teas, and décor on display. They offer both sweet and savory goodies, from pastries to soups and sandwiches, so much variety.
As far as coffee and other beverages, I've always wanted to try their honey lavender latte or lavender hot chocolate because they sound fabulous and I've heard great things, but I'm not the biggest fan of lavender, so I stick with my usual, vanilla chai!
They also almost always have a seasonal drink(s), which currently are their "la vie en rose" or their "be mine moch". You can indoor or outdoor dine, take out, but they also deliver!
Eagle Trading Co.
258 Franklin St.
One of my newer favorite coffee shops in Greenpoint, for sure! Eagle Trading Co. is such a dope, Brooklyn-based spot – perfect for grabbing a delicious, quick bite and some great coffee! On their menu, you'll find breakfast sandwiches, breakfast burritos, breakfast bowls, omelets, salads, soups, wraps, and more, with vegan options.
You have to try their Buffalo chicken wrap! As far as coffee goes, they have lots to choose from; their cold brew, lattes, cappuccinos, flat whites, and more, but I need to try their coconut matcha because how good does that sound?! Their iced mocha is also great! You can pick up/take out, but they also deliver and even cater!
Espresso Paloma
117 Meserole Ave.
Espresso Paloma is a small, local coffee shop in Greenpoint. They use their own coffee grounds, which are sold at the shop, as well as bake all their baked goods on-site, so the customers are definitely getting everything fresh! They offer a plethora of treats, from their yummy sticky buns to their quiches!
As far as seating, they have outdoor seating available in front, but there is no indoor dining as the shop only offers window service. If you visit this shop and love it, I've got good news – they deliver! You can even order their coffee beans and they'll deliver them right to you!
Bakeri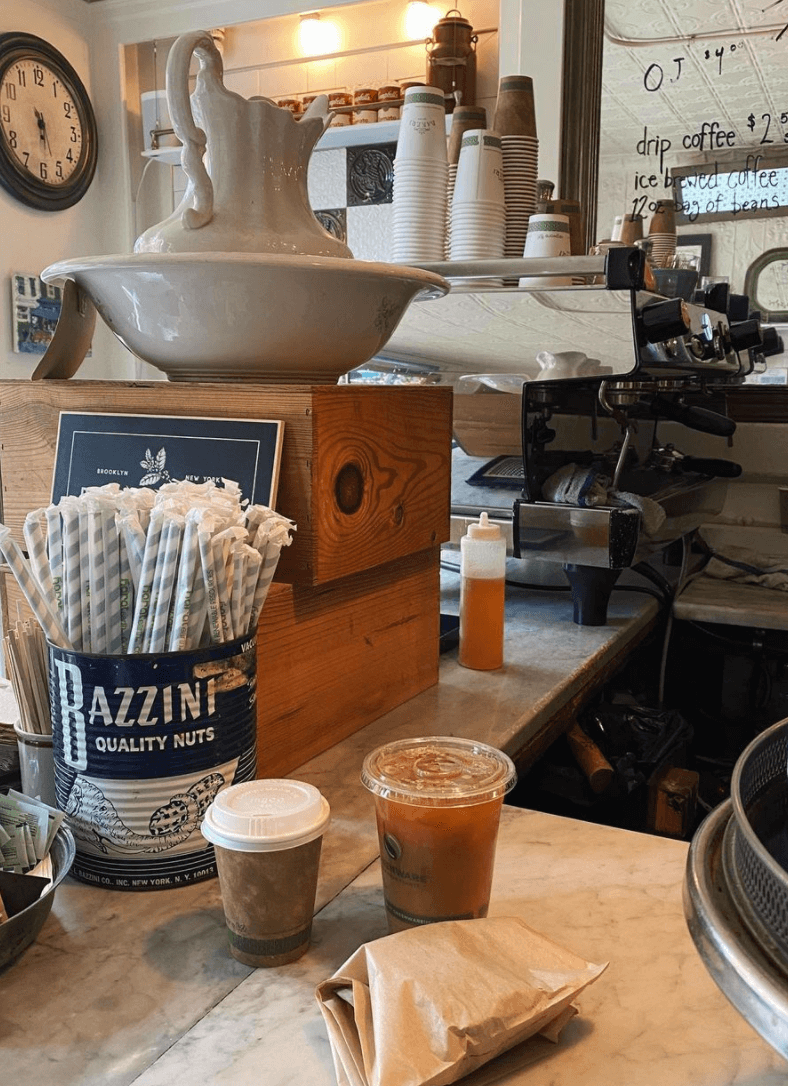 105 Freeman St.
Bakeri is a gorgeous, women-owned bakery and café in Greenpoint, but does have another location in Williamsburg, Brooklyn.
I feel that the perfect word to describe this Greenpoint coffee shop's aesthetic is whimsical! I feel that this spot is best known for its sweet treats and I can honestly say, they are worth the hype!
Their coffee is also great and there is no better duo than a yummy treat and strong brew – I get my usual, cold brew with some oat milk. However, if you're in the mood for something hot, their cappuccino is super good!
You are able to pick up or place an order for delivery on their site – no indoor or outdoor seating.
Sweetleaf Coffee Roasters
159 Freeman St.
I'm pretty sure this Greenpoint in coffee shop was built in what used to be a garage and that is probably one of my favorite parts about it. The shop is not only located in Greenpoint but has quite a few locations in Long Island City, Queens as well.
They are definitely known for their Rocket Fuel drink, which is a cold brew concentrate with chicory, VT maple syrup, and whichever milk you prefer. That is indeed my go-to from this spot – it is SO good!
Their brownie bites are also super-rich and yummy! They do have indoor seating, but it does feel like you're outside because all the doors are open, but they have outdoor seating as well. I usually see people chatting or doing work whenever I go.
Homecoming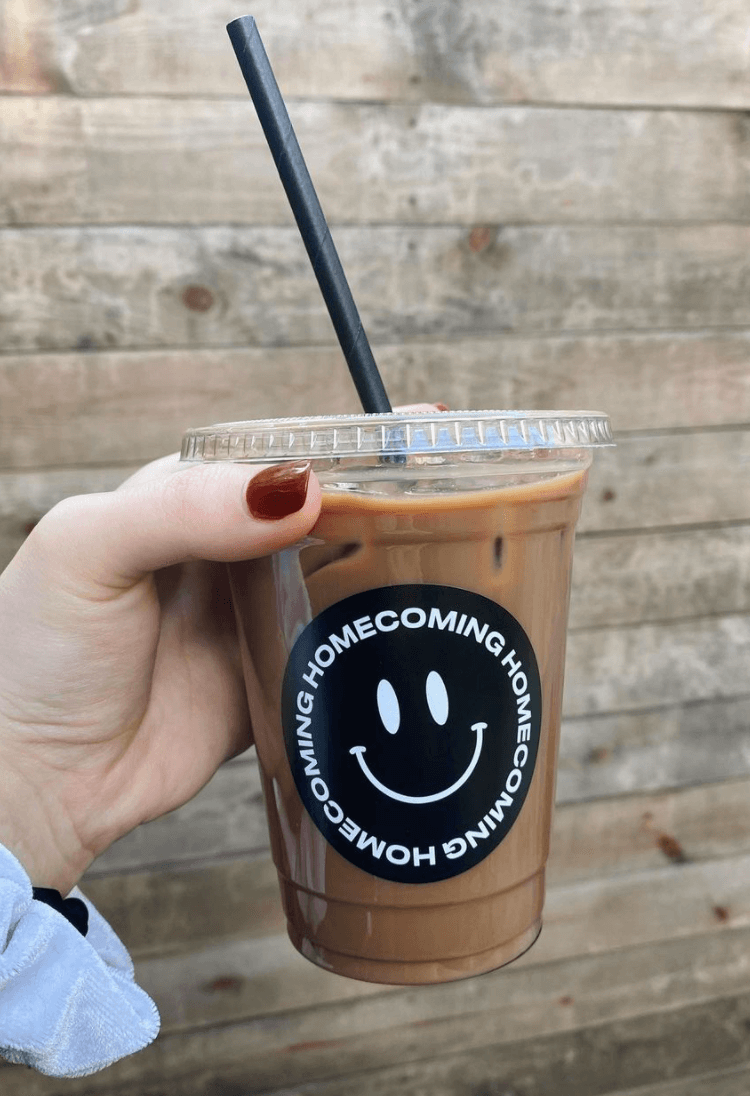 107 Franklin St.
This coffee shop in Greenpoint is a flower + coffee lover's dream! There is also another location in Williamsburg, Brooklyn. This shop is stunning, and the employees are the sweetest.
They not only have coffee beverages, such as their cold brew, lattes, etc., but also a variety of teas, including their Qi Floral Tea and matcha. I love their cold brew with a splash of oat, almond, or skim, their hot cappuccino, or their iced mocha!
They have their own coffee beans, sold at both shop locations. If you're looking to grab a seat, they have a backyard open for customers.
Pueblo Querido Coffee Roasters Café de Colombia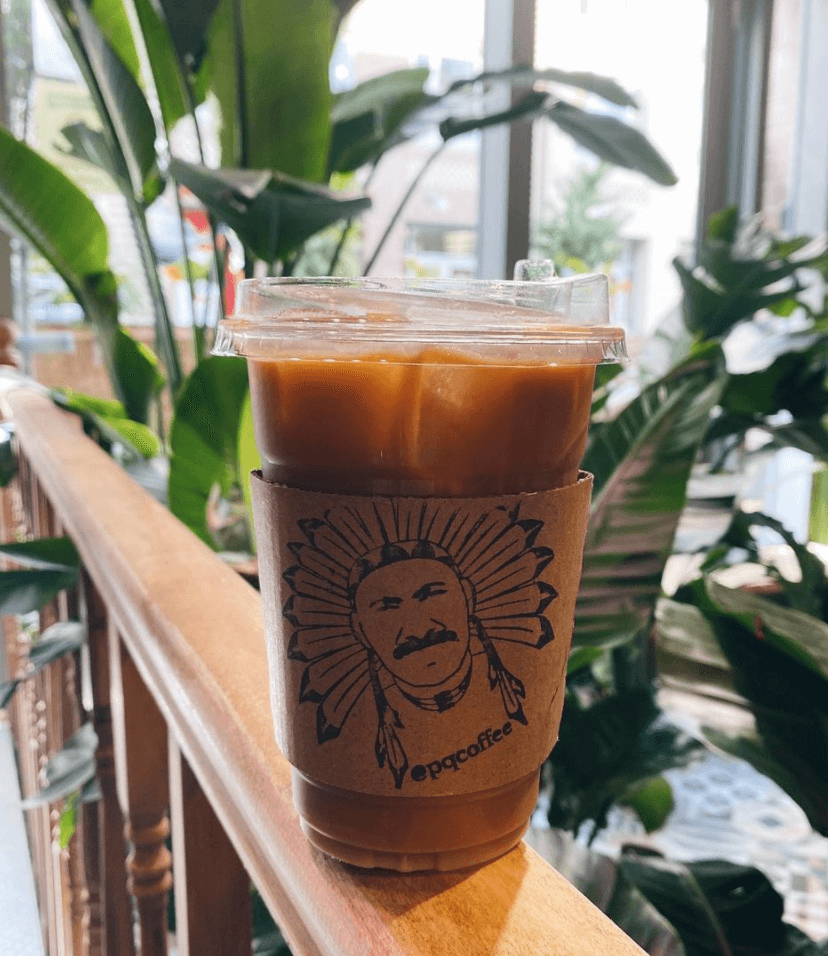 195 Greenpoint Ave.
Pueblo Querido is a café in Greenpoint I heard so much about before I even had the chance to stop by. This family-owned shop has and uses its own coffee roasts/beans to serve only the freshest, highest quality coffee to its customers.
For this coffee shop, I usually just grab my coffee, take in the colorful Colombian aesthetic of the shop because it's incredible, and go because I don't think there is enough seating to sit around here but there are a few spots available.
You can order their coffee beans online, with free shipping if you spend more than $35.
Upright Coffee
860 Manhattan Ave.
Upright is another small, Brooklyn-based coffee shop in Greenpoint. What I love is that this little spot is super and is another perfect Greenpoint coffee shop for a quick grab and go as there is no seating available.
Nonetheless, this coffee shop in Greenpoint offers all types of coffee beverages, but one thing that sets it apart from other coffee shops is their "house-made extras" you are meant to add to your drinks if you'd like: Madagascar vanilla syrup, salted vanilla caramel syrup, and French lavender syrup.
Don't all of those sound incredible?! The perfect, little touch to spice up your coffee. This shop also makes and uses its own coffee beans that are also sold in stores!
Variety Coffee Roasters
142 Driggs Ave.
Variety is another Greenpoint coffee shop, with locations in other parts of New York City. I love, love, love Variety for so many reasons. They do have several different roasts that are sold on their website, where they discuss all of the different types, as well as the brewing tools they use.
Variety's hot cappuccino is so yummy, but my go-to is their iced chai – it tastes so legit, if that makes sense, none of the fake stuff.
Better yet, if you like a quality cup of joe, they have different coffee brewing techniques available for your cup of coffee you can order, from pour-overs to Aeropress!
This Greenpoint cafe does not have indoor seating, but you are welcome to sit on their bench or seating out front!
Odd Fox Coffee
View this post on Instagram

984 Manhattan Ave
Odd Fox Coffee is a queer-owned business and a neighborhood favorite due to its consistently tasty selection of coffee drinks and amazing croissants. They've also managed to stand out from the crowd by offering cool merchandise like T-shirts and bags.
Serving products from local operations like Parlor Coffee and In Pursuit of Tea, Odd Fox's selection of espresso and iced drinks are both delicious and reliable. Fox also enthusiastically and proudly serves baked pastries from Greenpoint bakery Ovenly.
There is some seating inside to sit back and enjoy your cup and as long as its not a busy day, the cafe is laptop friendly. Odd Fox has a Bed Stuy location as well, so feel free to show that shop some love too!
---
Did we miss one of your favorite Greenpoint coffee shops? Let us know in the comments below!
Also, do you like bakeries? Check out the best bakeries in Brooklyn to pair with your coffee!