Winter is here everyone and the city is still battling this brutal virus and surviving off of limited social interactions with one another we can all agree that we miss our dining, drinking, and entertainment scene here in the city. Our struggling restaurants (and bars) are only allowed to offer take out and outdoor dining, which in the summer has proven to be quite pleasant with areas being blocked off and New Yorkers taking over the streets enjoying their outdoor meals.
But, now it's full-blown winter and our restaurants aren't getting any help and are relying on barely getting by with their takeout and outdoor dining setups. If you're like us and are craving human interaction and a taste of what our 'old normalcy' and social outings felt like, dining outdoor is not a bad option, plus you get to do your part by helping out your favorite local spots that need business.
With open-air dining, it's easy and safer to meet with members outside of your own household. Restaurateurs have gotten really creative and have acted quickly to set up some incredible outdoor dining setups that include anything and everything from heated covered patios on the sidewalks, heated tables, full-blown igloo domes, and tiny glasshouses, and other custom setups to help entice customers to brunch and dine like they used to even with the nip in the air.
While heaters will help, you will also want to dress for the occasion and that is where this fun little dining this winter in NYC survival guide comes in handy with some tips and gear to help you stay snug as a bug while you wine and dine this winter!
And while you're at it, be sure to check our comprehensive guide to the best heated outdoor dining in Brooklyn to help you pick your next brunch, lunch, or dinner spot in the city. This entire guide was picked by locals, so you know you're getting some great recommendations for not only restaurants but bars too!
Also, check out our guide to winter in Brooklyn and things to do in NYC in winter for some fun ideas to enjoy this season! Also, if you're looking for something a little more romantic, check out our winter date ideas in NYC too for more options!
PS: Some of the links in this guide are affiliate links meaning if you purchase through here I may receive a small commission at no extra cost to you!
NYC Outdoor Dining Winter Survival Necessities
Layer Up with Thermals
Wearing layers is a given in the winter season, but this is more important now than ever because sitting outside and not moving around is a recipe for getting chilled to the bone real quick! Here are a few great options I personally use and recommend!
Japanese clothing company Uniqlo brings out the big guns when it comes to innovative, lightweight, heat-generating fabric that somehow also is cooling to make the perfect layering pieces to not only survive winter in general, but also help keep you toasty and cozy while you dine outdoors.
If you know, you know. But if not, you can read about the Heattech technology here. Better yet, this line is really affordable and you can find Uniqlo locations around the city or shop online easily.
Uniqlo Heattech Women:
Uniqlo Heattech Men:
Get a SnowSuit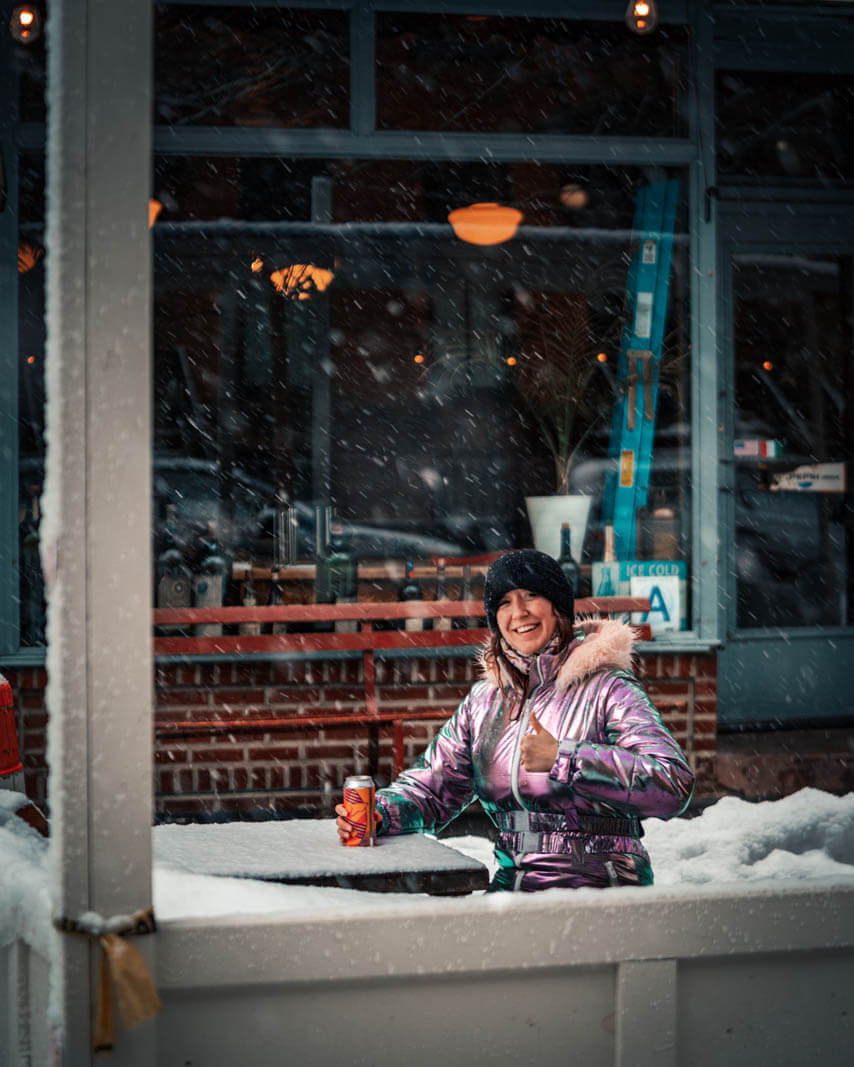 Snowsuits are all the rage this year not only for winter sports but for the outdoor dining scene! Grab a vintage snowsuit from cool thrift shops around the city, check out our guide to the best thrift shops in Park Slope or hit up Williamsburg thrift stores, there are tons in the neighborhood and last year I spotted tons of vintage snowsuits at Wonders of Walter.
Another great option if you're looking for a vintage snowsuit online is Poshmark, my roommate snagged a sweet one that looks early 90s on there this fall for a great deal!
OR get a new one! I just bought this wild holographic one from Dolls Kill, PS these run small so size up! Alternatively, Tipsy Elves has some fun, colorful, and retro-looking suits for both men and women as well as OOSC and Shinesty.
Shop more wild snow suits below:
Keep Your Feet Warm!
Warm socks and winter boots are essential. From my experience from the outdoor dining I've done so far in NYC this winter, even with heaters, my toes got cold. To prevent this get some seriously warm socks, they make a difference.
Winter Boots are a given an essential NYC item anyway, we recommend going with a darker boot that's waterproof for the worst snowy winter days because of street slush.
I have these gorgeous light beige Cole Haan winter boots but they are only ideal when there's no snow in the city because the dark mucky slush can stain them. But these are great for any other time since we don't always get alot of snow in the city, I'd still recommend them and give them a 10 out of 10!
Women's Winter Boot Recommendations:
Men's Winter Boot Recommendations:
Keep Those Fingers From Freezing!
Sitting until your food comes out can be a chilly wait for your hands, especially if you're enjoying a beverage that isn't hot or warm to hold in your hands. We always recommend a good pair of fingerless gloves for dexterity or touch screen friendly gloves so you can still operate your phone.
I prefer gloves that aren't bulky so that I am not clumsy and fumbling things around in my hand with thicker gloves.
One of the latest trends I am really digging is these rechargeable hand warmers that you can throw in your pocket. Keep it in your pocket and put your hands in there for a nice toasty spot to warm up your fingers or you can hold it alternating between hands.
I also love this in my coat jacket because for some reason my phone battery tends to die quickly when it's cold out. Keeping my phone in the same hand as the rechargeable warmer saves it from getting cold and the battery dying quickly!
Don't forget Hats & Scarves
My mother always told me how important it was to keep your head warm in the winter and unless you are going to call my mother a liar, then don't forget to get a good winter hat and scarf!
Keep That Rump Warm
One of the most revolutionary products out there for surviving outdoor dining in NYC this winter are these rechargeable portable heated seat cushions! Stay warm from your bottom up.
These bad boys come equipped with a rechargeable power bank with a USB cable that charges for up to 4.5 hours of usage! This heated cushion also comes with a carrying case so it can easily fit in a larger purse, backpack, or bag making it extremely portable to take with you.
BYOB Bring Your Own Blanket
Even outdoor dining in NYC with heat you still may feel a little chilly and instead of being even slightly uncomfortable, you can easily fix that by bringing your own blanket! Some restaurants offer blankets, but others have been touching those so it's probably best for you to just BYOB, bring ya own blanket!
Plus, we've already been to a restaurant where the heat lamp ran out of fuel, so it's just best to be prepared.
I love this seriously warm blanket by Uniqlo using the same Heattech technology as the thermals we recommended above, you can get it in Twin Size for one or Full Size to snuggle with someone.
Blankets can get bulky to carry around, so this lighter weight polar fleece blanket is a great choice to throw in your bag if you carry a larger purse.
---
There you have it! Our survival guide to outdoor dining this winter in NYC! If you have any additional tips we didn't think of or go to items let us know in the comments below!
And last but not least, help us save our local restaurants and bars!! If you don't want to dine out you can do take out, buy gift cards for future use, and some restaurants are even offering pantry items and at-home kits to cook their food at home!