Looking for how to spend 3 days in NYC? We've got you covered! This guide will help you plan how to spend your weekend in NYC and an itinerary you can follow or use bits and pieces on to build your own and customize your time in the Big Apple!
But, let's start by discussing some hard truths about visiting New York City. Much like trying to conquer the never-ending portal of streaming prestige television, it is impossible to see and do everything in New York.
And similar to the ebb and flow of what appears on Netflix, New York City's iconic landmarks and businesses do sometimes come and go – beloved hangouts and businesses close, receive a proper spate of heartfelt tributes and lamentations, and eventually disappear into the sands of time, like an urban Ozymandias statue.
But that's all the more reason to visit New York, and visit New York, and visit New York (or move here! I will be at Port Authority to welcome you with a Zabar's bag and a leather jacket) and catch what's here when it's here.
And if we're being honest, as heartbreaking as it can be to witness the ephemeral nature of this city, I think it's what keeps the place truly alive. When you are here, you are experiencing the New York of one era, and then another, and then another, all unfolding, refitting, and morphing to create your own sense of time and place that you will one day look back on with fondness as "the good old days" of New York.
Creating an itinerary for a weekend in NYC is not unlike navigating a board game or "choose your own adventure" novel. Like live music? You can spend an entire weekend dancing inside clubs and venues without seeing the light of day. Especially since you can easily spend 4 days in New York, 5 days in New York, 7 days in New York, or an entire lifetime and still never see it all!
Obsessed with the latest in food and drink? You can try endless cronuts, bespoke cocktails, and all the pop-up street fair grub your stomach can handle.
Is shopping your cardio? Jog from sample sale to sample sale. With endless possibilities in mind, we've narrowed this 3 days or weekend in NYC itinerary to a few distinct categories in a few distinct areas: New York dining favorites, quintessential parks and landmarks (including museums), and live theater throughout midtown, parts of uptown and downtown Manhattan, and Brooklyn.
We could go on an infinite tangent of other combinations, but take this as just one small path to discovering New York. And then come back and visit us again as there are so many incredible things to do in New York City to fill a lifetime.
A note on logistics: this itinerary involves a lot of walking (or taking the subway), but the MTA bus system is an accessible alternative option for getting around town! And as we mentioned before, feel free to customize your itinerary to fit your schedule – there are also plenty of alternative suggestions to swap out or add if you have more than a weekend in NYC!
And don't forget about the nightlife, if you still have the energy! Check out our guide to all the best things to do in NYC at night to add on to your itinerary!
Enjoy!
Day 1 of 3 Days in NYC: UPTOWN AND MIDTOWN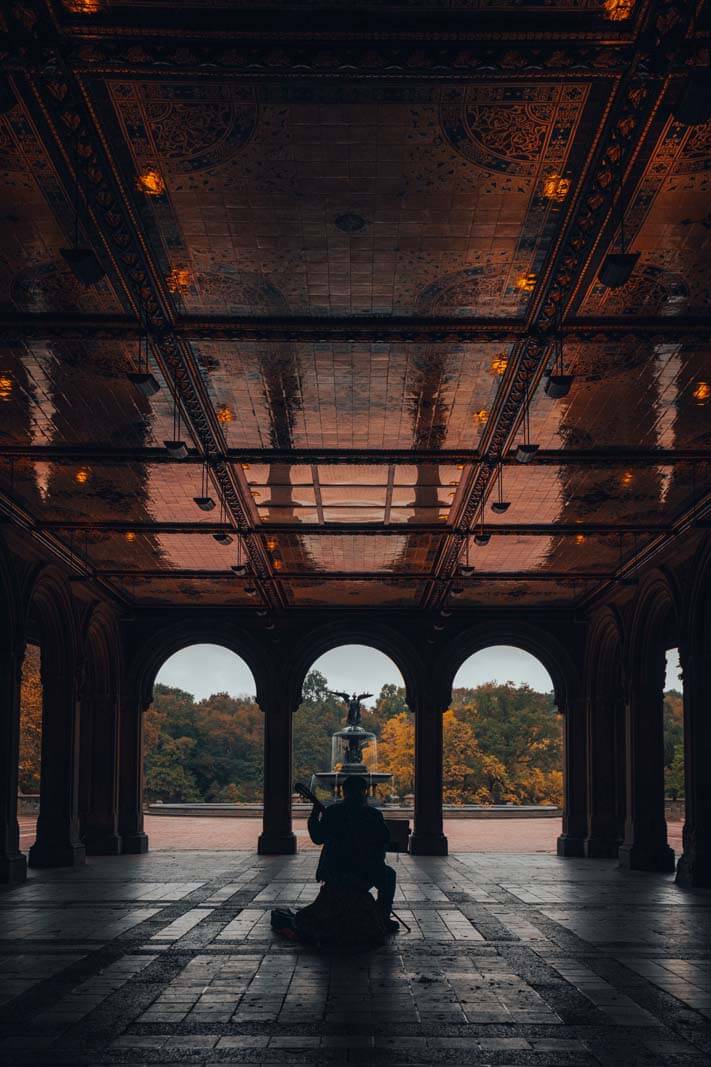 Breakfast
Let's say you've just arrived on an early bus, train, or flight to a Midtown hotel for 3 days in NYC. It's a beautiful day and you're ready to take on the town!
But first – that $12 airport granola bar has long worn off and you need to eat. Where should you go? One classic and chic New York breakfast joint is Sarabeth's, which has several locations including Central Park South (40 Central Park S), almost smack dab in the center of Manhattan and the perfect place to begin your weekend in NYC.
Sarabeth's is known for their pastries – make sure to try their house-made popovers or to split a basket of their muffins and "legendary preserves" – and while I must be responsible here and mention that I am already deeply pro-jam, their preserves really are legendary.
Want to continue the decadent carb fest? Sarabeth's is also home to fluffy, perfect lemon ricotta pancakes and french toast. More of a savory breakfast fan? Their omelettes, benedicts, and chicken sausage are equally excellent.
For a more bohemian vibe, visit nearby Alice's Tea Cup (Chapter II) (156 East 64th Street) for a whimsy, wonderland-themed breakfast of homemade scones (try the Scone Benedict!) and a selection of over one hundred different kinds of teas.
Alice's Tea Cup also features a make-your-own crepe menu and tasty, themed cocktails like the TweedleDee (Birthday tea-infused vodka, triple sec, cranberry and lime juice, with a splash of Raspberry Liqueur) and TweedleDum (Rosemary and ginger tea infused simple syrup, Rooibos Kimberly tea-infused gin, with a splash of Prosecco). Try one to kick off your 3 days in NYC with a bang!
Central Park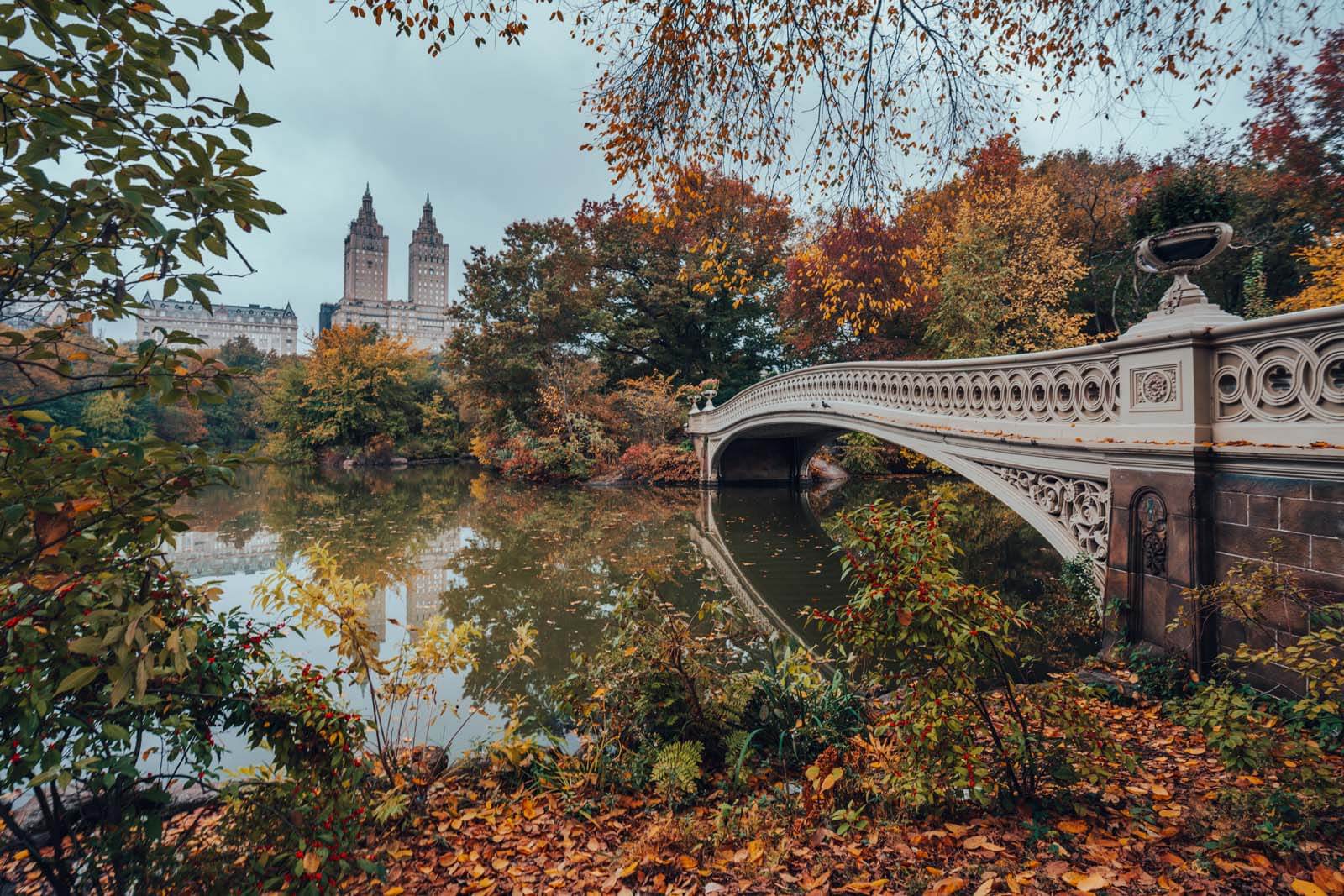 After breakfast at either of these Central Park adjacent spots, there is but one place to go – the park itself. While you could certainly spend the entire day here, as it's one of the best parks in NYC, and still not cover its full expanse, I recommend checking out some of the heavy-hitter locations – the picturesque Bethesda Terrace Fountain, Strawberry Fields (forever), and the Jackie Onassis Reservoir.
Other notable but seasonal locations include the Delacorte Theater, the site of summer Shakespeare in the Park, and the Central Park Tennis courts (available for reservations and limited walk-on play from April to November).
Another great option is just pulling up to a bench or grassy knoll and people-watching. Now (and hopefully forever) known as an outdoor haven for New Yorkers, you're as likely to see a wedding here as you are a bike race, music video, or photo shoot filming. It's the perfect place to start your 3 days in New York.
Another scenic spot is just across the pond looking at Bethesda Castle, yes there are castles in New York! And this one is a stunner in the heart of Central Park. Explore more of the hidden gems of Central Park while you're here too!
UES or UWS
After your time in the park, you'll be faced with the existential question that weighs on so many New Yorkers: to go East or West? And while I can point you in the direction of the many, many novels/movies/TV shows that will vehemently argue for or against either, like a true Libra I am inclined to recommend that you check out both the Upper West and Upper East Side.
Let's start by traversing the Upper East Side – stroll up Madison and Lexington Avenues for a look at some of the city's poshest designer outposts (Chanel, Prada, Lanvin, Celine).
Wander past the beautiful architecture of various international embassies on 5th Ave. and stroll over to the Metropolitan Museum of Art (1000 5th Ave), one of the best museums in NYC, for a few hours browsing their vast collection of over two million pieces of classic and contemporary art.
Wander as far east as possible over to Carl Schurz Park (East End and 88th Street), home to the mayoral Gracie Mansion (featuring a rotating collection of art exhibits and available for tours) and views of the East River.
If you've worked up an appetite, be sure to check out venerable UES icon J.G. Melon (1291 3rd Ave) on your 3 days in NYC itinerary. J.G. Melon is a cash-only joint with reasonably priced, juicy burgers and ice-cold beers served over checkered tablecloths in a pub-like setting.
Another UES favorite is the Lexington Candy Shop (1226 Lexington Ave, New York, NY 10028), an old-school luncheonette serving up housemade shakes, floats, and egg creams with their expansive club sandwich and tuna melt selection (they also serve excellent burgers, if you're looking for a burger-off!).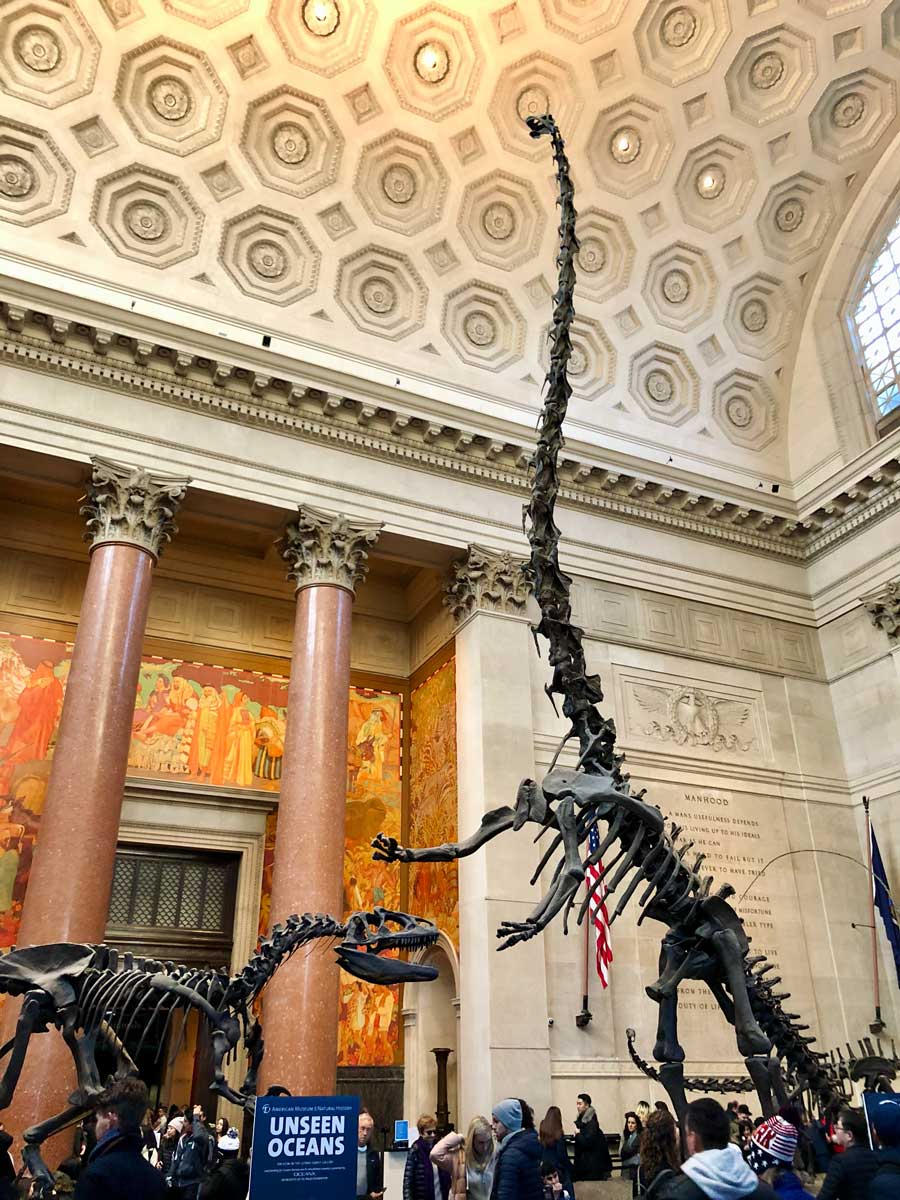 And what if you head West out of Central Park? Visit The American Museum of Natural History (200 Central Park West) for quintessential dinosaur skeleton and whale statue photo-ops and the Hayden Planetarium's kick-ass programming.
While the Natural History Museum has ample material for kids, if you're looking for even more youth-focused learning, check out the nearby Children's Museum of Manhattan (212 W 83rd St) for hands-on exhibits and activities the whole family can enjoy.
After you've hit up the museums on your New York itinerary 3 days plan, check out the UWS outpost of the famous and one of the best bookstores in NYC, the Strand Bookstore (450 Columbus Ave) for the latest new releases curated by a passionate staff of booksellers.
Stroll over as far west as possible to Riverside Park for beautiful Hudson River views and long, tree-lined walkways adorned with seasonal flower gardens, stopping along the way to admire the ivy-covered architecture of West End Avenue.
When it's time for lunch, visit Peacefood Cafe Uptown (460 Amsterdam Ave) for incredible vegan fare (their menus changes from time to time, but I once had a vegan "crab cake" there that put the real thing to shame) or Mama's Too (2750 Broadway) for jaw-droppingly inventive square pizza slices like the Angry Nonna slice (Hot Soppressata, aged mozzarella, Calabrian chili oil, hot honey). PS this is one of our picks for the best pizza slice in NYC, you gotta try it!
Dinner & Drinks
As the sun begins to set on the first of your 3 days in NYC, head down the West side (or across the park from the East) to Lilly's Cocktail and Wine (50 W 72nd St), a stylish yet friendly joint serving New American food and craft cocktails.
I recommend trying the Beer Steamed Mussels (chorizo, white cannellini beans, cilantro and chopped tomatoes) and sipping on a Honey Badger (Michter's Bourbon, muddled strawberries, orange juice, honey infused simple syrup) or an Uptown Girl (Patron Silver tequila, fresh lime juice, lavender simple syrup, splash raspberry liqueur).
Another great option is Cafe Fiorello (1900 Broadway), a white-tablecloth, old-New York style joint open since 1974 and perfect for sharing a bottle of wine and their specialty lasagna and pizzas.
Evening Entertainment
After dinner, it's showtime! If you'd like to stick around Lincoln Center, check out one of the rotating Broadway plays or musicals, or dress up in your finest and head to the Metropolitan Opera or the New York City Ballet.
If you have Times Square and Broadway in mind for your 3 days in NYC itinerary, head downtown to the 42nd Street area to pick up tickets for a show.
An insider tip – if you haven't already reserved tickets to a show ahead of time, visiting the individual box office of the show you'd like to see is the best way to find great seats! Box office professionals are generally really great about helping you find the best possible seat for the best possible price, and there are minimal ticket fees!
There are often really great seats in the $50-75/ticket range that would amount to $100 or more with online fees. Save a buck and savor the joy of live theater! If you're looking for more of a concert vibe, visit Birdland Jazz Club (315 W 44th St #5402), an iconic venue that often features theatrically-themed sets from Broadway stars.
If you don't want to risk waiting until the last minute, check out our full guide for how to see a Broadway show so you can see all your options including more money-saving tips!
After the show, grab drinks at Glass House Tavern (252 W 47th St), a popular spot for fresh, New American fare and a frequent after-hours hangout for showbiz folks. Grab an Old Fashioned and hope that Patti LuPone will show up!
Looking instead for a beer? Try nearby House of Brews (363 W 46th St), a warm, pub-like tavern with dozens of craft beers on tap.
If you're looking to see the city from a birdseye view, reserve tickets in advance for the newest observatory in the city at Summit One Vanderbilt. This skyscraper in Midtown offers an immersive, multi-sensory observatory with incredible views of the city's top landmarks from high in the sky including art installations.
If you'd rather be the star of your own show, let me offer you an alternative finale to your first of your 3 days in NYC itinerary.
Late Night Fun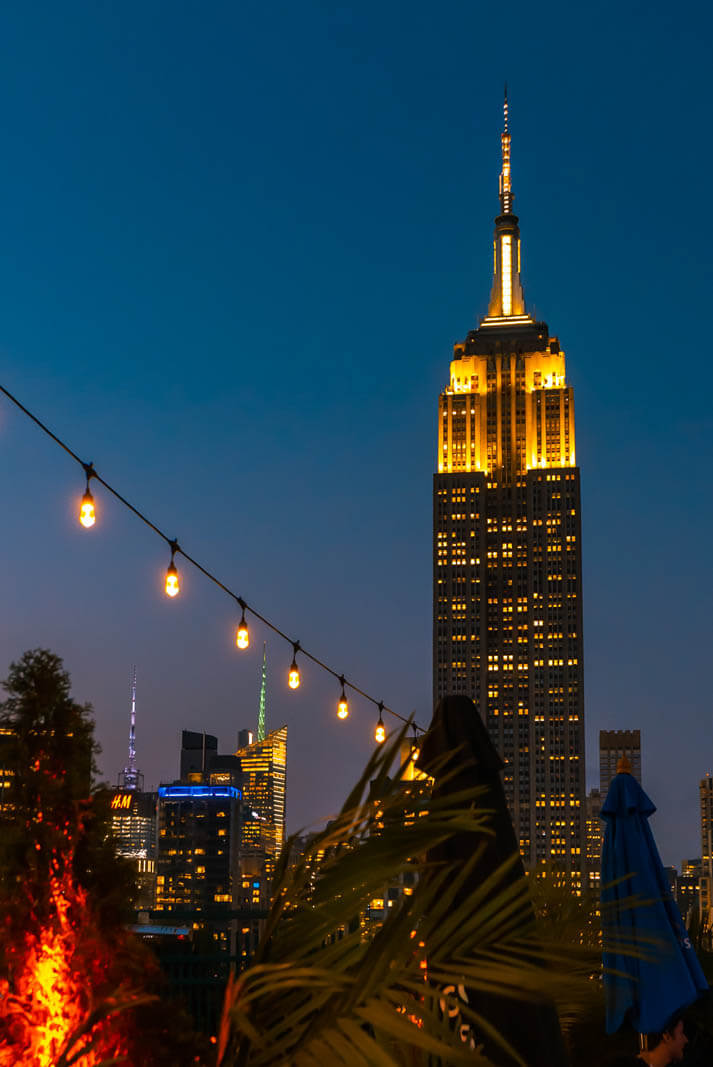 After sunset visit the Empire State Building (20 W 34th St) for views of its ever-changing lights (colors are chosen in honor of holidays, remembrances, sports wins, and philanthropic causes).
Take the elevators to the observatory to check out the city skyline (and maybe recreate the end of Sleepless in Seattle?). I recommend reserving tickets in advance to ensure your spot.
After the Empire State Building, head to Jongro BBQ (22 W 32nd St 2nd floor) for out-of-this world Korean Barbeque fare – the Kimchi scallion pancakes alone are worth the trip. Located up a set of elevators in a fairly nondescript looking building, Jongro is an NYC gem that can get really busy – they do accept reservations for parties of 6 or more, so if you have a larger group it's best to call or email ahead of time.
To top off your evening, check out one of the many excellent karaoke bars in Koreatown, most of which offer affordable private rooms to belt your heart out without stage fright.
I love to torture my friends and family with multiple renditions of Celine Dion's "It's All Coming Back to Me Now" at Space Karaoke (34 W 32nd St fl 11) and Karaoke Duet 35 (53 W 35th St 2nd floor). Once you've lost your voice, hail a cab to your hotel and get some sleep ahead of the rest of your weekend in NYC!
Or check out any of the amazing rooftop lounges in NYC, pictured is the view from 230 Fifth Rooftop (230 5th Ave).
Day 2 of 3 days in NYC: DOWNTOWN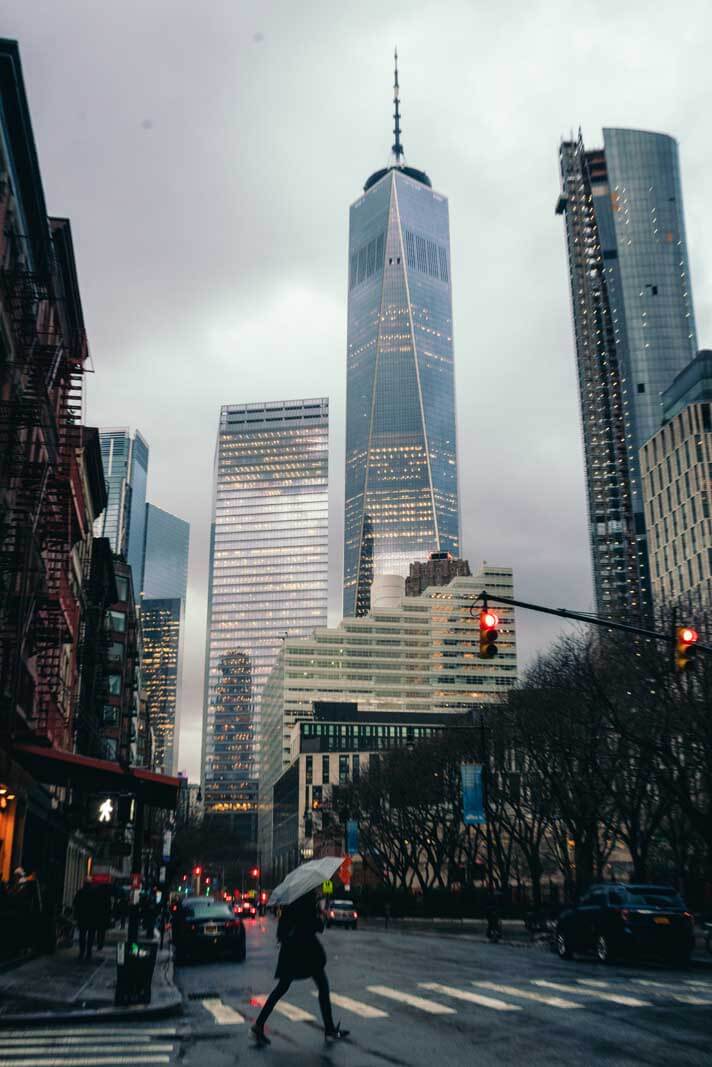 Breakfast
It's day 2 of your 3 days in NYC! Let's go downtown (everything's waiting for you). Start out the day with breakfast at the Bar Room at the Beekman Hotel (123 Nassau St).
Lush and ornate, The Beekman hotel is housed in one of New York's most historic buildings (fun fact, before the building itself was constructed, the land was the site of the Chapel Theater and the New York premiere of Shakespeare's Hamlet!).
Old-school charm meets modern luxury at The Bar Room, a thoughtfully curated restaurant from chef Tom Colicchio. Outfitted in gold, mirrors, lush green leather bar chairs and plush couches, The Bar Room has the vibe of a stylish library that you can eat in. Try the Shakshouka (Harissa Stewed Tomato, Coddled Egg & Saaj Bread) or the Brioche French Toast with a Cappuccino or Latte to energize you for the day.
Sightseeing in Downtown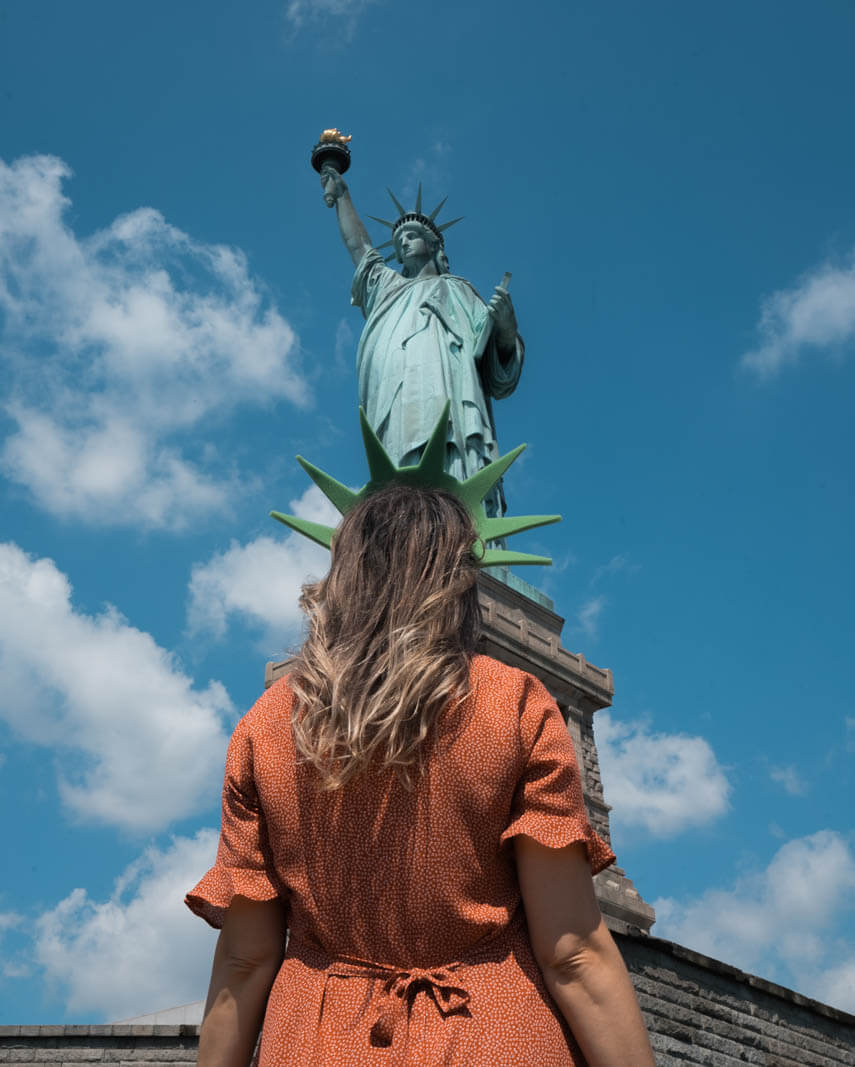 Next up, visit some of downtown's most important landmarks – the 9/11 Museum and Memorial, located nearby, is a viscerally moving tribute and historical archive of one of New York (and the country's) darkest days.
Note that if you'd like to enter the museum, you must purchase tickets in advance.
Visiting the museum and memorial is an intensely emotional experience and you may want to spend some time decompressing and processing your time there by heading to the water at nearby Battery Park, one of the best viewpoints for the Statue of Liberty in New York Harbor.
Walk over to the Statue of Liberty and Ellis Island Ferries for transit to visit the Statue of Liberty Museum and Ellis Island Museum. Due to their popularity on weekends, be sure to purchase ferry tickets ahead of time – ferry tickets also include access to the Statue of Liberty Museum and National Immigration Museum at Ellis Island.
If you're up for more ferries (they make for great waterfront photo ops!), head to the Governors Island Ferry for a trip to one of New York's most unique public outdoor spaces. There you can rent bikes, check out rotating art exhibits housed in historic buildings, and check out a wide variety of food trucks and pop-up eateries on your New York itinerary 3 days plan.
Lunch Downtown
Another great lunch option while downtown is to head north from Battery Park to Joe's Shanghai (46 Bowery) for out-of-this-world xiao long bao (soup dumplings) that New Yorkers have enjoyed for over twenty years.
I also recommend chef Joe Si's twice-cooked pork, soft shell crab, and the Shanghai sauteed flat noodle!
Seeking pizza? Check out Rubirosa (235 Mulberry St), a neighborhood spot serving up crispy, savory pies from owner A.J. Pappalardo's family recipes. I consistently dream about the Vodka pie and baked clams.
For additional tasty seafood fare, try Cervo's (43 Canal St), which summons the coastal cuisine of Portugal and Spain with sublime entrees like the fried skate with salsa verde or the yellowfin tuna with pickled habana peppers. Cervo's is frequently busy and doesn't take reservations, so lunch can be a great time to visit!
Explore SoHo/Greenwich Village/Alphabet City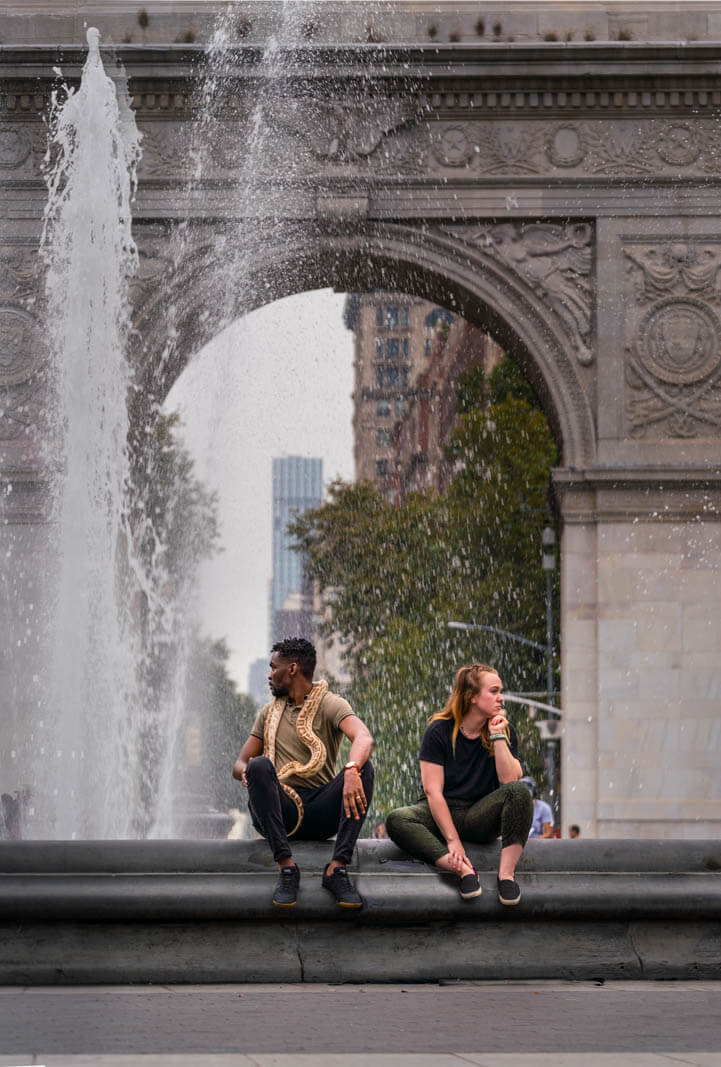 After you've fueled up, head over to SoHo for shopping and galleries galore – while many national brands have a flagship store here, it can be fun to check out boutiques off of the beaten path.
Stop into What Goes Around Comes Around (315 West Broadway) for the finest vintage and thrifted designer finds, or highly curated duds at Sea (324 Canal Street) a shop where I think Anthropologie finds its inspiration. Also, check out our guide to the best thrifting in NYC by neighborhood to find some other great spots!
Shopping for art? Check out one of SoHo's many galleries – my favorite is the Morrison Hotel Gallery (116 Prince St #2nd), which focuses on photography of famous musicians.
If you're looking to keep your afternoon a little more budget-friendly, walk north to Washington Square Park (featuring the famous arch!) for a tour of New York University's main campus buildings and the neighborhood's historic architecture.
One particularly interesting corner to walk by is the Washington Mews, a historic gated street currently serving as housing for graduate students and faculty at Deutsche Haus NYU – I myself missed the opportunity to see it up close as an NYU student by majoring in drama instead of German. Verdammt!
Also check out nearby Mercer Street Books and Records (206 Mercer St), a haven for out-of-print books and vinyl LPs and staffed by passionate writers.
Another great afternoon park option is Tompkins Square Park in Alphabet City. Walk east to Avenue A and 7th street and stop for a snack at Butter Lane (small-batch, glorious cupcakes, 123 E 7th St) or Crif Dogs (creative hot dog combos, 113 St Marks Pl) before taking in the vibrant scene in Tompkins Square.
And if by chance you happen to find yourself there on Halloween, there is a truly epic dog costume parade. Enough said.
Enjoy a Drink
Now that it's happy hour, plan accordingly and head to one of the area's many top-notch bars. If you've made it to Tompkins Square, stroll over to Pouring Ribbons (225 Avenue B), a second-floor, groovy lounge with sublime cocktails measured on a matrix of "refreshing to spirited" and "comforting to adventurous".
I recommend the Legendary (more spirituous than refreshing, more comforting than adventurous, and made with Cocoa Butter-infused Peloton de La Muerte mezcal, Angel's Envy bourbon, Jagermeister LeJay Cassis, ginger, mint) or the Parade of Faeries (more refreshing than spirituous, more adventurous than comforting, and made with Banhez Espadin and Barril mezcal, Cocchi Americano, Green chartreuse, galliano, rosemary).
If you're here for longer than a weekend in NYC, Pouring Ribbons offers cocktail classes and is also a great place to host a private event.
If you stayed in the SoHo/Greenwich Village area, head west to Employees Only (510 Hudson St), an art-deco themed, wood-paneled speakeasy in the West Village with craft cocktails and Croatian-influenced New American fare.
Try a Billionaire Cocktail (Wild Turkey Rare Breed Bourbon shaken with fresh lemon juice, EO Grenadine & Absinthe Bitters) or the Lazy Lover (Leblon Cachaça & Jalapeño-infused Green Chartreuse shaken with Benedictine, fresh lime juice & Agave Nectar) and share Oysters on the Half Shell or Bone Marrow Poppers.
You can also easily transition to dinner here and splurge on a rib-eye or a delectable roast half chicken!
Dinner & Evening Fun
If you're looking to try a new spot for dinner, head over to Jack's Wife Freda (50 Carmine St), a convivial restaurant serving up fresh cuisine inspired by the foods of South Africa and Israel.
Share some grilled halloumi, spiced beet dip, and zucchini chips before digging into their excellent per-peri chicken, whole fish with chopped and cous-cous salad, or mustard seed crusted tofu. Top it off with the flourless chocolate chipotle cake and you've had a perfect meal courtesy of your New York itinerary 3 days plan!
If you want to keep the dinner and a show theme going, check out a dance performance at the nearby Joyce Theater (175 8th Ave,), which features a season of world-class rotating dance companies that perform wide-ranging genres of movement.
Another fantastic option is one of downtown's many innovative theatres like New York Theater Workshop (birthplace of musicals like RENT and Once!, 79 E 4th St) or The Public Theater (birthplace of the smash-hit musical Hamilton and a little show called A Chorus Line, 425 Lafayette Street).
Would you rather be the one dancing? Boogie over to The Jane Hotel (113 Jane St) which looks like if Wes Anderson decided to open a nightclub and is one of the most unique hotels in NYC. Dance amongst the plush velvet furniture and palm plants under a gigantic disco ball, or take a break on the adjacent rooftop terrace overlooking the Hudson River.
On the east side, head back down to Home Sweet Home (131 Chrystie St # 1) a delightfully grungy basement-level bar filled with taxidermy and one that was voted the #1 bar to make out in by Thrillist (but you're welcome just to dance!!).
Let's squash any of those pesky rumors that "New York isn't weird anymore" by dancing until almost dawn, surrounded by taxidermied squirrels…but wait! We have one more stop on day 2 of our 3 days in New York!
You haven't lived until you've tried Veselka (144 2nd Ave). Open since 1954, this 24-hour mecca of Ukrainian -influenced diner cuisine is a must-visit after a long day (and night) out and about downtown. Sourced with local ingredients, Veselka's freshly made pierogies, goulash, and blintzes are well worth the sometimes busy after-hours crowd.
And if you're simply too full, get those blintzes to-go and pop them into the mini-fridge for the next morning, they taste just as great the next day!
Day 3 of 3 Days in NYC: BROOKLYN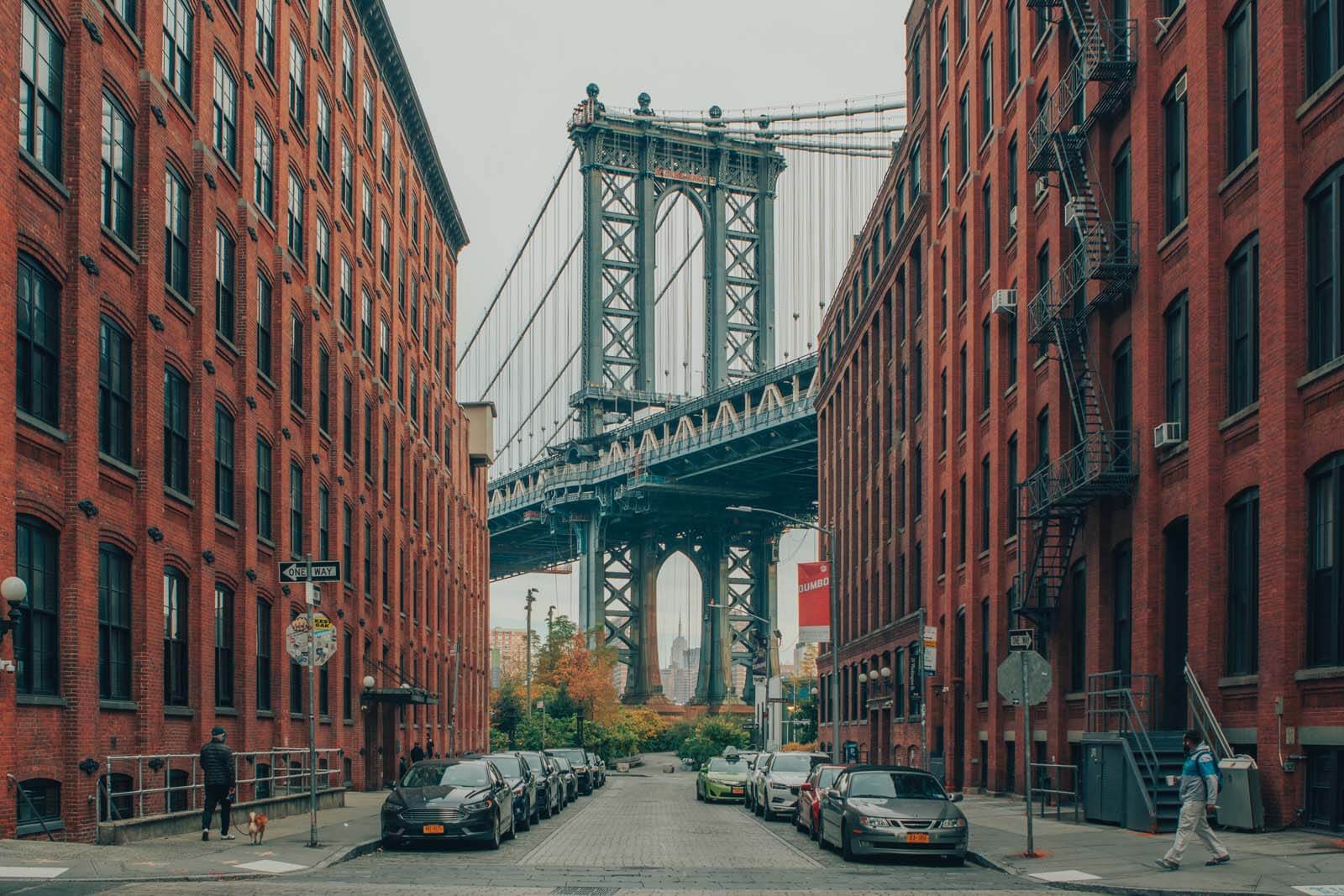 Brooklyn Bridge & DUMBO
How did we get to the last day of your 3 days in NYC itinerary already?! Let's make the most of it by caffeinating ourselves and heading down to the Brooklyn Bridge for a sunrise walk – if you're taking the subway to get there, the closest route is to take the 4/5/6 train downtown to the City Hall/Brooklyn Bridge stop.
Walking over the bridge at sunrise is the perfect time for a beautiful skyline photo-op or to take in rare moments of quiet in this frenetic city.
Once you've made it over to the other side, you'll find yourself in DUMBO, the trendy neighborhood otherwise known as Down Under the Manhattan Bridge Overpass.
Lined with cobblestone streets and large industrial warehouses refitted for stylish independent shops and restaurants, DUMBO is a great place to check out both well-known brands and small boutiques alike.
Breakfast
But first, you must be hungry! You did, after all, get those steps in trekking across the bridge. Grab a real New York bagel at La Bagel Delight (104 Front St), which is open every day at 6 AM. If you get here before 6 AM, you're a real morning person (I salute you) and your best bet for breakfast is a 24-hour bodega deli (which are fantastic, by the way! Check out Dumbo Gourmet Deli at 157 York St).
Another great coffee spot worth checking out is Butler (40 Water St) or check out our guide to best cafes in DUMBO.
Brooklyn Bridge Park & More DUMBO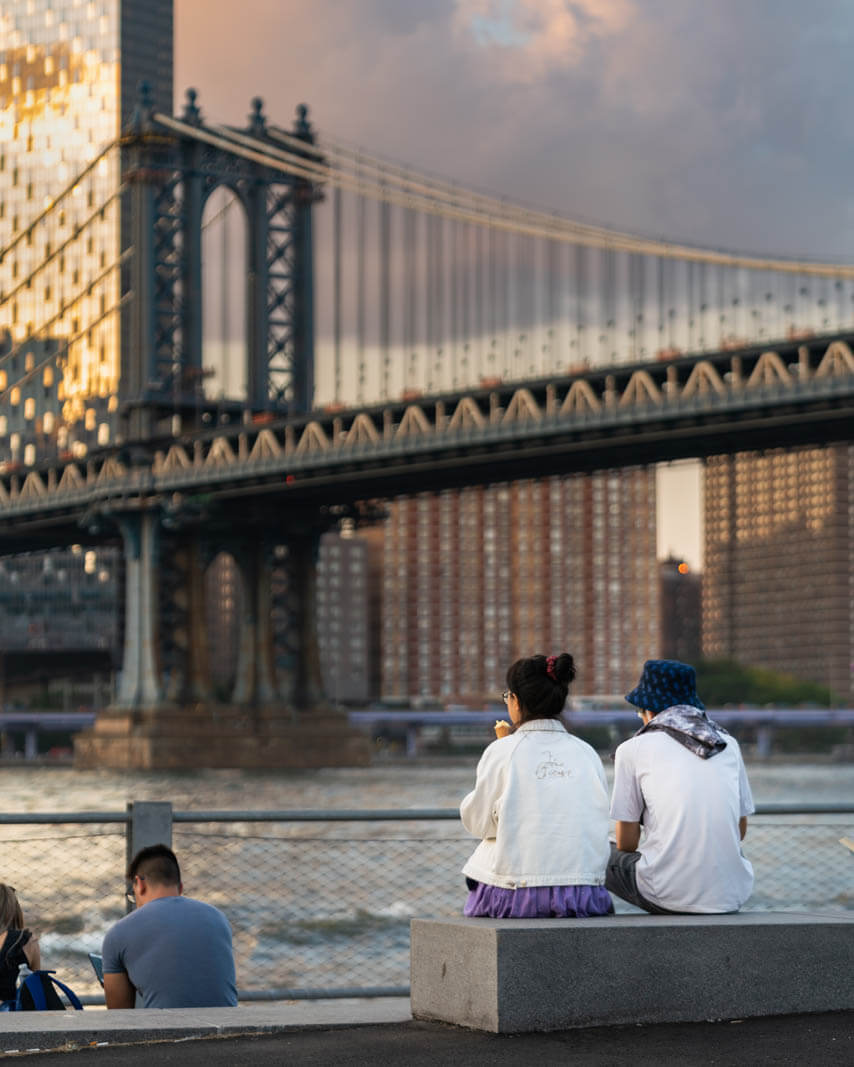 After you grab your bagel/deli/breakfast sandwich, wander over to Brooklyn Bridge Park, stopping along the way at the intersection of Washington and Water Street where you will likely see lots of people snapping selfies and portraits – this intersection is an ideal photo-op, as you are able to see the Manhattan Bridge framed by the buildings of DUMBO all over a cobblestone block.
Pose there with your bagels and you have yourself a postcard moment! Continue on to the waterfront at Brooklyn Bridge Park, check out the Manhattan skyline, and take a look at Jane's Carousel, an old-school restored carousel originally built in 1922.
Wander through the park at will and find your way over to the many shops throughout DUMBO, like Powerhouse Arena books, a photography and art-focused and one of the best bookstores in Brooklyn (28 Adams St) or Jacques Torres chocolate featuring luxe candies, caramels, and hot chocolate.
If you find yourself in DUMBO on a Sunday, the Brooklyn Flea Market sets up at 80 Pearl Street. There you'll find dozens of local independent artists and vendors selling unique gifts!
Brooklyn Heights & BoCoCa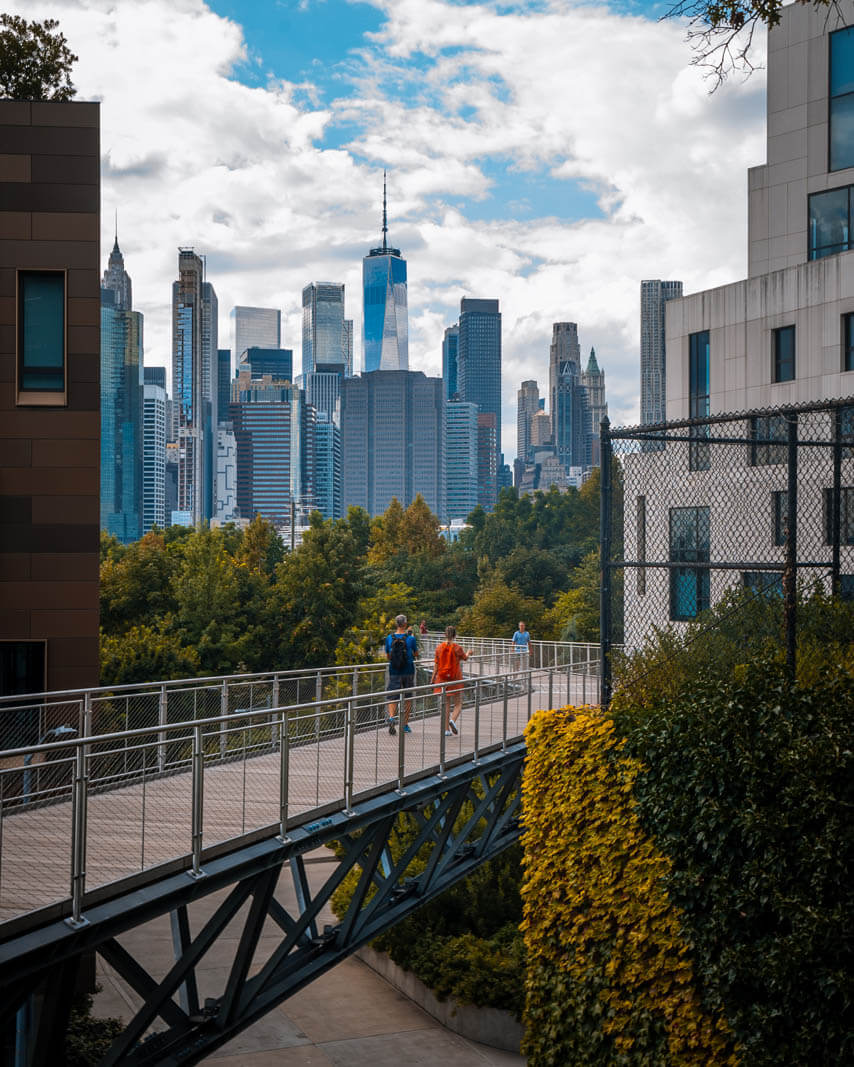 After you've toured DUMBO, stroll southeast to Brooklyn Heights, a historic neighborhood full of beautiful historic mansions and brownstones and fun street names like Cranberry, Apple, and Pineapple Street. Don't miss the incredible views from the Brooklyn Heights Promenade or the walk across the Squibb Park Bridge for incredible views of Manhattan from Brooklyn!
Brooklyn's Borough Hall and downtown business district line the edge of Brooklyn Heights into Cobble Hill, your next destination. Cobble Hill is equally as brownstone abundant, but the lower profile of the buildings, both residential and business, give it an almost small-town feel and borders other gorgeous neighborhoods like Carroll Gardens and Boerum Hill which are easy to explore the shopping, dining, and beautiful homes from here!
The three neighborhoods are so close together and often lumped together that they refer to the area as BoCoCa, for; Boerum Hill, Cobble Hill, and Carroll Gardens.
Check out boutiques like Woods Grove (302 Court St) for unique home goods and bespoke jewelry.
Lunch
At this point, it's likely that you've worked up an appetite, and there is no shortage of places for lunch in the area. If the weather's nice, I recommend checking out Pig Beach (480 Union St), a fun and funky outdoor patio joint serving up delicious BBQ and brews.
A quick note that Pig Beach is only open on the weekends, so if you're looking for a place to eat on the weekdays, try Hibino (​​333 Henry St), a cozy, laid back, and tasty sushi spot open every day for lunch. I recommend the Obento box lunch special (Entree of the day + Mini Obanzai + Miso Soup + Rice + Salad).
And what if you spent your morning wandering DUMBO and are still there? Then try Julianna's pizza (19 Old Fulton St) an offshoot of the famous Grimaldi's pizza family (original owners Pat and Carol sold Grimaldi's and retired, then "unretired" to open Julianna's!). You can't go wrong with a classic Margherita pie or the Special Pizza No. 2 (cherry tomato, bufala mozzarella, garlic, and sea salt).
Afternoon Activities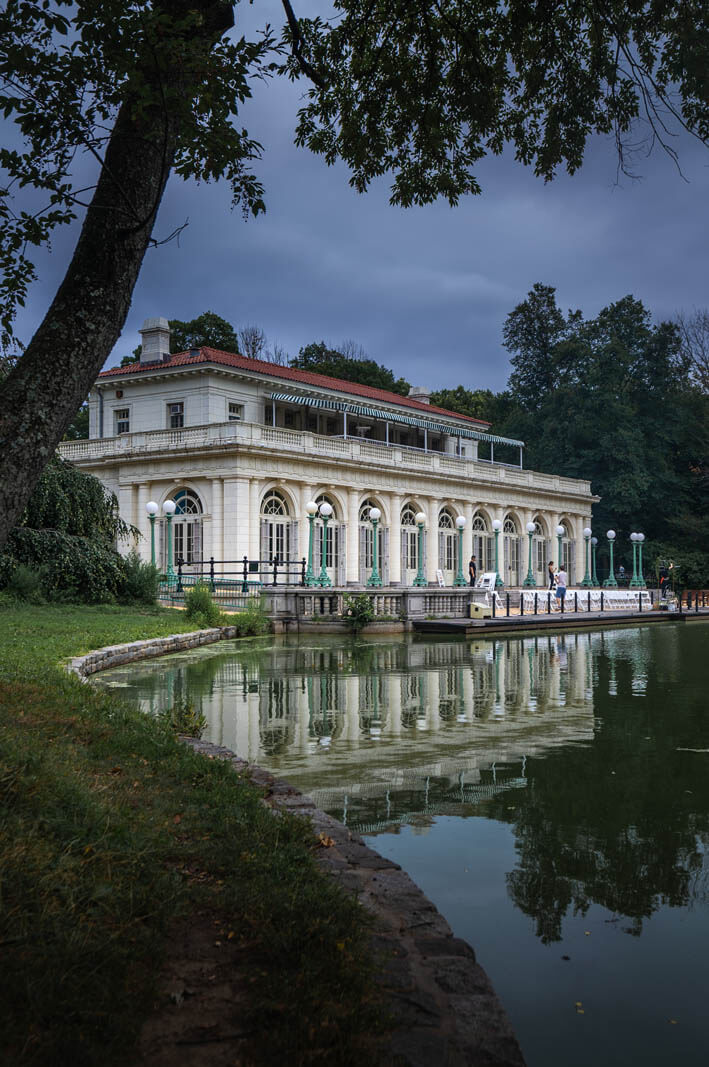 Either way, after all of this eating throughout your 3 days in New York, you may need to rest a bit. The perfect place to relax and unwind is the Cobble Hill Cinemas (265 Court St), a longstanding old movie house showing new releases, indies, and classic films in a movie theater reminiscent of the ones portrayed in movies themselves. The ticket prices also reflect an earlier time – where else can you see a movie for $11 in this town?!
If you'd rather keep moving and grooving rather than hit up Cobble Hill Cinemas, keep getting those steps in by walking over to Prospect Park, Brooklyn's flagship outdoor space.
Prospect Park is fairly massive, and offers everything from kayak and paddle boat rentals at the LeFrak center to horseback riding, to a fully operational zoo, and also features frequent events, concerts, and greenmarkets. Check out what's going on in the park during your visit, though you can just as easily entertain yourself by wandering the paths and enjoying the verdant trees, fields, and flowers.
At the eastern edge of the park is the Brooklyn Museum (200 Eastern Pkwy), an architecturally gorgeous Arts Beaux building featuring rotating exhibits of both classic and cutting-edge contemporary art.
Tickets are required and entry admission is $16 for adults, $10 for seniors, visitors with disabilities, and students, and free of charge for visitors under 19. Some of the special exhibits require an additional ticket too!
Directly adjacent to the Brooklyn Museum is the lush, breathtaking Brooklyn Botanic Garden (990 Washington Ave), open seasonally seven days a week and for limited hours in the winter. Tickets are $18 for adults, $12 for seniors, and free for children under 12.
If you happen to be visiting in the spring, you won't want to miss the hundreds of cherry blossoms at Brooklyn Botanic Garden either!
Afternoon Drinks
If you chose the Prospect Park/Brooklyn Museum/Brooklyn Botanic Garden route, make your next stop happy hour at nearby St. Ends (667 Franklin Ave), a friendly neighborhood bar and patio with cheery, colorful craft cocktails.
Visiting St. Ends is like hanging out at a stylish friend's patio outfitted with houseplants and patterned rugs – while you're relaxing, try the Little Mackinaw (Cimaron tequila, grapefruit, black pepper agave) or the Crown Lily (Letherbee gin, St. Germain, lavender, creme de violette).
If you caught a flick at Cobble Hill Cinemas, stroll over to Gowanus and try Threes Brewing (333 Douglass St), a fantastic craft brewery with a year-round large backyard space and kickin' IPAs, not to mention one of the best breweries in Brooklyn.
Share a bottle of the Threes Barrel-Aged Table beer with a soft pretzel, or try a can of the Threes Thought Experiment (Cherry). If cocktails and wine are more your thing, walk west to Fausto (348 Flatbush Ave), a sleek, modern-Italian restaurant that not only serves up refreshing drinks (try the Cetriolio a mix of Gin, Contratto Fernet, Green Tea, Basil, Cucumber, Tonic, or the Fragola – made of Dry Vermouth, Rum, Lemon, Olive Brine, Strawberry) but also thoughtful, handmade pastas.
I recommend the Gemelli (Green Zucchini & Goldbar Squash, Mint, Parmesan, Pine Nuts) or the Campanelle (House-Made Pork Sausage, Cherry Tomato, Chives, Parmesan).
Dinner
If you want to branch out after cocktails and try somewhere new for dinner, you have an almost infinite number of options in both the Park Slope/Gowanus area and on the east side of the park, the Crown Heights/Bed Stuy areas. Be sure to check out our guide to the best bars in Bed Stuy for ideas.
If you're closer to Park Slope, check out Palo Santo (652 Union St), an intimate and friendly spot serving up fresh and seasonal Pan-Latin fare – I loved the Chilatole and the Cornflake Fried Chicken (served with Jersey Peach, watercress, hot honey). Palo Santo has a wide selection of regional wines and a knowledgeable staff to guide you to the right glass (or bottle!) for you!
Or check out Pasta Louise (803 8th Ave) in Park Slope near Prospect Park for their delicious homemade pasta, don't forget to add fresh burrata to the top of your dish either!
If you ended up near the Brooklyn Museum and St.Ends, check out near by Chavela's (736 Franklin Ave), a top-notch Mexican restaurant in Crown Heights – be sure to try La Diabla (Blanco tequila, hibiscus, lime, ginger agave) and the Taquitos de Cangrejo (Flour tacos, crab meat, guacamole, pico de gallo) or Aurelia's Mole (chicken in slowly simmered mole sauce).
Another excellent option is Cent'Anni (742 Franklin Avenue Ground Floor), a cozy handmade pasta spot – split a bottle of red and some butter and sage ravioli, or their excellent variety of meatball appetizers and sauce dippings!
Evening Entertainment
After your meal, close out your 3 days in NYC in one of two ways – if you're in the mood for entertainment, check out The Bell House (149 7th St) or Union Hall (702 Union St) for incredible live comedy, podcast, and variety shows with sets ranging from established names to up and comers!
The Bell House is a larger venue more reminiscent of a concert hall, while Union Hall is a bar (and indoor bocce court!!) with an intimate basement stage. Both venues frequently book talent just on the edge of their big break, so check out what's playing and see the next big star play there first!
If you're in the mood to enjoy some live music and comedy but also want to dance it out and close down the club, book it over to Friends and Lovers (641 Classon Ave), a lively neighborhood music and dance venue who clearly state their vibe: "we like funky music, stiff drinks, and nice people".
Friends and Lovers is known for incredible DJ sets and theme nights as well as drag shows, comedy and experimental performance sets. Check out a drag show followed by a 90s-themed dance set and celebrate a perfect weekend in NYC!
More than 3 Days in NYC?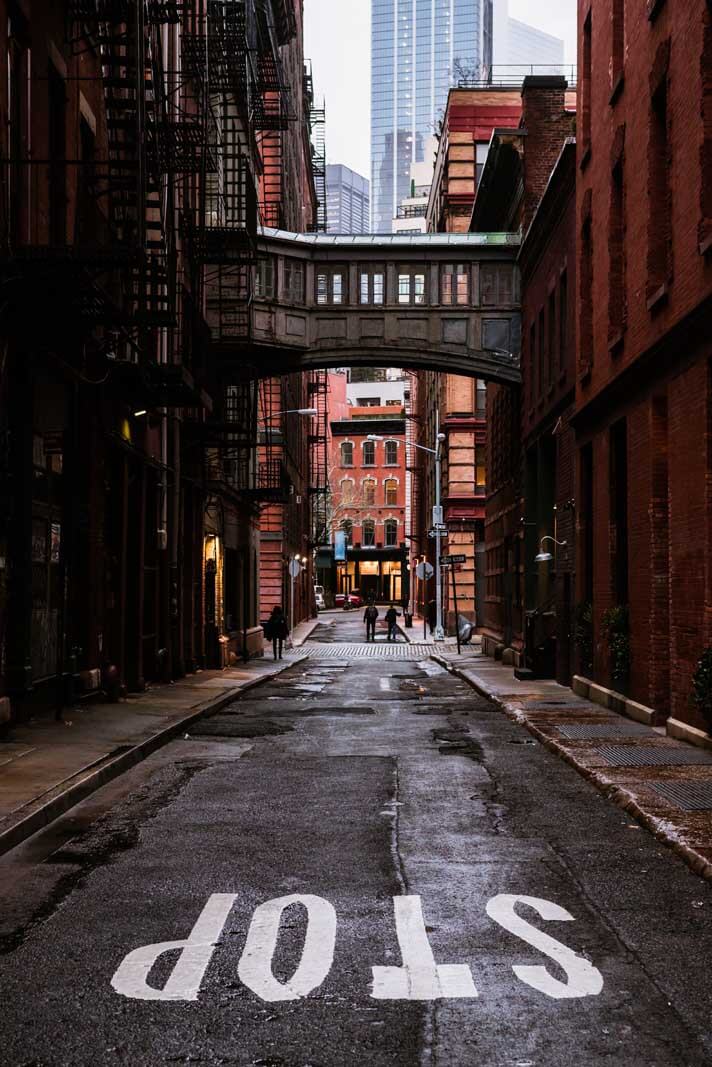 If you have extra time on your New York itinerary 3 days plan, I can't recommend enough for you to check out more of the city's museums or popular NYC experiences! Also check out our guides to 5 days in NYC and 7 days in NYC which all have different recommendations to help you customize your itinerary!
Here are some of my other favorites for enriching your time in the city:
The Lower East Side Tenement Museum (103 Orchard St) is a National Historic Site open for over thirty years and a museum that embraces the role and enrichment of immigration in the fabric of American society through educational programming, tours, and multimedia presentations.
On a similar note, The Museum of the Chinese in America (215 Centre St) is dedicated to preserving and telling the history of Chinese Americans throughout history and through today.
If you're headed up to Museum Mile, don't miss a visit to The Jewish Museum (1109 5th Ave), focused on exhibitions of Semitic art and culture. The Jewish museum features almost 30,000 objects of Jewish art, culture, and media and also partners with the New York Jewish Film Festival.
The Museum of the City of New York is one of my favorite places to learn about specific periods of time in NYC (1220 5th Ave). Exhibits range from covering the history of puppets in New York, to the AIDS crisis of the 1980s and 1990s, to the history of Blue Man Group.
It's also housed in a beautiful building at the top of Museum Mile and flanked by statues of Alexander Hamilton and DeWitt Clinton.
Directly adjacent to the Museum of the City of New York is El Museo del Barrio (1230 5th Ave), and is New York's leading cultural institution on the Latinx diaspora. Check out film screenings from Latinx directors and storytellers or view art from perspectives across continents!
Another museum to squeeze into your 3 days in NYC itinerary is the MoMa, or Museum of Modern Art (11 W 53rd St). This is where you can check out classic Andy Warhol and Jackson Pollock works as well as of course, more modern art!
Still on the modern art train? Check out The Whitney Museum (99 Gansevoort St), focused on contemporary and modern American art. I once saw an exhibition composed entirely of white canvases, and I'm still thinking about it!
If you're a film buff, be sure to visit the Museum of the Moving Image in Astoria (36-01 35th Ave), which aims to connect the history, technique, and art of the film, television, and digital media industries.
In addition to limited release and talk-back screenings, Museum of the Moving Image features fantastic interactive exhibitions on innovators and auteurs like Jim Henson and Stanley Kubrick.
Fun fact, The New York Transit Museum in Brooklyn (99 Schermerhorn St) is housed in an actual underground subway station from 1936!
Check out this museum during your 3 days in New York for an in-depth look at the history of mass transit in the city and its updates through the present day. The New York Transit Museum also features vintage cars from different eras to walk through and explore and is one of the best museums in Brooklyn.
Make sure to check out the New York Public Library Main Branch (476 5th Ave) on your New York itinerary 3 days route. While not technically a museum, the NYPL is a monument to the history of the city's literary culture and a wonderful place to research, read, and enjoy the magnificent architecture (and yes, take a photo with the lion statues).
Also, the original Winnie the Pooh characters are in the children's section!
I realize that we've packed a lot of suggestions into this guide for your 3 days in New York, but I have faith in you that you'll make the most of them! Make sure to hydrate, take lots of photos to commemorate your time, and come back and visit us again soon!
And if you want to spend more time in Brooklyn, consider checking out our weekend in Brooklyn itinerary for more tips along with all the best things to do in Brooklyn to customize your weekend in NYC.
Where to Stay During your Weekend in NYC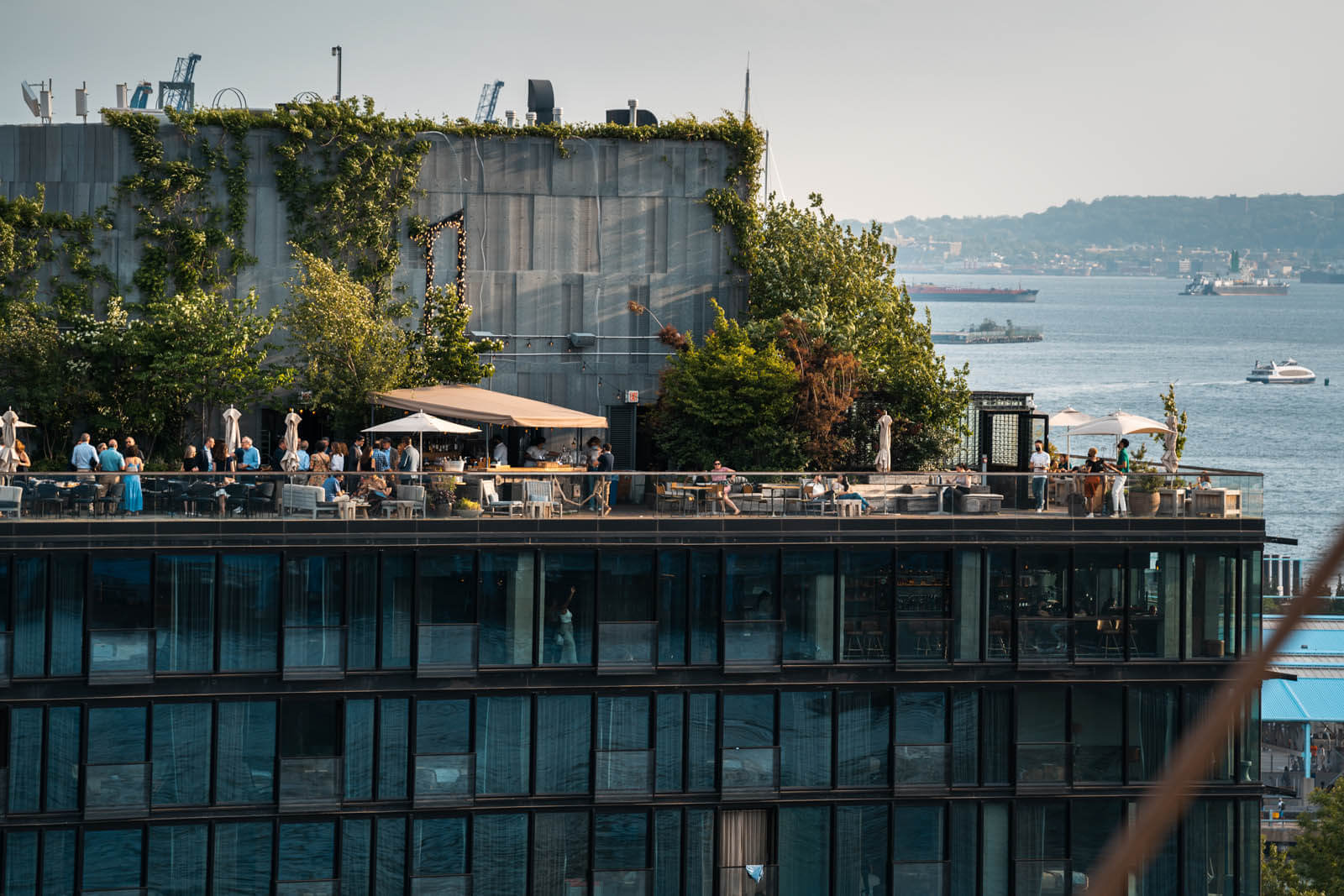 There are so many great hotels in NYC with views, themed hotels, and hotels for any style of traveler or budget. Also, there are plenty of amazing places to stay in Brooklyn too with incredible views of the skyline and easy to get around from!
These are just a few of the recommended hotels to check out during your 3 days in NYC or use the booking map below to help you find a hotel in the area you want to stay in by budget.
1 Hotel Brooklyn Bridge
60 Furman Street, Brooklyn Heights
1 Hotel Brooklyn Bridge, a stunning waterfront hotel in Brooklyn with incredible views of the East River, Manhattan skyline, Statue of Liberty, and Freedom Tower.
1 Hotel Brooklyn Bridge not only prides itself on its sleek and upscale design but its commitment to sustainability, as the hotel is made of reclaimed materials and employs the use of low-energy LED lights, smart heating/cooling, carbon offsets, and an irrigation system that uses reclaimed rainwater for its landscaping.
In addition to floor-to-ceiling windowed rooms with views of the Brooklyn Bridge and East River (ask for the Liberty King or Bridge King rooms), hotel guests and visitors can enjoy spectacular vistas from Harriet's Rooftop Bar (an open-air patio overlooking the water and one of the best rooftop bars in Brooklyn), Harriet's Lounge (a classic cocktail bar with full-walled window views of the bridge and passing ferries), and the Osprey (a New American restaurant specializing in farm-to-table cuisine with views of the verdant hotel patio and Brooklyn Bridge Park).
And until the East River is clean enough to swim in (don't hold your breath), the 1 Hotel's rooftop pool is an ideal place to cool off with a cocktail and enjoy the view. Book here.
Refinery Hotel
63 W 38th St, Midtown
One of the most centrally convenient locations for picking where to stay in the city is in Midtown and better yet, getting a room with a view is even better and increases your chances when you're around this area. And, The Refinery Hotel is one of the best hotels in Midtown.
Your secret weapon in planning a New York meetup is the hotel rooftop bar, and Refinery Rooftop at the Refinery Hotel is one of the ideal places to meet among NYC hotels with the best views (if also staying there, ask for a Studio King with Empire Views room for the most direct vista).
The Refinery Hotel is housed in the historic 1912 Colony Arcade Building, and its stylish, industrial fixtures reflect an old-school-meets-contemporary vibe.
The Refinery Hotel features several great food and drink options, with live jazz at lobby bar Winnie's, ribeye and soft-shell crabs at restaurant Parker & Quinn, and of course, innovative cocktails at the spectacular Refinery Rooftop.
Featuring views of the Empire State Building, the Refinery Rooftop is the perfect place to hold your birthday party or friend meetup, with convenient access to Midtown trains and offices.
Order a round of Empire Palomas (mezcal, pomp & whimsy, simple syrup, grapefruit juice) and toast to a night of celebrating with friends and the New York skyline. Book here.
Beekman Hotel
123 Nassau Street, Lower Manhattan
Hidden away in the heart of the Lower East Side, the Beekman Hotel is a unique landmark that's been converted to one of the most gorgeous hotels in NYC.
The building itself was built in 1882, it was tragically boarded up in 1940 and left empty for decades. Because of its long hibernation and vacancy the building just sat for those decades almost frozen in time pretty much leaving the entire property restored and untouched.
The luxury hotelier group Thompson Hotels unveiled the Beekman Hotel in 2016 and now it's one of the most stylish and coolest hotels in NYC.
The heart of the Beekman Hotel is the atrium with a pyramid-topped skylight, which illuminates 9 cascading floors below into the hotel bar. Intricately detailed cast ironwork covers railings and ceilings. In the lobby, you are met with creamy marble, emerald-green pillars, and a Persian rug-wrapped welcome center.
Visit the Temple Court Restaurant with al a carte or 5-course tasting menu, or enjoy the Temple Court on 10- intimate wisteria-covered dining on the West Terrace. Have a drink on a velvet couch in The Bar Room at Temple Court, a Victorian-era bar underneath the Atrium. Book here.
NYC Travel Tips & Tricks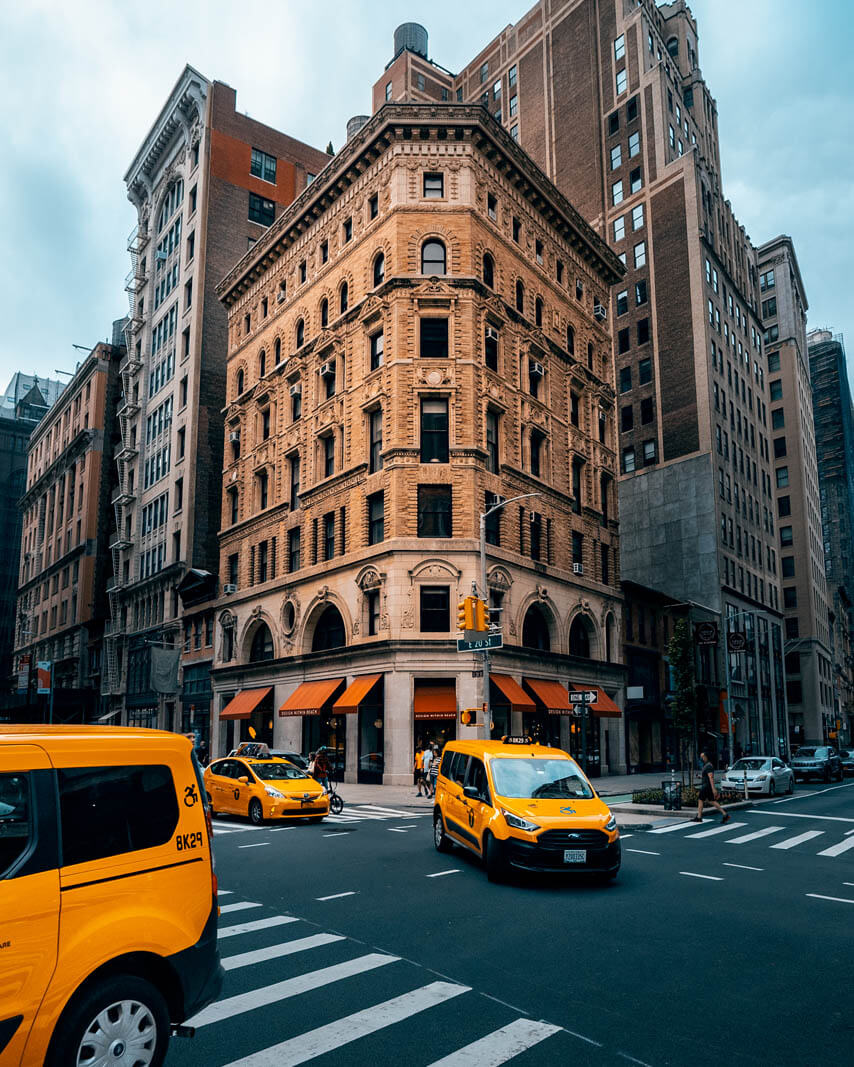 Planning a weekend in NYC or any NYC trip as someone who isn't super familiar with the city requires you to brush up on some of the common scams, don't worry, we have an entire guide to the most common NYC scams and how to avoid them!
If you're on a shoe-string budget, don't worry we have a guide to NYC on a budget as well with money saving tips from cheap eats, stays, and free things to do in the city!
Not sure what to bring? Check out our Brooklyn packing list, which covers what essentials you'll need for your NYC trip. Oh, and see our full guide to all the best NYC travel tips too!
Also, if you're planning on hitting up many of the most famous attractions on your NYC trip consider getting an attraction pass that you pay a price upfront to get into attractions all over the city for free. By purchasing an attraction pass you can save anywhere from 35-45% on your attraction passes and saving you hundreds of dollars on your visit!
CityPASS offers a 3 attraction pass or a 6 attraction pass with over 12 city attractions to choose from including popular observatories like the Empire State Building, The Edge, Top of the Rock, 9/11 Memorial & Museum, Statue of Liberty & Ellis Island, the Guggenheim, and more!
Another great option is the New York Pass which you can purchase anywhere from a 1 Day Pass to a 10 Day Pass that gets you into over 100 attractions. Once you purchase your New York Pass you download the Go City app and use that to get up to 45% savings on popular attractions as well as a few hidden gem attractions ranging from the Empire State Building to the Museum of Ice Cream and many of the NYC experiences mentioned in this guide!
We also have a full breakdown of both of these sightseeing passes, check out our guide to CityPASS and New York Pass for more details and FAQ!
---
About Guest Author
Sarah Beling is a playwright, New Yorker, and passionate food enthusiast who is always looking for her next meal. You can find her in an NYC park, enjoying a chopped cheese sandwich and reading about NYC's best new places to eat.
---
Enjoyed this guide or found our 3 days in NYC itinerary helpful for planning your trip? Bookmark for later or share the love on Pinterest below! Happy travels!