Looking to check out the best Brooklyn coffee shops? This guide has you covered! Hi, my name is Quinn and I am the creator of @quoffeequest on Instagram, a page dedicated to sharing my quest for the best cup of coffee in New York City with all my fellow coffee lovers!
I have had the pleasure of visiting several of the best coffee shops in Brooklyn along with cafés, bakeries, and beyond and am very excited to share some of my favorite cafes in Brooklyn with you to include on your Brooklyn visit if you're from out of town or recommend a new cafe in Brooklyn to check out even if you're a local.
Here are my top picks for the 30 best coffee shops in Brooklyn, in no particular order because each one of these cafes in Brooklyn is great!
Best Coffee Shops in Brooklyn
Partners Coffee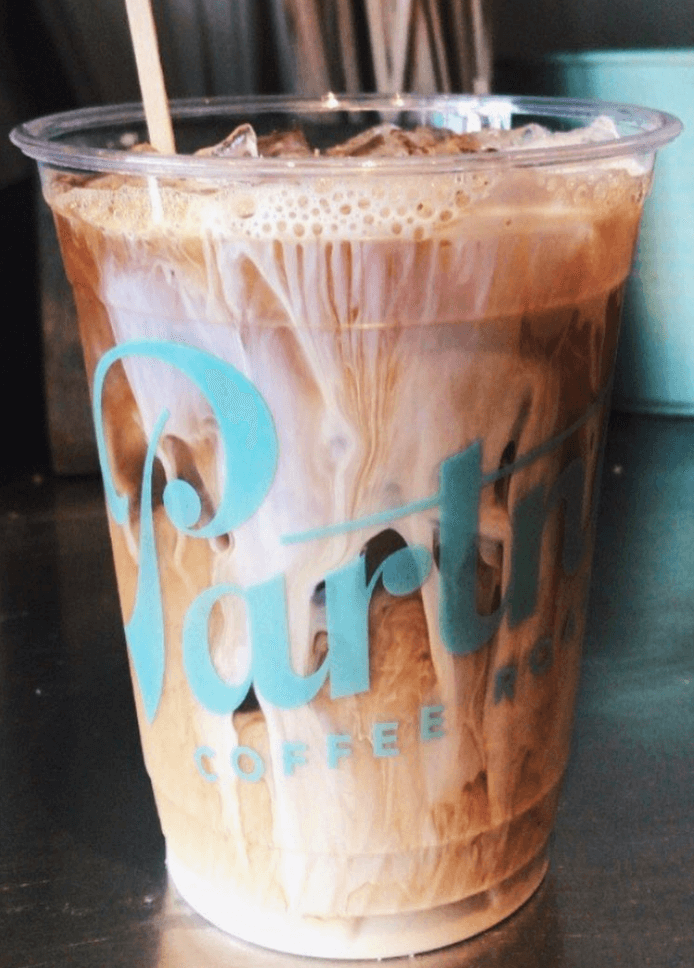 Bushwick, Williamsburg
One of my obvious picks for best coffee shops in Brooklyn goes to Partners Coffee. which was the very first post on my page, so I thought it'd only be fair to have it be the first cafe in Brooklyn I tell you about!
This shop has two Brooklyn locations, one in Bushwick and the other is one of the best coffee shops in Williamsburg, which is the location I find myself visiting the most.
Their cold brew is top tier, no sugar or milk necessary. They also serve up Dough Doughnuts, which is always a treat, and their monkey bread is SO GOOD! You can always buy their coffee beans to take this cafe in Brooklyn home with you.
Cup of Joe Coffee Company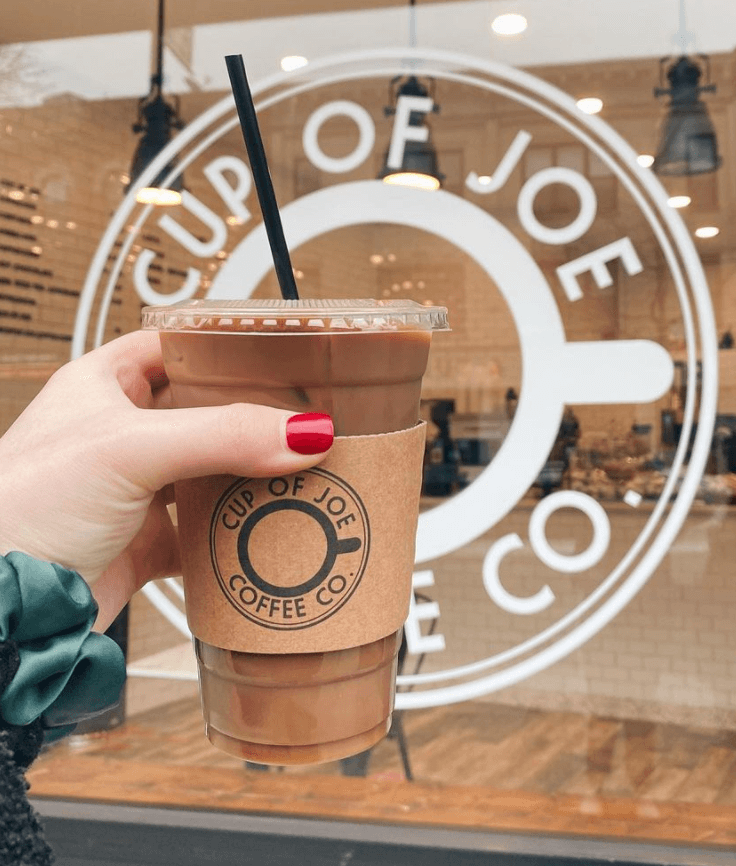 Dyker Heights
Cup of Joe Coffee Company is a coffee shop in Dyker Heights, a popular neighborhood to visit during the winter holidays when the Dyker Heights Christmas light displays are up, but this coffee shop in Brooklyn is great to visit any time of the year.
My go-to order at this coffee shop in Brooklyn when I decide to treat myself is an iced coffee with toasted marshmallow syrup and chocolate oat milk. Yes, you read that right, chocolate oat milk! Tastes like a s'more in liquid form, it never disappoints. The employees are always friendly, so stopping at this shop is always a pleasure!
Variety Coffee Roasters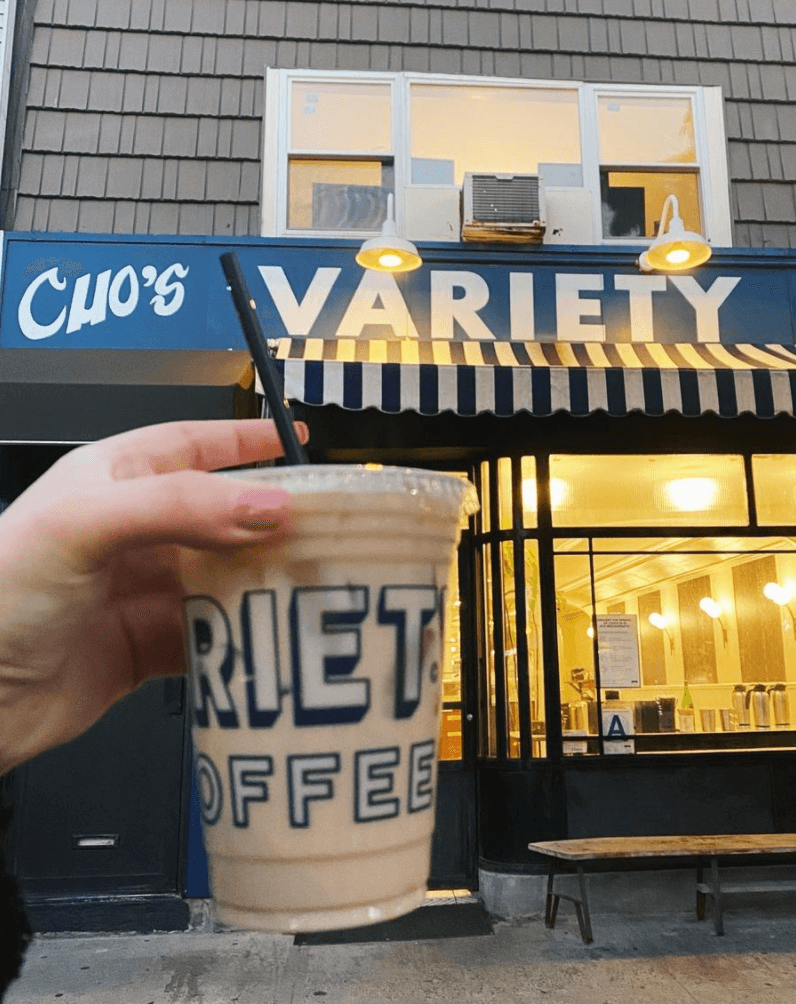 Bushwick, Greenpoint, Williamsburg
Variety Coffee Roasters is another great option for best coffee shops in Brooklyn as it has several locations including Williamsburg, Greenpoint, and Bushwick.
I've had their cold brew, hot cappuccino, and iced chai latte, which were all great, but I would have to say their iced chai stood out to me most. If you're into chai, I would totally recommend trying theirs!
Not to mention, this shop is extra cute around the holidays!
Black Star Bakery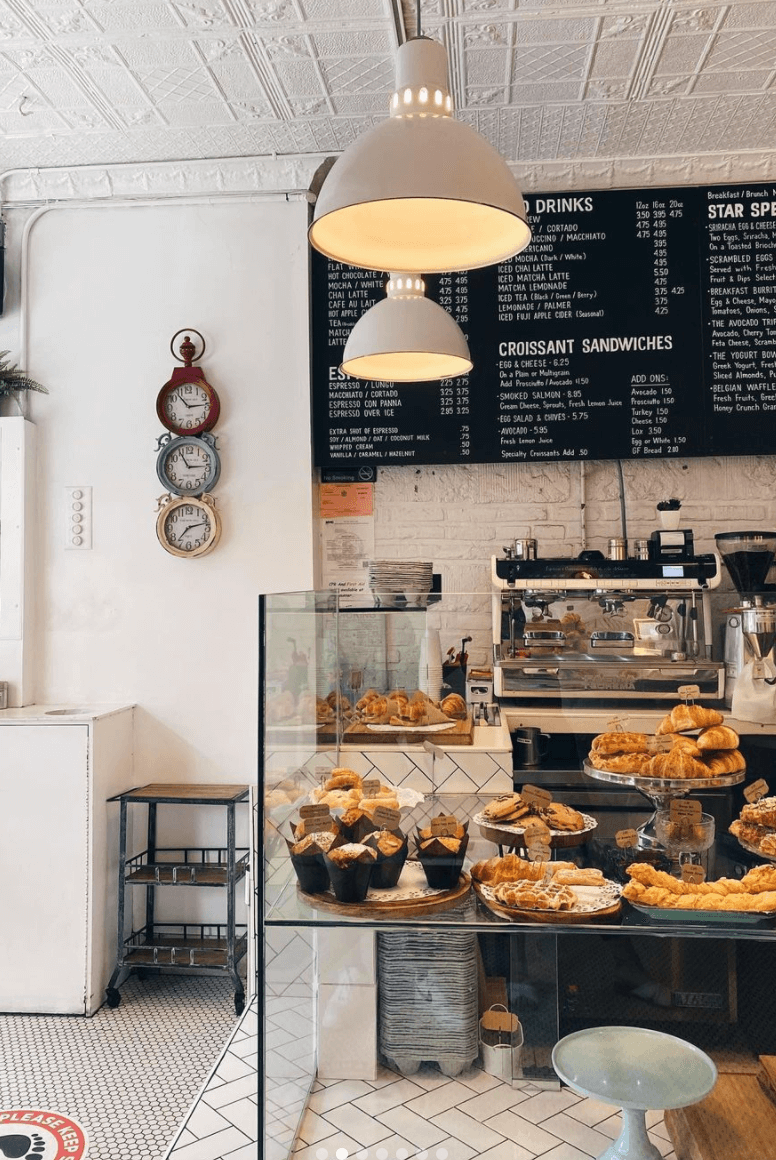 Williamsburg
Another cafe in Brooklyn I love is Black Star Bakery, which has only one Brooklyn location in Williamsburg. Their cold brew with a splash of almond milk is super good, but if you're looking for something a little sweeter, I would recommend their mocha – delish!
And if you're looking to snag a bite, they have a variety of both sweet and savory croissants, which are perfectly flaky!
Tous les Jours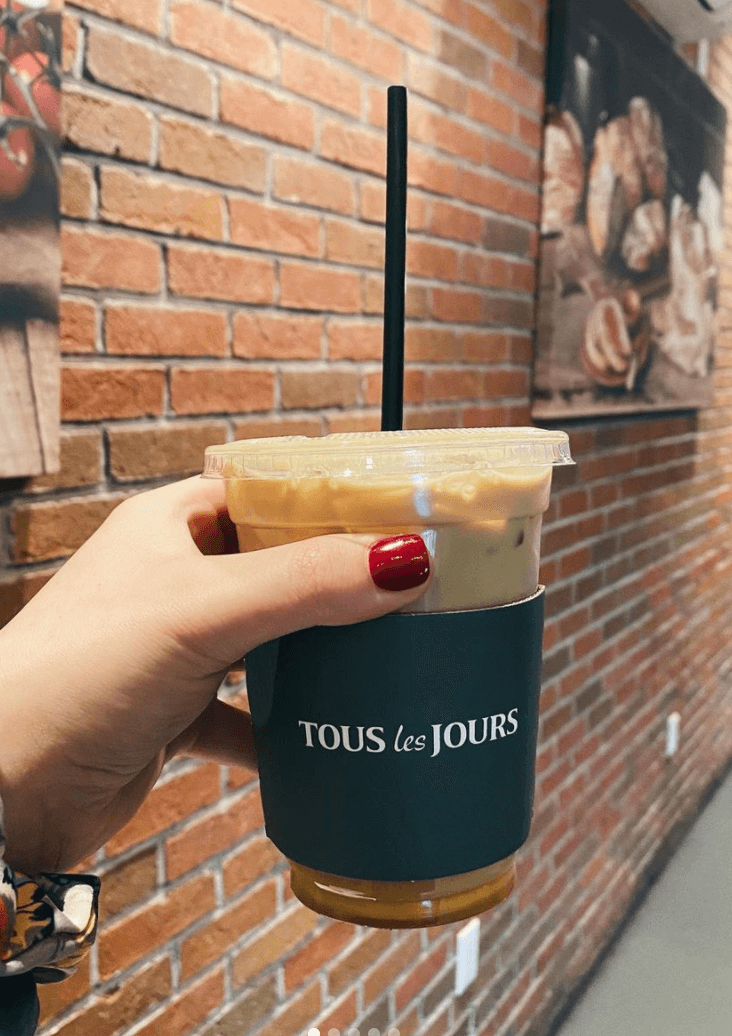 Bensonhurst
Tous les Jours is a Korean-owned French-Asian inspired bakery and café with two cafes in Brooklyn. Their locations are the one on 86th Street and 8th Ave., both in Bensonhurst.
When you walk into this shop you are walking into sweet treat heaven; croissants, cakes, macarons, cheesecakes, you name it! My go-to at this spot is a regular vanilla iced coffee with skim milk, but I've been meaning to try their lavender latte.
Cocoa Grinder (Boca Del Cielo)
Bay Ridge
Cocoa Grinder has been around for several years, however, in 2020 they had to close all but one of their cafes in Brooklyn which can be found on 3rd Ave in Bay Ridge.
The company also had to rebrand and is now also known as Boca Del Cielo. I've been going to Cocoa Grinder for years and really love their lattes, more specifically, their hot lattes.
If you need a bite to eat, this Brooklyn cafe also serves up all types of grub, I recommend their wraps as they are incredible!
Hungry Ghost Coffee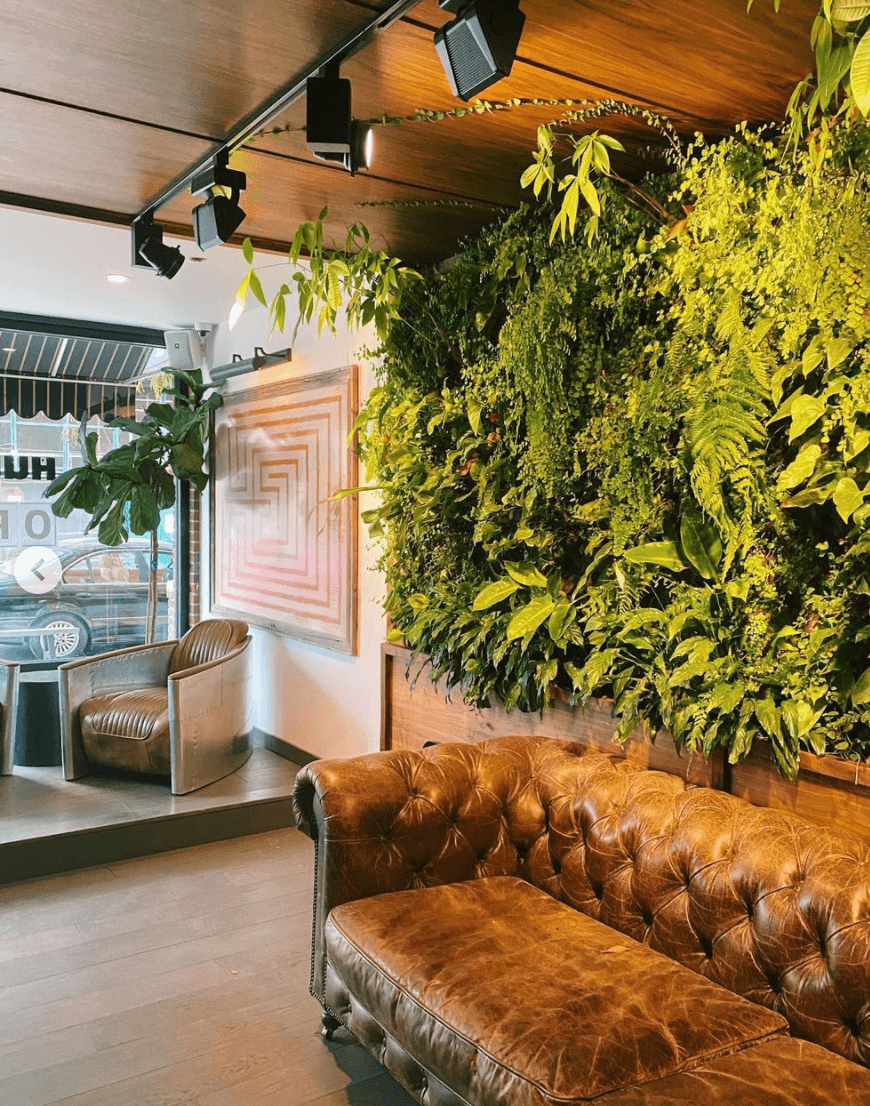 Various Locations
Hands down one of the best coffee shops in Brooklyn are the Hungry Ghost locations. This Brooklyn cafe chain and roaster has 9 cafes in Brooklyn, so if you're from here, there's most likely a Hungry Ghost near you! They proudly serve Stumptown coffee beans which you can also buy a bag to take home with you too.
This Brooklyn coffee shop's cold brew is so good – drink it plain or add a little milk and sweetener to take it to the next level. I love adding a splash of almond/oat milk and vanilla syrup.
They also have a small selection of light pastries and bites typically if you want to pair your coffee with something.
Homecoming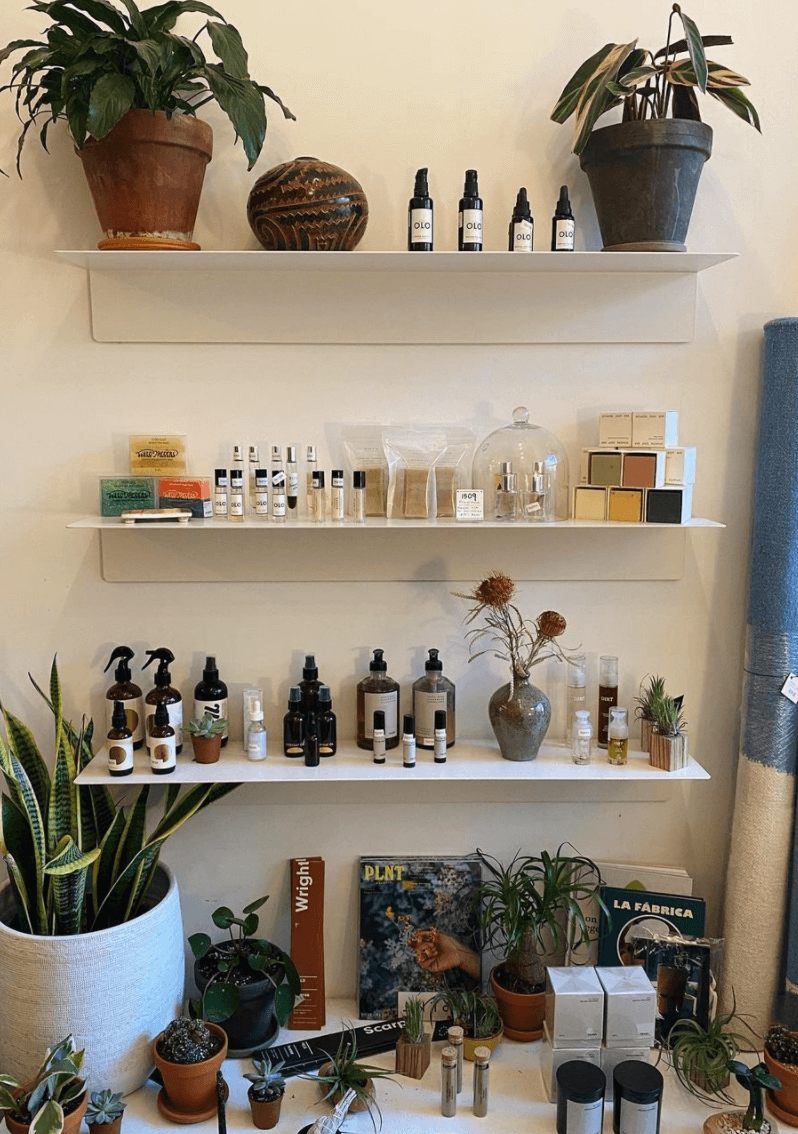 Greenpoint, Williamsburg
Another favorite and top pick for best coffee shops in Brooklyn goes to Homecoming who has two locations in Brooklyn, one on Franklin Street in Greenpoint and the other on Berry Street in Williamsburg, both not a far walk from one another.
These Brooklyn cafes are absolutely gorgeous and feels like stepping into an indoor garden with plants and flowers throughout the entire space.
At these cafes in Brooklyn, I highly recommend trying the mocha and hot cappuccino – perfectly sweetened and perfectly milky. Also, the smiley face sticker they pop on their cups are adorable!
Social House Café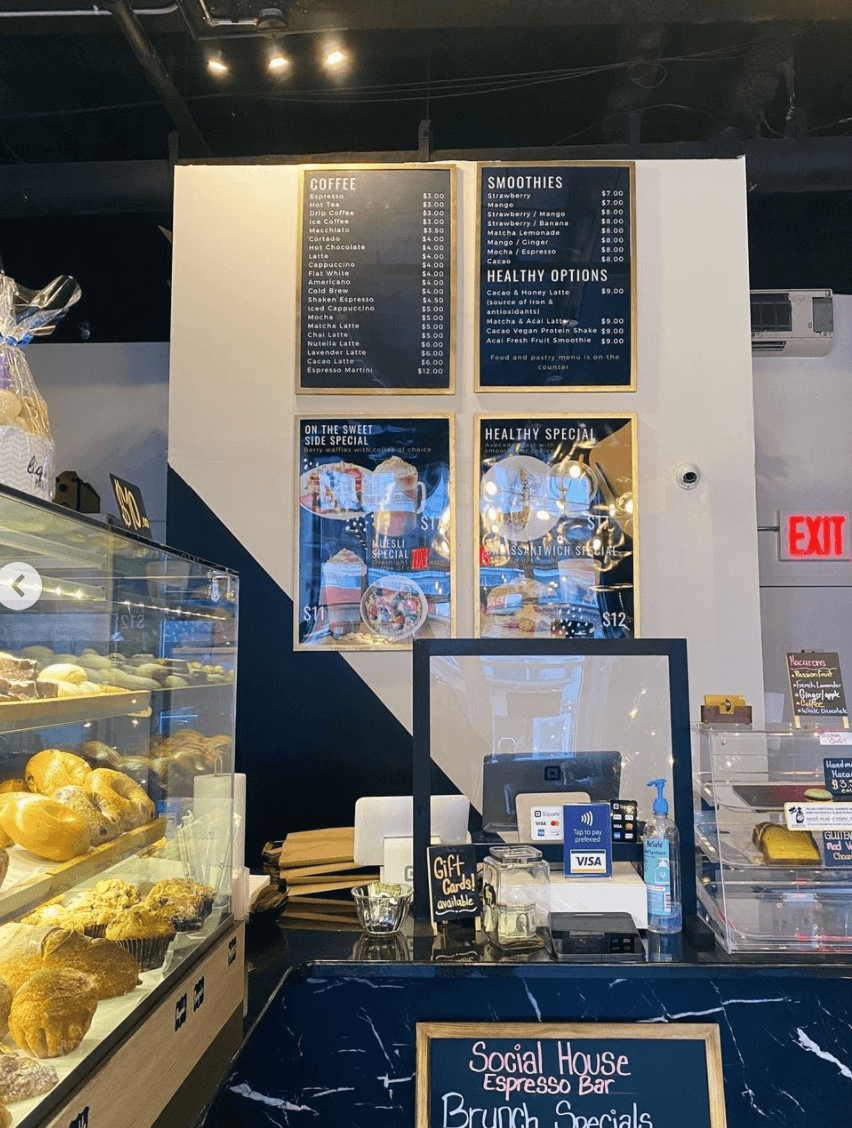 Williamsburg
Social House Café is an adorable coffee shop in Brooklyn located in the trendy neighborhood of Williamsburg. Their indoor décor is so appealing and different with black walls and a yellow, velvet couch in the middle of the shop.
I've tried a few items from this coffee shop in Brooklyn, their cold brew is decent, but I totally recommend their hot Nutella latte, nothing's better than Nutella and coffee! I'm sure it's great iced, too! I remember them recommending their rose latte to me, so if that's still available and you're interested, try that out!
PEP Bakehouse and Coffee Shop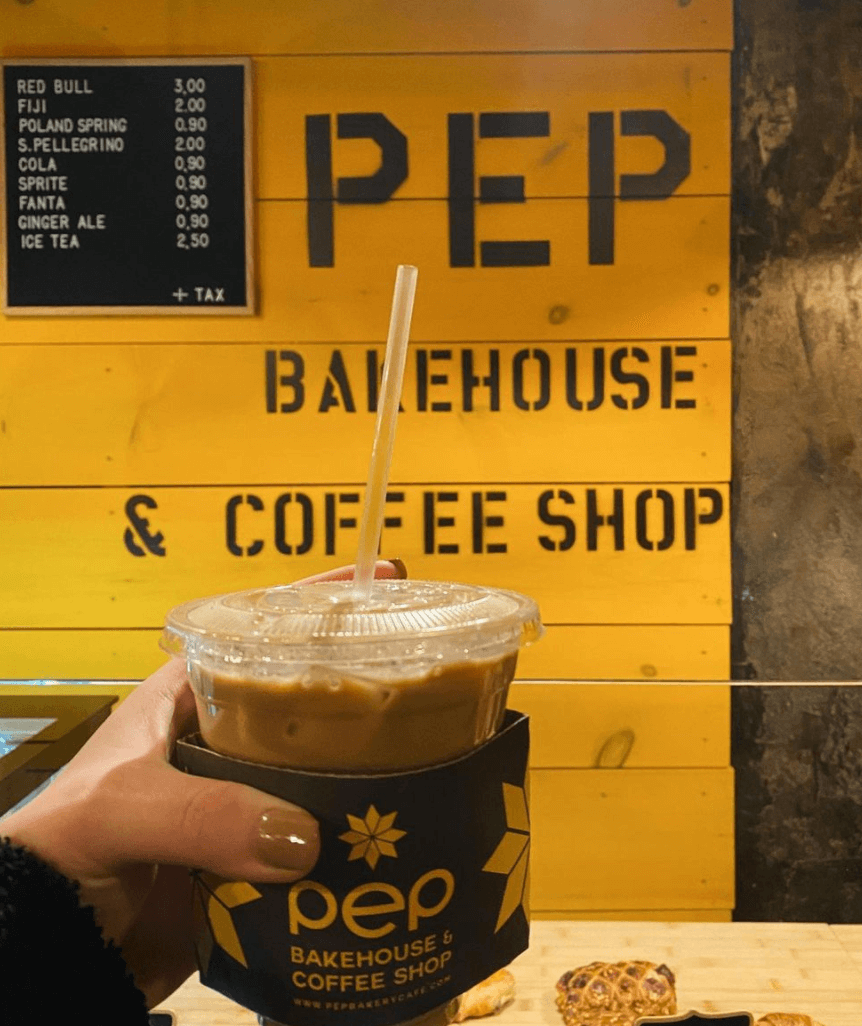 Bay Ridge, Park Slope
PEP is such a hidden gem and a deserving pick for best coffee shops in Brooklyn! This Brooklyn cafe has two locations: one on 4th Ave in Park Slope and the other on 3rd Ave in Bay Ridge.
I've been to this shop a couple times and always get an iced dirty chai, which is just an iced chai latte topped with a shot of espresso – it is incredible!
If you love chai and espresso, I recommend giving this sweet and milky beverage a try. I also want to add that they are one of the most affordable coffee shops in Brooklyn!
Fortunato Brothers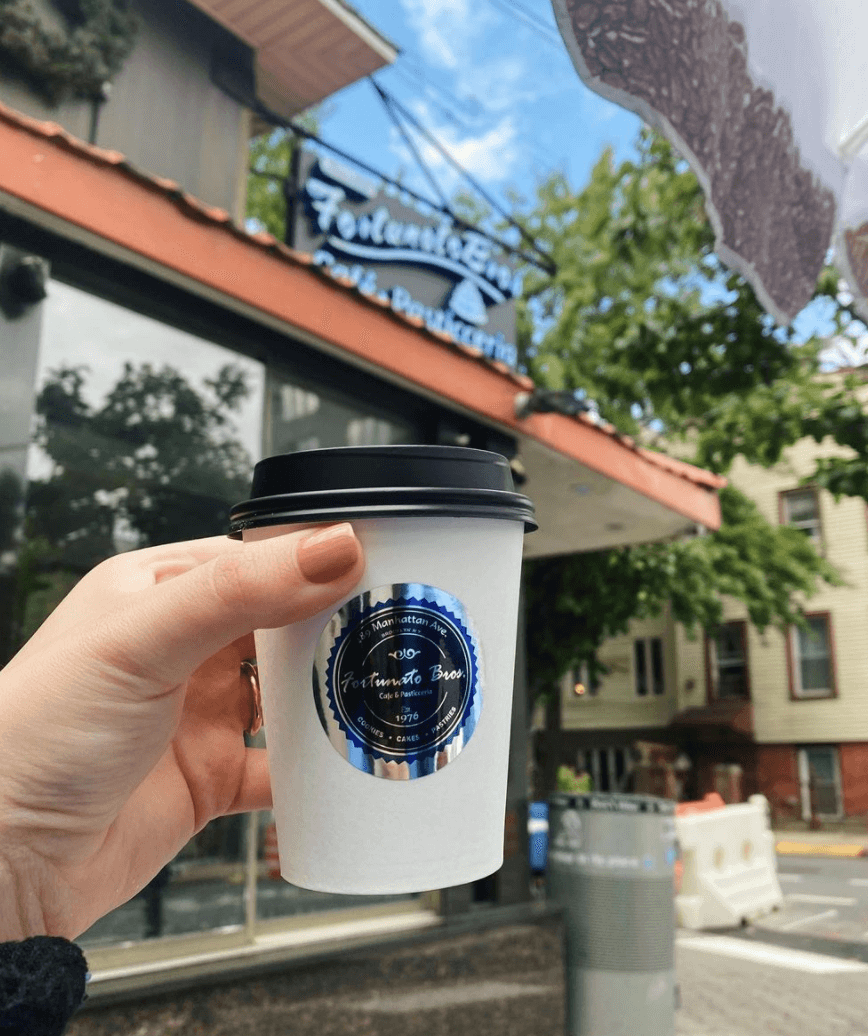 Williamsburg
Another great pick for best coffee shops in Brooklyn located in Williamsburg is Fortunato Brothers. Fortunato's is a neighborhood favorite and has been around since 1976.
This cafe in Brooklyn is best known for their Italian pastries, cookies, and all other types of treats. I always find myself craving their hot cappuccino – I can honestly say it's one of the best I've ever had. If you ever find yourself near this spot, ya gotta give it a try!
Copper Mug Coffee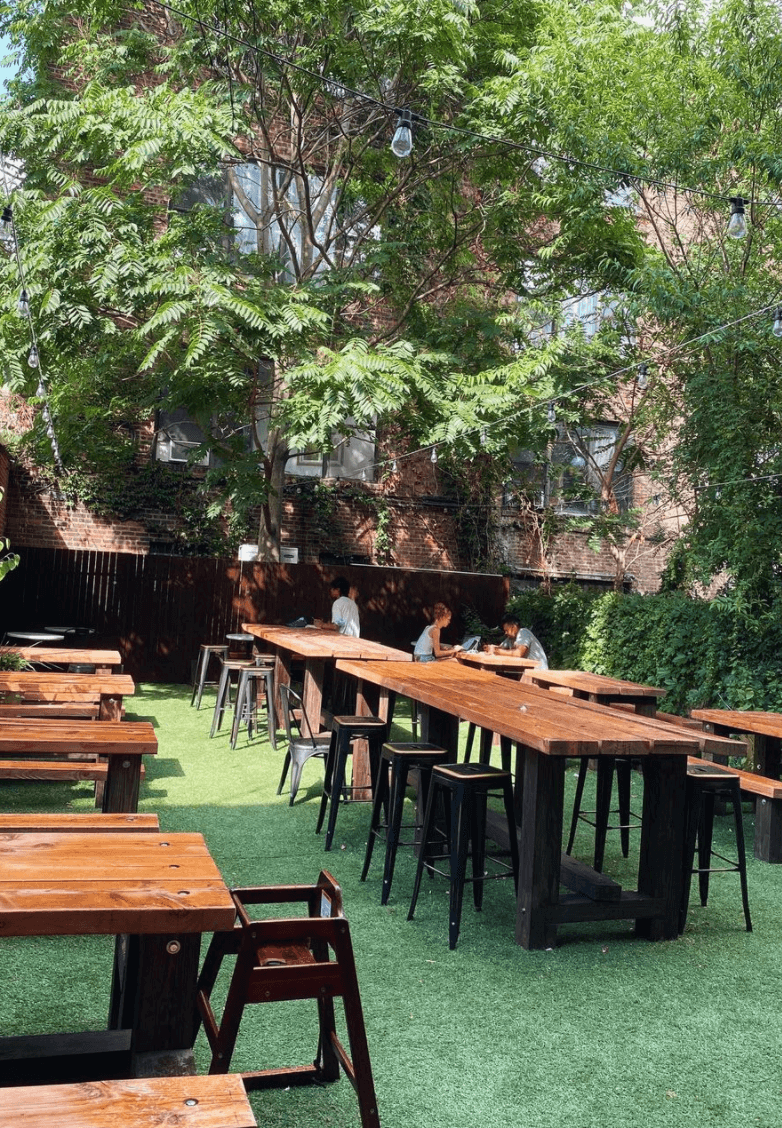 Williamsburg
More of the best coffee shops in Brooklyn can be found in Williamsburg. Copper Mug Coffee has a gorgeous outdoor seating arrangement in their backyard, the kind you can spend hours in on a sunny day.
They also serve up a bunch of crafty drinks from their golden latte to their iced strawberry matcha, which they post all about on their social media.
If you're in the mood for something more classic, their cold brew with a splash of almond/oat milk is super tasty and strong!
Pueblo Querido Coffee Roasters Café de Colombia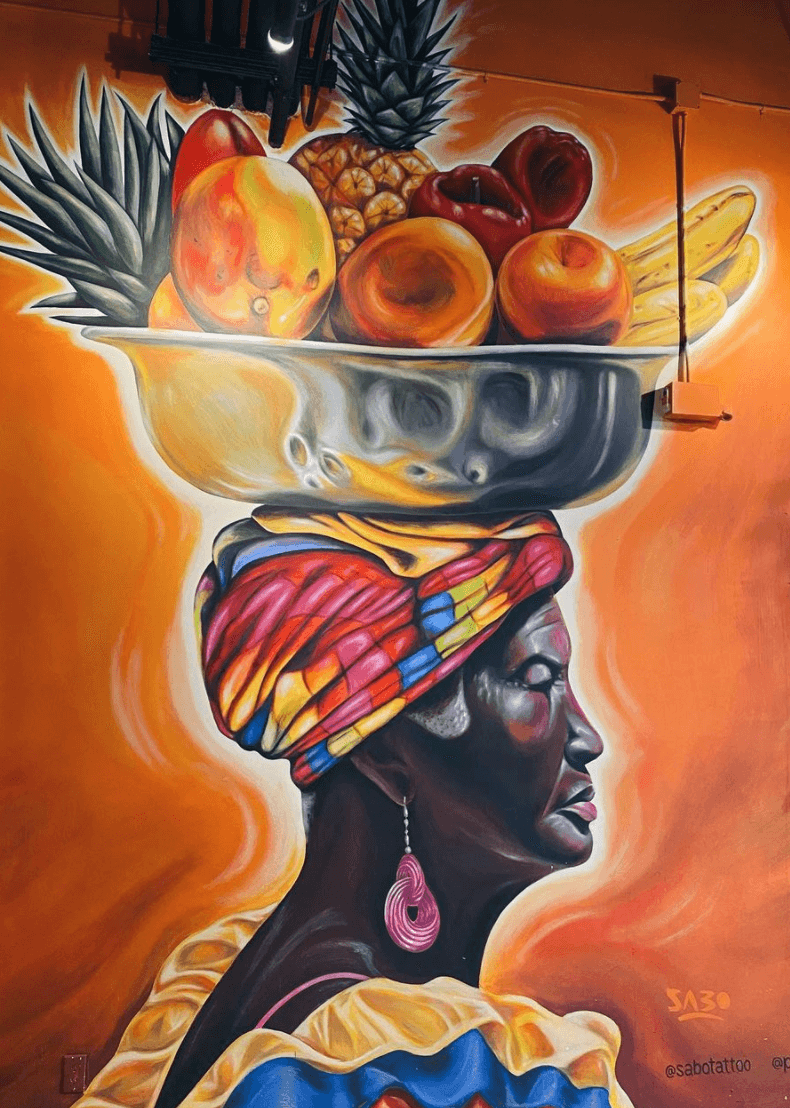 Greenpoint
Pueblo Querido is a family-owned café in Brooklyn you can find in Greenpoint, on Greenpoint Ave. to be exact. This Brooklyn coffee shop is bright and colorful inside and unlike any of the other coffee shops in Brooklyn, I've ever been in.
This spot is best known for their coffee, but I've heard their juices are delish, too! I loved their cold brew with just a tad bit of milk, top-notch! Their prices are also great – I paid under $4 for a 16oz cold brew! This is also one of my picks for best coffee shops in Greenpoint too!
Maman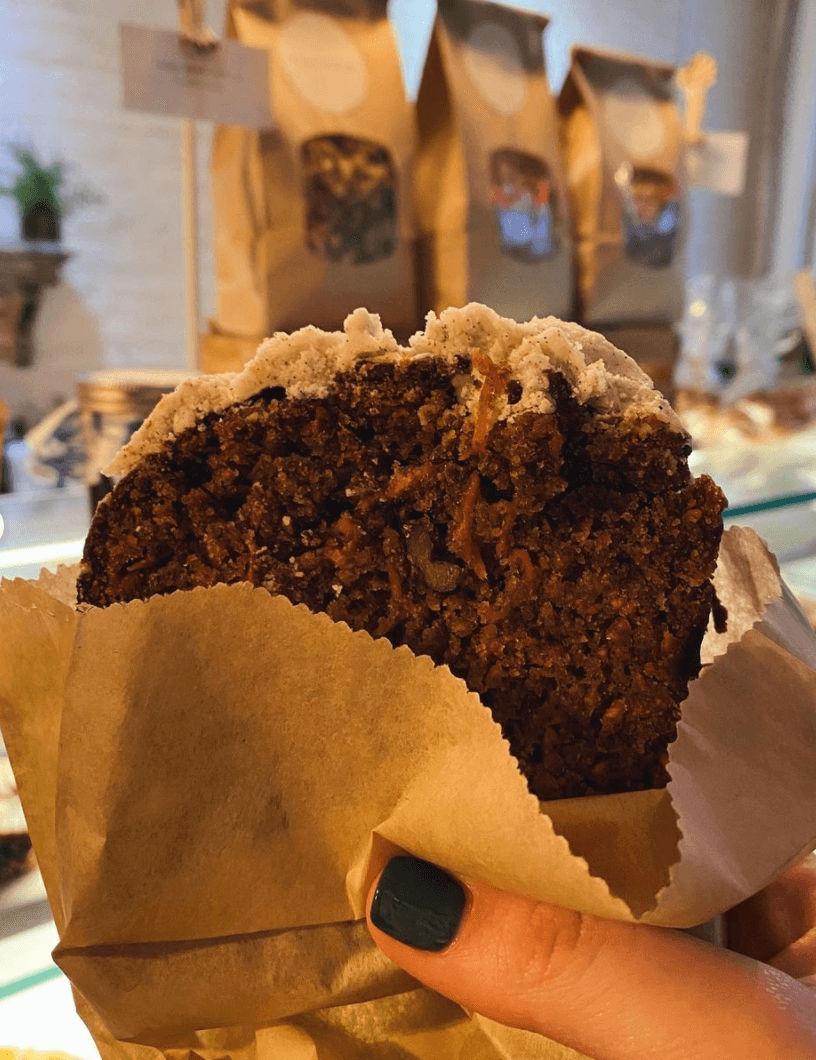 Greenpoint
Maman is a beautifully rustic, yet classic coffee shop in Brooklyn with only one location in the Greenpoint neighborhood.
You'll feel comfort from the moment you step foot in this Brooklyn coffee shop. The smell of the French and American freshly baked goods fills the entire place not to mention the coffee.
Their coffee is great, but their hot vanilla chai is incredible – so fresh and why I've included it on the roundup of best coffee shops in Brooklyn!
You also cannot leave this spot without grabbing one of their treats. I recommend a slice of one of their loaf cakes, my personal favorite is their carrot loaf.
Caffé Café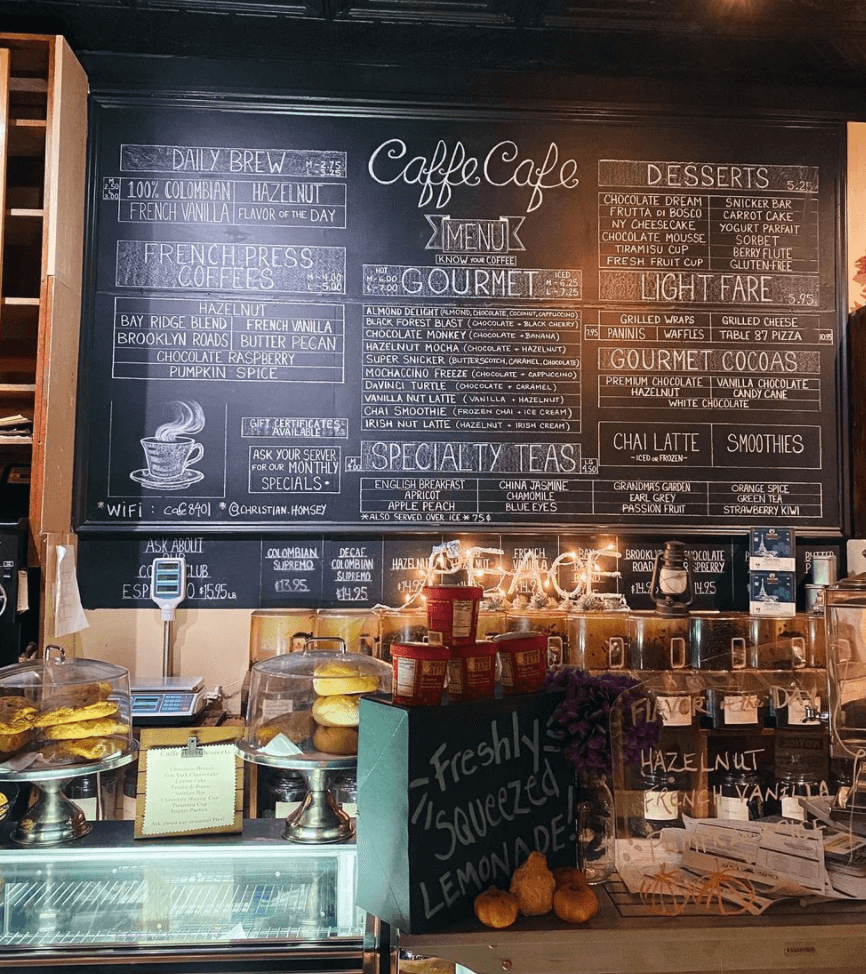 Bay Ridge
Caffé Café is a local Brooklyn coffee shop in Bay Ridge and also happens to be one of the coziest shops I have ever been to and is a great option if you're looking for the perfect late night coffee stop.
This Brooklyn coffee shop's French press is great, and they also almost always have seasonal specials. The employees are always super sweet, which makes loving this adorable, little shop, even easier!
Oslo Coffee Roasters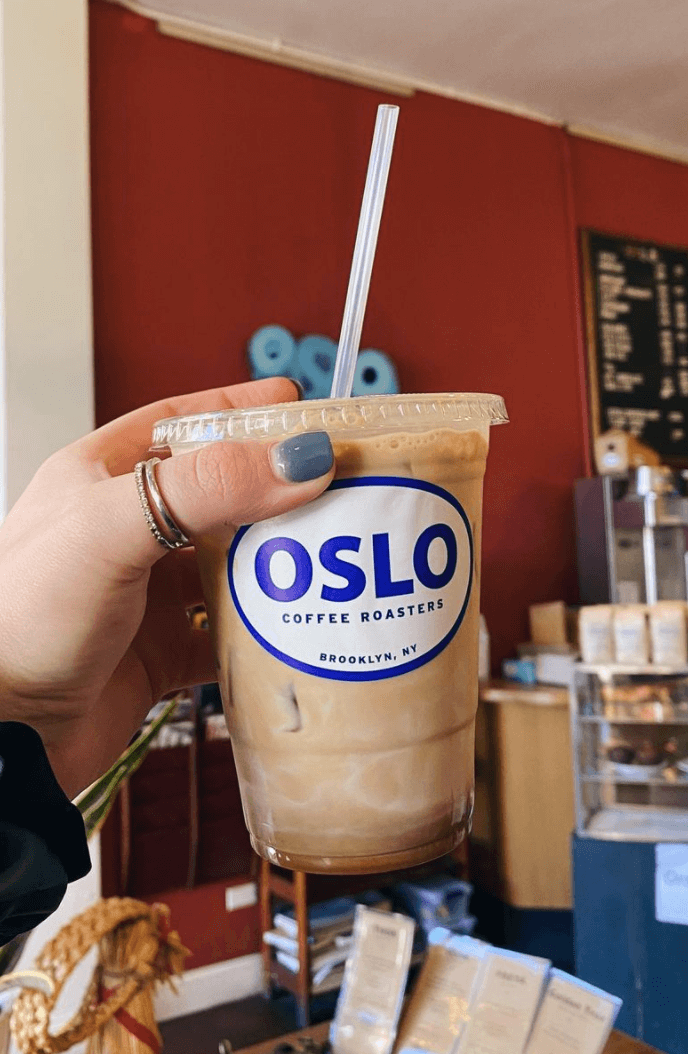 Williamsburg
Another spot that has two locations right here in Williamsburg, Oslo is a great choice for best coffee shops in Brooklyn. I usually go to the location on Roebling Street, the other location is on Bedford Avenue.
There are two reasons why I love this spot so much and why they are deserving on their spot on this list of best coffee shops in Brooklyn. One is how eco-friendly they are. Their coffee beans come from socially sustainable and eco-friendly farmers who are paid fair wages.
The other reason I love this spot is that they roast their own coffee in their small-batch roaster. Since they are so meticulous in their preparation of coffee, you can expect an exceptional experience.
If you're not in the mood for a classic iced coffee or cold brew, their iced mocha is so good and so is their iced chai! Such a variety of greatness!
Think Coffee NYC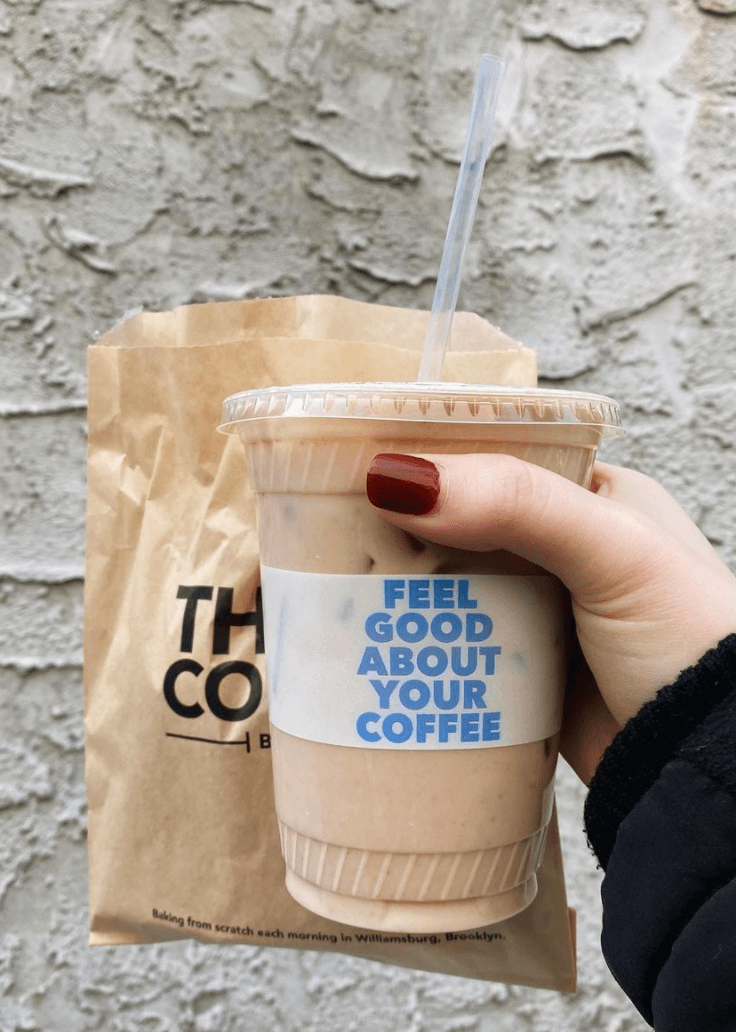 Williamsburg
Think Coffee NYC is a popular coffee spot around the city with only one coffee shop in Brooklyn located in Williamsburg on Devoe Street.
This cafe became my go-to best coffee shop in Brooklyn for quite a bit. Their hot cappuccino is great, and their iced chai is up there with one of the best I've ever had! I'm also a huge fan of scones and their pumpkin scone is perfection!
Bright Side Café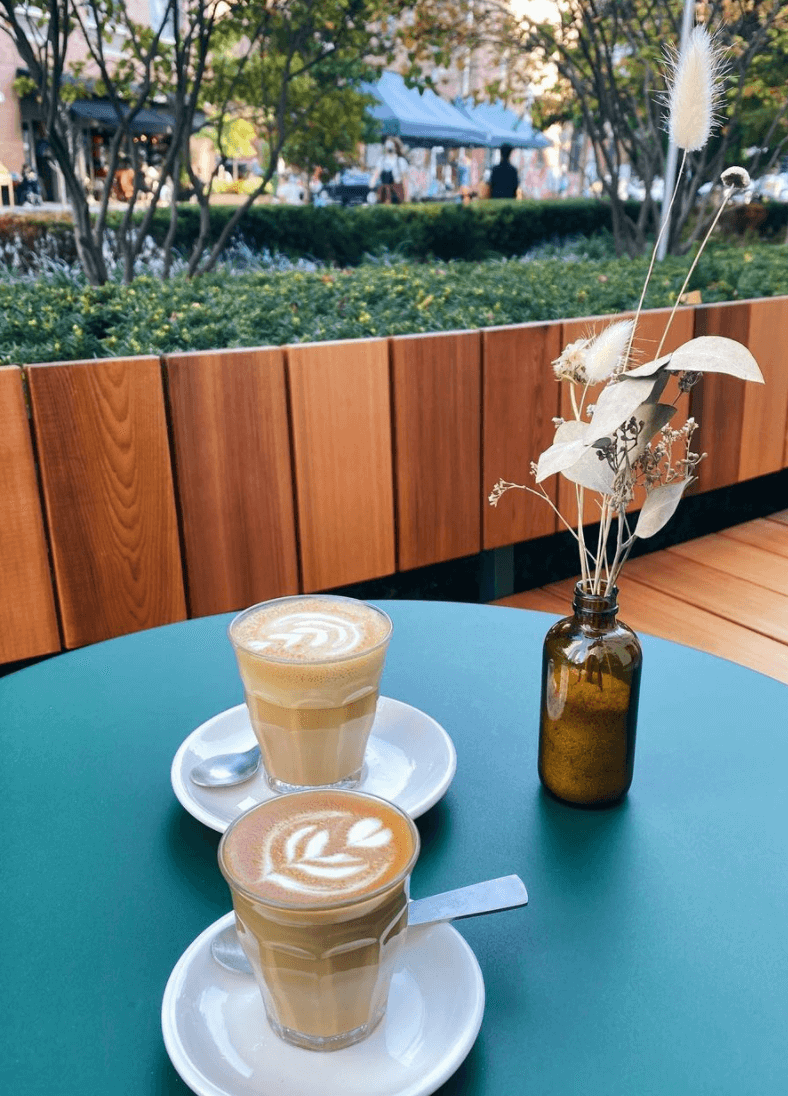 Williamsburg
More than just a cafe, Bright Side Cafe in Williamsburg serves up brunch, coffee, and cocktails, what more could you ask for?
This stop is so aesthetically pleasing, think lots of blush pink with deep green details and right by the water. I love their hot beverages like their lattes and Piccolos. I get mine unsweetened with skim milk which helps keeps me caffeinated and perky.
Le Labo Fragrances (Café)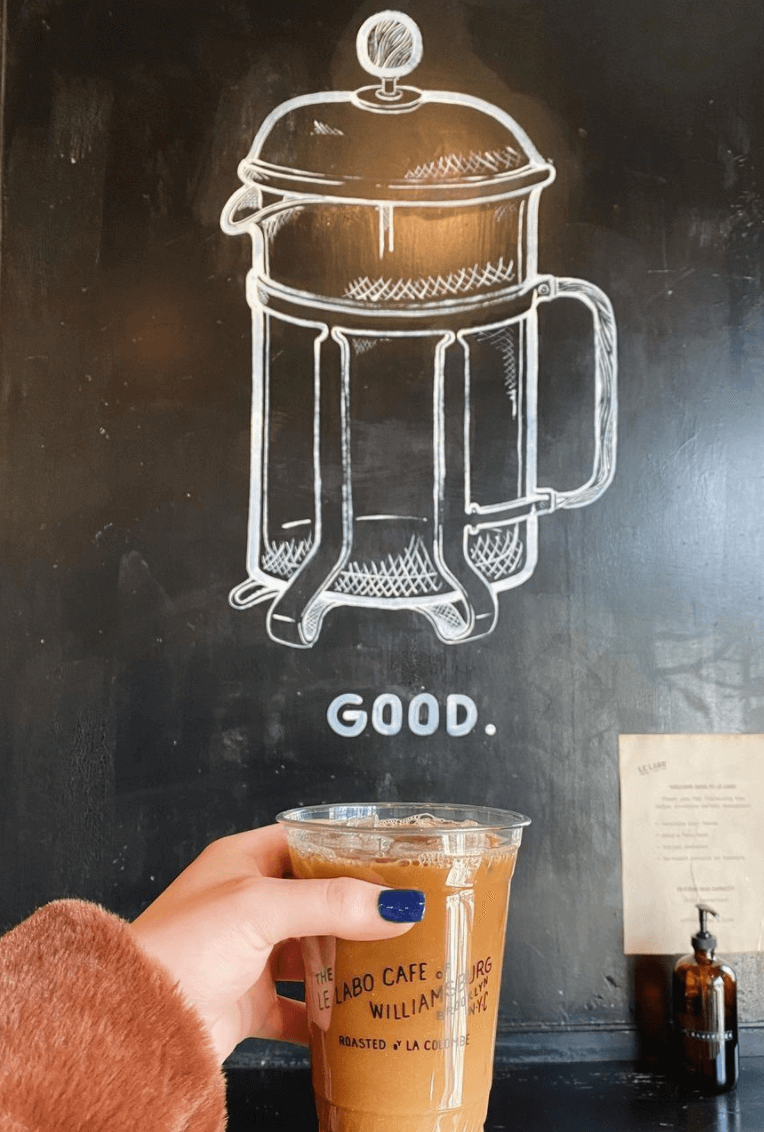 Williamsburg
Le Labo Fragrances is a luxury perfume brand that has quite a few locations around the city, but their storefront and location in Williamsburg has a door that leads into a semi-hidden café!
Once I heard about it, I just had to visit and I am glad I did as it's one of my favorite cafes in Brooklyn now. The upscale perfume store, if you're unfamiliar with their products, sells high-end perfumes, colognes, candles, and various types of self-care products.
The barista shared with me that their coffee roast was created specifically for them by La Colombe Coffee Roasters. I personally love their cold brew, no sweetener, and a splash of oat milk.
Campbell & Co.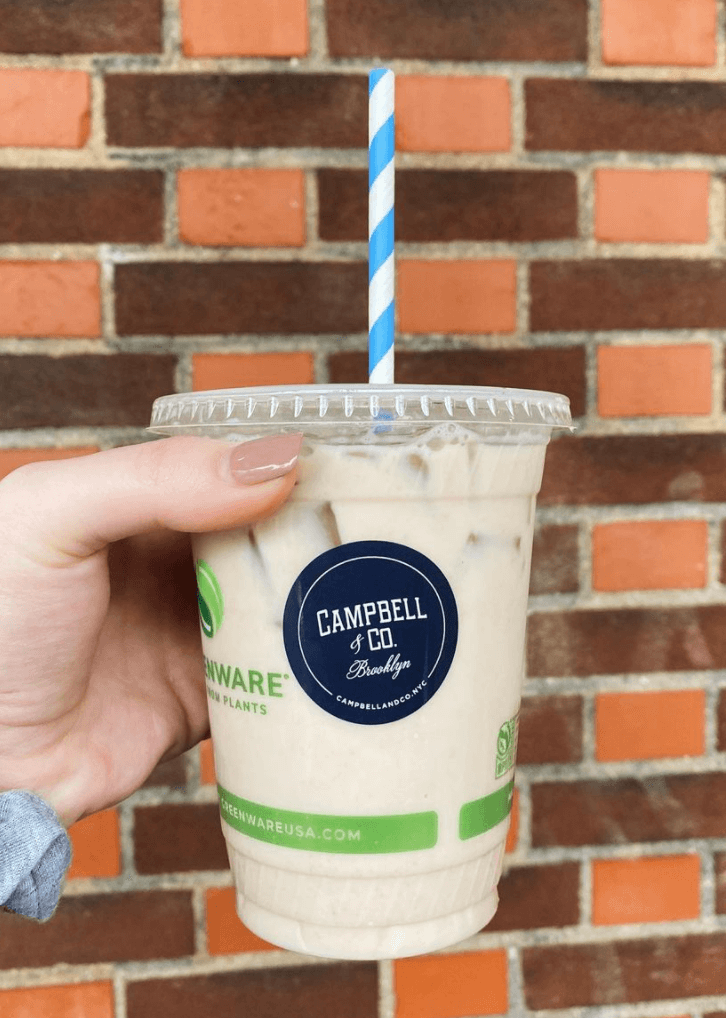 Williamsburg
Campbell & Co. is another quaint and pick for best coffee shops in Brooklyn located in Williamsburg on Lorimer Street. This spot also sells specialty foods like cheese and other groceries along with kitchenware, and of course, coffee!
This is one of the best cafes in Brooklyn if you're looking for gluten-free or vegan goodies too as they have treats you can pair with your coffee here. My personal favorite is their cappuccino, which I think is incredible, but their iced chai latte is insanely good too!
While you're here, I recommend treating yourself to their cinnamon bun, it's always delicious.
Upstate Stock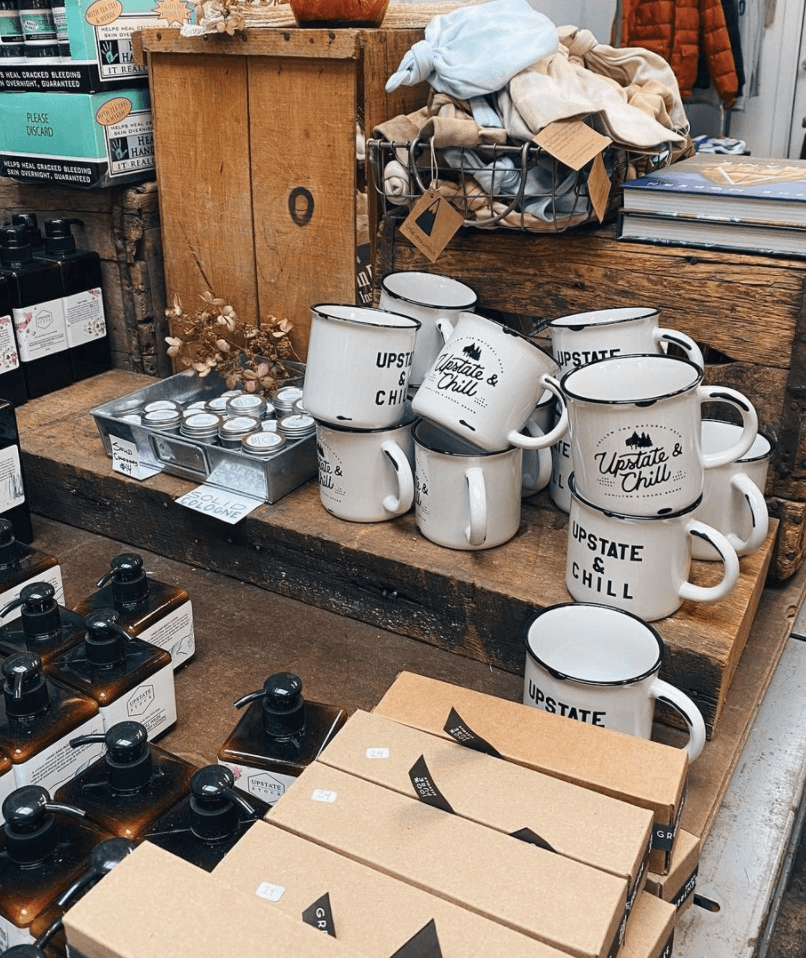 Williamsburg
This industrial-chic spot is another awesome pick for cafes in Brooklyn located in Williamsburg on Berry Street. This shop feels like walking into a log cabin in Upstate New York.
Upstate Stock is not only one of the best coffee shops in Brooklyn, but a great place to shop around for groceries, clothing, and more.
My go-to at this Brooklyn cafe is usually their cold brew, sweetened with milk, but their signature drinks always sound great!
Devoción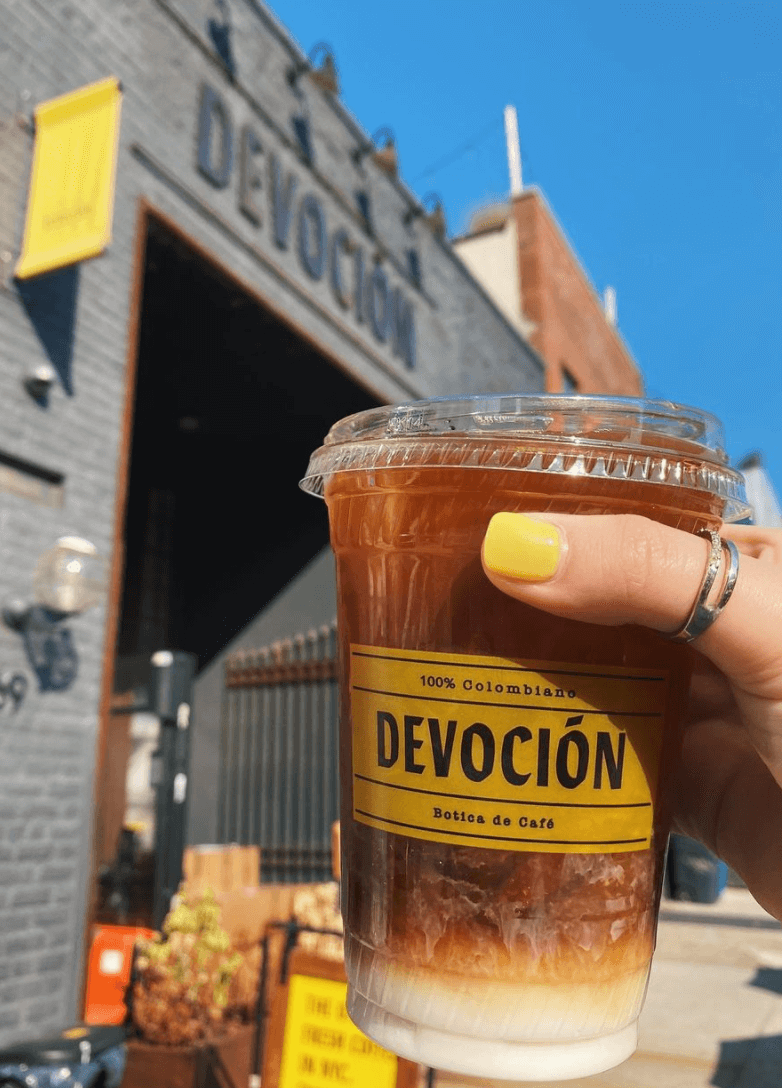 Downtown Brooklyn, Williamsburg
One of the most well-known cafes in Brooklyn is Devoción whoo has two Brooklyn locations in Williamsburg and Downtown Brooklyn.
Devoción offers a beautiful space to enjoy your coffee, so beautiful you might just want to stick around and hang for a bit.
They have several different coffee blends sourced from different regions in Colombia and roasted right here.
I personally recommend their cold brew with a splash of milk, it's so flavorful and strong! I remember trying their cappuccino and it was great too, but I preferred their cold brew.
Marine Park Coffee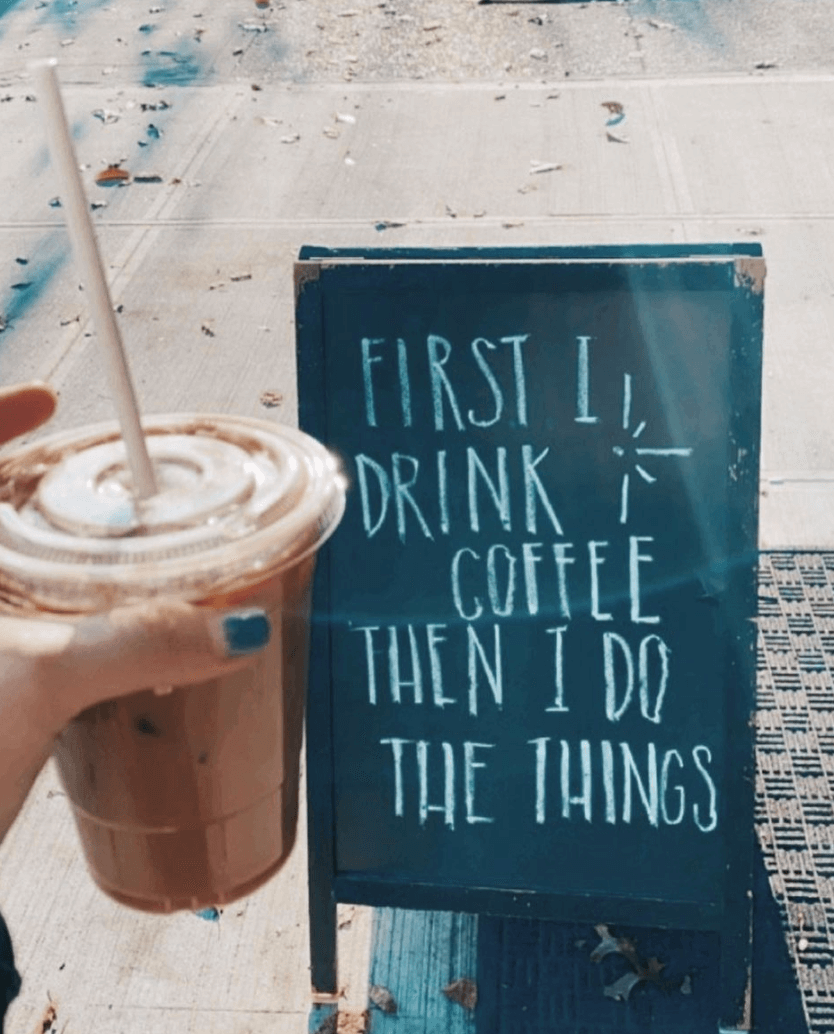 Marine Park
One of my recent new discoveries and favorites for best coffee shops in Brooklyn is Marine Park Coffee located in the Marine Park neighborhood.
I am lucky and always get the same friendly, male barista who takes my order. I was obsessed with their cinnamon bun iced coffee with oat milk, but that is discontinued now, sadly. (fingers crossed they bring it back!) My other favorite order here at this Brooklyn coffee shop is their French vanilla iced coffee.
This cafe also has a selection of other specialty flavors I look forward to trying too.
Sweatshop Coffee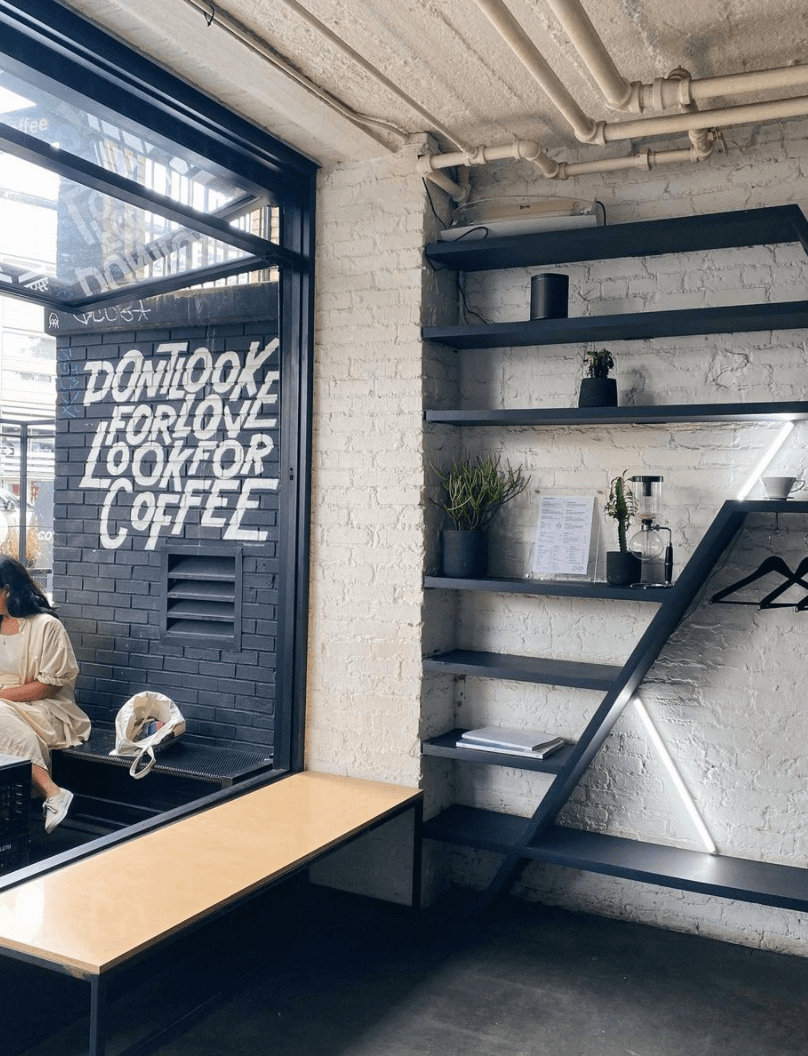 Williamsburg
Another one of my favorite cafes in Brooklyn is the Aussie-inspired cafe, Sweatshop located in Williamsburg. Don't miss the eye-catching sign right outside of the shop that says, "Don't look for love, look for coffee" and I don't think truer words have ever been spoken.
For recommendations of what to try at this coffee shop in Brooklyn, I typically go for their cold brew with a drop of oat milk, but I've heard their flat whites and hot lattes are also insanely delicious!
Rose Wolf Coffee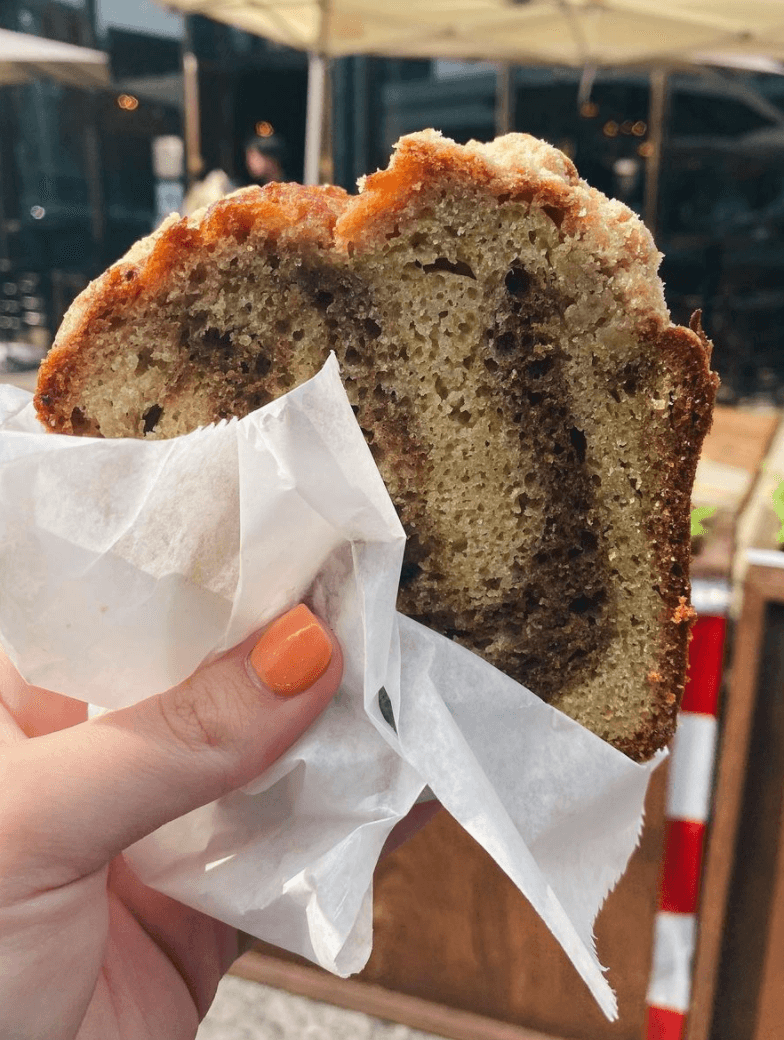 Williamsburg
Last, but certainly not least, Rose Wolf! This local Brooklyn coffee shop can also be found on Metropolitan Avenue in Williamsburg.
I love their cold brew, with some milk, no sweetener. Their loaf slices are out of this world! My favorite is the dirty chai loaf slice, which is always the perfectly sweet pairing to have with my cold brew.
Cafe Grumpy
Greenpoint, Park Slope
For those who love a quality cup of coffee, Cafe Grumpy in Greenpoint and Park Slope offer great cups of coffee in this Brooklyn-based cafe chain with more than 10 locations around the city. Their first location was the Greenpoint location with a focus on community, social responsibility, and sustainability through their business.
Cafe Grumpy prides itself on sourcing and roasting their coffee in house, serving up a quality coffee for their loyal patrons every cup meaning if you come in grumpy, you won't leave grumpy.
Try one of their classics or one of their stellar nitro cold brews.
Kos Kaffe Roasting House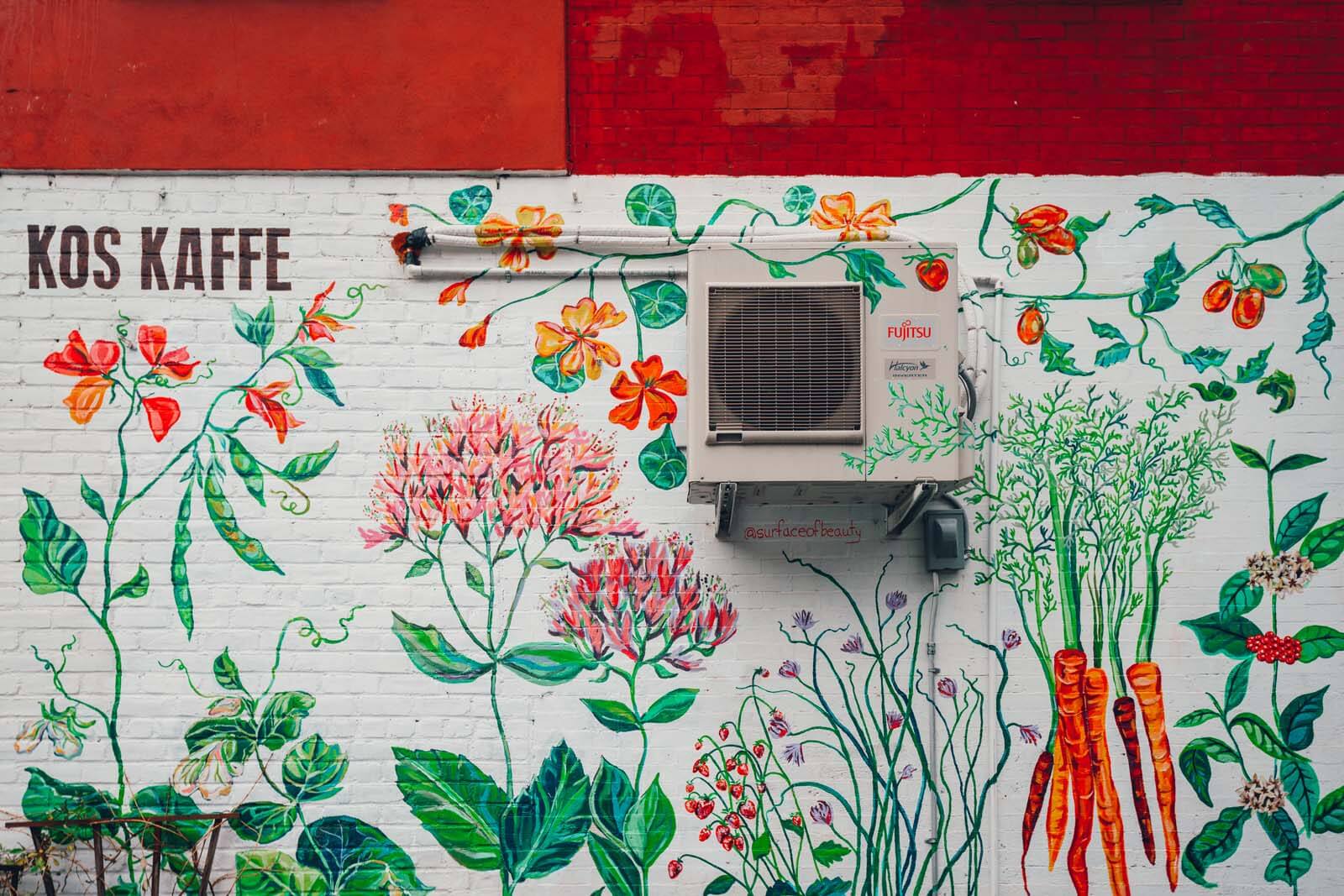 Park Slope
This Park Slope cafe is one of the best coffee shops in Brooklyn. Kos Kaffe Roasting House is a family-run spot that is a super inviting place with an aesthetically charming interior and a gorgeous flower mural on the side of the cafe.
The husband and wife team are a dynamic duo as he has been into coffee roasting for over two decades and she has spent the same amount of time cooking at some of the best NYC restaurants and is an author of two cookbooks. They serve up homemade food alongside their fresh and flavorful coffee menu, which you know is going to be good based on their backgrounds.
They even use local milk to accompany your cup of house-roasted cup of coffee made by their baristas. Whether you're looking for a drip coffee or a latte, all of their drinks are great which is why this is a top pick for cafes in Brooklyn to check out!
Joe Coffee Company
Brooklyn Heights
Another great cafe in Brooklyn located in the quiet streets of the gorgeous, residential Brooklyn Heights neighborhood and community is Joe Coffee Company on Hicks Street. There are over 20 locations throughout the city, but only this one in Brooklyn.
You can find delicious specialty coffee with a menu of food and even ice cream at this Brooklyn Heights location! This location is close to Brooklyn Heights Promenade which offers great views of Lower Manhattan, the Brooklyn Bridge, Statue of Liberty, and the New York Harbor, so grab a cup of coffee then walk over to the scenic views at the promenade!
D'Amico Coffee Roasters
Carroll Gardens
One of the most legendary coffee roasters and Brooklyn coffee shops that have been around for over 60 years is D'Amico Coffee Roasters in Carroll Gardens. This is where you can find one of the original Brooklyn roasted cups of coffee in the city that's been around more likely longer than you have opened in 1948 in this neighborhood.
They roast their coffee on a vintage Diedrich roaster and serve is made to order in various different styles from Oji-style iced coffee drippers to their Slayer espresso machine, or their drip bar.
Grab a bag of beans to take home with you while you're at it!
Konditori
Cobble Hill, Greenpoint, Park Slope, Prospect Heights
Another one of the best Brooklyn coffee shops with a few locations is Konditori, a Swedish espresso bar named their cafe after a Swedish word meaning a gathering place for warm drinks, or where to take a coffee break. Seems fitting!
This Park Slope location was their very first location, since then they have other locations in Cobble Hill, Greenpoint, and Prospect Heights.
They serve up a fantastic coffee selection with Arabic beans from Central America serving everything from French press to espresso alongside some baked treats, both Swedish and American from bagels to coffee bread. For anyone who has a gluten-free diet, Konditori has a selection of GF treats as well!
Be sure to also check out the best bagels in NYC for bagel lovers!
Cafe Regular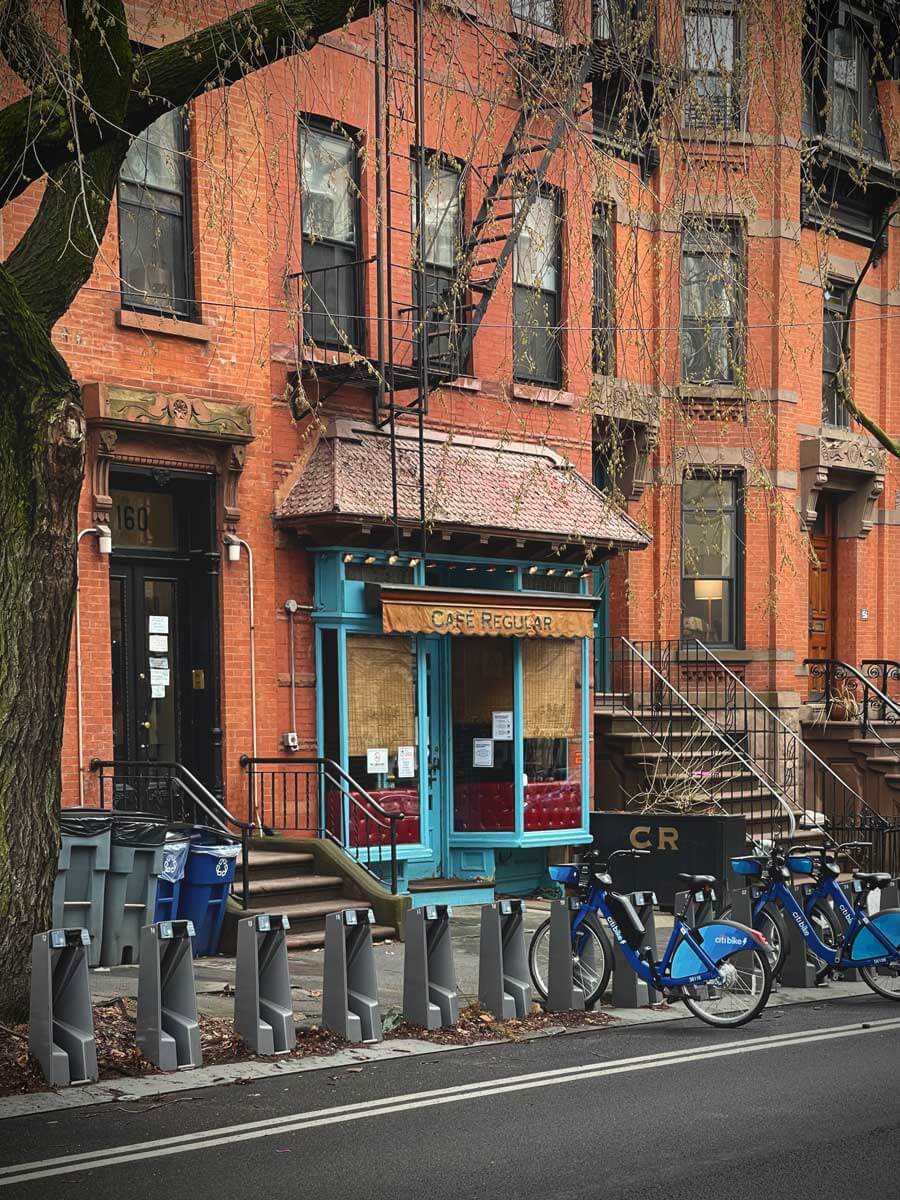 Park Slope
Cafe Regular is another cute and cozy cafe in Brooklyn not to be missed with not one but two locations in Park Slope, one location on 11th Street and the other on Berkeley Place!
There's definitely a European/French vibe going on here and you can pair your cup of coffee with one of the selections of pastries they sell served alongside their La Colombe coffee drinks.
Flying Hippo Bakery Cafe
Park Slope
Another great cafe in Brooklyn that's also an artisanal bakeshop is the light and airy space at Flying Hippo Bakery Cafe on 5th Avenue in Park Slope.
They offer fine desserts, custom cakes, and other baked goods alongside their coffee drink menu featuring everything from cold brew, drip coffee, espresso, and lattes. The mini cakes and cold brew are divine here.
Editor's Picks: Brooklyn Coffee Shops
The Black Flamingo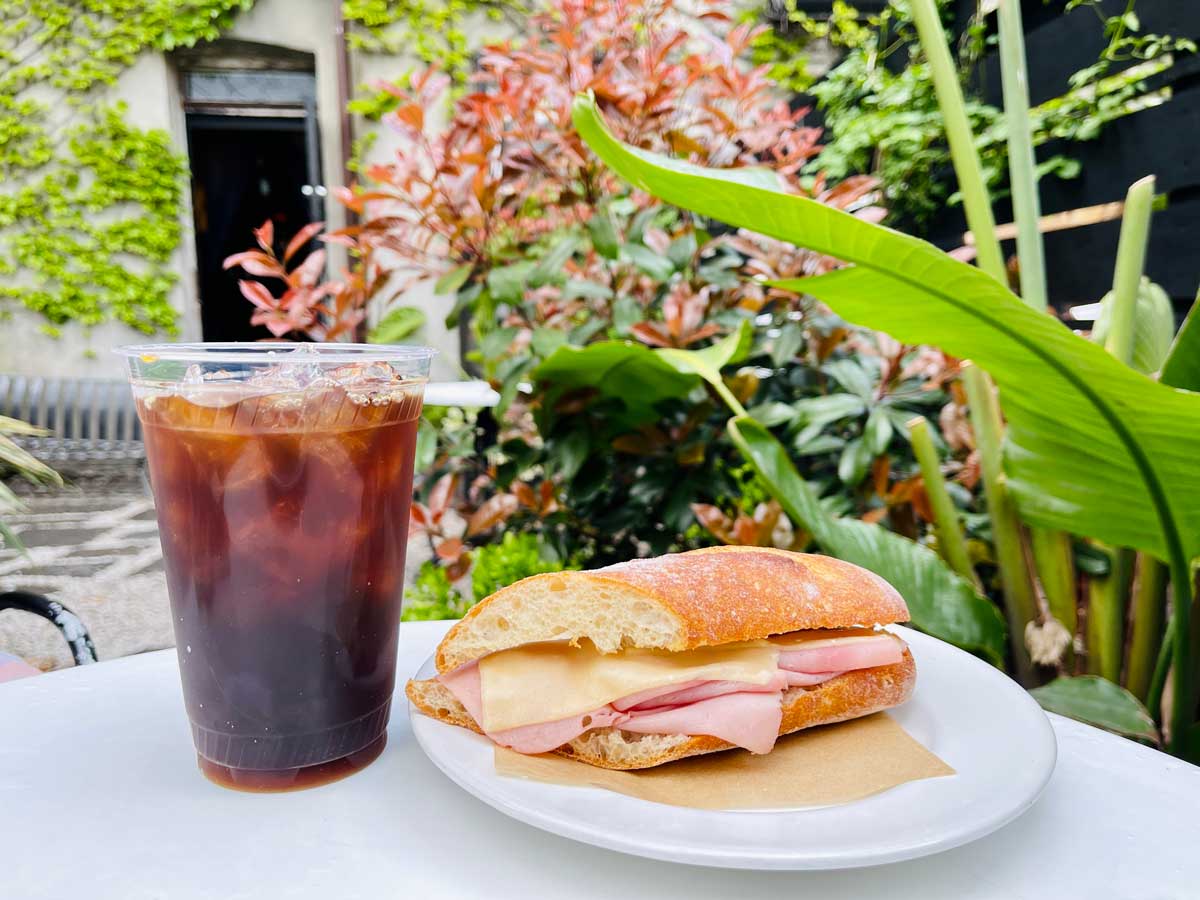 Red Hook
This has easily become one of my personal favorite cafes in Brooklyn. From the pretty interior and great coffee and sandwich/croissant selection to the pretty garden back patio with the friendly cat Billy who stops by to give you his good graces, the unofficial host of this spot.
Swing by, grab your favorite type of hot (or cold) coffee/tea drink and sit back and relax in their pretty little back patio.
Poetica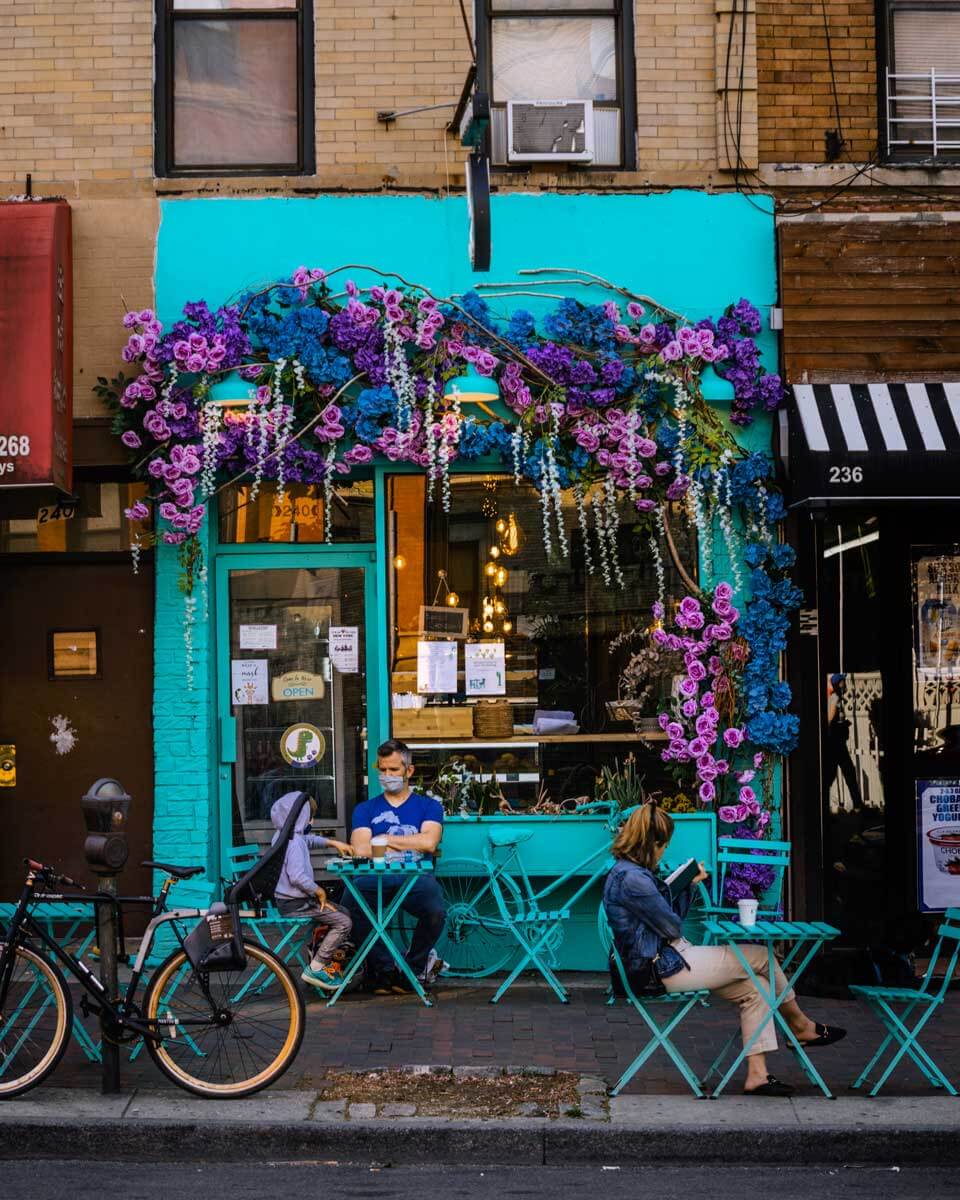 Park Slope, Windsor Terrace, Boerum Hill, East Williamsburg
Probably one of the most photogenic exteriors on Brooklyn cafes that also packs the heat when it comes to bringing a seriously good cup of coffee. Their locations are decked out with colorful, inviting floral exteriors. Inside you can find seating and some locations, like the Windsor Terrace spot on Prospect Park West also offers a back patio.
They serve their own blends of coffees you can't go wrong with a pour-over and on a hot day their iced chai tea latte is one of the best I've ever had.
Playground Coffee Shop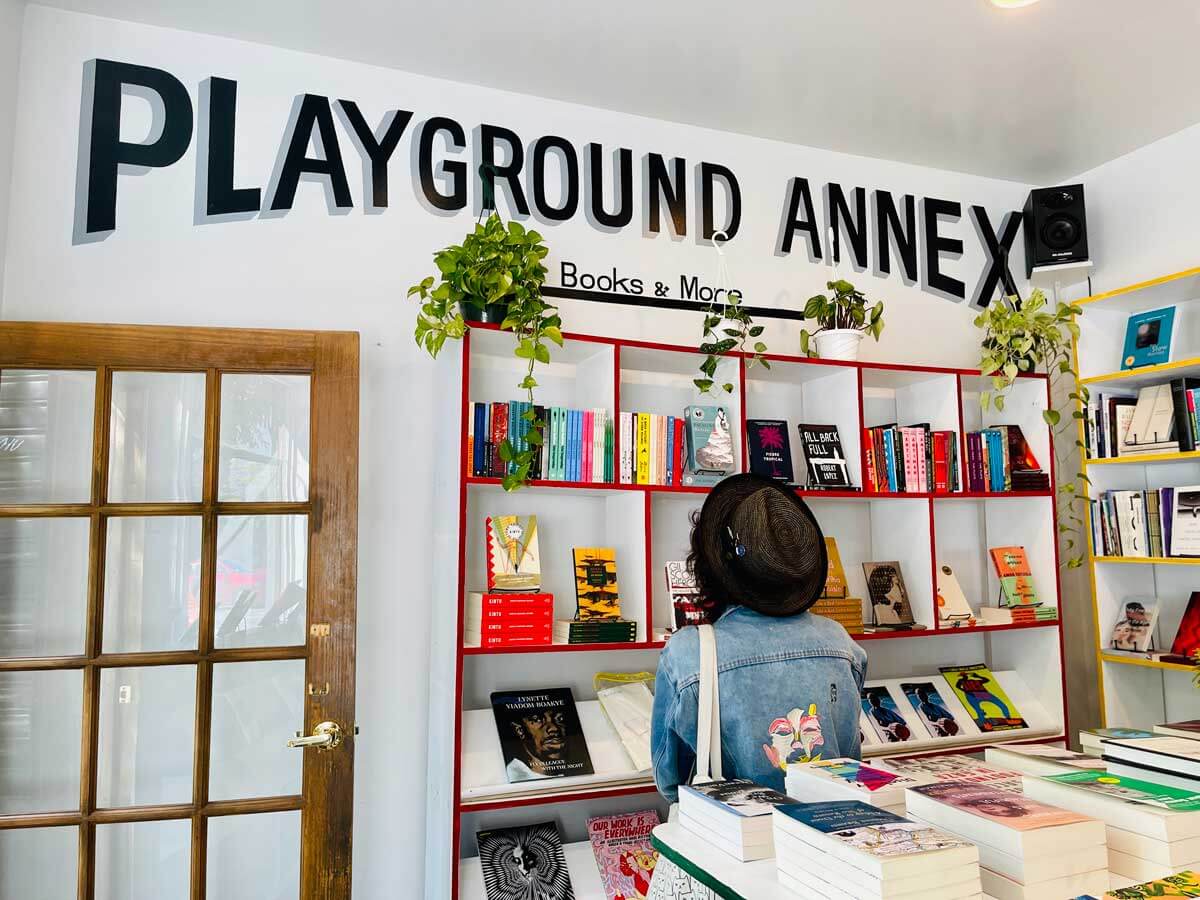 Bed Stuy
This is much more than a Brooklyn coffee shop, Playground also is a community space, a non-profit called Playground Youth, event space, and bookshop that sells and prioritizes work from Black, Brown Indigenous, Queer, and POC authors and artists.
They offer a few bites like cronuts and biscuits and really exceptional coffee.
Check out this feature about the owner and founder, Zenat Begum about how she brought her mission of supporting the Bed Stuy community through her Brooklyn coffee shop, extensions of the coffee shop, youth fundraising, and community projects. She's pretty remarkable.
Little Zelda
Crown Heights
This tiny Crown Heights cafe is another great stop for that morning (or afternoon) pick me up. This espresso bar offers all your coffee drinks plus a few artisanal bites. Grab to go or if you sit out on Franklin Avenue.
Their coffee drinks use Toby's Estate beans and they also have seriously cute latte art.
Stumptown Coffee Roasters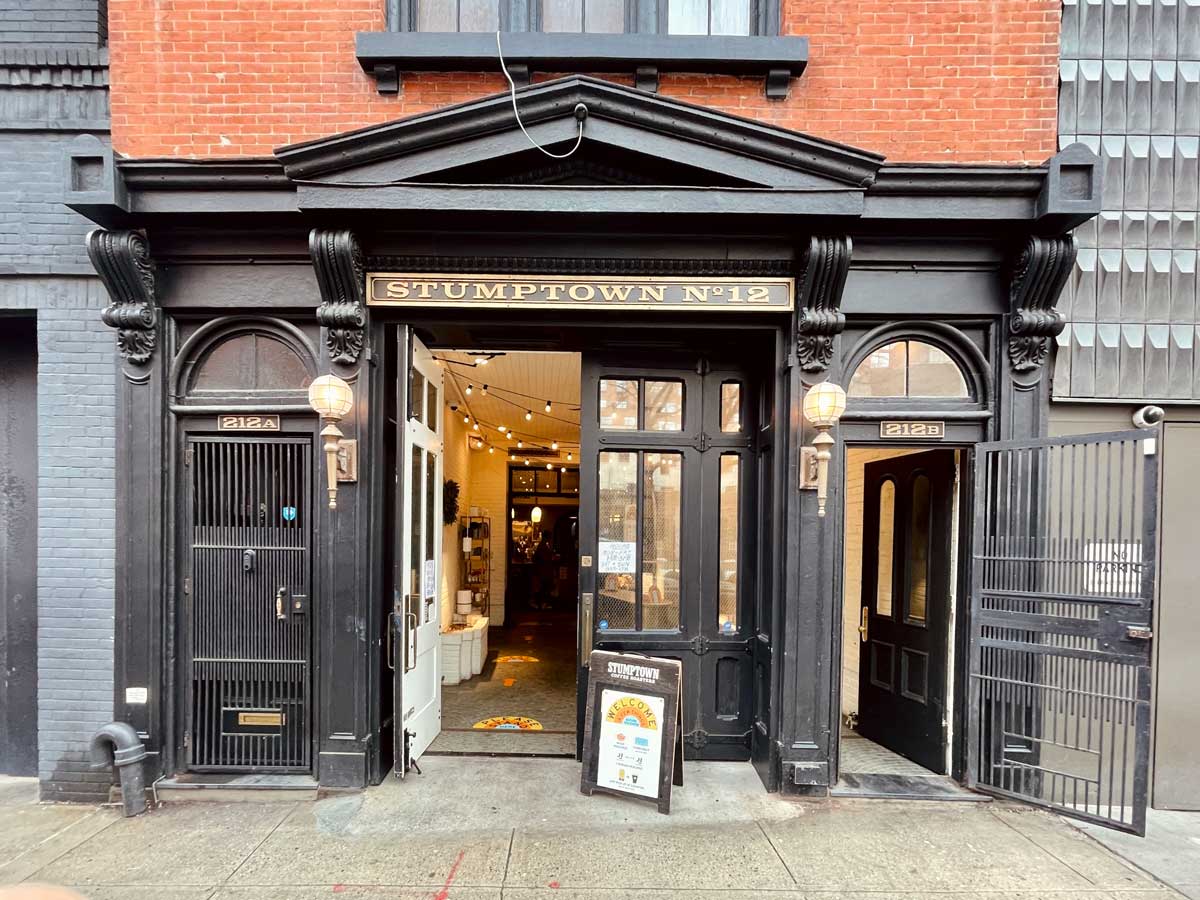 Cobble Hill
Serving up their own beans, this Brooklyn coffee shop is one of the most beautiful in the area featuring work and installations by prolific artists.
Enjoy their full espresso bar, variety of coffee drinks, cold brew, and drip coffee paired with Pain D'Avignon and Ovenly pastries or King David Breakfast tacos.
Also, don't miss taking a peek at their custom hand-painted La Marzocco espresso machine while you're here.
BKG Coffee Roasters
View this post on Instagram
Fort Greene
Another great coffee shop in Brooklyn at the center of Myrtle Avenue is BKG Coffee Roasters, one of the best Fort Greene coffee shops too. The cafe is designed with a very minimalistic approach with the rotating pastry menu on what looks like a big piece of craft paper and the coffee menu is perfectly crafted for one of the best cups of coffee around.
They offer both indoor and outdoor seating but the outdoor is a giant patio with long picnic tables and art on the walls.
The indoor space offers the perfect place to meet a friend or get some work done. The outdoor space has some shaded areas as well. Sandwiches are also offered later in the day and do yourself a favor and save room to order the ham and swiss with smoked ham, swiss, arugula, and honey mustard.
---
Also, do you like bakeries? Check out the best bakeries in Brooklyn to pair with your coffee!
Found this guide helpful to the best Brooklyn coffee shops and Brooklyn cafes to check out? Bookmark for later or share the love below on Pinterest.