Looking for the best Fort Greene coffee shops? We got you. Some days there is nothing better than grabbing a cup of coffee, a light pastry (or two) and posting up at a local coffee shop to work for the day.
There are other days, like on the weekends, when grabbing a cup of coffee, strolling the neighborhood on a long walk or heading to the park that makes every New Yorker happy. Fort Greene coffee spots are the best for both of these scenarios.
Whether you are a Fort Greene local, borough hopping, or just a Brooklyn visitor, Fort Greene is one of the best places for coffee and this guide will help you choose your new favorite coffee shop. And why not check out some of the best things to do in Fort Greene and the best restaurants in Fort Greene while you're at it!
Where to Get Seriously Good Coffee in Fort Greene
Bittersweet 
Address: 180 Dekalb Avenue
Bittersweet is truly the idyllic neighborhood coffee shop and Fort Greene shows that, forming a line daily down the sidewalk for some of the best coffee in Fort Greene. The indoor space is tiny and used only to order. There are only a few seats out front so plan on grabbing your coffee and breakfast to go and heading to Fort Greene Park, which is only a few blocks down and one of the best parks in Brooklyn.
All of the coffee is roasted from La Colombe and the baked goods and sandwiches are created in-house. They also have doughnuts from Dough (one of the best spots for donuts in Brooklyn), pastries from Choice and bread from Balthazar.
The best part is they make their own oat milk and it is amazing! Everything is delicious and Bittersweet is the perfect place to meet a friend for a coffee and pastry (or sandwich) to go. Oh, and they always feature their cute dog visitors on their Instagram!
Hungry Ghost 
Address: 781 Fulton Street
Located within an old tire shop on a casual corner off Fulton Street, Hungry Ghost is a name you've definitely heard for one of the best cups of coffee in the city with multiple coffee shops in Brooklyn. With multiple locations all over Brooklyn and Manhattan, it is always one of my go-tos because they do coffee really well but this Fort Greene location is definitely one of the best.
If you get here early, make sure you order the cheddar and dill biscuit. They go quickly and for good reason. If you don't make it in time, their other pastries are also great and they have delicious salads and sandwiches if you are coming later in the day. The matcha is some of my favorite and is consistently delicious, no matter which location you visit.
Hungry Ghost uses Stumptown coffee and they are open early till late, making this one of the best places to meet a friend for coffee or work for the day. The space is clean, naturally lit, and inviting with cozy chairs to sit alone and long communal tables if you want to work with friends. They also have a couple outdoor seats and fast-working WiFi.
Baba Cool Cafe
Address: 64 Lafayette Avenue, Suite B
Baba Cool Cafe is seriously delicious food that is set up as an all-day cafe with bowls, toasts, salads, sandwiches, coffee, wine and delicious cocktails.
Conveniently located right by the G and C train, this is a great place to grab a quick bite to or from work or a great space if you just need to get out of your apartment for a little bit. They offer both indoor and outdoor seating and their outdoor seating is especially inviting with string lights and white tables while their indoor seating is complete with cozy booths.
You really can't go wrong with any of their menu options but my go to is always one of their salads and bowls. They also have a side of just about anything you can imagine that you can add to your meal and have great pastries and desserts, which you feel less guilty about indulging in because you just ate such a healthy meal!
Baba Cool is a great place to work, meet friends, grab a meal or take a coffee to go. They also have wine and cocktails if you visit later in the day.
TB Coffee House
Address: 578 Myrtle Avenue
TB Coffee House is not only one of the best cafes but also one of the most aesthetically pleasing and extremely comfortable for meetings, catching up with friends or spending the whole day sipping lattes and catching up on work. While it's technically in the territory of Clinton Hill, it's just a few steps outside the boundaries of Fort Greene so we decided to include it!
They incorporate a beautifully modern design throughout and have a garden out back and a large window upfront. They have several tables, and while the inside feels small, it always feels like there is plenty of space to spread out and work.
The coffee is top-notch and there is an extensive menu of options to choose from. They also have pastries, sandwiches, and desserts, all of which are equally delicious. They also allow you to book their space for private events.
Peckish
Address: 49 Willoughby Avenue
If you have read our guide best brunch in Clinton Hill, you have seen that Pecks made the list, which is what they call "the slightly different older cousin to Peckish." Peck's is the more "brunchy" vibe where Peckish gives you all the best coffee shop vibes you need, making Peckish one of the best places to get coffee in Fort Greene.
The vibes at Peckish are perfect for working or grabbing a quick coffee to go. It is only a few short blocks from Fort Greene, the perfect place to take your coffee and pastry over to enjoy.
Peckish uses beans from Joe Coffee and has just created a new menu with baked goods and savory snacks. They have just about every pastry you can imagine, that is baked fresh every morning, and one of my favorite flat whites. They have both indoor and outdoor dining.
Jill Lindsey
Address: 370 Myrtle Avenue
There is nothing better than a combination store and cafe in my option, and this is exactly what Jill Lindsey is! Located on Myrtle Avenue, this shop has it all from very cute women's clothing to tarot cards to great gifts for friends or family (or yourself) and a very delicious cafe! They also have wellness events and work specifically with a lot of local Brooklyn artists.
The coffee is some of the best in Fort Greene and there is a long coffee bar at the store where you can sit and work or meet a friend.
You can also take the coffee to go and browse throughout the store. They have some small bites available including a couple of pastries and some desserts. The space is top-notch, very carefully curated, and, like I mentioned above, perfect for everything you need.
Cafe Paulette 
Address: 1 South Elliott Place
Cafe Paulette is located right across from Fort Greene Park and the sidewalk and interior dining immediately makes you feel like you are transported to a cafe in Paris, making this one of the best coffee shops in Fort Greene. They accept reservations and have both indoor and outdoor dining, as well as a smaller bistro next door, Petite Paulette.
While they open a little later than some coffee shops in the neighborhood, this is one of my favorite places to work (and people watch). Not to mention, they have some delicious coffee and some great breakfast items to choose from.
BKG Coffee Roasters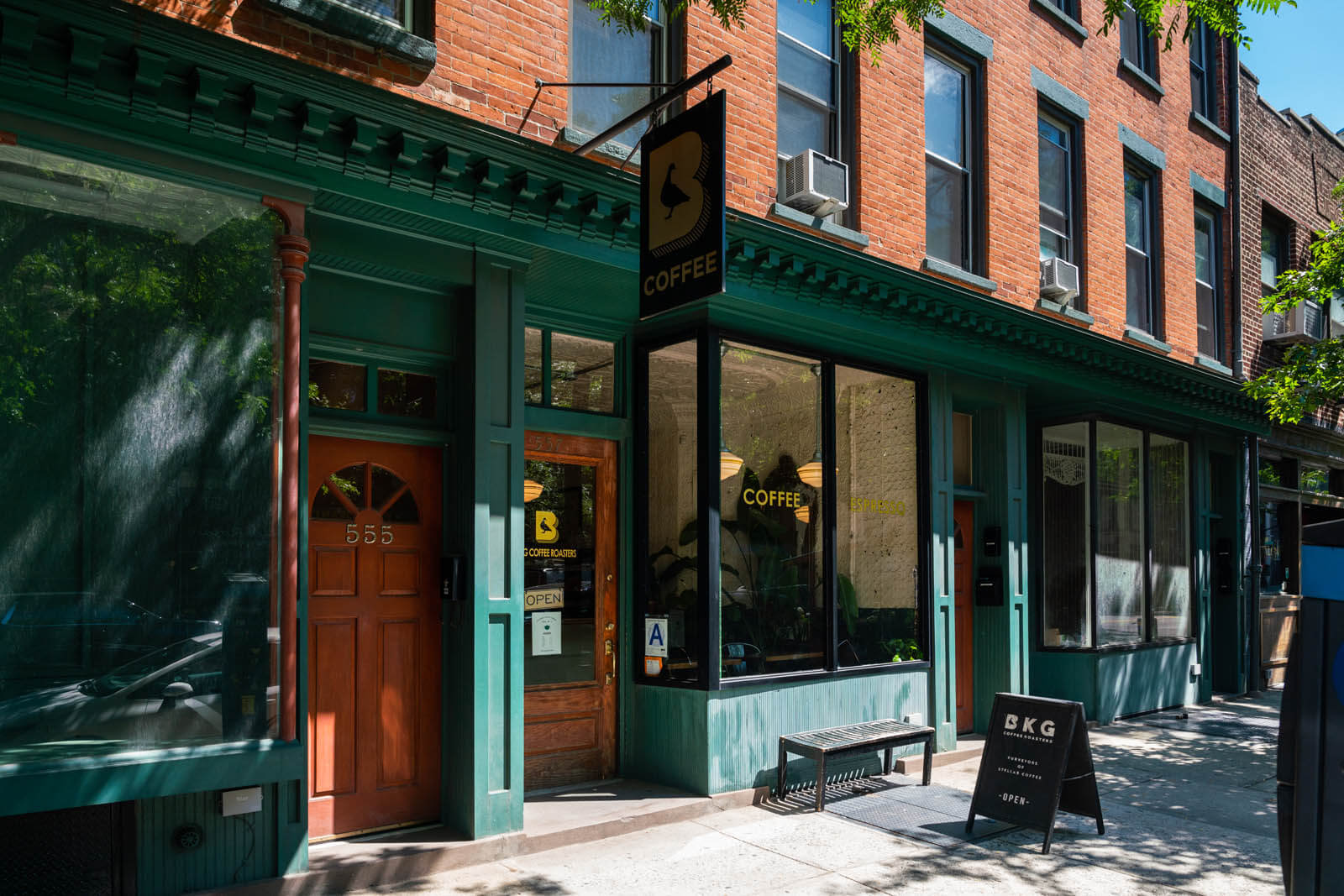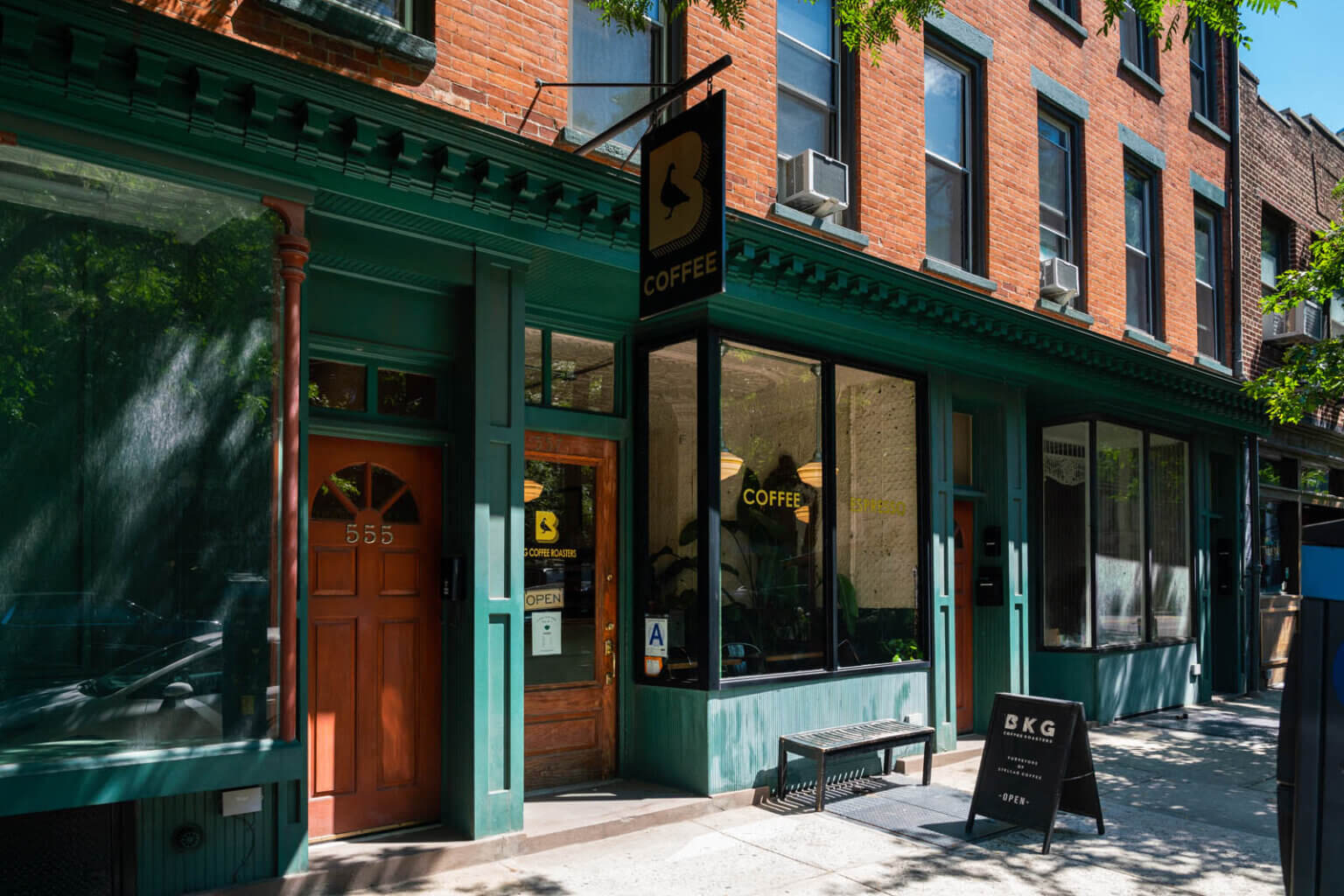 Address: 557 Myrtle Avenue
Another great coffee shop located in the center of Myrtle Avenue is BKG Coffee Roasters (technically Clinton Hill, but oh so close and so good, so you can easily walk over from Fort Greene). The cafe is designed with a very minimalistic approach with the rotating pastry menu on what looks like a big piece of craft paper and the coffee menu is perfectly crafted for one of the best cups of coffee in Fort Greene.
They offer both indoor and outdoor seating but the outdoor is a giant patio with long picnic tables and art on the walls.
The indoor space offers the perfect place to meet a friend or get some work done. The outdoor space has some shaded areas as well. Sandwiches are also offered later in the day and do yourself a favor and save room to order the ham and swiss with smoked ham, swiss, arugula, and honey mustard.
The Center for Fiction Cafe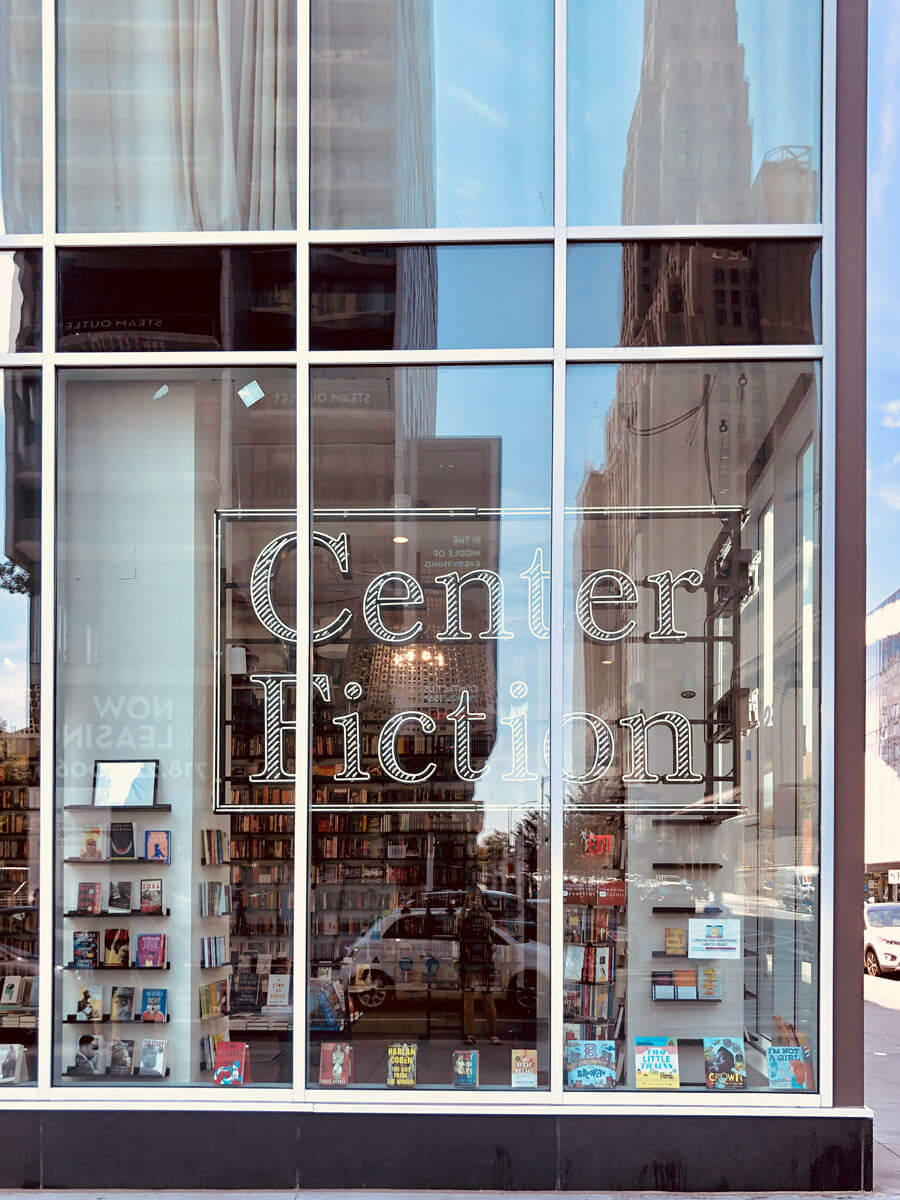 Address: 15 Lafayette Avenue
Just like Jill Lindsey mentioned above, the Center for Fiction Cafe offers a two for one; part bookstore and part coffee shop. Because you're surrounded by books, the Center for Fiction Cafe is one of the best places to get work done. They have plenty of space to get some work done or you can grab a coffee and grab through the books.
The space is light with large open windows where you can see all the books on display passing by. They also have several events throughout the week, including a quiet reading hour where you can indulge in a nice cup of coffee or glass of wine.
This is also one of our favorite independent bookshops in Brooklyn!
Head Hi
Address: 14 Clermont Avenue #1L
Head Hi has all the similar vibes to Jill Lindsey and the Center for Fiction Cafe. It is a cafe meets bookstore meets music. Music is always playing and there is always a great event taking place including musical performances, art exhibits or book launches.
The coffee is delicious and they have a great menu for breakfast, lunch and pastries that changes each time I have visited. They have both indoor and outdoor seating and are open early through early evening, making this a great place to hang with friends, catch an event or get some work done.
Calyer Cafe and Kitchen 
Address: 519 Myrtle Avenue
Calyer Cafe and Kitchen is the perfect stop for a great cup of coffee in Fort Greene. Not only do they have great coffee, they have some of my favorite sandwiches in Brooklyn. The cafe has both indoor and outdoor seating and often holds regulars posted up all day behind their laptops working away.
The coffee is all locally brewed at Partners Coffee Roasters and the sandwich ingredients are prepared in-house. The egg and cheese breakfast sandwich is the best thing on the menu followed closely by the ham and cheese sandwich that has the winning ingredient of a cranberry mostarda spread on a toasted organic ciabatta. They also have salads but do yourself a favor and stay for breakfast and lunch to try both of these delicious sandwiches.
Le Petit Monstre 
Address: 82 Washington Avenue
Le Petit Monstre comes from the same owners as Clementine Bakery, which is one of my favorite bakeries in the city and one of the best bakeries in Brooklyn. Le Petit Monstre lives up to all of the same standards. All of their pastries are delicious and they are handmade daily. Their matcha is some of my favorite around but their lattes are also incredible.
This is a great place to work or a great place to meet your friends. The shop is full of plants, adding a very nice and calming vibe. The food and coffee are amazing and it is the perfect spot to relax making it one of the best Fort Greene cafes.
Cafefornia Coffee Shop 
Address: 360 Myrtle Avenue
Cafefornia is one of the best Fort Greene cafes to work. There are plenty of indoor and outdoor seating options, lots of different menu items, including specialty coffees, pastries, egg sandwiches, and wraps. They also have some of the best tea options in Fort Greene and have very creative (and delicious) options to add to your chai tea.
Plan on staying for a while? They also have sandwiches and smoothie options and are open early till early evening. The staff is also very friendly and extremely helpful.
Best Fort Greene Cafes (Post Summary):
Bittersweet
Hungry Ghost
Baba Cool Cafe
TB Coffee House
Peckish
Jill Lindsey
Cafe Paulette
BKG Coffee Roasters
The Center for Fiction Cafe
Head Hi
Calyer Cafe and Kitchen
Le Petit Monstre
Cafefornia Coffee Shop
---
About Our Guest Author
Molly Royce – Originally from Oklahoma, I moved to NYC for grad school and have had a hard time wanting to leave ever since. There really is no better borough than Brooklyn where I live with my boyfriend and our black lab, Frankie. There's no greater city in the world and I can't wait to share my love of the city, eating, and drinking with all of you.
---
Don't see your favorite Fort Greene coffee shot on here? Let us know in the comments below, we will check them out!