Heading to Brooklyn and looking for some of the hidden gems in Gowanus? We've got you covered, if you've already been to and discovered all the other best things to do in Gowanus that are already becoming popular in this industrious neighborhood.
This guide will help you discover some of my personal favorite hidden gems in this creative and historically interesting neighborhood in Brooklyn that is becoming more and more popular with its entertainment, dining, and artistic scene.
These may not be 'hidden' to locals, but for visitors or people not as familiar with the area, you may want to add a few of these interesting points of interest to your day of exploring! If we missed one of your favorite hidden gems, let us know in the comments below! We love when our readers get involved with sharing some of their favorite spots for others to enjoy!
And if you love finding lesser-known spots and landmarks with a fascinating backstory, check out the rest of our favorite hidden gems in Brooklyn!
Be sure to also check out our favorite hidden gems in NYC while you're exploring some of these secret or lesser-known spots in the city!
Mini Doors of Dennet Place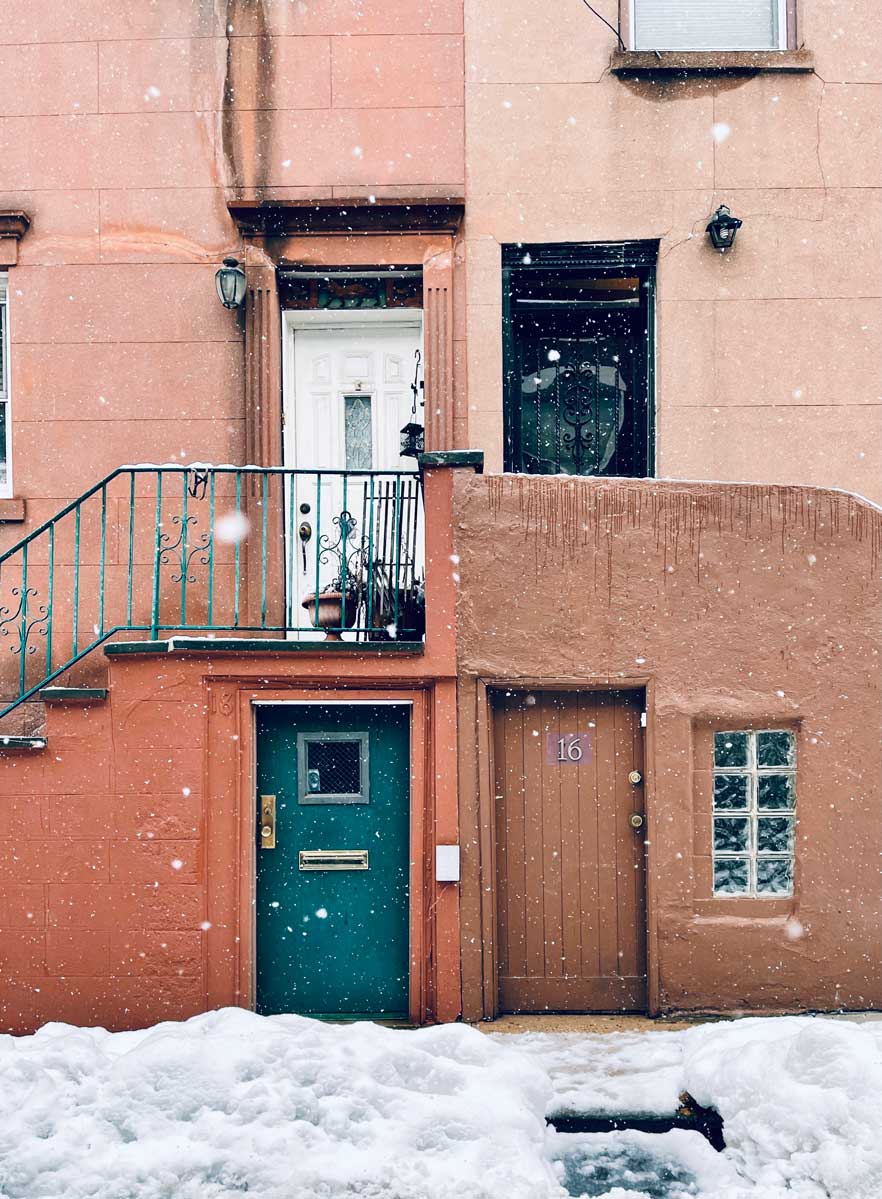 One of my personal favorite hidden gems in Gowanus and whenever walking through this area, which is pretty often, we pass through. and best things to do in Gowanus as you're strolling around are the tiny and mysterious doors of Dennett Place. This hidden lane is full of pretty homes, some of which are colorful, that all have mini doors unlike anywhere else in the city.
This street has historically been an enclave for Italian-Americans for at least a century and is nicknamed the Cat's Alley. The homes on Dennett Place are said to be where the workers lived who built the church up the street.
The mysterious small doors have other theories, one saying they were meant for easy coal storage, some say they were just less expensive, and some rumors were that people were just shorter.
Regardless of the reason, this is a little gem and this small street has a lot of character and charm!
Gowanus Batcave
A hidden gem in Gowanus with an uncertain future is the Gowanus Batcave. This former Central Power Station of the Brooklyn Rapid Transit Company along the Gowanus canal became a famous squatter and drifters paradise in the early 2000s until they were forced out and the space evolved into a space for graffiti and under the radar events.
Fast forward to 2012, when the property was purchased with the goal of turning this huge space into an art-focused spaced and is still undergoing that transformation and plans on opening in 2021 – which construction is underway currently but I have a hard time imagining it will be done anytime soon.
The current transformation is trying to keep as much of the original graffiti as possible and you can catch glimpses of it from the 4th Ave & 9th St F & G train platform.
Only time will tell what this space and local cultural gem will turn into after years of undergoing a transformation.
Carroll Street Bridge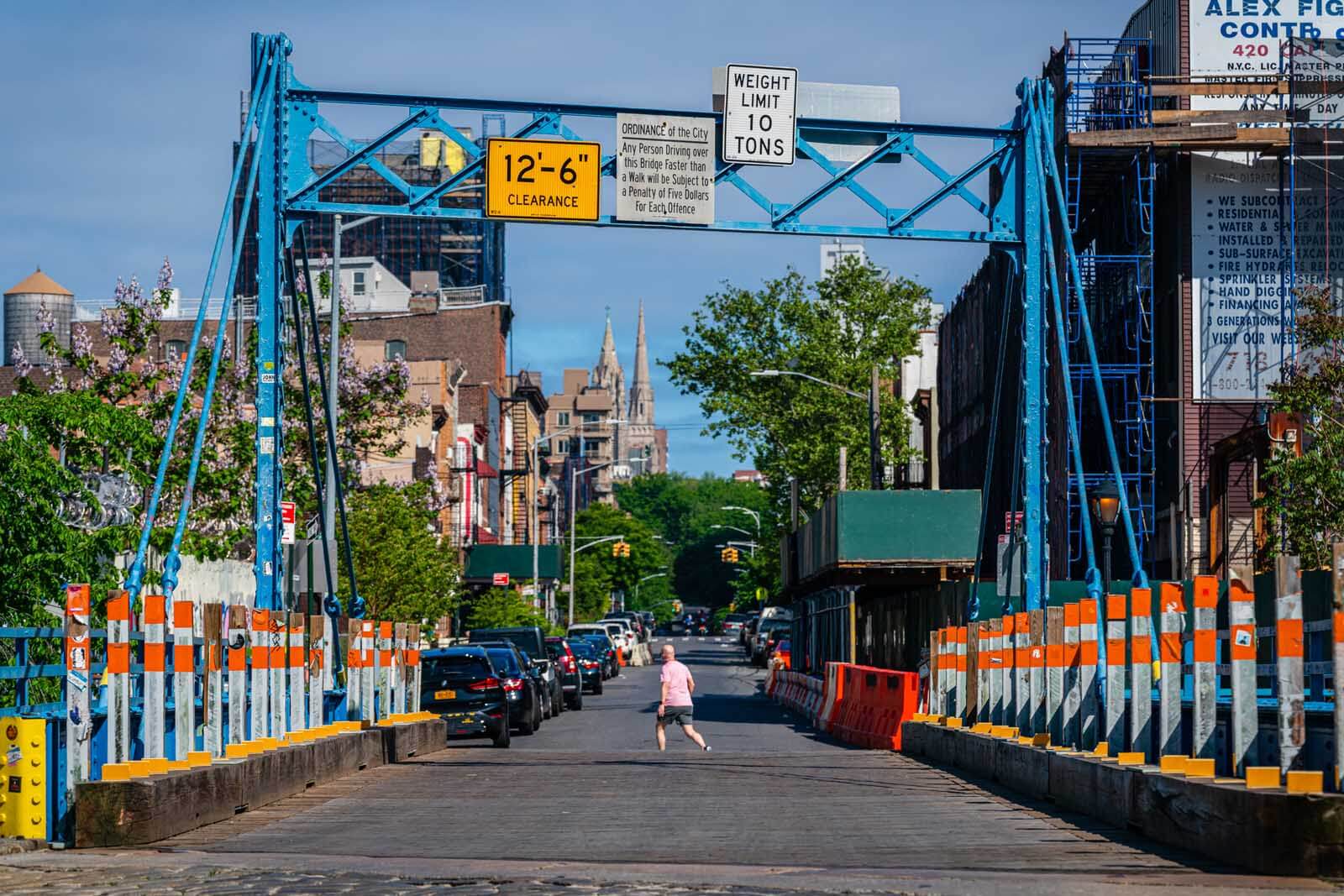 Another fascinating hidden gem in Gowanus is one of the least used New York City bridges (out of just under 800 bridges and tunnels in the city) with an average of only 1000 crossings per weekday as well as one of four remaining retractable bridges left in the country! (half of which can be found in NYC!)
This little blue, one-lane bridge from 1889 can be found over the Gowanus Canal and is a city landmark. When you cross this hidden gem in Gowanus be sure to spot the operator's house. Now that the bridge and canal aren't regularly used, there's usually no one in there. However, if you do see someone in there, that means the bridge is about to open which is a not so common occurrence!
A fun fact about the operator is that whoever is the attendant has to be able to travel to the bridge within 2 hours in case the bridge needs to retract!
Smith & 9th Street Station
One of our favorite more under-the-radar photo spots and hidden gems in Gowanus is from the subway platform of Smith & 9th Street Subway. This stop is where the F & G lines run, and also below here happens to be a Goodfellas filming location in Brooklyn too, how neat is that!
The subway platform is outdoor and elevated so you get a really unique view of the city skyline and trains and train tracks. The combo makes for the perfect leading lines to the city, making it one of the most unique views of Manhattan from Brooklyn.
We would dare to say that this is an up-and-coming Instagram spot in Brooklyn even since the skyline really just looks amazing from this platform and it screams New York City with the train in the foreground, it's already a popular spot among local photographers, my husband is often using this spot to do time-lapses from!
The Cement House
This is one of those hidden gems in Gowanus you can easily miss if you don't happen to be walking by the new Whole Foods here, a sign of the rapid gentrification happening in this area. Next to the Whole Foods at the corner of 3rd Street and 3rd Avenue is the Coignet Building.
This historic building actually is the oldest cement building in New York City built in 1873 by The New York and Long Island Coignet Stone Company Building, which was basically a living ad for this concrete company that was trying to advertise and popularize this French style of construction.
This is not only one of the oldest buildings in the neighborhood of Gowanus, but it's pretty much a commercial property that has one bedroom intact and has been up for sale multiple times and from the 1960s to 2013, the Coignet Building actually had a red faux-brick facade and started falling into disrepair.
Whole Foods bought the land surrounding this building in 2005 and in 2006 the Coignet Building was officially landmarked and became a protected site. This began the back and forth between the Historic Districts Council and Whole Foods on how much of the lot Whole Foods could build on since this is a preserved site.
In the end, Whole Foods could get what they wanted if they agreed to restore the Coignet Building to its former glory in 2014, nearly a decade after the land was purchased. According to this article chronicling the history of the Coignet Building by Brownstowner, the Landmarks Preservation Commission was able to fine Whole Foods for failing at restoring/maintaining the building.
Finally, in 2015, this architectural gem completed its restoration with a white stucco cement, which is what you see today. There's even a documentary all about this building too called At The Corner of 3rd & 3rd.
Green Lady of Brooklyn
Do you know about the Green Lady of Brooklyn? She's a social media sensation and one of those New York characters that really are why people love living in this city.
Elizabeth Sweetheart, her other nickname besides the "Green Lady of Brooklyn," loves the color green! So much in fact that her entire house is decked out in green and every outfit and sighting of her in the city she is dressed in the color green head to toe.
People recognize her from her green attire, but what people really love about her is that she radiates happiness and that's infectious! Just scroll through her Instagram and see how easily her aura can make any person smile or feel happy. There's even a separate account that serves solely as a fan page to her.
View this post on Instagram
She loves selfies with strangers and asks you to send them to her or use her hashtag when you share so she can see them and she even reposts fan art including the most adorable art from children who also love her. She's also an artist and the New York Times did a nice write-up about her.
So on the edge of Carroll Gardens and Gowanus on Nelson Street, you can pass by the famous Green Lady of Brooklyn's home, you really can't miss it once pointed out. We actually passed this several times and just thought the green door and plants were really cute and didn't think much of it until our friends said OMG that's the green lady's house!
These are the type of lovely hidden gems we like to feature! But since this is her home, please respect her privacy and don't ever disturb her home or trespass. Kindly acknowledge the green door and move on if she's not outside greeting passersby, and if you're lucky enough you might spot her walking to or from home with her dog in this area and you can have one of those in-person encounters that New Yorkers love!
Canoe on the Gowanus Canal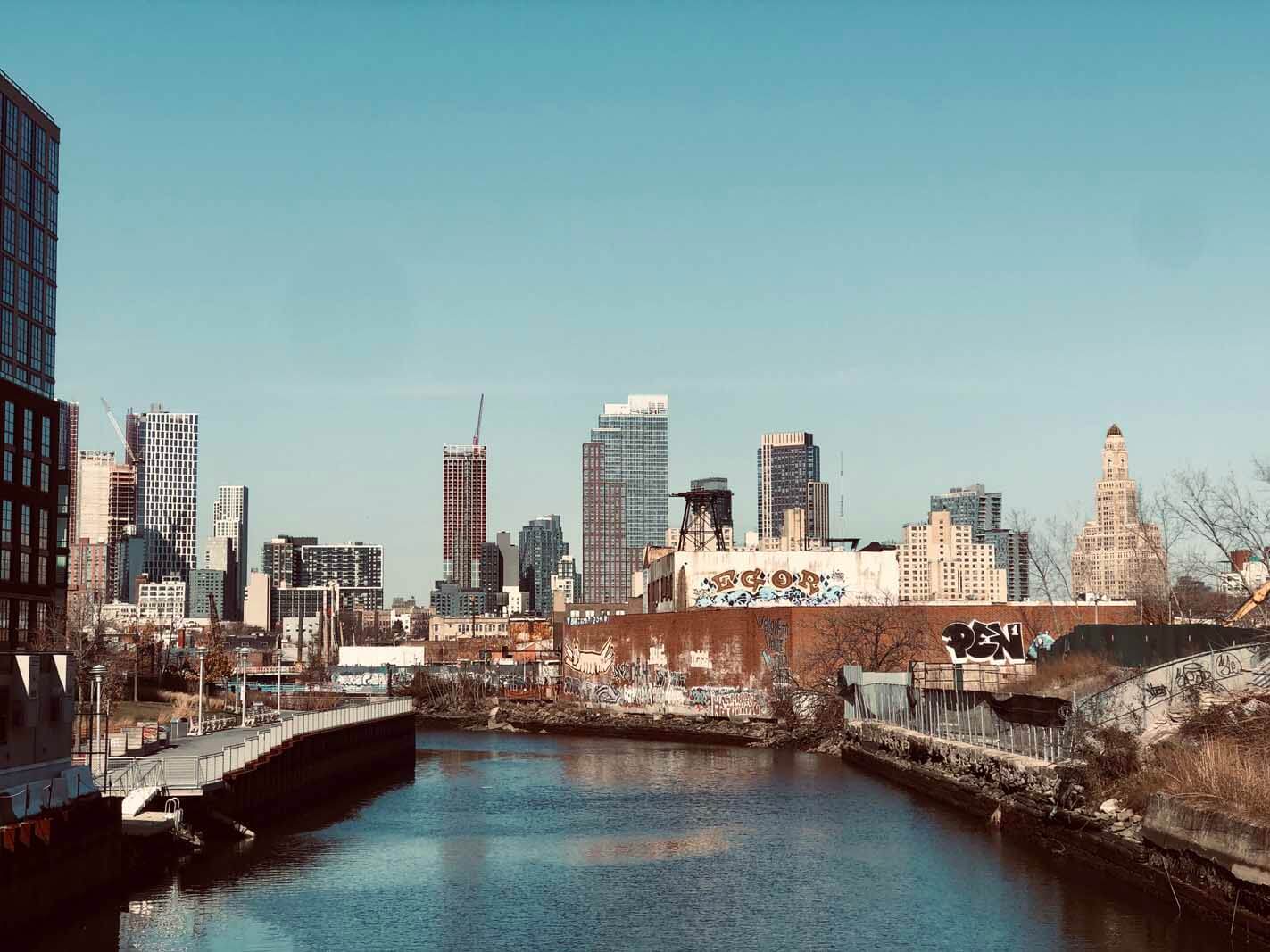 The most famous landmark and what this neighborhood is most known for is the toxic waters of the Gowanus Canal. The canal was a tidal inlet that fed into salt marshlands of South Brooklyn and was oyster-farmed by Native Americans and a strategic location during the American Revolutionary War's Battle of Brooklyn or Battle of Long Island.
During the industrial boom in the city in the mid to late 19th century, the canal became a hotbed for manufacturing plants, oil refineries, chemical plants and warehouses, sulfur producers, tanneries, and even soap factories.
All of this industry created alot of waste, much of which was toxic and without regulation much of the raw sewage and industrial waste wound up in the Gowanus Canal making it over the years a toxic and polluted body of water, so much that the toxic oil slicks that had a strong, pungent odor were nicknamed the "Lavender Lake," due to the gross discoloration that just got worse over the years.
In the early 1960s, the first efforts of trying to clean the toxic waters were put in place and some wildlife returned to the area by the 80s. But it wasn't until the 2000s until the EPA stepped up along with local legislation to help revive and clean up the canal who's efforts are still ongoing and they have seen some improvements on the canal's condition, I've even seen a crab in there when crossing the Ninth Street Bridge.
So, now that you have that little background of the Gowanus Canal, this next hidden gem in Gowanus is actually the Gowanus Dredgers Canoe Club! This canoe club offers educational paddle trips through the canal and supports the funding of cleaning the canal.
Besides doing canoe tours passing under 5 Gowanus Canal bridges, they host all sorts of events for the cause including comedy shows, painting classes, and more all from the shores of the canal!
---
Did we miss any of your favorite hidden gems in Gowanus? Let us know in the comments below!