Check out all the best things to do in Gowanus, Brooklyn, a neighborhood full of artists and entrepreneurs in a former industrial zone. You can find some of the 'local's only' and 'under the radar' gems of Brooklyn here in Gowanus from restaurants, performance venues, and other cool hangouts.
This area has been transforming over the last several years and if you were to ask someone's parents or grandparents about Gowanus they'd have a very different idea of what this neighborhood once was, not a hotbed for hipsters, artists, and the cool kids.
Since the area was very industrial, you can expect to see converted warehouses, rowhouses, and the famous canal that was once so toxic from years of industrial pollution and sewage that it had a murky 'lavender' color to it.
Those days are long gone, except for the reinvention of some of the old warehouses and industrial complexes into artist havens, galleries, event spaces, bars, and restaurants. This neighborhood is bait for the creatives and it's easy to see why.
Getting more fashionable by the year, you can find plenty of great things to do in Gowanus as well as nearby in Park Slope, Red Hook, Downtown Brooklyn, and Carroll Gardens, they neighboring neighborhoods in walking distance.
But first, where is Gowanus, Brooklyn?
For the purposes of this guide to the best things to do in Gowanus, we are going to give the neighborhood boundaries as it can get sort of tricky if you're not familiar with the area.
Gowanus neighborhood boundaries are almost a perfect rectangle spanning from the north at Baltic Street, to the south at Prospect Expressway, to the west at Smith & Hoyt Streets, and to the east to 4th Avenue.
Table of Contents
What to do in Gowanus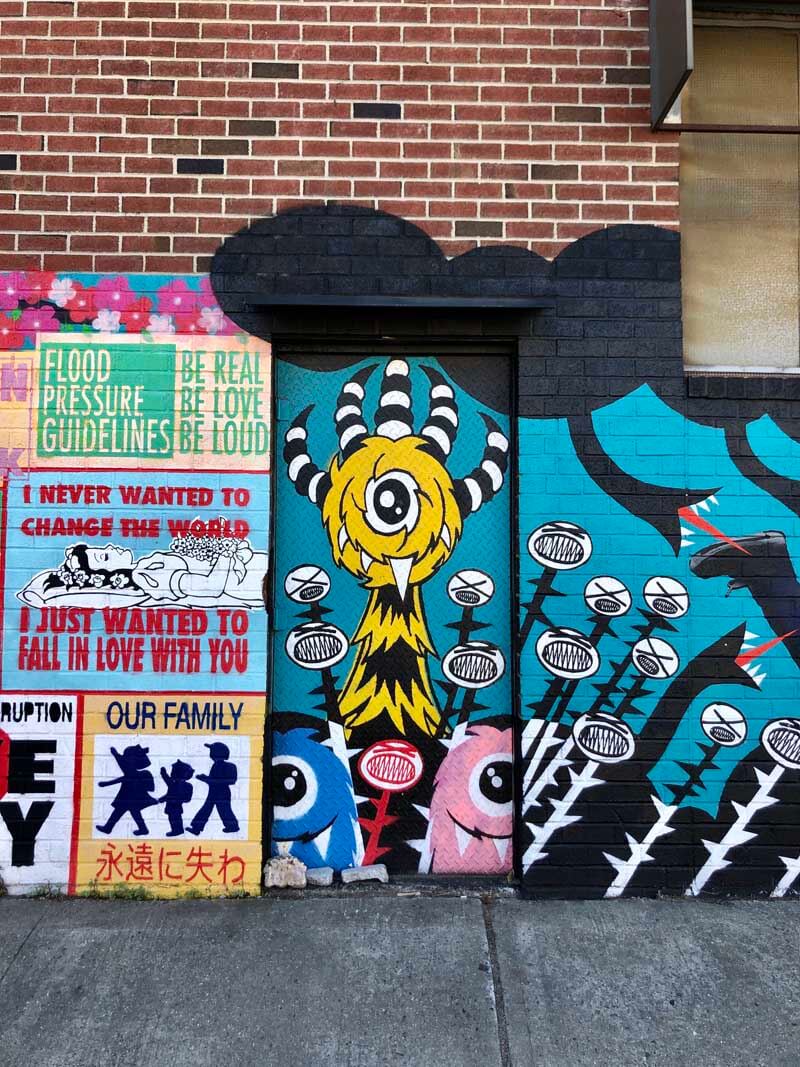 Royal Palms Shuffleboard Club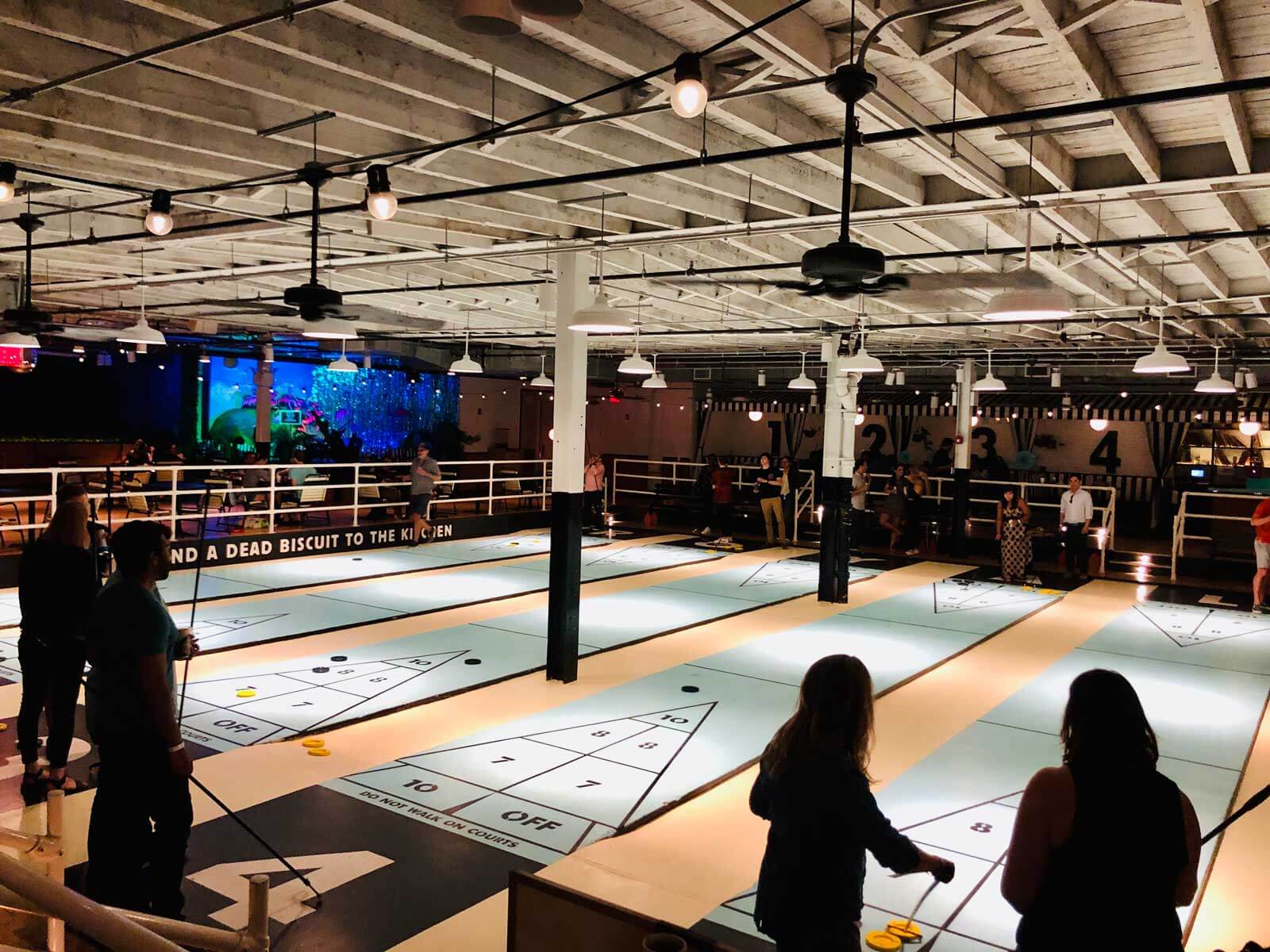 One of the most popular and fun things to do in Gowanus with a group or party, or even just a friend is Royal Palms Shuffleboard, a cool tropical hangout spot with a bar, 10 shuffleboard courts, and other games.
If you're not a fan of playing games you can still have fun at the bar watching others play and to honestly just hang out in the cool, tropical vibe they have going on here. Even the bathrooms are gorgeous with flamingo wallpaper.
Insider tip: Leagues play on Mondays & Tuesdays, so it will be harder – but not impossible – to play on these days.
Bell House
Another fun spot and one of the best things to do in Gowanus are late nights at The Bell House. This awesome bar/venue in a former warehouse in Gowanus where up and coming talent and big names perform.
Be sure to check their calendar to see any special seasonal events or what their latest music, special events, or comedy line ups are. This location also has been used to film Netflix comedy specials!
But that's not all, there are even more fun and good times going on at the Bell House. This is also the location of the Secret Science Club events, which are free, where scientists, astrophysicists, neuroscientists, and all other kinds of brainiacs do special talks and educational events where regular folks like you and me can nerd out and learn something!
Plus there's booze! So next time you want to have an elevated night out where you learn something and get to drink, check out the Super Science Club nights at the Bell House!
Read Next: 100+ Awesome Things to do in Brooklyn
Lavender Lake Bar
One of the best things to do in Gowanus if you fancy a good libation or meal is head on over to Lavender Lake. This bar, that also serves up some great food, is named after the Gowanus Canal believe it or not.
The canal was said to be a lavender murky color because of how polluted and gross the waters were in this industrial neighborhood from years of build-up and sewage. While that sounds disgusting and like a joke, the owners of Lavender Lake embrace and own their name that pokes a bit of fun at the neighborhood's old nickname.
You'll be welcomed to an inviting atmosphere and fun hang out spot with a bit of a minimalistic look. Serving up specialty cocktails, homemade sodas flavors, and great dishes from small plates to mains.
This is a very popular hangout spot on the weekends, so if you're hoping to dine you might want to come in a bit early on Saturday and Sundays so you can get a table. Also, in the warmer months, you can enjoy their outdoor patio!
Ample Hills Creamery
One of our favorite things to do in Gowanus, and in all of Brooklyn is get Ample Hills Creamery ice cream. Lucky for you, Ample Hills has locations all over Brooklyn, but one special location here in Gowanus.
Their new flagship is in the old Brooklyn Ice Cream Factory location in Brooklyn Bridge Park at Fulton Ferry Landing Pier in an old fireboat house from the 1920s, which is pretty cool. But, this location in Gowanus is a bit more spacious and features a 25-seat outdoor rooftop deck and event space!
In the warmer months you can eat your ice cream on the rooftop or in the wintertime you can rent out a cozy and intimate private glamping tent for the perfect ice cream date!
Boasting that they have the 'freshest' Brooklyn ice cream as their dairy products are pasteurized right here in NYC and they've won many awards including the #1 ice cream in the US by the Food Network – it's one of our favorites too who are we kidding?
See what the fuss is all about, you won't regret it and you may end up shipping yourself a few pints home as they can mail you your favorite flavors believe it or not!
Better yet, if you're looking for a special date night be sure to check out their Friday night comedy shows by Standup Alamode! For $10 you get two scoops of ice cream, the comedy show, and its BYOB. It doesn't get much better than that! You can buy your tickets online or show up early and buy them.
Kick Axe Throwing
Want to join in on the latest craze and trend of ax throwing? Channel you're inner Paul Bunyan (he was an ax thrower wasn't he?) and check out this next cool thing to do in Gowanus!
Inside you'll find ax-throwing pros to train you and your friends or family how to perfect your form before you're off to the battle of seeing who has the best ax throw.
What makes this place even kookier is that there's also a bar here. That doesn't sound dangerous at all.
If you're looking for a unique date spot or Sunday Funday spot we recommend checking this place out! Who knows when you're ax-throwing skills might come in handy one day.
Shapeshifter Lab
Looking for a cool hangout to listen to some live performances? If so, this is the perfect thing to do in Gowanus for you!
Started by a jazz musician and bassist, Matthew Garrison, this event space and venue offers up nightly performances of live music and experimental music.
Four & Twenty Blackbirds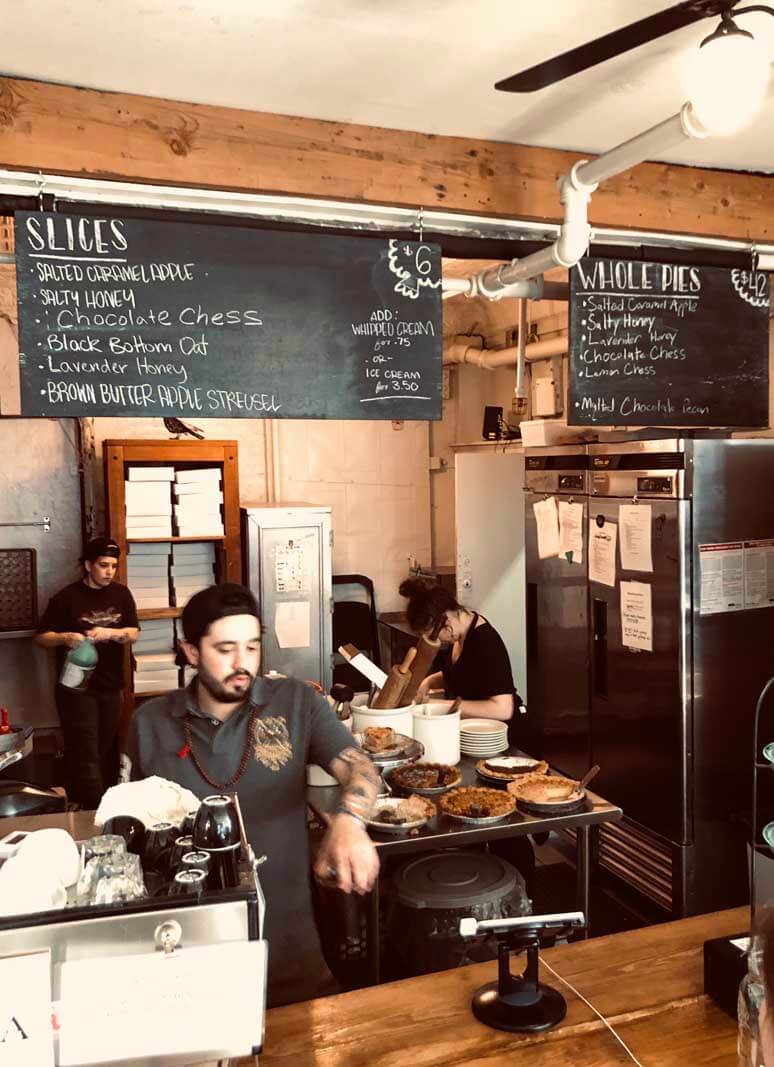 One of the most famous things to do in Gowanus, whether you're a pie lover or not, is try the famous sweets from Four & Twenty Blackbirds.
This bakery with a clever name from an old nursery rhyme, Four & Twenty Blackbirds in Gowanus and the edge of Park Slope is a pie focused shop run by two sisters who have mastered the craft of pies.
With a successful New York Times Selling Cook Book all about their pies, these ladies have taken the pie scene in the city by storm.
All of their pies feature locally sourced ingredients as well as some exotic ingredients that make some of the most unique flavors of pies you and your granny have ever heard of like matcha custard. YUM!
They also feature some classic flavors if you're not feeling adventurous, but one of their most beloved and fan favorites is their Lemon Chess pie if you're overwhelmed with choices and not sure where to start!
Threes Brewing
For more fun nightlife options and things to do in Gowanus for any beer lover, you're going to be excited about this one! Threes Brewing is one of the best craft breweries in Brooklyn offering a relaxed atmosphere and spot to enjoy a brew and socialize.
In the warmer months, their backyard patio opens up and is a popular hangout spot to have a brew. Inside, there's a cozy bar that's great for an afternoon break or an after-dinner drink.
Threes Brewing is known for its lagers, but they have a great selection of other beers to try as well.
And if you fall in love with these brews you can take a few cans home with you. We love their artwork and packaging too! Not only do they taste good but they look good too!
Other Half Brewing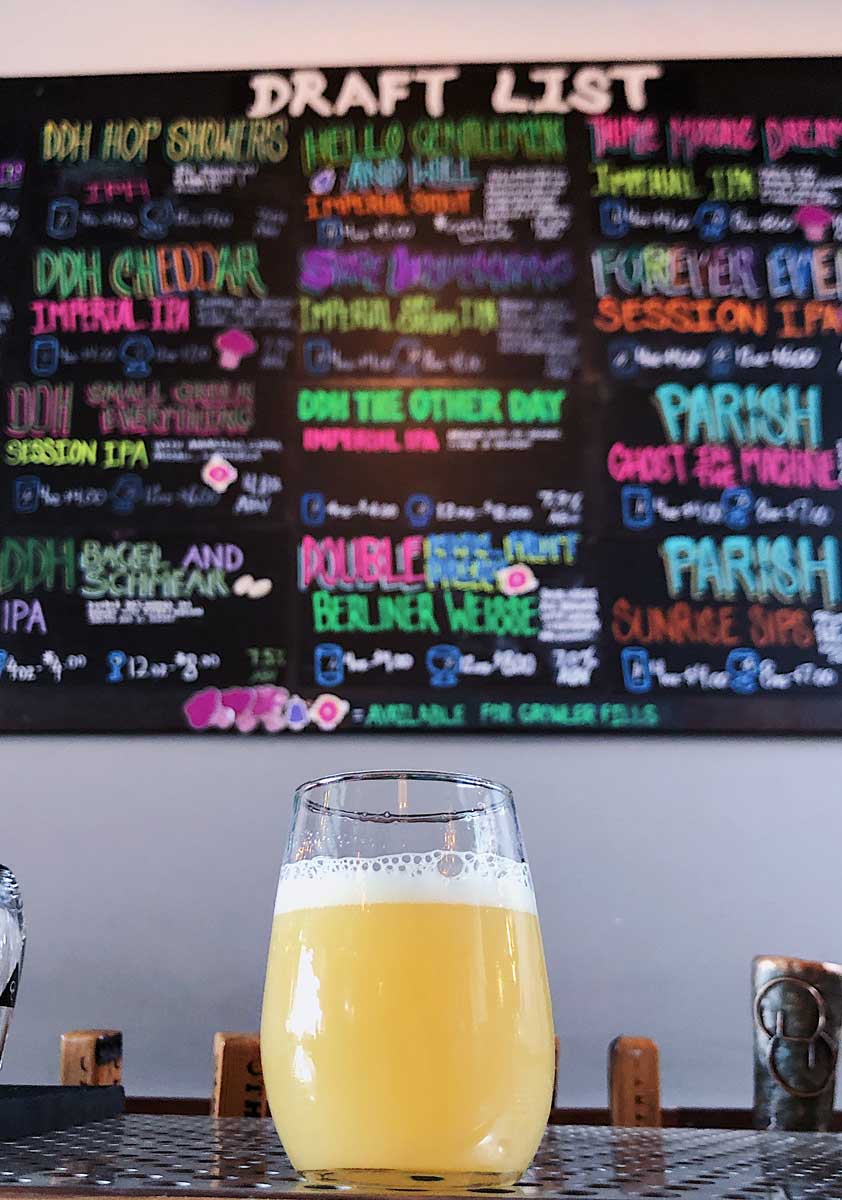 One of our favorite places to hang out and things to do in Gowanus on the edge of Carroll Gardens and Red Hook is grabbing one of the incredible beers at Other Half Brewing.
This brewery has made a name for itself not only in Brooklyn but in all of New York City with their on point craft brewing scene.
If you love a good IPA, especially hazy IPAs you're in luck as they always have a great selection of them featured on tap as well as other specialty beers and unique flavors that are always rotating!
There are nearly two dozen beers on draft here and recommend doing some tasters and a flight before committing because there are always quite a few good styles and varieties to try.
Strong Rope Brewery
Another great brewery right here in Gowanus are the English inspired ales and American brews served at Strong Rope. All of their beers are made with local New York state hops and grains to bring you the taste of Britain through their brews as well as popular American style ales.
This small brewery is not to be missed and another one of the best things to do in Gowanus for beer lovers.
Table 87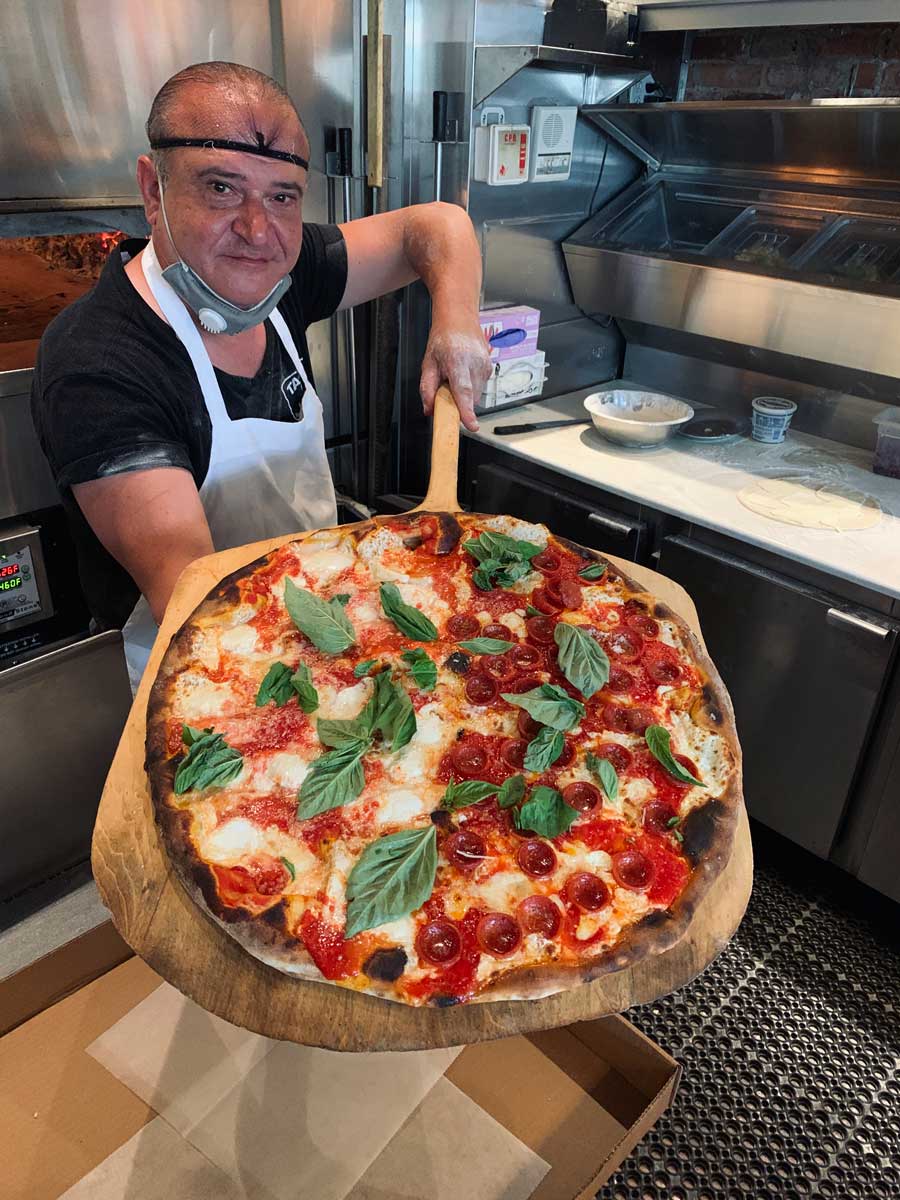 Another one of our favorite things to do in Gowanus featuring food is the incredible coal oven pizza at Table 87. Try one of the specialty Brooklyn coal oven pizzerias that are highly coveted in the city and one of the best places for pizza in Brooklyn!
The reason you find alot of the best pizza in all of NYC in Brooklyn is because coal oven pizza stoves were made illegal in Manhattan. A few pizzerias were grandfathered into keeping their coal oven pizzerias open in Manhattan because they were around before the law which is why you can find a few rare coal oven pizzerias in Manhattan, but most of them in Brooklyn!
There's something so special and unique about the flavors you get from a coal oven as well as the famous NYC pizza dough. Add some amazing toppings like burrata and roasted garlic as toppings at Table 87 and you have one of the best pizzas you'll try in your life.
A fun fact about Table 87 is that the owner made an appearance on the popular Shark Tank show where he pitched their famous pizza as frozen coal oven pizzas that could be shipped around the country! I won't give any spoilers though, you'll have to watch the episode to see how it all went down!
In the meantime, head to Table 87 while exploring all the best things to do in Gowanus, their pizza is perfection! This is also one of our picks for best picks for where to eat in Brooklyn!
Brooklyn Glass
Looking for something for you and your friends whether they are gal pals, your gang of guys, family, or lover? Check out this unique thing to do in Gowanus!
Brooklyn Glass offers hands-on classes where you can learn how to make your own glass from complex items like terrariums to more simple glass objects like shot glasses.
Never blew glass before? No worries, they offer a 5-hour hands-on workshop and class that's guided by trained professionals who are used to working with newbies like you.
Besides getting to create something with your own hands you can also watch the pros and more advanced glassblowing during your visit.
Old Stone House
One of the more historic things to do in Gowanus on the edge of where Gowanus and Park Slope meet is the famous historic landmark, Old Stone House in Washington Park.
The Old Stone House is listed as a National Register of Historic Places monument and is a restored version of a Dutch stone farmhouse built in 1699 owned by Dutch immigrants who farmed the land here and harvested oysters.
The Old Stone House was an integral part of the 1776 Battle of Long Island, or the Battle of Brooklyn, the largest fight in the Revolutionary War. On August 27, 1776, the Old Stone House was where the Americans led and commanded the fight against the British and General Charles Cornwallis.
The Battle of Brooklyn was a loss for Americans, the British won this fight and occupied Brooklyn and Manhattan for seven years to come. However, George Washington and his troops escaped the British to fight again and win the war.
In more recent history, the house was used as a clubhouse for what we know today as the Brooklyn Dodgers.
If you're one to appreciate history and historic landmarks, be sure to fit this in during your trip exploring the best things to do around Gowanus as well as the best things to do in Park Slope.
Pig Beach
One of two famous BBQ spots that almost neighbor each other and best things to do in Gowanus is eat at Pig Beach. In the summer months, you'll find this to be the outdoor BBQ hangout along the Gowanus canal where groups of people gather, drink, and eat some finger-licking BBQ.
Don't worry though, if you're visiting off season there's an indoor restaurant too! But we'd argue the best time to try Pig Beach is in the summer when you can sip on cold draft beer or frozen cocktails under the sun in this backyard BBQ place in the heart of Brooklyn's Gowanus neighborhood.
If you plan on coming in the summer on a weekend though, be prepared for the weekend crowds! You might have to be a little extra patient with trying to find a seat or spot but its worth it.
Dinosaur BBQ
The other of the famous BBQ joints in Gowanus is the popular Dinosaur BBQ which has several locations including one right here in Gowanus.
Inside you'll feel like you're in a dude's garage/workshop and you can sense that the owner is a huge fan of motorcycles and that grunge garage style. There's a fun vibe going on here which makes this one of the best things to do in Gowanus if you're looking for a fun spot to get a good BBQ meal.
Don't miss trying out their famous sauces either! This BBQ joint has been a staple in the neighborhood since 2013 with no signs of losing its popularity anytime soon, even with another BBQ spot down the street.
Littleneck
Fancy delicious seafood? This is one of our favorite spots to have a drink paired with oysters and littleneck clams from the raw bar! Littleneck, located on 3rd Ave is a seafood lover's paradise in a cozy setting with an adorable indoor dining area and a cute covered outdoor setup.
Come with a seafood-loving friend so you can sample a few things off the menu, their beer-battered fish for the fish and chips or fried fish sandwich is divine, and don't miss on the P.E.I. mussels!
I know we will be back as everything from our spread we ordered was heaven and we want to come back to try the entire menu! If you're coming on a weekend, a reservation might be a good idea but not necessary, this is easily one of the best restaurants in Gowanus.
Halyard's
Ahoy! This fun nautical themed hang out spot is one of the best things to do in Gowanus if you're looking for a great place to grab a drink with friends.
Located on 3rd Ave, this neighborhood cocktail bar has a great selection of drinks and bar bites like sandwiches and pizza including a fun indoor area and outdoor seating area with picnic tables.
Everybody Eats
This gluten-free and nut-free bakery is another great thing to do in Gowanus or check out if you're looking for a sweet treat or freshly baked bread! They pride themselves on having the best GF bread in town and focus on gluten-free, soy-free, nut-free, and sesame-free bakery offering everything from cookies to hamburger buns!
Gowanus BatCave
Another one of the unlikely things to do in Gowanus is the Gowanus Batcave. This former Central Power Station of the Brooklyn Rapid Transit Company along the Gowanus canal became a famous squatter and drifters paradise in the early 2000s until they were forced out and the space evolved into a space for graffiti and under the radar events.
Fast forward to 2012, when the property was purchased with the goal of turning this huge space into an art-focused spaced and is still undergoing that transformation and plan on opening in 2021.
The current transformation is trying to keep as much of the original graffiti as possible and you can catch glimpses of it from the 4th Ave & 9th St F & G train platform.
Only time will tell what this space will turn into after years of undergoing a transformation – which is already underway!
Black Mountain Wine House
What's been considered by some as a 'hidden gem' in Brooklyn is our next pick for best things to do in Gowanus on the edge of the Carroll Gardens neighborhood line. This rustic hangout makes you feel as though you've escaped the city for the countryside or the mountains with its cozy interior.
This experience is the perfect place for a romantic date or meeting for anyone looking for great spot for some great wine and light bites with some conversation.
Finding this intimate and cozy spot can be difficult as there's no signage, just what looks to be a log cabin in the middle of the city.
Public Records
One of the best things to do in Gowanus if you're a vegan or love music or are both is check out Public Records. This venue/music space doubles also as a vegan restaurant.
By day you can enjoy the cafe, bar, and vegan restaurant and by night you can check out one of the live performances. This isn't a place though that you come to get buzzed, their cocktails are on the lighter alcohol side and they also feature many non-alcoholic drinks as well to make the experience fun without alcohol having to 'fuel' the good times.
Public Records consider themselves a hi-fi record bar and sound room creating a unique music venue that breaks all the traditional rules including promoting a healthy night out free of any animal products and very low alcohol consumption.
They also have an array of eclectic musical offerings for those sticking around to the evenings for a show. Also, if you love vinyl, check out all the best record shops in Brooklyn!
Read Next: The Best Instagram Spots in Brooklyn
Brooklyn Boulders
Looking to get physical and do something a bit adventurous in Brooklyn? Check Brooklyn Boulders as one of our top picks for things to do in Gowanus that checks off both of those boxes.
Enjoy rock climbing indoors at Brooklyn Boulders and put your body and strength to the test. They dub themselves as a 'hybrid rock climbing and fitness facility,' or in layman's terms its a really fun community and indoor rock climbing spot in Gowanus!
There are some weightlifting areas inside but the real draw here is the impressive giant indoor rock climbing space that can be enjoyed all seasons of the year.
Littlefield
Need some laughs or some fun performances? This performance venue is an awesome pick for things to in Gowanus for those late night laughs or other shows right here in Brooklyn.
Littlefield has actually made a huge name for itself and relocated within Gowanus to a larger venue on Sackett St after a successful Kickstarter campaign. That's how you know its a community and local favorite hang out spot!
You can find comedy, music, dance, and other types or artistic performances, events, and even competitions.
L Train Vintage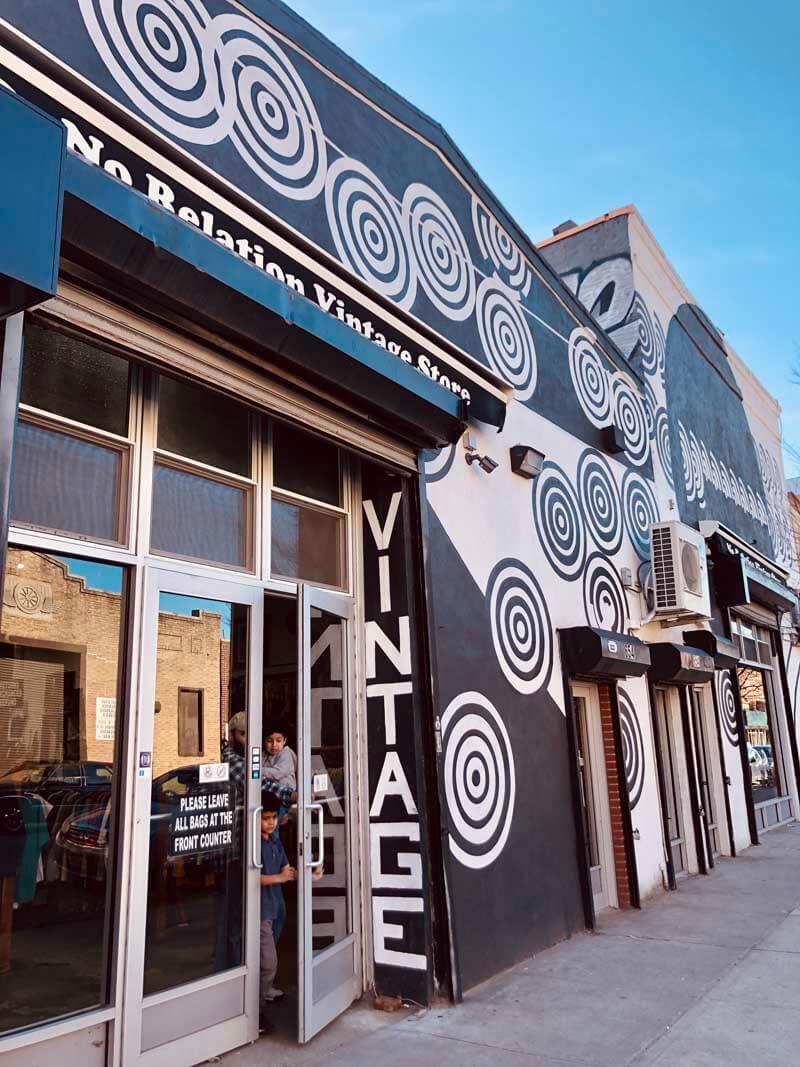 Love finding vintage treasures or thrifting? Check out L Train Vintage, one of the best second hand, thrifting spots, and vintage stores in all of Brooklyn.
There are several locations around the borough actually, this is just one of them. Most of the locations, with exception to this one, are located off the L train.
Their team prides itself on their buyers who travel the US to find the best vintage finds and sell them in their locations for reasonable prices.
Citywell Brooklyn
View this post on Instagram
Looking for a relaxing oasis in the city? This hidden backyard spa in Brooklyn is one of the best things to do in Gowanus. This boutique bathhouse on President Street and 3rd offers a completely relaxing and rejuvenating space with outdoor hydrotherapy, massage services, steam rooms, hot tubs, outdoor firepits, and luxury showers.
Sway in a hammock in this screenfree space, be sure to browse their different package options and reserve your spot in advance.
The Small Doors of Dennett Place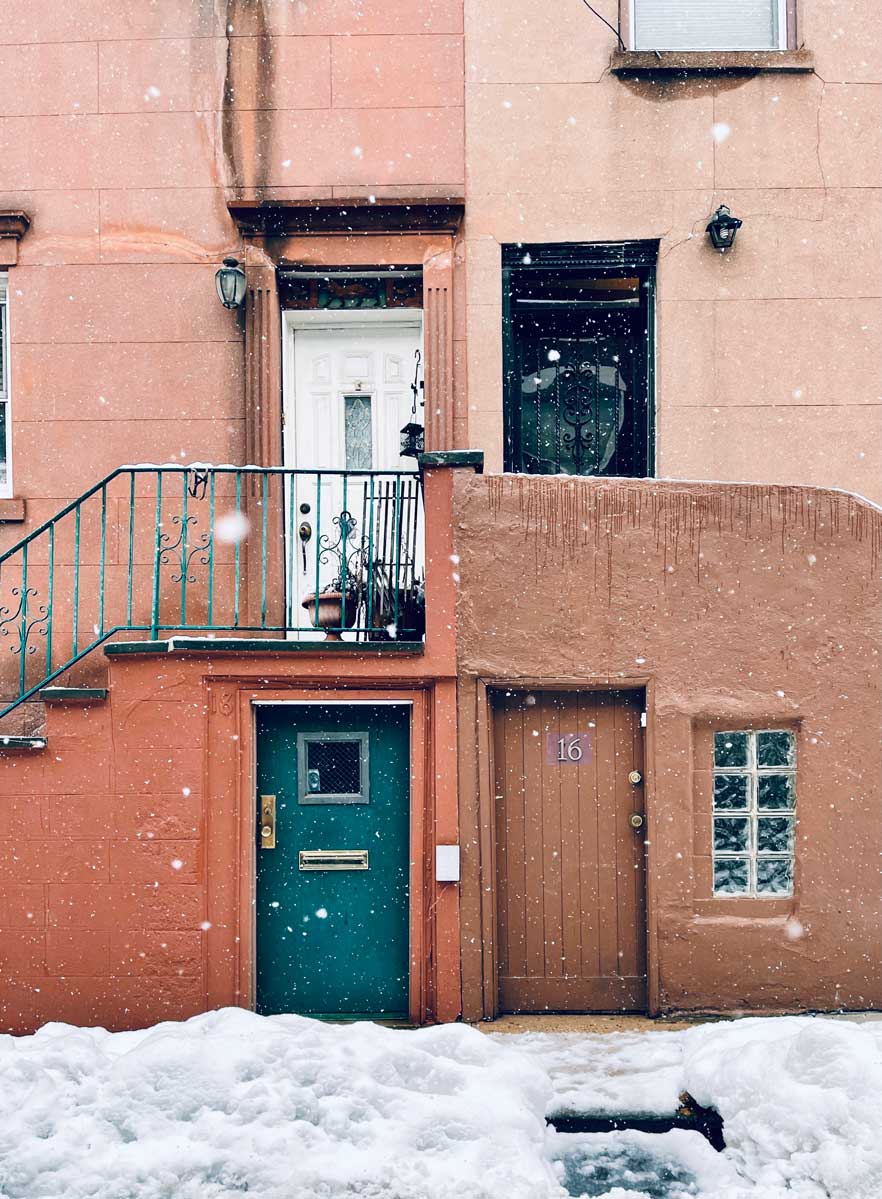 One of my personal favorite hidden gems of Brooklyn and best things to do in Gowanus as you're strolling around are the tiny and mysterious doors of Dennett Place. This hidden lane is full of pretty homes, some of which are colorful, that all have mini doors unlike anywhere else in the city.
This street has historically been an enclave for Italian-Americans for at least a century and is nicknamed the Cat's Alley. The homes on Dennett Place are said to be where the workers lived who built the church up the street.
The mysterious small doors have other theories, one saying they were meant for easy coal storage, some say they were just less expensive, and some rumors were that people were just shorter.
Regardless of the reason, this is a little gem and this small street has a lot of character and charm!
From Here to Sunday
One of the best things to do in Gowanus is to check out this nifty gifty shop for unique items from artists and even Gowanus inspired merchandise!
In the location of what used to be the Gowanus Souvenir Shop, From Here to Sunday sells really cool items from t-shirts, enamel pins, prints, to fragrances and candles for the home.
This is also where you can find some really unique NYC souvenirs or Brooklyn souvenirs too made by local artists!
Read Next: Amazing Brooklyn Boutiques & Gift Stores in Brooklyn
Carroll Street Bridge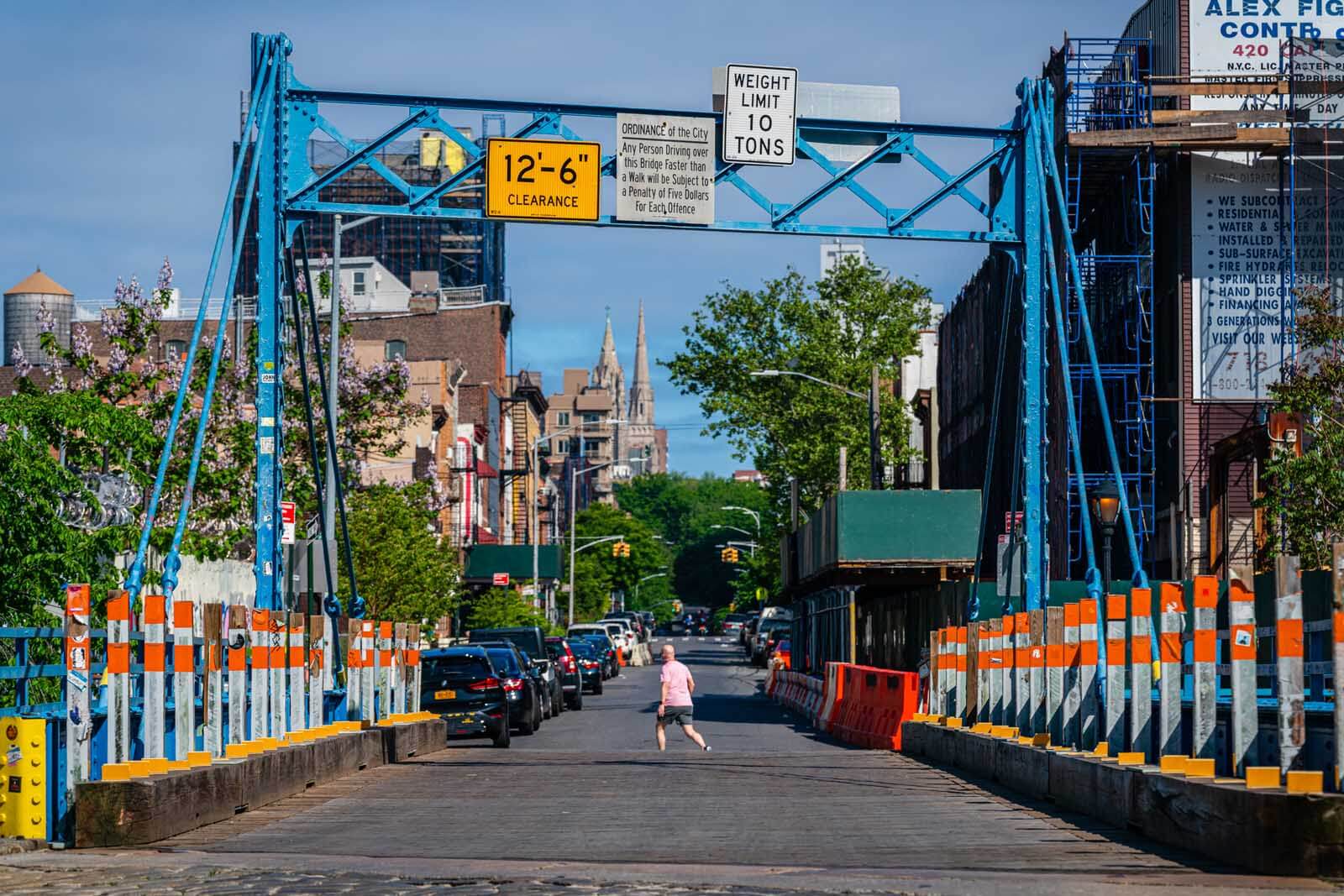 While exploring the best things to do in Gowanus, especially if you're on foot, is check out one of the least used bridges in NYC (out of just under 800 bridges and tunnels in the city) with an average of only 1000 crossings per weekday as well as one of four remaining retractable bridges left in the country! (two of the four can be found in NYC!)
This little blue, one-lane bridge from 1889 can be found over the Gowanus Canal and is a city landmark.
When you cross this hidden gem in Gowanus be sure to spot the operator's house. Now that the bridge and canal aren't regularly used, there's usually no one in there. However, if you do see someone in there, that means the bridge is about to open which is a not so common occurrence!
A fun fact about the operator is that whoever is the attendant has to be able to travel to the bridge within 2 hours in case the bridge needs to retract!
Bond Street Coffee & Goods
Another awesome place to hang out and thing to do in Gowanus is grab a cup of coffee from Bond Street Coffee & Goods.
Serving up seriously good coffee by Damico Coffee that's locally sourced in Red Hook, you can find a full menu of great coffee drinks, great pastries, breakfast, and lunch all in their cool, spacious hangout space.
Head around the corner to their wine shop too!
Things to do Nearby Gowanus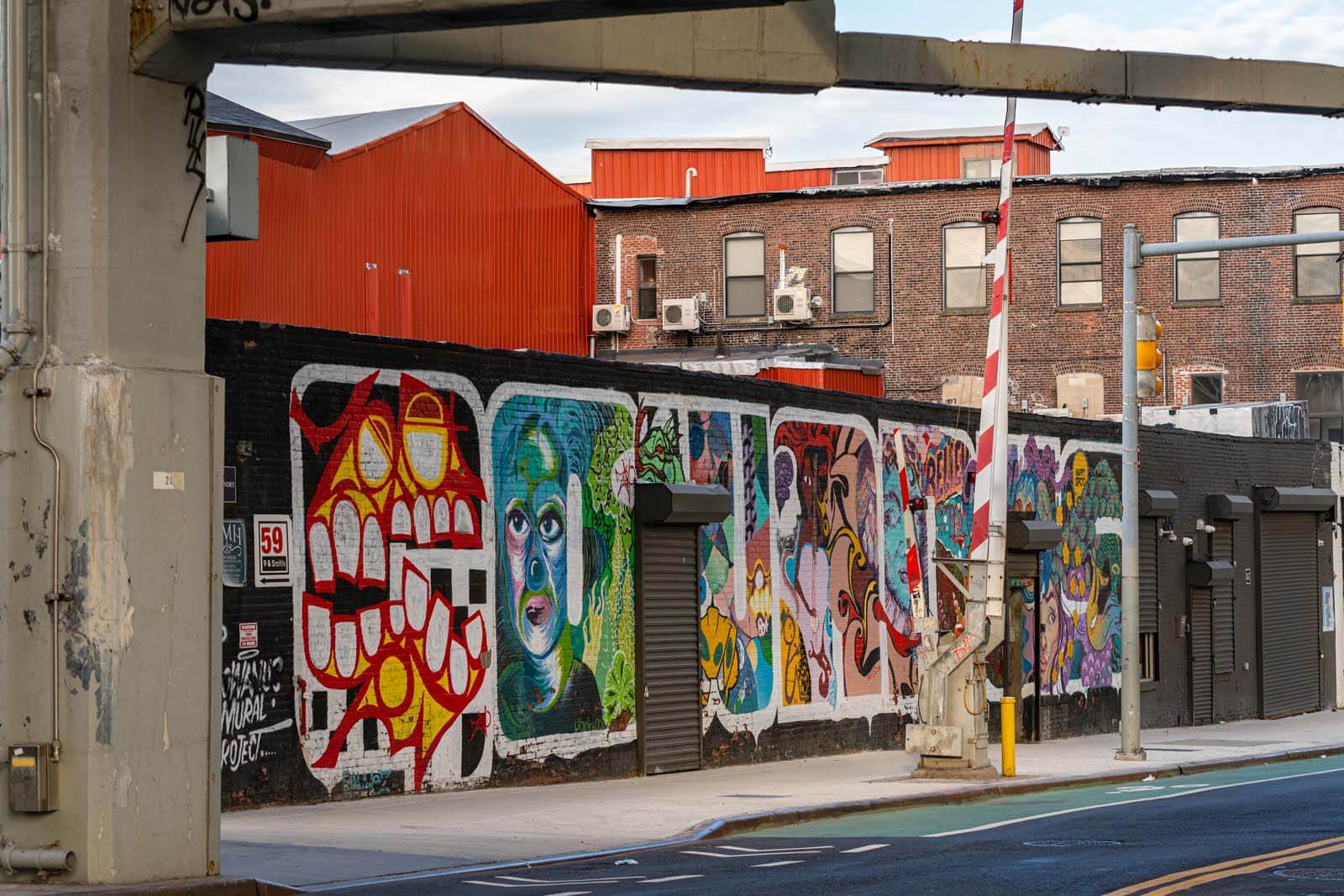 While there are alot of amazing things to do in Gowanus, there are also amazing things to do in the nearby neighborhoods we thought were worth mentioning!
Red Hook
Located next to Gowanus is the neighborhood of Red Hook which also has some great places to eat and things to see including some of the best views of the Statue of Liberty Brooklyn has to offer!
Explore the cool cultural and artist center Pioneer Works, learn about the history of the New York Harbor at the Waterfront Barge Museum, or shop for vintage jewelry at Erie Basin to name a few, and see our full guide to best things to do in Red Hook to plan your visit.
Industry City
Located nearby, another one of our top picks for what to do in Gowanus is visit nearby Sunset Park where you can find Industry City. Industry City is the result when artists and creatives get ahold of a decaying industrial manufacturing complex.
Here you can find a mecca of art, murals, shopping, eating, drinking, and playing! Industry City is one of the newish to Brooklyn and rapidly expanding and growing in popularity!
This space is a warehouse complex that houses incredible places to eat from the Japan Village, a market place for all types of Japanese food and even a grocery store, to a food court and restaurants ranging from BBQ to Korean, bars, coworking spaces, artisan workshops and boutiques, and art installations.
We love the art installations and murals they have commissioned out to artists from all over the world, from small spaces outdoors and indoors to giant paintings covering the entire building like the vibrant colorful mural by artist Camille Walala's piece.
In the warmer months you can hang out in their outdoor spaces which are just as jaw dropping as the rest of the place. There's something for everyone here.
Park Slope
One of the best areas to explore near Gowanus is Park Slope. Considered one of the most desirable neighborhoods to live in the city with gorgeous tree-lined streets, stunning brownstone homes, shops, cafes, restaurants, and more.
See our complete guide for best things to do in Park Slope to help you plan your activities and exploring around this area!
Carroll Gardens
Another cool and quiet little neighborhood near Gowanus is the beautiful Carroll Gardens full of pretty boutiques, cute restaurants, and gorgeous brownstones.
We recommend grabbing a sweet brunch at Buttermilk Channel, shop vintage records at Black Gold, try egg ice cream at Brooklyn Farmacy & Soda Fountain, try ice cream made with Indian spices at Malai, play board games all day at the Brooklyn Strategist board game cafe with friends, shop antiques at Yesterday's News, or grab a beer at our favorite brewery Other Half Brewing Company.
See our guide to the best things to do in Carroll Gardens and BoCoCa for more ideas.
Dekalb Market
Another awesome thing to do near Gowanus is Dekalb Market at City Point. The Dekalb Market is a foodies dream featuring over 40 vendors serving up cuisines from all over the world and even places to grab a drink.
From classics like Katz Deli to the local cult following ice cream parlor Ample Hills Creamery you can find satellite locations of some of the most iconic places to eat in the city as well as other tasty vendors.
There are all kinds of food for every budget, which makes this a great spot to go eat if you want you and your friends to have tons of options.
We also recommend checking out Alamo Drafthouse on the upper level of City Point. This movie theater is a one of a kind cinema experience with a full-service menu and bar while you enjoy your film from a cozy leather chair. They have great food as well and an impressive beer list.
Also, inside Alamo Drafthouse check out The House of Wax, a cocktail bar and rare collection of turn of the century wax collection featuring the anatomy of the body. The collection was called Castan's Panopticum from Berlin from 1869 until 1922 when it hasn't been seen since put on display here!
Barclays Center & Atlantic Avenue
Located at what we consider the start of Park Slope's 5th Avenue is Barclays Center and Atlantic Avenue where you can find tons of sporting events, concerts, and other events all at the edge of Gowanus.
The giant indoor arena home to the Brooklyn Nets basketball team, New York Islanders NHL team, and concert venue.
Around the outside, you have the Atlantic Terminal Mall with shops and restaurants. Consider checking out an event or game while you're here.
Getting Around Gowanus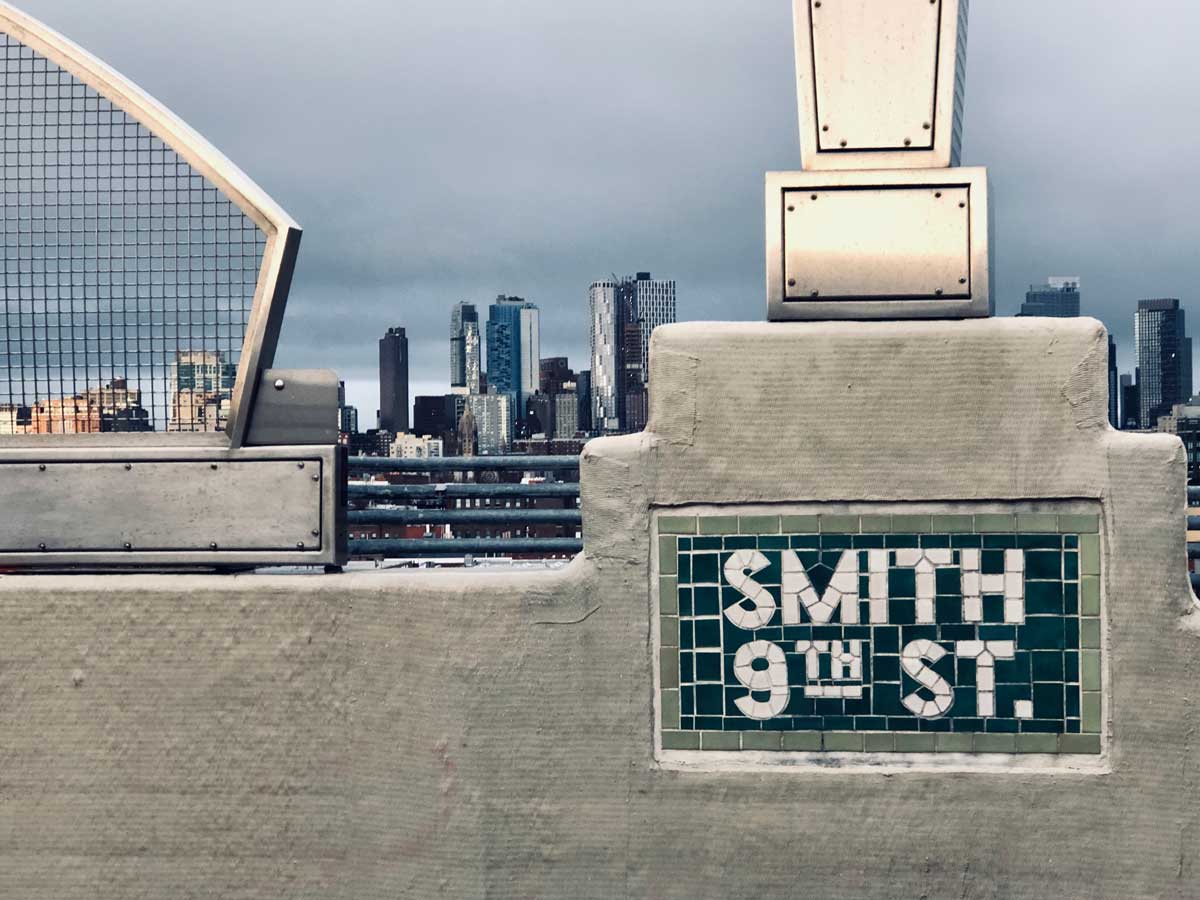 Getting around to all the best things in Gowanus couldn't be easier. Pretty much all there is to do in Gowanus is walkable distance, but if you want to cover alot of ground we recommend using the Citi Bike app to rent bicycles to get around, or you can always walk!
Citi Bike is just as easy, simply download the app and enter your details. Then on the map in the app you can find your nearest docking station, there are a few in Gowanus just a few blocks away from eachother. For single rides you get the bike for 30 minutes, for a day pass or annual pass holders you get the bike for 45 minutes before having to redock.
When you're done, check the app for the nearest docking station with openings and return your bike.
The subway is another option. There are four main stops surrounding the perimeter of Gowanus including 4th Ave, Smith – 9th Street, Union Street, and Carroll Street Station.
4th Avenue Station runs the F, G, and R lines.
Smith – 9th Street Station runs the F & G lines.
Union Street Station runs the R line.
Carroll Street Station runs the F & G lines.
Where to Stay in Gowanus
Looking for where to stay in Brooklyn during your visit? See our entire guide by neighborhood and budget to help you pick the best area to stay in or choose one of these Gowanus hotels below.
Hotel Le Bleu
Hotel Le Bleu is a great, quiet location on the edge of Park Slope and Gowanus. This Art Deco Hotel offers sophisticated and comfortable rooms with free self parking. There is a beautiful terrace with a lovely view of Brooklyn on the property as well as a 24-hour business center. The location is great and is located just a short walk from the 4th Ave subway station.
Book Now on Booking.com | Compare Prices for Later on Hotels.com | See Rates on Expedia.com
Fairfield Inn & Suites
One of the best locations and hotels to explore all the best things to do in Gowanus is the Fairfield Inn & Suites on 3rd Avenue. Besides being uber close to the giant event venue Barclay's Center, you're just steps away from the doors of Three's Brewing and Brooklyn Boulders as well as a short walk to Union Street Station.
Enjoy their bright and comfortable rooms with city views. Breakfast is included and there's a gorgeous rooftop garden offering a great place to bring some food or just sit with a great view of Downtown Brooklyn.
Book Now on Booking.com | Compare Prices for Later on Hotels.com | See Rates on Expedia.com
What to Bring to Brooklyn
See our full what to pack for Brooklyn guide for more ideas!
This Pacsafe Shoulder Bag slings over your body and is the perfect size to carry your day essentials while exploring Brooklyn. This lightweight bag has anti-theft features so you can enjoy Brooklyn with ease of mind with Pacsafe's anti-theft patent products whether you're in a crowded area or on the subway.
This Pacsafe Anti-theft Backpack is another essential for Brooklyn or any city trip. This backpack has a patented anti-theft design with lockable zippers and slash-proof material in this sleek and comfortable designed backpack.
Avoid high tech thieves with this 15 pack of RFID blocking sleeves that doesn't require you to buy a special travel wallet, you can carry your favorite purse, wallet, or backpack by simply putting your credit cards and sensitive information in these RFID blocking sleeves.
Upgrade your wallet with this RFID Blocking Wallet by Pacsafe is the perfect pick. Always have your identification, bank cards, and credit cards protected from high tech thieves with this RFID blocking wallet in this sleek and slim design.
One of the best ways to keep valuables safe when you travel is this Portable Safe by Pacsafe. This is ideal when you're hotel has a safe that is too small for your belongings, with it's sleek and compact design so it doesn't take up much space in your luggage offering maximum security with its stainless steel wire mesh covered in a piece of cut-resistant canvas fabric. You simply lock this portable safe to a secure fixture in your hotel room when you leave.
This iPhone crossbody case is perfect for sightseeing as you can easily grab your phone for that perfect photo moment on the fly as well as keep your phone secured to your body and safe from pickpockets!
We recommend Allbirds Women's Wool Runner as well as the Allbirds Men's Wool Runner for an everyday walking shoe that's breathable, comfortable, and feels like you're walking on clouds. Your back and feet will thank us later, plus they are all the rage in the city at the moment.
A good reusable water bottle is one of the best things you can have in your day bag or on you at all times, plus New York City has some of the best drinking water in the country, cut back on single-use plastic and have a good reusable water bottle for your trip.
Don't leave the house without a good power bank. Don't spoil your fun exploring all the fun neighborhoods and things to see in Brooklyn by having your battery die on you. If you're anything like me you'll be using your phone to take photos, navigate, and post to social media while you're exploring.
When it comes to the city, this weather is not forgiving and you don't want to get caught out and about in the rain without an umbrella. That's why we recommend this compact wind resistant travel umbrella for what to pack for Brooklyn.
Are you a sensitive sleeper? A good pair of earplugs are essential for your Brooklyn or city trip, especially if you're not from a big city.
---
Found this guide to the best things to do in Gowanus helpful? Bookmark for later or share the love below on Pinterest!