Ready to explore all the best things to do in Victorian Flatbush and Ditmas Park? Check out one of the most desirable neighborhoods to live in Brooklyn that feels more like a rural suburb than the heart of the city with its collection of giant historic homes, great location, and multi-cultural community that make up one of our favorite places to explore and easily one of the best walks in Brooklyn.
You won't find many tourists in Victorian Flatbush and Ditmas Park, but as a local, we must say its one of the best places to explore that's often used for filming locations and full of historic New York City Landmarks as well as sites on the National Register of Historic Places. Dating back to the early days of Brooklyn during the days of Dutch colonization, this is one of the oldest parts of New York City.
This historic and picturesque neighborhood is full of different cultures including the Caribbean, South East Asia, and Pakistani communities that make this one of the best foodie spots in the city for global cuisine.
But first, where is Victorian Flatbush and Ditmas Park in Brooklyn?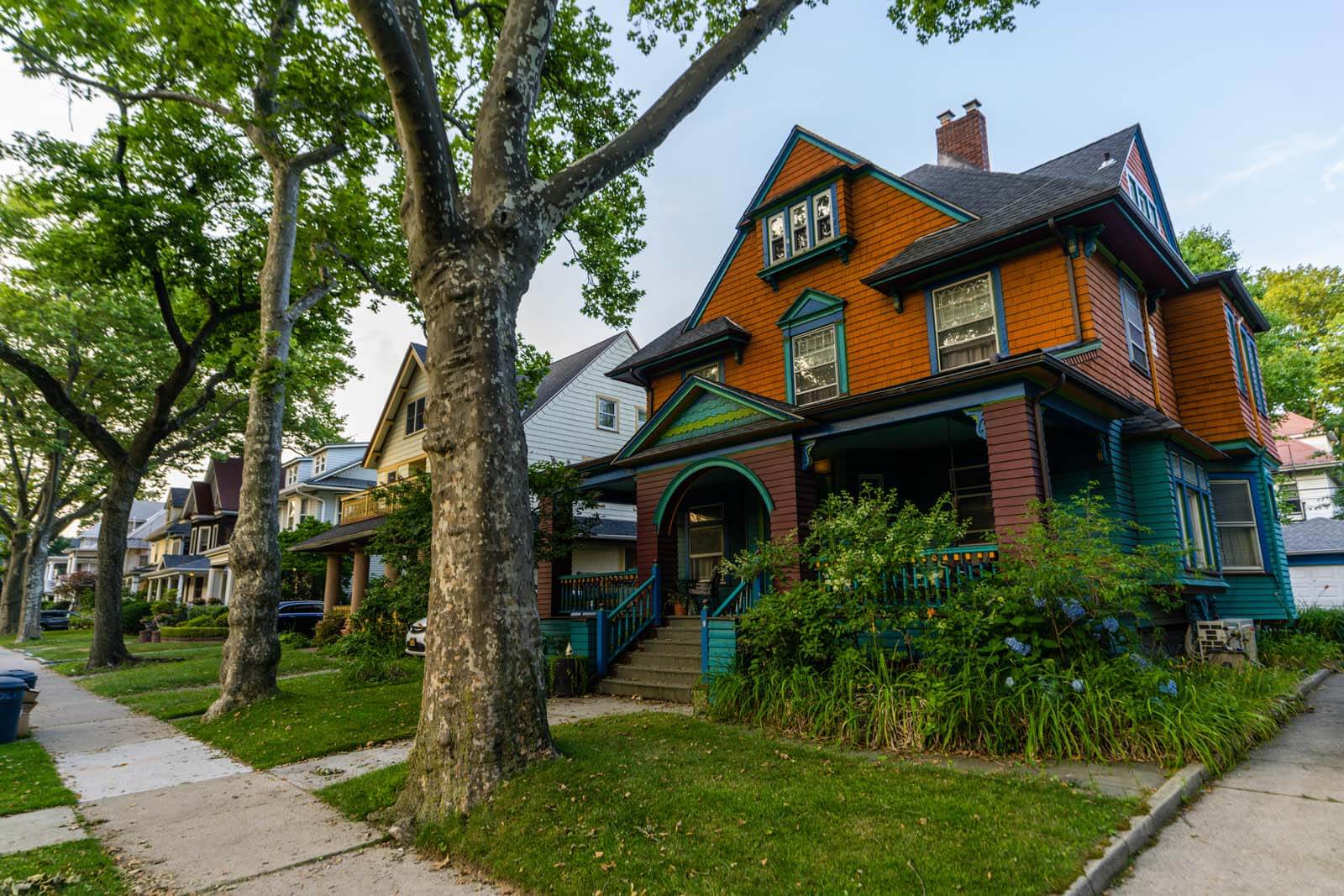 Victorian Flatbush is a bit of a confusing place to figure out the neighborhoods and delineation, but we are going to do our best here to explain for the purposes of this explorer's guide!
Victorian Flatbush includes 11 sub-neighborhoods within itself including Prospect Park South, Ditmas Park, Ditmas Park West, Beverley Square East, Beverley Square West, Caton Park, Fiske Terrace, Midwood Park, West Midwood, South Midwood, and Albemarle and Kenmore Terraces located in 100 square blocks.
Victorian Flatbush, which many think of as Ditmas Park, even though that is just one of the many neighborhoods that make up Victorian Flatbush is actually the western section of the Flatbush neighborhood in Brooklyn.
Most of Victorian Flatbush is centered around Cortelyou Road.
Getting to Victorian Flatbush & Ditmas Park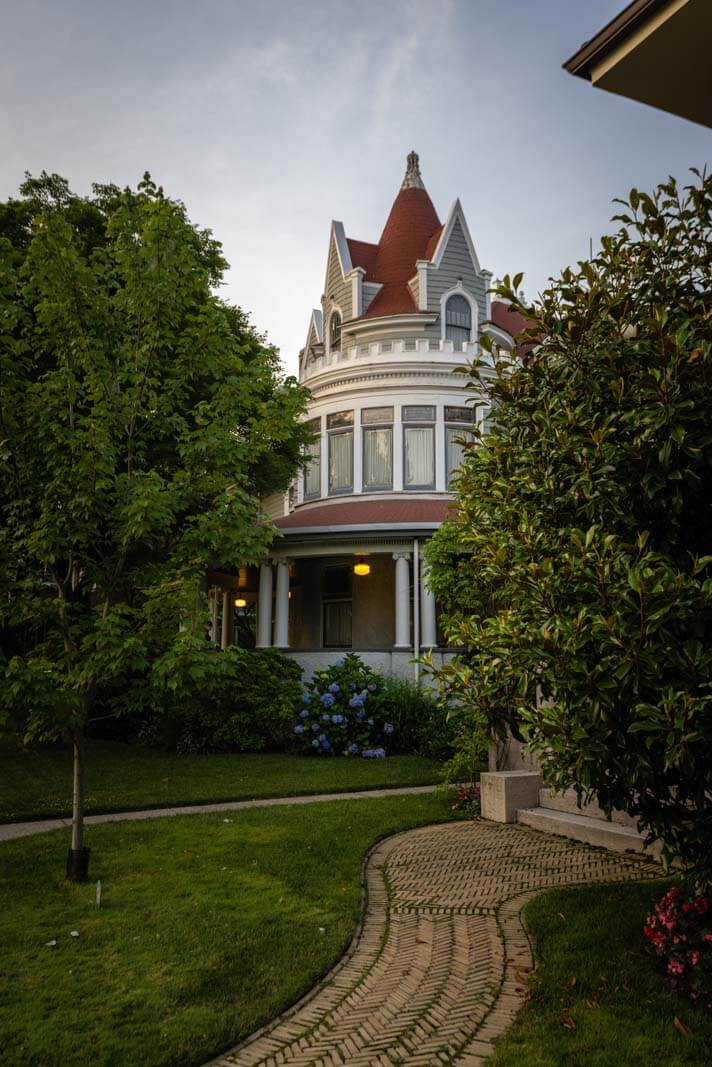 Getting to Victorian Flatbush and Ditmas Park to explore couldn't be easier using the subway. Here are the subway stops that service the area.
Church Ave Station: Q train at all times and by the B train on weekdays only
Beverly Road Station: Q train
Cortelyou Road Station: Q train
While we do recommend using Citibike in most of our Brooklyn guides, that is not an option when exploring south of Prospect Park. If you are biking to Victorian Flatbush or Ditmas Park you will want to check with your closest docking station for Citibike on the app that has available spots to park your bikes and finish the rest of your journey on foot or subway.
Background of Victorian Flatbush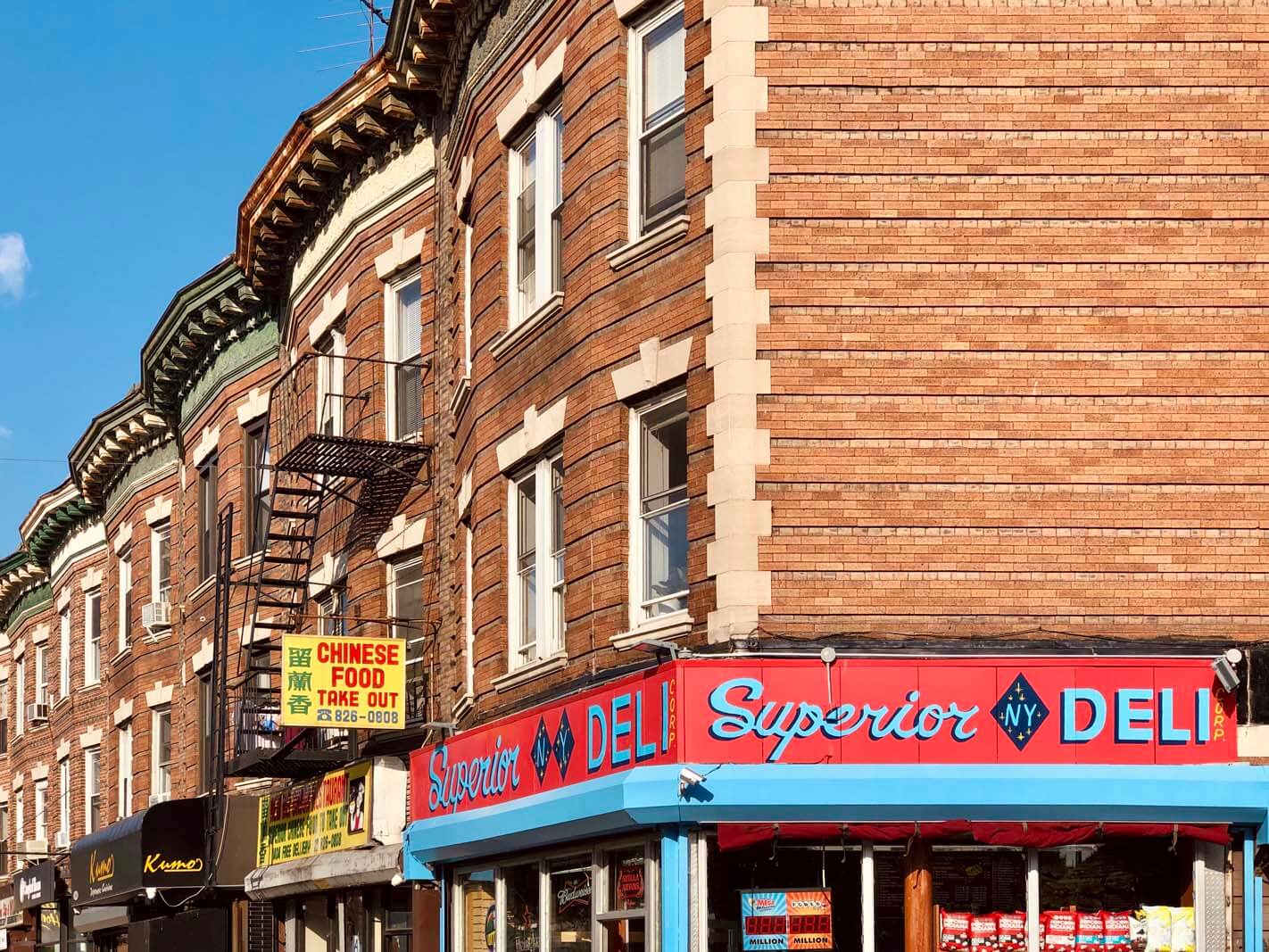 Brooklyn Heights might be the country's first suburb, but not in the modern way we view suburbs today. Victorian Flatbush on the other hand is the first suburb in the United States that is like the suburbs we recognize today throughout the country. Beautiful tree-lined streets with giant homes all with their own yard, parking garage, and some even with picket fence.
Victorian Flatbush is located on land that was originally a part of the colony of New Netherland dating all the way back to 1651 during Dutch colonization of New York City when this area was mainly used as farmland, Brooklyn as a whole was used as farmland.
The Victorian Flatbush and Ditmas Park part of Brooklyn literally has hundreds of years of history from the early Dutch colonization days to modern city history of growth and development in the city and some of the battles that come along with it.
In the late 19th century, developers soon changed the actual landscape of this neighborhood. Victorian Flatbush would soon become a suburb with mansions in all kinds of different styles of architecture from English Tudor, Queen Anne, Swiss Chalet, to even Japanese pagoda inspired homes all in one neighborhood that was easy to access public transportation, green spaces like Prospect Park, and Manhattan with trains available footsteps away from the homes built here.
Developers carefully designed a space that was easy to market to those looking accessibility to the city, the parks, and also have a slice of paradise for themselves removed from it all and be in it all in just a short period of time.
Today when you explore both Ditmas Park and Victorian Flatbush that you can see the lure to living here in the city, even to this day and is considered where you can find the largest collection of wooden Victorian-era homes in one neighborhood in the US.
Victorian Flatbush has five New York City Historic Districts that are landmarked and protected for historic preservation, even though the blocks or streets between them are not. The protected areas include Albemarle-Kenmore Terraces, Prospect Park South, Ditmas Park, Midwood Park, and Fiske Terrace.
You can easily tell which are landmarked by the street signs, if they are brown-colored that means they are protected as a historic district not only here in Victorian Flatbush and Ditmas Park but in the entire city.
The other areas that make up Victorian Flatbush that aren't officially protected under historical designation are Caton Park, Beverley Square West, Beverley Square East, Ditmas Park West, West Midwood, and South Midwood. All of these all have the same aesthetic and styles of giant homes even though they are not under historic landmark protection as of yet. (Some are working to change that)
Besides the elaborate homes, America's first suburb as we know it, Dutch colonization and farmland history here you can also find Victorian Flatbush to be home to different communities including the Caribbean, Haitian, Jamaican, Pakistani, African American, and Latino all living around here making it not only a gorgeous place to explore but where you can find some really great cuisine coming from the different influences of communities generationally tied to the neighborhood.
Read Next: 100+ Best Things to do in Brooklyn
Things to do in Victorian Flatbush
Admire the Homes
Within 100 square blocks, you can find the world's highest concentration of Victorian homes including other gorgeous styles of architecture including Japanese Cottage, Colonial Revival, English Tudor, Greek Revival, Swiss Chalet style, and more. Walking up and down the historically landmarked (and non landmarked) streets is easily one of the best things to in Victorian Flatbush and Ditmas Park, for a moment you might question yourself and wonder if you're really in NYC.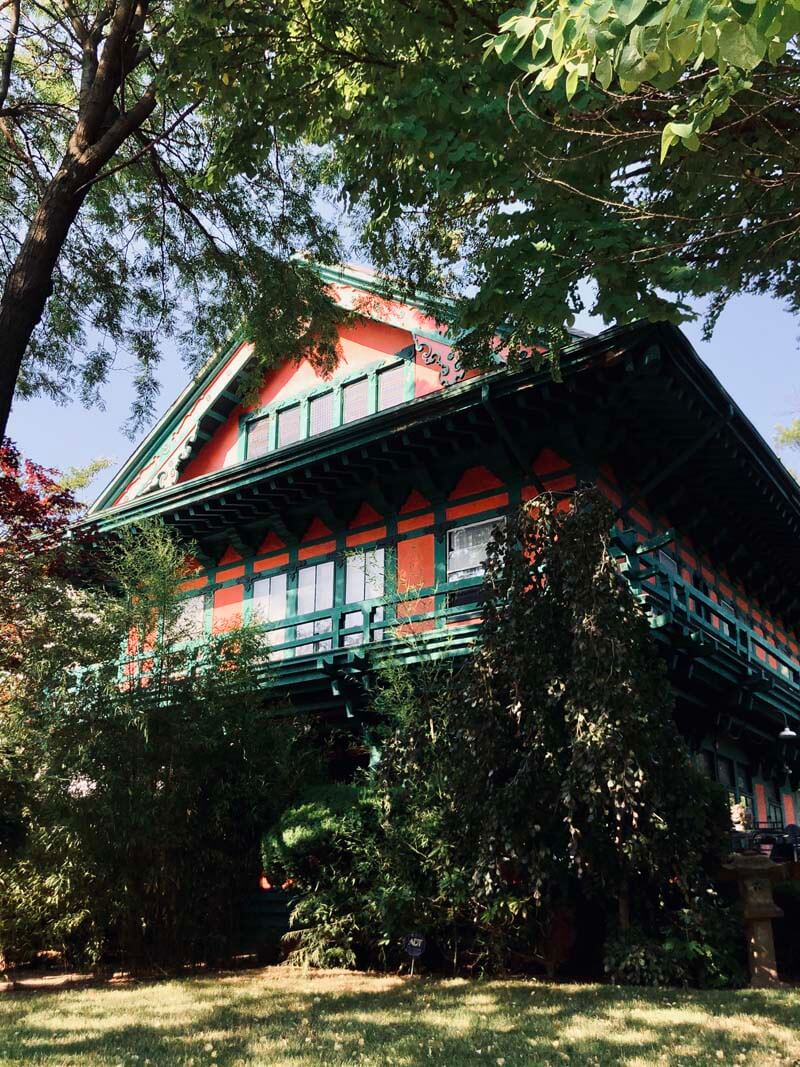 We recommend walking down Buckingham Road where you can see the Japanese House, which is rumored to offer private tours and visits for a fee.
Walk down Albemarle Road where you can find the famous home that actress Michelle Williams bought, put heavy restoration work into, and sold at 1440 Albemarle Road. You'll also notice the beautiful malls along Albemarle Road, the tree-lined and landscaped medians with gardens and patches of grass where you'll find locals relaxing or hanging out on in beautiful weather.
We also recommend walking up and down Marlborough Road, Rugby Road, Westminster Road, and Beverley Road for starters but recommend just planning on having at least an hour or so to just walk up and down the streets and enjoy the quiet, tree-lined streets with magnificent homes.
Visit Famous Train Stops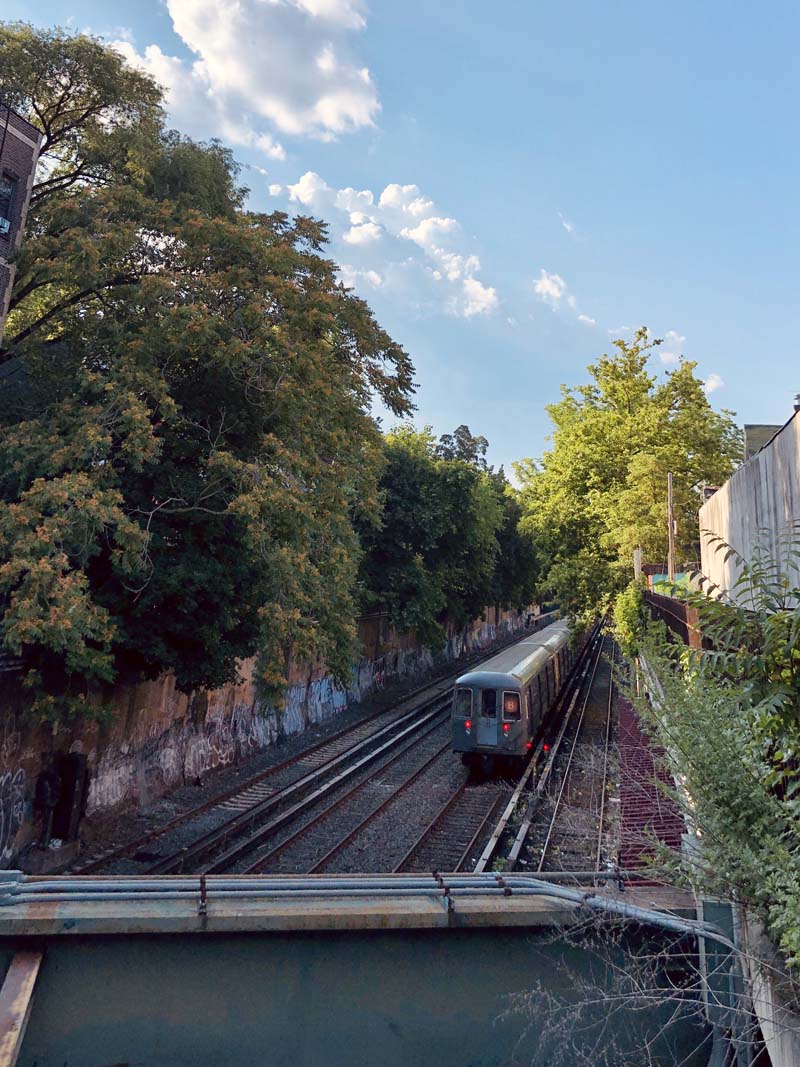 Another one of the unique things to do in Victorian Flatbush and Ditmas Park is visit the two closest subway stops in the entire city on the Q line, Beverly Road Station and Cortelyou Road Station.
While this may not seem like that exciting, you can actually see the train from the platform at the next station if you use the train here, or if you're just walking along the street we thought this was one of the more interesting subway stops in the city to photograph because of the narrow trench the tracks are in below the road.
These two famous subway stops in Victorian Flatbush are just one block apart from eachother. They were put in place by developers who wanted to market the neighborhood as being extremely 'accessible' meaning you would only be a few steps from the train to get to the rest of the city.
Fun Fact: Both of these stations are still using the original stationhouses dating back to 1907. Both of these stops were opened in 1900 and were street level, it wasn't until 1907 that the trenches were built to lower the tracks to how they are today.
Learn About One of the Most Famous School's in the City
View this post on Instagram
Even though Erasmus Hall High School is permanently closed, it's still one of the most famous schools in the city which was the education house for many prominent people throughout history as well as being located in a gorgeous building that looks like a castle and is one of the best things to check out in Victorian Flatbush.
Erasmus Hall is one of the oldest schools in the entire country, founded in 1786 and even was funded by our country's very own founding fathers including Alexander Hamilton himself and even Aaron Burr.
Famous attendees of this school include singers like Barbara Streisand Neil Diamond, Joesph Barbera of Hanna-Barbera cartoons, actress Mae West, chess legend Bobby Fischer, Moe Howard of the Three Stooges, and other celebrities and high profile names in sports, writing, acting, science, and politics.
As mentioned, this is no longer a school but Erasmus Hall High School is a designated New York City Landmark and is also on the National Register of Historic Places and offers an educational museum about the school's history from opening to closing in 1994 due to years of poor test and academic scores when the school was divided into 5 smaller schools in different facilities.
King's Theater
Love arts and entertainment? Visiting the restored King's Theater is another one of the best things to do in Victorian Flatbush and Ditmas Park in Brooklyn hosting all types of entertainment options from performance arts, comedy shows, musical performances, and other live performances in this historic theater.
Originally known as the Loew's Kings Theater as one of 5 Loew's Wonder Theaters in the city who opened its doors in 1929 and operated as a movie theater until 1977.
This building sat vacant for years and deteriorated before the 5-year renovation and reopening of the theater as a performing arts venue in 2015. During the renovation, the King's Theater was added to the National Register of Historic Places.
It was rumored, the original Robert Morton pipe organ that was installed in the theater when it opened may return back to the King's Theater after being sold off to a private family after the theater's closure in the 1970s. However, due to reinstallation and shipping costs being too high, they were unable to successfully bring the original and legendary pipe organ back to the theater.
If the history of King's Theater in Victorian Flatbush interests you, be sure to check out the documentary film, "Memoirs of a Movie Palace."
Flatbush Reformed Protestant Dutch Church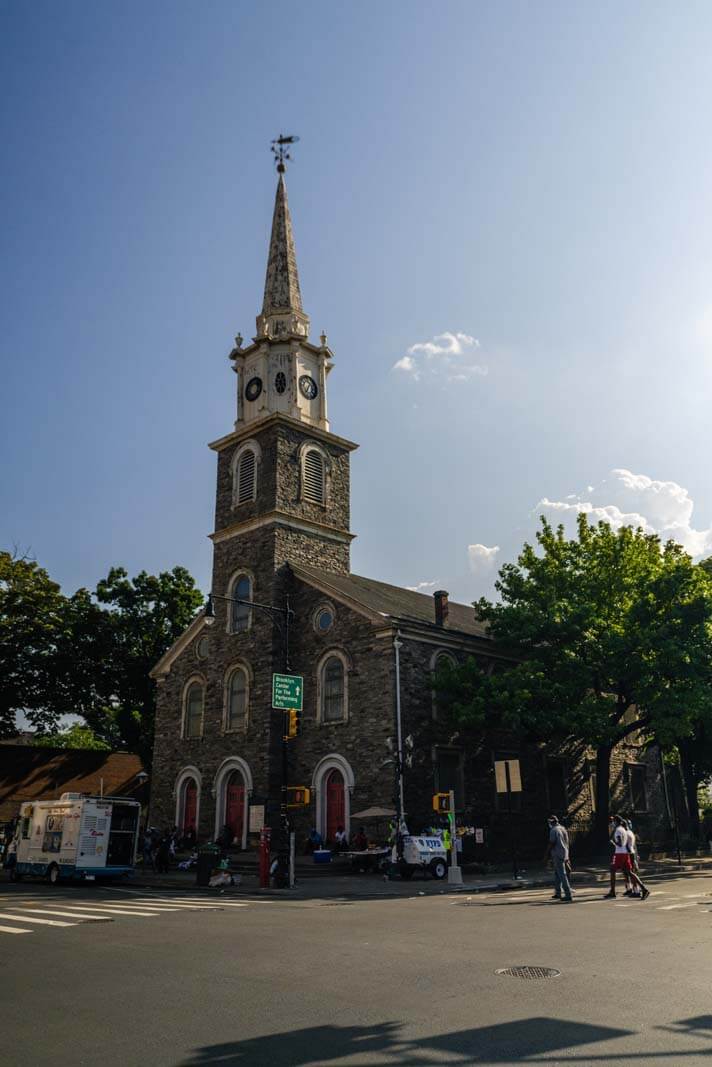 Surprise, another historic spot and thing to do in Victorian Flatbush and Ditmas Park in Brooklyn. The Flatbush Reformed Protestant Dutch Church or Flatbush Reformed Church dates back to the 1790s, but the ground where the church is on has been a place of worship since the Dutch colonization days in 1654.
The church you see today is the third to be on this site constructed from 1793 to 1798.
Not only is this one of the oldest religious establishments in Brooklyn, but the Flatbush Reformed Church is also home to one of the oldest cemeteries in the entire city and contains the gravestones and remains of some of the earliest and original settlers on the grounds.
American soldiers who fought in the Battle of Long Island (aka the Battle of Brooklyn) during the Revolutionary War are said to be buried on these ground as well.
The entire holy complex predates the history of the United States by a century and consists of the cemetery, church, and parsonage. The church and complex is also is a designated New York City Landmark and is also on the National Register of Historic Places.
Prospect Park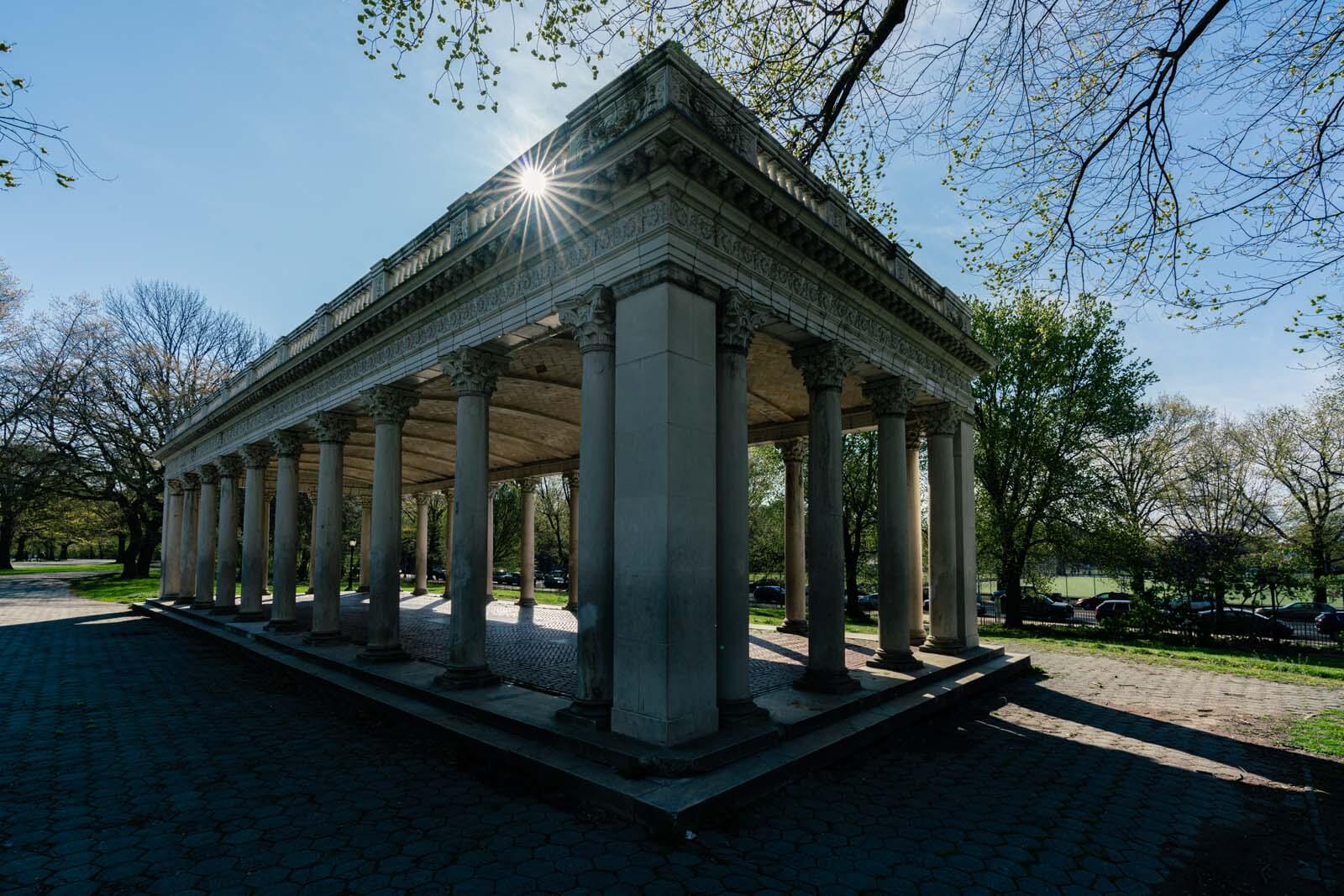 Easily one of the best parts and things to do in Victorian Flatbush and Ditmas Park is its proximity to Prospect Park, the most famous park here in Brooklyn designed by famous architects Frederick Law Olmsted and Calvert Vaux who also designed Central Park in Manhattan. The history of Prospect Park is fascinating, but there's so much more.
There are plenty of things to do in Prospect Park, and we recommend spending time exploring the gorgeous landscape on the trails, structures like the Boathouse, waterfalls, lawns, and other attractions in the park that draw visitors and make it a local's playground all year long, even in the winter there are amazing activities to enjoy like Prospect Park ice skating!
Victorian Flatbush and Ditmas Park are closest to the south end of Prospect Park, hence one of the more popular neighborhood names of Victorian Flatbush being Prospect Park South. You can find the south end of Prospect Park Lake here as well as the Prospect Park Peristyle close by.
We personally find that this area of the park tends to be less crowded than other parts of the park which is a perfect Brooklyn tip if you're visiting on a summer weekend.
Victorian Flatbush is also close to the Parade Ground of Prospect Park where you will find sports fields and a snack bar.
Try a Tour of Victorian Flatbush & Ditmas Park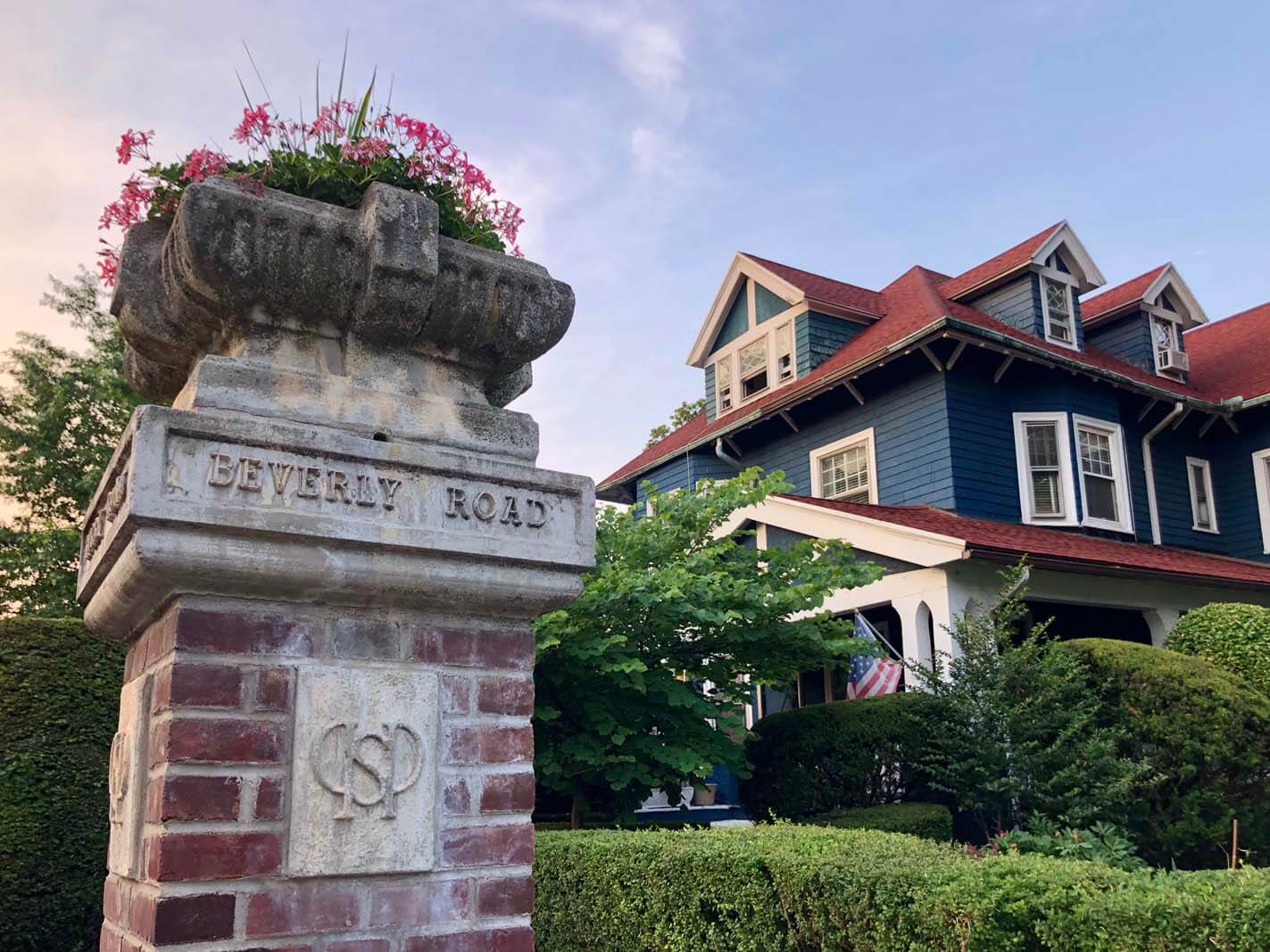 If you're anything like us, one of the best ways to explore a neighborhood steeped with history is by joining a tour, which is why we picked this walking tour as one of the best things to do in Victorian Flatbush.
This 2-hour walking tour will cover the Victorian Flatbush and Ditmas Park neighborhoods as well as some of the most prominent mansions and learn about some of the historic landmarks that make up this neighborhood.
Check out and book your tour here.
Enjoy the Global Food Scene
Last but not least, one of the best things to do in Victorian Flatbush and Ditmas Park is enjoy the array of incredible eateries this neighborhood and the surrounding area have to offer.
Victorian Flatbush and Ditmas Park have a community blended with different cultures from the Caribbean including a high population of residents from Haiti, Jamaica, and Trinidad as well as Pakistani and South East Asian communities.
One of the best hotspots for food is Cortelyou Road where you can find one of the top recommended restaurants in the borough and one of Michelin's top cheap eat picks at Purple Yam who serves up Filipino and Pan-Asian cuisine. A huge yes to their lechon!
Another one of Michelin's top cheap eat picks is Lea, an Italian kitchen serving up delectable homemade pasta dishes, wood-fired pizza, and cocktails in their cozy spot by the same owners of Mimi's Hummus, another popular eatery in Victorian Flatbush serving up incredible Middle Eastern cuisine with you guessed it, hummus!
One of our personal favorites and some of the best Thai cuisine we have had in Brooklyn is at Corthaiyou on Cortelyou Street. They have a darling outdoor patio in the back of the restaurant to enjoy on pleasant weather days and a killer Thai menu including one of our favorite 'hard to find dishes in Thailand,' Khao Soi, a famous curry dish from Northern Thailand's Chiang Mai that is actually pretty popular find here in NYC as well as their other curry dishes, like their Green Curry with coconut.
Better yet, they even have sticky rice – the best sticky rice I've had since spending over two months in Laos.
And last but not least is Suzy's Roti, a Caribbean & Trinidadian eatery serving up delicious savory roti with different fillings, our favorite was the chicken curry, as well as curries, stews, and other dishes served over rice and beans. This is a great quick bite to take on the go!
---
Enjoyed this guide to all the best things to do in Victorian Flatbush and Ditmas Park? Bookmark for later or share the love below on Pinterest!