Looking for the best things to do in Brooklyn? Well, we might be biased, but you've come to the right place. Welcome to Brooklyn. The biggest and dare I say the best borough in the city? That could be up for debate, but we will let you decide for yourself.
Most people who visit the city step into Brooklyn and call it a day, but there are so many cool neighborhoods, museums, and things to see (including some of the best views of the NYC skyline) right here in Brooklyn.
Also, by population alone, Brooklyn would be the third-largest city in the United States.
Our entire website is dedicated to showcasing what to do in Brooklyn (and New York City), so whether you're a first-timer coming to Brooklyn, a return visitor, or even a local looking for some inspiration and ideas for exploring around Brooklyn – we got you!
This Brooklyn guide is going to be EXTENSIVE! And we will give you plenty of opportunities to navigate our website throughout this guide since we have so many detailed Brooklyn blog posts and guides dedicated to specific topics if something fancies your interest.
We will have a few different sections, the first being the absolute top things to do in Brooklyn. Then as you've checked those off your Brooklyn bucket list, or if you're looking for other things to do in Brooklyn like a local, we will have more on that further down along with seasonal things to do in Brooklyn and events.
And if you're a visitor, we also recommend staying in Brooklyn during your New York City trip as many of our hotels have incredible skyline views and easy access to the city. Check out our guide for where to stay in Brooklyn which breaks down the best options by neighborhood and budget to help you pick the best area to stay in.
Oh, and if you love nightlife check out our curated picks for best things to do in Brooklyn at night!
So, without further ado, here's what to do in Brooklyn!
Disclaimer: This post contains affiliate links.
Top 15 Things to do in Brooklyn
1. Walk the Brooklyn Bridge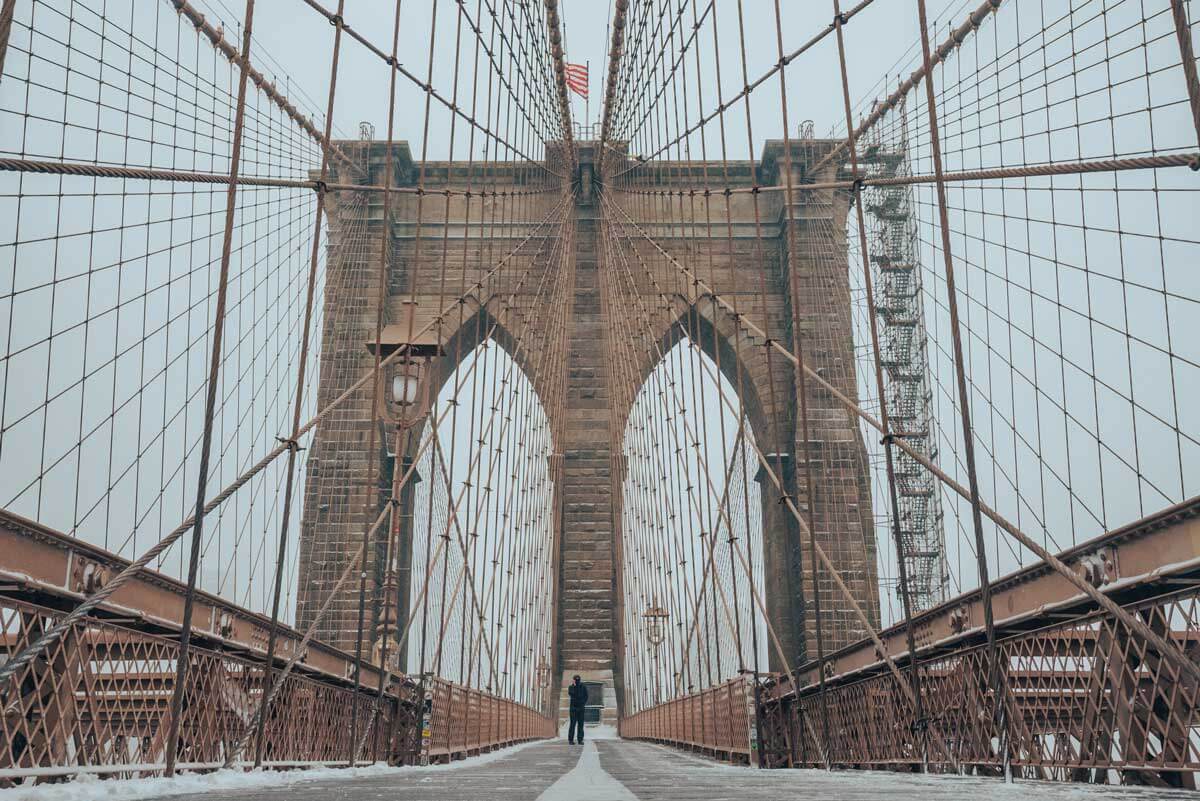 The most iconic thing to do in Brooklyn and one of the most famous things to do in New York City hands down is walking the Brooklyn Bridge. You've seen it in famous movies and on television and it's one of the most recognizable landmarks in the city.
The history of the Brooklyn Bridge alone is fascinating, but the walk itself is one of our favorite scenic walks in Brooklyn thanks to its breathtaking views and photo opportunities.
Starting in either Manhattan or in Brooklyn, you can join the average of 4,000 to 10,000 pedestrians who walk the bridge daily. You'll also get rewarded with great skyline views including iconic landmarks and skyscrapers like One World Observatory and the Empire State Buliding plus views of the Statue of Liberty!
From the Manhattan side, you can start walking on the Brooklyn Bridge Pedestrian Walkway at the northeast corner of City Hall Park along Centre Street.
But, we recommend walking starting from Brooklyn as you'll get to enjoy the skyline views on the way back. There are actually two entrances from Brooklyn, we recommend taking the shortcut up the staircase found under an overpass at Washington Street, two blocks up from Front Street. There's usually a hot dog vendor here.
Plan for around 30 to 60 minutes to complete the walk. It gets crowded around weekends, holidays, and peak season. If you want to enjoy the bridge by yourself, consider coming on a rainy day, early on a weekday morning, or braving the cold wind on a winter day.
PS for alternative bridge walks, you can also walk across the Manhattan Bridge and walk across the Williamsburg Bridge into Manhattan too.
2. Explore DUMBO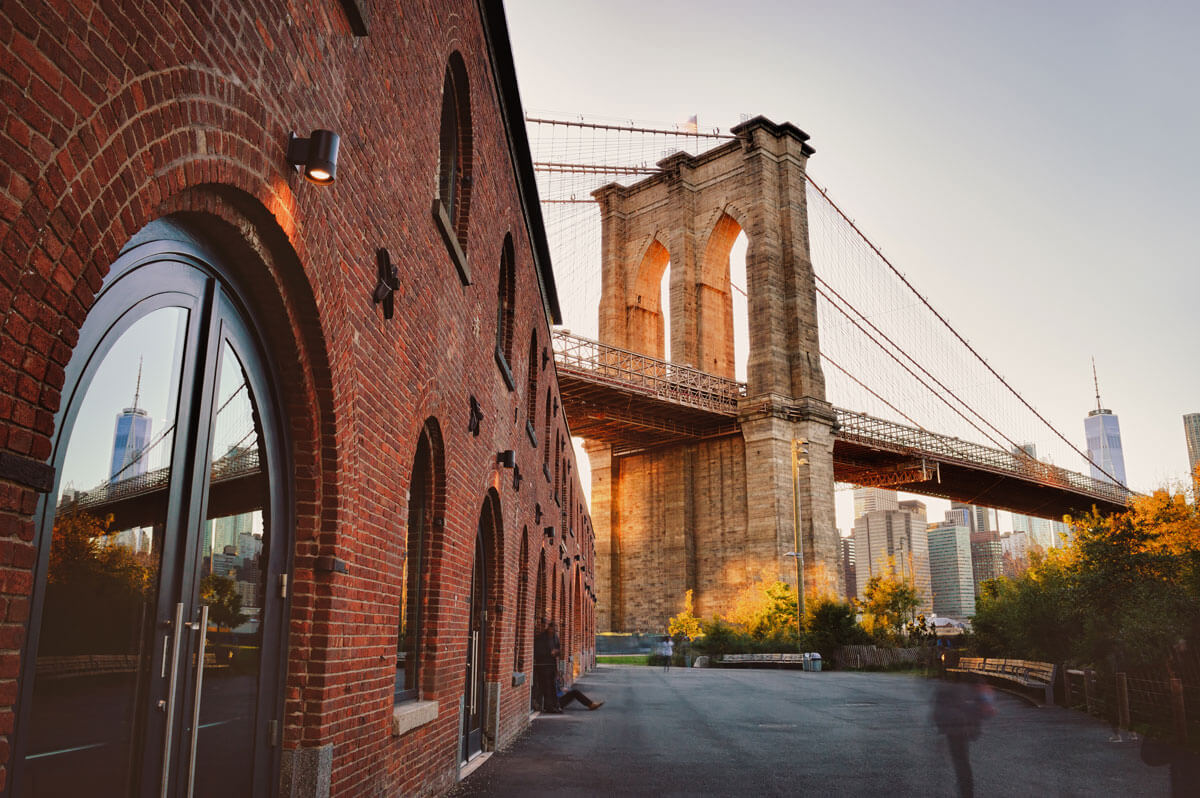 One of the most popular places to visit in Brooklyn is the neighborhood known as DUMBO. What does DUMBO mean you might ask? Down Under the Manhattan Bridge Overpass.
This very affluent neighborhood has some of the most sought out after real estate in the city due to its location and jaw-dropping views of New York City and the skyline!
It's also a popular neighborhood to visit as well because of those famous views as well great cafes, restaurants, places to grab a drink, shopping, and fun things to do in DUMBO that make it worth checking out.
You can get a glimpse of Brookyln's more industrial past here as most of the buildings (that aren't new developments) are old warehouses and factories that have been converted into the neighborhood's best restaurants, shopping, galleries, entertainment venues, and even corporate headquarters.
This is also easy to combine with the Brooklyn Bridge as it's right here! A few of musts include the famous photo spot of the Empire State Building framed inside the Manhattan Bridge from the intersection of Washington & Water Streets (prep yourself for crowds all wanting a selfie here), visiting the roof at Time Out Market New York for unbelievable views, and having pizza at Juliana's or their rival, Grimaldi's. There's always a debate at who's is better and there's some serious pizza drama between the two!
Also, don't miss walking through Brooklyn Bridge Park here which affords more incredible views and pay a visit to Jane's Carousel, the first carousel to ever to be listed as a National Register of Historic Places that dates back to 1922.
3. Head to Coney Island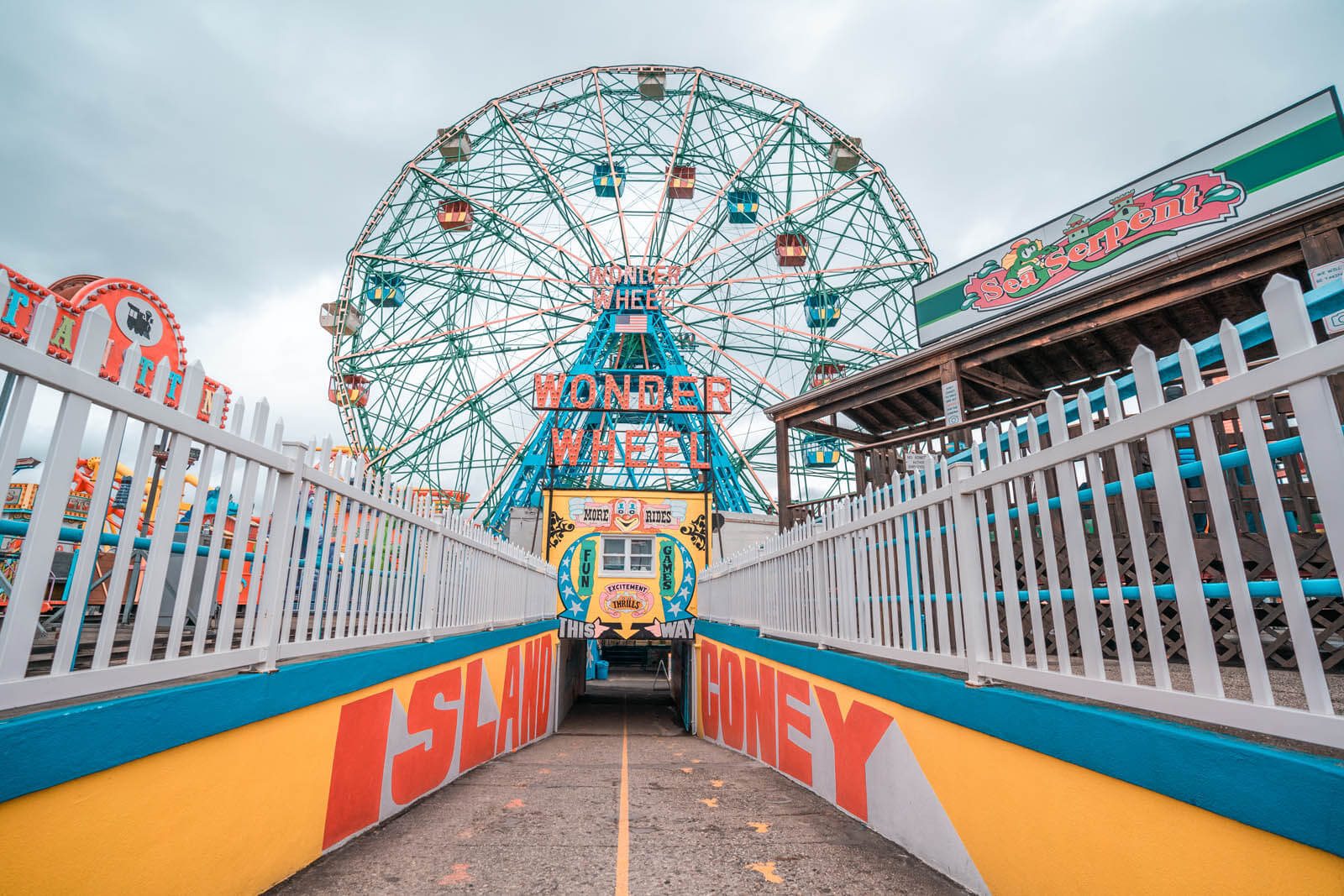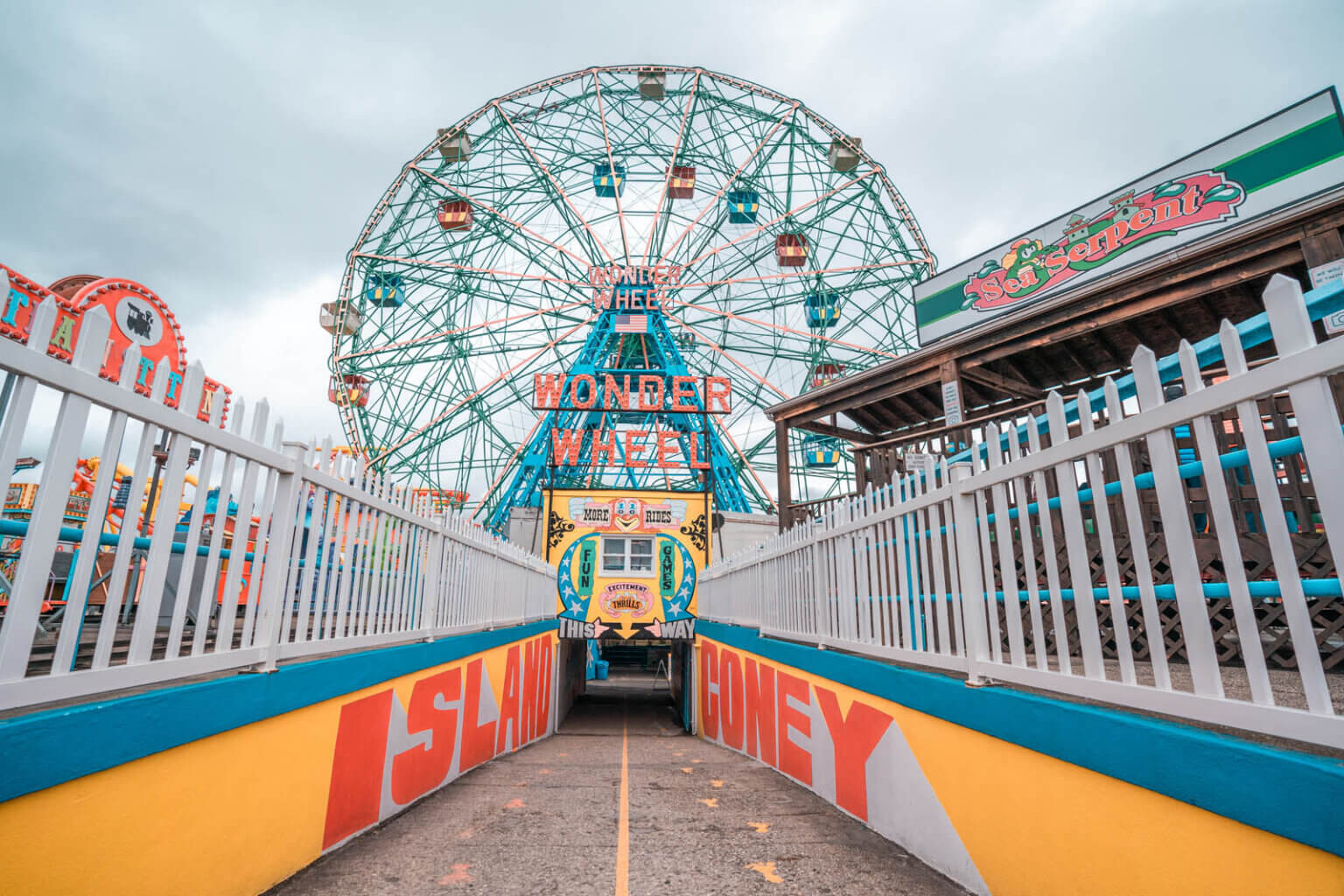 One of my favorite places to visit in Brooklyn is Coney Island. This historic oceanfront entertainment and tourist destination has been providing people with fun for over a century.
In fact, the history of Coney Island is a fascinating one and you can enjoy some of the oldest amusement rides in the country to this day, like Deno's Wonder Wheel which dates back to 1920 and is still one of the most popular things to do at Coney Island to this day! In fact, there are ferris wheels all over the world designed after the famous Wonder Wheel including the one at Disneyland's California Adventure in California!
There are two main amusement parks, Deno's Wonder Wheel Park and Luna Park, both filled with classic carnival games, rides, and endless entertainment for all ages.
Of course you need to walk down the famous Riegelmann Boardwalk, the 2.7 mile historic boardwalk (that goes all the way to Brighton Beach, aka Little Odessa and worth stopping by if you have time) that's over 100 years old as well!
Have a beach day and be sure to save room for one of Nathan's Famous hot dogs! Be sure to catch a show at the Sideshows by the Seashore, a classic ten in one circus show, visit the Coney Island Museum, grab cotton candy from William's Candy, or check out the New York Aquarium (which is open all year long!) and walk through the shark tunnel tank!
The amusement parks are open only though around Memorial Day to the end of October, but you can enjoy other Coney Island attractions off season like the aquarium, walk the boardwalk without the summer crowds, ice skate, and still enjoy one of Nathan's Famous dogs throughout the year.
Famous summer events that take place here include the annual hot dog eating contest on the 4th of July, the annual Mermaid Parade, celebrating the New Year by doing the Polar Plunge, and attending a Brooklyn Cyclone's game!
4. Spend a Day in Williamsburg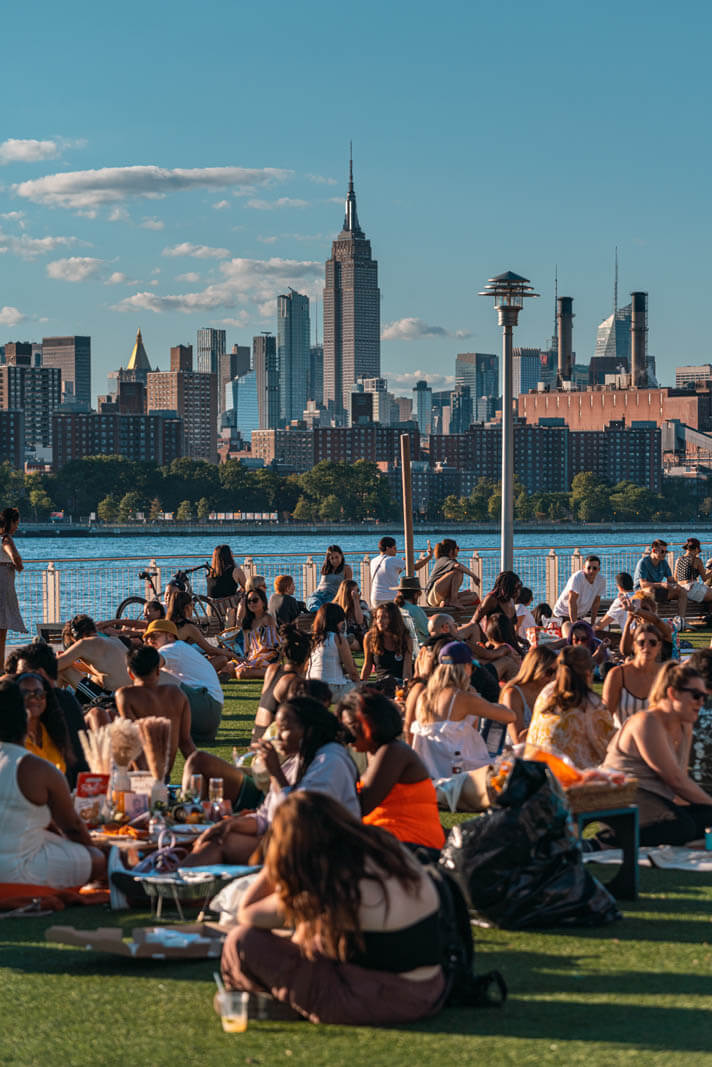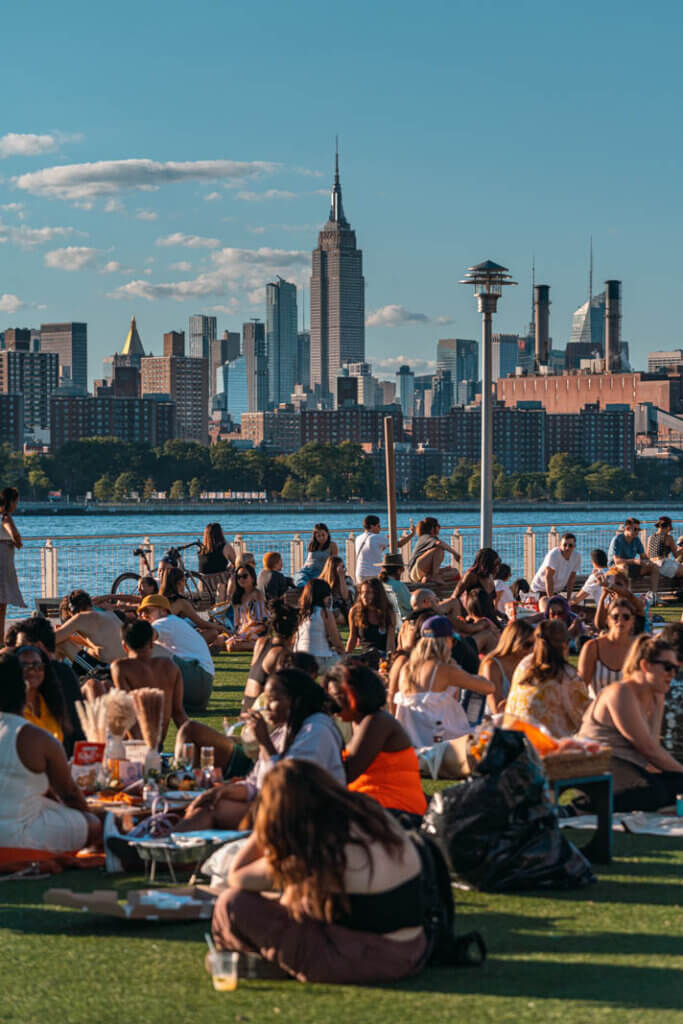 Another one of the most famous Brooklyn neighborhoods to visit is Williamsburg. Located in north Brooklyn along the East River waterfront, you can find some of the best Midtown Manhattan skyline views here from spots like Domino Park and the insanely cool rooftop bars in Williamsburg.
Some of the more well known things to do in Brooklyn here include vintage shopping, strolling up and down Bedford Avenue's shops and restaurants, checking out some of the prettiest cafes in the city, and this is where you'll find some of the best bars in Brooklyn too.
There are alot of cool things to do in Williamsburg, and this neighborhood is known for its hipster culture and high concentration of creatives and artists as well as plenty of cool murals and street art.
It's not uncommon to stumble upon random pop up events here. We recommend exploring the best brunch in Williamsburg and the best restaurants in Williamsburg, as there really are so many.
If you're looking for specific recommendations we personally like taking a tour and trying beer at Brooklyn Brewery, seeing a show or going bowling at Brooklyn Bowl, picnic and enjoy the views at Domino Park which is built around the former sugar refinery ruins, grab rooftop drinks at sunset with views at Westlight, Lillistar, or ElNico.
This is also one of the best places to stay in New York City too! So be sure to consider checking out Williamsburg hotels when you're on your accommodation hunt for planning your NYC itinerary!
5. Visit Prospect Park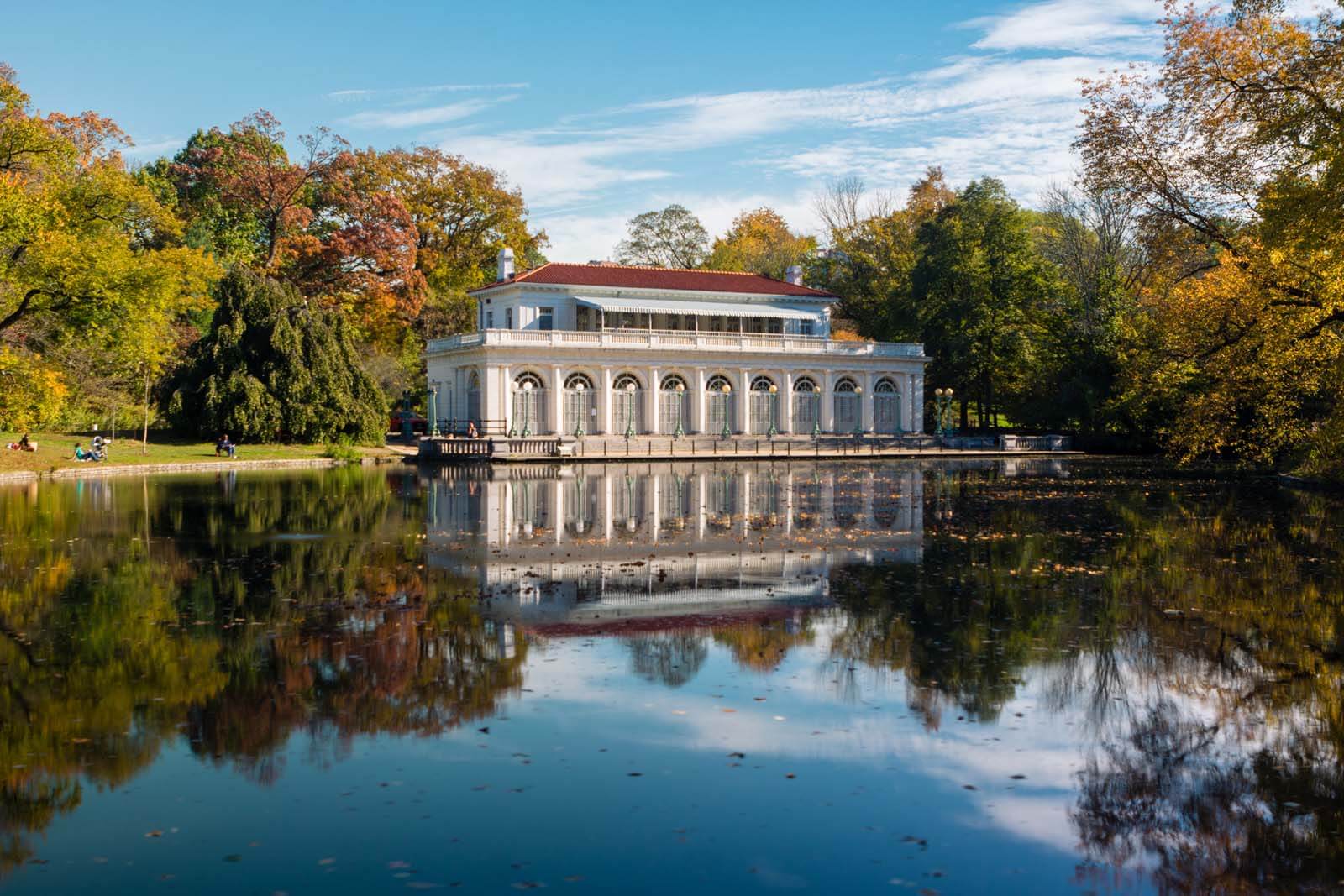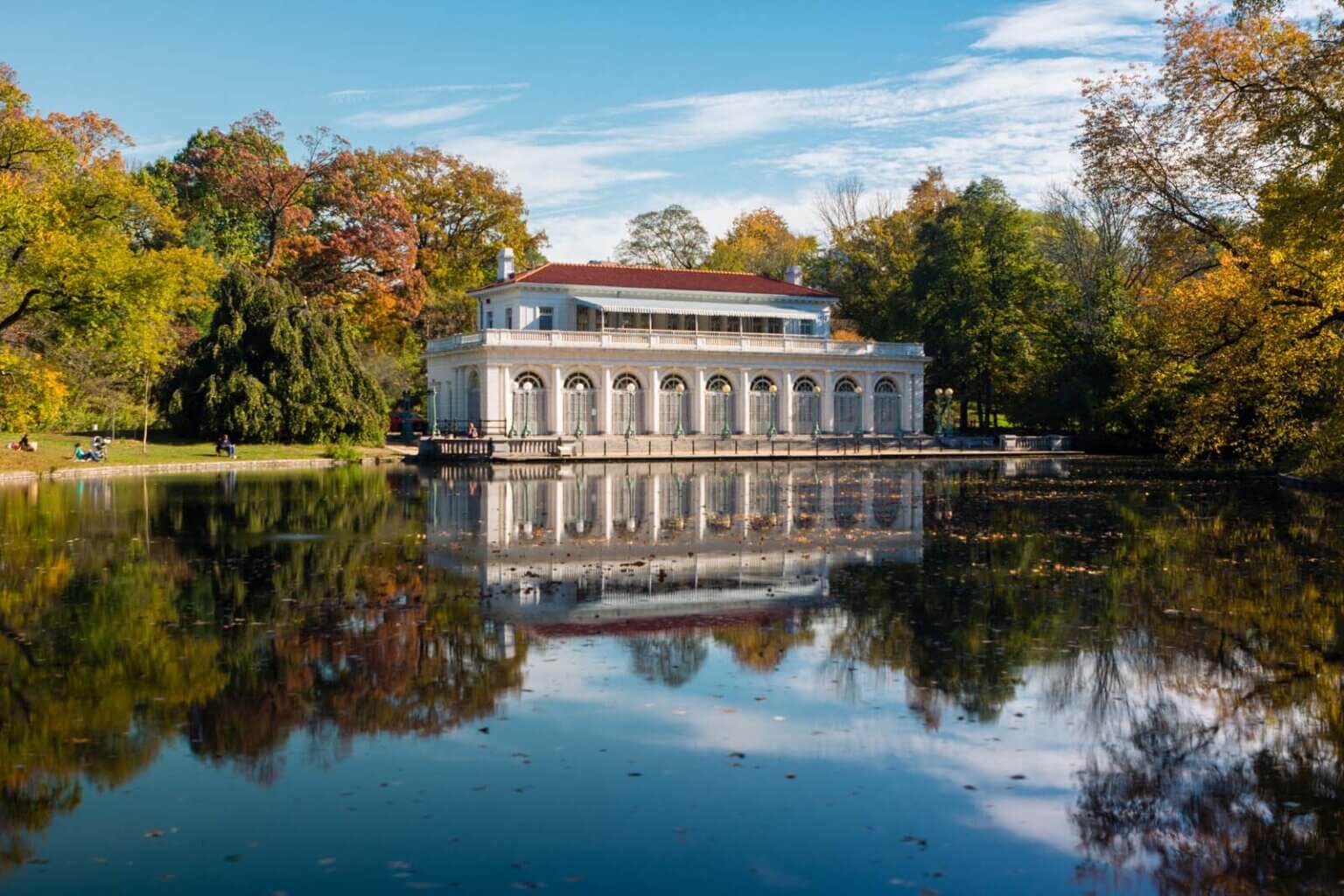 You've heard of Central Park, but did you know that Brooklyn has its very own version? Well, locals certainly do! If you're looking for what to do in Brooklyn to enjoy the outdoors, check out Prospect Park, one of the borough's largest parks at a whopping 585 acres of green lawns, forest trails, historic landmarks, ice skating, roller skating, and even Prospect Park Zoo!
There are cool things to do and see in Prospect Park, like take a walk along a waterfall trail or through the Ravine. Check out the pretty as a picture boathouse, head to Grand Army Plaza for the Soldiers' and Sailors' Memorial Arch. It was built to honor the Union soldiers and sailors who fought in the American Civil War, and walk along Prospect Park West to see impressive mansions along the park.
Designed by the same duo behind Central Park, Frederick Law Olmsted and Calvert Vaux, you'll notice alot of similarities between the two parks although they both have their distinct landmarks.
In the summer you'll also find there are free events in the park and its a popular place to picnic, walk, hike, run, and bike. There's even horseback riding! The fall presents beautiful foliage, the winter offers ice skating and fun hills to sled down, and in the spring you can enjoy picnicking among the blooming flowers.
6. Check Out the Brooklyn Museum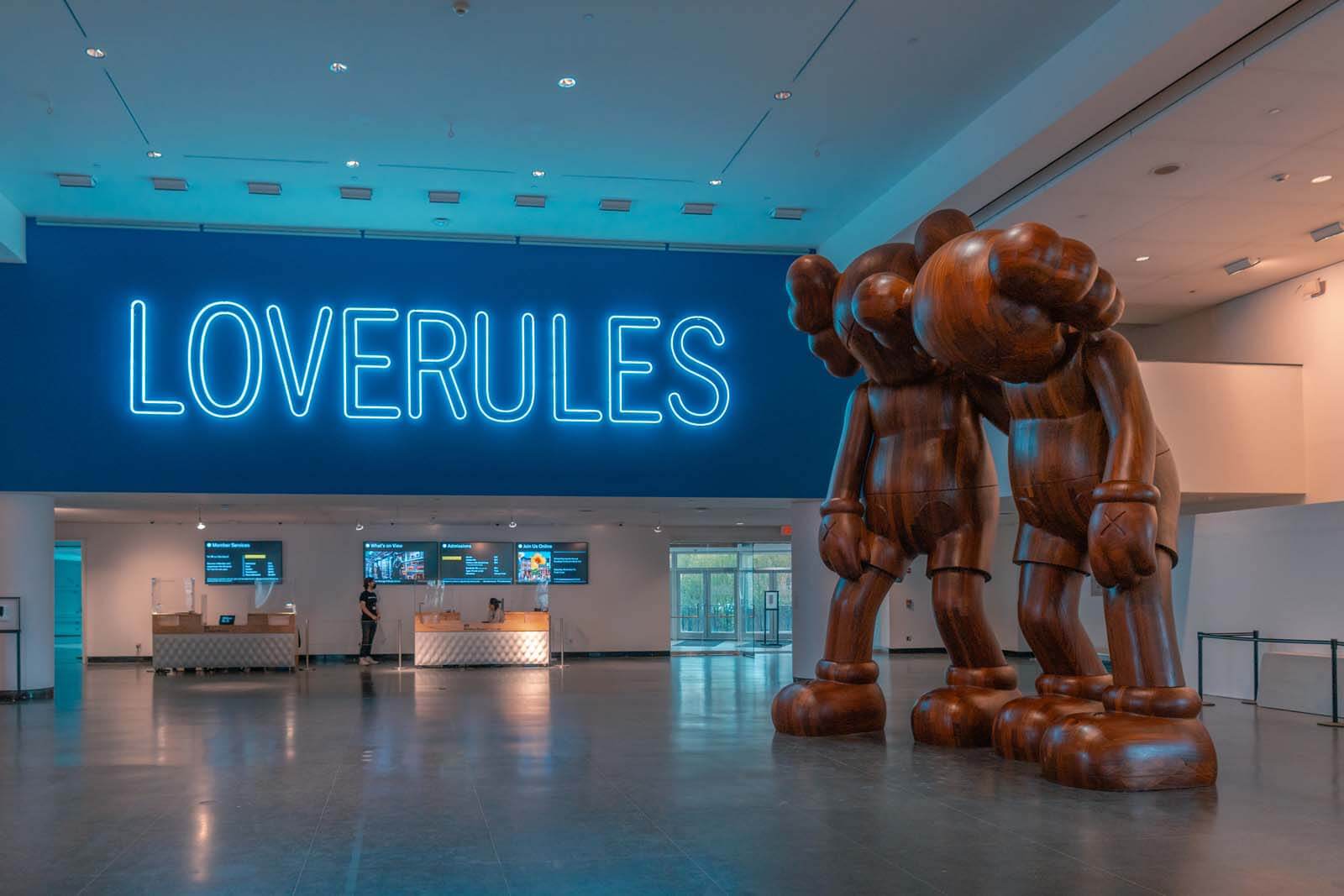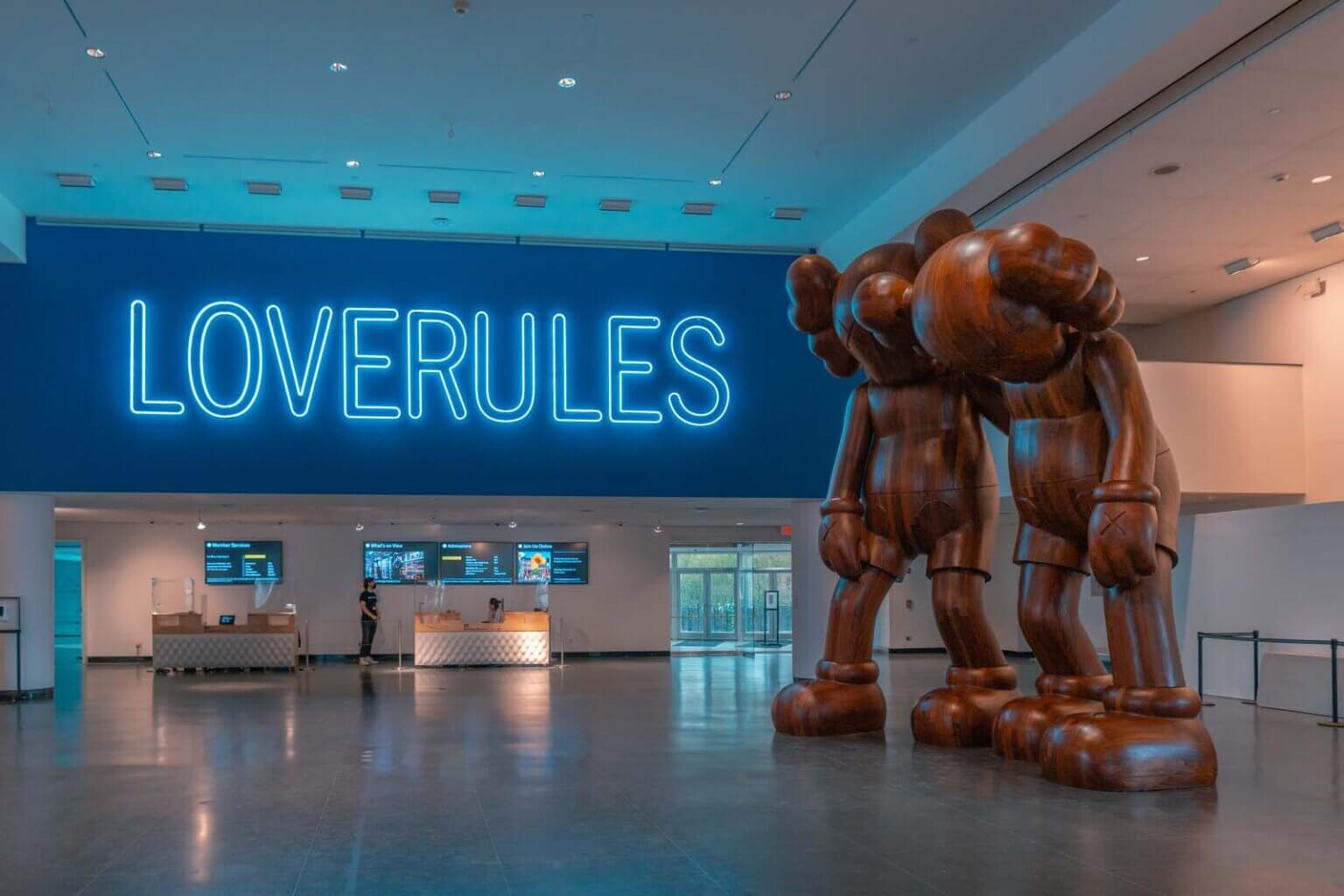 Another one of the top things to do in Brooklyn and must-see museums in the city is the Brooklyn Museum. Located along Eastern Parkway near Prospect Park, the Brooklyn Museum is one of the largest and oldest museums in the country, and it's the second largest museum in NYC.
The Brooklyn Museum houses permanent collections of classical and contemporary art along with impressive displays of African and Egyptian art. You can find works from famous artists like Edward Hopper, Norman Rockwell, Georgia O'Keeffe, Mark Rothko, and Edgar Degas in the museum's collection as well to name a few.
They also always have exciting rotating exhibits as well and usually have some sort of temporary exhibit dedicated to a fashion designer and their works throughout the year, some of our favorites in the past have been the Dior exhibit as well as the Thierry Mugler exhibit in recent years.
The museum also offers free admission on the first Saturday of each month! This is an attraction included on the New York Pass. Located adjacent to the Brooklyn Botanic Garden, visiting both the museum and garden are some of the best must-see Brooklyn attractions.
Closed Mondays and Tuesdays.
7. Enjoy the Beauty at Brooklyn Botanic Garden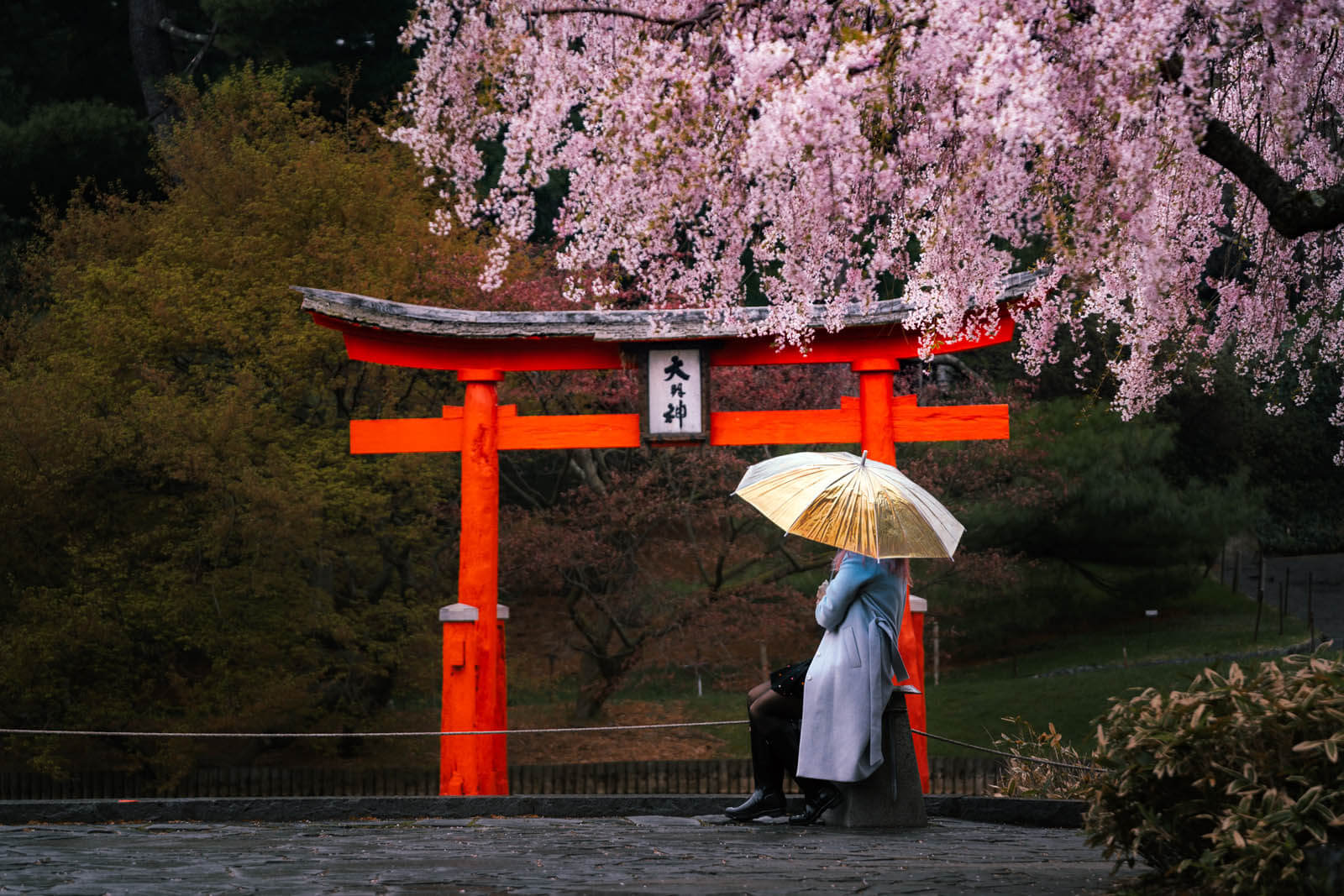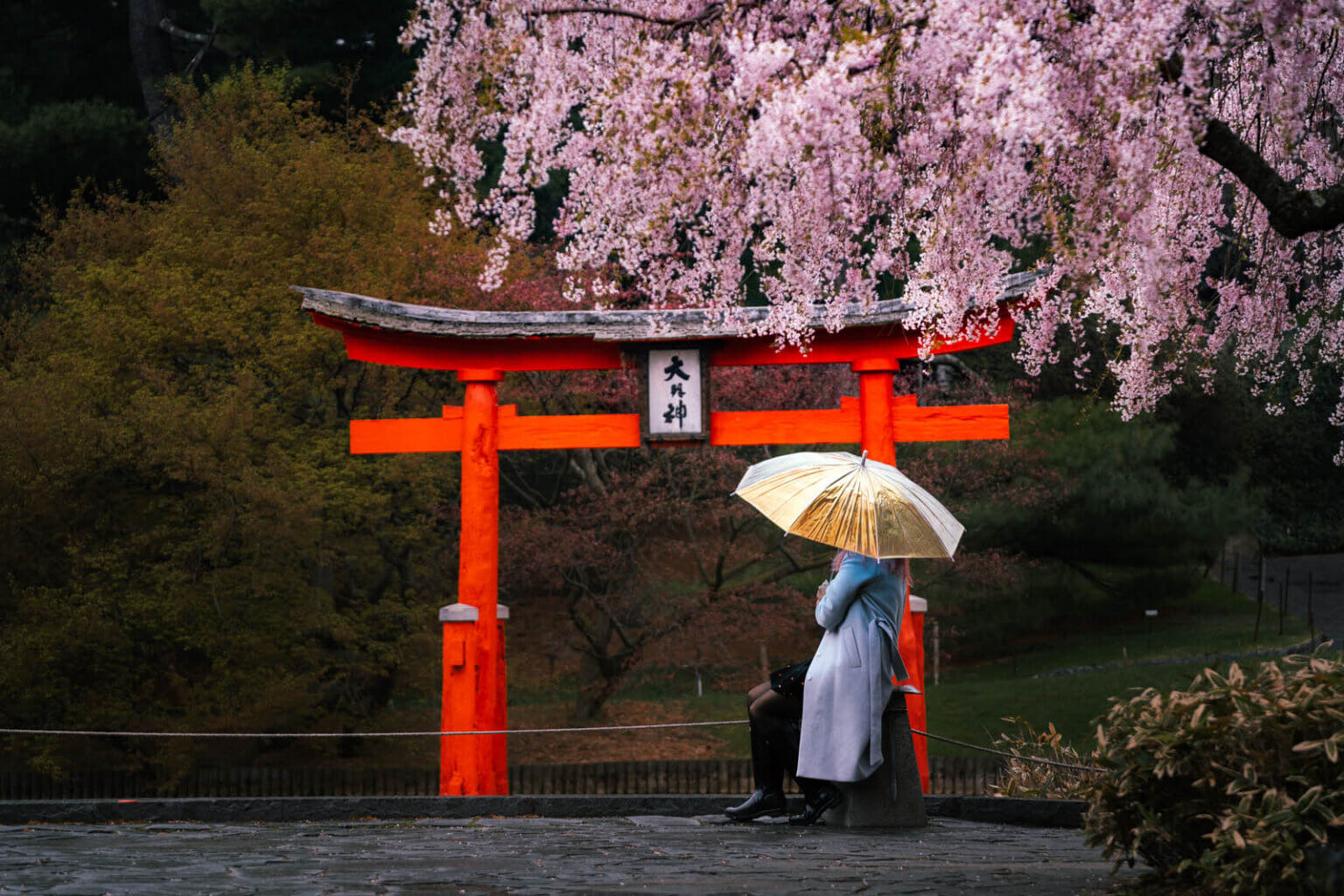 One of the most beautiful places to visit and things to do in Brooklyn is visit the Brooklyn Botanic Garden which is located next to both Prospect Park and the Brooklyn Museum.
Brooklyn Botanic Garden has an extensive collection of beautiful themed gardens to explore, conservatories housing collections like tropical plants and desert climate flora and fauna as well as an impressive bonsai collection to name a few.
With beautiful blooms happening throughout the different gardens throughout the seasons of the year (yes,even in the winter!), one of the most impressive features of Brooklyn Botanic Garden is the Japanese Hill-and-Pond Garden which really shines during the spring and is one of the best places to see cherry blossoms in NYC.
Although, it's impressive anytime of the year as you can enjoy a stroll on the serene trail along winding paths with wooden bridges passing a beautiful viewing pavilion, wooden torii in the pond, and Shinto shrine.
Some of my other favorite gardens are the Shakespeare Garden and Rose Garden, but you'll want to take the time to explore them all on your visit.
This is a Brooklyn attraction included on the New York Pass. Located adjacent to the Brooklyn Museum, visiting both the museum and garden are some of the best must-see Brooklyn attractions.
Closed Mondays.
8. Enjoy the views at Brooklyn Heights Promenade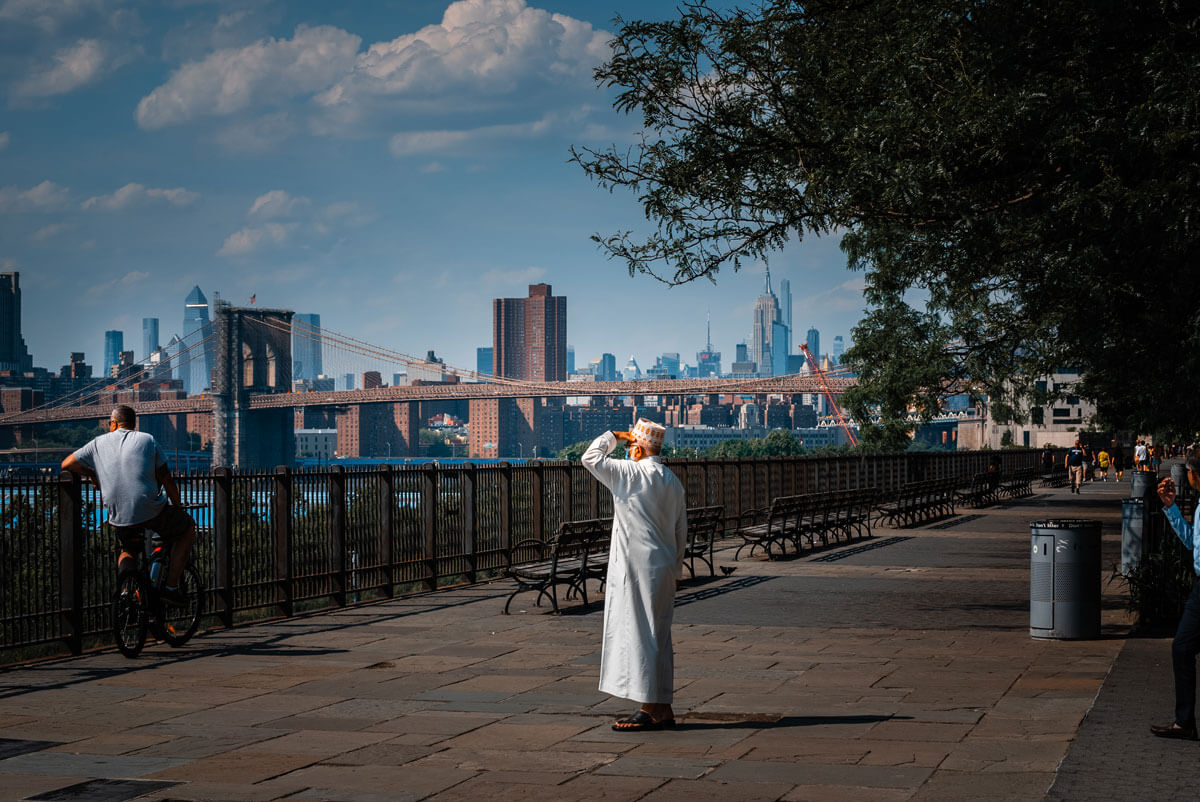 Another one of our favorite views and picks for best things to do in Brooklyn is at the Brooklyn Heights Promenade in Brooklyn Heights. Also referred to as the Esplanade, this gorgeous waterfront walkway has amazing views of the Statue of Liberty and New York Harbor, the Lower Manhattan skyline including One World Observatory, the Brooklyn Bridge, the Empire State Building, and Brooklyn Bridge Park below.
This is one of the oldest neighborhoods in the city being home to what is considered the first suburb of the United States. You can see the gorgeous mansions that line the promenade where wealthy shipping merchants used to live.
This is now one of the most sought out neighborhoods and most expensive to live in the city. Many celebrities live in Brooklyn Heights and notable figures like Truman Capote, Arthur Miller, and Walt Whitman have resided here.
This is a more residential area and quiet compared to the neighboring DUMBO neighborhood. Be sure to spend some time also wandering up and down the streets, the 'fruit streets' in particular (Pineapple, Orange, and Cranberry Streets) are picturesque.
Also, make your way to Squibb Park Bridge for a scenic elevated walkway with skyline views down to Brooklyn Heights' section of Brooklyn Bridge Park.
9. Stroll through The Bushwick Collective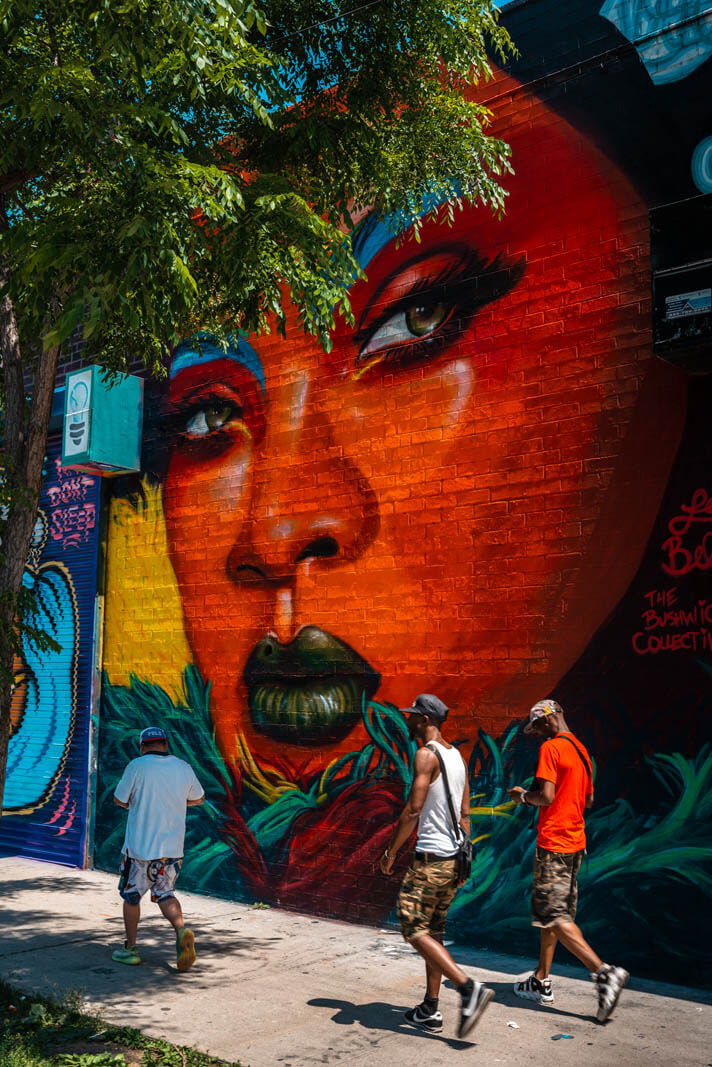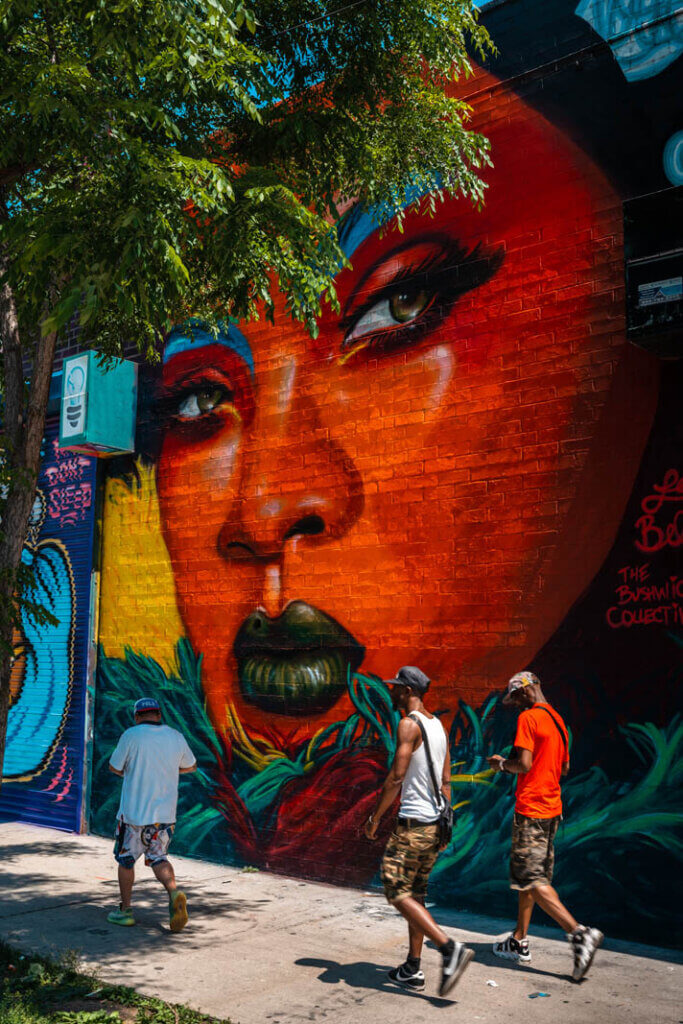 For those who love street art, this is what to do in Brooklyn for you! Head to the neighborhood of Bushwick where you can find a huge outdoor gallery of murals and street art all throughout this neighborhood!
There is seriously so much amazing street art in Brooklyn to check out, but if you only have a little time see murals from famous artists all over the world at the Bushwick Collective.
This official 'collective' started in 2011 by a local, Joe Ficalora who used street art to help heal with the passing of both of his parents and also transform the neighborhood of Bushwick with colorful, meaningful street art.
Since 2012, every June the Bushwick Collective hosts their annual Block Party which is when all of the new murals in Brooklyn pop up that are a part of the official collective. Some murals get covered and some remain around year after year, basically, they have to have nearby walls and buildings donated to use as a blank canvas. And that means that even if you've visited in the past, its likely different on your next visit.
Most of the Brooklyn graffiti and murals associated with the official collective can be found along Troutman Street between Irving Avenue and Cypress Avenue, there are more along Starr Street too.
But we recommend following our complete guide to exploring the Bushwick Collective street art on your own to make sure you don't miss anything as this is one of our favorite things to do in Brooklyn.
Be sure to also stick around and try some of the best restaurants in Bushwick or bars in Bushwick too, which is well-known for its nightlife scene.
10. Tour Green-Wood Cemetery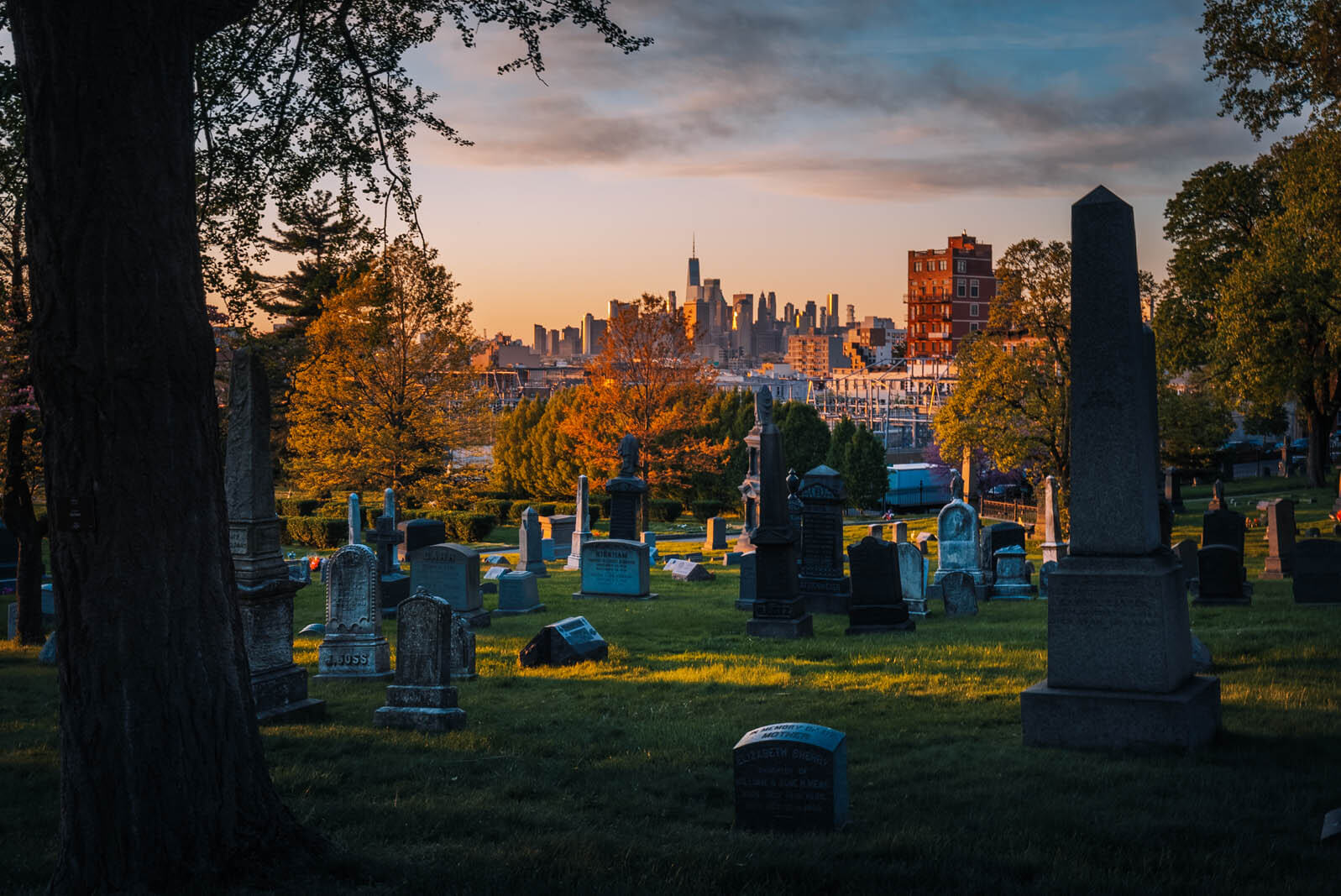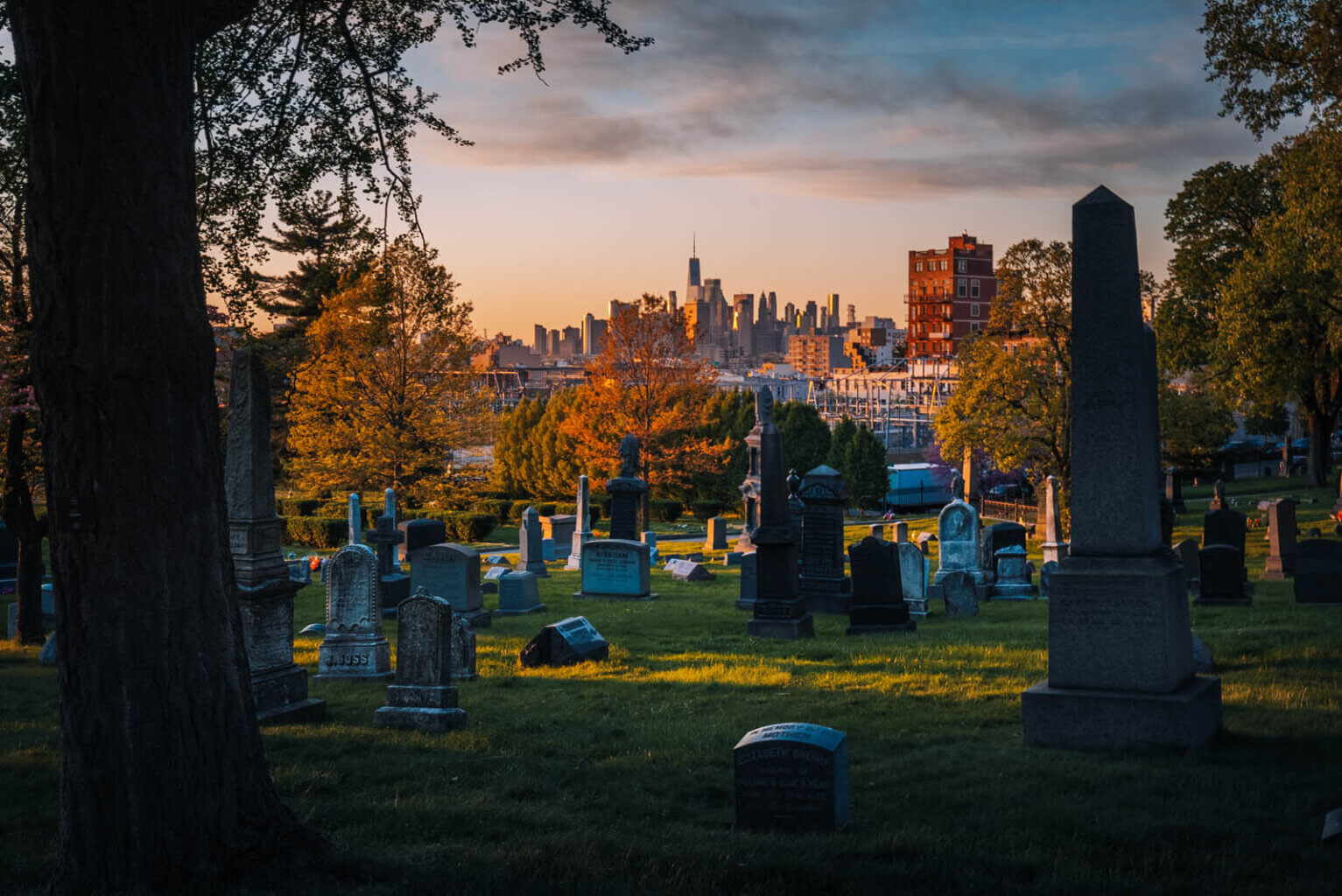 For anyone who doesn't already know how prolific Green-Wood Cemetery is, you might be wondering why we are suggesting a visit to a cemetery as one of the best things to do in Brooklyn. One visit here and you'll understand. In fact, at one point in time, this is one of the top tourist attractions in the United States!
Built in 1883 and modeled after Paris's Pere Lachaise Cemetery, London's Highgate Cemetery of London, and Boston's Mount Auburn Cemetery, Green-Wood Cemetery was a rural cemetery built for the city and quickly became popular among locals as a greenspace during the Victorian-era.
It's actually the popularity of Green-Wood Cemetery that inspired the movement to create urban greenspaces and designated parks including Central Park and Prospect Park.
The history of Green-Wood Cemetery is fascinating and you're invited to learn all about it as well as some of the famous residents of the cemetery on one of their tours. They need to be booked in advance as these are pretty hot ticket items as this is a must-see Brooklyn attraction for alot of locals and visitors to the city.
Green-Wood Cemetery also hosts art exhibits and special evening tours when the grounds are closed to the public, and even live music performances in the catacombs.
You also can pick up a map at the impressive Gothic-Revival Main Entrance gate at 5th Avenue and 25th Street and wander around. While exploring the grounds you'll encounter impressive masouleums of some of the most prominent and historic figures in New York City's past, tombstones, impressive tree collection (the cemetery is also an official arboretum), historic Revolutionary War battle sites, and great skyline views and Statue of Liberty views.
11. Step into the past at New York Transit Museum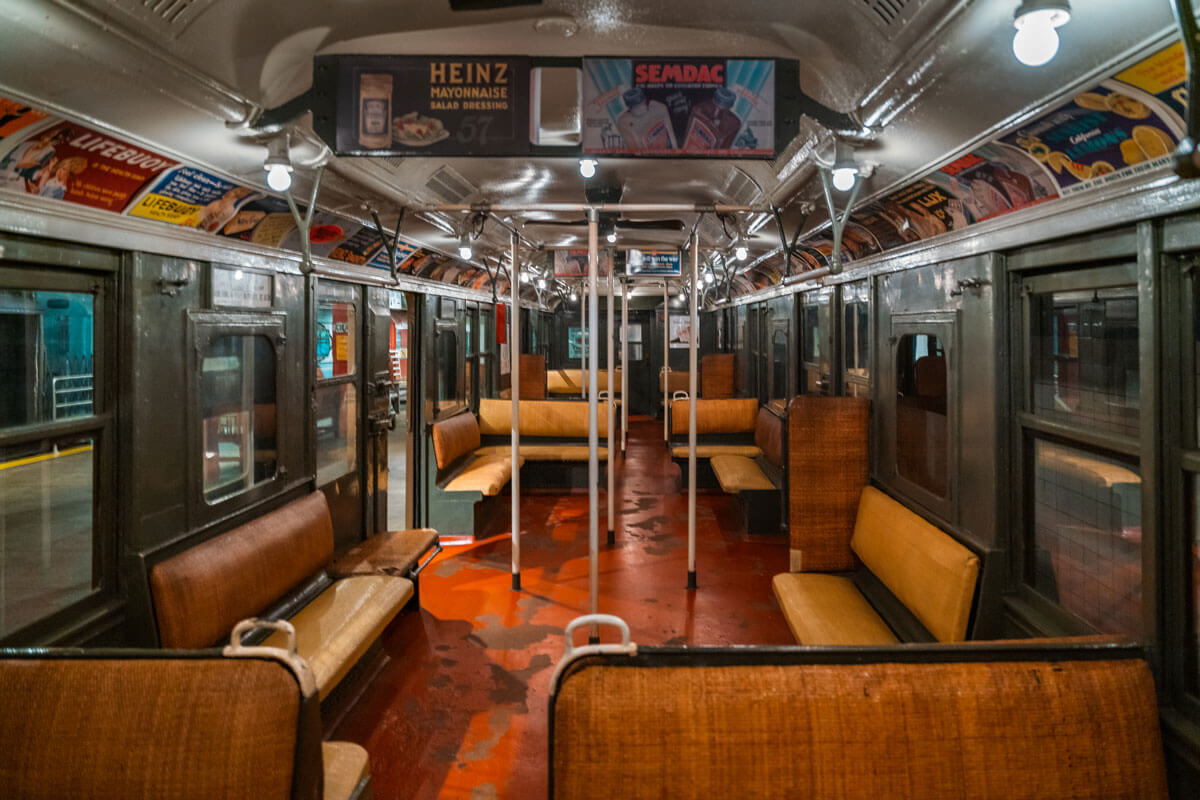 One of the coolest museums in New York City can be found in the quiet neighborhood of Boerum Hill. This is one of the top Brooklyn attractions for train enthusiasts and admirers of the past.
Set in the decommissioned subway station, the New York Transit Museum houses a collection of vintage New York subway cars with the oldest dating back to 1907! You'll find all the eras of old subway cars and even be able to go inside of them and see vintage advertisements from the years these cars were in service.
It's fascinating to see how the cars have changed over the years and the craftsmanship and beauty of some of the vintage cars.
There are also exhibits to explore that dive into the storied past of New York transportation and even an interactive kids area where the young ones can play.
Another special thing to watch out for is when they do their seasonal nostalgic train rides where they actually allow passengers to join a ride on one of their old fleet rides! Some of these are more competitive to get tickets, so you'll want to get tickets in advance. You can see which historic rides are happening on their events page.
This is a Brooklyn attraction included on the New York Pass, which is a great deal if you're planning on checking out several tourist attractions on your visit and this is one of the 100+ attractions included with the pass.
Closed on Mondays.
12. Marvel at Views at Brooklyn Bridge Park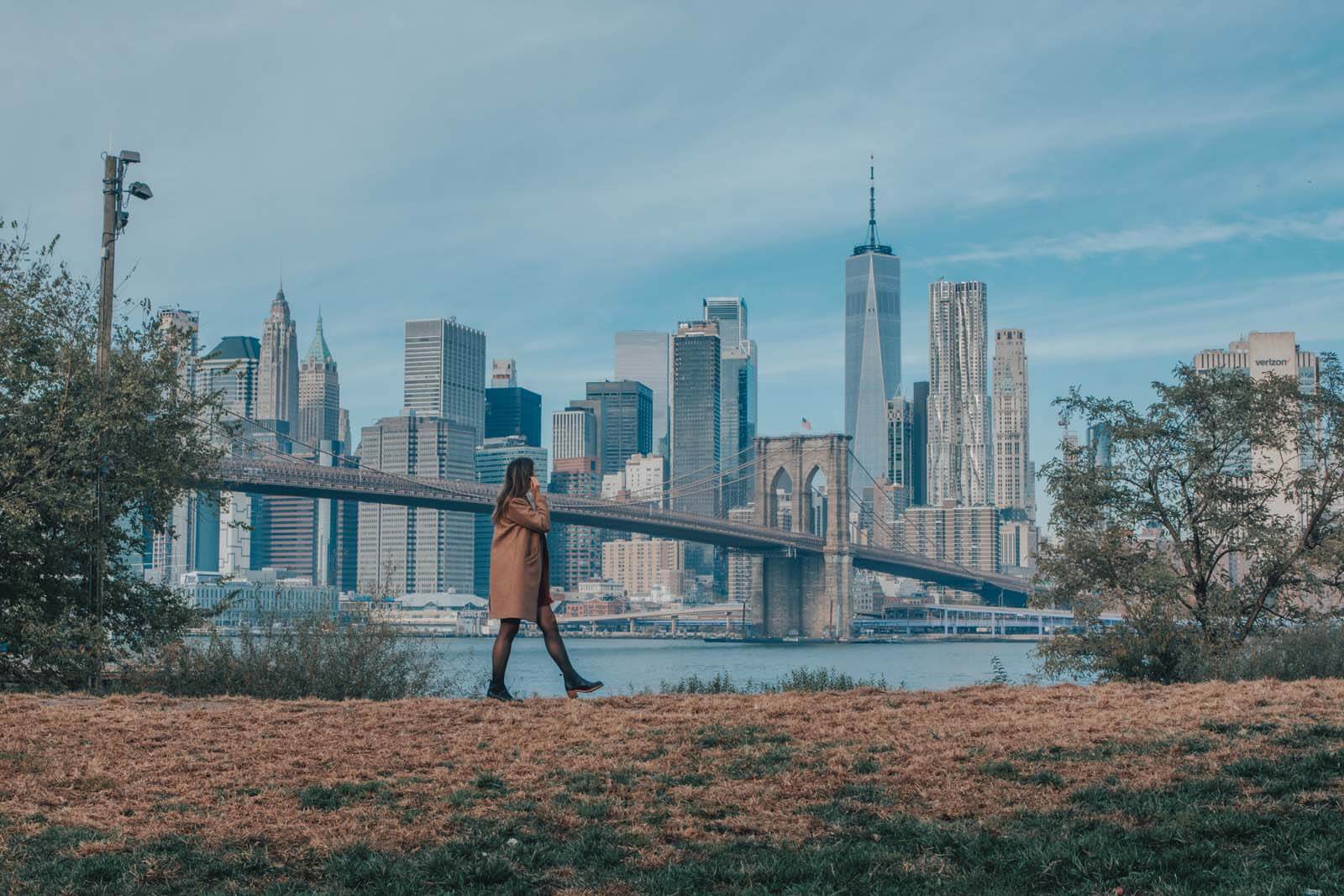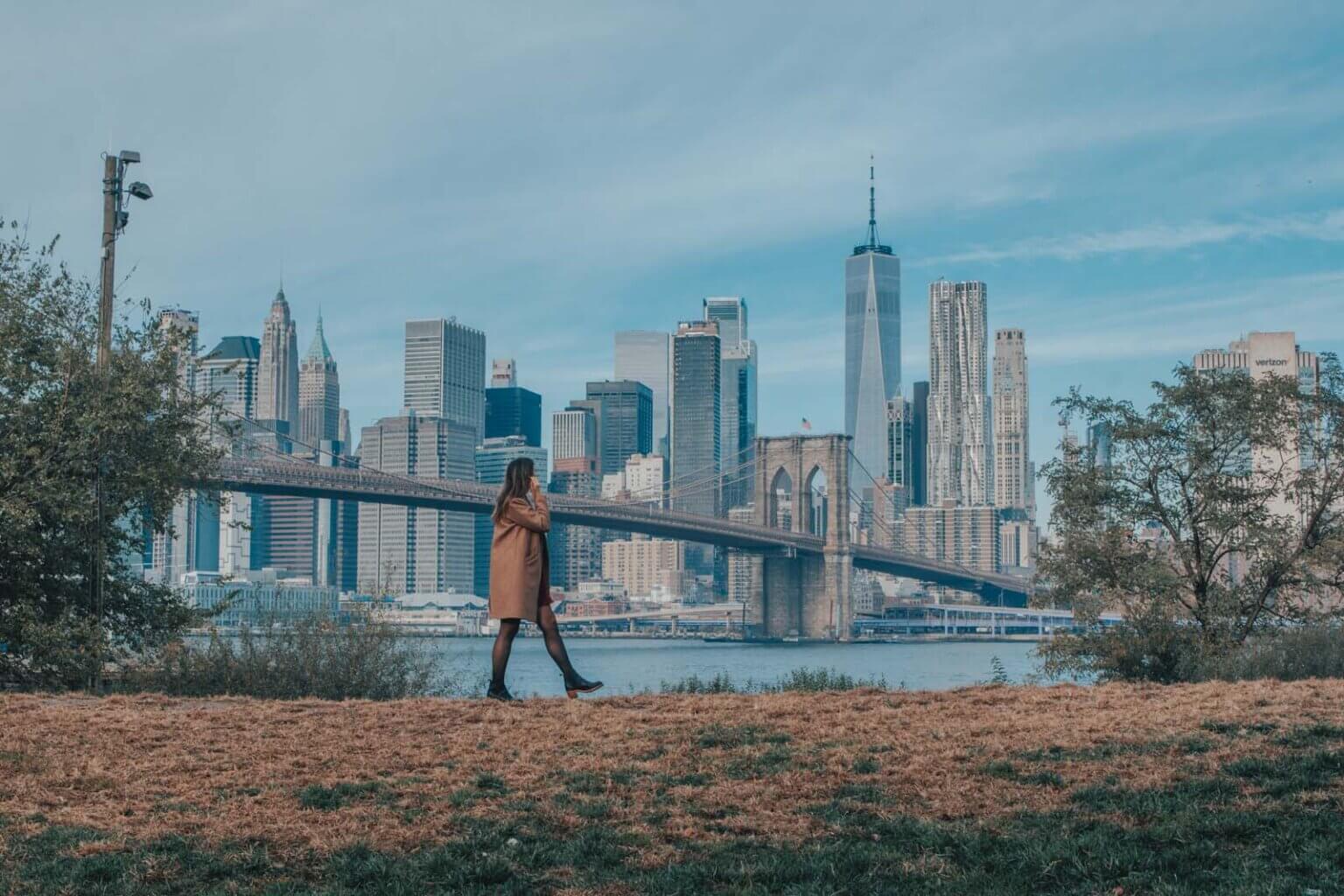 One of the best parks in New York City can be found along the East River waterfront in the neighborhoods of DUMBO and Brooklyn Heights. Brooklyn Bridge Park is without a doubt one of the best things to do in Brooklyn whether you're looking to just enjoy the panoramic views of the city skyline or enjoy some of the activities that take place here.
Along the DUMBO waterfront you'll be rewarded with up close views from under both the Manhattan Bridge or Brooklyn Bridge. There are patches of lawn you can picnic on as well as winding pathways through the park that offer great views.
What's nice is that there are also plenty of dining options right along here. One of my favorite things to do with my husband is order a pizza for take out from Juliana's in DUMBO and then take it to the picnic tables in front of Empire Stores or to the seating area along Pebble Beach.
Other cool spots on this section of Brooklyn Bridge Park include Jane's Carousel, Empire Fulton Ferry Landing, and St. Ann's Warehouse where you can catch a performance or find a serene spot to sit in their open-air garden behind the brick walls.
The DUMBO ferry station is here too if you're wanting to take advantage of the East River ferry line to get around and exploring more Brooklyn attractions or get back to Manhattan.
Heading towards the Brooklyn Heights portion of Brooklyn Bridge Park is where you'll find all the piers. Each pier offers something different from basketball courts, pickleball courts, roller rink, and some are just more lawn space and gardens you can check out.
It's best to check out the park by foot, you can weave on and off the different piers where you'll get even better views of the Statue of Liberty and skyline.
Towards the end of the park you can also find another ferry station, Brooklyn Bridge Park/Pier 6 Ferry which is helpful for getting around and a more scenic way to get around vs the subway.
Also, another great spot to grab a bite to eat within Brooklyn Bridge Park over here is Fornino at Pier 6, which is another excellent Brooklyn pizza restaurant!
13. Take the Kiddos to Brooklyn Children's Museum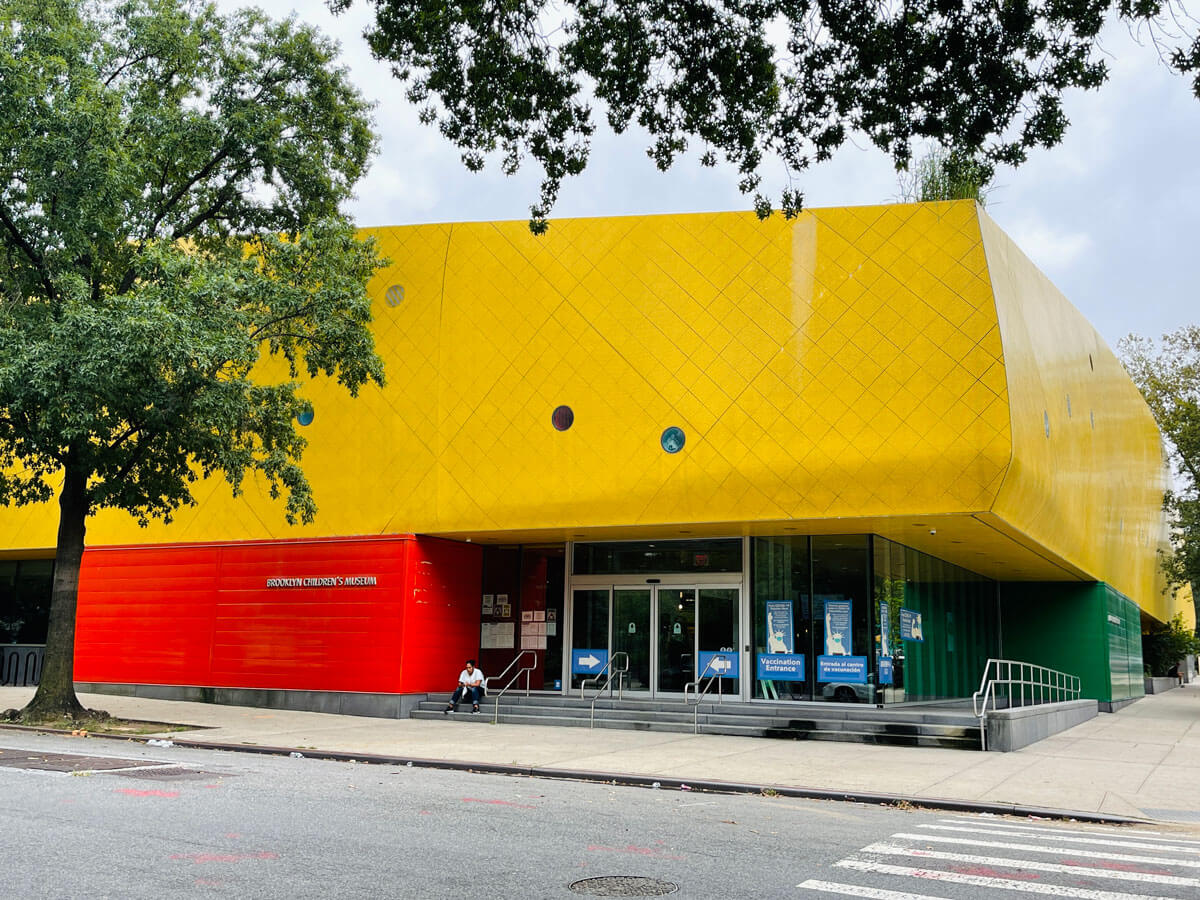 One of the best museums in Brooklyn to check out and things to do in Brooklyn with kids is head to the Brooklyn Children's Museum in Crown Heights. This is the first children's museum in the United States, and it's even suggested that it's the first worldwide, dating back to 1899!
There are interactive, hands-on educational exhibits for children featuring a collection of over 30,000 historical artifacts that are fascinating even for parents. The exhibits feature different cultures from across the globe, science, and nature.
One of the most fun, hands-on exhibits here is the In World Brooklyn section where children can play in a kid-sized replica of Brooklyn. This is where kids can play and pretend to live and work in small-scale businesses here from the corner bodega to bakery! This exhibit is designed to foster a greater understanding and appreciation of the world cultures found in Brooklyn while getting to act out roles in these adorable storefronts!
On a nice day, make your way to the rooftop terrace to also play on The Nest, an outdoor installation that also serves as a jungle gym.
Closed Mondays & Tuesdays
14. See a Show at BAM (Brooklyn Academy of Music)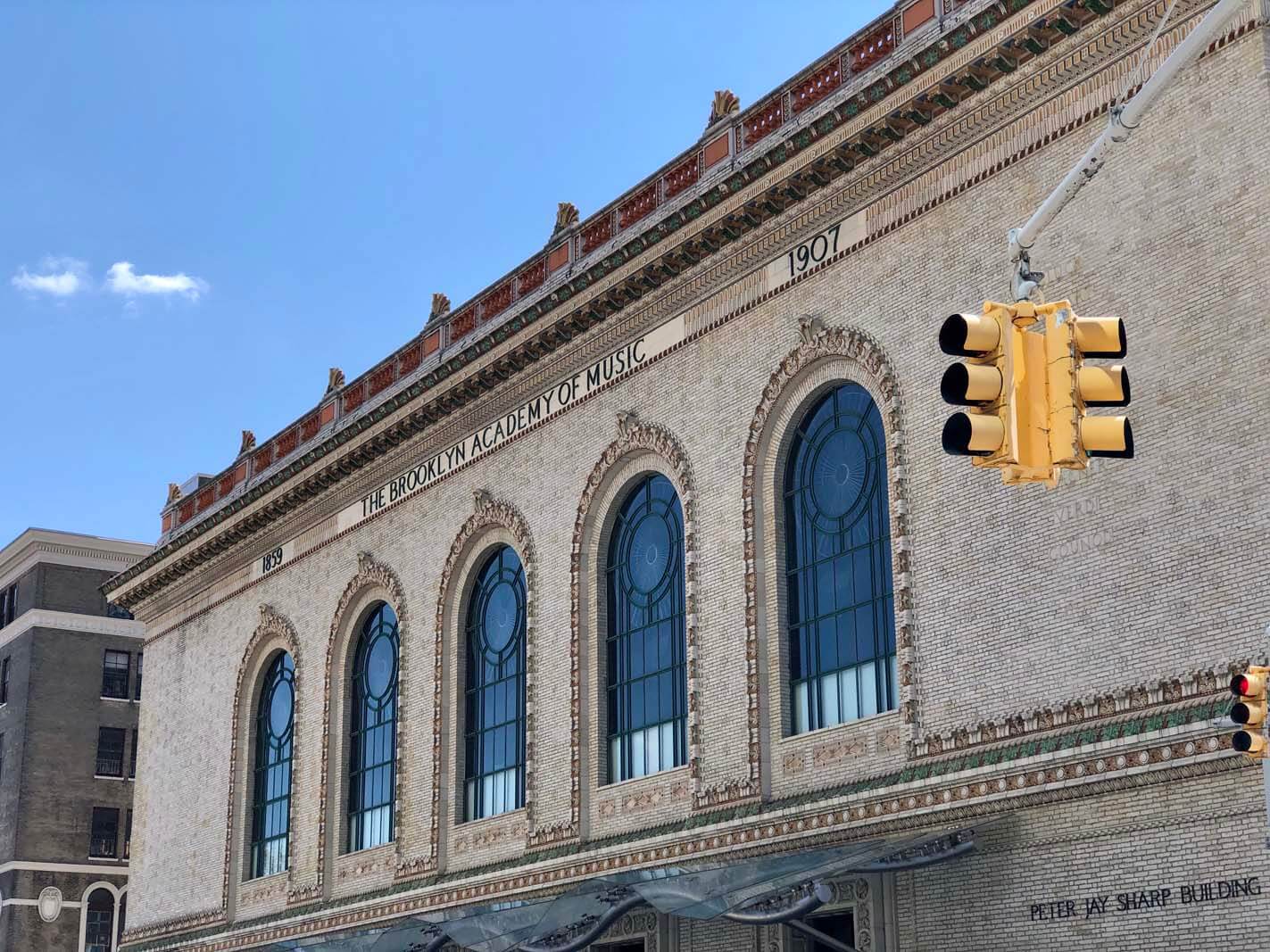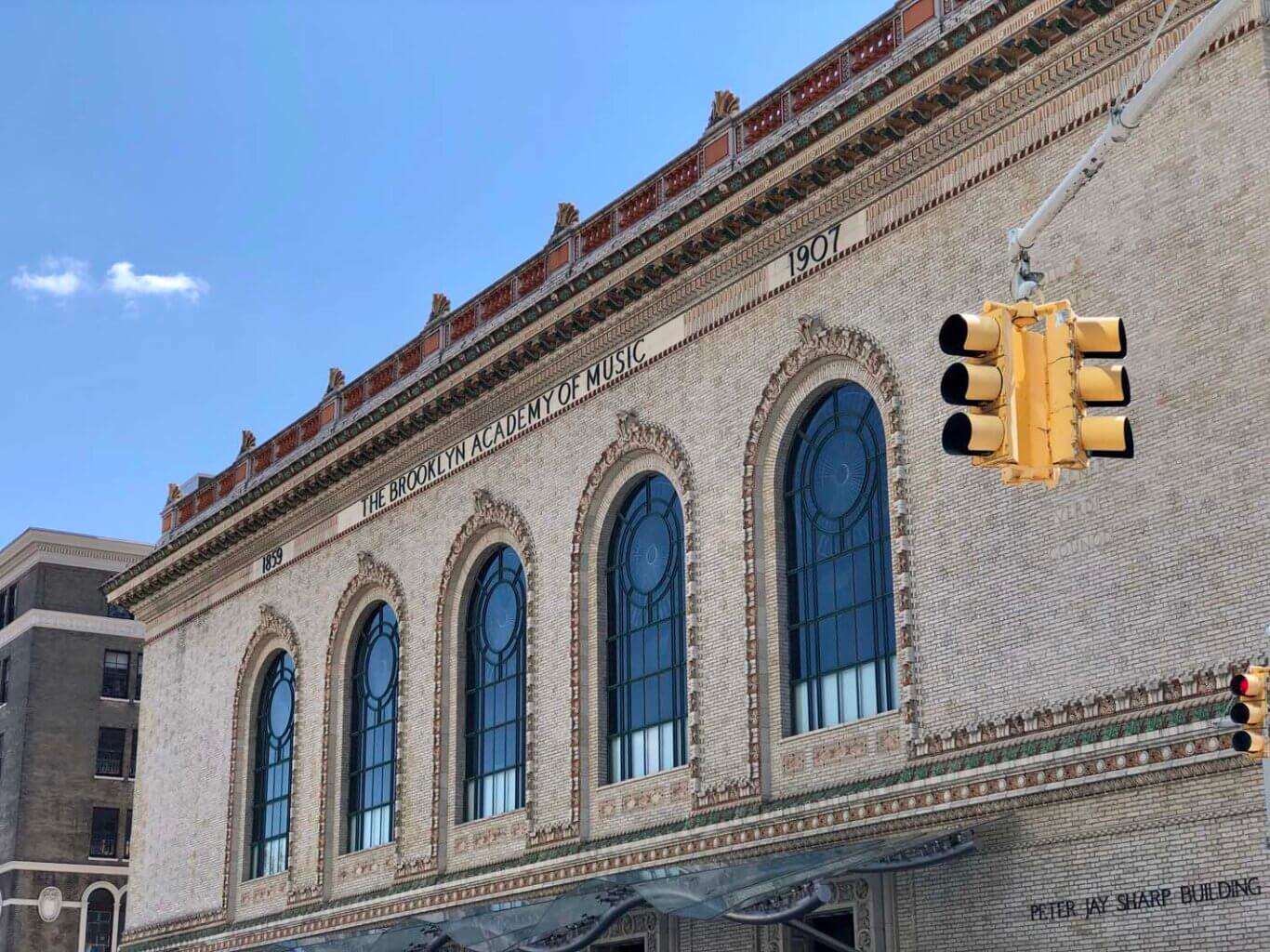 One of the best things to do in Brooklyn for arts and culture lovers is checking out a show at the Brooklyn Academy of Music, or BAM. This performing arts venue is famous for its' cutting edge and avant-garde performances. Whether you like theater, dance, opera, or film – you can find performances here!
The original structure was built in 1861 for the Philharmonic Society of Brooklyn in Brooklyn Heights but burnt to the ground in 1903. The current building was built in Fort Greene in 1906 to replace it where theater and opera would use as a performance venue.
BAM is considered as one of America's oldest performance arts centers and offers archives of the history and different performances even to today including theater, opera, music, dance, and visual art performances.
There's even a movie theater in BAM where you can see many of the latest blockbuster hits in this historic building.
15. Catch a Game or Concert at Barclay's Center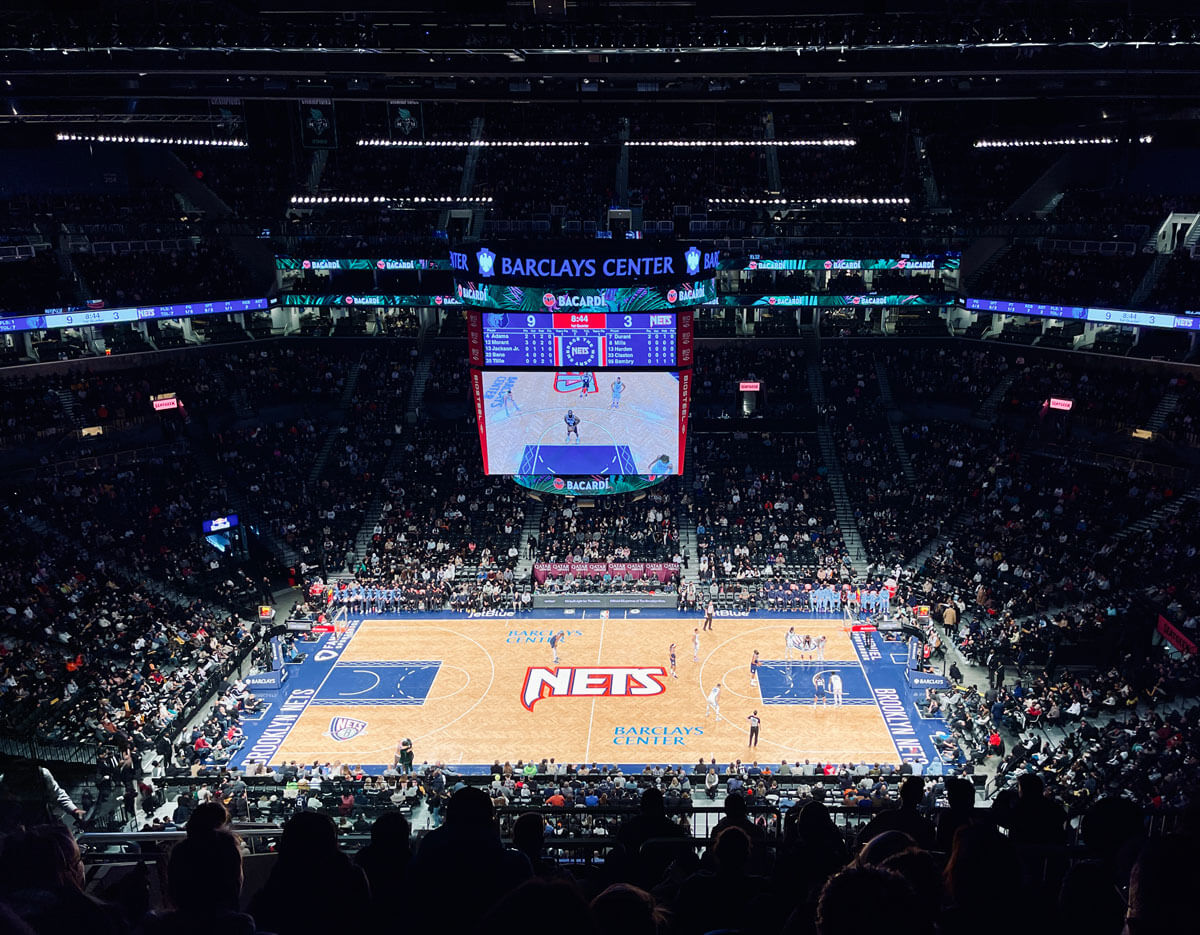 In the center of many of Brooklyn's neighborhoods is the giant indoor arena home to the Brooklyn Nets basketball team, New York Islanders NHL team, and concert venue Barclays Center!
We saw Kendrick Lamar perform here and it's still one of the best concerts we've been to. We've also attended a few Nets games, which are always fun in person and typically not as expensive as Knicks tickets.
Most visitors come here for the sporting events or concerts. Getting here couldn't be easier as the subway station connects to the 2, 3,4,5, B, D, N, Q, R, & W lines as well as the Long Island Railroad (LIRR).
There are also plenty of great restaurants near Barclays Center to plan to dine before or after your event too.
Unique Things to do in Brooklyn
This section is now dedicated to more of the unique things to do in Brooklyn, things that we've learned by living here that might not be as well-known as the top Brooklyn attractions mentioned above. Consider this your local's picks section.
The City Reliquary Museum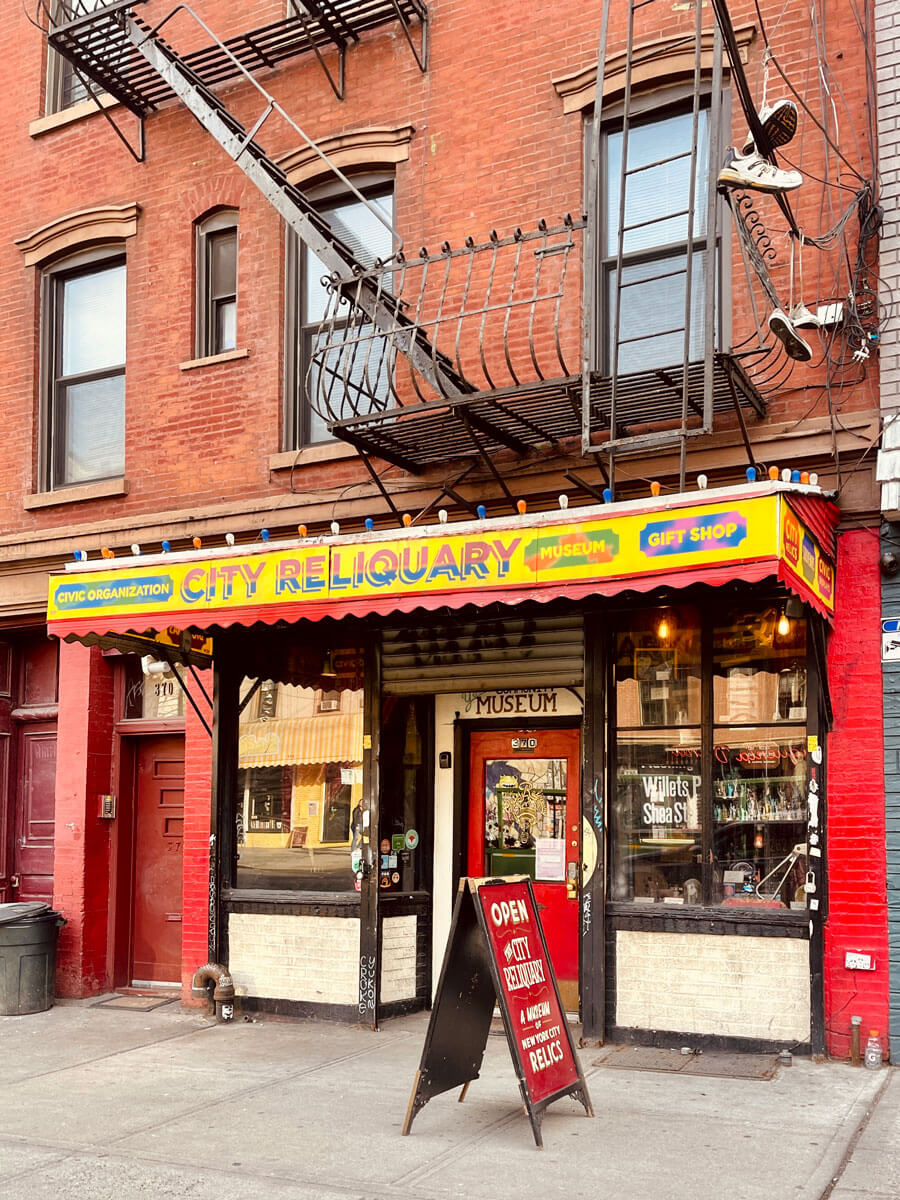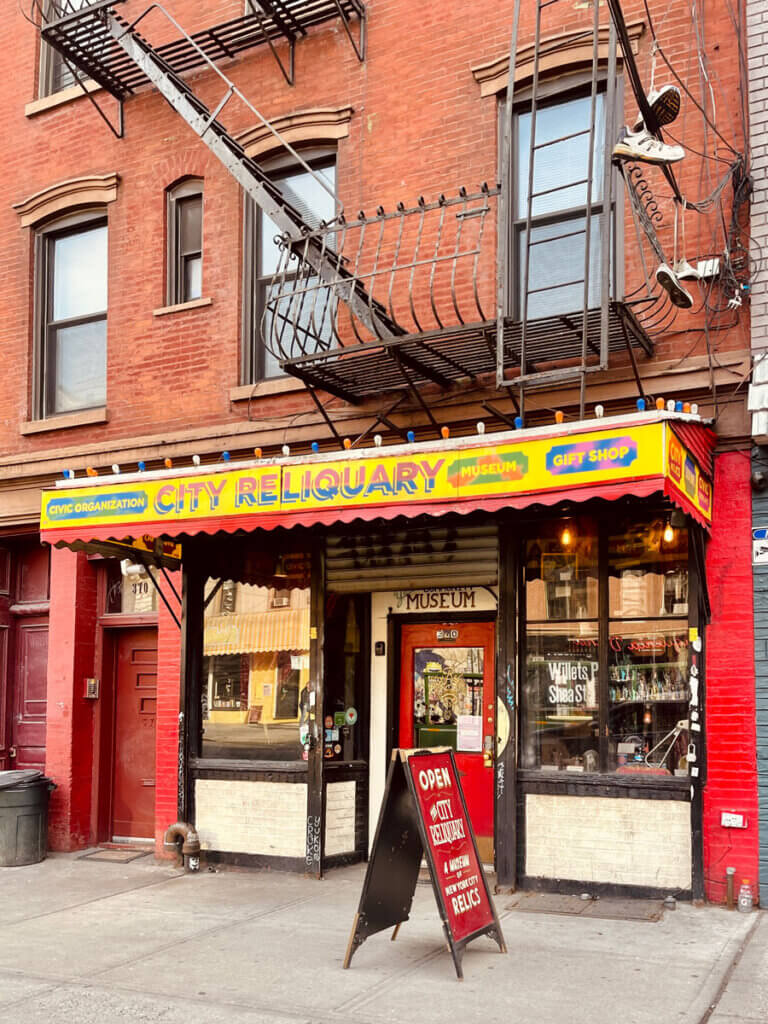 One of the more unique things to do in Brooklyn is visit The City Reliquary, a community-run, not for profit museum in Williamsburg focusing on the history of the 5 boroughs as well as a sort of shrine to all things New York City.
The museum's origins are even interesting starting in the first floor of an apartment in Williamsburg where the owner painted a map and directions to any nearby landmarks on the side of the building.
Some of the oddities you'll encounter here include everything from New York City rat bones, old postcards, fragments of historic landmarks in the city, and other random finds by the community all tied to New York City.
Also, be sure to check out their rotating exhibits they host throughout the year as well. In 2019, they housed a collection of artifacts from New York City Public Schools from the years of 1850-1970 with items like a dunce chair and classroom decorations.
Open only Thursdays through Sundays.
Brooklyn Historical Society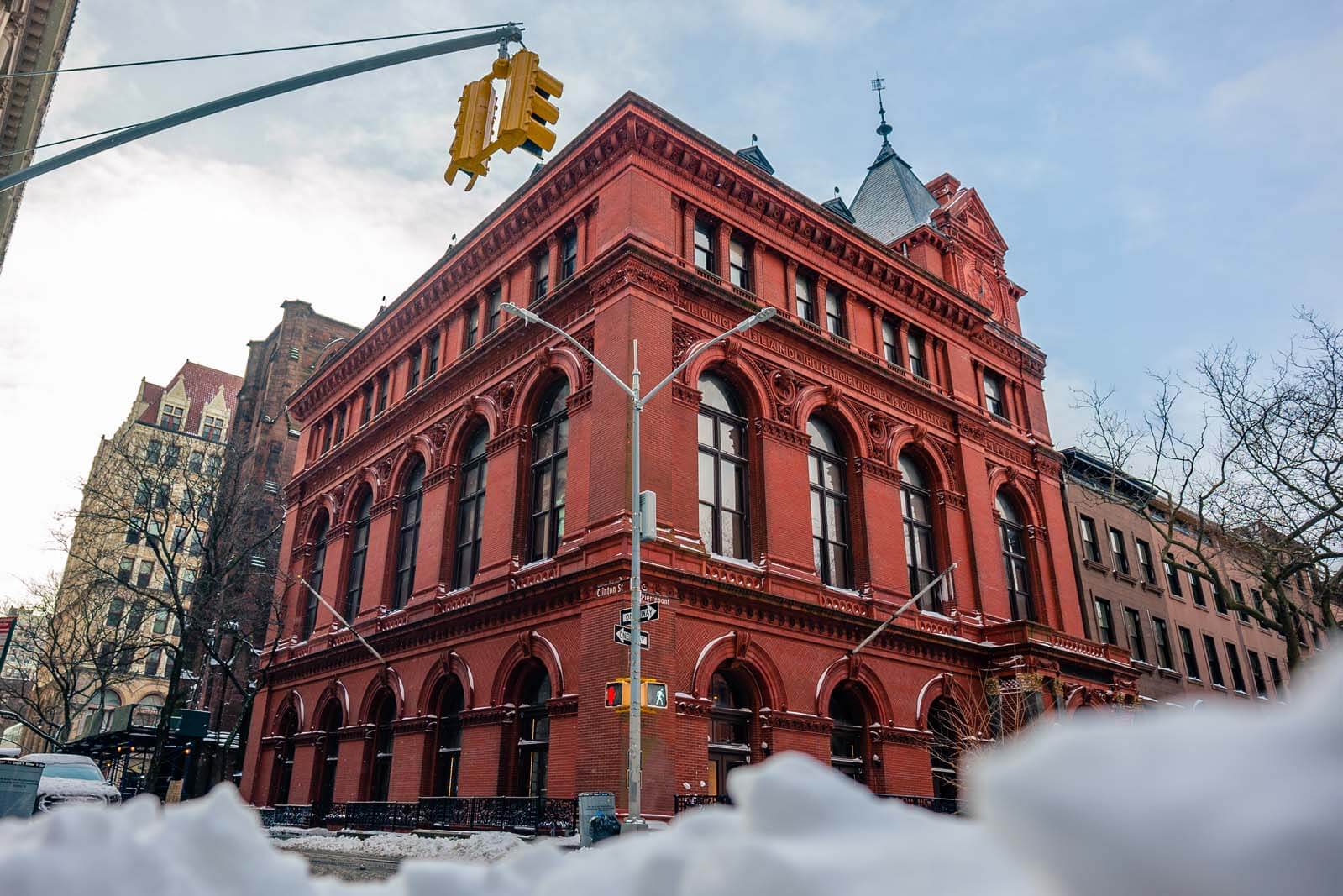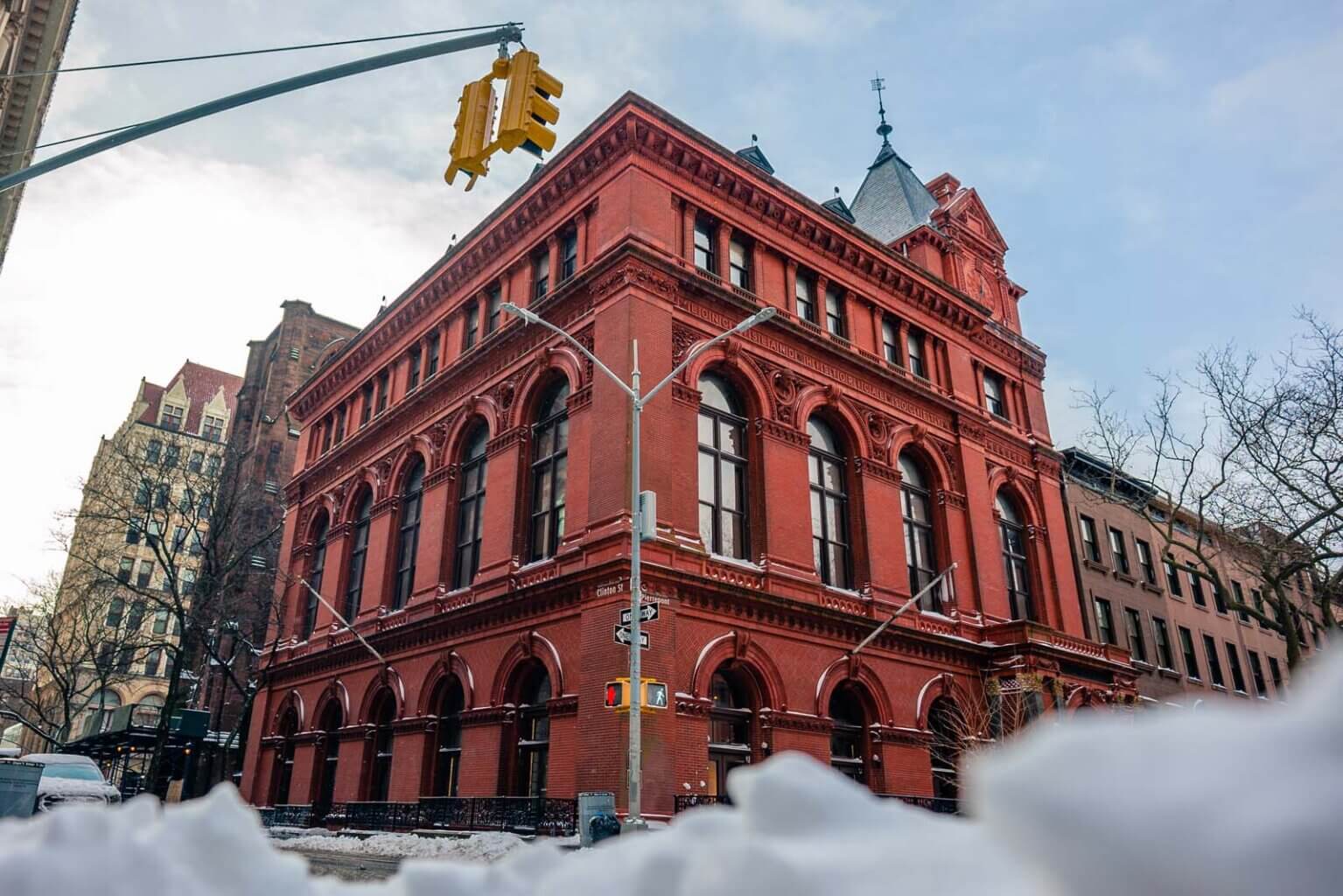 If you're looking to learn more about the history of this borough then you will want to visit the Brooklyn Historical Society.
There are two locations, the main location in Brooklyn Heights and a 15 minute walk away there's an additional location in DUMBO.
If you're a history buff, then this is the perfect thing to do in Brooklyn for you. Explore the 400-year history of Brooklyn through their educational center including history related to Brooklyn and the people who have lived here over history.
Besides having a great museum, archive, library, and information the entire historical society is housed in a landmark Romanesque Revival building.
Closed Mondays & Tuesdays
Pioneer Works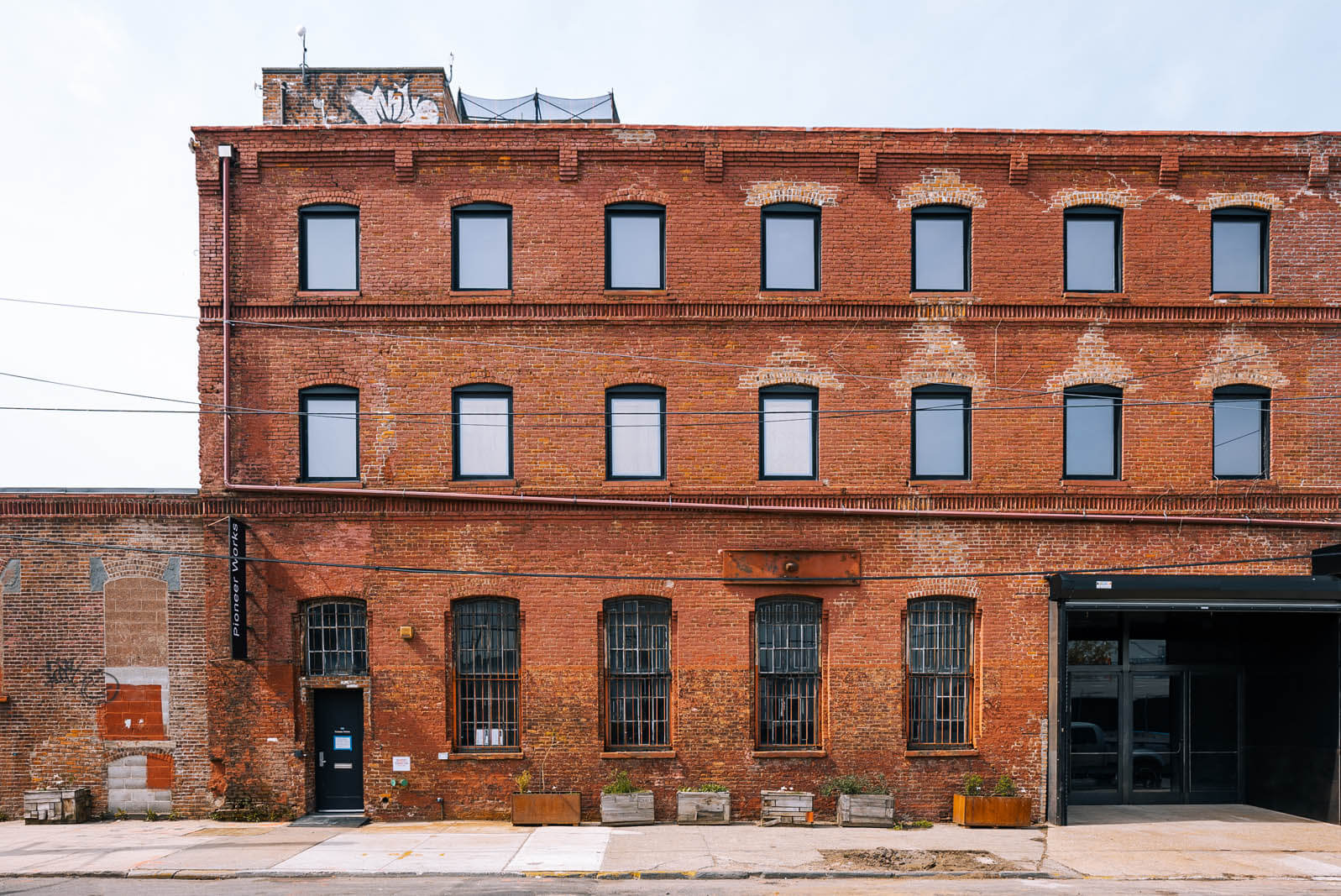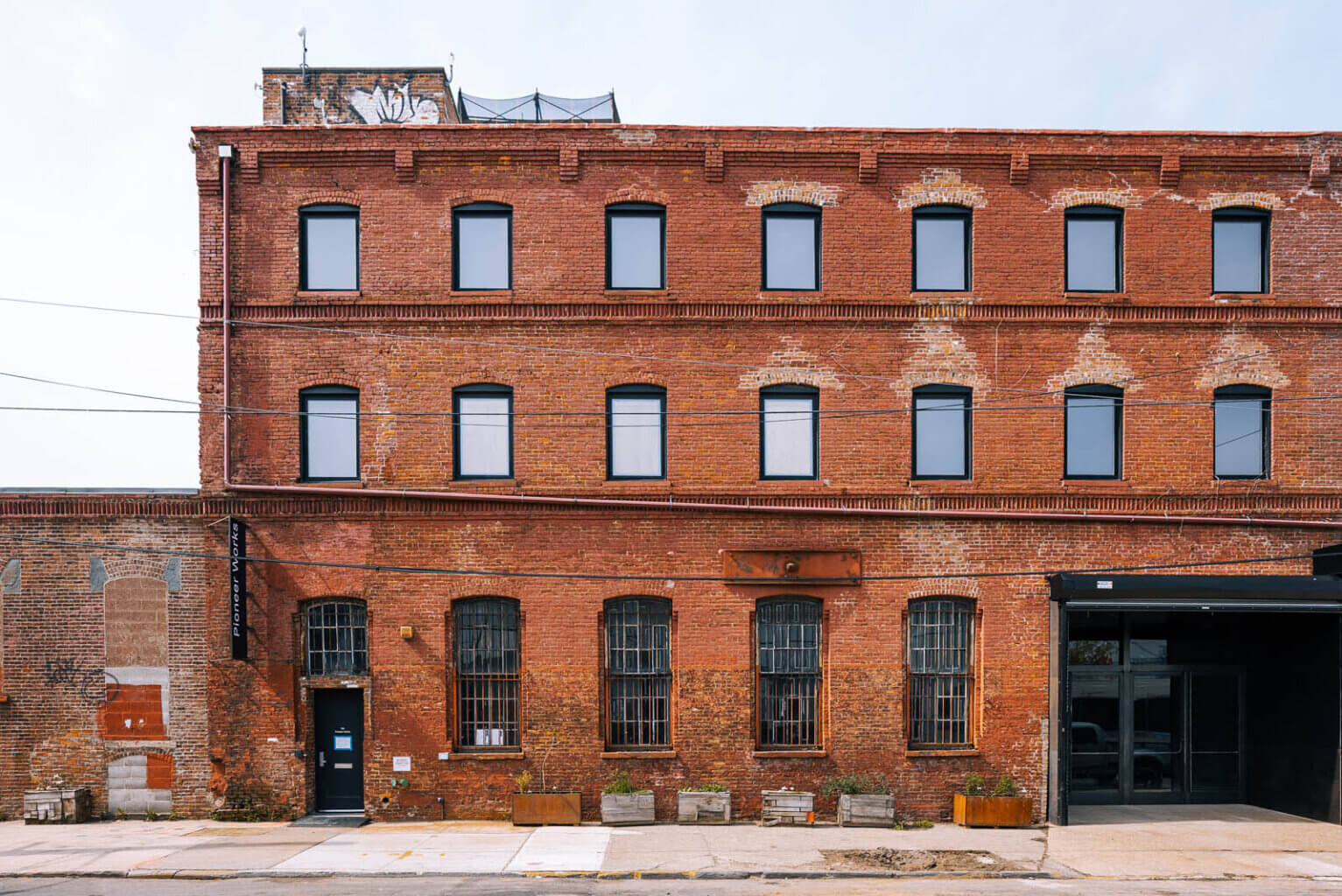 One of the coolest and under the radar museums and unique things to do in Brooklyn is Pioneer Works located in Red Hook. The space is named after the historic building its housed in which was built in 1866 for Pioneer Iron Works, who created railroad tracks and other iron products.
A large scale restoration took place to tie in the history of the building to this urban artistic space. Sadly, just months after first opening its doors in 2012 Hurricane Sandy badly damaged the works housed here. But that hasn't stopped the creative spirit here, artists have continued to create in this unique and one of a kind space in Brooklyn.
This cultural center runs as a not for profit center focusing on the arts and sciences celebrating radical and free-thinking artists to have space and resources to create.
Come and explore the different exhibits by the different artists who are members here, they are truly incredible or even take a class and explore your own creativity!
Admission is free and is closed on Mondays & Tuesdays.
Harbor Defense Museum
Another lesser known museum that has a focus on the city's maritime history is the Harbor Defense Museum or The Caponier at Fort Hamilton in Bay Ridge. The museum focuses on the history of the city's coastal defense and how the military protected the city by water from attacks from the Revolutionary War to World War II.
Fort Hamilton is the oldest fortification built on New York Harbor and the second oldest federal post in the country only behind West Point. Detailing the history of the New York Harbor as well as displays of artifacts from history including maps, canons, weapons, uniforms, and other military relics that protected the city from seaward invasion.
Free admission, open Tuesdays through Fridays
Head to Brighton Beach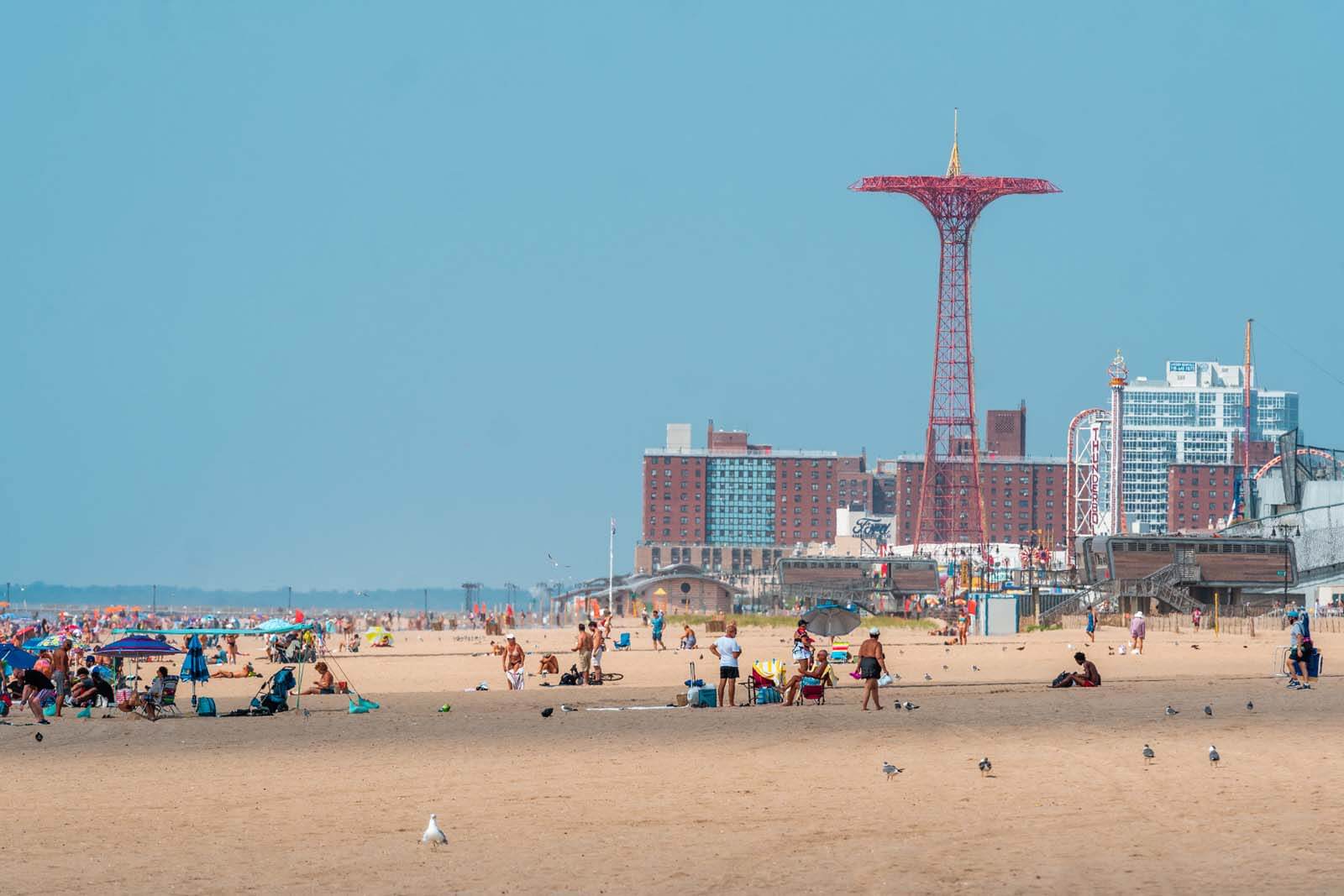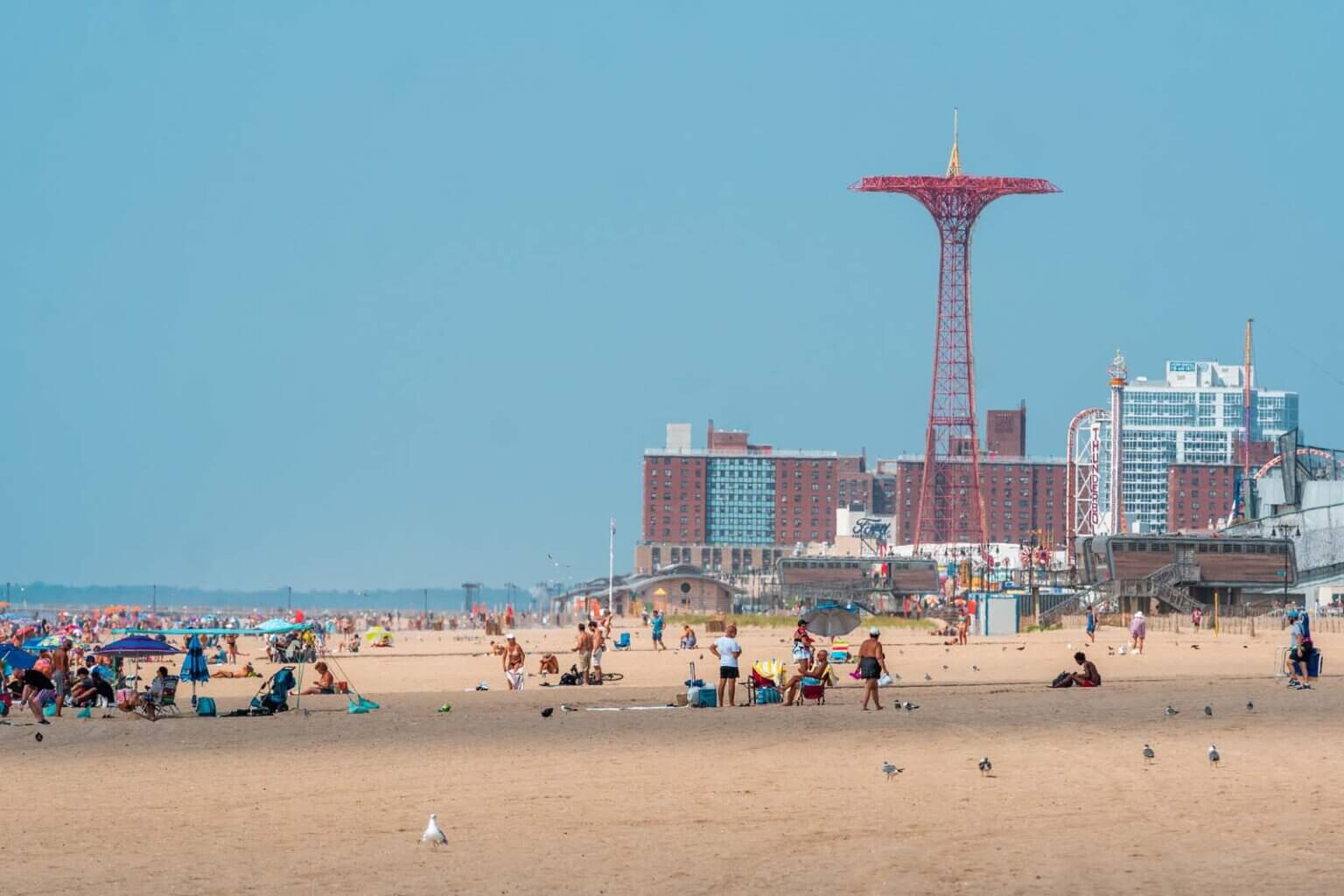 Brighton Beach is located just next to Coney Island and is a cultural, Russian-speaking neighborhood and enclave for groups from the former Soviet Union. The neighborhood is often referred to as Little Odessa as well.
The Rigelmann Boardwalk connects to Brighton Beach, so it's easy to explore both Coney Island and Brighton Beach if you wanted to stroll and explore along the boardwalk.
In the summer you can enjoy one of the best beaches in Brooklyn here, it tends to be more quiet than the neighboring Coney Island Beach.
You can also find all kinds of Russian and Ukranian restaurants, shops, and bathhouses if you're looking to enjoy a spa day. Many of the signs are in Cyrillic and you'll likely hear residents speaking Russian.
If you're looking for local spots to check out, Tatiana Restaurant and Nightclub is one of the best not only for an authentic food experience, but for their live performances during their dinner service that has everything from trapeze artists to singing and other fun performances.
Walt Whitman Park
Another lovely Brooklyn park to enjoy named after a famous Brooklyn resident, one of the country's most influential poets, essayist, and writer Walt Whitman. Whitman lived and worked in Brooklyn for part of his life where some of his most famous works were published including Leaves of Grass.
He was also the editor of the Brooklyn Daily Eagle for two years too! If you're a fan, be sure to check out all the Walt Whitman Brooklyn sites too!
This park doesn't have the same sports amenities as the other parks but this is a nice peaceful, greenspace to sit on a bench reading a book, relaxing, get inspired, or enjoying some fresh oxygen from all the trees surrounding you.
You'll also find some of Whitman's excerpts around the park. So if you're a American literary or Walt Whitman fan this is the perfect thing to do in Brooklyn for you.
Eat Your Way Through Sunset Park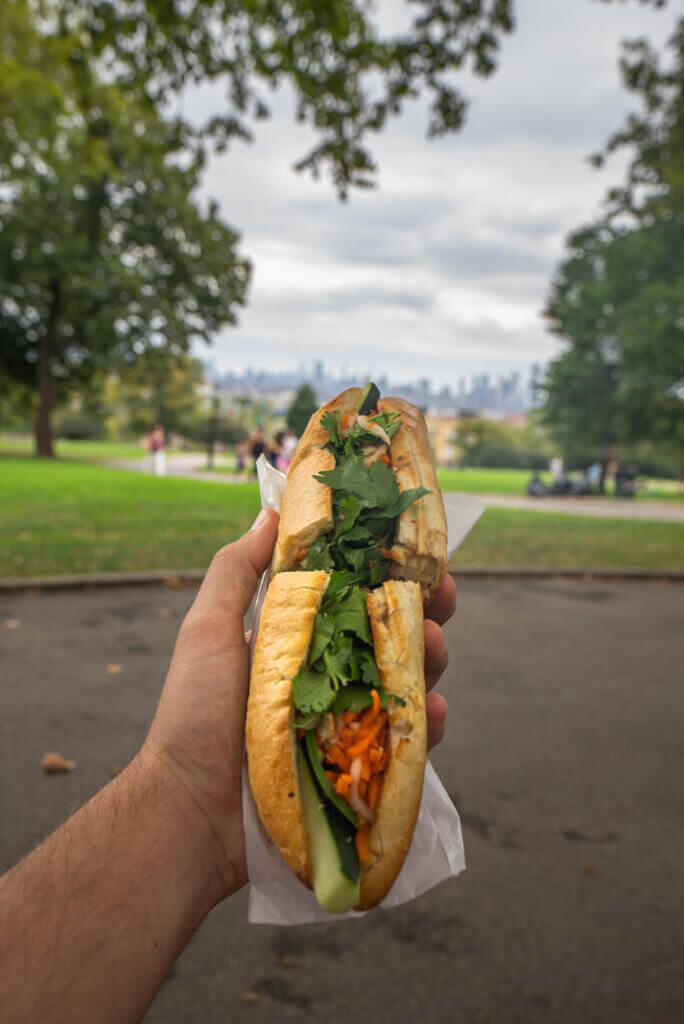 One of our personal favorite places to visit in Brooklyn is spend an afternoon in the South Brooklyn neighborhood of Sunset Park. This culturally diverse neighborhood is not only home to a large Latin American population but also home to Brooklyn's Chinatown and South Asian communities.
Head to 8th Avenue on a weekend and immerse yourself in Brooklyn's Chinatown. It has a completely different feel than Manhattan's Chinatown as it's more spread out, but this is where you're going to find your street markets and vendors, dumpling shops, hot pot restaurants, Cantonese roast stalls, bubble tea shops, bahn mi spots, and a few specialty shops.
If you're looking for what to try to eat, the bahn mi at Ba Xuyen is famous (plus close to the park), hot pot a LaoJie, or dumplings at Kai Feng Fu Dumpling House are a great place to start.
Head down a few blocks and you're on 5th Avenue where you'll find Sunset Park's concentration of Latin American businesses and restaurants and one of the most beautiful churches in Brooklyn at Our Lady of Perpetual Help.
In the evenings you can order some of the best birria tacos in the city from the El Bronco Tacos food truck, just don't forget to order a cup of consome to dip those in!
Zona Sur Bar Bistro is a great weekend brunch spot, La Flor de Izucar serves up some great tacos, a stellar breakfast burrito, and also has Mexican baked goods, La Isla is a great spot if you're craving flavors from Puerto Rico, Castillo de Yaque offers Dominican cuisine, Castillo offers Ecuadorian cuisine, and Usuluteco brings flavors of Salvadorian dishes here to give you some places to start your foodie adventure exploring Sunset Park.
Also, on the weekends you'll also find vendors selling arepas, pupusas, and tamales from carts you can just grab and go to take to the park.
Which brings me to the focal point of Sunset Park, the actual park! This is one of the prettiest parks in Brooklyn set on a hill overlooking the New York Harbor with Statue of Liberty views and a complete skyline view.
Plus, you're near Green-Wood Cemetery, so after you've had your fill eating your way through Sunset Park, you can go explore the cemetery after, one of my favorite ways to spend a day in Brooklyn.
Check out Dekalb Market at CityPoint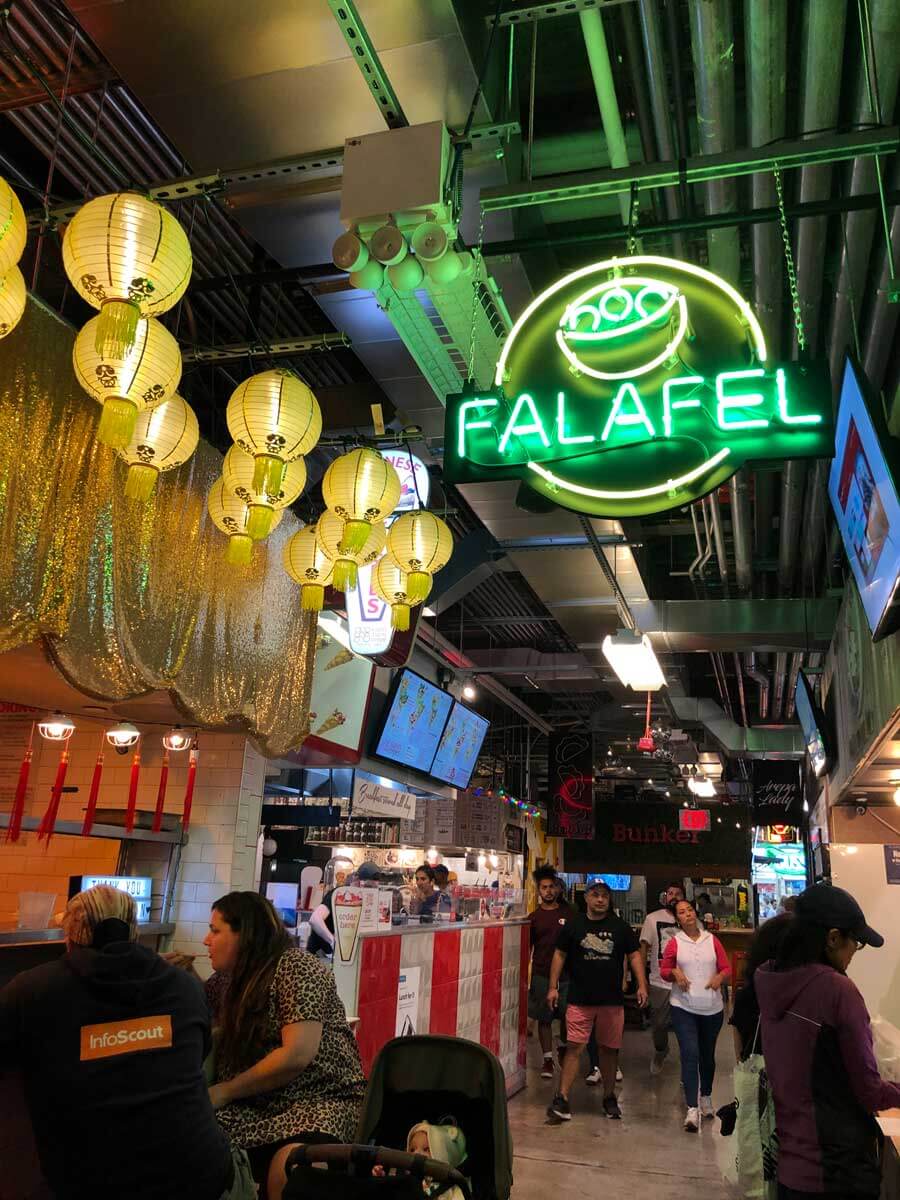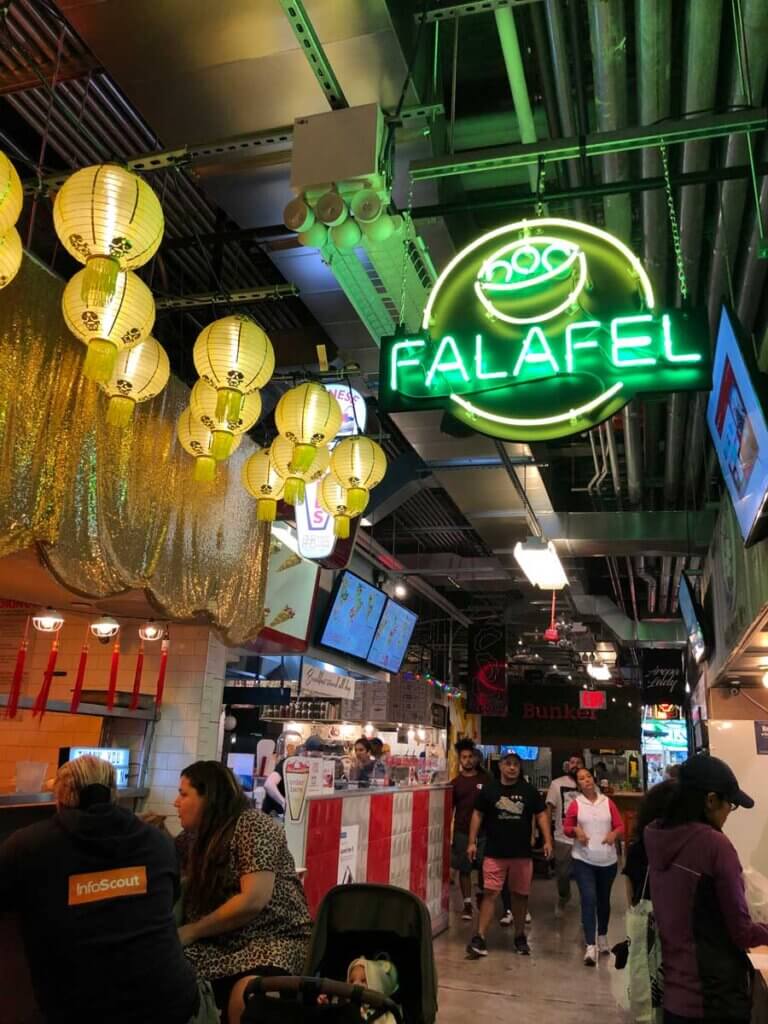 Another one of the best things to do in Brooklyn is head to Downtown Brooklyn to CityPoint. This is one of the newer developments in the borough and inside you'll not only find a multi-level shopping center with big box retailers like Target and Primark, but you'll also find Brooklyn's outpost for Alamo Drafthouse, a popular dine-in cinema-based out of Austin, Texas, a Trader Joes, a few shops on the main level, and in the basement, Dekalb Market.
At Dekalb Market, you'll find a selection of vendors from popular New York eateries including a Taste of Katz, of Katz Deli in Lower Manhattan and the ridiculously good Han Dynasty, plus all kinds of places to taste your way around, not to mention this is one of the best places to eat in Downtown Brooklyn thanks to all the options.
Local Brooklyn brewery, Sixpoint Brewery has a tasting room here and speaking of bars, there's also one of the most unique things to do in Brooklyn located at Alamo Drafthouse. The House of Wax is a bar decorated with a collection of late 19th-century anatomical wax figures in glass cases around the bar.
This Brooklyn attraction isn't for the faint of heart, there are some pretty graphic anatomical wax figurines in here. In fact, the collection hasn't been on seen on display since the 1920s in Berlin.
This is definitely an unusual thing to do in Brooklyn, but worth taking a gander around if you have a bit of morbid curiosity. You don't need a movie ticket to see the collection either.
See a Movie at Nitehawk Cinema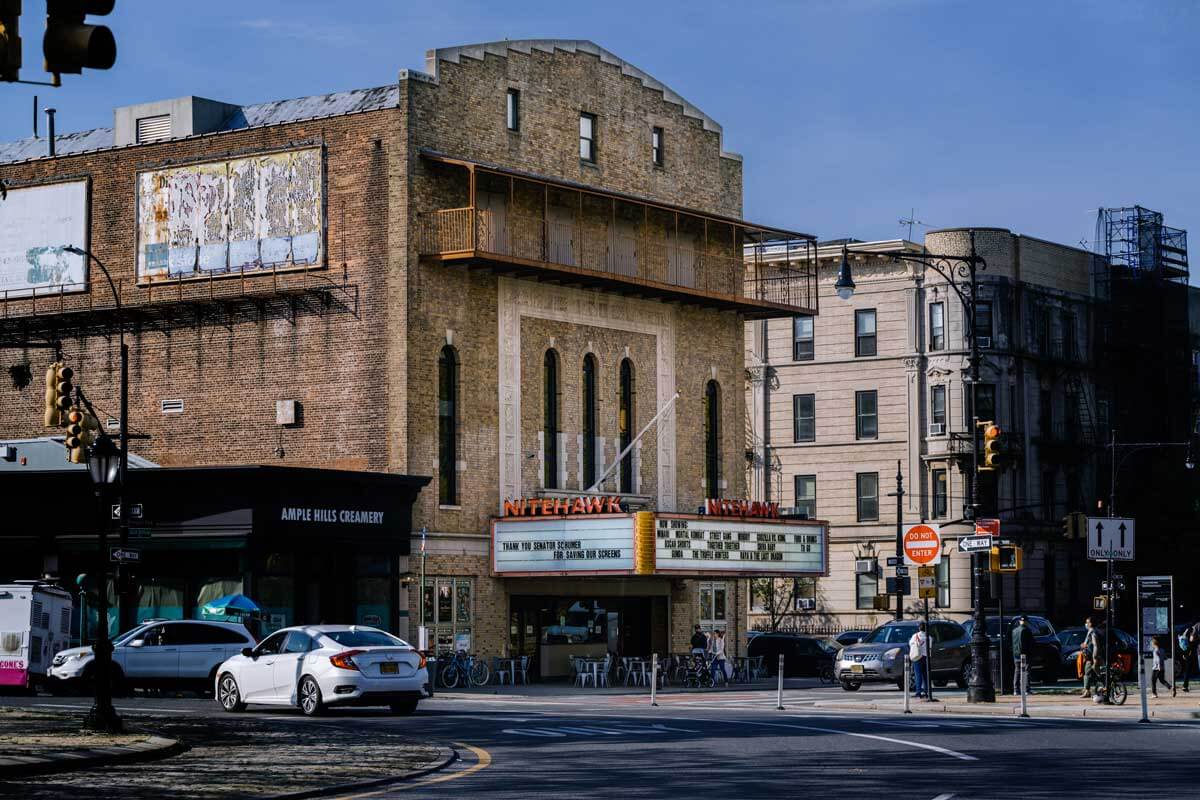 With locations in Williamsburg and Park Slope along Prospect Park West, this local Brooklyn movie house is my favorite place to see a movie. Not only can you dine in and drink while you watch your movie, they also have all kinds of events and movie premieres or themes where you can watch classics on the big screen again here.
One of my favorite events is their Spoons and Toons hosted series where you watch retro cartoons while enjoying an all-you-can-eat open cereal bar and ordering cereal-inspired cocktails.
This was the first movie theater in New York to get a liquor license and the first in the city to offer dining while you watch the movie. This was something they had to really work hard at due to outdated prohibition-era laws that made it impossible before! For that, we are eternally grateful as we love having a nice drink (and a bite to eat) while watching our movie.
Visit Brooklyn Wineries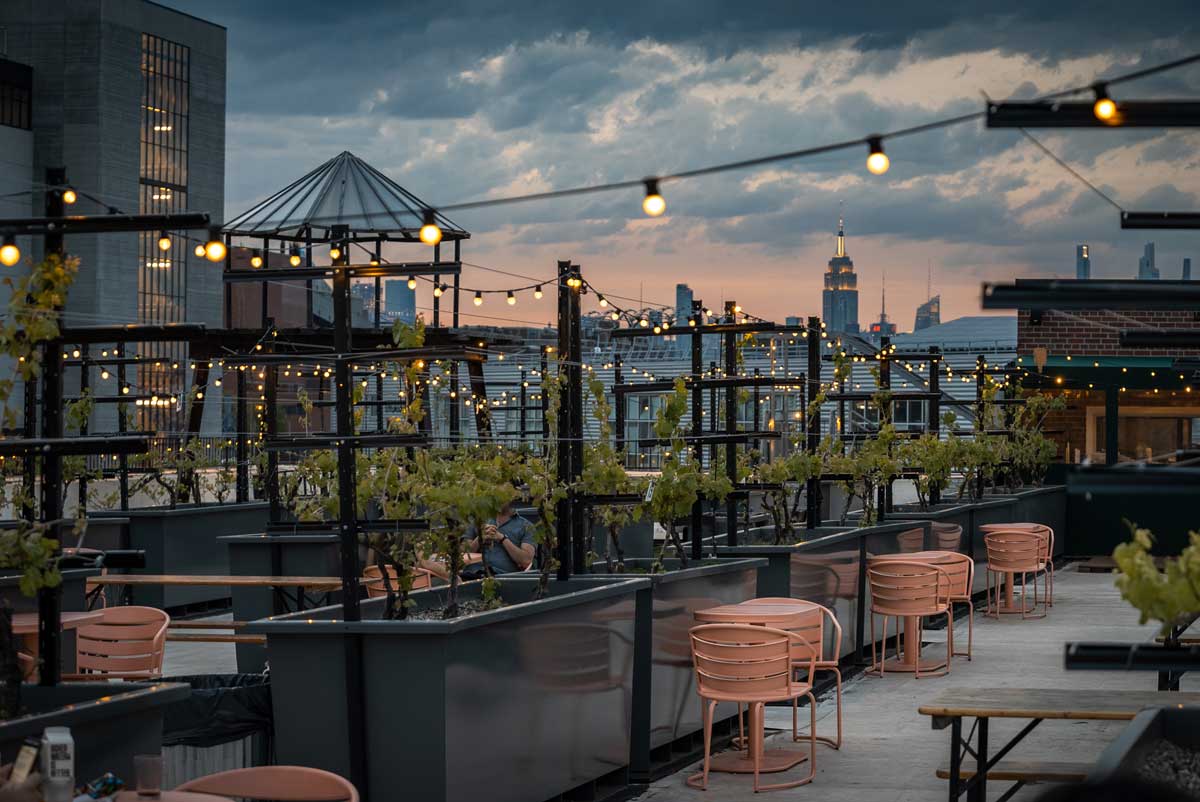 Did you know Brooklyn has wineries? There are even vineyards on a rooftop in Brooklyn! Another one of the more unique things to do in Brooklyn is wine tasting! We've got a few favorite spots.
Rooftop Reds is the 'rooftop winery and vineyard' located in Navy Yard on top of an old warehouse building. They've partnered with a winery in the Finger Lakes to provide a majority of their wine production, but they do sell bottles of their wine made from the grapes grown on the roof here, although it comes at a higher price. What's awesome is that you can see the city skyline from here and they sometimes do movie screenings here as well.
A few things to keep in mind is that you'll need to be able to climb a few floors to get to the roof! You have to pay for admission which does not include your tastings or wine, which if you're not prepared for it dampens the experience.
Another cool winery to check out is Red Hook Winery, a waterfront winery in the neighborhood of Red Hook also located in a former warehouse. This wine tasting experience is more laid back and from outside you have great views of the Statue of Liberty.
Brooklyn Winery in Williamsburg is also another excellent option for small-batch local wines. We recommend dining at their restaurant Rosette and sampling the wines there.
Industry City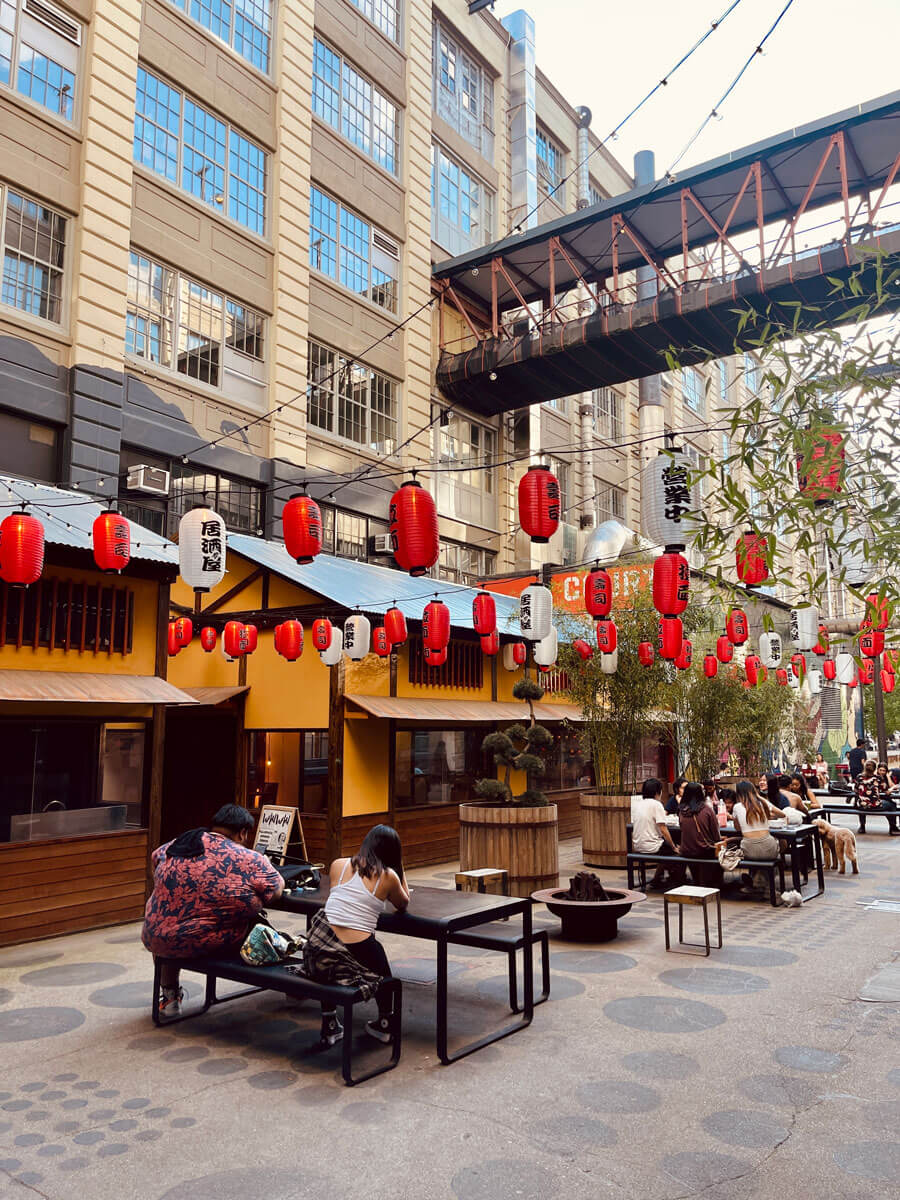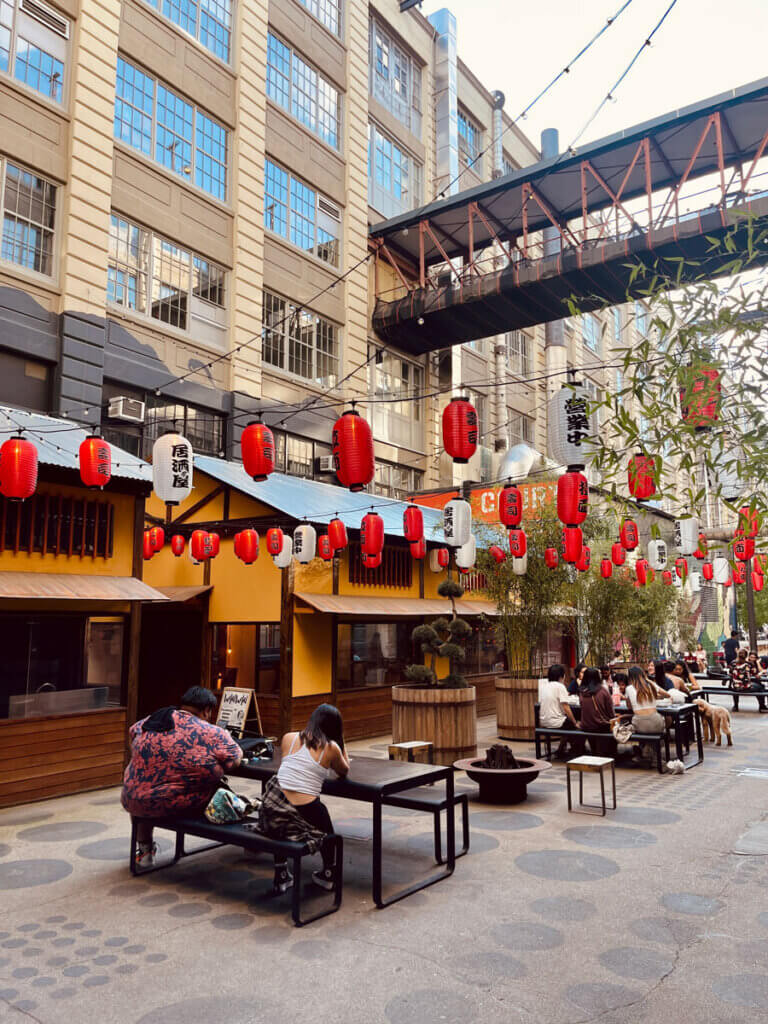 Located in Sunset Park is another one of our favorite places and things to do in Brooklyn, hang out at Industry City. This former industrial complex has been turned into a gathering place and space full of restaurants and eateries, shops, event space, open-air hang out spots, outlets for popular furniture retailers, artist studios, the city's only Japan Village, coworking space, and tons of cool outdoor artwork.
It seems like they have events and special happenings going on just about anytime of the year from the holidays to special installations, performers, and events each season.
They have an excellent food court, although it has weird hours and closes at 6 PM daily. But for those who can't make the early bird special can enjoy one of the restaurants here too including Hometown Bar-B-Que. You can find distilleries here, a brewery, and even a sake tasting room.
They also have a Sahadi's Middle Eastern supermarket that has a food counter for lunch and dinner items as well as a bar and my favorite of them all, Japan Village.
Japan Village is the only of its kind in the city which features a Japanese food court selling all kinds of specialty dishes from Japan, a Japanese restaurant and omakase sushi counter, a Japanese supermarket, and a Daiso store on the upper level.
Not to mention they have ample outdoor spaces, that are heated in the winter months too, between the buildings have been transformed into a beautiful hang out, play area, and gathering place with waterfront views or views of colorful murals. There's something for everyone here.
Check Out Brooklyn's Best Breweries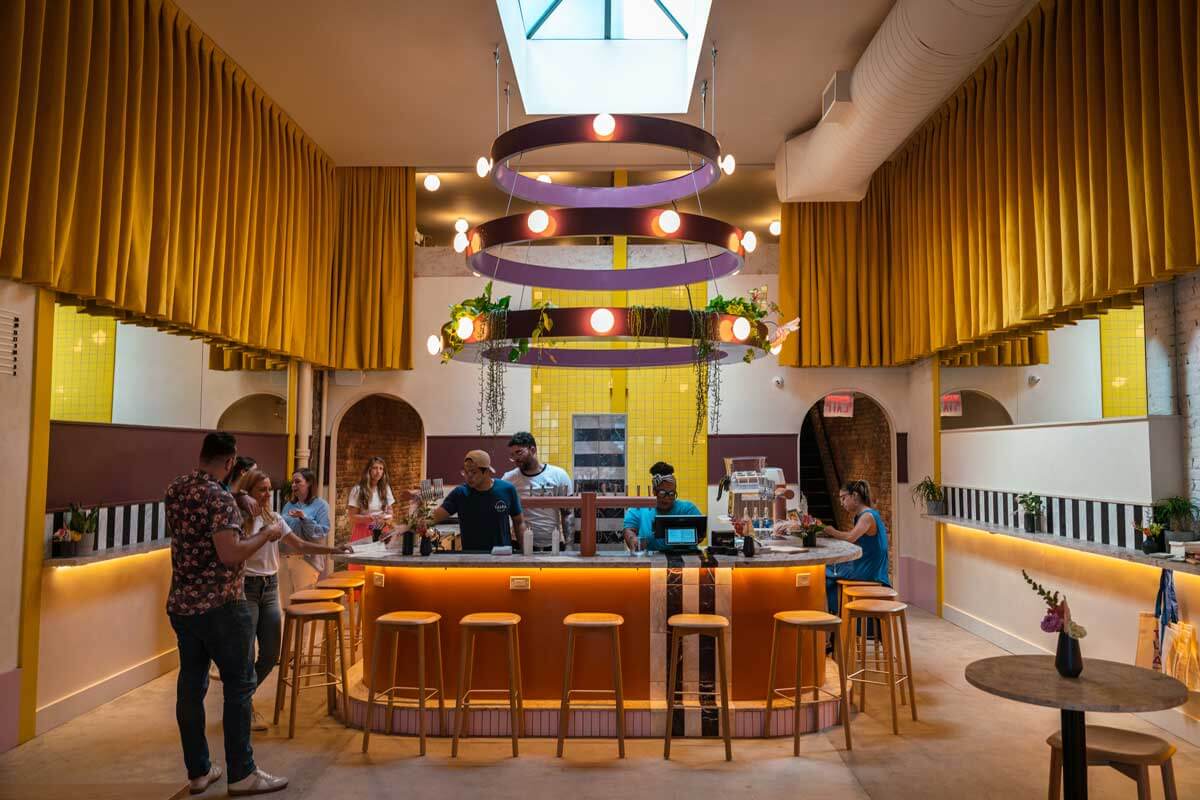 For beer lovers looking for what to do in Brooklyn, this is for you. Brooklyn has a stellar microbrewery scene! What's even more interesting is that the resurgence of microbreweries in Brooklyn is semi-new.
In the late 19th century until the prohibition, Bushwick was the stronghold for beer in the northeast, they even have their own 'brewer's row' compromised of 14 blocks with 14 different breweries. In fact, Brooklyn and the German immigrants who lived here were responsible for 10% of the beer production in the United States.
That was, until the prohibition. Before 2014, when prohibition era laws were lifted, there were really only two breweries in Brooklyn, Brooklyn Brewery in Williamsburg and Sixpoint Brewery in Red Hook, both of which are excellent breweries to check out.
Since 2014, the beer scene exploded here and there are several awesome breweries in Brooklyn to check out.
In addition to the two mentioned above, we have a few favorites including Other Half Brewing in Gowanus or their tasting room in Williamsburg, Talea Beer Co. (which is the only female-owned and operated brewery here) in Williamsburg and Cobble Hill, Kings County Brewers Collective at the original site of the historic brewer's row in Bushwick, and there's a high concentration of breweries in Gowanus if you're looking to brewery hop.
If you're into beer culture and trying microbrews, you won't want to miss our borough's beloved breweries!
Stroll Through Carroll Gardens (& Cobble Hill)
Another one of my absolute favorite places to visit in Brooklyn is the neighborhood of Carroll Gardens, along with meandering through the boundaries of Cobble Hill and Boerum Hill. These neighborhoods have a gross nickname, BoCoCa (no one calls it this but it is a cluster of neighborhoods that are easy to clump together on a visit).
This is a prominently Italian-American neighborhood and you'll quickly spot all the Italian bakeries and restaurants while exploring here. This is also where you can find a high concentration of good ol' classic red sauce Italian restaurants in New York City too.
Other characteristics of this area include the tree-lined streets with gorgeous brownstone homes that have large gardens, something that's very rare to have here in New York City, which is also a designated historic district.
Cobble Hill is of similar beauty and easy to tie on to exploring Carroll Gardens.
We recommend walking up and down Smith Street and Court Street, this is where you'll find a high concentration of shops, restaurants, bakeries, cafes, and bars.
And come hungry, there are some incredible restaurants in Carroll Gardens that are worth checking out and cool shops like Books are Magic, one of the coolest independent bookshops in Brooklyn opened by author Emma Straub.
And if you pick up a new read, head over to Cobble Hill Park with your book and spend some time in this picturesque little park with your latest read. Be sure to swing by a spot like Court Pastry Shop for a few goodies too.
Check out Brooklyn's Little Italy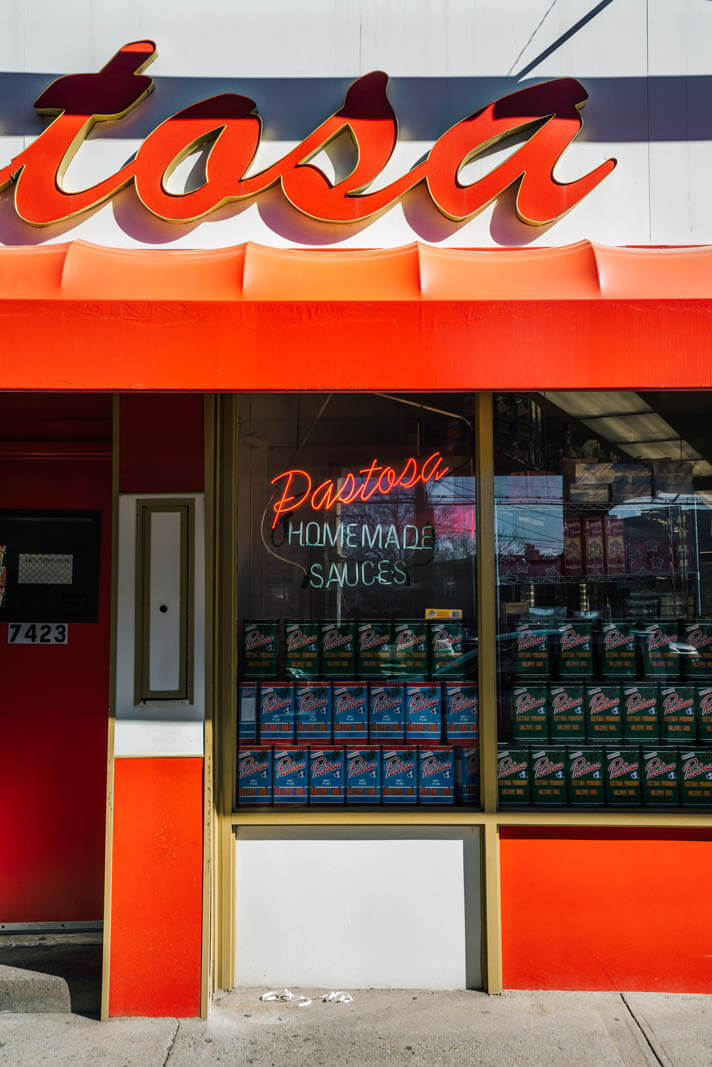 Speaking of Italian-American neighborhoods, if you're wanting to experience Brooklyn's Little Italy, it's worth making a trip to Bensonhurst! This neighborhood is definitely not frequented by tourists, but it's got some great, classic Italian spots that make it worth a visit!
Historically, this neighborhood was mostly Italian-American and Jewish communities, but in recent years with more waves of immigration, there's more diversity in the neighborhood and it's now also known as New York City's 6th Chinatown (the city actually has 9!), also known as Little Hong Kong and Little Guangdong.
The Italian food scene is what I am more familiar with and what I will focus on here, you will want to come to this neighborhood hungry. Grab a meal at Ortobello's, Krispy Pizza, or get a huge Italian hero from Lioni's which has over 100 sandwiches to choose from.
Save room for dessert and line up at Villabate Alba and get a cannoli!
And if you're looking for some great Italian ingredients to take home, don't miss Pastosa Ravioli, known for its homemade ravioli you can buy and take home as well as other great imported Italian specialty kitchen ingredients.
Old Stone House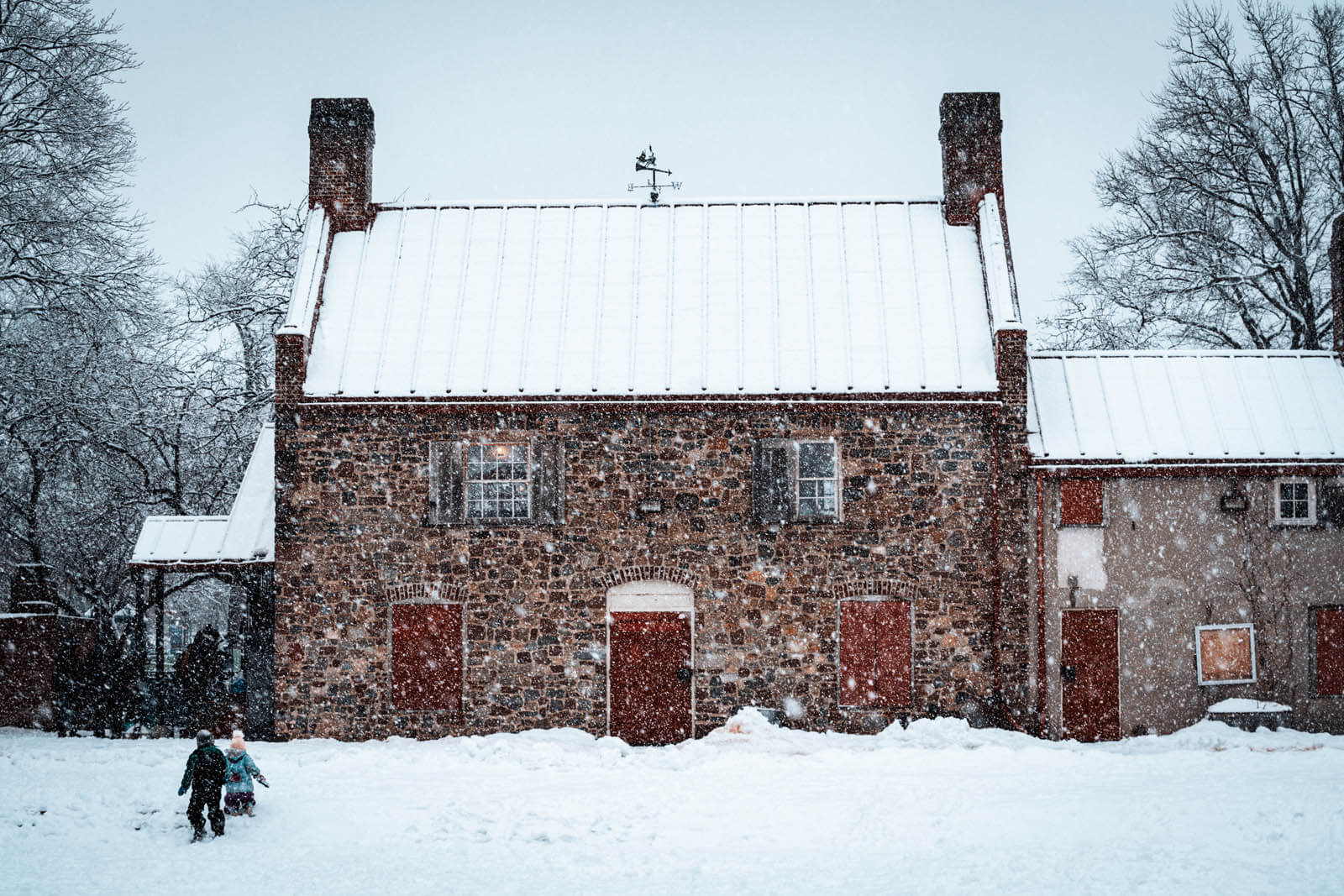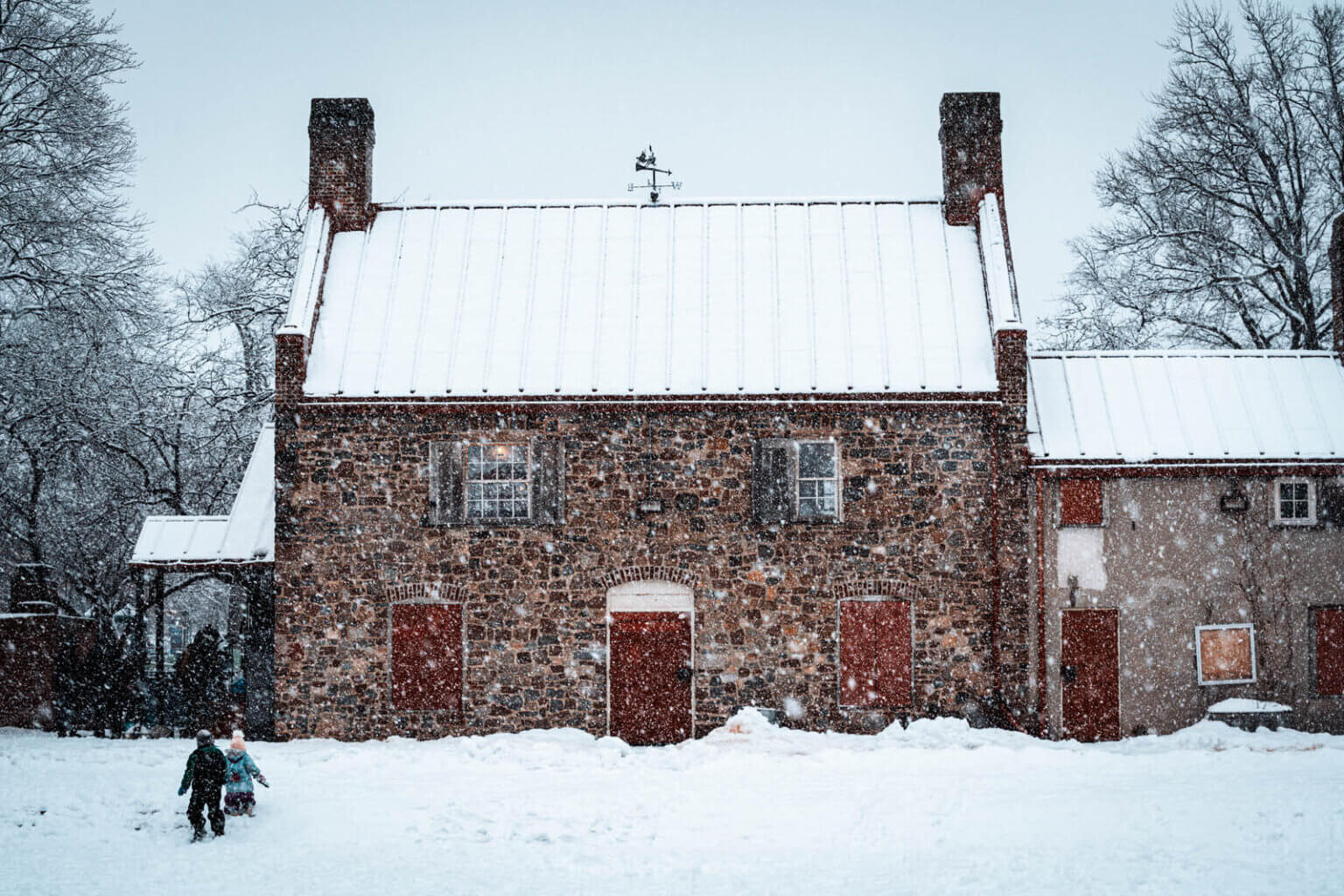 Located on the border of the Park Slope and Gowanus neighborhoods is the historic landmark, Old Stone House nestled in Washington Park right off of Park Slope's bustling 5th Avenue.
The Old Stone House is listed as a National Register of Historic Places monument and is a restored version of a Dutch stone farmhouse built in 1699 owned by Dutch immigrants who farmed the land here and harvested oysters.
The Old Stone House was an integral part of the 1776 Battle of Long Island, or the Battle of Brooklyn, the largest fight in the Revolutionary War. On August 27, 1776, the Old Stone House was where the Americans led and commanded the fight against the British and General Charles Cornwallis.
The Battle of Brooklyn was a loss for Americans, the British won this fight and occupied Brooklyn and Manhattan for seven years to come. However, George Washington and his troops escaped the British to fight again and win the war.
In more recent history, the house was used as a clubhouse for what we know today as the Brooklyn Dodgers.
Brooklyn Cat Cafe
You've got to be kitten me right meow! This is the best thing to do in Brooklyn for kitty cat lovers! This non-profit cat café is actually a cat adoption center and is partnered with animal rescue groups.
Walk in or make a reservation to spend some time with these kitties! You don't have to adopt or find a forever home for the cats you come see, but this facility has successfully helped find homes for cats since their opening.
Support the cause by visiting, your entrance helps keep the facility running and helps find homes for these friendly felines.
Can't make it? Check out their kitty cam on their website to see inside the cat café from anywhere!
Closed on Tuesdays.
Royal Palms Shuffleboard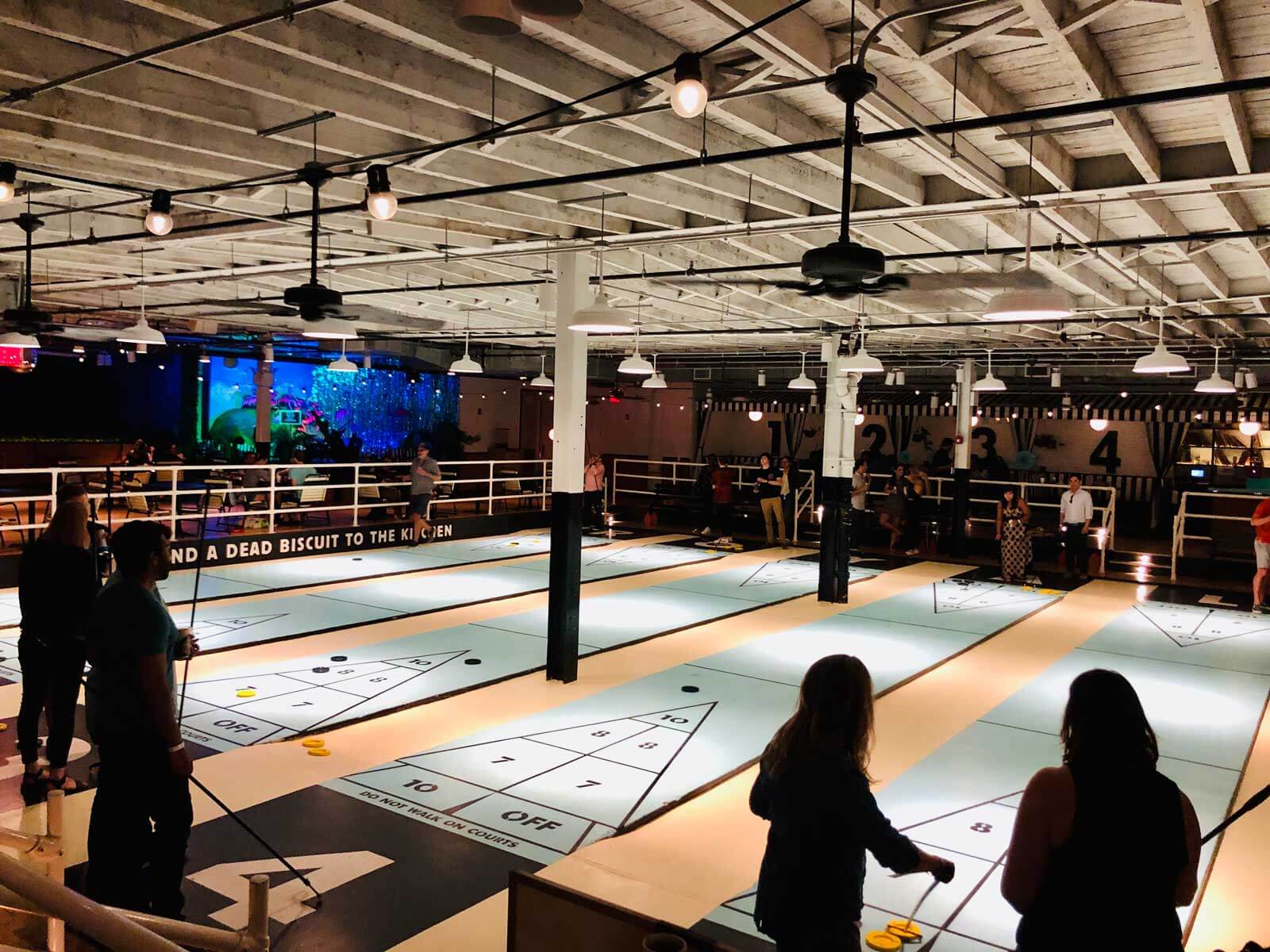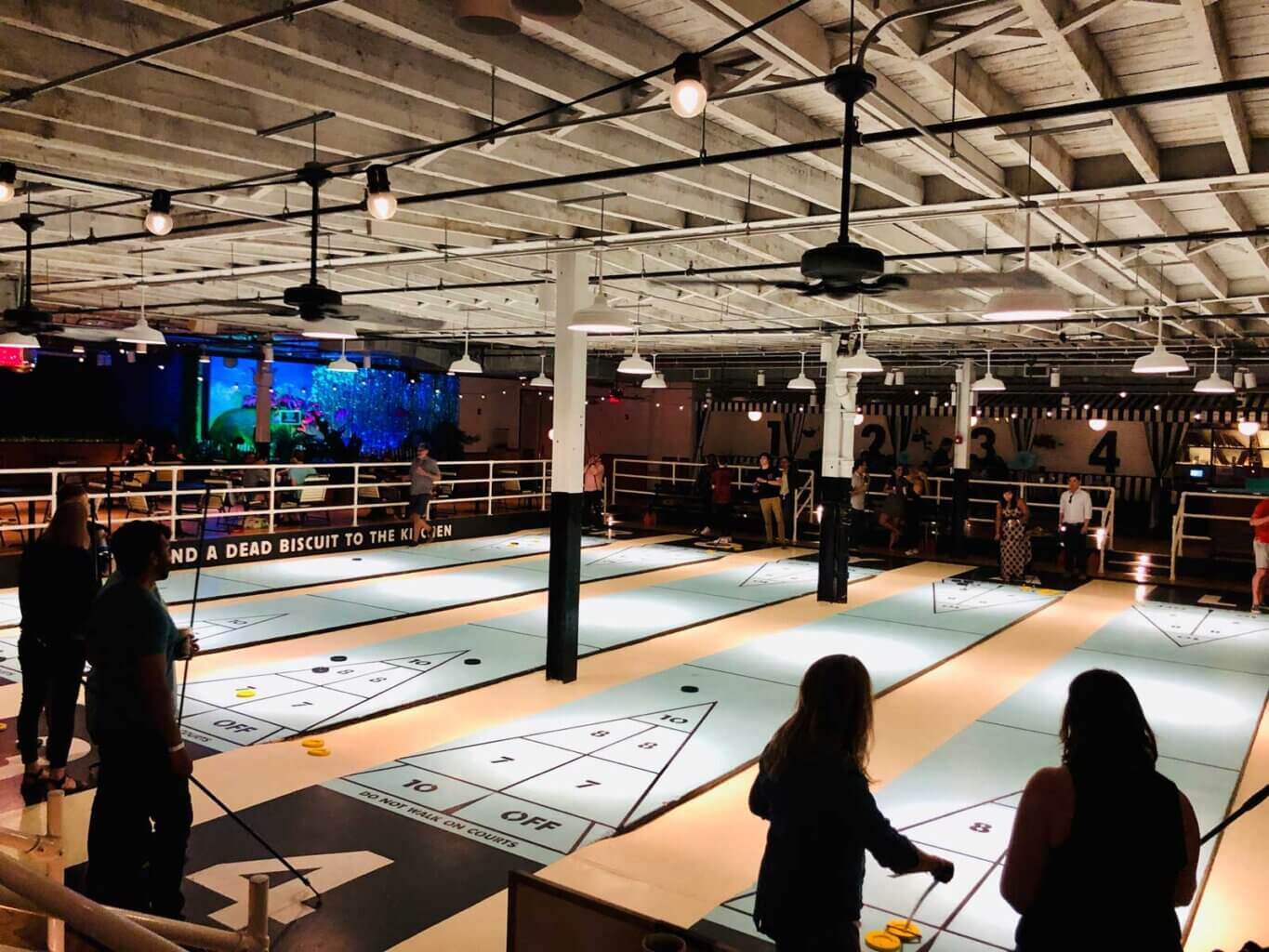 Looking for a fun thing to do in Brooklyn with a group or party, or even just a friend? Check out Royal Palms Shuffleboard, a cool tropical hangout spot with a bar, 10 shuffleboard courts, and other games in Gowanus.
If you're not a fan of playing games you can still have fun at the bar watching others play and to honestly just hang out in the cool, tropical vibe they have going on here. Even the bathrooms are gorgeous with flamingo wallpaper.
Insider tip: Leagues play on Mondays & Tuesdays, so it will be harder – but not impossible – to play on these days.
The Bell House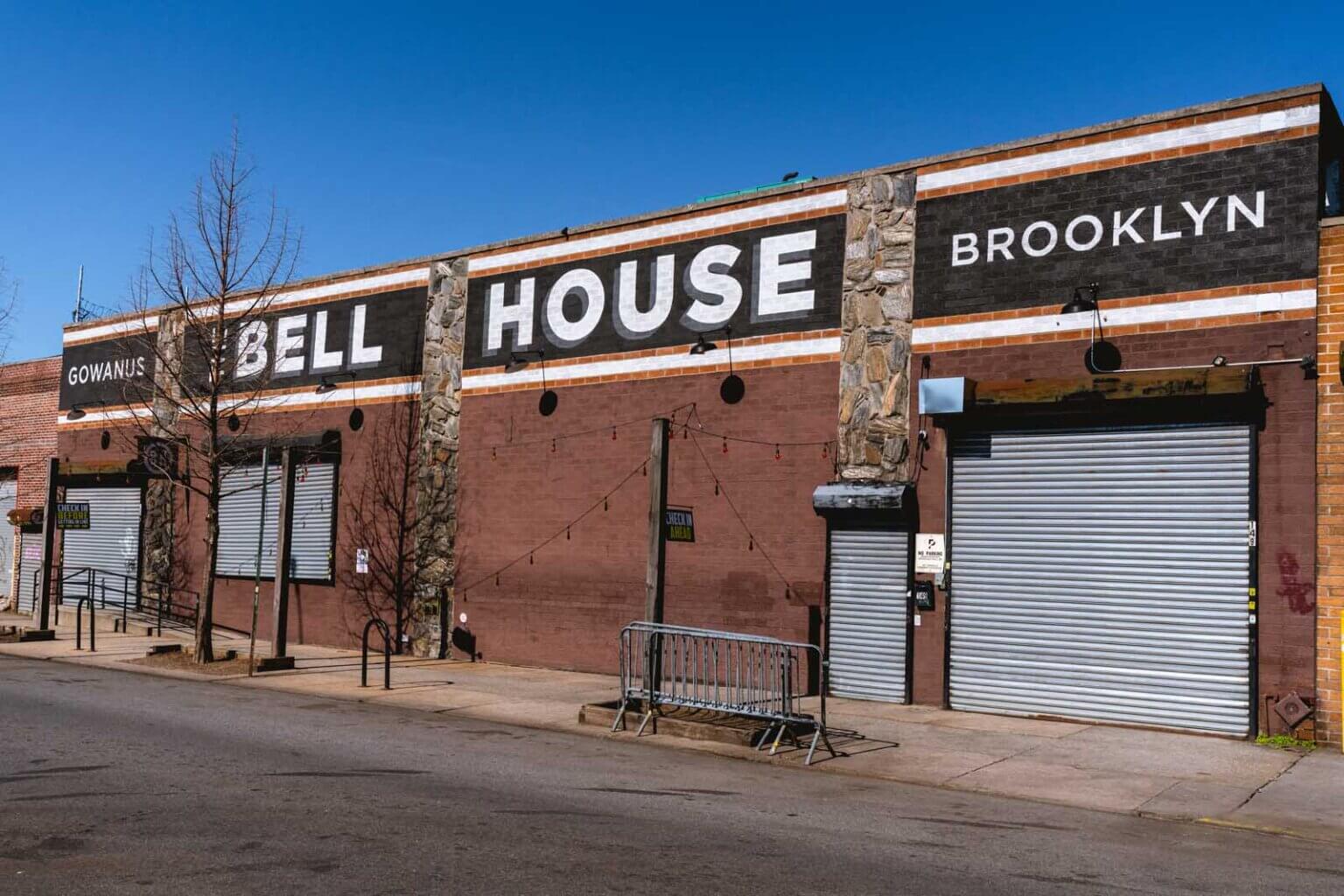 Looking for some more entertainment options? Then this next thing to do in Brooklyn is for you. The Bell House is an awesome bar/venue in a former warehouse in Gowanus where up-and-coming talent and big names perform.
Be sure to check their calendar to see any special seasonal events or what their latest music, special events, or comedy line ups are. This location also has been used to film Netflix comedy specials!
Barcade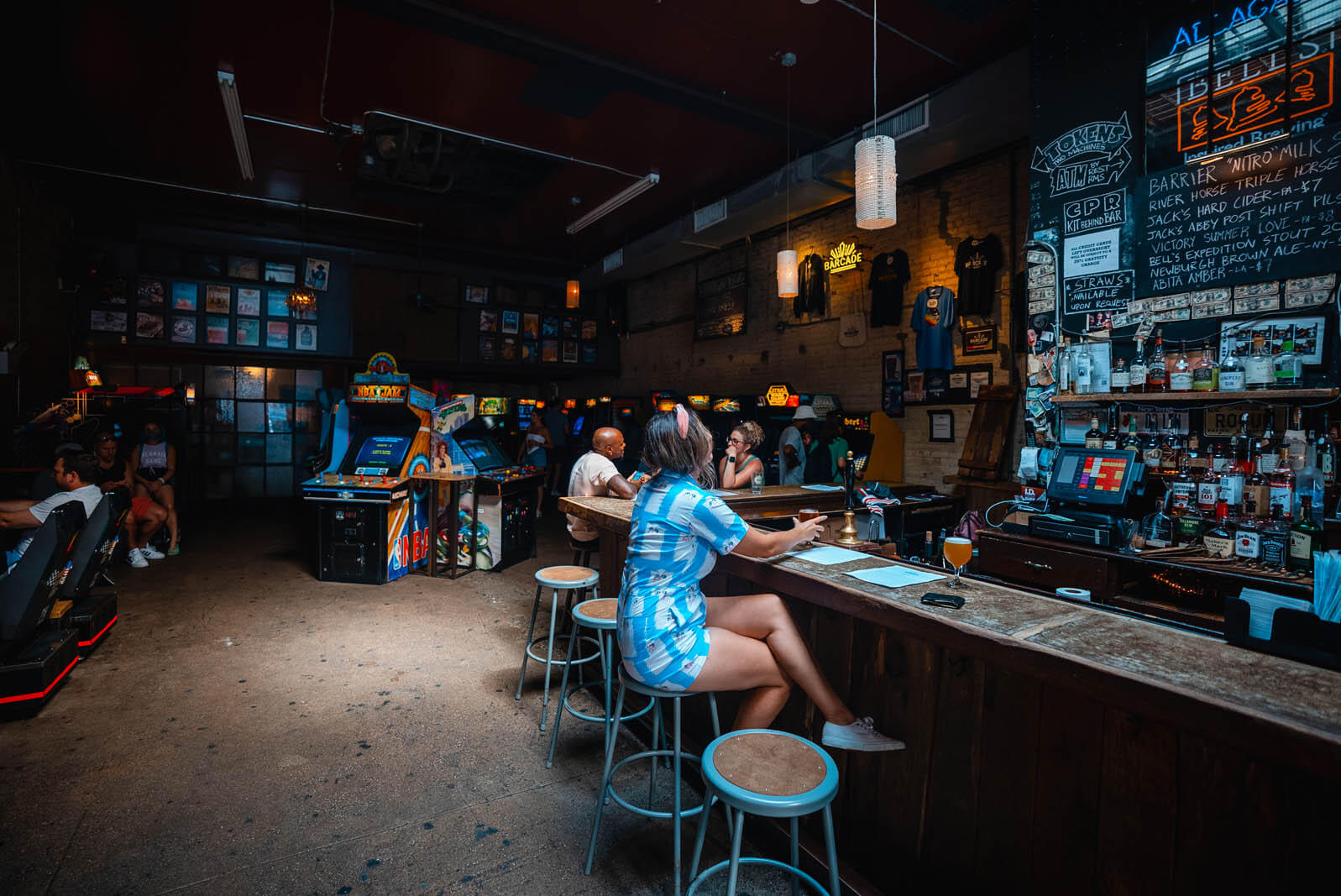 Another one of the best things to do in Brooklyn for entertainment and nightlife is the bar + arcade combo, Barcade! There are a few locations around the city and we are lucky enough to have one in Williamsburg.
This uber cool hang out spot has a full-service bar with great brews on drafts plus an impressive collection of vintage video games from Pac-man to Q*bert and pretty much anything else you can think of plus a collection of old school pinball machines.
Grab some tokens and take your beer around as you try to score the highest points!
EastVille Comedy
Looking for laughs? This next thing to do in Brooklyn is for your fun night out full of drinks and comedy! EastVille Comedy club in Boerum Hill is an awesome venue for comedy shoes with often featuring big names like Tracy Morgan, Amy Schumer, and Sarah Silverman to name a few as well as new emerging comedians in the comedy scene. It's also the oldest comedy club in Brooklyn.
This is also a venue for other events and shows besides comedy. Unlike many other comedy clubs in the city, EastVille Comedy has no drink minimums, so if you're a non-drinker or want to pregame a bit you aren't obligated to spend a ton on drinks once you're inside the club.
Union Hall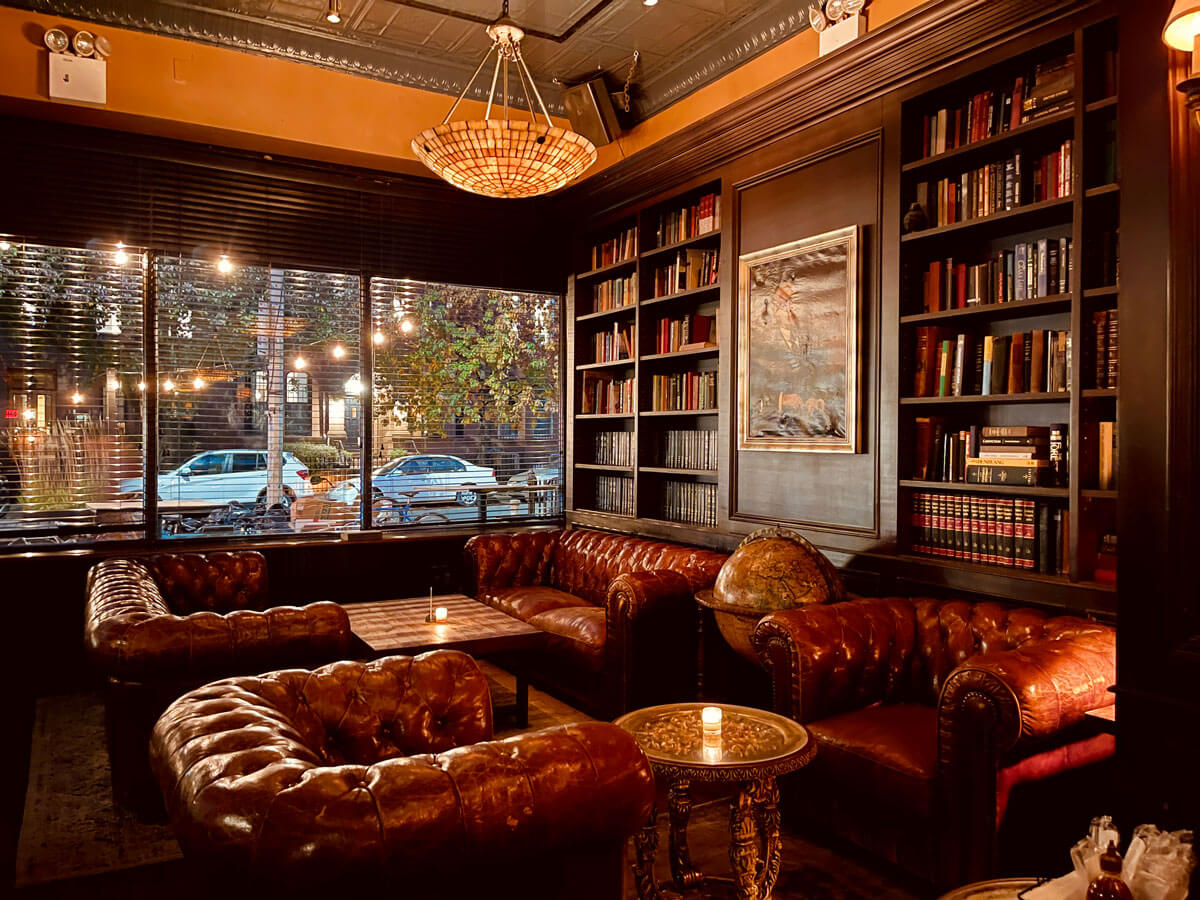 Another awesome venue and thing to do in Brooklyn is visit Union Hall in Park Slope. This bar is an all-out fun time frenzy zone.
On the lower level, you have an entertainment venue for live music, comedy shows, a dance floor, karaoke night, and more.
On the upper level, you have a bar with two bocce courts and gorgeous leather couches, a fireplace, and shelves of leather-bound books that make it a great spot whether you're hanging out with friends or are looking for a unique date night.
In the warmer months, there's also an outdoor area and bar. Did we mention there's food too? This is a one-stop spot for a fun night out, be sure to check their website for their latest events or reserve a whole space out for a private party!
House of Yes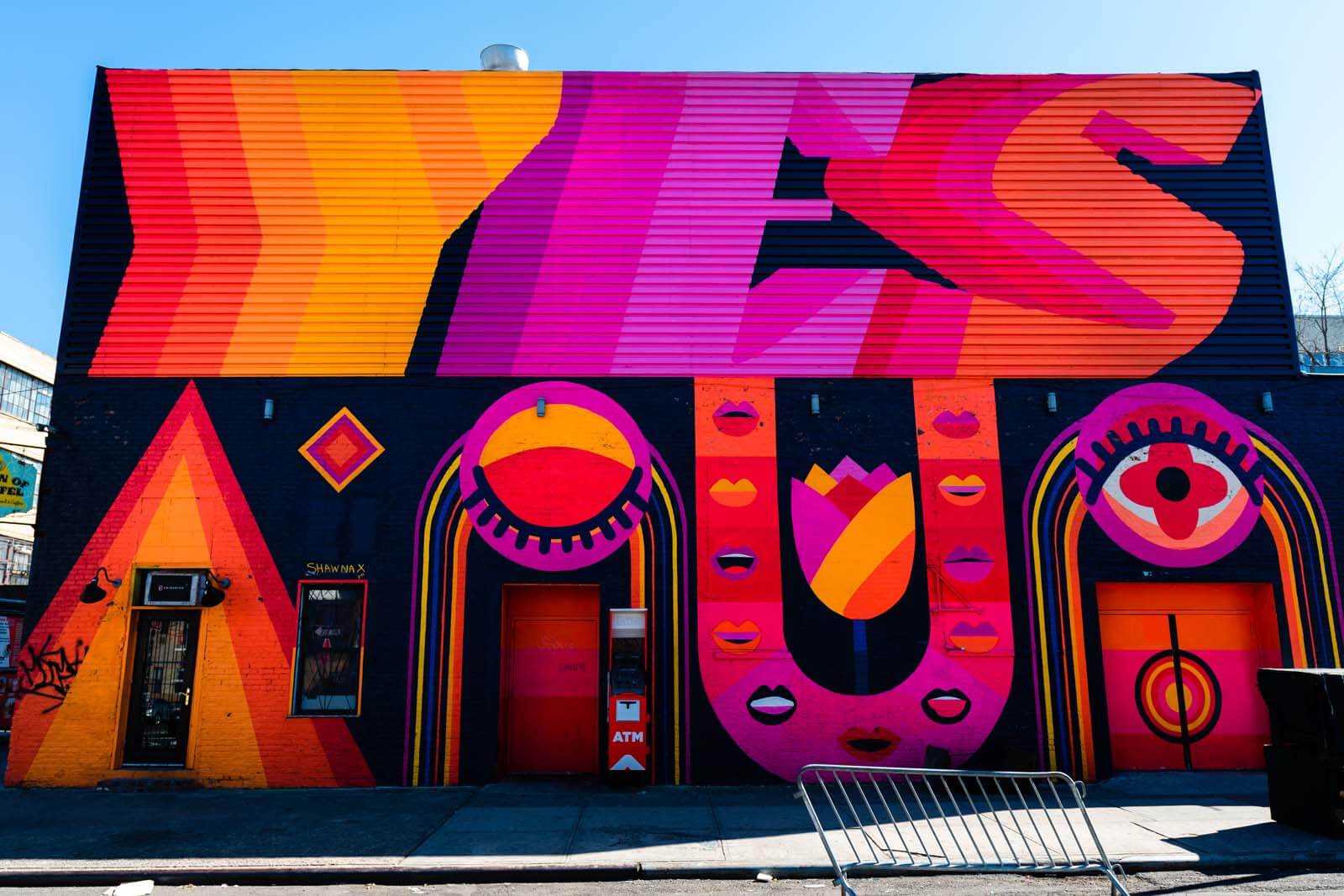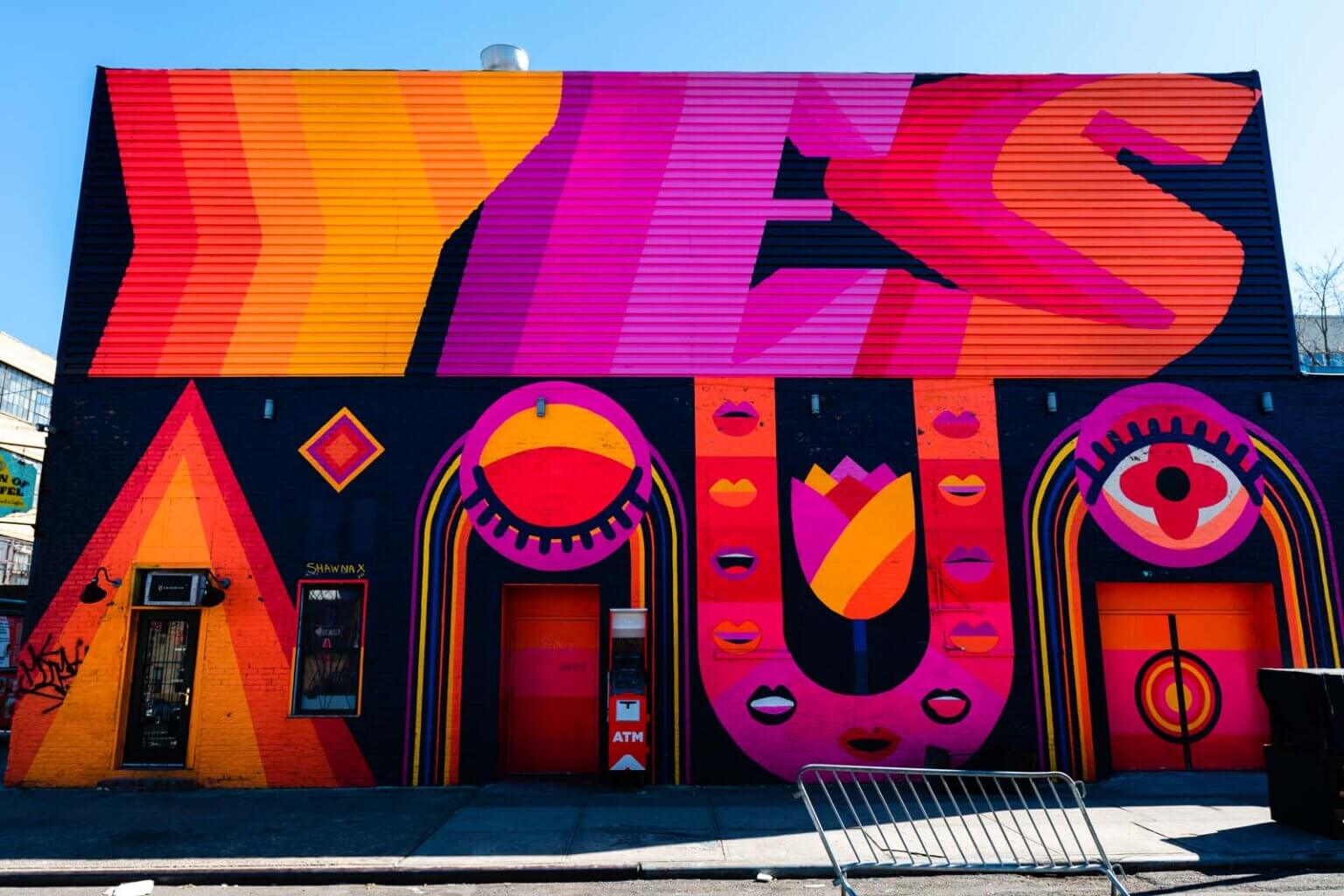 The House of Yes is an awesome choice for things to do in Brooklyn if you want to experience one of the most famous nightclubs in the city. Timeout even named this venue as one of the best 50 things to do in the world, not just Brooklyn!
See what the fuss is about in this wild and weird nightclub with people hanging from the rafters, or aerialists, circus performers, dancers, body painters, and more from local artists Kae Burke and Anya Sapozhnikova who created this eclectic club.
The House of Yes feels like something straight out of Hollywood fiction, but it's very much real and you can feel alive any night or at any of their themed parties. Be prepared though, if it's a theme night you'll want to come in costume so you can blend right in this awesome place full of fun!
Masstransiscope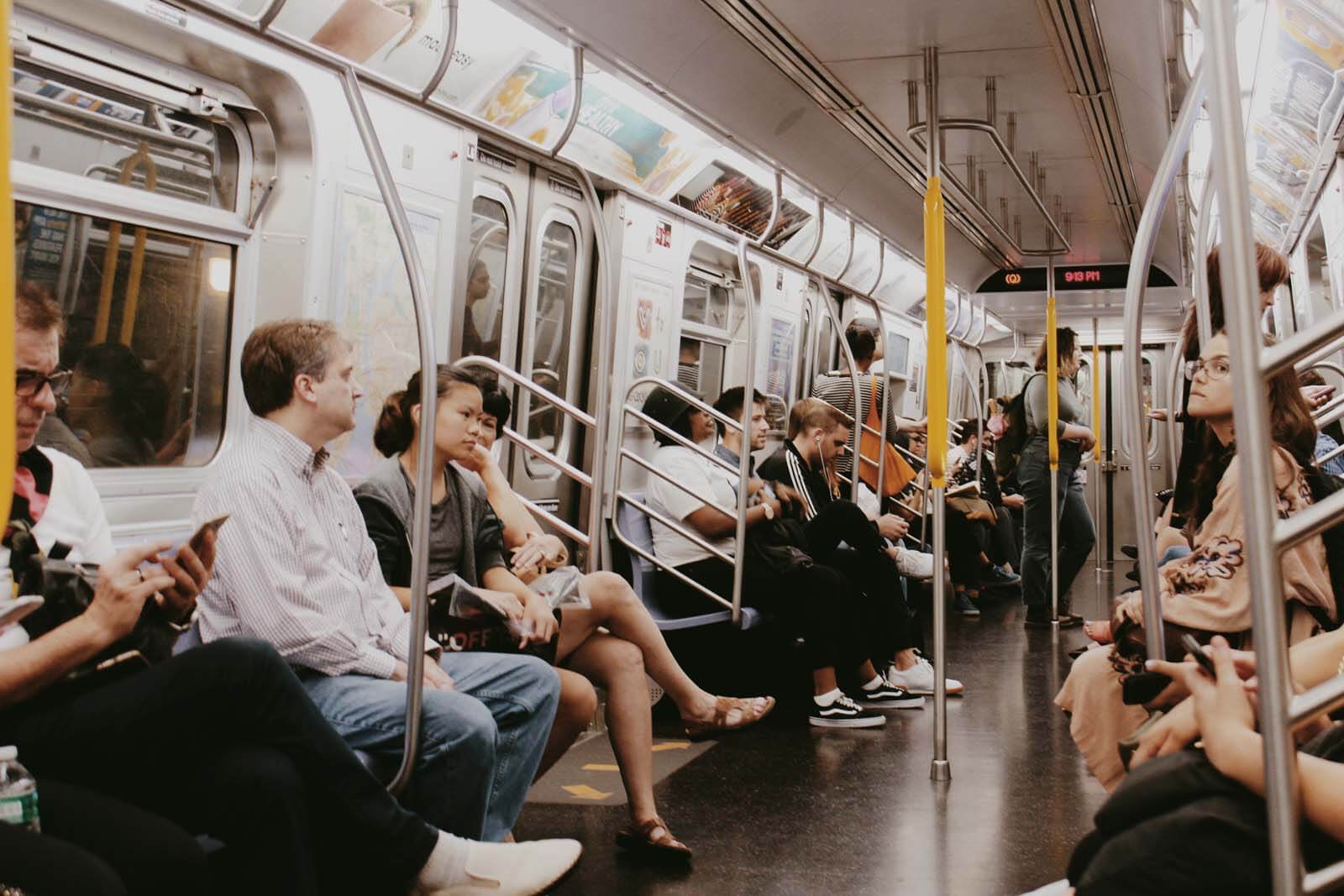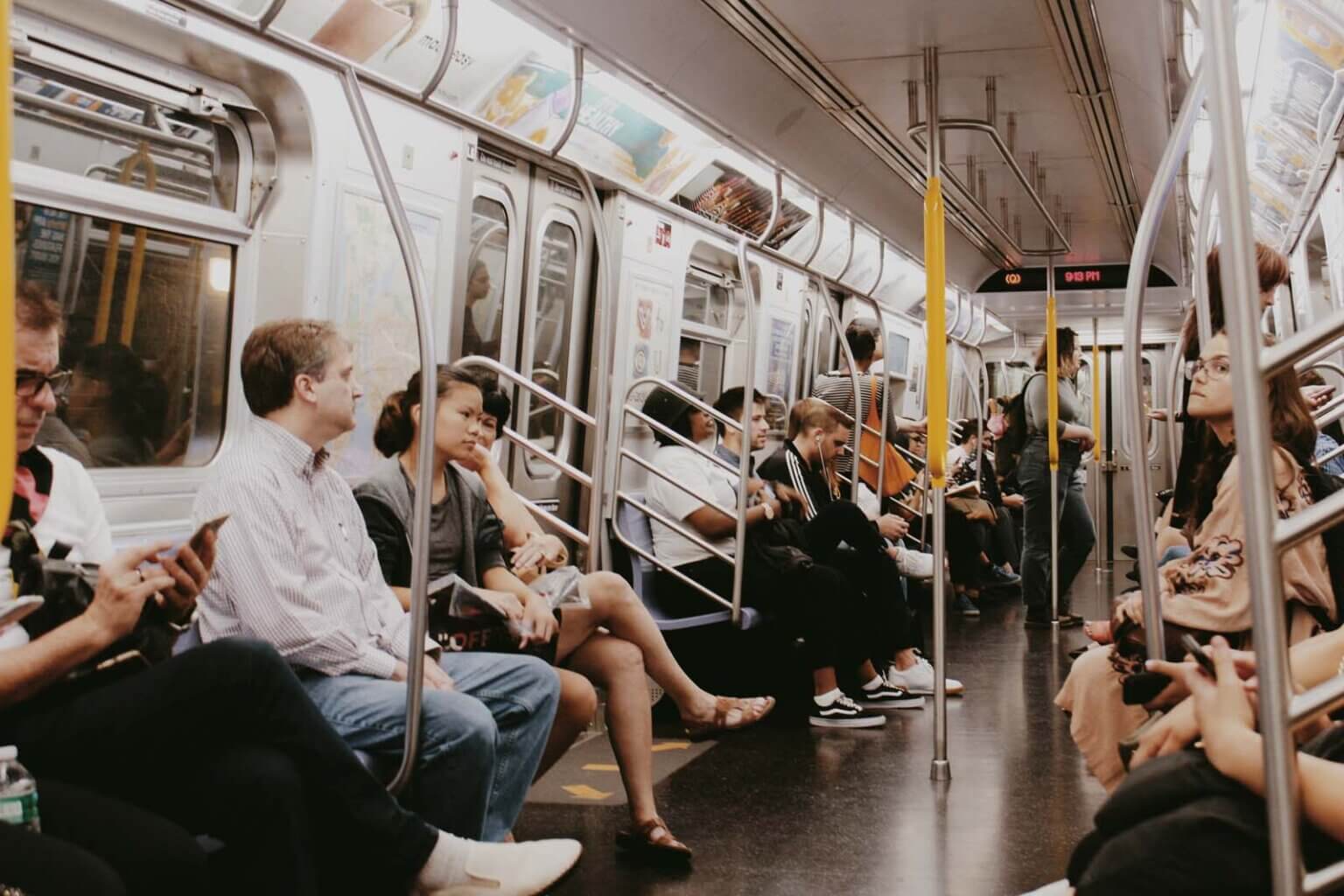 This next cool and unique thing to do in Brooklyn requires you to hop on a subway for a hidden art installation in the underground of Brooklyn.
Masstransiscope is a hidden Zoetrope in the subway leaving Dekalb Avenue subway station in Downtown Brooklyn. What's a Zoetrope? We also had to look this up, a zoetrope is a sequence of drawings and or photographs to show motion used in pre-film animations.
The artist Bill Brand created a large-scale, 300-foot zoetrope so you can see it as a viewer as the train is moving. This under-the-radar gem is really one of a kind. Believe it or not, Masstransiscope has been around since 1980 and has been restored twice.
To see Masstransiscope get on any train leaving Dekalb Avenue subway station towards Manhattan and look out the right-hand side of the windows as you take off.
Brooklyn Bowl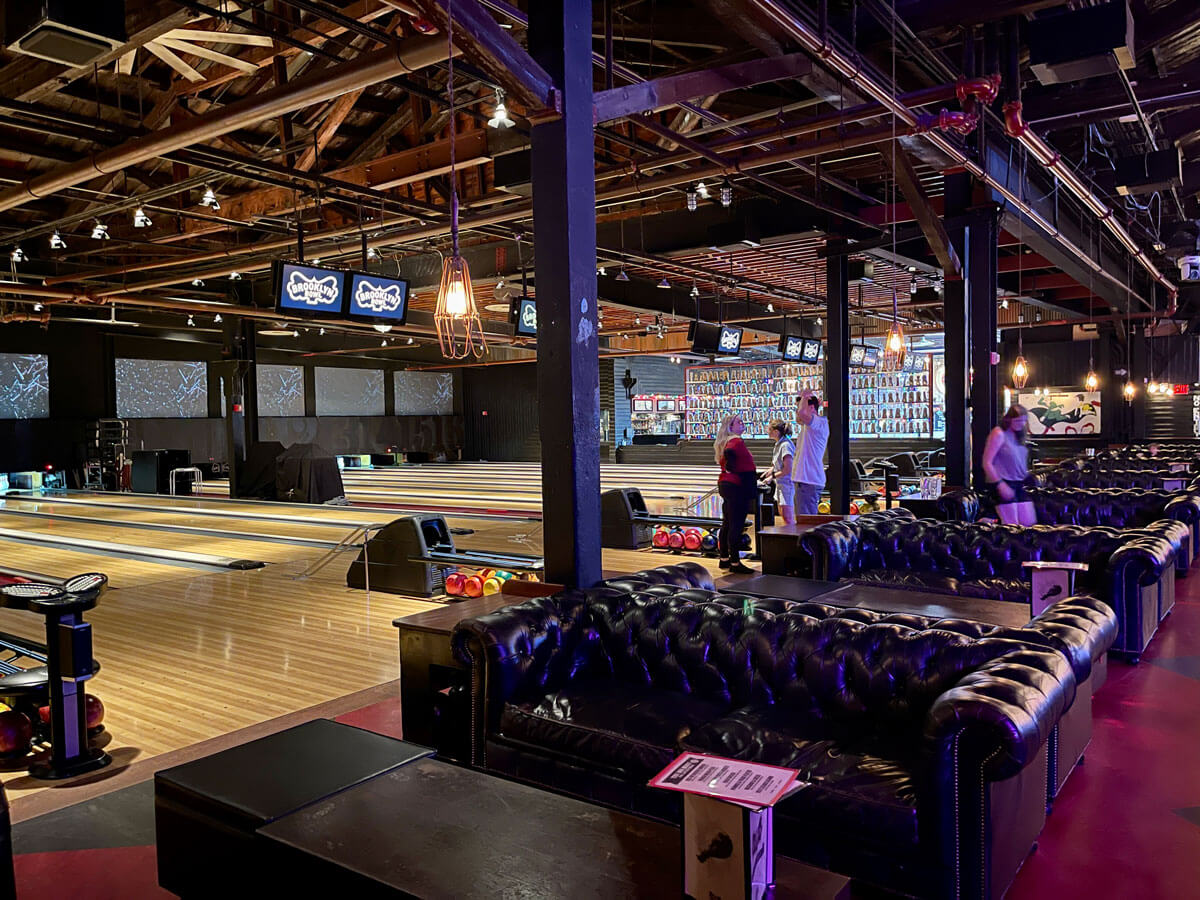 Another cool thing to do in Brooklyn in the Williamsburg neighborhood. Whether you're good at bowling or not this fun bowling alley isn't like your old childhood local neighborhood bowl-o-rama.
Brooklyn Bowl features a music venue and restaurant alongside its bowling alley lanes! Bowl alongside your next show or just come to bowl or just to listen to music, they often have themed nights. This venue has so much fun going on you're bound to have a good time, check their event calendar for what's happening next.
Besides being a whole ton of fun, Brooklyn Bowl also has received praise for its high-tech green construction on the building. Even Rolling Stone named Brooklyn Bowl as one of the best music clubs in the country!
What to do in Brooklyn by Season
This section is going to cover some of the best things to do in Brooklyn by season and seasonal events that you won't want to miss if your trip or visit lines up with these awesome local happenings.
Things to do in Brooklyn in Summer
Coney Island Mermaid Parade
One of the best things to do in Brooklyn in summer is attend the annual Coney Island Mermaid Parade, which takes place the closest Saturday to the summer solstice. Come see the Mermaid King and Queen and the procession of floats and over-the-top, under-the-sea-themed costumes, floats, and beyond! This is one of my personal favorite annual Brooklyn events!
Brooklyn Pride
Another June event and one of the best things to do in Brooklyn in June is the annual Pride Parade down 5th Avenue in Park Slope. Typically the parade starts in the evening, but the parties are happening all day, with one of the best spots to hang out and celebrate at Ginger's Bar in Park Slope, one of the very few remaining lesbian bars in the country and only one of three in New York City.
Hit up the Beaches of Brooklyn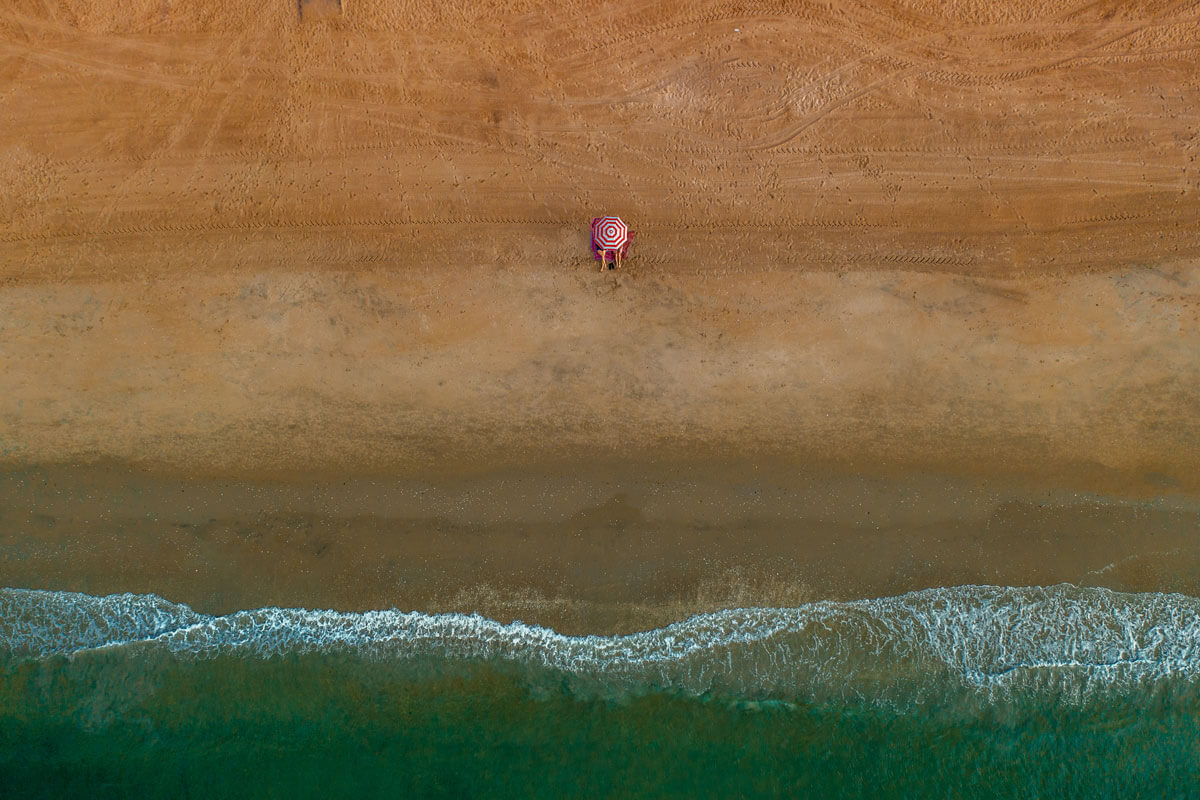 Ahh, sweet summer days are made better by hitting up the best Brooklyn beaches. From Coney Island Beach to Brighton Beach (and more), you're never too far away from some of the favorite summertime city escapes for locals.
Smorgasburg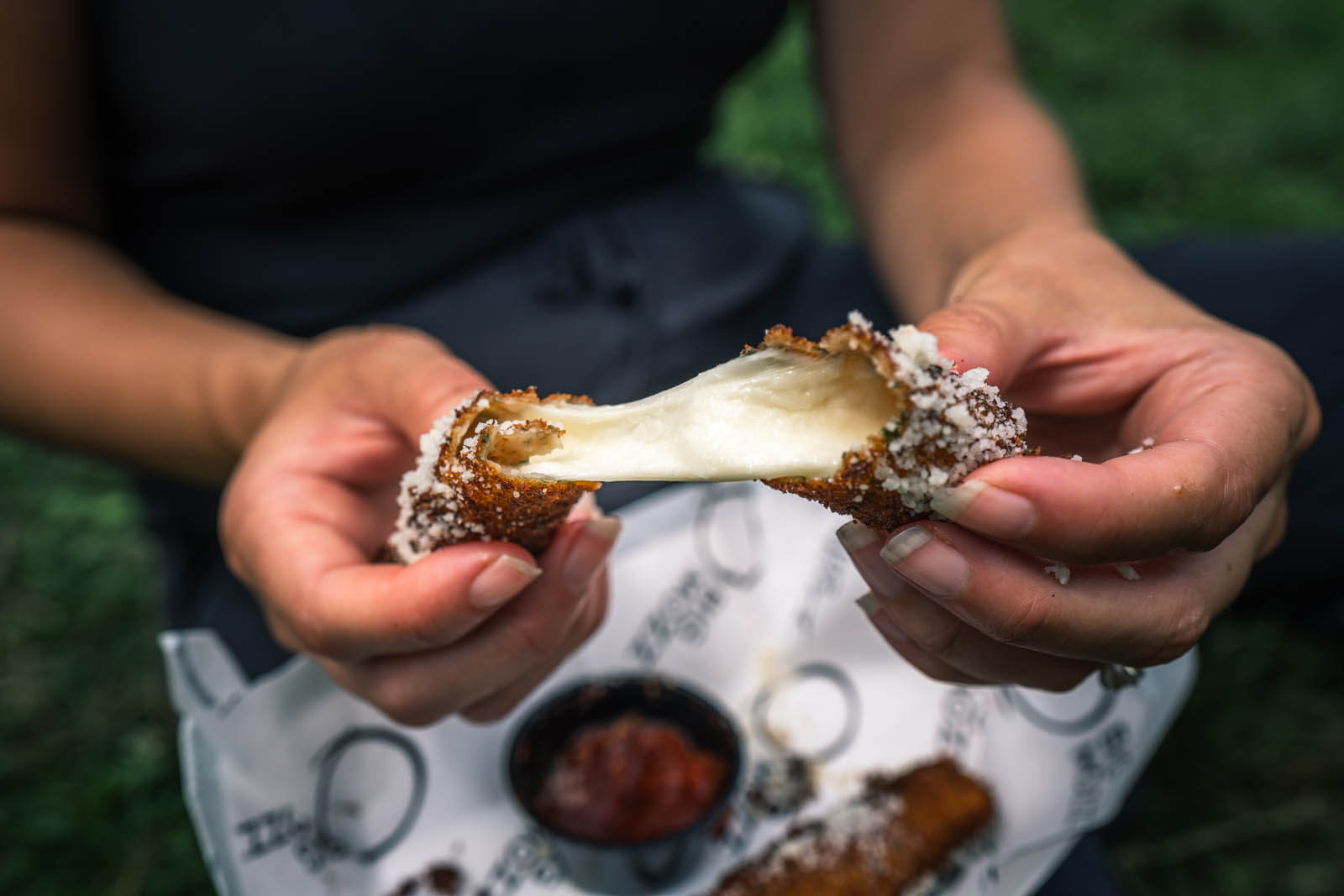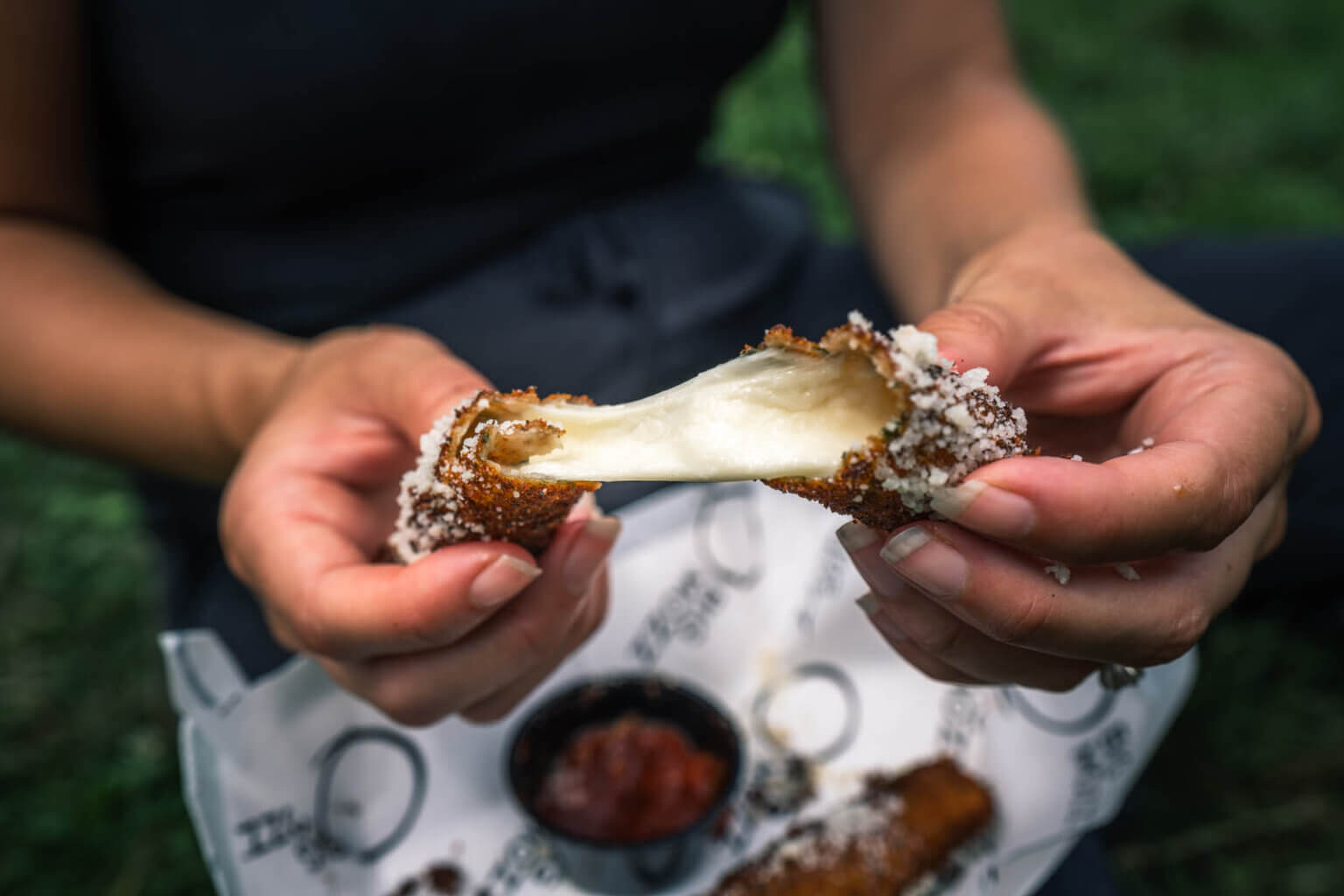 Another one of the best things to do in Brooklyn in the summer is take advantage of the weekend foodie open-air food market known as Smoragsburg which takes place in Prospect Park and Williamsburg! This is where you can taste your way around dozens of participating food vendors.
The original location is at 90 Kent Avenue in Williamsburg which takes place on Saturdays from 11 AM to 6 PM and their second Brooklyn location is at Prospect Park (at Breeze Hill near Prospect Park Boathouse) on Sundays from 11 AM to 6 PM.
Smorgasburg is best enjoyed with friends who want to split and try a ton of different things!
Outdoor Movies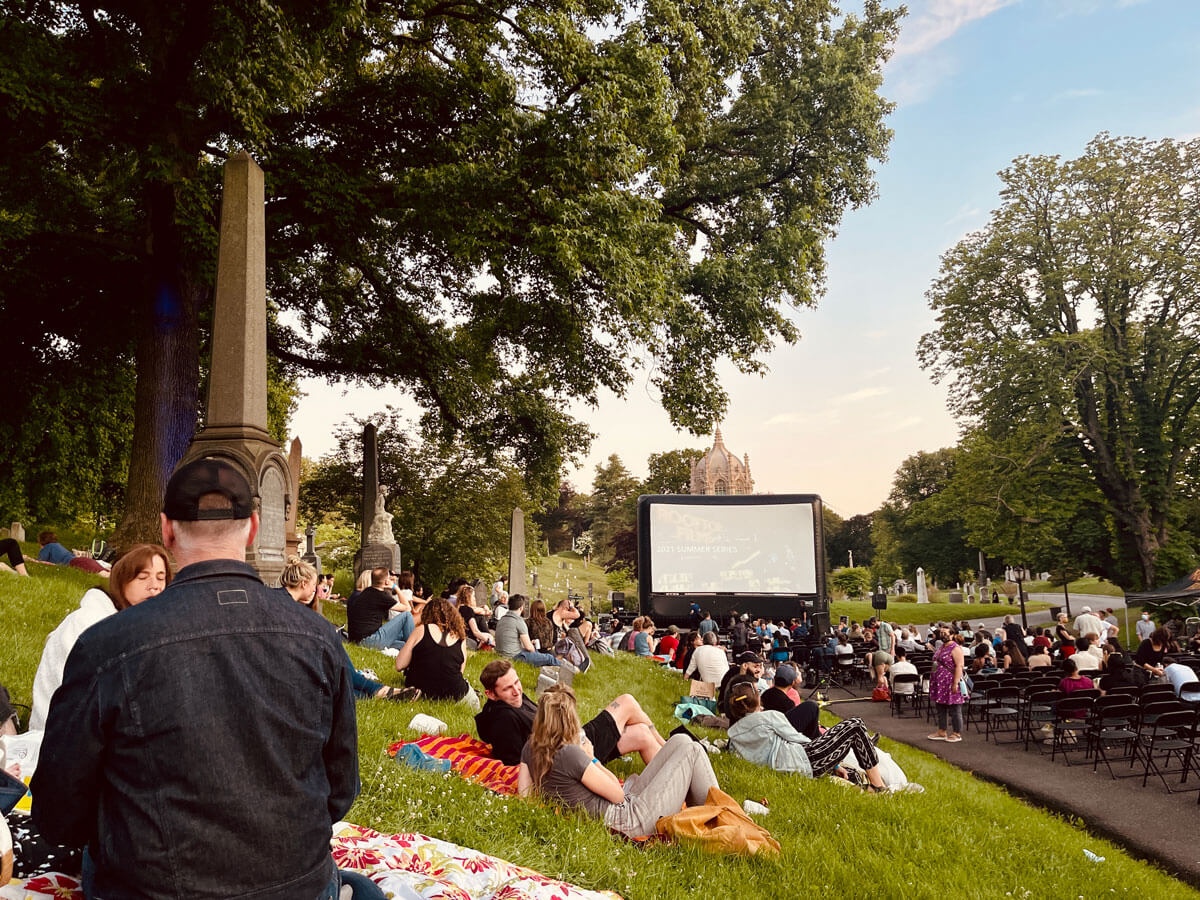 Another favorite Brooklyn summer event are the outdoor movies! Rooftop Films has several screenings and movie showings across the borough from their HQ at the Old American Can Factory in Gowanus to venues like Green-Wood Cemetery, Brooklyn Army Terminal, Industry City, and Downtown Brooklyn to name a few.
Other fun free outdoor movies you can find in the summer months include Free Summer Movies movies across the city's parks including Brooklyn parks like Fort Greene Park and Brooklyn Bridge Park.
Summer Fireworks
Whether you're celebrating the 4th of July in New York City or you're visiting on a Friday during the summer months, you will be able to catch an impressive firework show!
Every Friday from June to August, you can watch free fireworks at Coney Island starting at 9:30 PM! Or if you're coming around Independence Day you can catch the Macy's Fireworks Show on the East River.
Things to do in Brooklyn in Fall
Fall Foliage
The best thing to do in Brooklyn in fall is take advantage of the gorgeous fall foliage! Places like Prospect Park and Green-Wood Cemetery are on another level when the trees change leaves to hues of orange, yellow, and red.
But, one of my favorite places to enjoy fall foliage is actually walking through residential neighborhoods with a high concentration of brownstones and trees like Park Slope and Carroll Gardens.
Fort Greene's Annual Pupkin Dog Costume Contest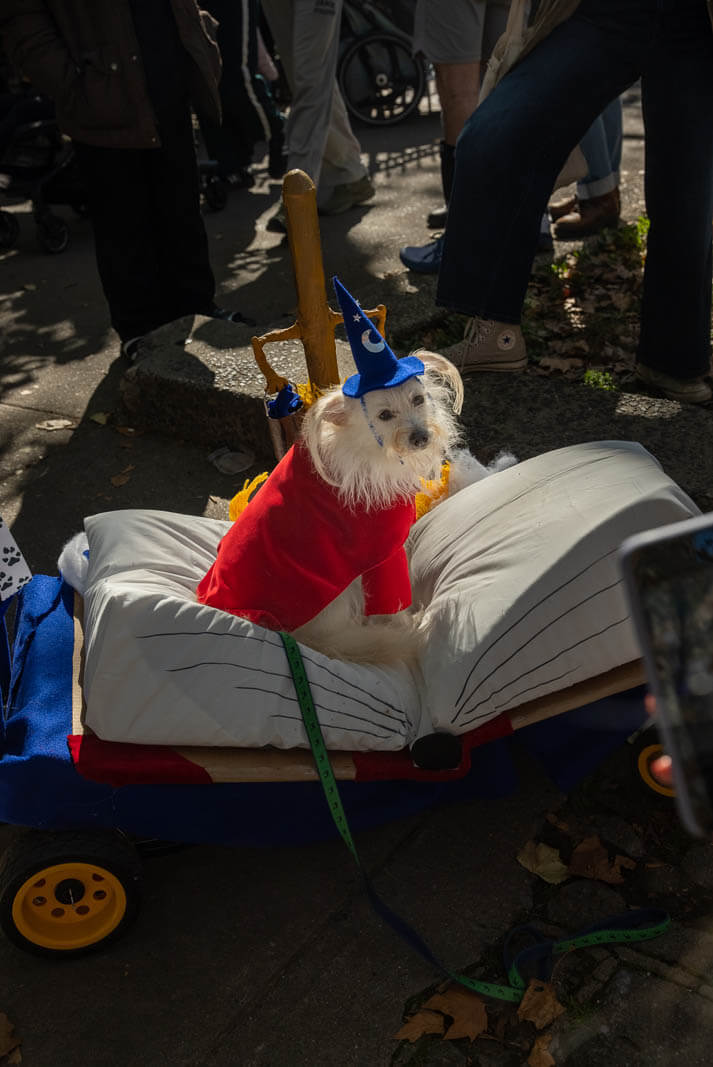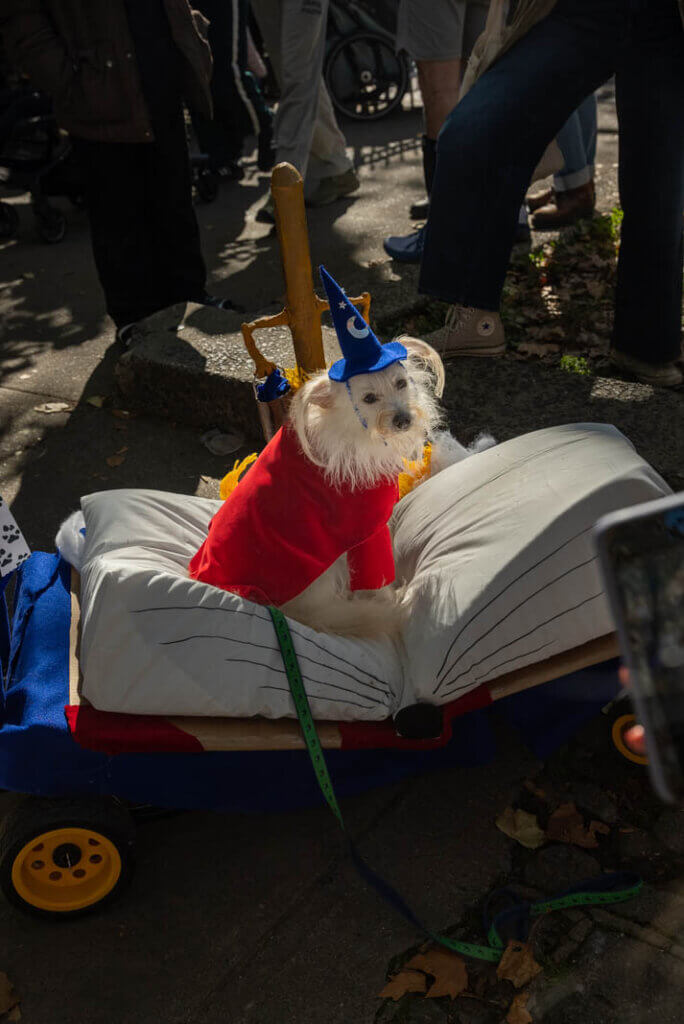 A Halloween hit and another of my favorite things to do in Brooklyn in the fall is attend the annual Fort Greene Pupkin Dog Costume Contest. This is where hundreds of hounds are all dressed up for Halloween in their best costumes. Contestants enter their pups and typically are on theme with their dog for a full on Halloween pageantry of pooches. This is not to be missed if you're visiting in October!
Things to do in Brooklyn in Winter
Dyker Heights Christmas Lights
One of the most famous things to do in Brooklyn in winter during the holiday season are the Dyker Heights Christmas lights! This neighborhood holds an annual tradition of over-the-top Christmas displays. Houses and neighbors outdo each other with their festive displays that involve loads of lights and all things themed holiday decor.
Remember Clark Griswold in Christmas Vacation? Imagine that in person one house after another. That's the best way to describe the feeling you get when walking through the Christmas lights in Dyker Heights.
From Thanksgiving to New Years you can explore this neighborhood from 11th to 13th Avenues and from 83rd to 86th Street for lights galore and a true holiday spectacular! This has become so popular that it attracts over 100,000 people a year to the neighborhood to see all the twinkling lights and displays.
Getting here is sort of a pain by public transport with no trains that run directly here, more like a 20-minute walk from the nearest subway station and a bus ride. If you don't want to Uber it we recommend joining a guided tour.
This 3 hour guided Dyker Heights Christmas Lights tour starts and ends right at a subway stop so it's super easy and straight forward to get to Dyker Heights. Your knowledgeable guide will take you to all the best spots for the most extravagant Christmas light displays in the neighborhood and learn about the local's traditions in this neighborhood.
The group tours are small and you don't have to worry about getting lost or navigating the streets to find the best homes!
Also, see some of our favorite holiday pop-up and Christmas bars in New York City during December in New York City, many of which are in Brooklyn.
Lightscape at Brooklyn Botanic Garden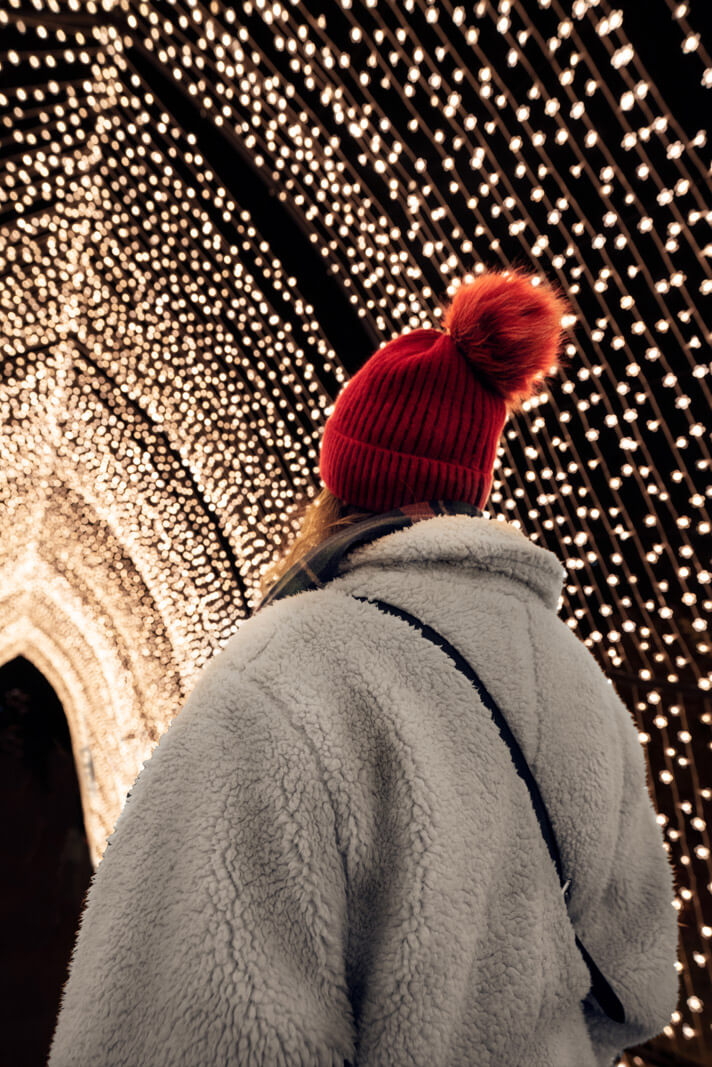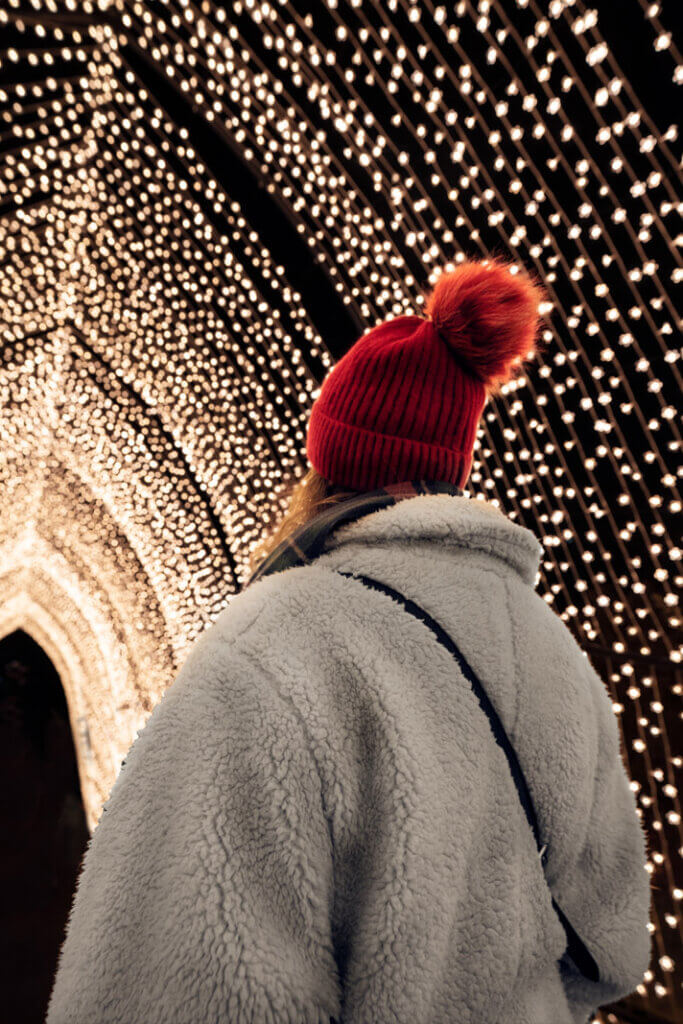 One of the coolest events and things to do in Brooklyn in winter during the holiday season is to attend the Brooklyn Botanic Garden's Lightscape experience. This after-dark event allows visitors to walk through the gardens illuminated with over a million lights!
There are also special art installations, that also glow, as well as synchronized music. This typically happens from late November through early January.
Things to do in Brooklyn in Spring
Cherry Blossoms in Brooklyn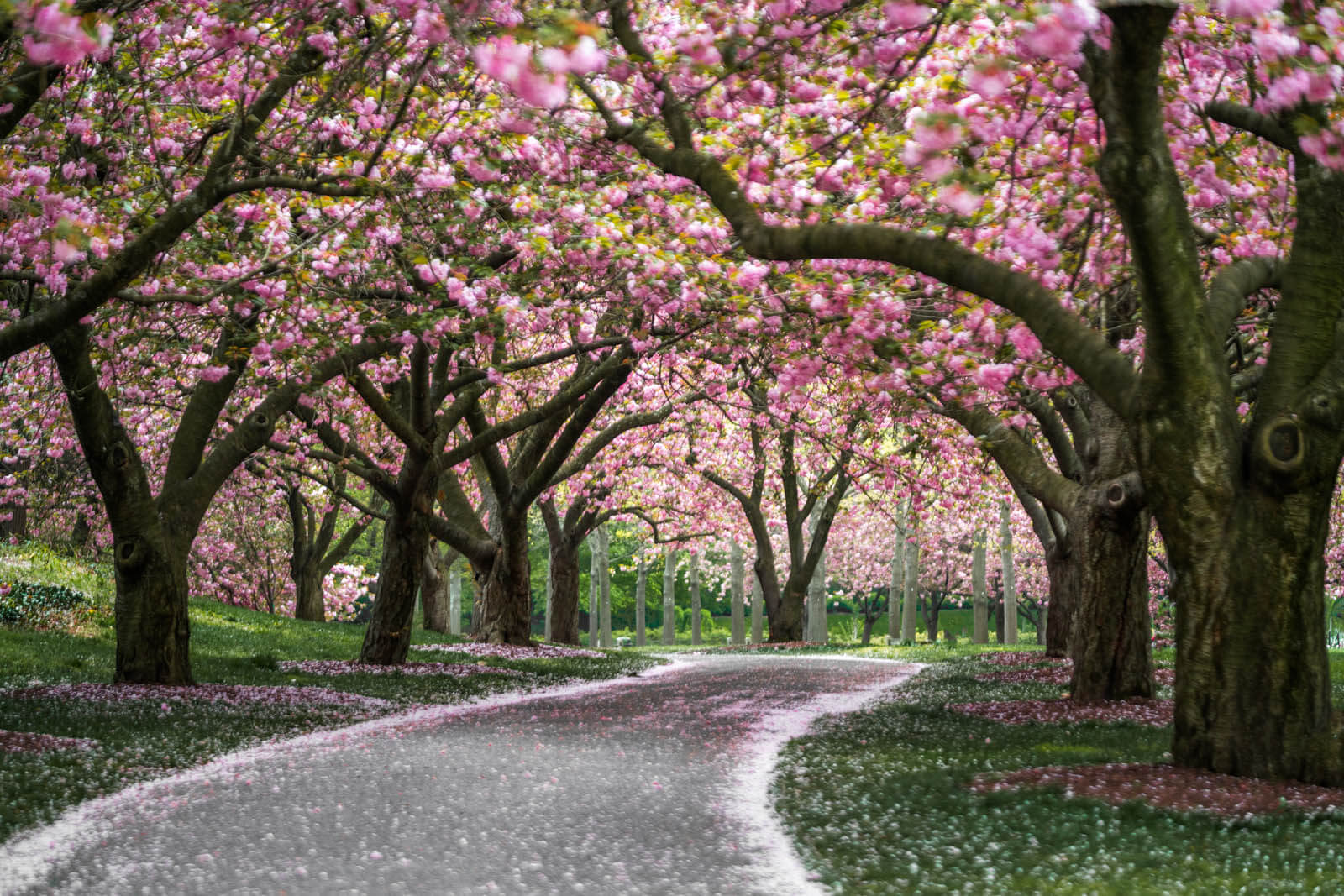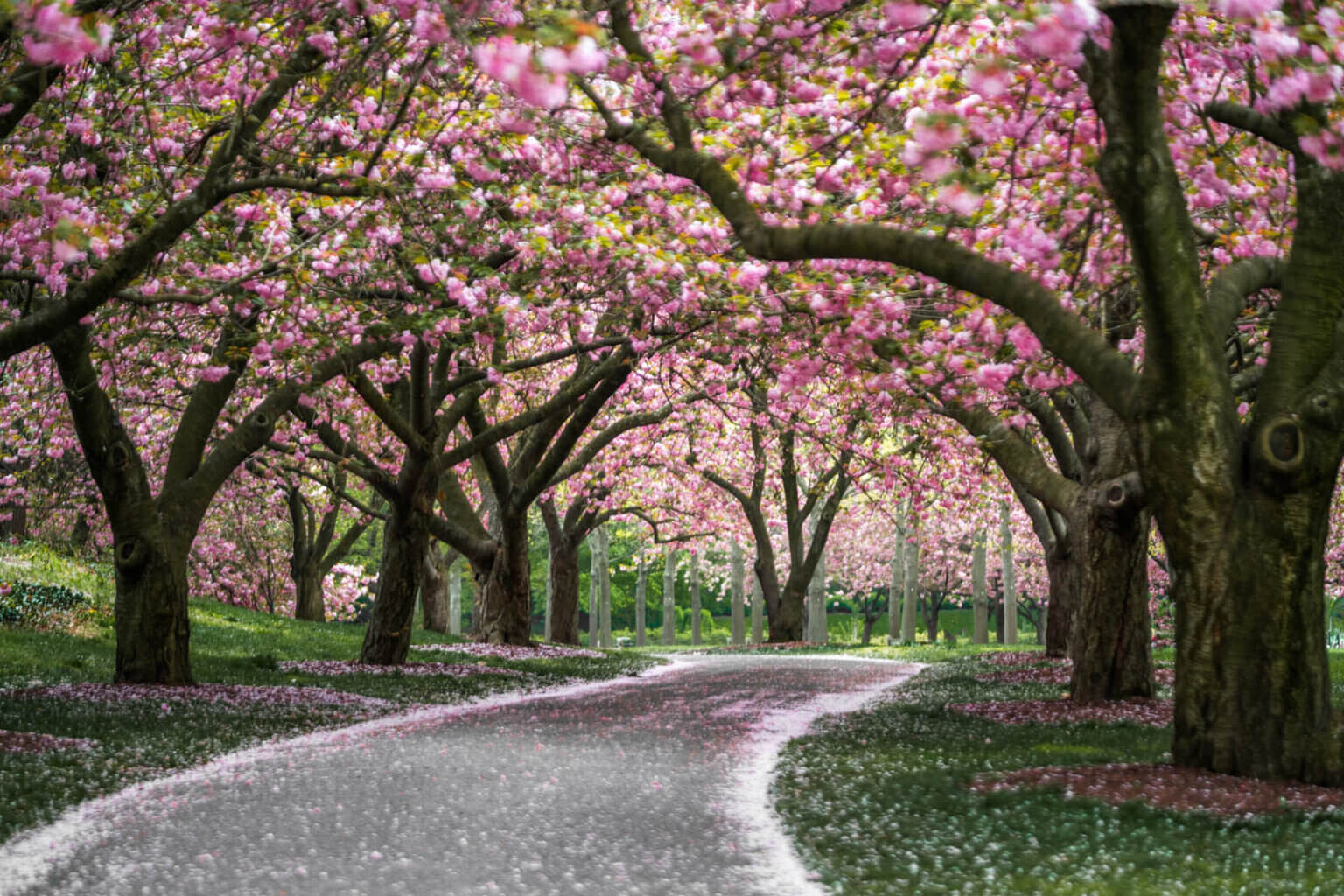 One of our all-time favorite things to in Brooklyn in spring is enjoy all the blossoming flowers that this season brings, specifically the cherry blossoms. Some of the best spots to see cherry blossoms in New York City can be found in Brooklyn!
One not to be missed spot is the Brooklyn Botanic Garden that not only has cherry blossom trees around the Japanese Hill-and-Pond Garden, but they also have the Cherry Esplanade. These two areas feature different types of cherry trees, so one area hits peak bloom before the other giving you a larger window to witness the beautiful blooms here!
Other great spots in Brooklyn for cherry blossoms and spring blossoms include Green-Wood Cemetery and Grand Army Plaza.
Brooklyn Flea
Are you a fan of trinkets, antiques, arts & crafts, and just shopping or thrifting in general? One of the best things to do in Brooklyn in Spring (starting in April through December) is shop around Brooklyn Flea on the weekends.
You'll find dozens of vendors selling everything from vintage clothing and furnishings to collectibles, jewelry, and work by local artisans.
You can find Brooklyn Flea at DUMBO Archway (80 Pearl Street) on Saturdays and Sundays from 10 AM to 5 PM.
Cool Tours in Brooklyn
Guided Brooklyn Bagel Tour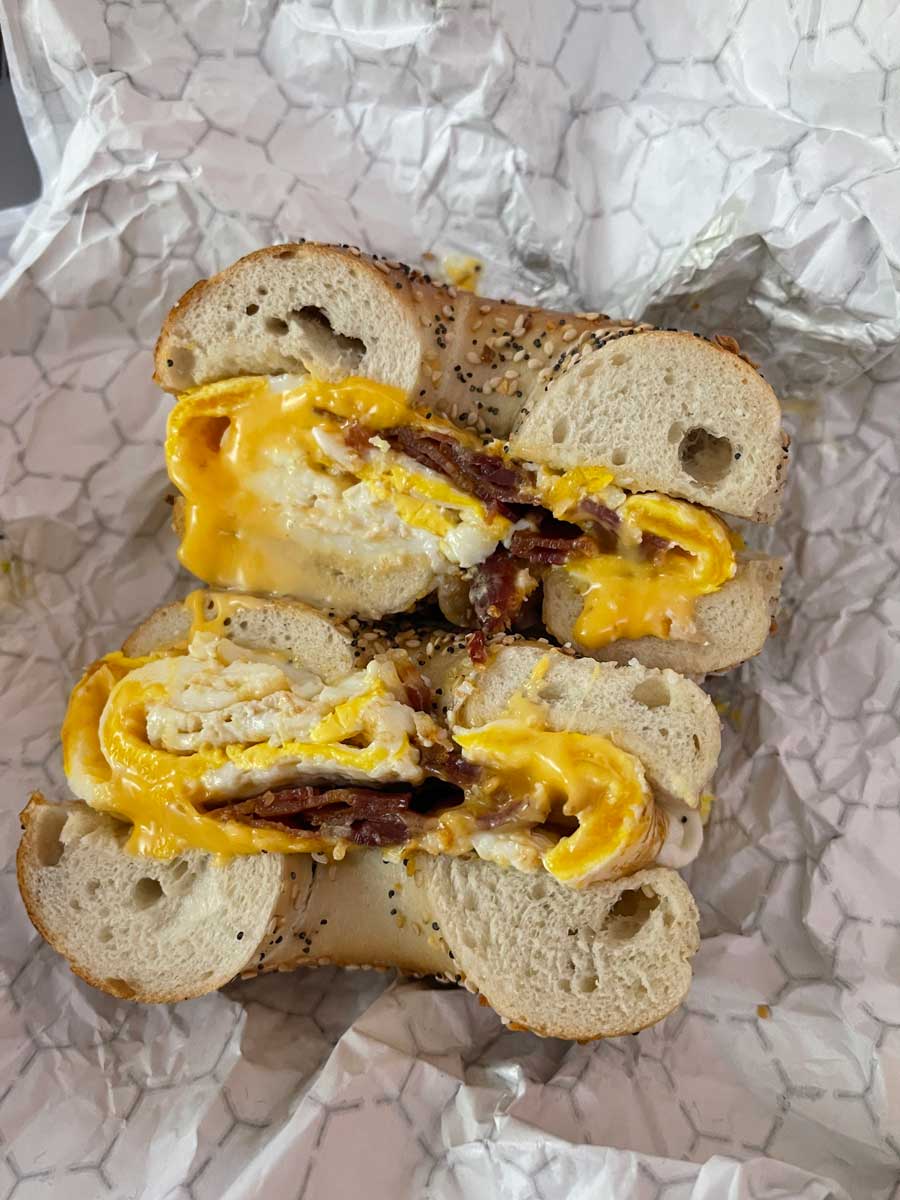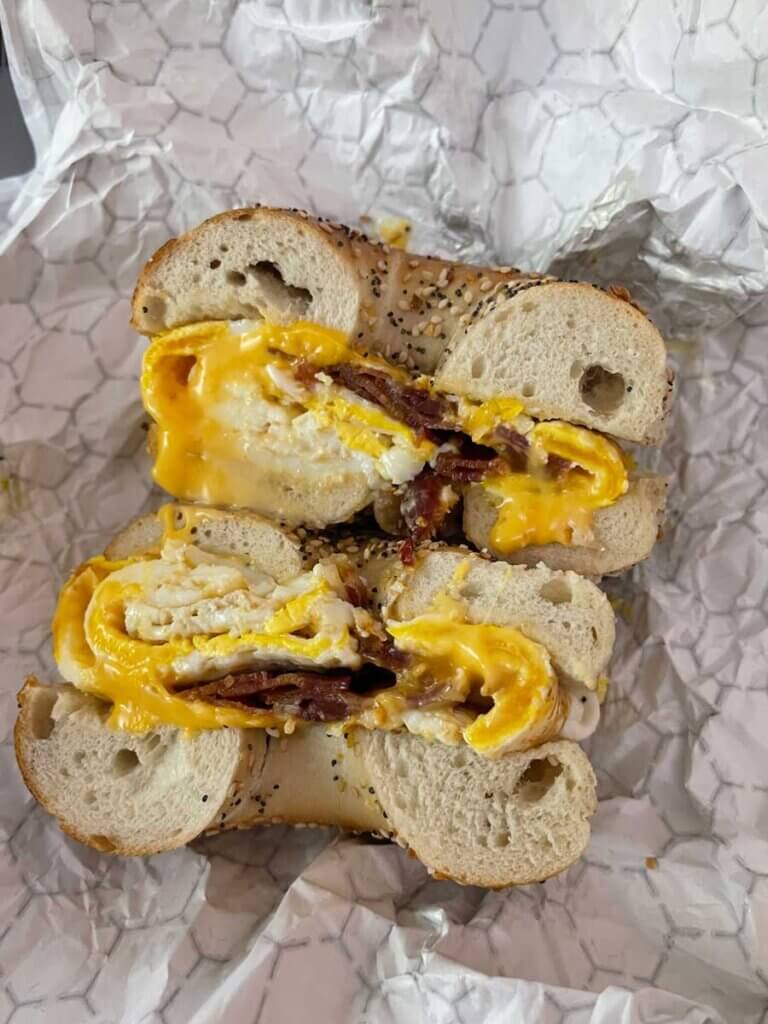 One of the most iconic Brooklyn foods to try is the bagel. No offense, but our bagels are the best. You can learn all about New York City bagels with Sam, the official Bagel Ambassador on his guided bagel tour that includes multiple tastings and stops.
This 2-hour tour gives you tastings of all the local ways to eat a bagel and you'll also be stopping at my personal favorite bagel shop in Brooklyn, Bagel Pub!
Book your Guided Bagel Tour with Bagel Tastings
Best of Brooklyn Walking Tour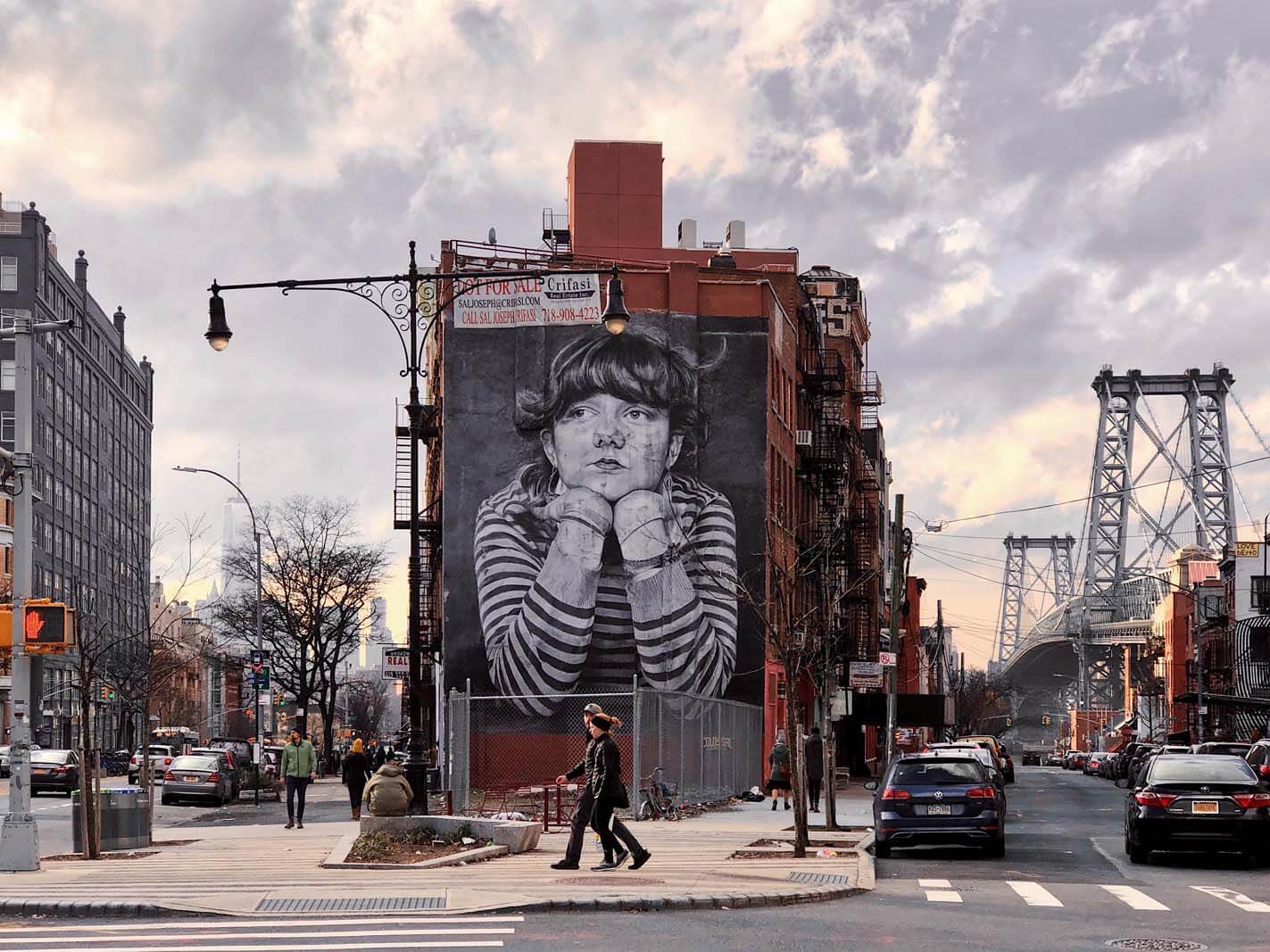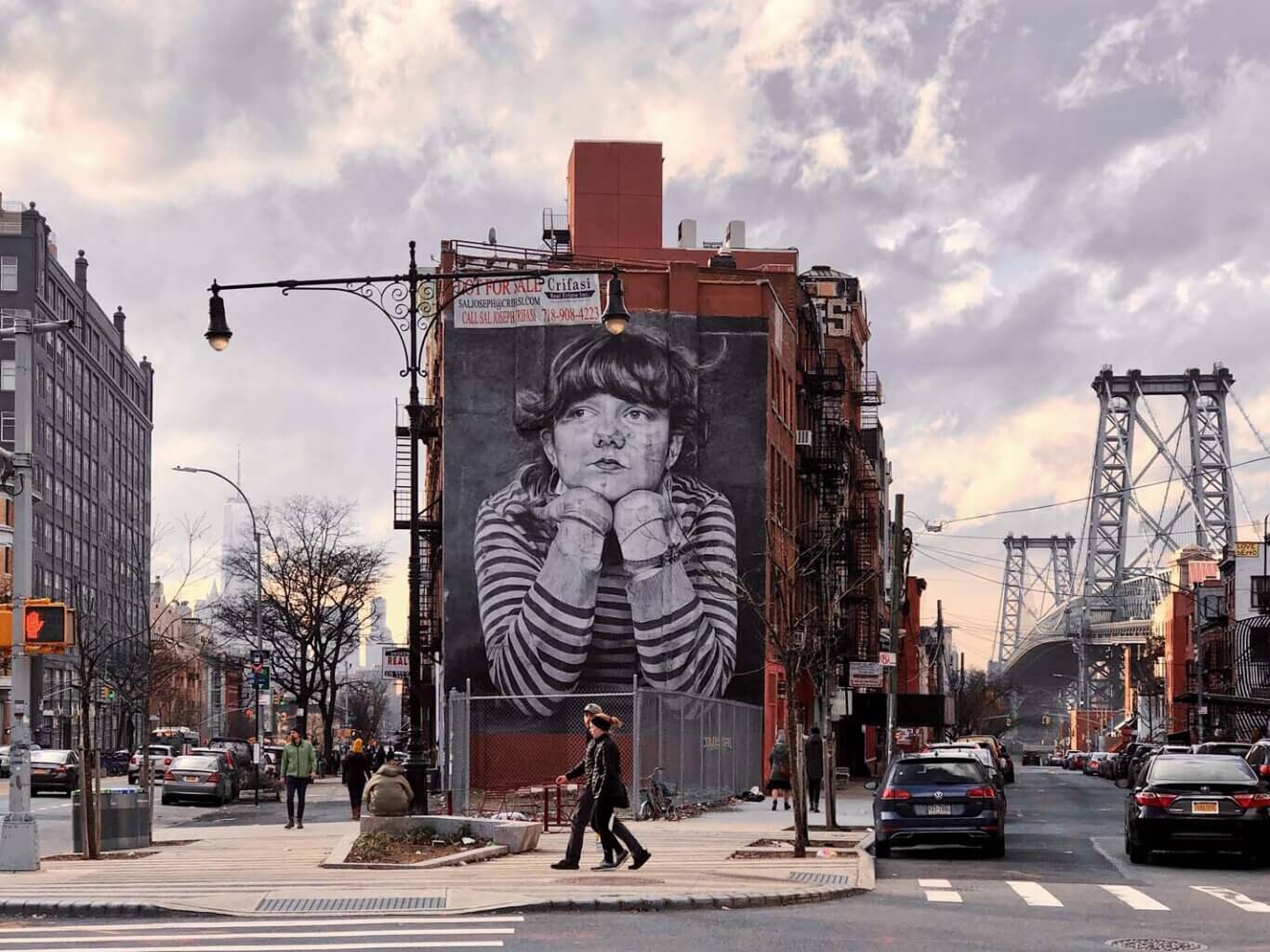 Check out the best of Williamsburg and some of the best things to do in Brooklyn in this Best of Brooklyn Walking Tour. This 3-hour walking tour takes you through the best of the Williamsburg neighborhood with a knowledgeable guide.
See all the trendiest spots in this neighborhood while learning about its history and its influence on the contemporary culture of Brooklyn. See the different street art and murals, find out what the coolest local spots are, and learn about the historic buildings as you pass.
You won't want to leave Williamsburg after!
Book your Best of Brooklyn Walking Tour through Williamsburg
Best of Brooklyn Food, History, and Culture Tour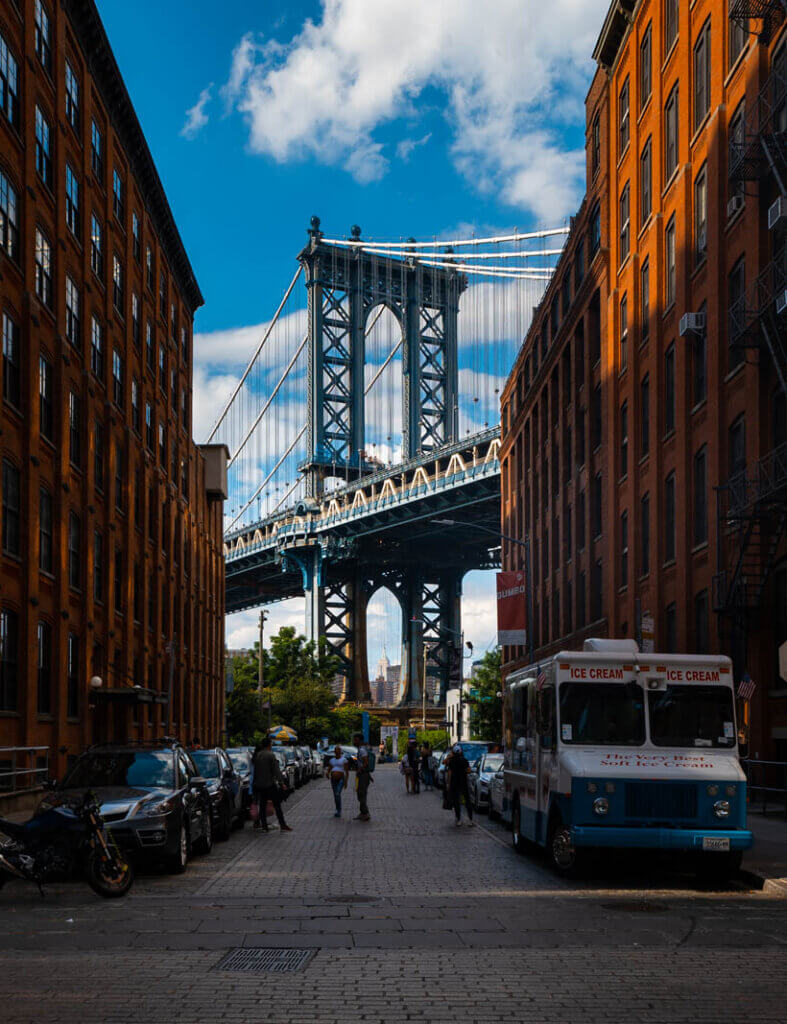 This half-day tour takes you through the best of Brooklyn paired with history, culture, and most importantly food! Hop aboard a luxury bus for this 5-hour tour with tastings in some of the coolest neighborhoods in Brooklyn. This is easily one of the best ways to see the best things to do in Brooklyn with a local expert and guide.
You'll make stops at traditional eateries featuring cuisines from all over the world, see why this city is a melting pot of cultures through your taste buds. You'll also visit the trendiest neighborhoods and learn about the history and iconic landmarks in Brooklyn along the way.
Your tour ticket includes all your tastings, transportation, a bottle of water, and a guide! They can accommodate to dietary requirements when you make your booking too.
Book your "Best of Brooklyn" Half-Day Food and Culture Tour
Flavors of Williamsburg Food Tour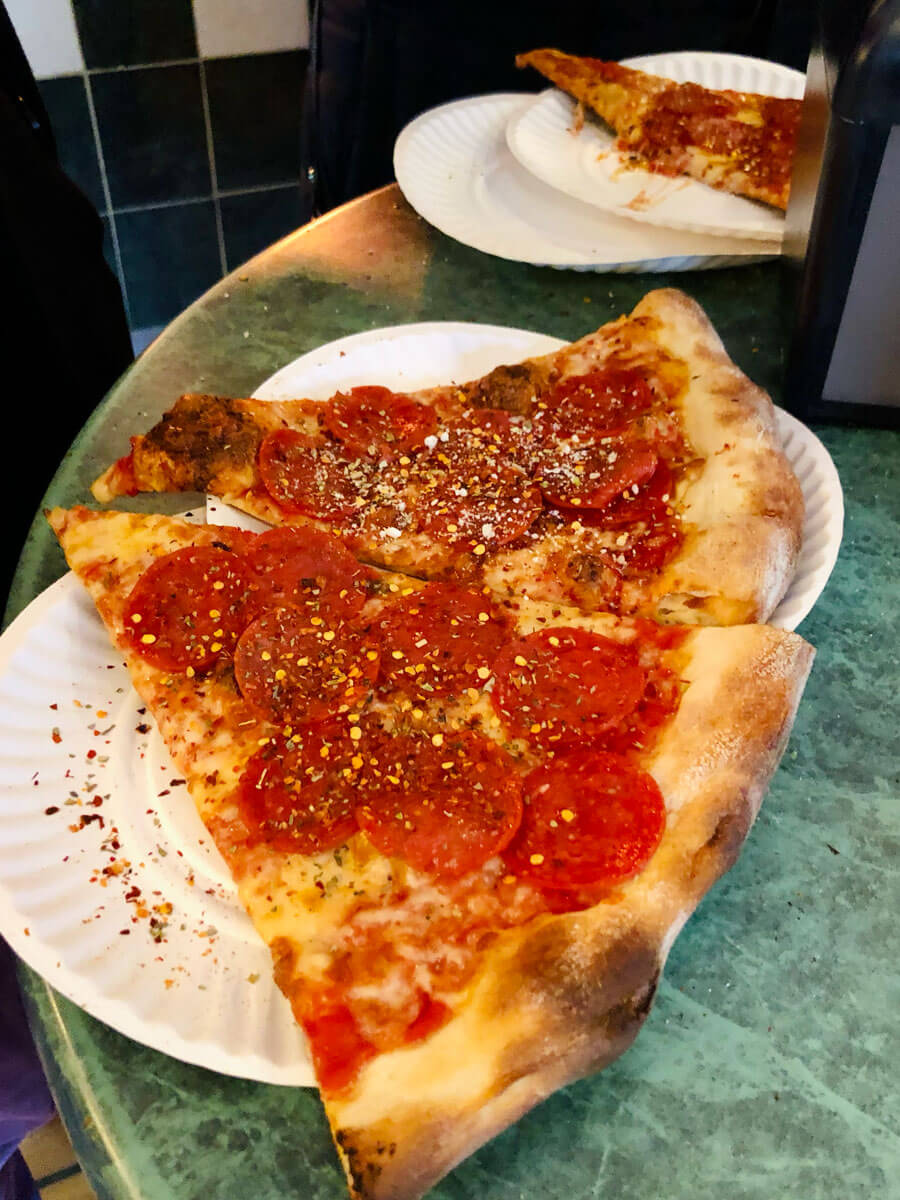 Another awesome food tour that covers the trendy neighborhood of Williamsburg. Don't make the mistake of coming without a completely empty stomach on this 3-hour food journey through one of the most popular areas in Brooklyn.
You'll learn about the rich culinary history, visit iconic restaurants and eateries, and sample amazing treats along this small-group tour with an expert local guide!
You'll also get to see some of the best views in Brooklyn while you learn the history. If you have dietary restrictions please contact the tour company after you book they can accommodate to your needs ahead of time.
Book your Flavors of Williamsburg Tour
---
More NYC & Brooklyn Travel Tips:
Here are more helpful travel guides for exploring all the best must-see Brooklyn spots and New York City!
Also, if you're still planning, be sure to check out our guide for the best places to stay in New York City by neighborhood.
We also put together our favorite picks for best NYC hotels with a view if you want to elevate your trip with skyline views right from your bed!
Or if you're on a budget, check out our guide to the best affordable NYC hotels under $200 a night with great locations!
---
What is Brooklyn best known for?
Brooklyn is known for its history and historic sites, hipster culture in neighborhoods like Williamsburg, its 19th-century brownstone architecture, the thriving food and restaurant scene, it's street art and graffiti, and being a hub for creative industries and music.
Is Brooklyn NY worth visiting?
Brooklyn is absolutely worth visiting! There are so many things to do in Brooklyn from cool neighborhoods to explore, museums, views of the NYC skyline, parks, historic and cultural landmarks, performance venues, and an excellent culinary and nightlife scene.
Is Brooklyn a good place to stay as a tourist?
Yes, Brooklyn is a fantastic place to stay as a tourist. It offers a vibrant cultural scene, diverse neighborhoods, iconic landmarks, unique culinary experiences, and a local atmosphere that provides an authentic and immersive New York City experience.
How much time do you need in Brooklyn?
You need at least a few days to a week for time to properly see Brooklyn and what it has to offer.
How to see in Brooklyn in a day?
If you only have one day to see Brooklyn, you can visit popular neighborhoods like Williamsburg or DUMBO to start. Or if you want to see Brooklyn in a day in more local areas you can spend a day exploring neighborhoods like Carroll Gardens, Park Slope, Sunset Park, Greenpoint, and Fort Greene.
When is the best time to visit Brooklyn?
The best time to visit Brooklyn is during the spring (April to June) and fall (September to November) when the weather is pleasant, and there are various events and cultural activities happening. But there's no right answer as there is always something cool happening in Brooklyn.
---
Enjoyed this guide to all the top things to do in Brooklyn? Bookmark for later or share the love below on Pinterest.