Planning a trip to Brooklyn or New York City anytime soon? Check out our guide for what to pack for Brooklyn and Brooklyn packing list so you are ready for a trip of a lifetime!
Besides being Brooklynites, the team at Your Brooklyn Guide are also travel experts, so we have been in many different situations where we wish we would have had a packing list like this handy before our trip.
Looking for where to stay in Brooklyn during your visit? See our entire guide by neighborhood and budget to help you pick the best area to stay in.
Read Next: Best Brooklyn Instagram Spots
Brooklyn Packing List
Anti-Theft Bags by Pacsafe
One of the best things anyone can pack for Brooklyn or any city is anti-theft bags and wallets. This prevents the classic pickpockets, wallet snatcher, or purse lifter from getting your valuables whether you're in a super crowded touristy area, riding a the train during rush hour, or just walking the streets enjoying some Brooklyn sightseeing.
There's nothing worse than losing your wallet with your ID, credit cards, and important information during your trip. Replacements are a pain to get, calling your credit card company to cancel your card isn't fun, and let's be real, going to the DMV to get a replacement ID is probably the worst of them all.
Protect yourself with this Brooklyn packing list essential. We really love the brand PacSafe as we have used their products ourselves (no this is not an ad, just customers who really like their products) and their design and technology used on their products helps prevent thieves.
This Pacsafe Shoulder Bag slings over your body and is the perfect size to carry your day essentials while exploring Brooklyn. This lightweight bag has anti-theft features so you can enjoy Brooklyn with ease of mind with Pacsafe's anti-theft patent products.
Features include:
Pop and lock security clip over your zippers to prevent any sneaky hands entering your bag
Roobar sport locking system to prevent theft and deter pickpockets 
RFID blocking material
Special anti-slash Exo mesh material and strap to prevent slash and run thefts
Internal pockets to keep your things organized
Internal attachment for keys
5 year warranty
---
This Pacsafe Anti-theft Backpack is another great idea for what to pack for Brooklyn and any city trip. Trust us, you'll get your fair use out of an incredible product like this anti-theft backpack.
Carry all your day items with peace of mind knowing that thefts will have a hard time getting your belongings with their patented anti-theft design with lockable zippers and slash-proof material in this sleek and comfortable designed backpack.
Features include:
Pop and lock security clip over your zippers to prevent any sneaky hands entering your bag
Roobar sport locking system to prevent theft and deter pickpockets 
RFID blocking material
Special anti-slash Exo mesh material and strap to prevent slash and run thefts
3 lockable zipper exterior pockets to keep your things organized
1 padded interior notebook sleeve that can fit a 15″ laptop
2 side pockets perfect for a water bottle or umbrella
2 zipper interior pockets
interior key/wallet clip
padded shoulder straps
5 year warranty
---
This gorgeous women's Anti-theft backpack purse by Pacsafe is another awesome option for what to pack for Brooklyn for more anti-theft protection.
This sleek design is a perfect look for the city too and is made of a beautiful nylon material that is tough enough to withstand blades and knives and even big enough to carry a 13″ notebook computer among other daily items you may need while exploring all the best things to do in Brooklyn.
Features include:
Pop and lock security clip over your zippers to prevent any sneaky hands entering your bag
Roobar sport locking system to prevent theft and deter pickpockets 
RFID blocking material in front zip pocket
Special anti-slash Exo mesh material and strap to prevent slash and run thefts
5 year warranty
top carrying handle and adjustable shoulder straps
Interior zipper pocket and organizational slip pockets
sleeve big enough for a 13″ notebook computer
Bag can be locked to fixtures
RFID Protection
Our next essential for what to pack for Brooklyn and Brooklyn packing list is getting yourself RFID protection. Not only does this come in handy when visiting a big city destination but it also is good to have on you anywhere you go because that's the thing about RFID theft, you never know where it could happen.
What is RFID you ask? These thieves are particularly tech-savvy and use automatic identification and data capture devices with a circuit or antenna that can transmit your personal data you're carrying around on you all day whether from your wallet, purse, or backpack.
The reader converts the radio waves into stolen data like credit card numbers! It sounds scary, but this is super easy to prevent with the proper RFID protective gear.
This 15 pack of RFID blocking sleeves doesn't require you to buy a special travel wallet or anything, you can carry your favorite purse, wallet, or backpack by simply putting your credit cards and sensitive information in these RFID blocking sleeves.
This 12 pack is perfect to protect your identity and personal information and is a very affordable option that can save you big time in the future.
Features include:
12 color-coded pack of RFID sleeves
RFID secure sleeves designed to fit most credit cards, identification cards, and money cards
3 color-coded Passport protector sleeves with RFID blocking material
aluminum foil coating material that protects your items from being a victim to high tech crimes
---
If you're looking to upgrade your wallet anytime soon this RFID Blocking Wallet by Pacsafe is the perfect pick. Always have your identification, bank cards, and credit cards protected from high tech thieves with this RFID blocking wallet in this sleek and slim design.
Features include:
Sleek and slim trifold design
double snap button closure
lightweight 
RFID safe blocking material
2 year warranty
---
Portable Safe
One of the best ways to keep valuables safe on the road is this awesome Portable Safe by Pacsafe. Not only is this a great idea for what to pack for Brooklyn, but also a good idea to have for when you travel anywhere or are staying in any hotel. This is ideal when you're hotel has a safe that is too small for your belongings!
This portable safe has a sleek and compact design so it doesn't take up much space in your luggage offering maximum security with its stainless steel wire mesh covered in a piece of cut-resistant canvas fabric. You simply lock this portable safe to a secure fixture in your hotel room when you leave.
This is a must on your Brooklyn packing list if you're a budget traveler staying in a shared dorm, hostel, or shared Airbnb apartment.
Features Include:
Drawstring closure
Patented stainless steel wire mesh covered in a poly canvas fabric that is cut-resistant and slash-proof.
Comes with a 3-dial combination lock to secure to fixtures
Can be folded or stored flat inside your suitcase
---
Phone Crossbody Case
One of our favorite items on our Brooklyn packing list is this iPhone crossbody case with a fun selection of colored cord lanyards.
This is perfect for sightseeing as you can easily grab your phone for that perfect photo moment on the fly as well as keep your phone secured to your body and safe from pickpockets!
I personally love having a hands free option that makes it really easy to grab my phone on the go for any spur of the moment photo opportunity that might pop up.
Features Include:
A selection of different colored phone cases with cord lanyard
the material does not absorb moisture and is odorless
Hands-free design with brass cord ends
Stable, but flexible shockproof case
adjustable strap
Different sizes available *look down at related items for the different options*
---
Packing Cubes
Next up on what to pack for Brooklyn for your storage and packing solutions are one thing we don't travel without, packing cubes! We can't express enough how much we love packing cubes not only do they keep you organized but they also save space in your suitcase or backpack!
The best way to utilize packing cubes is to roll your clothing into them, you'll be shocked at how much space they can save plus keep you organized so when you pack and move you don't have to fully repack or unpack when you need something in your luggage.
We love using the larger ones for clothing and the smaller ones for accessories, toiletries, or small electronics. They also a great for keeping your clean laundry separate from your dirty laundry.
Features Include:
3 different sized packing cube set and bag organizers, a small, medium, and large cube.
Lifetime guarantee
water-resistant nylon material
durable material that can withstand wear and tear
zipper closure
mesh design with ventilation
---
Comfortable Walking Shoes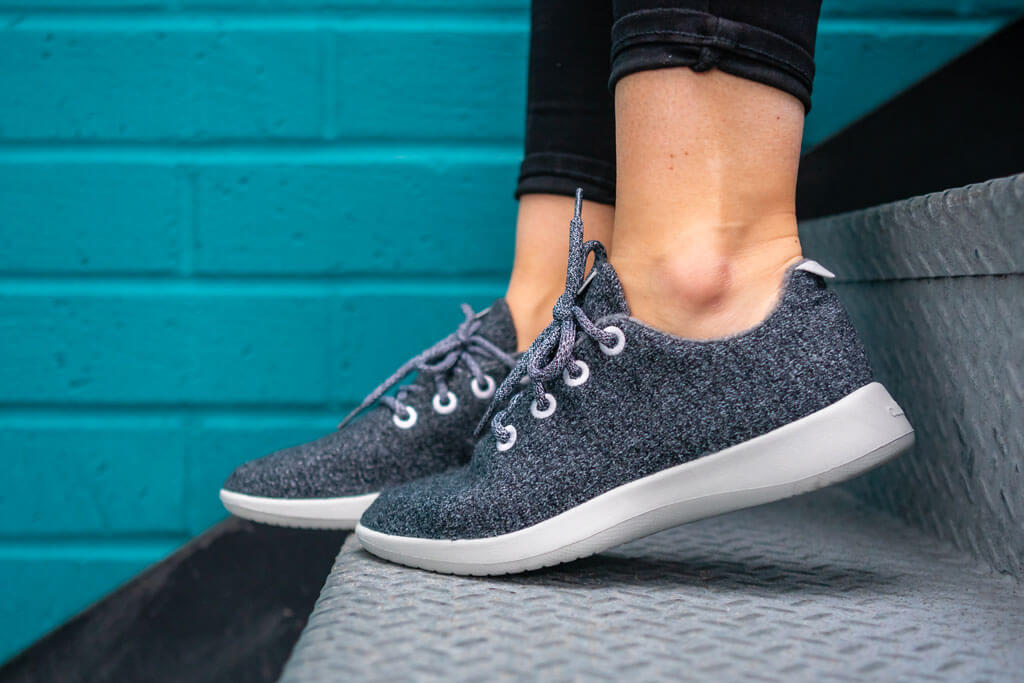 One of the most important things to include for your Brooklyn packing list and what to pack for Brooklyn are comfortable shoes.
Visiting the city means you'll be walking more than you usually would. Most Americans are used to driving just about everywhere and when you're in the city you walk more than you realize.
That's why we picked out some of the most comfortable and stylish walking shoes to bring to Brooklyn for your trip. You don't need to sacrifice style to feel like you're walking on clouds.
We recommend Allbirds Women's Wool Runner (pictured above) as well as the Allbirds Men's Wool Runner for an everyday walking shoe that's breathable, comfortable, and feels like you're walking on clouds. Your back and feet will thank us later.
Features Include:
Merino Wool upper that is temperature regulating and moisture wicking without the scratchiness
specialty foam for a lightweight and comfortable shoe sole with extra cushioning
Shoelaces are made of 100% recycled materials
machine washable
can wear sockless
---
Another great pair of comfortable walking shoes that are stylish for women are Rothy's washable, woven flats. Not only is this brand sustainable, but women all over the world are loving these classic Rothy's flats and sneakers.
These are perfect for what to pack for Brooklyn as the design of these flats are chic and appear dressy without sacrificing comfort.
Better yet, their shoes are machine washable and don't require any break-in period, they are ready to go when you buy them which makes them the perfect city shoe.
Features Include:
ready to wear, no break-in period ladies flats
multiple colors and styles to choose from
made of recycled and repurposed old plastic water bottles 
---
Reusable Water Bottle
This is another essential for what to pack for Brooklyn and anywhere you go, this should always be on your packing list! A good reusable water bottle is one of the best things you can have in your day bag or on you at all times.
Help cut back on single-use plastic by using a reusable water bottle when you travel. Did you know New York City has some of the best drinking water in the United States?! Seriously, check this out if you need another source to confirm it.
Afterall, that is the 'secret' ingredient to those famous New York slices of pizza and bagels! Really, New Yorkers say that this is their secret ingredient, their delicious tap water.
So put it to the test and be sure to bring a reusable water bottle for some of the finest drinking water in America!
---
Power bank
Another great pick for what to pack for Brooklyn is a good power bank. Don't spoil your fun exploring all the fun neighborhoods and things to see in Brooklyn by having your battery die on you. If you're anything like me you'll be using your phone to take photos, navigate, and post to social media while you're exploring.
That's where a power bank comes in handy. This strong power bank can charge an iPhone up to 3 times before needing to be recharged.
On the go, you simply plug in your charger cable to the power bank and viola! Your phone is charging on the go.
Better yet, this power bank comes with one USB charging port. We even use this to charge our DSLR camera batteries on the go as well in my bag as we walk around.
This is one of the highest-rated products on Amazon with over 4 stars and nearly 18,000 reviews.
Want a power bank that's more powerful? This double-duty power bank has double the capacity as the one mentioned above as well as two charging ports, the perfect addition to your Brooklyn packing list if you have multiple devices.
Features Include: 
compact, sleek design to fit in your pocket, purse, or backpack
Can charge an iPhone 8 3.5x, iPhone X or Samsung Galaxy S9 2x with 10000mAH capacity
Includes one high-speed USB port
rechargeable with any USB charger outlet
comes with micro USB cable for charging
travel pouch included
18-month warranty
---
Sleek City Tote
Blend right in with New Yorkers with this stylish reversible tote bag for anything you'll need. You'll rarely catch a New Yorker carrying a small purse, ladies always carry a large tote bag which is perfect for exploring the city and what to pack for Brooklyn.
You can put anything you'll need during your days of exploring in a large tote including a change of shoes if you want to have a different evening look from your day look but don't want to go all the way back to your hotel.
This everyday bag is so versatile you can't help but fall in love with it, maybe that's why so many ladies in the city have one!
Better yet, this tote is reversible so you can change your look with this beautiful vegan leather!
Features Include:
Large reversible tote bag with two different colors for two different looks
Made with a durable and flexible vegan leather
Comes with a removable coin purse that doubles as a wristlet purse
Water and scratch-resistant material
1-year warranty
9″ handle drop
---
Rain Gear
One thing you can't miss on your Brooklyn packing list is proper rain gear. When it comes to the city, this weather is not forgiving and you don't want to get caught out and about in the rain without an umbrella. That's why we recommend this compact wind resistant travel umbrella for what to pack for Brooklyn.
This umbrella can withhold strong winds and is a compact design that can fit easily in the pocket of your jacket, purse, tote, or day backpack.
Features Include:
Compact and lightweight design for travel
Easy one-handed operation for opening and closing
Waterproof and dries instantly
Made with 9 ribs so that it can withstand strong gusts of wind
Protective sleeve included
Lifetime replacement guarantee
Fun colors available
---
Another awesome item and what to pack for Brooklyn for rain gear is a quality reusable rain poncho. Again, you don't want to get caught in the city during a rain storm whether you're walking around exploring or on a boat tour of the Statue of Liberty.
A quality rain poncho should be on your Brooklyn packing list as they are compact, lightweight and easy to throw in your bag especially if there's a chance of rain.
When everyone else is soaking wet and miserable and you're dry you can thank us later!
The one time use rain ponchos can rip and tear really easily defeating the whole purpose of them, plus its a wasteful single-use plastic. We recommend getting a better quality rain poncho so that you can reuse it time after time.
Features Include:
Zipper front closure
Portable and compact design 
Comes with a compact color-matched pouch for storage and carrying
Made of waterproof and quick-drying polyester
Designed with a hood to keep you dry head to foot
Comes in a variety of colors and prints
---
Reusable Collapsible Bag
Another awesome go-to item to add to your Brooklyn packing list are these reusable collapsible bags. These come in handy more than you'll ever know! Whether you're shopping, want to pick up a few items, or just need a bag to throw items in these bags come in handy when you least expect it!
What's even better about these bags is they are completely compact and packable, so carrying them around doesn't take up any space.
Features Include:
Made out of recycled fabric that is designed to not rip
Comes in a variety of fun colors and prints
Can hold up to 50 lbs of stuff
Lightweight and compact
Machine washable
---
Roller Carry On Suitcase
For all the things we've mentioned on this Brooklyn packing list you'll need somewhere to put what to pack for Brooklyn! We recommend coming to the city with a carry on spinner suitcase.
Having a quality carry on size roller means that you can travel easily and fly without having to check a bag and worry if it will make it.
What's nice about having a compact suitcase like this is that you can easily take it with you if you need to around the city if you need to for a few hours before a flight or before you can check into your hotel or Airbnb.
Features Include:
Hard case that is durable and keeps your items from getting smashed
360 Spinner wheels
Zipper closure
Meets carry on restrictions with airlines
Weighs 6.81 lbs empty
10 year warranty
Made of durable material that can withstand wear and tear and is scratch-resistant
Water-resistant
Push Button Handle
Built-in TSA compatible lock
Comes in a variety of colors
---
Ear Plugs
Are you a sensitive sleeper? This is what to pack for Brooklyn if you are, or even if you aren't. A good pair of earplugs are essential for your Brooklyn packing list, especially if you're not from a big city.
Most places, even if you're on an upper level of a hotel, are a bit noisy. It's the city that never sleeps and if you're sensitive to sounds, sirens, and all those magical city noises you might want to pack a pair of earplugs.
We love this set of two with their carrying case, they are perfectly small and easy to pack so don't leave home without them!
Features Include:
Waterproof, washable, and reusable design
Made out of a comfortable and flexible silicone material that are easy to wear for an extended time
Comes with two pairs of earplugs
Comes with a small carrying case
---
First Aid Kit
A good idea for what to pack for Brooklyn is a travel first aid kit. This essential item is perfect to add to your Brooklyn packing list because you never know when you might get a minor cut or injury.
We find that at least always carrying bandaids is a good idea in case you get a blister from walking all the time or just happen to have some bad luck and get a minor scrape or cut.
This 85-piece first aid kit in a compact carrying case is perfect and easy to travel with or keep in your bag as you explore the city.
Features Include:
85 medical items
Comes with a compact, durable carrying case
FDA approved
Lightweight design and easy to travel with
---
Rehydration Supplements
Planning on having a fun night out enjoying the nightlife in the city? Or are you traveling here on a long flight? Both drinking and just being in an airplane can dehydrate you.
We recommend bringing a few of these awesome Liquid IV rehydration packets with electrolytes to help make you feel great during your trip to Brooklyn.
Since these are a powder formula they are perfect for what to pack for Brooklyn because they can still go in your carry on!
Simply add a packet to your water bottle and drink it. Your body will thank you later when it's rehydrated!
Features Include:
Electrolyte powder formula to be added to 16 oz of water
The formula includes a scientific formula of potassium, sodium, and glucose that rehydrates you more efficiently than water alone
Drinking 1 packet is equivalent to the hydration levels of drinking 2-3 bottles of water
The formula includes 11 essential vitamins and minerals including Vitamins C, B3, B5, B6, and B12
---
Travel Insurance
One of our go to packing list items is actually something you can't pack. Travel Insurance is one of the most important things travelers can get. If you're traveling over 100 miles away from home, you should get travel insurance.
We recommend World Nomads Travel Insurance because you can buy anytime before or during your trip no matter where you are. We personally used World Nomads travel insurance for years because of how quick and easy it is to get coverage anywhere and anytime and there's 24/7 emergency assistance making claims a breeze when or if you ever get injured or sick.
I actually had to use my travel insurance last year on a trip to Yosemite when I got sick in the middle of the trip, my hospital bill was going to be $7500 because I needed to go to urgent care out of my network. Good news, my travel insurance covered it and I was completely reimbursed!
Now we hope that doesn't happen to you but there are instances where for a small fee up front to get insured for your trip, you can save big time later if something were to happen.
Not only does their insurance cover trip protection in case something suddenly comes up or you get injured and you can't complete your trip, but you can also get reimbursed!
If your smartphone or camera gets stolen, heaven forbid, it's covered!
Have a medical emergency or need emergency medical transportation, it's covered!
They also give you Collision Damage Waiver (CDW) for rental cars for coverage up to $35,000 on their explorer plan!
Or say your travel documents get lost or stolen, they will help you cover the expenses and trouble of getting new ones.
You may not always need travel insurance, and hopefully, you don't, but it's a lifesaver if something does happen.
---
Found this guide for what to pack for Brooklyn and Brooklyn packing list helpful? Bookmark for later or share the love below on Pinterest!