Check out the most unique hotels in New York for your next stay! Are you planning a trip to New York? Make the most of your visit and check out the coolest hotels in NYC.
Whether you're visiting for leisure or business, picking a fun hotel in New York City will make your trip extra memorable! Sometimes it's nice having a hotel room that just isn't a bed to sleep in, from themed hotels to futuristic hotels with robot butlers, these are the most funky hotels in NYC!
Don't miss how to spend your time in the city too with our curated itineraries to help make planning a breeze! All of our suggestions are different for each guide, feel free to use them all to customize your trip exploring all the best things to do in NYC! And if you're not sure what neighborhood to base in, check out our full guide to the best areas to stay in NYC to help you decide!
Disclaimer: This post contains affiliate links meaning if you make a purchase through our links we receive a small commission at no extra cost to you. Happy travels!
Coolest Hotels in NYC
TWA Hotel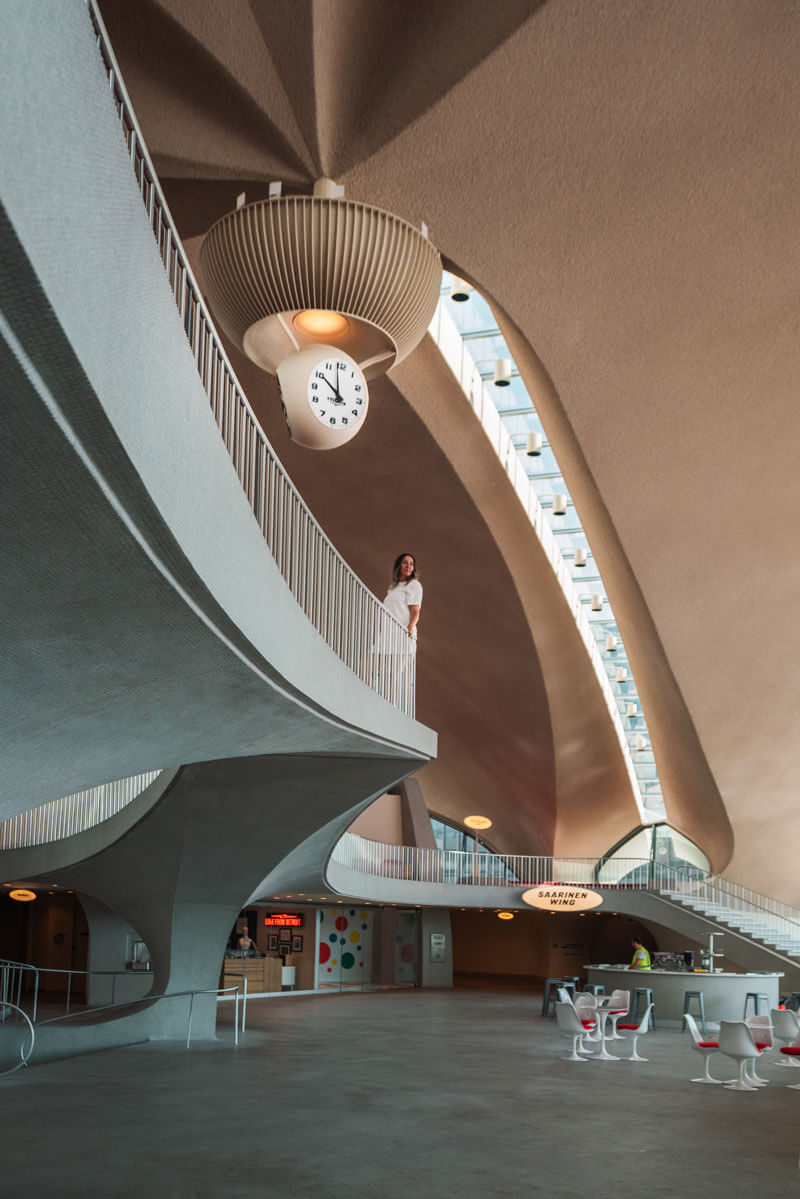 JFK Airport, Queens
Connected to JFK Airport at Terminal 5 in Queens, this hotel was once part of the airport itself and perfect for a layover, early/late flight, or honestly, the TWA Hotel is a destination in itself.
Set in the original TWA flight center that was unveiled in 1962, it was restored in 2019 as a retro-themed hotel keeping the TWA brand as the central theme to the golden years of commercial flights.
Throughout the property, you will be greeted with details floor to ceiling from the 1960s from the sleek red and white aesthetic and clean lines recalling the time when flying was a glamorous experience. Enjoy a terminal-style lobby and runway views from rooms and a rooftop infinity pool overlooking planes taking off on the tarmac.
The TWA Hotel offers a selection of suites and Deluxe and Standard sized rooms. During your stay at one of the coolest NYC hotels, check out curated TWA museum exhibits and visit the world's largest hotel gym – it even has a whole room of Peleton bikes.
This fun hotel in New York City has many entertaining experiences for your pleasure, like the Twister Room, where you can play the classic retro game on every wall, the 1960s living room, and Howard Hughes' office.
Do not miss out on stopping by Connie the Cocktail Lounge, a fully restored 1958 bush plane turned hotel bar! Seating 75 passengers, Connie boasts a signature martini called the Vodka is My Co-Pilot. Enjoy fun features like murals by artist Mario Zamparelli and a fully restored cockpit with a live feed to JFK's air traffic control. Book here.
The Collective Paper Factory
View this post on Instagram

Long Island City, Queens
Formerly a historic factory, The Collective Paper Factory is one of those funky hotels in NYC that will make you feel cool just by booking a stay. Located in Long Island City, Queens, you're just a train ride or a bridge away from the hustle of Manhattan.
When you're not playing tourist, you'll want to enjoy this hotel by relaxing with friends in the Conservatory or playing foosball in the Play Room. Enjoy a cocktail in the Den or try boxing in The Gym.
This boutique hotel offers a mix of deluxe rooms and standard rooms, as well as co-working spaces. The history of this former industrial space shines through in the interior design, with a mix of reclaimed furniture, supple, aged leather, original raw brick, and unique art in every room. Book here.
Collective Retreats at Governors Island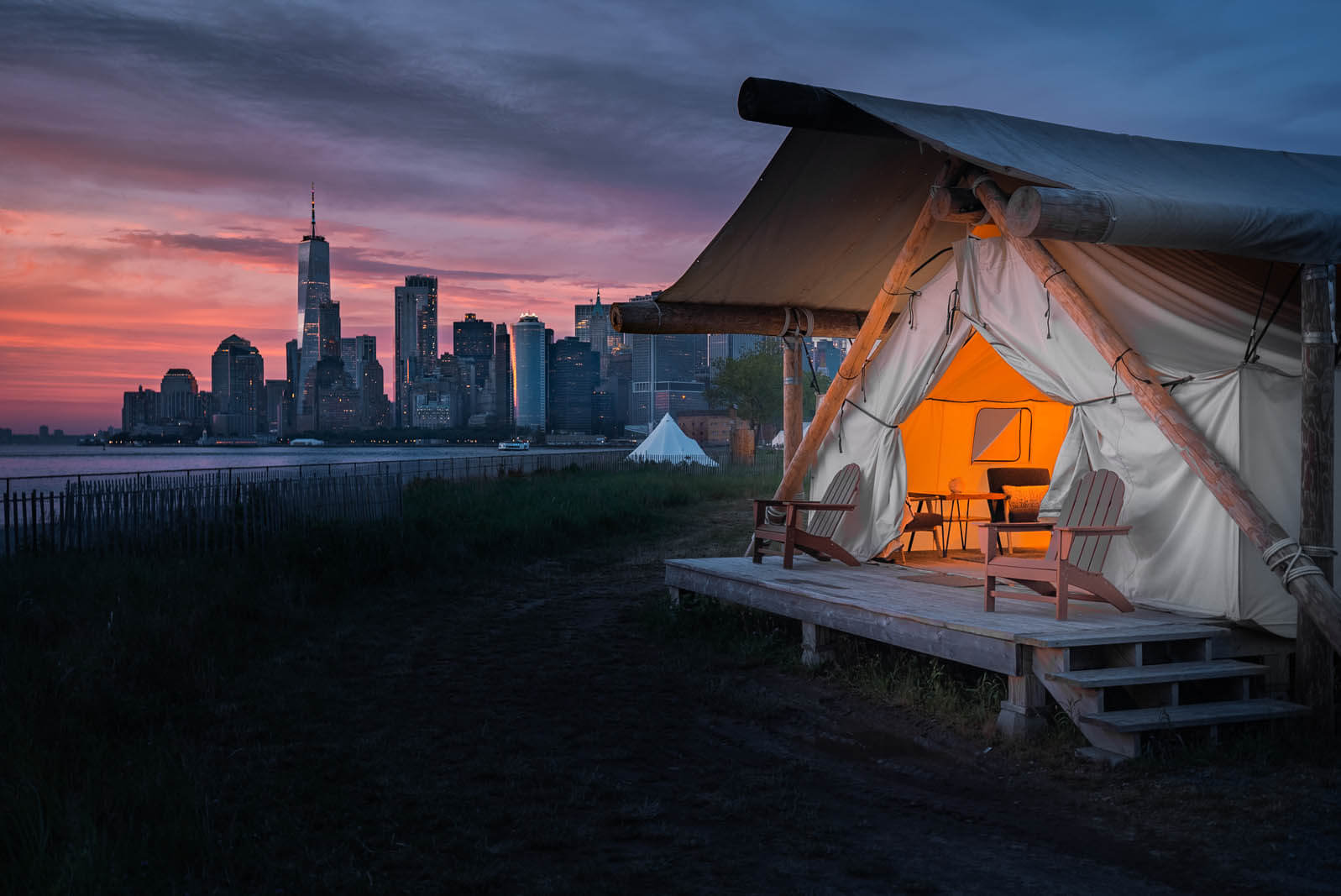 Governors Island, New York Harbor
Whether you're a local looking for a great staycation or in NYC for the first time, you will not regret glamping on Governor's Island! Collective Retreats at Governors Island is located on the waterfront of Governors Island with unobstructed Statue of Liberty views and skyline views including the World Trade Center.
This luxury camping retreat is one of the coolest hotels in NYC you can experience open from May through October. Stay in your choice of climate-controlled linen tents or shelters with a front-row seat view of the Statue of Liberty.
Beautiful, luxurious interiors are an experience within themselves, layered with Turkish rugs, adorned with glowing designer lamps and chandeliers, and finished with majestic wood headboards.
If it weren't for the spectacular sunsets you'll enjoy over the Manhattan skyline, you would forget you're only an 8-minute water taxi ride from the concrete jungle.
This luxury getaway offers a collection of catered activities such as outdoor movies during sunset over the New York Harbor. Visit Fire & Water, a farm-to-table seafood restaurant. Choose from a selection of culinary classes or attend a yoga class at sunrise. Book here.
You can also read our full review of our glamping on Governors Island experience!
Hotel on Rivington
View this post on Instagram
Lower East Side, Manhattan
Located on the Lower East Side of Manhattan, just blocks from the Williamsburg Bridge, this luxury property boasts hip, modern amenities and is one of the most stylish and coolest hotels in NYC you can stay at.
Enjoy Tempur-Pedic mattresses, feather duvets, Italian baths, and Japanese-inspired deep-soaking tubs. Hotel on Rivington has a selection of 108 King and standard rooms, as well as a penthouse available for rent.
Famous for its floor-to-ceiling glass windows, most of the rooms have spectacular, textured 180-degree views of Manhattan, Brooklyn, Queens, and the Hudson. Choose a corner room with a balcony for a photo-taking experience of a lifetime.
Check out Viktor & Spoils, a taqueria and tequila bar, or the Juice Press, which serves organic and cold-pressed juices and raw foods. Visit the rooftop jacuzzi, work out in the gym, or request in-room spa services. Book here.
The Jane
View this post on Instagram

Meatpacking District, Manhattan
Definitely on the refined end of the list of fun hotels in NYC, The Jane is a breathtaking historical jewel. Nestled into the old Meatpacking District and built in 1908, the building was originally the American Seaman's Friend Society Sailors' Home and Institute. It was designed by William A. Boring, the architect who designed Ellis Island's famous immigrant station.
Every interior here looks like something out of a Wes Anderson film, with its eclectic feel— velvet tufted seating and filigree everywhere. Bellhops wear traditional red uniforms and caps, taking you back in time from the moment you step through the doors.
The decadent Jane Ballroom boasts a gold disco ball and hosts small events and includes the Rooftop Bar overlooking the Hudson River. Have a meal at the Old Rose, the in-house restaurant specializing in Italian food.
Originally built as a hotel for sailors, the rooms are designed to look like ship cabins. You'll find wood panel walls, subway tile, maritime porthole windows, and peacock wallpaper in the rooms which really makes it one of the coolest hotels in NYC aesthetically!
Choose from a Captain's Cabin, with an en suite bath, or one of The Standard Cabins and Bunk Bed Cabins with access to communal baths for a more casual experience. Book here.
The Maritime Hotel
View this post on Instagram

Meatpacking District, Manhattan
This hotel makes the roster of funky hotels in NYC from the moment you see the building. A historic New York City landmark, it was originally built in 1968 to be headquarters for the National Maritime Union. Restored as the first luxury hotel of the Meatpacking District in 2003, The Maritime Hotel is celebrated as an important example of modernist architecture with an elegant nautical theme.
The oversized porthole windows nodding to the history of the building catch your eye on the streets of Manhattan and continue to create interest once you're inside. Combine that with crisp white walls and warm wood paneling, offsetting pops of color, and bright prints for a cheery, modern interior design.
It all comes together to compliment the mishmash of history and trendiness that is The Maritime Hotel.
This luxury property gives you a choice of penthouses or superior rooms, some with terraces and fireplaces, and all with complimentary bicycles. Visit Catch Steak, a traditional steakhouse with a modern twist.
Head below the Maritime Hotel to TAO Downtown, a restaurant featuring Pan-Asian Cuisine and an interior design that makes the multi-level space feel like you've been transported out of NYC for the evening. Book here.
Beekman Hotel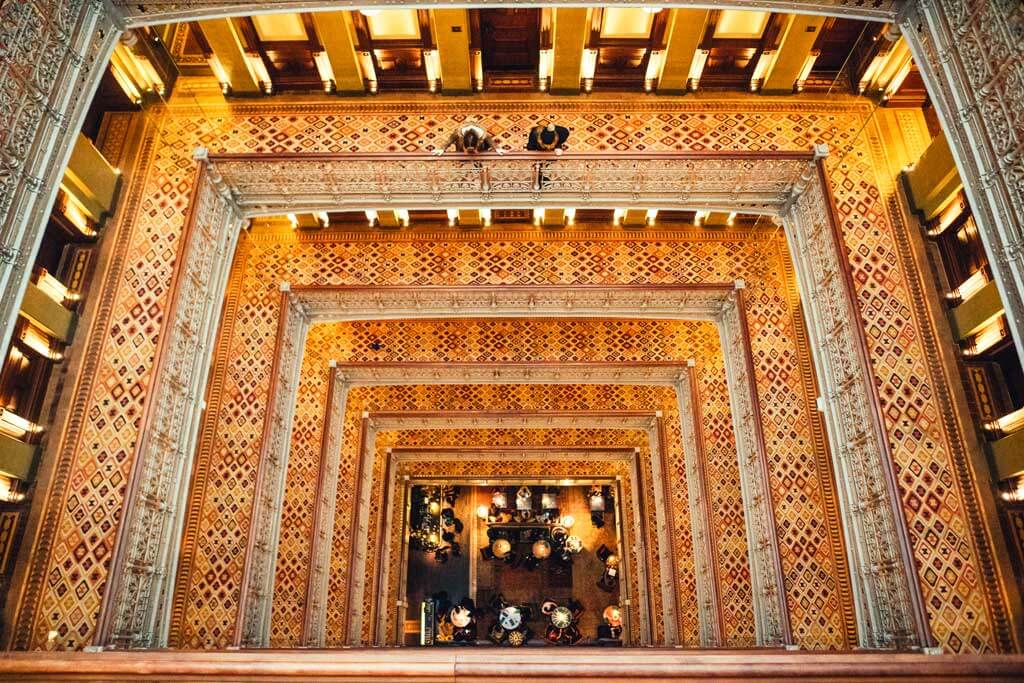 Lower East Side, Manhattan
Hidden away in the heart of the Lower East Side, the Beekman Hotel is a unique landmark that's been converted to one of the most unique hotels in NYC.
The building itself was built in 1882, it was tragically boarded up in 1940 and left empty for decades. Because of its long hibernation and vacancy the building just sat for those decades almost frozen in time pretty much leaving the entire property restored and untouched.
The luxury hotelier group Thompson Hotels unveiled the Beekman Hotel in 2016 and now it's one of the most stylish and coolest hotels in NYC.
The heart of the Beekman Hotel is the atrium with a pyramid-topped skylight, which illuminates 9 cascading floors below into the hotel bar. Intricately detailed cast ironwork covers railings and ceilings. In the lobby, you are met with creamy marble, emerald-green pillars, and a Persian rug-wrapped welcome center.
Visit the Temple Court Restaurant with al a carte or 5-course tasting menu, or enjoy the Temple Court on 10- intimate wisteria-covered dining on the West Terrace. Have a drink on a velvet couch in The Bar Room at Temple Court, a Victorian-era bar underneath the Atrium. Book here.
Yotel
View this post on Instagram
Midtown, Manhattan
For those looking for one of the coolest hotels in NYC, check out Yotel in Midtown, just minutes from Times Square meaning you're just a 10-minute walk away from both of these NYC landmarks. This sleek, futuristic hotel works with robot tech that's both efficient and fun for guests.
Promoting a "technology-driven experience," the attractive modular design and colorful LED lights throughout every space evoke an eternally hip feel.
Instead of a front desk, 24/7 self-serve kiosks for everything from check-in to purchasing toiletries and requesting extra room keys and towels. YOBOT, the world's first robotic luggage concierge, stores luggage, and guests can use a personal PIN to retrieve it at any time. Guests love to watch YOBOT work and even take a selfie with it!
Yotel offers Queen-sized rooms with or without a view, or premium bunks. Visit Green Room 42, a cool cabaret club frequenting performances by the theater-districts biggest players. Spend evenings on the rooftop Club Lounge Bar which hosts weekend DJs. Book here.
W Times Square
View this post on Instagram
Times Square, Manhattan
To sum up why you should stay at the W Times Square Hotel, it's for the sparkling interior design and bustling location makes this one of the most fun hotels in New York City and one of the best NYC hotels with a view. Established in the middle of The Crossroads of the World, every one of their suite or standard rooms comes with a view.
Whether of the Manhattan skyline, The Hudson at sunset, or hopping around all the best things to do in Times Square itself, you will be happy with your accommodations as this is one of the best hotels in Midtown.
But the décor of the W is what makes it one of the coolest hotels in NYC. Visitors are met with funky design elements, like geometric arches and furniture, and glowing contemporary art pieces. Rooms mix bold colors with whites and dark tones. Everywhere are sleek, oversized sofas, velvet hanging egg chairs, and searchlight floor lamps.
Visit The Living Room Bar, "a tribute to the Times Square of the past," with a mix of modern and art deco-inspired geometric elements. There's a green glowing brass DJ booth and intimate party booths.
Stop by Blue Fin, a modern seafood restaurant with interiors to take your breath away. And don't miss out on Dos Caminos, a multi-level rustic Mexican restaurant with a mezcal and margarita bar. Book here.
Ace Hotel New York
View this post on Instagram

Flatiron District, Manhattan
Casual is the name of the game at Ace Hotel. Established by a Seattle-based hotel chain, the Flatiron District-based Ace Hotel New York is nothing but cool with its grunge and vintage-inspired feel.
Find dorm-like details like matte black brick walls and checkered tile floors. Rooms have Gibson guitars in the corner, and Pendleton wool comforters accompanying wood-paneled platform beds and bunks.
Each room is highly curated with flea market vintage decor and one-of-a-kind commissioned art pieces in each room. Feel at home as you go down to the lobby to grab some Stumptown Coffee and see what the DJ is playing. With the art and entire vibe here makes this one of the coolest NYC hotels. Book here.
Library Hotel
View this post on Instagram
Midtown, Manhattan
This romantic Midtown getaway and unique hotel in NYC is established around a fun library concept that is worked into every element tastefully. The Library Hotel is glowing with cream-colored walls and warm wood elements, you'll be satisfied to find collections of books nestled into floor-to-ceiling shelves, literary-themed artwork, and perfectly sized reading lamps.
All 10 floors of rooms reflect 1 of 10 categories recognized in the Dewey Decimal system, like History, Religion, and Technology, for example.
Each room on each floor is themed around topics from that floor's category. In each room, you'll find around 100 books from the Library Hotel's 6000+ book collection, and artwork exploring the category that room belongs to. You can request a room based on the room/floor theme that you are interested in and they'll try to accommodate you.
Enjoy refreshments and a book 24 hours a day in the cozy Reading Room. Invite friends to the Rooftop Writer's Den and Poetry Garden, which turns into the Bookmarks Lounge every evening. There you can choose from a selection of fun literary-inspired cocktails. Before you leave the Library Hotel, have dinner at the classic Madison & Vine, an American bistro and international wine bar. Book here.
The Night Hotel
View this post on Instagram

Times Square, Manhattan
Located in the Theater District of Times Square, this luxury hotel lives up to the drama of its name. Enter the black and white checkered lobby of The Night Hotel that has the feel of a residential Manhattanite building, but the accommodations of an upscale hotel.
After enjoying the bright lights of Broadway and flashy walking tours, enjoy the modern, monochromatic black and white theme in every detail.
You'll find a graceful flow of oversized florals in the wallpaper, modern takes on Victorian-style chaise lounges, cozy black robes, and stark white floor lamps. Observe glowing Midtown views from your dreamy Night Hotel room, one of the cool hotels of New York. Book here.
Kew Motor Inn
View this post on Instagram

Kew Gardens Hills, Queens
Switching gears, the Kew Motor Inn is the place to be for a romantic jaunt. This quirky short-stay hotel proclaims itself to be "the most exotic hotel in Queens." Located off the Grand Central Parkway in Kew Gardens Hills, Queens, it's a fun option for locals and tourists, offering both hourly and overnight rates.
What makes this hotel worth a mention as one of the funky hotels in NYC is the specialty-themed rooms with in-room saunas. They offer basic rooms as well, but the themed rooms are the jewel here. You'll get to choose from themes like the Mirror Room, the New York Skyline Room, and the Safari Room.
They all with gaudy, appropriately themed elements such as strategically placed art pieces and wall-filling vinyl murals. The Waterfall Room is of special note, where you'll fall asleep to the wall-sized waterfall that gives the room its name.
Visit the restaurant and cocktail lounge and take advantage of the free parking. Soak in the experience of the Kew Motor Inn with its silk flowers and faux peaches next to stone statues of swans, and mirrored paneling on every wall. Check Availability Here.
CitizenM Times Square
View this post on Instagram

Times Square, Manhattan
CitizenM Times Square is a very New York-style boutique hotel with compact, quirky rooms perfect for 2 and no more. Located in the Theater District, enjoy this hip stay with a technology-forward approach.
Enter a modular, cozy living-room lobby with self-check-in at airport-style kiosks. Stay in "small-yet-smart rooms" that use a touchpad to control everything in the room, including mood lighting!
Amenities include a rooftop lounge and the 24/7 CanteenM, a restaurant and bar. There's a fitness center and outdoor yoga on the terrace with Times Square views.
Between seeing shows and shopping for souvenirs, come back to your clean, cozy room at one of the most unique hotels in NYC. This modern hotel is certainly one of the coolest NYC hotels with its fun, futuristic concept, a cozy, casual feel, and its tasteful use of prime New York real estate. Book here.
Dream Downtown
View this post on Instagram

Chelsea, Manhattan
Located steps away from the Chelsea Market and the High Line in between the stylish neighborhoods of Chelsea and the Meatpacking District, this hotel shines as one of the most unique hotels in NYC.
The eye-catching building that houses the Dream Downtown has an ocean-liner-inspired exterior harkening back to the 1960s when it was home to the National Maritime Union headquarters. The oversized porthole windows and brushed metallic exterior hint at the spectacular interior design that alone makes this boutique luxury hotel worthy of a stay.
Inside, every surface shimmers with silver walls, chrome fixtures, and metallic headboard walls. Just to make a statement, look up in the lobby to see into the glass bottom of the rooftop swimming pool. There are purple orchids, tufted leather sofas, and Turkish rugs balancing out the metal elements for a contemporary but eclectic feel that makes the Dream Hotel the place to be.
Visitors have their choice of beautiful loft-style rooms and suites, or a 2-story penthouse called The Guest House.
Visit the 4 different themed restaurants of the Dream hotel, including a speakeasy. The Beach boasts a rooftop getaway with real sand beaches, a glass-bottom pool, full-service bar, private cabanas, a DJ booth, and chaise lounges. Book here.
Plus, one of the best rooftop bars in NYC is located here, PHD Rooftop Lounge not only is the perfect place to enjoy drinks with unbeatable views of the skyline from high in the sky, but also a great spot for nightlife!
Selina Chelsea
View this post on Instagram

Chelsea, Manhattan
When guests stay at Selina Chelsea, they'll visit the High Line, ride a complimentary bike along the Hudson River Greenway, and do some shopping at Hudson Yards.
When they are done with the hard streets of New York, they'll come back to the calm, illuminated interiors designed by New York-based Mexican architect Enrique Norten. The Selina Chelsea offers a selection of standard, deluxe, suite, or loft rooms for the weary traveler.
Colorful, contemporary design combined with balanced, Zen elements make for a retreat from the hustle and bustle of Manhattan outside. Warm wooden platform beds work with a collection of luxurious natural elements like woven wool rugs, marble tile, and stone pedestals. Floor-to-ceiling windows and white walls and bedlinens finish off the look.
Enjoy the club scene of Chelsea or have dinner at the hotel restaurant. Visit the bar and lounge by the rooftop pool while you enjoy views of Lower Manhattan in one of the coolest NYC hotels. Book here.
Liberty Inn
View this post on Instagram

Chelsea, Manhattan
A discreet short-stay hotel located in Chelsea, this mainstay of Lower Manhattan has catered to overnight guests and couples on romantic date nights for over 40 years. Liberty Inn offers a choice of rooms with intimate elements and modern design, every room at the Liberty Inn provides a comfortable experience.
Basically, this is a classy love motel with fun-themed rooms with electric lights that can spice things up for a night! This is undoubtedly one of the most funky hotels in NYC for couples to have a romantic staycation. If you're feeling frisky, opt for a room with the added mirrors…oooh lala.
Lovestruck clientele can select from Amour Rooms or spring for one of the Romantic Interlude Rooms. Romantic Interlude Rooms come with champagne and a 2-person jacuzzi and are a great option for overnight guests. Book here.
Carlton Arms Hotel
View this post on Instagram

Gramercy Park, Manhattan
An established location in Gramercy Park, its jewel of the neighborhood is a historical building that's always been a hotel. It's had many faces in its over-100 years. It was a boarding house at the turn of the century, housed a speakeasy during Prohibition, and was a luxury hotel in the '50s.
In the '80s, management began collaborating with neighborhood artists and the Carlton Arms Hotel started its reputation of being one of the most fun hotels in New York City for those who love an artsy scene.
After making over rooms, halls and ceilings also received treatment, so that soon every available surface of the Carlton Arms was adorned with art. Today the concept runs on an art residency program, where a revolving door of artists reveals freshly painted rooms regularly.
Earning a highlight on the list of unique hotels in NYC, there is a communal, bohemian feel to this particular option. Check out the latest exhibit at the Artbreak Hotel Gallery, a contemporary art gallery. The hotel offers residence to artists, and locals frequent events hosted by the Carlton Arms.
With a mix of rooms with en suite baths and smaller rooms with access to communal baths, hotel guests will always be a part of the goings-on. Book here.
The Box House Hotel
View this post on Instagram

Greenpoint, Brooklyn
Once a doors and windows manufacturing facility, The Box House Hotel is now a beautiful, very Brooklyn hotel in hip Greenpoint. It has rooms featuring high ceilings and raw industrial details alluding to its historical factory past.
Enjoy your stay in a choice of standard rooms, suites, or apartments that house up to 6 people. Splurge on the penthouse for spectacular skyline views that feature the Chrysler Building.
Visitors will bask in the smooth mix of timeless interior design, vintage pieces like retro clocks and globes, and large deconstructed modern art features. Dine at The Brooklyn Lantern for a delicious American cuisine experience. Book here.
For more great places to stay in the area, check out our full guide to where to stay in Brooklyn by neighborhood.
Freehand Hotel
View this post on Instagram

Flatiron District, Manhattan
Dubbed a "haven for creatives," come to the Freehand Hotel for the artwork and stay for the atmosphere. Guests will enjoy their visit while mingling with artists who work and live at Freehand Hotel.
Located in the historic Flatiron District, this is a great choice for those looking for fun. Check out the bars and food trucks on Fifth Avenue, and then keep the night going by attending one of many weekly Freehand events, ranging from wine tastings to art classes.
The Freehand earned its stripes as a funky hotel in NYC by working with Bard College to commission 15 art students to create one-of-a-kind, hand-painted murals for each of its 394 rooms.
Ranging from suites and midsize rooms to a mix of bunks and king and queen bed combinations, guests will enjoy the hip interior design. Classic elements work well with the splashes of funky murals.
Visit the trendiest popups being hosted in The Shoppe or observe Smileradio.fm being broadcast in the studio. Book here.
CODA Williamsburg
Williamsburg, Brooklyn
One summer in New York, I found myself lonely and overworked. Desperately in need of a vacation but without enough time or funds to take time away from the city, I bought a weekday pass to the CODA Williamsburg pool to take a one-day solo-staycation, and it truly changed my attitude for the rest of the summer.
Lively and colorfully decorated, formerly the McCarren Hotel, the pool patio is an aesthetically pleasing, well-decorated pool with reserved lounge seating and a full bar. This is one of the coolest hotels in NYC because not only of the great Williamsburg location, but they have the largest heated outdoor pool in the city. Even if you're a guest at the hotel though, you need to make a reservation for this high-demand pool!
And if you're looking for something slightly longer than a day, the CODA itself is a delightful boutique spot to stay in the heart of Williamsburg, Brooklyn. Some rooms feature views of nearby McCarren Park (and for a private outdoor terrace, be sure to request a Penthouse suite), and all rooms feature Garnier-Thiebault Linens, luxury bath amenities, and high-speed WiFi. Book here.
Speaking of views, check out the best Williamsburg hotels too – there are so many great options over here with unbeatable views of the city!
---
Enjoy your stay at the coolest NYC hotels! There are many places you could stay while you're in New York City. This curated list offers just some of the most unique NYC hotels that you can choose from. While you are exploring the city, make where you lay your head part of the spectacular experience.
Bookmark this guide for later on Pinterest below!